---
Whether you're looking for a career in STEM or space exploration, this three-part series will cover everything you need to know about the world of internships at NASA's Jet Propulsion Laboratory, the skills and experience hiring managers are looking for, and how you can set yourself on the right trajectory even before you get to college.
Jump To
Skills for Space Explorers – Coming August 5
The Pre-College Trajectory – Coming August 12
---
In a typical year, NASA's Jet Propulsion Laboratory brings in about 1,000 interns from schools across the country to take part in projects that range from building spacecraft to studying climate change to developing software for space exploration. One of 10 NASA centers in the United States, the Southern California laboratory receives thousands of applications. So what can students do to stand out and set themselves on the right trajectory?
We asked interns and the people who bring them to JPL about their tips for students and anyone interested in a STEM career. Over the next few weeks, we'll be sharing their advice in this three-part series.
First up: Learn about the kinds of opportunities available as well as where and how to apply.
The World of JPL Internships
If you found this article, you're probably already somewhat familiar with the work that goes on at JPL. But at a place that employs more than 6,000 people across hundreds of teams, it can be hard to keep track of it all.
In a broad sense, JPL explores Earth, other planets, and the universe beyond with robotic spacecraft – meaning no humans on board. But along with the engineers and scientists who design and build spacecraft and study the data they return, there are thousands of others working on all the in-between pieces that make Earth and space exploration possible and accessible to all. This includes software developers, machinists, microbiologists, writers, video producers, designers, finance and information technology professionals, and more.
Some of the best ways to learn about the Laboratory's work – and get a sense for the kinds of internships on offer – are to follow JPL news and social media channels, take part in virtual and in-person events such as monthly talks, and keep up on the latest research. There are also a host of articles and videos online about interns and employees and the kinds of work they do.
While STEM internships make up the majority of the Laboratory's offerings, there are a handful of opportunities for students studying other subjects as well. Depending on which camp you fit into, there are different places to apply.
Education Office Internships
The largest number of internships can be found on the JPL Education website. These opportunities, for students studying STEM, are offered through about a dozen programs catered to college students of various academic and demographic backgrounds. This includes programs for students attending community college, those at minority-serving institutions, and others at Los Angeles-area schools.
Students apply to a program, or programs, rather than a specific opening. (See the program details for more information about where to apply and what you will need.) It's then up to the folks with open opportunities, the mentors, to select applicants who are the best match for their project.
It may seem odd to send an application into the void with no idea of what offer might return. But there is a good reason behind the process, says Jenny Tieu, a project manager in JPL's Education Office, which manages the Laboratory's STEM internship programs.
"Applying to a specific program allows for the applicant to be seen by a much broader group of hiring managers and mentors and be considered for more opportunities as a result," says Tieu. "We look at the resumes that come in to see what skills are compatible with open projects and then match students to opportunities they may not have even realized were available to them."
Shirin Nataneli says she wouldn't have known there was an internship for her at the Laboratory were it not for a suggestion to apply from her professor. In 2020, Nataneli graduated from UCLA with a Bachelor's degree in biology. She was on the pre-med track, studying for the MCAT, when she decided to take a couple of courses in computer science.
"I got sucked in," says the Santa Monica College student and JPL intern, who is using computer science to help her team classify extreme bacteria that can survive on spacecraft. "I didn't even know there was an intersection between computer science and biology, but somehow I found a group at JPL that does just that."
University Recruiting Opportunities
For college students who are interested in space exploration but studying other fields, such as business, communications, and finance, as well as those studying STEM, there are additional opportunities on the JPL Jobs website. Listed by opportunity, more like a traditional job opening, these internships are managed by the Laboratory's University Recruiting team, which is active on LinkedIn and Instagram and can often be found at conferences and career fairs.
The When, What, and Where
Both Education Office and University Recruiting opportunities are paid and require a minimum 3.0 GPA, U.S. citizenship or legal permanent resident status, as well as an initial commitment of 10 weeks. Applicants must be enrolled in a college undergraduate or graduate program to be eligible. (Part three of this story, available on August 12, will be about what high-school and younger students can do to prepare for a future JPL internship or STEM career.)
After pivoting to fully remote internships during the COVID-19 pandemic, JPL is looking at whether to continue offering some remote or hybrid internships once the Los Angeles-area campus opens back up.
"We know that remote internships are effective," says Tieu. "Interns have said that they're able to foster connections with JPL employees and gain valuable experience even from home." She notes that while in-person internships give students maximum exposure to JPL – including visits to Laboratory attractions like mission control, the "clean room" where spacecraft are built, and a rover testing ground called the Mars Yard – remote internships have had a positive impact on students who previously weren't able to participate in person due to life constraints.
Most programs offer housing and travel allowances to students attending universities outside the 50-mile radius of JPL, so be sure to check the program details if traveling to or living in the Los Angeles area could be tricky financially.
Full-time and part-time opportunities can be found throughout the year with most openings in the summertime for full-time interns, meaning 40 hours per week. For summer opportunities, Tieu recommends applying no later than November or December. Applicants can usually expect to hear back by April if they are going to receive an offer for summer, but it's always a good idea to keep yourself in the running, as applicants may be considered for school-year opportunities.
Tieu adds, "If you haven't heard back, and you're closing in on the six-month mark of when you submitted your application, I recommend students go back in and renew their application [for the programs listed on the JPL Education website] so that it remains active in the candidate pool for consideration."
And unlike job applications, where it's sometimes frowned upon to apply to multiple positions at once, it's perfectly alright – and even encouraged – to apply to multiple internships.
You may also want to consider these opportunities, especially if you're looking for internships at other NASA centers, you're a foreign citizen, or you're interested in a postdoc position:
The most important thing is to not count yourself out, says Tieu. "If you're interested, work on that resume, get people to review your resume and provide input and feedback and apply. We don't expect students to come in knowing how to do everything. We're looking for students with demonstrated problem-solving, teamwork, and leadership skills. Software and other technical skills are an added bonus and icing on the cake."
More on that next week in part two of this three-part series where we'll share advice from JPL mentors on the skills and experience they look for from potential interns.
Up Next:
Skills for Space Explorers – Coming August 5
The Pre-College Trajectory – Coming August 12
---
The laboratory's STEM internship and fellowship programs are managed by the JPL Education Office. Extending the NASA Office of STEM Engagement's reach, JPL Education seeks to create the next generation of scientists, engineers, technologists and space explorers by supporting educators and bringing the excitement of NASA missions and science to learners of all ages.
Career opportunities in STEM and beyond can be found online at jpl.jobs. Learn more about careers and life at JPL on LinkedIn and by following @nasajplcareers on Instagram.
TAGS: Internships, Students, Careers, Science, Computer Science, Engineering, Math, Programs, University Recruiting, Undergraduate, Graduate, College, High School, Mentors
---
There's no better time to learn about the Moon than during a lunar eclipse. Here's how to get students watching and exploring more.
This article has been updated to include information about the visibility and timing of the total lunar eclipse on May 26, 2021. See the "What to Expect" section below for details.
---
A full moon is always a good reason to go outside and look up, but a total or partial lunar eclipse is an awe-inspiring sight that gives students a great opportunity to engage in practical sky watching. Whether it's the Moon's reddish hue during a total lunar eclipse or the "bite" taken out of the Moon during a partial lunar eclipse, there's always something exciting to observe during these celestial events. Read on to see what to expect during the next lunar eclipse. Plus, explore resources you can use at home or in the classroom to teach students about moon phases, craters, and more!
How It Works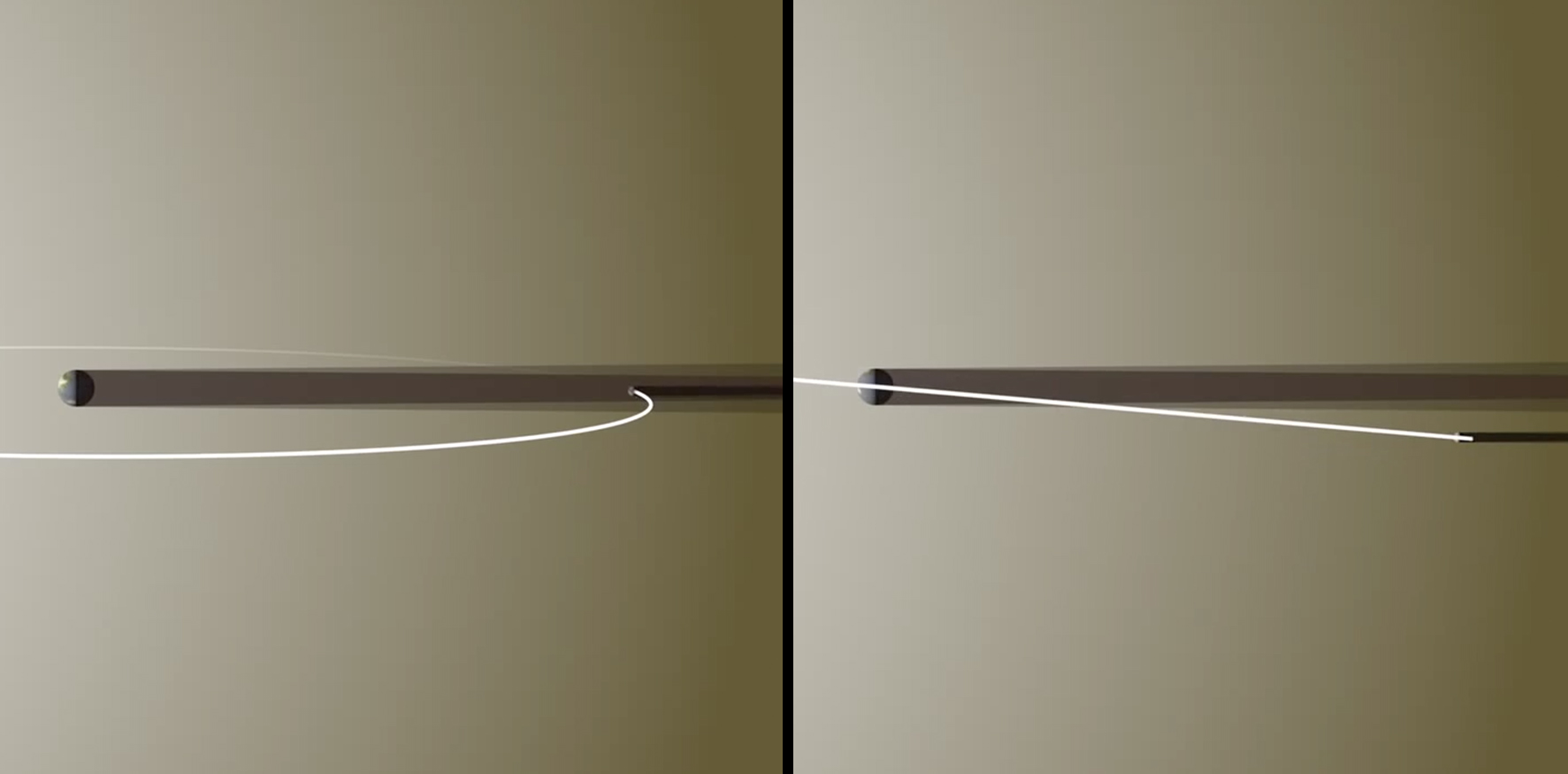 Eclipses can occur when the Sun, the Moon, and Earth align. Lunar eclipses can only happen during the full moon phase, when the Moon and the Sun are on opposite sides of Earth. At that point, the Moon could move into the shadow cast by Earth, resulting in a lunar eclipse. However, most of the time, the Moon's slightly tilted orbit brings it above or below the shadow of Earth.
The time period when the Moon, Earth, and the Sun are lined up and on the same plane – allowing for the Moon to pass through Earth's shadow – is called an eclipse season. Eclipse seasons last about 34 days and occur just shy of every six months. When a full moon occurs during an eclipse season, the Moon travels through Earth's shadow, creating a lunar eclipse.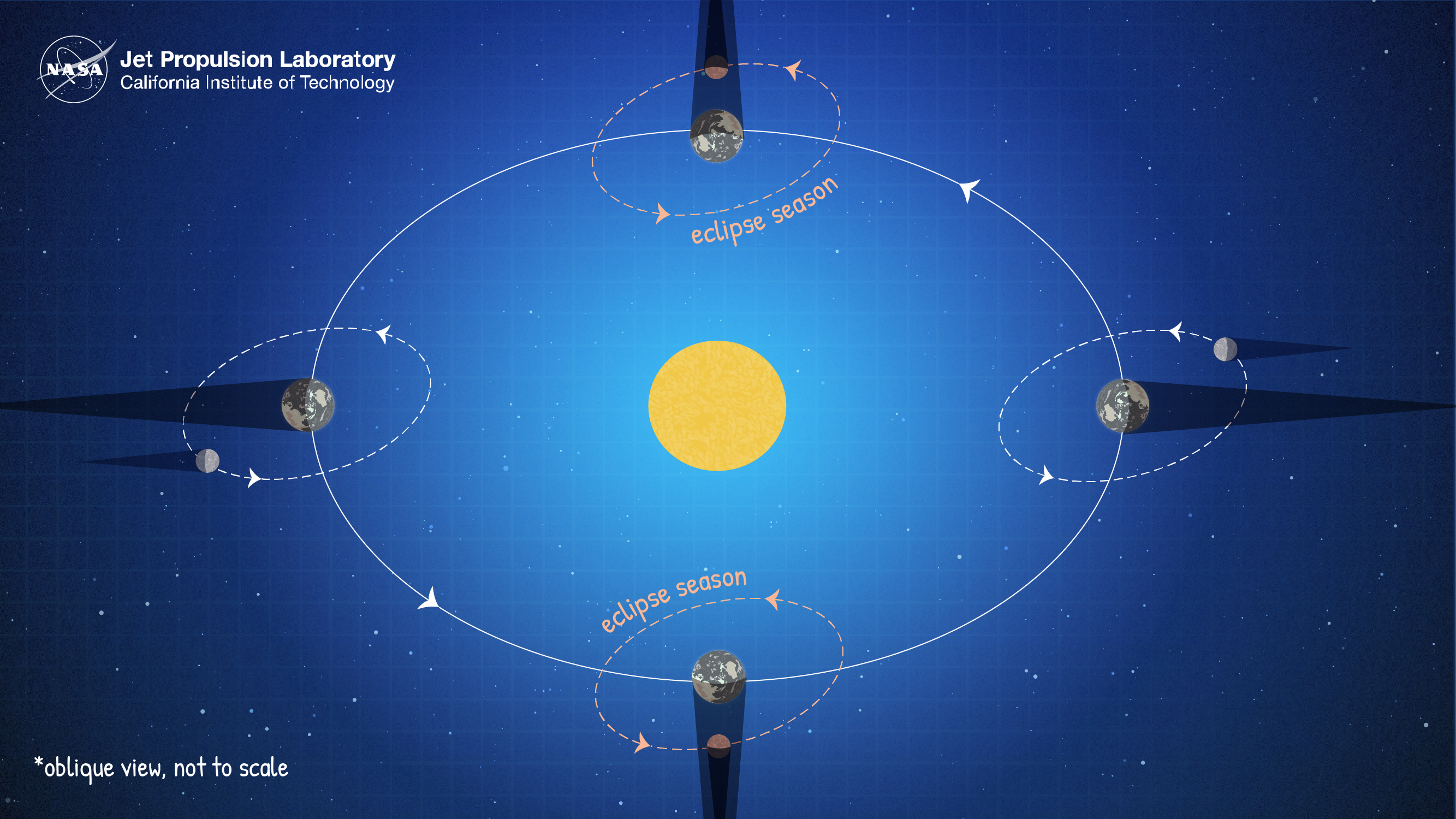 Unlike solar eclipses, which require special glasses to view and can only be seen for a few short minutes in a very limited area, a total lunar eclipse can be seen for up to an hour by anyone on the nighttime side of Earth – as long as skies are clear!
Why It's Important
Lunar eclipses have long played an important role in understanding Earth and its motions in space.
In ancient Greece, Aristotle noted that the shadows on the Moon during lunar eclipses were round, regardless of where an observer saw them. He realized that only if Earth were a spheroid would its shadows be round – a revelation that he and others had many centuries before the first ships sailed around the world.
Earth wobbles on its axis like a spinning top that's about to fall over, a phenomenon called precession. Earth completes one wobble, or precession cycle, over the course of 26,000 years. Greek astronomer Hipparchus made this discovery by comparing the position of stars relative to the Sun during a lunar eclipse to those recorded hundreds of years earlier. A lunar eclipse allowed him to see the stars and know exactly where the Sun was for comparison – directly opposite the Moon. If Earth didn't wobble, the stars would appear to be in the same place they were hundreds of years earlier. When Hipparchus saw that the stars' positions had indeed moved, he knew that Earth must wobble on its axis!
Additionally, modern-day astronomers have used ancient eclipse records and compared them with computer simulations. These comparisons helped scientists determine the rate at which Earth's rotation is slowing.
What to Expect
The Moon passes through two distinct parts of Earth's shadow during a lunar eclipse. The outer part of the cone-shaped shadow is called the penumbra. The penumbra is less dark than the inner part of the shadow because it's penetrated by some sunlight. (You have probably noticed that some shadows on the ground are darker than others, depending on how much outside light enters the shadow; the same is true for the outer part of Earth's shadow). The inner part of the shadow, known as the umbra, is much darker because Earth blocks additional sunlight from entering the umbra.
Here's what to expect during the total lunar eclipse on May 26, 2021, which will be visible in western North and South America, as well as in eastern Asia, Australia, and the Pacific Ocean. Note: Viewers in the Midwest and the eastern U.S. can still look up to see a partial eclipse grace the sky.
At 1:47 a.m. PDT, the edge of the Moon will begin entering the penumbra. The Moon will dim very slightly for the next 57 minutes as it moves deeper into the penumbra. Because this part of Earth's shadow is not fully dark, you may only notice some dim shading (if anything at all) on the Moon near the end of this part of the eclipse. Should you decide to sleep in during this time, you won't miss much.
At 2:45 a.m. PDT, the edge of the Moon will begin entering the umbra. As the Moon moves into the darker shadow, significant darkening will be noticeable. Some say that during this part of the eclipse, the Moon looks as if it has had a bite taken out of it. That "bite" gets bigger and bigger as the Moon moves deeper into the shadow. During this part, viewers in most of the eastern U.S. will see the Moon as it moves into the umbra but lose visibility once the Moon dips below the horizon and the Sun rises.
At 4:11 a.m. PDT, the Moon will be completely inside the umbra, marking the beginning of the total lunar eclipse. The moment of greatest eclipse, when the Moon is halfway through its path across the umbra, occurs at 4:19 a.m. PDT.
As the Moon moves completely into the umbra, something interesting happens: The Moon begins to turn reddish-orange. The reason for this phenomenon? Earth's atmosphere. As sunlight passes through it, the small molecules that make up our atmosphere scatter blue light, which is why the sky appears blue. This leaves behind mostly red light that bends, or refracts, into Earth's shadow. We can see the red light during an eclipse as it falls onto the Moon in Earth's shadow. This same effect is what gives sunrises and sunsets a reddish-orange color.
A variety of factors affect the appearance of the Moon during a total lunar eclipse. Clouds, dust, ash, photochemical droplets, and organic material in the atmosphere can change how much light is refracted into the umbra. Additionally, the May 2021 lunar eclipse takes place when the full moon is at or near the closest point in its orbit to Earth (popularly known as a supermoon). This means it is deeper inside the umbra shadow and therefore may appear darker. The potential for variation provides a great opportunity for students to observe and classify the lunar eclipse based on its brightness. Details can be found below in the "Teach It" section.
At 4:25 a.m. PDT, the edge of the Moon will begin exiting the umbra and moving into the opposite side of the penumbra. This marks the end of the total lunar eclipse.
At 5:52 a.m. PDT, the Moon will be completely outside of the umbra and will begin exiting the penumbra until the eclipse ends at 6:49 a.m. PDT.
Teach It
Ask students to observe the lunar eclipse and evaluate the Moon's brightness using the Danjon Scale of Lunar Eclipse Brightness. The Danjon scale illustrates the range of colors and brightness the Moon can take on during a total lunar eclipse and is a tool observers can use to characterize the appearance of an eclipse. View the lesson guide here. After the eclipse, have students compare and justify their evaluations of the eclipse.
Use these standards-aligned lessons and related activities to get your students excited about the eclipse, moon phases, and Moon observations.
Educator Guides & Resources
Student Activities
Explore More
TAGS: Lunar Eclipse, Moon, Super Blue Blood Moon, Observe the Moon, Eclipse, K-12, Classroom Activities, Teaching
---
Science fiction meets science fact in this Star Wars inspired Teachable Moment all about ion propulsion and Newton's Laws.
In the News
What do "Star Wars," NASA's Dawn spacecraft and Newton's Laws of Motion have in common? An educational lesson that turns science fiction into science fact using spreadsheets – a powerful tool for developing the scientific models addressed in the Next Generation Science Standards. Keep reading to learn more and find out how to get students weilding the force.
Why It's Important
The TIE (Twin Ion Engine) fighter is a staple of the "Star Wars" universe. Darth Vader flew one in "A New Hope." Poe Dameron piloted one in "The Force Awakens." And many, many Imperial pilots met their fates in them. While the fictional TIE fighters in "Star Wars" flew a long time ago in a galaxy far, far away, ion engines are a reality in this galaxy today – and have a unique connection to NASA's Jet Propulsion Laboratory.
Launched in 1998, the first spacecraft to use an ion engine was Deep Space 1, which flew by asteroid 9969 Braille and comet Borrelly. Fueled by the success of Deep Space 1, engineers at JPL set forth to develop the next spacecraft that would use ion propulsion. This mission, called Dawn, would take ion-powered spacecraft to the next level by allowing Dawn to go into orbit twice – around the two largest objects in the asteroid belt: Vesta and Ceres.
How It Works
Ion engines rely on two principles that Isaac Newton first described in 1687. First, a positively charged atom (ion) is pushed out of the engine at a high velocity. Newton's Third Law of Motion states that for every action there is an equal and opposite reaction, so then a small force pushes back on the spacecraft in the opposite direction – forward! According to Newton's Second Law of Motion, there is a relationship between the force (F) exerted on an object, its mass (m) and its acceleration (a). The equation F=ma describes that relationship and tells us that the small force applied to the spacecraft by the exiting atom provides a small amount of acceleration to the spacecraft. Push enough atoms out, and you'll get enough acceleration to really speed things up.

Why is It Important?
Compared with traditional chemical rockets, ion propulsion is faster, cheaper and safer:
Faster:

Spacecraft powered by ion engines can reach speeds of up to 90,000 meters per second (more than 201,000 mph!)

Cheaper:

When it comes to fuel efficiency, ion engines can reach more than 90 percent fuel efficiency, while chemical rockets are only about 35 percent efficient.

Safer:

Ion thrusters are fueled by inert gases. Most of them use xenon, which is a non-toxic, chemically inert (no risk of exploding), odorless, tasteless and colorless gas.
These properties make ion propulsion a very attractive solution when engineers are designing spacecraft. While not every spacecraft can use ion propulsion – some need greater rates of acceleration than ion propulsion can provide – the number and types of missions using these efficient engines is growing. In addition to being used on the Dawn spacecraft and communication satellites orbiting Earth, ion propulsion could be used to boost the International Space Station into higher orbits and will likely be a part of many future missions exploring our own solar system.

Teach It
Newton's Laws of Motion are an important part of middle and high school physical science and are addressed specifically by the Next Generation Science Standards as well as Common Core Math standards. The lesson "Ion Propulsion: Using Spreadsheets to Model Additive Velocity" lets students study the relationship between force, mass and acceleration as described by Newton's Second Law as they develop spreadsheet models that apply those principles to real-world situations.
Educator Guides
Student Activities
Explore More
---
This feature was originally published on May 3, 2016.
TAGS: May the Fourth, Star Wars Day, F=ma, ion propulsion, Dawn, Deep Space 1, lesson, classroom activity, NGSS, Common Core Math
---
Jayme Wisdom has been teaching for 15 years at the Vaughn Charter System in Pacoima, California. She has taught eighth-grade science for most of her career but switched to high school biology for the first time this year.
Ms. Wisdom has long utilized NASA and JPL educational resources, finding creative ways to adapt lessons to meet her students' needs and exposing them to STEM careers.
A self-described professional nerd, she doesn't shy away from her love of all things Star Trek and Star Wars (and stands firm in her refusal to pick which is superior). While presenting during a recent JPL Education workshop, she shared how she continues to get her students excited about science – both in the classroom and remotely – during the COVID era.
What unique challenges do you face engaging or addressing the needs of your students?
Many of the students I teach face challenges including poverty, homelessness, and learning English as a second language. This year, in particular, has been extremely difficult for all of us dealing with the pandemic and distance learning. As a teacher, I have had to find ways to make sure that my students are engaged in scientific inquiry and have access to resources and materials while learning remotely. This begins and ends with a conscious effort to acknowledge that kids are struggling with this online format and carving out time in every single class to provide the socio-emotional support they have come to expect from a classroom environment. Before we dive into content, this means making time for check-ins and updates. In any in-person classroom, we carve out time to get to know each other, and being online should not diminish that. Of course, as we all learned this year, easier said than done.
Social isolation is another factor that contributes to the challenges of distance learning. Even though students see their peers virtually, it is often difficult for them to open up and talk as freely as they would if they were in a physical classroom. So I have had to find ways to make sure that my students are comfortable with engaging in a virtual setting by allowing them opportunities to talk and collaborate with each other online.
Using breakout sessions was difficult at first, because the students were very self-conscious about speaking to each other on screen and were reluctant to share ideas. So every day, we spent the first few minutes in each class just talking to each other through text-based chat to get them socializing and feeling more comfortable with this new way of interacting. Now they are more comfortable engaging in scientific inquiry with each other and have meaningful discussions to expand their learning. It is not the same as having them physically perform labs together in class but things are definitely improving.
Another challenge has been providing all of my students with access to resources and materials that allow them to simulate a laboratory experience at home. I have been pleasantly surprised at the wealth of resources I have available to me as a teacher to provide virtual labs and activities to my students. Whether it is virtual demonstrations and simulations or scientific investigations that require simple materials that students can find around the house, we have been very resourceful so we can give students the best experience possible through distance learning. Promoting lab science with home supplies has been instrumental in student engagement, as they really get to explore in their own context, expressing themselves creatively with what they have at their disposal instead of being provided the materials.
How have you used lessons from NASA and JPL to keep students engaged while teaching in person and remotely?
I have always been fascinated by outer space and have loved sci-fi TV shows and movies since I was very young. So as a teacher, I was so excited to discover ways to use my love of astronomy to engage my students.
When I discovered NASA and JPL's resources and lessons, I went through them like a kid in a candy store. I found so many different activities that I could adapt to use in my own classroom. Over the past few years, I have used several JPL Education lessons and modified and extended them for my students.
For example, I took JPL's Touchdown lesson and allowed students to create their own planetary lander using materials they could find around their home. I challenged them to create a way to quantify how much impact the touchdown would have on the "astronauts" in their lander. Some students used balls of play dough as their astronauts, and quantified the impact by measuring the dents made in the play dough by paper clips that they had placed on the "seats" of their lander.
Another example was when I combined the Soda-Straw Rocket and Stomp Rockets lessons. I had my students create a straw-stomp rocket to investigate how changing the angle of the rocket launch could have an effect on the distance the rocket traveled.
My students also had the opportunity to participate in engineering activities with JPL and college students from Pasadena City College. The impact that this had on my students was profound and long-lasting. It was inspiring for my students to hear from NASA scientists and student role-models who encouraged them to pursue careers in science, engineering, and technology.
How have students reacted to these lessons?
The biggest payoff for me was seeing students envision themselves as NASA scientists. They learned to collaborate with each other, learn from each other, and challenge each other. They were able to experience every step of the engineering process firsthand. They were actively involved in designing, building, and testing their rockets and landers. They could also gather information from watching other students revise and improve their designs. Learning from each other was so much fun for them. As a teacher, watching my students strengthen their critical thinking, practical engineering, and problem-solving skills is one of the best parts of my job.
You switched from teaching middle school to teaching high school this year. How are you thinking about incorporating NASA resources into lessons for older students?
Growing up, I loved how the technology that I saw in the sci-fi shows I watched as a kid eventually made its way into our reality. I am always amazed at how NASA scientists push the boundaries of technology development and are only limited by the scope of their imagination.
As a high school biology teacher, I'm looking forward to having my students examine the ways that space technology is being used to help humans improve the health of the planet. Investigating climate change and the ecological impact humans have on the environment is so important. Looking at how NASA gathers data to better understand climate change is especially critical at this time because my students' generation is going to play a pivotal role in developing technologies for improving life on Earth. I'm looking forward to continuing to use JPL Education resources to help my students prepare for that challenge.
---
Looking for ways to bring NASA STEM into your classroom or already have a great idea? The Education Office at NASA's Jet Propulsion Laboratory serves educators in the greater Los Angeles area. Contact us at education@jpl.nasa.gov.
Explore More
TAGS: Teaching, Teachers, K-12, Middle School, High School, Remote Instruction, Classroom, Lessons, Educators, Workshops, Professional Development
---
Update: March 15, 2021 – The answers are here! Visit the NASA Pi Day Challenge slideshow to view the illustrated answer keys (also available as a text-only doc) with each problem.
---
Learn about pi and the history of Pi Day before exploring some of the ways the number is used at NASA. Then, try the math for yourself in our Pi Day Challenge.
In the News
As March 14 approaches, it's time to get ready to celebrate Pi Day! It's the annual holiday that pays tribute to the mathematical constant pi – the number that results from dividing any circle's circumference by its diameter.
Pi Day comes around only once a year, giving us a reason to chow down on our favorite sweet and savory pies while we appreciate the mathematical marvel that helps NASA explore Earth, the solar system, and beyond. There's no better way to observe this day than by getting students exploring space right along with NASA by doing the math in our Pi Day Challenge. Keep reading to find out how students – and you – can put their math mettle to the test and solve real problems faced by NASA scientists and engineers as they explore the cosmos!
How It Works
Dividing any circle's circumference by its diameter gives us pi, which is often rounded to 3.14. However, pi is an irrational number, meaning its decimal representation goes on forever and never repeats. Pi has been calculated to 50 trillion digits, but NASA uses far fewer for space exploration.
Some people may think that a circle has no points. In fact, a circle does have points, and knowing what pi is and how to use it is far from pointless. Pi is used for calculating the area and circumference of circular objects and the volume of shapes like spheres and cylinders. So it's useful for everyone from farmers storing crops in silos to manufacturers of water storage tanks to people who want to find the best value when ordering a pizza. At NASA, we use pi to find the best place to touch down on Mars, study the health of Earth's coral reefs, measure the size of a ring of planetary debris light years away, and lots more.
In the United States, one format to write March 14 is 3.14, which is why we celebrate on that date. In 2009, the U.S. House of Representatives passed a resolution officially designating March 14 as Pi Day and encouraging teachers and students to celebrate the day with activities that teach students about pi. And you're in luck, because that's precisely what the NASA Pi Day Challenge is all about.
The Science Behind the 2021 NASA Pi Day Challenge
This year, the NASA Pi Day Challenge offers up four brain-ticklers that will require students to use pi to collect samples from an asteroid, fly a helicopter on Mars for the first time, find efficient ways to talk with distant spacecraft, and study the forces behind Earth's beautiful auroras. Learn more about the science and engineering behind the problems below or click the link below to jump right into the challenge. Be sure to check back on March 15 for the answers to this year's challenge.
› Take the NASA Pi Day Challenge
› Educators, get the lesson here!
Sample Science
NASA's OSIRIS-REx mission has flown to an asteroid and collected a sample of surface material to bring back to Earth. (It will arrive back at Earth in 2023.) The mission is designed to help scientists understand how planets form and add to what we know about near-Earth asteroids, like the one visited by OSIRIS-REx, asteroid Bennu. Launched in 2016, OSIRIS-REx began orbiting Bennu in 2018 and successfully performed its maneuver to retrieve a sample on October 20, 2020. In the Sample Science problem, students use pi to determine how much of the spacecraft's sample-collection device needs to make contact with the surface of Bennu to meet mission requirements for success.
Whirling Wonder
Joining the Perseverance rover on Mars is the first helicopter designed to fly on another planet. Named Ingenuity, the helicopter is a technology demonstration, meaning it's a test to see if a similar device could be used for a future Mars mission. To achieve the first powered flight on another planet, Ingenuity must spin its blades at a rapid rate to generate lift in Mars' thin atmosphere. In Twirly Whirly, students use pi to compare the spin rate of Ingenuity's blades to those of a typical helicopter on Earth.
Signal Solution
NASA uses radio signals to communicate with spacecraft across the solar system and in interstellar space. As more and more data flows between Earth and these distant spacecraft, NASA needs new technologies to improve how quickly data can be received. One such technology in development is Deep Space Optical Communications, which will use near-infrared light instead of radio waves to transmit data. Near-infrared light, with its higher frequency than radio waves, allows for more data to be transmitted per second. In Signal Solution, students can compare the efficiency of optical communication with radio communication, using pi to crunch the numbers.
Force Field
Earth's magnetic field extends from within the planet to space, and it serves as a protective shield, blocking charged particles from the Sun. Known as the solar wind, these charged particles of helium and hydrogen race from the Sun at hundreds of miles per second. When they reach Earth, they would bombard our planet and orbiting satellites were it not for the magnetic field. Instead, they are deflected, though some particles become trapped by the field and are directed toward the poles, where they interact with the atmosphere, creating auroras. Knowing how Earth's magnetic field shifts and how particles interact with the field can help keep satellites in safe orbits. In Force Field, students use pi to calculate how much force a hydrogen atom would experience at different points along Earth's magnetic field.
Teach It
Pi Day is a fun and engaging way to get students thinking like NASA scientists and engineers. By solving the NASA Pi Day Challenge problems below, reading about other ways NASA uses pi, and doing the related activities, students can see first hand how math is an important part of STEM.
Pi Day Resources
Plus, join the conversation using the hashtag #NASAPiDayChallenge on Facebook, Twitter, and Instagram.
Related Lessons for Educators
Related Activities for Students
Explore More

Infographic

Facts and Figures

Missions and Instruments

Websites
TAGS: Pi, Pi Day, NASA Pi Day Challenge, Math, Mars, Perseverance, Ingenuity, Mars Helicopter, OSIRIS-REx, Bennu, Asteroid, Auroras, Earth, Magnetic Field, DSOC, Light Waves, DSN, Deep Space Network, Space Communications
---
Learn how, why, and what Perseverance will explore on Mars, plus find out about an exciting opportunity for you and your students to join in the adventure!
---
In the News
On Feb. 18, NASA's Perseverance Mars rover touched down on the Red Planet after a seven-month flight from Earth. Only the fifth rover to land on the planet, Perseverance represents a giant leap forward in our scientific and technological capabilities for exploring Mars and the possibility that life may have once existed on the Red Planet.
Here, you will:
Why It's Important
You might be wondering, "Isn't there already a rover on Mars?" The answer is yes! The Curiosity rover landed on Mars in 2012 and has spent its time on the Red Planet making fascinating discoveries about the planet's geology and environment – setting the stage for Perseverance. So, why send another rover to Mars? The lessons we've learned from Curiosity coupled with advancements in technology over the last decade are allowing us to take the next big steps in our exploration of Mars, including looking for signs of ancient microbial life, collecting rock samples to bring to Earth one day, and setting the stage for a potential future human mission to the Red Planet.
More specifically, the Perseverance Mars rover has four science objectives:
Identify past environments on Mars that could have supported microbial life
Seek signs of ancient microbial life within the rocks and soil using a new suite of scientific instruments
Collect rock samples of interest to be stored on the surface for possible return by future missions
Pave the way for human exploration beyond the Moon
With these science objectives in mind, let's take a look at how the mission is designed to achieve these goals – from its science-rich landing site, Jezero Crater, to its suite of onboard tools and technology.
How It Works
Follow the Water
While present-day Mars is a cold, barren planet, science suggests that it was once very similar to Earth. The presence of clay, dried rivers and lakes, and minerals that formed in the presence of water provide extensive evidence that Mars once had flowing water at its surface. As a result, a mission looking for signs of ancient life, also known as biosignatures, should naturally follow that water. That's because water represents the essential ingredient for life as we know it on Earth, and it can host a wide variety of organisms.
This is what makes Perseverance's landing site in Jezero Crater such a compelling location for scientific exploration. The crater was originally formed by an ancient meteorite impact about 3.8 billion years ago, and it sits within an even larger, older impact basin. The crater also appears to have once been home to an ancient lake fed by a river that formed the delta where Perseverance will begin its exploration, by exploring the foot of the river delta.
Tools of the Trade
Perseverance will begin its scientific exploration with the assistance of an array of tools, also known as science instruments.
Like its predecessor, Perseverance will have a number of cameras – 23, in fact! – serving as the eyes of the rover for scientists and engineers back on Earth. Nine of these cameras are dedicated to mobility, or tracking the rover's movements; six will capture images and videos as the rover travels through the Martian atmosphere down to the surface, a process known as entry, descent, and landing; and seven are part of the science instrumentation.
Navcam, located on the mast (or "head") of the rover, will capture images to help engineers control the rover. Meanwhile, Mastcam-Z, also on the rover's mast, can zoom in, focus, and take 3D color pictures and video at high speed to allow detailed examination of distant objects. A third camera, Supercam, fires a small laser burst to excite compounds on the surface and determine their composition using spectroscopy. Supercam is also equipped with a microphone. This microphone (one of two on the rover) will allow scientists to hear the pop the laser makes upon hitting its target, which may give scientists additional information about the hardness of the rock.
Leaning more toward chemistry, the Planetary Instrument for X-Ray Lithochemistry (PIXL) will allow us to look at the composition of rocks and soil down to the size of a grain of salt. Elements respond to different types of light, such as X-rays, in predictable ways. So by shining an X-ray on Martian rocks and soil, we can identify elements that may be part of a biosignature.
Meanwhile, a device called SHERLOC will look for evidence of ancient life using a technique called Deep UV Raman spectroscopy. Raman spectroscopy can help scientists see the crystallinity and molecular structure of rocks and soil. For example, some molecules and crystals luminesce, or emit light, when exposed to ultraviolet – similar to how a blacklight might be used to illuminate evidence in a crime scene. Scientists have a good understanding of how chemicals considered key to life on Earth react to things like ultraviolet light. So, SHERLOC could help us identify those same chemicals on Mars. In other words, it can contribute to identifying those biosignatures we keep talking about.
Rounding out its role as a roving geologist on wheels, Perseverance also has instruments for studying beneath the surface of Mars. An instrument called the Radar Imager of Mars Subsurface Experiment (RIMFAX) will use ground-penetrating radar to analyze depths down to about 100 feet (30 meters) below the surface. Mounted on the rear of the rover, RIMFAX will help us understand geological features that can't be seen by the other cameras and instruments.
The rover's suite of instruments demonstrates how multiple scientific disciplines – chemistry, physics, biology, geology, and engineering – work in concert to further our understanding of Mars and help scientists uncover whether life ever existed on the Red Planet.
Next Generation Tech
At NASA, scientists and engineers are always looking to push the envelope and, while missions such as Perseverance are ambitious in themselves, they also provide an opportunity for NASA to test new technology that could be used for future missions. Two excellent examples of such technology joining Perseverance on Mars are MOXIE and the first ever Mars helicopter, Ingenuity.
MOXIE stands for the Mars Oxygen In-Situ Resource Utilization Experiment. Operating at 800 degrees Celsius, MOXIE takes in carbon dioxide (CO2) from the thin Martian atmosphere and splits those molecules into pure oxygen using what is called a catalyst. A catalyst is a chemical that allows for reactions to take place under conditions they normally wouldn't. MOXIE provides an incredible opportunity for NASA to create something usable out of the limited resources available on Mars. Over the duration of the rover's mission, MOXIE will run for a total of one hour every time it operates, distributed over the course of the prime mission timeframe, to determine whether it can reliably produce breathable oxygen. The goal of operating this way is to allow scientists to determine the performance across a variety of environmental conditions that a dedicated, human-mission-sized oxygen plant would see during operations - day versus night, winter versus summer, etc. Oxygen is of great interest for future missions not just because of its necessity for future human life support on Mars, but also because it can be used as a rocket propellant, perhaps allowing for future small-scale sample return missions to Earth.
The Mars Ingenuity helicopter is likewise an engineering first. It is a technology demonstration to test powered flight on Mars. Because the Martian atmosphere is so thin, flight is incredibly difficult. So, the four-pound (1.8-kilogram), solar powered helicopter is specially designed with two, four-foot (1.2-meter) long counter-rotating blades that spin at 2,400 rotations per minute. In the months after Perseverance lands, Ingenuity will drop from the belly of the rover. If all goes well, it will attempt test flights of increasing difficulty, covering incrementally greater heights and distances for about 30 days. In the future, engineers hope flying robots can allow for a greater view of the surrounding terrain for robotic and human missions alike.
Teach It
The process of landing on Mars with such an advanced mission is no doubt an exciting opportunity to engage students across all aspects of STEM – and NASA wants to help teachers, educators and families bring students along for the adventure with the Mission to Mars Student Challenge. This challenge will lead students through designing and building a mission to Mars with a guided education plan and resources from NASA, listening to expert talks, and sharing student work with a worldwide audience.
Learn more about the challenge and explore additional education resources related to the Perseverance Mars rover mission at https://go.nasa.gov/mars-challenge
Watch the Landing
The next chapter of Perseverance's journey takes place on Feb. 18 at 12 p.m. PST (3 p.m. EST), when the mission reaches Mars after seven months of travelling through space. Join NASA as we countdown to landing with online events for teachers, students, and space enthusiasts! The landing day broadcast can be seen on NASA TV and the agency's website starting at 11:15 a.m. PST (2:15 p.m. EST). For a full listing of online events leading up to and on landing day, visit the mission's Watch Online page.
Follow landing updates on NASA's Twitter, Facebook and Instagram accounts.
Explore More
More Resources From NASA
TAGS: Mars, Perseverance, Mars 2020, Science, Engineering, Robotics, Educators, Teachers, Students, Teachable Moments, Teach, Learn, Mars Landing
---
Learn about the mission and find out how to make classroom connections to NASA Earth science – plus explore related teaching and learning resources.
---
In the News
A new spacecraft that will collect vital sea-surface measurements for better understanding climate change and improving weather predictions is joining the fleet of Earth science satellites monitoring our changing planet from space. A U.S.-European partnership, the Sentinel-6 Michael Freilich satellite continues a long tradition of collecting scientific data from Earth orbit. It's named in honor of NASA's former Earth Science Division director and a leading advocate for ocean measurements from space.
Read on to find out how the mission will measure sea-surface height for the next 10 years and provide atmospheric data to help better predict weather. Plus, find out how to watch the launch online and explore related teaching resources to bring NASA Earth science into the classroom and incorporate sea level data into your instruction.
How It Works
The Sentinel-6 Michael Freilich satellite is designed to measure sea-surface height and improve weather predictions. Once in orbit, it will be able to measure sea-surface height – with accuracy down to the centimeter – over 90% of the world's oceans every 10 days. It will do this using a suite of onboard science tools, or instruments.
To measure sea-surface height, a radar altimeter will send a pulse of microwave energy to the ocean's surface and record how long it takes for the energy to return. The time it takes for the signal to return varies depending on the height of the ocean – a higher ocean surface results in a shorter return time, while a lower ocean surface results in a longer return time. A microwave radiometer will measure delays that take place as the signal travels through the atmosphere to correct for this effect and provide an even more precise measurement of sea-surface height.
To measure atmospheric data, Sentinel-6 Michael Freilich is equipped with the Global Navigation Satellite System - Radio Occultation, or GNSS-RO, instrument, which will measure signals from GPS satellites – the same ones you use to navigate on Earth. As these satellites move below or rise above the horizon from Sentinel-6 Michael Freilich's perspective, their signals slow down, change frequency and bend as a result of the phenomenon known as refraction. Scientists can use these changes in the GPS signal to measure small shifts in temperature, moisture content, and density in the atmosphere. These measurements can help meteorologists improve weather forecasts.
Why It's Important
Scientists from around the world have been collecting sea level measurements for more than a century. The data – gathered from tide gauges, sediment cores, and space satellites – paint a clear picture: sea level is rising. Looking at the average height of the sea across the planet, we see that in the last 25 years global sea level has been rising an average of 0.13 inches (3.3 mm) per year. This average is increasing each year (in the 2000s, it was 0.12 inches, or 3.0 mm, per year) as is the rate at which it's increasing. That means that sea level is rising, and it's rising faster and faster. Since 1880, global sea level has risen more than eight inches (20 cm). By 2100, it is projected to rise another one to four feet (30 to 122 cm).
Measuring sea level from space provides scientists with global measurements of Earth's oceans in a matter of days, including areas far from shore where measurements aren't practical or possible. Starting in 1992 with the launch of the TOPEX/Poseidon mission, the record of sea level measurements from space has continued uninterrupted, providing an increasingly detailed picture of Earth's rising seas. The Sentinel-6 Michael Freilich satellite – and its twin, which will launch in 2025 – will extend those measurements to 2030, allowing scientists to continue collecting vital information about Earth's changing oceans and climate.
Unlike previous satellites that measured sea level, Sentinel-6 Michael Freilich has the capability to measure sea level variations more accurately near coastlines, giving scientists insight into changes that can have direct impacts on communities and livelihoods, such as commercial fishing and ship navigation.
With rising seas already impacting people and communities, it's important to understand not just how much seas are rising, but also where and how quickly they are rising. Data from instruments on Sentinel-6 Michael Freilich can be combined with data from other satellites to get a clearer picture of what's contributing to sea level rise and where. For example, by looking at the satellite's radar altimeter measurements along with gravity measurements from the GRACE-FO mission, scientists can better determine how melting ice and thermal expansion are contributing to sea level rise. And by tracking the movement of warm water (which stands taller than cold water), scientists can better predict the rapid expansion of hurricanes.
Watch the Launch
Scheduled to launch at 9:17 a.m. PST (12:17 p.m. EST) on November 21, Sentinel-6 Michael Freilich will launch atop a SpaceX Falcon 9 rocket from Vandenberg Air Force Base in California.
Watch a live broadcast of the launch from the Vandenberg Air Force Base on NASA TV and the agency's website. Visit the Sentinel-6 Michael Freilich website to explore more news about the mission. Follow launch updates on NASA's Twitter, Facebook and Instagram accounts.
Teach It
Make classroom connections to NASA Earth science with lessons about rising seas, thermal expansion and ice melt, data collection and graphing, and engineering. Plus explore independent activities and experiments students can do at home, video playlists, and more:
Explore More
Recursos en Español
TAGS: Teachable Moments, Educators, Teachers, Parents, K-12 Education, Launch, Mission, Earth, Satellite, Earth Science, Climate Change, Sentinel-6 Michael Freilich, Sea Level, Sea Level Rise,
---
When Yohn Ellis got his chance to intern at NASA, he wasn't about to let it slip away, pandemic or not. Growing up and going to school in Houston, Texas, the home of NASA's Johnson Space Center, Ellis has long been a superfan of the agency. So when he was offered an internship at NASA's Jet Propulsion Laboratory in Southern California, he jumped at the chance. That was before all but a handful of JPL's essential employees were required to switch to remote work. So instead of a hands-on role, Ellis got first-hand experience in how the laboratory overcomes challenges. Returning intern Evan Kramer caught up with Ellis, a grad student studying electrical engineering at Prairie View A&M University, to learn more about his remote internship this past summer, researching how miniature devices could make their way into spacecraft of the future. Ellis talks about how he made the most of the experience while sharing a full house with his family, what it meant to be part of the JPL community, and how he hopes to pay it all forward.
What are you working on at JPL?
I am working with the radar technology team, doing research into nanotechnology [a field of study looking at miniaturized (nanoscale) materials and devices]. When my internship first started, I researched how nanotech is being used in medicine, health, business, and all these other fields. Then, I started to focus on doing simulations of nanoelectronics. I'm working on gaining new insight into nanotechnology to see how we can utilize it for future projects at JPL.
Tell me a bit more about the simulations you're doing. How might your work be applied to JPL missions and science in the future?
On nanoHUB.org, there are hundreds of tools you can use to simulate different aspects of nanotechnology and nanoelectronics. So I've looked into a lot of these tools. I've had to stick to one of the more user-friendly tools, because I honestly haven't had a lot of exposure to nanotech before. So this internship has been a great learning experience for me. Right now, I'm utilizing a simulation of a nano-transistor. So I'm applying different characteristics and settings to generate different effects to see if there are benefits to making our transistors smaller so we could fit more of them into an integrated circuit.
At the core of nanotech, you want to make things smaller and smaller. If we can make spacecraft and spacecraft instruments smaller, then we can do more science while staying within our size, mass, and power constraints. It's not always clear what the benefits of nanotechnology will be until you start experimenting. With this field, there's a lot of information that we can learn through simulations and modeling because we don't yet know about the behaviors of these new materials. That is why it's beneficial to do these simulations and this research.
What is your average day like?
Before the COVID pandemic hit, my project was going to be at JPL, doing hands-on research. But after [most JPL employees went on mandatory telework] I was fortunate enough to keep my internship and transition to a virtual experience, where I could do some research at home using the simulation software.
My average day is very interesting, working from home around the rest of my family. There are a lot of personalities going on. So it might be that the TV is on downstairs or the dog is barking or my brothers are playing a game or my dad is cooking.
But as far as what I have going on, I start my day around 8 or 9 a.m. and work until about 7 p.m. I check in to some of the virtual webinars. There are a lot of great webinars going on for interns about the cool projects people are working on at JPL. I'm also conducting research, running simulations, reading articles, and sharing what I find out with my mentors, Mohammad Ashtijou and Eric Perez. I produce presentations pretty much weekly, if not biweekly, to convey what I've learned, and then my mentors guide me and steer me in the proper direction.
So my days are pretty unique. Working from home has definitely been an adjustment, but there are some benefits to working from home, such as not having to pay as much for gas or commute anywhere. You just wake up and get yourself started for the day. I will say there are some disadvantages, like not being able to actually put your hands on the stuff you're researching, but there's some benefit to running the simulations instead.
What has the experience of a virtual internship been like?
It's a bit of an adjustment, because I'm a very hands-on person. I like going out there and being involved, especially in the workplace and networking. But there is a way to network virtually. I've met some very interesting people and have had a chance to share some of who I am with them, to kind of put myself out there. I even created a virtual newsletter. Every time I network with someone new, I send them my newsletter to bridge that networking gap and paint a picture of who I am outside of the work that I do. I enjoy getting to share that with everyone, and I get a lot of good feedback from it.
Being a virtual intern is something that I'd see myself doing again. I've loved the virtual experience. It's been great. With everything being virtual, I feel like everyone has a little bit more time to interact with you. They're more likely to take that meeting and just talk to you about how your day is going and share how things are going at home for them, too.
So the virtual experience was definitely something that I'll never forget, and I'm super appreciative of it. There was one point when JPL thought they would have to postpone the internship. With me being a full-time grad student, I desperately wanted to have this experience, because I plan to continue toward a Ph.D. Not everyone gets to say they interned with NASA.
I can honestly say that this internship, even though it's virtual, has by far been the most beneficial from an exposure standpoint. The stuff that's being done at NASA-JPL is out of this world. I'm pretty sure a lot of people use that type of verbiage when they talk about NASA, but it really is amazing some of the stuff that I've been exposed to – from the missions that are going on to some of the resources that I have had access to as an intern to develop my skills and network.
What is the most uniquely JPL or NASA experience you've had so far?
Learning about Perseverance, the Mars rover that launched this summer, and hearing first-hand about how it was built, how it's going to collect soil samples, and look into biosignatures – you would think it's science fiction. To me, it's so exciting, because as a youth, I dreamed about working at NASA, and now I'm doing it.
I've also felt a real connection to the culture at JPL. I've felt supported and comforted by JPL as an African-American man during these hardships we've been going through. It's true that JPL is making a lot of advancements in science and space, but I think it's uniquely JPL that there are people there who truly care about you as an individual. They see you, and they hear you, and they want to help you develop as a person as well as an engineer or professional. I really felt as if I was cared for as an individual this summer, and that spoke a lot to me.
I fully agree. I haven't had the life experiences that you've had, but that is certainly something that I feel as well. This is my third internship at JPL, and all the mentors that I've had have really expressed that you're not just here to contribute your labor for 10 weeks. You're here to develop as a person. And they want to help you develop.
Where do you go to school and what are you studying?
I'm wrapping up my Master's in electrical engineering at Prairie View A&M University, a historically black college and university [HBCU] in Houston, Texas. My thesis is about machine learning and artificial intelligence. I am utilizing algorithms that do regression analysis to predict ground-water levels throughout the state of Texas. I was recruited to do that research through a program at my university called CREDIT [Center of excellence in Research and Education for big military Data inTelligence.] When I graduated from undergrad and expressed that I wanted to continue to graduate school for my Master's degree, CREDIT extended the opportunity for me to join the study as a graduate research assistant. So I've been doing that for about two years now, and I'm getting ready to transition to a Ph.D. level.
What brought you to JPL for this internship?
I vividly remember being infatuated with NASA as a youth, so much so that my parents ordered me a pamphlet from Space Center Houston with posters and stickers explaining all of the cool things happening across NASA. I will never forget when I was able to visit the center during spring break in 2009. It was by far the most amazing thing I have ever witnessed as a youth.
As life goes on, you don't think as much about your childhood dreams, but every time I saw an opportunity at NASA I applied. When I saw that JPL was looking to take on interns, I was just wrapping up my Master's, and I figured, "Let me give it another shot." I spent a lot of time working on my application, making sure it looked as good as possible. Who would've thought that months later, I would've been afforded the opportunity?
What's your ultimate career goal?
My goal is to develop my career enough so that I can share my experience and passion with others in my community and communities similar to the one I grew up in. I also want to share how STEM benefits society and how a career in STEM is attainable. A lot of times, people say, "I don't like math," or, "I don't like science." Quite frankly, I see myself as someone who didn't like those subjects much either. But I knew that I wanted to work for NASA one day or work in the field of engineering, so I had to get comfortable with those subjects. So my ultimate goal is to know that my career is set so that I can give back to communities where there are people who might be unsure of what they are capable of. I would also like to give kudos to JPL, because I see that they have a lot of involvement with local communities, doing educational outreach.
I fully agree. I've been giving talks to high-school students about the Perseverance Mars rover, and it is the most rewarding thing to see younger students who don't really know what they want to do in the future get excited [about STEM]. Now they're interested, and you can give them the tools to go out and maybe pursue it.
Most definitely. And that's how you pour into the next person so that they can pour into the next person.
How do you feel you're contributing to NASA-JPL missions and science?
I remember early on in my JPL internship, in one of the webinars, they expressed how this experience is meant to ultimately give you exposure but also inspire you to develop yourself. I believe that I'm contributing in that way by being someone who is driven, motivated, and also willing to take those chances to look deeper than the basic assignment.
When you're not in school or interning, how do you like to spend your time?
I'm having a good time with my family. My brothers and I play board games together. I work out sometimes. For the most part, I've been spending time with the family, playing a video game in my free time, shopping online a little bit, and connecting with my frat brothers. I've done a lot of virtual events for people in the community, talking about COVID safety and stressing the importance of voting, with the elections coming up.
I also find myself doing a lot of internal development. So that would be reading a little bit more for pleasure, and also doing some assessments of my goals and budgeting. I like to look at this pandemic as a sort of "halftime" when I can work on some things for me to better develop myself.
My last question is a fun one: If you could have a spacecraft built to study anything you want, what would it be?
I'd like to study how to sustain or better germinate resources on Earth. If we can find a way to learn what's going on globally on a more intimate scale, I believe that would help us utilize our planet's resources more effectively – resources that could pertain to producing more crops for food, for example.
This Q&A is part of an ongoing series highlighting the stories and experiences of students and faculty who came to JPL as part of the laboratory's collaboration with historically black colleges and universities, or HBCUs. › Read more from the series
Explore More
Kim Orr contributed to this story.
---
The laboratory's STEM internship and fellowship programs are managed by the JPL Education Office. Extending the NASA Office of STEM Engagement's reach, JPL Education seeks to create the next generation of scientists, engineers, technologists and space explorers by supporting educators and bringing the excitement of NASA missions and science to learners of all ages.
Career opportunities in STEM and beyond can be found online at jpl.jobs. Learn more about careers and life at JPL on LinkedIn and by following @nasajplcareers on Instagram.
TAGS: Higher Education, Internships, STEM, College Students, Careers, Jobs, Engineering, Electrical Engineering, HBCU, Black History Month
---
It sounds like a reality show: A team of six interns working remotely from their homes across the country given 10 weeks to build a prototype lunar spacecraft that can launch on a balloon over the California desert. But for Christine Yuan, a senior at Cornell University, it was just another engineering challenge.
This summer marked Yuan's second time interning with the Innovation to Flight group at NASA's Jet Propulsion Laboratory. The group brings in a collaborative team of a dozen or more interns each year. Their task is to create and test prototypes of far-flung ideas for spacecraft and space technology over the course of their internship. But this summer, with most of JPL's employees still on mandatory telework and interns required to complete their projects remotely, the team had an even bigger challenge to overcome: How could they build a spacecraft together while hundreds of miles apart?
Yuan flashed back to her days using materials from around the house to build props and costumes from her favorite TV shows and games. It was what made her want to become a mechanical engineer in the first place. She had a 3D printer and tools in the apartment she shares with a friend from school. So it was decided. She would build the spacecraft in her apartment and mail it in parts to the other interns working on electronics and software from their respective homes.
We caught up with Yuan to learn how she and the team took on the challenge of building a spacecraft from home, how her childhood hobby served as inspiration, and to find out whether the test flight was a success.
What are you working on at JPL?
I'm an intern with the Innovation to Flight group, which is a team of interns that works with JPL engineers and scientists to take ideas for new kinds of technology or spacecraft from ideation to flight in one summer. The goal is to quickly develop prototypes to see whether an idea is feasible and increase the technical readiness level of various hardware. I was part of the group last summer, too. This summer, we've been split into two groups. The group I'm working with is exploring whether we might be able to use a constellation of CubeSats [small, low-cost satellites] to support robots and astronauts on the Moon. So we're building prototypes of the CubeSats and the communications and navigation technology.
How might CubeSats support astronauts and robots on the Moon?
The goal is to have a couple of these CubeSats orbiting the Moon that can assist with various surface operations, whether it's a rover or a small robot or an astronaut trying to communicate. There are a couple parts to it. One is localization, the ability to figure out where you are on the Moon – sort of like our GPS on Earth – so different assets know where they are relative to each other. The other part is communication. If you're collecting data, the data could be sent from the surface assets to the CubeSats to another surface asset or ground station. The CubeSats could take away a lot of the onboard processing that needs to happen so assets on the Moon could use less processing power.
You're interning remotely this summer. Are you actually building the CubeSat?
Yeah. On the CubeSat team, there are six of us, so we have a couple of people working on the software and then a few of us are working on building the CubeSat itself. I have a lot of tools and a 3D printer, so I'm working on designing the structure and then prototyping it using the stuff I have at home. The team has been getting materials out to me, and I've been printing stuff on my 3D printer and building it out. Then I've been mailing out parts to our avionics people so they can load it up with all the electronics.
Wow. That's so cool. Are you building all of this at home or in your dorm room? Are the people living with you wondering what you're up to?
I spent the first half of the summer in my parents' house, so I was operating out of their garage. Now that I'm back at school, I work from my apartment. I'm living with one of my friends right now. She's also in the aerospace field so she has an idea of what I'm doing. Most of the time we're just working in our rooms, but I normally have a bit more of a "dynamic" going on in my room.
How has the team adjusted to working remotely?
Half the team is returning from last summer, so we've worked together before. But when we were at JPL, it was easier because we could walk back and forth with parts and hand things off.
When we were planning for the summer, we were talking about the different options that we had. I like to build things in my free time, so I have a bunch of different tools. I'm a mechanical engineer, so I was going to be working on the structure anyway. So I said, "I'll build the structure, ship it in pieces to the rest of the team, and give them a detailed explanation or a CAD model so they can assemble it." Our software and electronics guys are coding everything and sharing their files. Two of the team members are roommates this summer, which is really convenient. They're working on the electronics and avionics out of the basement at one of their family's homes. Then, we're just constantly messaging with each other. We talk at least once a day. It helps that we're a small team.
What's your average day like?
I'm on the East Coast, so the time difference hasn't affected me too badly. I wake up, work out, and then I start work. In the morning, I'll check in with different members of the team. I like to have a to-do list, so I normally have one for the week. Depending on what I need to do, my day ranges anywhere from trying to figure out what I need to prototype next to 3D printing something or drilling holes in this or that. I use any downtime to talk to other team members, figure out what they're doing.
How has the remote experience compared with last summer, when you were at JPL in person?
The most disappointing thing was not being able to be at JPL in person with everyone. Last summer, there were about 15 of us all working in the same room together. We'd have big brainstorming meetings, all getting together and working on the white board. It was kind of a chaotic, loud mess, but it was a lot of fun, and we got a lot of work done. I was always moving around, always talking to somebody, always building something or testing something. I really enjoyed working on a team like that. It was very fast-paced.
This summer, it's a little more difficult, because I haven't met half the team members in person, and it's just slower. We're shipping things to one another and some of us are in different time zones. It's just been a little more difficult to get things done as fast. Another big change is that at the end of last summer, we had two flight tests. We launched one of our prototypes on a tethered balloon, and then we tested some of our other projects on a high-altitude balloon. We're not going to get to do that in person this summer.
Do you feel like you still have that team comradery even though you're apart this summer?
Definitely. Half the people are returning from last summer, so we're still pretty tight, and we're all in this together. It may not be as dynamic and as fast-paced as last summer, but we're building something together pretty well and pretty quickly.
What are you studying in school, and what got you interested in that field?
I'm studying mechanical engineering. I got into mechanical engineering for a variety of reasons. When I was younger, I was a huge nerd – I still am. I would spend my summers in my parents' basement, making costumes and props from my favorite movies and TV shows. I realized that I really liked making things. I liked putting things together and seeing them work. I also think space is really cool. I want to be able to tell my future kids and grandkids, "I worked on projects that helped us discover all these things about the universe." There's so much we don't know, and I know I can't learn everything, but I want to be a part of the discovery process. So I took those two things that I'm pretty hyped about, put them together, and decided that I want to be an engineer. I want to build spaceships. I want to help advance science and make new discoveries.
What were some of the props or costumes that you designed as a kid?
I was a big fan of the "Final Fantasy" video game series, so with the little bit of money that I made from tutoring kids, I would go out and buy different materials to recreate some of the props from that game. Lightning's gunblade was one of the things I made that I thought was pretty cool. I'm also a big fan of the "Fire Emblem" series, so I recreated a couple of things from that. I also like making costumes for my friends.
I'm starting to get back into it, because I have a little bit of free time this summer. Me and my friends have plans to make our own lightsabers and just play around with what we can make and what we can do with the budget and tools we have. That's where the challenge is. As a kid, I was so limited by the materials I had available. I thought it was fun figuring out how to make stuff anyway. How can I hammer this out with what I have in my house?
What brought you to JPL for your internships?
I heard great things from friends who had interned at JPL before. It's one of the best places to be if you want to work on space missions. I'd never been to the West Coast before last summer. I'm from Maryland. I grew up in a town about 20 minutes outside of Baltimore. It was kind of scary [to travel so far from home], but I feel like life's about experiences, so I might as well just do it.
How do you feel you're contributing to NASA missions and science as an intern?
I feel like it's impossible for any one person to make an impact alone. I'm part of a team that's helping assist future lunar missions. In the grand scheme of things, it's a small piece of what humanity is going to achieve in the future, but it's rewarding to know that I'm part of it. I know I'm a small piece in the big machine, but it still feels like a lot, because if you take one piece out of the machine, it can break.
That's a great way of putting it.
When you're not in school or interning, how do you like to spend your time? What are some of your hobbies?
At school, I'm involved with a bunch of different organizations on campus. One of my main extracurriculars is that I build UAVs [unmanned aerial vehicles]. I'm also involved with a lot of the outdoorsy groups on campus.
When the weather's nice, which in Upstate New York is not always the case, I like to run. I've run some pretty crazy races – Ragnar races, If you ever heard of those – and a couple of relays around the Finger Lakes. I like to run. I like to hike. There's a lot of beautiful mountains and lakes in the Upstate New York area. I've been trying to explore them. And I like to rock climb. I have a couple of friends at school who are super involved in the rock-climbing community, so they got me into it.
When the weather's not so nice, I like to read. I also started to get back into building props and making costumes, because I finally feel like I have time again to sit down and do that. It's a pretty time-consuming hobby.
Now for a fun question: If you could build a spacecraft to go anywhere and study anything, what would it be?
Theoretically, if you had all the technology to do it, I think it would be cool to see inside a black hole. Send a spacecraft in there, and send data out.
----
Since we last talked, your team finished the CubeSat and tested it in the desert! Tell us more about that and how it went?
The tests went pretty well given the circumstances. The team performed a lot of our tests remotely. We ran simulations to test some of the software. Our mock lunar surface asset was able to drive autonomously. Some aspects of the tests were successful and others could use more work, but we laid down a good foundation for future Innovation to Flight interns to build on. Hopefully our work helped the researchers we worked with from JPL and the University of Colorado Boulder.
---
A novel approach to developing rapid prototypes for space exploration, the Innovation to Flight program was created in 2014 by JPL Fellow Leon Alkalai, who continues to oversee and guide activities. Coordinated by Senior Research Scientist Adrian Stoica with support over the years from Chrishma Derewa, David Atkinson, and Miles Pellazar at JPL, the program has brought in more than 50 student interns from across the country. Offering students a uniquely collaborative experience developing technology for the Moon, Mars, and beyond, Innovation to Flight has also served as a career pathway to numerous program alumni now working at JPL.
Explore JPL's summer and year-round internship programs and apply at: jpl.nasa.gov/intern
Career opportunities in STEM and beyond can be found online at jpl.jobs. Learn more about careers and life at JPL on LinkedIn and by following @nasajplcareers on Instagram.
The laboratory's STEM internship and fellowship programs are managed by the JPL Education Office. Extending the NASA Office of STEM Engagement's reach, JPL Education seeks to create the next generation of scientists, engineers, technologists and space explorers by supporting educators and bringing the excitement of NASA missions and science to learners of all ages.
TAGS: Higher Education, Internships, STEM, College Students, Careers, Jobs, Engineering, Mechanical Engineering, Innovation to Flight, Technology Demonstration, Moon