Kim Orr is a web and content producer for the Education Office at NASA's Jet Propulsion Laboratory. Her pastimes are laughing and going on Indiana Jones style adventures.

---
When the offer letter arrived from NASA's Jet Propulsion Laboratory, Kiana Williams could hardly believe it. Thousands of science and engineering students apply each year for internships at the lab known for its dare-anything missions to the planets and beyond. Williams never expected it would be her first internship.
"It actually took me about a week to accept that it was a real offer and that I'd actually be coming to intern at NASA/JPL," she said.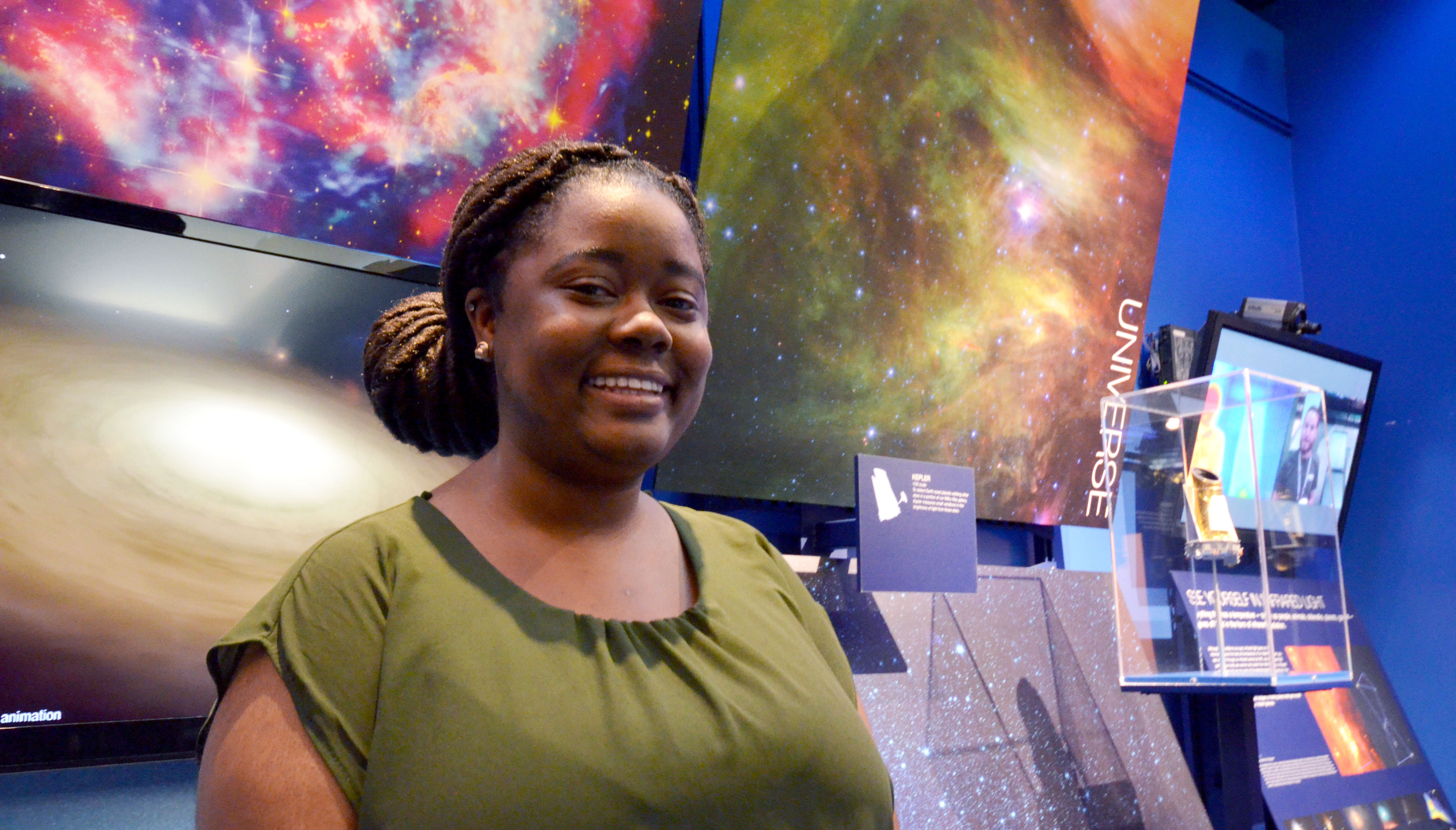 Mechanical engineering student Kiana Williams grew up near JPL in Southern California, but she never thought to apply for an internship until JPL's Education Office visited her university in Alabama. Now, a first-time intern, she says she realizes, "Oh, I can do this." Image credit: NASA/JPL-Caltech
This summer, Williams is joining more than 700 undergraduate, graduate and doctoral students for internships at JPL in Pasadena, California. Over 10 weeks, they will design new ways to study stars, investigate icy moons thought to be hospitable to life, and even help choose a landing spot for the next Mars rover.
"I get the opportunity to design an entire space telescope from top to bottom," said Williams, a senior mechanical engineering student at Tuskegee University in Alabama. "It's kind of a big task, but at the same time it's fun, so it makes my day go really quickly."
One of 10 NASA field centers, JPL is the birthplace of spacecraft and instruments that have explored every planet in the solar system, studied our home planet and looked beyond to discover new worlds. It doesn't just design and build spacecraft, it also operates them, and collects and studies the science they return.
"It's the only place in the world where everyone needed to conceive of, design, build, launch and land spacecraft, get the science data and write the papers about that science data are all in one place," said Matt Golombek, a JPL scientist whose interns over the years have helped choose the landing sites for all five Mars rovers and landers since Pathfinder in 1997.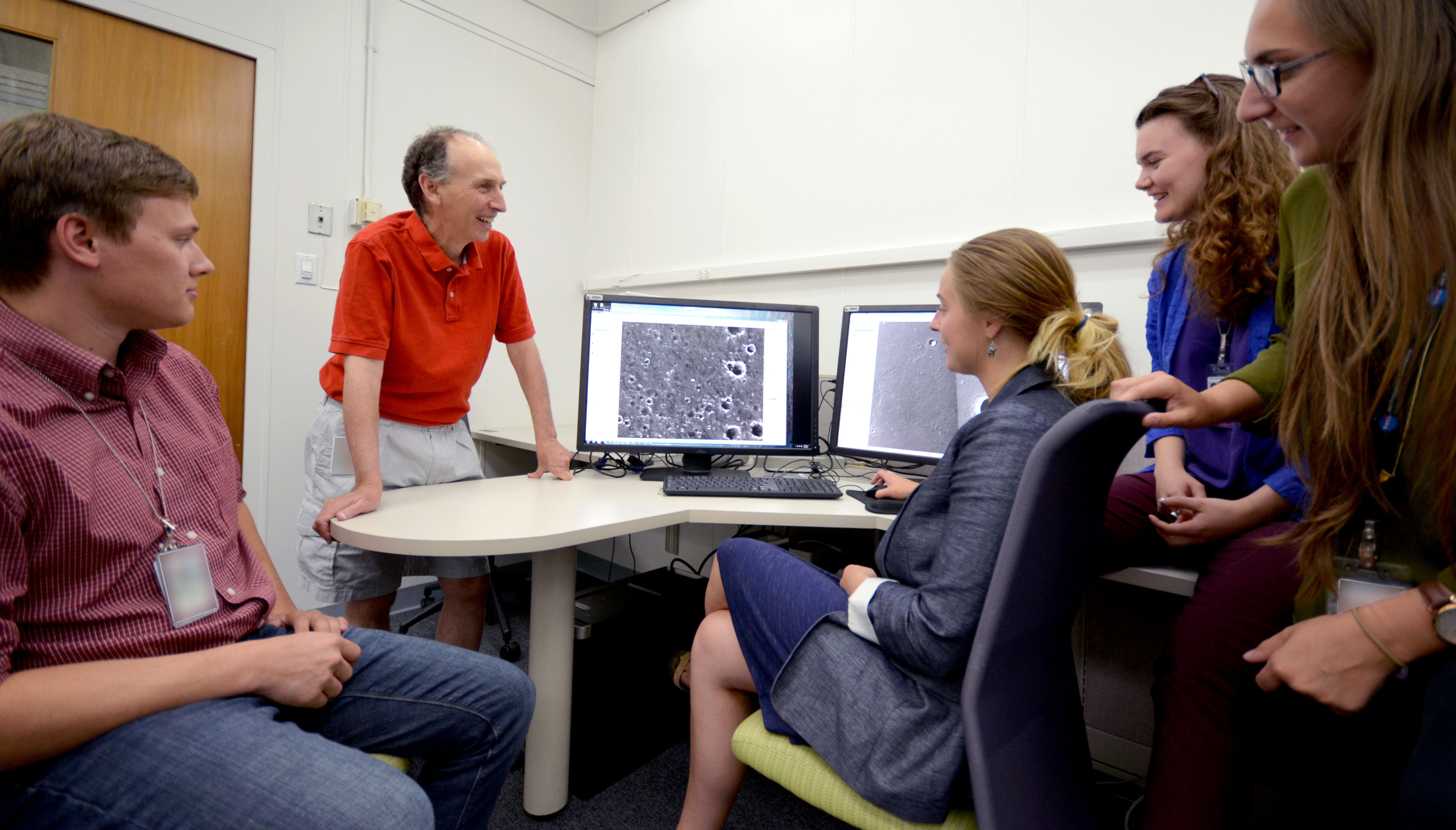 The self-proclaimed "landing site dude," Matt Golombek brings in a host of geology students each year to help identify landing sites on Mars. He has five students this summer helping with site selections for three upcoming missions, including Mars 2020. He says it's rewarding to see how students' JPL experience has a positive impact on their future no matter what they go on to do. (From left to right: Marshall Trautman, Matt Golombek, Rachel Hausman, Carol Hundal, Shannon Hibbard.) Image credit: NASA/JPL-Caltech
The lab's internship programs give students studying everything from aerospace engineering to computer science and chemistry the chance to do research with NASA scientists, build spacecraft, and create new technology for future missions.
With more than 20 active spacecraft plus a to-do list that includes missions to Mars, Jupiter's moon Europa and the asteroid belt, JPL has no shortage of projects ripe for students who are eager for careers in space exploration.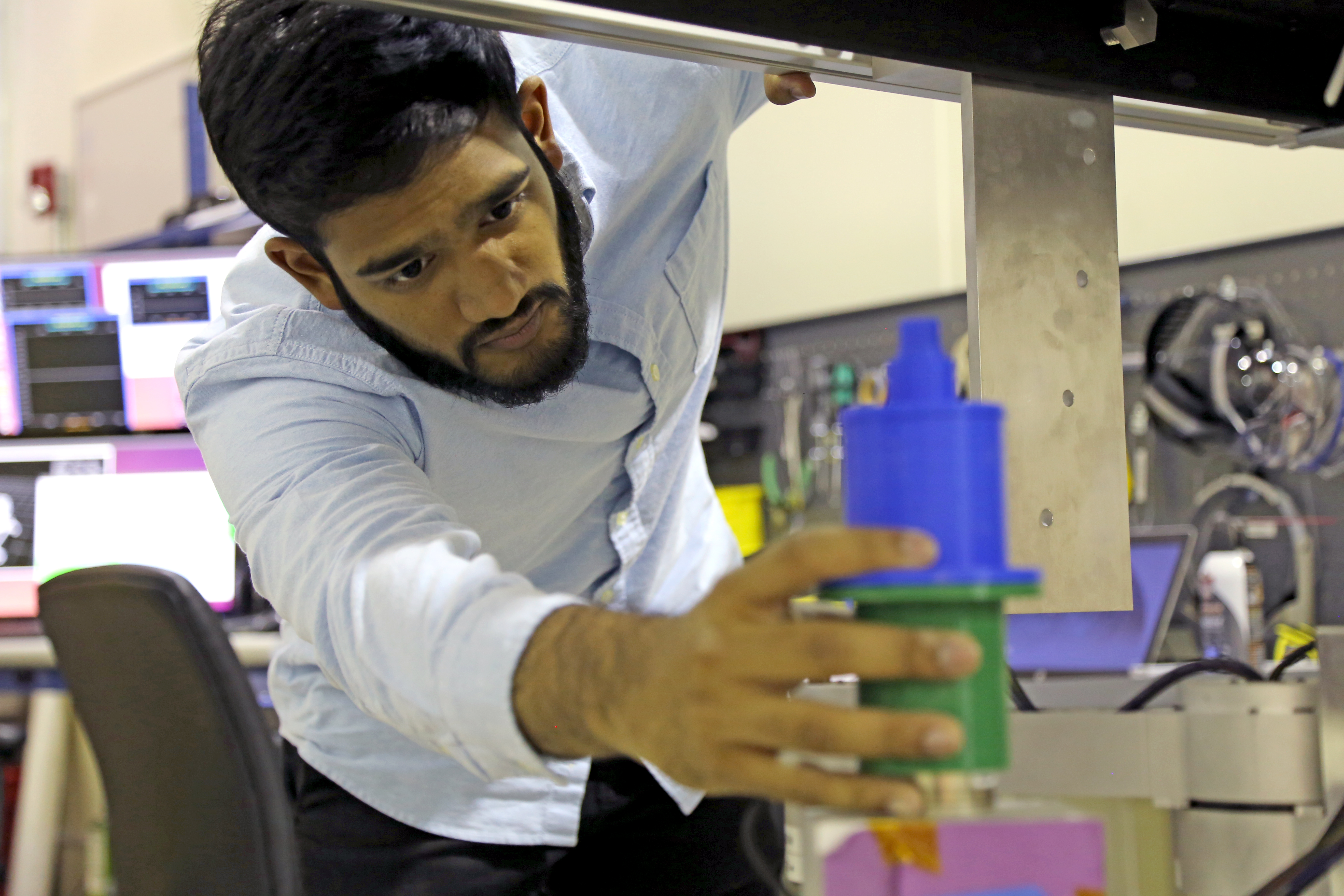 Nirmal Patel says that in addition to the wow-factor of testing parts for a Mars rover, his JPL internship is a chance to meet other engineers and scientists all united in a common goal. "Here, everyone wants to explore. And when you have that common goal, it has a different atmosphere," he said. Image credit: NASA/JPL-Caltech
"It's just amazing knowing that what we're doing now will also be replicated on Mars in a few years," said Nirmal Patel, a mechanical engineering student at the University of Michigan who is testing parts for the Mars 2020 rover. "It's surreal almost. I'm still a student but I'm getting to have an impact on this project."
David Dubois, a three-time intern who studies planetary science at the University of Versailles Saint Quentin near Paris, returned to JPL this summer to continue his research on icy moons around Saturn, Jupiter and Neptune. Using data from the Cassini mission (which will end its nearly 13-year mission at Saturn this September) he is modeling the atmosphere of Saturn's moon Titan to better understand its chemical environment – and maybe discover if it could support life.
He says that in addition to access to one-of-a-kind data directly from spacecraft, JPL offers the opportunity to explore new fields of science and even career paths, if students are open to it.
"Being open is certainly something that I've learned from JPL, not being afraid of tackling different problems in different fields," said Dubois, who is about to publish his first paper as a lead author based on his research at JPL.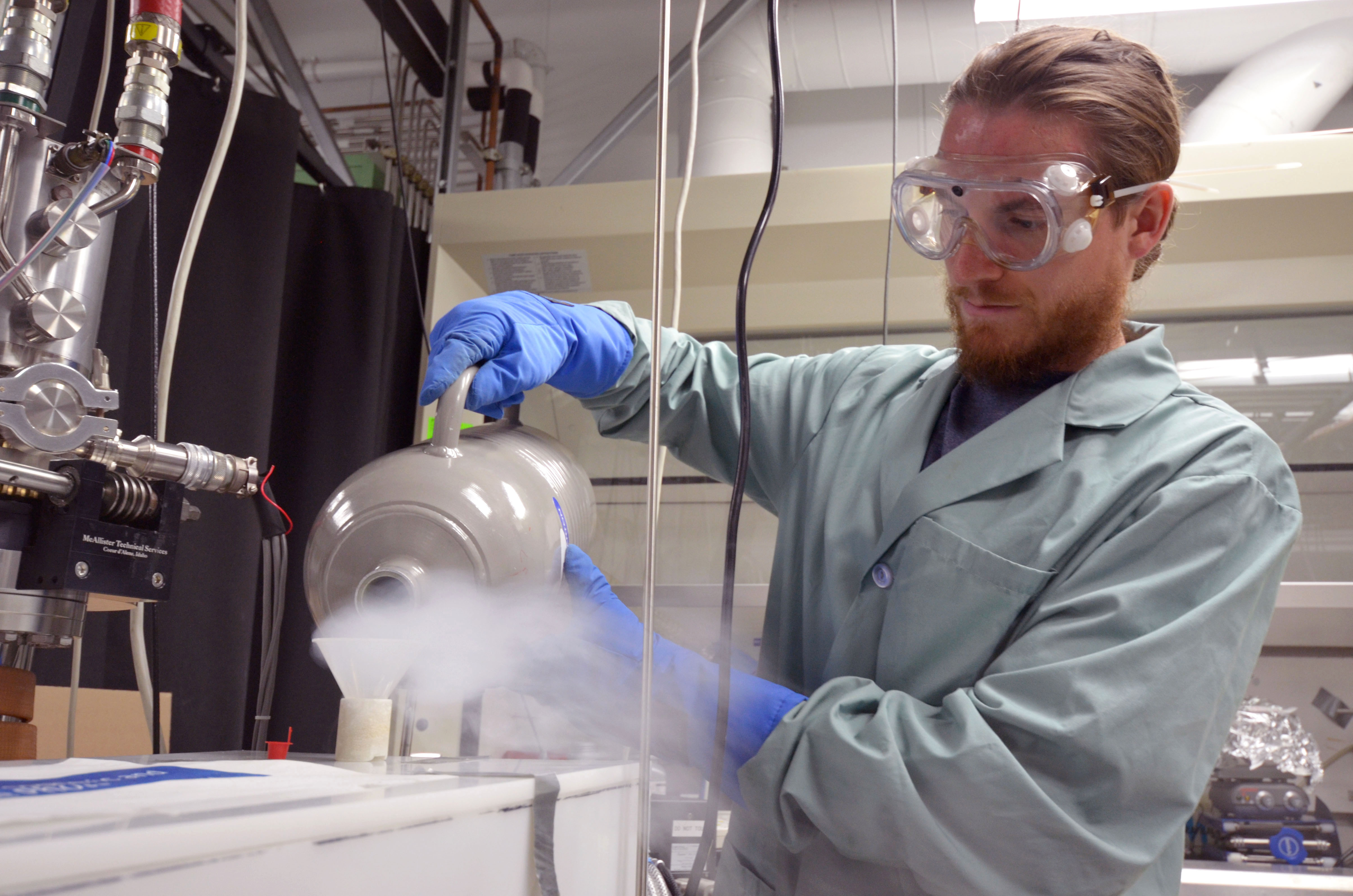 When he's not doing research, David Dubois says he focuses much of his time on outreach, which is one of his other passions. This year, he traveled to India with a friend to visit schools and villages and encourage students there to pursue science. "I like to say that I think anybody is a scientist," he said, "as long as you try to provide an answer to questions around you." Image credit: NASA/JPL-Caltech
It's precisely that exposure to its unique career offerings in science, technology, engineering and math – and a foot in the door – that JPL's Education Office, which manages the lab's internship programs, is working to provide to more students.
"Our students are operating right alongside the mentors and participating in the discovery process," said Adrian Ponce, who manages JPL's higher education group. "It's a fantastic opportunity for them, and it's also a great opportunity for JPL. Our internship programs are designed to bring in students from diverse backgrounds and underrepresented communities who share new ways of thinking and analyzing challenges. Many of them will become the next generation of innovators – and not just at JPL."
For Williams, who plans to continue toward a master's degree in design engineering after she graduates in December, her time at JPL is confirmation that she's on the right path and has the motivation to keep going.
"It makes me feel like school is worth it," said Williams of her internship experience so far. "All the stress I'm going through at school will be worth it because you can find places that are like JPL, that make your job fun."
Explore JPL's summer and year-round internship programs and apply at: https://www.jpl.nasa.gov/edu/intern
The laboratory's STEM internship and fellowship programs are managed by the JPL Education Office. Extending the NASA Office of Education's reach, JPL Education seeks to create the next generation of scientists, engineers, technologists and space explorers by supporting educators and bringing the excitement of NASA missions and science to learners of all ages.
TAGS: Intern, Mars 2020, Europa, Cassini, Titan, Science, Engineering, Missions
---
Marco Dolci did not set out to become a NASA engineer. Instead, like many of Dolci's pursuits, the career path presented itself on his lifelong quest "to know" – that is, to answer any and every question that crosses his mind. As a boy, his never-ending stampede of questions became too much even for his ever-patient parents, so they presented him with a book, 1001 Questions and Answers on Planet Earth. But rather than satiate his quest for answers, it spurred him to seek more.
Today, Dolci still asks a multitude of questions, but the answers he finds through his own determination and curiosity, which have taken him from studies in linguistics to physics to aerospace engineering to robotics – and across the world, from his hometown of Lodi, Italy to NASA's Jet Propulsion Laboratory in Pasadena, California.
Dolci first came to the Laboratory in 2013 as part of the JPL Visiting Student Researchers Program, or JVSRP. Having just earned a master's in physics, Dolci was pursuing a second master's in aerospace engineering at the Polytechnic University of Milan when he entered and won a scholarship sponsored by the Italian Space Agency and the Italian Scientists and Scholars of North America Foundation. His prize: a paid internship at any North American laboratory. He says JPL was the obvious choice.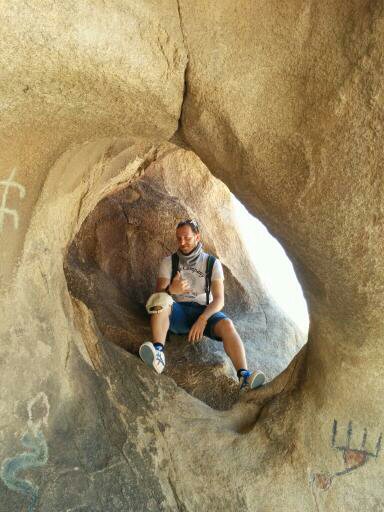 Dolci in California's Joshua Tree National Park. Photo courtesy: Marco Dolci
"I chose JPL because it's the best place to work on anything related to space," said Dolci, adding that he only learned later that the laboratory is located in California, a fact that made it all the more desirable. "I just wanted to come here."
Dolci spent two months working on concepts and proposals for missions designed to study black holes, protoplanetary discs, X-rays and cosmic rays. He became the lead author on a science paper about the latter, and the team was so impressed with his work that Dolci's internship was extended another 10 months.
After a year, however, Dolci's visa was up and so was his time in America and at JPL. But his next step was clear: He would find a way to come back. "I was really impressed by JPL, both for the people that I found here, who are open to learn and challenge themselves," said Dolci. "And the fact that it puts on the table resources that allow great projects."

So Dolci formulated a plan. First, he entered a PhD program in aerospace engineering at the Polytechnic University of Turin, which in Italy offered the chance to spend part of his studies abroad supported by his university. He also applied for the US Diversity Immigrant Visa program, sometimes called the "green card lottery." With only 50,000 people across the world randomly chosen for green cards each year from about 10 million qualified applicants, it was a long-shot – but luck was on Dolci's side.
In 2016, Dolci returned to JPL to do research for his PhD under the JVSRP program – but this time with a green card in hand.
For the last year, in concert with his PhD thesis, Dolci has been helping develop technology for a possible future NASA mission to bring samples from Mars back to Earth. In 2020, the agency will send a rover to the surface of Mars, where one of its goals will be to collect samples of Martian rocks and soil that could be returned to Earth in the future. Getting those samples to Earth would require a series of never-attempted feats, each with unique challenges.
Dolci is helping develop a device to transfer the sample from a container launched from Mars to a spacecraft that would carry the samples home. It would all need to happen remotely, in space, without the device jamming or exposing the samples to contaminants.
Having always approached problems from a theoretical perspective, Dolci says the chance to get hands-on with actual hardware has opened his eyes to new career possibilities.
"I think that you can really learn something when you put your hands on it," said Dolci. "Otherwise, yeah, you know the theory, but there's an ocean between theory and practice."
Recently, Dolci's manager encouraged him to apply for a job at JPL. He used the invitation as a chance to explore a career move – one that would take him beyond theory to start building devices capable of answering questions.
"I'm looking for a unity between science and space technology," said Dolci, who will start his new job in JPL's Robotic Vehicles and Manipulators group in November. "Robotics seems to me to be the best place in which these two interests find the common point to be able to provide a technological answer to scientific problems."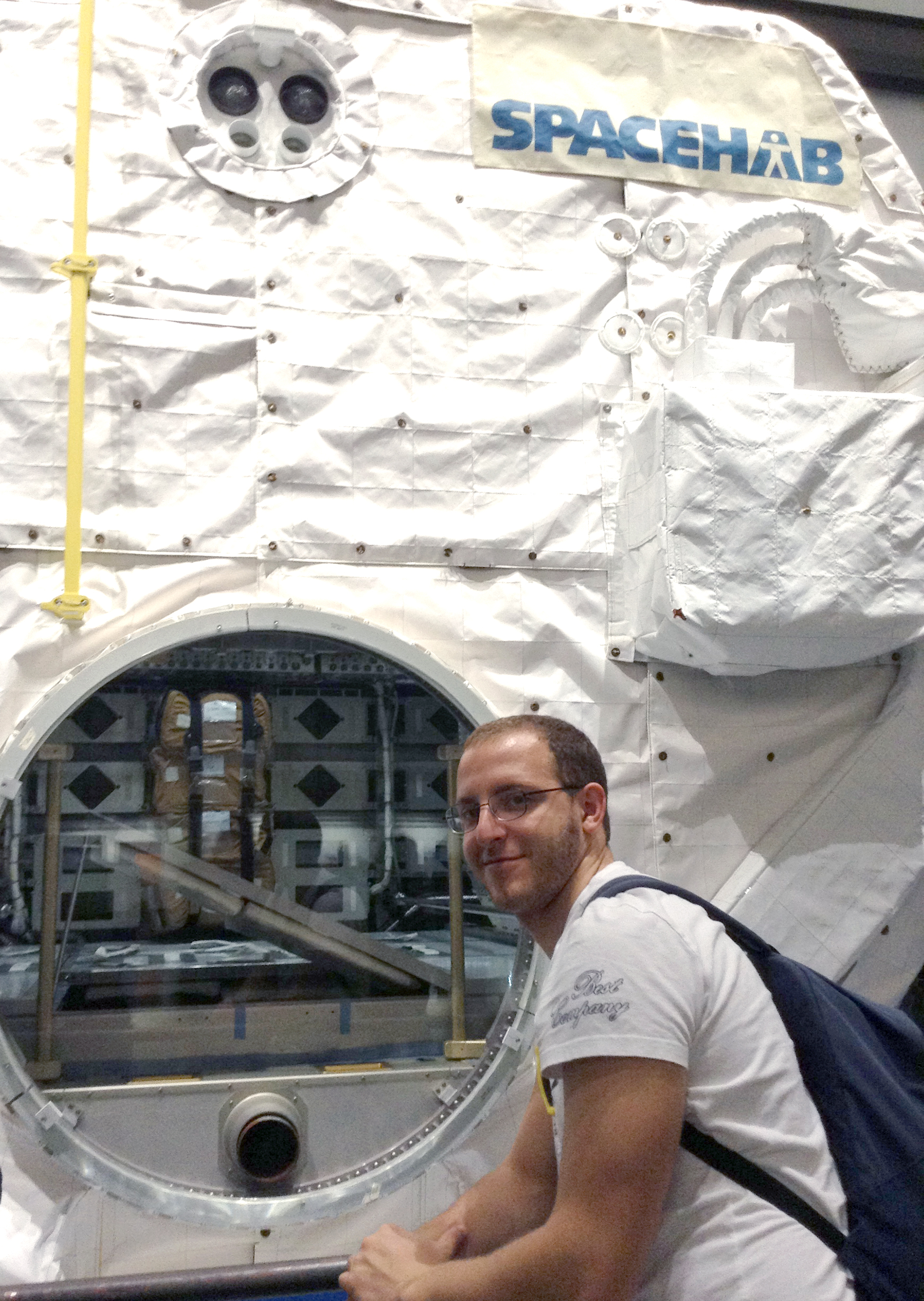 Dolci poses in front of an astronaut workstation called SPACEHAB on display at the California Science Center in Los Angeles. Photo courtesy: Marco Dolci
Dolci admits with a sheepish grin that he still has another big aspiration. In four years, once he becomes a US citizen, he plans to apply to be an astronaut. For now, though, he's focused on learning all he can, continuing to ask questions and finding new ways to seek answers.
"I consider myself really lucky to be in a place like JPL," said Dolci. "Working here is a possibility to keep moving up, to become more mature in terms of deciding who I am, what I want to do, where I want to contribute."
To others looking to follow his trajectory, Dolci says while luck helped push things along, it was the power of determination, his quest "to know" and a support network of family, friends and mentors that made his dreams a reality.
"I would have never made it to JPL without the support of someone who has bet on me," said Dolci. "Don't give up on desiring good things. Dare mighty things because we are made for great things."
Explore JPL internship programs and apply at: http://www.jpl.nasa.gov/edu/intern
The laboratory's STEM internship and fellowship programs are managed by the JPL Education Office. Extending the reach of NASA's Office of Education, JPL Education seeks to create the next generation of scientists, engineers, technologists and space explorers by supporting educators and bringing the excitement of NASA missions and science to learners of all ages.
TAGS: Intern, Internships, JVSRP, Mars 2020, Robotics, Science, Engineering, STEM
---
Forty community college students from across California spent a week designing Mars rover missions at NASA's Jet Propulsion Laboratory as part of the Spring 2017 session of NASA's Community College Aerospace Scholars, or NCAS, program.
Selected from nearly 1,000 applicants, the students toured JPL in Pasadena, California, met with scientists and engineers, and attended career and resume workshops. But the main event was a series of competitions that pitted four teams' rovers against one another on a simulated Mars terrain.
Led by JPL mentors, the teams had just a few days to build and refine autonomous rovers from Lego Mindstorms EV3 kits. After competing in two challenges, the teams presented their rover mission concepts to a panel of judges and a winning team was announced.
To learn more about the program and apply, visit: https://nas.okstate.edu/ncas/
Explore more NASA/JPL internship opportunities at: https://www.jpl.nasa.gov/edu/intern
The laboratory's STEM internship and fellowship programs are managed by the JPL Education Office. Extending the NASA Office of Education's reach, JPL Education seeks to create the next generation of scientists, engineers, technologists and space explorers by supporting educators and bringing the excitement of NASA missions and science to learners of all ages.
---
A "teachable moment" turned into a science fair win for an eighth-grader in Ontario, Canada, who based his project on a classroom activity from NASA's Jet Propulsion Laboratory.
Joshua Dove, 13, says he originally planned to explore the effects of storage temperature on golf balls until his grandfather, a space enthusiast and environmental consultant, saw a Caltech news story he had to share.
The story was about how an instrument called LIGO had detected gravitational waves for the first time, confirming a key piece of Einstein's 1915 general theory of relativity. A web search led Dove to the JPL Education website and its "Dropping In With Gravitational Waves" activity, where he learned how to model the gravitational wave discovery using gelatin, a laser and marbles.
"Scientific models allow scientists, and students, to understand and explain phenomena that might be difficult or impossible to see," said JPL Education Specialist Lyle Tavernier, who created the lesson for the website's Teachable Moments blog. The blog, from the JPL Education Office, helps educators turn NASA- and JPL-related mission and science news into activities for the classroom. "While the LIGO detectors are located thousands of miles apart, this activity helps students understand gravitational waves using a model that fits on their desk!"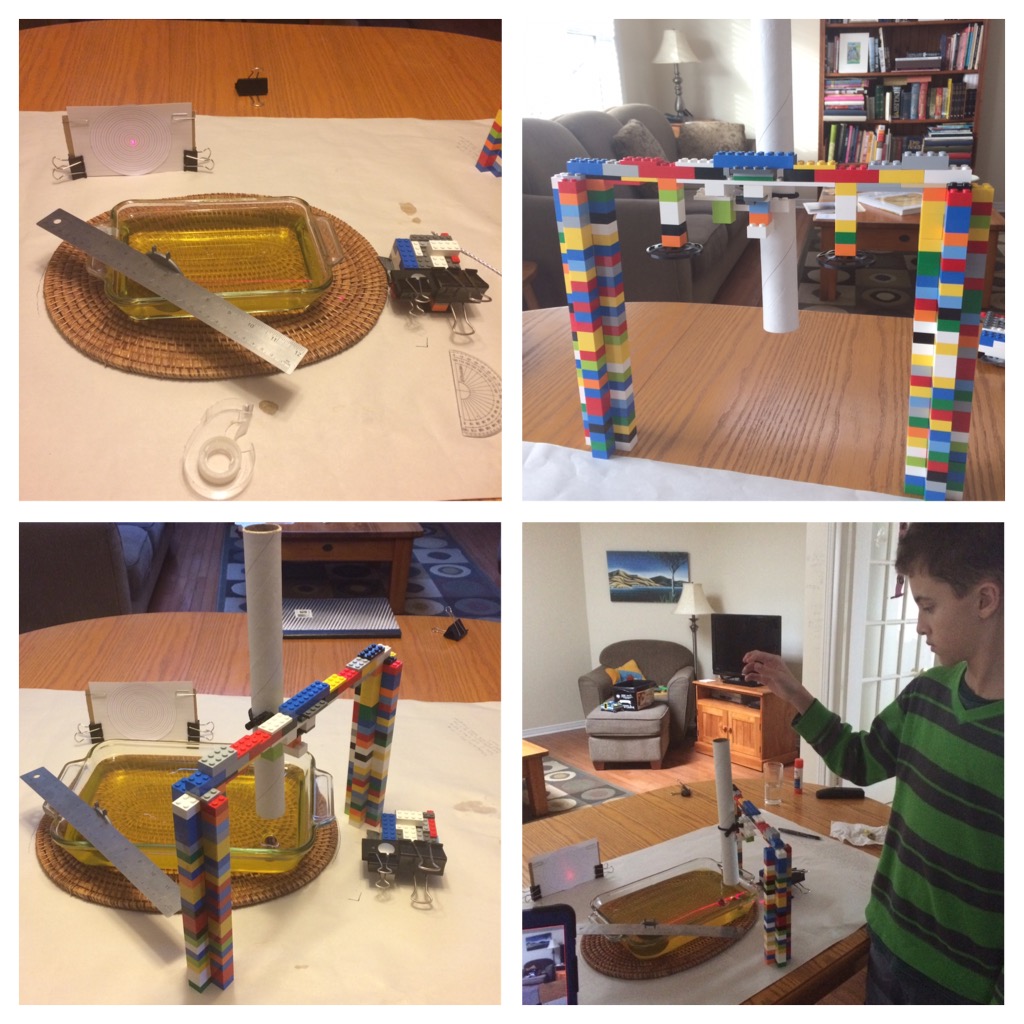 Dove made modifications to the JPL Education activity for his science fair project, including using Legos to create a device that could drop a marble from different heights. He says figuring out how he needed to alter the design was his favorite part of the project.
With the help of his mom and grandfather plus a few tips from Tavernier, Dove was able to modify the lesson for his science fair project, which looked at whether the model would show consistent and predictable variations in the movement of the laser (gravitational waveform) depending on the energy released during a marble (black hole) collision.
"There was a trend that suggested the greater the weight of the impacting object, the larger the amplitude of the waveform," said Dove, noting in his abstract that there were some inconsistencies in the results that would require more testing. He plans to do that this summer.
After presenting at his school's science fair, Dove was asked by his teacher to enter the regional competition, where he won an award from the Royal Astronomical Society of Canada.
Dove's mom says the win was a big confidence booster for her son, who hopes to eventually work at NASA or become an inventor. "I would like to invent things that would help people affected by a natural disaster," he said.
As far as advice for other science fair participants, Dove says, "Don't be upset if you don't get the results you are expecting, and don't be afraid to make modifications to your experiment." In fact, he says it was working through the modifications that turned out to be his favorite part of the project.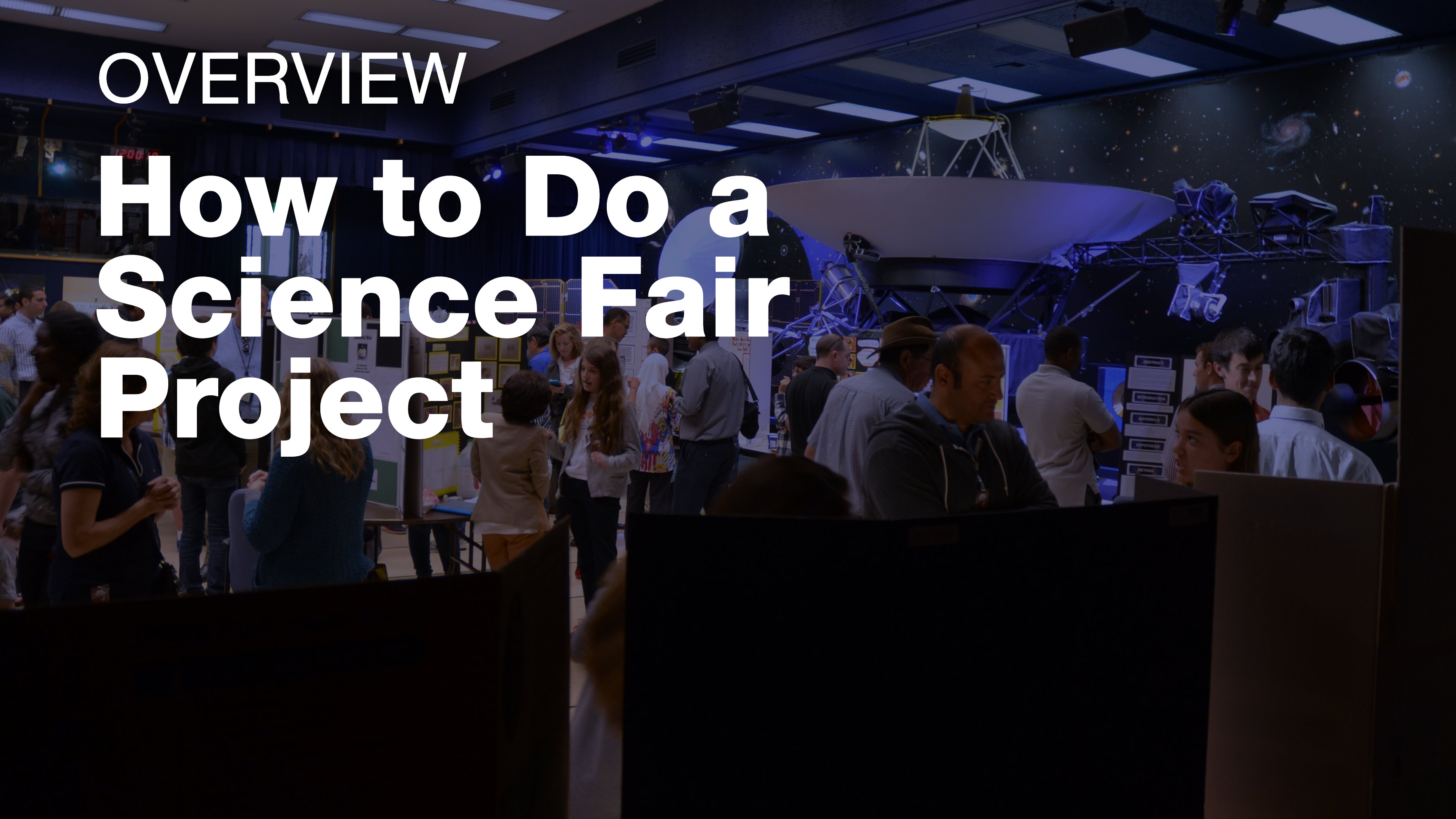 Need help with your science fair project?
Watch our how-to video series to get started!

Check it out
His other advice: "Have a good mentor." Or in Dove's case, three. In addition to support from his grandfather and mom, it was Dove's older sister, a science fair winner herself, who encouraged him to enter the regional competition. And thanks to the encouragement, Dove has no plans to stop now. "I would like to learn more about detecting other intergalactic phenomenon," he said.
For tips on creating a winning science fair project, watch JPL Education's "How to Do a Science Fair Project" video series.
Explore the gravitational waves activity and more standards-aligned STEM lessons for grades K-12 at: http://www.jpl.nasa.gov/edu/teach
› Get tips for turning NASA mission and science news into lessons for the classroom.
The laboratory's K-12 education initiatives are managed by the JPL Education Office. Extending the reach of NASA's Office of Education, JPL Education seeks to create the next generation of scientists, engineers, technologists and space explorers by supporting educators and bringing the excitement of NASA missions and science to learners of all ages.
TAGS: Science Fair, Gravitational Waves, STEM, Science, K-12, Models
---
Two former interns of NASA's Jet Propulsion Laboratory are joining the agency's newest class of astronaut candidates. Jessica Watkins and Loral O'Hara were among 12 selected for the coveted spots announced by the agency on Wednesday.
Adrian Ponce, manager of JPL's Higher Education Programs, congratulated the new astronaut candidates and emphasized the value of the laboratory's internship programs, which bring in about 1,000 students each year to work with researchers in science, technology, engineering and mathematics (STEM) fields.
"JPL is recognized in the world as a place of innovation, and interns have the opportunity to operate alongside researchers, contribute to NASA missions and science, develop technology and participate in making new discoveries," said Ponce, adding that the internship experience serves as a pathway to careers at JPL, aerospace companies, tech giants – and now the NASA astronaut corps.
While there's no single formula for becoming an astronaut, experience at a NASA center certainly helps. In fact, many NASA scientists and engineers already working in their dream jobs landing rovers on Mars or discovering planets beyond our solar system, still aspire to become astronauts.
Watkins, who as a graduate student participated in several internships at JPL that had her analyzing near-Earth asteroids and planning ground operations for the Mars Curiosity rover, says that becoming an astronaut was a childhood dream that just "never went away." In a video interview during her internship with the Maximizing Student Potential, or MSP, program in 2014 she talked about how she saw her experiences at JPL as a key step to fulfilling her goal.
"When you walk away from having an internship at JPL, I think you just have a broader perspective on what's possible and what's feasible," said Watkins, who in 2016 participated in another program from JPL's Education Office, an intensive, one-week mission formulation program called Planetary Science Summer Seminar. "I think you set a new standard for yourself just by being around people who have set the standard really high for themselves. You learn to appreciate the possibilities and the things that you really are capable of achieving."
› Explore JPL's internships programs and apply
› Learn more about Watkins and O'Hara and meet the rest of NASA's new class of astronaut candidates
---
This feature was originally published on April 25, 2016.

---
If you weren't able to snag a ticket to "Explore JPL" this summer, there are still plenty of ways to experience the wonder of space exploration with NASA and the Jet Propulsion Laboratory. Consider these alternatives, which feature some of the same great people, science and engineering as our Explore JPL event.
Tours

Tour the clean room, where engineers have built some of NASA's most advanced spacecraft, including the Mars Curiosity rover and the Juno spacecraft now at Jupiter. Get a look at the command center for active missions. And see a collection of spacecraft models, moon samples, and other science and mission artifacts in our Visitor Center. JPL offers tours free of charge for individuals and groups. Reserve your spot on the JPL Tours website.
Lecture Series

Hear about JPL's latest scientific discoveries, missions, and technology form the scientists, engineers and technologists who are making them a reality. JPL hosts free talks twice per month, on consecutive Thursdays and Fridays at the laboratory and Pasadena City College, respectively. The Thursday talks are also broadcast live and recorded on Ustream. See a calendar of upcoming lectures and learn more, here.
---
Museum Alliance Events

NASA's Museum Alliance is a partnership of more than 700 museums, planetariums, science centers, nature centers and youth-serving organizations around the world that receive resources and professional development from NASA – and in turn share those resources with their own audiences, through exhibitions and programming. Visit the Museum Alliance website to see a calendar of NASA space exploration and science events near you.
---
Night Sky Network Events
See the stars and explore the wonders of the night sky. The Night Sky Network brings the science, technology and inspiration of NASA missions to the general public through astronomy clubs and events across the country. Find a list of upcoming events, including star parties, telescope workshops and educational talks, on the Night Sky Network website.
---
Solar System Ambassadors Events

JPL's Solar System Ambassadors program works with dedicated volunteers throughout the country to share the excitement of the laboratory's space exploration missions and scientific discoveries with local communities. See a calendar of upcoming presentations and outreach events on the Solar System Ambassadors website.
---
Edu Events
Discover upcoming educational events, professional development workshops, team competitions, internship openings and other events for students, teachers and parents on our events page.

---
Connect with JPL Online

You can join the conversation with JPL and get updates on the latest happenings without even leaving the house. There are a number of ways to connect with JPL through social media and online.
TAGS: Ticket to Explore JPL, Explore JPL, Events, Tours
---
Brandon Murphy's family was well accustomed to his months-long jaunts to Virginia, Florida and Texas, the home of whichever NASA facility had offered him an internship that semester. Freshly inspired and equipped with new skills, yet a little homesick, Murphy always returned to North Carolina, where he'd lived and gone to school since the age of 12.
But when his fifth NASA internship rolled around in the spring of 2016, a dream opportunity at the agency's Jet Propulsion Laboratory in Southern California, Murphy sat his family down and told them he wouldn't be coming home this time.
"I packed up my entire house, put it on the back of a truck, and had them ship it here. Then I drove 36 hours from North Carolina to California in El Niño," said Murphy, who at the time was still finishing up his master's in computer science at North Carolina A&T State University.
A few years earlier, in the hope of improving his career prospects and "making a difference in the world," Murphy had set his sights firmly on finding an internship – and eventually, a career – at NASA. When shortly after applying for an internship he got a call from the agency's Wallops Flight Facility in Virginia, he couldn't believe it. "At first I thought they were joking. I was like, you're kidding me. You said NASA, right?"
He accepted almost immediately and spent the next four months developing visualizations and software for an airborne mapping instrument. It didn't take long before he was hooked. "Ever since [that first internship], I applied at NASA every semester and some opportunities showed up that I didn't even apply for," said Murphy.
So when he got an internship offer from his top choice, JPL, with just months to go before earning his degree, Murphy decided to risk it all. "I just took a risk and said, I'm going to come to JPL, put my best foot forward and fingers crossed a full-time position opens up for me."
His parents, military veterans who had tried to instill the values of minimizing risk were understandably worried. But six months after arriving at JPL, and on the eve of his sixth and final internship, Murphy got the position he was waiting for: a full-time gig in JPL's cyber security group hunting for threats to the laboratory's systems and developing defenses against them.
Diversity in the Pipeline
Murphy's story is exactly the kind Jenny Tieu is hoping to see more of at JPL. As one of several program coordinators in the laboratory's Education Office, which brings hundreds of interns and fellows to JPL each year, Tieu focuses specifically on reaching underrepresented students, like Murphy, and bringing them into NASA's pipeline – a cadre of workshops, internships and professional development designed to produce the next generation of scientists and engineers.
Internships are an important piece of that pipeline, providing hands-on experience and a foot in the door. Once in the pipeline, students are more likely to end up with a career at a NASA center. This year, for example, close to half of JPL's new employees who recently graduated from college started at the laboratory as interns or fellows, a new record.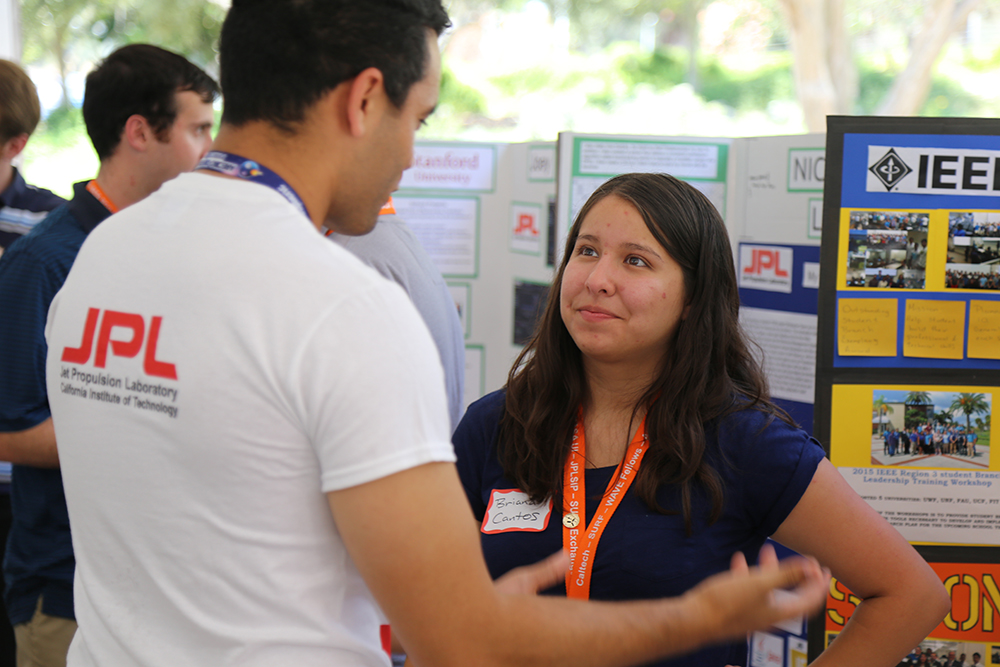 Graduating seniors present their research during a poster session at JPL in August 2016. The poster day is one of a number of strategies JPL is using to bring students through the final step in NASA's pipeline, a full-time job. Image credit: NASA/JPL-Caltech/Lyle Tavernier
But more than just shape the workforce that will design the spacecraft of the future and explore new worlds, the pipeline is, "a great opportunity to cultivate a community of diverse thinkers and innovators who bring unique perspectives from a multitude of backgrounds," said Tieu.
Promoting diversity in the pipeline involves a number of strategies by JPL and other NASA centers to reach out to schools that enroll high numbers of students who aren't typically well represented in science, technology, engineering and math (STEM), and partner with organizations working to get students involved in those fields.
One agency-wide program, the Minority University Research and Education Project, or MUREP, is what gave Murphy a chance to explore several careers at NASA – and helped him stand out.
"The combination of all the experiences and opportunities that Brandon had at different NASA centers really helped solidify his experience and make him a prime candidate for a full-time position," said Tieu. "This is really the work of the MUREP community coming together as a team to provide opportunities and prepare students for the workforce."
Creating diversity is not without its challenges, though. Perhaps the biggest hurdle is simply making sure students know that opportunities exist for them at NASA. The Education Office and its counterparts across the agency are constantly in search of new ways to reach out to students and encourage them to apply.
In his own way, Murphy is too. He says of his six internships, it was important for him to not only do well for himself, but also for his school, a Historically Black College and University (HBCU), so places like NASA would continue to seek out interns there. Already that attitude has paid off for at least one classmate who recently stopped Murphy in the school's computer lab to thank him for setting a good example.
"He said, 'I just wanted to thank you, because when [NASA Johnson Space Center] called to offer me an internship, they said that because of the work you did, they sought other students from A&T,'" said Murphy. "I was like, wow. He's really going to get an opportunity to experience the great things that I experienced because I got there and put my best foot forward."
When the Pipeline Ends?
The ultimate goal of the pipeline is to turn students who are interested in STEM into scientists and engineers. But what happens once the former interns are hired comes down to efforts at each NASA center to wrap them into the unique culture.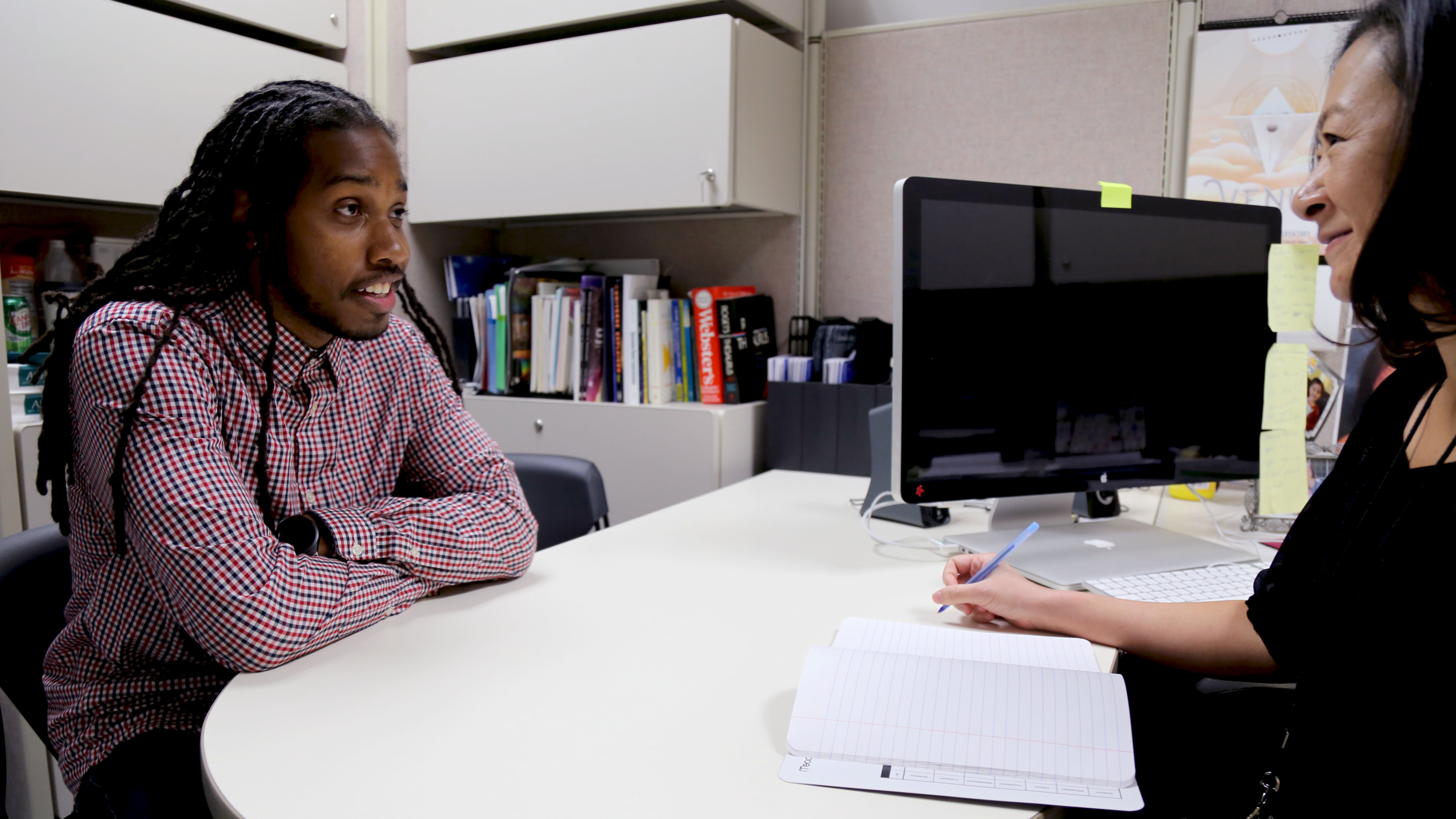 Murphy catches up with Tieu midway through his first week as a full-time employee at JPL. The laboratory's Education Office keeps in touch with former interns even after they're hired to help ease them into professional life. Image credit: NASA/JPL-Caltech/Kim Orr
In recent years, JPL has built a strong supportive community for employees who are new to the professional world, offering mentorship and networking opportunities that help with retention. Meanwhile, Tieu and others in the Education Office stay connected with former interns and provide them with resources and help from support groups.
So far, for Murphy, who just started his full-time job last week, it feels like everything fits just right. "This is the place that I really feel comfortable in the work that I'm doing and I see the overall goal, the bigger picture," said Murphy. "If this is how work is going to be for the rest of my career, I could get used to this."
His parents have gotten used to it, too. "My mom's really spilling it all out on Facebook, so I know she's proud of me," said Murphy.
---
Explore our Intern page to learn more about opportunities at JPL and NASA, and apply.
See stories and photos from JPL interns and fellows:
TAGS: Internships, Fellowships, Programs, MUREP, NASA
---
It's not often that the lead characters in a blockbuster film have careers as particle physicists and nuclear engineers – and even less often that those roles are played by women. But the new "Ghostbusters" film, which features an all-female team of scientists and engineers, busts not just ghosts, but also some of the tropes about what it means to work in science, technology, engineering and math. It's an idea that has scientists and engineers at NASA's Jet Propulsion Laboratory excited about how it might inspire the next generation.
So if they don't spend their days bustin' ghosts, what do JPL's "Ghostbusters" do? Here are the stories of three women in science and engineering at JPL whose jobs, much like their "Ghosbusters" counterparts', are to explore new realms, battle invisible forces and explain the mysteries around us.
---
The Leader: Anita Sengupta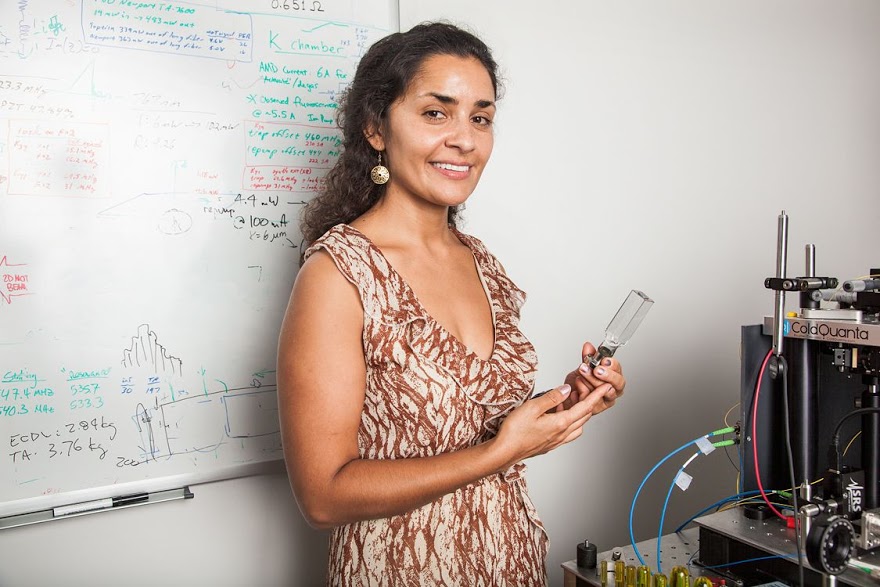 Job title:
Project Manager, Cold Atom Laboratory
What she does:
In a team of professional ghost busters, Anita Sengupta would most certainly be the enthusiastic and multi-talented leader. She's already taken on roles developing launch vehicles, the parachute that famously helped land the Mars rover Curiosity, and deep-space propulsion systems for missions to comets and asteroids.
Sengupta and other members of the entry, descent and landing team for NASA's Mars rover Curiosity discuss the nail-biting details of the August 2012 landing.
Most recently, she's carved out a niche as the project manager for an atomic physics mission, called the Cold Atom Laboratory, or CAL.
Since the mission was proposed in 2012, Sengupta has been leading a team of engineers and atomic physicists in developing an instrument that can see the unseen. Their mission is to create an ultra-cold quantum gas called a Bose-Einstein condensate, which is a state of matter that forms only at just above absolute zero. At such low temperatures, matter takes on unique properties that seemingly defy the laws of thermodynamics.
To achieve the feat, the team's device will be installed on the International Space Station in July 2017, where the microgravity of space will keep the Bose-Einstein condensate suspended long enough for scientists to get a look at how it behaves. Observing this behavior could lead to groundbreaking discoveries, not least of which is a better understanding of how complexity arises in the universe. The facility could also provide new insights into gravity, super fluidity and dark-matter detection.
"We are opening the doorway into a new quantum realm, so we actually don't know what we're going to see," said Sengupta. "That's what's so exciting. It's about discovery."
Career trajectory:
Sengupta's career has been defined by her unique ability to take on challenges in new realms of science and engineering. It's a trait that closely mimics the fictional character who inspired her as a child: Doctor Who.
"I saw the character of the doctor, who was this very eccentric, but loving, kind and brilliant person," said Sengupta. "I decided I would like to be a person who travels in space, who understands and can apply all fields of science and engineering. That motivated me to be involved in space exploration and, of course, get my doctorate."
After considering majors in astrophysics, astronomy, biology and aerospace engineering, she settled on aerospace engineering because, she says, "I loved fixing things, and the idea of knowing how to build spacecraft just blew my mind."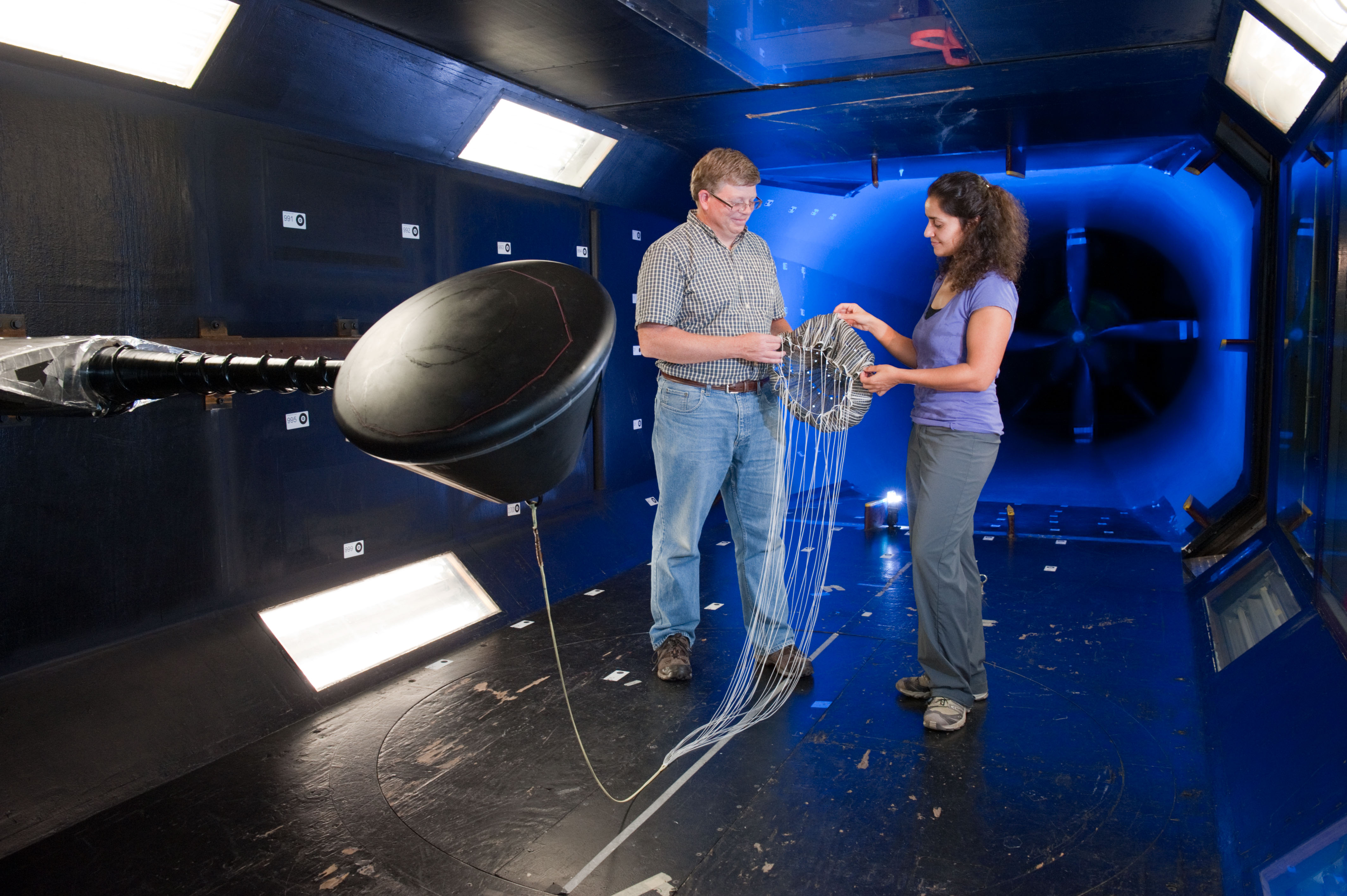 Sengupta and Donn Liddle stand with a subscale test model of NASA's Orion spacecraft and its parachute in the low-speed wind tunnel at Texas A&M University. The Orion spacecraft is being designed to take humans farther into space than ever before. Before serving as the project manager for CAL, Sengupta was the principal investigator for Orion's subscale test parachute. Image credit: NASA/James Blair
She doesn't regret the decision. It seems she would have stretched the boundaries of whichever path she chose. Currently, she's serving multiple leadership roles on the Cold Atom Laboratory team while also teaching astronautical engineering classes as an associate professor at the University of Southern California. And she still manages to carve out time for her other passions, which include driving sport motorcycles, snowboarding and flying planes.
On STEM in pop culture:
"It's important for young people to understand that to be an intellectual or a scientist does not necessarily correspond to being socially awkward or geeky," said Sengupta. "You have all varieties of people. A lot of people at JPL are musicians or athletes or I'm a motorcyclist. There are people who have these hobbies and interests outside of doing something traditionally nerdy, so it's a disservice to STEM to paint people in any particular light."
---
The Engineer: Luz Maria Martinez Sierra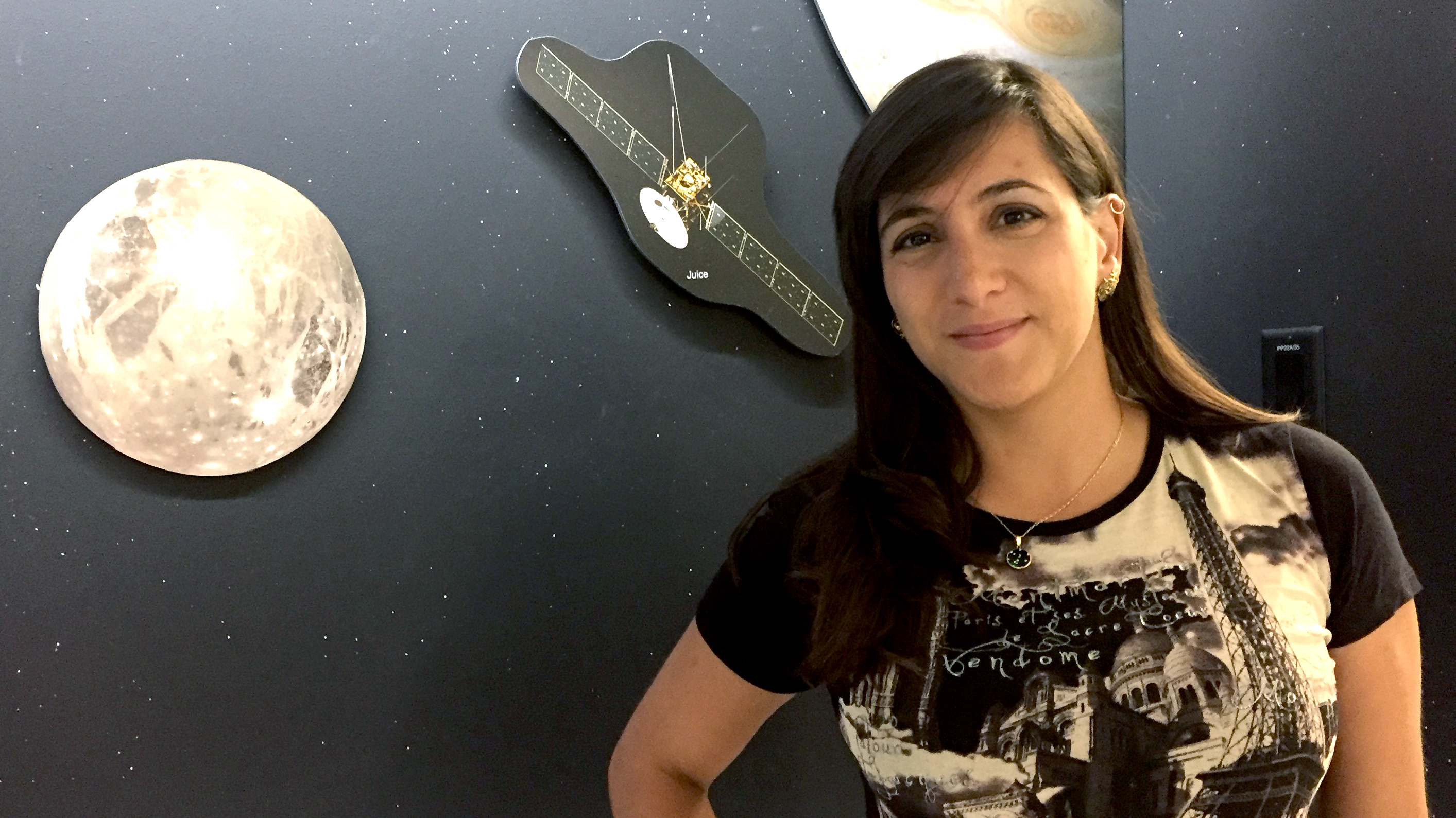 Job title:
Technologist, Natural Space Environments
What she does:
As a nuclear engineer, Luz Maria Martinez Sierra has never built a ghost-bustin' proton gun, but she does design defenses against invisible forces. In her case, it's protecting spacecraft from the intense radiation around planets like Jupiter.
"Space is a very hostile environment, and there are a lot of particles and radiation that can be very dangerous to the spacecraft," said Martinez Sierra. "It's very important to make sure everything is shielded accordingly, so we run all these simulations to determine, 'Ok, you will need to protect this and you need to make sure this survives by putting it behind the solar panels.'"
Part of Martinez Sierra's work is designing radiation defense systems for spacecraft like the one created for the Juno mission shown in the animation above. Juno arrived at Jupiter on July 4, 2016 and will fly closer to the planet – and its intense radiation – than ever before. Credit: NASA/JPL-Caltech
In addition to shielding spacecraft against radiation, she designs devices that can analyze it to reveal hidden details about planets, moons and other bodies. By looking at the radiation signatures of these bodies, scientists can better understand what they're made of and whether they might be home to, for example, the ingredients for life.
Career trajectory:
To the unacquainted, a career in nuclear engineering might seem oddly specific, but Martinez Sierra is quick to point out just how many applications it has, even just at NASA. Nuclear engineers might design systems to protect astronauts venturing to places like Mars, build instruments to study the sun and other stars, or work with spacecraft powered by radioactive materials.
For her part, the career path evolved through a love of physics that traces back to high school in her native Colombia.
"I always loved science, even at a young age," said Martinez Sierra. "And when I took physics in high school, it just clicked. I loved how everything could be described by physics."
She started attending local astronomy events and later earned a bachelor's and master's degree in engineering physics. In 2014, she was accepted into an internship with the laboratory's Maximizing Student Potential in STEM program, which "taught me how to be part of a working environment, solving problems with a team and making sure that I belonged in this field," she says.
Soon after Martinez Sierra was hired on at JPL, she parlayed her internship experience into a mentorship role with the National Community College Aerospace Scholars program.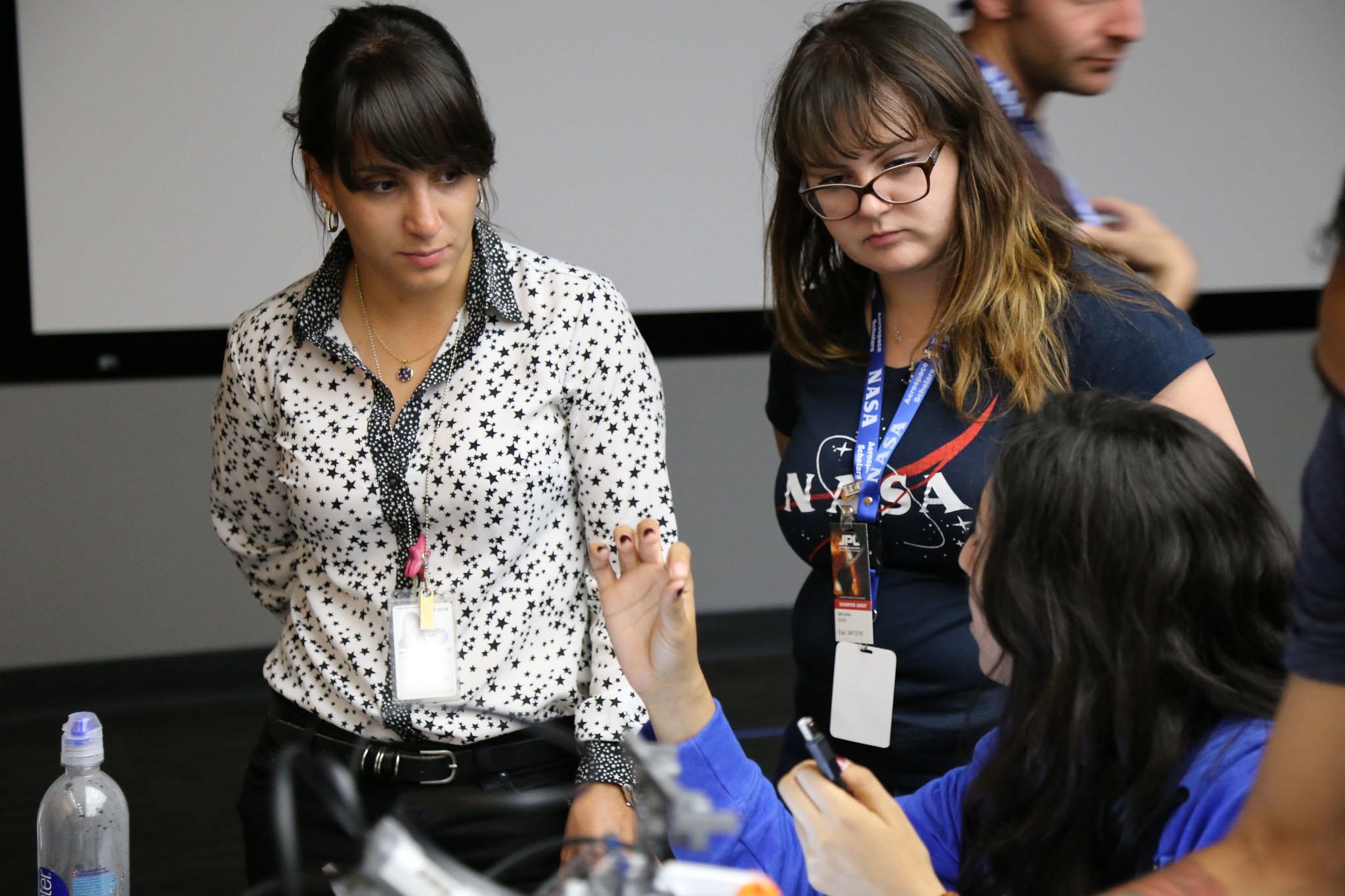 Martinez Sierra mentors a team of students competing in a Mars rover challenge as part of the National Community College Aerospace Scholars program. Credit: NASA/JPL-Caltech/Lyle Tavernier
"I see myself in them," said Martinez Sierra of the students she mentored during the program. "I was lost. I didn't know what I wanted to study or what I wanted to do in my career or how you go from being in college to being a professional. You don't see that connection easily. It's important to help students realize it's not just magic. You have to pursue it. You have to be proactive."
That she is. On top of her full-time job and serving as an occasional mentor for students, Martinez Sierra is also earning her doctorate in nuclear engineering.
On STEM in pop culture:
"There are so many different types of engineers and scientists, even at JPL," said Martinez Sierra. "But they're always portrayed as the same person in movies and TV shows. I like how in the new 'Ghostbusters' movie, the characters are portrayed as these cool people. They're not boring. They get to play with cool toys and make cool things."
---
The Scientist: Jean Dickey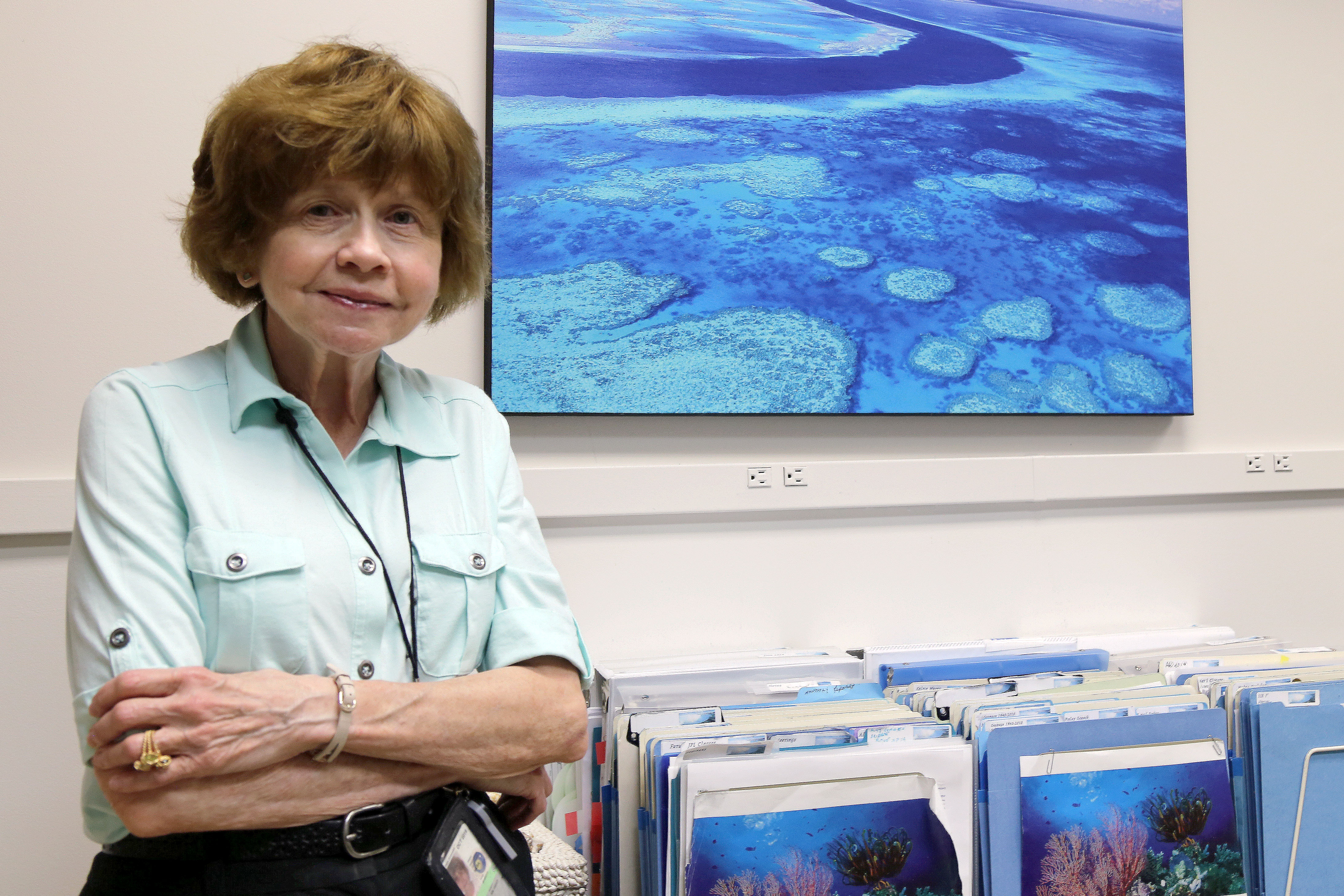 Job title:
Scientist, Sea Level and Ice
What she does:
While the applications have evolved over her 36-year career at JPL, Jean Dickey's specialty has always been explaining the mysteries that surround us. Her research focuses on the forces and processes that affect our home planet – everything from Earth's gravity to changes in length-of-day to its evolving climate. She has published more than 70 papers, which include findings of a possible molten core on the moon and a method for predicting the variations in Earth's rotation.
"Right now, I'm looking at changes in sea-level rise using data from the Jason and GRACE Earth satellites. There are pockets of warm ocean that explain why Earth's sea-surface temperature was increasing at a lower rate," said Dickey, referring to a previously unexplained hiatus in the otherwise strong uptick in surface air temperature. "It's because the heat was going down deep in the ocean and was not accounted for."
Data streams in from Earth satellites, airborne missions, and on-the-ground observations, and Dickey's job is to make sense of it all. It's a crucial part of understanding what's happening on our home planet – and beyond.
Career trajectory:
Inspired early on by the success of the Sputnik satellite and the ensuing Space Race, and equipped with an affinity for math and science, Dickey was the only one of six siblings to study science. When she graduated from Rutgers University in 1976 with a doctorate in physics, she was well accustomed to being the only woman in her classes and on research teams, but she never let that fact stop her.
She chose to specialize in high-energy particle physics, because as she describes it, "it was finding the essence, the basic building blocks of the universe. The quirks, colors and flavors."
As a postdoc at Caltech, Dickey analyzed data from particle experiments that were performed at Fermilab, a particle accelerator just outside of Chicago. She studied the dynamics of particle collisions and interpreted the findings, which meant using specialized software to analyze enormous data sets.
After three years at Caltech, she took on a new role at JPL analyzing a much different set of data, but one that was no less intriguing. By studying the round-trip travel time of lasers shot between observatories on Earth and reflectors left on the moon by the Apollo astronauts, Dickey made new discoveries about how the moon oscillates and the Earth rotates, and how small variations can have big impacts on weather, sea level and even space exploration.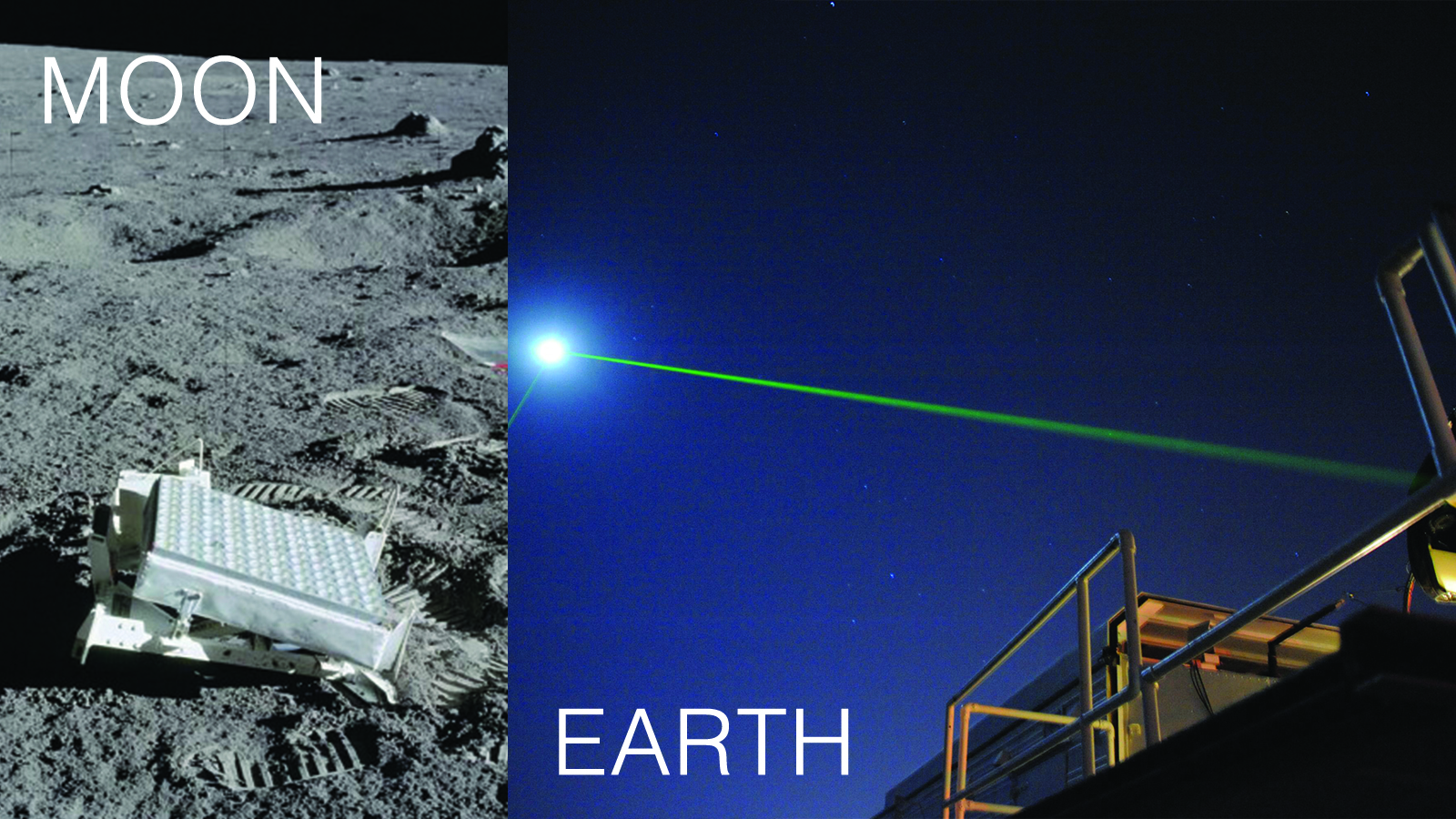 Dickey's first job at JPL was analyzing data from lunar-laser ranging experiments, in which lasers were shot between observatories on Earth (right) and reflectors on the moon left by the Apollo astronauts (left). Credits: NASA
It was a big change from particle physics, but Dickey was hooked. "I was fascinated by Earth rotation and the processes ongoing here on Earth." Ever since, her research has revolved around the undulations, variations and wobbles that influence Earth's climate, processes and its place in the solar system.
On STEM in pop culture:
"I like to see women in STEM portrayed as smart, caring people," said Dickey. "I really dislike roles that show women as 'space cadets,' so to speak. I think we should be well represented in movies and in the culture."
TAGS: Ghostbusters, Particle Physics, Nuclear Engineering, Physicist, Engineer, Scientist, STEM Careers, Find Your Place, Cold Atom Laboratory
---
NASA is giving people around the world a reason to ooh and aah this July Fourth. At 8:18 p.m. PDT, as fireworks are streaming through the skies across the U.S., the Juno spacecraft will be taking the on-ramp to an orbit around Jupiter.
Can you calculate just how much Juno needs to slow down to get into orbit around Jupiter?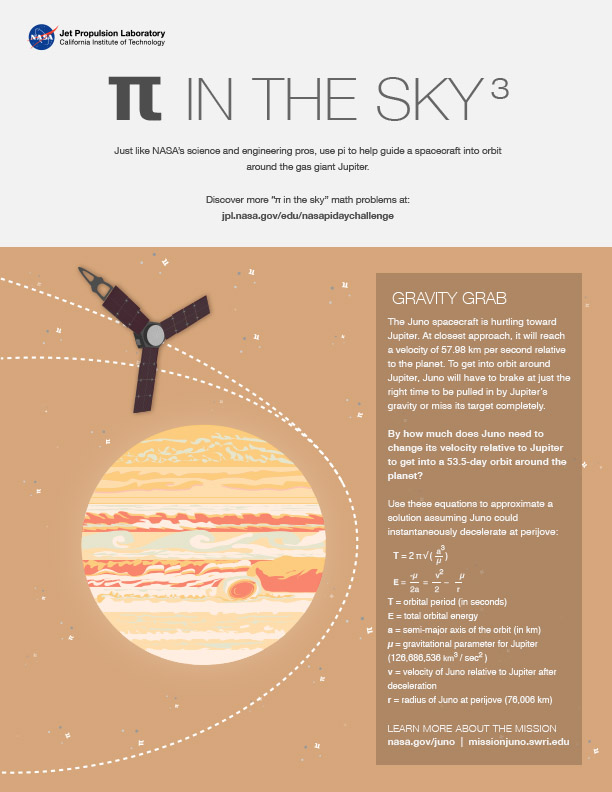 See the full problem set (optimized for screen readers and mobile devices) and answers, here
While maybe not as dramatic as a jet-powered landing on Mars, the Juno Orbit Insertion (the name for the process, also called JOI) requires that the spacecraft slow down just enough to not go zooming past Jupiter. As of Thursday, the spacecraft's fate rested on a series of 1s and Os as a command sequence made the 48-minute journey from a gargantuan antenna in Goldstone, California, to the spacecraft 534 million miles away.
While a successful orbit insertion is now largely out of mission controllers' hands, there will be no shortage of nail biting on July Fourth. With a five-year journey behind it and lofty goals ahead – which include peering through Jupiter's thick cloud cover to uncover clues about how our solar system was formed – Juno has a lot resting on what will amount to a 35-minute engine burn. And perhaps even bigger risks are still to come as Juno begins its 33.5 oblong orbits around Jupiter, which will bring the spacecraft closer than ever before to the planet's cloud tops – and to its lethal radiation.
To follow along on July 4 as Juno begins its journey into Jupiter's orbit, watch NASA TV live coverage beginning at 7:30 p.m. PDT.
For a mission countdown, images, facts about Jupiter and Juno and other resources, visit NASA's Solar System Exploration website.
And check out these educational activities for students and teachers from NASA/JPL Edu:
TAGS: Juno, Jupiter, JOI, Spacecraft, Mission, Events