Kim Orr is a web and content producer for the Education Office at NASA's Jet Propulsion Laboratory. Her pastimes are laughing and going on Indiana Jones style adventures.

---
A single movement of NASA's next Mars rover could require, among other things, the careful dance of six independently motored wheels, a retractable arm containing a laboratory's worth of tools, a swiveling head supporting multiple cameras and a computer that can pinpoint the rover's precise location. So this past summer, while other teams and their interns at NASA's Jet Propulsion Laboratory were testing cameras and calibrating science instruments to prepare the rover for its February 2021 debut on Mars, intern Isabel Rayas was making sure all those pieces move seamlessly together. This meant spending a lot of time in the laboratory's Mars Yard, a sandbox of sorts where engineers put models of the rover through various test drives. For Rayas, a graduate student studying computer science and robotics at the University of Southern California, it was also a window into one potential future career, although, she says, "I'm definitely still exploring." We chatted with Rayas to learn more about her role on the Mars 2020 mission and what it's like to drive a rover.
What are you working on at JPL?
I am working on mobility testing for the Mars 2020 rover. It's taking all of these parts that impact something like mobility – the motion of the rover – and understanding how they work together. We're testing everything to make sure that all the parts play nicely together and that one of them doesn't have a bug that's going to cause a failure in another part of the system.
Are you working on the actual rover that's going to Mars?
There's a whole spectrum of testbeds. What you're testing will dictate which testbed you use. If you're only trying to test one small part of the rover, you're not going to bother using the full system. The flight software testbed, where I'm working, has the real flight computer. It has some of the real cameras. It doesn't have the real motors yet, but we're working on it. Assembly, Test and Launch Operations, or ATLO, is actually putting together the real thing and doing tests with the real hardware.
Tell me more about your role in the flight software testbed.
There are two main things that I am working on this summer: One of them is getting all the hardware pieces in the flight software testbed that impact the mobility of the rover.
You might think that mobility is just the wheels of the rover, but there are a lot of subsystems and instruments that have an influence on mobility. There is an instrument called RIMFAX that will be used for radar sounding. It will point at the Martian surface to collect readings of what the subterranean surface looks like and what it's made up of. You wouldn't necessarily think that has an impact on mobility, but it actually does, because you have to know exactly where you are when you take a radar sounding in order to make any sense of it. You have to be able to tell, "I've moved this far, and this is what I'm sounding, and that's what the ground looks like at this specific spot." So that's a piece of hardware that needs to be integrated into a full mobility test. Then there's the flight computer. There's a computer just for processing the images from the rover. That's also not in the testbed yet, so that's something I'm trying to get delivered so we can run tests with it.
Once we get all these hardware parts into the testbed, we want to run a mobility sequence that tells the motors to move while doing all of these tasks to make sure the system works. So I'm writing the procedure and making sure that all the parts are in the testbed for that.
The second thing I'm working on is in the Mars Yard. While we do test drives around the Mars Yard, we want to know precisely where the rover is located, because we want to be able to know whether or not the autonomous system that tells the rover where it is works. So I'm looking at different systems that will help us do those tests.
What is your average day like?
There's no good answer to that. It changes day by day, which is exciting. This morning, for example, I was in the Mars Yard learning about a position tracking system with someone who was setting it up to do a test. As a systems engineer, you have to go to a lot of meetings, because you have to learn from different teams about what's going on and go over test procedures. I compile all the information from the meetings, try to understand it and meet with more people to get questions answered. I'm in and out of the office. I'm in the Mars Yard. I'm in the testbed, in the cleanroom – all kinds of stuff.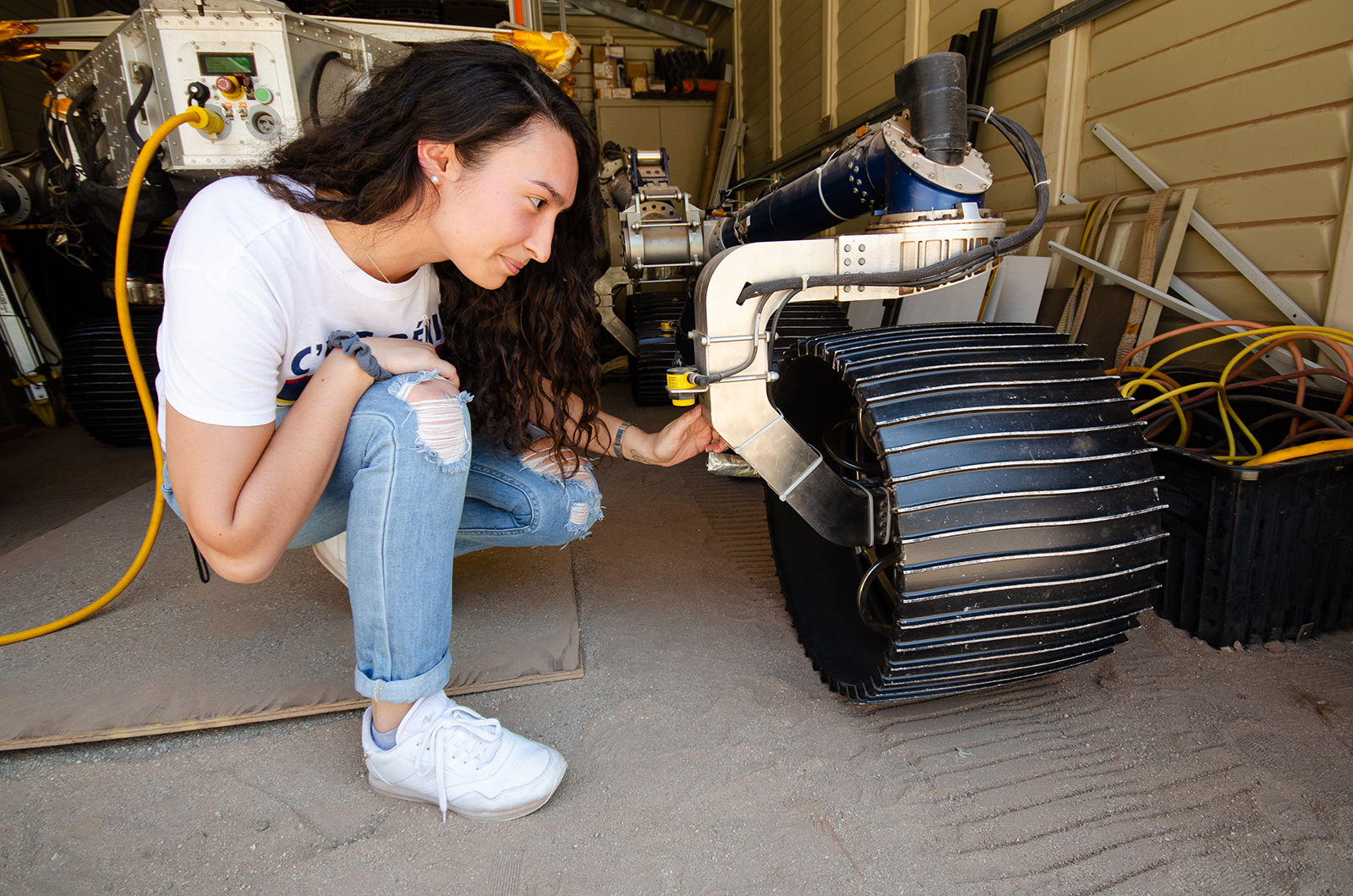 You mentioned your project deals with systems engineering. What's the job of a systems engineer?
You do a little of everything. For the rover, you have people designing the wheels, and you have people designing the instruments. Those people have to be experts in that thing and understand exactly how it works and make sure that nothing's going to break. While those people are experts in a specific part of the system, they can't be expected to also understand how everything comes together and how that impacts the whole system. So that's where systems engineers come in. They are not experts in any one of the areas, but they have to understand enough about each of them to know how they impact each other.
Is that what you are studying in school?
No. I just finished my first year of grad school at the University of Southern California, studying computer science and robotics. I got my undergrad in aerospace engineering from MIT, so I have previous experience in aerospace, but I haven't taken any systems engineering classes. My senior capstone had a systems engineering project, and I got exposure to it there, but we had maybe 100 requirements for our project, and here there are tens of thousands. It's a little bit of a step up.
What got you into aerospace engineering?
I think this is maybe true of most kids, but I really liked looking at the stars and thinking about the planets. I knew from a very young age that I was interested in STEM. I took an astronomy class in high school that I loved, and I thought I wanted to do astrophysics, but when I got to college, I took a physics class and didn't like it at all. I switched to the closest thing that wasn't science, which was aerospace engineering.
I also minored in brain and cognitive sciences, because I really couldn't decide. I took some computer science classes during college as well. So I've been kind of all over the place, and I ended up here again.
What made you focus on computer science and robotics for grad school?
My undergrad was in aerospace, but with a concentration in autonomous systems. I've always been interested in the robotic applications of aerospace – not necessarily the rocket design, or propulsion, or the aerodynamics or anything like that.
What brought you to JPL for this internship?
I actually interned here two years ago. My friend had interned at JPL the year before, and she was like, "This was awesome. I love it so much." As an aerospace major, it's kind of the dream, right? So I ended up coming here two years ago. Now that I'm at USC, it's so close that I thought I could probably find some way to be here again this summer, doing something new that's not really related to my program at school.
What's the most JPL- or NASA-unique experience that you've had here?
My first day was right after the Explore JPL event, so thousands of people had come through that weekend to learn about what JPL does and see all the different labs and technology. They had brought the Scarecrow rover, [used to test Mars rover drives], down to the entrance of JPL so people could see it move around. When I got here on Monday, it was my mentor's job to bring it back to the Mars Yard, which is all the way down the street, up the hill – not close at all. So he was like, "Do you want to move the rover across the Lab?"
We had to pick up the rover with a crane and drive it across lab. People were taking videos of us as we went by. After that, my mentor was like, "Do you want to drive it around the Mars Yard?" So I got to drive it around for a while. That was something that I think is kind of unique.
What do you hope to accomplish during your time here?
I would really like to see this test procedure run. I have high hopes. Ten weeks [at JPL] is such a short amount of time. I think it would be easy to get caught up in a lot of things that are less important and end up having something half-finished. I know from talking to my mentor that a test that includes all of this hardware could be really valuable, because it would help the team find bugs before they're too late to fix. Knowing that's my responsibility is exciting. It's a little bit scary, but in a good way.
What's your ultimate goal for your career?
I'm not really sure yet. I'm definitely still exploring. I think internships are a great way to do that, so I'm planning on doing as many as I can in as many different fields as I can. Beyond that, I think my overarching career goal is to keep learning. I don't know where that will take me.
Wow. That's tough. I would love to be one of the people who goes to the Moon. I don't think I would want to go to Mars.
Why not?
It's too far. I like Earth a lot. It's probably my favorite planet. So I wouldn't want to get too far from home. But I would love to go to space. Going to the Moon would be a nice, happy medium.
Have you ever thought about applying to be an astronaut?
Not seriously. I wanted to be an astronaut for the first couple of years in college. But I thought about it some more and about how much training you have to do, and I didn't want to dedicate all my time to training. I thought I could use engineering instead to help us get there.
---
Explore JPL's summer and year-round internship programs and apply at: https://www.jpl.nasa.gov/edu/intern
The laboratory's STEM internship and fellowship programs are managed by the JPL Education Office. Extending the NASA Office of STEM Engagement's reach, JPL Education seeks to create the next generation of scientists, engineers, technologists and space explorers by supporting educators and bringing the excitement of NASA missions and science to learners of all ages.
TAGS: Higher Education, Internships, STEM, Engineering, Interns, College, Robotics, Mars, Rover, Mars 2020, Computer Science
---
In high school, science was the last thing on Jose Martinez-Camacho's mind. But one day, he was flipping through his chemistry textbook, and a diagram caught his eye. It described an experiment that was the first to identify the structure of an atom. Martinez-Camacho was amazed that a science experiment could reveal the inner workings of something so mysterious. He was hooked. Now a physics major at Cal Poly Pomona and in his fourth year interning at NASA's Jet Propulsion Laboratory, Martinez-Camacho is immersed in unveiling the details of other mysterious objects: lunar craters. Using a simulation he developed, Martinez-Camacho is working to understand how the temperatures inside and around craters in the permanently shadowed regions of the Moon might point the way to water ice. We caught up with him to find out more about his internship and his career journey so far.
You've done several internships at JPL, starting in 2015. What are the projects you've worked on?
My first internship in the summer of 2015 was with the Lunar Flashlight mission. The idea of the mission is to reflect sunlight into the permanent shadowed regions of the Moon to detect water ice. My project was testing and characterizing the photodetectors that would be used to identify the water ice. So most of that project involved setting up an experiment to test those detectors.
My next internship was still with the Lunar Flashlight mission, but my project was to model the amount of stray light that the detector was expected to receive from the lunar surface.
After that, I started to work with the Lunar Reconnaissance Orbiter Diviner team. [Diviner is an instrument on the Lunar Reconnaissance Orbiter that creates detailed daytime and nighttime temperature maps of the Moon.] In that project, I was working with Catherine Elder to validate one of her algorithms that can identify the abundance and size distribution of lunar rocks in a single pixel of an image taken by Diviner. So I used the algorithm to analyze the rock populations around the Surveyor landers, which took images on the lunar surface that we could use to validate our results.
What I'm working on now is 2D thermal modeling of craters in the polar regions of the Moon. The end goal is to better understand the thermal environments of the Moon's permanently shadowed regions, which can harbor water ice. Because the stability of water ice is very sensitive to temperatures, knowing the thermal environment can tell us a lot about where these water-ice deposits might exist.
What is your average day like on your current project?
I'm using MATLAB to write code [that I use to model the craters]. I wrote the code from scratch. Right now I'm at the point where I've written the program, I've gone through most of the debugging and the derivations of the equations and picking the algorithm, so I'm just running the model and waiting for results. So an average day would be to come in and run the model for different cases. There's a range of crater diameters and a range of latitudes where permanent shadows exist, so I run the model for these different cases, wait for the results and interpret the results at the end of the simulations. I also do some debugging now and then to deal with problems in the code.
What got you interested in a science career?
I think it happened in my junior year of high school. I was always disinterested in school and never paid attention. In chemistry class, we were learning about the atom, and for some reason, I opened up my chemistry book at home and started looking at the diagrams. I found a section on the Rutherford gold foil experiment, which showed that atoms consist of a tightly packed positive nucleus surrounded by electrons. I was amazed that someone could deduce that from a simple experiment. So that sparked my interest in science. After that, I started to read about chemistry and astronomy and all types of science. That was the pivotal moment.
How did you pursue that career path, and were there any challenges along the way?
I knew I'd have to go to community college because, at the time, my GPA wasn't going to get me anywhere. So I knew I had to start at the very, very beginning. But I had a very clear plan: Just keep studying, keep getting good grades until you get to where you want to be.
Sometimes students – especially community college students – feel intimidated applying for JPL internships, even though they should absolutely apply! Did you feel that way at all, and if so, how did you overcome that fear?
I was almost not going to submit my application just because I thought I wasn't good enough to intern at JPL. But ultimately, I had nothing to lose if I got rejected. It would be the same outcome as if I didn't apply, so I submitted my application. And I was really surprised when I got the acceptance letter.
What was your first experience at JPL like?
Everything was super-unfamiliar. I was in a lab, working on a science instrument, and I wasn't an instruments guy. But I got a lot of help from other people who were on the project. Even though it was difficult, it made it very enjoyable to always have someone there with the right answer or a suggestion.
How has your time at JPL molded your career path?
I think it established it. Next year, I'm going to Southern Methodist University to start a geophysics Ph.D. and my graduate advisor is someone who I met at one of the Diviner team meetings. Being at JPL has made that connection for me. And through JPL, I found what I want to do as a career.
What is your ultimate career goal?
After grad school, it would be really, really nice to come back here as a research scientist.
Are you interested in lunar research or anything planetary?
I think I'm really biased toward the Moon just because it's been my focus throughout my JPL internships. But I could see myself studying other planets or bodies. Mercury is very similar to the Moon. Anything without an atmosphere will do. That's what I'm comfortable with. If you add an atmosphere, the science is different. Ultimately, I think I'm interested in planetary science; it's just a matter of learning new science and learning about new planetary bodies.
Well, that leads nicely into my fun question: If you could travel to any place in space, where would you go and what would you do there?
I think I'd go somewhere around Saturn, or a moon of Saturn. Looking up from one of Saturn's moons would be a pretty amazing sight, with Saturn and its rings on the horizon.
Going back to your career path so far, did you have any mentors along the way?
In high school, I don't think so. I just needed to graduate. But in community college, I was part of this program called EOPS, or Extended Opportunity Programs and Services. It's for minorities and disadvantaged groups. There's counseling involved with people who knew what someone like me might be struggling with. There was that support group throughout my time at Citrus College. And there was also the Summer Research Experience Program [at Citrus.] That's the one I applied to in order to get the summer internship here. It was through Citrus College's partnership with JPL. One of the people who was in charge of that, Dr. Marianne Smith, she was always encouraging me, saying, "Just because you come from a community college doesn't mean you're any less than someone who is at UCLA or any other university." So that was another source of support.
Did you see advantages to going the community college route?
Yeah, definitely. It's a smaller community, so you get to form connections a lot easier than you would at a larger college. The quality of education there is probably on par with other universities. So, there was certainly no disadvantage. And then there was that advantage of the smaller community. It's more personalized and easier to get help.
What would you recommend to other students in community college who are interested in coming to JPL?
Apply to the program. Take advantage of the summers and apply to internships. At Citrus College they have the Summer Research Experience Program, and they probably have something similar at other community colleges. Take advantage of that. If I hadn't applied to that program that summer, my life would be totally different. Those decisions can shape your future.
---
Explore JPL's summer and year-round internship programs and apply at: https://www.jpl.nasa.gov/edu/intern
The laboratory's STEM internship and fellowship programs are managed by the JPL Education Office. Extending the NASA Office of STEM Engagement's reach, JPL Education seeks to create the next generation of scientists, engineers, technologists and space explorers by supporting educators and bringing the excitement of NASA missions and science to learners of all ages.
TAGS: Higher Education, College, Internships, Interns, Science, Moon, Community College, Students
---
Brittney Cooper loves studying weather – and she's taking that passion all the way to Mars. A graduate student at York University in Toronto, Cooper has spent the past two years working with the science team for NASA's Mars rover Curiosity. In January, she authored her first science paper on a study she designed with the Curiosity team that looked at how clouds scatter light and what that tells us about the shapes of their ice crystals. Despite her involvement in the Curiosity mission, the Canada native has never actually been to a NASA center. But that's about to change this summer when she'll embark on her first internship at JPL in Pasadena, California. We caught up with Cooper to find out what she's looking forward to most about her internship and how she's planning to take her studies of Martian clouds even farther.
You're currently earning your master's at York University in Toronto. What are you studying and what got you interested in that field?
I'm doing my master's in Earth and space science. But if you really want an interesting story [laughs] … I've always been interested in astronomy, space and science, but I also really love art. Coming to the end of high school, I realized that maybe it was going to be too hard for me to pursue science. Maybe I was a little scared and I didn't really think I was going to be able to do it. So I went to university for photography for two years. After two years, I realized photography wasn't challenging me in the right ways and wasn't what I wanted to do for the rest of my life. So I left. I did night school to get credits for calculus and all the grade-12 physics and chemistry that I needed to pursue a degree in atmospheric science, which is not even remotely astronomy, but I've also always loved weather – pretty much anything in the sky. I still had a passion for astronomy, so I started volunteering at the Allan I. Carswell observatory at York. There, I met a professor who I ended up doing research with for many years. He told me, "There's the field called planetary science, where you can study the atmospheres of other planets and you can kind of marry those two fields that you're interested in [astronomy and atmospheric science]." So I ended up adding an astronomy major.
NASA's Mars Science Laboratory mission
and he was graduating. John had said something along the lines of, "There's an opening, and I know it's always been your dream to work in mission control, so do you want to be on the mission?" And I was, like, "Yes, I definitely do!" I couldn't believe it. And I was never intending to do a master's, but then I realized I really loved the work I was doing, working on constraining physical properties of Martian water-ice clouds using the Mars Curiosity rover. We got to design this observation, which ran on the rover, and then I got to work with the data from it, which was really cool. So I stayed on to do my master's, and I'm still on the mission, which is pretty awesome.
In January you authored your first science paper on that research. Tell me more about that.
My research focuses on the physical scattering properties of Martian water-ice clouds. A lot of people don't even realize that there are clouds on Mars, which I totally get because Mars doesn't have much of an atmosphere. But it does have enough of an atmosphere to create very thin, wispy, almost cirrus-like clouds similar to the ones we have on Earth. They're made up of small, water-ice crystals. These kinds of clouds do have a noticeable impact on Earth's climate, so we have now started thinking about what these clouds are doing in Mars' climate. The scattering properties can tell us a bit about that. They can tell us how much radiation is scattered back to space by these clouds or kept in Mars' atmosphere and whether or not we can see really fun things like halos, glories and different types of optical phenomena that we can see here on Earth.
We designed this observation that uses the Navcam imager on Curiosity. The engineering folks with the mission helped us design it. I got to present at a science discussion, which was superscary, but everyone was so kind. And then the observation was approved to run on Mars once a week from September 2017 to March 2018. During this observation window, Curiosity would take images of the sky to capture clouds at as many different scattering angles as possible. Once we got all the data back, we were able to constrain the dominant ice crystal shapes in the clouds based upon this thing called the phase function, which tells you how these clouds scatter light and radiation. I was the lead author on the research paper that came from that, and it got accepted. We started working on this right when I was really new to the mission, and it was my first paper. I couldn't believe everyone wasn't, like, "Who the heck are you? Why are we going to let you do anything?" But everyone was so kind, and it was just such a great experience.
What was the hardest part about writing that first paper?
The hardest part was probably just getting over the fear of thinking people aren't going to listen to you or you aren't going to be smart enough or you won't be able to answer questions. It was really just getting over my own fears and worries and not holding myself back because of them. I have a really great mentor who pushed me to do all these things, so I was able to suck it up and say, "If he believes in me and he thinks I can do it, maybe he's right." Every time I did a presentation or I would talk about the observation or try to advocate for it, I was just met with such positivity that I was, like, "OK, these fears are rooted in nothing."
In July, you're coming to JPL for your first internship here. What will you be working on?
Yes, I'm so excited! I'll be working with two scientists, Michael Mischna and Manuel de la Torre Juarez. We're going to be working with the Rover Environmental Monitoring Station, or REMS, which is an instrument on Curiosity that measures the temperature, relative humidity and pressure around the rover on Mars. From those measurements, we're going to try to infer the presence of clouds at night. So far, the way we've used Curiosity to study clouds is with optical instruments [or cameras]. So we take pictures of the clouds. But that's not really something we can do at night. So using REMS and its temperature sensors at night, we can try to see if clouds around the rover are emitting infrared radiation, heating up the atmosphere around the rover. We can try to detect them that way. So that's what we're going to try to do – look for some patterns and see what we can come up with. We'll also be comparing what we find with data from NASA's Mars Climate Sounder, which is in orbit around Mars and takes nighttime measurements of the atmosphere.
What are you most excited about coming to JPL?
I would be lying if I said it wasn't just getting to come to a NASA center – especially as a Canadian. It's every little space enthusiast's dream. I'm also excited to meet all the people who I've been working with for the last two years. The people are such an awesome part of this mission that I've been a part of. So I'm looking forward to meeting them in person and working with them in a closer way.
What do you see as the ultimate goal of your research?
We're just trying to better understand Mars. It's kind of a crazy place. There is a lot of evidence that shows us that there's a lot more going on than we know now and it's just about trying to put the pieces of the puzzle together. There are also a lot of similarities to Earth. So we can try to take what we learn about Mars and apply it to our planet as well.
What's your ultimate career goal?
What I would really love is to work in spacecraft operations. I absolutely love working in science and working with data, but getting a chance to be a part of this mission and do operations – be part of a team and do multidisciplinary work – it's so exciting, and it's something that I never thought that I'd get to experience. And now that I've had a bit of a taste, I'm wanting more. So that's what I'm hoping for in the future.
Do you ever think about how you moved away from studying photography but are using photography to do science on Mars?
Yes! Every once in a while, that hits me, and I think to myself, "That's so cool." It's just very, very cool. Ten years ago, I never thought I'd be where I am now. But also just to know that there's that connection, that I'm working with visual data, with optical data – I don't think it's a coincidence. I really love working with images, so I think it's pretty cool that I get to do that.
Just one last fun question: If you could travel to any place in space, where would you go and what would you do there?
Without a doubt, it would have to be [Saturn's moon] Titan. I actually would probably go there to study the atmosphere. The first research project that I ever did was trying to find methane and ethane fog on Titan and the surface data was quite limited, so I would like to go there. I want to see water-ice rocks. I want to see methane lakes and methane rain, set up a little vacation spot there [laughs].
---
Explore JPL's summer and year-round internship programs and apply at: https://www.jpl.nasa.gov/edu/intern
The laboratory's STEM internship and fellowship programs are managed by the JPL Education Office. Extending the NASA Office of STEM Engagement's reach, JPL Education seeks to create the next generation of scientists, engineers, technologists and space explorers by supporting educators and bringing the excitement of NASA missions and science to learners of all ages.
TAGS: Higher Education, College, Internships, Interns, Students, Science, Mars, Rovers, Weather
---
Until she discovered game development, Michelle Vo's daydreams were a problem. She couldn't focus in her computer science classes. Her grades were dipping. She wondered whether she was cut out to be a programmer or for school at all. So she took a break to make something just for fun, a self-help game. And help her, it did. Now focusing on virtual and augmented reality, Vo is back at school, studying not just computer science, but also cognitive science, linguistics and digital humanities. It's a lot, but to create a virtual world, she says one has to first understand how people navigate the real one. This summer, at NASA's Jet Propulsion Laboratory, the UCLA student applied her talents to VR and AR experiences that help scientists explore a totally different world, Mars. While Vo's tendency to daydream hasn't gone away, she now knows how to use the distractions for good; she turns them into VR inspiration.
What are you working on at JPL?
I worked on this project called OnSight, which just won NASA Software of the Year! I also worked on another project for the InSight Mars lander mission. Honestly, it's been such a dream come true to intern here. I actually used to struggle a lot with school because I would often get caught up in my own daydreams. However, I'm really glad I found a unique career path in VR where I can turn those dreams into something useful.
That's so great that you were able to channel your daydreams in that way. How did you go from struggling in school to doing VR?
When I first tried on a VR headset, I was like, "This is the future. I need to do whatever I can to learn about this." I decided to study computer science, but it was easy to get lost and fall behind in a large classroom environment. Not a lot of people know this, but I was on academic probation for a while. Looking back, I think my shyness held me back from asking for the help that I needed.
When I took a break from school, I decided I wanted to try making a game. I wanted to do something just for fun, and I was determined to fix my bad habits. So with some friends, I created a self-help game at AthenaHacks, a women's hackathon. For 24 hours, I was just immersed in my work. I had never felt that way about anything in my life, where I was just zoned in, in my own world, building something I loved. And that's when I realized, I think it's game development. I think this is what I want.
So I spent the year teaching myself [game development], and I got a lot more comfortable using the Unity game engine. I went on to attend Make School's VR Summer Academy in San Francisco. That smaller learning environment opened up the world for me. It boosted my confidence more than anything to have the support I needed. I was like, "Maybe my grades aren't so great, but I know how to build VR applications – and the world needs VR right now."
So when I went back to my university, I thought, "I'll try again. I'm going to go back to computer science." And so far so good. I'm into my fourth year at UCLA studying cognitive science, linguistics, computer science and digital humanities. It sounds like a lot, but they're all related in the sense that they're all connected to VR. To me, VR is mainly a study of the mind and how we perceive reality. It's not just about game development; you also need to understand human behavior to create good user-friendly VR.
So going back to your JPL internship, how are you using your VR skills to help scientists and engineers?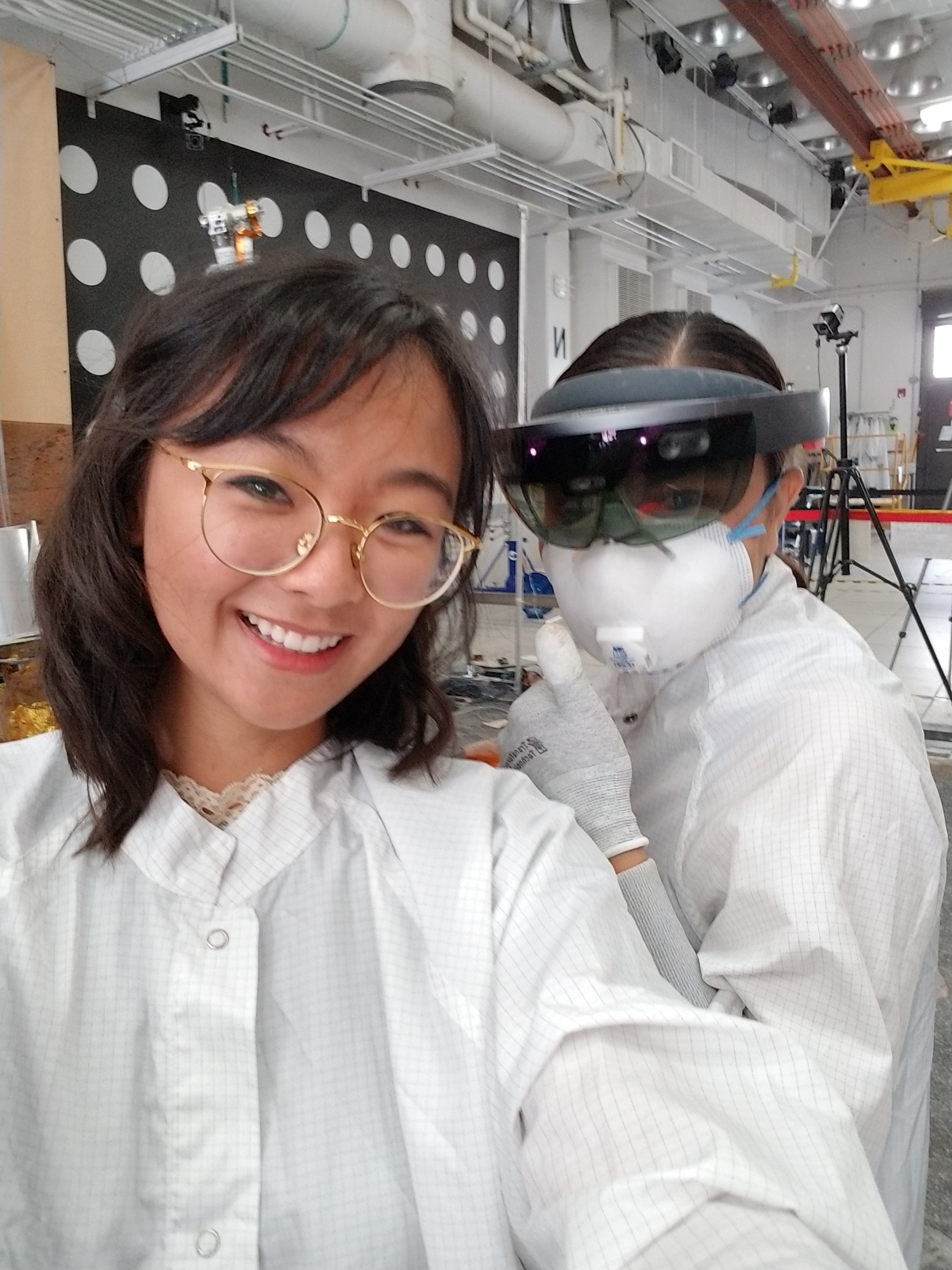 I'm interning in the Ops Lab, and the project I've been working on primarily is called OnSight. OnSight uses Microsoft's HoloLens [mixed-reality software] to simulate walking on Mars. Mars scientists use it to collaborate with each other. We had "Meet on Mars" this morning, actually. On certain days, Mars scientists will put on their headsets and hang out virtually on Mars. They see each other. They talk. They look at Mars rocks and take notes. It's based on images from the Curiosity Mars rover. We converted those images to 3-D models to create the virtual terrain, so through VR, we can simulate walking on Mars without being there.
For a few weeks, I worked on another project with the InSight Mars lander mission. We took the terrain model that's generated from images of [the landing site] and made it so the team could see that terrain on top of their testbed [at JPL] with a HoloLens. For them, that's important because they're trying to recreate the terrain to … Wait, I recorded this.
[Michelle quickly scans through the photo library on her phone and pulls up a video she recorded from JPL's In-Situ Instruments Laboratory. Pranay Mishra, a testbed engineer for the InSight mission, stands in a simulated Mars landscape next to a working model of the lander and explains:]
"When InSight reaches Mars, we're going to get images of the terrain that we land on. The instruments will be deployed to that terrain, so we will want to practice those deployments in the testbed. One of the biggest things that affects our deployment ability is the terrain. If the terrain is tilted or there are rocks in certain spots, that all has a strong effect on our deployment accuracy. To practice it here, we want the terrain in the testbed to match the terrain on Mars. The only things we can view from Mars are the images that we get back [from the lander]. We want to put those into the HoloLens so that we can start terraforming, or "marsforming," the testbed terrain to match the terrain on Mars. That way, we can maybe get a rough idea of what the deployment would look like on Mars by practicing it on Earth."
› Learn more about how scientists and engineers are creating a version of InSight's Mars landing site on Earth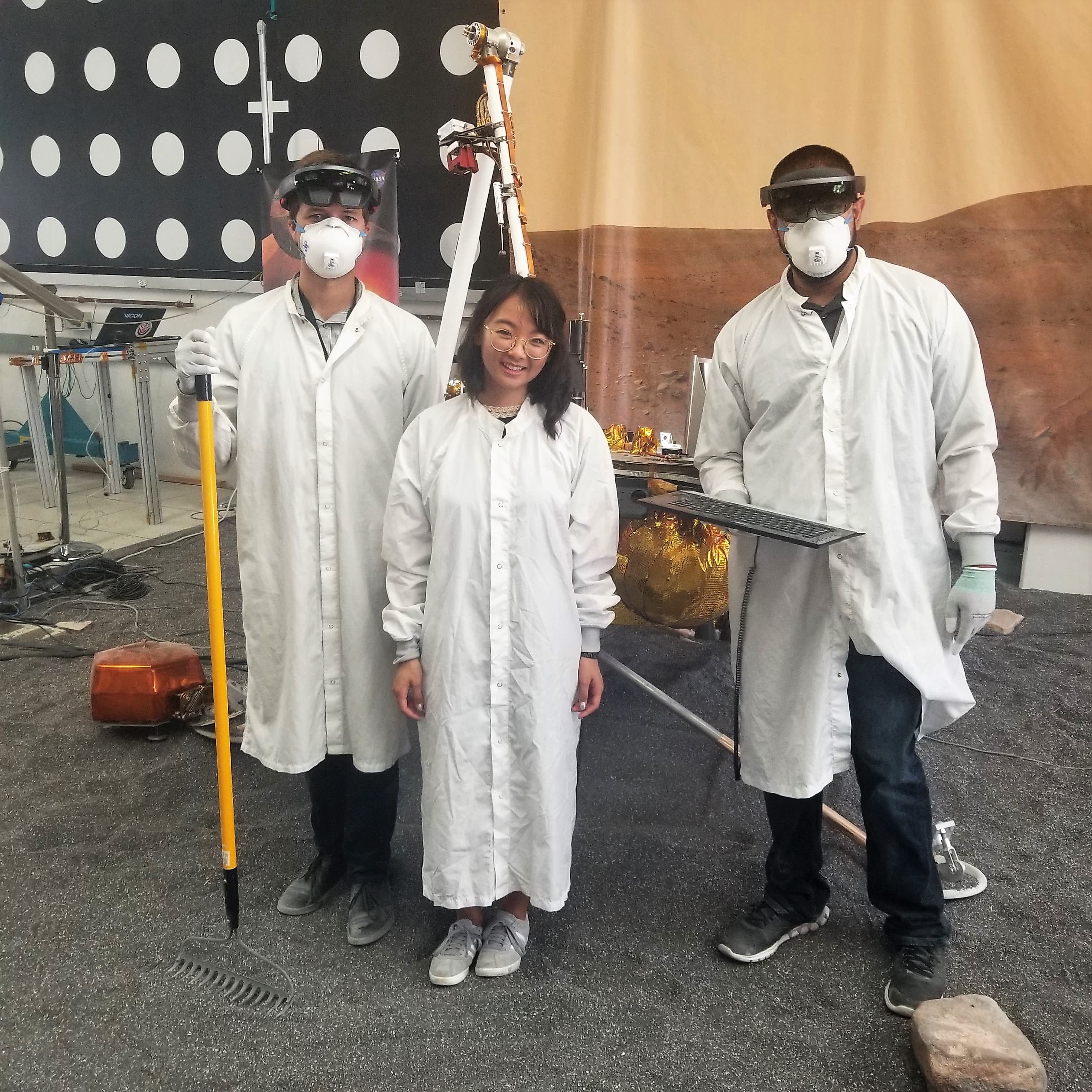 They already gave us photos of Mars, which they turned into a 3D model. I created an AR project, where you look through the HoloLens – looking at the real world – and the 3D model is superimposed on the testbed. So the [testbed team] will shovel through and shape the terrain to match what it's like on Mars, at InSight's landing site.
Did you know that this was an area that you could work in at JPL before interning here?
OnSight was a well known project in the VR/AR space, since it was the first project to use the Microsoft Hololens. I remember being excited to see a panel on the project at the VRLA conference. So when I finally got on board with the team, I was ecstatic. I also realized that there's room for improvement, and that's OK. That's why I'm here as an intern; I can bring in a fresh look.One of the things I did on this project was incorporate physical controllers. My critique when I first started was, "This interface is a bit tricky to use," and if it's challenging for me to use as a millenial, how is this going to be usable for people of all ages? I try to think in terms of accessibility for everybody. Through lots of testing, I realized that people need to be touching things, physical things. That's what OnSight lacked, a physical controller. There were a lot of things that I experimented with, and eventually, it came down to a keyboard that allows you to manipulate the simulated Mars rovers. So now with OnSight, you can drive the [simulated] rovers around with a keyboard controller and possibly in the future, type notes within the application. Previously, you had to tap into the air to use an AR keyboard, and that's not intuitive. I believe we still need to touch the physical world.
How has this project compared with other ones that you've done elsewhere?
I felt really in my element. And for the first time ever, the imposter-syndrome voice went away. I felt like I could just be myself and actually have a voice to contribute. You know, I might be small, I might be the shortest one, but I'm mighty. It's been such a positive and supportive environment. I've had an incredible internship and learned so much.
What has been the most unique experience that you've had at JPL?
Working in the Ops Lab has been such a unique experience. Every day, we're tinkering with cutting-edge technology in AR and VR. I am so thankful to have my mentors, Victor Luo and Parker Abercrombie, who give me the support and guidance I need to grow and learn. Outside of the Ops Lab, I also had the unique opportunity to meet astronaut Kate Rubins and talk about VR with her. I had lunch with NASA Administrator Jim Bridenstine when he visited JPL. And working with the InSight mission and Marleen Sundgaard, the mission's testbed lead, was especially cool. I can't believe I was able to use my skills for something the Mars InSight mission needed. Being able to say that is something I'm really proud of. And seeing how far I came, from knowing nothing to being here, makes me feel happy. If I can transform, anyone can do this too, if they choose to work hard, follow their own path and see it in themselves to take a risk.
What advice do you have for others looking to follow your path?
Listen to your gut. Your gut knows. It's easy to feel discouraged when learning something new, but trust me, you're not alone. You've always got to stay optimistic about finding a solution. I've always been someone who has experimented with a lot of things, and I think learning is something you should definitely experiment with. If the classroom setting is not for you, try teaching yourself, try a bootcamp, try asking a friend – just any alternative. There is nothing wrong with carving your own path when it comes to your education. Everyone's at their own pace, just don't give up!
My biggest inspiration is the future. I think about it on a daily basis. I know I have a very cheery, idealistic view on life, but I think, "What's wrong with that?" as long as you can bring it back to reality.
Speaking of that, what is your ultimate dream for your career and your future?
I was raised in the Bay Area, and I grew up in Santa Clara so the tech culture of Silicon Valley was inescapable. I love Silicon Valley, but there is still a huge homelessness issue. I've always thought, "We have the brightest engineers and scientists doing the most amazing, crazy things, yet we still can't alleviate homelessness." Everybody deserves a place to sleep and shower. People need to have their basic needs met. I'd love to see some sort of VR wellness center that could help people train for a job, overcome fears and treat mental health.
That's my idealistic dream, but back to present-day dreams: I'm actually doing a 180. I'm leaving tech for a little bit, and I'm taking Fall quarter off. I'll start back at UCLA in January, but I'm taking a leave to explore being an artist. I'm writing a science-fiction play about Vietnamese-American culture. I was inspired by my experience here at JPL. I feel really optimistic about the future of technology, which is funny because science fiction usually likes to depict tech as something crazy, like an apocalypse or the world crashing down. But I'm like, "Vietnamese people survived an actual war, and they're still here." For my parents and grandparents, their country as they knew it came crashing down on them when they were just about my age. They escaped Vietnam by boat and faced many hardships as immigrants who came to America penniless and without knowing English. For them to have survived all of that and sacrificed so much to make it possible for me to be here is incredible. I think it's a testament to how, despite the worst things, there's always good that continues. I'm so grateful and thankful for my family. I wouldn't be here living my dream without them, and I want to create a play about that.
It's funny. Before I used to be so shy, so shy. I used to be that one kid who would never talk to anybody. So it's kind of nice to see what happens when the introvert comes out of her shell. And this is what happens. All of this. [Laughs.]
---
Explore JPL's summer and year-round internship programs and apply at: https://www.jpl.nasa.gov/edu/intern
The laboratory's STEM internship and fellowship programs are managed by the JPL Education Office. Extending the NASA Office of Education's reach, JPL Education seeks to create the next generation of scientists, engineers, technologists and space explorers by supporting educators and bringing the excitement of NASA missions and science to learners of all ages.
TAGS: Women in STEM, Higher Education, College, Students, STEM, VR, AR, Technology, Mars, InSight, Curiosity, Women in STEM
---
UPDATE: Nov. 27, 2018 – The InSight spacecraft successfully touched down on Mars just before noon on Nov. 26, 2018, marking the eighth time NASA has succeeded in landing a spacecraft on the Red Planet. This story has been updated to reflect the current mission status. For more mission updates, follow along on the InSight Mission Blog, JPL News, as well as Facebook and Twitter (@NASAInSight, @NASAJPL and @NASA).
---
Matt Golombek's job is one that could only exist at a place that regularly lands spacecraft on Mars. And for more than 20 years, the self-proclaimed "landing-site dude" and his rotating cast of interns at NASA's Jet Propulsion Laboratory have helped select seven of the agency's landing sites on the Red Planet.
Golombek got his start in the Mars landing-site business as the project scientist for the first rover mission to the Red Planet in 1997. Since that time, he has enlisted the help of geology students to make the maps that tell engineers, scientists, stakeholders and now even the rovers and landers themselves where – and where not – to land. Among the list of no-gos can be rock fields, craters, cliffs, "inescapable hazards" and anything else that might impede an otherwise healthy landing or drive on Mars.
For Golombek's interns, the goal of helping safely land a spacecraft on Mars is as awe-inspiring as it comes, but the awe can sometimes be forgotten in the day-to-day work of counting rocks and merging multitudes of maps, especially when a landing is scheduled for well after their internships are over. But with the landing site for NASA's next Mars rover just announced and the careful work of deciding where to lay down science instruments for the freshly landed InSight mission soon to begin, interns Lauren Berger, Rachel Hausmann and Heather Lethcoe are well aware of the significance of their work – the most important of which lies just ahead.
Site Unseen
Selecting a landing site on Mars requires a careful balancing act between engineering capabilities and science goals. It's a partnership that for Golombek, a geologist, has evolved over the years.
Golombek reflects on the time before spacecraft like the now-critical Mars Reconnaissance Orbiter provided high-resolution, global views of the Martian terrain. In those early days, without close-up images of the surface, the science was largely guesswork, using similar terrain on Earth to get a sense for what the team might be up against. Spacecraft would successfully touch down, but engineers would look aghast at images sent back of vast rock fields punctuated by sharp boulders that could easily destroy a lander speeding to the surface from space. NASA's 1997 Pathfinder spacecraft, encased in airbags for landing, bounced as high as a 10-story building before rolling to a stop at its jagged outpost.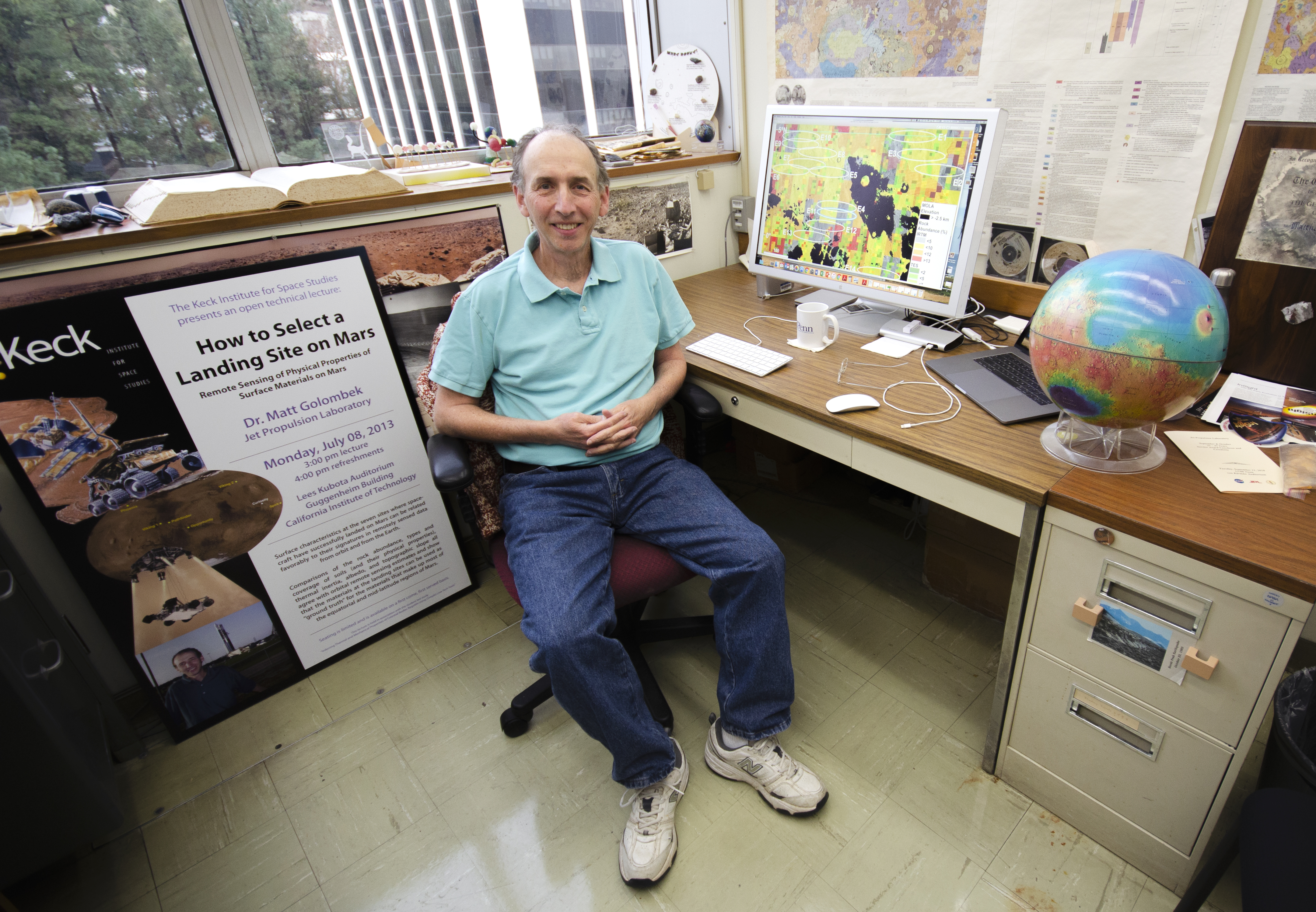 Now, Golombek and his interns take a decidedly more technological approach, feeding images of candidate landing sites into a machine-learning program designed to measure the size of rocks based on the shadows they cast and carefully combining a series of images, maps and other data using Geographical Information Systems, or GIS, software (a required skill for Golombek's interns).
Still, there are some things that must be done by hand – or eye, as the case may be.
"Lauren [Berger] is now an expert on inescapable hazards," says Golombek of one of his current trio of interns. "She can look at those ripples, and she knows immediately whether it's inescapable, probably inescapable, probably escapable or not a problem."
"Or, as we like to say, death, part death and no death," jokes Berger.
"We work with them to train them so their eye can see it. And so far, that's the best way to [identify such hazards]. We don't have any automated way to do that," says Golombek.
"I like to call Lauren the Jedi master of ripples-pattern mapping," says fellow intern Heather Lethcoe, who is the team's mapping expert for the Mars 2020 rover mission. "I helped her a little bit with that, and now I'm seeing ripples closing my eyes at night."
Until recently, Lethcoe and Berger were busily preparing maps for October's landing site workshop, during which scientists debated the merits of the final four touchdown locations for the Mars 2020 mission. If Golombek's team had a preferred candidate, they wouldn't say. Their task was to identify the risks and determine what's safe, not what's most scientifically worthy. Thanks to new technology that for the first time will allow the rover to divert to the safest part of its landing ellipse using a map created by Golombek's team, the debate about where to land was solely focused on science. So unlike landing site workshops for past Mars missions, Golombek's team stayed on the sidelines and let the scientists "have at it." (In the end, as with all other missions, the final site recommendation was made by the mission with NASA's approval.)
Now, with an official landing site announced, it might seem that Golombek's team is out of work. But really, the work is just beginning. "We'll be heavily involved in making the final hazard map for the [Mars 2020] landing site, which will then get handed to the engineers to code up so that the rover will make the right decisions," says Golombek.
Meanwhile, the team will be busy with the outcome of another Mars landing: InSight, a spacecraft designed to study the inner workings of Mars and investigate how rocky planets, including Earth, came to be.
Golombek's third intern, Rachel Hausmann, became a master at piecing together the hundreds of images, rock maps, slope maps and other data that were used to successfully land InSight. But because InSight is a stationary spacecraft, one of the most important parts of ensuring the mission's success will happen after it lands. The team will need to survey the landing area and determine how and where to place each of the mission's science instruments on the surface.
"If you think about it, it's like landing-site selection, just a little smaller scale," says Golombek. "You don't want [the instruments] sitting on a slope. You don't want them sitting on a rock."
For that, Golombek is getting the help of not just Hausmann but all three interns. "It's a once-in-a-lifetime opportunity to have students who happen to be in the right place at the right time when a spacecraft lands and needs their expertise."
Practice Makes Perfect
To prepare for this rare opportunity, the students have been embedded with different working groups, rehearsing the steps that will be required to place each of InSight's instruments safely on Mars several weeks after landing.
"The groups have rehearsals for different anomalies, or issues, that could go wrong," says Hausmann. "They do this to problem solve even down to, 'Are we in the right room? Do we have enough space?' because when you're working on a space mission, you can't have an issue with facilities."
The students took part in the first of these so-called Operational Readiness Tests in early October and say it was an eye-opening experience.
"It was really helpful just to get to know the team and really understand what's going to happen," says Berger. "Now we know how to make it happen, and everyone's a lot more ready. Also, it was so much fun."
"That's what I was going to say!" says Lethcoe. "That was just the rehearsal, and at the end of it, I felt so amped and pumped up. I can't even imagine when we're actually doing it how good that's going to feel."
Lethcoe says there was also the matter of balancing homework and midterms with full-time preparations for a Mars landing. That was its own sort of readiness test for December when the real work of deploying the instruments will coincide with finals.
Perhaps most surprising, say the students, was their realization that their expertise is valued by a team that's well-versed in Mars landings.
"Imposter syndrome is real," says Hausmann. But the team's internships are serving as the perfect antidote.
"I had this fear that I don't know if I'm going to be more in the way and more pestering or if I'm actually going to be helpful," says Lethcoe, a student at Cal State University, Northridge, who was first exposed to the mapping software used by the team during her time in the U.S. Army. "It turns out that the [InSight geology] team lead gave me really nice reviews."
Berger interjects to add supportive emphasis to Lethcoe's statement – a common occurrence among the three women who have shared the same small office for more than a year now. "He said he absolutely needed her and she could not go away."
Lethcoe laughs. "[My co-mentor] texted me to let me know, 'You earned this," and I tried not to take screenshots and send them to all my friends and my mom. They definitely make it known how much we're appreciated."
Adds Berger, "I think JPL really teaches you to have confidence in what you know."
More than the mapping skills and research experience they've picked up during their time at JPL, it's that confidence that they're most eager to take back to school with them and impart to other young women interested in STEM careers.
Berger gave a talk about imposter syndrome at her school, Occidental College in Los Angeles, earlier this month. And Hausmann, a student at Oregon State University, says her efforts to encourage and coach young women are the most important contribution she's making as a JPL intern.
"I just want to help young women get in [to research and internships] as early as possible in their college careers," says Hausmann. "I think that's so important, just as important as the work we're doing."
The Next Frontier
When your internship or your job is to help land spacecraft and deploy instruments on Mars, the question, "Where do we go from here?" is literal and figurative. While the next year or so will be perhaps one of the busiest Golombek's team has ever known, his future as the landing-site dude is uncertain.
"If what you do is select landing sites for a living, it's kind of an odd thing because you can only work at one place," says Golombek. "You need to have a spacecraft that needs a landing site selected for it. And for the past 20 years, there have been spacecraft that we've been landing on Mars. So I'm kind of out of business now because Mars 2020 is the last for the time being – there are no new [NASA Mars] landing sites that are being conceived of."
At the mention of possible lander missions to other worlds, Golombek shrugs and his near-constant grin sinks into a thin horizon. "Don't know," he says. "I'm kind of a Martian, and I'll probably stick with Mars."
Maybe it's a torch best carried by his intern alums, many of whom have gone from their internships to careers at JPL or other NASA centers. While Lethcoe, Berger and Hausmann are still enmeshed in their education – Lethcoe is in her junior year, Berger is taking a gap year before applying to graduate programs, and Hausmann is applying to Ph.D. programs in January – their experiences are sure to have a profound impact on their future. In many ways, they already have.
Could they be the landing-site dudes of the future? Maybe someday.
But for now, they're focused on the challenges of the immediate future, helping NASA take the next steps in its exploration of Mars. And for that, "They're super well trained," Golombek says, "and just perfect for the job."
---
Explore JPL's summer and year-round internship programs and apply at: https://www.jpl.nasa.gov/edu/intern
The laboratory's STEM internship and fellowship programs are managed by the JPL Education Office. Extending the NASA Office of Education's reach, JPL Education seeks to create the next generation of scientists, engineers, technologists and space explorers by supporting educators and bringing the excitement of NASA missions and science to learners of all ages.
TAGS: Women in STEM, Interns, Internships, Higher Education, College, Geology, Science, Rovers, Landers, Mars, InSight, Mars 2020
---
Erika Flores might be the longest-serving intern at NASA's Jet Propulsion Laboratory. As a high-school student, she helped test the arm for the Phoenix Mars Lander, which launched about a year later, in 2007. When she returned in 2014 as an undergraduate intern, she joined a team of JPL scientists studying how life began on Earth. A chemical engineering student at Cal Poly at the time, Flores helped the team with one of its early breakthroughs, producing amino acids, which are central to life processes, under conditions found on early Earth. Now known as the "senior intern," Flores has been an integral part of the team ever since. Meanwhile, she's earned a bachelor's degree, was accepted to graduate school for environmental science and started writing her master's thesis. She also recently picked up a part-time gig helping the Mars 2020 rover team keep the spacecraft – which is being built at JPL – clear of microbes that could hitch a ride to the Red Planet. We caught up with Flores to ask what she plans to do next, how her internships have shaped her career path and, as she says with a laugh, how they've changed her personality.
You've had five or six JPL internships, dating back to when you were in high school. How did you first come to the Lab, and what's brought you back all these years?
My very first internship was when I was a high school student going from my junior to my senior year. I think one of my teachers recommended I apply to SHIP, the Summer High School Internship Program, at JPL, and I got the internship. When I came in, it was a little overwhelming. I was 16. I still wasn't exactly sure what I wanted to major in, but I got matched with a mentor who was an electrical engineer, doing some robotics testing on the arm for the Phoenix Mars Lander. So that was really exciting when I heard afterward that they were sending Phoenix to Mars. That's definitely what – I wouldn't say piqued my interest because I was already into space, but it was like, "OK, I want to come back here."
I went off to community college, and after I transferred to Cal Poly to get my bachelor's degree in chemical engineering, I applied [for a JPL internship]. I started working with Laurie Barge in JPL's Astrobiology Lab, doing experiments on the origins of life. We started with research on early Earth conditions because our experiments have to reflect Earth before life as we know it existed. From there, we did a couple of experiments using iron mineral, or iron hydroxide, which is pretty basic and you can find it in nature. Then we adjusted the conditions. So we adjusted the pH to what it would be in early Earth – concentrations that you would find in the ocean floor. Using previous experiments and previous literature, we did an experiment to see if we could produce amino acids – so organics – based off of these reactions that could have been happening on early Earth. And our experiment was successful. We made alanine, which is an amino acid, and lactate, which is an alpha hydroxy acid. We use them for different properties in our body. So we expanded on the experiment, tried different conditions. Now we have a science paper in review. And that all lead to some other internships that are also related to the origins of life.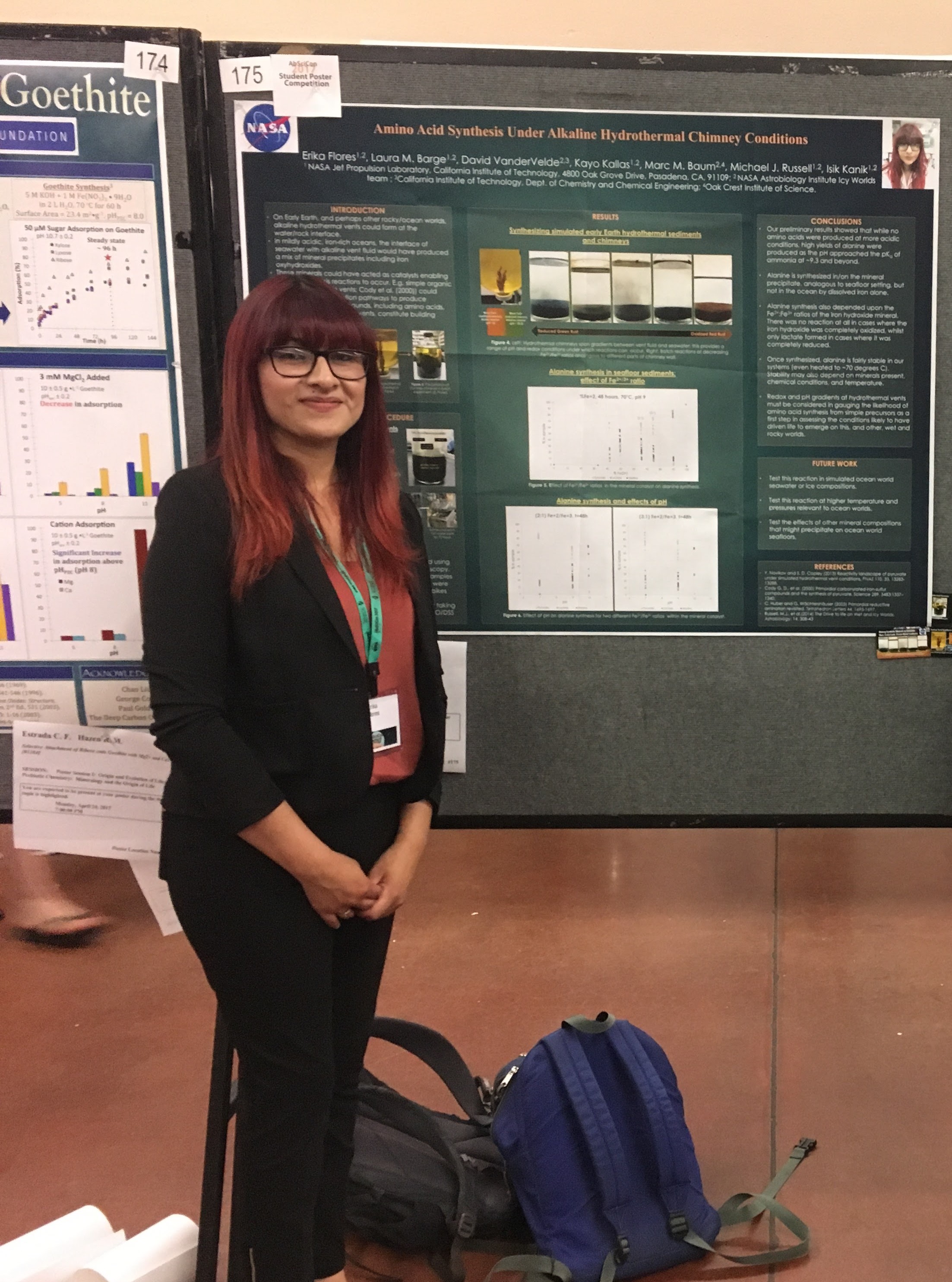 Once I graduated, I wasn't able to qualify for an internship anymore. So Laurie hired me as a contractor. I was a lab technician, working part-time while I decided to go back to school. Once I got my acceptance letter to grad school, I was able to return again as an intern. Now I'm referred to as the "senior intern." So we get new interns during the summer or some throughout the year, and I train them, show them around, things like that, which is also pretty great because like they say, you learn more by teaching others.
What are you hoping to do once you graduate?
Since I will be graduating next year, Laurie, who is such a great mentor, has been pushing me to go talk to people and go network. She talked to one of our old postdocs, who happened to be looking for an intern. So just this September, I was converted to an academic part-time employee, which has really allowed me to branch out. Now I'm part-time with Laurie and part-time working with the Mars 2020 contamination control team, handling samples, cataloging them and dropping them off for analysis. The Contamination Control Group determines cleaning methods and the allowable amount of microbial and particulate contamination for spacecraft so that they don't bring those contaminants to the places that they visit. For the Mars 2020 rover, this is an especially crucial step because it will be collecting samples that could potentially be returned to Earth one day. I kind of get to see what's going on behind the scenes of the mission, which an intern normally would not get the chance to do, so it's been a really rewarding experience.
Hopefully, when I graduate, I'll land a full-time job at JPL. Working with Laurie is great, and I feel like she would want to keep me here, but from talking to people higher up, they say if you want to be in the Science Division, you need a Ph.D., and I'm still debating whether I want to do a Ph.D. Perhaps I will in the future, but right now, I'm finishing up my master's thesis and my goal is just to get a full-time job. I find JPL to be so exciting regardless of what you're doing, so at this point, I don't care what it is. It'll still be part of a bigger picture. But it would be great if I could continue with the Mars 2020 mission as an engineer. Since I've lived in LA, I've always known of JPL. So I think this has always been my ultimate goal.
How have your various JPL internships influenced the evolution of your career path?
I started with chemical engineering [as an undergrad], but then I realized a lot of people in my field were going into the oil industry. I was like, "I kinda wanna save the planet, do environmental stuff." I only graduated three years ago, but even then, I didn't hear much about environmental science or environmental engineering as a major, so it wasn't really an option.
The reason why Laurie chose me as her intern was because of my chemistry background, which is pretty awesome because even though I studied engineering, I saw myself doing more lab work. Being here in the lab with Laurie has been amazing. It has solidified my thoughts that "Yes, this is what I want to do." I definitely like doing experiments, taking samples, running analyses and then inputting the data.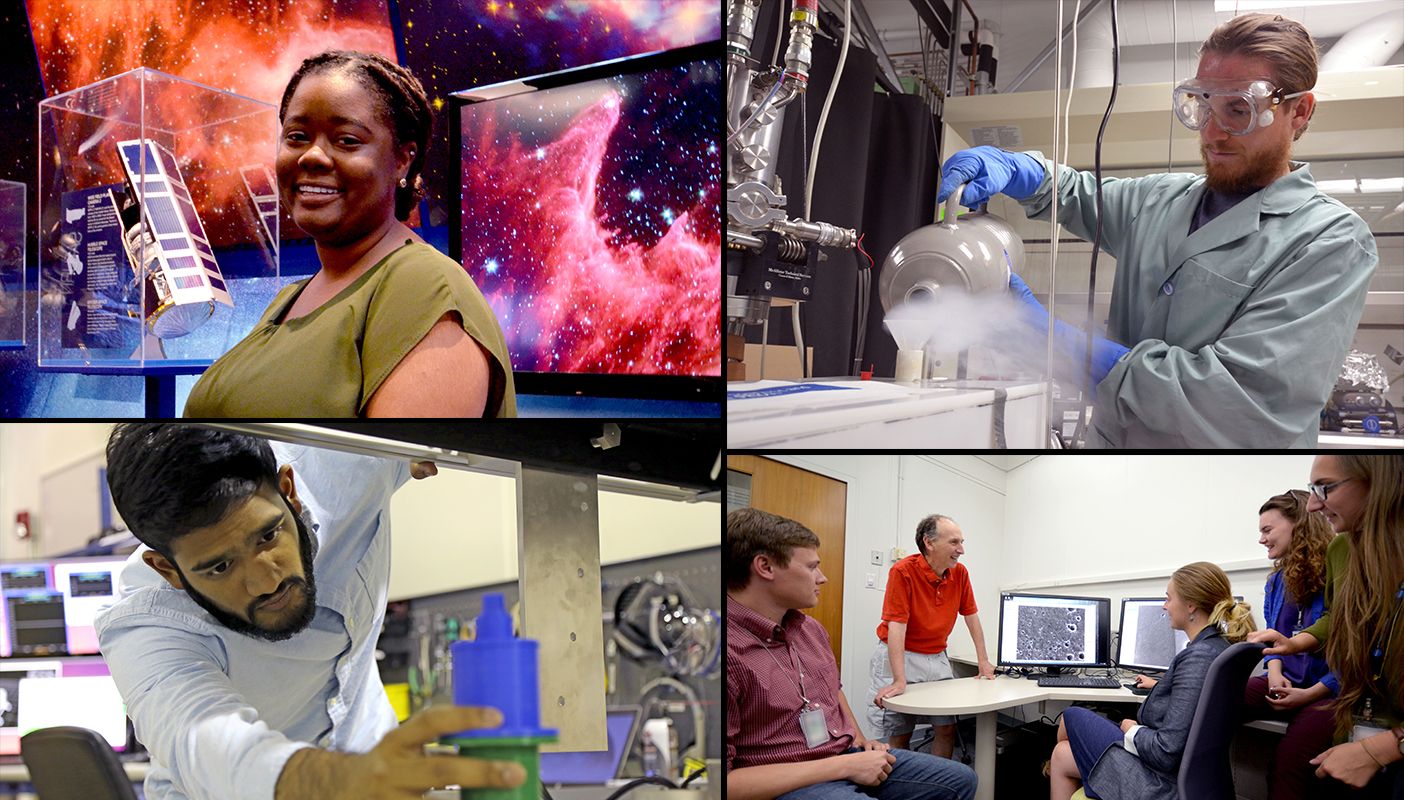 Meet JPL Interns
Read stories from interns pushing the boundaries of space exploration and science at the leading center for robotic exploration of the solar system.
[Before going to grad school], I started turning to a lot of the talks here, because I was like, "OK, maybe I could be more involved with astronomy, astrobiology – things like that." But I felt that a lot of the talks were over my head. But then when I would attend some talks that had to do with climate change or, for example, the new ECOSTRESS [Earth science mission], I was captivated and interested. So it confirmed that I want to stick to the environmental side. That's why, for my master's, I went into environmental science with an option in engineering.
What got you interested in science and engineering initially?
I've always really liked math, but I knew I couldn't just do a math major. I knew I wanted to do more. Growing up, my favorite types of movies were sci-fi, and I was definitely into outer space and astronomy. Knowing how things work was always a curiosity. Trying to know the unknown was what really drew me into science. And then for engineering, I just couldn't decide. I wanted to learn a little bit of everything. The whole reason why I chose engineering was that I couldn't choose one specific subject. With engineering, you need your math, your physics, you need your chemistry, you need some biology, depending on what kind of engineering you go into, but it encompasses everything.
Is anyone in your family involved in engineering or science?
No. I'm actually the middle child of five. My mom came here from Mexico. So we're all first-generation. But I was the first one to even graduate high school. My little brother is in college, and I'm pushing him, because I see my other brother, who is working overnight and overtime and always tired, and it's obviously something he didn't think he was going to end up doing. Also, my mom came here and she struggled a lot, and she's still struggling. As sad as it sounds, I don't want that to be me. So I had to push through. Luckily for me, I was always into school, so it wasn't that hard to keep going.
Going back to the research that you're doing, what's the ultimate goal, and what might it mean for the search for life beyond Earth?
So most of my experiments don't have to do with other planetary systems; they're more focused on Earth and the origins of life here. But we could take some of this knowledge and apply it to other planets. Our research is figuring out what happened here, first, and then applying it to other places. Our ultimate goal is to explore processes for the origin of life.
How do you feel you're contributing to NASA/JPL missions and science?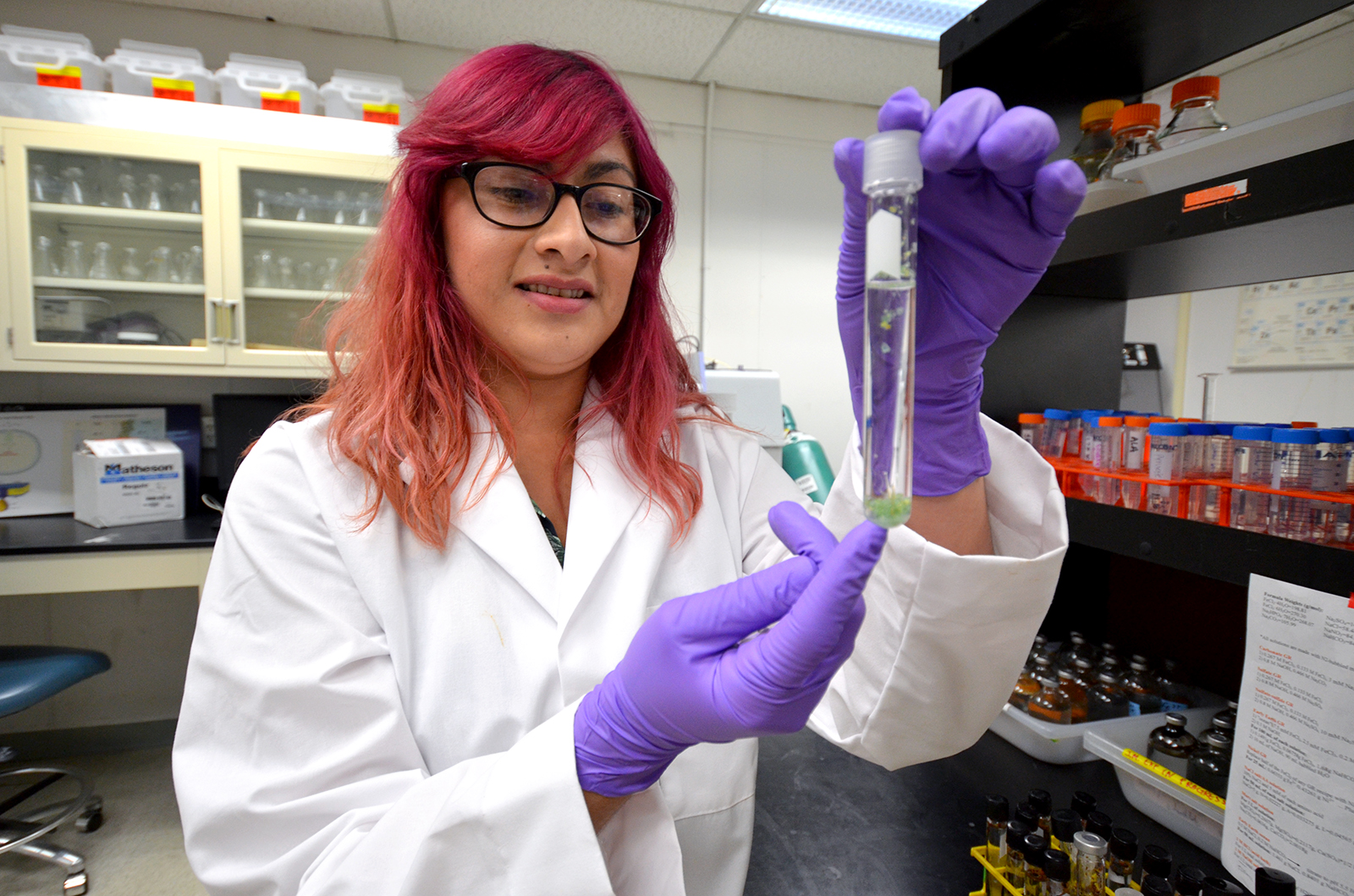 Even if you do the smallest task, it still has to be done. Someone has to take these samples to get analyzed, someone has to drop these things off. But, personally, working with Laurie Barge and the origins of life, I feel like I've contributed a lot. We have one paper in review, and we're doing more experiments. Our research has implications for other celestial bodies, so I'm excited for us to learn more about Mars and Saturn's moon Enceladus so we can adjust our experiment to represent their environments. I have also been helping interns with their experiments. I don't think you can disregard anything you do here. I think everything is important, and you're always learning and teaching others. Whenever I meet students, I'm always saying, "Make sure you apply to JPL." It's a wonderful opportunity. I consider myself so lucky to still be here after all these years.
What's the most unique NASA or JPL experience you've had while you've been here?
Recently, my mentor has been hosting science happy hours. At school, it's not like you just go out and drink with your professor. [Laughs.] But the whole point of it was for her to introduce us to other people who are working in the science department. So going to these happy hours gives us a chance to talk and see what everyone is working on. It's all about collaborating. So, to me, that has been a bit of a unique experience.
Also, going to conferences. I've gone to maybe four or five. Meeting these people from all over the world is definitely a unique experience. It's crazy how we're all kind of working toward the same goal. Before I used to be very shy, more introverted, but meeting people from all over the world and knowing their stories and their background and how much we have in common, despite where we live, has gotten me to be more open. So that's helped me out in the whole networking aspect of things, which is very, very important when you're trying to get a job.
I really think this internship changed my personality. [Laughs.] I really do.
Last question, and it's a fun one: If you could travel to any place in space, where would you go and what would you do there?
With the possibility of seeing humans on Mars within my lifetime, I have joked with my friends that I would love to die on Mars. But I wouldn't want to limit myself. So if possible, at an older age, I would keep traveling through space, passing by every celestial body imaginable. That would be an astonishing and beautiful sight. Once I felt like I had witnessed it all, I would travel straight into a black hole to witness what no one else ever has, the unknown.
---
Explore JPL's summer and year-round internship programs and apply at: https://www.jpl.nasa.gov/edu/intern
The laboratory's STEM internship and fellowship programs are managed by the JPL Education Office. Extending the NASA Office of Education's reach, JPL Education seeks to create the next generation of scientists, engineers, technologists and space explorers by supporting educators and bringing the excitement of NASA missions and science to learners of all ages.
TAGS: Women in STEM, Internships, Higher Education, College, STEM, Science, Engineering, Mars 2020
---
With wildfires around the world occurring increasingly often and burning over a longer portion of the year, scientists at NASA's Jet Propulsion Laboratory are working to understand whether the blazes could have long-term impacts on global climate change. In some respects, it's a tough question to answer – not because of an absence of data, but because of an overabundance. That's where intern Jarod Boone, a computer engineering student at Brown University, comes in. As part of a program at JPL that brings together designers, computer programmers and scientists to answer data-heavy science questions using visualizations, Boone spent this summer helping climate researchers visualize tens of thousands of files containing wildfire data collected by instruments on NASA's Terra satellite. Boone shared what it was like visualizing wildfire data as more than a dozen wildfires burned across California (where JPL is located) and how he never quite got used to JPLers' tendency to speak in acronyms.
What are you working on at JPL?
I'm doing the programming for a data visualization tool to help researchers who are using the Terra satellite analyze wildfire data and how high these fires inject into the atmosphere. That's a question scientists are really concerned with because you have all these fires burning up matter, and all the matter that they burn goes into the air and just floats around for many, many days afterward. We don't really know how exactly that affects global climate change, so it's good to take a look at the data.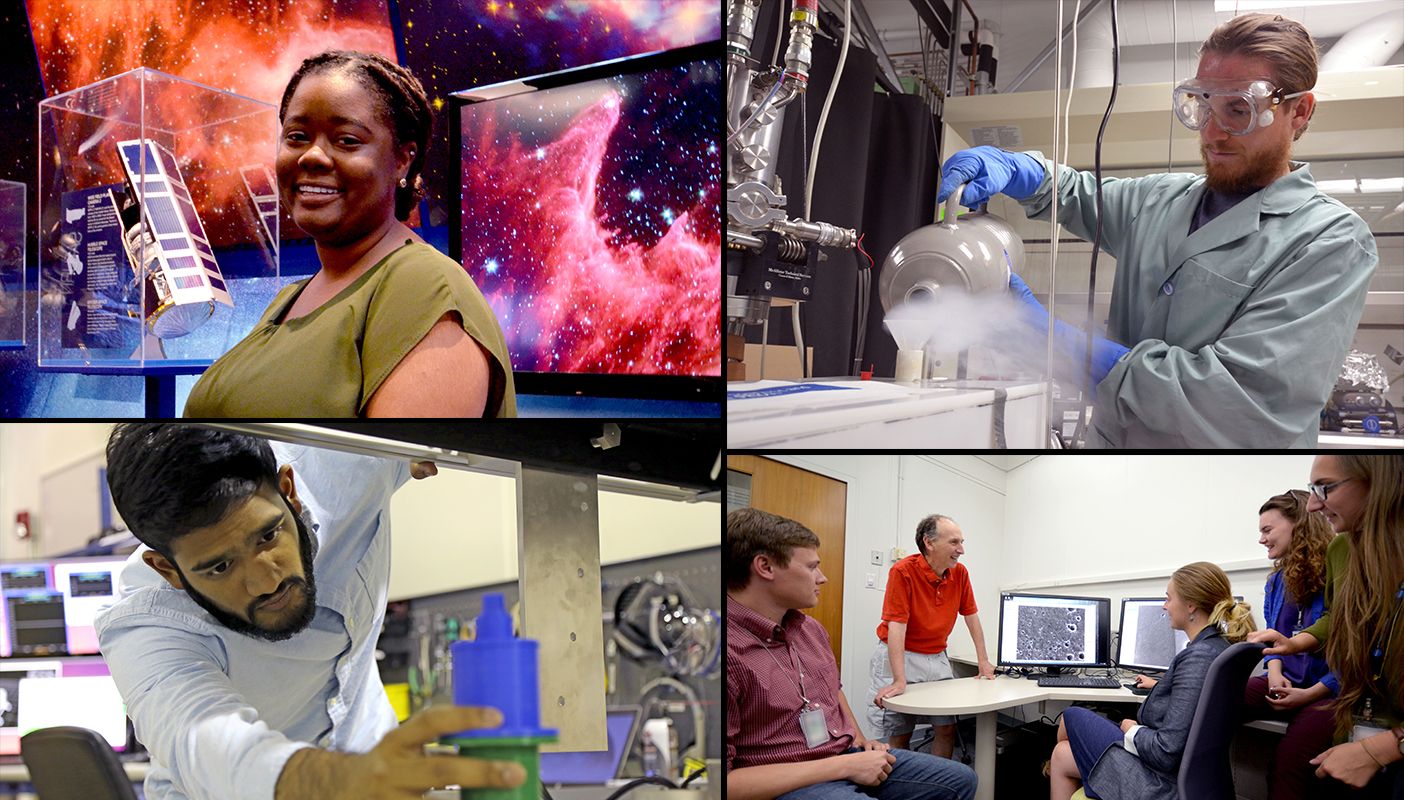 Meet JPL Interns
Read stories from interns pushing the boundaries of space exploration and science at the leading center for robotic exploration of the solar system.
Have you discovered anything so far from these visualizations?
Not quite yet. So the [Data to Discovery Visualization Program] that I'm a part of is sort of a unique program here at JPL. We have two designers and three computer science teams, and we have three projects that we work on. It's very design focused. So in the course of my projects, we have several weeks of what we call contextual inquiry, which is going in and doing interviews, creating prototypes and basically trying to get an idea of what scientists do for their workflow, because it's kind of hard to conceive of what you would do to answer a scientific question if you don't have a scientific background. So we spend a lot of time getting to know what the scientists are trying to accomplish. We're trying to make the best interface possible for them to use this data. That's actually a huge problem in science: There's a huge barrier to entry with a lot of these data sets, so it discourages things like exploratory science.
Have you been adding all the recent wildfires in the western U.S. to your data set?
I'm mostly working with older fires because it takes a bit of time to digitize the fires that are imaged by the Terra satellite. They have to go through this process where they take a bunch of images of the fire – because you have these flat images and you're trying to get plume height and the satellite is moving – and they essentially need to stitch together the images of the fire to get an idea of how high the smoke plume is, which is quite a process. And it has to be done one by one. But there are enough older fires for us to work with.
You're from Massachusetts, a state that doesn't have a lot of wildfires. Has being in Southern California during all the wildfires this summer changed your perspective on how to go about these visualizations?
It's a little hard because the visualizations and working with all the satellite data is so detached, and they're really abstracted away from any actual fires. So it's like I'm just seeing all these data points and getting all these data products, like optical depth. I don't really know what that is, so when I see a real fire, I'm like, "Whoa, that's what that is." But there's not really a huge cognitive connection. It's definitely cool to be able to work with something that's pretty pertinent and definitely a problem in California.
What's the ultimate goal of the project both for you and for JPL?
For JPL, it is to refine our ideas of climate models and better take fires into account. The global climate models right now do a fairly poor job of taking fires into account because it's really difficult. They happen so sporadically. It's not a fluid weather system. It's these discrete fires, and they're just huge dumps of energy. How do we account for that? So that's definitely the end goal for JPL.
I am not a climate scientist. I will not be doing any updates to the climate models, but I do hope to encourage exploratory research. And I'm sort of trying to introduce principles of design and human-centered interfacing and accessibility to climate scientists. Actually, one of my mentors was very excited about what I was working on and had me submit an abstract for the [American Geophysical Union Fall Meeting]. So visualizing is important. You should be able to conceive of the data you're using.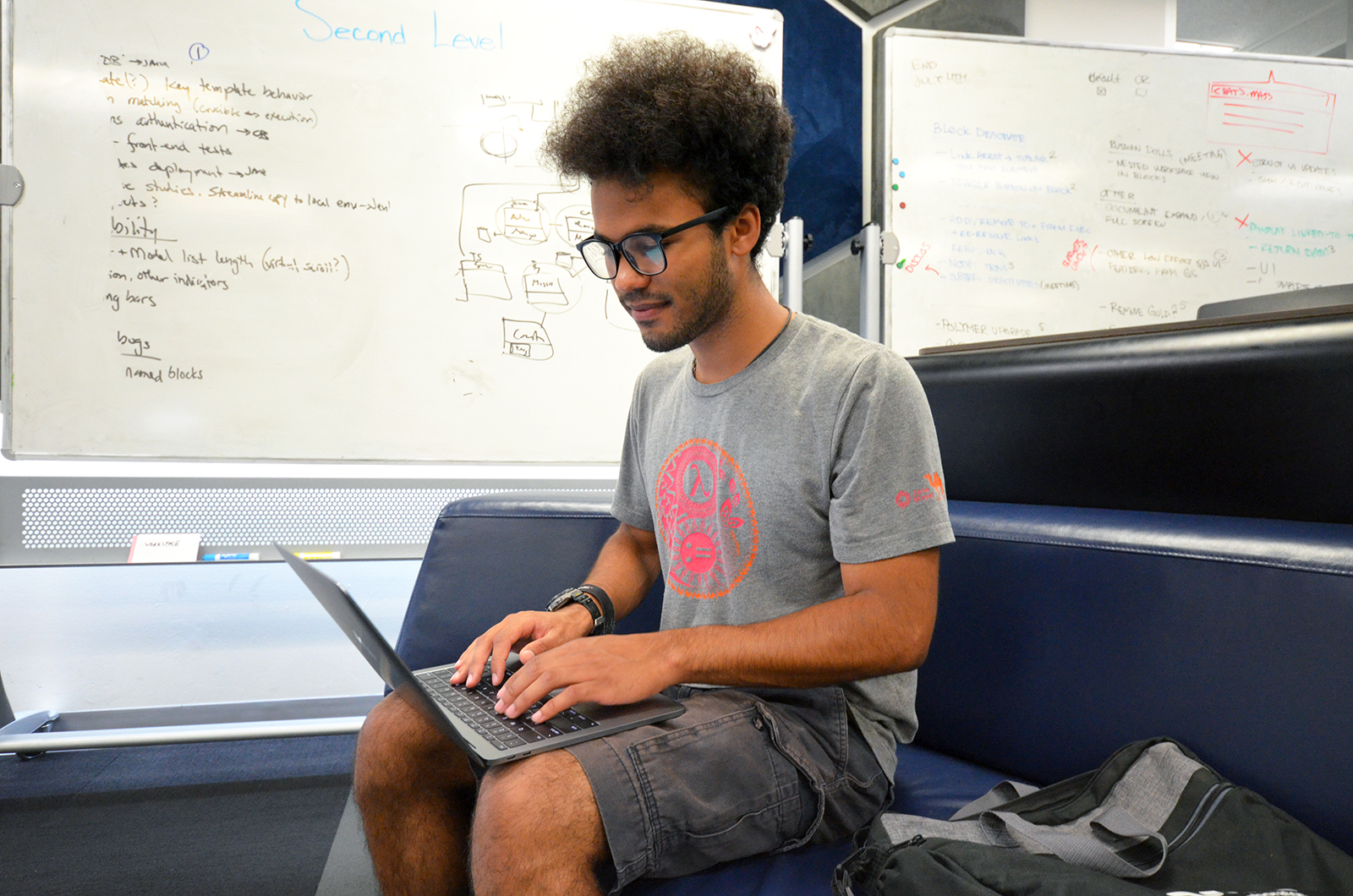 How did you get involved in the program that brought you to JPL to do this work?
I had done a lot of visualization work at my school. Not on purpose, tangentially. I worked at the Brown University Center for Computation and Visualization, so we had a lot of people coming in wanting to do some kind of research visualization and they had a lot of technical problems. So I sort of got sucked into the visualization and research-aid world. One of my bosses knew Santiago Lombeyda, one of the mentors in this program from Caltech, and he said he was looking for data visualization students who were well versed in that and able to do computer science. JPL seemed pretty cool, so I decided to apply.
What are you thinking you want to do eventually?
So long, long term, I have this vision of humanizing computer systems. A lot of software developers don't know entirely how systems work. A lot of consumers are still confused by computers, and we're still using a bunch of folders spread out to represent files rather than something more intuitive or something that represents the data better. The fact that most users need to troubleshoot online to figure out how to use their computer and answer how to fix certain problems is a problem. I feel like we know enough about computers at this point and this generation is, in general, literate enough about computer science to be able to understand what's going on. We can possibly do a lot better making operating systems transparent. That's what I would like to do. I think that would be a cool project.
Is there a particular place that you'd want to do that?
In practice, I would just like to work a little bit in industry, doing systems development either in hardware or software. It's really cool to work with a data system like this, a satellite that has a lot of nuanced issues with how you get the data and what you can do with the data and how you transmit it back and forth and, at the end, what you do with that data problem.
What's an average day like for you?
So we actually split up a decent amount of our time between here and Caltech [which manages JPL for NASA]. Most days I'll have meetings with our research groups just to touch base and see what's happening. On Mondays, we'll have [critiques] all day, which is where our mentors review our projects up to that point. Then, pretty much the rest of the day I'll spend meeting with my designers and programming. Sometimes I go for walks or explore the campus a little bit. But most of the time, I'm just holed up doing the computer thing.
What's been the most JPL or NASA unique experience you've had so far?
During the second meeting that I had with my mentor, Abigail Nastan, she used like five acronyms in the same sentence. And I was just, "Can you just use words?" [Laughs.] You guys should just have an acronyms cheat-sheet for interns.
Also, going to the Mars Yard, sitting in the rocks. Every experience here is a NASA experience.
If you could travel to any place in space, where would you go and what would you do there?
In space? I mean, Earth is really cool. I guess I'd probably go to Jupiter, just because something fishy is going on there. [Laughs.] That planet is too big. Also, I just don't trust gas giants. What do you mean, you don't have a surface? I definitely would not go on Jupiter – I'd just watch it from afar.
---
Explore JPL's summer and year-round internship programs and apply at: https://www.jpl.nasa.gov/edu/intern
The laboratory's STEM internship and fellowship programs are managed by the JPL Education Office. Extending the NASA Office of Education's reach, JPL Education seeks to create the next generation of scientists, engineers, technologists and space explorers by supporting educators and bringing the excitement of NASA missions and science to learners of all ages.
TAGS: Internships, Higher Education, Career Guidance, Computer Science, Visualizations, Data, Earth Science, Wildfires
---
In the science world, publishing a paper is a big deal; it's how scientists share their discoveries with the world. So it's no small feat that Vicky Espinoza published her first science paper as an intern at NASA's Jet Propulsion Laboratory. In the paper, her team takes a look at the effects of climate change on global atmospheric rivers, which bring an onslaught of snow and rain to affected areas and have serious implications for people who live there. The Earth science student from the University of California, Merced, met with us this summer to share how she's helping her team take the research further and what it's like to be an intern at JPL.
What are you working on at JPL?
We're studying how atmospheric rivers – which are long jets of water vapor – move through the Earth system and identifying key physical properties that characterize their frequency and magnitude. We're doing this by taking what we currently know about atmospheric rivers and contrasting it with "aqua planet" model simulations, changing one physical parameter at a time. An aqua planet is a theoretical planet that has the same dynamic and thermodynamic properties as Earth's atmosphere and oceans, but with the continents removed. We're also observing how climate change and these parameter changes combine to impact the physical characteristics, frequency and magnitude of atmospheric rivers in these aqua-planet scenarios.
Tell me more about atmospheric rivers and the impacts that they have on our climate.
There is a certain geometry to them that separates them from other storm types. They often tap moisture in the tropics and transport it toward the poles and into and across mid-latitudes. An important feature of them is that they often make landfall on the western coasts of continents – so the mountainous regions like the Sierras and the Andes. When the warm, moist air rises to cross the mountains, it cools down and precipitates out as either snow or rain, depending on the temperature. Just to give you a sense of how much water they can hold, a single atmospheric river can transport 25 Mississippi Rivers of water as water vapor. So the implications are that they can cause severe flooding, or in their absence, they can cause drought periods. So they're very important for water management, especially for regions like California that depend on precipitation for water.

You were the lead author on a science paper published recently on this topic.
Yes. It's a global analysis of climate-change projection effects on atmospheric rivers. It was the first paper that performed such an analysis on atmospheric rivers on a global scale. My mentors, Bin Guan and Duane Waliser here at JPL, created an atmospheric-river detection algorithm, which we used to identify and compare atmospheric rivers globally. We found that with climate change, these atmospheric rivers will occur 10 percent less, but they will be 25 percent wider and stronger. Because the rivers will be more expansive, a given area will experience atmospheric-river conditions up to 50 percent more often despite there being fewer atmospheric river events. Also, the frequency of the strongest of these atmospheric rivers is going to double. It has so many implications for water managers and those living in atmospheric-river-prone regions who will need to start preparing or start thinking about the implications of these large storms.
Is this the first time that you've been an author on a paper?
Yes, it's the first time I've published a paper. My mentors made me first author, which was such a great experience. It was a lot of work. As a Ph.D. student now, it's fruitful to know what it means to be an author of a paper.
What did it mean for you to be able to publish a paper as an intern?
Just being so passionate about a topic, putting your hard work and soul into a paper and then seeing it become reality is – it's something different. I can't even describe it. It makes me feel like I've accomplished something.
What are you studying for your doctorate?
I'm taking a look at water management and sustainable water uses in agricultural regions in California.
Are you hoping to eventually work at JPL?
Yes. JPL has been a dream. I actually applied to JPL three times before I got an internship. I applied as an undergrad, and then during my master's I was, like, "Let me try one more time. Let's give it a go."
It's been such a great experience to intern here. One of the things that I love about JPL is that everyone is so passionate and creative. It's like Disneyland for scientists. It's very motivating to meet people in line for coffee and be like, "Oh, you work on the Hubble Space Telescope? No big deal." And they're just so grounded and so passionate, and everyone's willing to talk to you. So it's been a great experience.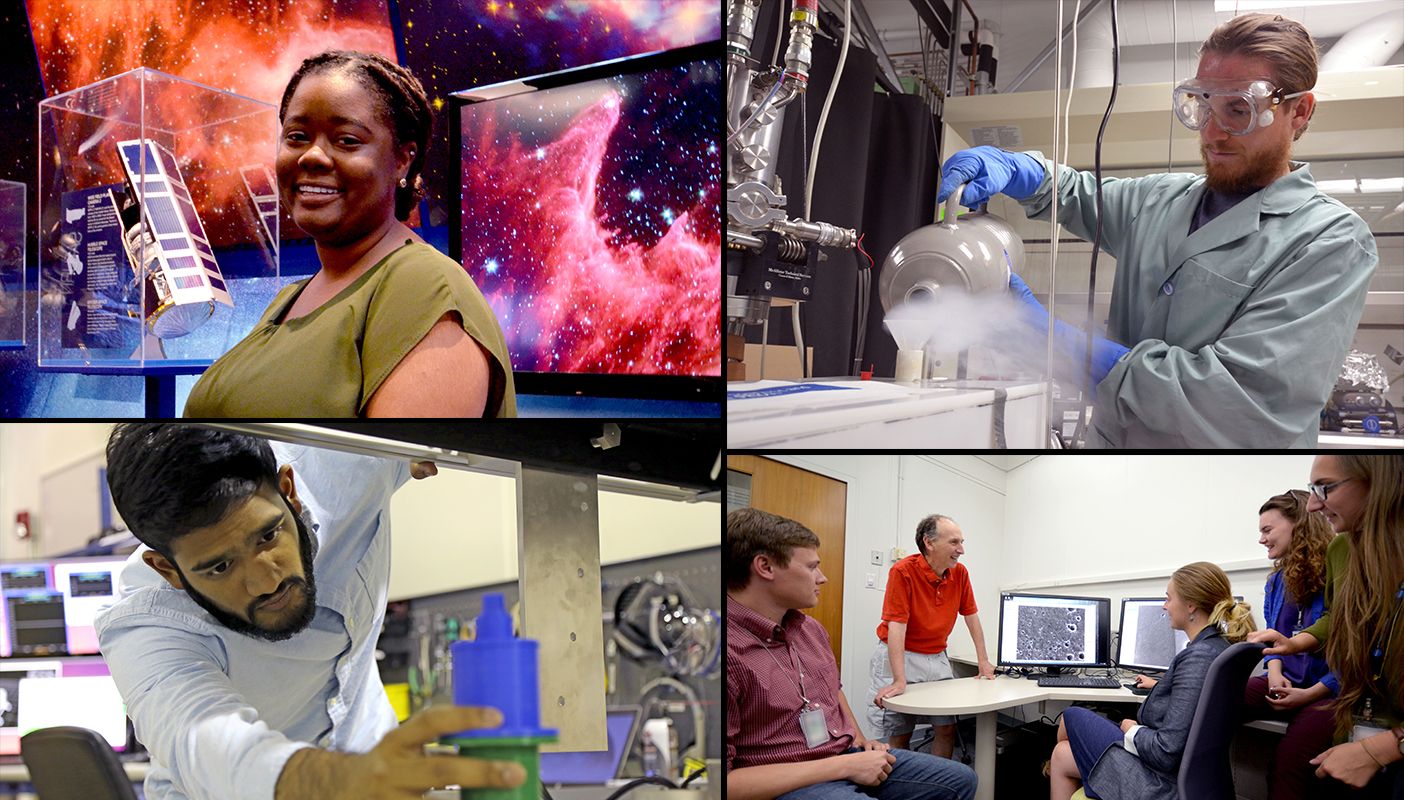 Meet JPL Interns
Read stories from interns pushing the boundaries of space exploration and science at the leading center for robotic exploration of the solar system.
What's the most unique JPL or NASA experience that you've had?
I think the overall experience has been unique. I haven't been in a work environment where the majority of people are so happy to be here and everyone is just so passionate and driven.
What's a typical day like for you?
A typical day for me is behind the computer, so taking a lot of data and running it through a detection algorithm and running a statistical analysis on the data, creating figures and analyzing these atmospheric-river trends.
How do you think that what you're working on might help the average person one day?
Taking a look at this theoretical aqua planet, [a simulated version of Earth with the continents removed], and changing differing parameters of these atmospheric rivers is bringing fundamental insight into how they function, develop and move across the globe. I think that this work will inform citizens, stakeholders, policy makers and water managers on the future of California water.
What got you interested in science in the first place?
I feel like I've been doing science for a long time. My dad works in hydrology, so I've always been exposed to that. But I've always been someone very curious, especially about climate change. I started with air quality and how climate change is impacting the atmosphere. The atmosphere and ocean are connected in some ways, so I started exploring the ocean through an internship. Just being curious about our planet has led me to where I am now.
If you could travel to any place in space, where would you go and what would you do there?
I am a fan of rogue planets, or floating planets. There's an [Exoplanet Travel Bureau] poster that imagines them as planets where people would go dancing. I would want to go to a rogue planet just to figure out what it's like. They don't have a parent star, so they're just out there on their own and there's something so serene and somewhat romantic about that.
---
Learn more about how and why NASA is studying Earth on the agency's Global Climate Change website.
Explore JPL's summer and year-round internship programs and apply at: https://www.jpl.nasa.gov/edu/intern
The laboratory's STEM internship and fellowship programs are managed by the JPL Education Office. Extending the NASA Office of Education's reach, JPL Education seeks to create the next generation of scientists, engineers, technologists and space explorers by supporting educators and bringing the excitement of NASA missions and science to learners of all ages.
TAGS: Women in STEM, Higher Education, Internships, College, Earth Science, Climate Change, Students, Science
---
When Lean Teodoro was growing up on the remote island of Saipan in the middle of the Pacific Ocean, her dream of one day working for NASA always seemed a bit far-fetched to those around her. Now, a geophysics student on the premed track at the University of Hawaii and a summer 2018 intern at NASA's Jet Propulsion Laboratory, Teodoro is making her dream a reality. This summer, she took a short break from her internship searching for asteroids with NASA's NEOWISE team to tell us about her career journey so far, what inspired her to study STEM and how she hopes to play a role in human space exploration of the future.
What are you working on at JPL?
I work with the NEOWISE team, the Near-Earth Object Wide-field Infrared Survey Explorer. My focus is on near-Earth asteroids. I do a lot of image analysis and processing. Not all of the time do asteroids get detected through our automated system, so my job is to look at archives to find previously undetected asteroids.
What is a near-Earth object and how do you look for them?
Near-Earth objects are objects [such as asteroids and comets] that are very near to Earth's orbit. There are other asteroids that are located roughly between the orbits of Mars and Jupiter, but my focus is on those that are closer to Earth. The way that we detect them is we have this [space telescope called NEOWISE] that surveys the sky in two wavelengths. It senses the heat of asteroids. So I look at images from NEOWISE and, if I see a red dot that is bright, then that's usually an asteroid. But I go through several search techniques to see if the signal-to-noise ratio is good. So there are several processes that work.
What is the ultimate goal of the project?
My ultimate goal is to try to increase the number of known near-Earth objects so that, in the future, we can get more precise measurements for their positions and movements -- just in case they pose a risk to Earth.
What's an average day like for you?
I go through, I'd say, hundreds of images per day. I also took part in a side project where I had to get the measurements of an asteroid that was observed 39 years before it was officially discovered. We looked at this astronomical plate from the 1950s. You can see a very small arrow pointing to an asteroid. Positions for the asteroid hadn't been discovered yet, so my job was also to find those. It had a lot to do with coding and I had very little experience with coding, so it was nice.
What other skills have you been able to pick up at JPL?
My major is geophysics, so I had little knowledge about astronomy. My whole research team exposed me to an exciting world of astronomy, so that was really nice. They were very encouraging. I've learned so much more about astronomy this summer than I did throughout my whole undergrad career. I mean, there is some connection between geophysics and astronomy, in a way, but this summer, I really learned so much.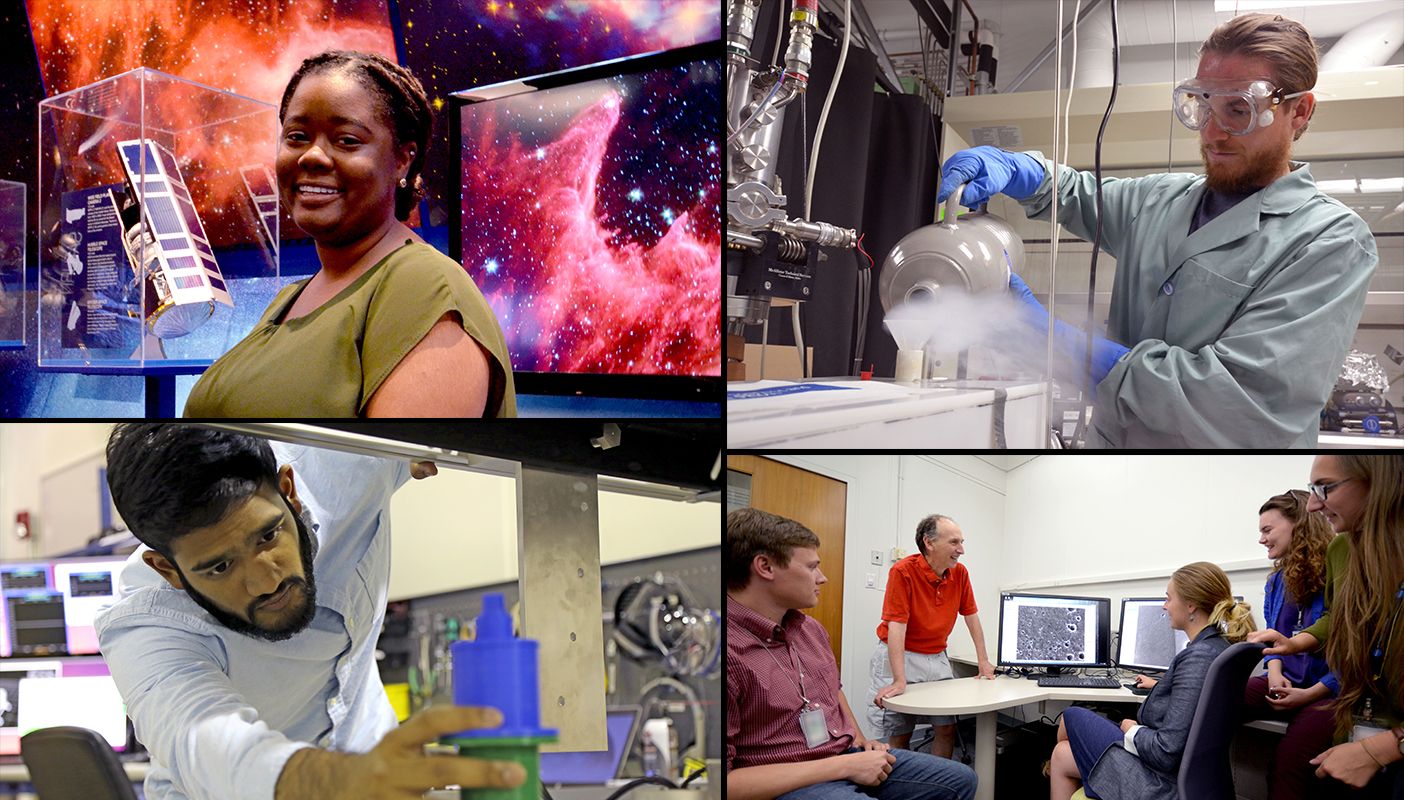 Meet JPL Interns
Read stories from interns pushing the boundaries of space exploration and science at the leading center for robotic exploration of the solar system.
You grew up on the remote island of Saipan in the Northern Mariana Islands. How did you get exposed to STEM and what got interested in pursuing it as a career?
When I was young, my dad would always make us go fly kites at night on the beach. There was this one night where I was just looking at the Moon. I was like, "Oh my god, I really want to learn more about astronomy." I think since then, I've been interested in STEM. But when you're coming from a really small island, you feel very limited. So I didn't have that strong foundation in STEM. And that's the reason why I wanted to move off the island -- because I knew that I couldn't get the opportunities if I stayed. That's the reason I moved to the University of Hawaii. They have a strong geology and geophysics program, and it's a great research university. Since I started there, I've been doing research related to NASA -- like the NASA Hawaii Space Grant Consortium. I feel like if I didn't move to the University of Hawaii, I wouldn't be where I am today, interning at JPL.
So you moved from one island to another?
[Laughs.] Yeah, I couldn't leave the island vibe, I guess. I think it's just a little closer to home. I feel more at home when I'm in Hawaii. Not only that, but also they have a great program, so that was a plus, too. And they have close affiliations with NASA, so that was really great, because my goal was to work for NASA.
Was it a challenge to move away from the island where you grew up?
It was definitely a challenge leaving family and friends behind. I was there on my own. The reason why I chose the University of Hawaii is because of their program. I had a really hard time choosing my major because I was interested in health, but I was interested in geology as well. I'm doing premed as well [as geology and geophysics]. I'm really interested in how humans or organisms can adapt to extreme environments and in learning about geology – for example on Mars – and health, and seeing how we can combine those two fields to contribute to future human space exploration.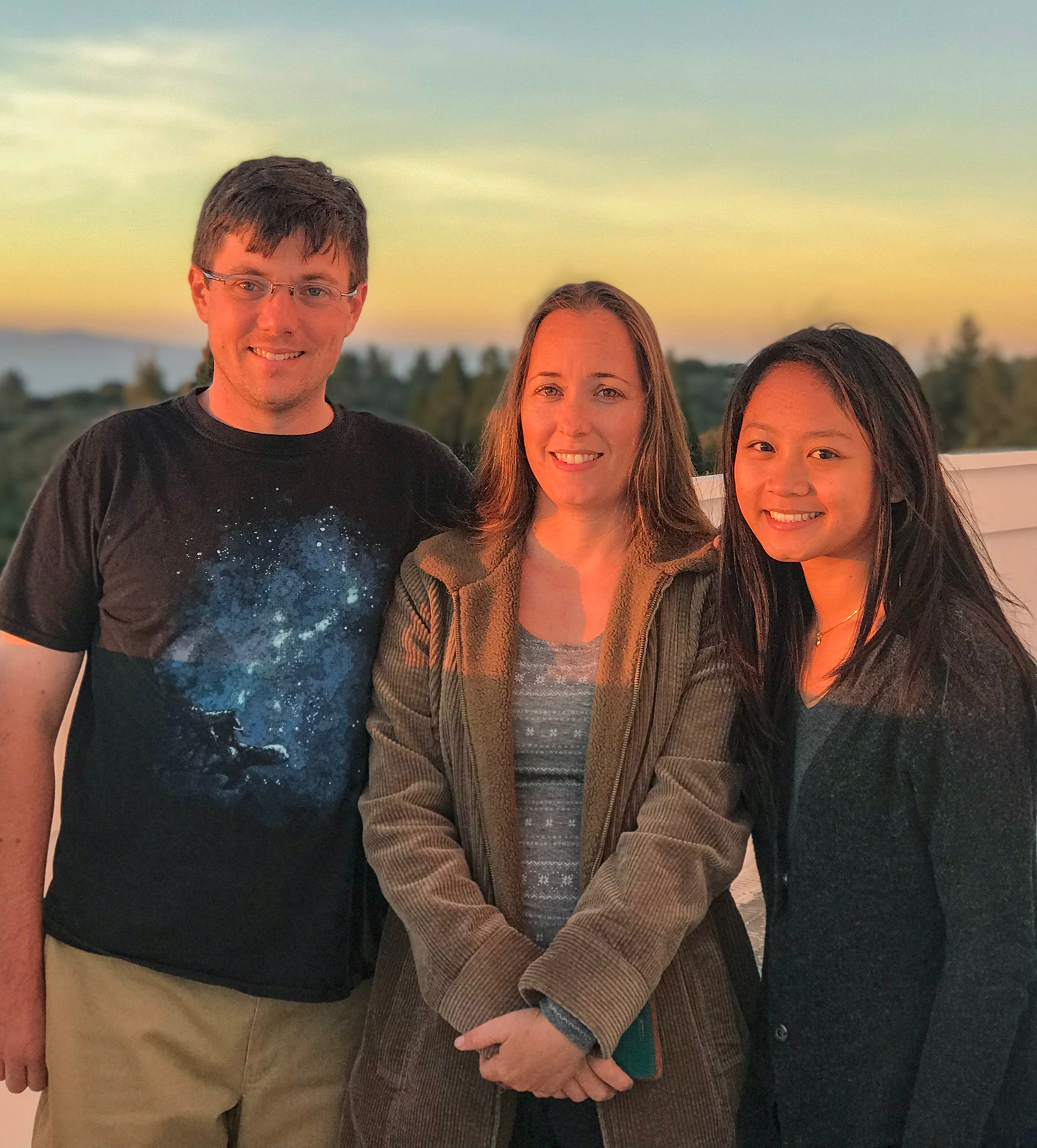 What do your family and people back home think of your career path?
It's so funny because I remember, in middle school, I would always tell my friends and family how I wanted to work for NASA, and they would laugh about it because I don't think anyone back home has ever done something big like that. Having them see me working here -- it just kind of opened their eyes, like, "Wow, it's possible," you know? Most of the time, people back home just stay for financial reasons. It was really expensive moving to Hawaii. But I really wanted to do it. So here I am, and I'm so happy.
Did you know that we have a group of student teachers from the Northern Mariana Islands that has come to NASA's MUREP Educator Institute at JPL the past couple summers?
Yeah! So three weeks ago, I was walking to my office, and I saw a few friends from back home. I was like, "Oh my god, what are you guys doing here?" We all went to the same high school and everything! They were telling me about that whole program. I was like, "Oh my god, I feel so happy. That's so great." The chances -- it was mind-blowing. I'm so happy for them. I'm really excited for the future of Saipan and the whole Northern Mariana Islands.
What's the most JPL- or NASA-unique experience you've had so far?
Of all the internships I've had in the past, JPL is really unique because everyone is just so passionate about the work that they do, so it really rubs off on you. Not only that, but also the intern community here is just amazing. And not only the interns, but also my mentors and the other scientists and engineers I've met. I've made so many friends throughout my summer here from all over the nation and all over the world, which is nice because I'm from this small island, and it just makes me realize how big the world is.
I feel like interning at JPL builds a foundation for me. And with my mentors here at JPL and in Hawaii, I do feel more confident in being a minority and a woman in STEM. I feel more driven to be successful and to inspire people from back home to go and pursue what they want to do. Don't let the confinements of your environment stop you from what you want to do.
What's your ultimate career goal?
My ultimate goal is to try and contribute to future human space exploration. That's what I really want to do. I'm still trying to figure out how I can pave my path by combining health and geosciences. We'll see how it goes.
---
Explore JPL's summer and year-round internship programs and apply at: https://www.jpl.nasa.gov/edu/intern
The laboratory's STEM internship and fellowship programs are managed by the JPL Education Office. Extending the NASA Office of Education's reach, JPL Education seeks to create the next generation of scientists, engineers, technologists and space explorers by supporting educators and bringing the excitement of NASA missions and science to learners of all ages.
TAGS: Women in STEM, Internships, Higher Education, Science, Astronomy, Asteroids and Comets, NEOWISE