---
Marco Dolci did not set out to become a NASA engineer. Instead, like many of Dolci's pursuits, the career path presented itself on his lifelong quest "to know" – that is, to answer any and every question that crosses his mind. As a boy, his never-ending stampede of questions became too much even for his ever-patient parents, so they presented him with a book, 1001 Questions and Answers on Planet Earth. But rather than satiate his quest for answers, it spurred him to seek more.
Today, Dolci still asks a multitude of questions, but the answers he finds through his own determination and curiosity, which have taken him from studies in linguistics to physics to aerospace engineering to robotics – and across the world, from his hometown of Lodi, Italy to NASA's Jet Propulsion Laboratory in Pasadena, California.
Dolci first came to the Laboratory in 2013 as part of the JPL Visiting Student Researchers Program, or JVSRP. Having just earned a master's in physics, Dolci was pursuing a second master's in aerospace engineering at the Polytechnic University of Milan when he entered and won a scholarship sponsored by the Italian Space Agency and the Italian Scientists and Scholars of North America Foundation. His prize: a paid internship at any North American laboratory. He says JPL was the obvious choice.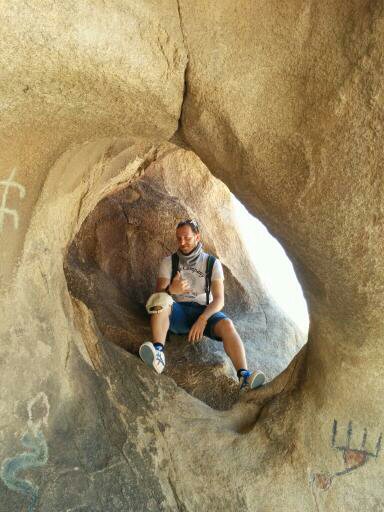 Dolci in California's Joshua Tree National Park. Photo courtesy: Marco Dolci
"I chose JPL because it's the best place to work on anything related to space," said Dolci, adding that he only learned later that the laboratory is located in California, a fact that made it all the more desirable. "I just wanted to come here."
Dolci spent two months working on concepts and proposals for missions designed to study black holes, protoplanetary discs, X-rays and cosmic rays. He became the lead author on a science paper about the latter, and the team was so impressed with his work that Dolci's internship was extended another 10 months.
After a year, however, Dolci's visa was up and so was his time in America and at JPL. But his next step was clear: He would find a way to come back. "I was really impressed by JPL, both for the people that I found here, who are open to learn and challenge themselves," said Dolci. "And the fact that it puts on the table resources that allow great projects."

So Dolci formulated a plan. First, he entered a PhD program in aerospace engineering at the Polytechnic University of Turin, which in Italy offered the chance to spend part of his studies abroad supported by his university. He also applied for the US Diversity Immigrant Visa program, sometimes called the "green card lottery." With only 50,000 people across the world randomly chosen for green cards each year from about 10 million qualified applicants, it was a long-shot – but luck was on Dolci's side.
In 2016, Dolci returned to JPL to do research for his PhD under the JVSRP program – but this time with a green card in hand.
For the last year, in concert with his PhD thesis, Dolci has been helping develop technology for a possible future NASA mission to bring samples from Mars back to Earth. In 2020, the agency will send a rover to the surface of Mars, where one of its goals will be to collect samples of Martian rocks and soil that could be returned to Earth in the future. Getting those samples to Earth would require a series of never-attempted feats, each with unique challenges.
Dolci is helping develop a device to transfer the sample from a container launched from Mars to a spacecraft that would carry the samples home. It would all need to happen remotely, in space, without the device jamming or exposing the samples to contaminants.
Having always approached problems from a theoretical perspective, Dolci says the chance to get hands-on with actual hardware has opened his eyes to new career possibilities.
"I think that you can really learn something when you put your hands on it," said Dolci. "Otherwise, yeah, you know the theory, but there's an ocean between theory and practice."
Recently, Dolci's manager encouraged him to apply for a job at JPL. He used the invitation as a chance to explore a career move – one that would take him beyond theory to start building devices capable of answering questions.
"I'm looking for a unity between science and space technology," said Dolci, who will start his new job in JPL's Robotic Vehicles and Manipulators group in November. "Robotics seems to me to be the best place in which these two interests find the common point to be able to provide a technological answer to scientific problems."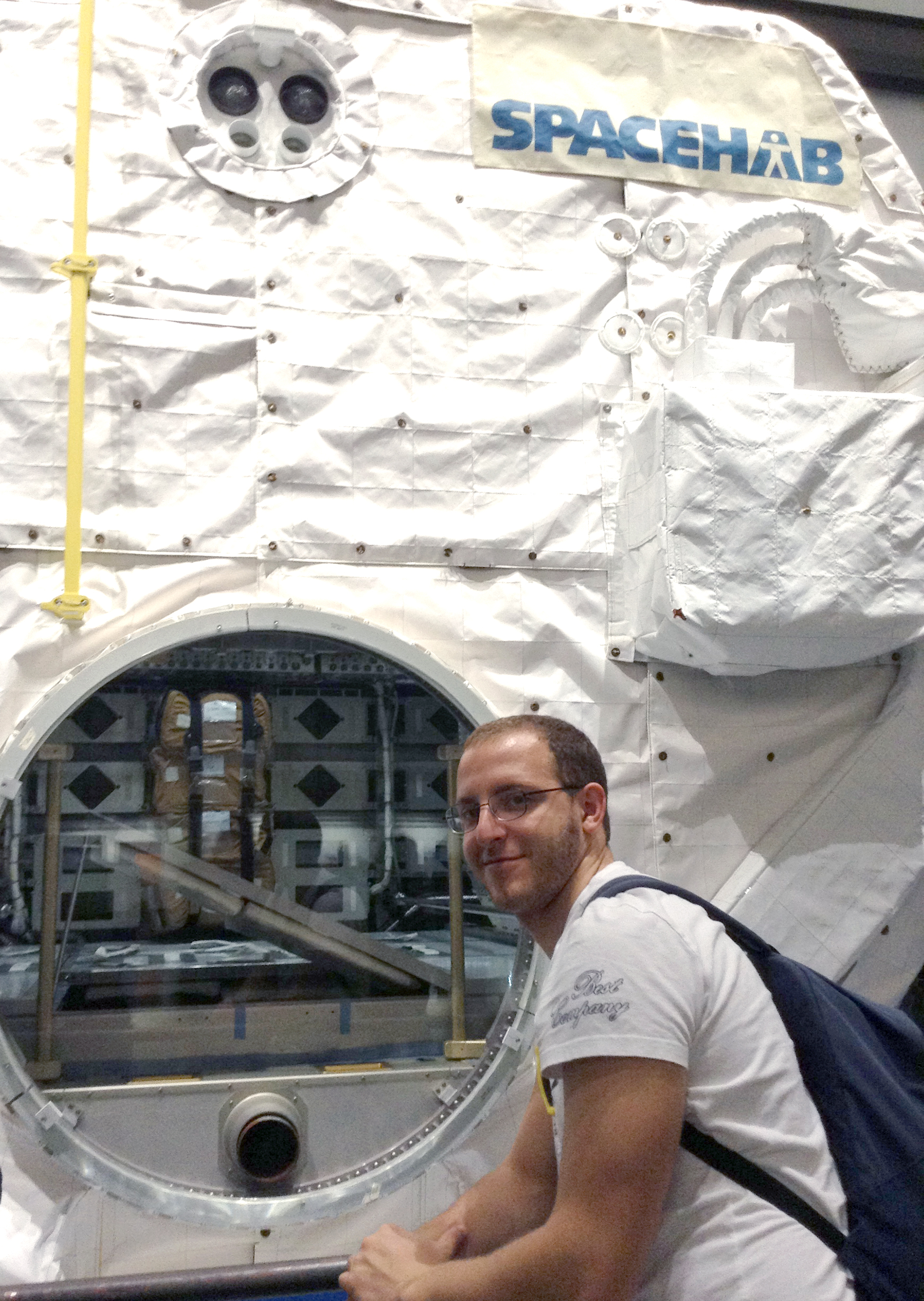 Dolci poses in front of an astronaut workstation called SPACEHAB on display at the California Science Center in Los Angeles. Photo courtesy: Marco Dolci
Dolci admits with a sheepish grin that he still has another big aspiration. In four years, once he becomes a US citizen, he plans to apply to be an astronaut. For now, though, he's focused on learning all he can, continuing to ask questions and finding new ways to seek answers.
"I consider myself really lucky to be in a place like JPL," said Dolci. "Working here is a possibility to keep moving up, to become more mature in terms of deciding who I am, what I want to do, where I want to contribute."
To others looking to follow his trajectory, Dolci says while luck helped push things along, it was the power of determination, his quest "to know" and a support network of family, friends and mentors that made his dreams a reality.
"I would have never made it to JPL without the support of someone who has bet on me," said Dolci. "Don't give up on desiring good things. Dare mighty things because we are made for great things."
Explore JPL internship programs and apply at: http://www.jpl.nasa.gov/edu/intern
The laboratory's STEM internship and fellowship programs are managed by the JPL Education Office. Extending the reach of NASA's Office of Education, JPL Education seeks to create the next generation of scientists, engineers, technologists and space explorers by supporting educators and bringing the excitement of NASA missions and science to learners of all ages.
TAGS: Intern, Internships, JVSRP, Mars 2020, Robotics, Science, Engineering, STEM
---
Forty community college students from across California spent a week designing Mars rover missions at NASA's Jet Propulsion Laboratory as part of the Spring 2017 session of NASA's Community College Aerospace Scholars, or NCAS, program.
Selected from nearly 1,000 applicants, the students toured JPL in Pasadena, California, met with scientists and engineers, and attended career and resume workshops. But the main event was a series of competitions that pitted four teams' rovers against one another on a simulated Mars terrain.
Led by JPL mentors, the teams had just a few days to build and refine autonomous rovers from Lego Mindstorms EV3 kits. After competing in two challenges, the teams presented their rover mission concepts to a panel of judges and a winning team was announced.
To learn more about the program and apply, visit: https://nas.okstate.edu/ncas/
Explore more NASA/JPL internship opportunities at: https://www.jpl.nasa.gov/edu/intern
The laboratory's STEM internship and fellowship programs are managed by the JPL Education Office. Extending the NASA Office of Education's reach, JPL Education seeks to create the next generation of scientists, engineers, technologists and space explorers by supporting educators and bringing the excitement of NASA missions and science to learners of all ages.
---
Brandon Murphy's family was well accustomed to his months-long jaunts to Virginia, Florida and Texas, the home of whichever NASA facility had offered him an internship that semester. Freshly inspired and equipped with new skills, yet a little homesick, Murphy always returned to North Carolina, where he'd lived and gone to school since the age of 12.
But when his fifth NASA internship rolled around in the spring of 2016, a dream opportunity at the agency's Jet Propulsion Laboratory in Southern California, Murphy sat his family down and told them he wouldn't be coming home this time.
"I packed up my entire house, put it on the back of a truck, and had them ship it here. Then I drove 36 hours from North Carolina to California in El Niño," said Murphy, who at the time was still finishing up his master's in computer science at North Carolina A&T State University.
A few years earlier, in the hope of improving his career prospects and "making a difference in the world," Murphy had set his sights firmly on finding an internship – and eventually, a career – at NASA. When shortly after applying for an internship he got a call from the agency's Wallops Flight Facility in Virginia, he couldn't believe it. "At first I thought they were joking. I was like, you're kidding me. You said NASA, right?"
He accepted almost immediately and spent the next four months developing visualizations and software for an airborne mapping instrument. It didn't take long before he was hooked. "Ever since [that first internship], I applied at NASA every semester and some opportunities showed up that I didn't even apply for," said Murphy.
So when he got an internship offer from his top choice, JPL, with just months to go before earning his degree, Murphy decided to risk it all. "I just took a risk and said, I'm going to come to JPL, put my best foot forward and fingers crossed a full-time position opens up for me."
His parents, military veterans who had tried to instill the values of minimizing risk were understandably worried. But six months after arriving at JPL, and on the eve of his sixth and final internship, Murphy got the position he was waiting for: a full-time gig in JPL's cyber security group hunting for threats to the laboratory's systems and developing defenses against them.
Diversity in the Pipeline
Murphy's story is exactly the kind Jenny Tieu is hoping to see more of at JPL. As one of several program coordinators in the laboratory's Education Office, which brings hundreds of interns and fellows to JPL each year, Tieu focuses specifically on reaching underrepresented students, like Murphy, and bringing them into NASA's pipeline – a cadre of workshops, internships and professional development designed to produce the next generation of scientists and engineers.
Internships are an important piece of that pipeline, providing hands-on experience and a foot in the door. Once in the pipeline, students are more likely to end up with a career at a NASA center. This year, for example, close to half of JPL's new employees who recently graduated from college started at the laboratory as interns or fellows, a new record.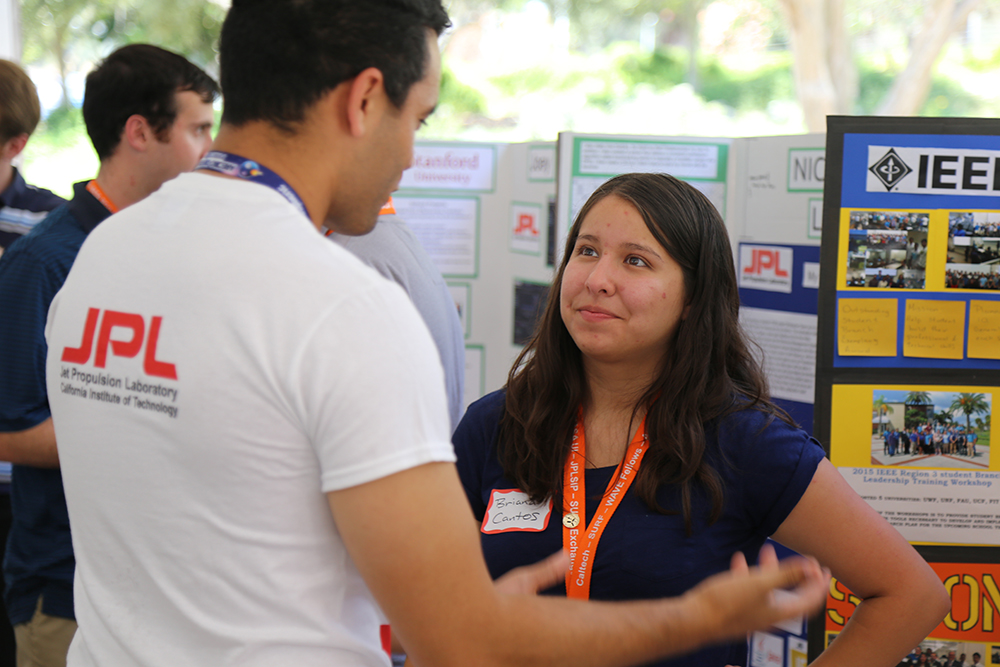 Graduating seniors present their research during a poster session at JPL in August 2016. The poster day is one of a number of strategies JPL is using to bring students through the final step in NASA's pipeline, a full-time job. Image credit: NASA/JPL-Caltech/Lyle Tavernier
But more than just shape the workforce that will design the spacecraft of the future and explore new worlds, the pipeline is, "a great opportunity to cultivate a community of diverse thinkers and innovators who bring unique perspectives from a multitude of backgrounds," said Tieu.
Promoting diversity in the pipeline involves a number of strategies by JPL and other NASA centers to reach out to schools that enroll high numbers of students who aren't typically well represented in science, technology, engineering and math (STEM), and partner with organizations working to get students involved in those fields.
One agency-wide program, the Minority University Research and Education Project, or MUREP, is what gave Murphy a chance to explore several careers at NASA – and helped him stand out.
"The combination of all the experiences and opportunities that Brandon had at different NASA centers really helped solidify his experience and make him a prime candidate for a full-time position," said Tieu. "This is really the work of the MUREP community coming together as a team to provide opportunities and prepare students for the workforce."
Creating diversity is not without its challenges, though. Perhaps the biggest hurdle is simply making sure students know that opportunities exist for them at NASA. The Education Office and its counterparts across the agency are constantly in search of new ways to reach out to students and encourage them to apply.
In his own way, Murphy is too. He says of his six internships, it was important for him to not only do well for himself, but also for his school, a Historically Black College and University (HBCU), so places like NASA would continue to seek out interns there. Already that attitude has paid off for at least one classmate who recently stopped Murphy in the school's computer lab to thank him for setting a good example.
"He said, 'I just wanted to thank you, because when [NASA Johnson Space Center] called to offer me an internship, they said that because of the work you did, they sought other students from A&T,'" said Murphy. "I was like, wow. He's really going to get an opportunity to experience the great things that I experienced because I got there and put my best foot forward."
When the Pipeline Ends?
The ultimate goal of the pipeline is to turn students who are interested in STEM into scientists and engineers. But what happens once the former interns are hired comes down to efforts at each NASA center to wrap them into the unique culture.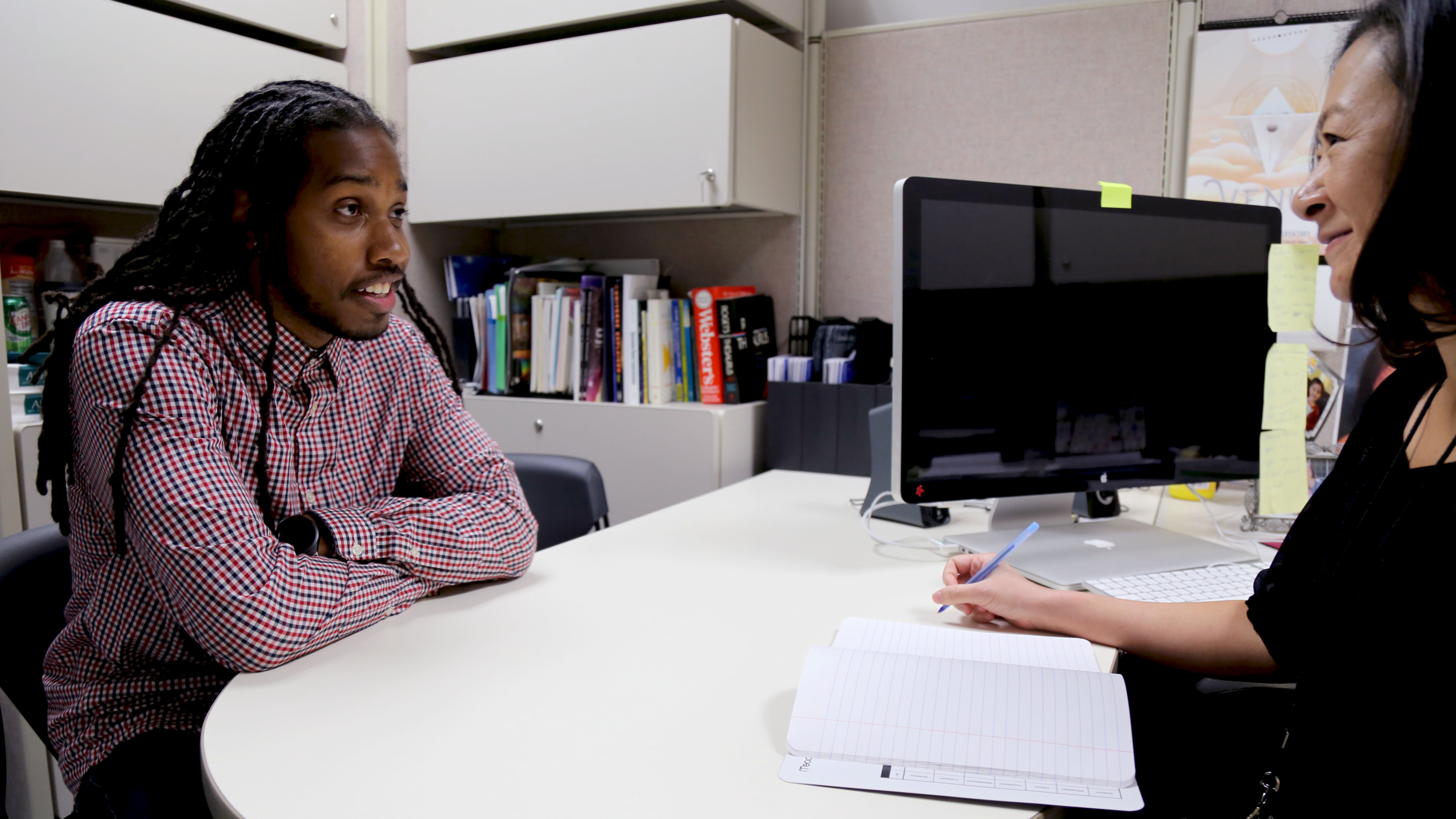 Murphy catches up with Tieu midway through his first week as a full-time employee at JPL. The laboratory's Education Office keeps in touch with former interns even after they're hired to help ease them into professional life. Image credit: NASA/JPL-Caltech/Kim Orr
In recent years, JPL has built a strong supportive community for employees who are new to the professional world, offering mentorship and networking opportunities that help with retention. Meanwhile, Tieu and others in the Education Office stay connected with former interns and provide them with resources and help from support groups.
So far, for Murphy, who just started his full-time job last week, it feels like everything fits just right. "This is the place that I really feel comfortable in the work that I'm doing and I see the overall goal, the bigger picture," said Murphy. "If this is how work is going to be for the rest of my career, I could get used to this."
His parents have gotten used to it, too. "My mom's really spilling it all out on Facebook, so I know she's proud of me," said Murphy.
---
Explore our Intern page to learn more about opportunities at JPL and NASA, and apply.
See stories and photos from JPL interns and fellows:
TAGS: Internships, Fellowships, Programs, MUREP, NASA