---
Jayme Wisdom has been teaching for 15 years at the Vaughn Charter System in Pacoima, California. She has taught eighth-grade science for most of her career but switched to high school biology for the first time this year.
Ms. Wisdom has long utilized NASA and JPL educational resources, finding creative ways to adapt lessons to meet her students' needs and exposing them to STEM careers.
A self-described professional nerd, she doesn't shy away from her love of all things Star Trek and Star Wars (and stands firm in her refusal to pick which is superior). While presenting during a recent JPL Education workshop, she shared how she continues to get her students excited about science – both in the classroom and remotely – during the COVID era.
What unique challenges do you face engaging or addressing the needs of your students?
Many of the students I teach face challenges including poverty, homelessness, and learning English as a second language. This year, in particular, has been extremely difficult for all of us dealing with the pandemic and distance learning. As a teacher, I have had to find ways to make sure that my students are engaged in scientific inquiry and have access to resources and materials while learning remotely. This begins and ends with a conscious effort to acknowledge that kids are struggling with this online format and carving out time in every single class to provide the socio-emotional support they have come to expect from a classroom environment. Before we dive into content, this means making time for check-ins and updates. In any in-person classroom, we carve out time to get to know each other, and being online should not diminish that. Of course, as we all learned this year, easier said than done.
Social isolation is another factor that contributes to the challenges of distance learning. Even though students see their peers virtually, it is often difficult for them to open up and talk as freely as they would if they were in a physical classroom. So I have had to find ways to make sure that my students are comfortable with engaging in a virtual setting by allowing them opportunities to talk and collaborate with each other online.
Using breakout sessions was difficult at first, because the students were very self-conscious about speaking to each other on screen and were reluctant to share ideas. So every day, we spent the first few minutes in each class just talking to each other through text-based chat to get them socializing and feeling more comfortable with this new way of interacting. Now they are more comfortable engaging in scientific inquiry with each other and have meaningful discussions to expand their learning. It is not the same as having them physically perform labs together in class but things are definitely improving.
Another challenge has been providing all of my students with access to resources and materials that allow them to simulate a laboratory experience at home. I have been pleasantly surprised at the wealth of resources I have available to me as a teacher to provide virtual labs and activities to my students. Whether it is virtual demonstrations and simulations or scientific investigations that require simple materials that students can find around the house, we have been very resourceful so we can give students the best experience possible through distance learning. Promoting lab science with home supplies has been instrumental in student engagement, as they really get to explore in their own context, expressing themselves creatively with what they have at their disposal instead of being provided the materials.
How have you used lessons from NASA and JPL to keep students engaged while teaching in person and remotely?
I have always been fascinated by outer space and have loved sci-fi TV shows and movies since I was very young. So as a teacher, I was so excited to discover ways to use my love of astronomy to engage my students.
When I discovered NASA and JPL's resources and lessons, I went through them like a kid in a candy store. I found so many different activities that I could adapt to use in my own classroom. Over the past few years, I have used several JPL Education lessons and modified and extended them for my students.
For example, I took JPL's Touchdown lesson and allowed students to create their own planetary lander using materials they could find around their home. I challenged them to create a way to quantify how much impact the touchdown would have on the "astronauts" in their lander. Some students used balls of play dough as their astronauts, and quantified the impact by measuring the dents made in the play dough by paper clips that they had placed on the "seats" of their lander.
Another example was when I combined the Soda-Straw Rocket and Stomp Rockets lessons. I had my students create a straw-stomp rocket to investigate how changing the angle of the rocket launch could have an effect on the distance the rocket traveled.
My students also had the opportunity to participate in engineering activities with JPL and college students from Pasadena City College. The impact that this had on my students was profound and long-lasting. It was inspiring for my students to hear from NASA scientists and student role-models who encouraged them to pursue careers in science, engineering, and technology.
How have students reacted to these lessons?
The biggest payoff for me was seeing students envision themselves as NASA scientists. They learned to collaborate with each other, learn from each other, and challenge each other. They were able to experience every step of the engineering process firsthand. They were actively involved in designing, building, and testing their rockets and landers. They could also gather information from watching other students revise and improve their designs. Learning from each other was so much fun for them. As a teacher, watching my students strengthen their critical thinking, practical engineering, and problem-solving skills is one of the best parts of my job.
You switched from teaching middle school to teaching high school this year. How are you thinking about incorporating NASA resources into lessons for older students?
Growing up, I loved how the technology that I saw in the sci-fi shows I watched as a kid eventually made its way into our reality. I am always amazed at how NASA scientists push the boundaries of technology development and are only limited by the scope of their imagination.
As a high school biology teacher, I'm looking forward to having my students examine the ways that space technology is being used to help humans improve the health of the planet. Investigating climate change and the ecological impact humans have on the environment is so important. Looking at how NASA gathers data to better understand climate change is especially critical at this time because my students' generation is going to play a pivotal role in developing technologies for improving life on Earth. I'm looking forward to continuing to use JPL Education resources to help my students prepare for that challenge.
---
Looking for ways to bring NASA STEM into your classroom or already have a great idea? The Education Office at NASA's Jet Propulsion Laboratory serves educators in the greater Los Angeles area. Contact us at education@jpl.nasa.gov.
Explore More
TAGS: Teaching, Teachers, K-12, Middle School, High School, Remote Instruction, Classroom, Lessons, Educators, Workshops, Professional Development
---
Over the past four years in the Education Office at NASA's Jet Propulsion Laboratory, I have had the good fortune to work with amazing educators and their students across Southern California. While it's not always possible to visit schools in person, there are sometimes projects and curricula so unique that a visit is too hard to pass up. That was the case when the fifth-grade staff at Toluca Lake Elementary School in Los Angeles reached out to me. This team of teachers has long been implementing exciting science activities and programs not just for their students, but also for parents and the community at large. The team – made up of Dennis Hagensmith, Rick Lee and Hamilton Wyatt – shared some of their background with us, as well as tips for getting young students excited about science in and out of the classroom.
Tell us about your background. How long have you been teaching?
Hagensmith: I've been teaching for 32 years total, with 29 of them at Toluca Lake Elementary. I began my teaching career in a split fourth- and fifth-grade classroom and moved to sixth grade for several years. But I have spent most of my career working with fifth graders.
Lee: This is my seventh year teaching and my fourth year teaching fifth grade. I have also taught kindergarten and second grade. Although there are aspects of teaching primary grades that I miss, fifth grade is my favorite of the three because the standards students are working toward are so comprehensive. It keeps me interested and excited about learning along with my students.
Wyatt: I have taught for almost three years. Before that, I was a teacher's assistant and instructional aid for three years.
How do you use resources from NASA in the classroom?
Hagensmith: I have used NASA resources to create hands-on lessons measuring the relative size of our solar system, to prepare a salad demonstrating the Sun's mass, to make bracelets with colored beads matching the chemical composition of the cosmos and assemble handmade telescopes.
Lee: Dennis and I recently attended an oceanography workshop put on by JPL that involved learning from teachers and researchers who had just completed cruises aboard the Exploration Vessel Nautilus. We were inspired to include similar activities leading up to and during an already-planned after-school screening of [the Netflix documentary] "Chasing Coral." The lesson complements other JPL lessons related to sea-level rise and global climate change.
Wyatt: Many of the JPL resources aren't just about science – they are generally thought-provoking activities. I use many of the activities pertaining to art because my students this year are artistically talented and curious.
How do you address the specific needs of your students and get the community involved in their education?
Hagensmith: Teaching in a low-income area, it is imperative that we find ways to make our families feel welcome and encourage academic excellence. Our goal is to create a school culture in which all realize their potential and make the most of their education. To that goal, we host a variety of parent and community nights each year, including Night of the Arts, Family Science Night, Family Reading Night, family writing workshops and Family Pi Night. The most popular of all of these is our annual Family Astronomy Night and Star Party. The evening always kicks off with a presentation from a visiting scientist, then families participate in a number of hands-on workshops. The most popular activity is often the telescopes provided by the Burbank Sidewalk Astronomers taking aim at various celestial objects.
This idea for the family events came about back in 2010 when I took a class at JPL with scientist Bonnie Burrati. The class inspired me to take steps to enhance my science instruction. We became a NASA partner school and began utilizing lessons from the NASA-JPL Education website. As a result of these lessons, two of our students – Ali Freas and Caitline Molina – were awarded a trip to NASA's Johnson Space Center in 2012 to participate in the Student Science Symposium. That year, we also presented NASA's "Space School Musical" at our annual Night of the Arts. I began doing the star party sometime around that era. Originally, it was just parents from my class and one guest presenter. As the years went by, we were able to recruit more teachers to host workshops and get speakers from JPL and UCLA. Last year, we had nearly 200 guests at the star party.
Lee: I really try to maximize the impact of field trips. Students bring study guides and circulate through the tour, working as investigators searching for information and formulating their own conclusions about the topic we're exploring. This approach is useful for focusing student attention on key concepts at a wide range of locations. Recently, we visited the ecosystems and Space Shuttle Endeavour exhibits at the California Science Center, we've seen art at the Getty and Los Angeles County Museum of Art, and we've built cultural understanding at Los Angeles Plaza and the California African American Museum.
Wyatt: Many students that come to me struggle with social-emotional skills and really need a jump-start on how to express themselves without feeling overwhelmed or picked on by other students. It is very important to me to begin by engaging with my students in a way that communicates that they can feel safe, comforted and empowered when they are in my class. All students have the ability to express themselves and still be strong scholars. I strive to help my students find that sweet spot in my classroom.
One thing teachers struggle with, especially in primary grades, is making science cross-curricular. How have you brought science into the everyday lesson?
Hagensmith: Part of my success as a teacher has come from letting students direct their own assessments. I believe students need to see that learning isn't done in isolation. Subjects are connected with one another and with real-world applications. Each activity is preceded by lessons providing a context for students' learning. For example, after reading a book, students may create a diorama, write a review for the school newspaper, dress as one of the characters and get interviewed by peers, make a presentation and so forth. This provides a vehicle for students to build upon their unique skills and interests.
Lee: I've found success especially with topics related to the environment. I completed the National Geographic Educator Certification program last year, and that experience made a huge impact on me personally and professionally. I highly recommend it to all educators. National Geographic resources, combined with those offered by NASA-JPL, are guaranteed to create highly engaging, cooperative learning opportunities for students across all disciplines.
---
Looking for ways to bring NASA STEM into your classroom or already have a great idea? The Education Office at NASA's Jet Propulsion Laboratory serves educators in the greater Los Angeles area. Contact us at education@jpl.nasa.gov.
TAGS: K-12 Education, Teachers, Educators, Resources, Lessons, Classroom, STEM, Professional Development
---
In the News
This year marks the 50th anniversary of humans landing on the Moon. Now NASA is headed to the Moon once again, using it as a proving ground for a future human mission to Mars. Use this opportunity to get students excited about Earth's natural satellite, the amazing feats accomplished 50 years ago and plans for future exploration.
How They Did It
When NASA was founded in 1958, scientists were unsure whether the human body could even survive orbiting Earth. Space is a demanding environment. Depending on where in space you are, it can lack adequate air for breathing, be very cold or hot, and have dangerous levels of radiation. Additionally, the physics of space travel make everything inside a space capsule feel weightless even while it's hurtling through space. Floating around inside a protective spacecraft may sound fun, and it is, but it also can have detrimental effects on the human body. Plus, it can be dangerous with the hostile environment of space lurking on the other side of a thin metal shell.
In 1959, NASA's Jet Propulsion Laboratory began the Ranger project, a mission designed to impact the Moon – in other words, make a planned crash landing. During its descent, the spacecraft would take pictures that could be sent back to Earth and studied in detail. These days, aiming to merely impact a large solar system body sounds rudimentary. But back then, engineering capabilities and course-of-travel, or trajectory, mathematics were being developed for the first time. A successful impact would be a major scientific and mathematical accomplishment. In fact, it took until July 1964 to achieve the monumental task, with Ranger 7 becoming the first U.S. spacecraft to impact the near side of the Moon, capturing and returning images during its descent.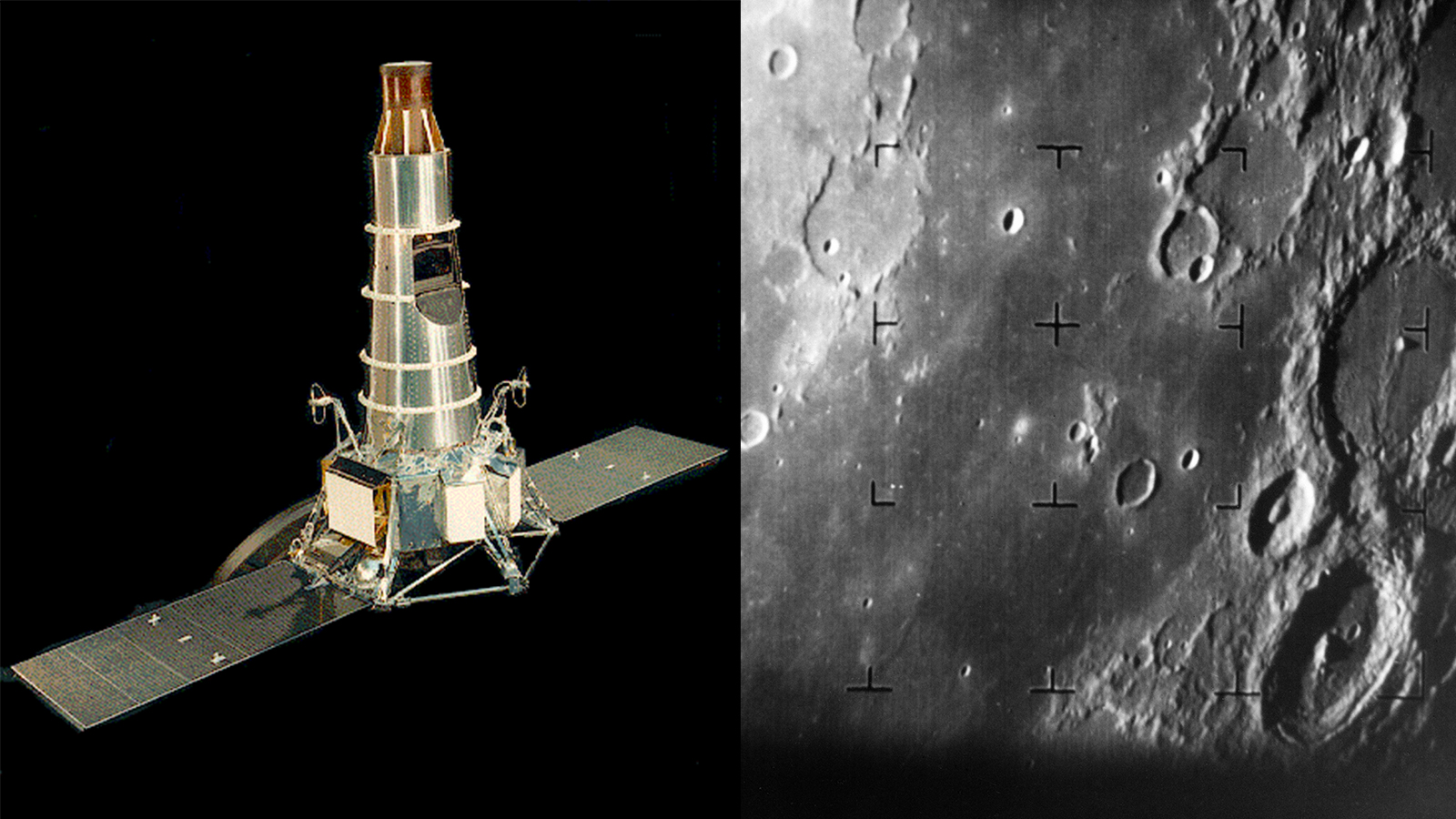 After the successful Ranger 7 mission, two more Ranger missions were sent to the Moon. Then, it was time to land softly. For this task, JPL partnered with Hughes Aircraft Corporation to design and operate the Surveyor missions between 1966 and 1968. Each of the seven Surveyor landers were equipped with a television camera – with later landers carried scientific instruments, too – aimed at obtaining up-close lunar surface data to assess the Moon's suitability for a human landing. The Surveyors also demonstrated in-flight maneuvers and in-flight and surface-communications capabilities.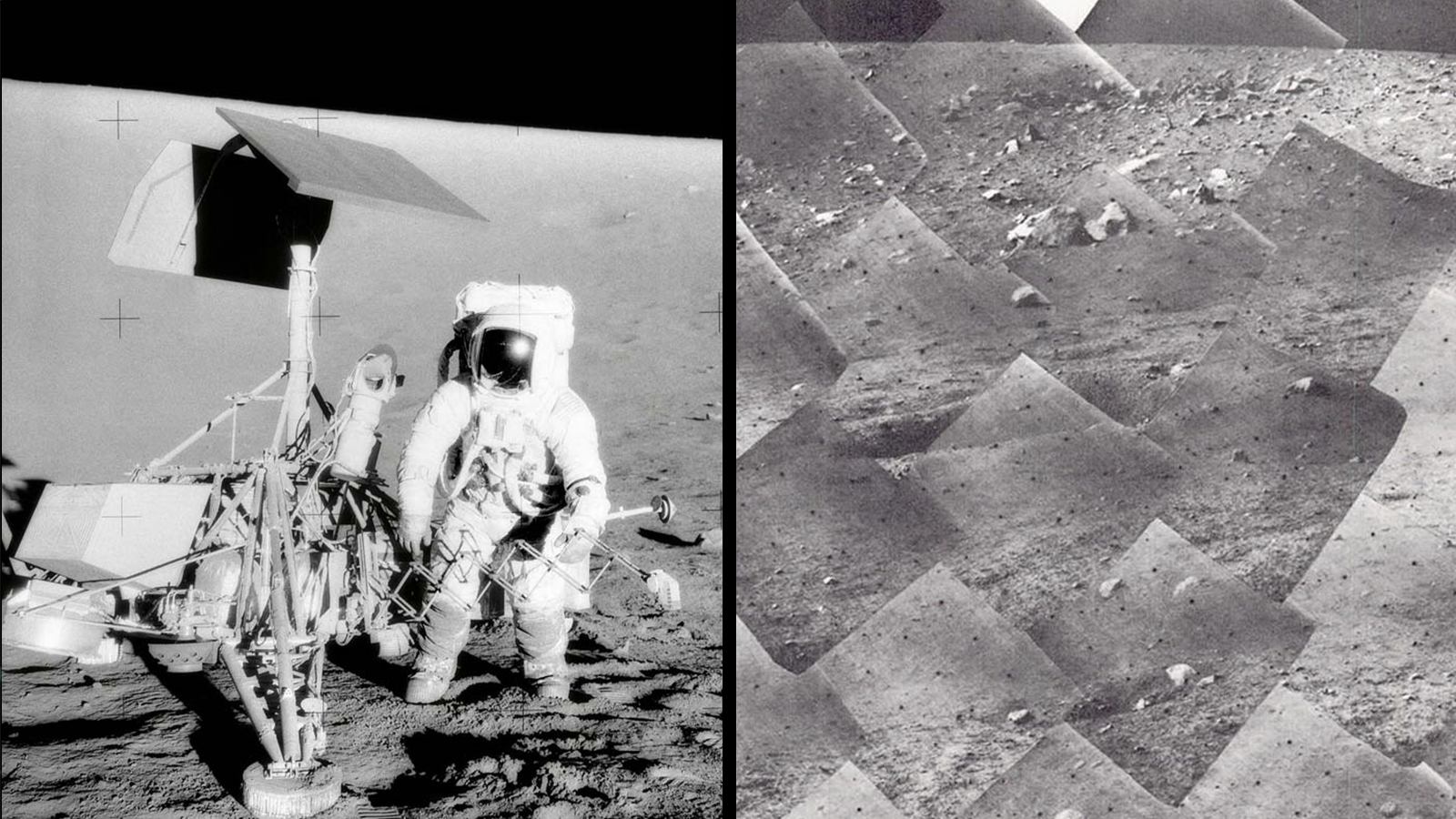 In 1958, at the same time JPL was developing the technological capabilities to get to the Moon, NASA began the Mercury program to see if it was possible for humans to function in space. The success of the single-passenger Mercury missions, with six successful flights that placed two astronauts into suborbital flight and four astronauts into Earth orbit, kicked off the era of U.S. human spaceflight.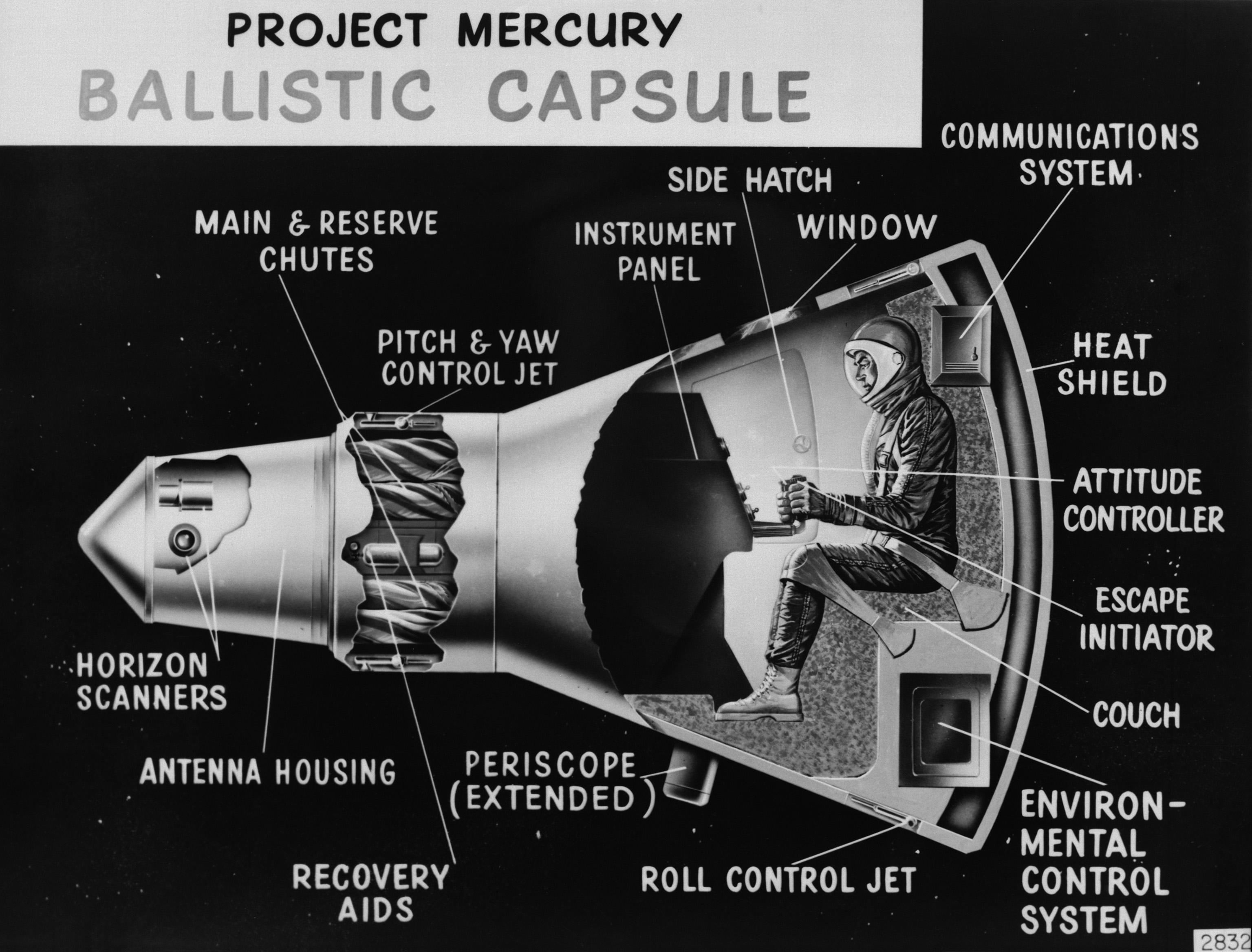 In 1963, NASA's Gemini program proved that a larger capsule containing two humans could orbit Earth, allowing astronauts to work together to accomplish science in orbit for long-duration missions (up to two weeks in space) and laying the groundwork for a human mission to the Moon. With the Gemini program, scientists and engineers learned how spacecraft could rendezvous and dock while in orbit around Earth. They were also able to perfect re-entry and landing methods and began to better understand the effects of longer space flights on astronauts. After the successful Gemini missions, it was time to send humans to the Moon.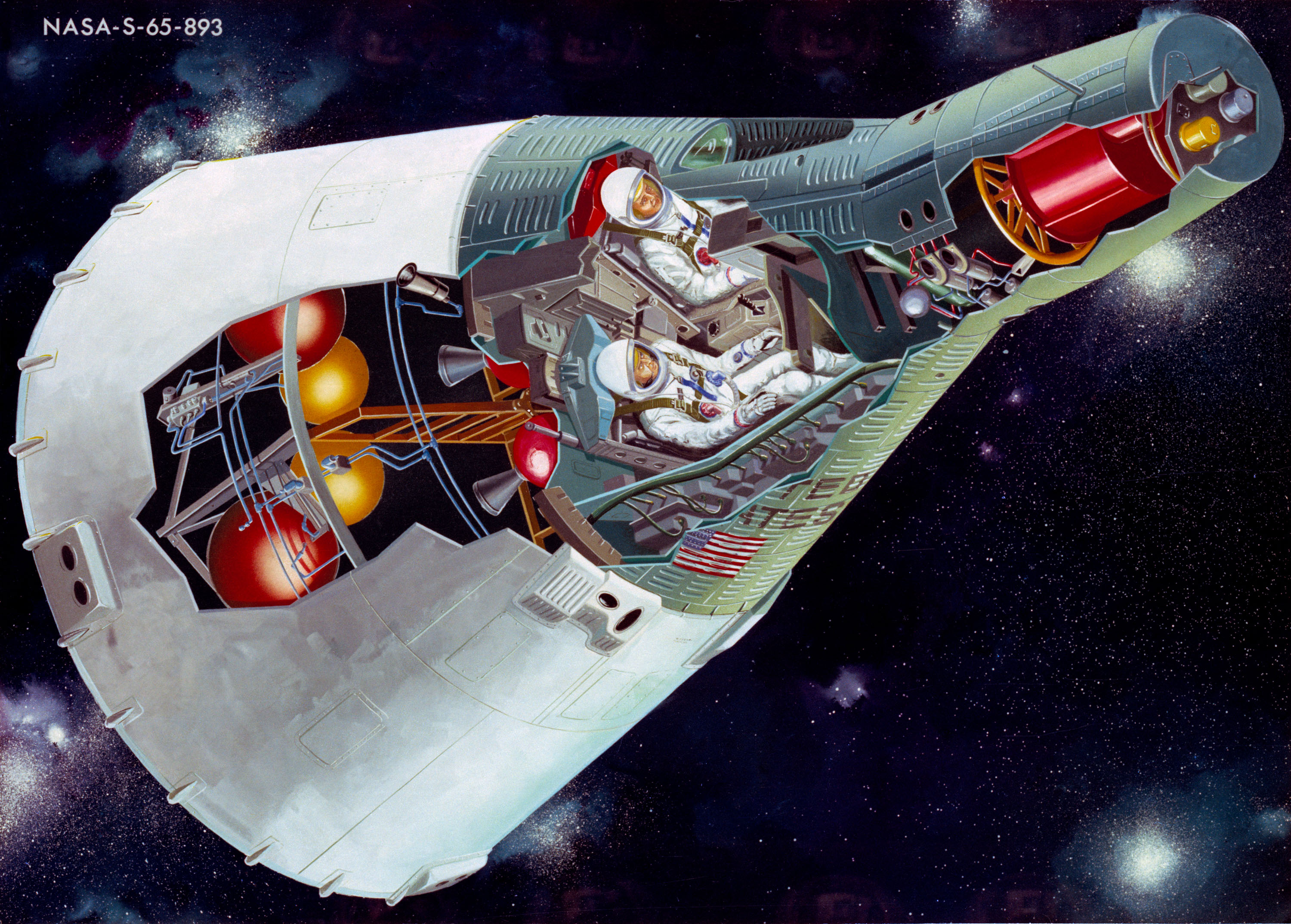 The Apollo program officially began in 1963 after President John F. Kennedy directed NASA in September of 1962 to place humans on the Moon by the end of the decade. This was a formidable task as no hardware existed at the time that would accomplish the feat. NASA needed to build a giant rocket, a crew capsule and a lunar lander. And each component needed to function flawlessly.
Rapid progress was made, involving numerous NASA and contractor facilities and hundreds of thousands of workers. A crew capsule was designed, built and tested for spaceflight and landing in water by the NASA contractor North American Aviation, which eventually became part of Boeing. A lunar lander was developed by the Grumman Corporation. Though much of the astronaut training took place at or near the Manned Spacecraft Center, now known as NASA's Johnson Space Center, in Texas, astronauts practiced lunar landings here on Earth using simulators at NASA's Dryden (now Armstrong) Flight Research Center in California and at NASA's Langley Research Center in Virginia. The enormous Saturn V rocket was a marvel of complexity. Its first stage was developed by NASA's Marshall Space Flight Center in Alabama. The upper-stage development was managed by the Lewis Flight Propulsion Center, now known as NASA's Glenn Research Center, in Ohio in partnership with North American Aviation and Douglas Aircraft Corporation, while Boeing integrated the whole vehicle. The engines were tested at what is now NASA's Stennis Space Center in Mississippi, and the rocket was transported in pieces by water for assembly at Cape Kennedy, now NASA's Kennedy Space Center, in Florida. As the Saturn V was being developed and tested, NASA also developed a smaller, interim vehicle known as the Saturn I and started using it to test Apollo hardware. A Saturn I first flew the Apollo command module design in 1964.
Unfortunately, one crewed test of the Apollo command module turned tragic in February 1967, when a fire erupted in the capsule and killed all three astronauts who had been designated as the prime crew for what became known as Apollo 1. The command module design was altered in response, delaying the first crewed Apollo launch by 21 months. In the meantime, NASA flew several uncrewed Apollo missions to test the Saturn V. The first crewed Apollo launch became Apollo 7, flown on a Saturn IB, and proved that the redesigned command module would support its crew while remaining in Earth orbit. Next, Earth-Moon trajectories were calculated for this large capsule, and the Saturn V powered Apollo 8 set off for the Moon, proving that the calculations were accurate, orbiting the Moon was feasible and a safe return to Earth was possible. Apollo 8 also provided the first TV broadcast from lunar orbit. The next few Apollo missions further proved the technology and allowed humans to practice procedures that would be needed for an eventual Moon landing.
On July 16, 1969, a Saturn V rocket launched three astronauts to the Moon on Apollo 11 from Cape Kennedy. The Apollo 11 spacecraft had three parts: a command module, called "Columbia," with a cabin for the three astronauts; a service module that provided propulsion, electricity, oxygen and water; and a lunar module, "Eagle," that provided descent to the lunar surface and ascent back to the command and service modules.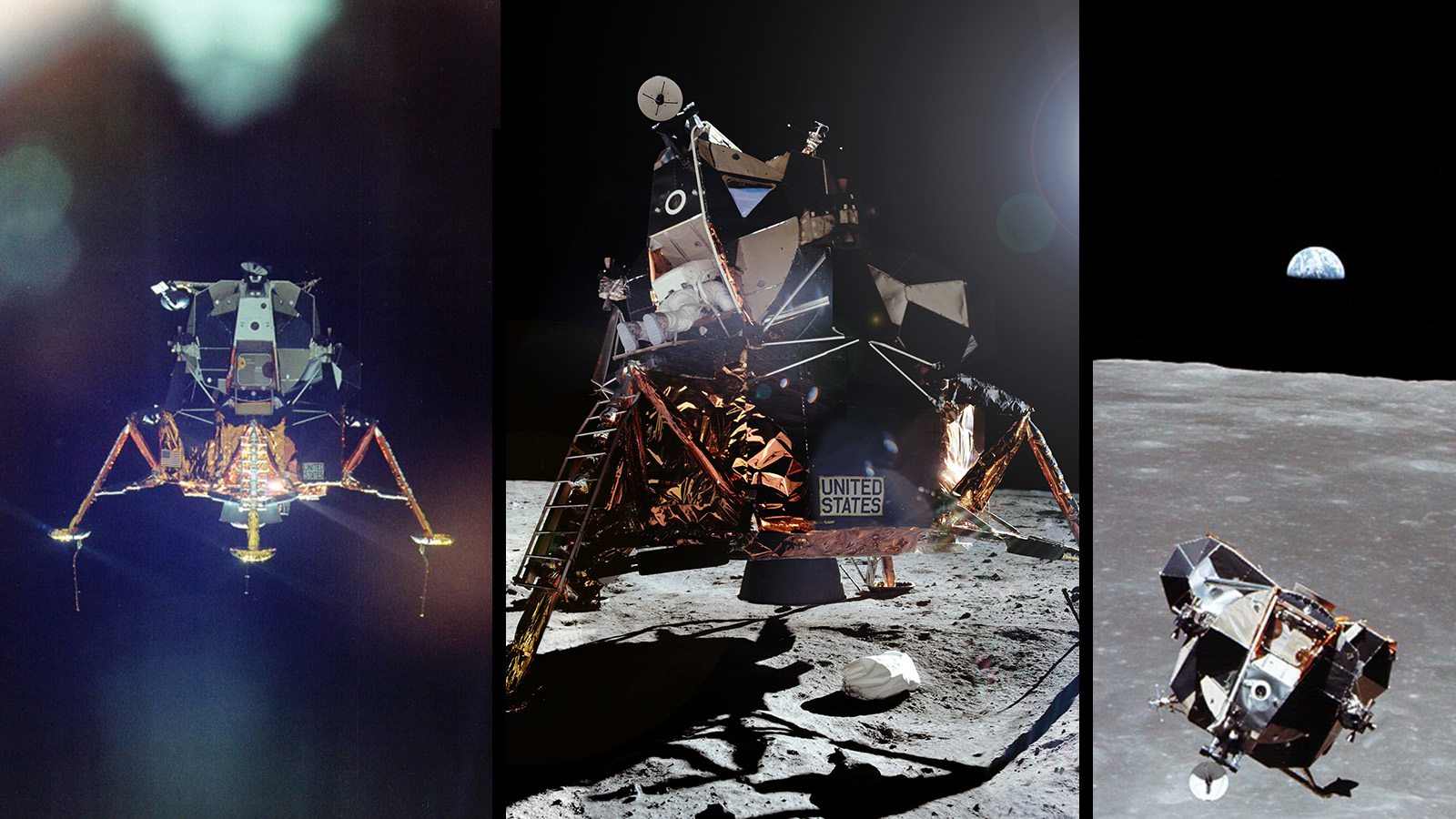 On July 20, while astronaut and command module pilot Michael Collins orbited the Moon, Neil Armstrong and Buzz Aldrin landed Eagle on the Moon and set foot on the surface, accomplishing a first for humankind. They collected regolith (surface "dirt") and rock samples, set up experiments, planted an American flag and left behind medallions honoring the Apollo 1 crew and a plaque that read, "We came in peace for all mankind."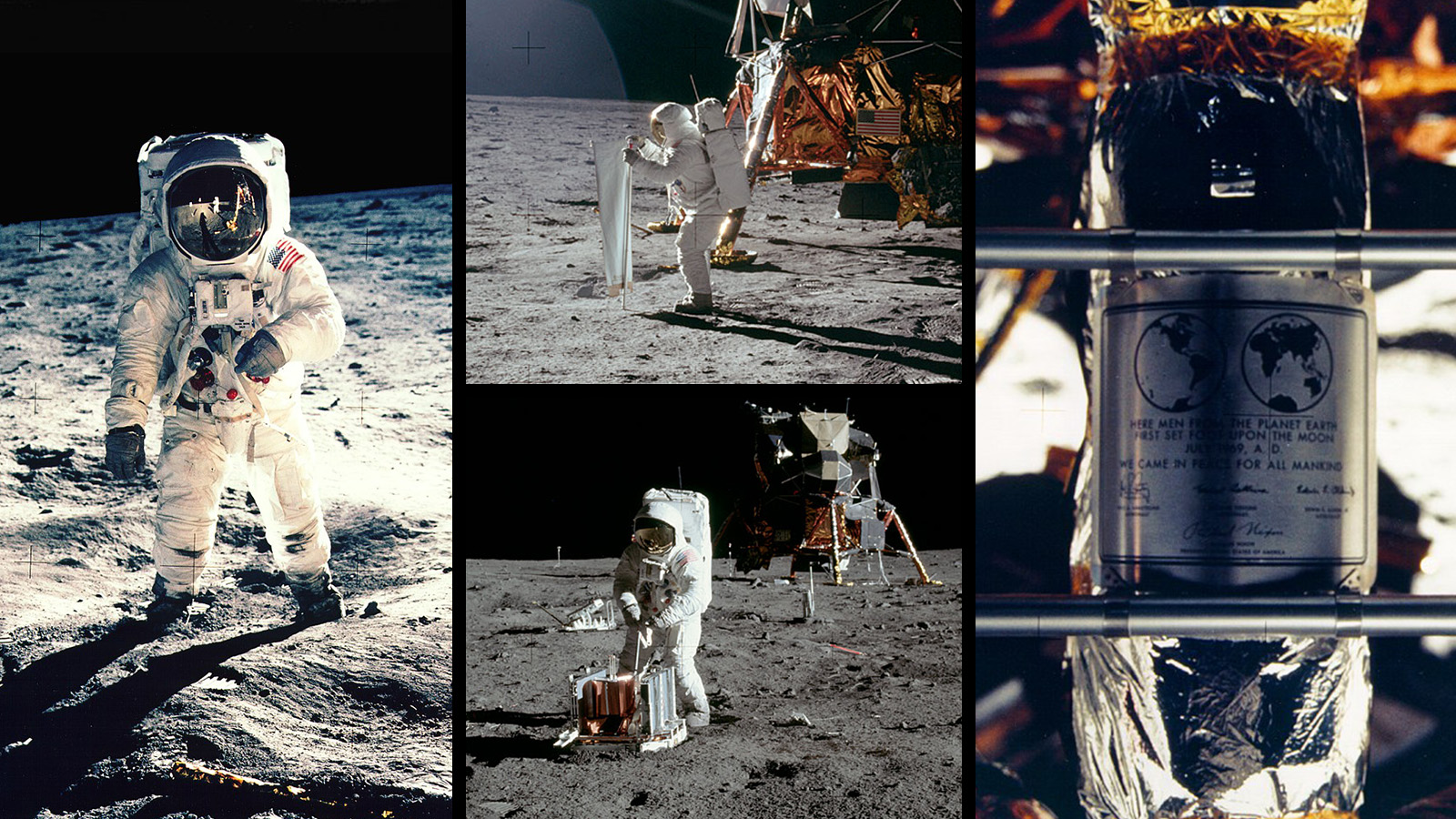 After 21.5 hours on the lunar surface, Armstrong and Aldrin rejoined Collins in the Columbia command module and, on July 21, headed back to Earth. On July 24, after jettisoning the service module, Columbia entered Earth's atmosphere. With its heat shield facing forward to protect the astronauts from the extreme friction heating outside the capsule, the craft slowed and a series of parachutes deployed. The module splashed down in the South Pacific Ocean, 380 kilometers (210 nautical miles) south of Johnston Atoll. Because scientists were uncertain about contamination from the Moon, the astronauts donned biological-isolation garments delivered by divers from the recovery ship, the aircraft carrier the USS Hornet. The astronauts boarded a life raft and then the USS Hornet, where the outside of their biological-isolation suits were washed down with disinfectant. To be sure no contamination was brought back to Earth from the Moon, the astronauts were quarantined until Aug. 10, at which point scientists determined the risk was low that biological contaminants or microbes had returned with the astronauts. Columbia was also disinfected and is now part of the National Air and Space Museum in Washington, D.C.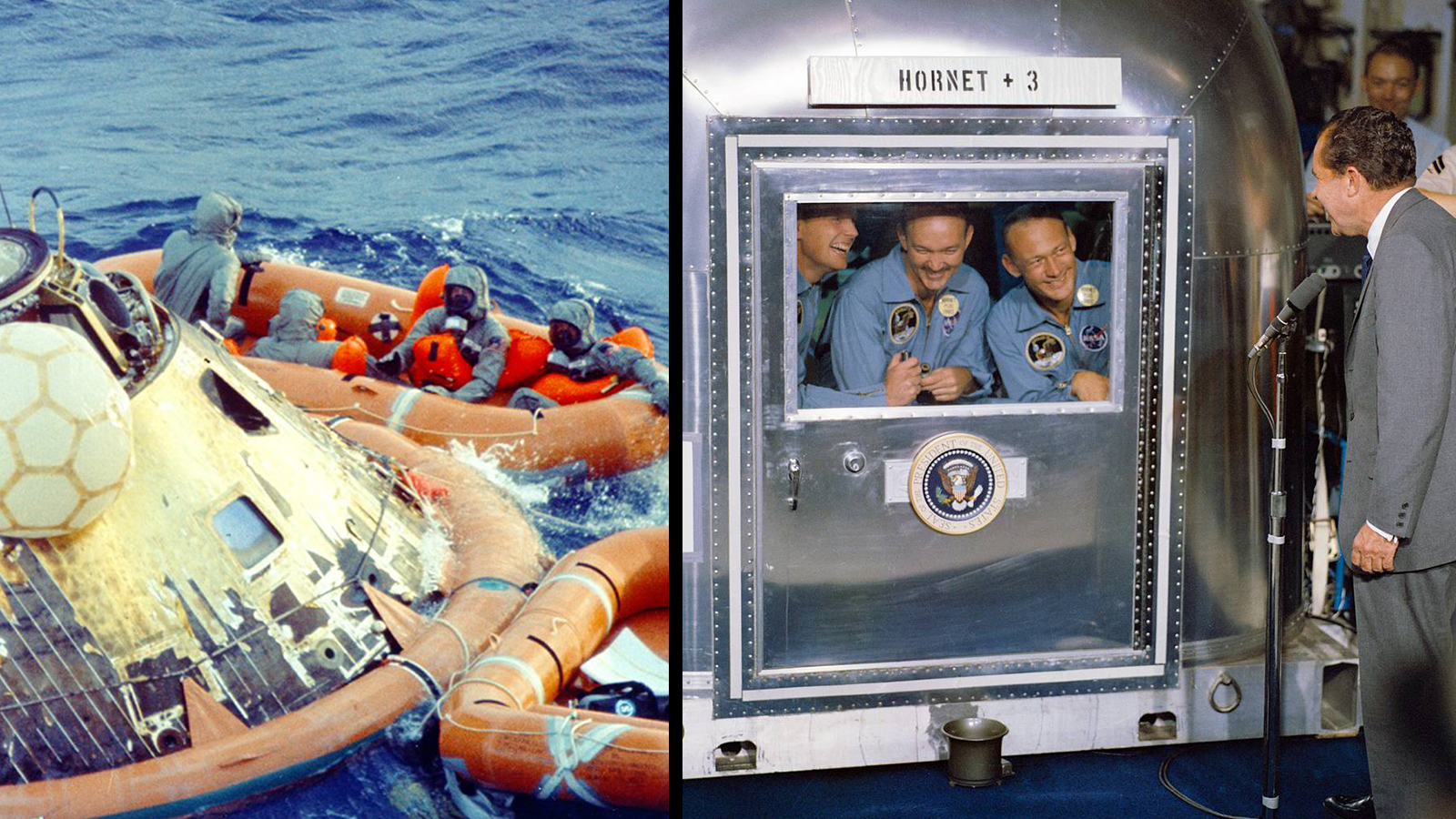 The Apollo program continued with six more missions to the Moon over the next three years. Astronauts placed seismometers to measure "moonquakes" and other science instruments on the lunar surface, performed science experiments, drove a carlike moon buggy on the surface, planted additional flags and returned more lunar samples to Earth for study.
Why It's Important
Apollo started out as a demonstration of America's technological, economic and political prowess, which it accomplished with the first Moon landing. But the Apollo missions accomplished even more in the realm of science and engineering.
Some of the earliest beneficiaries of Apollo research were Earth scientists. The Apollo 7 and 9 missions, which stayed in Earth orbit, took photographs of Earth in different wavelengths of light, highlighting things that might not be seen on the ground, like diseased trees and crops. This research led directly to the joint NASA-U.S. Geological Survey Landsat program, which has been studying Earth's resources from space for more than 45 years.
Samples returned from the Moon continue to be studied by scientists around the world. As new tools and techniques are developed, scientists can learn even more about our Moon, discovering clues to our planet's origins and the formation of the solar system. Additionally, educators can be certified to borrow lunar samples for use in their classrooms.
Perhaps the most important scientific finding came from comparing similarities in the composition of lunar and terrestrial rocks and then noting differences in the amount of specific substances. This suggested a new theory of the Moon's formation: that it accreted from debris ejected from Earth by a collision with a Mars-size object early in our planet's 4.5-billion-year history.
The 12 astronauts who walked on the Moon are the best-known faces of the Apollo program, but in numbers, they were also the smallest part of the program. About 400,000 men and women worked on Apollo, building the vehicles, calculating trajectories, even making and packing food for the crews. Many of them worked on solving a deceptively simple question: "How do we guide astronauts to the Moon and back safely?" Some built the spacecraft to carry humans to the Moon, enable surface operations and safely return astronauts to Earth. Others built the rockets that would launch these advanced spacecraft. In doing all this, NASA engineers and scientists helped lead the computing revolution from transistors to integrated circuits, the forebears to the microchip. An integrated circuit – a miniaturized electronic circuit that is used in nearly all electronic equipment today – is lighter weight, smaller and able to function on less power than the older transistors and capacitors. To suit the needs of the space capsule, NASA developed integrated circuits for use in the capsule's onboard computers. Additionally, computing advancements provided NASA with software that worked exactly as it was supposed to every time. That software lead to the development of the systems used today in retail credit-card swipe devices.
Some lesser-known benefits of the Apollo program include the technologies that commercial industries would then further advance to benefit humans right here on Earth. These "spinoffs" include technology that improved kidney dialysis, modernized athletic shoes, improved home insulation, advanced commercial and residential water filtration, and developed the freeze-drying technique for preserving foods.
Apollo was succeeded by missions that have continued to build a human presence in space and advance technologies on Earth. Hardware developed for Apollo was used to build America's first Earth-orbiting space station, Skylab. After Skylab, during the Apollo-Soyuz test project, American and Soviet spacecraft docked together, laying the groundwork for international cooperation in human spaceflight. American astronauts and Soviet cosmonauts worked together aboard the Soviet space station Mir, performing science experiments and learning about long-term space travel's effects on the human body. Eventually, the U.S. and Russia, along with 13 other nations, partnered to build and operate the International Space Station, a world-class science laboratory orbiting 400 kilometers (250 miles) above Earth, making a complete orbit every 90 minutes.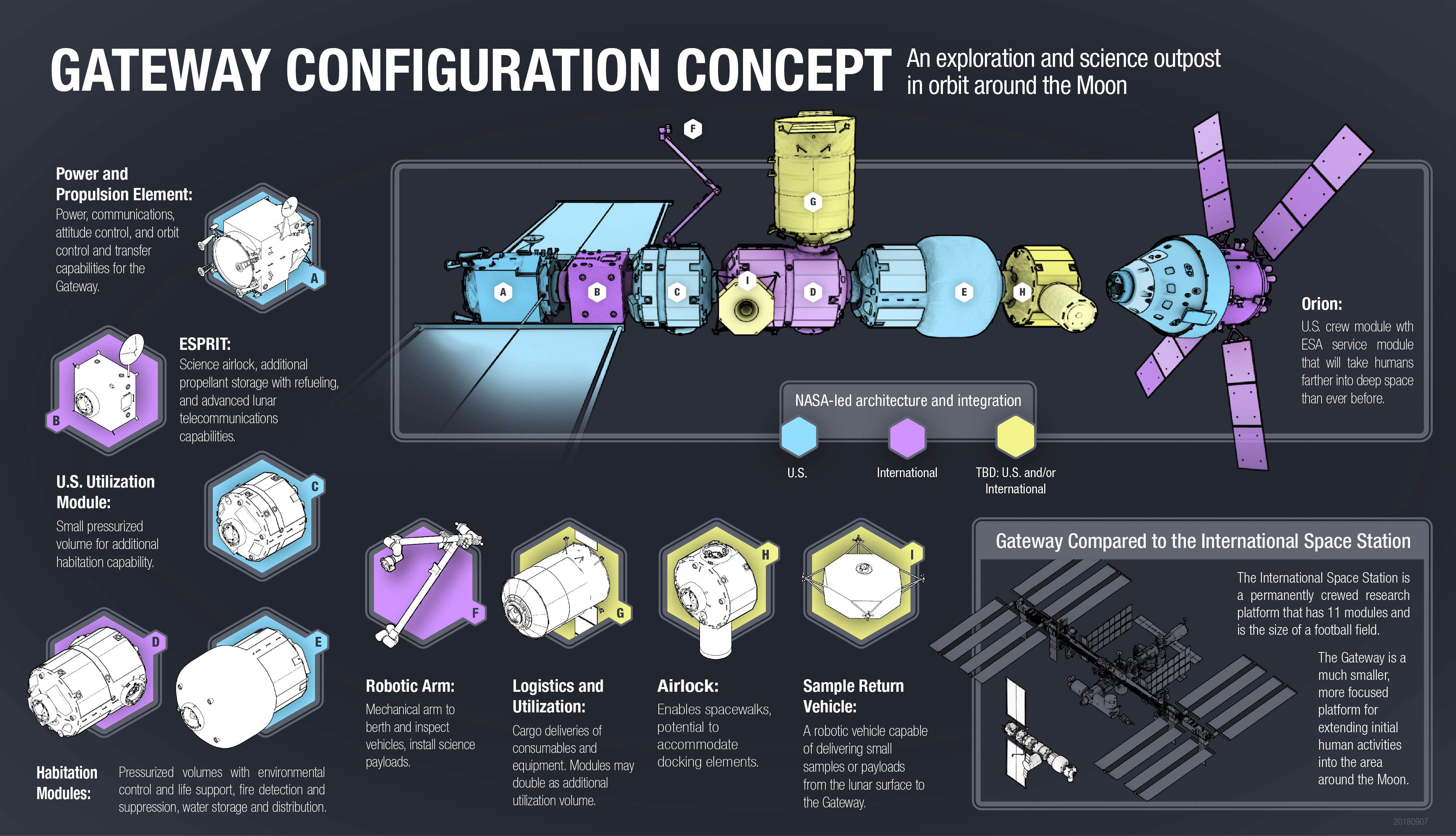 And the innovations continue today. NASA is planning the Artemis mission to put humans on the Moon again in 2024 with innovative new technologies and the intent of establishing a permanent human presence. Working in tandem with commercial and international partners, NASA will develop the Space Launch System launch vehicle, Orion crew capsule, a new lunar lander and other operations hardware. The lunar Gateway – a small spaceship that will orbit the Moon and include living quarters for astronauts, a lab for science, and research and ports for visiting spacecraft – will provide access to more of the lunar surface than ever before. While at the Moon, astronauts will research ways to use lunar resources for survival and further technological development. The lessons and discoveries from Artemis will eventually pave a path for a future human mission to Mars.
Teach It
Use these standards-aligned lessons to help students learn more about Earth's only natural satellite:
As students head out for the summer, get them excited to learn more about the Moon and human exploration using these student projects:
Explore More
TAGS: K-12 Education, Teachers, Educators, Classroom, Engineering, Science, Students, Projects, Moon, Apollo, Summer