---
Update: March 16, 2020 – The answers to the 2020 NASA Pi Day Challenge are here! View the illustrated answer key (also available as a text-only doc).
---
In the News
Our annual opportunity to indulge in a shared love of space exploration, mathematics and sweet treats has come around again! Pi Day is the March 14 holiday that celebrates the mathematical constant pi – the number that results from dividing any circle's circumference by its diameter.
Besides providing an excuse to eat all varieties of pie, Pi Day gives us a chance to appreciate some of the ways NASA uses pi to explore the solar system and beyond. You can do the math for yourself – or get students doing it – by taking part in the NASA Pi Day Challenge. Find out below how to test your pi skills with real-world problems faced by NASA space explorers, plus get lessons and resources for educators.
How It Works
The ratio of any circle's circumference to its diameter is equal to pi, which is often rounded to 3.14. But pi is what is known as an irrational number, so its decimal representation never ends, and it never repeats. Though it has been calculated to trillions of digits, we use far fewer at NASA.
Pi is useful for all sorts of things, like calculating the circumference and area of circular objects and the volume of cylinders. That's helpful information for everyone from farmers irrigating crops to tire manufacturers to soup-makers filling their cans. At NASA, we use pi to calculate the densities of planets, point space telescopes at distant stars and galaxies, steer rovers on the Red Planet, put spacecraft into orbit and so much more! With so many practical applications, it's no wonder so many people love pi!
In the U.S., 3.14 is also how we refer to March 14, which is why we celebrate the mathematical marvel that is pi on that date each year. In 2009, the U.S. House of Representatives passed a resolution officially designating March 14 as Pi Day and encouraging teachers and students to celebrate the day with activities that teach students about pi.
The NASA Pi Day Challenge
This year's NASA Pi Day Challenge poses four puzzlers that require pi to compare the sizes of Mars landing areas, calculate the length of a year for one of the most distant objects in the solar system, measure the depth of the ocean from an airplane, and determine the diameter of a distant debris disk. Learn more about the science and engineering behind the problems below or click the link to jump right into the challenge.
› Take the NASA Pi Day Challenge
› Educators, get the lesson here!
Mars Maneuver
Long before a Mars rover touches down on the Red Planet, scientists and engineers must determine where to land. Rather than choosing a specific landing spot, NASA selects an area known as a landing ellipse. A Mars rover could land anywhere within this ellipse. Choosing where the landing ellipse is located requires compromising between getting as close as possible to interesting science targets and avoiding hazards like steep slopes and large boulders, which could quickly bring a mission to its end. In the Mars Maneuver problem, students use pi to see how new technologies have reduced the size of landing ellipses from one Mars rover mission to the next.
Cold Case
In January 2019, NASA's New Horizons spacecraft sped past Arrokoth, a frigid, primitive object that orbits within the Kuiper Belt, a doughnut-shaped ring of icy bodies beyond the orbit of Neptune. Arrokoth is the most distant Kuiper Belt object to be visited by a spacecraft and only the second object in the region to have been explored up close. To get New Horizons to Arrokoth, mission navigators needed to know the orbital properties of the object, such as its speed, distance from the Sun, and the tilt and shape of its orbit. This information is also important for scientists studying the object. In the Cold Case problem, students can use pi to determine how long it takes the distant object to make one trip around the Sun.
Coral Calculus
Coral reefs provide food and shelter to many ocean species and protect coastal communities against extreme weather events. Ocean warming, invasive species, pollutants, and acidification caused by climate change can harm the tiny living coral organisms responsible for building coral reefs. To better understand the health of Earth's coral reefs, NASA's COral Reef Airborne Laboratory, or CORAL, mission maps them from the air using spectroscopy, studying how light interacts with the reefs. To make accurate maps, CORAL must be able to differentiate among coral, algae and sand on the ocean floor from an airplane. And to do that, it needs to calculate the depth of the ocean at every point it maps by measuring how much sunlight passes through the ocean and is reflected upward from the ocean floor. In Coral Calculus, students use pi to measure the water depth of an area mapped by the CORAL mission and help scientists better understand the status of Earth's coral reefs.
Planet Pinpointer
Our galaxy contains billions of stars, many of which are likely home to exoplanets – planets outside our solar system. So how do scientists decide where to look for these worlds? Using data gathered by NASA's Spitzer Space Telescope, researchers found that they're more likely to find giant exoplanets around young stars surrounded by debris disks, which are made up of material similar to what's found in the asteroid belt and Kuiper Belt in our solar system. Sure enough, after discovering a debris disk around the star Beta Pictoris, researchers later confirmed that it is home to at least two giant exoplanets. Learning more about Beta Pictoris' debris disk could give scientists insight into the formation of these giant worlds. In Planet Pinpointer, put yourself in the role of a NASA scientist to learn more about Beta Pictoris' debris disk, using pi to calculate the distance across it.
Participate
Join the conversation and share your Pi Day Challenge answers with @NASAJPL_Edu on social media using the hashtag #NASAPiDayChallenge
Blogs and Features
Related Lessons for Educators
Related Activities for Students
NOAA Video Series: Coral Comeback
Multimedia
Facts and Figures
Missions and Instruments
Websites
TAGS: K-12 Education, Math, Pi Day, Pi, NASA Pi Day Challenge, Events, Space, Educators, Teachers, Parents, Students, STEM, Lessons, Problem Set, Mars 2020, Perseverance, Curiosity, Mars rovers, Mars landing, MU69, Arrokoth, New Horizons, Earth science, Climate change, CORAL, NASA Expeditions, coral reefs, oceans, Spitzer, exoplanets, Beta Pictoris, stars, universe, space telescope
---
You may have noticed that there's an extra day on your calendar this year. That's not a typo; it's leap day! Leap day is another name for Feb. 29, a date that typically comes around every four years, during a leap year. Why doesn't Feb. 29 appear on the calendar every year? Read on to find out how the imperfect match between the length of a calendar year and Earth's orbit results in the need to make small adjustments to our calendar on a regular basis. Explore leap day resources for students, too.
The length of a year is based on how long it takes a planet to revolve around the Sun. Earth takes about 365.2422 days to make one revolution around the Sun. That's about six hours longer than the 365 days that we typically include in a calendar year. As a result, every four years we have about 24 extra hours that we add to the calendar at the end of February in the form of leap day. Without leap day, the dates of annual events, such as equinoxes and solstices, would slowly shift to later in the year, changing the dates of each season. After only a century without leap day, summer wouldn't start until mid-July!
But the peculiar adjustments don't end there. If Earth revolved around the Sun in exactly 365 days and six hours, this system of adding a leap day every four years would need no exceptions. However, Earth takes a little less time than that to orbit the Sun. Rounding up and inserting a 24-hour leap day every four years adds about 45 extra minutes to every four-year leap cycle. That adds up to about three days every 400 years. To correct for that, years that are divisible by 100 don't have leap days unless they're also divisible by 400. If you do the math, you'll see that the year 2000 was a leap year, but 2100, 2200 and 2300 will not be.
After learning more about leap years with this article from NASA's Space Place, students can do the math for themselves with this leap day problem set. Follow that up with writing a letter or poem to be opened on the next leap day. And since we've got an extra 24 hours this year, don't forget to take a little time to relax!
Explore More
Check out these related resources for kids from NASA Space Place:
TAGS: K-12 Education, Math, Leap Day, Leap Year, Events, Space, Educators, Teachers, Parents, Students, STEM, Lessons
---
Fifty years ago this week, the Apollo 11 astronauts launched on their history-making mission. Saturday, July 20, is the anniversary of that first landing of humans on the Moon; a great milestone to reflect on, as well as an opportunity to look ahead. Read on for some of the ways you can celebrate and learn with NASA!
Go Places
It's not just science centers that are celebrating the 50th anniversary of humans landing on the Moon. There are events taking place worldwide at libraries, concert halls, baseball stadiums, National Parks, art museums, and on city streets. Find anniversary events near you with this searchable map and calendar.
Do Things
This collection of hands-on activities for all ages will have you throwing water balloons to learn about craters on the Moon, helping actual NASA scientists by mapping the Moon from your own computer, building a model of the Earth-Moon system and seeing what it takes to investigate strange new planets. You can even make your own lunar spacecraft.
The Forward to the Moon With Artemis activity book is a fun way to learn about the Apollo mission that first put people on the Moon and what's in store for the future. Also, check out these hands-on activities, building challenges and online games!
Focus On the Moon
Love observing the Moon and the rest of the night sky? The Night Sky Network will help you find local astronomy clubs and events. Save the date for International Observe the Moon Night, October 5. If you're clouded out, you can always make your own Moon to enjoy!
Watch These
NASA TV has a full lineup of Apollo programming. On July 19 at 3 p.m. (EDT), you can watch STEM Forward to the Moon. The half-hour show will feature students enacting simulations of a return to the Moon with NASA's Artemis program. The accompanying Educator's Guide has all you need to try the activities from the show at home or in the classroom.
Also fun to watch are vintage recordings from the Apollo program, as well as archived lectures and the kid-friendly "STEM in 30" video series from the National Air And Space Museum.
Get Social
Join NASA and educational centers nationwide to build a virtual mission to the Moon on July 18. Follow #VirtualMoonshot on Instagram, Facebook and Twitter to take part – or follow along with a host center near you.
Finally, if you've wondered what it would have been like to have social media 50 years ago, be sure to follow Relive Apollo 11 for tweets that tell the story of the mission in real time, starting with its July 16 launch!
Explore More
TAGS: Apollo 50th, Events, Activities, Education, STEM, Science, Museums,
---
After a full day of intense competition, a team of students from University High School in Irvine, California, earned first place in a regional round of the U.S. Department of Energy National Science Bowl on Jan. 26, 2019. This is the second consecutive year that the school has placed first in the regional round, and it's the 27th year that NASA's Jet Propulsion Laboratory in Pasadena, California, has hosted the competition.
---
This feature was originally published on April 25, 2016.

---
If you weren't able to snag a ticket to "Explore JPL," there are still plenty of ways to experience the wonder of space exploration with NASA and the Jet Propulsion Laboratory. Consider these alternatives, which feature some of the same great people, science and engineering as our Explore JPL event.
Tours

Tour the clean room, where engineers have built some of NASA's most advanced spacecraft, including the Mars Curiosity rover and the Juno spacecraft now at Jupiter. Get a look at the command center for active missions. And see a collection of spacecraft models, moon samples, and other science and mission artifacts in our Visitor Center. JPL offers tours free of charge for individuals and groups. Reserve your spot on the JPL Tours website.
Lecture Series

Hear about JPL's latest scientific discoveries, missions, and technology form the scientists, engineers and technologists who are making them a reality. JPL hosts free talks twice per month, on consecutive Thursdays and Fridays at the laboratory and Pasadena City College, respectively. The Thursday talks are also broadcast live and recorded on Ustream. See a calendar of upcoming lectures and learn more, here.
---
Museum Alliance Events

NASA's Museum Alliance is a partnership of more than 700 museums, planetariums, science centers, nature centers and youth-serving organizations around the world that receive resources and professional development from NASA – and in turn share those resources with their own audiences, through exhibitions and programming. Visit the Museum Alliance website to see a calendar of NASA space exploration and science events near you.
---
Night Sky Network Events
See the stars and explore the wonders of the night sky. The Night Sky Network brings the science, technology and inspiration of NASA missions to the general public through astronomy clubs and events across the country. Find a list of upcoming events, including star parties, telescope workshops and educational talks, on the Night Sky Network website.
---
Solar System Ambassadors Events

JPL's Solar System Ambassadors program works with dedicated volunteers throughout the country to share the excitement of the laboratory's space exploration missions and scientific discoveries with local communities. See a calendar of upcoming presentations and outreach events on the Solar System Ambassadors website.
---
Edu Events
Discover upcoming educational events, professional development workshops, team competitions, internship openings and other events for students, teachers and parents on our events page.

---
Connect with JPL Online

You can join the conversation with JPL and get updates on the latest happenings without even leaving the house. There are a number of ways to connect with JPL through social media and online.
TAGS: Ticket to Explore JPL, Explore JPL, Events, Tours
---
NASA is giving people around the world a reason to ooh and aah this July Fourth. At 8:18 p.m. PDT, as fireworks are streaming through the skies across the U.S., the Juno spacecraft will be taking the on-ramp to an orbit around Jupiter.
Can you calculate just how much Juno needs to slow down to get into orbit around Jupiter?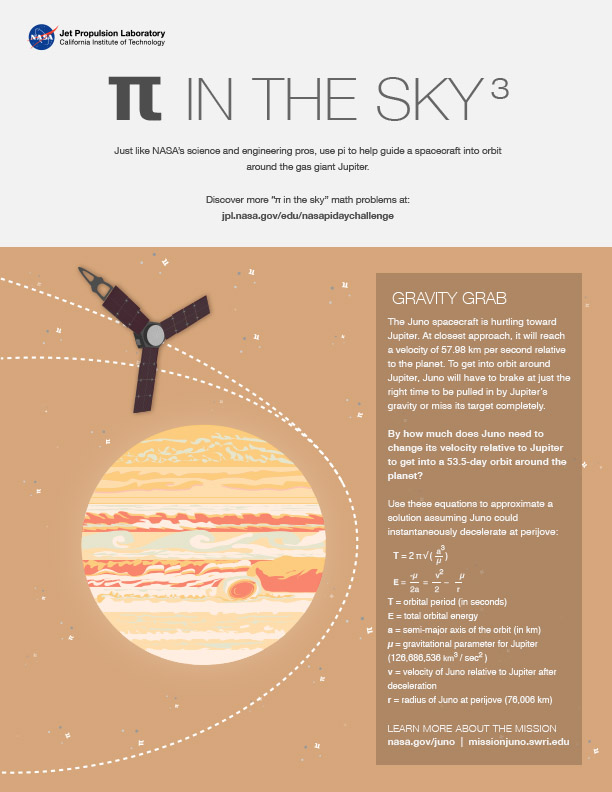 See the full problem set (optimized for screen readers and mobile devices) and answers, here
While maybe not as dramatic as a jet-powered landing on Mars, the Juno Orbit Insertion (the name for the process, also called JOI) requires that the spacecraft slow down just enough to not go zooming past Jupiter. As of Thursday, the spacecraft's fate rested on a series of 1s and Os as a command sequence made the 48-minute journey from a gargantuan antenna in Goldstone, California, to the spacecraft 534 million miles away.
While a successful orbit insertion is now largely out of mission controllers' hands, there will be no shortage of nail biting on July Fourth. With a five-year journey behind it and lofty goals ahead – which include peering through Jupiter's thick cloud cover to uncover clues about how our solar system was formed – Juno has a lot resting on what will amount to a 35-minute engine burn. And perhaps even bigger risks are still to come as Juno begins its 33.5 oblong orbits around Jupiter, which will bring the spacecraft closer than ever before to the planet's cloud tops – and to its lethal radiation.
To follow along on July 4 as Juno begins its journey into Jupiter's orbit, watch NASA TV live coverage beginning at 7:30 p.m. PDT.
For a mission countdown, images, facts about Jupiter and Juno and other resources, visit NASA's Solar System Exploration website.
And check out these educational activities for students and teachers from NASA/JPL Edu:
TAGS: Juno, Jupiter, JOI, Spacecraft, Mission, Events
---
You've probably heard about some of the fascinating missions and science happening at NASA, but wouldn't it be great if you could see it in person? You can!
Every day, hundreds of museums, planetariums, observatories, libraries and other institutions participating in NASA's Museum Alliance offer exhibits, planetarium shows and events featuring NASA science, technology and engineering. As the school year comes to a close, you can keep students – and learners of all ages – engaged by visiting your local informal education institutions. So make May the month you plan your next museum adventure and support organizations that bring the inspiration of NASA to you! Not sure where to start? Use the Museum Alliance's "Map of Members" to find destinations near you or explore the dynamic "Events Near Me" map, which lets you search by date to find the latest offerings.
For example, this month you could check out the new exhibits Out of this World: A Space Adventure at The Living Arts & Science Center in Lexington, Kentucky, or the Discover NASA traveling exhibition at the Auburn Public Library in Maine. You could experience "Intergalactic: A Space Odyssey" in the digital dome theater of Mid-America Science Museum in Hot Springs, Arkansas. Or, also this month, join the fun in California at the San Diego Air & Space Museum's Space Day 2016, or sign up for the New Mexico Museum of Space History's Rocketeer Academy summer camps.
Every year, more visits are made to U.S. museums – more than 850 million – than to all major sporting events and theme parks combined. Americans love their museums - get out there and see why!
At a museum, science center, library, camp or other informal education institution? Learn how you can join the more than 700 organizations participating in NASA's Museum Alliance, here.
TAGS: International Museum Day, Museums, Events, NASA, JPL, STEM, Informal Education,
---
Update – April 25, 2016: We've reached capacity for our Ticket to Explore event. All the tickets have been distributed via the website. However, there are more ways to explore JPL, including free tours, lectures and other events from our museum and educational partners.
---
JPL has announced a new approach to Open House, that one special weekend each year when the laboratory invites the public to discover all the ways it's exploring the solar system and beyond. It's called a Ticket to Explore JPL, and it will feature the same great exhibits, movies, talks and booths as Open House, but you must reserve a ticket to attend.
The tickets are free, but limited, and they will be distributed on a first-come-first-served basis starting April 25 on JPL's Special Events page. The maximum number of tickets per requester is five. And to enter JPL, you must have your ticket in hand along with a matching ID, if you are 18 or older. Tickets are not transferable.
› Learn more about the event on JPL News