---
In the News
This summer, a global dust storm encircled Mars, blocking much of the vital solar energy that NASA's Opportunity rover needs to survive. After months of listening for a signal, the agency has declared that the longest-lived rover to explore Mars has come to the end of its mission. Originally slated for a three-month mission, the Opportunity rover lived a whopping 14.5 years on Mars. Opportunity beat the odds many times while exploring the Red Planet, returning an abundance of scientific data that paved the way for future exploration.
Scientists and engineers are celebrating this unprecedented mission success, still analyzing data collected during the past decade and a half and applying lessons learned to the design of future spacecraft. For teachers, this historic mission provides lessons in engineering design, troubleshooting and scientific discovery.
How They Did It
Launched in 2003 and landed in early 2004, the twin Mars Exploration Rovers, Spirit and Opportunity, were the second spacecraft of their kind to land on our neighboring planet.
Preceded by the small Sojourner rover in 1997, Spirit and Opportunity were substantially larger, weighing about 400 pounds, or 185 kilograms, on Earth (150 pounds, or 70 kilograms, on Mars) and standing about 5 feet tall. The solar-powered rovers were designed for a mission lasting 90 sols, or Mars days, during which they would look for evidence of water on the seemingly barren planet.
Dust in the Wind
Scientists and engineers always hope a spacecraft will outlive its designed lifetime, and the Mars Exploration Rovers did not disappoint. Engineers at NASA's Jet Propulsion Laboratory in Pasadena, California, expected the lifetime of these sun-powered robots to be limited by dust accumulating on the rovers' solar panels. As expected, power input to the rovers slowly decreased as dust settled on the panels and blocked some of the incoming sunlight. However, the panels were "cleaned" accidentally when seasonal winds blew off the dust. Several times during the mission, power levels were restored to pre-dusty conditions. Because of these events, the rovers were able to continue their exploration much longer than expected with enough power to continue running all of their instruments.
Terrestrial Twin
To troubleshoot and overcome challenges during the rovers' long mission, engineers would perform tests on a duplicate model of the spacecraft, which remained on Earth for just this purpose. One such instance was in 2005, when Opportunity got stuck in the sand. Its right front wheel dug into loose sand, reaching to just below its axle. Engineers and scientists worked for five weeks to free Opportunity, first using images and spectroscopy obtained by the rover's instruments to recreate the sand trap on Earth and then placing the test rover in the exact same position as Opportunity. The team eventually found a way to get the test rover out of the sand trap. Engineers tested their commands repeatedly with consistent results, giving them confidence in their solution. The same commands were relayed to Opportunity through NASA's Deep Space Network, and the patient rover turned its stuck wheel just the right amount and backed out of the trap that had ensnared it for over a month, enabling the mission to continue.
A few years later, in 2009, Spirit wasn't as lucky. Having already sustained some wheel problems, Spirit got stuck on a slope in a position that would not be favorable for the Martian winter. Engineers were not able to free Spirit before winter took hold, denying the rover adequate sunlight for power. Its mission officially ended in 2011. Meanwhile, despite a troubled shoulder joint on its robotic arm that first started showing wear in 2006, Opportunity continued exploring the Red Planet. It wasn't until a dust storm completely enveloped Mars in the summer of 2018 that Opportunity finally succumbed to the elements.
The Final Act
Dust storm season on Mars can be treacherous for solar-powered rovers because if they are in the path of the dust storm, their access to sunlight can be obstructed for months on end, longer than their batteries can sustain them. Though several dust storms occurred on Mars during the reign of the Mars Exploration Rovers, 2018 brought a large, thick dust storm that covered the entire globe and shrouded Opportunity's access to sunlight for four months. Only the caldera of Olympus Mons, the largest known volcano in the solar system, peeked out above the dust.
The transparency or "thickness" of the dust in Mars' atmosphere is denoted by the Greek letter tau. The higher the tau, the less sunlight is available to charge a surface spacecraft's batteries. An average tau for Opportunity's location is 0.5. The tau at the peak of the 2018 dust storm was 10.8. This thick dust was imaged and measured by the Curiosity Mars rover on the opposite side of the planet. (Curiosity is powered by a radioisotope thermoelectric generator.)
Since the last communication with Opportunity on June 10, 2018, NASA has sent more than 1,000 commands to the rover that have gone unanswered. Each of these commands was an attempt to get Opportunity to send back a signal saying it was alive. A last-ditch effort to reset the rover's mission clock was met with silence.
Why It's Important
The Mars Exploration Rovers were designed to give a human-height perspective of Mars, using panoramic cameras approximately 5 feet off the surface, while their science instruments investigated Mars' surface geology for signs of water. Spirit and Opportunity returned more than 340,000 raw images conveying the beauty of Mars and leading to scientific discoveries. The rovers brought Mars into classrooms and living rooms around the world. From curious geologic formations to dune fields, dust devils and even their own tracks on the surface of the Red Planet, the rovers showed us Mars in a way we had never seen it before.
The rovers discovered that Mars was once a warmer, wetter world than it is today and was potentially able to support microbial life. Opportunity landed in a crater and almost immediately discovered deposits of hematite, which is a mineral known to typically form in the presence of water. During its travels across the Mars surface, Spirit found rocks rich in magnesium and iron carbonates that likely formed when Mars was warm and wet, and sustained a near-neutral pH environment hospitable to life. At one point, while dragging its malfunctioning wheel, Spirit excavated 90 percent pure silica lurking just below the sandy surface. On Earth, this sort of silica usually exists in hot springs or hot steam vents, where life as we know it often finds a happy home. Later in its mission, near the rim of Endeavor crater, Opportunity found bright-colored veins of gypsum in the rocks. These veins likely formed when water flowed through underground fractures in the rocks, leaving calcium behind. All of these discoveries lead scientists to believe that Mars was once more hospitable to life than it is today, and they laid the groundwork for future exploration.
Imagery from the Mars Reconnaissance Orbiter and Mars Odyssey, both orbiting the Red Planet, has been combined with surface views and data from the Mars Exploration Rovers for an unprecedented understanding of the planet's geology and environment.
Not only did Spirit and Opportunity add to our understanding of Mars, but also the rovers set the stage for future exploration. Following in their tracks, the Curiosity rover landed in 2012 and is still active, investigating the planet's surface chemistry and geology, and confirming the presence of past water. Launching in 2020 is the next Mars rover, currently named Mars 2020. Mars 2020 will be able to analyze soil samples for signs of past microbial life. It will carry a drill that can collect samples of interesting rocks and soils, and set them aside in a cache on the surface of Mars. In the future, those samples could be retrieved and returned to Earth by another mission. Mars 2020 will also do preliminary research for future human missions to the Red Planet, including testing a method of producing oxygen from Mars' atmosphere.
It's thanks to three generations of surface-exploring rovers coupled with the knowledge obtained by orbiters and stationary landers that we have a deeper understanding of the Red Planet's geologic history and can continue to explore Mars in new and exciting ways.
Teach It
Use these standards-aligned lessons and related activities to get students doing engineering, troubleshooting and scientific discovery just like NASA scientists and engineers!
Explore More
Try these related resources for students from NASA's Space Place
TAGS: K-12 Education, Teachers, Educators, Students, Opportunity, Mars rover, Rovers, Mars, Lessons, Activities, Missions
---
In the News
Looking up at the Moon can create a sense of awe at any time, but those who do so on the evening of January 20 will be treated to the only total lunar eclipse of 2019. Visible for its entirety in North and South America, this eclipse is being referred to by some as a super blood moon – "super" because the Moon will be closest to Earth in its orbit during the full moon (more on supermoons here) and "blood" because the total lunar eclipse will turn the Moon a reddish hue (more on that below). This is a great opportunity for students to observe the Moon – and for teachers to make connections to in-class science content.
How It Works
Eclipses can occur when the Sun, the Moon and Earth align. Lunar eclipses can happen only during a full moon, when the Moon and the Sun are on opposite sides of Earth. At that point, the Moon can move into the shadow cast by Earth, resulting in a lunar eclipse. However, most of the time, the Moon's slightly tilted orbit brings it above or below Earth's shadow.
The time period when the Moon, Earth and the Sun are lined up and on the same plane – allowing for the Moon to pass through Earth's shadow – is called an eclipse season. Eclipse seasons last about 34 days and occur just shy of every six months. When a full moon occurs during an eclipse season, the Moon travels through Earth's shadow, creating a lunar eclipse.
Unlike solar eclipses, which require special glasses to view and can be seen only for a few short minutes in a very limited area, a total lunar eclipse can be seen for about an hour by anyone on the nighttime side of Earth – as long as skies are clear.
What to Expect
The Moon passes through two distinct parts of Earth's shadow during a lunar eclipse. The outer part of the cone-shaped shadow is called the penumbra. The penumbra is less dark than the inner part of the shadow because it's penetrated by some sunlight. (You have probably noticed that some shadows on the ground are darker than others, depending on how much outside light enters the shadow; the same is true for the outer part of Earth's shadow.) The inner part of the shadow, known as the umbra, is much darker because Earth blocks additional sunlight from entering the umbra.
At 6:36 p.m. PST (9:36 p.m. EST) on January 20, the edge of the Moon will begin entering the penumbra. The Moon will dim very slightly for the next 57 minutes as it moves deeper into the penumbra. Because this part of Earth's shadow is not fully dark, you may notice only some dim shading (if anything at all) on the Moon near the end of this part of the eclipse.
At 7:33 p.m. PST (10:33 p.m. EST), the edge of the Moon will begin entering the umbra. As the Moon moves into the darker shadow, significant darkening of the Moon will be noticeable. Some say that during this part of the eclipse, the Moon looks as if it has had a bite taken out of it. That "bite" gets bigger and bigger as the Moon moves deeper into the shadow.
At 8:41 p.m. PST (11:41 p.m. EST), the Moon will be completely inside the umbra, marking the beginning of the total lunar eclipse. The moment of greatest eclipse, when the Moon is halfway through the umbra, occurs at 9:12 p.m. PST (12:12 a.m. EST).
As the Moon moves completely into the umbra, something interesting happens: The Moon begins to turn reddish-orange. The reason for this phenomenon? Earth's atmosphere. As sunlight passes through it, the small molecules that make up our atmosphere scatter blue light, which is why the sky appears blue. This leaves behind mostly red light that bends, or refracts, into Earth's shadow. We can see the red light during an eclipse as it falls onto the Moon in Earth's shadow. This same effect is what gives sunrises and sunsets a reddish-orange color.
A variety of factors affect the appearance of the Moon during a total lunar eclipse. Clouds, dust, ash, photochemical droplets and organic material in the atmosphere can change how much light is refracted into the umbra. Additionally, the January 2019 lunar eclipse takes place when the full moon is at or near the closest point in its orbit to Earth – a time popularly known as a supermoon. This means the Moon is deeper inside the umbra shadow and therefore may appear darker. The potential for variation provides a great opportunity for students to observe and classify the lunar eclipse based on its brightness. Details can be found in the "Teach It" section below.
At 9:43 p.m. PST (12:43 a.m. EST), the edge of the Moon will begin exiting the umbra and moving into the opposite side of the penumbra. This marks the end of the total lunar eclipse.
At 10:50 p.m. PST (1:50 a.m. EST), the Moon will be completely outside the umbra. It will continue moving out of the penumbra until the eclipse ends at 11:48 p.m (2:48 a.m. EST).
What if it's cloudy where you live? Winter eclipses always bring with them the risk of poor viewing conditions. If your view of the Moon is obscured by the weather, explore options for watching the eclipse online, such as the Time and Date live stream.
Why It's Important
Lunar eclipses have long played an important role in understanding Earth and its motions in space.
In ancient Greece, Aristotle noted that the shadows on the Moon during lunar eclipses were round, regardless of where an observer saw them. He realized that only if Earth were a spheroid would its shadows be round – a revelation that he and others had many centuries before the first ships sailed around the world.
Earth wobbles on its axis like a spinning top that's about to fall over, a phenomenon called precession. Earth completes one wobble, or precession cycle, over the course of 26,000 years. Greek astronomer Hipparchus made this discovery by comparing the position of stars relative to the Sun during a lunar eclipse to those recorded hundreds of years earlier. A lunar eclipse allowed him to see the stars and know exactly where the Sun was for comparison – directly opposite the Moon. If Earth didn't wobble, the stars would appear to be in the same place they were hundreds of years earlier. When Hipparchus saw that the stars' positions had indeed moved, he knew that Earth must wobble on its axis!
Lunar eclipses are also used for modern-day science investigations. Astronomers have used ancient eclipse records and compared them with computer simulations. These comparisons helped scientists determine the rate at which Earth's rotation is slowing.
Teach It
Ask students to observe the lunar eclipse and evaluate the Moon's brightness using the Danjon Scale of Lunar Eclipse Brightness. The Danjon scale illustrates the range of colors and brightness the Moon can take on during a total lunar eclipse, and it's a tool observers can use to characterize the appearance of an eclipse. View the lesson guide below. After the eclipse, have students compare and justify their evaluations of the eclipse.
Use these standards-aligned lessons and related activities to get your students excited about the eclipse, Moon phases and Moon observations:

TAGS: Lunar Eclipse, Moon, Teachers, Educators, K-12 Education, Astronomy
---
In the News
The Voyager 2 spacecraft, launched in 1977, has reached interstellar space, a region beyond the heliosphere – the protective bubble of particles and magnetic fields created by the Sun – where the only other human-made object is its twin, Voyager 1.
The achievement means new opportunities for scientists to study this mysterious region. And for educators, it's a chance to get students exploring the scale and anatomy of our solar system, plus the engineering and math required for such an epic journey.
How They Did It
Launched just 16 days apart, Voyager 1 and Voyager 2 were designed to take advantage of a rare alignment of the outer planets that only occurs once every 176 years. Their trajectory took them by the outer planets, where they captured never-before-seen images. They were also able to steal a little momentum from Jupiter and Saturn that helped send them on a path toward interstellar space. This "gravity assist" gave the spacecraft a velocity boost without expending any fuel. Though both spacecraft were destined for interstellar space, they followed slightly different trajectories.
Voyager 1 followed a path that enabled it to fly by Jupiter in 1979, discovering the gas giant's rings. It continued on for a 1980 close encounter with Saturn's moon Titan before a gravity assist from Saturn hurled it above the plane of the solar system and out toward interstellar space. After Voyager 2 visited Jupiter in 1979 and Saturn in 1981, it continued on to encounter Uranus in 1986, where it obtained another assist. Its last planetary visit before heading out of the solar system was Neptune in 1989, where the gas giant's gravity sent the probe in a southward direction toward interstellar space. Since the end of its prime mission at Neptune, Voyager 2 has been using its onboard instruments to continue sensing the environment around it, communicating data back to scientists on Earth. It was this data that scientists used to determine Voyager 2 had entered interstellar space.
How We Know
Interstellar space, the region between the stars, is beyond the influence of the solar wind, charged particles emanating from the Sun, and before the influence of the stellar wind of another star. One hint that Voyager 2 was nearing interstellar space came in late August when the Cosmic Ray Subsystem, an instrument that measures cosmic rays coming from the Sun and galactic cosmic rays coming from outside our solar system, measured an increase in galactic cosmic rays hitting the spacecraft. Then on November 5, the instrument detected a sharp decrease in high energy particles from the Sun. That downward trend continued over the following weeks.
The data from the cosmic ray instrument provided strong evidence that Voyager 2 had entered interstellar space because its twin had returned similar data when it crossed the boundary of the heliosheath. But the most compelling evidence came from its Plasma Science Experiment – an instrument that had stopped working on Voyager 1 in 1980. Until recently, the space surrounding Voyager 2 was filled mostly with plasma flowing out from our Sun. This outflow, called the solar wind, creates a bubble, the heliosphere, that envelopes all the planets in our solar system. Voyager 2's Plasma Science Experiment can detect the speed, density, temperature, pressure and flux of that solar wind. On the same day that the spacecraft's cosmic ray instrument detected a steep decline in the number of solar energetic particles, the plasma science instrument observed a decline in the speed of the solar wind. Since that date, the plasma instrument has observed no solar wind flow in the environment around Voyager 2, which makes mission scientists confident the probe has entered interstellar space.
Though the spacecraft have left the heliosphere, Voyager 1 and Voyager 2 have not yet left the solar system, and won't be leaving anytime soon. The boundary of the solar system is considered to be beyond the outer edge of the Oort Cloud, a collection of small objects that are still under the influence of the Sun's gravity. The width of the Oort Cloud is not known precisely, but it is estimated to begin at about 1,000 astronomical units from the Sun and extend to about 100,000 AU. (One astronomical unit, or AU, is the distance from the Sun to Earth.) It will take about 300 years for Voyager 2 to reach the inner edge of the Oort Cloud and possibly 30,000 years to fly beyond it. By that time, both Voyager spacecraft will be completely out of the hydrazine fuel used to point them toward Earth (to send and receive data) and their power sources will have decayed beyond their usable lifetime.
Why It's Important
Since the Voyager spacecraft launched more than 40 years ago, no other NASA missions have encountered as many planets (some of which had never been visited) and continued making science observations from such great distances. Other spacecraft, such as New Horizons and Pioneer 10 and 11, will eventually make it to interstellar space, but we will have no data from them to confirm their arrival or explore the region because their instruments already have or will have shut off by then.
Interstellar space is a region that's still mysterious because until 2012, when Voyager 1 arrived there, no spacecraft had visited it. Now, data from Voyager 2 will help add to scientists' growing understanding of the region. Scientists are hoping to continue using Voyager 2's plasma science instrument to study the properties of the ionized gases, or plasma, that exist in the interstellar medium by making direct measurements of the plasma density and temperature. This new data may shed more light on the evolution of our solar neighborhood and will most certainly provide a window into the exciting unexplored region of interstellar space, improving our understanding of space and our place in it.
As power wanes on Voyager 2, scientists will have to make tough choices about which instruments to keep turned on. Further complicating the situation is the freezing cold temperature at which the spacecraft is currently operating – perilously close to the freezing point of its hydrazine fuel. But for as long as both Voyager spacecraft are able to maintain power and communication, we will continue to learn about the uncharted territory of interstellar space.
Teach It
Use these standards-aligned lessons and related activities to get students doing math and science with a real-world (and space!) connection.
Explore More
TAGS: Teachers, Educators, Science, Engineering, Technology, Solar System, Voyager, Spacecraft, Educator Resources, Lessons, Activities
---
You may already know about the online lessons and activities available from the Education Office at NASA's Jet Propulsion Laboratory. (If not, check them out here.) But did you know that JPL and all NASA centers nationwide have an education specialist focused specifically on professional development for teachers – including how to use those online lessons in the classroom? It's part of a program called the Educator Professional Development Collaborative, or EPDC, a free service for any K-12 classroom educator in the country.
During the 2016-2017 school year, the EPDC at JPL participated in more than 120 school events focusing on teacher professional development, including implementing Next Generation Science Standards, helping schools initiate science fairs and community events, and assisting with student presentations. That number includes more than 5,000 teachers and students who worked with the EPDC on initiatives designed to get NASA science and engineering into the hands of future space explorers.
As the EPDC coordinator for JPL, I schedule and help shape these events for schools and teacher preparation programs in Southern California, coordinating and consulting with educators to help them bring standards-aligned NASA STEM content into the classroom. My work and the ways in which I support educators can take many shapes. Teachers often ask me to visit during regularly scheduled professional development or early dismissal days. These represent the most common events, wherein schools choose topics or themes to focus on and the time is spent practicing hands-on activities for students. This year, teachers and schools have come up with new and especially creative formats, scheduling onsite tours and workshops at JPL for their teaching staff, or even having NASA scientists dial in to their classrooms to talk with students.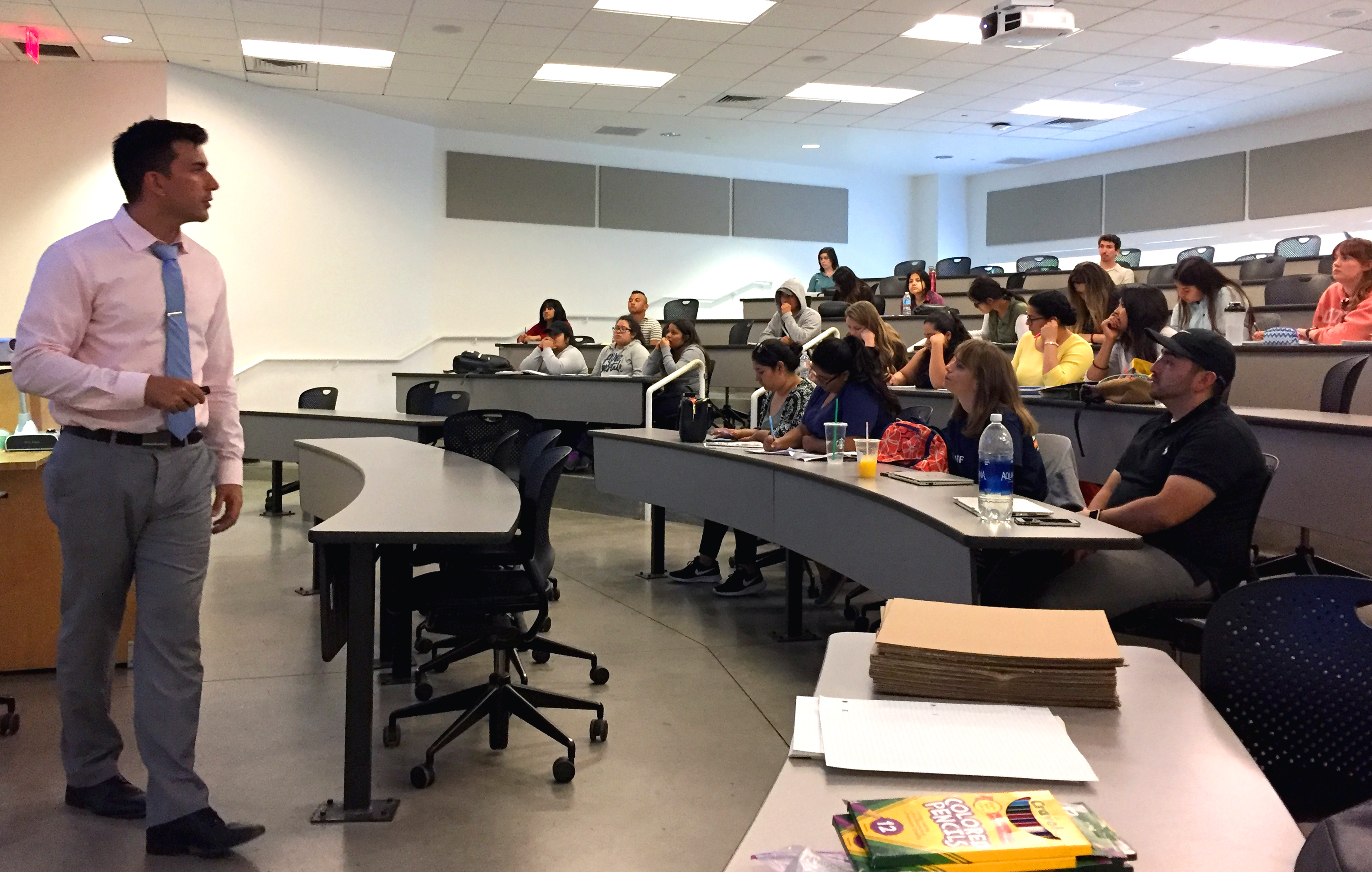 The EPDC helps educators bring NASA STEM content into the classroom through workshops, webinars and more. Image credit: NASA/JPL-Caltech
One school in particular took its program to another level with the help of the EPDC at JPL by building a grade-wide, multi-week mission to Mars. For their annual cross-curricular project, teachers at the San Fernando Institute for Applied Media in Los Angeles were hoping to create a more expansive offering that incorporated the Next Generation Science Standards, or NGSS. I met with teachers over several days to suggest activities and strategies that would meet their goal of getting students engaged in space science across numerous subject areas.
Students were tasked to explore the history of space exploration and the pioneers who led the charge. Using NASA lessons like those found on the JPL Education website, the students built conceptual models of Mars missions, including calculating the budget associated with such a trek. They then constructed robotic rovers capable of traversing a simulated Martian surface and the tools needed to interact with the local environment.
But what really set the program apart was its focus on collaboration. The school thought beyond the content of the lesson itself, making NASA badges for each student and having them refer to each other as "doctor." Students designed their own team name and logo. They also used Web-based apps to capture pictures and videos of their work during each class and posted them online, allowing groups to digitally follow the revisions and lessons learned by their classmates. As a year-end culminating event, students presented their work in front of their classmates, and I was fortunate to be in attendance to celebrate the hard work of the teachers and students.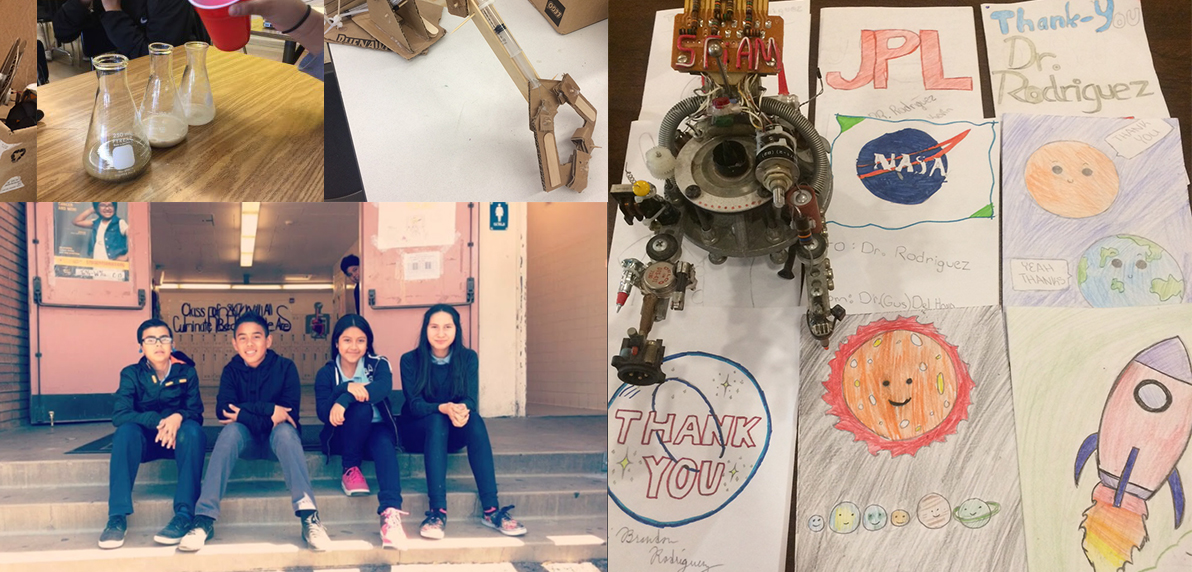 Working with the EPDC at JPL, educators at the San Fernando Institute for Applied Media in Los Angeles designed a multi-week project that had students create a mission to Mars. The project included testing samples of "Martian soil" for signs of microbial life (top left) and creating a hydraulic arm to interact with a simulated Mars surface (top center). Image credit: NASA/JPL-Caltech
In Chicago, Burley Elementary staff reached out to me via our distance learning program to revise an existing lesson for an elementary-level special education audience. Working together, the staff and I created a project using JPL's NGSS-aligned Touchdown lesson to demonstrate the value of the engineering design process, revision and collaboration.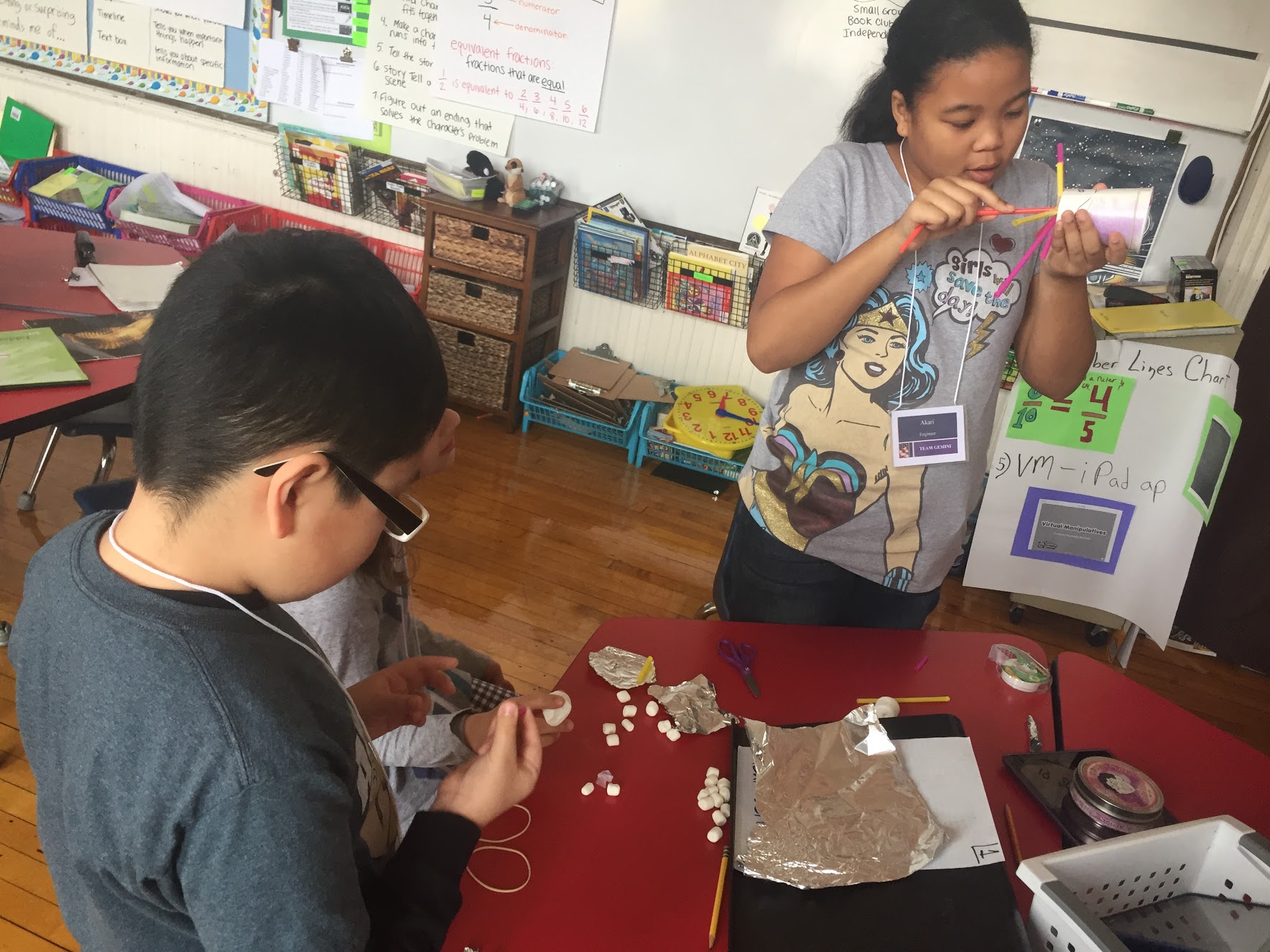 Students at Burley Elementry in Chicago design lunar landers as part of JPL's NGSS-aligned Touchdown lesson. Burley Elementary teachers worked with the EPDC at JPL to modify the lesson for their students. Image credit: NASA/JPL-Caltech
At the onset of the project, students were tasked to develop a spacecraft capable of landing astronauts safely on a distant planet. Each day concluded with students testing their designs and documenting the changes they made. Again, student groups captured their revisions digitally, praising others and crediting them for ideas that influenced their work. As a result, student groups learned the value of collaboration over competition.
From the educator's point of view, the evolution of students' designs also provided a narrative for assessment: Each student group had three designs constructed along with written and recorded diaries discussing the changes they made. The rubric included analysis of their own trials as well as the peer designs that shaped their future trials, creating in-depth student storyboards.
In both of these cases, the educators' creativity, expertise and interest in creating novel opportunities for professional development and student engagement helped elevate the quality of the EPDC's offerings and expand the scope of JPL's STEM lessons. I've since been able to incorporate the ideas and strategies created during these projects into other workshops and lessons, sharing them with an even wider group of educators and classrooms. While not every collaboration between the EPDC and educators need be multi-day endeavors, even when done on a small scale, they can have a big impact.
Looking to bring NASA science into your classroom or need help customizing lessons for your students and staff? The EPDC at JPL serves educators in the greater Los Angeles area. Contact JPL education specialist Brandon Rodriguez at brandon.rodriguez@jpl.nasa.gov. Note: Due to the popularity of EPDC programs, JPL may not be able to fulfill all requests.
Outside the Southern California area? The EPDC operates in all 50 states. To find an EPDC specialist near you, see https://www.txstate-epdc.net/nasa-centers/.
The Educator Professional Development Collaborative (EPDC) is managed by Texas State University as part of the NASA Office of Education. A free service for K-12 educators nationwide, the EPDC connects educators with the classroom tools and resources they need to foster students' passion for careers in STEM and produce the next generation of scientists and engineers.
TAGS: Professional Development, Workshops, Teachers, Educators, STEM, Science, Engineering, EPDC
---
Out of the many student programs and internships offered at NASA's Jet Propulsion Laboratory, only one focuses entirely on future math and science teachers, the individuals directly responsible for inspiring the next generations of scientists and engineers. The Science Teacher and Researcher (STAR) program provides aspiring science and math teachers with paid summer internships in national, independent and university laboratories, allowing participants to pursue a prestigious dual "teacher-researcher" career path.
JPL has hosted 28 interns during its three years of participation in the program, which is offered by the California State University system in partnership with government agencies that include the U.S. Department of Energy, the National Science Foundation and NASA, as well as private research organizations. Out of the 12 STAR undergraduate and graduate school interns participating in the program at JPL this summer, five have been offered teaching positions for the fall. The seven other interns are continuing their education.
"Providing research opportunities for STAR participants is one of many ways JPL adds to science, technology, engineering and mathematics, or STEM, education in California and nationwide," said Petra Kneissl-Milanian, a JPL education program specialist who coordinates the STAR program. "Our scientists and engineers enable these aspiring science and math teachers to experience real, hands-on science and absorb the culture of JPL specifically and the scientific environment in general. These young teachers will carry this excitement into their future classrooms, teaching and inspiring learners."
Bryan Rebar is the director of the STAR program and works out of Cal Poly San Luis Obispo, where the program was founded and implemented by their Center for Excellence in Science and Mathematics Education and is administered on behalf of the California State University system. "Science and math teachers benefit from firsthand experience conducting research at cutting edge labs because it gives them an understanding and a vision for how science and math skills are applied in careers," Rebar said. "We provide STAR fellows with support to translate their experience into classroom practice."
With the guidance of a research mentor, STAR fellows work on original science projects for eight to ten weeks. Weekly education workshops and an opening and closing conference provide context and opportunities for the participants to consider how the "doing of science" may be translated into the "teaching of science." The ultimate goals of the STAR program are to enhance the recruitment, preparation and retention of quality science and math teachers.
Skyler Lassman worked as a STAR intern this summer in JPL's Propulsion and Materials Engineering Section on electric propulsion systems and recently took a job at Orcutt Academy High School in Orcutt, Calif. teaching physics and biology. "What will be the most beneficial is being able to know how JPLers conduct research, what tools they use and how they solve problems," Lassman said. "For example, I now have a clearer idea of why it is important to teach students to write lab reports and how to interpret graphs."
JPL STAR intern Jessica Potter will be teaching biology at Arroyo Valley High School in San Bernardino this fall. This summer, she worked in the Water and Carbon Cycles Group on remote sensing as applied toward studying Earth's ecosystem. "Perhaps the most important thing I will take away from my time at JPL will be the ability to guide my students interested in pursuing science," she said. "I have just become the advisor of the new science club created by two students who want to attend Caltech. They were so excited that I had worked at JPL, and I am looking forward to assisting them in achieving their dreams."
Lassman and Potter weren't the only participants this summer who were recently hired as teachers: Shin Adachi is working at the Synergy Quantum Academy in Los Angeles, Andrew Giang at Los Altos High School in Hacienda Heights and Adorina Moshava at Taft High School in Woodland Hills.
The STAR Program hopes to change the way science and education are viewed. "We believe that STAR offers a transformative experience," said Rebar. "Rather than entering a classroom as a teacher of science, STAR fellows arrive thinking as scientists who have the skills to teach."

TAGS: Educators, Teachers, STEM, Science Teacher and Researcher Program