Find out what's new in the Education Office at NASA's Jet Propulsion Laboratory and learn about the latest initiatives to inspire students and educators through NASA science, technology, engineering and mathematics.

---
Looking for a stellar 2018 calendar? Try this new Moon Phases Calendar and Calculator DIY from the Education Office at NASA's Jet Propulsion Laboratory!
Download the free, decoder-ring style calendar and assemble it to see when and where to view the Moon every day of the year. The calendar features daily moon phases, moonrise, moonset and overhead viewing times, a listing of Moon events including supermoons and lunar eclipses, plus graphics depicting the relative positions of Earth and the Moon during various moon phases. Use it to teach students about the phases of the Moon, for sky-gazing or simply as a unique wall calendar.
In the classroom, it makes a great addition to this Teachable Moment and related lessons about supermoons – two of which will ring in the new year in January 2018.
Explore these and more Moon-related lessons and activities from NASA/JPL Edu at the links below:
---
For Students
---
---
For Educators
---
---
---
---
---
---
Try this lesson from NASA/JPL Edu to get involved and bring the excitement of NASA Mars exploration to students:
---
When Halloween rolls around at NASA's Jet Propulsion Laboratory, we really let our nerd flags fly. Pumpkin carving contests turn into serious engineering design challenges and costume inspiration runs the gamut from real science to science fiction.
This year, join us in all our geekdom with these spooky (and educational!) space activities from the Education Office at NASA/JPL:
---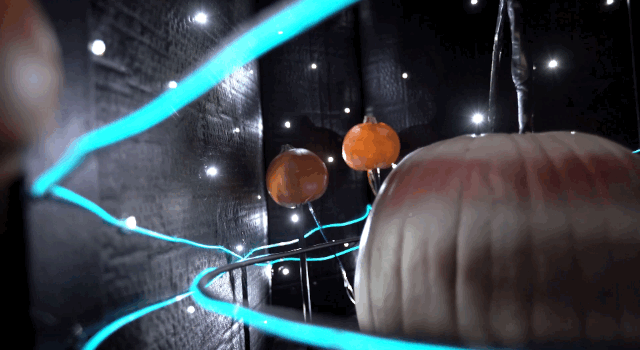 ---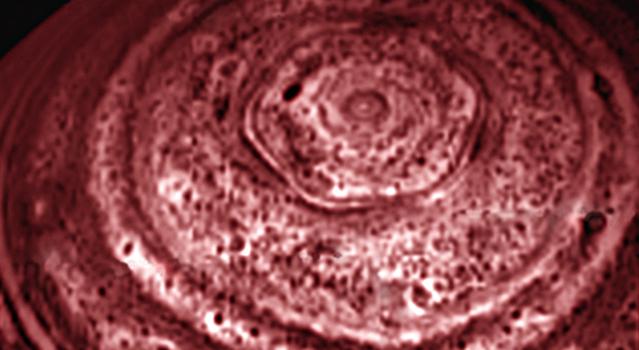 ---
---
Update – Sept. 20, 2017: Due to the number of requests we have received, this bulletin board registration is now closed. In the event more materials become available, an update will be posted here. All materials are also available to download at the links below.
---
This year has been full of exciting discoveries at NASA as we learn more about our solar system as well as star systems light years away.
Want a cool way to share these missions and discoveries with your classroom? Sign up online to receive the latest classroom bulletin board set from the Educator Resource Center at NASA's Jet Propulsion Laboratory.
Note:
Bulletin board mailers are limited to teachers at U.S.-based institutions.
Available while supplies last.
Requests will be fulfilled in the order they are received.
Here's what's included:
---
---
---
---
Visit our educator resources page for more downloads and online resources.
---
You may already know about the online lessons and activities available from the Education Office at NASA's Jet Propulsion Laboratory. (If not, check them out here.) But did you know that JPL and all NASA centers nationwide have an education specialist focused specifically on professional development for teachers – including how to use those online lessons in the classroom? It's part of a program called the Educator Professional Development Collaborative, or EPDC, a free service for any K-12 classroom educator in the country.
During the 2016-2017 school year, the EPDC at JPL participated in more than 120 school events focusing on teacher professional development, including implementing Next Generation Science Standards, helping schools initiate science fairs and community events, and assisting with student presentations. That number includes more than 5,000 teachers and students who worked with the EPDC on initiatives designed to get NASA science and engineering into the hands of future space explorers.
As the EPDC coordinator for JPL, I schedule and help shape these events for schools and teacher preparation programs in Southern California, coordinating and consulting with educators to help them bring standards-aligned NASA STEM content into the classroom. My work and the ways in which I support educators can take many shapes. Teachers often ask me to visit during regularly scheduled professional development or early dismissal days. These represent the most common events, wherein schools choose topics or themes to focus on and the time is spent practicing hands-on activities for students. This year, teachers and schools have come up with new and especially creative formats, scheduling onsite tours and workshops at JPL for their teaching staff, or even having NASA scientists dial in to their classrooms to talk with students.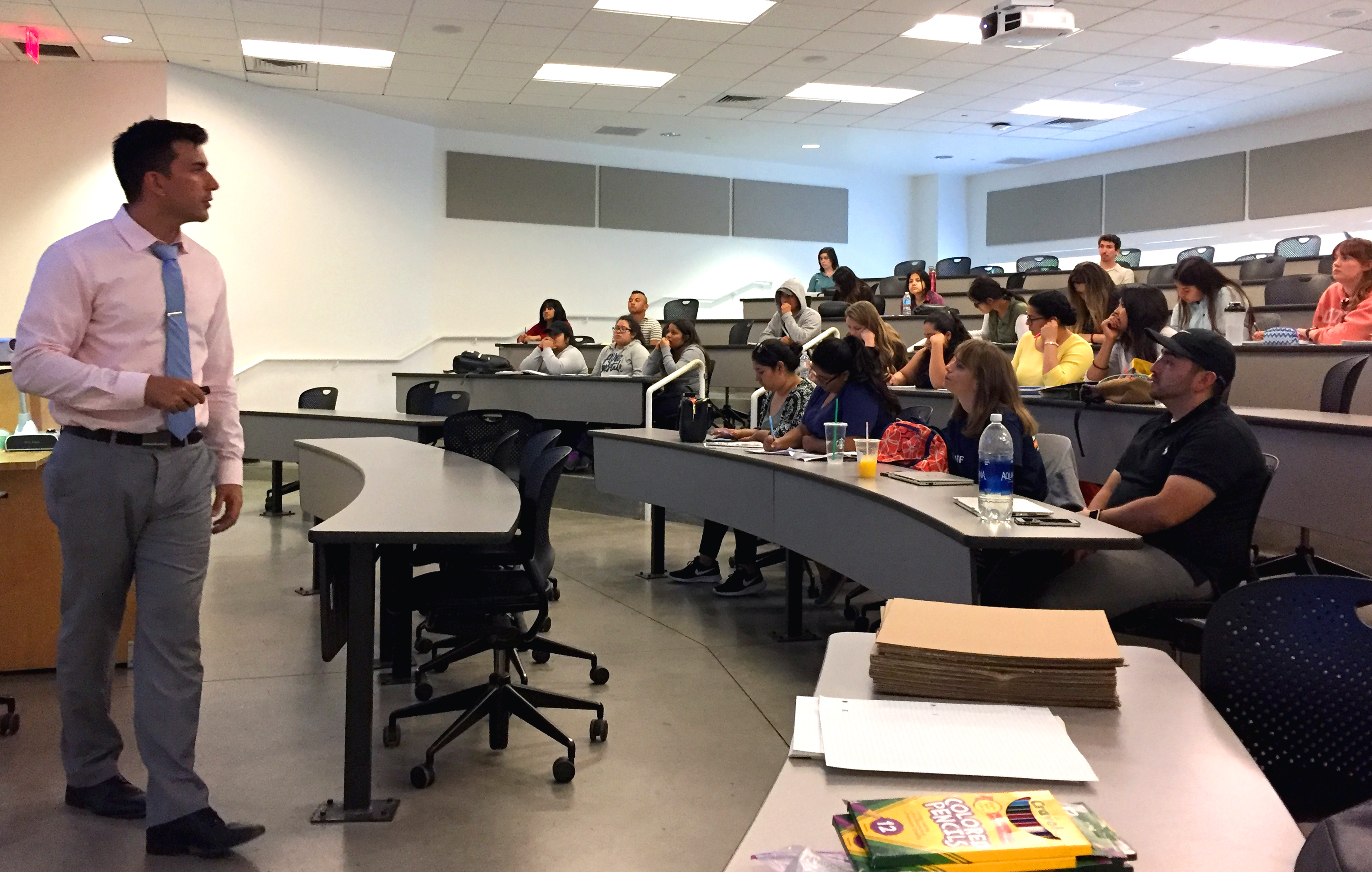 The EPDC helps educators bring NASA STEM content into the classroom through workshops, webinars and more. Image credit: NASA/JPL-Caltech
One school in particular took its program to another level with the help of the EPDC at JPL by building a grade-wide, multi-week mission to Mars. For their annual cross-curricular project, teachers at the San Fernando Institute for Applied Media in Los Angeles were hoping to create a more expansive offering that incorporated the Next Generation Science Standards, or NGSS. I met with teachers over several days to suggest activities and strategies that would meet their goal of getting students engaged in space science across numerous subject areas.
Students were tasked to explore the history of space exploration and the pioneers who led the charge. Using NASA lessons like those found on the JPL Education website, the students built conceptual models of Mars missions, including calculating the budget associated with such a trek. They then constructed robotic rovers capable of traversing a simulated Martian surface and the tools needed to interact with the local environment.
But what really set the program apart was its focus on collaboration. The school thought beyond the content of the lesson itself, making NASA badges for each student and having them refer to each other as "doctor." Students designed their own team name and logo. They also used Web-based apps to capture pictures and videos of their work during each class and posted them online, allowing groups to digitally follow the revisions and lessons learned by their classmates. As a year-end culminating event, students presented their work in front of their classmates, and I was fortunate to be in attendance to celebrate the hard work of the teachers and students.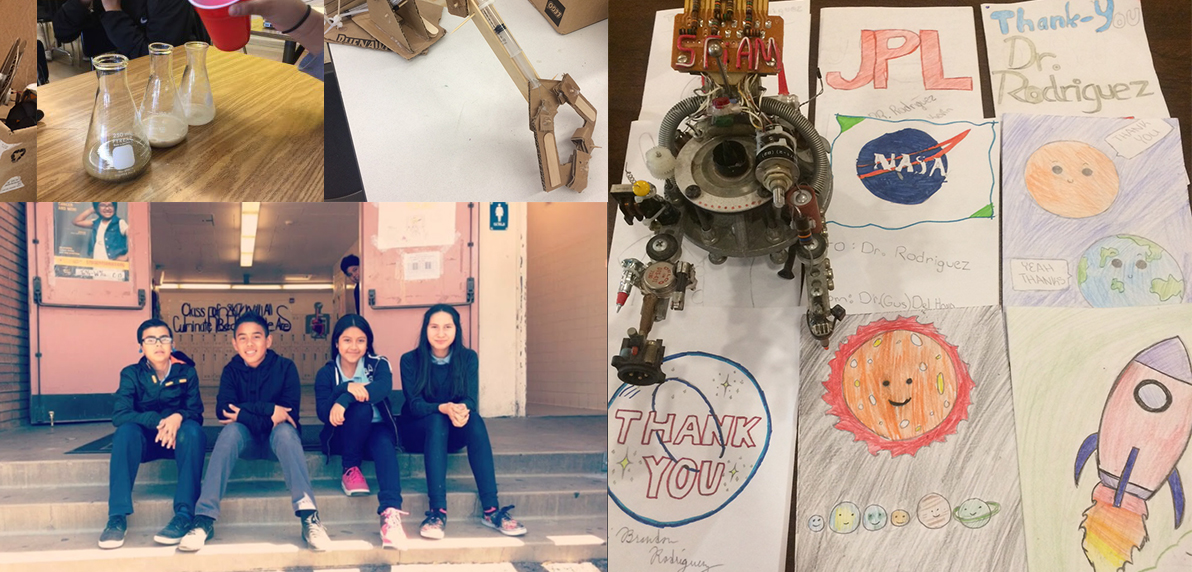 Working with the EPDC at JPL, educators at the San Fernando Institute for Applied Media in Los Angeles designed a multi-week project that had students create a mission to Mars. The project included testing samples of "Martian soil" for signs of microbial life (top left) and creating a hydraulic arm to interact with a simulated Mars surface (top center). Image credit: NASA/JPL-Caltech
In Chicago, Burley Elementary staff reached out to me via our distance learning program to revise an existing lesson for an elementary-level special education audience. Working together, the staff and I created a project using JPL's NGSS-aligned Touchdown lesson to demonstrate the value of the engineering design process, revision and collaboration.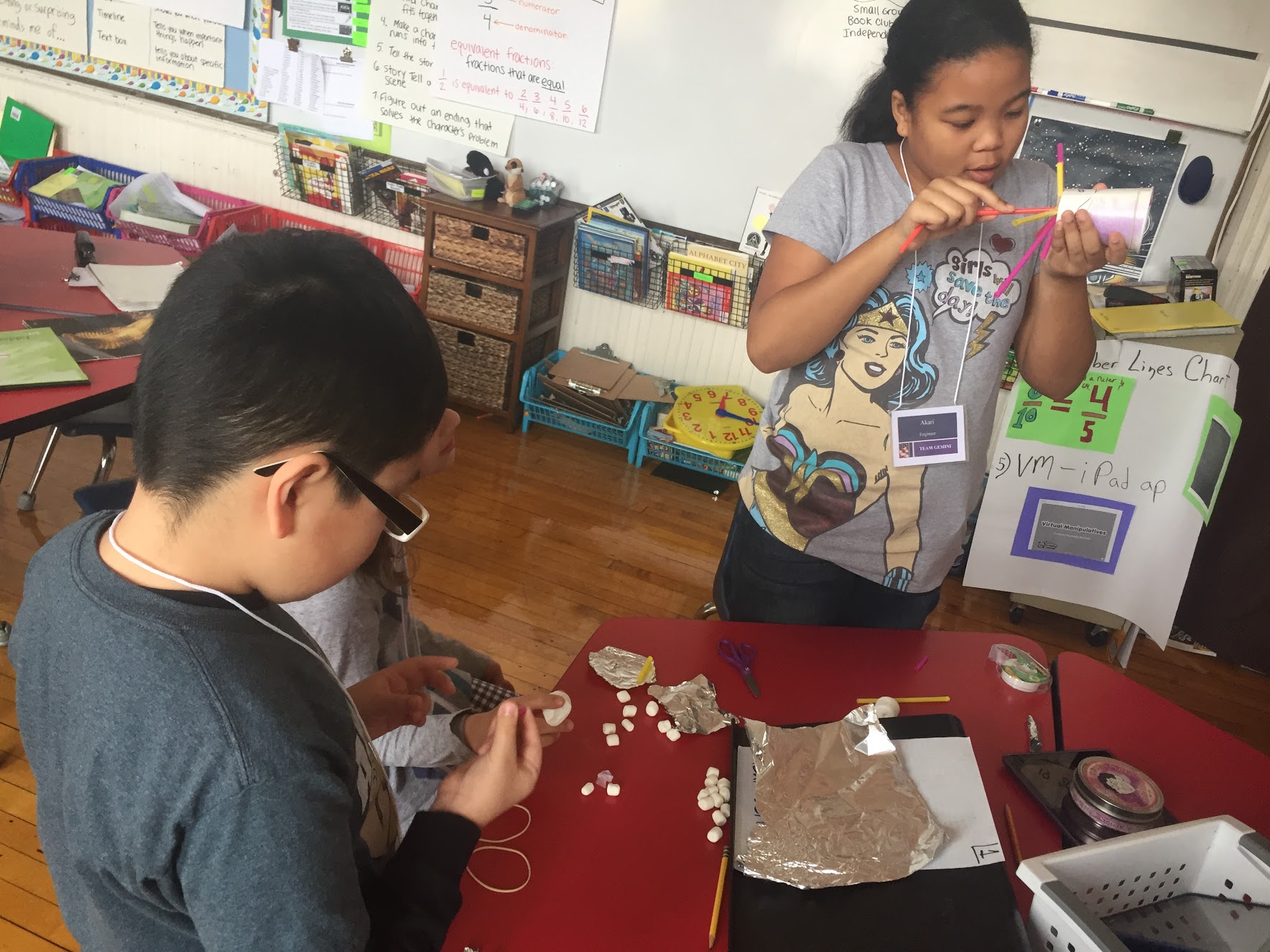 Students at Burley Elementry in Chicago design lunar landers as part of JPL's NGSS-aligned Touchdown lesson. Burley Elementary teachers worked with the EPDC at JPL to modify the lesson for their students. Image credit: NASA/JPL-Caltech
At the onset of the project, students were tasked to develop a spacecraft capable of landing astronauts safely on a distant planet. Each day concluded with students testing their designs and documenting the changes they made. Again, student groups captured their revisions digitally, praising others and crediting them for ideas that influenced their work. As a result, student groups learned the value of collaboration over competition.
From the educator's point of view, the evolution of students' designs also provided a narrative for assessment: Each student group had three designs constructed along with written and recorded diaries discussing the changes they made. The rubric included analysis of their own trials as well as the peer designs that shaped their future trials, creating in-depth student storyboards.
In both of these cases, the educators' creativity, expertise and interest in creating novel opportunities for professional development and student engagement helped elevate the quality of the EPDC's offerings and expand the scope of JPL's STEM lessons. I've since been able to incorporate the ideas and strategies created during these projects into other workshops and lessons, sharing them with an even wider group of educators and classrooms. While not every collaboration between the EPDC and educators need be multi-day endeavors, even when done on a small scale, they can have a big impact.
Looking to bring NASA science into your classroom or need help customizing lessons for your students and staff? The EPDC at JPL serves educators in the greater Los Angeles area. Contact JPL education specialist Brandon Rodriguez at brandon.rodriguez@jpl.nasa.gov. Note: Due to the popularity of EPDC programs, JPL may not be able to fulfill all requests.
Outside the Southern California area? The EPDC operates in all 50 states. To find an EPDC specialist near you, see https://www.txstate-epdc.net/nasa-centers/.
The Educator Professional Development Collaborative (EPDC) is managed by Texas State University as part of the NASA Office of Education. A free service for K-12 educators nationwide, the EPDC connects educators with the classroom tools and resources they need to foster students' passion for careers in STEM and produce the next generation of scientists and engineers.
TAGS: Professional Development, Workshops, Teachers, Educators, STEM, Science, Engineering, EPDC
---
Forty community college students from across California spent a week designing Mars rover missions at NASA's Jet Propulsion Laboratory as part of the Spring 2017 session of NASA's Community College Aerospace Scholars, or NCAS, program.
Selected from nearly 1,000 applicants, the students toured JPL in Pasadena, California, met with scientists and engineers, and attended career and resume workshops. But the main event was a series of competitions that pitted four teams' rovers against one another on a simulated Mars terrain.
Led by JPL mentors, the teams had just a few days to build and refine autonomous rovers from Lego Mindstorms EV3 kits. After competing in two challenges, the teams presented their rover mission concepts to a panel of judges and a winning team was announced.
To learn more about the program and apply, visit: https://nas.okstate.edu/ncas/
Explore more NASA/JPL internship opportunities at: https://www.jpl.nasa.gov/edu/intern
The laboratory's STEM internship and fellowship programs are managed by the JPL Education Office. Extending the NASA Office of Education's reach, JPL Education seeks to create the next generation of scientists, engineers, technologists and space explorers by supporting educators and bringing the excitement of NASA missions and science to learners of all ages.
---
A "teachable moment" turned into a science fair win for an eighth-grader in Ontario, Canada, who based his project on a classroom activity from NASA's Jet Propulsion Laboratory.
Joshua Dove, 13, says he originally planned to explore the effects of storage temperature on golf balls until his grandfather, a space enthusiast and environmental consultant, saw a Caltech news story he had to share.
The story was about how an instrument called LIGO had detected gravitational waves for the first time, confirming a key piece of Einstein's 1915 general theory of relativity. A web search led Dove to the JPL Education website and its "Dropping In With Gravitational Waves" activity, where he learned how to model the gravitational wave discovery using gelatin, a laser and marbles.
"Scientific models allow scientists, and students, to understand and explain phenomena that might be difficult or impossible to see," said JPL Education Specialist Lyle Tavernier, who created the lesson for the website's Teachable Moments blog. The blog, from the JPL Education Office, helps educators turn NASA- and JPL-related mission and science news into activities for the classroom. "While the LIGO detectors are located thousands of miles apart, this activity helps students understand gravitational waves using a model that fits on their desk!"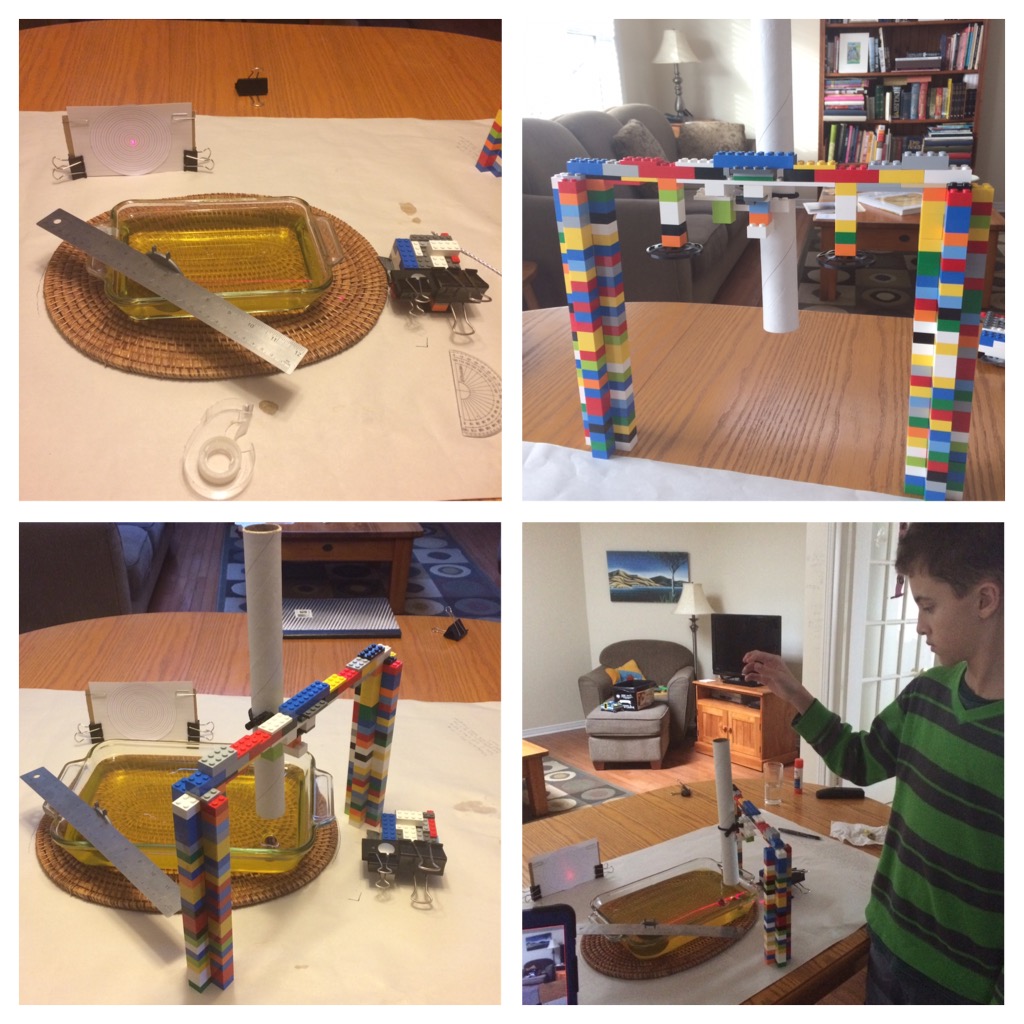 Dove made modifications to the JPL Education activity for his science fair project, including using Legos to create a device that could drop a marble from different heights. He says figuring out how he needed to alter the design was his favorite part of the project.
With the help of his mom and grandfather plus a few tips from Tavernier, Dove was able to modify the lesson for his science fair project, which looked at whether the model would show consistent and predictable variations in the movement of the laser (gravitational waveform) depending on the energy released during a marble (black hole) collision.
"There was a trend that suggested the greater the weight of the impacting object, the larger the amplitude of the waveform," said Dove, noting in his abstract that there were some inconsistencies in the results that would require more testing. He plans to do that this summer.
After presenting at his school's science fair, Dove was asked by his teacher to enter the regional competition, where he won an award from the Royal Astronomical Society of Canada.
Dove's mom says the win was a big confidence booster for her son, who hopes to eventually work at NASA or become an inventor. "I would like to invent things that would help people affected by a natural disaster," he said.
As far as advice for other science fair participants, Dove says, "Don't be upset if you don't get the results you are expecting, and don't be afraid to make modifications to your experiment." In fact, he says it was working through the modifications that turned out to be his favorite part of the project.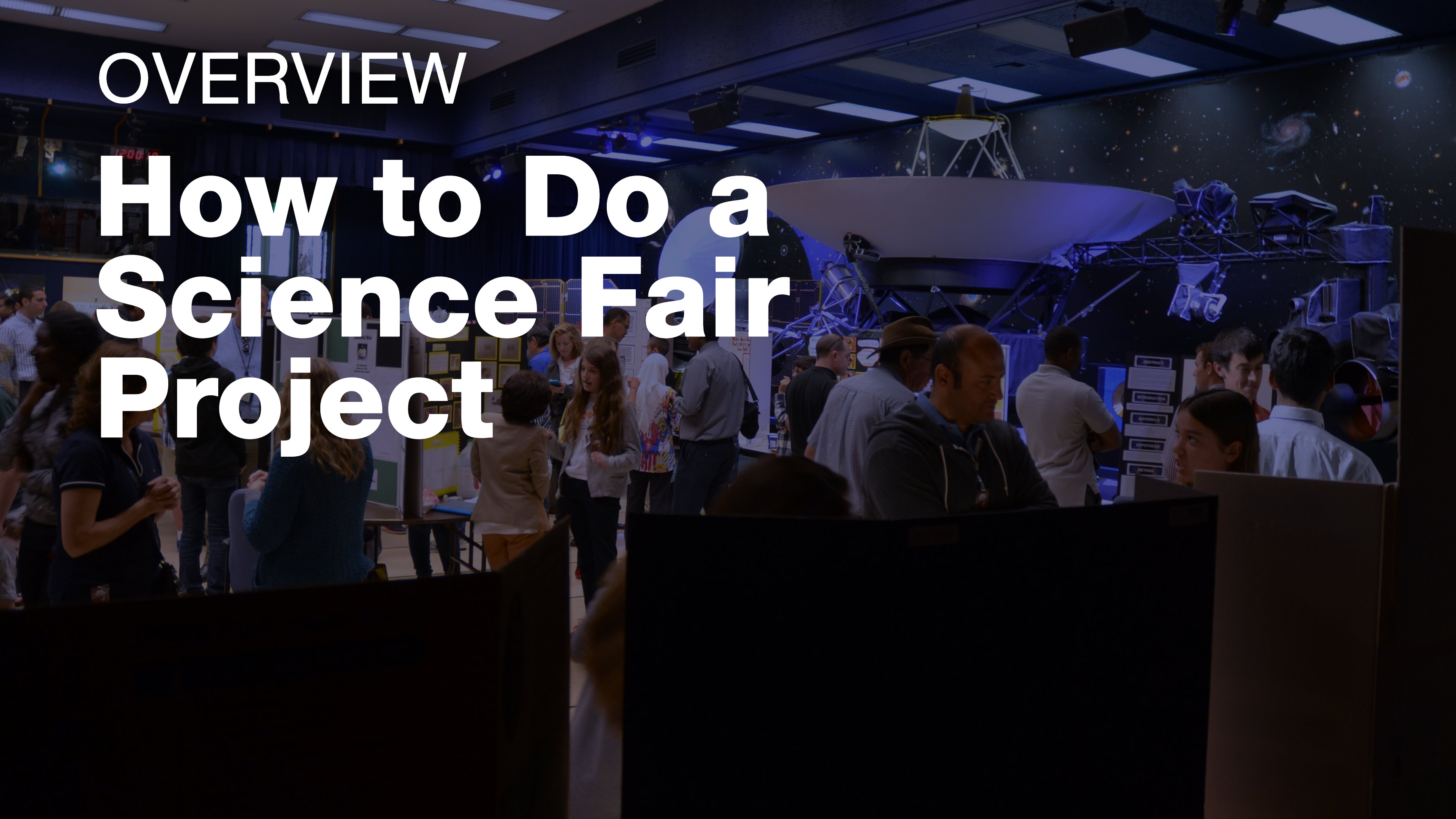 Need help with your science fair project?
Watch our how-to video series to get started!

Check it out
His other advice: "Have a good mentor." Or in Dove's case, three. In addition to support from his grandfather and mom, it was Dove's older sister, a science fair winner herself, who encouraged him to enter the regional competition. And thanks to the encouragement, Dove has no plans to stop now. "I would like to learn more about detecting other intergalactic phenomenon," he said.
For tips on creating a winning science fair project, watch JPL Education's "How to Do a Science Fair Project" video series.
Explore the gravitational waves activity and more standards-aligned STEM lessons for grades K-12 at: http://www.jpl.nasa.gov/edu/teach
› Get tips for turning NASA mission and science news into lessons for the classroom.
The laboratory's K-12 education initiatives are managed by the JPL Education Office. Extending the reach of NASA's Office of Education, JPL Education seeks to create the next generation of scientists, engineers, technologists and space explorers by supporting educators and bringing the excitement of NASA missions and science to learners of all ages.
TAGS: Science Fair, Gravitational Waves, STEM, Science, K-12, Models
---
Two former interns of NASA's Jet Propulsion Laboratory are joining the agency's newest class of astronaut candidates. Jessica Watkins and Loral O'Hara were among 12 selected for the coveted spots announced by the agency on Wednesday.
Adrian Ponce, manager of JPL's Higher Education Programs, congratulated the new astronaut candidates and emphasized the value of the laboratory's internship programs, which bring in about 1,000 students each year to work with researchers in science, technology, engineering and mathematics (STEM) fields.
"JPL is recognized in the world as a place of innovation, and interns have the opportunity to operate alongside researchers, contribute to NASA missions and science, develop technology and participate in making new discoveries," said Ponce, adding that the internship experience serves as a pathway to careers at JPL, aerospace companies, tech giants – and now the NASA astronaut corps.
While there's no single formula for becoming an astronaut, experience at a NASA center certainly helps. In fact, many NASA scientists and engineers already working in their dream jobs landing rovers on Mars or discovering planets beyond our solar system, still aspire to become astronauts.
Watkins, who as a graduate student participated in several internships at JPL that had her analyzing near-Earth asteroids and planning ground operations for the Mars Curiosity rover, says that becoming an astronaut was a childhood dream that just "never went away." In a video interview during her internship with the Maximizing Student Potential, or MSP, program in 2014 she talked about how she saw her experiences at JPL as a key step to fulfilling her goal.
"When you walk away from having an internship at JPL, I think you just have a broader perspective on what's possible and what's feasible," said Watkins, who in 2016 participated in another program from JPL's Education Office, an intensive, one-week mission formulation program called Planetary Science Summer Seminar. "I think you set a new standard for yourself just by being around people who have set the standard really high for themselves. You learn to appreciate the possibilities and the things that you really are capable of achieving."
› Explore JPL's internships programs and apply
› Learn more about Watkins and O'Hara and meet the rest of NASA's new class of astronaut candidates
---
This feature was originally published on April 25, 2016.

---
If you weren't able to snag a ticket to "Explore JPL" this summer, there are still plenty of ways to experience the wonder of space exploration with NASA and the Jet Propulsion Laboratory. Consider these alternatives, which feature some of the same great people, science and engineering as our Explore JPL event.
Tours

Tour the clean room, where engineers have built some of NASA's most advanced spacecraft, including the Mars Curiosity rover and the Juno spacecraft now at Jupiter. Get a look at the command center for active missions. And see a collection of spacecraft models, moon samples, and other science and mission artifacts in our Visitor Center. JPL offers tours free of charge for individuals and groups. Reserve your spot on the JPL Tours website.
Lecture Series

Hear about JPL's latest scientific discoveries, missions, and technology form the scientists, engineers and technologists who are making them a reality. JPL hosts free talks twice per month, on consecutive Thursdays and Fridays at the laboratory and Pasadena City College, respectively. The Thursday talks are also broadcast live and recorded on Ustream. See a calendar of upcoming lectures and learn more, here.
---
Museum Alliance Events

NASA's Museum Alliance is a partnership of more than 700 museums, planetariums, science centers, nature centers and youth-serving organizations around the world that receive resources and professional development from NASA – and in turn share those resources with their own audiences, through exhibitions and programming. Visit the Museum Alliance website to see a calendar of NASA space exploration and science events near you.
---
Night Sky Network Events
See the stars and explore the wonders of the night sky. The Night Sky Network brings the science, technology and inspiration of NASA missions to the general public through astronomy clubs and events across the country. Find a list of upcoming events, including star parties, telescope workshops and educational talks, on the Night Sky Network website.
---
Solar System Ambassadors Events

JPL's Solar System Ambassadors program works with dedicated volunteers throughout the country to share the excitement of the laboratory's space exploration missions and scientific discoveries with local communities. See a calendar of upcoming presentations and outreach events on the Solar System Ambassadors website.
---
Edu Events
Discover upcoming educational events, professional development workshops, team competitions, internship openings and other events for students, teachers and parents on our events page.

---
Connect with JPL Online

You can join the conversation with JPL and get updates on the latest happenings without even leaving the house. There are a number of ways to connect with JPL through social media and online.
TAGS: Ticket to Explore JPL, Explore JPL, Events, Tours