---
In the News
A spacecraft designed to study seismic activity on Mars, or "marsquakes," is scheduled to lift off on a nearly seven-month journey to the Red Planet on May 5, 2018.
NASA's InSight Mars lander is designed to get the first in-depth look at the "heart" of Mars: its crust, mantle and core. In other words, it will be the Red Planet's first thorough checkup since it formed 4.5 billion years ago. The launch, from Vandenberg Air Force Base in Central California, also marks a first: It will be the first time a spacecraft bound for another planet lifts off from the West Coast. It's a great opportunity to get students excited about the science and math used to launch rockets and explore other planets.
How It Works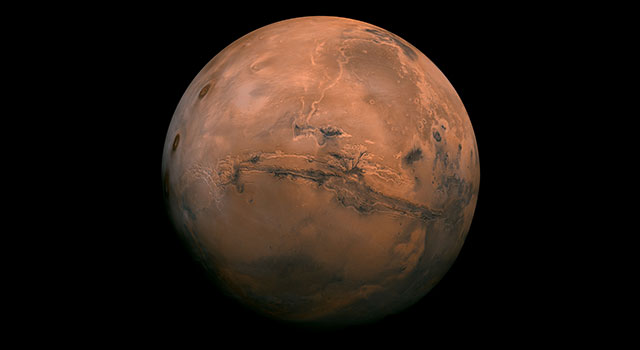 Mars Lessons
Explore our collection of standards-aligned, STEM lessons all about Mars and missions to the Red Planet.
NASA usually launches interplanetary spacecraft from the East Coast, at Cape Canaveral in Florida, to provide them with a momentum boost from Earth's easterly rotation. It's similar to how running in the direction you are throwing a ball can provide a momentum boost to the ball. If a spacecraft is launched without that extra earthly boost, the difference must be made up by the rocket engine. Since InSight is a small, lightweight spacecraft, its rocket can easily accommodate getting it into orbit without the help of Earth's momentum.
Scheduled to launch no earlier than 4:05 a.m. PDT on May 5, InSight will travel aboard an Atlas V 401 launch vehicle on a southerly trajectory over the Pacific Ocean. (Here's how to watch the launch in person or online.) If the weather is bad or there are any mechanical delays, InSight can launch the next day. In fact, InSight can launch any day between May 5 and June 8, a time span known as a launch period, which has multiple launch opportunities during a two-hour launch window each day.
Regardless of the date when InSight launches, its landing on Mars is planned for November 26, 2018, around noon PST. Mission controllers can account for the difference in planetary location between the beginning of the launch window and the end by varying the amount of time InSight spends in what's called a parking orbit. A parking orbit is a temporary orbit that a spacecraft can enter before moving to its final orbit or trajectory. For InSight, the Atlas V 401 will boost the spacecraft into a parking orbit where it will coast for a while to get into proper position for an engine burn that will send it toward Mars. The parking orbit will last 59 to 66 minutes, depending on the date and time of the launch.
Why It's Important
Previous missions to Mars have investigated the history of the Red Planet's surface by examining features like canyons, volcanoes, rocks and soil. However, many important details about the planet's formation can only be found by studying the planet's interior, far below the surface. And to do that, you need specialized instruments and sensors like those found on InSight.
The InSight mission, designed to operate for one Mars year (approximately two Earth years), will use its suite of instruments to investigate the interior of Mars and uncover how a rocky body forms and becomes a planet. Scientists hope to learn the size of Mars' core, what it's made of and whether it's liquid or solid. InSight will also study the thickness and structure of Mars' crust, the structure and composition of the mantle and the temperature of the planet's interior. And a seismometer will determine how often Mars experiences tectonic activity, known as "marsquakes," and meteorite impacts.
Together, the instruments will measure Mars' vital signs: its "pulse" (seismology), "temperature" (heat flow), and "reflexes" (wobble). Here's how they work: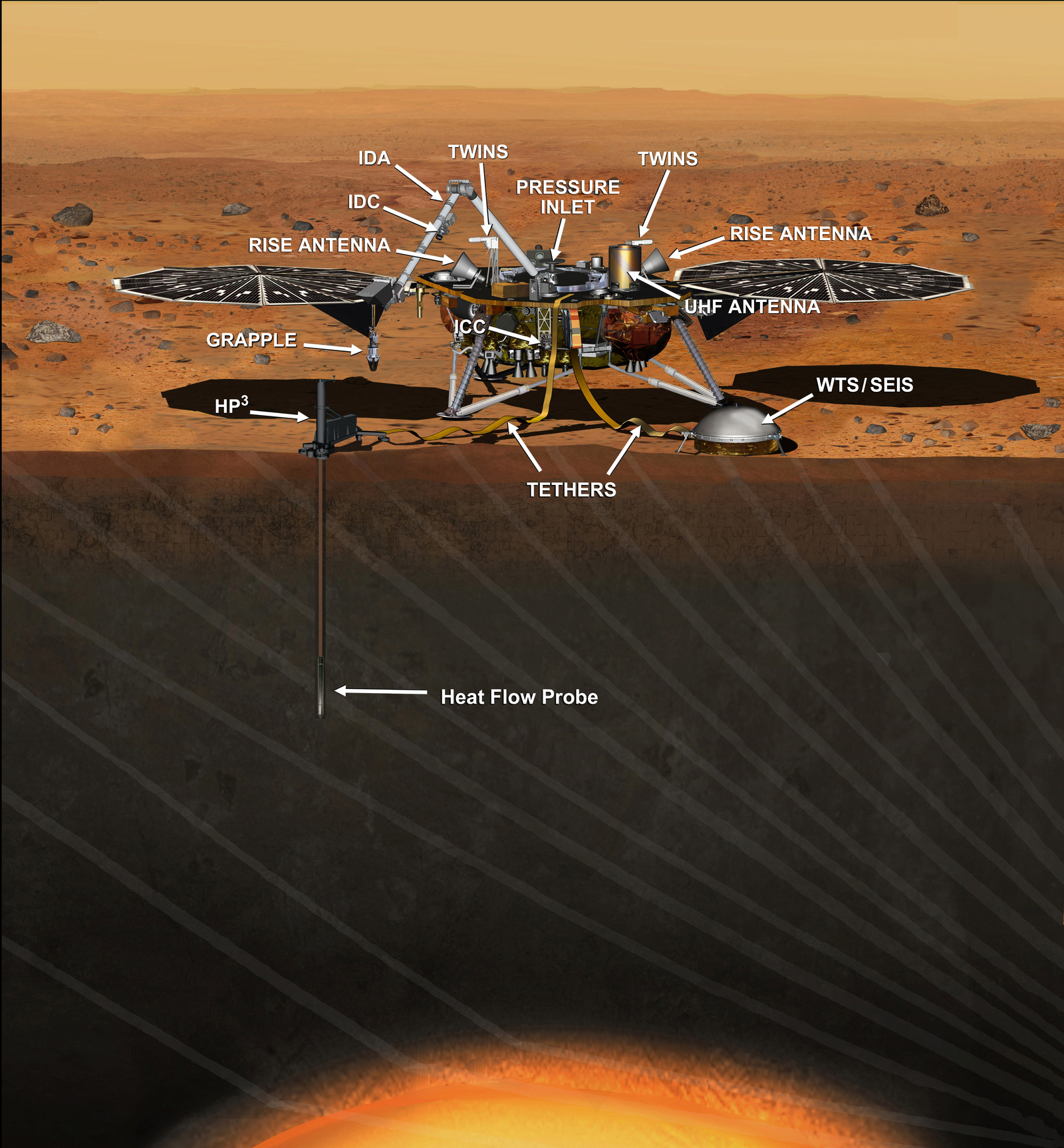 InSight's seismometer is called SEIS, or the Seismic Experiment for Interior Structure. By measuring seismic vibrations across Mars, it will provide a glimpse into the planet's internal activity. The volleyball-size instrument will sit on the Martian surface and wait patiently to sense the seismic waves from marsquakes and meteorite impacts. These measurements can tell scientists about the arrangement of different materials inside Mars and how the rocky planets of the solar system first formed. The seismometer may even be able to tell us if there's liquid water or rising columns of hot magma from active volcanoes underneath the Martian surface.
The Heat Flow and Physical Properties Probe, HP3 for short, burrows down almost 16 feet (five meters) into Mars' surface. That's deeper than any previous spacecraft arms, scoops, drills or probes have gone before. Like studying the heat leaving a car engine, HP3 will measure the heat coming from Mars' interior to reveal how much heat is flowing out and what the source of the heat is. This will help scientists determine whether Mars formed from the same material as Earth and the Moon, and will give them a sneak peek into how the planet evolved.
InSight's Rotation and Interior Structure Experiment, or RISE, instrument tracks tiny variations in the location of the lander. Even though InSight is stationary on the planet, its position in space will wobble slightly with Mars itself, as the planet spins on its axis. Scientists can use what they learn about the Red Planet's wobble to determine the size of Mars' iron-rich core, whether the core is liquid, and which other elements, besides iron, may be present.
When InSight lifts off, along for the ride in the rocket will be two briefcase-size satellites, or CubeSats, known as MarCO, or Mars Cube One. They will take their own path to Mars behind InSight, arriving in time for landing. If all goes as planned, as InSight enters the Martian atmosphere, MarCO will relay data to Earth about entry, descent and landing operations, potentially faster than ever before. InSight will also transmit data to Earth the way previous Mars spacecraft have, by using NASA's Mars Reconnaissance Orbiter as a relay. MarCO will be the first test of CubeSat technology at another planet, and if successful, it could provide a new way to communicate with spacecraft in the future, providing news of a safe landing – or any potential problems – sooner.
Thanks to the Mars rovers, landers and orbiters that have come before, scientists know that Mars has low levels of geological activity – but a lander like InSight can reveal what might be lurking below the surface. And InSight will give us a chance to discover more not just about the history of Mars, but also of our own planet's formation.
Teach It
When launching to another planet, we want to take the most efficient route, using the least amount of rocket fuel possible. To take this path, we must launch during a specific window of time, called a launch window. Use this lesson in advanced algebra to estimate the launch window for the InSight lander and future Mars missions.
SEIS will record the times that marsquake surface waves arrive at the lander. Try your hand, just like NASA scientists, using these times, a little bit of algebra and the mathematical constant π to determine the timing and location of a marsquake!
Take students on a journey to Mars with this set of 19 standards-aligned STEM lessons that can be modified to fit various learning environments, including out-of-school time.
Build, test and launch your very own air-powered rocket to celebrate the first West Coast interplanetary spacecraft launch!
Explore More
Try these related resources for students from NASA's Space Place:
TAGS: InSight, Lessons, K-12, Activities, Teaching, STEM, Mars
---
In the News
This month marks the 60th anniversary of the launch of America's first satellite, Explorer 1. The small, pencil-shaped satellite did more than launch the U.S. into the Space Age. With its collection of instruments, or scientific tools, it turned space into not just a new frontier, but also a place of boundless scientific exploration that could eventually unveil secrets of new worlds – as well as the mysteries of our own planet.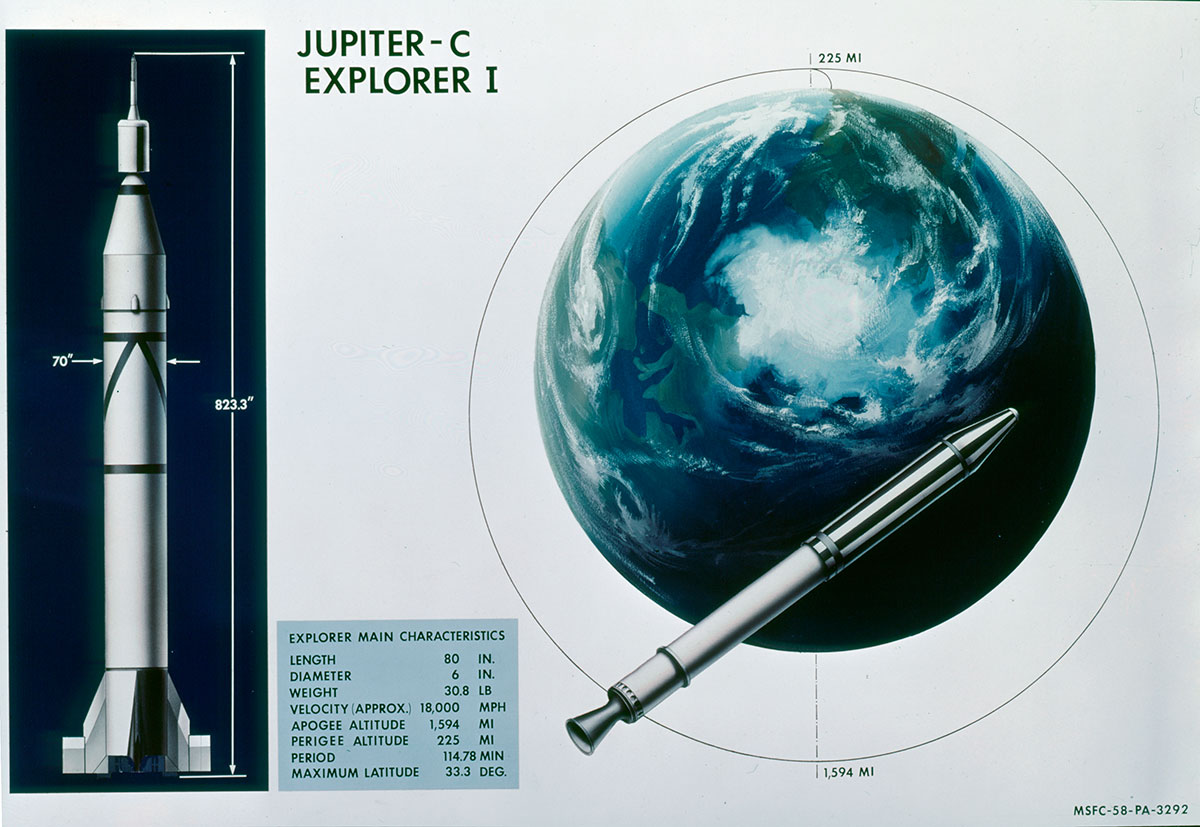 How They Did It
At the height of competition for access to space, the U.S. and the Soviet Union were both building satellites that would ride atop rockets in a quest to orbit Earth. The Soviets launched Sputnik 1 on October 4, 1957. Shortly thereafter, on January 31, 1958, the U.S. launched Explorer 1, the satellite that would begin a new age of scientific space exploration.
Using rockets to do science from orbit was a brand-new option in the late 1950s. Before this time, rockets had only been used for military operations and atmospheric research. Still, rockets of that era weren't very reliable and none had been powerful enough to place an object into Earth orbit.
Rocket Activities
Explore our collection of standards-aligned lessons for grades K-9.
In order to lift Explorer 1 to its destination in Earth orbit, an existing U.S. Army rocket, the Jupiter C, was fitted with a fourth stage, provided by the Jet Propulsion Laboratory in Pasadena, California. For this stage, a rocket motor was integrated into the satellite itself. The new, four-stage rocket was called "Juno 1."
Prior to these first orbiting observatories, everything we knew about space and Earth came from Earth-based observation platforms – sensors and telescopes – and a few atmospheric sounding rockets. With the success of Explorer 1 and the subsequent development of more powerful rockets, we have been able to send satellites beyond Earth orbit to explore planets, moons, asteroids and even our Sun. With a space-based view of Earth, we are able to gain a global perspective and acquire a wide variety and amount of data at a rapid pace.
Why It's Important
The primary science instrument on Explorer 1 was a cosmic ray detector designed to measure the radiation environment in Earth orbit – in part, to understand what hazards future spacecraft (or space-faring humans) might face. Once in space, this experiment, provided by James Van Allen of the University of Iowa, revealed a much lower cosmic ray count than expected. Van Allen theorized that the instrument might have been saturated by very strong radiation from a belt of charged particles trapped in space by Earth's magnetic field. The existence of the radiation belts was confirmed over the next few months by Explorer 3, Pioneer 3 and Explorer 4. The belts became known as the Van Allen radiation belts in honor of their discoverer.
Although we discovered and learned a bit about the Van Allen belts with the Explorer missions, they remain a source of scientific interest. The radiation belts are two (or more) donut-shaped regions encircling Earth, where high-energy particles, mostly electrons and ions, are trapped by Earth's magnetic field. The belts shrink and swell in size in response to incoming radiation from the Sun. They protect Earth from incoming high-energy particles, but this trapped radiation can affect the performance and reliability of our technologies, such as cellphone communication, and pose a threat to astronauts and spacecraft. It's not safe to spend a lot of time inside the Van Allen radiation belts.
Most spacecraft are not designed to withstand high levels of particle radiation and wouldn't last a day in the Van Allen belts. As a result, most spacecraft travel quickly through the belts toward their destinations, and non-essential instruments are turned off for protection during this brief time.
To conquer the challenge of extreme radiation in the belts while continuing the science begun by Explorer 1, NASA launched a pair of radiation-shielded satellites, the Van Allen Probes, in 2012. (The rocket that carried the Van Allen Probes into space was more than twice as tall as the rocket that carried Explorer 1 to orbit!)
The Van Allen Probes carry identical instruments and orbit Earth, following one another in highly elliptical, nearly identical orbits. These orbits bring the probes as close as about 300 miles (500 kilometers) above Earth's surface, and take them as far out as about 19,420 miles (31,250 kilometers), traveling through diverse areas of the belts. By comparing observations from both spacecraft, scientists can distinguish between events that occur simultaneously throughout the belts, those that happen at only a single point in space, and those that move from one point to another over time.
The Van Allen Probes carry on the work begun by Explorer 1 and, like all successful space missions, are providing answers as well as provoking more questions. NASA continues to explore Earth and space using spacecraft launched aboard a variety of rockets designed to place these observatories in just the right spots to return data that will answer and inspire questions for years to come.
Teach It
Explore More
TAGS: Explorer 1, STEM, NASA in the Classroom, Lessons, Activities, Teachable Moments
---
When Halloween rolls around at NASA's Jet Propulsion Laboratory, we really let our nerd flags fly. Pumpkin carving contests turn into serious engineering design challenges and costume inspiration runs the gamut from real science to science fiction.
This year, join us in all our geekdom with these spooky (and educational!) space activities from the Education Office at NASA/JPL:
---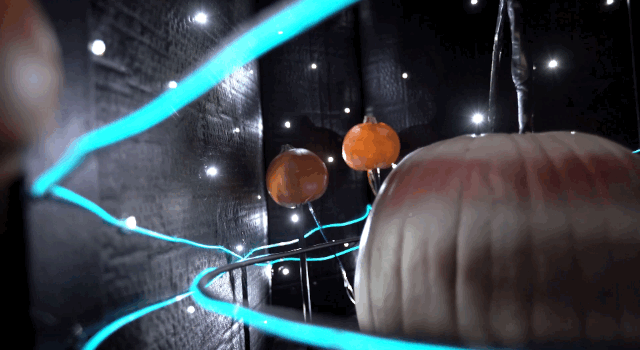 ---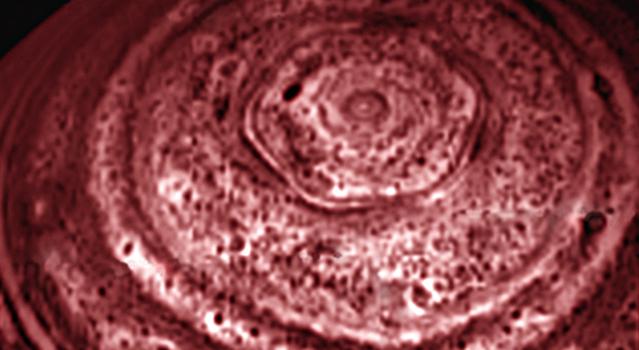 ---
---
In the News
This year marks the 40th anniversary of the launch of the world's farthest and longest-lived spacecraft, NASA's Voyager 1 and 2. Four decades ago, they embarked on an ambitious mission to explore the giant outer planets, the two outermost of which had never been visited. And since completing their flybys of Jupiter, Saturn, Uranus and Neptune in 1989, they have been journeying toward the farthest reaches of our solar system – where no spacecraft has been before. These two intrepid spacecraft continue to return data to NASA daily, offering a window into the mysterious outer realms of our solar system and beyond.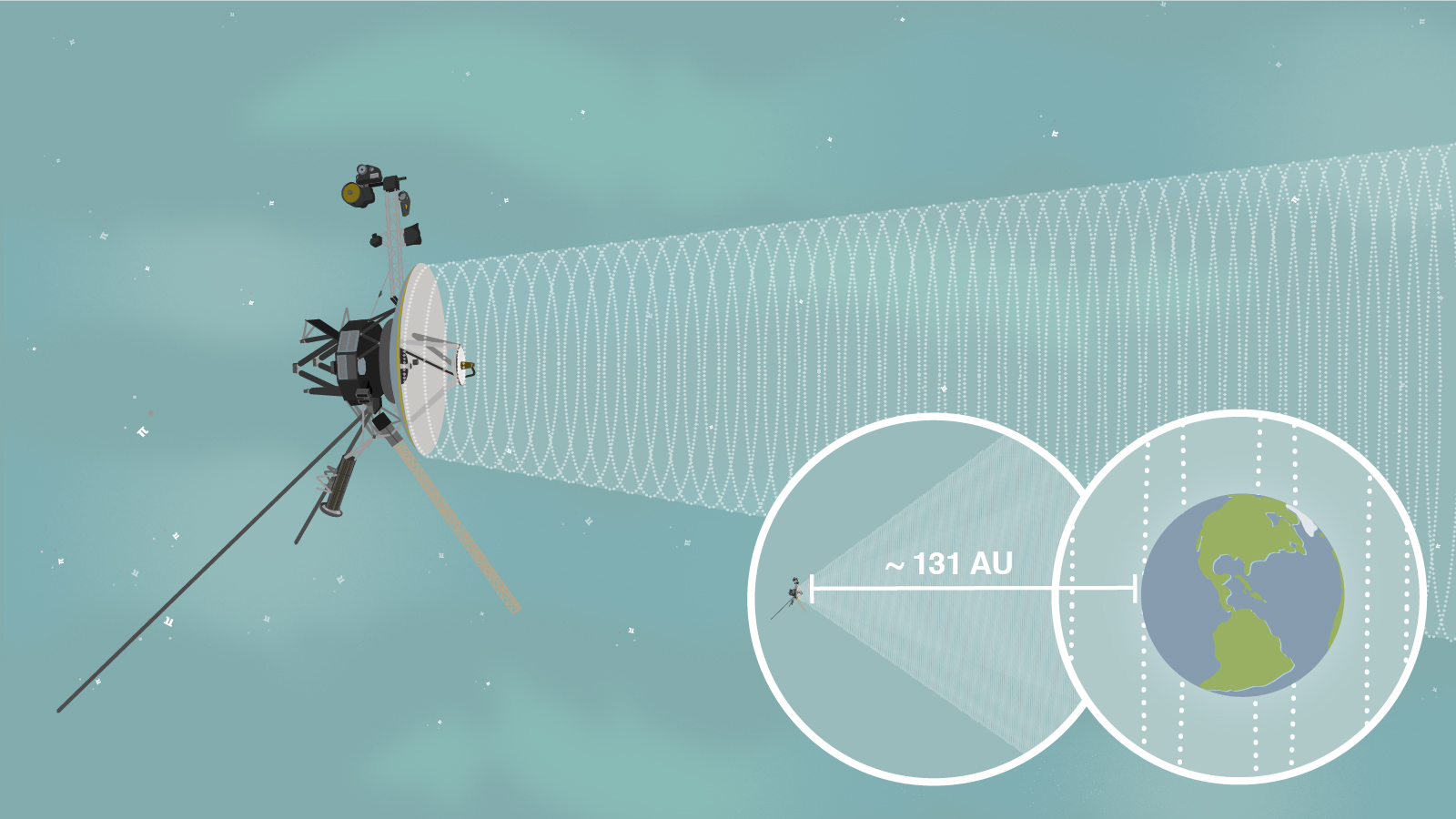 How They Did It
The Voyager spacecraft were launched during a very short window that took advantage of a unique alignment of the four giant outer planets – one that would not occur again for another 176 years. (Try this lesson in calculating launch windows to get an idea of how it was done.) Launching at this point in time enabled the spacecraft to fly by all four planets in a single journey, returning never-before-seen, close-up images and scientific data from Jupiter, Saturn, Uranus and Neptune that greatly contributed to our current understanding of these planets and the solar system.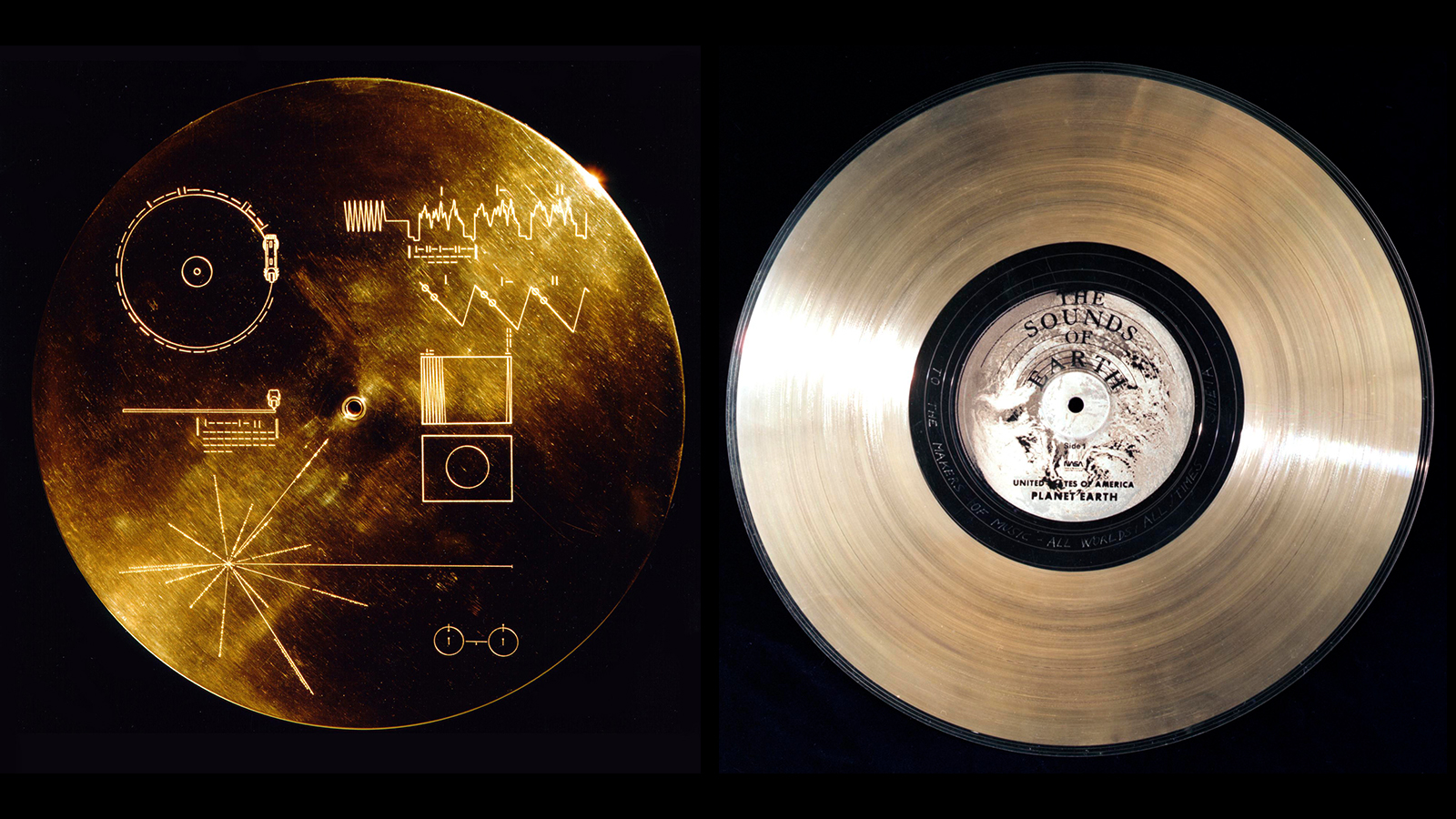 Mission planners knew Voyager would be a historic mission to parts of the solar system never visited by a human-made object. To commemorate the journey, NASA endowed each spacecraft with a time capsule of sorts called the Golden Record intended to communicate the story of our world to extraterrestrials. Both Voyagers carry the 12-inch, gold-plated copper phonograph record containing sounds and images selected to portray the diversity of life and culture on Earth. Find out more about the Golden Record on the
Voyager website
. Credit: NASA/JPL-Caltech
Why It's Important
These images of Jupiter, Saturn, Uranus and Neptune (clockwise from top) were taken by Voyager 1 and 2 as the spacecraft journeyed through the solar system. See a gallery of images that Voyager took on the Voyager website. Credit: NASA/JPL-Caltech
In addition to shaping our understanding of the outer planets, the Voyager spacecraft are helping us learn more about the space beyond the planets – the outer region of our solar system. After completing their "grand tour" of the outer planets, the Voyagers continued on an extended mission to the outer solar system. They are now more than 10 billion miles from Earth, exploring the boundary region between our planetary system and what's called interstellar space.
The beginning of interstellar space is where the constant flow of material from the Sun and its magnetic field stop influencing the surroundings. Most of the Sun's influence is contained within the heliosphere, a bubble created by the Sun and limited by forces in interstellar space. (Note that the heliosphere doesn't actually look like a sphere when it travels through space; it's more of a blunt sphere with a tail.) The outer edge of the heliosphere, before interstellar space, is a boundary region called the heliopause. The heliopause is the outermost boundary of the solar wind, a stream of electrically charged atoms, composed primarily of ionized hydrogen, that stream outward from the Sun. Our planetary system lies inside the bubble of the heliosphere, bordered by the heliopause and surrounded by interstellar space.
Any flat-bottom sink can provide a visual analogy of these solar system components. In this video, the water traveling radially away from where the faucet stream impacts the sink represents the solar wind. The termination shock is the point at which the speed of the solar wind (water) drops abruptly as it begins to be influenced by interstellar wind. The outer edge of the thick ring of water at the bottom of the sink represents the heliopause. Just like the water in the sink, the solar wind at the heliopause changes direction and flows back into the heliosphere. Credit: NASA/JPL-Caltech.
Though we've learned a lot about the heliopause thanks to the Voyager spacecraft, its thickness and variation are still key unanswered questions in space physics. As the Voyagers continue their journey, scientists hope to learn more about the location and properties of the heliopause.
From their unique vantage points – Voyager 1 in the northern hemisphere and Voyager 2 in the southern hemisphere – the spacecraft have already detected differences and asymmetries in the solar wind termination shock, where the wind abruptly slows as it approaches the heliopause. For example, Voyager 2 crossed the termination shock at a distance of about 83.7 AU in the southern hemisphere. (One AU, or astronomical unit, is equal to 150 kilometers (93 million miles), the distance between Earth and the Sun.) That's about 10 AU closer to the Sun than where Voyager 1 crossed the shock in the north. As shown in this diagram, Voyager 1 traveled through the compressed "nose" of the termination shock and Voyager 2 is expected to travel through the flank of the termination shock.
With four remaining powered instruments on Voyager 1 and five remaining powered instruments on Voyager 2, the two spacecraft continue to collect science data comparing their two distinct locations at the far reaches of the solar system.
In August 2012, Voyager 1 detected a dramatic increase in galactic cosmic rays (as shown in this animated chart). The increase, which has continued to the current peak, was associated with the spacecraft's crossing into interstellar space. Credit: NASA/JPL-Caltech
Since it launched from Earth in 1977, Voyager 1 has been using an instrument to measure high-energy, dangerous particles traveling through space called galactic cosmic rays. While studying the interaction between the bubble of the heliosphere and interstellar space, Voyager 1 revealed that the heliosphere is functioning as a radiation shield, protecting our planetary system from most of these galactic cosmic rays. So in August 2012, when Voyager 1 detected a dramatic increase in the rays, which has continued to the current peak, it was associated with the spacecraft's crossing into interstellar space.
Meanwhile, Voyager 2 ­­– which is still in the heliosheath, the outermost layer of the heliosphere between the shock and the heliopause ­– is using its solar wind instrument to measure the directional change of solar wind particles there. Within the next few years, Voyager 2 is also expected to cross into interstellar space, providing us with even more detailed data about this mysterious region.
In another 10 years, we expect one or both Voyagers to cruise outward into a more pristine region of interstellar space, returning data to inform our hypotheses about the concentration of galactic particles and the characteristics of interstellar wind.
Even with 40 years of space flight behind them, the Voyagers are expected to continue returning valuable data until about 2025. Communications will be maintained until the spacecraft's nuclear power sources can no longer supply enough electrical energy to power critical functions. Until then, there's still much to learn about the boundary of our heliosphere and what lies beyond in the space between the stars.
Teach It
Use these standards-aligned lessons and related activities to get students doing math and science with a real-world (and space!) connection.
Hear Here - Students use the mathematical constant pi and information about the current location of Voyager 1 to learn about the faint data-filled signal being returned to Earth.
Solar System Bead Activity – Students calculate and construct a scale model of solar system distances using beads and string.
Catching a Whisper from Space – Students kinesthetically model the mathematics of how NASA communicates with spacecraft.
Explore More
TAGS: Voyager, Farthest, Golden Record, STEM, Teachable Moments, Science, Engineering, Solar System, Interstellar Space, Heliopause, Heliosphere, Heliosheath, Termination Shock, Stars, Heliophysics
---
You may already know about the online lessons and activities available from the Education Office at NASA's Jet Propulsion Laboratory. (If not, check them out here.) But did you know that JPL and all NASA centers nationwide have an education specialist focused specifically on professional development for teachers – including how to use those online lessons in the classroom? It's part of a program called the Educator Professional Development Collaborative, or EPDC, a free service for any K-12 classroom educator in the country.
During the 2016-2017 school year, the EPDC at JPL participated in more than 120 school events focusing on teacher professional development, including implementing Next Generation Science Standards, helping schools initiate science fairs and community events, and assisting with student presentations. That number includes more than 5,000 teachers and students who worked with the EPDC on initiatives designed to get NASA science and engineering into the hands of future space explorers.
As the EPDC coordinator for JPL, I schedule and help shape these events for schools and teacher preparation programs in Southern California, coordinating and consulting with educators to help them bring standards-aligned NASA STEM content into the classroom. My work and the ways in which I support educators can take many shapes. Teachers often ask me to visit during regularly scheduled professional development or early dismissal days. These represent the most common events, wherein schools choose topics or themes to focus on and the time is spent practicing hands-on activities for students. This year, teachers and schools have come up with new and especially creative formats, scheduling onsite tours and workshops at JPL for their teaching staff, or even having NASA scientists dial in to their classrooms to talk with students.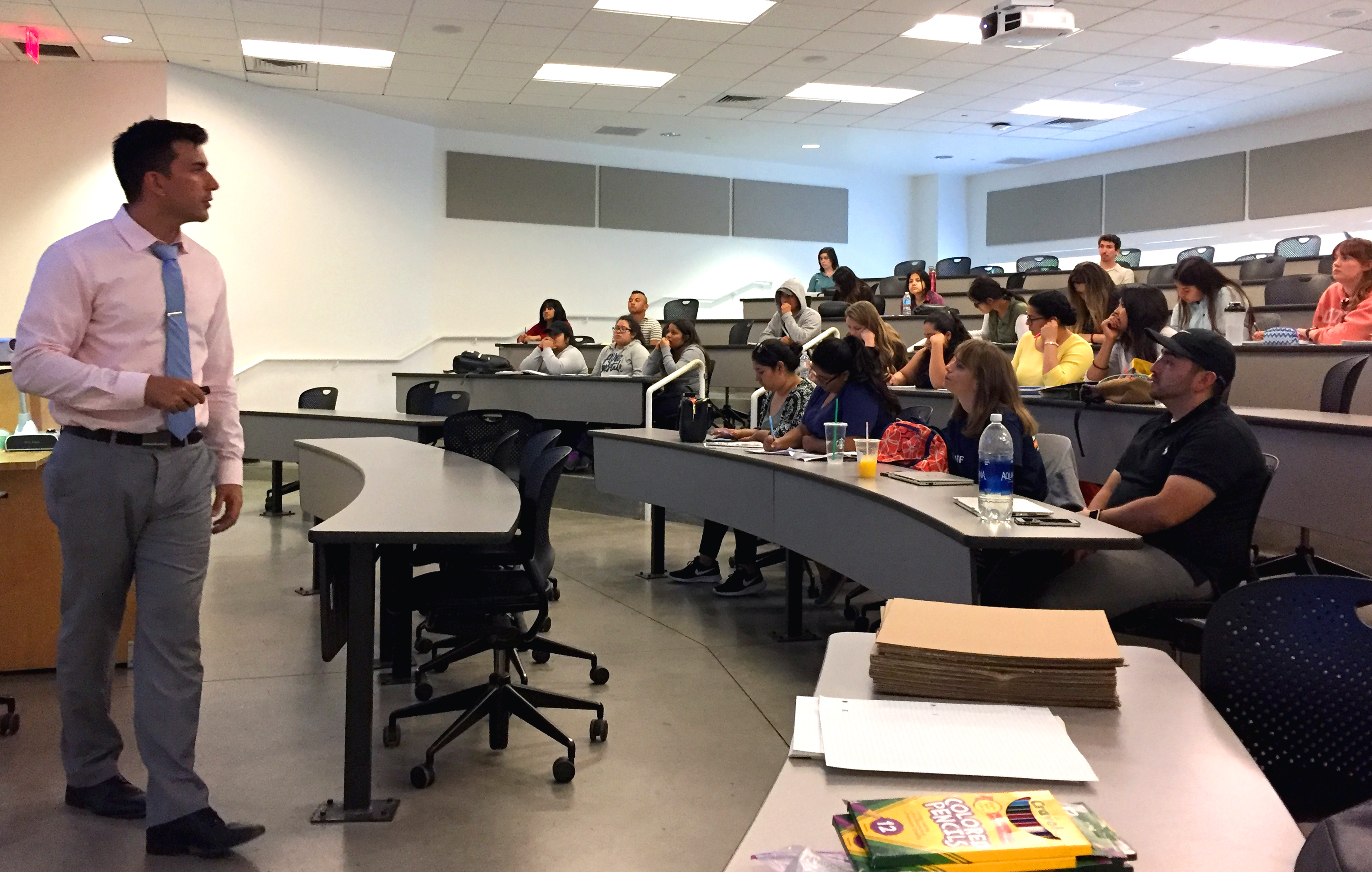 The EPDC helps educators bring NASA STEM content into the classroom through workshops, webinars and more. Image credit: NASA/JPL-Caltech
One school in particular took its program to another level with the help of the EPDC at JPL by building a grade-wide, multi-week mission to Mars. For their annual cross-curricular project, teachers at the San Fernando Institute for Applied Media in Los Angeles were hoping to create a more expansive offering that incorporated the Next Generation Science Standards, or NGSS. I met with teachers over several days to suggest activities and strategies that would meet their goal of getting students engaged in space science across numerous subject areas.
Students were tasked to explore the history of space exploration and the pioneers who led the charge. Using NASA lessons like those found on the JPL Education website, the students built conceptual models of Mars missions, including calculating the budget associated with such a trek. They then constructed robotic rovers capable of traversing a simulated Martian surface and the tools needed to interact with the local environment.
But what really set the program apart was its focus on collaboration. The school thought beyond the content of the lesson itself, making NASA badges for each student and having them refer to each other as "doctor." Students designed their own team name and logo. They also used Web-based apps to capture pictures and videos of their work during each class and posted them online, allowing groups to digitally follow the revisions and lessons learned by their classmates. As a year-end culminating event, students presented their work in front of their classmates, and I was fortunate to be in attendance to celebrate the hard work of the teachers and students.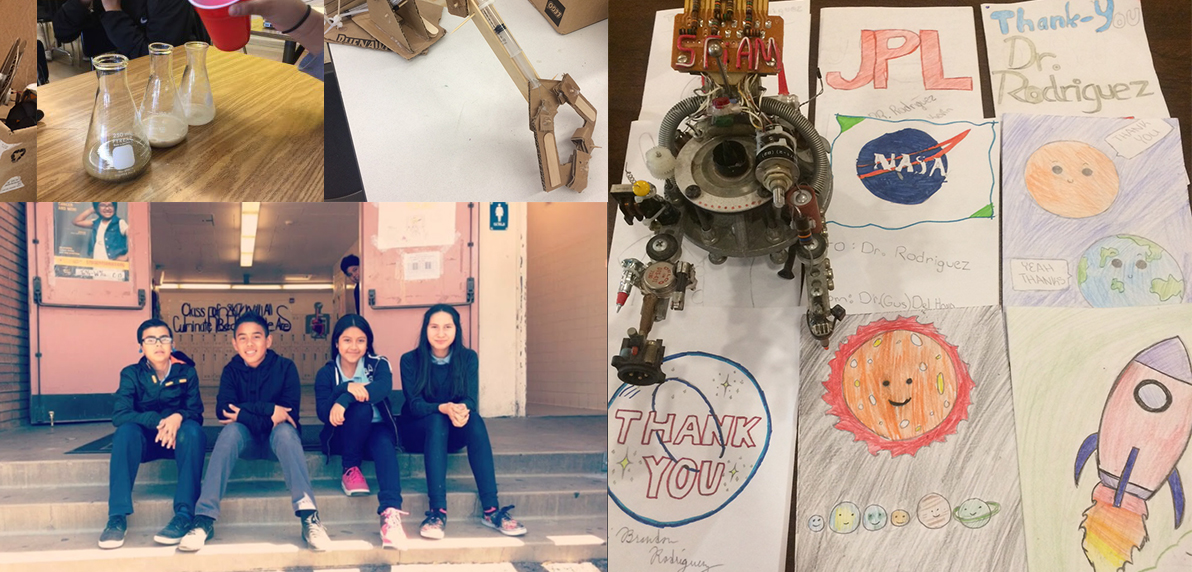 Working with the EPDC at JPL, educators at the San Fernando Institute for Applied Media in Los Angeles designed a multi-week project that had students create a mission to Mars. The project included testing samples of "Martian soil" for signs of microbial life (top left) and creating a hydraulic arm to interact with a simulated Mars surface (top center). Image credit: NASA/JPL-Caltech
In Chicago, Burley Elementary staff reached out to me via our distance learning program to revise an existing lesson for an elementary-level special education audience. Working together, the staff and I created a project using JPL's NGSS-aligned Touchdown lesson to demonstrate the value of the engineering design process, revision and collaboration.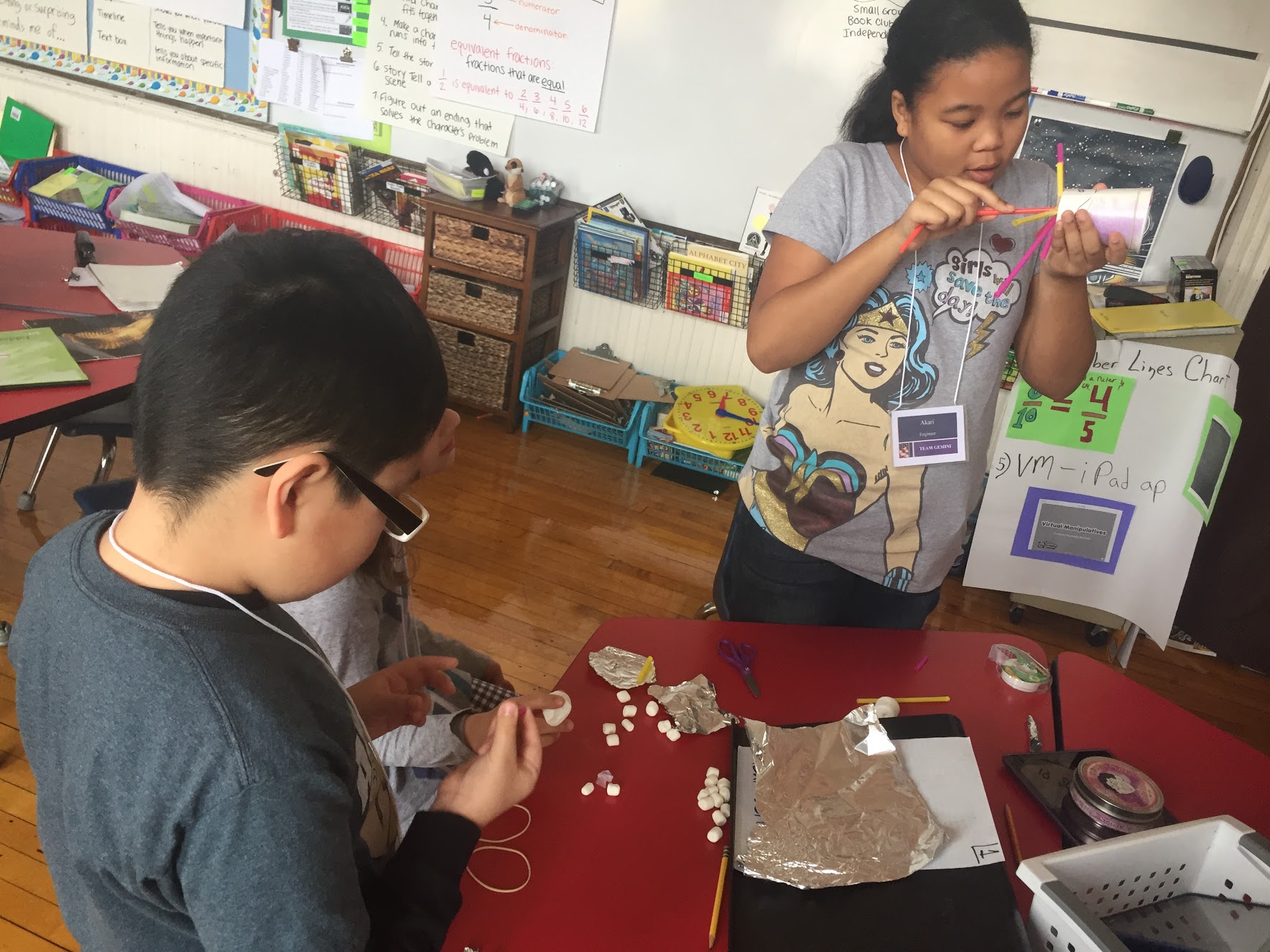 Students at Burley Elementry in Chicago design lunar landers as part of JPL's NGSS-aligned Touchdown lesson. Burley Elementary teachers worked with the EPDC at JPL to modify the lesson for their students. Image credit: NASA/JPL-Caltech
At the onset of the project, students were tasked to develop a spacecraft capable of landing astronauts safely on a distant planet. Each day concluded with students testing their designs and documenting the changes they made. Again, student groups captured their revisions digitally, praising others and crediting them for ideas that influenced their work. As a result, student groups learned the value of collaboration over competition.
From the educator's point of view, the evolution of students' designs also provided a narrative for assessment: Each student group had three designs constructed along with written and recorded diaries discussing the changes they made. The rubric included analysis of their own trials as well as the peer designs that shaped their future trials, creating in-depth student storyboards.
In both of these cases, the educators' creativity, expertise and interest in creating novel opportunities for professional development and student engagement helped elevate the quality of the EPDC's offerings and expand the scope of JPL's STEM lessons. I've since been able to incorporate the ideas and strategies created during these projects into other workshops and lessons, sharing them with an even wider group of educators and classrooms. While not every collaboration between the EPDC and educators need be multi-day endeavors, even when done on a small scale, they can have a big impact.
Looking to bring NASA science into your classroom or need help customizing lessons for your students and staff? The EPDC at JPL serves educators in the greater Los Angeles area. Contact JPL education specialist Brandon Rodriguez at brandon.rodriguez@jpl.nasa.gov. Note: Due to the popularity of EPDC programs, JPL may not be able to fulfill all requests.
Outside the Southern California area? The EPDC operates in all 50 states. To find an EPDC specialist near you, see https://www.txstate-epdc.net/nasa-centers/.
The Educator Professional Development Collaborative (EPDC) is managed by Texas State University as part of the NASA Office of Education. A free service for K-12 educators nationwide, the EPDC connects educators with the classroom tools and resources they need to foster students' passion for careers in STEM and produce the next generation of scientists and engineers.
TAGS: Professional Development, Workshops, Teachers, Educators, STEM, Science, Engineering, EPDC
---
Marco Dolci did not set out to become a NASA engineer. Instead, like many of Dolci's pursuits, the career path presented itself on his lifelong quest "to know" – that is, to answer any and every question that crosses his mind. As a boy, his never-ending stampede of questions became too much even for his ever-patient parents, so they presented him with a book, 1001 Questions and Answers on Planet Earth. But rather than satiate his quest for answers, it spurred him to seek more.
Today, Dolci still asks a multitude of questions, but the answers he finds through his own determination and curiosity, which have taken him from studies in linguistics to physics to aerospace engineering to robotics – and across the world, from his hometown of Lodi, Italy to NASA's Jet Propulsion Laboratory in Pasadena, California.
Dolci first came to the Laboratory in 2013 as part of the JPL Visiting Student Researchers Program, or JVSRP. Having just earned a master's in physics, Dolci was pursuing a second master's in aerospace engineering at the Polytechnic University of Milan when he entered and won a scholarship sponsored by the Italian Space Agency and the Italian Scientists and Scholars of North America Foundation. His prize: a paid internship at any North American laboratory. He says JPL was the obvious choice.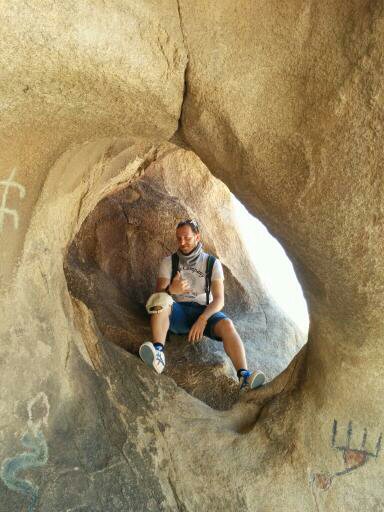 Dolci in California's Joshua Tree National Park. Photo courtesy: Marco Dolci
"I chose JPL because it's the best place to work on anything related to space," said Dolci, adding that he only learned later that the laboratory is located in California, a fact that made it all the more desirable. "I just wanted to come here."
Dolci spent two months working on concepts and proposals for missions designed to study black holes, protoplanetary discs, X-rays and cosmic rays. He became the lead author on a science paper about the latter, and the team was so impressed with his work that Dolci's internship was extended another 10 months.
After a year, however, Dolci's visa was up and so was his time in America and at JPL. But his next step was clear: He would find a way to come back. "I was really impressed by JPL, both for the people that I found here, who are open to learn and challenge themselves," said Dolci. "And the fact that it puts on the table resources that allow great projects."

So Dolci formulated a plan. First, he entered a PhD program in aerospace engineering at the Polytechnic University of Turin, which in Italy offered the chance to spend part of his studies abroad supported by his university. He also applied for the US Diversity Immigrant Visa program, sometimes called the "green card lottery." With only 50,000 people across the world randomly chosen for green cards each year from about 10 million qualified applicants, it was a long-shot – but luck was on Dolci's side.
In 2016, Dolci returned to JPL to do research for his PhD under the JVSRP program – but this time with a green card in hand.
For the last year, in concert with his PhD thesis, Dolci has been helping develop technology for a possible future NASA mission to bring samples from Mars back to Earth. In 2020, the agency will send a rover to the surface of Mars, where one of its goals will be to collect samples of Martian rocks and soil that could be returned to Earth in the future. Getting those samples to Earth would require a series of never-attempted feats, each with unique challenges.
Dolci is helping develop a device to transfer the sample from a container launched from Mars to a spacecraft that would carry the samples home. It would all need to happen remotely, in space, without the device jamming or exposing the samples to contaminants.
Having always approached problems from a theoretical perspective, Dolci says the chance to get hands-on with actual hardware has opened his eyes to new career possibilities.
"I think that you can really learn something when you put your hands on it," said Dolci. "Otherwise, yeah, you know the theory, but there's an ocean between theory and practice."
Recently, Dolci's manager encouraged him to apply for a job at JPL. He used the invitation as a chance to explore a career move – one that would take him beyond theory to start building devices capable of answering questions.
"I'm looking for a unity between science and space technology," said Dolci, who will start his new job in JPL's Robotic Vehicles and Manipulators group in November. "Robotics seems to me to be the best place in which these two interests find the common point to be able to provide a technological answer to scientific problems."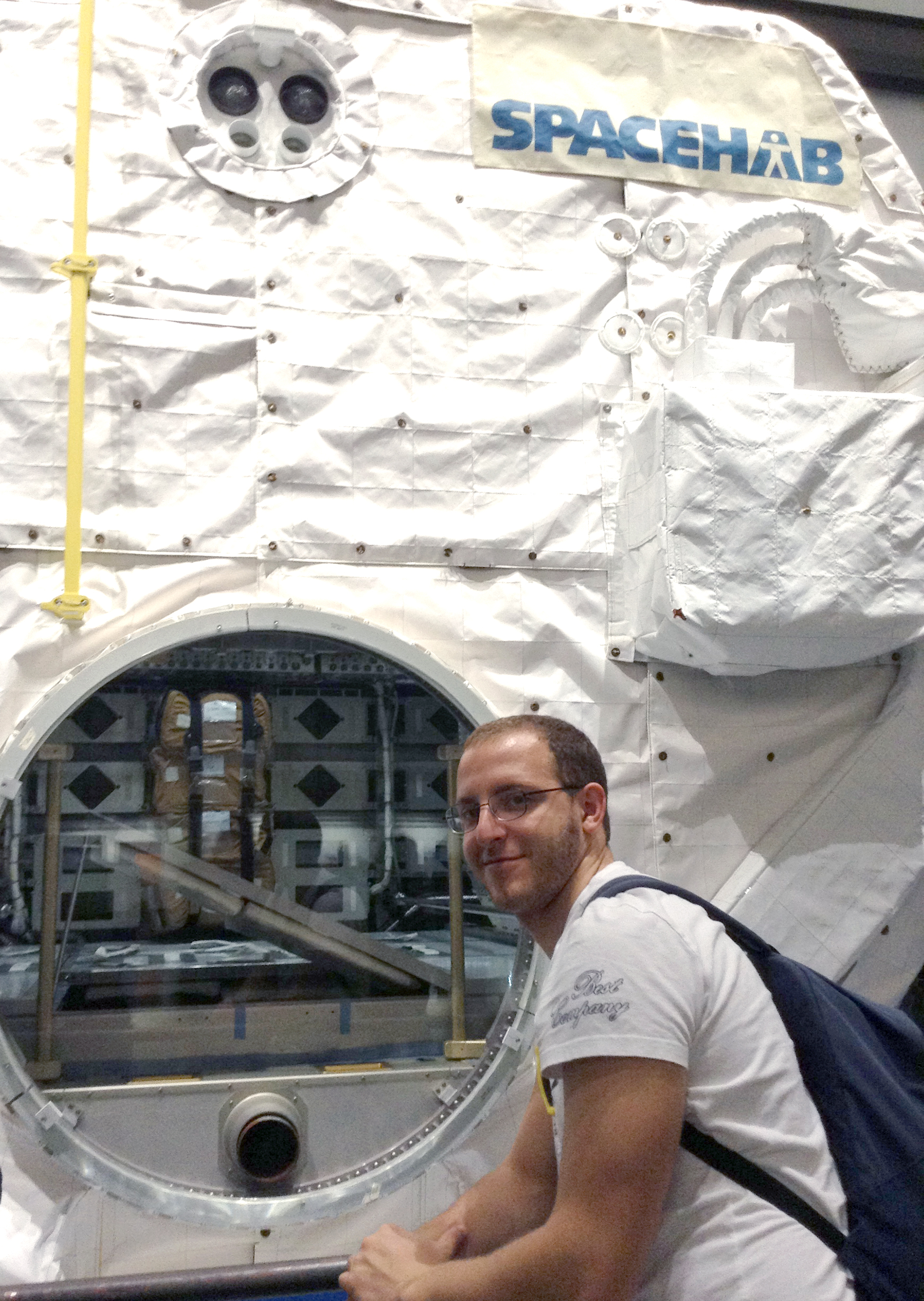 Dolci poses in front of an astronaut workstation called SPACEHAB on display at the California Science Center in Los Angeles. Photo courtesy: Marco Dolci
Dolci admits with a sheepish grin that he still has another big aspiration. In four years, once he becomes a US citizen, he plans to apply to be an astronaut. For now, though, he's focused on learning all he can, continuing to ask questions and finding new ways to seek answers.
"I consider myself really lucky to be in a place like JPL," said Dolci. "Working here is a possibility to keep moving up, to become more mature in terms of deciding who I am, what I want to do, where I want to contribute."
To others looking to follow his trajectory, Dolci says while luck helped push things along, it was the power of determination, his quest "to know" and a support network of family, friends and mentors that made his dreams a reality.
"I would have never made it to JPL without the support of someone who has bet on me," said Dolci. "Don't give up on desiring good things. Dare mighty things because we are made for great things."
Explore JPL internship programs and apply at: http://www.jpl.nasa.gov/edu/intern
The laboratory's STEM internship and fellowship programs are managed by the JPL Education Office. Extending the reach of NASA's Office of Education, JPL Education seeks to create the next generation of scientists, engineers, technologists and space explorers by supporting educators and bringing the excitement of NASA missions and science to learners of all ages.
TAGS: Intern, Internships, JVSRP, Mars 2020, Robotics, Science, Engineering, STEM
---
Forty community college students from across California spent a week designing Mars rover missions at NASA's Jet Propulsion Laboratory as part of the Spring 2017 session of NASA's Community College Aerospace Scholars, or NCAS, program.
Selected from nearly 1,000 applicants, the students toured JPL in Pasadena, California, met with scientists and engineers, and attended career and resume workshops. But the main event was a series of competitions that pitted four teams' rovers against one another on a simulated Mars terrain.
Led by JPL mentors, the teams had just a few days to build and refine autonomous rovers from Lego Mindstorms EV3 kits. After competing in two challenges, the teams presented their rover mission concepts to a panel of judges and a winning team was announced.
To learn more about the program and apply, visit: https://nas.okstate.edu/ncas/
Explore more NASA/JPL internship opportunities at: https://www.jpl.nasa.gov/edu/intern
The laboratory's STEM internship and fellowship programs are managed by the JPL Education Office. Extending the NASA Office of Education's reach, JPL Education seeks to create the next generation of scientists, engineers, technologists and space explorers by supporting educators and bringing the excitement of NASA missions and science to learners of all ages.
---
A "teachable moment" turned into a science fair win for an eighth-grader in Ontario, Canada, who based his project on a classroom activity from NASA's Jet Propulsion Laboratory.
Joshua Dove, 13, says he originally planned to explore the effects of storage temperature on golf balls until his grandfather, a space enthusiast and environmental consultant, saw a Caltech news story he had to share.
The story was about how an instrument called LIGO had detected gravitational waves for the first time, confirming a key piece of Einstein's 1915 general theory of relativity. A web search led Dove to the JPL Education website and its "Dropping In With Gravitational Waves" activity, where he learned how to model the gravitational wave discovery using gelatin, a laser and marbles.
"Scientific models allow scientists, and students, to understand and explain phenomena that might be difficult or impossible to see," said JPL Education Specialist Lyle Tavernier, who created the lesson for the website's Teachable Moments blog. The blog, from the JPL Education Office, helps educators turn NASA- and JPL-related mission and science news into activities for the classroom. "While the LIGO detectors are located thousands of miles apart, this activity helps students understand gravitational waves using a model that fits on their desk!"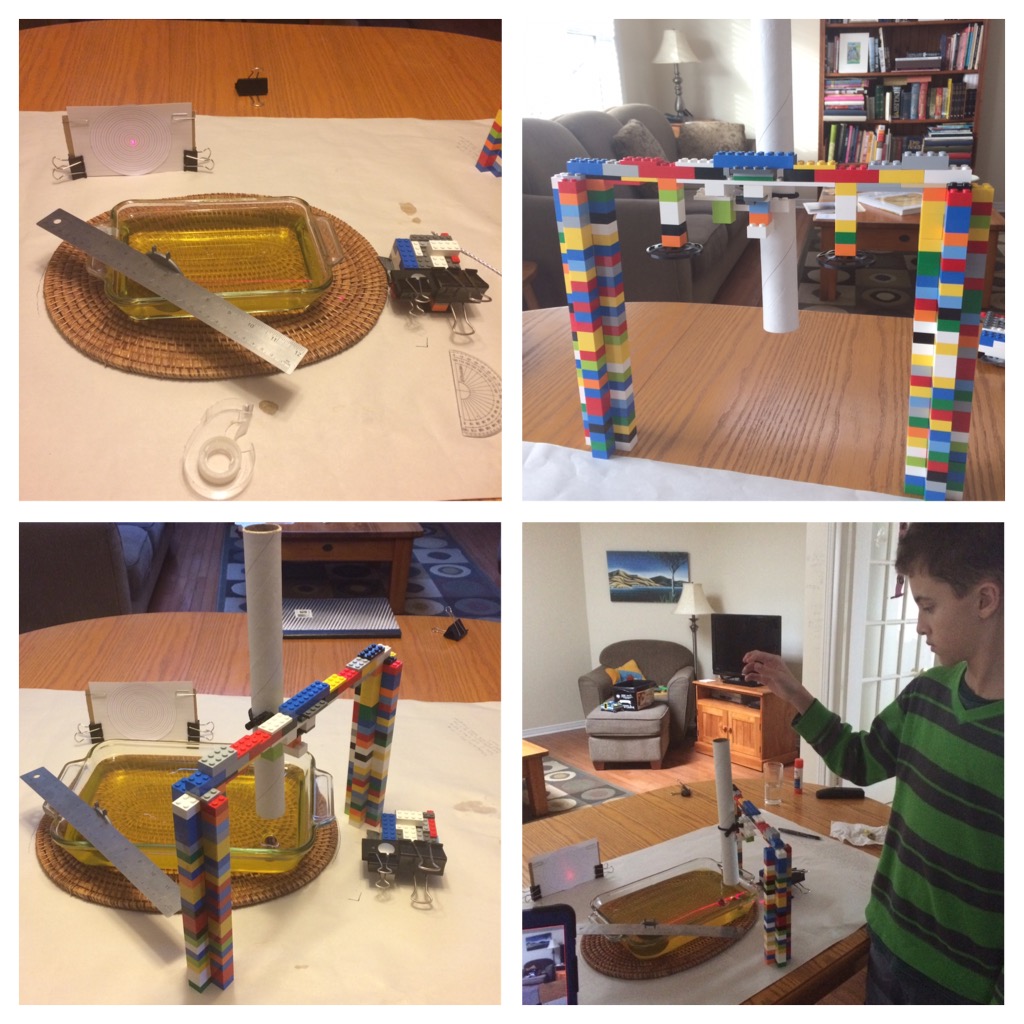 Dove made modifications to the JPL Education activity for his science fair project, including using Legos to create a device that could drop a marble from different heights. He says figuring out how he needed to alter the design was his favorite part of the project.
With the help of his mom and grandfather plus a few tips from Tavernier, Dove was able to modify the lesson for his science fair project, which looked at whether the model would show consistent and predictable variations in the movement of the laser (gravitational waveform) depending on the energy released during a marble (black hole) collision.
"There was a trend that suggested the greater the weight of the impacting object, the larger the amplitude of the waveform," said Dove, noting in his abstract that there were some inconsistencies in the results that would require more testing. He plans to do that this summer.
After presenting at his school's science fair, Dove was asked by his teacher to enter the regional competition, where he won an award from the Royal Astronomical Society of Canada.
Dove's mom says the win was a big confidence booster for her son, who hopes to eventually work at NASA or become an inventor. "I would like to invent things that would help people affected by a natural disaster," he said.
As far as advice for other science fair participants, Dove says, "Don't be upset if you don't get the results you are expecting, and don't be afraid to make modifications to your experiment." In fact, he says it was working through the modifications that turned out to be his favorite part of the project.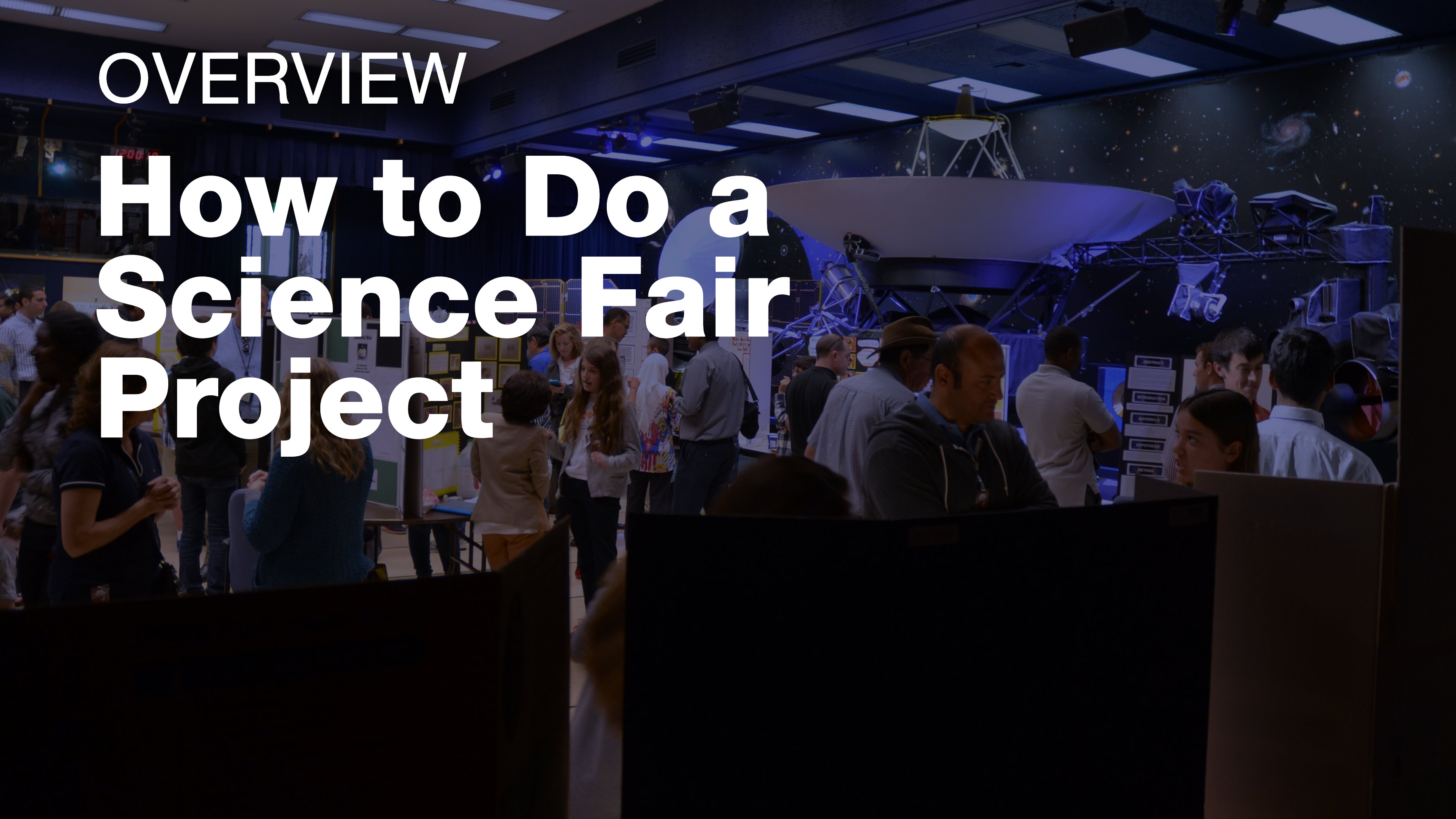 Need help with your science fair project?
Watch our how-to video series to get started!

Check it out
His other advice: "Have a good mentor." Or in Dove's case, three. In addition to support from his grandfather and mom, it was Dove's older sister, a science fair winner herself, who encouraged him to enter the regional competition. And thanks to the encouragement, Dove has no plans to stop now. "I would like to learn more about detecting other intergalactic phenomenon," he said.
For tips on creating a winning science fair project, watch JPL Education's "How to Do a Science Fair Project" video series.
Explore the gravitational waves activity and more standards-aligned STEM lessons for grades K-12 at: http://www.jpl.nasa.gov/edu/teach
› Get tips for turning NASA mission and science news into lessons for the classroom.
The laboratory's K-12 education initiatives are managed by the JPL Education Office. Extending the reach of NASA's Office of Education, JPL Education seeks to create the next generation of scientists, engineers, technologists and space explorers by supporting educators and bringing the excitement of NASA missions and science to learners of all ages.
TAGS: Science Fair, Gravitational Waves, STEM, Science, K-12, Models
---
You've probably heard about some of the fascinating missions and science happening at NASA, but wouldn't it be great if you could see it in person? You can!
Every day, hundreds of museums, planetariums, observatories, libraries and other institutions participating in NASA's Museum Alliance offer exhibits, planetarium shows and events featuring NASA science, technology and engineering. As the school year comes to a close, you can keep students – and learners of all ages – engaged by visiting your local informal education institutions. So make May the month you plan your next museum adventure and support organizations that bring the inspiration of NASA to you! Not sure where to start? Use the Museum Alliance's "Map of Members" to find destinations near you or explore the dynamic "Events Near Me" map, which lets you search by date to find the latest offerings.
For example, this month you could check out the new exhibits Out of this World: A Space Adventure at The Living Arts & Science Center in Lexington, Kentucky, or the Discover NASA traveling exhibition at the Auburn Public Library in Maine. You could experience "Intergalactic: A Space Odyssey" in the digital dome theater of Mid-America Science Museum in Hot Springs, Arkansas. Or, also this month, join the fun in California at the San Diego Air & Space Museum's Space Day 2016, or sign up for the New Mexico Museum of Space History's Rocketeer Academy summer camps.
Every year, more visits are made to U.S. museums – more than 850 million – than to all major sporting events and theme parks combined. Americans love their museums - get out there and see why!
At a museum, science center, library, camp or other informal education institution? Learn how you can join the more than 700 organizations participating in NASA's Museum Alliance, here.
TAGS: International Museum Day, Museums, Events, NASA, JPL, STEM, Informal Education,