---
UPDATE: Nov. 27, 2018 – The InSight spacecraft successfully touched down on Mars just before noon on Nov. 26, 2018, marking the eighth time NASA has succeeded in landing a spacecraft on the Red Planet. This story has been updated to reflect the current mission status. For more mission updates, follow along on the InSight Mission Blog, JPL News, as well as Facebook and Twitter (@NASAInSight, @NASAJPL and @NASA).
---
NASA's newest Mars mission, the InSight lander, touched down on the Red Planet just before noon PST on Nov. 26. But there's more work ahead before the mission can get a look into the inner workings of Mars. Get your classroom ready to partake in all the excitement of NASA's InSight mission with this educator game plan. We've got everything you need to engage students in NASA's ongoing exploration of Mars!
Day Before Landing
Read NASA/JPL Edu's Teachable Moment, "NASA's 'Cyber Monday' Mars Landing to Deliver Science Firsts," to get a preview of the engineering and science involved in landing InSight and placing its instruments on Mars. Explore the related activities and resources in the "Teach It" and "Explore More" sections.
Landing Day (Nov. 26)
Next Day
Review the Teachable Moment to find out what needs to happen before InSight's science operations can begin. Then create an instructional plan with these lessons, activities and resources that get students engaged in the science and engineering behind the mission.
Check out InSight's first images from Mars, here. (This is also where you can find raw images from InSight throughout the life of the mission.)
Over the Next Month
Explore More
Follow Along
Resources and Activities
Feature Stories and Podcasts
Websites and Interactives
TAGS: InSight, Mars Landing, Educators, K-12, Elementary School, Middle School, High School, Lessons and Activities, Educator Resources, Mars
---
The term "supermoon" has been popping up a lot in the news and on social media over the past few years. But what are supermoons, why do they occur and how can they be used as an educational tool. Plus, are they really that super?
There's a good chance you'll hear even more about supermoons in the new year. There will be two supermoons in a row in January 2018! Now is a great time to learn about these celestial events and get students exploring more about Earth's only natural satellite.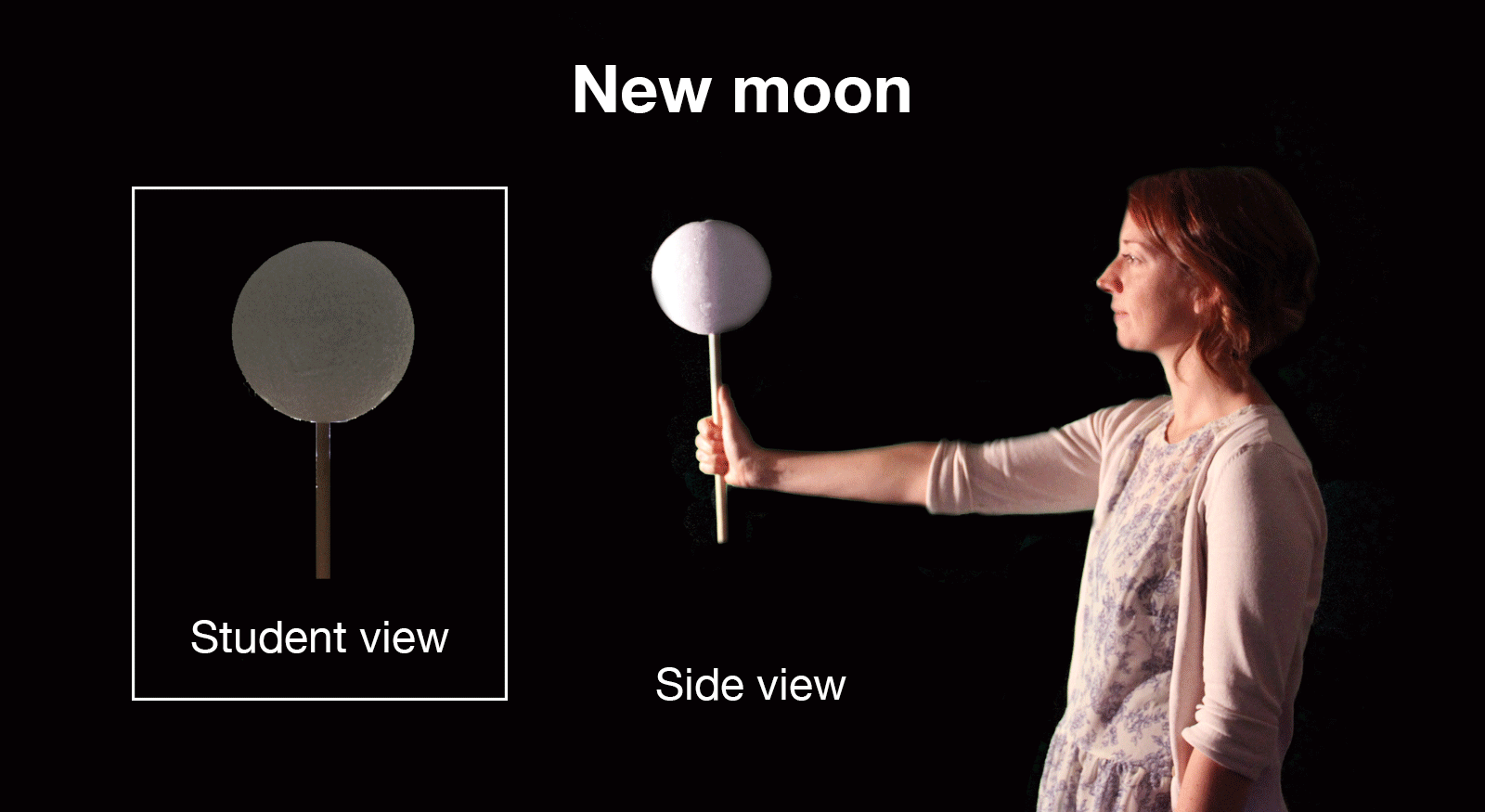 Lessons About the Moon
Explore our collection of standards-aligned lessons for grades 1-12.
How it Works
As the Moon orbits Earth, it goes through phases, which are determined by its position relative to Earth and the Sun. When the Moon lines up on the opposite side of Earth from the Sun, we see a full moon. The new moon phase occurs when the Moon and the Sun are lined up on the same side of Earth.
The Moon doesn't orbit in a perfect circle. Instead, it travels in an ellipse that brings the Moon closer to and farther from Earth in its orbit. The farthest point in this ellipse is called the apogee and is about 405,500 kilometers from Earth on average. Its closest point is the perigee, which is an average distance of about 363,300 kilometers from Earth. During every 27-day orbit around Earth, the Moon reaches both its apogee and perigee.
Full moons can occur at any point along the Moon's elliptical path, but when a full moon occurs at or near the perigee, it looks slightly larger and brighter than a typical full moon. That's what the term "supermoon" refers to.
Because supermoon is not an official astronomical term, there is no definition about just how close to perigee the full moon has to be in order to be called "super." Generally, supermoon is used to refer to a full moon 90 percent or closer to perigee. (When the term supermoon was originally coined, it was also used to describe a new moon in the same position, but since the new moon isn't easily visible from Earth, it's rarely used in that context anymore.)
A more accurate and scientific term is "perigee syzygy." Syzygy is the alignment of three celestial bodies, in this case the Sun, Moon and Earth. But that doesn't quite roll off the tongue as easily as supermoon.
Why It's Important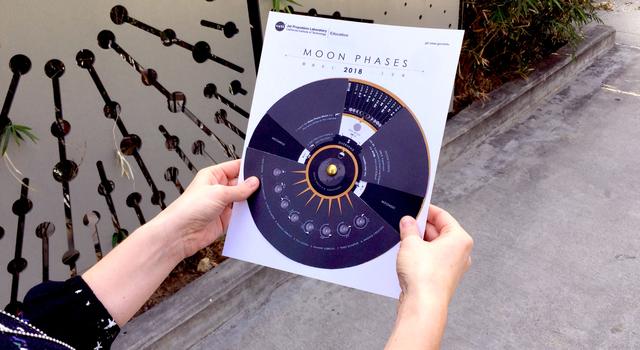 Make a Moon Phases Calendar
Use this Moon "decoder wheel" to see where and where to view the Moon all year!
As the largest and brightest object in the night sky, the Moon is a popular focal point for many amateur and professional astronomers pointing their telescopes to the sky, and the source of inspiration for everyone from aspiring space scientists to engineers to artists.
The supermoon is a great opportunity for teachers to connect concepts being taught in the classroom to something students will undoubtedly be hearing about. Students can practice writing skills in a Moon journal, study Moon phases and apply their math skills to observing the supermoon. (Click here for related activities from JPL's Education Office.)
Incorrect and misleading information about the Moon (and supermoons) can lead to confusion and frustration. It's important to help students understand what to expect and be able to identify inaccurate info.
What to Expect
Size
As with anything that moves closer to the person viewing it, the supermoon will appear bigger than an average full moon. At its largest, it can appear 14% larger in diameter than the smallest full moon. Keep in mind that a 14% increase in the apparent size of something that can be covered with a fingernail on an outstretched arm won't seem significantly bigger. Unlike side-by-side comparisons made in science and everyday life, students will not have seen the full moon for at least 30 days, and won't see another for at least 30 more days. Comparing a supermoon with a typical full moon from memory is very difficult.
Leading up to a supermoon, there are often misleading images on popular media. A technique that involves using a long telephoto lens to take photographs of the Moon next to buildings or other objects makes the Moon look huge compared with its surroundings. This effect can make for great photographs, but it has nothing to do with the supermoon. In fact, these photos can be taken during any Moon phase, but they will likely be used in stories promoting the supermoon.
There are also images that have been edited to inaccurately dramatize the size of the supermoon. Both of these can lead students, and adults, taking pictures with their cell phone to think that they've done something wrong or just aren't cut out for observing the sky, which isn't true!
Your students may have noticed that when they see a full moon low on the horizon, it appears huge and then seems to shrink as it rises into the night sky. This can happen during any full moon. Known as the Moon Illusion, it has nothing to do with a supermoon. In fact, scientists still aren't sure what causes the Moon Illusion.
Brightness
The full moon is bright and the supermoon is even brighter! Sunlight reflecting off the Moon during its full phase is bright enough to cast shadows on the ground. During a supermoon, that brightness can increase up to 30 percent as a result of the Moon being closer to Earth, a phenomenon explained by the inverse square law. (Introduce students to the inverse square law with this space-related math lesson for 6th- through 8th-graders.) As with the size of the Moon, students may not remember just how bright the last full moon was or easily be able to compare it. Powerful city lights can also diminish how bright a supermoon seems. Viewing it away from bright overhead street lights or outside the city can help viewers appreciate the increase in brightness.
What Not to Expect
A supermoon will not cause extreme flooding, earthquakes, fires, volcanic eruptions, severe weather, nor tsunamis, despite what incorrect and non-scientific speculators might suggest. Encourage your students to be good scientists and research this for themselves.

Teach It
The excitement and buzz surrounding a supermoon is a great opportunity to teach a variety of Moon topics with these lessons from JPL's Education Office:
Explore More
---
For the record: This story originally stated a supermoon would be visible in January and February 2018. The two supermoons of 2018 are both in January.

TAGS: Supermoon, Moon Phases, Moon, Earth's Moon, What's Up, Astronomy, K-12, Educators
---
Update – Aug. 17, 2017: Two new lessons ("Measuring Solar Energy During an Eclipse" and "Modeling the Earth-Moon System") were added to the Teach It section below.
---
In the News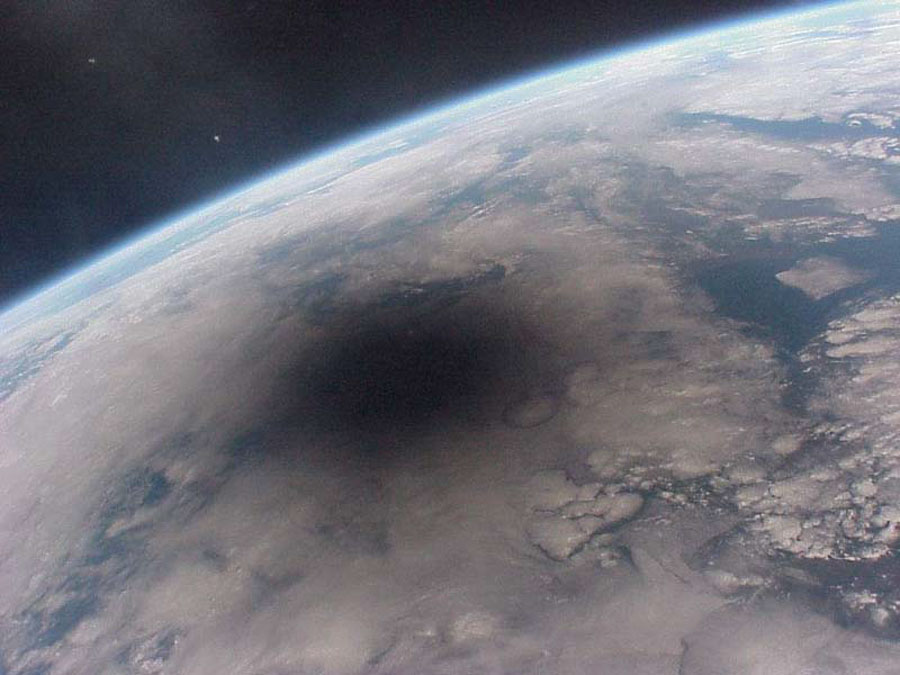 The Moon casts a shadow on Earth during a total solar eclipse over Europe in this image taken by a French astronaut on the Mir Space Station. Credit: CNES
This month marks the first time in 38 years that one of nature's most awe-inspiring sights, a total solar eclipse, will be visible from the continental United States. And unlike the 1979 eclipse, the one on August 21 can be seen from coast to coast – something that hasn't happened since 1918.
Millions of people are expected to travel to the 14 states that are in the path of totality – where the Moon will completely cover the disk of the Sun – while hundreds of millions more in every other state of the U.S. will be able to see a partial eclipse.
Whether you live in or are traveling to the path of totality, or will be able to step outside and view the partial eclipse from the comfort of your own home or school, the eclipse provides both an inspiring reason to look to the sky and opportunities to engage in scientific observations and discovery.
Teach It
Use these standards-aligned lessons and related activities to get your students excited about the eclipse and the science that will be conducted during the eclipse.

How it Works
Eclipses occur as the result of an alignment between the Sun, the Moon and Earth. Solar eclipses can only happen during the new moon phase, when the Moon's orbit brings it between Earth and the Sun. At this time, the shadow cast by the moon could land on Earth, resulting in an eclipse. But most of the time, because the moon's orbit is slightly titled, the moon's shadow falls above or below Earth.
The time period when the Moon, Earth and the Sun are lined up and on the same plane is called an eclipse season. Eclipse seasons last about 34 days and occur just shy of every six months. A new moon during an eclipse season will cause the Moon's shadow to fall on Earth, creating a solar eclipse.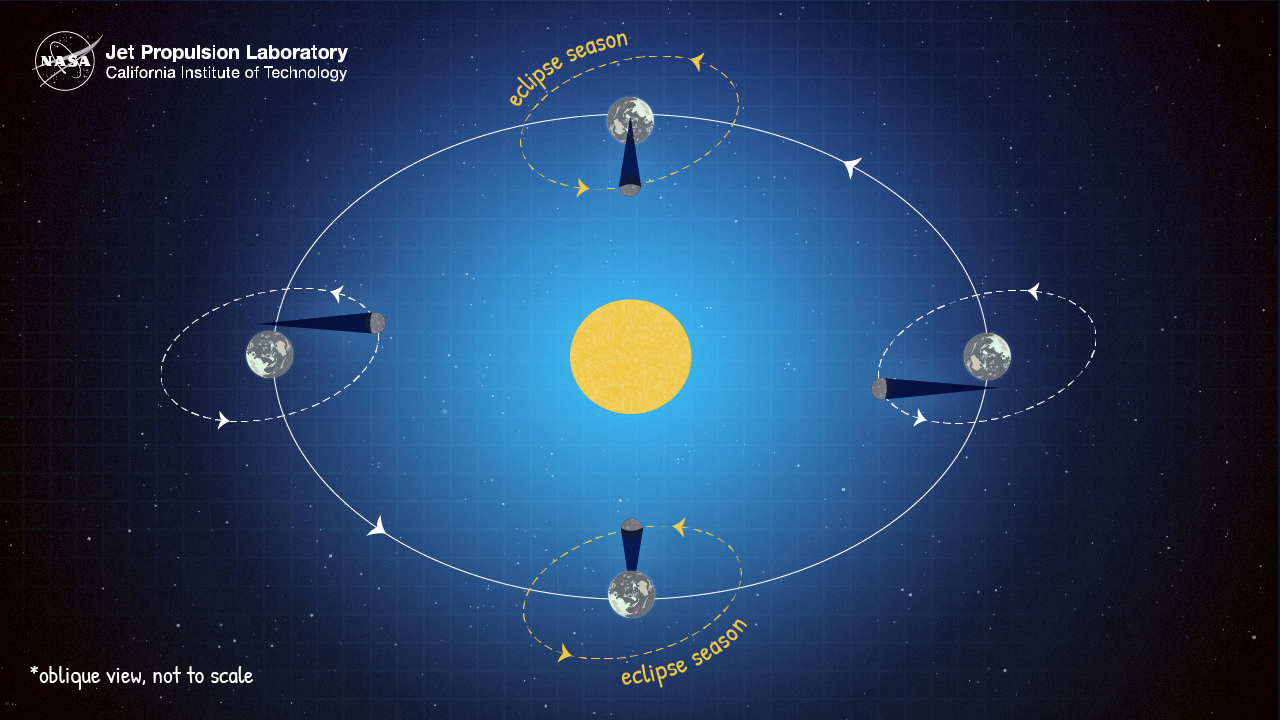 An eclipse season is the time period when the Moon, Earth and the Sun are lined up on the same plane. A new moon during an eclipse season will cause the Moon's shadow to fall on Earth, creating a solar eclipse. Image credit: NASA/JPL-Caltech
In addition to the proper alignment required for an eclipse, the distance between Earth, the Moon and the Sun also plays an important role. Even though the Moon is much smaller than the Sun (about 400 times smaller in diameter), the Sun and Moon appear about the same size from Earth because the Sun is about 400 times farther away than the Moon. If the Moon were farther from Earth, it would appear smaller and not cover the disk of the Sun. Similarly, if the Sun were closer to Earth, it would appear larger and the Moon would not completely cover it.
Why It's Important
Total solar eclipses provide a unique opportunity for scientists to study the Sun and Earth from land, air and space, and allow the public to engage in citizen science!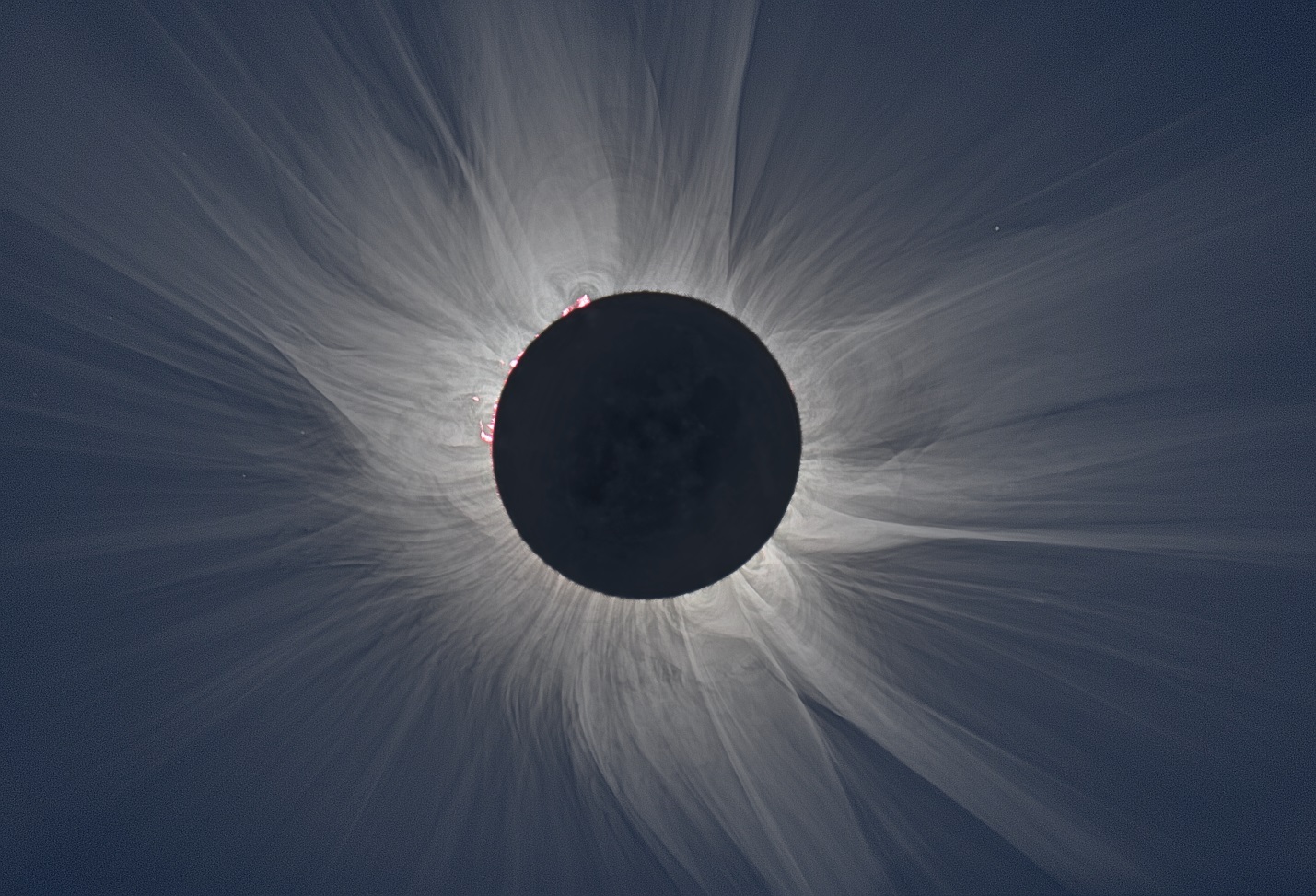 The sun's outer atmosphere (corona) and thin lower atmosphere (chromosphere) can be seen streaming out from the covered disk of the sun during a solar eclipse on March 20, 2015. Credit: S. Habbal, M. Druckmüller and P. Aniol
On a typical day, the bright surface of the Sun, called the photosphere, is the only part of the Sun we can see. During a total solar eclipse, the photosphere is completely blocked by the Moon, leaving the outer atmosphere of the Sun (corona) and the thin lower atmosphere (chromosphere) visible. Studying these regions of the Sun's atmosphere can help scientists understand solar radiation, why the corona is hotter than the photosphere, and the process by which the Sun sends a steady stream of material and radiation into space.
Scientists measure incoming solar radiation on Earth, also known as insolation, to better understand Earth's radiation budget – the energy emitted, reflected and absorbed by Earth. Just as clouds block sunlight and reduce insolation, the eclipse will block sunlight, providing a great opportunity to study how increased cloud cover can impact weather and climate. (Learn more about insolation during the 2017 eclipse here.)
Citizen scientists can get involved in collecting data and participating in the scientific process, too, through NASA's Global Learning and Observations to Benefit the Environment, or GLOBE, program. During the eclipse, citizen scientists in the path of totality and in partial eclipse areas can measure temperature and cloud cover data and report it using the GLOBE Observer app to help further the study of how eclipses affect Earth's atmosphere.
You can learn more about the many ways scientists are using the eclipse to improve their understanding of Earth, the Moon and the Sun here.
How to View It
Important! Do not look directly at the Sun or view the partial eclipse without certified eclipse glasses or a solar filter. For more information on safe eclipse viewing, visit the NASA Eclipse website.
When following proper safety guidelines, witnessing an eclipse is an unparalleled experience. Many "eclipse chasers" have been known to travel the world to see total eclipses.
The start time of the partial eclipse, when the edge of the Moon first crosses in front of the disk of the Sun, will depend on your location. You can click on your location in this interactive eclipse map to create a pin, which will show you the start and end time for the eclipse in Universal Time. (To convert from Universal Time to your local time, subtract four hours for EDT, five hours for CDT, six hours for MDT, or seven hours for PDT.) Clicking on your location pin will also show you the percent of Sun that will be eclipsed in your area if you're outside the path of totality.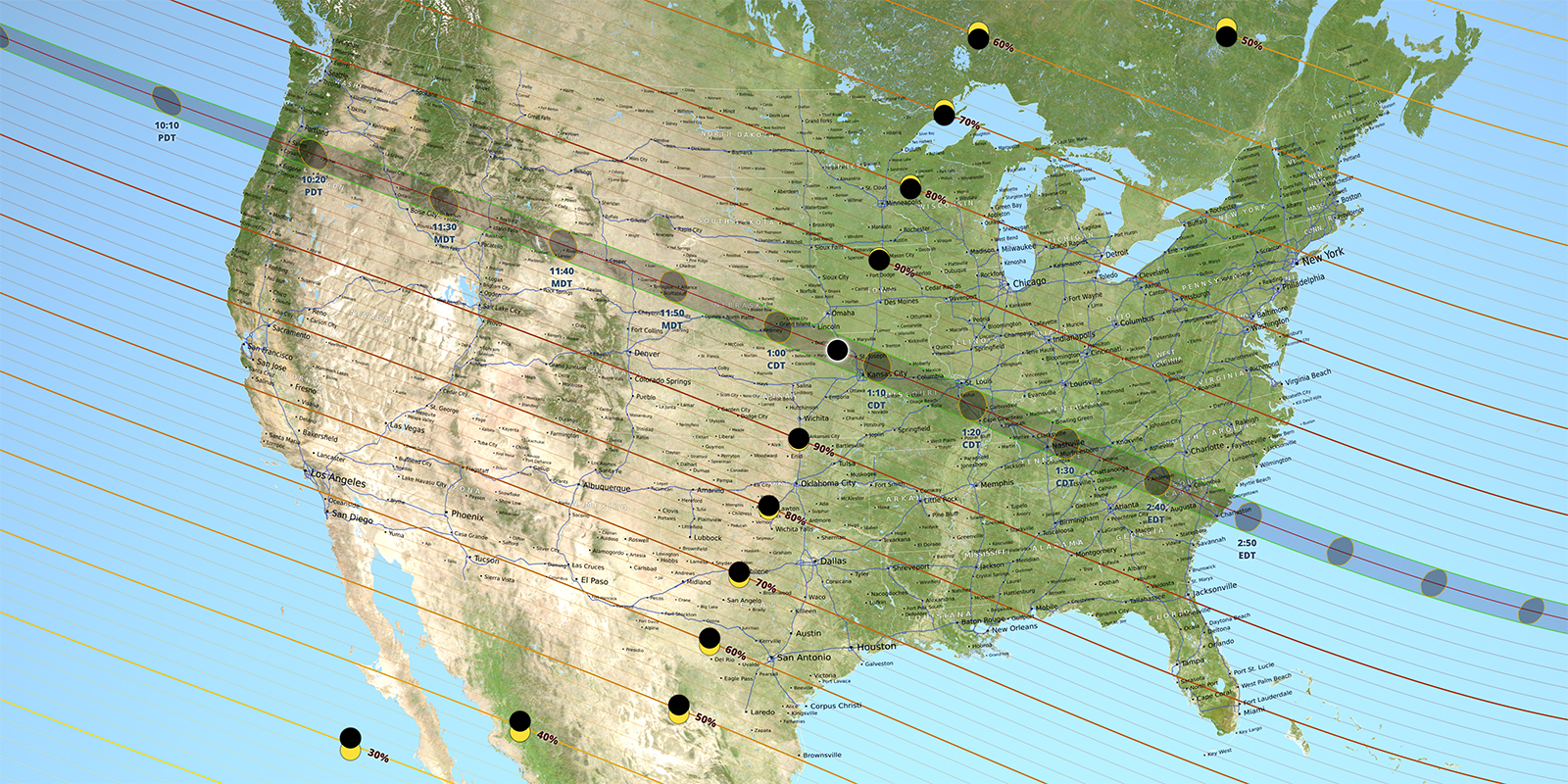 This graphic shows the path of the Moon and Sun across the US during the Aug. 21, 2017 eclipse. The gray line represents the path of totality, while the Sun and Moon graphics flowing from top to bottom represent the percent of coverage for areas outside the path of totality. Image credit: NASA
If you are inside the approximately 70-mile-wide strip known as the path of totality, where the shadow of the Moon, or umbra, will fall on Earth, the total eclipse will be visible starting about an hour to 1.5 hours after the partial eclipse begins.
Only when the eclipse is at totality – and the viewer is in the path of totality – can eclipse glasses be removed. Look at the eclipse for anywhere from a few seconds to more than 2.5 minutes to see the Sun's corona and chromosphere, as well as the darkened near side of the Moon facing Earth. As before, your viewing location during the eclipse will determine how long you can see the eclipse in totality.

Viewers should wear eclipse glasses or use a pinhole camera for the entirety of the partial eclipse. Those in the path of totality can remove their glasses only when the eclipse is in totality, which may last from a few seconds to more than 2.5 minutes depending on your location. Image credit: NASA
After totality ends, a partial eclipse will continue for an hour to 1.5 hours, ending when the edge of the Moon moves off of the disk of the Sun. Remember, wear eclipse glasses or use a pinhole camera for the entirety of the partial eclipse. Do not directly view the partial eclipse.
Make a Pinhole Camera
Find out how to make your very own pinhole camera to safely view the eclipse in action.

To get an idea of what the eclipse will look like from your location and explore the positions of the Moon, Sun and Earth throughout the eclipse, see this interactive simulation.
For more information about the start of the partial eclipse, the start and duration of totality, and the percentage of the Sun eclipsed outside the path of totality, find your location on this interactive eclipse map.
NASA Television will host a live broadcast beginning at 9 a.m. PDT on Aug. 21 showing the path of totality and featuring views from agency research aircraft, high-altitude balloons, satellites and specially-modified telescopes. Find out how and where to watch, here.
Teach It
Use these standards-aligned lessons and related activities to get your students excited about the eclipse and the science that will be conducted during the eclipse.
Explore More
TAGS: Eclipse, Solar Eclipse, Science, Pinhole Camera, K-12, Students, Educators
---
You may already know about the online lessons and activities available from the Education Office at NASA's Jet Propulsion Laboratory. (If not, check them out here.) But did you know that JPL and all NASA centers nationwide have an education specialist focused specifically on professional development for teachers – including how to use those online lessons in the classroom? It's part of a program called the Educator Professional Development Collaborative, or EPDC, a free service for any K-12 classroom educator in the country.
During the 2016-2017 school year, the EPDC at JPL participated in more than 120 school events focusing on teacher professional development, including implementing Next Generation Science Standards, helping schools initiate science fairs and community events, and assisting with student presentations. That number includes more than 5,000 teachers and students who worked with the EPDC on initiatives designed to get NASA science and engineering into the hands of future space explorers.
As the EPDC coordinator for JPL, I schedule and help shape these events for schools and teacher preparation programs in Southern California, coordinating and consulting with educators to help them bring standards-aligned NASA STEM content into the classroom. My work and the ways in which I support educators can take many shapes. Teachers often ask me to visit during regularly scheduled professional development or early dismissal days. These represent the most common events, wherein schools choose topics or themes to focus on and the time is spent practicing hands-on activities for students. This year, teachers and schools have come up with new and especially creative formats, scheduling onsite tours and workshops at JPL for their teaching staff, or even having NASA scientists dial in to their classrooms to talk with students.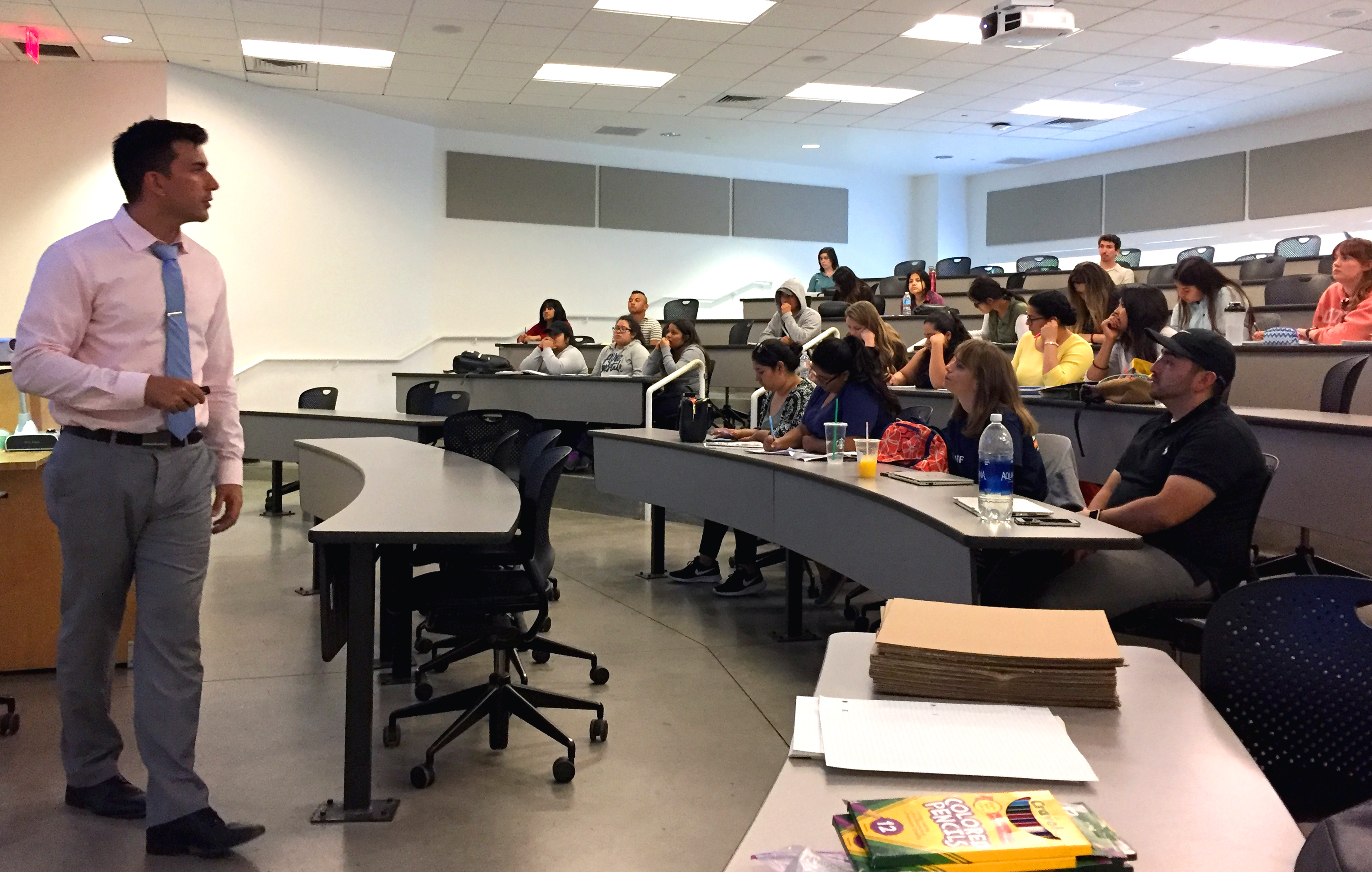 The EPDC helps educators bring NASA STEM content into the classroom through workshops, webinars and more. Image credit: NASA/JPL-Caltech
One school in particular took its program to another level with the help of the EPDC at JPL by building a grade-wide, multi-week mission to Mars. For their annual cross-curricular project, teachers at the San Fernando Institute for Applied Media in Los Angeles were hoping to create a more expansive offering that incorporated the Next Generation Science Standards, or NGSS. I met with teachers over several days to suggest activities and strategies that would meet their goal of getting students engaged in space science across numerous subject areas.
Students were tasked to explore the history of space exploration and the pioneers who led the charge. Using NASA lessons like those found on the JPL Education website, the students built conceptual models of Mars missions, including calculating the budget associated with such a trek. They then constructed robotic rovers capable of traversing a simulated Martian surface and the tools needed to interact with the local environment.
But what really set the program apart was its focus on collaboration. The school thought beyond the content of the lesson itself, making NASA badges for each student and having them refer to each other as "doctor." Students designed their own team name and logo. They also used Web-based apps to capture pictures and videos of their work during each class and posted them online, allowing groups to digitally follow the revisions and lessons learned by their classmates. As a year-end culminating event, students presented their work in front of their classmates, and I was fortunate to be in attendance to celebrate the hard work of the teachers and students.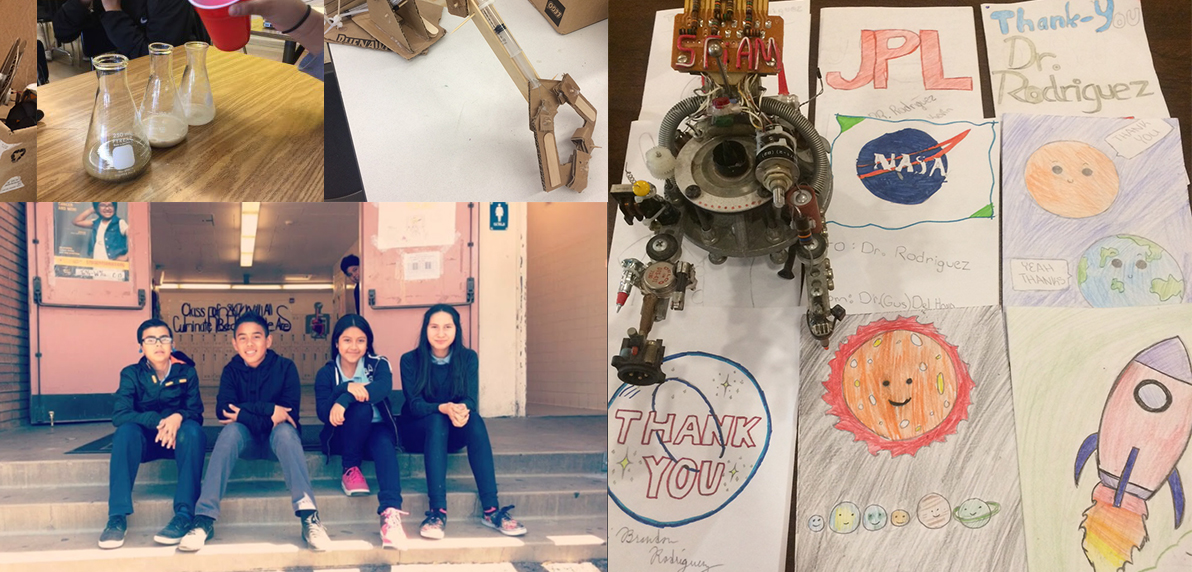 Working with the EPDC at JPL, educators at the San Fernando Institute for Applied Media in Los Angeles designed a multi-week project that had students create a mission to Mars. The project included testing samples of "Martian soil" for signs of microbial life (top left) and creating a hydraulic arm to interact with a simulated Mars surface (top center). Image credit: NASA/JPL-Caltech
In Chicago, Burley Elementary staff reached out to me via our distance learning program to revise an existing lesson for an elementary-level special education audience. Working together, the staff and I created a project using JPL's NGSS-aligned Touchdown lesson to demonstrate the value of the engineering design process, revision and collaboration.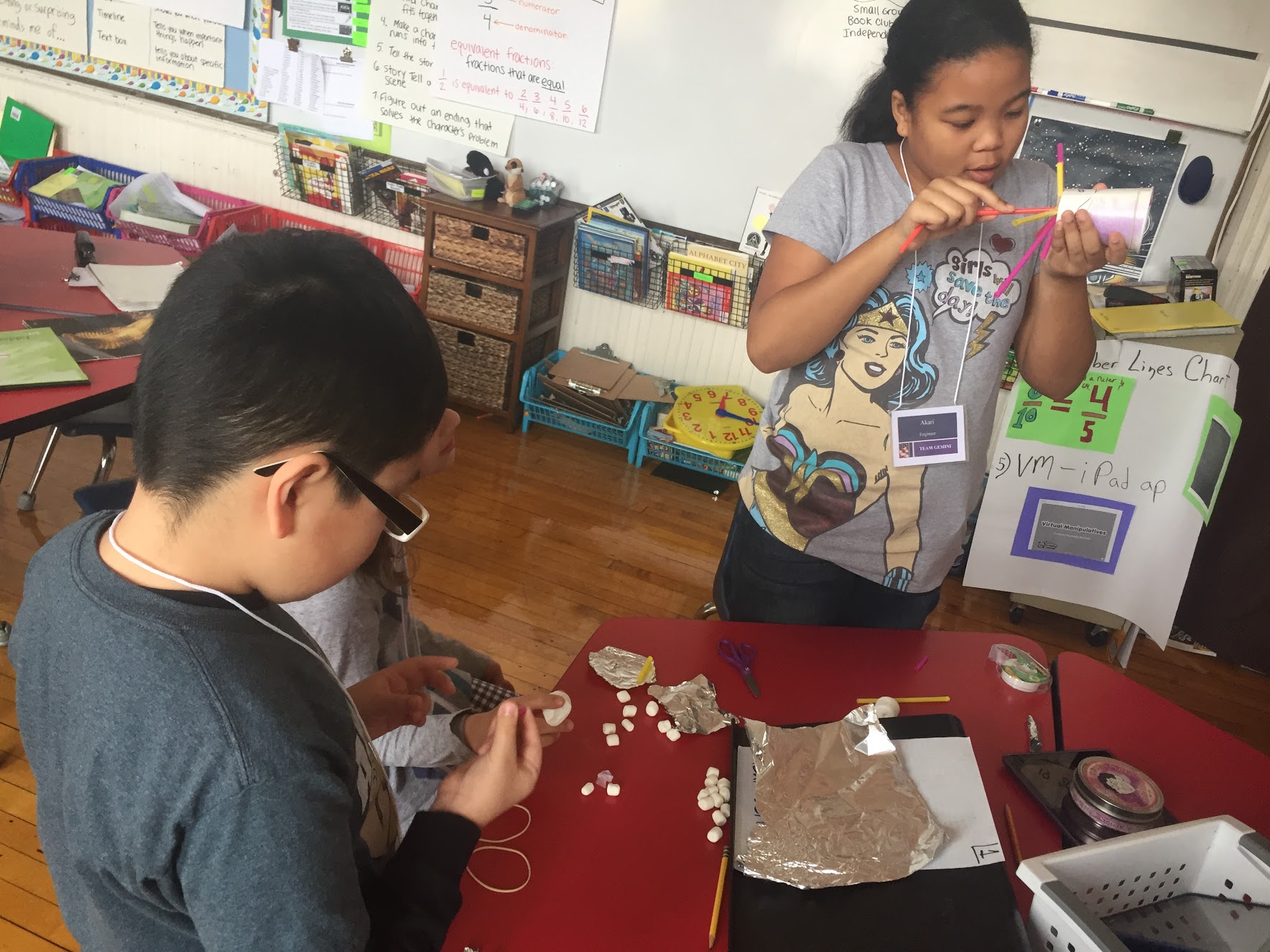 Students at Burley Elementry in Chicago design lunar landers as part of JPL's NGSS-aligned Touchdown lesson. Burley Elementary teachers worked with the EPDC at JPL to modify the lesson for their students. Image credit: NASA/JPL-Caltech
At the onset of the project, students were tasked to develop a spacecraft capable of landing astronauts safely on a distant planet. Each day concluded with students testing their designs and documenting the changes they made. Again, student groups captured their revisions digitally, praising others and crediting them for ideas that influenced their work. As a result, student groups learned the value of collaboration over competition.
From the educator's point of view, the evolution of students' designs also provided a narrative for assessment: Each student group had three designs constructed along with written and recorded diaries discussing the changes they made. The rubric included analysis of their own trials as well as the peer designs that shaped their future trials, creating in-depth student storyboards.
In both of these cases, the educators' creativity, expertise and interest in creating novel opportunities for professional development and student engagement helped elevate the quality of the EPDC's offerings and expand the scope of JPL's STEM lessons. I've since been able to incorporate the ideas and strategies created during these projects into other workshops and lessons, sharing them with an even wider group of educators and classrooms. While not every collaboration between the EPDC and educators need be multi-day endeavors, even when done on a small scale, they can have a big impact.
Looking to bring NASA science into your classroom or need help customizing lessons for your students and staff? The EPDC at JPL serves educators in the greater Los Angeles area. Contact JPL education specialist Brandon Rodriguez at brandon.rodriguez@jpl.nasa.gov. Note: Due to the popularity of EPDC programs, JPL may not be able to fulfill all requests.
Outside the Southern California area? The EPDC operates in all 50 states. To find an EPDC specialist near you, see https://www.txstate-epdc.net/nasa-centers/.
The Educator Professional Development Collaborative (EPDC) is managed by Texas State University as part of the NASA Office of Education. A free service for K-12 educators nationwide, the EPDC connects educators with the classroom tools and resources they need to foster students' passion for careers in STEM and produce the next generation of scientists and engineers.
TAGS: Professional Development, Workshops, Teachers, Educators, STEM, Science, Engineering, EPDC
---
Growing up in the Philippines, Amelito Enriquez knew nothing of high expectations. He wasn't expected to be the first student in his high school's history to go to a university - especially for a degree in engineering. He wasn't expected to receive the highest grade point average in the engineering department's history -- he wasn't even expected to be more than a "C" student. He wasn't expected to continue his education in the United States and become one of the country's most inspirational educators. And he wasn't expected to receive a presidential honor for his career-long commitment to helping underprivileged youth succeed.
"I like proving people wrong," said Enriquez, a professor of engineering and mathematics at Cañada College in Redwood City, Calif., who recently received the Presidential Award for Excellence in Science, Mathematics, and Engineering Mentoring. Over the years, he certainly has.
It was sixteen years ago that Enriquez first discovered his calling. "After grad school, I started applying for teaching jobs at four-year institutions," said Enriquez. "Being from the Philippines, I didn't know about community colleges. When I realized what they were, I thought, this is me. I knew I could really make a difference at a community college." Turning down multiple offers at four-year institutions, Enriquez began his career at Cañada College in 1995 and never looked back - except when his mentor periodically phoned him to see if he'd reconsider the university route. He wouldn't.
Enriquez's students start very much like he did. They come from disadvantaged backgrounds where expectations are at a minimum, if not nonexistent. "The students I work with score high enough to be accepted into community college," said Enriquez. "But their math and science scores are below average. A lot of them are at the high school algebra level."
Inspiring these students to go from barely getting by to reaching way beyond anyone's expectations is Enriquez's passion, and he achieves it through a variety of grants and programs. One such program - which Enriquez says has given his students the rare opportunity to get hands-on research experience - is NASA's Curriculum Improvements Partnership Award for the Integration of Research, or CIPAIR. CIPAIR brings minority college students and their teachers to NASA centers for research projects aimed at improving curriculums for future generations of students. Through their experiences with the NASA program, Enriquez and his students have so far contributed to more than a dozen curriculum improvements at Cañada College, adding activities and lessons on launching satellites, designing a Mars rover and more.
"As a result of CIPAIR, our students are more confident about succeeding in a four-year school," said Enriquez. "And almost all of them are now considering advanced degrees."
In early December, Enriquez flew to Washington D.C. to accept his mentorship award from President Barack Obama. While Enriquez considers it a great honor to be recognized for his hard work, he says that in a way, he already feels rewarded. "As part of the application process, my students had to write letters about why I should be recognized," he said. "A lot of students wrote in. Just reading those letters was really more of an honor than I could ask for."
It's also proof that inspiration goes a long way. "That's the best thing a teacher can give to a student," said Enriquez. "It's inspiration. It's to get kids to do something bigger than themselves."
TAGS: Community College, Educators, Fellowships, Cañada College
---
---
Out of the many student programs and internships offered at NASA's Jet Propulsion Laboratory, only one focuses entirely on future math and science teachers, the individuals directly responsible for inspiring the next generations of scientists and engineers. The Science Teacher and Researcher (STAR) program provides aspiring science and math teachers with paid summer internships in national, independent and university laboratories, allowing participants to pursue a prestigious dual "teacher-researcher" career path.
JPL has hosted 28 interns during its three years of participation in the program, which is offered by the California State University system in partnership with government agencies that include the U.S. Department of Energy, the National Science Foundation and NASA, as well as private research organizations. Out of the 12 STAR undergraduate and graduate school interns participating in the program at JPL this summer, five have been offered teaching positions for the fall. The seven other interns are continuing their education.
"Providing research opportunities for STAR participants is one of many ways JPL adds to science, technology, engineering and mathematics, or STEM, education in California and nationwide," said Petra Kneissl-Milanian, a JPL education program specialist who coordinates the STAR program. "Our scientists and engineers enable these aspiring science and math teachers to experience real, hands-on science and absorb the culture of JPL specifically and the scientific environment in general. These young teachers will carry this excitement into their future classrooms, teaching and inspiring learners."
Bryan Rebar is the director of the STAR program and works out of Cal Poly San Luis Obispo, where the program was founded and implemented by their Center for Excellence in Science and Mathematics Education and is administered on behalf of the California State University system. "Science and math teachers benefit from firsthand experience conducting research at cutting edge labs because it gives them an understanding and a vision for how science and math skills are applied in careers," Rebar said. "We provide STAR fellows with support to translate their experience into classroom practice."
With the guidance of a research mentor, STAR fellows work on original science projects for eight to ten weeks. Weekly education workshops and an opening and closing conference provide context and opportunities for the participants to consider how the "doing of science" may be translated into the "teaching of science." The ultimate goals of the STAR program are to enhance the recruitment, preparation and retention of quality science and math teachers.
Skyler Lassman worked as a STAR intern this summer in JPL's Propulsion and Materials Engineering Section on electric propulsion systems and recently took a job at Orcutt Academy High School in Orcutt, Calif. teaching physics and biology. "What will be the most beneficial is being able to know how JPLers conduct research, what tools they use and how they solve problems," Lassman said. "For example, I now have a clearer idea of why it is important to teach students to write lab reports and how to interpret graphs."
JPL STAR intern Jessica Potter will be teaching biology at Arroyo Valley High School in San Bernardino this fall. This summer, she worked in the Water and Carbon Cycles Group on remote sensing as applied toward studying Earth's ecosystem. "Perhaps the most important thing I will take away from my time at JPL will be the ability to guide my students interested in pursuing science," she said. "I have just become the advisor of the new science club created by two students who want to attend Caltech. They were so excited that I had worked at JPL, and I am looking forward to assisting them in achieving their dreams."
Lassman and Potter weren't the only participants this summer who were recently hired as teachers: Shin Adachi is working at the Synergy Quantum Academy in Los Angeles, Andrew Giang at Los Altos High School in Hacienda Heights and Adorina Moshava at Taft High School in Woodland Hills.
The STAR Program hopes to change the way science and education are viewed. "We believe that STAR offers a transformative experience," said Rebar. "Rather than entering a classroom as a teacher of science, STAR fellows arrive thinking as scientists who have the skills to teach."

TAGS: Educators, Teachers, STEM, Science Teacher and Researcher Program