---
Find out how scientists captured the first image of Sagittarius A*, why it's important, and how to turn it into a learning opportunity for students.
---
Our home galaxy, the Milky Way, has a supermassive black hole at its center, but we've never actually seen it – until now. The Event Horizon Telescope, funded by the National Science Foundation, has released the first image of our galactic black hole, Sagittarius A* (pronounced "Sagittarius A-star" and abbreviated Sgr A*).
Read on to find out how the image was acquired and learn more about black holes and Sagittarius A*. Then, explore resources to engage learners in the exciting topic of black holes.
How Black Holes Work
A black hole is a location in space with a gravitational pull so strong that nothing, not even light, can escape it. A black hole's outer edge, called its event horizon, defines the spherical boundary where the velocity needed to escape exceeds the speed of light. Matter and radiation fall in, but they can't get out. Because not even light can escape, a black hole is literally black. Contrary to their name's implication, black holes are not empty. In fact, a black hole contains a great amount of matter packed into a relatively small space. Black holes come in various sizes and can exist throughout space.
We can surmise a lot about the origin of black holes from their size. Scientists know how some types of black holes form, yet the formation of others is a mystery. There are three different types of black holes, categorized by their size: stellar-mass, intermediate-mass, and supermassive black holes.
Stellar-mass black holes are found throughout our Milky Way galaxy and have masses less than about 100 times that of our Sun. They comprise one of the possible endpoints of the lives of high-mass stars. Stars are fueled by the nuclear fusion of hydrogen, which forms helium and other elements deep in their interiors. The outflow of energy from the central regions of the star provides the pressure necessary to keep the star from collapsing under its own weight.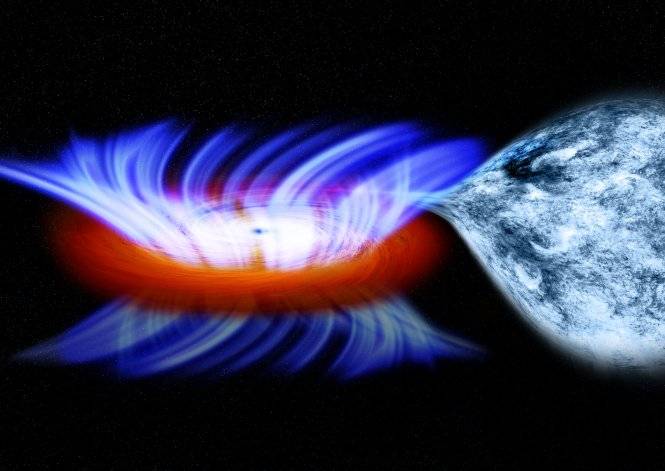 Once the fuel in the core of a high-mass star has completely burned out, the star collapses, sometimes producing a supernova explosion that releases an enormous amount of energy, detectable across the electromagnetic spectrum. If the star's mass is more than about 25 times that of our Sun, a stellar-mass black hole can form.
Intermediate-mass black holes have masses between about 100 and 100,000 times that of our Sun. Until recently, the existence of intermediate-mass black holes had only been theorized. NASA's Chandra X-ray Observatory has identified several intermediate-mass black hole candidates by observing X-rays emitted by the gas surrounding the black hole. The Laser Interferometer Gravitational Wave Observatory, or LIGO, funded by the National Science Foundation, detected the merger of two stellar-mass black holes with masses 65 and 85 times that of our Sun forming an intermediate-mass black hole of 142 solar masses. (Some of the mass was converted to energy and about nine solar masses were radiated away as gravitational waves.)
Supermassive black holes contain between a million and a billion times as much mass as a stellar-mass black hole. Scientists are uncertain how supermassive black holes form, but one theory is that they result from the combining of stellar-mass black holes.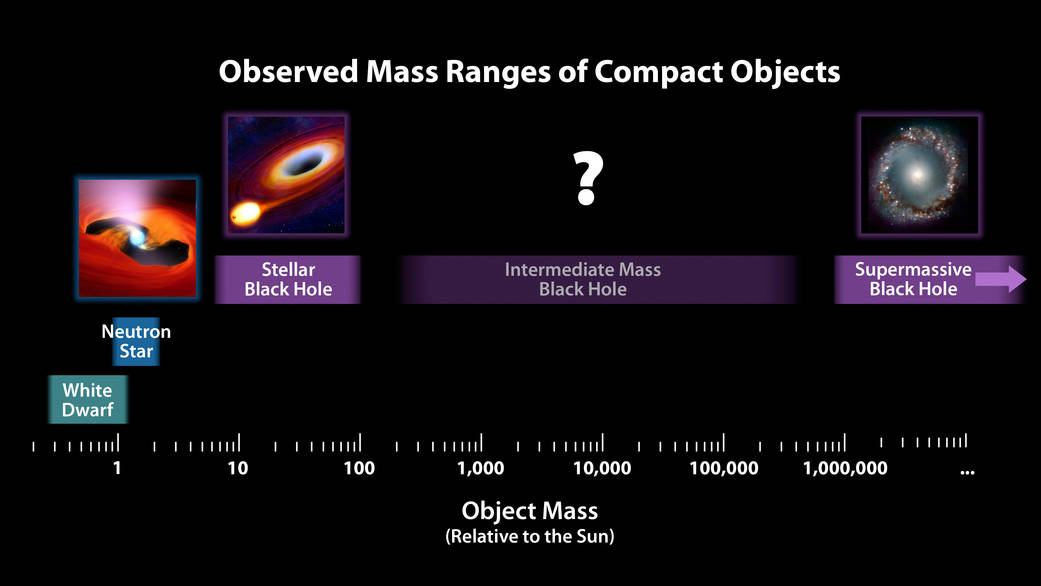 Our local galactic center's black hole, Sagittarius A*, is a supermassive black hole with a mass of about four million suns, which is fairly small for a supermassive black hole. NASA's Hubble Space Telescope and other telescopes have determined that many galaxies have supermassive black holes at their center.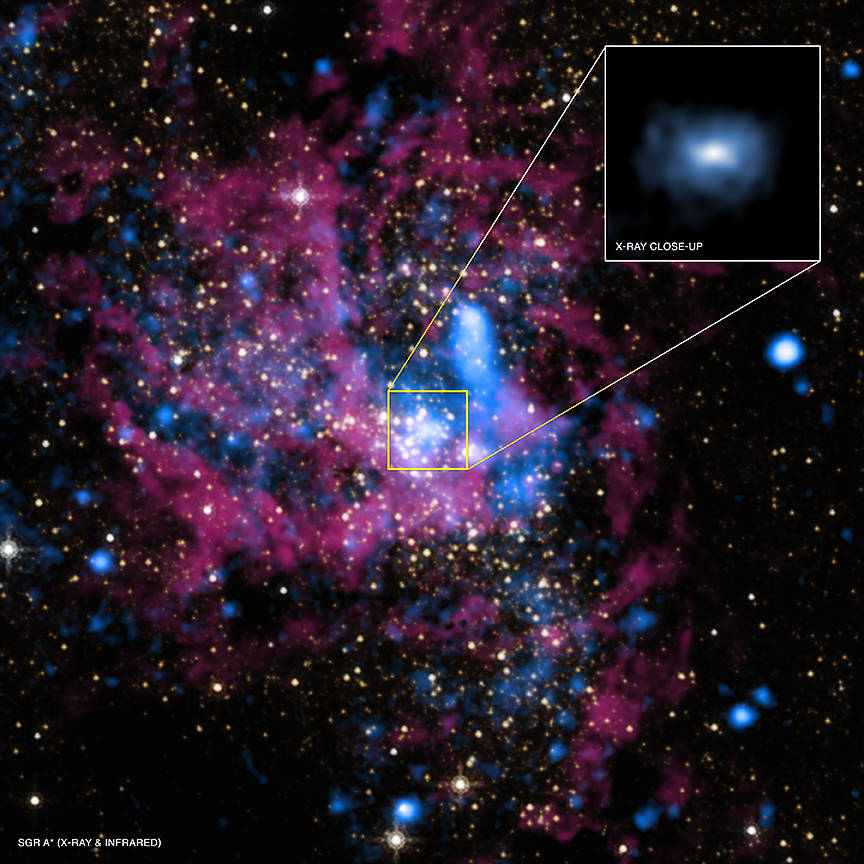 Why They're Important
Black holes hold allure for everyone from young children to professional astronomers. For astronomers, in particular, learning about Sagittarius A* is important because it provides insights into the formation of our galaxy and black holes themselves.
Understanding the physics of black hole formation and growth, as well as their surrounding environments, gives us a window into the evolution of galaxies. Though Sagittarius A* is more than 26,000 light years (152 quadrillion miles) away from Earth, it is our closest supermassive black hole. Its formation and physical processes influence our galaxy as galactic matter continually crosses the event horizon, growing the black hole's mass.
Studying black holes also helps us further understand how space and time interact. As one gets closer to a black hole, the flow of time slows down compared with the flow of time far from the black hole. In fact, according to Einstein's theory of general relativity, the flow of time slows near any massive object. But it takes an incredibly massive object, such as a black hole, to make an appreciable difference in the flow of time. There's still much to learn about what happens to time and space inside a black hole, so the more we study them, the more we can learn.
How Scientists Imaged Sagittarius A*
Black holes, though invisible to the human eye, can be detected by observing their effects on nearby space and matter. As a result of their enormous mass, black holes have extremely high gravity, which pulls in surrounding material at rapid speeds, causing this material to become very hot and emit X-rays.
X-ray-detecting telescopes such as NASA's Chandra X-ray Observatory can image the material spiraling into a black hole, revealing the black hole's location. NASA's Hubble Space Telescope can measure the speed of the gas and stars orbiting a point in space that may be a black hole. Scientists use these measurements of speed to determine the mass of the black hole. Hubble and Chandra are also able to image the effects of gravitational lensing, or the bending of light that results from the gravitational pull of black holes or other high-mass objects such as galaxies.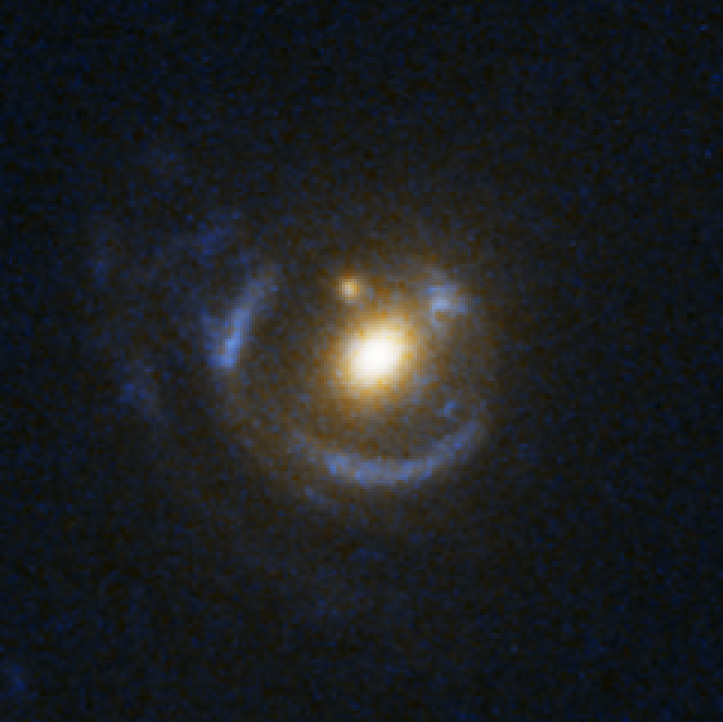 To directly image the matter surrounding a black hole, thus revealing the silhouette of the black hole itself, scientists from around the world collaborated to create the Event Horizon Telescope. The Event Horizon Telescope harnesses the combined power of numerous telescopes around the world that can detect radio-wave emissions from the sky to create a virtual telescope the size of Earth.
In 2019, the team released the first image of a black hole's silhouette when they captured the glowing gasses surrounding the M87* galactic black hole nearly 53 million light-years (318 quintillion miles) away from Earth. The team then announced that one of their next endeavors was to image Sagittarius A*.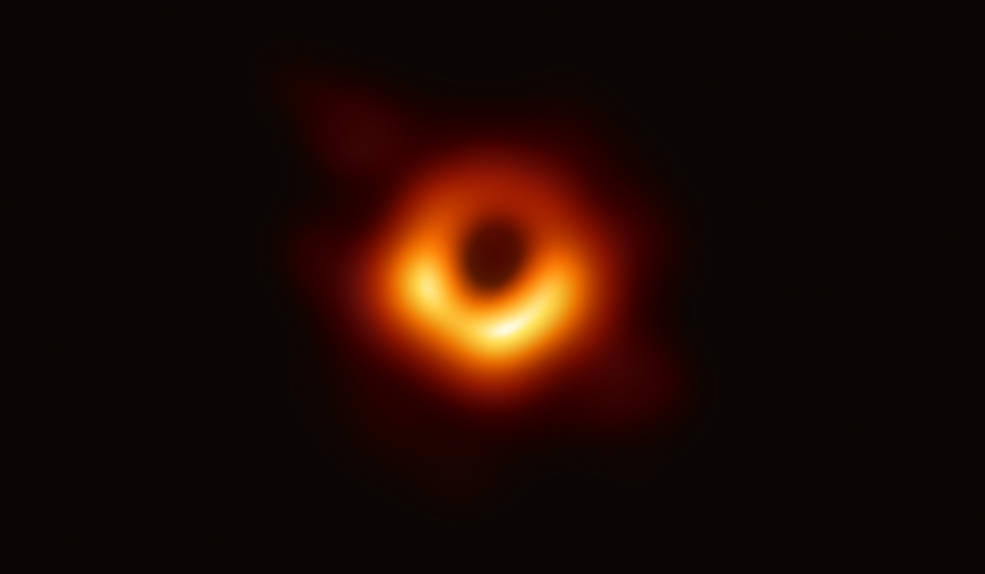 To make the newest observation, the Event Horizon Telescope focused its array of observing platforms on the center of the Milky Way. A telescope array is a group of telescopes arranged so that, as a set, they function similarly to one giant telescope. In addition to the telescopes used to acquire the M87* image, three additional radio telescopes joined the array to acquire the image of Sagittarius A*: the Greenland Telescope, the Kitt Peak 12-meter Telescope in Arizona, and the NOrthern Extended Millimeter Array, or NOEMA, in France.
The distance from the center of Sagittarius A* to its event horizon, a measurement known as the Schwarzschild radius, is enormous at seven million miles (12,000,000 kilometers or 0.08 astronomical units). But its apparent size when viewed from Earth is tiny because it is so far away. The apparent Schwarzschild radius for Sagittarius A* is 10 microarcseconds, about the angular size of a large blueberry on the Moon.
Acquiring a good image of a large object that appears tiny when viewed from Earth requires a telescope with extraordinarily fine resolution, or the ability to detect the smallest possible details in an image. The better the resolution, the better the image and the more detail the image will show. Even the best individual telescopes or array of telescopes at one location do not have a good enough resolution to image Sagittarius A*.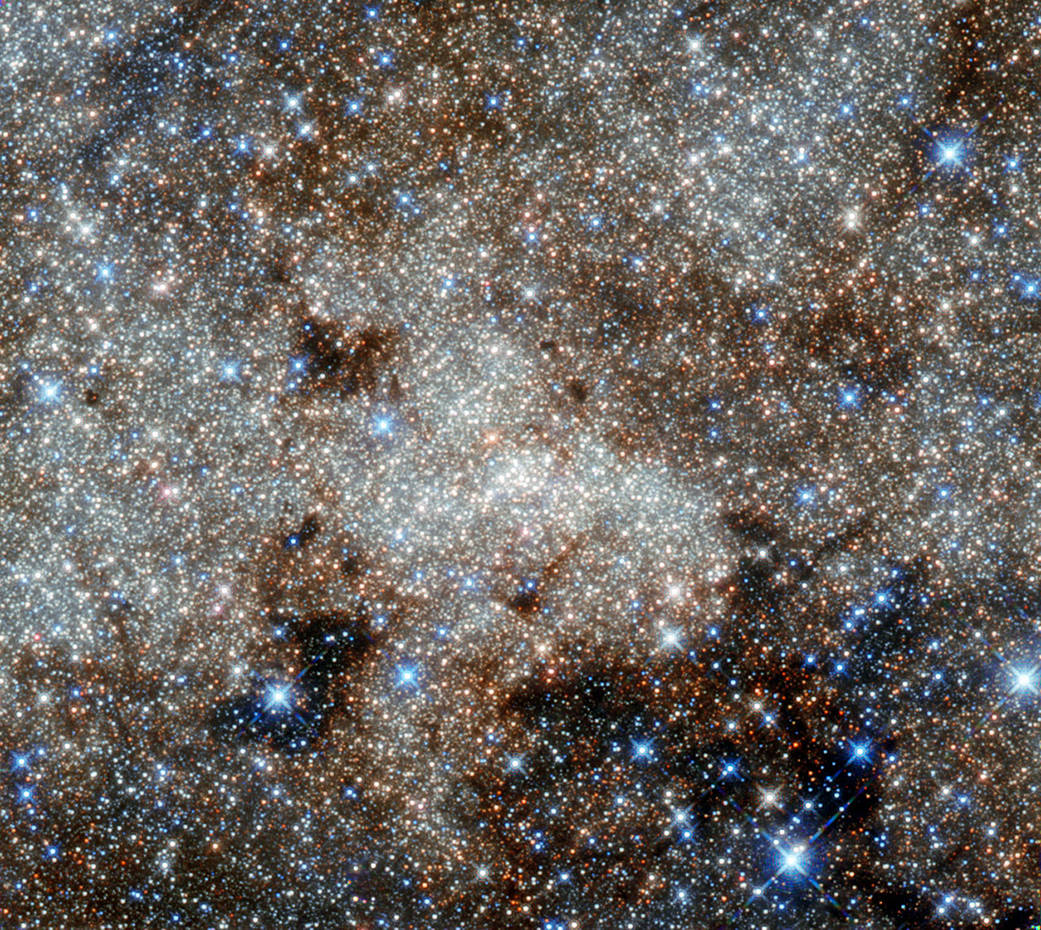 The addition of the 12-meter Greenland Telescope, though a relatively small instrument, widened the diameter, or aperture, of the Event Horizon Telescope to nearly the diameter of Earth. And NOEMA – itself an array of twelve 15-meter antennas with maximum separation of 2,500 feet (760 meters) – helped further increase the Event Horizon Telescope's light-gathering capacity.
Altogether, when combined into the mighty Event Horizon Telescope, the virtual array obtained an image of Sagittarius A* spanning about 50 microarcseconds, or about 1/13th of a billionth the span of the night sky.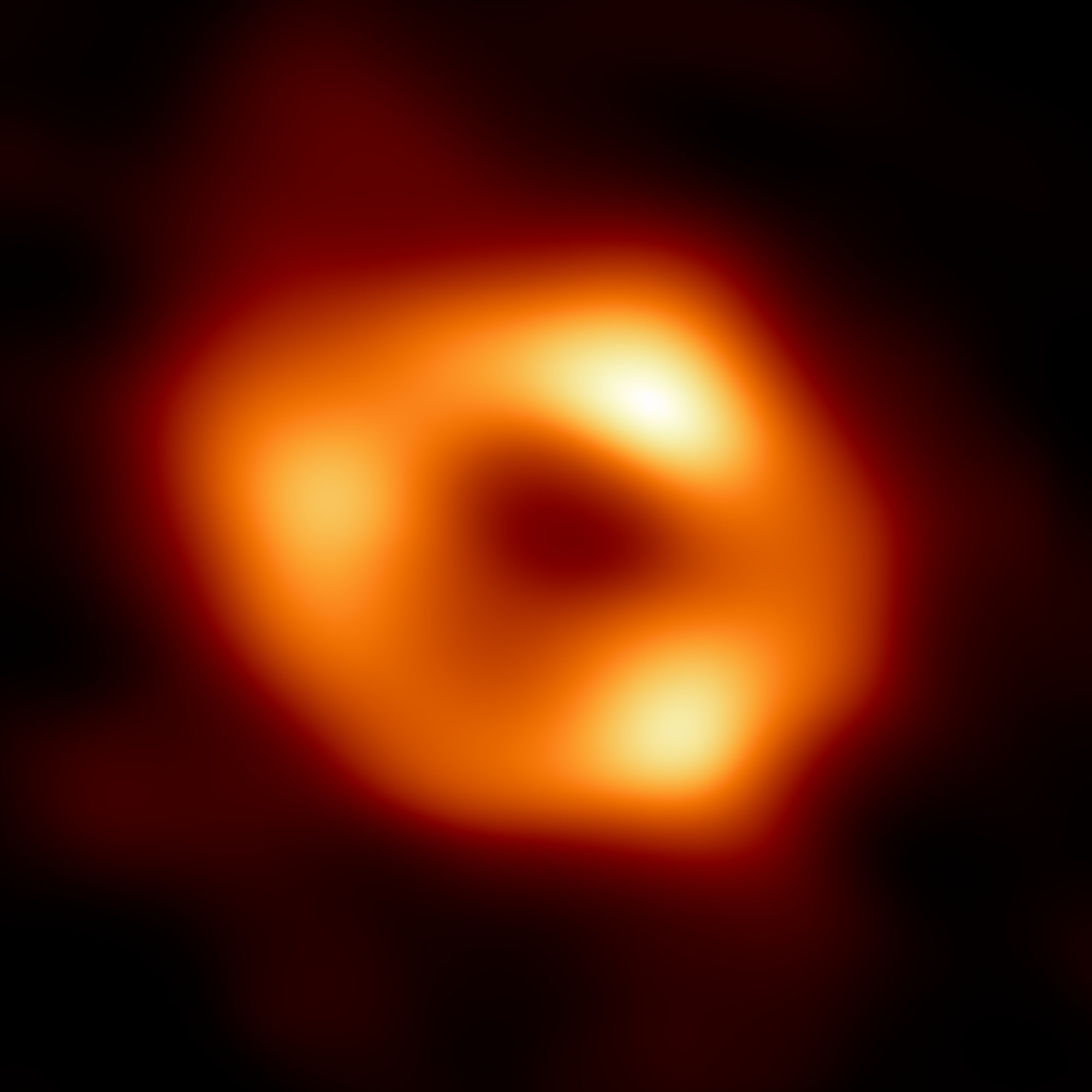 While the Event Horizon Telescope was busy capturing the stunning radio image of Sagittarius A*, an additional worldwide contingent of astronomical observatories was also focused on the black hole and the region surrounding it. The aim of the team, known as the Event Horizon Telescope Multiwavelength Science Working Group, was to observe the black hole in other parts of the electromagnetic spectrum beyond radio. As part of the effort, X-ray data were collected by NASA's Chandra X-ray Observatory, Nuclear Spectroscopic Telescope (NuSTAR), and Neil Gehrels Swift Observatory, additional radio data were collected by the East Asian Very Long-Baseline Interferometer (VLBI) network and the Global 3 millimeter VLBI array, and infrared data were collected by the European Southern Observatory's Very Large Telescope.
The data from these multiple platforms will allow scientists to continue building their understanding of the behavior of Sagittarius A* and to refine their models of black holes in general. The data collected from these multiwavelength observations are crucial to the study of black holes, such as the Chandra data revealing how quickly material falls in toward the disk of hot gas orbiting the black hole's event horizon. Data such as these will hopefully help scientists better understand black hole accretion, or the process by which black holes grow.
Teach It
Check out these resources to bring the real-life STEM of black holes into your teaching, plus learn about opportunities to involve students in real astronomy research.
Explore More
Articles
Educator Guides
Student Activities
Check out these related resources for students from NASA's Space Place
Across the NASA-Verse
---
This Teachable Moment was created in partnership with NASA's Universe of Learning. Universe of Learning materials are based upon work supported by NASA under award number NNX16AC65A to the Space Telescope Science Institute, working in partnership with Caltech/IPAC, Center for Astrophysics | Harvard & Smithsonian, and the Jet Propulsion Laboratory.
TAGS: Black hole, Milky Way, galaxy, universe, stars, teachers, educators, lessons, Teachable Moments, K-12, science
---
Learn about the role that dust plays in Earth's climate, why scientists are interested in studying dust from space, and how to engage students in the science with STEM resources from JPL.
---
A NASA instrument launching to the International Space Station in early summer will explore how dust impacts global temperatures, cloud formation, and the health of our oceans. The Earth Surface Mineral Dust Source Investigation, or EMIT, will be the first instrument of its kind, collecting measurements from space of some of the most arid regions on Earth to understand the composition of soils that generate dust and the larger role dust plays in climate change.
Read on to find out how the instrument works and why scientists are hoping to learn more about the composition of dust. Then, explore how to bring the science into your classroom with related climate lessons that bridge physical sciences with engineering practices.
Why It's Important
Scientists have long studied the movements of dust. The fact that dust storms can carry tiny particles great distances was reported in the scientific literature nearly two centuries ago by none other than Charles Darwin as he sailed across the Atlantic on the HMS Beagle. What still remains a mystery all these years later is what that dust is made of, how it moves, and how that affects the health of our planet.
For example, we now know that dust deposited on snow speeds up snow melt even more than increased air temperature. That is to say, that dust traveling to cold places can cause increased snow melt.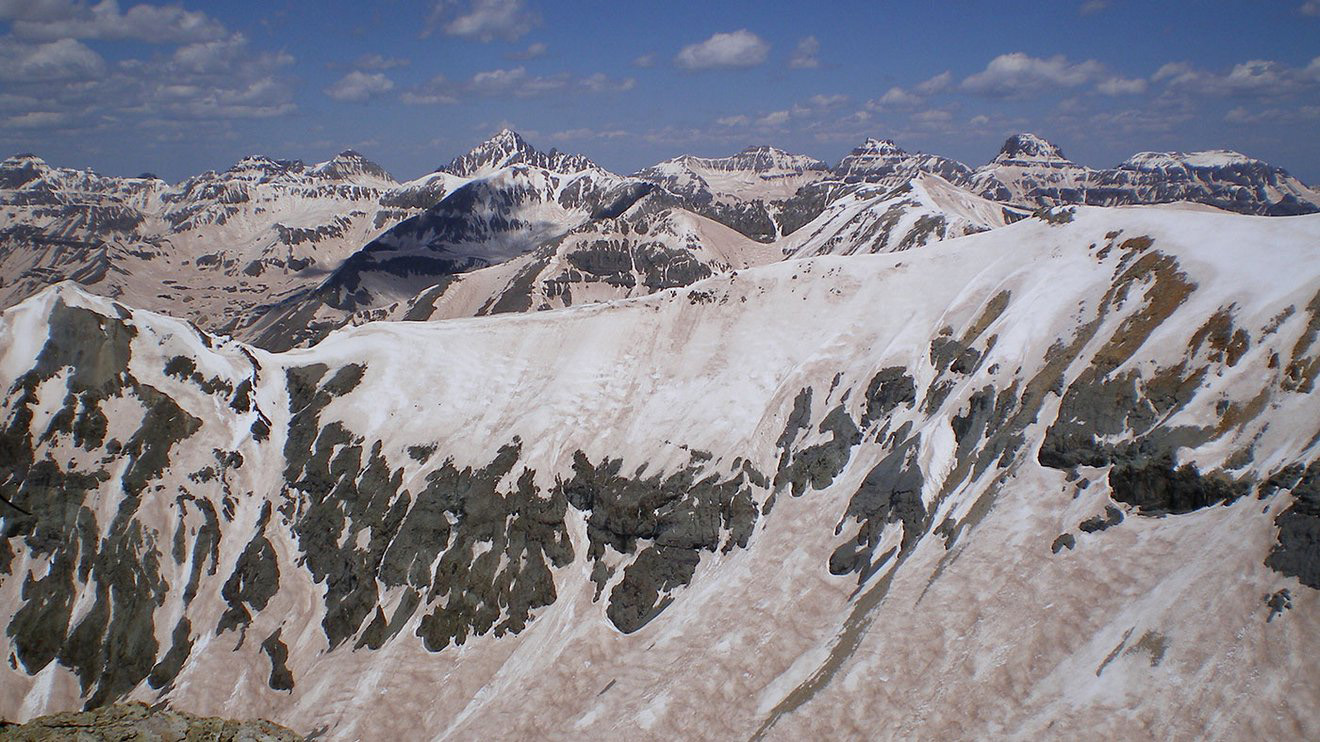 Dust can affect air temperatures as well. For example, dust with more iron absorbs light and can cause the air to warm, while dust with less iron reflects light and is responsible for local cooling. Iron in dust can also act as a fertilizer for plankton in oceans, supplying them with nutrients needed for growth and reproduction.
Floating dust potentially alters the composition of clouds and how quickly or slowly they form, which can ultimately impact weather patterns, including the formation of hurricanes. That's because clouds need particles to act as seeds around which droplets of moisture in the atmosphere can form. This process of coalescing water particles, called nucleation, is one factor in how clouds form.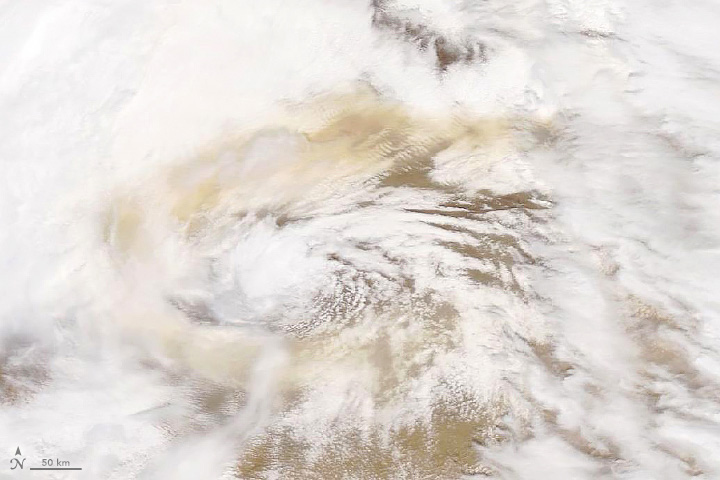 Thanks to EMIT, we'll take the first steps in understanding how the movements of dust particles contribute to local and global changes in climate by producing "mineral maps". These mineral maps will reveal differences in the chemical makeup of dust, providing essential information to help us model the way dust can transform Earth's climate.
› Learn more about what EMIT will do from JPL News
How It Works
NASA has been exploring how dust moves across the globe by combining on-the-ground field studies with cutting-edge technology.
Dr. Olga Kalashnikova, an aerosol scientist at NASA's Jet Propulsion Laboratory and a co-investigator for EMIT, has been using satellite data to study atmospheric mineral dust for many years, including tracking the movements of dust and investigating trends in the frequency of dust storms.
As Dr. Kalashnikova describes, "From the ground, we can see what types of dusts are lifted into the atmosphere by dust storms on a local scale, but with EMIT, we can understand how they differ and where they originally came from."
EMIT is the first instrument designed to observe a key part of the mineral dust cycle from space, allowing scientists to track different dust compositions on a global scale, instead of in just one region at a time. To understand dust's impact on Earth's climate, scientists will use EMIT to answer key questions, including:
How does dust uplifted in the atmosphere alter global temperatures?
What role do dusts play in fertilizing our oceans when they are deposited?
How do dust particles in the atmosphere affect cloud nucleation; the process by which clouds are 'seeded' and begin to coalesce into larger clouds?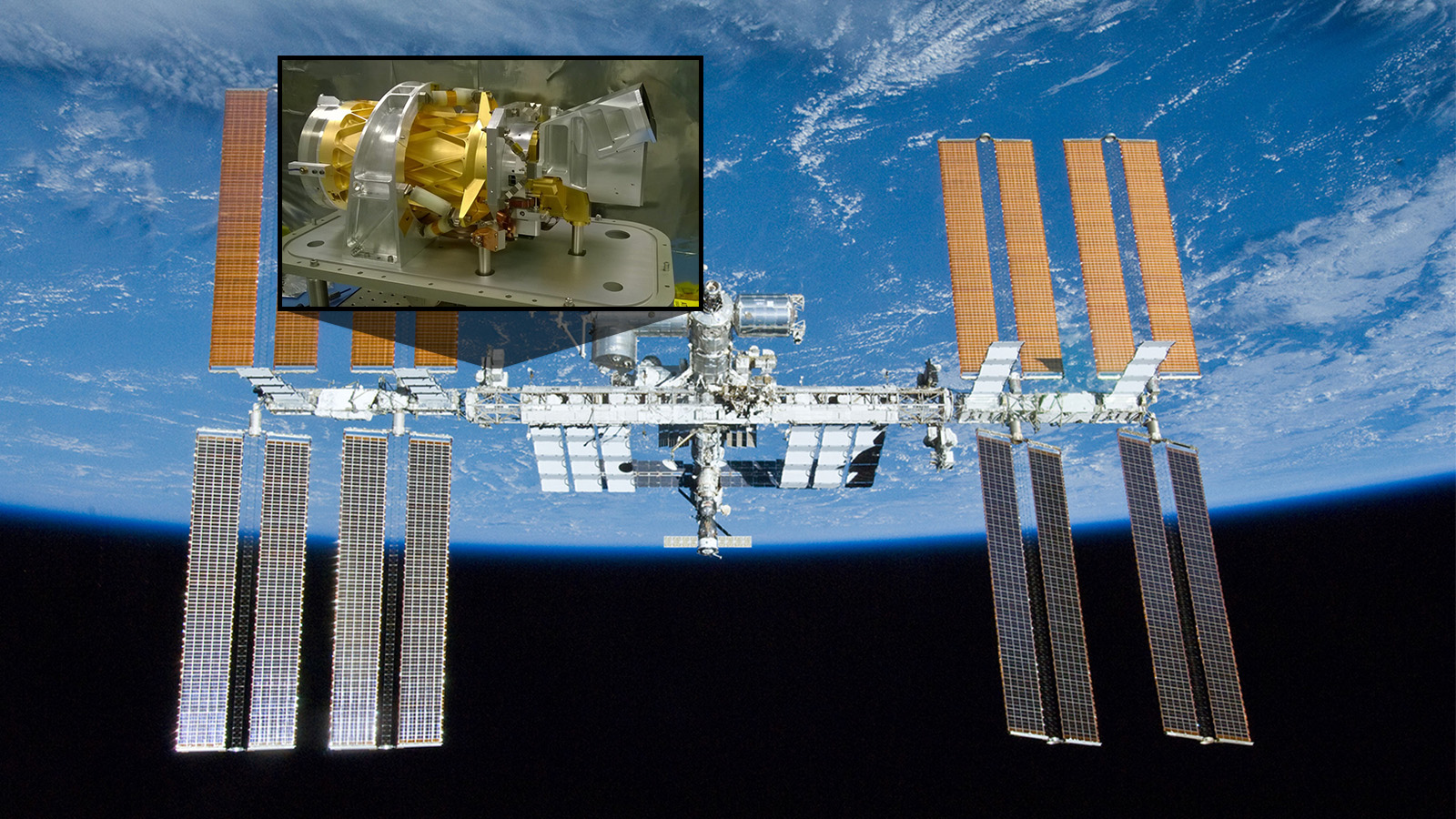 To achieve its objectives, EMIT will spend 12 months collecting what are called "hyperspectral images" of some of the most arid regions of our planet selected by scientists and engineers as areas of high dust mobility, such as Northern Africa, the Middle East, and the American Southwest.
These images are measurements of light reflected from the Earth below, calibrated to the distinct patterns, or spectra, of light we see when certain minerals are present. The EMIT team has identified 10 minerals that are most common, including gypsum, hematite, and kaolinite.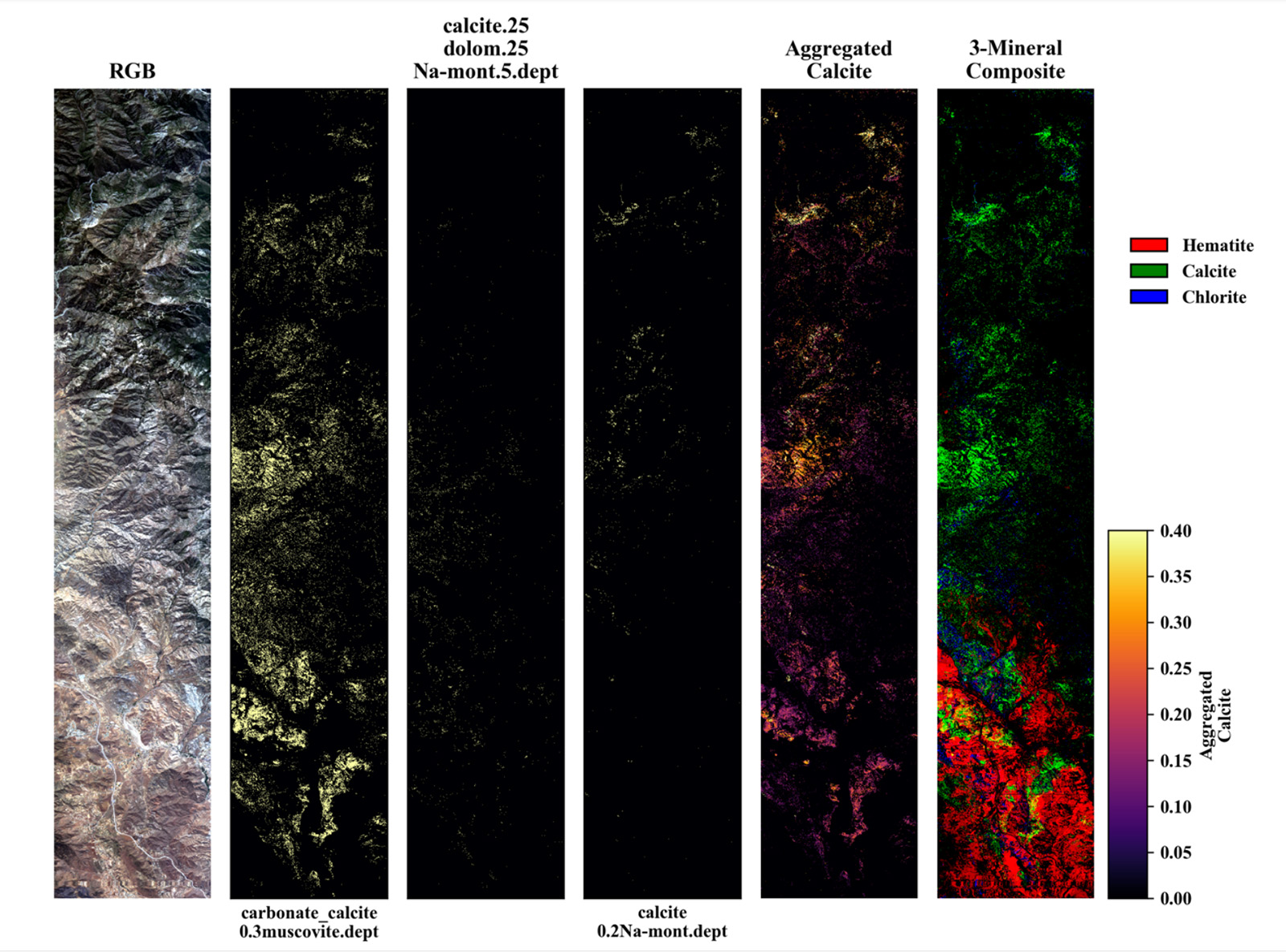 Why are these minerals important? One key reason is the presence or absence of the element iron, found in some minerals but not others.
Dr. Bethany Ehlmann is a planetary scientist and co-investigator for the EMIT project at Caltech and explains that when it comes to heating, "a little bit of iron goes a long way." Iron in minerals absorbs visible and infrared light, meaning that even if only a small amount is present, it will result in a much warmer dust particle. Large amounts of warm dust in our atmosphere may have an impact on temperatures globally since those dust particles radiate heat as they travel, sometimes as far as across oceans!
Collecting images from space is, of course, no easy task, especially when trying to look only at the ground below. Yet it does allow scientists to get a global picture that's not possible to capture from the ground. Field studies allow us to take individual samples from tiny places of interest, but from space, we can scan the entire planet in remote places where no scientist can visit.
Of course, there are some complications in trying to study the light reflected off the surface of Earth, such as interference from clouds. To prevent this problem, the EMIT team plans to collect data at each location several times to ensure that the images aren't being obscured by clouds between the instrument and the minerals we're looking for.
The data collected by EMIT will provide a map of the compositions of dust from dry, desert environments all over the world, but the team involved won't stop there. Knowing more about what the dust is made of sets the stage for a broader understanding of a few more of the complex processes that make up our global climate cycle. Upon completion of this study, EMIT's mineral maps will support further campaigns to complete our global dust picture. For example, NASA hopes to couple the data from EMIT with targeted field campaigns, in which scientists can collect wind-blown dust from the ground to learn more about where dust particles move over time and answer questions about what types of dust are on the go.
Furthermore, missions such as the Multiangle Imager for Aerosols, or MAIA, will allow us to better understand the effects of these dust particles on air-quality and public health.
Teach it
Studying Earth's climate is a complex puzzle, consisting of many trackable features. These can range from sea level to particles in our atmosphere, but each makes a contribution to measuring the health of our planet. Bring EMIT and NASA Earth Science into your classroom with these lessons, articles, and activities to better understand how we're exploring climate change.
Educator Guides
Student Activities
Articles
Websites
TAGS: Earth, climate, geology, weather, EMIT, Teachers, Classroom, Lessons, Earth Science, Climate Change, Dust, Global Warming, Educators, K-12, Teachable Moments
---
Learn about pi and some of the ways the number is used at NASA. Then, dig into the science behind the Pi Day Challenge.
---
Update: March 15, 2022 – The answers are here! Visit the NASA Pi Day Challenge slideshow to view the illustrated answer keys for each of the problems in the 2022 challenge.
In the News
No matter what Punxsutawney Phil saw on Groundhog Day, a sure sign that spring approaches is Pi Day. Celebrated on March 14, it's the annual holiday that pays tribute to the mathematical constant pi – the number that results from dividing any circle's circumference by its diameter.
Every year, Pi Day gives us a reason to not only celebrate the mathematical wonder that helps NASA explore the universe, but also to enjoy our favorite sweet and savory pies. Students can join in the fun by using pi to explore Earth and space themselves in our ninth annual NASA Pi Day Challenge.
Read on to learn more about the science behind this year's challenge and find out how students can put their math mettle to the test to solve real problems faced by NASA scientists and engineers as we explore Earth, the Moon, Mars, and beyond!
How It Works
Dividing any circle's circumference by its diameter gives you an answer of pi, which is usually rounded to 3.14. Because pi is an irrational number, its decimal representation goes on forever and never repeats. In 2021, a supercomputer calculated pi to more than 62 trillion digits. But you might be surprised to learn that for space exploration, NASA uses far fewer digits of pi.
Here at NASA, we use pi to understand how much signal we can receive from a distant spacecraft, to calculate the rotation speed of a Mars helicopter blade, and to collect asteroid samples. But pi isn't just used for exploring the cosmos. Since pi can be used to find the area or circumference of round objects and the volume or surface area of shapes like cylinders, cones, and spheres, it is useful in all sorts of ways. Architects use pi when designing bridges or buildings with arches; electricians use pi when calculating the conductance of wire; and you might even want to use pi to figure out how much frozen goodness you are getting in your ice cream cone.
In the United States, March 14 can be written as 3.14, which is why that date was chosen for celebrating all things pi. In 2009, the U.S. House of Representatives passed a resolution officially designating March 14 as Pi Day and encouraging teachers and students to celebrate the day with activities that teach students about pi. And that's precisely what the NASA Pi Day Challenge is all about!
The Science Behind the 2022 NASA Pi Day Challenge
This ninth installment of the NASA Pi Day Challenge includes four brain-busters that get students using pi to measure frost deep within craters on the Moon, estimate the density of Mars' core, calculate the water output from a dam to assess its potential environmental impact, and find how far a planet-hunting satellite needs to travel to send data back to Earth.
Read on to learn more about the science and engineering behind the problems or click the link below to jump right into the challenge.
› Take the NASA Pi Day Challenge
› Educators, get the lesson here!
Lunar Logic
NASA's Lunar Flashlight mission is a small satellite that will seek out signs of frost in deep, permanently shadowed craters around the Moon's south pole. By sending infrared laser pulses to the surface and measuring how much light is reflected back, scientists can determine which areas of the lunar surface contain frost and which are dry. Knowing the locations of water-ice on the Moon could be key for future crewed missions to the Moon, when water will be a precious resource. In Lunar Logic, students use pi to find out how much surface area Lunar Flashlight will measure with a single pulse from its laser.
Core Conundrum
Since 2018, the InSight lander has studied the interior of Mars by measuring vibrations from marsquakes and the "wobble" of the planet as it rotates on its axis. Through careful analysis of the data returned from InSight, scientists were able to measure the size of Mars' liquid core for the first time and estimate its density. In Core Conundrum, students use pi to do some of the same calculations, determining the volume and density of the Red Planet's core and comparing it to that of Earth's core.
Dam Deduction
The Surface Water and Ocean Topography, or SWOT mission will conduct NASA's first global survey of Earth's surface water. SWOT's state-of-the-art radar will measure the elevation of water in major lakes, rivers, wetlands, and reservoirs while revealing unprecedented detail on the ocean surface. This data will help scientists track how these bodies of water are changing over time and improve weather and climate models. In Dam Deduction, students learn how data from SWOT can be used to assess the environmental impact of dams. Students then use pi to do their own analysis, finding the powered output of a dam based on the water height of its reservoir and inferring potential impacts of this quick-flowing water.
Telescope Tango
The Transiting Exoplanet Survey Satellite, or TESS, is designed to survey the sky in search of planets orbiting bright, nearby stars. TESS does this while circling Earth in a unique, never-before-used orbit that brings the spacecraft close to Earth about once every two weeks to transmit its data. This special orbit keeps TESS stable while giving it an unobstructed view of space. In its first two years, TESS identified more than 2,600 possible exoplanets in our galaxy with thousands more discovered during its extended mission. In Telescope Tango, students will use pi to calculate the distance traveled by TESS each time it sends data back to Earth.
Teach It
Celebrate Pi Day by getting students thinking like NASA scientists and engineers to solve real-world problems in NASA Pi Day Challenge. Completing the problem set and reading about other ways NASA uses pi is a great way for students to see the importance of the M in STEM.
Pi Day Resources
Plus, join the conversation using the hashtag #NASAPiDayChallenge on Facebook, Twitter, and Instagram.
Recursos en español
Related Lessons for Educators
Related Activities for Students
Explore More
Infographic
Facts and Figures
Missions and Instruments
Websites
TAGS: Pi Day, Pi, Math, NASA Pi Day Challenge, Moon, Lunar Flashlight, Mars, InSight, Earth, Climate, SWOT, Exoplanets, Universe, TESS, Teachers, Educators, Parents, Students, Lessons, Activities, Resources, K-12
---
---
Explore how the OMG mission discovered more about what's behind one of the largest contributors to global sea level rise. Plus, learn what it means for communities around the world and how to get students engaged.
---
After six years investigating the effects of warming oceans on Greenland's ice sheet, the Oceans Melting Greenland, or OMG, mission has concluded. This airborne and seaborne mission studied how our oceans are warming and determined that ocean water is melting Greenland's glaciers as much as warm air is melting them from above.
Read on to learn more about how OMG accomplished its goals and the implications of what we learned. Then, explore educational resources to engage students in the science of this eye-opening mission.
Why It's Important
Global sea level rise is one of the major environmental challenges of the 21st century. As oceans rise, water encroaches on land, affecting populations that live along shorelines. Around the world – including U.S. regions along the Gulf of Mexico and Eastern Seaboard and in Alaska – residents are feeling the impact of rising seas. Additionally, freshwater supplies are being threatened by encroaching saltwater from rising seas.
Sea level rise is mostly caused by melting land ice (primarily glaciers), which adds water to the ocean, as well as thermal expansion, the increase in volume that occurs when water heats up. Both ice melt and thermal expansion result from rising global average temperatures on land and in the sea – one facet of climate change.
Greenland's melting glaciers contribute more freshwater to sea level rise than any other source, which is why the OMG mission set out to better understand the mechanisms behind this melting.
How We Did It
The OMG mission used a variety of instruments onboard airplanes and ships to map the ocean floor, measure the behemoth Greenland glaciers, and track nearby water temperature patterns.
Early on, the mission team created a map of the ocean floor, known as a bathymetric map, by combining multibeam sonar surveys taken from ships and gravity measurements taken from airplanes. Interactions among glaciers and warming seas are highly dependent on the geometry of the ocean floor. For example, continental shelf troughs carved by glaciers allow pathways for water to interact with glacial ice. So understanding Greenland's local bathymetry was crucial to OMG's mission.
To locate the edges of Greenland's glaciers and measure their heights, the mission used a radar instrument known as the Glacier and Ice Surface Topography Interferometer. Every spring during the six-year OMG mission, the radar was deployed on NASA's Gulfstream III airplane that flew numerous paths over Greenland's more than 220 glaciers. Data from the instrument allowed scientists to determine how the thickness and area of the glaciers are changing over time.
Finally, to measure ocean temperature and salinity patterns, scientists deployed numerous cylindrical probes. These probes dropped from an airplane and fell through the water, taking measurements from the surface all the way to the ocean floor. Each probe relayed its information back to computers onboard the plane where ocean temperatures and salinity were mapped. Then, scientists took this data back to their laboratories and analyzed it for trends, determining temperature variations and circulation patterns.
What We Discovered
Prior to the OMG mission, scientists knew that warming air melted glaciers from above, like an ice cube on a hot day. However, glaciers also flow toward the ocean and break off into icebergs in a process called calving. Scientists had the suspicion that warmer ocean waters were melting the glaciers from below, causing them to break off more icebergs and add to rising seas. It wasn't until they acquired the data from OMG, that they discovered the grim truth: Glaciers are melting from above and below, and warming oceans are having a significant effect on glacial melt.
What this means for our Earth's climate is that as we continue burning fossil fuels and contributing to greenhouse gas accumulation, the oceans, which store more than 90% of the heat that is trapped by greenhouse gases, will continue to warm, causing glaciers to melt faster than ever. As warming ocean water moves against glaciers, it eats away at their base, causing the ice above to break off. In other words, calving rates increase and sea level rises even faster.
Our oceans control our climate and affect our everyday lives, whether or not we live near them. With the pace of the melt increasing, our shorelines and nearby communities will be in trouble sooner than previously expected. And it's not just the beaches that will be affected. If Greenland's glaciers all melt, global sea levels will rise by over 24 feet (7.4 meters), bringing dramatic change to the landscapes of major cities around the world.
› Read more about OMG's findings and how scientists are continuing their research through ongoing initiatives and projects.
Teach It
Check out these resources to bring the real-life STEM behind the mission into your teaching. With lessons for educators and student projects, engage students in learning about the OMG mission and NASA climate science.
Educator Guides
Student Projects
Articles
Explore More
Websites
Facts & Figures
Videos
Interactives
Image Gallery
Articles
Podcast
TAGS: Teachable Moment, Climate, Earth Science, Glaciers, Greenland, Ice, Sea Level Rise, Teachers, Educators, Parents, Lessons, Missions, Earth, Climate TM
---
Jayme Wisdom has been teaching for 15 years at the Vaughn Charter System in Pacoima, California. She has taught eighth-grade science for most of her career but switched to high school biology for the first time this year.
Ms. Wisdom has long utilized NASA and JPL educational resources, finding creative ways to adapt lessons to meet her students' needs and exposing them to STEM careers.
A self-described professional nerd, she doesn't shy away from her love of all things Star Trek and Star Wars (and stands firm in her refusal to pick which is superior). While presenting during a recent JPL Education workshop, she shared how she continues to get her students excited about science – both in the classroom and remotely – during the COVID era.
What unique challenges do you face engaging or addressing the needs of your students?
Many of the students I teach face challenges including poverty, homelessness, and learning English as a second language. This year, in particular, has been extremely difficult for all of us dealing with the pandemic and distance learning. As a teacher, I have had to find ways to make sure that my students are engaged in scientific inquiry and have access to resources and materials while learning remotely. This begins and ends with a conscious effort to acknowledge that kids are struggling with this online format and carving out time in every single class to provide the socio-emotional support they have come to expect from a classroom environment. Before we dive into content, this means making time for check-ins and updates. In any in-person classroom, we carve out time to get to know each other, and being online should not diminish that. Of course, as we all learned this year, easier said than done.
Social isolation is another factor that contributes to the challenges of distance learning. Even though students see their peers virtually, it is often difficult for them to open up and talk as freely as they would if they were in a physical classroom. So I have had to find ways to make sure that my students are comfortable with engaging in a virtual setting by allowing them opportunities to talk and collaborate with each other online.
Using breakout sessions was difficult at first, because the students were very self-conscious about speaking to each other on screen and were reluctant to share ideas. So every day, we spent the first few minutes in each class just talking to each other through text-based chat to get them socializing and feeling more comfortable with this new way of interacting. Now they are more comfortable engaging in scientific inquiry with each other and have meaningful discussions to expand their learning. It is not the same as having them physically perform labs together in class but things are definitely improving.
Another challenge has been providing all of my students with access to resources and materials that allow them to simulate a laboratory experience at home. I have been pleasantly surprised at the wealth of resources I have available to me as a teacher to provide virtual labs and activities to my students. Whether it is virtual demonstrations and simulations or scientific investigations that require simple materials that students can find around the house, we have been very resourceful so we can give students the best experience possible through distance learning. Promoting lab science with home supplies has been instrumental in student engagement, as they really get to explore in their own context, expressing themselves creatively with what they have at their disposal instead of being provided the materials.
How have you used lessons from NASA and JPL to keep students engaged while teaching in person and remotely?
I have always been fascinated by outer space and have loved sci-fi TV shows and movies since I was very young. So as a teacher, I was so excited to discover ways to use my love of astronomy to engage my students.
When I discovered NASA and JPL's resources and lessons, I went through them like a kid in a candy store. I found so many different activities that I could adapt to use in my own classroom. Over the past few years, I have used several JPL Education lessons and modified and extended them for my students.
For example, I took JPL's Touchdown lesson and allowed students to create their own planetary lander using materials they could find around their home. I challenged them to create a way to quantify how much impact the touchdown would have on the "astronauts" in their lander. Some students used balls of play dough as their astronauts, and quantified the impact by measuring the dents made in the play dough by paper clips that they had placed on the "seats" of their lander.
Another example was when I combined the Soda-Straw Rocket and Stomp Rockets lessons. I had my students create a straw-stomp rocket to investigate how changing the angle of the rocket launch could have an effect on the distance the rocket traveled.
My students also had the opportunity to participate in engineering activities with JPL and college students from Pasadena City College. The impact that this had on my students was profound and long-lasting. It was inspiring for my students to hear from NASA scientists and student role-models who encouraged them to pursue careers in science, engineering, and technology.
How have students reacted to these lessons?
The biggest payoff for me was seeing students envision themselves as NASA scientists. They learned to collaborate with each other, learn from each other, and challenge each other. They were able to experience every step of the engineering process firsthand. They were actively involved in designing, building, and testing their rockets and landers. They could also gather information from watching other students revise and improve their designs. Learning from each other was so much fun for them. As a teacher, watching my students strengthen their critical thinking, practical engineering, and problem-solving skills is one of the best parts of my job.
You switched from teaching middle school to teaching high school this year. How are you thinking about incorporating NASA resources into lessons for older students?
Growing up, I loved how the technology that I saw in the sci-fi shows I watched as a kid eventually made its way into our reality. I am always amazed at how NASA scientists push the boundaries of technology development and are only limited by the scope of their imagination.
As a high school biology teacher, I'm looking forward to having my students examine the ways that space technology is being used to help humans improve the health of the planet. Investigating climate change and the ecological impact humans have on the environment is so important. Looking at how NASA gathers data to better understand climate change is especially critical at this time because my students' generation is going to play a pivotal role in developing technologies for improving life on Earth. I'm looking forward to continuing to use JPL Education resources to help my students prepare for that challenge.
---
Looking for ways to bring NASA STEM into your classroom or already have a great idea? The Education Office at NASA's Jet Propulsion Laboratory serves educators in the greater Los Angeles area. Contact us at education@jpl.nasa.gov.
Explore More
TAGS: Teaching, Teachers, K-12, Middle School, High School, Remote Instruction, Classroom, Lessons, Educators, Workshops, Professional Development
---
Learn how, why, and what Perseverance will explore on Mars, plus find out about an exciting opportunity for you and your students to join in the adventure!
---
In the News
On Feb. 18, NASA's Perseverance Mars rover touched down on the Red Planet after a seven-month flight from Earth. Only the fifth rover to land on the planet, Perseverance represents a giant leap forward in our scientific and technological capabilities for exploring Mars and the possibility that life may have once existed on the Red Planet.
Here, you will:
Why It's Important
You might be wondering, "Isn't there already a rover on Mars?" The answer is yes! The Curiosity rover landed on Mars in 2012 and has spent its time on the Red Planet making fascinating discoveries about the planet's geology and environment – setting the stage for Perseverance. So, why send another rover to Mars? The lessons we've learned from Curiosity coupled with advancements in technology over the last decade are allowing us to take the next big steps in our exploration of Mars, including looking for signs of ancient microbial life, collecting rock samples to bring to Earth one day, and setting the stage for a potential future human mission to the Red Planet.
More specifically, the Perseverance Mars rover has four science objectives:
Identify past environments on Mars that could have supported microbial life
Seek signs of ancient microbial life within the rocks and soil using a new suite of scientific instruments
Collect rock samples of interest to be stored on the surface for possible return by future missions
Pave the way for human exploration beyond the Moon
With these science objectives in mind, let's take a look at how the mission is designed to achieve these goals – from its science-rich landing site, Jezero Crater, to its suite of onboard tools and technology.
How It Works
Follow the Water
While present-day Mars is a cold, barren planet, science suggests that it was once very similar to Earth. The presence of clay, dried rivers and lakes, and minerals that formed in the presence of water provide extensive evidence that Mars once had flowing water at its surface. As a result, a mission looking for signs of ancient life, also known as biosignatures, should naturally follow that water. That's because water represents the essential ingredient for life as we know it on Earth, and it can host a wide variety of organisms.
This is what makes Perseverance's landing site in Jezero Crater such a compelling location for scientific exploration. The crater was originally formed by an ancient meteorite impact about 3.8 billion years ago, and it sits within an even larger, older impact basin. The crater also appears to have once been home to an ancient lake fed by a river that formed the delta where Perseverance will begin its exploration, by exploring the foot of the river delta.
Tools of the Trade
Perseverance will begin its scientific exploration with the assistance of an array of tools, also known as science instruments.
Like its predecessor, Perseverance will have a number of cameras – 23, in fact! – serving as the eyes of the rover for scientists and engineers back on Earth. Nine of these cameras are dedicated to mobility, or tracking the rover's movements; six will capture images and videos as the rover travels through the Martian atmosphere down to the surface, a process known as entry, descent, and landing; and seven are part of the science instrumentation.
Navcam, located on the mast (or "head") of the rover, will capture images to help engineers control the rover. Meanwhile, Mastcam-Z, also on the rover's mast, can zoom in, focus, and take 3D color pictures and video at high speed to allow detailed examination of distant objects. A third camera, Supercam, fires a small laser burst to excite compounds on the surface and determine their composition using spectroscopy. Supercam is also equipped with a microphone. This microphone (one of two on the rover) will allow scientists to hear the pop the laser makes upon hitting its target, which may give scientists additional information about the hardness of the rock.
Leaning more toward chemistry, the Planetary Instrument for X-Ray Lithochemistry (PIXL) will allow us to look at the composition of rocks and soil down to the size of a grain of salt. Elements respond to different types of light, such as X-rays, in predictable ways. So by shining an X-ray on Martian rocks and soil, we can identify elements that may be part of a biosignature.
Meanwhile, a device called SHERLOC will look for evidence of ancient life using a technique called Deep UV Raman spectroscopy. Raman spectroscopy can help scientists see the crystallinity and molecular structure of rocks and soil. For example, some molecules and crystals luminesce, or emit light, when exposed to ultraviolet – similar to how a blacklight might be used to illuminate evidence in a crime scene. Scientists have a good understanding of how chemicals considered key to life on Earth react to things like ultraviolet light. So, SHERLOC could help us identify those same chemicals on Mars. In other words, it can contribute to identifying those biosignatures we keep talking about.
Rounding out its role as a roving geologist on wheels, Perseverance also has instruments for studying beneath the surface of Mars. An instrument called the Radar Imager of Mars Subsurface Experiment (RIMFAX) will use ground-penetrating radar to analyze depths down to about 100 feet (30 meters) below the surface. Mounted on the rear of the rover, RIMFAX will help us understand geological features that can't be seen by the other cameras and instruments.
The rover's suite of instruments demonstrates how multiple scientific disciplines – chemistry, physics, biology, geology, and engineering – work in concert to further our understanding of Mars and help scientists uncover whether life ever existed on the Red Planet.
Next Generation Tech
At NASA, scientists and engineers are always looking to push the envelope and, while missions such as Perseverance are ambitious in themselves, they also provide an opportunity for NASA to test new technology that could be used for future missions. Two excellent examples of such technology joining Perseverance on Mars are MOXIE and the first ever Mars helicopter, Ingenuity.
MOXIE stands for the Mars Oxygen In-Situ Resource Utilization Experiment. Operating at 800 degrees Celsius, MOXIE takes in carbon dioxide (CO2) from the thin Martian atmosphere and splits those molecules into pure oxygen using what is called a catalyst. A catalyst is a chemical that allows for reactions to take place under conditions they normally wouldn't. MOXIE provides an incredible opportunity for NASA to create something usable out of the limited resources available on Mars. Over the duration of the rover's mission, MOXIE will run for a total of one hour every time it operates, distributed over the course of the prime mission timeframe, to determine whether it can reliably produce breathable oxygen. The goal of operating this way is to allow scientists to determine the performance across a variety of environmental conditions that a dedicated, human-mission-sized oxygen plant would see during operations - day versus night, winter versus summer, etc. Oxygen is of great interest for future missions not just because of its necessity for future human life support on Mars, but also because it can be used as a rocket propellant, perhaps allowing for future small-scale sample return missions to Earth.
The Mars Ingenuity helicopter is likewise an engineering first. It is a technology demonstration to test powered flight on Mars. Because the Martian atmosphere is so thin, flight is incredibly difficult. So, the four-pound (1.8-kilogram), solar powered helicopter is specially designed with two, four-foot (1.2-meter) long counter-rotating blades that spin at 2,400 rotations per minute. In the months after Perseverance lands, Ingenuity will drop from the belly of the rover. If all goes well, it will attempt test flights of increasing difficulty, covering incrementally greater heights and distances for about 30 days. In the future, engineers hope flying robots can allow for a greater view of the surrounding terrain for robotic and human missions alike.
Teach It
The process of landing on Mars with such an advanced mission is no doubt an exciting opportunity to engage students across all aspects of STEM – and NASA wants to help teachers, educators and families bring students along for the adventure with the Mission to Mars Student Challenge. This challenge will lead students through designing and building a mission to Mars with a guided education plan and resources from NASA, listening to expert talks, and sharing student work with a worldwide audience.
Learn more about the challenge and explore additional education resources related to the Perseverance Mars rover mission at https://go.nasa.gov/mars-challenge
Watch the Landing
The next chapter of Perseverance's journey takes place on Feb. 18 at 12 p.m. PST (3 p.m. EST), when the mission reaches Mars after seven months of travelling through space. Join NASA as we countdown to landing with online events for teachers, students, and space enthusiasts! The landing day broadcast can be seen on NASA TV and the agency's website starting at 11:15 a.m. PST (2:15 p.m. EST). For a full listing of online events leading up to and on landing day, visit the mission's Watch Online page.
Follow landing updates on NASA's Twitter, Facebook and Instagram accounts.
Explore More
More Resources From NASA
TAGS: Mars, Perseverance, Mars 2020, Science, Engineering, Robotics, Educators, Teachers, Students, Teachable Moments, Teach, Learn, Mars Landing
---
Learn about the mission and find out how to make classroom connections to NASA Earth science – plus explore related teaching and learning resources.
---
In the News
A new spacecraft that will collect vital sea-surface measurements for better understanding climate change and improving weather predictions is joining the fleet of Earth science satellites monitoring our changing planet from space. A U.S.-European partnership, the Sentinel-6 Michael Freilich satellite continues a long tradition of collecting scientific data from Earth orbit. It's named in honor of NASA's former Earth Science Division director and a leading advocate for ocean measurements from space.
Read on to find out how the mission will measure sea-surface height for the next 10 years and provide atmospheric data to help better predict weather. Plus, find out how to watch the launch online and explore related teaching resources to bring NASA Earth science into the classroom and incorporate sea level data into your instruction.
How It Works
The Sentinel-6 Michael Freilich satellite is designed to measure sea-surface height and improve weather predictions. Once in orbit, it will be able to measure sea-surface height – with accuracy down to the centimeter – over 90% of the world's oceans every 10 days. It will do this using a suite of onboard science tools, or instruments.
To measure sea-surface height, a radar altimeter will send a pulse of microwave energy to the ocean's surface and record how long it takes for the energy to return. The time it takes for the signal to return varies depending on the height of the ocean – a higher ocean surface results in a shorter return time, while a lower ocean surface results in a longer return time. A microwave radiometer will measure delays that take place as the signal travels through the atmosphere to correct for this effect and provide an even more precise measurement of sea-surface height.
To measure atmospheric data, Sentinel-6 Michael Freilich is equipped with the Global Navigation Satellite System - Radio Occultation, or GNSS-RO, instrument, which will measure signals from GPS satellites – the same ones you use to navigate on Earth. As these satellites move below or rise above the horizon from Sentinel-6 Michael Freilich's perspective, their signals slow down, change frequency and bend as a result of the phenomenon known as refraction. Scientists can use these changes in the GPS signal to measure small shifts in temperature, moisture content, and density in the atmosphere. These measurements can help meteorologists improve weather forecasts.
Why It's Important
Scientists from around the world have been collecting sea level measurements for more than a century. The data – gathered from tide gauges, sediment cores, and space satellites – paint a clear picture: sea level is rising. Looking at the average height of the sea across the planet, we see that in the last 25 years global sea level has been rising an average of 0.13 inches (3.3 mm) per year. This average is increasing each year (in the 2000s, it was 0.12 inches, or 3.0 mm, per year) as is the rate at which it's increasing. That means that sea level is rising, and it's rising faster and faster. Since 1880, global sea level has risen more than eight inches (20 cm). By 2100, it is projected to rise another one to four feet (30 to 122 cm).
Measuring sea level from space provides scientists with global measurements of Earth's oceans in a matter of days, including areas far from shore where measurements aren't practical or possible. Starting in 1992 with the launch of the TOPEX/Poseidon mission, the record of sea level measurements from space has continued uninterrupted, providing an increasingly detailed picture of Earth's rising seas. The Sentinel-6 Michael Freilich satellite – and its twin, which will launch in 2025 – will extend those measurements to 2030, allowing scientists to continue collecting vital information about Earth's changing oceans and climate.
Unlike previous satellites that measured sea level, Sentinel-6 Michael Freilich has the capability to measure sea level variations more accurately near coastlines, giving scientists insight into changes that can have direct impacts on communities and livelihoods, such as commercial fishing and ship navigation.
With rising seas already impacting people and communities, it's important to understand not just how much seas are rising, but also where and how quickly they are rising. Data from instruments on Sentinel-6 Michael Freilich can be combined with data from other satellites to get a clearer picture of what's contributing to sea level rise and where. For example, by looking at the satellite's radar altimeter measurements along with gravity measurements from the GRACE-FO mission, scientists can better determine how melting ice and thermal expansion are contributing to sea level rise. And by tracking the movement of warm water (which stands taller than cold water), scientists can better predict the rapid expansion of hurricanes.
Watch the Launch
Scheduled to launch at 9:17 a.m. PST (12:17 p.m. EST) on November 21, Sentinel-6 Michael Freilich will launch atop a SpaceX Falcon 9 rocket from Vandenberg Air Force Base in California.
Watch a live broadcast of the launch from the Vandenberg Air Force Base on NASA TV and the agency's website. Visit the Sentinel-6 Michael Freilich website to explore more news about the mission. Follow launch updates on NASA's Twitter, Facebook and Instagram accounts.
Teach It
Make classroom connections to NASA Earth science with lessons about rising seas, thermal expansion and ice melt, data collection and graphing, and engineering. Plus explore independent activities and experiments students can do at home, video playlists, and more:
Explore More
Recursos en Español
TAGS: Teachable Moments, Educators, Teachers, Parents, K-12 Education, Launch, Mission, Earth, Satellite, Earth Science, Climate Change, Sentinel-6 Michael Freilich, Sea Level, Sea Level Rise, Climate TM
---
Whether your school will be welcoming students back to campus in the upcoming school year or you're preparing for remote instruction, the Education Office at NASA's Jet Propulsion Laboratory has several resources you and your students can use to launch back into STEM.
Resources for Teachers
On July 30, NASA launched the Perseverance Mars rover and its companion Ingenuity – the first helicopter designed to fly on the Red Planet. With the two officially on their journey to Mars for a scheduled landing in February 2021, now is a great time to catch up with our new education webinar series, Teaching Space With NASA. In our first three webinars, NASA experts and education specialists introduced Perseverance, offered a look at the engineering behind the rover, and shared some of the exciting science goals for the mission. Visit the Teaching Space With NASA page to watch recordings of the webinars, download a certificate of participation, and explore a cache of resources you can use in your instruction.
During the 2020-21 school year, we'll be continuing the series, offering monthly live-stream presentations from NASA scientists and engineers, hosted by JPL education specialists. Teaching Space With NASA live streams are open to all audiences, including informal educators and students. Join us for our next live stream on August 19 all about what's next for NASA Mars exploration. Register to join the Q&A at the link below. (Note: You do not need to register to watch – only to ask questions.)
Educators will also have a chance to take a deeper dive into the topic and associated educational resources with our interactive, virtual workshops. Attendance at virtual workshops is limited, so be sure to keep an eye out for new events announced to our email subscribers. Subscribe for "JPL Education Updates" here and check the Events page for the latest workshops.
Also, be sure to keep an eye out for new additions to our searchable catalog of nearly 200 standards-aligned STEM activities in the Teach section of this website. In addition to new lessons, some of your favorite existing lessons will now include tips for virtual instruction, as well as links to projects that students can do independently or with the help of family members.
Resources for Students
Learning Space with NASA at Home features standards-based activities students can do at home with inexpensive materials they may already have on hand. The page also features video tutorials (available with subtitles en Español) and an FAQ for families working with students at home. Check back as new activities featuring the latest NASA missions and science are added throughout the school year.
Explore More
TAGS: Educators, Teachers, K-12 Education, STEM, Educator Resources, Lessons, Student Activities, Parents, Webinars, Workshops