---
In the News
A full moon is always a good reason to go outside and turn your head toward the sky, but those who do so early on January 31 will be treated to the sight of what's being called the super blue blood moon! Super, because the moon will be closest to Earth in its orbit during the full moon (more on supermoons here); blue, because it's the second full moon in a calendar month; and blood, because there will be a total lunar eclipse that will turn the moon a reddish hue. It's the only total lunar eclipse (blood moon) visible from North America in 2018, so it's a great opportunity for students to observe the Moon – and for teachers to make connections to in-class science content.
How It Works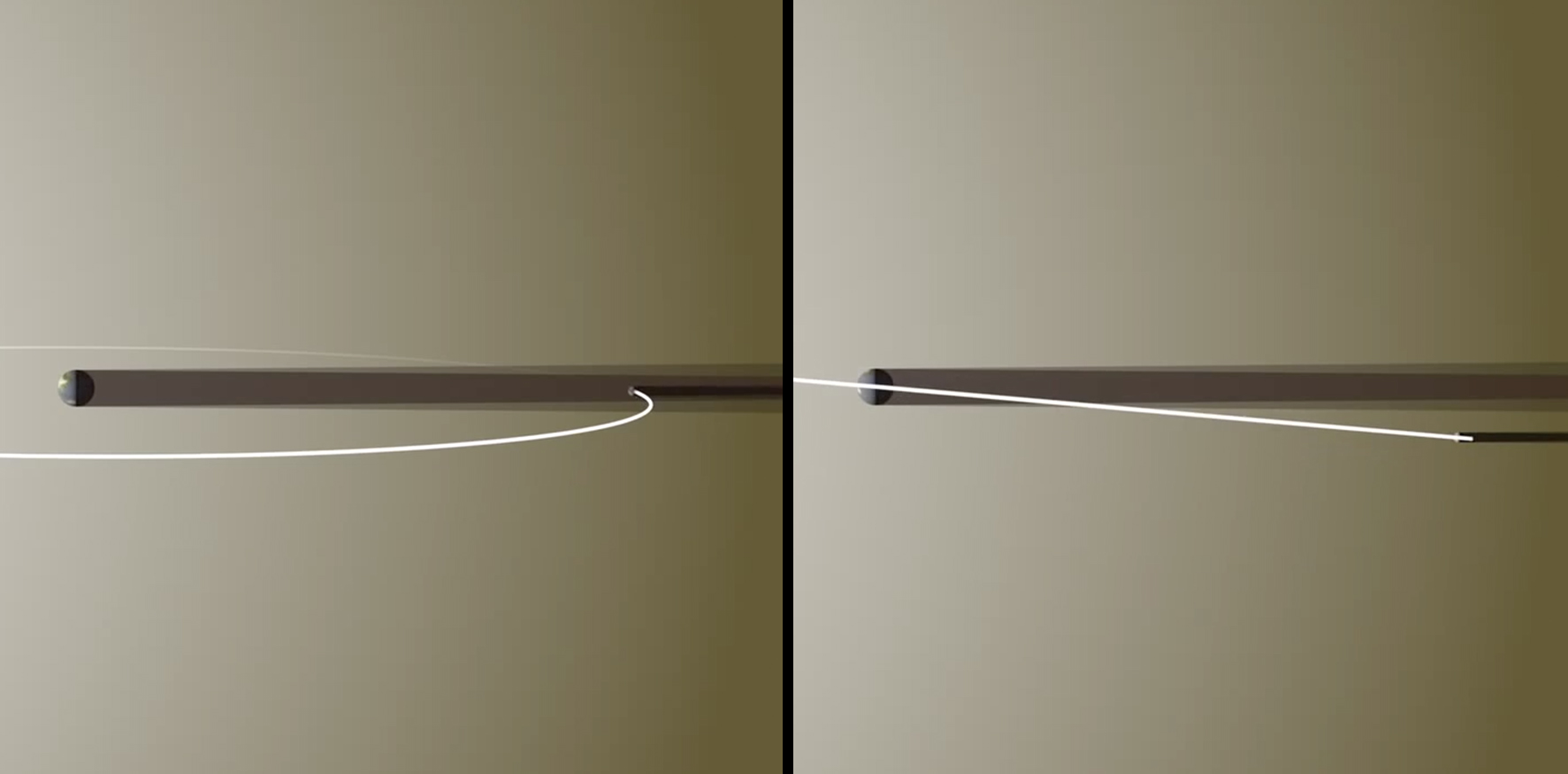 Eclipses can occur when the Sun, the Moon and Earth align. Lunar eclipses can only happen during the full moon phase, when the Moon and the Sun are on opposite sides of Earth. At that point, the Moon could move into the shadow cast by Earth, resulting in a lunar eclipse. However, most of the time, the Moon's slightly tilted orbit brings it above or below the shadow of Earth.
The time period when the Moon, Earth and the Sun are lined up and on the same plane – allowing for the Moon to pass through Earth's shadow – is called an eclipse season. Eclipse seasons last about 34 days and occur just shy of every six months. When a full moon occurs during an eclipse season, the Moon travels through Earth's shadow, creating a lunar eclipse.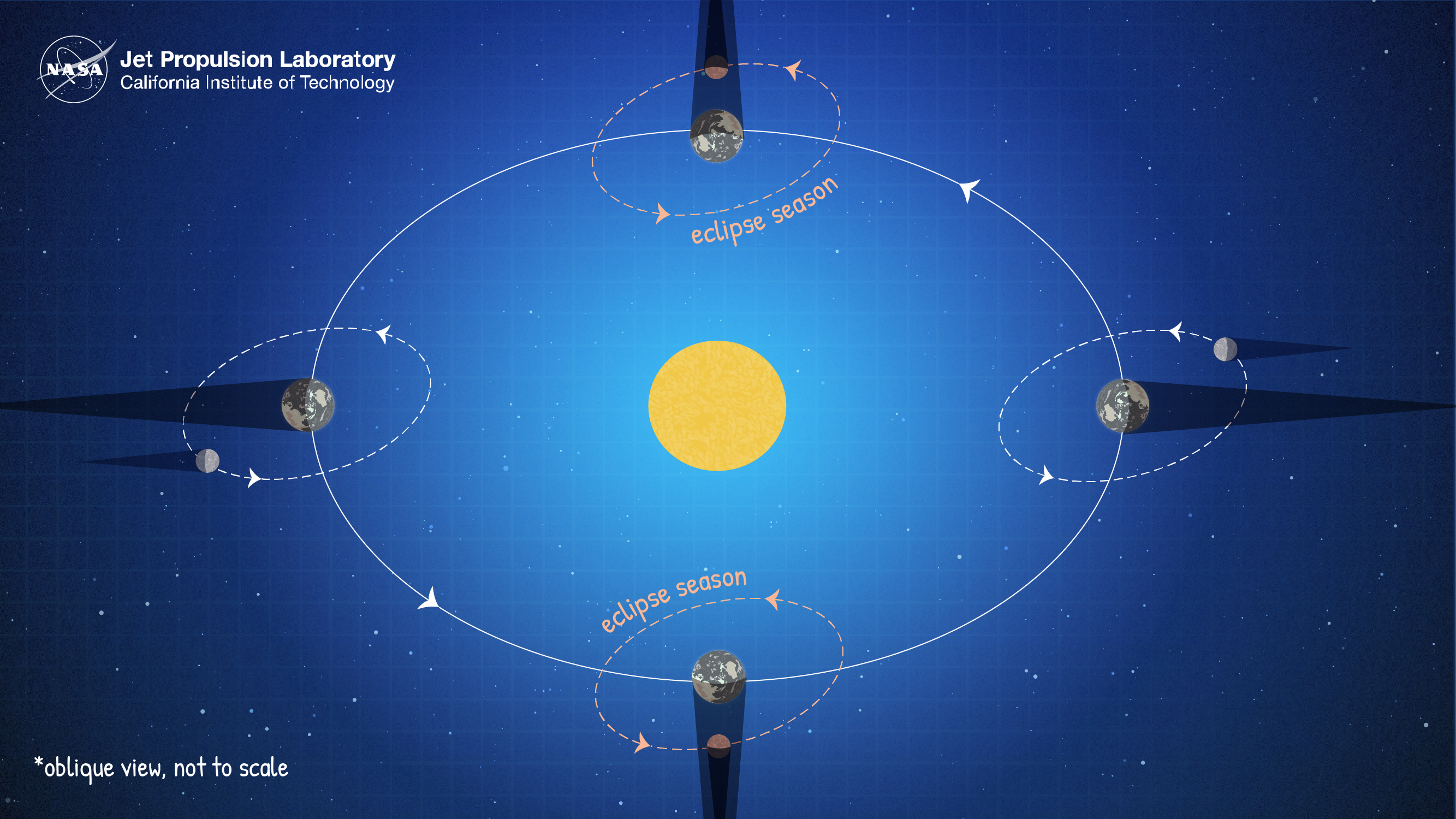 Unlike solar eclipses, which require special glasses to view and can only be seen for a few short minutes in a very limited area, a total lunar eclipse can be seen for about an hour by anyone on the nighttime side of Earth – as long as skies are clear!
Why It's Important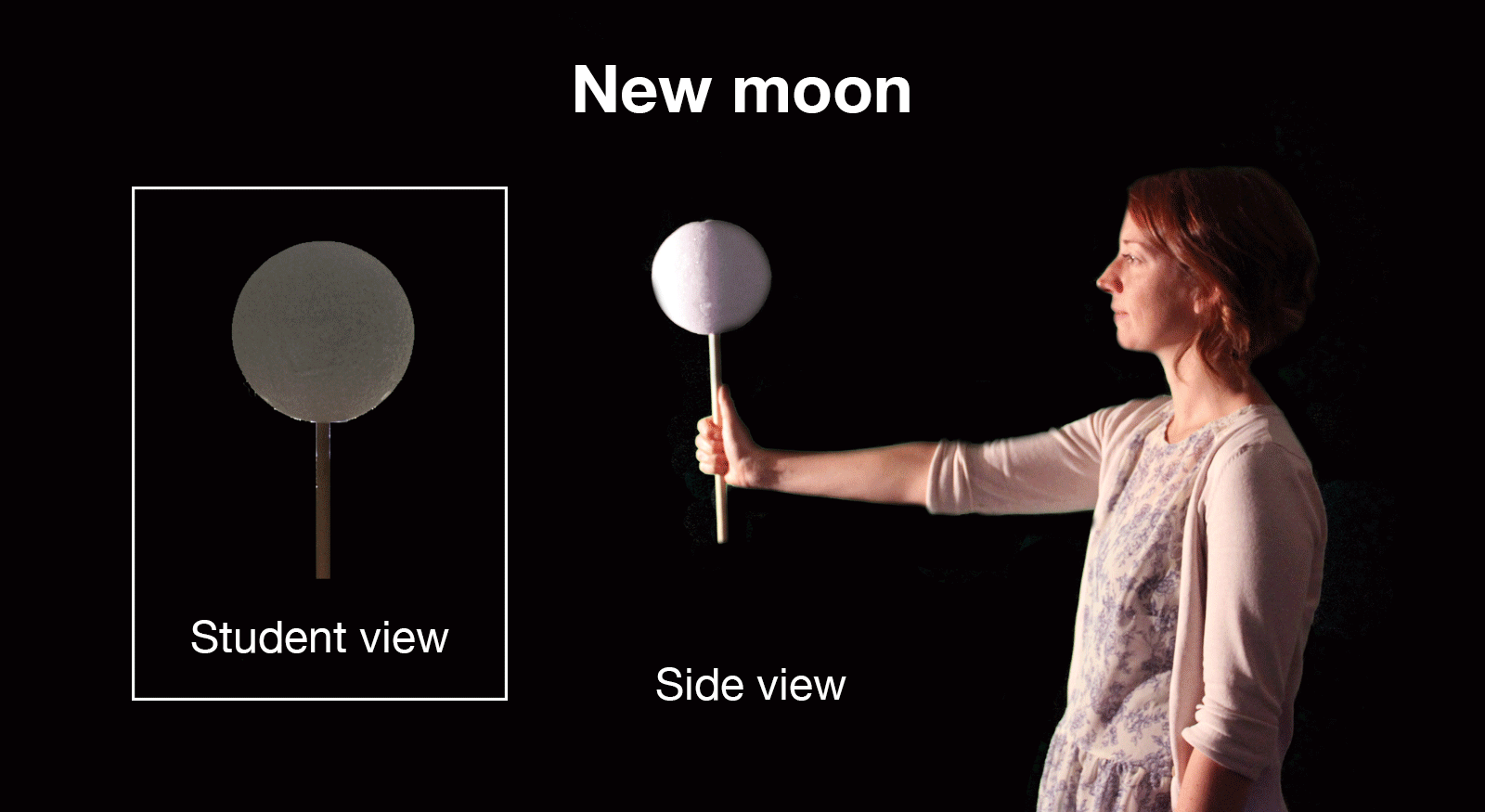 Lessons About the Moon
Explore our collection of standards-aligned lessons for grades 1-12.
Lunar eclipses have long played an important role in understanding Earth and its motions in space.
In ancient Greece, Aristotle noted that the shadows on the Moon during lunar eclipses were round, regardless of where an observer saw them. He realized that only if Earth were a spheroid would its shadows be round – a revelation that he and others had many centuries before the first ships sailed around the world.
Earth wobbles on its axis like a spinning top that's about to fall over, a phenomenon called precession. Earth completes one wobble, or precession cycle, over the course of 26,000 years. Greek astronomer Hipparchus made this discovery by comparing the position of stars relative to the Sun during a lunar eclipse to those recorded hundreds of years earlier. A lunar eclipse allowed him to see the stars and know exactly where the Sun was for comparison – directly opposite the Moon. If Earth didn't wobble, the stars would appear to be in the same place they were hundreds of years earlier. When Hipparchus saw that the stars' positions had indeed moved, he knew that Earth must wobble on its axis!
Additionally, modern-day astronomers have used ancient eclipse records and compared them with computer simulations. These comparisons helped scientists determine the rate at which Earth's rotation is slowing.
What to Expect
The Moon passes through two distinct parts of Earth's shadow during a lunar eclipse. The outer part of the cone-shaped shadow is called the penumbra. The penumbra is less dark than the inner part of the shadow because it's penetrated by some sunlight. (You have probably noticed that some shadows on the ground are darker than others, depending on how much outside light enters the shadow; the same is true for the outer part of Earth's shadow). The inner part of the shadow, known as the umbra, is much darker because Earth blocks additional sunlight from entering the umbra.
At 2:51 a.m. PST on January 31, 2018, the edge of the Moon will begin entering the penumbra. The Moon will dim very slightly for the next 57 minutes as it moves deeper into the penumbra. Because this part of Earth's shadow is not fully dark, you may only notice some dim shading (if anything at all) on the Moon near the end of this part of the eclipse. Should you decide to sleep in during this time, you won't miss much.
At 3:48 a.m. PST, the edge of the Moon will begin entering the umbra. As the Moon moves into the darker shadow, significant darkening will be noticeable. Some say that during this part of the eclipse, the Moon looks as if it has had a bite taken out of it. That "bite" gets bigger and bigger as the Moon moves deeper into the shadow. If you will be on the East Coast of the United States, you might still be able to see the Moon just as it moves into the umbra before the Moon sets and the Sun rises.
At 4:51 a.m. PST, the Moon will be completely inside the umbra, marking the beginning of the total lunar eclipse. The moment of greatest eclipse, when the Moon is halfway through the umbra, occurs at 5:31 a.m. PST.
As the Moon moves completely into the umbra, something interesting happens: The Moon begins to turn reddish-orange. The reason for this phenomenon? Earth's atmosphere. As sunlight passes through it, the small molecules that make up our atmosphere scatter blue light, which is why the sky appears blue. This leaves behind mostly red light that bends, or refracts, into Earth's shadow. We can see the red light during an eclipse as it falls onto the Moon in Earth's shadow. This same effect is what gives sunrises and sunsets a reddish-orange color.
A variety of factors affect the appearance of the Moon during a total lunar eclipse. Clouds, dust, ash, photochemical droplets and organic material in the atmosphere can change how much light is refracted into the umbra. Additionally, the January 2018 lunar eclipse takes place when the full moon is at or near the closest point in its orbit to Earth (popularly known as a supermoon). This means it is deeper inside the umbra shadow and therefore may appear darker. The potential for variation provides a great opportunity for students to observe and classify the lunar eclipse based on its brightness. Details can be found below in the "Teach It" section.
At 6:07 a.m. PST, the edge of the Moon will begin exiting the umbra and moving into the opposite side of the penumbra. This marks the end of the total lunar eclipse.
At 7:11 a.m. PST, the Moon will be completely outside of the umbra. It will continue moving out of the penumbra until the eclipse ends at 8:08 a.m.
Teach It
Ask students to observe the lunar eclipse and evaluate the Moon's brightness using the Danjon Scale of Lunar Eclipse Brightness. The Danjon scale illustrates the range of colors and brightness the Moon can take on during a total lunar eclipse and is a tool observers can use to characterize the appearance of an eclipse. View the lesson guide here. After the eclipse, have students compare and justify their evaluations of the eclipse.
Use these standards-aligned lessons and related activities to get your students excited about the eclipse, moon phases and Moon observations.
Explore More
TAGS: Lunar Eclipse, Moon, Super Blue Blood Moon, Observe the Moon, Eclipse, K-12, Classroom Activities, Teaching
---
Looking for a stellar 2018 calendar? Try this new Moon Phases Calendar and Calculator DIY from the Education Office at NASA's Jet Propulsion Laboratory!
Download the free, decoder-ring style calendar and assemble it to see when and where to view the Moon every day of the year. The calendar features daily moon phases, moonrise, moonset and overhead viewing times, a listing of Moon events including supermoons and lunar eclipses, plus graphics depicting the relative positions of Earth and the Moon during various moon phases. Use it to teach students about the phases of the Moon, for sky-gazing or simply as a unique wall calendar.
In the classroom, it makes a great addition to this Teachable Moment and related lessons about supermoons – two of which will ring in the new year in January 2018.
Explore these and more Moon-related lessons and activities from NASA/JPL Edu at the links below:
---
For Students
---
---
For Educators
---
---
---
---
---
---
The term "supermoon" has been popping up a lot in the news and on social media over the past few years. But what are supermoons, why do they occur and how can they be used as an educational tool. Plus, are they really that super?
There's a good chance you'll hear even more about supermoons in the new year. There will be two supermoons in a row in January 2018! Now is a great time to learn about these celestial events and get students exploring more about Earth's only natural satellite.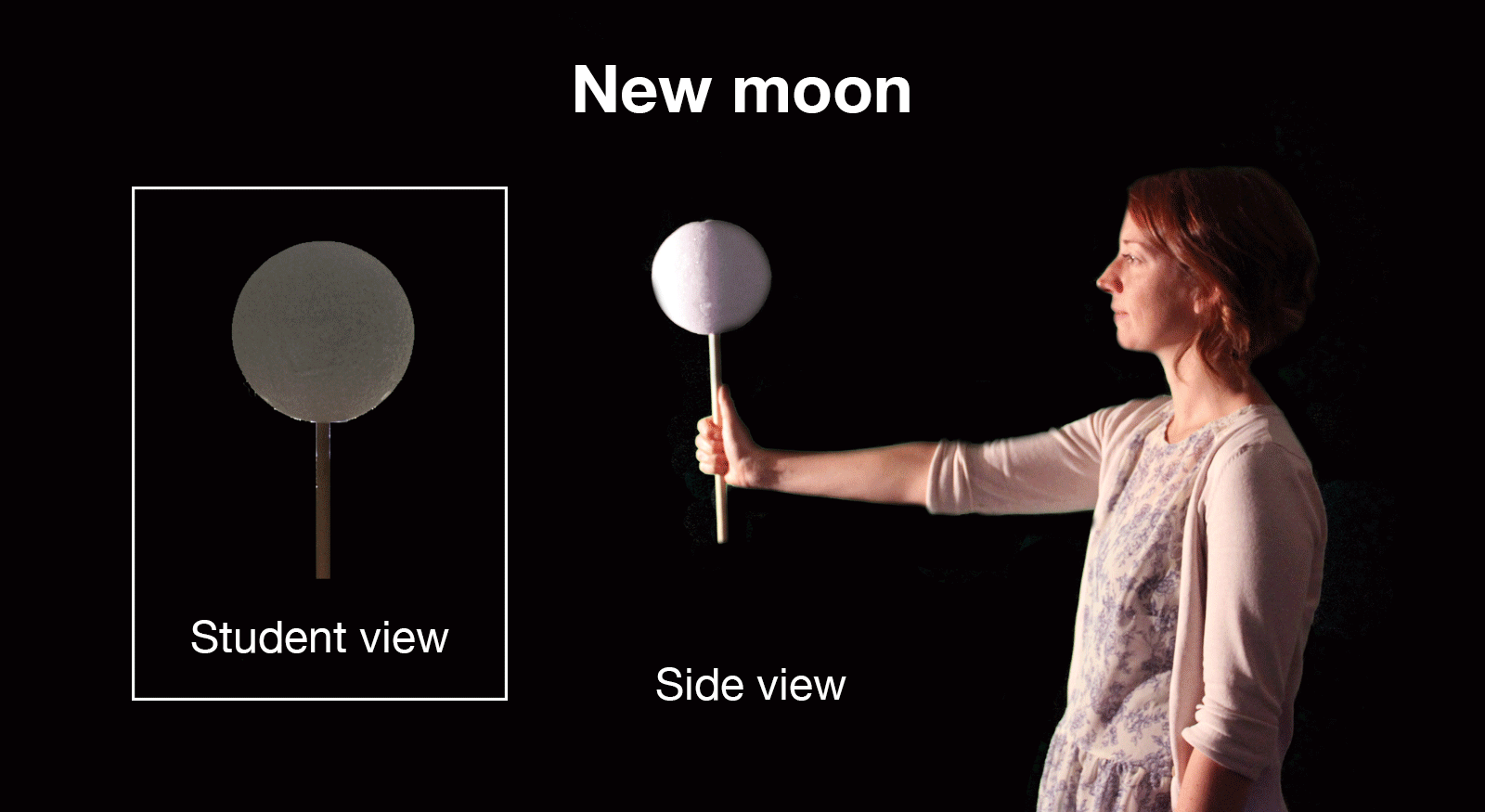 Lessons About the Moon
Explore our collection of standards-aligned lessons for grades 1-12.
How it Works
As the Moon orbits Earth, it goes through phases, which are determined by its position relative to Earth and the Sun. When the Moon lines up on the opposite side of Earth from the Sun, we see a full moon. The new moon phase occurs when the Moon and the Sun are lined up on the same side of Earth.
The Moon doesn't orbit in a perfect circle. Instead, it travels in an ellipse that brings the Moon closer to and farther from Earth in its orbit. The farthest point in this ellipse is called the apogee and is about 405,500 kilometers from Earth on average. Its closest point is the perigee, which is an average distance of about 363,300 kilometers from Earth. During every 27-day orbit around Earth, the Moon reaches both its apogee and perigee.
Full moons can occur at any point along the Moon's elliptical path, but when a full moon occurs at or near the perigee, it looks slightly larger and brighter than a typical full moon. That's what the term "supermoon" refers to.
Because supermoon is not an official astronomical term, there is no definition about just how close to perigee the full moon has to be in order to be called "super." Generally, supermoon is used to refer to a full moon 90 percent or closer to perigee. (When the term supermoon was originally coined, it was also used to describe a new moon in the same position, but since the new moon isn't easily visible from Earth, it's rarely used in that context anymore.)
A more accurate and scientific term is "perigee syzygy." Syzygy is the alignment of three celestial bodies, in this case the Sun, Moon and Earth. But that doesn't quite roll off the tongue as easily as supermoon.
Why It's Important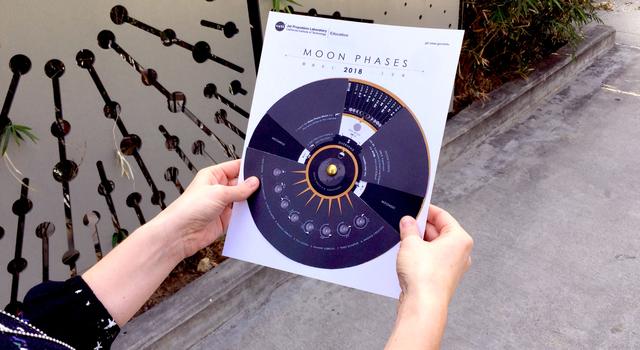 Make a Moon Phases Calendar
Use this Moon "decoder wheel" to see where and where to view the Moon all year!
As the largest and brightest object in the night sky, the Moon is a popular focal point for many amateur and professional astronomers pointing their telescopes to the sky, and the source of inspiration for everyone from aspiring space scientists to engineers to artists.
The supermoon is a great opportunity for teachers to connect concepts being taught in the classroom to something students will undoubtedly be hearing about. Students can practice writing skills in a Moon journal, study Moon phases and apply their math skills to observing the supermoon. (Click here for related activities from JPL's Education Office.)
Incorrect and misleading information about the Moon (and supermoons) can lead to confusion and frustration. It's important to help students understand what to expect and be able to identify inaccurate info.
What to Expect
Size
As with anything that moves closer to the person viewing it, the supermoon will appear bigger than an average full moon. At its largest, it can appear 14% larger in diameter than the smallest full moon. Keep in mind that a 14% increase in the apparent size of something that can be covered with a fingernail on an outstretched arm won't seem significantly bigger. Unlike side-by-side comparisons made in science and everyday life, students will not have seen the full moon for at least 30 days, and won't see another for at least 30 more days. Comparing a supermoon with a typical full moon from memory is very difficult.
Leading up to a supermoon, there are often misleading images on popular media. A technique that involves using a long telephoto lens to take photographs of the Moon next to buildings or other objects makes the Moon look huge compared with its surroundings. This effect can make for great photographs, but it has nothing to do with the supermoon. In fact, these photos can be taken during any Moon phase, but they will likely be used in stories promoting the supermoon.
There are also images that have been edited to inaccurately dramatize the size of the supermoon. Both of these can lead students, and adults, taking pictures with their cell phone to think that they've done something wrong or just aren't cut out for observing the sky, which isn't true!
Your students may have noticed that when they see a full moon low on the horizon, it appears huge and then seems to shrink as it rises into the night sky. This can happen during any full moon. Known as the Moon Illusion, it has nothing to do with a supermoon. In fact, scientists still aren't sure what causes the Moon Illusion.
Brightness
The full moon is bright and the supermoon is even brighter! Sunlight reflecting off the Moon during its full phase is bright enough to cast shadows on the ground. During a supermoon, that brightness can increase up to 30 percent as a result of the Moon being closer to Earth, a phenomenon explained by the inverse square law. (Introduce students to the inverse square law with this space-related math lesson for 6th- through 8th-graders.) As with the size of the Moon, students may not remember just how bright the last full moon was or easily be able to compare it. Powerful city lights can also diminish how bright a supermoon seems. Viewing it away from bright overhead street lights or outside the city can help viewers appreciate the increase in brightness.
What Not to Expect
A supermoon will not cause extreme flooding, earthquakes, fires, volcanic eruptions, severe weather, nor tsunamis, despite what incorrect and non-scientific speculators might suggest. Encourage your students to be good scientists and research this for themselves.

Teach It
The excitement and buzz surrounding a supermoon is a great opportunity to teach a variety of Moon topics with these lessons from JPL's Education Office:
Explore More
---
For the record: This story originally stated a supermoon would be visible in January and February 2018. The two supermoons of 2018 are both in January.

TAGS: Supermoon, Moon Phases, Moon, Earth's Moon, What's Up, Astronomy, K-12, Educators
---
In the News
Saturn's icy moon Enceladus has been making news lately, and it could make even bigger news soon! In September, scientists confirmed that there was a global ocean underneath Enceladus' thick icy shell. That was just the latest in a long history of exciting finds dating back to the beginning of NASA's Cassini-Huygens Mission to Saturn in 2004 that have helped scientists to better understand this fascinating world!
Even while Cassini was still on its way to Saturn, its Cosmic Dust Analyzer detected microscopic grains of silica (tiny grains of sand). On Earth, grains of silica similar in size to those detected near Saturn form when hydrothermal activity -- the processes involving heated water beneath Earth's surface or ocean -- causes salty water to chemically interact with rocky material to form silica. But where were these grains coming from in the space around Saturn?
In 2005, scientists were surprised to find out that Enceladus' south pole is both warmer than expected and warmer than the surrounding areas, suggesting there is a heat source inside Enceladus. Not only that, but they also discovered long parallel cracks in the ice on Enceladus' south pole. The young age of these cracks, nicknamed Tiger Stripes, meant that Saturn's icy moon is a geologically active place.
Another piece of this puzzle was put in place with the discovery of jets of material spraying out of the Tiger Stripes. Studies have shown these jets are composed of mostly of water vapor, tiny ice particles and small amounts of other material (for example, microscopic silica grains). Together, over 100 jets make up a feature called a plume. Investigating further, scientists have hypothesized that these silica grains are the result of hydrothermal activity on the ocean floor below Enceladus' icy crust.
On October 28, Cassini will fly right through the plume jetting out of Enceladus' south pole at an altitude of only 49 kilometers (30 miles) – closer than any previous passes directly through the plume! This is an exciting moment in the mission -- one that allows science teams to use a combination of tools on board the spacecraft to strengthen previous findings and potentially make new discoveries.
---
When people ask me what I want to do with my life, I tell them, "Every little kid wants to be an astronaut when they grow up - but I never outgrew it." It was in eighth grade that I realized I wanted to be an astronaut and explore our solar system. The journey wasn't always easy, however. I was consistently laughed at and made fun of in high school when I would tell people that my dream was to work at NASA and one day become an astronaut. No one really expected me to stick to those dreams, let alone accomplish them.
Fast forward a few years, and I entered college at the Florida Institute of Technology, where I double-majored in physics and space science to learn more about stars and comets. One moment I will never forget is orientation day for my department. A professor asked the freshmen in the room who wanted to be an astronaut, and every hand in the room shot up. I knew I was in the right place.



In my sophomore year, an upperclassman sent an email around about a scholarship-internship program with NASA, called MUST (Motivating Undergraduates in Science and Technology). I figured it was a long shot, but decided to apply. To my delight, I was selected and given the opportunity to begin living out my dream by interning at Kennedy Space Center for the summer. I worked for Dr. Philip Metzger, a granular physicist who leads NASA's research into rocket blast effects for manned missions. In the Granular Mechanics and Surface Systems Laboratory, I designed and built experiments to study how the spray of lunar soil from a landing rocket will impinge upon and damage hardware at a future lunar outpost.
This NASA experience changed the course of my career, in a very good way. I suddenly realized I was far more interested in the surfaces of planets and in planetary exploration than in stars and astrophysics, and decided after that summer to pursue planetary science for my graduate studies.
I returned to KSC the next summer to work with Dr. Metzger on a new project that involved studying the compaction and magnetic properties of lunar soil using various experimental methods. We were working on developing more effective ways to store large quantities of soil for mining.
The summer before starting graduate school, I was offered an internship at JPL working on the proposed MoonRise mission, lead by my (soon-to-be) advisor, Dr. Bradley Jolliff. MoonRise would have been a robotic sample return mission to the lunar farside. I was part of a team of students who were tasked with designing an instrument to fly on the spacecraft. We designed a camera system that would have flown on the communications satellite and detected impact flashes from impacting meteorites. Unfortunately, MoonRise was not selected to fly, but the experience shaped my future career path. I realized I really enjoy the mission design and planning process and decided that summer that I wanted to both study the moon and plan for future missions.
I am now a couple years shy of having my Ph.D. in Earth and Planetary Science, and have loved the journey. My research focuses on studying the effects of rocket exhaust on lunar soil properties and volcanic complexes on the moon. Once I have finished my graduate studies, I plan to apply for a position at NASA and become involved in mission planning. I hope to work on the problems associated with rocket exhaust effects on planetary surfaces and continue to research geologically interesting locations on the moon. Ultimately, I plan to apply to become an astronaut candidate and maybe even become the first woman to walk on the moon! My NASA internships helped me realize my true passions and have paved the way for the career path I want to take. I'm incredibly happy in the field I'm in and hope that funding for both NASA and NASA education programs continues so that other students with dreams like mine have a chance to see them come true.
TAGS: Planetary Science, Physics, Moon, Career Guidance, MoonRise, Women in STEM
---
PASADENA,Calif. – Middle-school students and their teachers gathered in Washington last Friday (6/1) to demonstrate science lessons and highlight images they took from lunar orbit using NASA's lunar orbiting Gravity Recovery and Interior Laboratory (GRAIL) spacecraft and its MoonKAM system. Along with demonstrating their knowledge of the moon and science, the students listened top resentations from the GRAIL mission's lead scientist, Maria Zuber, NASA deputy administrator Lori Garver, President Obama's science advisor John Holdren, and Sally Ride, America's first woman in space. The event took place at the Ronald Reagan Building and International Trade Center.
"I was more than impressed with the student demonstrations and their grasp of lunar science, I was blown away,"said Maria Zuber, principal investigator of the GRAIL mission from the Massachusetts Institute of Technology, Cambridge. "The GRAIL mission and MoonKAM are making a difference in young student's lives one image at a time."

MoonKAM (Moon Knowledge Acquired by Middle school students) is the education and public outreach instrument aboard the lunar orbiting GRAIL spacecraft. MoonKAM provides students around the world with an opportunity to identify and choose images of the moon's surface using small cameras aboard the two lunar orbiters of GRAIL – Ebb and Flow. To date, over 80,000 pictures of the lunar surface have been commanded, imaged and received by fifth- to eighth-grade students. The MoonKAM program is led by Sally Ride and her team at Sally Ride Science in collaboration with undergraduate students at the University of California in San Diego.
"The MoonKAM program brings out students' natural enthusiasm for science," said Sally Ride. "Many of these students will be our future scientists and I expect some of them may even visit the craters they photographed."
The GRAIL mission is managed by JPL for NASA's Science Mission Directorate in Washington. The mission is part of the Discovery Program managed at NASA's Marshall Space Flight Center in Huntsville, Ala. NASA's Deep Space Network is an international network of antennas that supports interplanetary spacecraft missions and radio and radar astronomy observations for the exploration of thesolar system and the universe. The network also supports selected Earth-orbiting missions. Lockheed Martin Space Systems in Denver built the spacecraft. JPL is a division of the California Institute of Technology in Pasadena.
For information about MoonKAM, visit: https://moonkam.ucsd.edu.
For more information about GRAIL, visit: http://www.nasa.gov/grail.
TAGS: MoonKAM, GRAIL, Moon, K-12