---
NASA's Scientist for a Day Essay Contest is back for its 15th year, inviting students in grades 5 through 12 to investigate three distant worlds and write an essay about one they would want to explore further.
The worlds chosen for this year's contest are some of the most mysterious and distant in our solar system: Uranus' moon Miranda, Neptune's moon Triton and Pluto's moon Charon. Each has been visited by spacecraft during a single, brief flyby. NASA's Voyager 2 spacecraft flew by Miranda and Triton in the 1980s, and the New Horizons spacecraft flew by Charon in 2015. All three flybys provided the only up-close – and stunning – images we have of these worlds.
To enter the contest, which is hosted in the U.S. and more than a dozen countries, students must submit an essay of up to 500 words explaining why they would want to send a spacecraft to explore the world of their choosing. Essays can also be submitted by teams of up to four students.
Winning essays will be chosen for each topic and grade group (5 to 6, 7 to 8 and 9 to 12) and featured on the NASA Solar System Exploration website. Additionally, U.S. contest winners and their classes will have the chance to participate in a video conference or teleconference with NASA.
Entries for the U.S. contest are due Feb. 20, 2020, on the NASA Scientist for a Day website. (Deadlines for the international contests may vary by host country.) Visit the website for more information, including rules, international contest details and past winners.
For teachers interested in using the contest as a classroom assignment, learn more here. Plus, explore these standards-aligned lessons and activities to get students engaged in space travel and planetary science:
TAGS: K-12 Education, Teachers, Educators, Students, Contests, Competitions, Essay, Language Arts, Science, Planets, Solar System, Moons
---
They've been called the minutes of terror – the moments during which spacecraft perform a series of seemingly impossible maneuvers to get from the top of Mars' atmosphere down to its surface and mission controllers anxiously await the signal heralding a successful landing. This past summer, it was intern Samalis Santini De Leon's task to make sure that when NASA's next Mars rover lands in February 2021, those minutes are as terror-free as possible. That meant bringing her Ph.D. research on the process known as entry, descent and landing, or EDL, to NASA's Jet Propulsion Laboratory, where she could apply it to a real space mission. The Puerto Rico native says she never imagined she would one day play a key role in landing a spacecraft on the Red Planet – especially as an intern. But now that she's worked on the Mars 2020 mission, she'll be just as anxious as the rest of the team when those final minutes arrive. We caught up with the Texas A&M University student to find out how you test a Mars landing while on Earth and how she set herself on a trajectory to NASA.
What are you working on at JPL?
I'm working on Mars 2020 entry, descent and landing simulations. I'm evaluating different scenarios, such as a hardware failure, and I'm trying to assess whether the mission will still land safely on Mars. I'm making sure that the system is robust enough that even if something goes wrong, the mission is not in danger and can still land safely. After all that work, we want the rover to land in one piece and do the science we want to do.
What does entry, descent and landing entail?
It's a series of events and maneuvers required to land safely on a planet. So once you enter the atmosphere, there are things you have to do – steps to ensure that the vehicle lands safely.
What's different about this landing from the one used for NASA's Curiosity Mars rover?
One difference is that we have a new trigger for deploying the spacecraft's parachute. This trigger will help reduce the landing footprint size, meaning we can land closer to the intended landing spot. The mission will also be using Terrain Relative Navigation for the first time. The rover will take images of the surface as it's descending and compare them to its onboard reference maps so it can locate itself with respect to the landing site and avoid any hazards.
What's your average day like?
It's mostly gathering all the concerns from other people on the entry, descent and landing team. Then I run simulations, and I look at the overall behavior of the system and communicate with the teams about what's happening. For example, if there was a hardware concern, I would do simulations to analyze the system's performance and ensure there's no significant effect on the success of the mission.
On the side, I'm doing my Ph.D. work in entry, descent and landing, using artificial intelligence to help analyze very large simulations and communicate critical issues to the experts. As humans, there is only so much we can analyze manually. We hope that these tools can help engineers for future missions.
What lead you to focus on entry, descent and landing for your Ph.D.?
I have no idea. [Laughs.] I did my undergraduate work in mechanical engineering back in Puerto Rico, where I'm from. I volunteered on a project run by Space Grant, building experiments that involved launching sounding rockets from NASA's Wallops Flight Facility. I started to get into space at that time. After that, I tried to pursue aerospace engineering, which is not a possibility in Puerto Rico. So I left Puerto Rico, and I ended up initially working with satellites. Then my advisor said, "I have a friend in EDL, and he's talked about the challenges. Why don't we write a proposal on this?" I got a NASA Science and Technology Research Fellowship for that, and now I'm doing EDL. I was always secretly leaning towards space exploration and getting my hands on a mission.
What made you want to study mechanical engineering initially?
I think it was the closest I could get to aerospace engineering back home. Also, space is very interdisciplinary. I always liked robots. Building robots in high school for competitions got me very interested in that.
What brought you to JPL for this internship?
This is my first summer at JPL. With my fellowship, I do rotations at the NASA centers, so I work with people who do similar stuff.
How many different NASA centers have you interned at now?
I've interned at three. I did two summers at NASA's Ames Research Center, last summer at Langley Research Center, now here at JPL. And in my Space Grant project and undergrad, I did frequent visits to Wallops to put our experiments in the rockets, so that was very cool.
That was all part of the buildup to get here. Coming from an island, it seemed not even possible at the time [that I would ever be at NASA].
What were the challenges that you faced coming from Puerto Rico and trying to pursue aerospace engineering?
The options for aerospace engineering in Puerto Rico are limited. But getting into the Space Grant program was a very good thing to expose me to those fields. After that, the hard part was trying to find a place to do my graduate studies outside of Puerto Rico – where to go, how to get in. There's not a lot of orientation back in Puerto Rico about these things, so you're a little bit on your own. After that, the big problem is dealing with grad school. [Laughs.]
What's your ultimate career goal? Do you think you'd like to go back to Puerto Rico someday?
I would definitely like to continue working on space missions for a while. Whether it's here at JPL or other NASA centers. Just the exposure and the experience – nothing can compare to that. But at some point later on, I would like to go back and consider teaching at the University of Puerto Rico to bring back what I've learned. They're trying to make an aerospace department at the university, so I could bring new perspectives and maybe motivate more people to do what I'm doing.
Maybe I'm biased now that I'm in EDL, but it's one of the biggest challenges. I think getting enough knowledge and expertise in it and playing a role in landing people on the Moon or on Mars would be incredible, because it's a problem we still haven't found a solution to. Being able to help achieve that by whatever means is probably the most amazing thing I could ever do.
What do you hope to accomplish in your role on the Mars 2020 mission?
I definitely want to demonstrate that they've built an amazing system – that it works. I guess the goals are more personal, like getting exposure to the testing side of things, more of the real-life aspects. I'm more locked on the computer simulations. So I'm hoping to get the whole picture of how EDL works and how it all comes together.
Your mentor is Allen Chen, who is the lead for Mars 2020 entry, descent and landing, so he'll be calling the shots on landing day. What is it like having him as a mentor?
It's amazing. I feel very lucky and very proud that I get to work directly with him. He's someone who has so much expertise. I am learning a lot from him. Just sitting in meetings and hearing what he and the team have to say is amazing. He's great, too – easy to talk to, knows way too much about EDL. [Laughs.]
What's been the most unique experience that you've had at JPL this summer?
What I've found the most shocking is seeing the actual rover that's going to Mars and seeing the rover getting built. That has definitely been quite cool. I think JPL is known for stuff like this. It's here that you can see it and you can see the progress. It also seems like a very collaborative environment. That's not common, so that's really cool.
The rover is scheduled to land in February 2021, after your internship has ended. Will you be able to come back to JPL for landing?
It is possible. My mentor [for my Ph.D.] will definitely be here when the rover arrives on Mars. He'll actually spend two months here doing shifts in mission control. He told me he will try to have me here for that to learn about how it all works. I will definitely try to make that happen. The excitement in that room and the fear will collide. It must be very interesting to be in there.
Are you already picturing what it will be like on landing day?
Yeah. Now that I've had some role in it, wherever I am – whether it's here or at home – I'm going to be freaking out. Regardless of how confident we are, it's a challenging process.
---
Explore JPL's summer and year-round internship programs and apply at: jpl.nasa.gov/intern
Career opportunities in STEM and beyond can be found at: jpl.jobs
The laboratory's STEM internship and fellowship programs are managed by the JPL Education Office. Extending the NASA Office of STEM Engagement's reach, JPL Education seeks to create the next generation of scientists, engineers, technologists and space explorers by supporting educators and bringing the excitement of NASA missions and science to learners of all ages.
TAGS: Higher Education, Internships, STEM, Engineering, Interns, College, Robotics, Mars, Rover, Mars 2020, Ph.D., Doctorate, Space Grant, Students, Mars 2020 Interns
---
In the News
It only happens about 13 times a century and won't happen again until 2032, so don't miss the transit of Mercury on Monday, Nov. 11! A transit happens when a planet crosses in front of a star. From our perspective on Earth, we only ever see two planets transit the Sun: Mercury and Venus. This is because these are the only planets between us and the Sun. (Transits of Venus are especially rare. The next one won't happen until 2117.) During the upcoming transit of Mercury, viewers around Earth (using the proper safety equipment) will be able to see a tiny dark spot moving slowly across the disk of the Sun.
Read on to learn how transits contributed to past scientific discoveries and for a look at how scientists use them today. Plus, find resources for engaging students in this rare celestial event!
Why It's Important
Then and Now
In the early 1600s, Johannes Kepler discovered that both Mercury and Venus would transit the Sun in 1631. It was fortunate timing: The telescope had been invented just 23 years earlier, and the transits of both planets wouldn't happen in the same year again until 13425. Kepler didn't survive to see the transits, but French astronomer Pierre Gassendi became the first person to see the transit of Mercury. Poor weather kept other astronomers in Europe from seeing it. (Gassendi attempted to view the transit of Venus the following month, but inaccurate astronomical data led him to mistakenly believe it would be visible from his location.) It was soon understood that transits could be used as an opportunity to measure apparent diameter – how large a planet appears from Earth – with great accuracy.
After observing the transit of Mercury in 1677, Edmond Halley predicted that transits could be used to accurately measure the distance between the Sun and Earth, which wasn't known at the time. This could be done by having observers at distant points on Earth look at the variation in a planet's apparent position against the disk of the Sun – a phenomenon known as parallax shift. This phenomenon is what makes nearby objects appear to shift more than distant objects when you look out the window of a car, for example.
Today, radar is used to measure the distance between Earth and the Sun with greater precision than transit observations. But the transits of Mercury and Venus still provide scientists with opportunities for scientific investigation in two important areas: exospheres and exoplanets.
Exosphere Science
Some objects, like the Moon and Mercury, were originally thought to have no atmosphere. But scientists have discovered that these bodies are actually surrounded by an ultrathin atmosphere of gases called an exosphere. Scientists want to better understand the composition and density of the gases in Mercury's exosphere, and transits make that possible.
"When Mercury is in front of the Sun, we can study the exosphere close to the planet," said NASA scientist Rosemary Killen. "Sodium in the exosphere absorbs and re-emits a yellow-orange color from sunlight, and by measuring that absorption, we can learn about the density of gas there."
Exoplanet Discoveries
When Mercury transits the Sun, it causes a slight dip in the Sun's brightness as it blocks a tiny portion of the Sun's light. Scientists discovered they could use that phenomenon to search for planets orbiting distant stars. These planets, called exoplanets, are otherwise obscured from view by the light of their star. When measuring the brightness of far-off stars, a slight recurring dip in the light curve (a graph of light intensity) could indicate an exoplanet orbiting and transiting its star. NASA's Kepler space telescope found more than 2,700 exoplanets by looking for this telltale drop in brightness. NASA's TESS mission is surveying 200,000 of the brightest stars near our solar system and is expected to potentially discover more than 10,000 transiting exoplanets.
Additionally, scientists have been exploring the atmospheres of exoplanets. Similarly to how we study Mercury's exosphere, scientists can observe the spectra – a measure of light intensity and wavelength – that passes through an exoplanet's atmosphere. As a result, they're beginning to understand the evolution and composition of exoplanet atmospheres, as well as the influence of stellar wind and magnetic fields.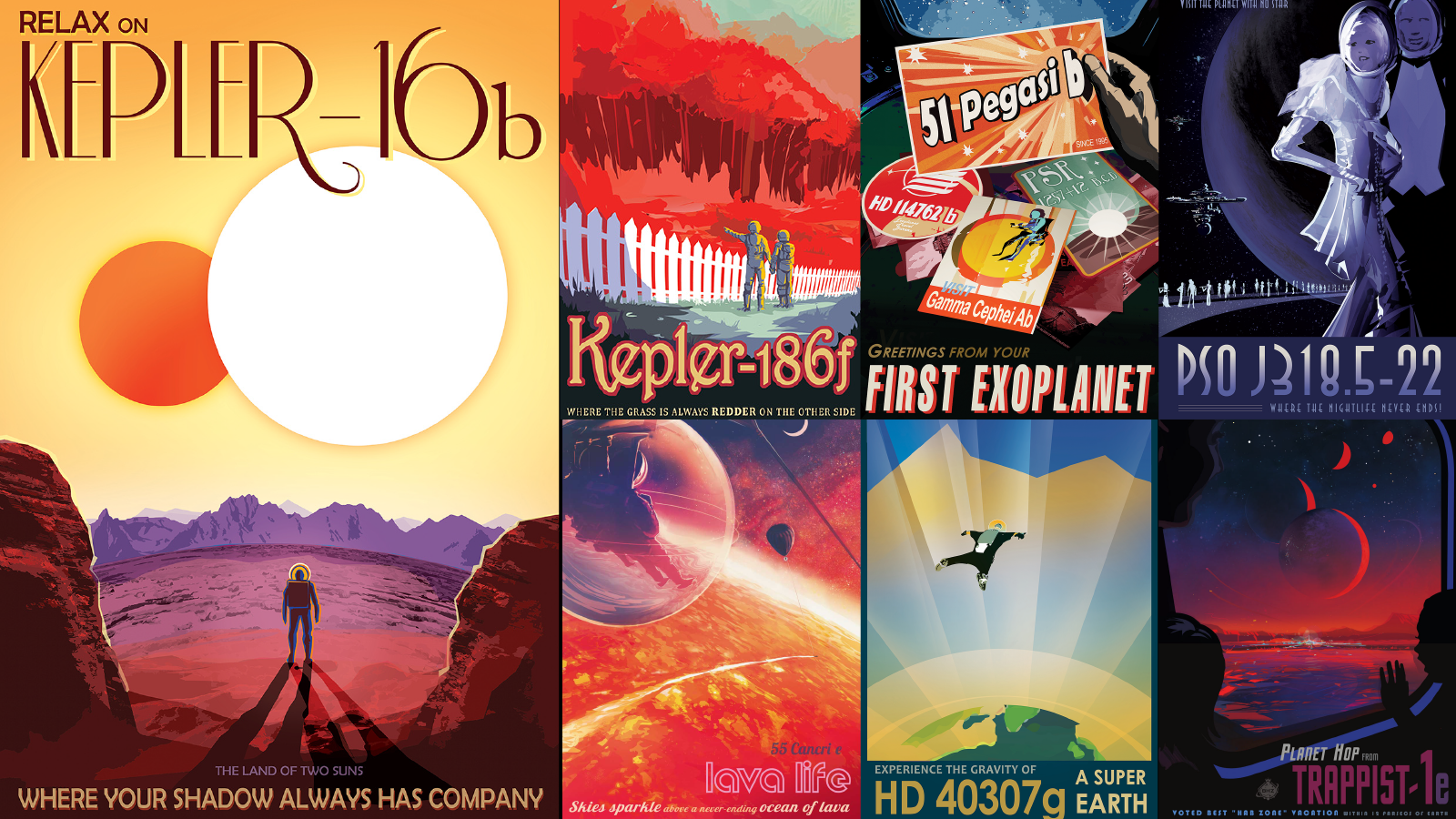 Watch It
During the transit of Mercury, the planet will appear as a tiny dot on the Sun's surface. To see it, you'll need a telescope or binoculars outfitted with a special solar filter.
WARNING! Looking at the Sun directly or through a telescope without proper protection can lead to serious and permanent vision damage. Do not look directly at the Sun without a certified solar filter.
The transit of Mercury will be partly or fully visible across much of the globe. However, it won't be visible from Australia or most of Asia and Alaska.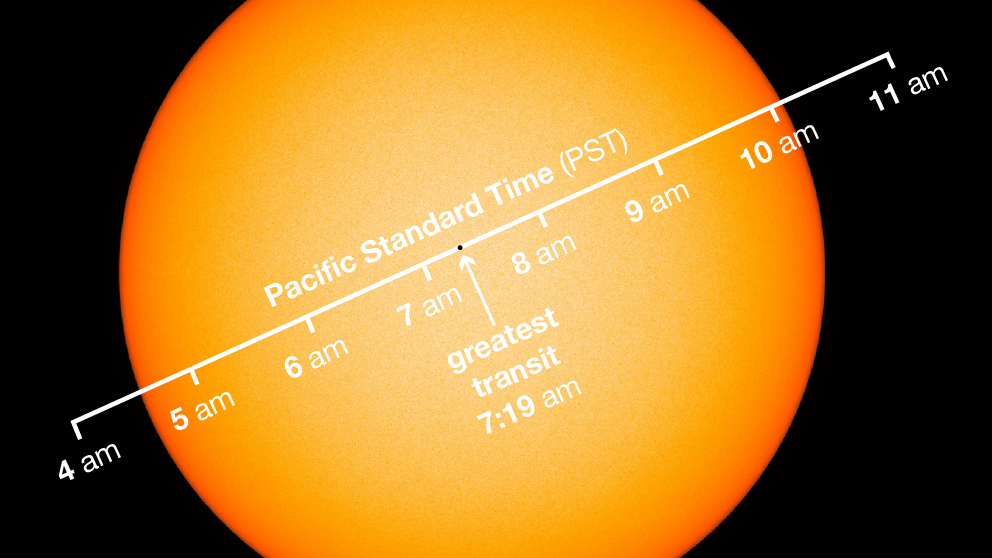 Mercury's trek across the Sun begins at 4:35 a.m. PST (7:35 a.m. EST), meaning viewers on the East Coast of the U.S. can experience the entire event, as the Sun will have already risen before the transit begins. By the time the Sun rises on the West Coast, Mercury will have been transiting the Sun for nearly two hours. Fortunately, the planet will take almost 5.5 hours to completely cross the face of the Sun, so there will be plenty of time for West Coast viewers to witness this event. See the transit map below to learn when and where the transit will be visible.
Don't have access to a telescope or binoculars with a solar filter? Visit the Night Sky Network website to find events near you where amateur astronomers will have viewing opportunities available.
During the transit, NASA will share near-real-time images of the Sun directly from the Solar Dynamics Observatory. Beginning at 4:41 a.m. PST (7:41 a.m. EST) you can see images of Mercury passing in front of the Sun at NASA's 2019 Mercury Transit page, with updates through the end of the transit at 10:04 a.m. PST (1:04 p.m. EST).
If you're in the U.S., don't miss the show, as this is the last time a transit will be visible from the continental United States until 2049!
Teach It
Use these lessons and activities to engage students in the transit of Mercury and the hunt for planets beyond our solar system:
Explore More
Transit Resources:
Exoplanet Resources:
Check out these related resources for kids from NASA's Space Place:
TAGS: K-12 Education, Teachers, Students, Educators, Mercury, Transit, Transit of Mercury, What's Up, Astronomy, Resources for Educators, Exoplanets, Kepler, TESS
---
Students have just over one week more to enter NASA's Name the Rover Essay Contest. While they put the finishing touches on their essays (due Nov. 1, 2019), meet the most recent naming contest winner, Clara Ma. Find out what Ma is up to more than 10 years after submitting her winning name for the Mars rover now known as Curiosity and why she says the experience changed her life.
TAGS: Curiosity, Rover, Contest, Mars, Students, K-12, Teachers, Language Arts, Essay
---
NASA is inviting students to help name its next Mars rover! Set to launch from Florida in the summer of 2020, NASA's fifth rover to visit the Red Planet is designed to study past environments capable of supporting life, seek signs of ancient microbial life, collect rock and soil samples for a possible future return to Earth, and test technologies that could produce oxygen from the Martian atmosphere for use by humans one day. But before it can do that, it needs a name.
Following in the tracks of NASA's four previous Mars rovers, the agency is asking students to suggest a name. The first Mars rover, which landed in 1997, was called the Microrover Flight Experiment until a 12-year old student from Connecticut suggested the name Sojourner, in honor of abolitionist and women's rights activist Sojourner Truth. In 2004, a third-grade student from Arizona named NASA's twin rovers Spirit and Opportunity. Curiosity, which landed in 2012 and is the most recent rover to visit Mars, was named by a sixth-grade student in Kansas.
To enter the Name the Rover Essay Contest, individual students must submit an essay of up to 150 words by Nov. 1, 2019. In their essay, students will need to propose the name they think best suits the rover and explain their reasoning. Judges will select three finalists (one each from grades K-4, 5-8 and 9-12) from every state and U.S. territory. From there, judges will narrow down the finalists further before they select a final name in the spring of 2020.
So what makes a good name? There are lots of ways to become inspired, but students should start by learning about the rover as well as the Red Planet and why we explore. But they shouldn't stop there. There are many ways to spark ideas from students, including writing planetary poetry, making cosmic art, and having them build rovers of their own. Get students thinking and writing creatively, and encourage them to submit their essay!
The contest is open to U.S. residents enrolled in kindergarten through 12th grade in a U.S. school (including U.S. territories and schools operated by the U.S. for the children of American personnel overseas). Home-school students can also submit a name!
Explore More
TAGS: Mars, rover, contest, Mars 2020, K-12 education, STEM, language arts, essay, science, students
---
This past school year, the Education Office at NASA's Jet Propulsion Laboratory supported a comprehensive, multischool physics project that served as a capstone project for high-school students. Seven schools in three school districts across the Los Angeles area participated, tasked by their teachers with building a habitat including working circuitry and renewable power sources that was capable of withstanding seismic events.
Hundreds of physics students from underserved communities participated in the project, constructing their habitats as part of a Next Generation Science Standards, or NGSS, curriculum. One of the key components of NGSS, which was adopted by California in 2013, is its inclusion of science content areas, such as Earth science and physics. The project, drawing upon the lessons found on the JPL Education website, was a chance for students to apply their knowledge of numerous high-school science courses into one summative project. It was also a rare opportunity for the students, who were coming from underserved communities, to see connections between classroom content and real-world science.
"It is difficult for [students] to connect what they do in school with their future," wrote Joshua Gagnier, a physics teacher at Santa Ana High School, who participated in the project. "The only advice they receive is to study, work hard and get help, which without clear goals, are abstract concepts. It is opportunities such as the JPL challenge, which had a tangible academic award, that my students need."
To help students apply their knowledge in a real-world context, teachers presented a challenge to build functional habitats, complete with power, wiring and the ability to withstand the elements. Each school focused on and contributed different components to the habitats, such as solar power or thermodynamics. Students were given broad freedom to construct rooms and devices that were of interest to them while still demonstrating their knowledge throughout the school year. Gagnier had his classes focus on the electromagnetic spectrum and use their understanding of waves – for example, the threat of seismic waves to physical stability and the availability of light waves for solar power – to select a habitat location. He also had students examine the use of solar energy to power their habitats.
"The students used JPL and NASA resources to understand the elevation of [electromagnetic] penetration in combination with Google Earth to find the altitude of the geography they were evaluating," he wrote. "When students were trying to find a way to heat water for their habitat using the limited available supplies, JPL's Think Green lesson was one of the main sources for their solution." This lesson, in particular, allowed students to measure flux and available solar energy at different regions in the country using NASA data available online.
Ultimately, it was up to the students to design and craft their habitats based on the lessons they learned. So the final prototype structures varied dramatically from class to class and even more from school to school. One school focused on habitats powered solely by renewable energy, while another school focused more on the structure's ability to withstand earthquakes via a shake table. Vaughn International Studies Academy worked across class periods to build "modular" homes – with each group building a single room instead of a whole habitat. These rooms, which included a living room, bedroom and even a sauna, were connected to a central power supply. In all cases, students had to quantify the amount of energy produced, determine how to disperse it throughout their home and present a sales pitch for their habitat, describing how it satisfied their criteria.
At the end of the challenge, a winning group from each school was invited to JPL with their teachers to meet students from participating schools and tour the laboratory. It was also a chance for students and teachers to compare their projects. Due to the success of the pilot program, the participating teachers are already making plans for next school year, discussing ways to improve the challenge and expand the program to several more schools in the Los Angeles area.
---
Have a great idea for implementing NASA research in your class or looking to bring NASA science into your classroom? Contact JPL education specialist Brandon Rodriguez at brandon.rodriguez@jpl.nasa.gov
Special thanks to Kris Schmidt, Joshua Gagnier, Sandra Hightower and Jill Mayorga for their participation and dedication to bringing NASA science to their students.
TAGS: K-12 education, STEM, educators, teachers, science, engineering, physics, resources, lessons, students
---
In high school, science was the last thing on Jose Martinez-Camacho's mind. But one day, he was flipping through his chemistry textbook, and a diagram caught his eye. It described an experiment that was the first to identify the structure of an atom. Martinez-Camacho was amazed that a science experiment could reveal the inner workings of something so mysterious. He was hooked. Now a physics major at Cal Poly Pomona and in his fourth year interning at NASA's Jet Propulsion Laboratory, Martinez-Camacho is immersed in unveiling the details of other mysterious objects: lunar craters. Using a simulation he developed, Martinez-Camacho is working to understand how the temperatures inside and around craters in the permanently shadowed regions of the Moon might point the way to water ice. We caught up with him to find out more about his internship and his career journey so far.
You've done several internships at JPL, starting in 2015. What are the projects you've worked on?
My first internship in the summer of 2015 was with the Lunar Flashlight mission. The idea of the mission is to reflect sunlight into the permanent shadowed regions of the Moon to detect water ice. My project was testing and characterizing the photodetectors that would be used to identify the water ice. So most of that project involved setting up an experiment to test those detectors.
My next internship was still with the Lunar Flashlight mission, but my project was to model the amount of stray light that the detector was expected to receive from the lunar surface.
After that, I started to work with the Lunar Reconnaissance Orbiter Diviner team. [Diviner is an instrument on the Lunar Reconnaissance Orbiter that creates detailed daytime and nighttime temperature maps of the Moon.] In that project, I was working with Catherine Elder to validate one of her algorithms that can identify the abundance and size distribution of lunar rocks in a single pixel of an image taken by Diviner. So I used the algorithm to analyze the rock populations around the Surveyor landers, which took images on the lunar surface that we could use to validate our results.
What I'm working on now is 2D thermal modeling of craters in the polar regions of the Moon. The end goal is to better understand the thermal environments of the Moon's permanently shadowed regions, which can harbor water ice. Because the stability of water ice is very sensitive to temperatures, knowing the thermal environment can tell us a lot about where these water-ice deposits might exist.
What is your average day like on your current project?
I'm using MATLAB to write code [that I use to model the craters]. I wrote the code from scratch. Right now I'm at the point where I've written the program, I've gone through most of the debugging and the derivations of the equations and picking the algorithm, so I'm just running the model and waiting for results. So an average day would be to come in and run the model for different cases. There's a range of crater diameters and a range of latitudes where permanent shadows exist, so I run the model for these different cases, wait for the results and interpret the results at the end of the simulations. I also do some debugging now and then to deal with problems in the code.
What got you interested in a science career?
I think it happened in my junior year of high school. I was always disinterested in school and never paid attention. In chemistry class, we were learning about the atom, and for some reason, I opened up my chemistry book at home and started looking at the diagrams. I found a section on the Rutherford gold foil experiment, which showed that atoms consist of a tightly packed positive nucleus surrounded by electrons. I was amazed that someone could deduce that from a simple experiment. So that sparked my interest in science. After that, I started to read about chemistry and astronomy and all types of science. That was the pivotal moment.
How did you pursue that career path, and were there any challenges along the way?
I knew I'd have to go to community college because, at the time, my GPA wasn't going to get me anywhere. So I knew I had to start at the very, very beginning. But I had a very clear plan: Just keep studying, keep getting good grades until you get to where you want to be.
Sometimes students – especially community college students – feel intimidated applying for JPL internships, even though they should absolutely apply! Did you feel that way at all, and if so, how did you overcome that fear?
I was almost not going to submit my application just because I thought I wasn't good enough to intern at JPL. But ultimately, I had nothing to lose if I got rejected. It would be the same outcome as if I didn't apply, so I submitted my application. And I was really surprised when I got the acceptance letter.
What was your first experience at JPL like?
Everything was super-unfamiliar. I was in a lab, working on a science instrument, and I wasn't an instruments guy. But I got a lot of help from other people who were on the project. Even though it was difficult, it made it very enjoyable to always have someone there with the right answer or a suggestion.
How has your time at JPL molded your career path?
I think it established it. Next year, I'm going to Southern Methodist University to start a geophysics Ph.D. and my graduate advisor is someone who I met at one of the Diviner team meetings. Being at JPL has made that connection for me. And through JPL, I found what I want to do as a career.
What is your ultimate career goal?
After grad school, it would be really, really nice to come back here as a research scientist.
Are you interested in lunar research or anything planetary?
I think I'm really biased toward the Moon just because it's been my focus throughout my JPL internships. But I could see myself studying other planets or bodies. Mercury is very similar to the Moon. Anything without an atmosphere will do. That's what I'm comfortable with. If you add an atmosphere, the science is different. Ultimately, I think I'm interested in planetary science; it's just a matter of learning new science and learning about new planetary bodies.
Well, that leads nicely into my fun question: If you could travel to any place in space, where would you go and what would you do there?
I think I'd go somewhere around Saturn, or a moon of Saturn. Looking up from one of Saturn's moons would be a pretty amazing sight, with Saturn and its rings on the horizon.
Going back to your career path so far, did you have any mentors along the way?
In high school, I don't think so. I just needed to graduate. But in community college, I was part of this program called EOPS, or Extended Opportunity Programs and Services. It's for minorities and disadvantaged groups. There's counseling involved with people who knew what someone like me might be struggling with. There was that support group throughout my time at Citrus College. And there was also the Summer Research Experience Program [at Citrus.] That's the one I applied to in order to get the summer internship here. It was through Citrus College's partnership with JPL. One of the people who was in charge of that, Dr. Marianne Smith, she was always encouraging me, saying, "Just because you come from a community college doesn't mean you're any less than someone who is at UCLA or any other university." So that was another source of support.
Did you see advantages to going the community college route?
Yeah, definitely. It's a smaller community, so you get to form connections a lot easier than you would at a larger college. The quality of education there is probably on par with other universities. So, there was certainly no disadvantage. And then there was that advantage of the smaller community. It's more personalized and easier to get help.
What would you recommend to other students in community college who are interested in coming to JPL?
Apply to the program. Take advantage of the summers and apply to internships. At Citrus College they have the Summer Research Experience Program, and they probably have something similar at other community colleges. Take advantage of that. If I hadn't applied to that program that summer, my life would be totally different. Those decisions can shape your future.
---
Explore JPL's summer and year-round internship programs and apply at: https://www.jpl.nasa.gov/edu/intern
The laboratory's STEM internship and fellowship programs are managed by the JPL Education Office. Extending the NASA Office of STEM Engagement's reach, JPL Education seeks to create the next generation of scientists, engineers, technologists and space explorers by supporting educators and bringing the excitement of NASA missions and science to learners of all ages.
TAGS: Higher Education, College, Internships, Interns, Science, Moon, Community College, Students
---
Last week, 40 community college students landed at NASA's Jet Propulsion Laboratory to accept the challenge of building miniature Mars rovers over the course of four days, from July 9-12, putting their designs to the test in a series of competitions on simulated Martian terrain.
The challenge is part of the National Community College Aerospace Scholar, or NCAS, program, which hosts hundreds of students across multiple NASA centers for a twice-yearly educational workshop and engineering competition. The activity provides students with an up-close and intimate look at NASA missions, and an opportunity to present their work to a panel of judges.
One key part of their week here: The students, who are divided into four teams, are mentored by NASA scientists and engineers. And at JPL – where the competition is organized by the Education Office – nobody knows the mentorship experience better than Amiee Quon and Otto Polanco, JPL's two longest-serving NCAS mentors.
In 2012, Quon – who participated in the high school version of NCAS when she was 16 – saw an email circulated at JPL requesting mentors for the competition. She signed up and has been a mentor ever since.
"It's so rewarding to see how excited they are about engineering, and when they work hard on something and collaborate, that things work out for them," says Quon, a mechanical integration engineer who has worked on the Mars 2020 helicopter and the Juno mission orbiting Jupiter, and is currently working on the Europa Clipper mission.
Things worked out especially well for Quon's mentees this session: The 10 students on her team were named the winners of the summer 2019 competition.
"My team was very cohesive, and I was impressed by how well they worked together to design, build and operate their successful rover," she says. "All the teams did a great job on the toughest competition course I've ever seen."
For Polanco, being a mentor is a capstone on his own experience as a community college student. He started his undergraduate studies at Santa Monica College, transferred to Cal State L.A. to earn his bachelor's and master's degrees in mechanical engineering, and eventually landed an internship at JPL. He's been at JPL for 15 years and has worked as an optical-mechanical engineer on the Mars Science Laboratory mission, Starshade project and more.
The NCAS competition is an opportunity for Polanco to encourage students to go after what they want to do – including helping one female college freshman, whose family expected her to marry and have children instead of chasing a STEM career. Polanco guided her during an NCAS competition and stayed in touch throughout her college years; today, she's pursuing a Ph.D. at Caltech and studying global climate change.
"The most rewarding part is influencing people's perspectives about what their engineering futures might be," he says. "It's about convincing them to pursue their dreams and passions and seeing them grow over the years."
While Quon and Polanco play a big part in helping guide the students through various Mars rover challenges and their final presentations, they both recognize that their ultimate roles lie in reminding students that they deserve to achieve anything they set their minds to.
"A lot of our mentorship is raising the confidence levels of individuals," Polanco says. "It's through these side conversations that you often hear, 'I'm not qualified or worthy enough to work here.'" And I always ask them, 'Why do you put a ceiling on yourself?'"
Adds Quon: "We talked to somebody during the competition who felt they would be at a disadvantage going to career fairs because they transferred [into their current university]. But you've worked hard to get to where you are. There's absolutely no reason to feel 'less than.'"
To that end, Polanco encourages more people at JPL to mentor when they can.
"I think it's a really good experience for JPL employees to go through, to see how their own experience can help others," he says. "My little path is a good example of what people can do. There are so many students in community college who struggle to see that end achievement. But the institution is good about hiring talent and [individuals with] strong work ethic, no matter where you went to school."
---
The NCAS program is funded by the NASA Minority University Research and Education Program. Learn more and apply, here.
TAGS: Higher Education, Community College, NCAS, Mentors, Students, STEM, Engineering
---
In the News
This year marks the 50th anniversary of humans landing on the Moon. Now NASA is headed to the Moon once again, using it as a proving ground for a future human mission to Mars. Use this opportunity to get students excited about Earth's natural satellite, the amazing feats accomplished 50 years ago and plans for future exploration.
How They Did It
When NASA was founded in 1958, scientists were unsure whether the human body could even survive orbiting Earth. Space is a demanding environment. Depending on where in space you are, it can lack adequate air for breathing, be very cold or hot, and have dangerous levels of radiation. Additionally, the physics of space travel make everything inside a space capsule feel weightless even while it's hurtling through space. Floating around inside a protective spacecraft may sound fun, and it is, but it also can have detrimental effects on the human body. Plus, it can be dangerous with the hostile environment of space lurking on the other side of a thin metal shell.
In 1959, NASA's Jet Propulsion Laboratory began the Ranger project, a mission designed to impact the Moon – in other words, make a planned crash landing. During its descent, the spacecraft would take pictures that could be sent back to Earth and studied in detail. These days, aiming to merely impact a large solar system body sounds rudimentary. But back then, engineering capabilities and course-of-travel, or trajectory, mathematics were being developed for the first time. A successful impact would be a major scientific and mathematical accomplishment. In fact, it took until July 1964 to achieve the monumental task, with Ranger 7 becoming the first U.S. spacecraft to impact the near side of the Moon, capturing and returning images during its descent.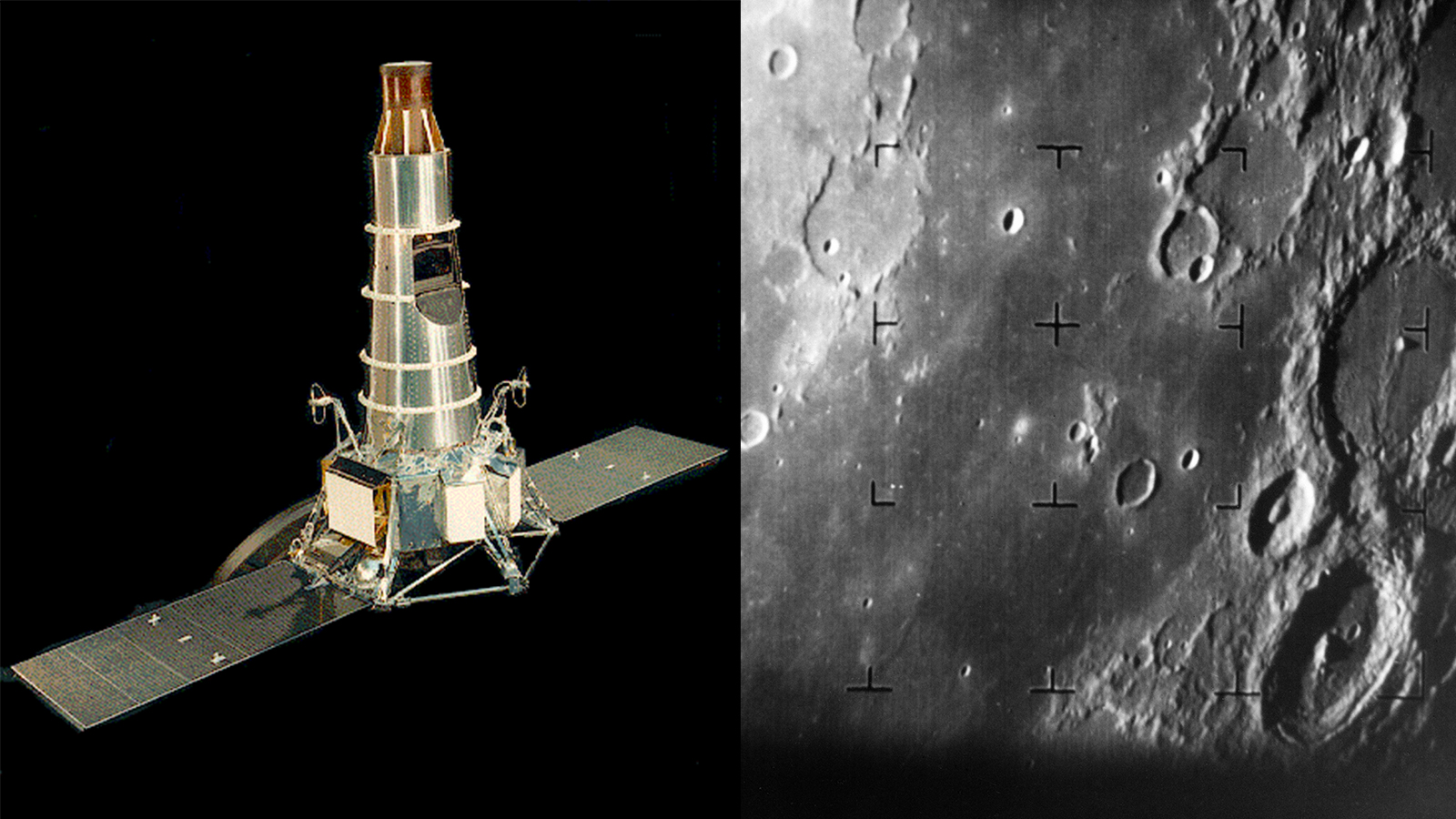 After the successful Ranger 7 mission, two more Ranger missions were sent to the Moon. Then, it was time to land softly. For this task, JPL partnered with Hughes Aircraft Corporation to design and operate the Surveyor missions between 1966 and 1968. Each of the seven Surveyor landers were equipped with a television camera – with later landers carried scientific instruments, too – aimed at obtaining up-close lunar surface data to assess the Moon's suitability for a human landing. The Surveyors also demonstrated in-flight maneuvers and in-flight and surface-communications capabilities.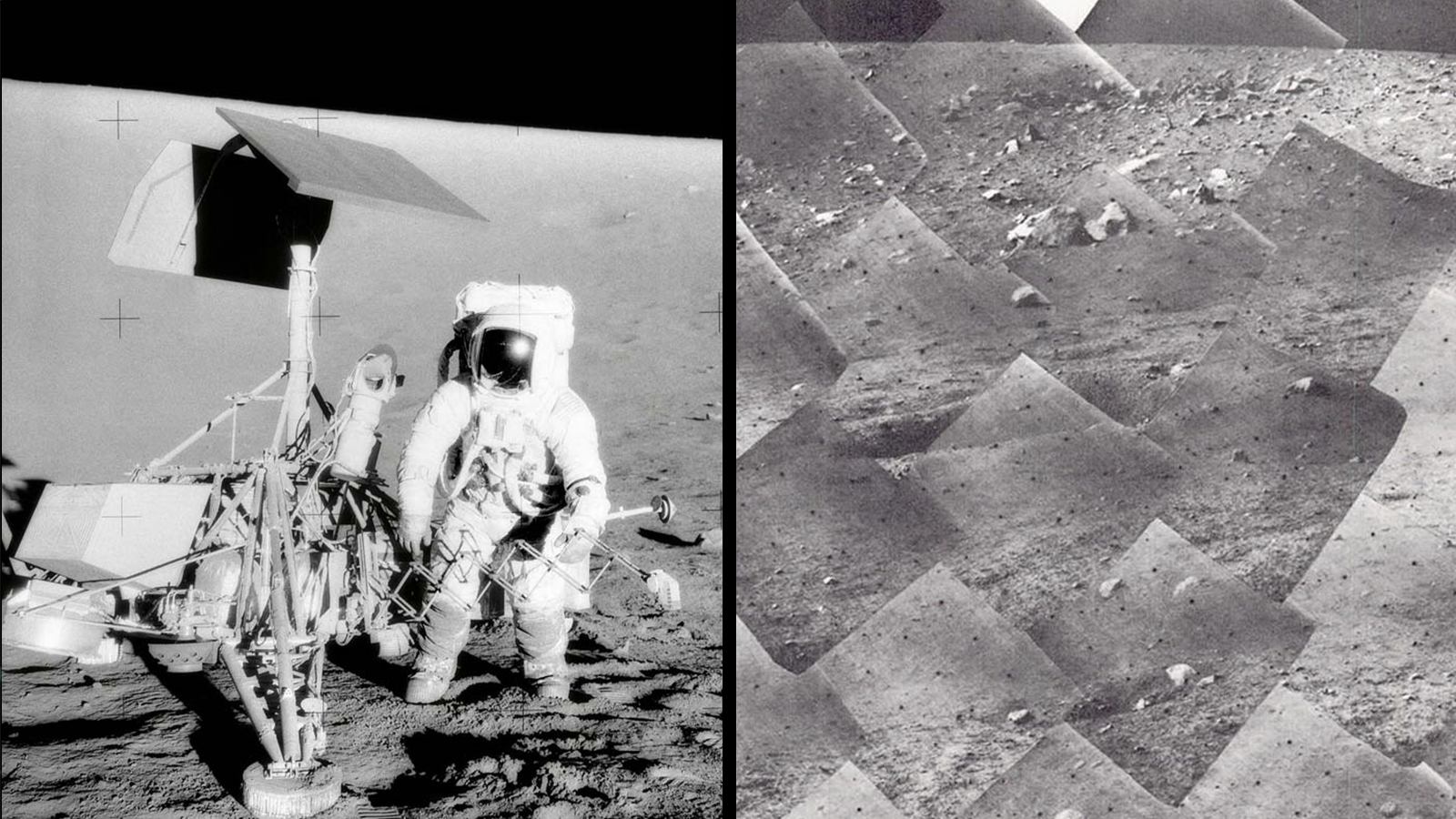 In 1958, at the same time JPL was developing the technological capabilities to get to the Moon, NASA began the Mercury program to see if it was possible for humans to function in space. The success of the single-passenger Mercury missions, with six successful flights that placed two astronauts into suborbital flight and four astronauts into Earth orbit, kicked off the era of U.S. human spaceflight.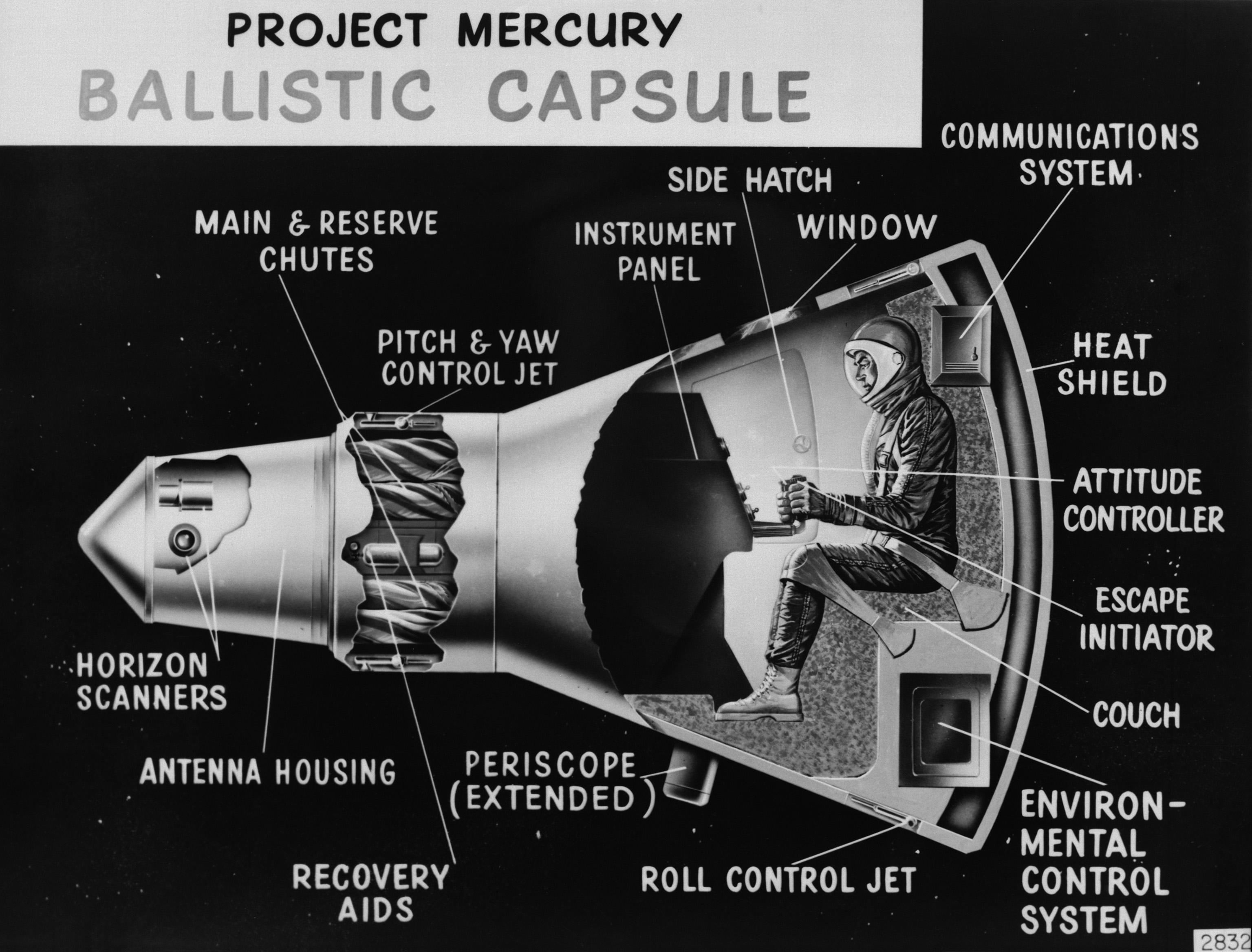 In 1963, NASA's Gemini program proved that a larger capsule containing two humans could orbit Earth, allowing astronauts to work together to accomplish science in orbit for long-duration missions (up to two weeks in space) and laying the groundwork for a human mission to the Moon. With the Gemini program, scientists and engineers learned how spacecraft could rendezvous and dock while in orbit around Earth. They were also able to perfect re-entry and landing methods and began to better understand the effects of longer space flights on astronauts. After the successful Gemini missions, it was time to send humans to the Moon.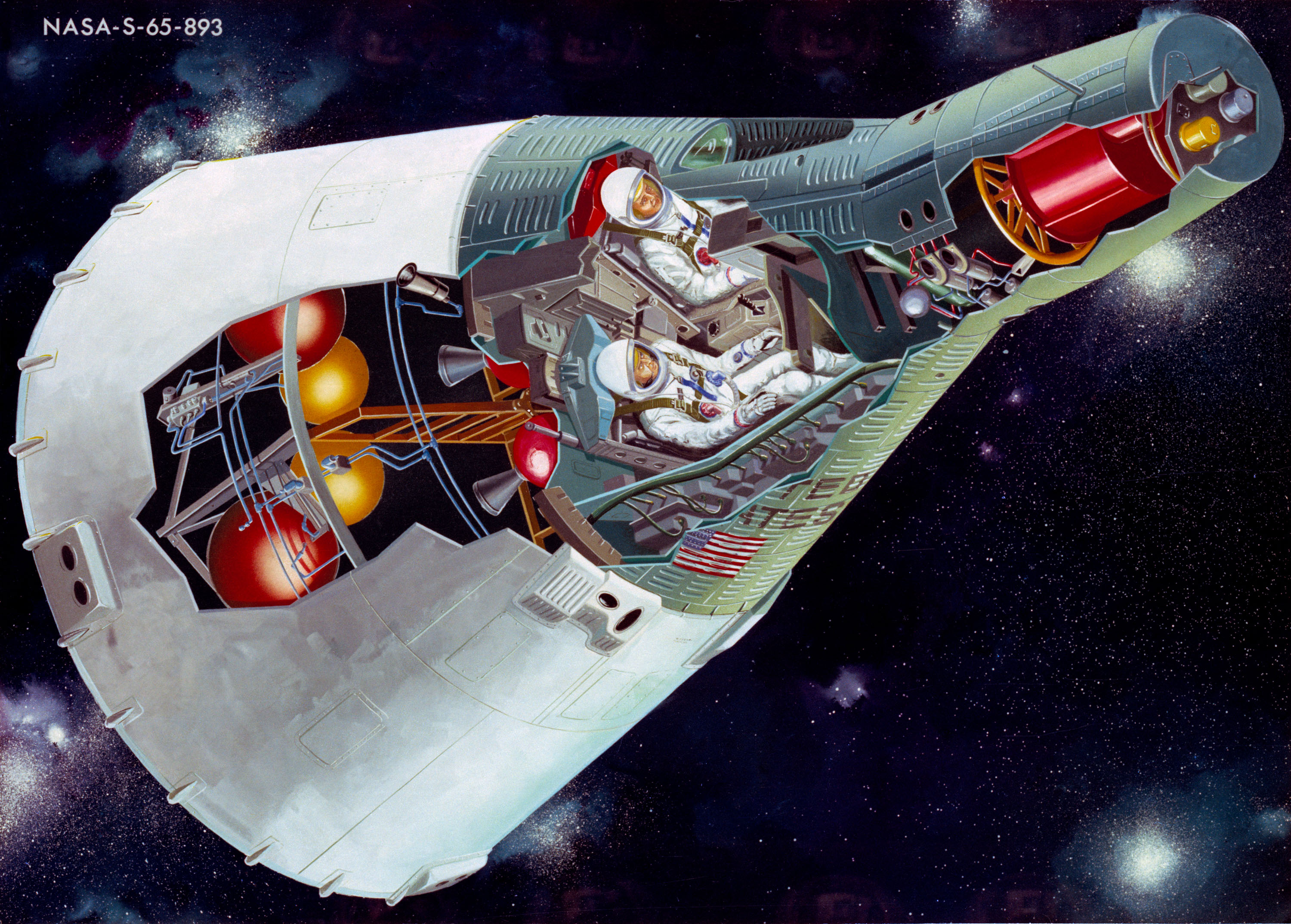 The Apollo program officially began in 1963 after President John F. Kennedy directed NASA in September of 1962 to place humans on the Moon by the end of the decade. This was a formidable task as no hardware existed at the time that would accomplish the feat. NASA needed to build a giant rocket, a crew capsule and a lunar lander. And each component needed to function flawlessly.
Rapid progress was made, involving numerous NASA and contractor facilities and hundreds of thousands of workers. A crew capsule was designed, built and tested for spaceflight and landing in water by the NASA contractor North American Aviation, which eventually became part of Boeing. A lunar lander was developed by the Grumman Corporation. Though much of the astronaut training took place at or near the Manned Spacecraft Center, now known as NASA's Johnson Space Center, in Texas, astronauts practiced lunar landings here on Earth using simulators at NASA's Dryden (now Armstrong) Flight Research Center in California and at NASA's Langley Research Center in Virginia. The enormous Saturn V rocket was a marvel of complexity. Its first stage was developed by NASA's Marshall Space Flight Center in Alabama. The upper-stage development was managed by the Lewis Flight Propulsion Center, now known as NASA's Glenn Research Center, in Ohio in partnership with North American Aviation and Douglas Aircraft Corporation, while Boeing integrated the whole vehicle. The engines were tested at what is now NASA's Stennis Space Center in Mississippi, and the rocket was transported in pieces by water for assembly at Cape Kennedy, now NASA's Kennedy Space Center, in Florida. As the Saturn V was being developed and tested, NASA also developed a smaller, interim vehicle known as the Saturn I and started using it to test Apollo hardware. A Saturn I first flew the Apollo command module design in 1964.
Unfortunately, one crewed test of the Apollo command module turned tragic in February 1967, when a fire erupted in the capsule and killed all three astronauts who had been designated as the prime crew for what became known as Apollo 1. The command module design was altered in response, delaying the first crewed Apollo launch by 21 months. In the meantime, NASA flew several uncrewed Apollo missions to test the Saturn V. The first crewed Apollo launch became Apollo 7, flown on a Saturn IB, and proved that the redesigned command module would support its crew while remaining in Earth orbit. Next, Earth-Moon trajectories were calculated for this large capsule, and the Saturn V powered Apollo 8 set off for the Moon, proving that the calculations were accurate, orbiting the Moon was feasible and a safe return to Earth was possible. Apollo 8 also provided the first TV broadcast from lunar orbit. The next few Apollo missions further proved the technology and allowed humans to practice procedures that would be needed for an eventual Moon landing.
On July 16, 1969, a Saturn V rocket launched three astronauts to the Moon on Apollo 11 from Cape Kennedy. The Apollo 11 spacecraft had three parts: a command module, called "Columbia," with a cabin for the three astronauts; a service module that provided propulsion, electricity, oxygen and water; and a lunar module, "Eagle," that provided descent to the lunar surface and ascent back to the command and service modules.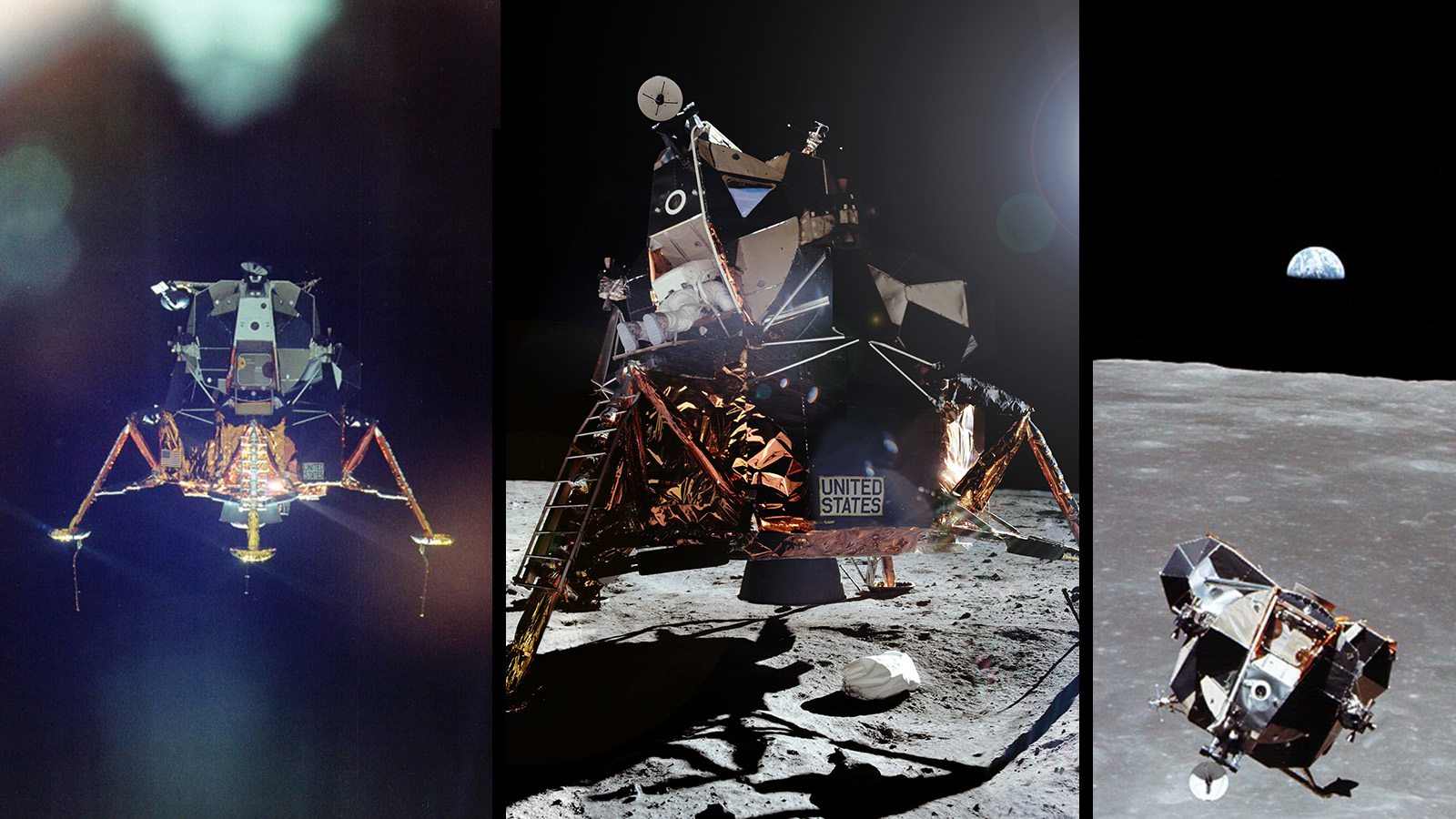 On July 20, while astronaut and command module pilot Michael Collins orbited the Moon, Neil Armstrong and Buzz Aldrin landed Eagle on the Moon and set foot on the surface, accomplishing a first for humankind. They collected regolith (surface "dirt") and rock samples, set up experiments, planted an American flag and left behind medallions honoring the Apollo 1 crew and a plaque that read, "We came in peace for all mankind."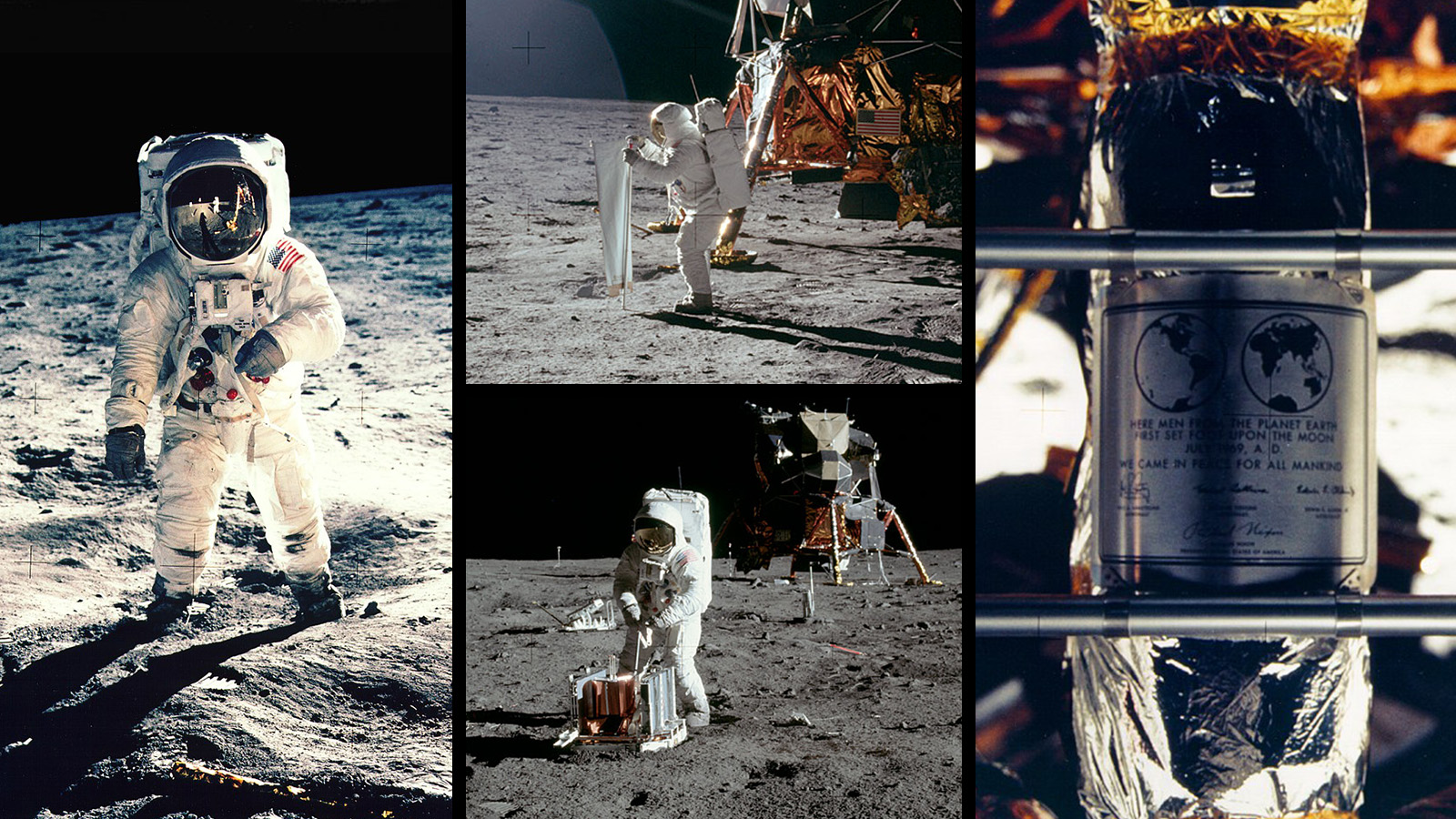 After 21.5 hours on the lunar surface, Armstrong and Aldrin rejoined Collins in the Columbia command module and, on July 21, headed back to Earth. On July 24, after jettisoning the service module, Columbia entered Earth's atmosphere. With its heat shield facing forward to protect the astronauts from the extreme friction heating outside the capsule, the craft slowed and a series of parachutes deployed. The module splashed down in the South Pacific Ocean, 380 kilometers (210 nautical miles) south of Johnston Atoll. Because scientists were uncertain about contamination from the Moon, the astronauts donned biological-isolation garments delivered by divers from the recovery ship, the aircraft carrier the USS Hornet. The astronauts boarded a life raft and then the USS Hornet, where the outside of their biological-isolation suits were washed down with disinfectant. To be sure no contamination was brought back to Earth from the Moon, the astronauts were quarantined until Aug. 10, at which point scientists determined the risk was low that biological contaminants or microbes had returned with the astronauts. Columbia was also disinfected and is now part of the National Air and Space Museum in Washington, D.C.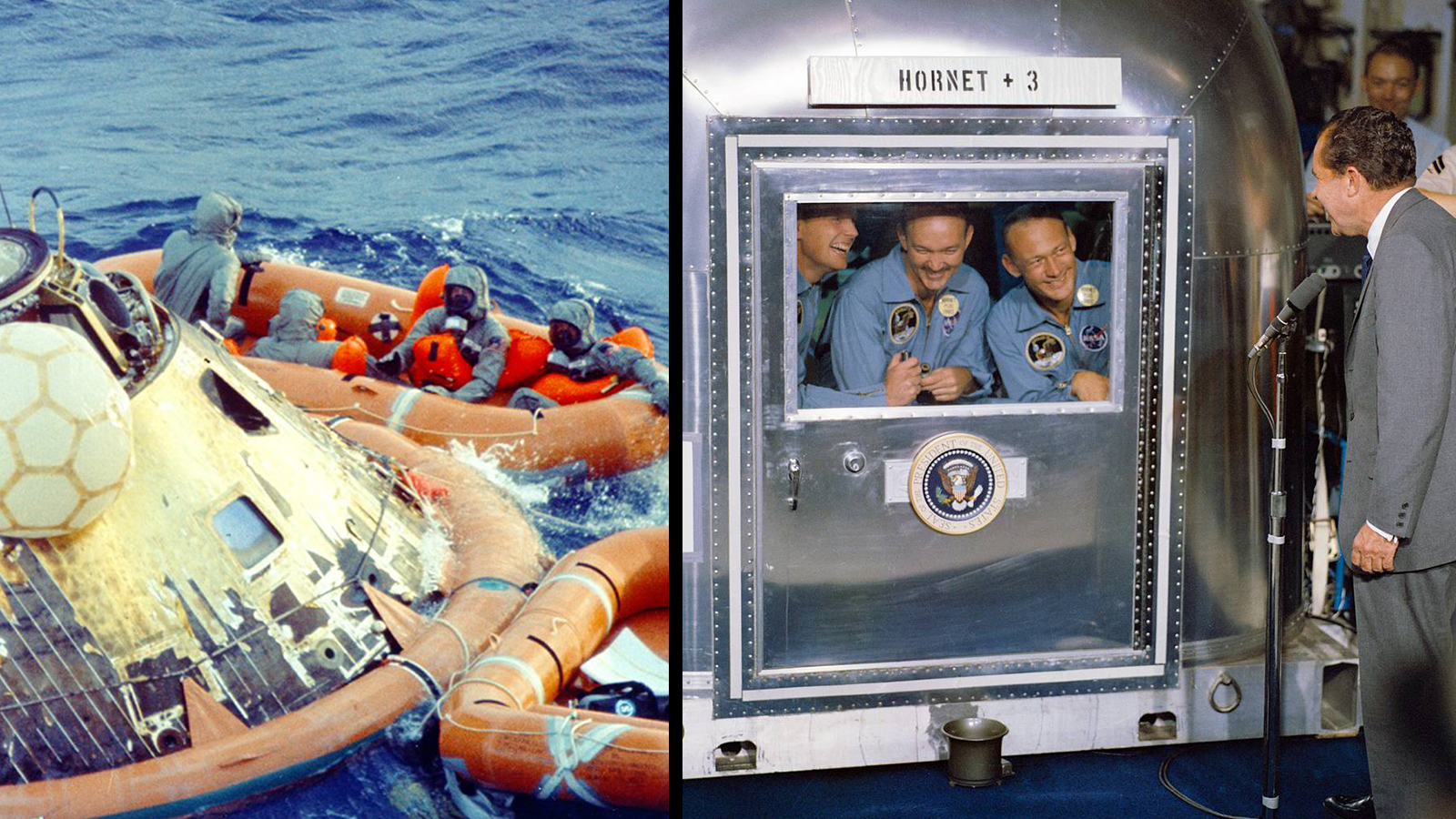 The Apollo program continued with six more missions to the Moon over the next three years. Astronauts placed seismometers to measure "moonquakes" and other science instruments on the lunar surface, performed science experiments, drove a carlike moon buggy on the surface, planted additional flags and returned more lunar samples to Earth for study.
Why It's Important
Apollo started out as a demonstration of America's technological, economic and political prowess, which it accomplished with the first Moon landing. But the Apollo missions accomplished even more in the realm of science and engineering.
Some of the earliest beneficiaries of Apollo research were Earth scientists. The Apollo 7 and 9 missions, which stayed in Earth orbit, took photographs of Earth in different wavelengths of light, highlighting things that might not be seen on the ground, like diseased trees and crops. This research led directly to the joint NASA-U.S. Geological Survey Landsat program, which has been studying Earth's resources from space for more than 45 years.
Samples returned from the Moon continue to be studied by scientists around the world. As new tools and techniques are developed, scientists can learn even more about our Moon, discovering clues to our planet's origins and the formation of the solar system. Additionally, educators can be certified to borrow lunar samples for use in their classrooms.
Perhaps the most important scientific finding came from comparing similarities in the composition of lunar and terrestrial rocks and then noting differences in the amount of specific substances. This suggested a new theory of the Moon's formation: that it accreted from debris ejected from Earth by a collision with a Mars-size object early in our planet's 4.5-billion-year history.
The 12 astronauts who walked on the Moon are the best-known faces of the Apollo program, but in numbers, they were also the smallest part of the program. About 400,000 men and women worked on Apollo, building the vehicles, calculating trajectories, even making and packing food for the crews. Many of them worked on solving a deceptively simple question: "How do we guide astronauts to the Moon and back safely?" Some built the spacecraft to carry humans to the Moon, enable surface operations and safely return astronauts to Earth. Others built the rockets that would launch these advanced spacecraft. In doing all this, NASA engineers and scientists helped lead the computing revolution from transistors to integrated circuits, the forebears to the microchip. An integrated circuit – a miniaturized electronic circuit that is used in nearly all electronic equipment today – is lighter weight, smaller and able to function on less power than the older transistors and capacitors. To suit the needs of the space capsule, NASA developed integrated circuits for use in the capsule's onboard computers. Additionally, computing advancements provided NASA with software that worked exactly as it was supposed to every time. That software lead to the development of the systems used today in retail credit-card swipe devices.
Some lesser-known benefits of the Apollo program include the technologies that commercial industries would then further advance to benefit humans right here on Earth. These "spinoffs" include technology that improved kidney dialysis, modernized athletic shoes, improved home insulation, advanced commercial and residential water filtration, and developed the freeze-drying technique for preserving foods.
Apollo was succeeded by missions that have continued to build a human presence in space and advance technologies on Earth. Hardware developed for Apollo was used to build America's first Earth-orbiting space station, Skylab. After Skylab, during the Apollo-Soyuz test project, American and Soviet spacecraft docked together, laying the groundwork for international cooperation in human spaceflight. American astronauts and Soviet cosmonauts worked together aboard the Soviet space station Mir, performing science experiments and learning about long-term space travel's effects on the human body. Eventually, the U.S. and Russia, along with 13 other nations, partnered to build and operate the International Space Station, a world-class science laboratory orbiting 400 kilometers (250 miles) above Earth, making a complete orbit every 90 minutes.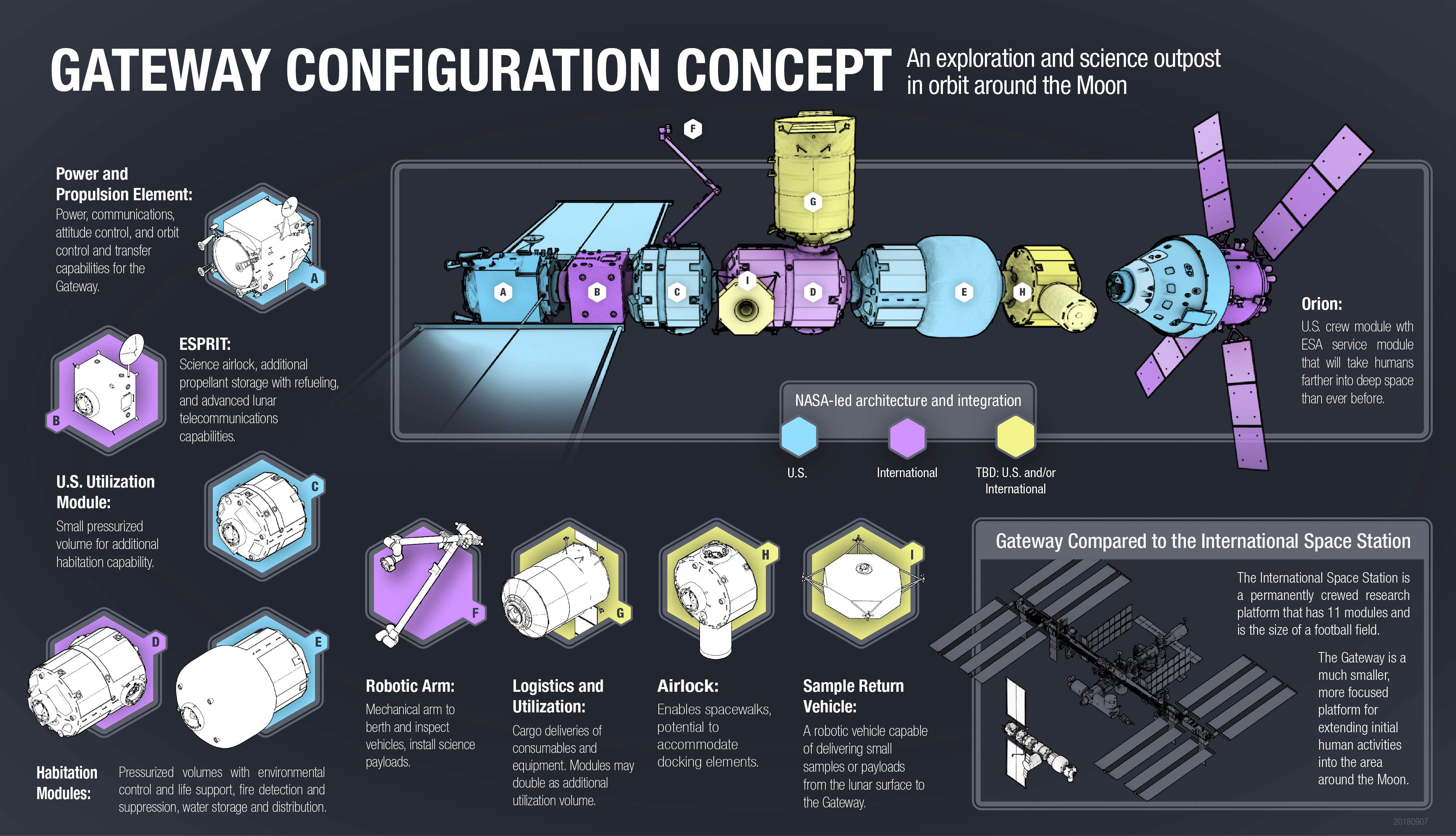 And the innovations continue today. NASA is planning the Artemis mission to put humans on the Moon again in 2024 with innovative new technologies and the intent of establishing a permanent human presence. Working in tandem with commercial and international partners, NASA will develop the Space Launch System launch vehicle, Orion crew capsule, a new lunar lander and other operations hardware. The lunar Gateway – a small spaceship that will orbit the Moon and include living quarters for astronauts, a lab for science, and research and ports for visiting spacecraft – will provide access to more of the lunar surface than ever before. While at the Moon, astronauts will research ways to use lunar resources for survival and further technological development. The lessons and discoveries from Artemis will eventually pave a path for a future human mission to Mars.
Teach It
Use these standards-aligned lessons to help students learn more about Earth's only natural satellite:
As students head out for the summer, get them excited to learn more about the Moon and human exploration using these student projects:
Explore More
TAGS: K-12 Education, Teachers, Educators, Classroom, Engineering, Science, Students, Projects, Moon, Apollo, Summer