---
In the News
This summer, a global dust storm encircled Mars, blocking much of the vital solar energy that NASA's Opportunity rover needs to survive. After months of listening for a signal, the agency has declared that the longest-lived rover to explore Mars has come to the end of its mission. Originally slated for a three-month mission, the Opportunity rover lived a whopping 14.5 years on Mars. Opportunity beat the odds many times while exploring the Red Planet, returning an abundance of scientific data that paved the way for future exploration.
Scientists and engineers are celebrating this unprecedented mission success, still analyzing data collected during the past decade and a half and applying lessons learned to the design of future spacecraft. For teachers, this historic mission provides lessons in engineering design, troubleshooting and scientific discovery.
How They Did It
Launched in 2003 and landed in early 2004, the twin Mars Exploration Rovers, Spirit and Opportunity, were the second spacecraft of their kind to land on our neighboring planet.
Preceded by the small Sojourner rover in 1997, Spirit and Opportunity were substantially larger, weighing about 400 pounds, or 185 kilograms, on Earth (150 pounds, or 70 kilograms, on Mars) and standing about 5 feet tall. The solar-powered rovers were designed for a mission lasting 90 sols, or Mars days, during which they would look for evidence of water on the seemingly barren planet.
Dust in the Wind
Scientists and engineers always hope a spacecraft will outlive its designed lifetime, and the Mars Exploration Rovers did not disappoint. Engineers at NASA's Jet Propulsion Laboratory in Pasadena, California, expected the lifetime of these sun-powered robots to be limited by dust accumulating on the rovers' solar panels. As expected, power input to the rovers slowly decreased as dust settled on the panels and blocked some of the incoming sunlight. However, the panels were "cleaned" accidentally when seasonal winds blew off the dust. Several times during the mission, power levels were restored to pre-dusty conditions. Because of these events, the rovers were able to continue their exploration much longer than expected with enough power to continue running all of their instruments.
Terrestrial Twin
To troubleshoot and overcome challenges during the rovers' long mission, engineers would perform tests on a duplicate model of the spacecraft, which remained on Earth for just this purpose. One such instance was in 2005, when Opportunity got stuck in the sand. Its right front wheel dug into loose sand, reaching to just below its axle. Engineers and scientists worked for five weeks to free Opportunity, first using images and spectroscopy obtained by the rover's instruments to recreate the sand trap on Earth and then placing the test rover in the exact same position as Opportunity. The team eventually found a way to get the test rover out of the sand trap. Engineers tested their commands repeatedly with consistent results, giving them confidence in their solution. The same commands were relayed to Opportunity through NASA's Deep Space Network, and the patient rover turned its stuck wheel just the right amount and backed out of the trap that had ensnared it for over a month, enabling the mission to continue.
A few years later, in 2009, Spirit wasn't as lucky. Having already sustained some wheel problems, Spirit got stuck on a slope in a position that would not be favorable for the Martian winter. Engineers were not able to free Spirit before winter took hold, denying the rover adequate sunlight for power. Its mission officially ended in 2011. Meanwhile, despite a troubled shoulder joint on its robotic arm that first started showing wear in 2006, Opportunity continued exploring the Red Planet. It wasn't until a dust storm completely enveloped Mars in the summer of 2018 that Opportunity finally succumbed to the elements.
The Final Act
Dust storm season on Mars can be treacherous for solar-powered rovers because if they are in the path of the dust storm, their access to sunlight can be obstructed for months on end, longer than their batteries can sustain them. Though several dust storms occurred on Mars during the reign of the Mars Exploration Rovers, 2018 brought a large, thick dust storm that covered the entire globe and shrouded Opportunity's access to sunlight for four months. Only the caldera of Olympus Mons, the largest known volcano in the solar system, peeked out above the dust.
The transparency or "thickness" of the dust in Mars' atmosphere is denoted by the Greek letter tau. The higher the tau, the less sunlight is available to charge a surface spacecraft's batteries. An average tau for Opportunity's location is 0.5. The tau at the peak of the 2018 dust storm was 10.8. This thick dust was imaged and measured by the Curiosity Mars rover on the opposite side of the planet. (Curiosity is powered by a radioisotope thermoelectric generator.)
Since the last communication with Opportunity on June 10, 2018, NASA has sent more than 1,000 commands to the rover that have gone unanswered. Each of these commands was an attempt to get Opportunity to send back a signal saying it was alive. A last-ditch effort to reset the rover's mission clock was met with silence.
Why It's Important
The Mars Exploration Rovers were designed to give a human-height perspective of Mars, using panoramic cameras approximately 5 feet off the surface, while their science instruments investigated Mars' surface geology for signs of water. Spirit and Opportunity returned more than 340,000 raw images conveying the beauty of Mars and leading to scientific discoveries. The rovers brought Mars into classrooms and living rooms around the world. From curious geologic formations to dune fields, dust devils and even their own tracks on the surface of the Red Planet, the rovers showed us Mars in a way we had never seen it before.
The rovers discovered that Mars was once a warmer, wetter world than it is today and was potentially able to support microbial life. Opportunity landed in a crater and almost immediately discovered deposits of hematite, which is a mineral known to typically form in the presence of water. During its travels across the Mars surface, Spirit found rocks rich in magnesium and iron carbonates that likely formed when Mars was warm and wet, and sustained a near-neutral pH environment hospitable to life. At one point, while dragging its malfunctioning wheel, Spirit excavated 90 percent pure silica lurking just below the sandy surface. On Earth, this sort of silica usually exists in hot springs or hot steam vents, where life as we know it often finds a happy home. Later in its mission, near the rim of Endeavor crater, Opportunity found bright-colored veins of gypsum in the rocks. These veins likely formed when water flowed through underground fractures in the rocks, leaving calcium behind. All of these discoveries lead scientists to believe that Mars was once more hospitable to life than it is today, and they laid the groundwork for future exploration.
Imagery from the Mars Reconnaissance Orbiter and Mars Odyssey, both orbiting the Red Planet, has been combined with surface views and data from the Mars Exploration Rovers for an unprecedented understanding of the planet's geology and environment.
Not only did Spirit and Opportunity add to our understanding of Mars, but also the rovers set the stage for future exploration. Following in their tracks, the Curiosity rover landed in 2012 and is still active, investigating the planet's surface chemistry and geology, and confirming the presence of past water. Launching in 2020 is the next Mars rover, currently named Mars 2020. Mars 2020 will be able to analyze soil samples for signs of past microbial life. It will carry a drill that can collect samples of interesting rocks and soils, and set them aside in a cache on the surface of Mars. In the future, those samples could be retrieved and returned to Earth by another mission. Mars 2020 will also do preliminary research for future human missions to the Red Planet, including testing a method of producing oxygen from Mars' atmosphere.
It's thanks to three generations of surface-exploring rovers coupled with the knowledge obtained by orbiters and stationary landers that we have a deeper understanding of the Red Planet's geologic history and can continue to explore Mars in new and exciting ways.
Teach It
Use these standards-aligned lessons and related activities to get students doing engineering, troubleshooting and scientific discovery just like NASA scientists and engineers!
Explore More
Try these related resources for students from NASA's Space Place
TAGS: K-12 Education, Teachers, Educators, Students, Opportunity, Mars rover, Rovers, Mars, Lessons, Activities, Missions
---
Until she discovered game development, Michelle Vo's daydreams were a problem. She couldn't focus in her computer science classes. Her grades were dipping. She wondered whether she was cut out to be a programmer or for school at all. So she took a break to make something just for fun, a self-help game. And help her, it did. Now focusing on virtual and augmented reality, Vo is back at school, studying not just computer science, but also cognitive science, linguistics and digital humanities. It's a lot, but to create a virtual world, she says one has to first understand how people navigate the real one. This summer, at NASA's Jet Propulsion Laboratory, the UCLA student applied her talents to VR and AR experiences that help scientists explore a totally different world, Mars. While Vo's tendency to daydream hasn't gone away, she now knows how to use the distractions for good; she turns them into VR inspiration.
What are you working on at JPL?
I've been working on multiple things. I work on this project called OnSight, which just won NASA Software of the Year, which we're really excited about. It's an AR project. ...
[A hummingbird flies past us and Michelle stops to point it out.]
Sorry, just got distracted. This is me on a daily basis, just distracted by everything, which is kind of how I work. I get distracted so easily, and it always takes my full attention. So if I get distracted by my work, it holds all my attention. I found out this year I have ADHD, which probably explains why I struggled so much in school. Oh gosh, this is distracting from the interview. [Laughs.] No, this is good for visibility. I struggled a lot in school because I was always distracted by my own daydreams. ADHD is often undetected in girls, since it's not so much exhibited as fidgeting but, for me at least, spacing out and daydreaming. It was always really hard for me to focus if I wasn't engaged. Thankfully, I've finally found a career where I can actually utilize that skill. My daydreaming is how I come up with my VR design ideas, and I'm so glad I can use it to help others. Maybe I didn't perform too well in school, but hey, look where I am now!
That's so great that you were able to channel it in that way. How did you go from struggling in school to doing VR?
When I first tried on a VR headset, I was like, "This is the future. I need to do whatever I can to learn about this." I decided to study computer science, but it was such a huge struggle. Not a lot of people know this, but I was on academic probation for a while. I had a 1.8 GPA at one point, because I was too shy to ask for help. I would get distracted and, overall, I felt discouraged. So I stopped studying computer science for a little bit.
When I took a break from school, I decided I wanted to try making a game. I wanted to do something just for fun, and I was determined to fix my bad habits. So with some friends, I created a self-help game at AthenaHacks, a women's hackathon. For 24 hours, I was just immersed in my work. I had never felt that way about anything in my life, where I was just zoned in, in my own world, doing the thing I love. And that's when I realized, I think it's game development. I think this is what I want.
So I spent the year teaching myself [game development], and I got a lot more comfortable using the Unity game engine. I knew I eventually wanted to be a VR developer, so I saved up and invested in myself to learn the skills at Make School's VR Summer Academy. That smaller learning environment opened up the world for me. It boosted my confidence more than anything to have the support I needed. I was like, "Maybe my grades aren't so great, but I know how to make VR." And the world needs VR right now.
So when I went back to my university, I thought, "I'll try again. I'm going to go back to computer science." And so far so good. I'm into my fourth year at UCLA studying cognitive science, linguistics, computer science and digital humanities. It sounds like a lot, but they're all related in the sense that they're all connected to VR, because VR is mainly a study of the mind and how we perceive reality. It's not so much about computer science; you really have to know more about humans to create good VR.
So I went from literally the worst student in the class to killing it at NASA. [Laughs.]
Sorry, ugh, that was a lot. Haha, I look at a bird and go off on a tangent. That's my life.
So going back to your JPL internship, how are you using your VR skills to help scientists and engineers?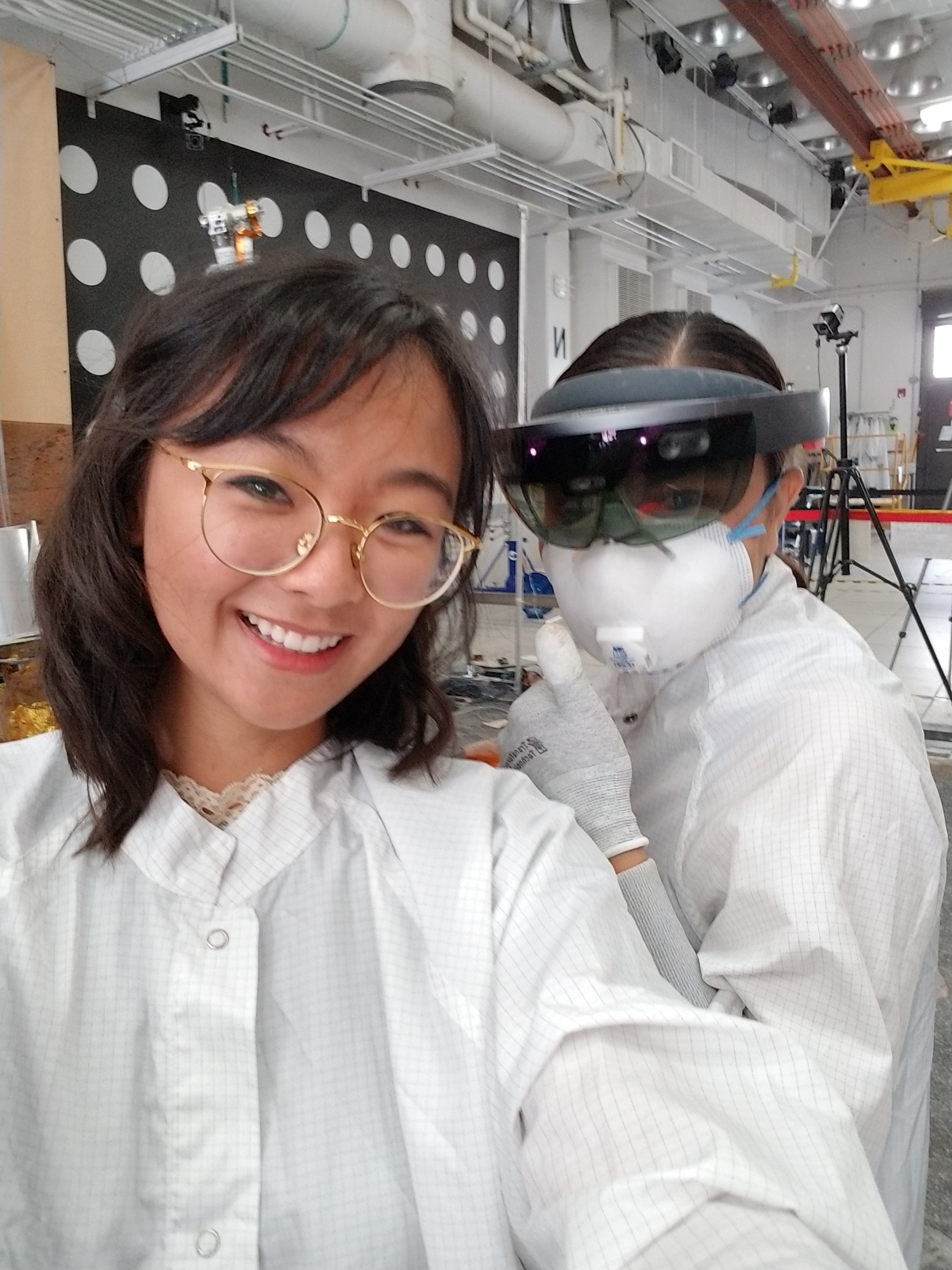 I'm interning in the Ops Lab, and the project I've been working on primarily is called OnSight. OnSight uses Microsoft's HoloLens [mixed-reality software] to simulate walking on Mars. Mars scientists use it to collaborate with each other. We had "Meet on Mars" this morning, actually. On certain days, Mars scientists will put on their headsets and hang out virtually on Mars. They see each other. They talk. They look at Mars rocks and take notes. It's based on images from the Curiosity Mars rover. We converted those images to 3-D models to create the virtual terrain, so through VR, we can simulate walking on Mars without being there.
For a few weeks, I worked on another project with the InSight Mars lander mission. We took the terrain model that's generated from images of [the landing site] and made it so the team could see that terrain on top of their testbed [at JPL] with a HoloLens. For them, that's important because they're trying to recreate the terrain to … Wait, I recorded this.
[Michelle quickly scans through the photo library on her phone and pulls up a video she recorded from JPL's In-Situ Instruments Laboratory. Pranay Mishra, a testbed engineer for the InSight mission, stands in a simulated Mars landscape next to a working model of the lander and explains:]
"When InSight reaches Mars, we're going to get images of the terrain that we land on. The instruments will be deployed to that terrain, so we will want to practice those deployments in the testbed. One of the biggest things that affects our deployment ability is the terrain. If the terrain is tilted or there are rocks in certain spots, that all has a strong effect on our deployment accuracy. To practice it here, we want the terrain in the testbed to match the terrain on Mars. The only things we can view from Mars are the images that we get back [from the lander]. We want to put those into the HoloLens so that we can start terraforming, or "marsforming," the testbed terrain to match the terrain on Mars. That way, we can maybe get a rough idea of what the deployment would look like on Mars by practicing it on Earth."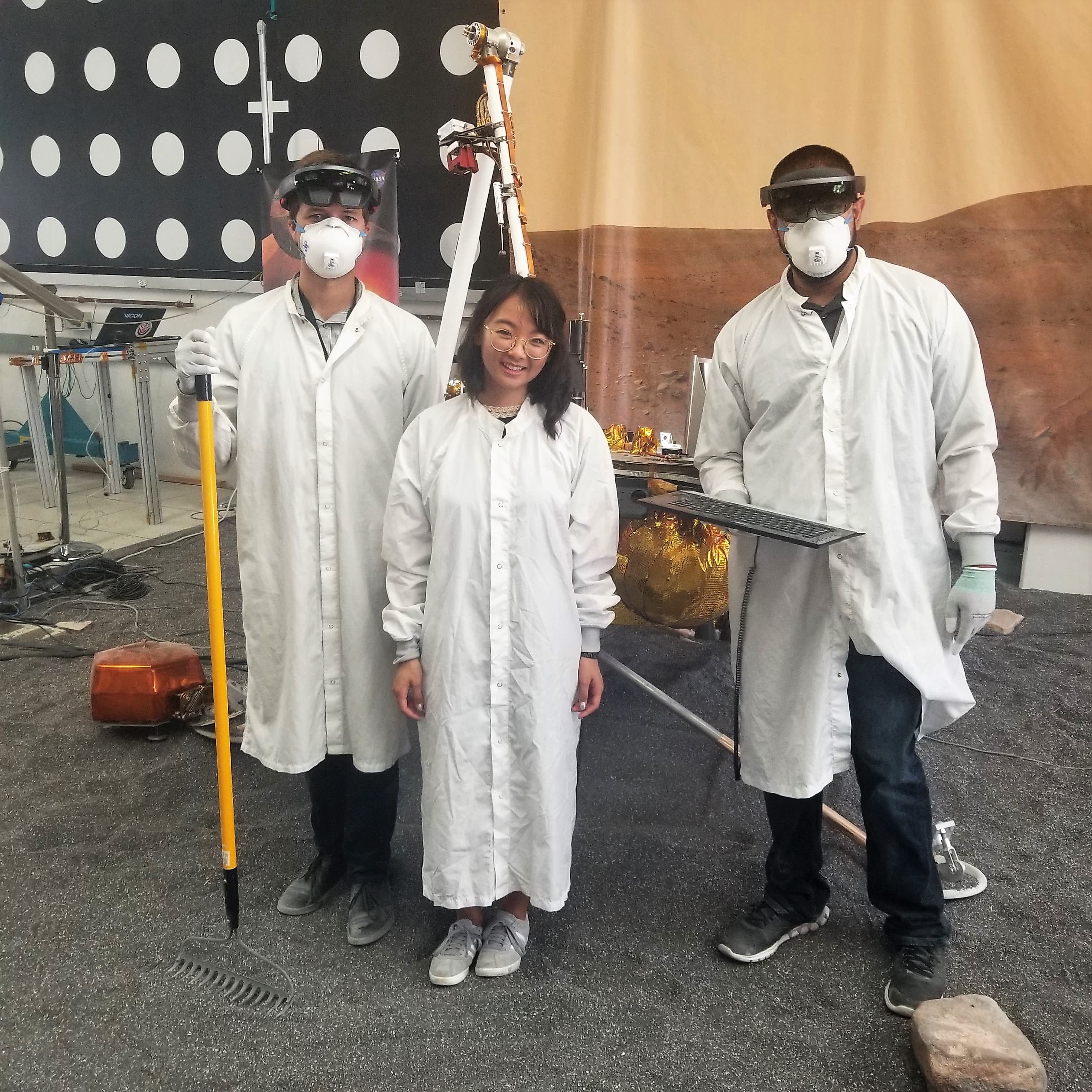 › Learn more about how scientists and engineers are creating a version of InSight's Mars landing site on Earth
They already gave us photos of Mars, which they turned into a 3D model. I created an AR project, where you look through the HoloLens – looking at the real world – and the 3D model is superimposed on the testbed. So the [testbed team] will shovel through and shape the terrain to match what it's like on Mars, at InSight's landing site.
Did you know that this was an area that you could work in at JPL before interning here?
OnSight was a well known project in the VR/AR space, since it was the first project to use the Microsoft Hololens. I remember being excited to see a talk on the project at the VRLA conference. So when I finally got on board with the team, I was super excited. I also realized that there's room for improvement, and that's OK. That's why I'm here as an intern; I can bring in a fresh look.
One of the things I did on this project was incorporate physical controllers. My critique when I first started was, "This is really hard to use." And if it's hard for me to use as a millenial, how is this going to be usable for people of all ages? I'm always thinking in terms of accessibility for everybody. Through lots of testing, I realized that people need to be touching things, physical things. That's what OnSight lacked, a physical controller. There were a lot of things that I experimented with, and eventually, it came down to a keyboard that allows you to manipulate the simulated Mars rovers. So now with OnSight, you can drive the [simulated] rovers around with a keyboard controller and possibly in the future, type notes within the application. Previously, you had to tap into the air to use an AR keyboard, and that's not intuitive. We still need to touch the physical world.
How has this project compared with other ones that you've done elsewhere?
Well, I was the only girl developer intern on the team. I'm always battling stereotypes wherever I go and usually on other projects, I'm fighting for my place and fighting to fit in. But at JPL, everyone's here because they love what they do. People are secure in themselves, and they see me as an equal. They're like, "Michelle has good ideas. Let's bring her to the table." Right off the bat, I felt accepted and, for the first time ever, the imposter-syndrome voice went away. I felt like I could just be myself and actually have a voice to contribute. You know, I might be small, I might be the shortest one, but I'm mighty. It's been such a positive and supportive environment. I've had an incredible internship and learned so much.
What has been the most unique experience that you've had at JPL?
Working in the Ops Lab has been such a unique experience. Every day, we're tinkering with cutting-edge technology in AR and VR. I am so thankful to have my mentors, Victor Luo and Parker Abercrombie, who give me the support and guidance I need to grow and learn. Outside of the Ops Lab, I also had the unique opportunity to meet astronaut Kate Rubins and talk about VR with her. I had lunch with NASA Administrator Jim Bridenstine when he visited JPL. And working with the InSight mission and Marleen Sundgaard, the mission's testbed lead, was especially cool. I can't believe I was able to use my skills for something the Mars InSight mission needed. Being able to say that is something I'm really proud of. And seeing how far I came, from knowing nothing to being here, makes me feel happy. If I can transform, anyone can do this too, if they choose to work hard, follow their own path and see it in themselves to take a risk.
What advice do you have for others looking to follow your path?
Listen to your gut. Your gut knows. It's easy to feel discouraged. But trust me, you're not alone. You've always got to stay optimistic about finding a solution. I've always been someone who has experimented with a lot of things, and I think learning is something you should definitely experiment with. If the classroom setting is not for you, try teaching yourself, try a bootcamp, try asking a friend – just any alternative. You just have to know how you learn best.
My biggest inspiration is the future. I think about it on a daily basis. The future is so cool. I know I have a very cheery, idealistic view on life, but I think, "What's wrong with that?" as long as you can bring it back to reality, which I think I've been able to do.
Speaking of that, what is your ultimate dream for your career and your future?
I was raised in the Bay Area, and I grew up in Santa Clara so the tech culture of Silicon Valley was inescapable. I love Silicon Valley, but we have our problems. We have a huge homelessness issue. I've always thought, "We have the brightest engineers and scientists doing the most amazing, crazy things, yet we still can't alleviate homelessness." Everybody deserves a place to sleep and shower. People need to have their basic needs met. I'd love to see some sort of VR wellness center that could help people train for a job, overcome fears and treat mental health.
That's my idealistic dream, but back to present-day dreams: I'm actually doing a 180. I'm leaving tech for a little bit, and I'm taking Fall quarter off. I'll start back at UCLA in January, but I'm taking a leave to explore being an artist. I'm writing a science-fiction play about Vietnamese-American culture. I was inspired by my experience here at JPL. I feel really optimistic about the future of technology, which is funny because science fiction usually likes to depict tech as something crazy, like an apocalypse or the world crashing down. But I'm like, "Vietnamese people survived an actual war, and they're still here." For my parents and grandparents, their country as they knew it came crashing down on them when they were just about my age. They escaped Vietnam by boat and faced many hardships as immigrants who came to America penniless and without knowing English. For them to have survived all of that and sacrificed so much to make it possible for me to be here is incredible. I think it's a testament to how, despite the worst things, there's always good that continues. I'm so grateful and thankful for my family. I wouldn't be here living my dream without them, and I want to create a play about that.
It's funny. Before I used to be so shy, so shy. I used to be that one kid who would never talk to anybody. So it's kind of nice to see what happens when the introvert comes out of her shell. And this is what happens. All of this. [Laughs.]
---
Explore JPL's summer and year-round internship programs and apply at: https://www.jpl.nasa.gov/edu/intern
The laboratory's STEM internship and fellowship programs are managed by the JPL Education Office. Extending the NASA Office of Education's reach, JPL Education seeks to create the next generation of scientists, engineers, technologists and space explorers by supporting educators and bringing the excitement of NASA missions and science to learners of all ages.
TAGS: Women in STEM, Higher Education, College, Students, STEM, VR, AR, Technology, Mars, InSight, Curiosity, Women in STEM
---
All spacecraft are made for extreme environments. They travel through dark, frigid regions of space, battle intense radiation and, in some cases, perform daring feats to land on mysterious worlds. But the rover that Tonya Beatty is helping design for Venus – and other so-called extreme environments – is in a class all its own. Venus is so inhospitable that no spacecraft has ever lasted more than about two hours on the surface. So Beatty, an intern at NASA's Jet Propulsion Laboratory and an aerospace engineering student at College of the Canyons, is working to develop a new kind of rover that's powered mostly by gears rather than sensitive electronics. We caught up with Beatty just before she embarked on another engineering challenge – JPL's annual Halloween pumpkin-carving contest – to find out what it takes to turn an impossible idea into a reality.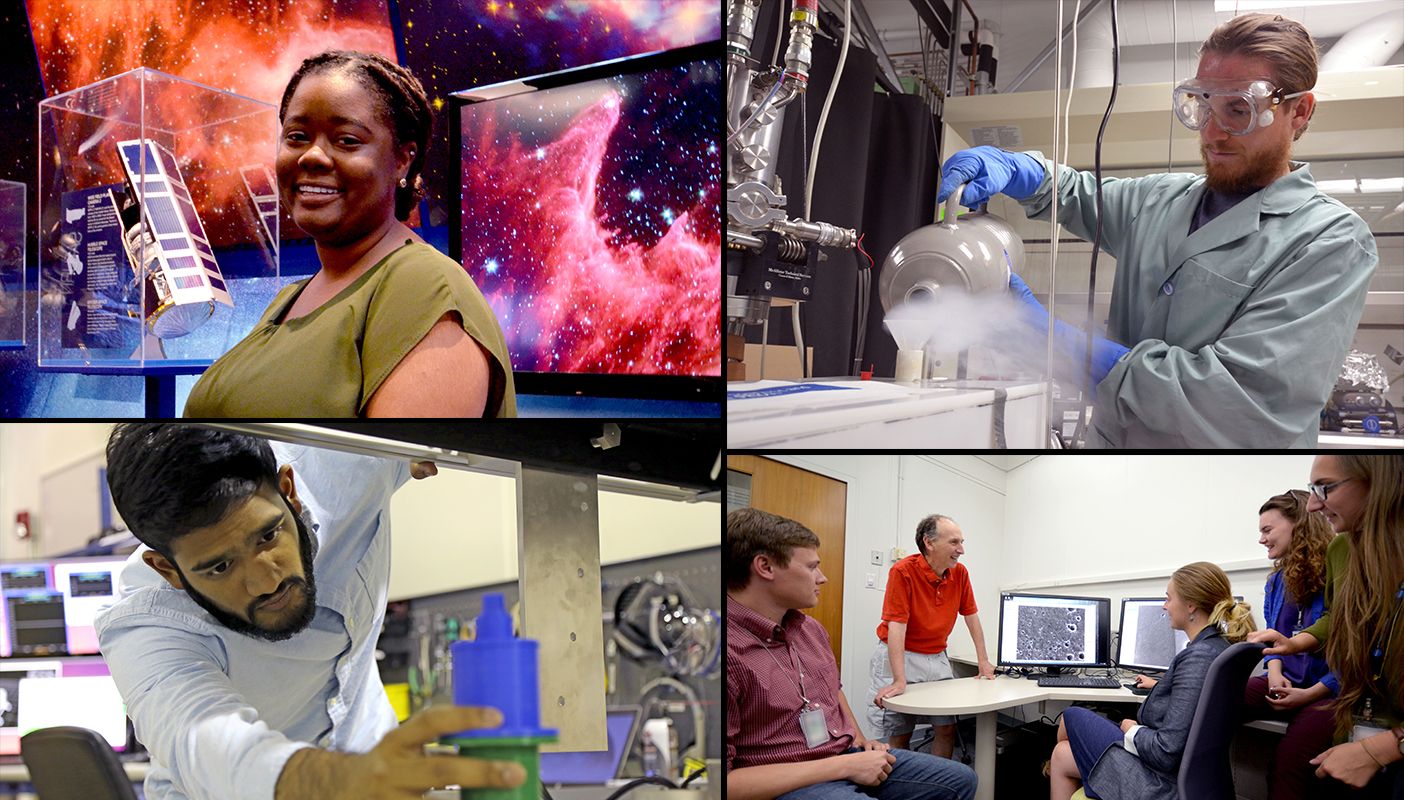 Meet JPL Interns
Read stories from interns pushing the boundaries of space exploration and science at the leading center for robotic exploration of the solar system.
What are you working on at JPL?
I'm working with a team on the HAR-V project, which stands for Hybrid Automaton Rover-Venus. It's a study to develop a rover meant to go to Venus. I'm assisting in the development of mechanical systems and mechanisms on the prototype, using clockwork maneuvers. This rover will use minimal electronics, so when I say clockwork, I mean gears and anything that does not rely on electronics.
Why is this rover not relying on electronics and relying more on a gear system?
The environment on Venus includes sulfuric acid clouds, a surface pressure about 90 times what it is on Earth and a temperature that exceeds 800 degrees Fahrenheit. The materials in most electronics would melt in that extreme environment, so that's why we're trying to go mechanical. The previous landers that have gone to Venus have relied on electronics, and the one that lasted the longest only lasted 127 minutes, whereas ours, using the mechanical design, is projected to last about six months. So that's why we're going with this design.
What does a typical day look like for you?
A typical day for me consists of designing mechanisms, designing mechanical systems, ordering parts for those mechanical systems, testing them on the active prototype that we have and redesigning if necessary. It's kind of a mixture of all that, depending on where we're at in each step.
What is the ultimate goal of your project?
My personal goal with this internship is to connect the things I'm learning in school to real-world applications, as well as see what it would be like to be an aerospace engineer. Specific to the HAR-V study, my goals are to design a power-transfer mechanism, redesign the reversing mechanism on the rover itself, and redesign the obstacle avoidance mechanism. Those are all things that I'm now learning as I'm doing the internship, which is great. I love learning new things.
As for HAR-V itself, the goal is to be able to withstand those extreme environments for longer than 127 minutes and retrieve the groundbreaking data that we've been wanting from Venus but haven't been able to get because we haven't had the time we need [with previous landers].
Personally, at 19, I never thought that I would be working on a rover for Venus at NASA. By sharing my story, I hope people take away that some of the things they might think are impossible are really right there. They've just got to reach for it.
What's the most JPL or NASA unique experience that you've had so far?
As much as I'd like to say something cool like watching the rovers being tested, I have to say it's the deer. Every day, wherever I go – to laser-cut something or go get a coffee – I see deer. One day I saw six. I just think that's so unique because it's something I never expected to get from this experience. And I think it's unique to JPL.
Speaking of unique experiences, your group holds an annual pumpkin-carving contest and makes some amazing creations. Are you planning to participate in the contest this year?
I actually just got the emails today. I didn't know this was a JPL thing. It's a big deal! So, yes, I'd like to!
Do you know what your team is planning to make? Don't worry, we won't share this until after the contest, so it won't leak to any competitor.
We're making Miguel from [the movie] "Coco" with his guitar, and we're going to try and make it move.
How does designing a mechanical or creative pumpkin compare to designing a rover for Venus?
Well, with a pumpkin, I would care about how it looks, whereas with the rover, I care about how it functions. A pumpkin has real guts, and a rover has metaphorical guts. It's got to keep on going. But I think the biggest similarity is the creativeness between both of them, because you have to be creative to make an innovative pumpkin. Just like when you design a rover, you have to be creative; you can't just be smart. You have to have those creative ideas. You have to think outside of the box to actually design efficient and effective components, and you can't just give up. When you have a failed attempt, you try it again.
Do you have any tips for anyone who want to make a creative pumpkin?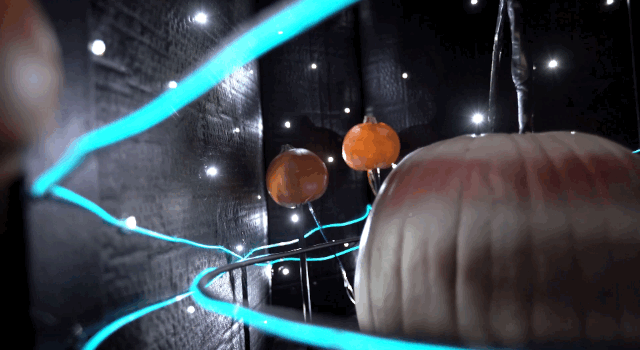 Create a Halloween Pumpkin Like a NASA Engineer
Get tips from NASA engineers on how to make an out-of-this-world Halloween pumpkin.
Don't be afraid of your ideas. Sometimes we limit ourselves because we're like, "You know that's too crazy. We shouldn't do that," but it takes crazy ideas to be an engineer and it takes crazy ideas to carve a good pumpkin.
OK, back to your internship: How do you feel you're contributing to NASA missions and science?
I think my active participation in the rover study is helping contribute to NASA-JPL missions, because something I have designed could very well be on an actual rover that could go to Venus, that would retrieve data, that does help NASA. So I think in that sense, I am contributing.
One last fun question: If you could travel to any place in space, where would you go, and what would you do there?
I would go to Europa. I would like to see first-hand if there is an ocean and if there's an environment that could sustain life. Chemistry has always interested me, so I would love to see that up close and analyze everything.
---
Explore JPL's summer and year-round internship programs and apply at: https://www.jpl.nasa.gov/edu/intern
The laboratory's STEM internship and fellowship programs are managed by the JPL Education Office. Extending the NASA Office of Education's reach, JPL Education seeks to create the next generation of scientists, engineers, technologists and space explorers by supporting educators and bringing the excitement of NASA missions and science to learners of all ages.
---
In the science world, publishing a paper is a big deal; it's how scientists share their discoveries with the world. So it's no small feat that Vicky Espinoza published her first science paper as an intern at NASA's Jet Propulsion Laboratory. In the paper, her team takes a look at the effects of climate change on global atmospheric rivers, which bring an onslaught of snow and rain to affected areas and have serious implications for people who live there. The Earth science student from the University of California, Merced, met with us this summer to share how she's helping her team take the research further and what it's like to be an intern at JPL.
What are you working on at JPL?
We're studying how atmospheric rivers – which are long jets of water vapor – move through the Earth system and identifying key physical properties that characterize their frequency and magnitude. We're doing this by taking what we currently know about atmospheric rivers and contrasting it with "aqua planet" model simulations, changing one physical parameter at a time. An aqua planet is a theoretical planet that has the same dynamic and thermodynamic properties as Earth's atmosphere and oceans, but with the continents removed. We're also observing how climate change and these parameter changes combine to impact the physical characteristics, frequency and magnitude of atmospheric rivers in these aqua-planet scenarios.
Tell me more about atmospheric rivers and the impacts that they have on our climate.
There is a certain geometry to them that separates them from other storm types. They often tap moisture in the tropics and transport it toward the poles and into and across mid-latitudes. An important feature of them is that they often make landfall on the western coasts of continents – so the mountainous regions like the Sierras and the Andes. When the warm, moist air rises to cross the mountains, it cools down and precipitates out as either snow or rain, depending on the temperature. Just to give you a sense of how much water they can hold, a single atmospheric river can transport 25 Mississippi Rivers of water as water vapor. So the implications are that they can cause severe flooding, or in their absence, they can cause drought periods. So they're very important for water management, especially for regions like California that depend on precipitation for water.

You were the lead author on a science paper published recently on this topic.
Yes. It's a global analysis of climate-change projection effects on atmospheric rivers. It was the first paper that performed such an analysis on atmospheric rivers on a global scale. My mentors, Bin Guan and Duane Waliser here at JPL, created an atmospheric-river detection algorithm, which we used to identify and compare atmospheric rivers globally. We found that with climate change, these atmospheric rivers will occur 10 percent less, but they will be 25 percent wider and stronger. Because the rivers will be more expansive, a given area will experience atmospheric-river conditions up to 50 percent more often despite there being fewer atmospheric river events. Also, the frequency of the strongest of these atmospheric rivers is going to double. It has so many implications for water managers and those living in atmospheric-river-prone regions who will need to start preparing or start thinking about the implications of these large storms.
Is this the first time that you've been an author on a paper?
Yes, it's the first time I've published a paper. My mentors made me first author, which was such a great experience. It was a lot of work. As a Ph.D. student now, it's fruitful to know what it means to be an author of a paper.
What did it mean for you to be able to publish a paper as an intern?
Just being so passionate about a topic, putting your hard work and soul into a paper and then seeing it become reality is – it's something different. I can't even describe it. It makes me feel like I've accomplished something.
What are you studying for your doctorate?
I'm taking a look at water management and sustainable water uses in agricultural regions in California.
Are you hoping to eventually work at JPL?
Yes. JPL has been a dream. I actually applied to JPL three times before I got an internship. I applied as an undergrad, and then during my master's I was, like, "Let me try one more time. Let's give it a go."
It's been such a great experience to intern here. One of the things that I love about JPL is that everyone is so passionate and creative. It's like Disneyland for scientists. It's very motivating to meet people in line for coffee and be like, "Oh, you work on the Hubble Space Telescope? No big deal." And they're just so grounded and so passionate, and everyone's willing to talk to you. So it's been a great experience.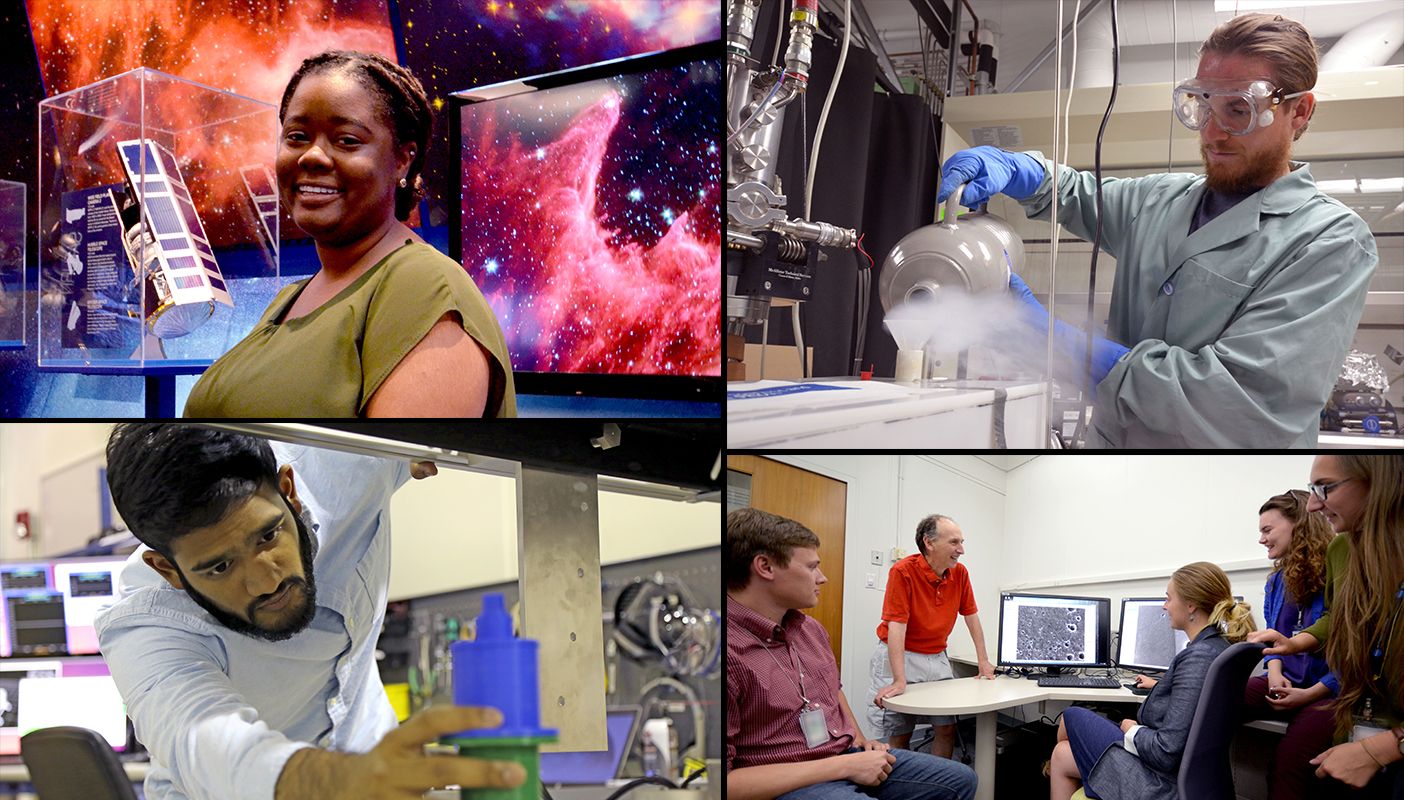 Meet JPL Interns
Read stories from interns pushing the boundaries of space exploration and science at the leading center for robotic exploration of the solar system.
What's the most unique JPL or NASA experience that you've had?
I think the overall experience has been unique. I haven't been in a work environment where the majority of people are so happy to be here and everyone is just so passionate and driven.
What's a typical day like for you?
A typical day for me is behind the computer, so taking a lot of data and running it through a detection algorithm and running a statistical analysis on the data, creating figures and analyzing these atmospheric-river trends.
How do you think that what you're working on might help the average person one day?
Taking a look at this theoretical aqua planet, [a simulated version of Earth with the continents removed], and changing differing parameters of these atmospheric rivers is bringing fundamental insight into how they function, develop and move across the globe. I think that this work will inform citizens, stakeholders, policy makers and water managers on the future of California water.
What got you interested in science in the first place?
I feel like I've been doing science for a long time. My dad works in hydrology, so I've always been exposed to that. But I've always been someone very curious, especially about climate change. I started with air quality and how climate change is impacting the atmosphere. The atmosphere and ocean are connected in some ways, so I started exploring the ocean through an internship. Just being curious about our planet has led me to where I am now.
If you could travel to any place in space, where would you go and what would you do there?
I am a fan of rogue planets, or floating planets. There's an [Exoplanet Travel Bureau] poster that imagines them as planets where people would go dancing. I would want to go to a rogue planet just to figure out what it's like. They don't have a parent star, so they're just out there on their own and there's something so serene and somewhat romantic about that.
---
Learn more about how and why NASA is studying Earth on the agency's Global Climate Change website.
Explore JPL's summer and year-round internship programs and apply at: https://www.jpl.nasa.gov/edu/intern
The laboratory's STEM internship and fellowship programs are managed by the JPL Education Office. Extending the NASA Office of Education's reach, JPL Education seeks to create the next generation of scientists, engineers, technologists and space explorers by supporting educators and bringing the excitement of NASA missions and science to learners of all ages.
---
The Starshade project aims to do pretty much what the name suggests: suppress the light from distant stars so scientists can learn more about the planets that surround them – including whether they're likely to support life. In practice, it requires building a giant, precisely shaped structure that can unfurl from a relatively tiny package and fly in perfect sequence with a space telescope. Interns have been key to making the idea a reality. The team has brought in more than 40 interns in the past seven years. We already caught up with three-time Starshade intern Christopher Esquer-Rosas, who is using his origami skills to help a full-scale model of the giant sunflower-shaped structure unfurl. Meanwhile, intern Allison Ayad, a mechanical engineering student at Pasadena City College, is creating a working miniature model to narrow in on the design. Fellow intern Evan Kramer met up with Ayad to find out how she's contributing to the project and how she's bringing what she's learning back to school.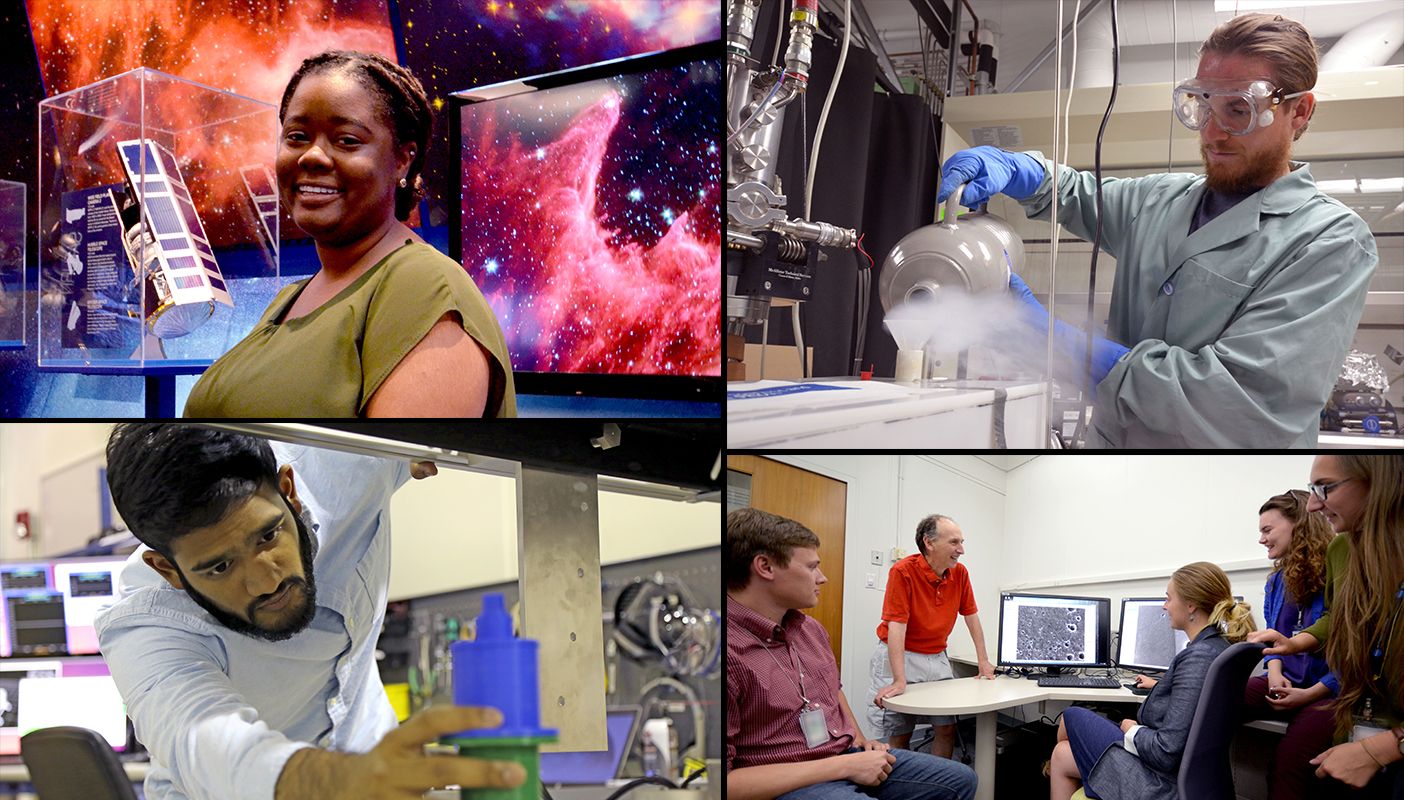 Meet JPL Interns
Read stories from interns pushing the boundaries of space exploration and science at the leading center for robotic exploration of the solar system.
What are you working on at JPL?
I'm working on a project called Starshade, which is a 26-meter diameter, flower-shaped structure we want to send to space to help us get images of exoplanets, [planets outside our solar system]. With these images, we could learn more about exoplanets and see if they could potentially harbor life.
So Starshade is a sort of spacecraft?
Yeah, it is! Starshade would fly out and position itself between a space telescope and a star. Its shape would suppress the light from the star so the spacecraft could get direct images of the exoplanets around it. It's similar to when you try to take a picture outside, and the Sun washes out the image. If you block the light from the Sun, then you can see everything in more detail. That's pretty much what Starshade would do.
What's a typical day like for you?
Every day is very different. What I am working on is making a mini, fully deployable Starshade for interactive purposes, so we can show all the different stages of deployment. It will sort of be the first of its kind.
When I come in, I usually do work on my computer with [software] like Solidworks. Then, I do a lot of rapid prototyping with the use of 3D printers and laser cutters to test out all the little, moving components that are going into the real model.
I spend some of my time helping with the big structure that's out here. [She points to the warehouse-like space where the team is assembling a full-scale version of Starshade, which is about the size of a baseball diamond fully unfurled.] But most of the time, I'm working on the mini one. At least once a day, I'll talk with my mentor, David Webb, about the ideas that I have on how to make things work. We'll bounce ideas off each other, then I'll have stuff to think about for the next day.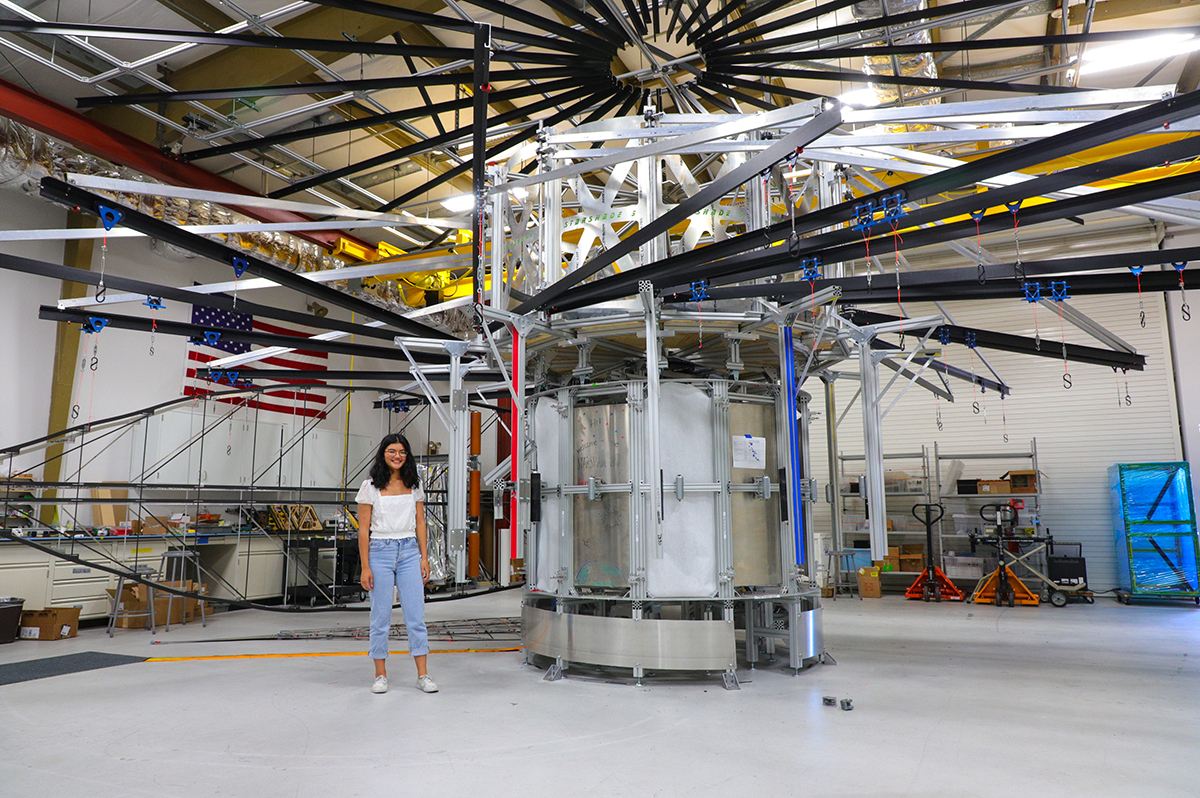 What's been the most JPL- or NASA-unique experience you've had so far?
I've been here for a year and a half now, and I think the Starshade lab is the coolest at JPL, but I'm a little bit biased. It's really cool because we have a bunch of prototypes everywhere, so you get to see what Starshade would look like in real life. And there are a bunch of interactive models that you can play with to see all the different deployment stages.
How do you think you're contributing to NASA/JPL missions and science?
The full Starshade isn't really finished being designed yet, so a lot of the problems that [the team that is building the full-scale model] is facing, I'm also facing with the mini one. The ideas that I'm thinking through could potentially help with the real flight-model design.
How has the work you've done here influenced you back at school?
When I first started interning here, I actually didn't have a lot of the core class requirements [for my major] done. So a lot of the terms and concepts that people were using at JPL were still new to me. Then when I took the classes, all [the lessons from my internship] came back, and I was like, whoa, I already kind of learned this stuff and got a hands-on approach to it. I'm a very hands-on learner, so having that previous experience and then learning more of the math behind it helped with that learning process.
If you could travel to any place in space, where would you go? And what would you do there?
I'd like to go to Mars just because we're so close to doing it. It'd be cool to see what's there. I personally think there's a really good chance there was once life on Mars. If I could go and see for myself, that would be pretty awesome.
---
Explore JPL's summer and year-round internship programs and apply at: https://www.jpl.nasa.gov/edu/intern
The laboratory's STEM internship and fellowship programs are managed by the JPL Education Office. Extending the NASA Office of Education's reach, JPL Education seeks to create the next generation of scientists, engineers, technologists and space explorers by supporting educators and bringing the excitement of NASA missions and science to learners of all ages.
---
There is still a lot of mystery around what exactly causes aurora, the swirling spectacles of light that grace Earth's southern and northern high-latitude skies. So, this summer, Jasmine Cameron, a JPL intern and computer science major at Howard University, helped push aurora science further by developing an algorithm to detect the phenomena in video taken from a weather balloon. Fellow intern Evan Kramer caught up with Cameron to ask how learning about aurora might help the average person and what it's like to work with NASA scientists and engineers.
What are you working on at JPL?
My project is in computer science. What we're trying to do is image aurora, so your northern and southern lights, during the day time. A near-infrared camera goes up on a weather balloon and takes a video of the sky at up to 30 frames per second. It stores the collected data and sends back video containing auroras. What we want to do is develop an efficient, real-time algorithm based on machine learning technology that can identify frames with aurora in them so that we can collect science data about these phenomena. Our algorithm needs to give the scientists as many true-positives, or useful images with auroras in them, as possible so they can better understand what they are. It also needs to fit on the computer aboard the balloon so that it will be power efficient and high performance.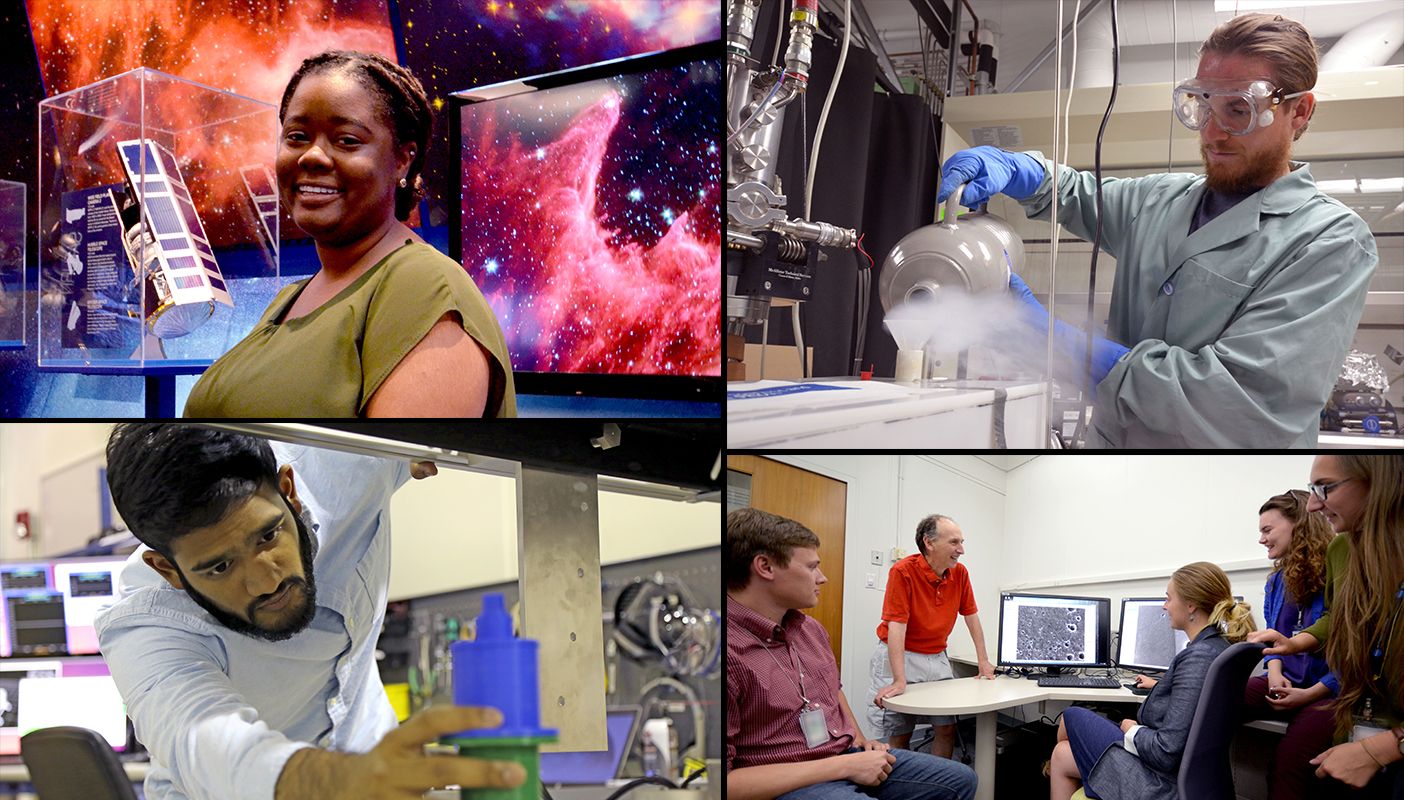 Meet JPL Interns
Read stories from interns pushing the boundaries of space exploration and science at the leading center for robotic exploration of the solar system.
How might understanding aurora help the average person one day?
Auroras are the result of a complicated interaction between the Sun and Earth. This interaction is a fundamental cosmic process that will affect space weather, which in turn will affect our daily life in terms of radiation exposure, satellite and radio communication, power systems, and so on. Studying aurora could help us better understand and forecast space weather.
What's a typical day like for you?
I come in and check my email to see if my mentor has sent me any new data to process. Then I'll get to work on algorithms I think would work as a detection system for identifying the presence of aurora in images. There are a lot of different machine-learning algorithms out there that we can test.
How does the algorithm work?
The algorithm is based on machine learning technology. You create a model with unknown parameters. You then take the data and set it up between training data and testing data. Your training data is a bunch of base images with aurora in them and defined parameters used to detect aurora. Then, you develop the algorithm to look for those parameters in your test data, and it will conclude if there is an aurora or not in each of the test images. Then, you use a validation directory with only true-positives to compare the images in your test data that were identified as having aurora in them to actual aurora images to see how well your algorithm is working. My job is to see what algorithm works the best in identifying aurora in the test images.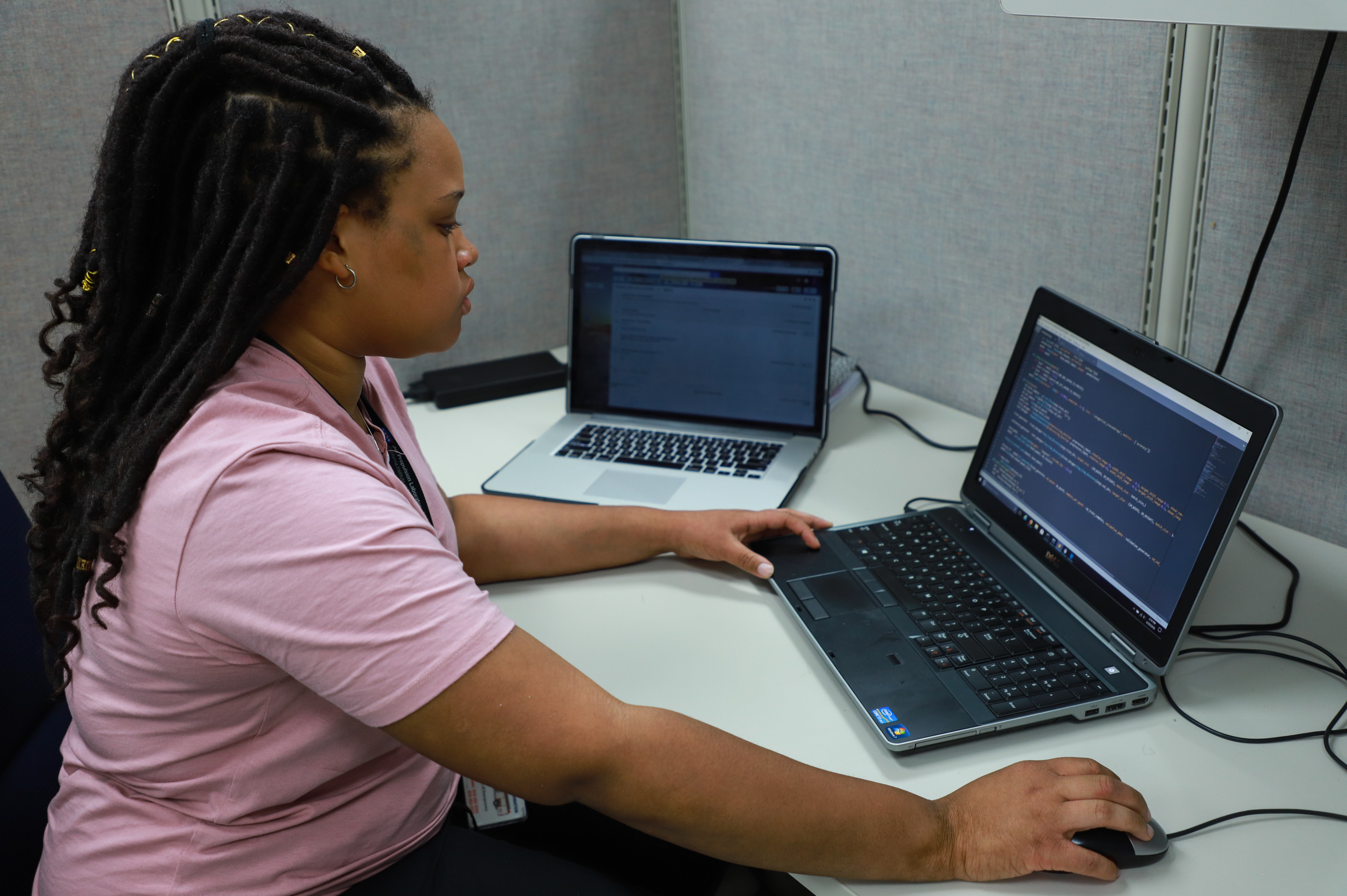 Did you have to do any research or special preparation before you started on the project?
Yes, I had to read a lot, especially about the motivations behind why we're doing this work and how we're going to accomplish our goals. I had to read the technical documentation about different algorithms and different systems that are used to process the images and identify aurora. There's definitely a lot of reading involved every day, and I frequently ask the people I work with questions.
What's the most JPL- or NASA-unique experience you've had so far?
I got to see different hardware and test beds and even mission control where they control the Deep Space Network, [a system of antennas around the world that are used to communicate with spacecraft]. That was really cool.
What about the people here? What's the environment like at JPL?
Everybody is kind of a nerd. Usually when I'm talking about my internship experience to friends back home, I have to edit out things I'd normally say because most of them would find it boring, but here I'm frequently asked what I work on in a genuine way. I know I can always ask anyone anything about their project and for help on my own project. It's a great environment and I'm learning a lot.
How do you feel you're contributing to NASA/JPL missions and science?
Just being able to do this type of work on aurora detection – it has never been done before. Being able to contribute to making data collection and analysis more efficient makes scientists' lives a lot easier and helps us learn more about these phenomena.
If you could travel to any place in space, where would you go and what would you do there?
A black hole, just to see what happens. I'd want to see how destructive it is and how dark it is.
---
Explore JPL's summer and year-round internship programs and apply at: https://www.jpl.nasa.gov/edu/intern
The laboratory's STEM internship and fellowship programs are managed by the JPL Education Office. Extending the NASA Office of Education's reach, JPL Education seeks to create the next generation of scientists, engineers, technologists and space explorers by supporting educators and bringing the excitement of NASA missions and science to learners of all ages.
---
Using a test bed that looks like something out of a sci-fi movie, Becca Foust is exploring ways to bring spacecraft components together in space. Here's how the NASA Space Technology Research Fellow, who's earning her Ph.D. at the University of Illinois at Urbana-Champaign, is helping create spacecraft of the future.
What are you working on at JPL?
I like to call it space K'nex, like the toys. We're using a bunch of component satellites and trying to figure out how to bring all of the pieces together and make them fit together in orbit. Then, once they're together, can you pop them apart and make something new? Using many satellites allows for much more versatility than with a conventional single satellite, plus some structures you need are simply too big to fit into the rockets we have today. So this summer, I'm testing my algorithm for assembling satellites on some actual robots in our new test bed.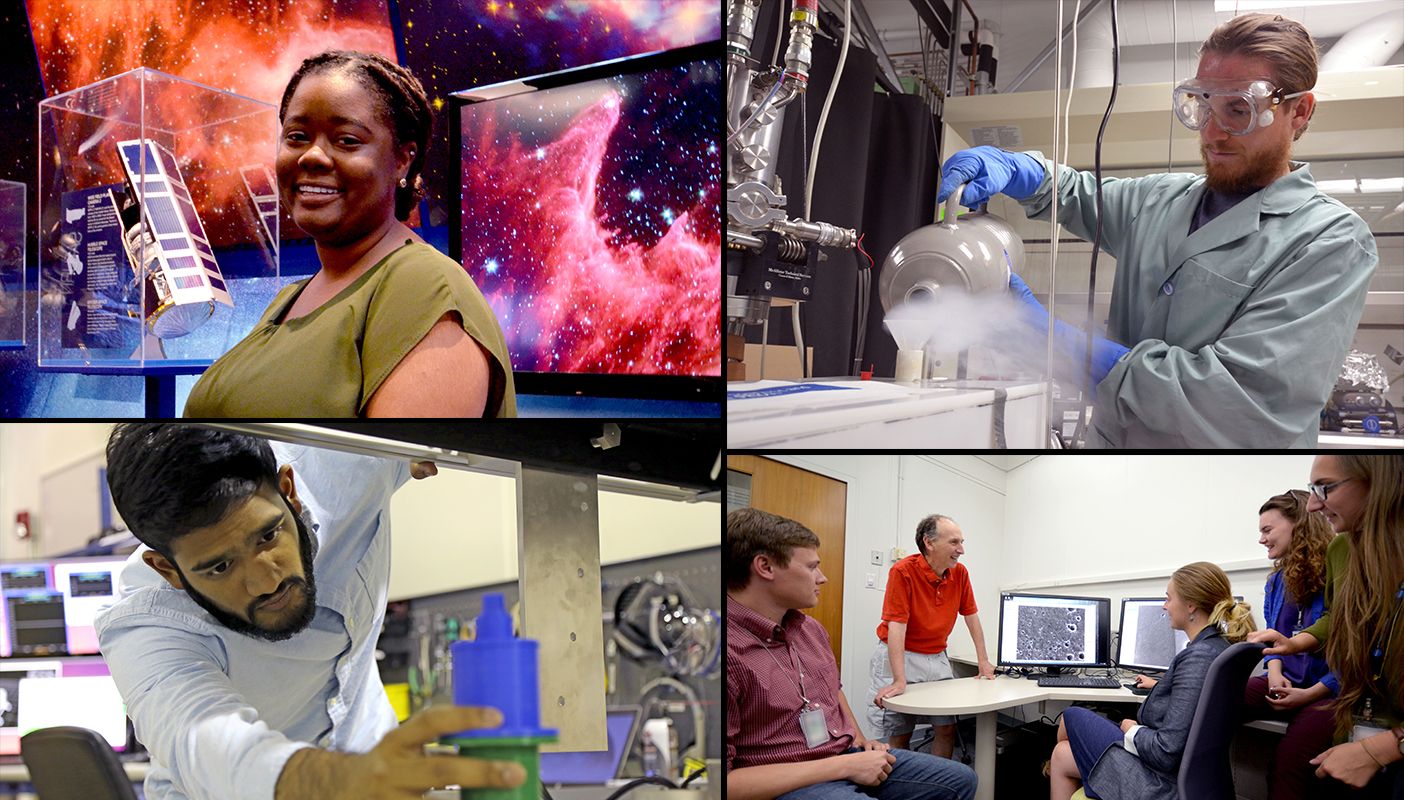 Meet JPL Interns
Read stories from interns pushing the boundaries of space exploration and science at the leading center for robotic exploration of the solar system.
Tell me about the test bed.
We have five spacecraft simulators that "fly" in a specially designed flat-floor facility. The spacecraft simulators use air bearings to lift the robots off the floor, kind of like a reverse air hockey table. The top part of the spacecraft simulators can move up and down and rotate all around in a similar way to real satellites. All these things combine to let the robots move around using the same components used on real satellites in space. The floor has to be very precisely flat and we have to clean frequently because, if a single hair is on the ground, it will affect the motion of the simulators. We also have two rails with highly articulated robot arms on the side and the back of the room to interact with the simulators as other satellites or as a comet to be mapped.
What happens during the simulations?
Most of what our group does is guidance and control, so telling spacecraft where to go and how to get there. When we're testing those algorithms, it's really important that we know where our spacecraft is because we can't tell it where to go if we don't know where it is. So, in the test bed, our robots are all tracked using a motion capture system. It's sort of like CGI. The system tracks these little reflective dots and tells us very precisely the position and orientation of the object.
So if we're testing a guidance and control algorithm, we will turn on the motion capture system, make sure everything is working, and then we just turn on the robots and press go. Our simulators are autonomous and everything runs on board, so we do a lot of legwork before running experiments to make sure things will run as expected.
What is it that you're looking for during these simulations in the test bed?
Before we had this test bed, we did a ton of simulations on the computer, but it's very different having it work on an actual robot. So we're trying to see that when we run things on the robots, it works the way it did in the simulations. Is it tracking the expected trajectory nicely? Is it computing properly? Is everything working?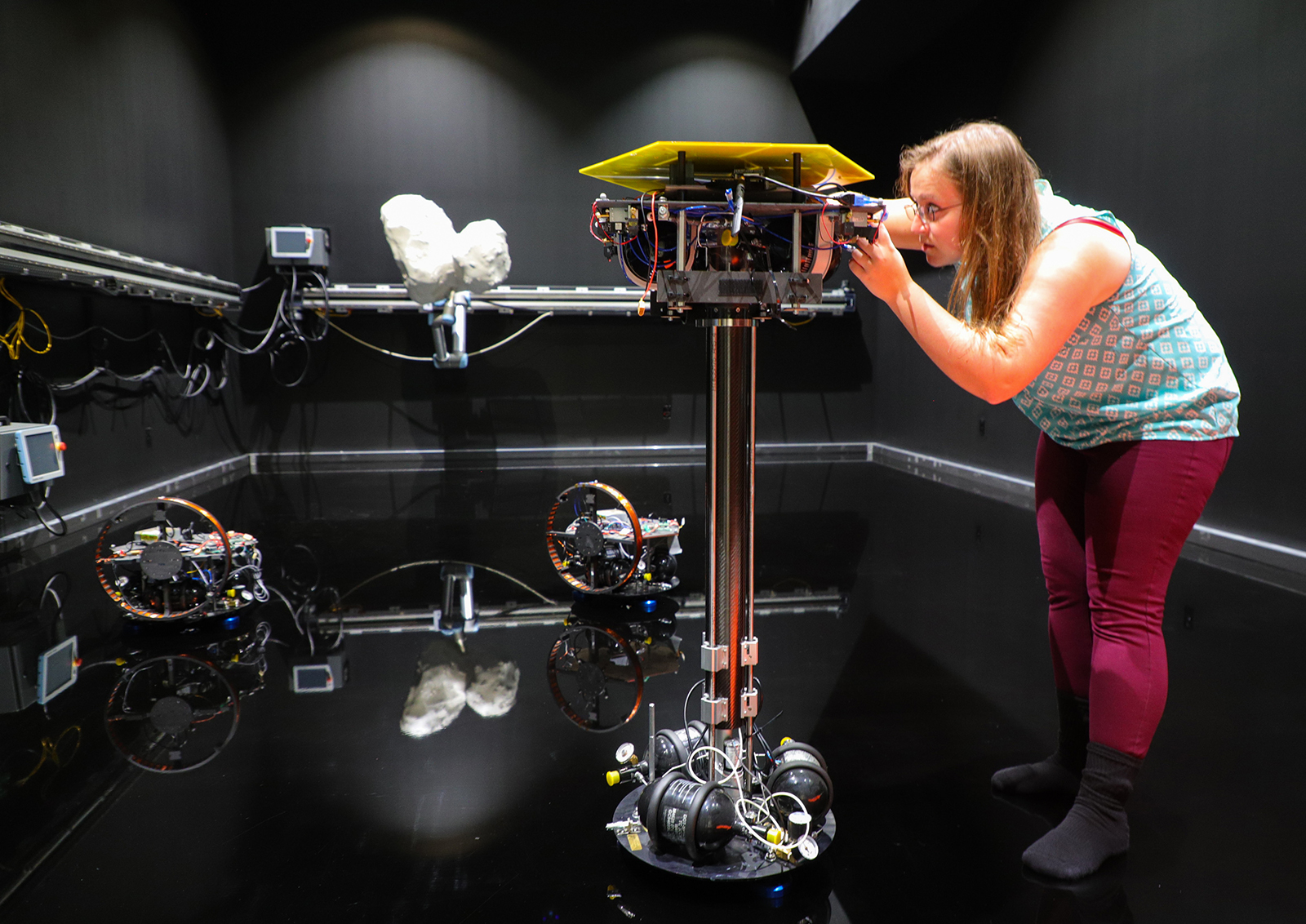 We'll probably end up adding some safeguards in case a command goes astray. We'll probably need to make our algorithms be able to handle issues and faults that come up. That's actually one of the problems we're working on with JPL, increasing satellite autonomy by looking at failures that happen within satellites, trying to figure out what they are and recover from them.
What's the goal of your research?
I hope my research leads to smarter, more efficient satellites for in-space construction and assembly. The algorithm that I'm using is very fuel-efficient and it finds trajectories that aren't really being considered and haven't been tried yet in space. By watching it in our version of space, we can show that these paths can actually be executed in real space. So maybe we can actually start using these more efficient trajectories and then all of our satellites can live longer, go farther and do more.
What's an average day like for you?
I try to work on some mathematical proofs in the morning when I'm still sharp-ish. So I work on that until I get frustrated. After that, I'll wander over to our lab and do some hands-on robotics-type things, like working on the spacecraft simulators and making them work more efficiently. Then, I'll spend a while teaching our undergraduate interns how to use the Robot Operating System, which runs on all of our robots.
What's the most JPL- or NASA-unique experience you've had so far?
I would say meeting people at JPL. There are so many experts in so many different fields. The first summer I was at JPL, there was a presentation on almost exactly my topic. So I got to meet with that speaker, and we set up a meeting time and talked more about it. He had a bunch of really good ideas for my topic and some other people to talk to. One connection sort of leads to another.
If you could go anywhere in space, where would you go and what would you do there?
We're talking imaginary, right? Because I would like to go to space eventually, if I can. I think I would go to – this is probably a really popular answer but – Jupiter's moon Europa. I'd just want to figure out what on Earth is going on there.
---
Explore JPL's summer and year-round internship programs and apply at: https://www.jpl.nasa.gov/edu/intern
The laboratory's STEM internship and fellowship programs are managed by the JPL Education Office. Extending the NASA Office of Education's reach, JPL Education seeks to create the next generation of scientists, engineers, technologists and space explorers by supporting educators and bringing the excitement of NASA missions and science to learners of all ages.
---
There's no telling what the first spacecraft to land on Jupiter's ice-covered moon Europa could encounter – but this summer, JPL intern Maya Yanez is trying to find out. As part of a team designing the potential Europa Lander, a mission concept that would explore the Jovian moon to search for biosignatures of past or present life, Yanez is combing through images, models, analogs, anything she can find to characterize a spot that's "less than a quarter of a pixel on the highest-resolution image we have of Europa." We caught up with Yanez, an undergraduate student at the University of Colorado at Boulder, to find out what inspired her to get involved in space exploration and ask about her career ambition to discover alien life.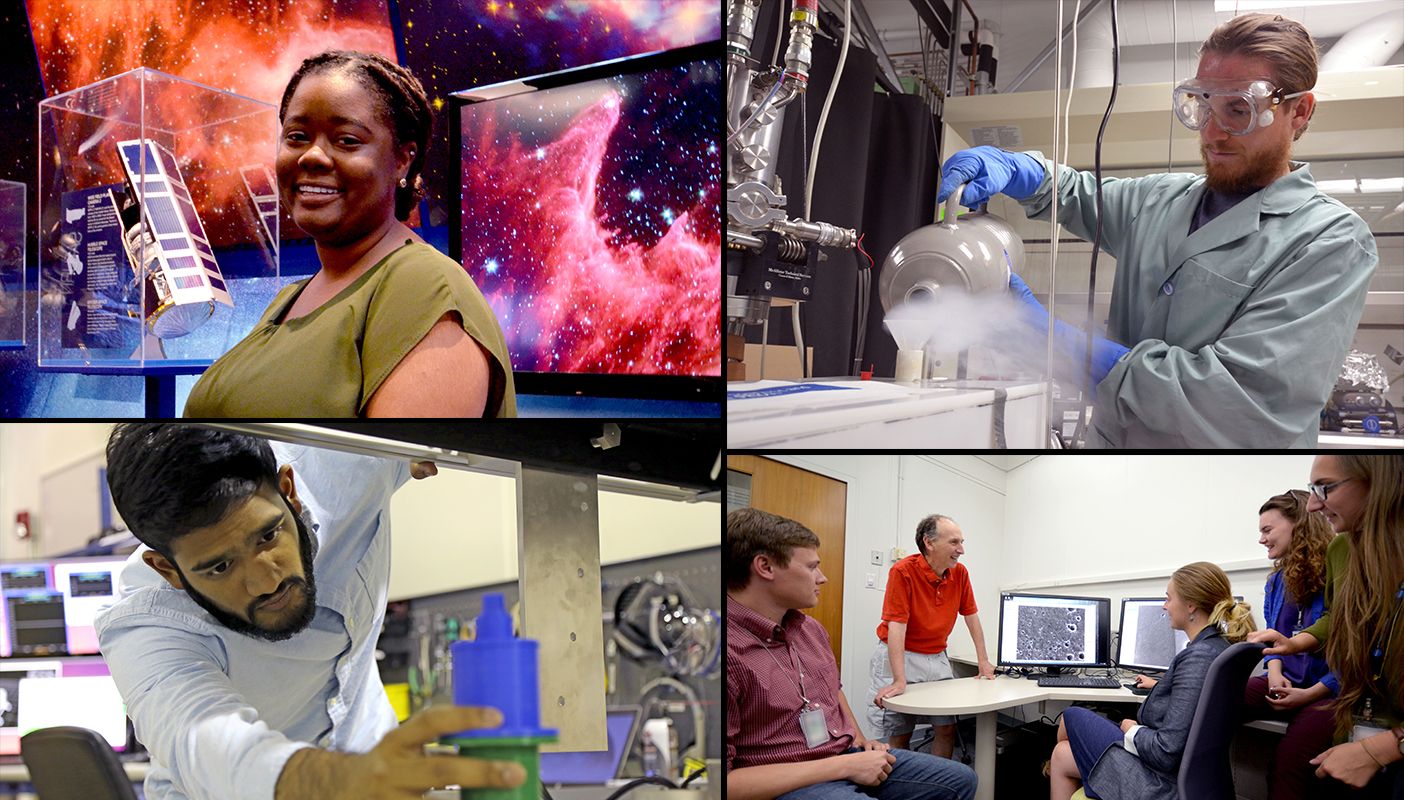 Meet JPL Interns
Read stories from interns pushing the boundaries of space exploration and science at the leading center for robotic exploration of the solar system.
What are you working on at JPL?
I'm working on what may be a robot that we would land on Europa's icy surface. Europa is a moon of Jupiter that has this thick ice shell that we estimate is 25 kilometers [15.5 miles] thick, and there's evidence that underneath that is a huge global ocean. If we're going to find life beyond Earth, it's probably going to be wherever there's water. So this mission concept would be to put a lander on Europa to try to figure out if there are signs of life there. I'm looking at an area on Europa about two square meters [about 7 feet] and about a meter [3 feet] deep. For perspective, we've only explored a few kilometers into our own Earth's surface. What I'm doing is trying to figure out what we might expect is going on in that little tiny area on Europa. What light is interacting with it, what processes might be going on, what little micrometeorites are hitting the surface, what's the ice block distribution? I'm looking at places like Mars, the Moon and Earth to try to put constraints and understanding around what types of variation we might see on Europa and what might be going on underneath the surface.
What's an average day like for you?
A lot of it is looking up papers and trying to get an idea of what information exists about Europa. My first couple of weeks here, I read this thing that we call the "Big Europa Book." It's a 700-page textbook that covers basically all of our knowledge of Europa.
One of the other things that I've been working on is a geologic map, trying to look at what geologic variation exists in a couple of meters on Europa because we don't know. It's kind of crazy to think that when Viking [the first Mars lander] landed, we had no clue what another surface would look like except for the Moon. We had no idea. And then we got those first amazing images and it looked kind of like Earth, except Europa probably won't look like Earth because it's not rock; it's all ice. So even though we're trying, we still have nothing to compare it to.
If it gets selected as an official mission, a Europa lander would come after NASA's Europa Clipper spacecraft. How might data from Europa Clipper contribute to what you're working on now?
Europa Clipper could be really beneficial in that it's going to do more than 40 flybys where it goes around Europa in a bunch of different ways and at different proximities. It's going to curve into the moon's atmosphere and get really close to the surface, about 25 kilometers [15.5 miles] close to the surface. Right now, some of the best data we have is from hundreds of kilometers away, so the images Europa Clipper will take will be pretty nicely resolved. If you look at the current highest resolution image of Europa as compared to one from Voyager [which flew by Jupiter and its moons in 1979], the amount of detail that changes, the amount of cracks and complexity you can see on the surface is huge. So having more images like that can be really beneficial to figure out where we can land and where we should land.
Before this project, you spent a summer at JPL studying the chemistry of icy worlds, such as Pluto. What's it been like working on such different projects and getting experience in fields outside your major, like chemistry and geology?
[Laughs] Yeah, one day I'll get back to astronomy. That's one of the things I love about JPL. Overall, I'd say what I want to do is astrobiology because I want to find life in the solar system. I mean, everyone does. It would be really cool to find out that there are aliens. But one of the great things about astrobiology is it takes chemistry, physics, geology, astronomy and all of these different sciences that you don't always mix together. And that's kind of why I like JPL. So much of the work involves an interdisciplinary approach.
What's the most JPL- or NASA-unique experience you've had so far?
I have one from last summer and one from this summer.
I really want to find life out in space. I'm curious about bacteria and microbes and how they react in space, but it's not something I've ever really done work in. A couple of weeks ago, I got to see astronaut Kathleen Rubins give a talk, meet her afterward and take a picture with her. She was the first person to sequence DNA in space. I would have never met someone like that if it weren't for my internship at JPL. I wouldn't have been able to go up to her and say, "This is really cool! I'd love to talk to you more and get your email" – and get an astronaut's email! Who would ever expect that?
And then last year, I had something happen that was completely unexpected. I was sitting alone in the lab, running an experiment and, throughout the summer, we had a couple of different tours come through. A scientist asked if he could bring in a tour. It was two high-school-age kids and, presumably, their moms. I showed them around and explained what my experiment was doing. It was great. It was a really good time. They left and a couple hours later, Mike Malaska, the scientist who was leading the tour, came back and said, "Thank you so much for doing that tour. Do you know the story of that one? I said no. He said, "Well the boy, he has cancer. This is his Make-a-Wish." His Make-a-Wish was to tour JPL. I had never felt so grateful to be given the opportunity that I was given, to realize that someone's wish before they may or may not die is to visit the place that I'm lucky enough to intern at. It was a very touching moment. It really made me happy to be at JPL.
What was your own personal inspiration for going into astronomy?
I was the nerdy kid. I had a telescope, but I also had a microscope. So it was destined. But in middle school, I started to get this emphasis on life sciences. I'd always really liked biology so I sort of clung to it. We never really talked about space, so I just kind of forgot about it. But my senior year, I took this really cool class in astrobiology taught by an amazing teacher, who I still talk to. After the first week in her class, I was like, I have to do this. At the end of the academic year, that same teacher took me to JPL and gave me a private tour with some of the other scientists. I actually met Morgan Cable, the mentor I worked with last summer and this summer, on that tour. It was definitely a combination of being in this really great class and having that perspective change, realizing that we've learned a lot about life on our own planet, but there's so much to learn about finding it elsewhere.
Did you know about JPL before that?
No. I'm the first generation in my family to go to college, so I'm the one who teaches science to everyone else. I didn't even think science was a career because, when you're a kid, you don't often interact with a lot with scientists. So I didn't realize what JPL was or how cool it was until that tour put everything into perspective. I wasn't a space kid, but I found my own path, and it worked.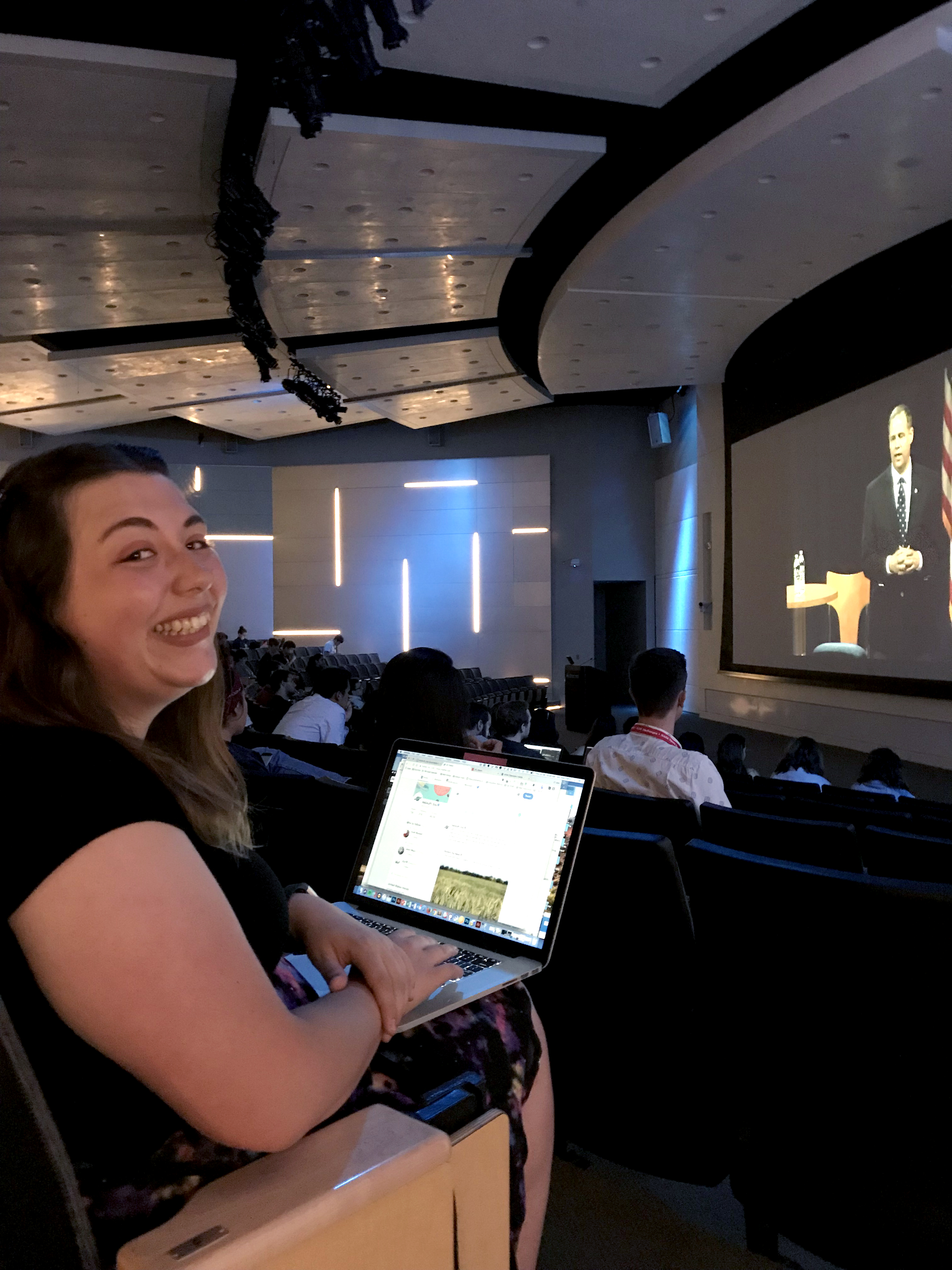 For National Intern Day on July 26, NASA held a special town hall for interns with Administrator Jim Bridenstine. Your question about how the agency prioritizes the search for extraterrestrial life was selected as a finalist to appear during the broadcast. What made you want to ask that particular question?
So it was a little self-serving [laughs]. Part of it is that it's central to my career path, but I also want to run for office one day at some level, and I think it's important that there's this collaboration between science and politics. Without it, science doesn't get funded and politicians aren't as well informed.
How do you feel you're contributing to NASA/JPL missions and science?
What I'm doing requires a lot of reading and putting things together and knowing rocks and putting scales into perspective, so it's not particularly specialized work. But the end goal of my project will be a table that says here's what processes are happening on Europa, here's what depth they govern and here's what it means if biosignatures are caught in these processes. I'm also going to be remaking an old graphic, including more information and trying to better synthesize everything that we know about Europa. Those two products will continue to be used by anyone who's thinking about landing on Europa, for anyone who's thinking about what surface processes govern Europa. Those two products that I'm producing are going to be the best summaries that we have of what's going on there.
OK, so now for the fun question: If you could travel to any place in space, where would you go and what would you do there?
Europa. Obviously [laughs]. Or [Saturn's moon] Titan. Titan is pretty cool, but it scares me a little bit because there's definitely no oxygen. There's not a lot of oxygen on Europa, but what's there is oxygen. I would probably go to Europa and find some way to get through those 25 kilometers of ice, hit that ocean and see what's going on.
---
Explore JPL's summer and year-round internship programs and apply at: https://www.jpl.nasa.gov/edu/intern
The laboratory's STEM internship and fellowship programs are managed by the JPL Education Office. Extending the NASA Office of Education's reach, JPL Education seeks to create the next generation of scientists, engineers, technologists and space explorers by supporting educators and bringing the excitement of NASA missions and science to learners of all ages.
---
Update – Aug. 17, 2017: Two new lessons ("Measuring Solar Energy During an Eclipse" and "Modeling the Earth-Moon System") were added to the Teach It section below.
---
In the News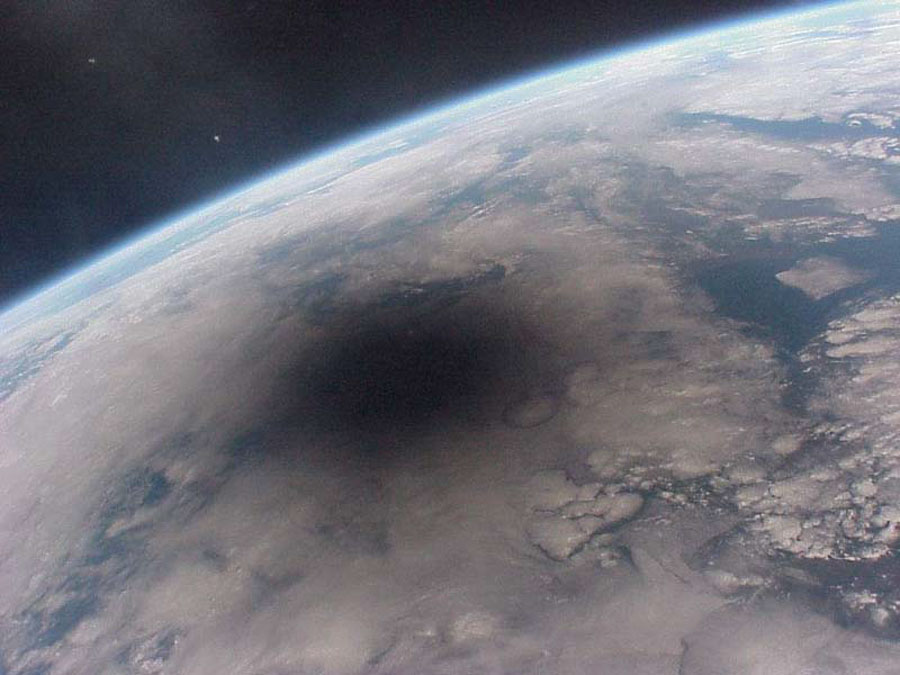 The Moon casts a shadow on Earth during a total solar eclipse over Europe in this image taken by a French astronaut on the Mir Space Station. Credit: CNES
This month marks the first time in 38 years that one of nature's most awe-inspiring sights, a total solar eclipse, will be visible from the continental United States. And unlike the 1979 eclipse, the one on August 21 can be seen from coast to coast – something that hasn't happened since 1918.
Millions of people are expected to travel to the 14 states that are in the path of totality – where the Moon will completely cover the disk of the Sun – while hundreds of millions more in every other state of the U.S. will be able to see a partial eclipse.
Whether you live in or are traveling to the path of totality, or will be able to step outside and view the partial eclipse from the comfort of your own home or school, the eclipse provides both an inspiring reason to look to the sky and opportunities to engage in scientific observations and discovery.
Teach It
Use these standards-aligned lessons and related activities to get your students excited about the eclipse and the science that will be conducted during the eclipse.

How it Works
Eclipses occur as the result of an alignment between the Sun, the Moon and Earth. Solar eclipses can only happen during the new moon phase, when the Moon's orbit brings it between Earth and the Sun. At this time, the shadow cast by the moon could land on Earth, resulting in an eclipse. But most of the time, because the moon's orbit is slightly titled, the moon's shadow falls above or below Earth.
The time period when the Moon, Earth and the Sun are lined up and on the same plane is called an eclipse season. Eclipse seasons last about 34 days and occur just shy of every six months. A new moon during an eclipse season will cause the Moon's shadow to fall on Earth, creating a solar eclipse.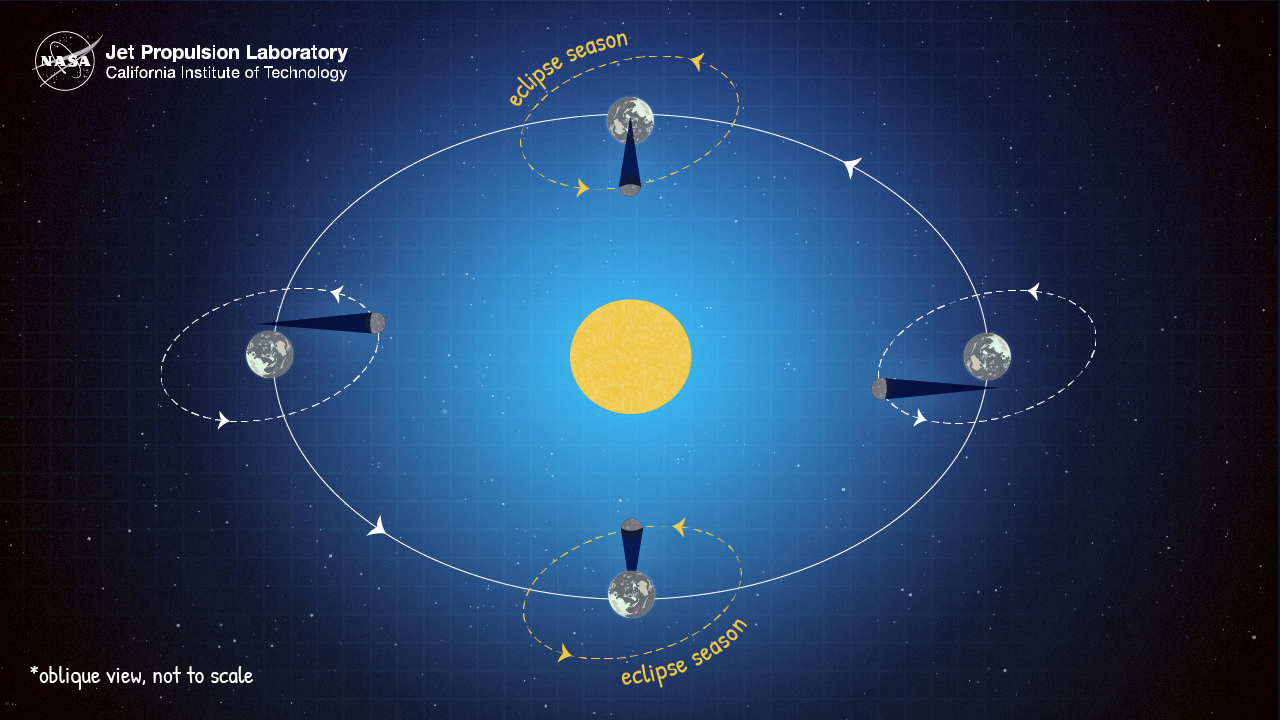 An eclipse season is the time period when the Moon, Earth and the Sun are lined up on the same plane. A new moon during an eclipse season will cause the Moon's shadow to fall on Earth, creating a solar eclipse. Image credit: NASA/JPL-Caltech
In addition to the proper alignment required for an eclipse, the distance between Earth, the Moon and the Sun also plays an important role. Even though the Moon is much smaller than the Sun (about 400 times smaller in diameter), the Sun and Moon appear about the same size from Earth because the Sun is about 400 times farther away than the Moon. If the Moon were farther from Earth, it would appear smaller and not cover the disk of the Sun. Similarly, if the Sun were closer to Earth, it would appear larger and the Moon would not completely cover it.
Why It's Important
Total solar eclipses provide a unique opportunity for scientists to study the Sun and Earth from land, air and space, and allow the public to engage in citizen science!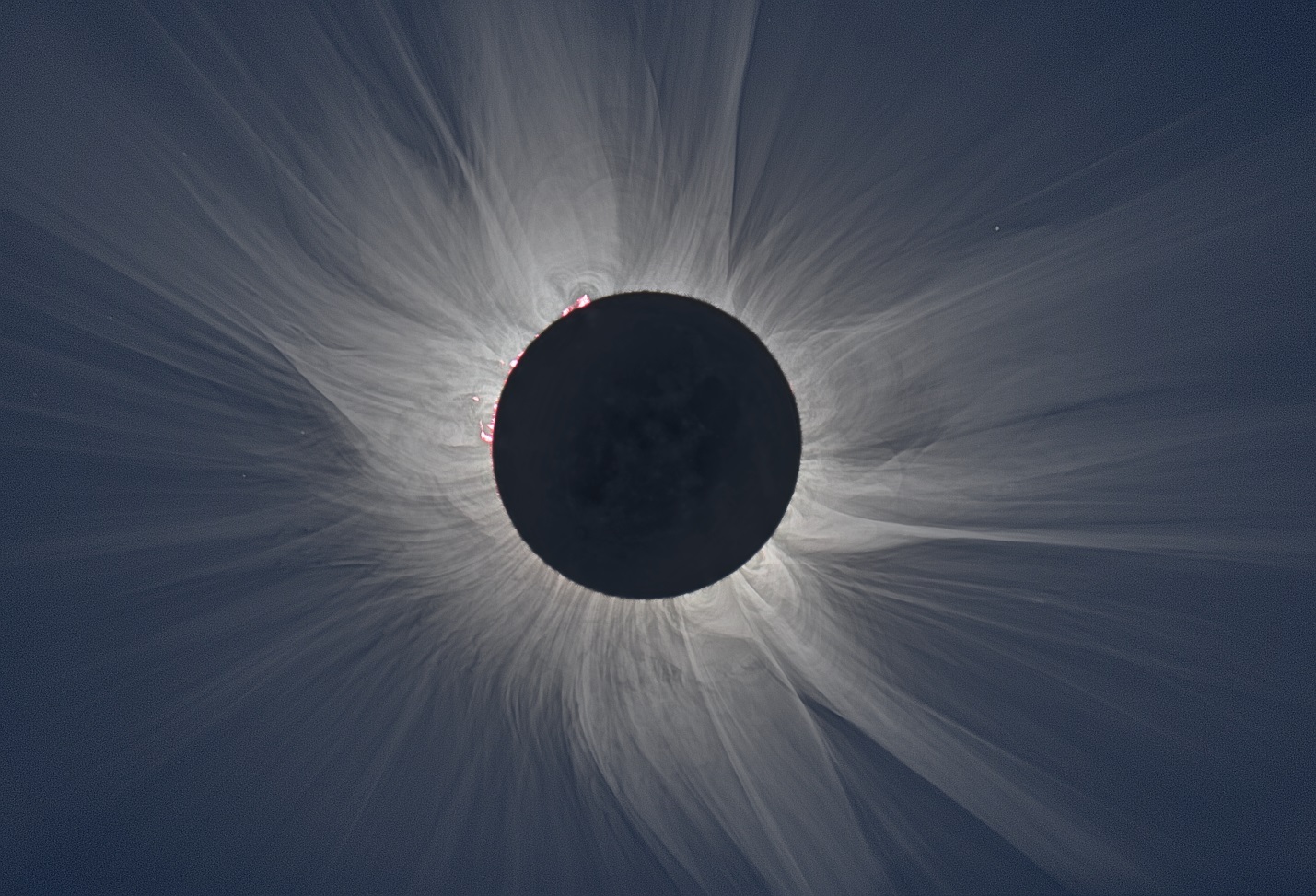 The sun's outer atmosphere (corona) and thin lower atmosphere (chromosphere) can be seen streaming out from the covered disk of the sun during a solar eclipse on March 20, 2015. Credit: S. Habbal, M. Druckmüller and P. Aniol
On a typical day, the bright surface of the Sun, called the photosphere, is the only part of the Sun we can see. During a total solar eclipse, the photosphere is completely blocked by the Moon, leaving the outer atmosphere of the Sun (corona) and the thin lower atmosphere (chromosphere) visible. Studying these regions of the Sun's atmosphere can help scientists understand solar radiation, why the corona is hotter than the photosphere, and the process by which the Sun sends a steady stream of material and radiation into space.
Scientists measure incoming solar radiation on Earth, also known as insolation, to better understand Earth's radiation budget – the energy emitted, reflected and absorbed by Earth. Just as clouds block sunlight and reduce insolation, the eclipse will block sunlight, providing a great opportunity to study how increased cloud cover can impact weather and climate. (Learn more about insolation during the 2017 eclipse here.)
Citizen scientists can get involved in collecting data and participating in the scientific process, too, through NASA's Global Learning and Observations to Benefit the Environment, or GLOBE, program. During the eclipse, citizen scientists in the path of totality and in partial eclipse areas can measure temperature and cloud cover data and report it using the GLOBE Observer app to help further the study of how eclipses affect Earth's atmosphere.
You can learn more about the many ways scientists are using the eclipse to improve their understanding of Earth, the Moon and the Sun here.
How to View It
Important! Do not look directly at the Sun or view the partial eclipse without certified eclipse glasses or a solar filter. For more information on safe eclipse viewing, visit the NASA Eclipse website.
When following proper safety guidelines, witnessing an eclipse is an unparalleled experience. Many "eclipse chasers" have been known to travel the world to see total eclipses.
The start time of the partial eclipse, when the edge of the Moon first crosses in front of the disk of the Sun, will depend on your location. You can click on your location in this interactive eclipse map to create a pin, which will show you the start and end time for the eclipse in Universal Time. (To convert from Universal Time to your local time, subtract four hours for EDT, five hours for CDT, six hours for MDT, or seven hours for PDT.) Clicking on your location pin will also show you the percent of Sun that will be eclipsed in your area if you're outside the path of totality.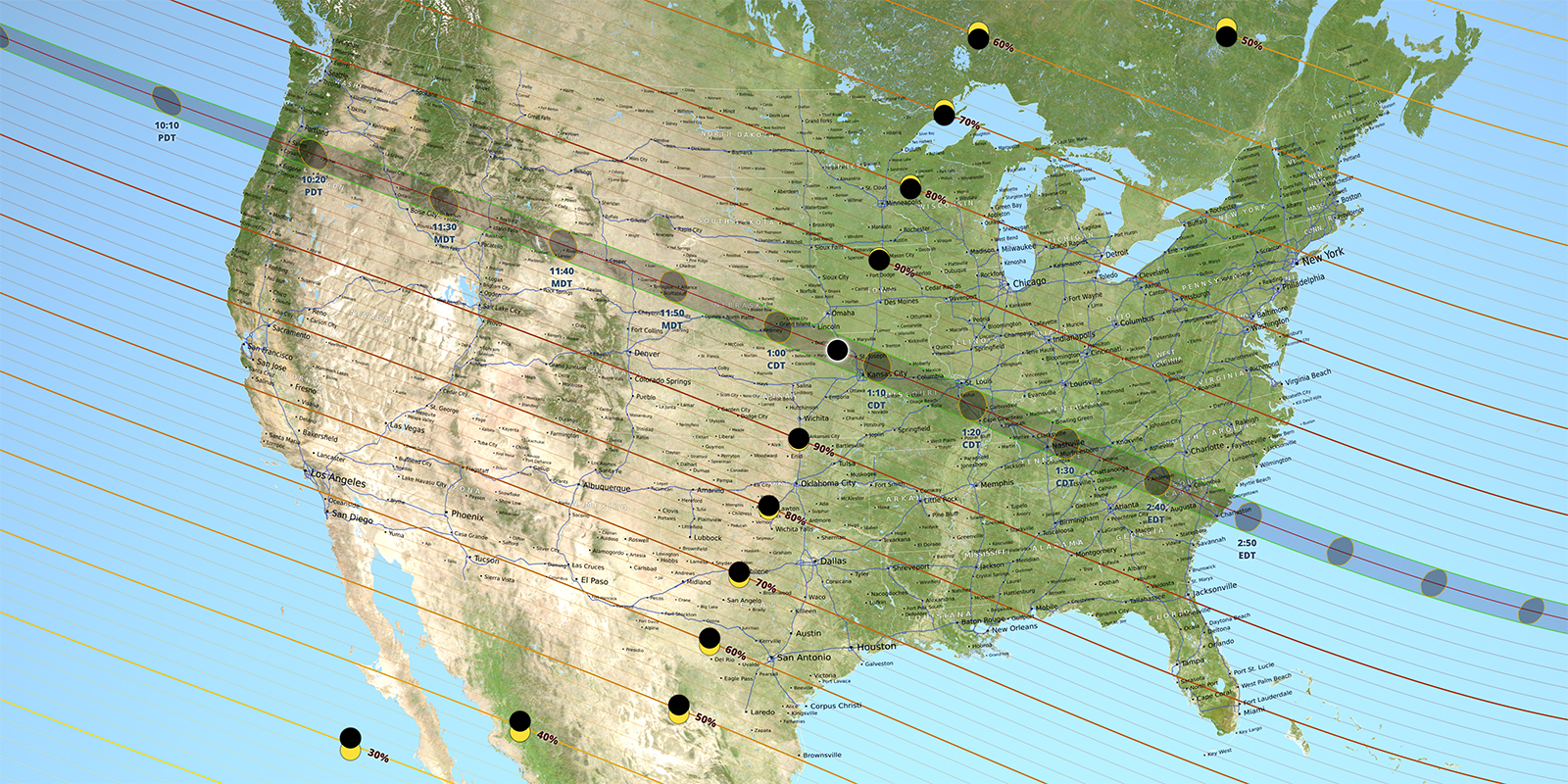 This graphic shows the path of the Moon and Sun across the US during the Aug. 21, 2017 eclipse. The gray line represents the path of totality, while the Sun and Moon graphics flowing from top to bottom represent the percent of coverage for areas outside the path of totality. Image credit: NASA
If you are inside the approximately 70-mile-wide strip known as the path of totality, where the shadow of the Moon, or umbra, will fall on Earth, the total eclipse will be visible starting about an hour to 1.5 hours after the partial eclipse begins.
Only when the eclipse is at totality – and the viewer is in the path of totality – can eclipse glasses be removed. Look at the eclipse for anywhere from a few seconds to more than 2.5 minutes to see the Sun's corona and chromosphere, as well as the darkened near side of the Moon facing Earth. As before, your viewing location during the eclipse will determine how long you can see the eclipse in totality.

Viewers should wear eclipse glasses or use a pinhole camera for the entirety of the partial eclipse. Those in the path of totality can remove their glasses only when the eclipse is in totality, which may last from a few seconds to more than 2.5 minutes depending on your location. Image credit: NASA
After totality ends, a partial eclipse will continue for an hour to 1.5 hours, ending when the edge of the Moon moves off of the disk of the Sun. Remember, wear eclipse glasses or use a pinhole camera for the entirety of the partial eclipse. Do not directly view the partial eclipse.
Make a Pinhole Camera
Find out how to make your very own pinhole camera to safely view the eclipse in action.

To get an idea of what the eclipse will look like from your location and explore the positions of the Moon, Sun and Earth throughout the eclipse, see this interactive simulation.
For more information about the start of the partial eclipse, the start and duration of totality, and the percentage of the Sun eclipsed outside the path of totality, find your location on this interactive eclipse map.
NASA Television will host a live broadcast beginning at 9 a.m. PDT on Aug. 21 showing the path of totality and featuring views from agency research aircraft, high-altitude balloons, satellites and specially-modified telescopes. Find out how and where to watch, here.
Teach It
Use these standards-aligned lessons and related activities to get your students excited about the eclipse and the science that will be conducted during the eclipse.
Explore More
TAGS: Eclipse, Solar Eclipse, Science, Pinhole Camera, K-12, Students, Educators