---
Students have just over one week more to enter NASA's Name the Rover Essay Contest. While they put the finishing touches on their essays (due Nov. 1, 2019), meet the most recent naming contest winner, Clara Ma. Find out what Ma is up to more than 10 years after submitting her winning name for the Mars rover now known as Curiosity and why she says the experience changed her life.
TAGS: Curiosity, Rover, Contest, Mars, Students, K-12, Teachers, Language Arts, Essay
---
In the News
An extreme weather event is something that falls outside the realm of normal weather patterns. It can range from superpowerful hurricanes to torrential downpours to extended hot dry weather and more. Extreme weather events are, themselves, troublesome, but the effects of such extremes, including damaging winds, floods, drought and wildfires, can be devastating.
NASA uses airborne and space-based platforms, in conjunction with those from the National Oceanic and Atmospheric Administration, or NOAA, to monitor these events and the ways in which our changing climate is contributing to them. Together, the agencies are collecting more detailed data on weather and climate than ever before, improving society's ability to predict, monitor and respond to extreme events.
NASA makes this data available to the public, and students can use it to understand extreme weather events happening in their regions, learn more about weather and climate in general, and design plans for resilience and mitigation. Read on for a look at the various kinds of extreme weather, how climate change is impacting them, and ways students can use NASA data to explore science for themselves.
How It Works
Global climate change, or the overall warming of our planet, has had observable effects on the environment. Glaciers have shrunk, ice on rivers and lakes is breaking up and melting earlier in the year, precipitation patterns have changed, plant and animal habitat ranges have shifted, and trees are flowering sooner, exposing fruit blossoms to damaging erratic spring hail and deadly late frost. Effects that scientists had predicted in the past are now occurring: loss of sea ice, accelerated sea level rise, shifting storm patterns and longer, more intense heat waves.
Some of the most visible and disruptive effects of global climate change are extreme weather and resulting disasters such as wildfires and flooding. These events vary by geographic location, with many regions, such as the Southwest United States and parts of Central and South America, Asia, Europe, Africa and Australia, experiencing more heat, drought and insect outbreaks that contribute to increased wildfires. Other regions of the world, including coastal areas of the United States and many island nations, are experiencing flooding and salt water intrusion into drinking water wells as a result of sea level rise and storm surges from intense tropical storms. And some areas of the world, such as the Midwestern and Southern United States, have been inundated with rain that has resulted in catastrophic flooding.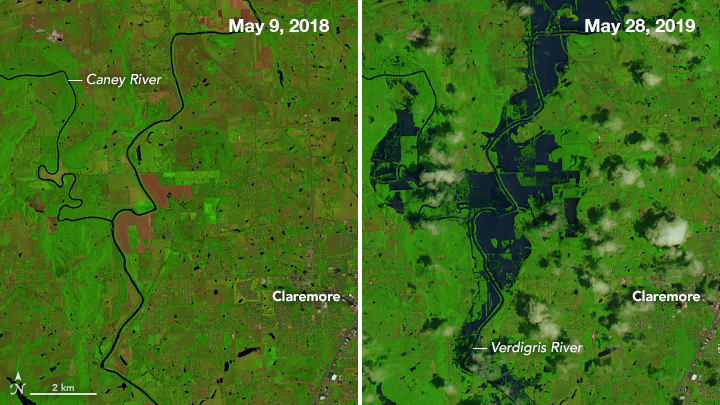 Temperatures, rainfall, droughts, high-intensity hurricanes and severe flooding events all are increasing and projected to continue as the world's climate warms, according to the National Climate Assessment. Weather is dynamic and various types of weather can interact to produce extreme outcomes. Here's how climate change can play a role in some of these weather extremes.
High Temperatures
Eighteen of the 19 warmest years on record have occurred since 2001. September 2019 tied as the hottest month on record for the planet. Since the 1880s, the average global surface temperature has risen about 2 degrees Fahrenheit (1 degree Celsius). As a result of warming temperatures, global average sea level has risen nearly 7 inches (178 millimeters) over the past 100 years. Data show this warming of the Earth system has been driven in large part by increased emissions into the atmosphere of carbon dioxide and other greenhouse gases created by human activities. And as temperatures continue to rise, we can expect more extreme weather.
Drought and Wildfires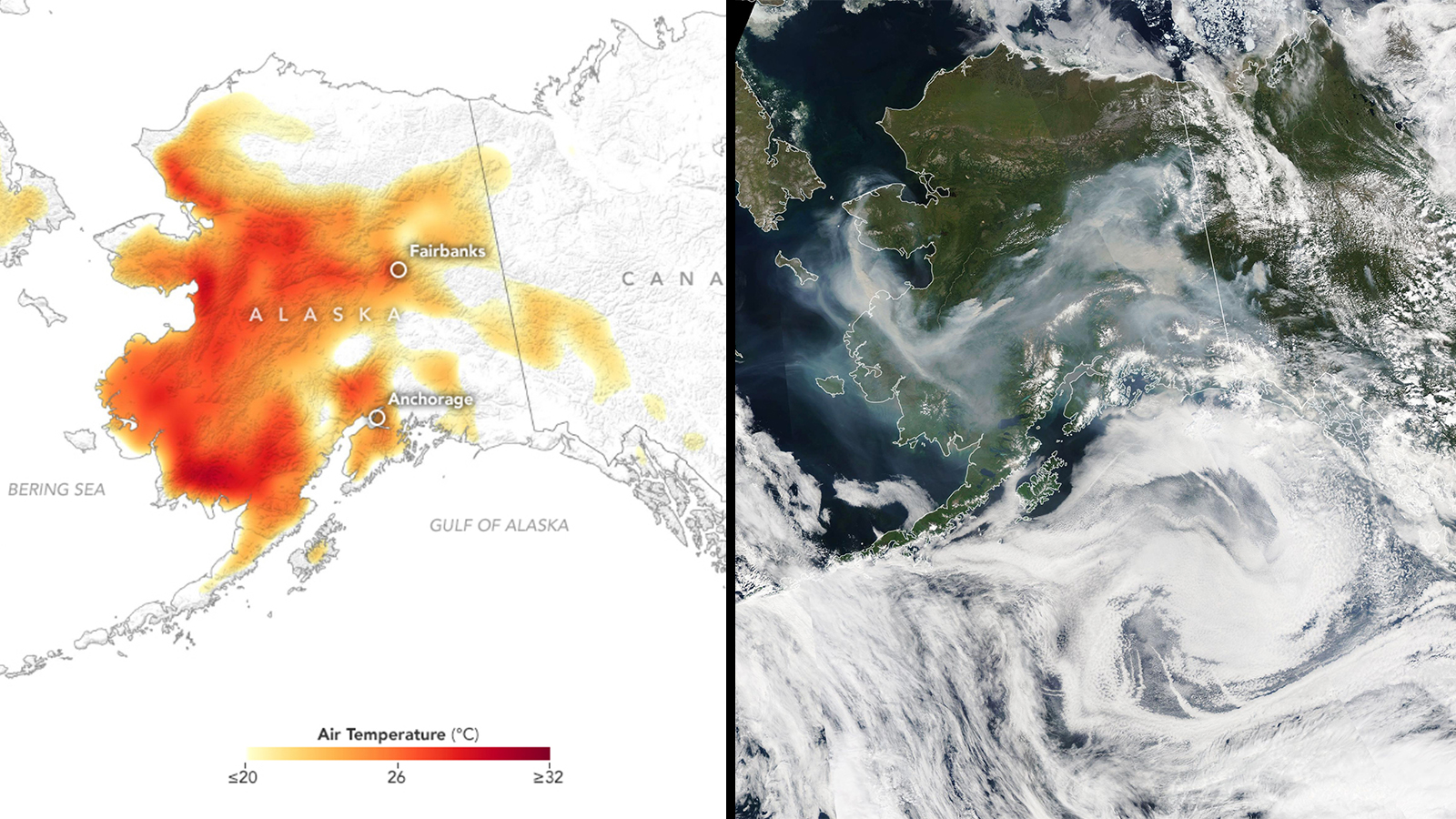 High temperatures alone can lead to drought. Drought can cause problems for humans, animals and crops dependent on water and can weaken trees, making them more susceptible to disease and insect attacks. High temperatures combined with low humidity, dry vegetation and hot, dry, fast winds typify what is known as "fire weather" or "fire season." During fire season, wildfires are more likely to start, spread rapidly and be difficult to extinguish.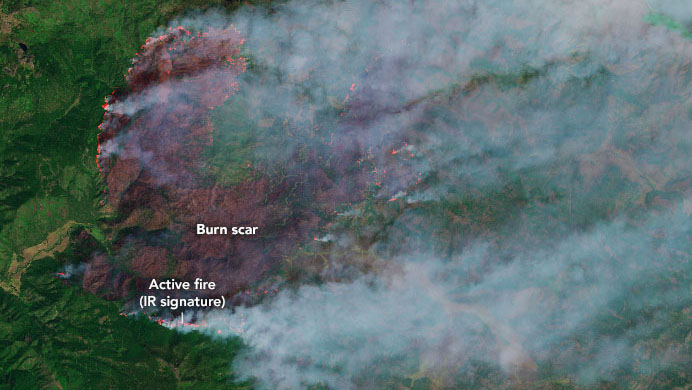 In California, where climate change has brought hotter, drier weather, residents are plagued by two fire seasons – one lasting from June through September that is primarily caused by high heat, low humidity and dry vegetation, and another lasting from October through April that is generally more volatile, as it is fueled by high winds. This 11-month fire season is longer than in past years. In recent years, California has also seen an increase in destructive wildfires. Weather extremes and climate change are partly to blame, even in relatively wet years. In California, these years mean more plant growth and potentially more fuel for fires when those plants dry out in the fall and the winds arrive. Wildfires have some fairly obvious effects on people and property. In addition to the visible destruction, smoke from wildfires can dramatically decrease air quality, pushing carbon into the air and destroying important carbon-sequestering plants and trees. Large-scale biomass destruction, as is happening in the Amazon rainforest, will have a lasting impact on important Earth processes.
Hurricanes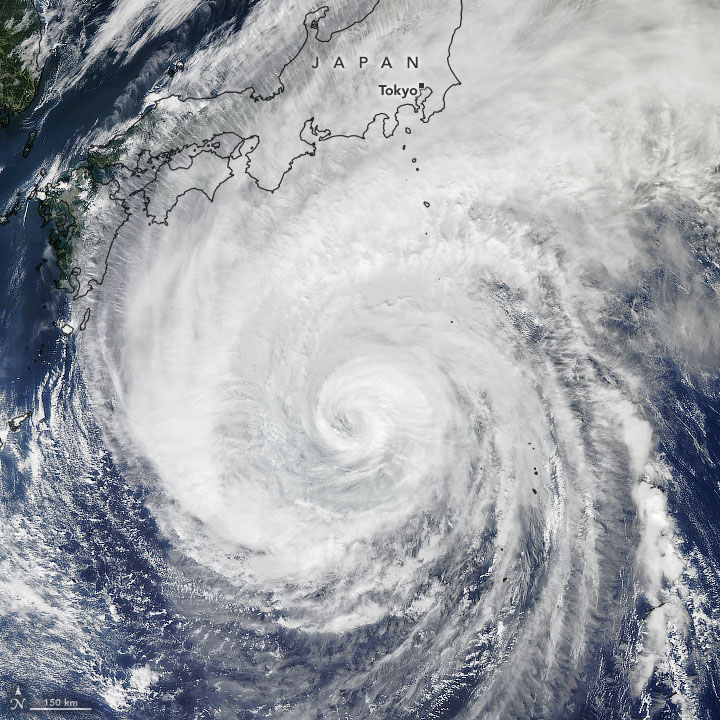 Since the 1980s, regions of the world prone to hurricanes, cyclones and typhoons have witnessed an increase in intensity, frequency and duration of these destructive storms. All three are intense tropical storms that form over oceans. (The different names refer to where on Earth they occur.) They are all fueled by available heat energy from warm ocean water. Warmer oceans provide more energy to passing storms, meaning hurricanes can form more quickly and reach higher speeds. Typhoon Hagibis, which recently left a trail of destruction in Japan, was described as the worst storm to hit the region in decades. Growing unusually quickly from a tropical storm to a Category 5 storm in less than a day, Hagibis was so intense it was called a super typhoon. In 2018, the second strongest cyclone to hit a U.S. territory and the largest typhoon of the year, Super Typhoon Yutu, caused catastrophic destruction on the Mariana Islands, an archipelago in the North Pacific Ocean. More intense storms and rising sea levels make storm surge – ocean water that is pushed toward the shore by strong winds – even worse than in the past. Typhoons can wreak havoc on infrastructure and compromise fresh water reserves. It can take months or even years for a hard-hit region to recover.
Snowstorms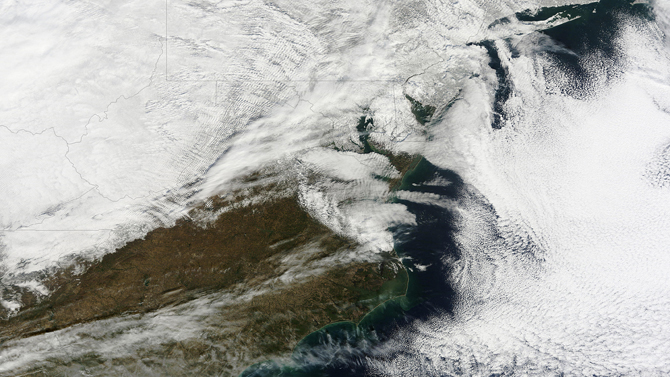 Like any other weather event, extreme cold weather events such as blizzards and unusually heavy snowfall can be, but are not always, linked to climate change. Just as warmer ocean water increases the intensity of a warm tropical storm, warmer than average winter ocean temperatures in the Atlantic feed additional energy and moisture into cold storms, influencing the severity of snowfall once the storm comes ashore in the Eastern United States. There is some natural variability, such as the presence of El Niño conditions, that can also lead to severe snowstorms in the region. But natural variability isn't enough to fully explain the increase in major snowstorms in the U.S. In fact, the frequency of extreme snowstorms in the eastern two-thirds of the region has increased dramatically over the last century. Approximately twice as many extreme snowstorms occurred in the U.S. during the latter half of the 20th century as in the first half.
Why It's Important
Because of the risk to lives and property, monitoring the increasing number of extreme weather events is more important now than ever before. And a number of NASA satellites and airborne science instruments are doing just that.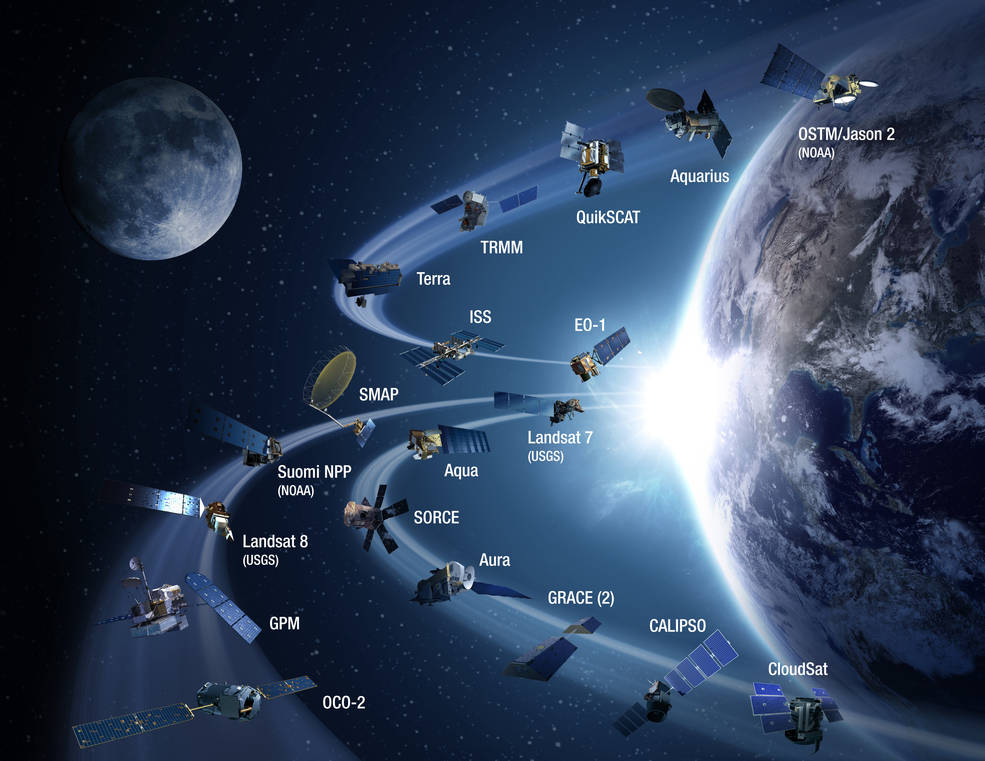 A large global constellation of satellites, operated by NASA and NOAA, combined with a small fleet of planes operated by the U.S. Forest Service, help detect and map the extent, spread and impact of forest fires. As technology has advanced, so has the value of remote sensing, the science of scanning Earth from a distance using satellites and high-flying airplanes. Wildfire data from satellites and aircraft provide information that firefighters and command centers can use to call evacuation orders and make decisions about where to deploy crews to best arrest a fire's progress.
The agencies' satellites and airborne instruments also work in conjunction with those from international partners to provide data about hurricanes to decision makers at the National Hurricane Center, where predictions and warnings are issued so evacuations can be coordinated among the public and local authorities. Visible imagery from NASA satellites helps forecasters understand whether a storm is brewing or weakening based on changes to its structure. Other instruments on NASA satellites can measure sea surface characteristics, wind speeds, precipitation, and the height, thickness and inner structure of clouds.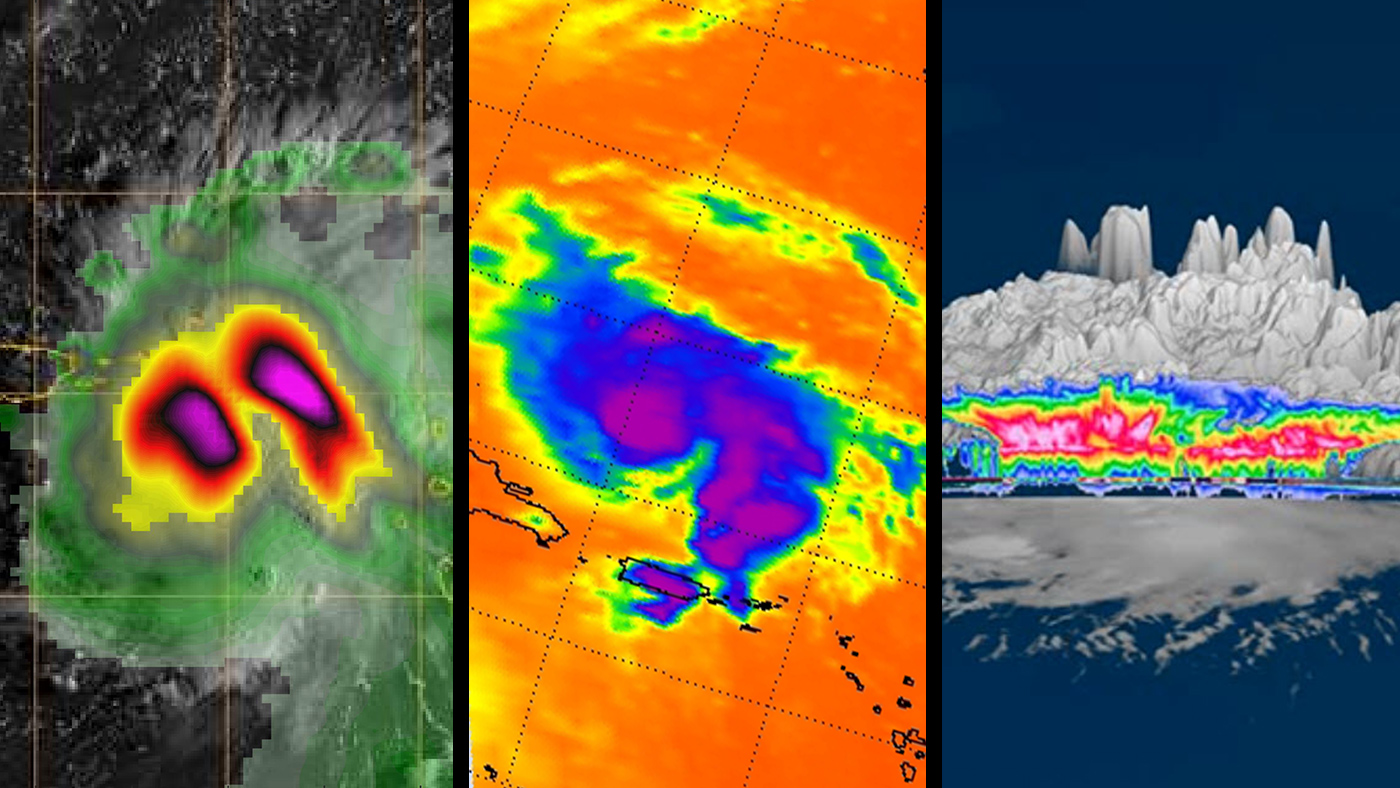 NASA's airborne instruments, such as those aboard the Global Hawk aircraft, provide data from within the storm that cannot be otherwise obtained. Global Hawk can fly above a storm in a back-and-forth pattern and drop instruments called dropsondes through the storm. These instruments measure winds, temperature, pressure and humidity on their way to the surface. This detailed data can be used to characterize a storm, informing scientists of shifting patterns and potential future developments.
NASA missions will continue to study both weather and climate phenomena – whether they be droughts, floods, wildfires, hurricanes or other extremes – returning data for analysis. New airborne instruments aboard the satellite-simulating ER-2 and cloud-penetrating P-3 aircraft will fly missions starting in 2020 to study Atlantic coast-threatening snowstorms. Data from these flights will be combined with ground-based radar measurements and satellite measurements to better understand storms and their potential impact. Meanwhile, climate science instruments and satellites will continue to collect data that can inform everyone about the many aspects of our changing planet.
Teach It
Weather and climate data isn't just for meteorologists. Explore the resources and standards-aligned lessons below to get students analyzing local weather patterns, understanding wildfire monitoring and modeling global climate!
Precipitation and Clouds
Wildfires and Temperature
Sea Level
Satellites and Data
Climate
For Students
Explore More
Resources for Students
TAGS: Earth, Earth science, climate change, weather, extreme weather, hurricane, wildfire, typhoons, drought, flood, sea level rise
---
A single movement of NASA's next Mars rover could require, among other things, the careful dance of six independently motored wheels, a retractable arm containing a laboratory's worth of tools, a swiveling head supporting multiple cameras and a computer that can pinpoint the rover's precise location. So this past summer, while other teams and their interns at NASA's Jet Propulsion Laboratory were testing cameras and calibrating science instruments to prepare the rover for its February 2021 debut on Mars, intern Isabel Rayas was making sure all those pieces move seamlessly together. This meant spending a lot of time in the laboratory's Mars Yard, a sandbox of sorts where engineers put models of the rover through various test drives. For Rayas, a graduate student studying computer science and robotics at the University of Southern California, it was also a window into one potential future career, although, she says, "I'm definitely still exploring." We chatted with Rayas to learn more about her role on the Mars 2020 mission and what it's like to drive a rover.
What are you working on at JPL?
I am working on mobility testing for the Mars 2020 rover. It's taking all of these parts that impact something like mobility – the motion of the rover – and understanding how they work together. We're testing everything to make sure that all the parts play nicely together and that one of them doesn't have a bug that's going to cause a failure in another part of the system.
Are you working on the actual rover that's going to Mars?
There's a whole spectrum of testbeds. What you're testing will dictate which testbed you use. If you're only trying to test one small part of the rover, you're not going to bother using the full system. The flight software testbed, where I'm working, has the real flight computer. It has some of the real cameras. It doesn't have the real motors yet, but we're working on it. Assembly, Test and Launch Operations, or ATLO, is actually putting together the real thing and doing tests with the real hardware.
Tell me more about your role in the flight software testbed.
There are two main things that I am working on this summer: One of them is getting all the hardware pieces in the flight software testbed that impact the mobility of the rover.
You might think that mobility is just the wheels of the rover, but there are a lot of subsystems and instruments that have an influence on mobility. There is an instrument called RIMFAX that will be used for radar sounding. It will point at the Martian surface to collect readings of what the subterranean surface looks like and what it's made up of. You wouldn't necessarily think that has an impact on mobility, but it actually does, because you have to know exactly where you are when you take a radar sounding in order to make any sense of it. You have to be able to tell, "I've moved this far, and this is what I'm sounding, and that's what the ground looks like at this specific spot." So that's a piece of hardware that needs to be integrated into a full mobility test. Then there's the flight computer. There's a computer just for processing the images from the rover. That's also not in the testbed yet, so that's something I'm trying to get delivered so we can run tests with it.
Once we get all these hardware parts into the testbed, we want to run a mobility sequence that tells the motors to move while doing all of these tasks to make sure the system works. So I'm writing the procedure and making sure that all the parts are in the testbed for that.
The second thing I'm working on is in the Mars Yard. While we do test drives around the Mars Yard, we want to know precisely where the rover is located, because we want to be able to know whether or not the autonomous system that tells the rover where it is works. So I'm looking at different systems that will help us do those tests.
What is your average day like?
There's no good answer to that. It changes day by day, which is exciting. This morning, for example, I was in the Mars Yard learning about a position tracking system with someone who was setting it up to do a test. As a systems engineer, you have to go to a lot of meetings, because you have to learn from different teams about what's going on and go over test procedures. I compile all the information from the meetings, try to understand it and meet with more people to get questions answered. I'm in and out of the office. I'm in the Mars Yard. I'm in the testbed, in the cleanroom – all kinds of stuff.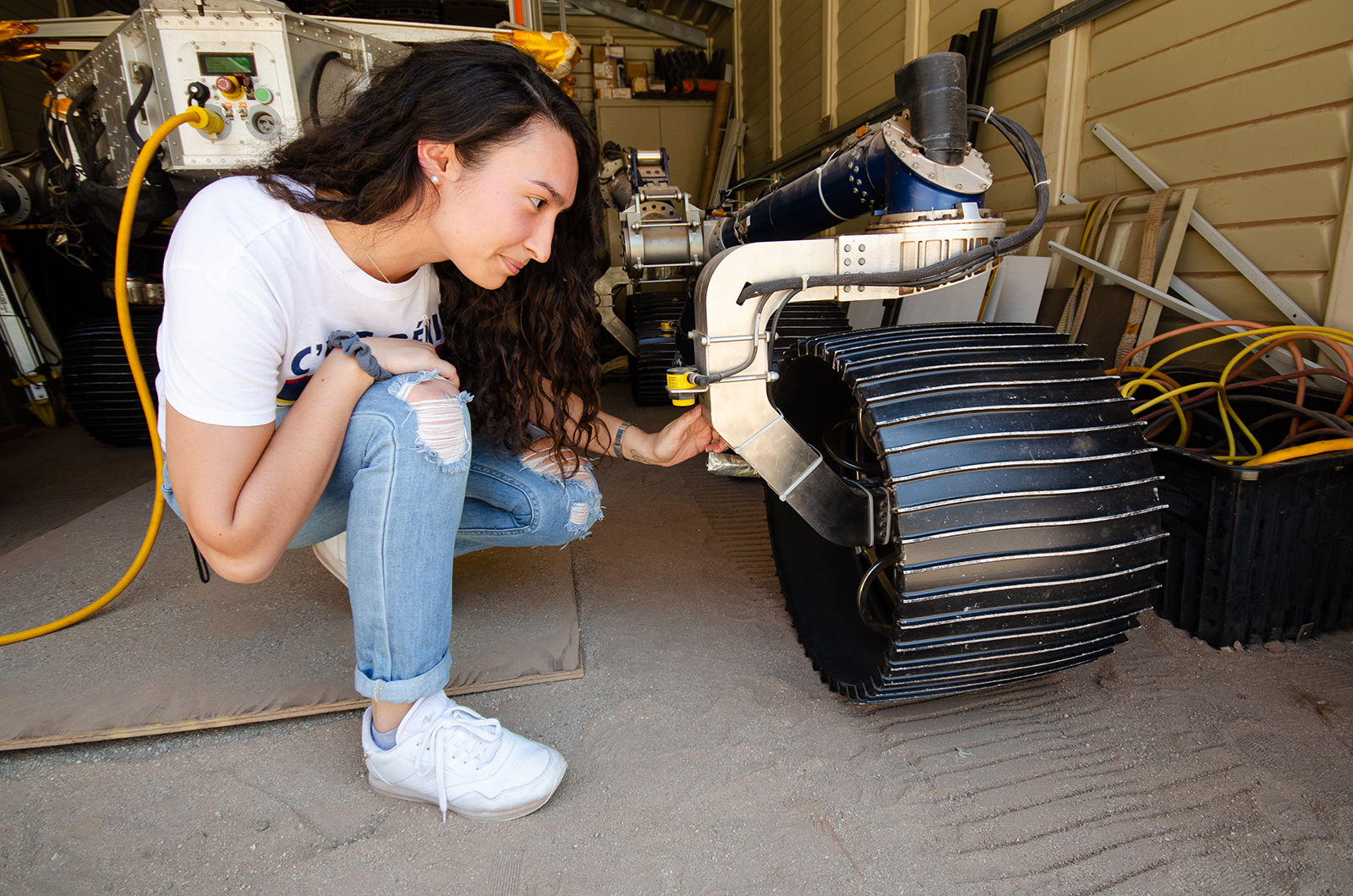 You mentioned your project deals with systems engineering. What's the job of a systems engineer?
You do a little of everything. For the rover, you have people designing the wheels, and you have people designing the instruments. Those people have to be experts in that thing and understand exactly how it works and make sure that nothing's going to break. While those people are experts in a specific part of the system, they can't be expected to also understand how everything comes together and how that impacts the whole system. So that's where systems engineers come in. They are not experts in any one of the areas, but they have to understand enough about each of them to know how they impact each other.
Is that what you are studying in school?
No. I just finished my first year of grad school at the University of Southern California, studying computer science and robotics. I got my undergrad in aerospace engineering from MIT, so I have previous experience in aerospace, but I haven't taken any systems engineering classes. My senior capstone had a systems engineering project, and I got exposure to it there, but we had maybe 100 requirements for our project, and here there are tens of thousands. It's a little bit of a step up.
What got you into aerospace engineering?
I think this is maybe true of most kids, but I really liked looking at the stars and thinking about the planets. I knew from a very young age that I was interested in STEM. I took an astronomy class in high school that I loved, and I thought I wanted to do astrophysics, but when I got to college, I took a physics class and didn't like it at all. I switched to the closest thing that wasn't science, which was aerospace engineering.
I also minored in brain and cognitive sciences, because I really couldn't decide. I took some computer science classes during college as well. So I've been kind of all over the place, and I ended up here again.
What made you focus on computer science and robotics for grad school?
My undergrad was in aerospace, but with a concentration in autonomous systems. I've always been interested in the robotic applications of aerospace – not necessarily the rocket design, or propulsion, or the aerodynamics or anything like that.
What brought you to JPL for this internship?
I actually interned here two years ago. My friend had interned at JPL the year before, and she was like, "This was awesome. I love it so much." As an aerospace major, it's kind of the dream, right? So I ended up coming here two years ago. Now that I'm at USC, it's so close that I thought I could probably find some way to be here again this summer, doing something new that's not really related to my program at school.
What's the most JPL- or NASA-unique experience that you've had here?
My first day was right after the Explore JPL event, so thousands of people had come through that weekend to learn about what JPL does and see all the different labs and technology. They had brought the Scarecrow rover, [used to test Mars rover drives], down to the entrance of JPL so people could see it move around. When I got here on Monday, it was my mentor's job to bring it back to the Mars Yard, which is all the way down the street, up the hill – not close at all. So he was like, "Do you want to move the rover across the Lab?"
We had to pick up the rover with a crane and drive it across lab. People were taking videos of us as we went by. After that, my mentor was like, "Do you want to drive it around the Mars Yard?" So I got to drive it around for a while. That was something that I think is kind of unique.
What do you hope to accomplish during your time here?
I would really like to see this test procedure run. I have high hopes. Ten weeks [at JPL] is such a short amount of time. I think it would be easy to get caught up in a lot of things that are less important and end up having something half-finished. I know from talking to my mentor that a test that includes all of this hardware could be really valuable, because it would help the team find bugs before they're too late to fix. Knowing that's my responsibility is exciting. It's a little bit scary, but in a good way.
What's your ultimate goal for your career?
I'm not really sure yet. I'm definitely still exploring. I think internships are a great way to do that, so I'm planning on doing as many as I can in as many different fields as I can. Beyond that, I think my overarching career goal is to keep learning. I don't know where that will take me.
Wow. That's tough. I would love to be one of the people who goes to the Moon. I don't think I would want to go to Mars.
Why not?
It's too far. I like Earth a lot. It's probably my favorite planet. So I wouldn't want to get too far from home. But I would love to go to space. Going to the Moon would be a nice, happy medium.
Have you ever thought about applying to be an astronaut?
Not seriously. I wanted to be an astronaut for the first couple of years in college. But I thought about it some more and about how much training you have to do, and I didn't want to dedicate all my time to training. I thought I could use engineering instead to help us get there.
---
Explore JPL's summer and year-round internship programs and apply at: https://www.jpl.nasa.gov/edu/intern
The laboratory's STEM internship and fellowship programs are managed by the JPL Education Office. Extending the NASA Office of STEM Engagement's reach, JPL Education seeks to create the next generation of scientists, engineers, technologists and space explorers by supporting educators and bringing the excitement of NASA missions and science to learners of all ages.
TAGS: Higher Education, Internships, STEM, Engineering, Interns, College, Robotics, Mars, Rover, Mars 2020, Computer Science
---
It may look cartoonish, but the face of NASA's next Mars rover is serious business for Jeff Carlson. A former intern at NASA's Jet Propulsion Laboratory, Carlson is now part of the JPL team tasked with assembling and testing the "head" and "neck" (officially called the Remote Sensing Mast) for the Mars 2020 rover. Carlson jokes that his job is a bit like making and following instructions for assembling IKEA furniture – that is, if the furniture were going to another planet with no option to return for spare parts. With its five cameras that will do everything from guiding the rover to recording ambient sounds to blasting objects with lasers so it can study their chemical composition, the mast will play a key role in the mission's goal of finding evidence for ancient microbial life. Returning JPL intern Evan Kramer met up with Carlson to learn more about his role in readying the rover for its planned February 2021 debut on Mars and about the summer internship that propelled Carlson to where he is now.
What do you do at JPL?
I am a mechanical engineer working on the remote sensing mast for Mars 2020, [NASA's next Mars rover]. The remote sensing mast is the "neck" and the "head" of the rover. Scientifically, it is our vision system for seeing far away and doing remote detecting. So instead of using the drill on the rover to study something up close, the mast uses spectroscopy and lasers to see things that are far away and read their chemical composition.
The mast has lots of instruments on it. On the head, itself, there are five cameras. Two of them are for navigation, [NavCams]. They will guide the rover past obstacles, for example. Then, there are two Mastcam-Zs. On the Curiosity rover, they are called Mastcams. On Mars 2020, they're called Mastcam-Zs, because they have zoom lenses on them. Those cameras will take amazing panorama photographs that we can learn a lot from. Then, we've got SuperCam, which is the big "eyeball." SuperCam shoots a laser that incinerates, or ablates, a far-off target. During that ablation, the camera takes a very quick picture. The color of the flash that the laser makes on the target will be unique to the target's chemical makeup. SuperCam also has a microphone on it, which is new for this mission. It will allow us to hear the wind and the movements of gravel and rocks. And then down on the neck of the remote sensing mast, we've got two wind sensors, 90 degrees apart from each other. One of them is a deployable boom, which can reach out pretty far from the neck and give us measurements of wind direction and velocity. There are also three air temperature sensors, a humidity sensor and a thermal IR sensor. Together, those make up an instrument suite known as MEDA.
What's your role in working with all of these components?
A lot of my time has been devoted to the role of cognizant engineer, which I share with one other person. That's essentially the engineer who's responsible for delivering the hardware to the spacecraft. That includes everything from making sure you have all the nuts and bolts for the assembly – physically counting them and weighing them and recording all the part information and inspection reports – as well as writing the procedures to build everything. So that's like the document that you get with your IKEA furniture that shows how to put the pieces together. Our team is pretty small, so usually, once we've developed these procedures, we go into the cleanroom lab, take the parts and put them all together. On a typical day, I'll usually do a little bit of all of that. And then I provide the oversight to make sure it comes together the way it's supposed to.
You first came to JPL as an intern in summer 2015. What was that experience like?
When I was an intern, I was working on a project that I had no idea existed until I became an intern, and now I can't stop thinking about it. It's called Starshade, and it is a sunflower-shaped device the size of a baseball diamond. It's designed to fly far out in the sky and suppress the light from a distant star so that a space telescope can get a direct image of the planets orbiting the star. Using the same kind of spectroscopy that's in the SuperCam on Mars 2020, scientists can then characterize which elements are in the atmospheres of these planets, called exoplanets. If we could do that, it would be groundbreaking because it could tell us if a distant planet is habitable or maybe even already inhabited.
What part of Starshade were you working on?
The Starshade is made up of two systems, and I was working on both. There's a deployable truss, which is a large hoop that forms the circumference of the giant sunflower shape. That has to fit into a rocket to go up to space. So we needed to figure out how to fit something that can expand out to the size of a baseball diamond into about a four-meter-diameter cylinder. I was working on building and designing that truss structure. The other part was making the sunflower shape so that it suppresses the starlight, and that is in the realm of origami. So I was also working with origami specialists to figure out how to connect this folding object to the truss structure.
What brought you to JPL for your internship?
The first time I ever heard about JPL was when people from the Curiosity rover mission team visited my campus at the University of Colorado Boulder. They talked about the entry, descent and landing process for the mission, and that was the first time I'd ever even really heard about that process.
Seeing the ["7 Minutes of Terror"] video for the first time and hearing how impossible it seems to try to land an SUV-size rover on another planet, I thought, "That's the coolest thing I've ever heard of. I've got to go be a part of that in some way." I didn't even really know or care how I could be helpful. I just knew that's where I wanted to be.
What moments or memories from your internship stand out most?
We were kind of a big intern team. I think there were 13 of us on the Starshade project. There were these days when we would assemble scale models of Starshade. These are enormous carbon-fiber structures that all have to be bonded together with epoxy that you're squirting out of syringes, and it's very hands-on. So all 13 of us were in a kind of assembly line doing this. By the end of the internship, we were competing with each other to see who could do it better, faster, cleaner and all of that. And for me, that was just so fun. I learned a lot about how to work effectively on a team. That's certainly one of the things that makes JPL a special place. No one at JPL would have accomplished what they did without being on an amazing team. That's really the root of our success.
How did your internship shape your career path and lead to what you're doing now?
When I first started my internship, I thought that what I wanted to do was mostly CAD, [computer-aided design], work, sitting in front of a computer 3D modeling and making drawings. The internship taught me the joys of tinkering with stuff that might go to space. There are so many things to think about, from launch environments to micro-meteoroids to ridiculous temperatures and pressures. It changes the way you think about a problem to be on the formulation side, putting the hardware together. I didn't even know that was a career option for me until I started doing it. My JPL internship really opened my eyes to that. I didn't even know the role that I'm in right now existed.
Did your internship also give you the opportunity to meet people who would potentially become your managers?
Yes. I think one thing that makes JPL really awesome is that if an intern has a really great idea, it doesn't matter that they're a student. They will be listened to with the same openness as if the chief engineer had the same idea. Somebody described JPL to me as a meritocracy, and I think more than any other place I've been, that's true. I've seen it myself. Even as a starting full-time engineer, there are times when I think, "Who am I to suggest this? I don't have as much experience as all these other people." But I say it because the culture here supports that. And then it affects the way the mission is designed. It changes something important.
Have you had your own interns? If so, what's your mentorship style? What do you hope they take away from the experience?
Yes, I've had interns of my own. I tried to emulate my mentors from when I was an intern. Looking back on it now, they are part of what made me really successful – allowing me the freedom to realize that I am smart enough to make decisions. Coming from school, I think interns have this idea that they need to be told what to do because it's like a school assignment. But for some of the tasks that we have going on here, the A, B, and C of getting a job done is not all there is. Sometimes it's up to the intern to determine the path forward. So I try to give my interns enough freedom to make these kinds of decisions. I think the validation that you get from seeing an idea come to fruition is going to make you a much better engineer than if you were just told to do a task and you performed it.
What's your advice for those looking to intern or work at JPL one day?
One thing that was a detriment to me trying to work here was seeing myself as a student, hanging out with adults, or seeing myself as kind of underneath my coworkers. So for an intern in a meeting with other engineers, don't be afraid to speak up, feel confident in the education that you've received.
Lastly, I hear that you write poetry and draw in your free time. Have your experiences at JPL influenced your creative side or vice versa?
Being here has opened my eyes to a lot of things. Since I've started working here, I've opened up more to allow other people's ideas and perspectives to influence my own. Also, JPL encourages creativity. Caltech [which manages JPL for NASA] has an art show every year. I put some pieces in there. I think it's awesome to blend engineering and art. There's also a talent show at JPL every year. I sing in the talent show with a little looper pedal. So JPL encourages and confirms, in my mind, that you don't have to be just an engineer. This is a good place to say, we can do this and that.
Explore More
---
Explore JPL's summer and year-round internship programs and apply at: https://www.jpl.nasa.gov/edu/intern
The laboratory's STEM internship and fellowship programs are managed by the JPL Education Office. Extending the NASA Office of STEM Engagement's reach, JPL Education seeks to create the next generation of scientists, engineers, technologists and space explorers by supporting educators and bringing the excitement of NASA missions and science to learners of all ages.
TAGS: Higher Education, Internships, STEM, Engineering, Interns, College, Careers, Robotics, Mars, Rover, Mars 2020, Starshade
---
NASA is inviting students to help name its next Mars rover! Set to launch from Florida in the summer of 2020, NASA's fifth rover to visit the Red Planet is designed to study past environments capable of supporting life, seek signs of ancient microbial life, collect rock and soil samples for a possible future return to Earth, and test technologies that could produce oxygen from the Martian atmosphere for use by humans one day. But before it can do that, it needs a name.
Following in the tracks of NASA's four previous Mars rovers, the agency is asking students to suggest a name. The first Mars rover, which landed in 1997, was called the Microrover Flight Experiment until a 12-year old student from Connecticut suggested the name Sojourner, in honor of abolitionist and women's rights activist Sojourner Truth. In 2004, a third-grade student from Arizona named NASA's twin rovers Spirit and Opportunity. Curiosity, which landed in 2012 and is the most recent rover to visit Mars, was named by a sixth-grade student in Kansas.
To enter the Name the Rover Essay Contest, individual students must submit an essay of up to 150 words by Nov. 1, 2019. In their essay, students will need to propose the name they think best suits the rover and explain their reasoning. Judges will select three finalists (one each from grades K-4, 5-8 and 9-12) from every state and U.S. territory. From there, judges will narrow down the finalists further before they select a final name in the spring of 2020.
So what makes a good name? There are lots of ways to become inspired, but students should start by learning about the rover as well as the Red Planet and why we explore. But they shouldn't stop there. There are many ways to spark ideas from students, including writing planetary poetry, making cosmic art, and having them build rovers of their own. Get students thinking and writing creatively, and encourage them to submit their essay!
The contest is open to U.S. residents enrolled in kindergarten through 12th grade in a U.S. school (including U.S. territories and schools operated by the U.S. for the children of American personnel overseas). Home-school students can also submit a name!
Explore More
TAGS: Mars, rover, contest, Mars 2020, K-12 education, STEM, language arts, essay, science, students
---
This past school year, the Education Office at NASA's Jet Propulsion Laboratory supported a comprehensive, multischool physics project that served as a capstone project for high-school students. Seven schools in three school districts across the Los Angeles area participated, tasked by their teachers with building a habitat including working circuitry and renewable power sources that was capable of withstanding seismic events.
Hundreds of physics students from underserved communities participated in the project, constructing their habitats as part of a Next Generation Science Standards, or NGSS, curriculum. One of the key components of NGSS, which was adopted by California in 2013, is its inclusion of science content areas, such as Earth science and physics. The project, drawing upon the lessons found on the JPL Education website, was a chance for students to apply their knowledge of numerous high-school science courses into one summative project. It was also a rare opportunity for the students, who were coming from underserved communities, to see connections between classroom content and real-world science.
"It is difficult for [students] to connect what they do in school with their future," wrote Joshua Gagnier, a physics teacher at Santa Ana High School, who participated in the project. "The only advice they receive is to study, work hard and get help, which without clear goals, are abstract concepts. It is opportunities such as the JPL challenge, which had a tangible academic award, that my students need."
To help students apply their knowledge in a real-world context, teachers presented a challenge to build functional habitats, complete with power, wiring and the ability to withstand the elements. Each school focused on and contributed different components to the habitats, such as solar power or thermodynamics. Students were given broad freedom to construct rooms and devices that were of interest to them while still demonstrating their knowledge throughout the school year. Gagnier had his classes focus on the electromagnetic spectrum and use their understanding of waves – for example, the threat of seismic waves to physical stability and the availability of light waves for solar power – to select a habitat location. He also had students examine the use of solar energy to power their habitats.
"The students used JPL and NASA resources to understand the elevation of [electromagnetic] penetration in combination with Google Earth to find the altitude of the geography they were evaluating," he wrote. "When students were trying to find a way to heat water for their habitat using the limited available supplies, JPL's Think Green lesson was one of the main sources for their solution." This lesson, in particular, allowed students to measure flux and available solar energy at different regions in the country using NASA data available online.
Ultimately, it was up to the students to design and craft their habitats based on the lessons they learned. So the final prototype structures varied dramatically from class to class and even more from school to school. One school focused on habitats powered solely by renewable energy, while another school focused more on the structure's ability to withstand earthquakes via a shake table. Vaughn International Studies Academy worked across class periods to build "modular" homes – with each group building a single room instead of a whole habitat. These rooms, which included a living room, bedroom and even a sauna, were connected to a central power supply. In all cases, students had to quantify the amount of energy produced, determine how to disperse it throughout their home and present a sales pitch for their habitat, describing how it satisfied their criteria.
At the end of the challenge, a winning group from each school was invited to JPL with their teachers to meet students from participating schools and tour the laboratory. It was also a chance for students and teachers to compare their projects. Due to the success of the pilot program, the participating teachers are already making plans for next school year, discussing ways to improve the challenge and expand the program to several more schools in the Los Angeles area.
---
Have a great idea for implementing NASA research in your class or looking to bring NASA science into your classroom? Contact JPL education specialist Brandon Rodriguez at brandon.rodriguez@jpl.nasa.gov
Special thanks to Kris Schmidt, Joshua Gagnier, Sandra Hightower and Jill Mayorga for their participation and dedication to bringing NASA science to their students.
TAGS: K-12 education, STEM, educators, teachers, science, engineering, physics, resources, lessons, students
---
In high school, science was the last thing on Jose Martinez-Camacho's mind. But one day, he was flipping through his chemistry textbook, and a diagram caught his eye. It described an experiment that was the first to identify the structure of an atom. Martinez-Camacho was amazed that a science experiment could reveal the inner workings of something so mysterious. He was hooked. Now a physics major at Cal Poly Pomona and in his fourth year interning at NASA's Jet Propulsion Laboratory, Martinez-Camacho is immersed in unveiling the details of other mysterious objects: lunar craters. Using a simulation he developed, Martinez-Camacho is working to understand how the temperatures inside and around craters in the permanently shadowed regions of the Moon might point the way to water ice. We caught up with him to find out more about his internship and his career journey so far.
You've done several internships at JPL, starting in 2015. What are the projects you've worked on?
My first internship in the summer of 2015 was with the Lunar Flashlight mission. The idea of the mission is to reflect sunlight into the permanent shadowed regions of the Moon to detect water ice. My project was testing and characterizing the photodetectors that would be used to identify the water ice. So most of that project involved setting up an experiment to test those detectors.
My next internship was still with the Lunar Flashlight mission, but my project was to model the amount of stray light that the detector was expected to receive from the lunar surface.
After that, I started to work with the Lunar Reconnaissance Orbiter Diviner team. [Diviner is an instrument on the Lunar Reconnaissance Orbiter that creates detailed daytime and nighttime temperature maps of the Moon.] In that project, I was working with Catherine Elder to validate one of her algorithms that can identify the abundance and size distribution of lunar rocks in a single pixel of an image taken by Diviner. So I used the algorithm to analyze the rock populations around the Surveyor landers, which took images on the lunar surface that we could use to validate our results.
What I'm working on now is 2D thermal modeling of craters in the polar regions of the Moon. The end goal is to better understand the thermal environments of the Moon's permanently shadowed regions, which can harbor water ice. Because the stability of water ice is very sensitive to temperatures, knowing the thermal environment can tell us a lot about where these water-ice deposits might exist.
What is your average day like on your current project?
I'm using MATLAB to write code [that I use to model the craters]. I wrote the code from scratch. Right now I'm at the point where I've written the program, I've gone through most of the debugging and the derivations of the equations and picking the algorithm, so I'm just running the model and waiting for results. So an average day would be to come in and run the model for different cases. There's a range of crater diameters and a range of latitudes where permanent shadows exist, so I run the model for these different cases, wait for the results and interpret the results at the end of the simulations. I also do some debugging now and then to deal with problems in the code.
What got you interested in a science career?
I think it happened in my junior year of high school. I was always disinterested in school and never paid attention. In chemistry class, we were learning about the atom, and for some reason, I opened up my chemistry book at home and started looking at the diagrams. I found a section on the Rutherford gold foil experiment, which showed that atoms consist of a tightly packed positive nucleus surrounded by electrons. I was amazed that someone could deduce that from a simple experiment. So that sparked my interest in science. After that, I started to read about chemistry and astronomy and all types of science. That was the pivotal moment.
How did you pursue that career path, and were there any challenges along the way?
I knew I'd have to go to community college because, at the time, my GPA wasn't going to get me anywhere. So I knew I had to start at the very, very beginning. But I had a very clear plan: Just keep studying, keep getting good grades until you get to where you want to be.
Sometimes students – especially community college students – feel intimidated applying for JPL internships, even though they should absolutely apply! Did you feel that way at all, and if so, how did you overcome that fear?
I was almost not going to submit my application just because I thought I wasn't good enough to intern at JPL. But ultimately, I had nothing to lose if I got rejected. It would be the same outcome as if I didn't apply, so I submitted my application. And I was really surprised when I got the acceptance letter.
What was your first experience at JPL like?
Everything was super-unfamiliar. I was in a lab, working on a science instrument, and I wasn't an instruments guy. But I got a lot of help from other people who were on the project. Even though it was difficult, it made it very enjoyable to always have someone there with the right answer or a suggestion.
How has your time at JPL molded your career path?
I think it established it. Next year, I'm going to Southern Methodist University to start a geophysics Ph.D. and my graduate advisor is someone who I met at one of the Diviner team meetings. Being at JPL has made that connection for me. And through JPL, I found what I want to do as a career.
What is your ultimate career goal?
After grad school, it would be really, really nice to come back here as a research scientist.
Are you interested in lunar research or anything planetary?
I think I'm really biased toward the Moon just because it's been my focus throughout my JPL internships. But I could see myself studying other planets or bodies. Mercury is very similar to the Moon. Anything without an atmosphere will do. That's what I'm comfortable with. If you add an atmosphere, the science is different. Ultimately, I think I'm interested in planetary science; it's just a matter of learning new science and learning about new planetary bodies.
Well, that leads nicely into my fun question: If you could travel to any place in space, where would you go and what would you do there?
I think I'd go somewhere around Saturn, or a moon of Saturn. Looking up from one of Saturn's moons would be a pretty amazing sight, with Saturn and its rings on the horizon.
Going back to your career path so far, did you have any mentors along the way?
In high school, I don't think so. I just needed to graduate. But in community college, I was part of this program called EOPS, or Extended Opportunity Programs and Services. It's for minorities and disadvantaged groups. There's counseling involved with people who knew what someone like me might be struggling with. There was that support group throughout my time at Citrus College. And there was also the Summer Research Experience Program [at Citrus.] That's the one I applied to in order to get the summer internship here. It was through Citrus College's partnership with JPL. One of the people who was in charge of that, Dr. Marianne Smith, she was always encouraging me, saying, "Just because you come from a community college doesn't mean you're any less than someone who is at UCLA or any other university." So that was another source of support.
Did you see advantages to going the community college route?
Yeah, definitely. It's a smaller community, so you get to form connections a lot easier than you would at a larger college. The quality of education there is probably on par with other universities. So, there was certainly no disadvantage. And then there was that advantage of the smaller community. It's more personalized and easier to get help.
What would you recommend to other students in community college who are interested in coming to JPL?
Apply to the program. Take advantage of the summers and apply to internships. At Citrus College they have the Summer Research Experience Program, and they probably have something similar at other community colleges. Take advantage of that. If I hadn't applied to that program that summer, my life would be totally different. Those decisions can shape your future.
---
Explore JPL's summer and year-round internship programs and apply at: https://www.jpl.nasa.gov/edu/intern
The laboratory's STEM internship and fellowship programs are managed by the JPL Education Office. Extending the NASA Office of STEM Engagement's reach, JPL Education seeks to create the next generation of scientists, engineers, technologists and space explorers by supporting educators and bringing the excitement of NASA missions and science to learners of all ages.
TAGS: Higher Education, College, Internships, Interns, Science, Moon, Community College, Students
---
Fifty years ago this week, the Apollo 11 astronauts launched on their history-making mission. Saturday, July 20, is the anniversary of that first landing of humans on the Moon; a great milestone to reflect on, as well as an opportunity to look ahead. Read on for some of the ways you can celebrate and learn with NASA!
Go Places
It's not just science centers that are celebrating the 50th anniversary of humans landing on the Moon. There are events taking place worldwide at libraries, concert halls, baseball stadiums, National Parks, art museums, and on city streets. Find anniversary events near you with this searchable map and calendar.
Do Things
This collection of hands-on activities for all ages will have you throwing water balloons to learn about craters on the Moon, helping actual NASA scientists by mapping the Moon from your own computer, building a model of the Earth-Moon system and seeing what it takes to investigate strange new planets. You can even make your own lunar spacecraft.
The Forward to the Moon With Artemis activity book is a fun way to learn about the Apollo mission that first put people on the Moon and what's in store for the future. Also, check out these hands-on activities, building challenges and online games!
Focus On the Moon
Love observing the Moon and the rest of the night sky? The Night Sky Network will help you find local astronomy clubs and events. Save the date for International Observe the Moon Night, October 5. If you're clouded out, you can always make your own Moon to enjoy!
Watch These
NASA TV has a full lineup of Apollo programming. On July 19 at 3 p.m. (EDT), you can watch STEM Forward to the Moon. The half-hour show will feature students enacting simulations of a return to the Moon with NASA's Artemis program. The accompanying Educator's Guide has all you need to try the activities from the show at home or in the classroom.
Also fun to watch are vintage recordings from the Apollo program, as well as archived lectures and the kid-friendly "STEM in 30" video series from the National Air And Space Museum.
Get Social
Join NASA and educational centers nationwide to build a virtual mission to the Moon on July 18. Follow #VirtualMoonshot on Instagram, Facebook and Twitter to take part – or follow along with a host center near you.
Finally, if you've wondered what it would have been like to have social media 50 years ago, be sure to follow Relive Apollo 11 for tweets that tell the story of the mission in real time, starting with its July 16 launch!
Explore More
TAGS: Apollo 50th, Events, Activities, Education, STEM, Science, Museums,
---
Last week, 40 community college students landed at NASA's Jet Propulsion Laboratory to accept the challenge of building miniature Mars rovers over the course of four days, from July 9-12, putting their designs to the test in a series of competitions on simulated Martian terrain.
The challenge is part of the National Community College Aerospace Scholar, or NCAS, program, which hosts hundreds of students across multiple NASA centers for a twice-yearly educational workshop and engineering competition. The activity provides students with an up-close and intimate look at NASA missions, and an opportunity to present their work to a panel of judges.
One key part of their week here: The students, who are divided into four teams, are mentored by NASA scientists and engineers. And at JPL – where the competition is organized by the Education Office – nobody knows the mentorship experience better than Amiee Quon and Otto Polanco, JPL's two longest-serving NCAS mentors.
In 2012, Quon – who participated in the high school version of NCAS when she was 16 – saw an email circulated at JPL requesting mentors for the competition. She signed up and has been a mentor ever since.
"It's so rewarding to see how excited they are about engineering, and when they work hard on something and collaborate, that things work out for them," says Quon, a mechanical integration engineer who has worked on the Mars 2020 helicopter and the Juno mission orbiting Jupiter, and is currently working on the Europa Clipper mission.
Things worked out especially well for Quon's mentees this session: The 10 students on her team were named the winners of the summer 2019 competition.
"My team was very cohesive, and I was impressed by how well they worked together to design, build and operate their successful rover," she says. "All the teams did a great job on the toughest competition course I've ever seen."
For Polanco, being a mentor is a capstone on his own experience as a community college student. He started his undergraduate studies at Santa Monica College, transferred to Cal State L.A. to earn his bachelor's and master's degrees in mechanical engineering, and eventually landed an internship at JPL. He's been at JPL for 15 years and has worked as an optical-mechanical engineer on the Mars Science Laboratory mission, Starshade project and more.
The NCAS competition is an opportunity for Polanco to encourage students to go after what they want to do – including helping one female college freshman, whose family expected her to marry and have children instead of chasing a STEM career. Polanco guided her during an NCAS competition and stayed in touch throughout her college years; today, she's pursuing a Ph.D. at Caltech and studying global climate change.
"The most rewarding part is influencing people's perspectives about what their engineering futures might be," he says. "It's about convincing them to pursue their dreams and passions and seeing them grow over the years."
While Quon and Polanco play a big part in helping guide the students through various Mars rover challenges and their final presentations, they both recognize that their ultimate roles lie in reminding students that they deserve to achieve anything they set their minds to.
"A lot of our mentorship is raising the confidence levels of individuals," Polanco says. "It's through these side conversations that you often hear, 'I'm not qualified or worthy enough to work here.'" And I always ask them, 'Why do you put a ceiling on yourself?'"
Adds Quon: "We talked to somebody during the competition who felt they would be at a disadvantage going to career fairs because they transferred [into their current university]. But you've worked hard to get to where you are. There's absolutely no reason to feel 'less than.'"
To that end, Polanco encourages more people at JPL to mentor when they can.
"I think it's a really good experience for JPL employees to go through, to see how their own experience can help others," he says. "My little path is a good example of what people can do. There are so many students in community college who struggle to see that end achievement. But the institution is good about hiring talent and [individuals with] strong work ethic, no matter where you went to school."
---
The NCAS program is funded by the NASA Minority University Research and Education Program. Learn more and apply, here.
TAGS: Higher Education, Community College, NCAS, Mentors, Students, STEM, Engineering