---
This year, Montana took a leap toward bringing the Next Generation Science Standards to the state's K-12 teachers by kicking off its first state science teachers conference. This pilot meeting brought together more than 100 of the state's top educators, who shared best practices with the teaching community. One of these experts was Natalia Kolnik, a native of Bozeman, Montana, who leads education programs at the Children's Museum of Bozeman. Her program stood out among attendees (including us) not just because her programs involved designing missions to Mars, but also because of her commitment to making connections with scientists in the area. We caught up with Kolnik to learn more about how, with the help of local companies – including some that have produced components for JPL missions – she turned a JPL lesson into an exploration of careers in STEM.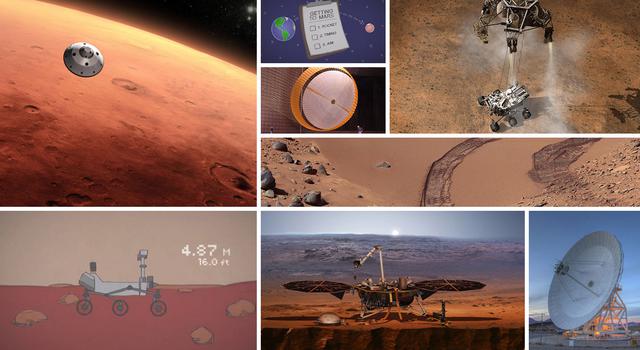 Mission to Mars Unit
In this 19-lesson, standards-aligned unit, students learn about Mars, design a mission to explore the planet, build and test model spacecraft and components, and engage in scientific exploration.
Tell me a bit about yourself and your teaching background.
I am the director of education at the Children's Museum of Bozeman and its STEAMlab in Bozeman, Montana. I've been the director there for six months, so I teach various lessons in a couple different programs for students ages 6 through 12.
I was born and raised in Bozeman and earned bachelor's degrees in journalism and fine arts from the University of Montana, Missoula. I also have a master's in education from the University of Oxford.
I've been teaching formal education classes to different grade levels for the last 13 years in various places around the world, including South Korea and Kosovo.
What unique challenges do you face engaging or addressing the needs of your students?
Teaching at the Children's Museum is wonderful and challenging for the same reason: the diversity of the students. It's like an educational casserole. Our STEAMlab programs are primarily filled with 6- to 12-year-old students who come to us from different school districts and different towns in Montana – or even from different states and countries. During the school year, they learn in public, private and home-school settings. Since the students come with such a variety of educational backgrounds and are a variety of ages, having them all together in a program, like a summer camp, can be challenging.
However, bringing various age groups together allows students of the same age to not feel left out if one of their age peers already knows the material, since it is likely that several others in the room have not encountered it either. Also, since our activities are hands-on, interactive and incorporate a high-tech element, even if students know the concepts and have done the project or activity before, they are still excited to do it again and help others.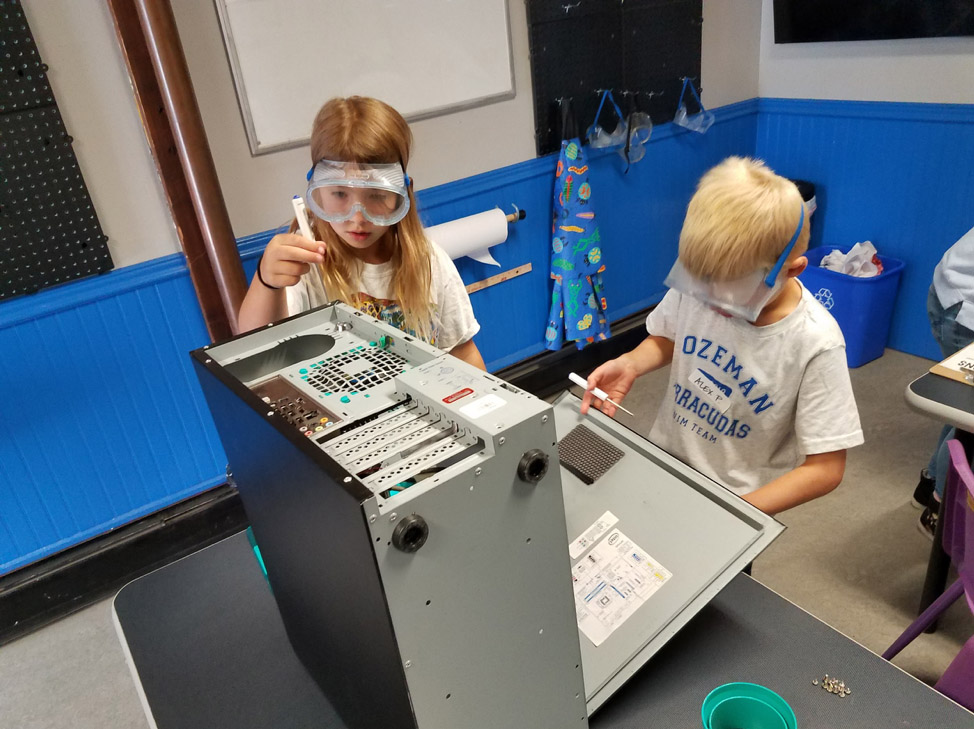 It can also be tough to work with so many new students, rather than to teach in a classroom setting, in which you've had months to develop relationships with the students and establish a classroom rhythm, so students know what is expected. On the other hand, because we run short programs – one day to one week – we have the luxury of flexibility and of letting the content breath. We allow students to take that extra time for exploration, reflection and redesign that might not be possible in a regular classroom setting or time frame.
What NASA/JPL Education lessons have you been using with your students?
JPL has such a wealth of resources. It is so easy to incorporate them into all kinds of STEAMlab programs. For instance, we were able to design and offer a summer camp about Mars in large part because of all of the amazing, up-to-date information available on JPL's website about Mars missions, the planet and all the new discoveries occurring on a daily basis. Activities such as Imagine Mars allowed students to plan a trip to Mars that would allow them to arrive safely and potentially build a habitat. As part of that lesson, we had the students extend their mission by creating a board game capturing the difficulties that could arise, despite even the best planning.
How did you modify the NASA/JPL Education lessons you used to best serve your specific students?
Being so far from a NASA site means we need to be creative to find connections between our community and careers in science. The support of our local business community is an incredible resource for us to build that bridge. We have one such partnership with the Montana Photonics Industry Alliance, or MPIA. Since the Curiosity Mars rover has laser diodes made by Quantel, a company right here in Bozeman that's part of MPIA, we were able to help students connect the local with the supra-global.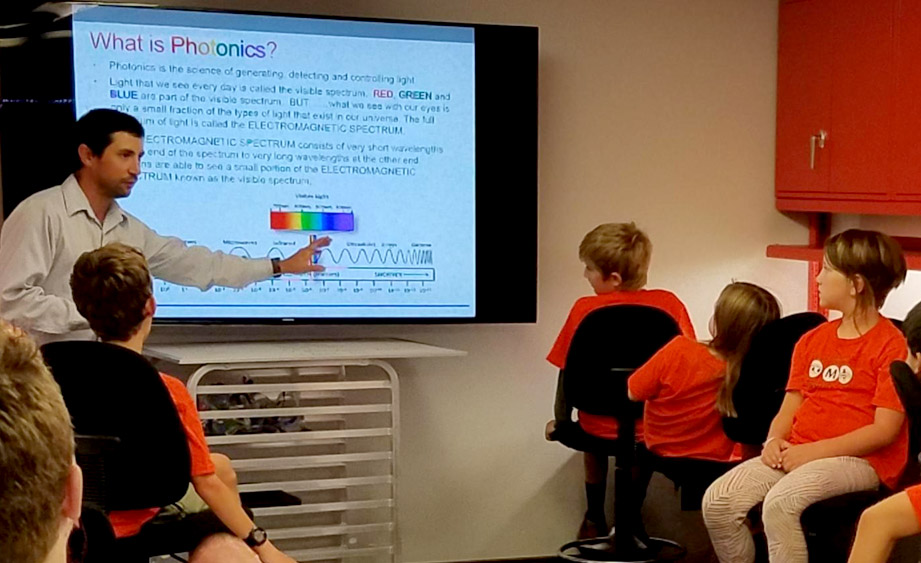 This past semester, volunteers from these photonic companies have been meeting at the museum, brainstorming, planning, designing, redesigning and creating a spectroscope activity to use as one of the museum's field-trip programs. We used the museum's Full STEM Ahead summer camp as a pilot test of the activity. The MPIA volunteers found light sources they work with in their jobs (that could be safely viewed by students) to demonstrate the variety of light spectra all around us. Meanwhile, I used the STEAMlab's 3D printers to print all the end caps for the students' spectroscopes, which are small devices capable of separating wavelengths of light into individual colors.
We divided students into two age groups to observe how they might interact differently with the activity. For example, while one of the MPIA volunteers talked with half of the students about the photonics industry, ways in which photonic technology is used, and related career pathways in Bozeman, other volunteers led the rest of the students in using and understanding their spectroscopes, observing different lights and colors with their new tools.
How did the activity help you meet your objectives? How did students react to the lesson?
The goal for the STEAMlab is to foster an engaging, fun high-tech space in the museum where students ages 7 and older can be a part of a community of other young tech explorers, inventors and tinkerers. It's a place to try out all kinds of ideas to fix a problem or build something new, all while reflecting and talking out the design and its challenges with friends and adult mentors nearby. And if something doesn't work the way they intended, which happens a lot, then they're encouraged to go ahead and try it again.
I gathered feedback about the spectroscopy activities by asking students a few questions and letting them write and/or draw their answers on sticky notes, with each color representing a different question. Their responses varied depending on age but were overwhelmingly positive. All of the students were able to respond with something they remembered learning that was new to them. And their suggestions were primarily about wanting more time to decorate and experiment with their spectroscopes and wanting to talk to more people who work with lasers.
I heard back from the parents of our student mentors about how their children – who had been a part of the activity as helpers – had come home talking all about lasers, how they now want to pursue a career in photonics and now they point out photonics companies that they drive past every day.
---
Have a great idea for implementing NASA research in your class or looking to bring NASA science into your classroom? The Educator Professional Development Collaborative, or EPDC, can help. The EPDC at JPL serves educators in the greater Los Angeles area. Contact JPL education specialist Brandon Rodriguez at brandon.rodriguez@jpl.nasa.gov. Note: Due to the popularity of EPDC programs, JPL may not be able to fulfill all requests.
Outside the Southern California area? The EPDC operates in all 50 states. Find an EPDC specialist near you.
The EPDC is managed by Texas State University as part of the NASA Office of Education. A free service for K-12 educators nationwide, the EPDC connects educators with the classroom tools and resources they need to foster students' passion for careers in STEM and produce the next generation of scientists and engineers.
---
In the science world, publishing a paper is a big deal; it's how scientists share their discoveries with the world. So it's no small feat that Vicky Espinoza published her first science paper as an intern at NASA's Jet Propulsion Laboratory. In the paper, her team takes a look at the effects of climate change on global atmospheric rivers, which bring an onslaught of snow and rain to affected areas and have serious implications for people who live there. The Earth science student from the University of California, Merced, met with us this summer to share how she's helping her team take the research further and what it's like to be an intern at JPL.
What are you working on at JPL?
We're studying how atmospheric rivers – which are long jets of water vapor – move through the Earth system and identifying key physical properties that characterize their frequency and magnitude. We're doing this by taking what we currently know about atmospheric rivers and contrasting it with "aqua planet" model simulations, changing one physical parameter at a time. An aqua planet is a theoretical planet that has the same dynamic and thermodynamic properties as Earth's atmosphere and oceans, but with the continents removed. We're also observing how climate change and these parameter changes combine to impact the physical characteristics, frequency and magnitude of atmospheric rivers in these aqua-planet scenarios.
Tell me more about atmospheric rivers and the impacts that they have on our climate.
There is a certain geometry to them that separates them from other storm types. They often tap moisture in the tropics and transport it toward the poles and into and across mid-latitudes. An important feature of them is that they often make landfall on the western coasts of continents – so the mountainous regions like the Sierras and the Andes. When the warm, moist air rises to cross the mountains, it cools down and precipitates out as either snow or rain, depending on the temperature. Just to give you a sense of how much water they can hold, a single atmospheric river can transport 25 Mississippi Rivers of water as water vapor. So the implications are that they can cause severe flooding, or in their absence, they can cause drought periods. So they're very important for water management, especially for regions like California that depend on precipitation for water.

You were the lead author on a science paper published recently on this topic.
Yes. It's a global analysis of climate-change projection effects on atmospheric rivers. It was the first paper that performed such an analysis on atmospheric rivers on a global scale. My mentors, Bin Guan and Duane Waliser here at JPL, created an atmospheric-river detection algorithm, which we used to identify and compare atmospheric rivers globally. We found that with climate change, these atmospheric rivers will occur 10 percent less, but they will be 25 percent wider and stronger. Because the rivers will be more expansive, a given area will experience atmospheric-river conditions up to 50 percent more often despite there being fewer atmospheric river events. Also, the frequency of the strongest of these atmospheric rivers is going to double. It has so many implications for water managers and those living in atmospheric-river-prone regions who will need to start preparing or start thinking about the implications of these large storms.
Is this the first time that you've been an author on a paper?
Yes, it's the first time I've published a paper. My mentors made me first author, which was such a great experience. It was a lot of work. As a Ph.D. student now, it's fruitful to know what it means to be an author of a paper.
What did it mean for you to be able to publish a paper as an intern?
Just being so passionate about a topic, putting your hard work and soul into a paper and then seeing it become reality is – it's something different. I can't even describe it. It makes me feel like I've accomplished something.
What are you studying for your doctorate?
I'm taking a look at water management and sustainable water uses in agricultural regions in California.
Are you hoping to eventually work at JPL?
Yes. JPL has been a dream. I actually applied to JPL three times before I got an internship. I applied as an undergrad, and then during my master's I was, like, "Let me try one more time. Let's give it a go."
It's been such a great experience to intern here. One of the things that I love about JPL is that everyone is so passionate and creative. It's like Disneyland for scientists. It's very motivating to meet people in line for coffee and be like, "Oh, you work on the Hubble Space Telescope? No big deal." And they're just so grounded and so passionate, and everyone's willing to talk to you. So it's been a great experience.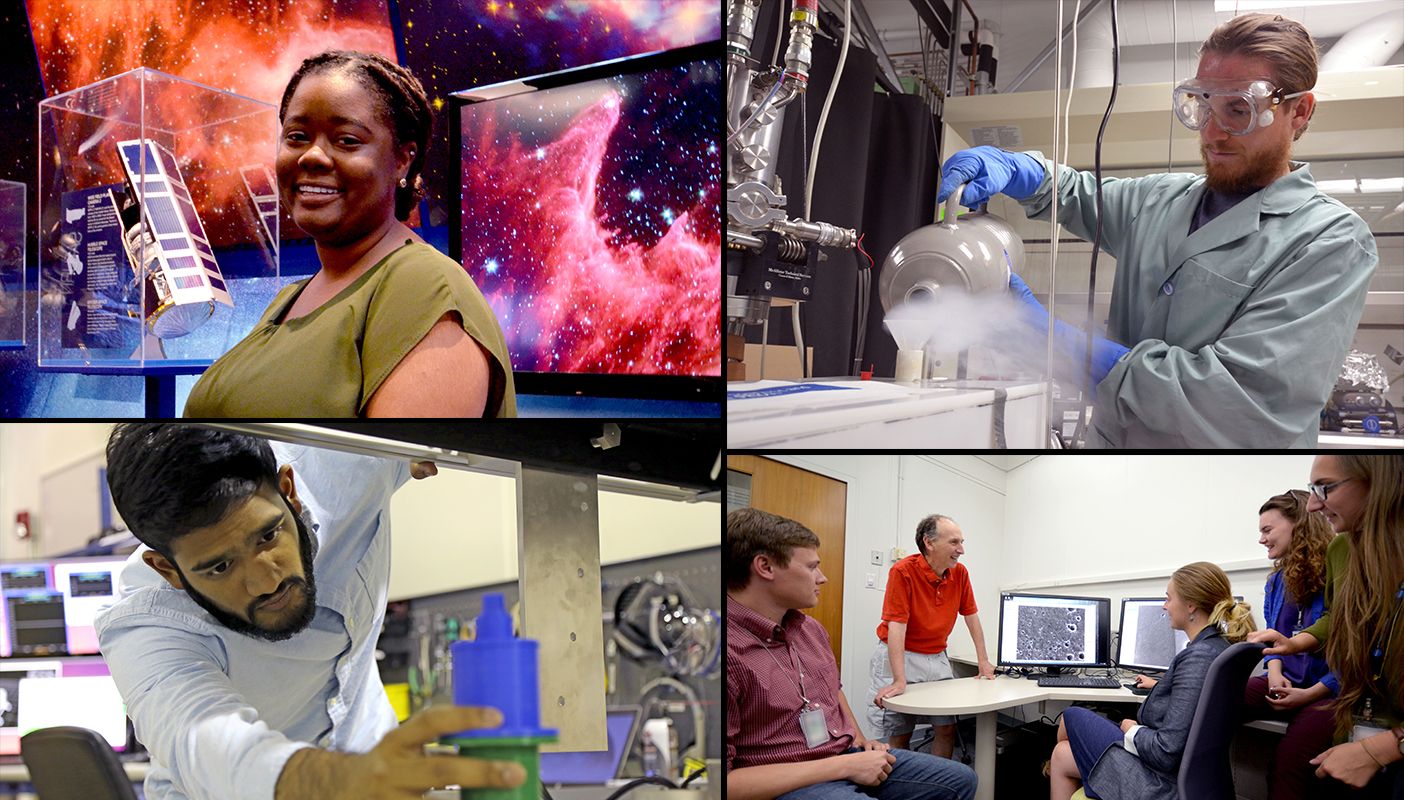 Meet JPL Interns
Read stories from interns pushing the boundaries of space exploration and science at the leading center for robotic exploration of the solar system.
What's the most unique JPL or NASA experience that you've had?
I think the overall experience has been unique. I haven't been in a work environment where the majority of people are so happy to be here and everyone is just so passionate and driven.
What's a typical day like for you?
A typical day for me is behind the computer, so taking a lot of data and running it through a detection algorithm and running a statistical analysis on the data, creating figures and analyzing these atmospheric-river trends.
How do you think that what you're working on might help the average person one day?
Taking a look at this theoretical aqua planet, [a simulated version of Earth with the continents removed], and changing differing parameters of these atmospheric rivers is bringing fundamental insight into how they function, develop and move across the globe. I think that this work will inform citizens, stakeholders, policy makers and water managers on the future of California water.
What got you interested in science in the first place?
I feel like I've been doing science for a long time. My dad works in hydrology, so I've always been exposed to that. But I've always been someone very curious, especially about climate change. I started with air quality and how climate change is impacting the atmosphere. The atmosphere and ocean are connected in some ways, so I started exploring the ocean through an internship. Just being curious about our planet has led me to where I am now.
If you could travel to any place in space, where would you go and what would you do there?
I am a fan of rogue planets, or floating planets. There's an [Exoplanet Travel Bureau] poster that imagines them as planets where people would go dancing. I would want to go to a rogue planet just to figure out what it's like. They don't have a parent star, so they're just out there on their own and there's something so serene and somewhat romantic about that.
---
Learn more about how and why NASA is studying Earth on the agency's Global Climate Change website.
Explore JPL's summer and year-round internship programs and apply at: https://www.jpl.nasa.gov/edu/intern
The laboratory's STEM internship and fellowship programs are managed by the JPL Education Office. Extending the NASA Office of Education's reach, JPL Education seeks to create the next generation of scientists, engineers, technologists and space explorers by supporting educators and bringing the excitement of NASA missions and science to learners of all ages.
---
While the world of engineering is a familiar one to Omar Rehman (his major is transportation design and he comes from a family of engineers) his internship at NASA's Jet Propulsion Laboratory is all about bridging the gap between form and function. NASA's next Mars rover, currently in development and planned for launch in 2020, will acquire a set of carefully selected samples of rocks and surface material and store them in sealed tubes for possible return to Earth by a future mission. Returning samples from Mars is a complicated problem. So, a team at JPL is taking an in-depth look at how it could be done. In addition to using his transportation design background to help the team come up with ideas for a vessel that could bring the samples to Earth, Rehman is using visual arts to convey why a "sample-return mission" would be such a big deal. We caught up with the Art Center College of Design student to find out how he's using art and design to help tell the story of how we're designing missions that might bring the first samples back from Mars.
What are you working on at JPL?
I am on a study team exploring options for a pair of missions that could take key next steps to bring samples back from Mars. I work in JPL's Mobility and Robotics Systems section. I was primarily brought on to do visuals that translate what the mission concept is designed to do in a more cinematic and visual way so people can understand it. However, since getting here, I've been wearing multiple hats: working on visuals but also picking up my engineering hat from back in the day. I'm illustrating scenes for the Mars Sample Return study and conveying my ideas for a transportation vessel that could be used for the endeavor. The bit of engineering experience I had when I was younger has helped me understand and elaborate on the functional and mechanical side of these ideas. I'm absorbing all the knowledge, learning terminology and really getting into it – living the dream as an intern!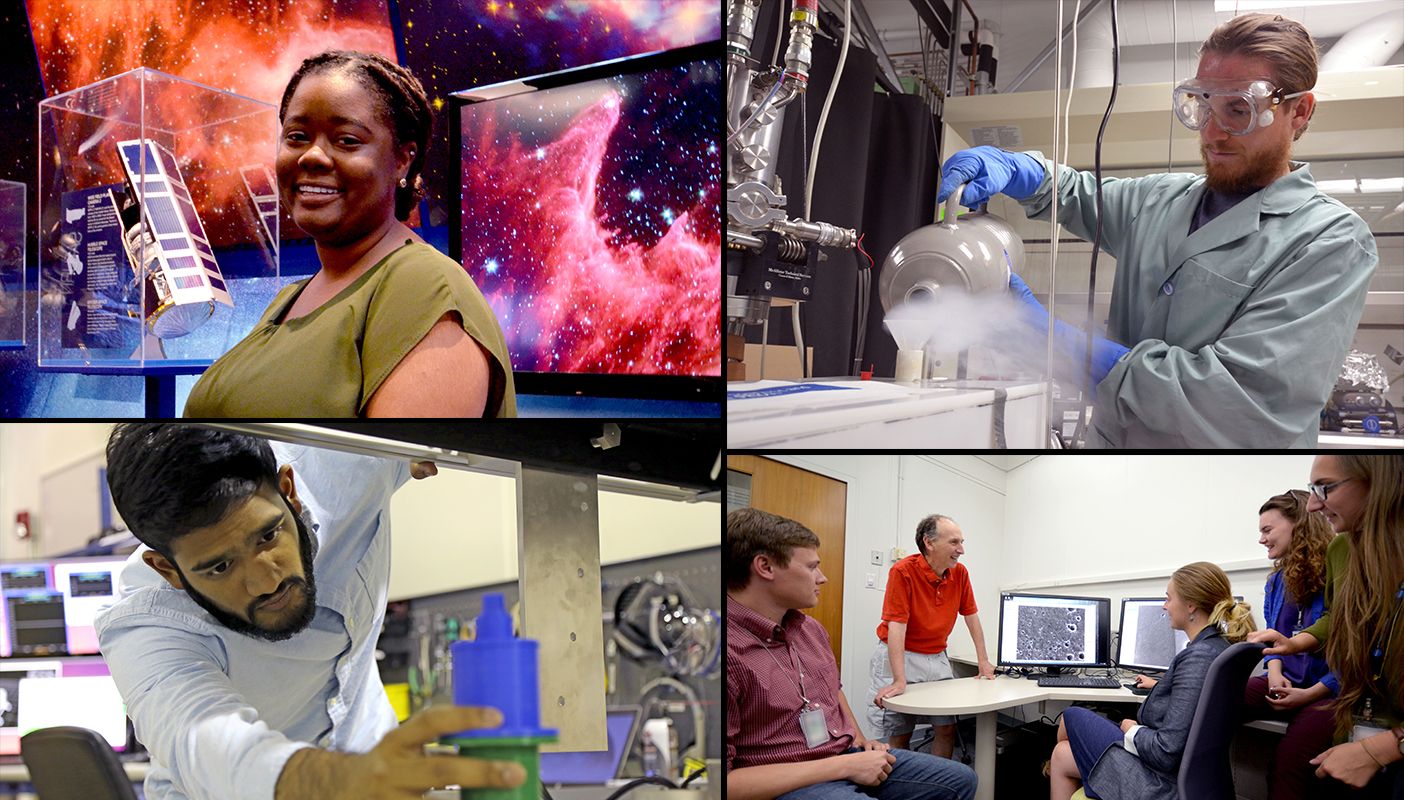 Meet JPL Interns
Read stories from interns pushing the boundaries of space exploration and science at the leading center for robotic exploration of the solar system.
What is a typical day like for you?
What's most important for a designer or design student is to get out your ideas. You've got to keep the practice up. So I actually sketch every morning. If you look at the wall above my desk, it's all sketches: random sketches and concept satellites, maybe some entertainment ideas, some cars here and there, spaceships – who knows? – just anything to keep my juices flowing and keep my creativity going. Then, I put that creative mind to rest for a little bit and start again.
I've also been working on matrices to evaluate the criteria of sample-return mission concepts and the types of innovative variations that would be compatible within the whole system. My work as a designer also comes into play when I create both visual and verbal documents that will help stakeholders understand technical aspects of the designs.
When I get home, I'll maybe have a snack or relax and unwind, then sketch a little more before I go to bed, and do it all again.
What was the ultimate goal of your project?
I really want to convey the options for Mars Sample Return in a very cinematic way so that people can remember it. And then in terms of the engineering side, before I leave, I want to conceive a concept for a system to help transport the Mars samples once they have been captured that would be innovative but also be realistic and work within the aerospace parameters.
How might your project help the average person one day?
I'm conveying the entire story, from liftoff in 2020 to getting to Mars, collecting samples, potentially getting back up off the surface and heading back to Earth. I think it'll help people remember what Mars 2020 is all about and how it fits in the larger story of future missions that may return a sample to Earth. Hopefully they'll remember those images for years, along with the whole mission's success.
What is the most JPL- or NASA-unique experience you've had so far?
So many! Meeting the awesome interns. Seeing everything around JPL that's being developed and tested. That's so cool. Also, the intern before me is now interning at NASA's Armstrong Flight Research Center in the Mojave Desert. He invited the whole team to go visit. We got to see the F-15B Eagle that is being used for NASA research. We looked at concepts they're coming up with – just crazy stuff like you'd see in movies, but it's actually being built!
How do you think you're contributing to NASA/JPL missions and science?
I think bringing the visual-designer mentality to this engineering-driven community is really good. I think that designers can contribute to these kinds of communities. We can help engineers translate ideas really fast. Maybe there are some skills that engineers lack in design and some skills that designers lack in engineering, but when they come together there's a good balance of work output and ideas, and a good combination of solid engineering and design aesthetics coming together to create a beautiful machine. There's beauty in function, but there's also beauty in function being balanced with an appropriate aesthetic.
If you could travel to any place in space, where would you go and what would you do there?
I get really sci-fi about this stuff. Imagine a theoretical scenario in which you have infinite timelines moving in parallel. Let's say it's like a guitar, and each string is you on a different timeline, moving in different places with different stories. If there is somewhere I can go that's either inside this galaxy or outside that can bring me to these different timelines and lets me come back and explore my own reality or different realities, that's where I want to go.
---
Explore JPL's summer and year-round internship programs and apply at: https://www.jpl.nasa.gov/edu/intern
The laboratory's STEM internship and fellowship programs are managed by the JPL Education Office. Extending the NASA Office of Education's reach, JPL Education seeks to create the next generation of scientists, engineers, technologists and space explorers by supporting educators and bringing the excitement of NASA missions and science to learners of all ages.
---
When Lean Teodoro was growing up on the remote island of Saipan in the middle of the Pacific Ocean, her dream of one day working for NASA always seemed a bit far-fetched to those around her. Now, a geophysics student on the premed track at the University of Hawaii and a summer 2018 intern at NASA's Jet Propulsion Laboratory, Teodoro is making her dream a reality. This summer, she took a short break from her internship searching for asteroids with NASA's NEOWISE team to tell us about her career journey so far, what inspired her to study STEM and how she hopes to play a role in human space exploration of the future.
What are you working on at JPL?
I work with the NEOWISE team, the Near-Earth Object Wide-field Infrared Survey Explorer. My focus is on near-Earth asteroids. I do a lot of image analysis and processing. Not all of the time do asteroids get detected through our automated system, so my job is to look at archives to find previously undetected asteroids.
What is a near-Earth object and how do you look for them?
Near-Earth objects are objects [such as asteroids and comets] that are very near to Earth's orbit. There are other asteroids that are located roughly between the orbits of Mars and Jupiter, but my focus is on those that are closer to Earth. The way that we detect them is we have this [space telescope called NEOWISE] that surveys the sky in two wavelengths. It senses the heat of asteroids. So I look at images from NEOWISE and, if I see a red dot that is bright, then that's usually an asteroid. But I go through several search techniques to see if the signal-to-noise ratio is good. So there are several processes that work.
What is the ultimate goal of the project?
My ultimate goal is to try to increase the number of known near-Earth objects so that, in the future, we can get more precise measurements for their positions and movements -- just in case they pose a risk to Earth.
What's an average day like for you?
I go through, I'd say, hundreds of images per day. I also took part in a side project where I had to get the measurements of an asteroid that was observed 39 years before it was officially discovered. We looked at this astronomical plate from the 1950s. You can see a very small arrow pointing to an asteroid. Positions for the asteroid hadn't been discovered yet, so my job was also to find those. It had a lot to do with coding and I had very little experience with coding, so it was nice.
What other skills have you been able to pick up at JPL?
My major is geophysics, so I had little knowledge about astronomy. My whole research team exposed me to an exciting world of astronomy, so that was really nice. They were very encouraging. I've learned so much more about astronomy this summer than I did throughout my whole undergrad career. I mean, there is some connection between geophysics and astronomy, in a way, but this summer, I really learned so much.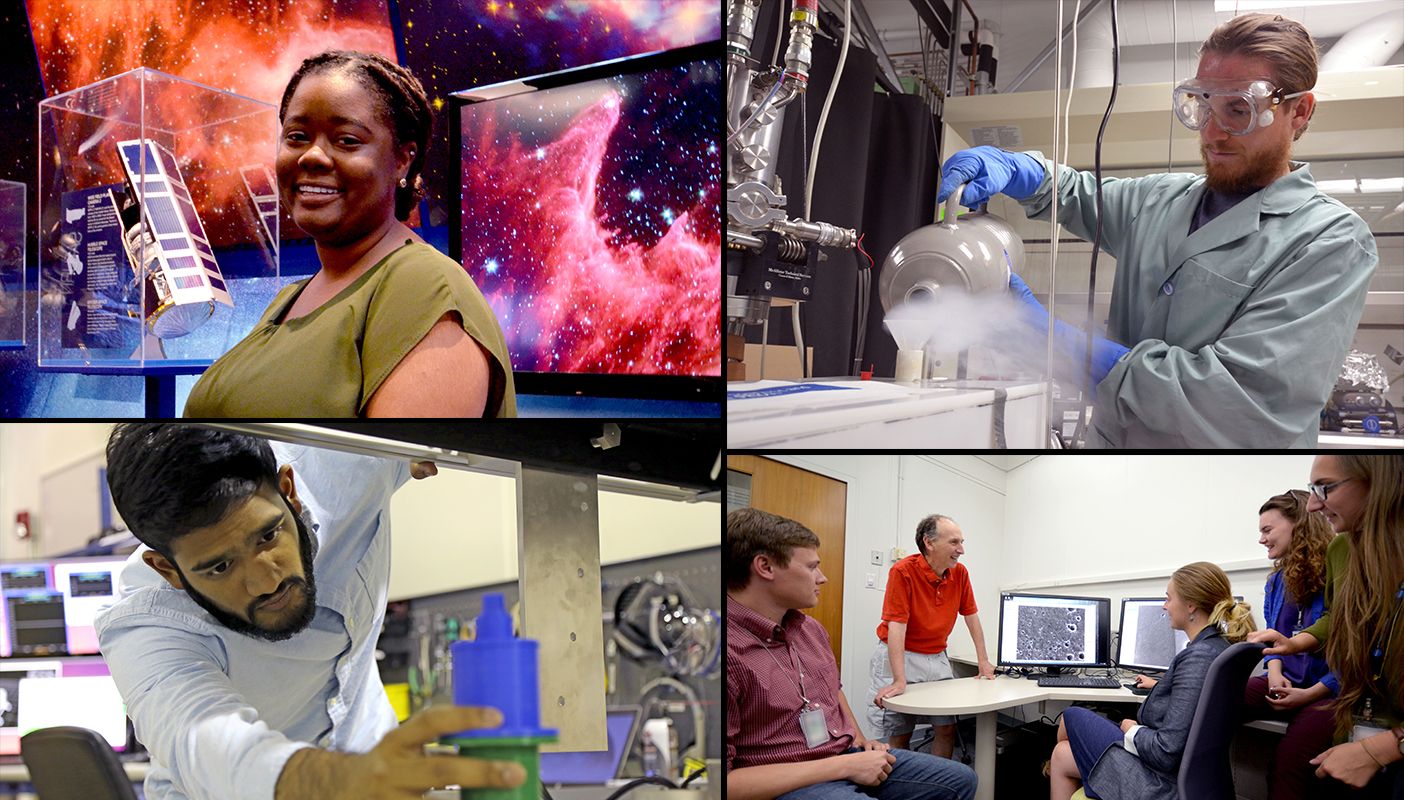 Meet JPL Interns
Read stories from interns pushing the boundaries of space exploration and science at the leading center for robotic exploration of the solar system.
You grew up on the remote island of Saipan in the Northern Mariana Islands. How did you get exposed to STEM and what got interested in pursuing it as a career?
When I was young, my dad would always make us go fly kites at night on the beach. There was this one night where I was just looking at the Moon. I was like, "Oh my god, I really want to learn more about astronomy." I think since then, I've been interested in STEM. But when you're coming from a really small island, you feel very limited. So I didn't have that strong foundation in STEM. And that's the reason why I wanted to move off the island -- because I knew that I couldn't get the opportunities if I stayed. That's the reason I moved to the University of Hawaii. They have a strong geology and geophysics program, and it's a great research university. Since I started there, I've been doing research related to NASA -- like the NASA Hawaii Space Grant Consortium. I feel like if I didn't move to the University of Hawaii, I wouldn't be where I am today, interning at JPL.
So you moved from one island to another?
[Laughs.] Yeah, I couldn't leave the island vibe, I guess. I think it's just a little closer to home. I feel more at home when I'm in Hawaii. Not only that, but also they have a great program, so that was a plus, too. And they have close affiliations with NASA, so that was really great, because my goal was to work for NASA.
Was it a challenge to move away from the island where you grew up?
It was definitely a challenge leaving family and friends behind. I was there on my own. The reason why I chose the University of Hawaii is because of their program. I had a really hard time choosing my major because I was interested in health, but I was interested in geology as well. I'm doing premed as well [as geology and geophysics]. I'm really interested in how humans or organisms can adapt to extreme environments and in learning about geology – for example on Mars – and health, and seeing how we can combine those two fields to contribute to future human space exploration.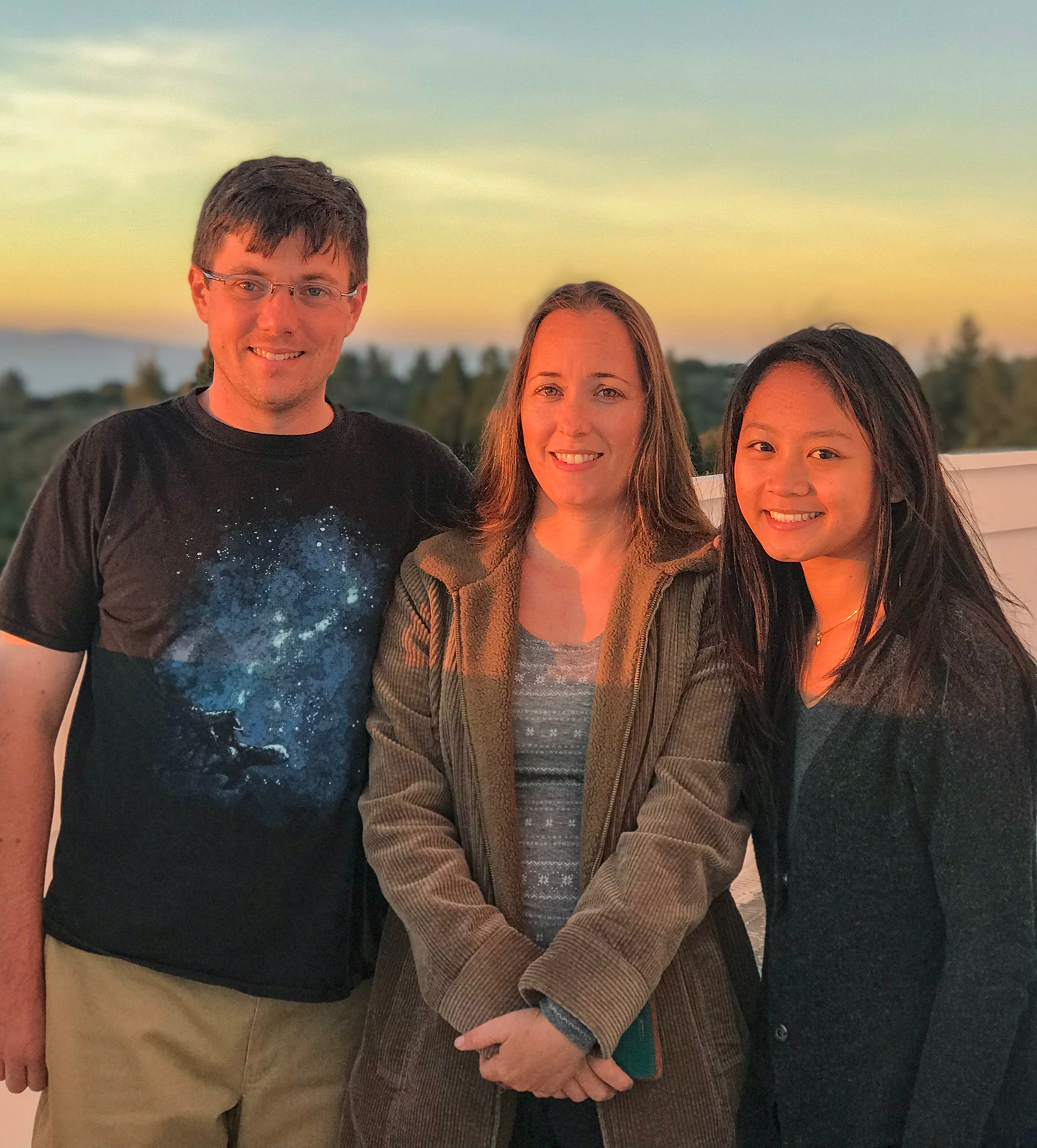 What do your family and people back home think of your career path?
It's so funny because I remember, in middle school, I would always tell my friends and family how I wanted to work for NASA, and they would laugh about it because I don't think anyone back home has ever done something big like that. Having them see me working here -- it just kind of opened their eyes, like, "Wow, it's possible," you know? Most of the time, people back home just stay for financial reasons. It was really expensive moving to Hawaii. But I really wanted to do it. So here I am, and I'm so happy.
Did you know that we have a group of student teachers from the Northern Mariana Islands that has come to NASA's MUREP Educator Institute at JPL the past couple summers?
Yeah! So three weeks ago, I was walking to my office, and I saw a few friends from back home. I was like, "Oh my god, what are you guys doing here?" We all went to the same high school and everything! They were telling me about that whole program. I was like, "Oh my god, I feel so happy. That's so great." The chances -- it was mind-blowing. I'm so happy for them. I'm really excited for the future of Saipan and the whole Northern Mariana Islands.
What's the most JPL- or NASA-unique experience you've had so far?
Of all the internships I've had in the past, JPL is really unique because everyone is just so passionate about the work that they do, so it really rubs off on you. Not only that, but also the intern community here is just amazing. And not only the interns, but also my mentors and the other scientists and engineers I've met. I've made so many friends throughout my summer here from all over the nation and all over the world, which is nice because I'm from this small island, and it just makes me realize how big the world is.
I feel like interning at JPL builds a foundation for me. And with my mentors here at JPL and in Hawaii, I do feel more confident in being a minority and a woman in STEM. I feel more driven to be successful and to inspire people from back home to go and pursue what they want to do. Don't let the confinements of your environment stop you from what you want to do.
What's your ultimate career goal?
My ultimate goal is to try and contribute to future human space exploration. That's what I really want to do. I'm still trying to figure out how I can pave my path by combining health and geosciences. We'll see how it goes.
---
Explore JPL's summer and year-round internship programs and apply at: https://www.jpl.nasa.gov/edu/intern
The laboratory's STEM internship and fellowship programs are managed by the JPL Education Office. Extending the NASA Office of Education's reach, JPL Education seeks to create the next generation of scientists, engineers, technologists and space explorers by supporting educators and bringing the excitement of NASA missions and science to learners of all ages.
---
The Starshade project aims to do pretty much what the name suggests: suppress the light from distant stars so scientists can learn more about the planets that surround them – including whether they're likely to support life. In practice, it requires building a giant, precisely shaped structure that can unfurl from a relatively tiny package and fly in perfect sequence with a space telescope. Interns have been key to making the idea a reality. The team has brought in more than 40 interns in the past seven years. We already caught up with three-time Starshade intern Christopher Esquer-Rosas, who is using his origami skills to help a full-scale model of the giant sunflower-shaped structure unfurl. Meanwhile, intern Allison Ayad, a mechanical engineering student at Pasadena City College, is creating a working miniature model to narrow in on the design. Fellow intern Evan Kramer met up with Ayad to find out how she's contributing to the project and how she's bringing what she's learning back to school.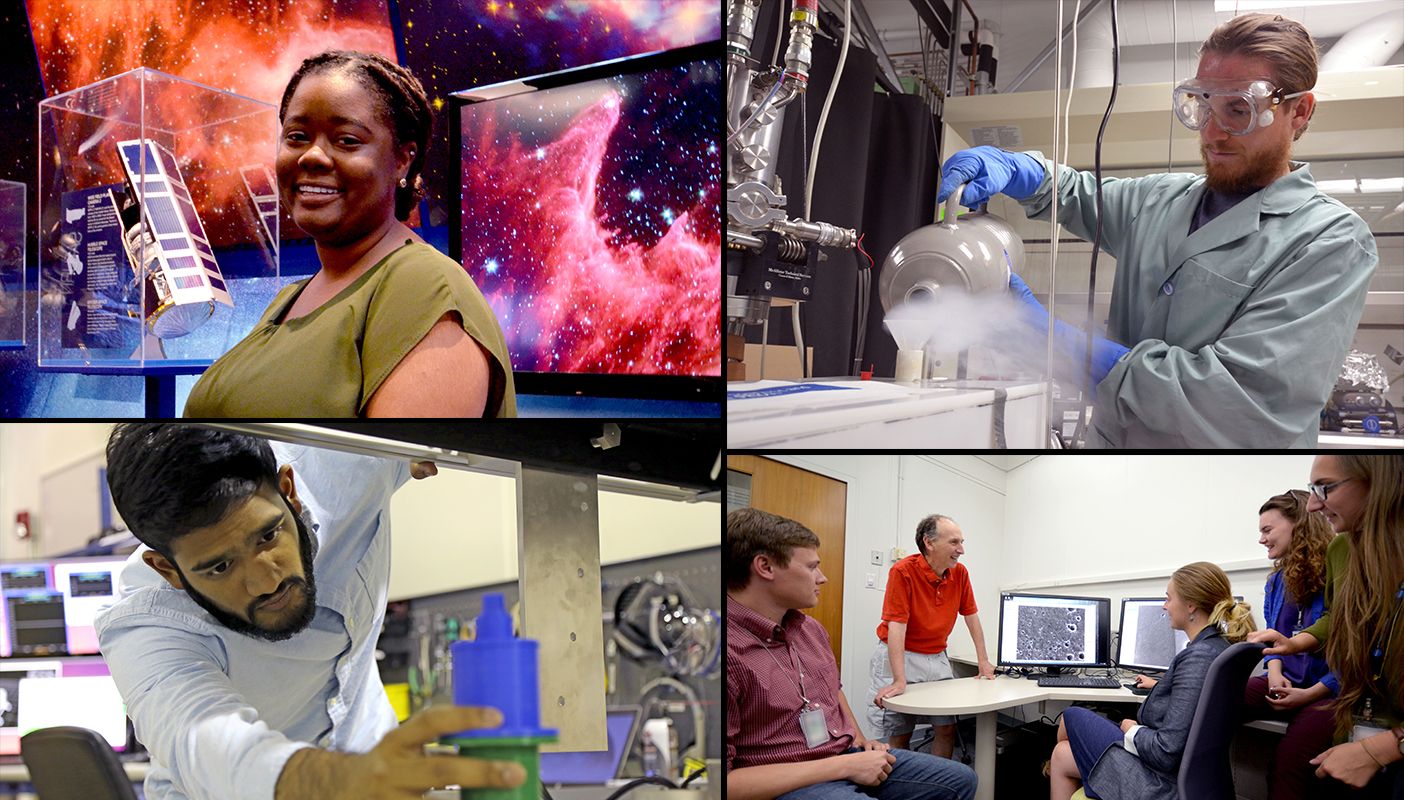 Meet JPL Interns
Read stories from interns pushing the boundaries of space exploration and science at the leading center for robotic exploration of the solar system.
What are you working on at JPL?
I'm working on a project called Starshade, which is a 26-meter diameter, flower-shaped structure we want to send to space to help us get images of exoplanets, [planets outside our solar system]. With these images, we could learn more about exoplanets and see if they could potentially harbor life.
So Starshade is a sort of spacecraft?
Yeah, it is! Starshade would fly out and position itself between a space telescope and a star. Its shape would suppress the light from the star so the spacecraft could get direct images of the exoplanets around it. It's similar to when you try to take a picture outside, and the Sun washes out the image. If you block the light from the Sun, then you can see everything in more detail. That's pretty much what Starshade would do.
What's a typical day like for you?
Every day is very different. What I am working on is making a mini, fully deployable Starshade for interactive purposes, so we can show all the different stages of deployment. It will sort of be the first of its kind.
When I come in, I usually do work on my computer with [software] like Solidworks. Then, I do a lot of rapid prototyping with the use of 3D printers and laser cutters to test out all the little, moving components that are going into the real model.
I spend some of my time helping with the big structure that's out here. [She points to the warehouse-like space where the team is assembling a full-scale version of Starshade, which is about the size of a baseball diamond fully unfurled.] But most of the time, I'm working on the mini one. At least once a day, I'll talk with my mentor, David Webb, about the ideas that I have on how to make things work. We'll bounce ideas off each other, then I'll have stuff to think about for the next day.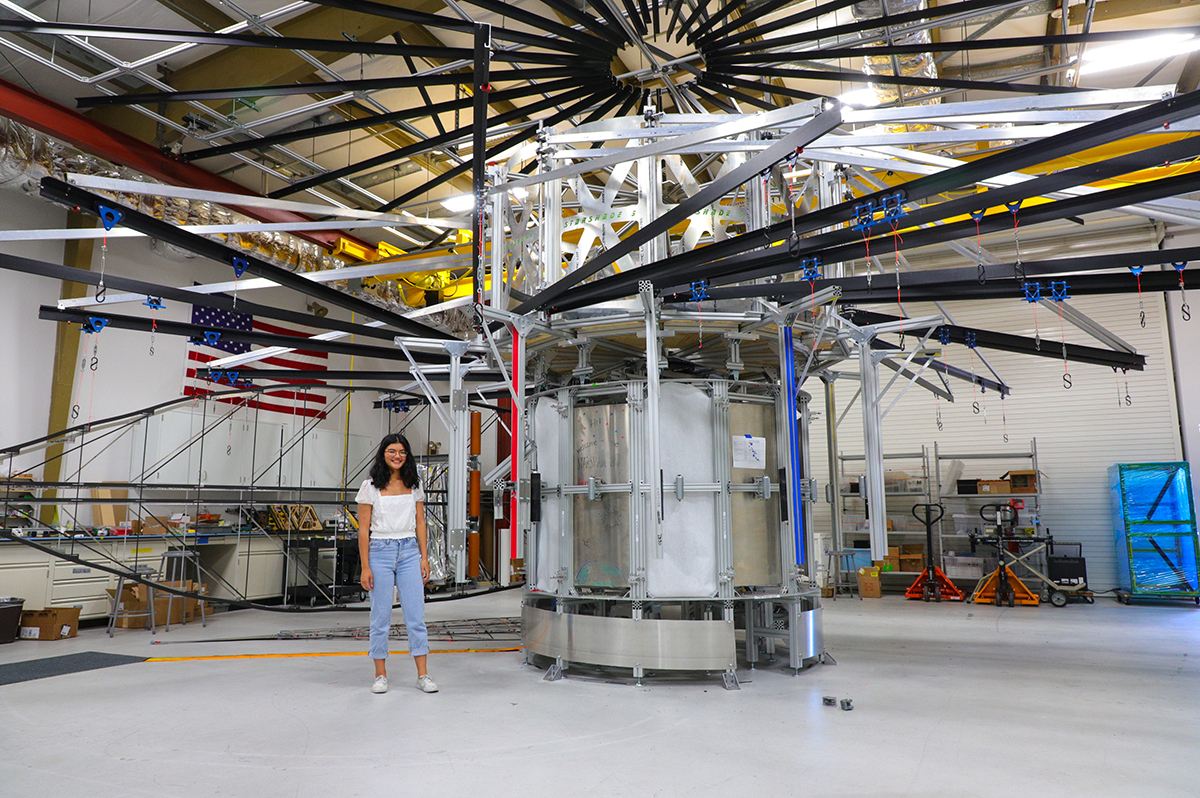 What's been the most JPL- or NASA-unique experience you've had so far?
I've been here for a year and a half now, and I think the Starshade lab is the coolest at JPL, but I'm a little bit biased. It's really cool because we have a bunch of prototypes everywhere, so you get to see what Starshade would look like in real life. And there are a bunch of interactive models that you can play with to see all the different deployment stages.
How do you think you're contributing to NASA/JPL missions and science?
The full Starshade isn't really finished being designed yet, so a lot of the problems that [the team that is building the full-scale model] is facing, I'm also facing with the mini one. The ideas that I'm thinking through could potentially help with the real flight-model design.
How has the work you've done here influenced you back at school?
When I first started interning here, I actually didn't have a lot of the core class requirements [for my major] done. So a lot of the terms and concepts that people were using at JPL were still new to me. Then when I took the classes, all [the lessons from my internship] came back, and I was like, whoa, I already kind of learned this stuff and got a hands-on approach to it. I'm a very hands-on learner, so having that previous experience and then learning more of the math behind it helped with that learning process.
If you could travel to any place in space, where would you go? And what would you do there?
I'd like to go to Mars just because we're so close to doing it. It'd be cool to see what's there. I personally think there's a really good chance there was once life on Mars. If I could go and see for myself, that would be pretty awesome.
---
Explore JPL's summer and year-round internship programs and apply at: https://www.jpl.nasa.gov/edu/intern
The laboratory's STEM internship and fellowship programs are managed by the JPL Education Office. Extending the NASA Office of Education's reach, JPL Education seeks to create the next generation of scientists, engineers, technologists and space explorers by supporting educators and bringing the excitement of NASA missions and science to learners of all ages.
---
Update – Sept. 13, 2018: Due to the number of requests we have received, this bulletin board registration is now closed. In the event more materials become available, an update will be posted here. All materials are also available to download at the links below.
---
Launch back into STEM with these back-to-school resources from NASA all about hurricanes, clouds, weather, Earth science – and the satellites that study them. For a limited time, the Educator Resource Center at NASA's Jet Propulsion Laboratory is offering free bulletin-board materials to educators for display in classrooms or other educational settings.
Register today to receive free materials mailed directly to you or download them at the links below.
Out of stock
Bulletin board mailers are limited to teachers at U.S.-based institutions.
Available while supplies last.
Requests will be fulfilled in the order they are received.
Download bulletin board materials:
Visit our educator resources page for more downloads and online resources.
---
There is still a lot of mystery around what exactly causes aurora, the swirling spectacles of light that grace Earth's southern and northern high-latitude skies. So, this summer, Jasmine Cameron, a JPL intern and computer science major at Howard University, helped push aurora science further by developing an algorithm to detect the phenomena in video taken from a weather balloon. Fellow intern Evan Kramer caught up with Cameron to ask how learning about aurora might help the average person and what it's like to work with NASA scientists and engineers.
What are you working on at JPL?
My project is in computer science. What we're trying to do is image aurora, so your northern and southern lights, during the day time. A near-infrared camera goes up on a weather balloon and takes a video of the sky at up to 30 frames per second. It stores the collected data and sends back video containing auroras. What we want to do is develop an efficient, real-time algorithm based on machine learning technology that can identify frames with aurora in them so that we can collect science data about these phenomena. Our algorithm needs to give the scientists as many true-positives, or useful images with auroras in them, as possible so they can better understand what they are. It also needs to fit on the computer aboard the balloon so that it will be power efficient and high performance.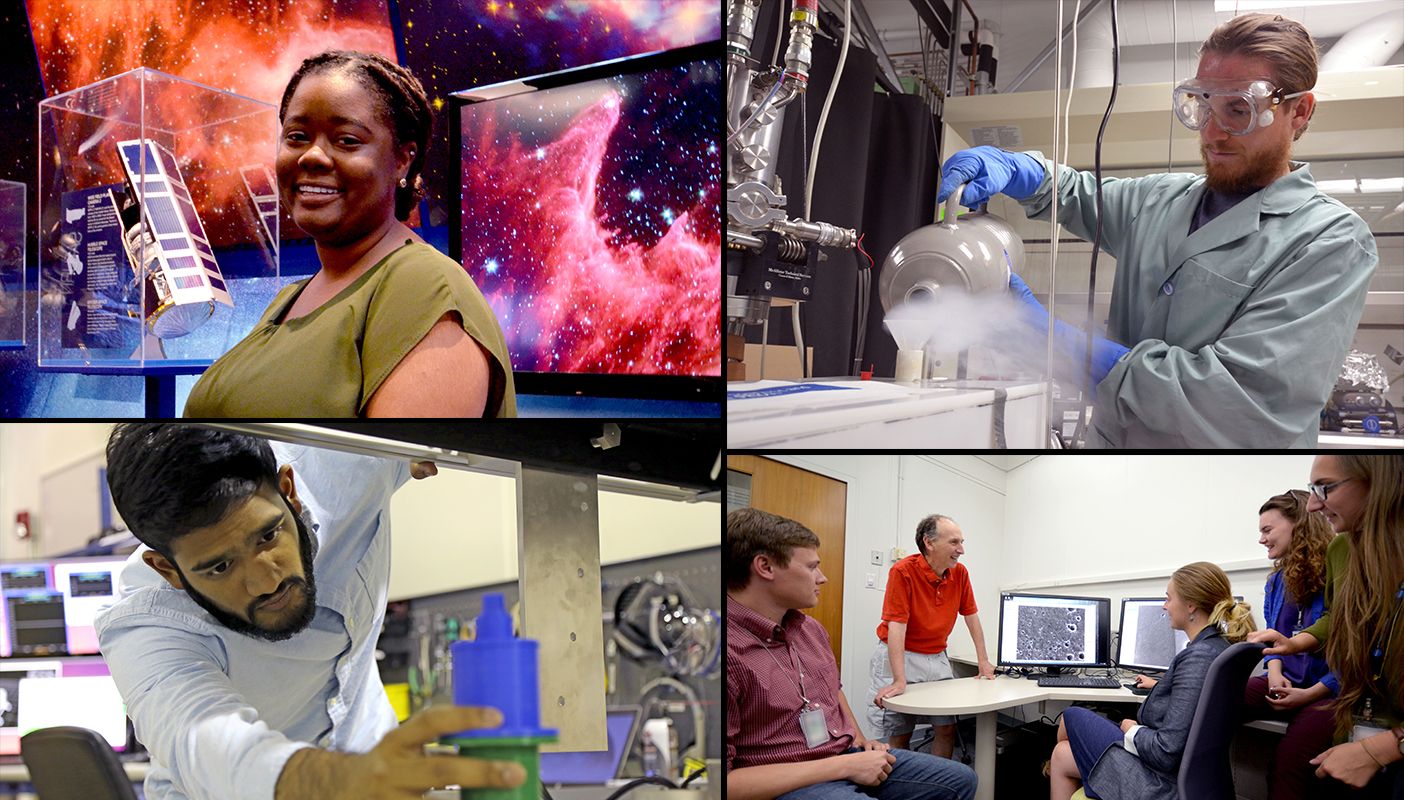 Meet JPL Interns
Read stories from interns pushing the boundaries of space exploration and science at the leading center for robotic exploration of the solar system.
How might understanding aurora help the average person one day?
Auroras are the result of a complicated interaction between the Sun and Earth. This interaction is a fundamental cosmic process that will affect space weather, which in turn will affect our daily life in terms of radiation exposure, satellite and radio communication, power systems, and so on. Studying aurora could help us better understand and forecast space weather.
What's a typical day like for you?
I come in and check my email to see if my mentor has sent me any new data to process. Then I'll get to work on algorithms I think would work as a detection system for identifying the presence of aurora in images. There are a lot of different machine-learning algorithms out there that we can test.
How does the algorithm work?
The algorithm is based on machine learning technology. You create a model with unknown parameters. You then take the data and set it up between training data and testing data. Your training data is a bunch of base images with aurora in them and defined parameters used to detect aurora. Then, you develop the algorithm to look for those parameters in your test data, and it will conclude if there is an aurora or not in each of the test images. Then, you use a validation directory with only true-positives to compare the images in your test data that were identified as having aurora in them to actual aurora images to see how well your algorithm is working. My job is to see what algorithm works the best in identifying aurora in the test images.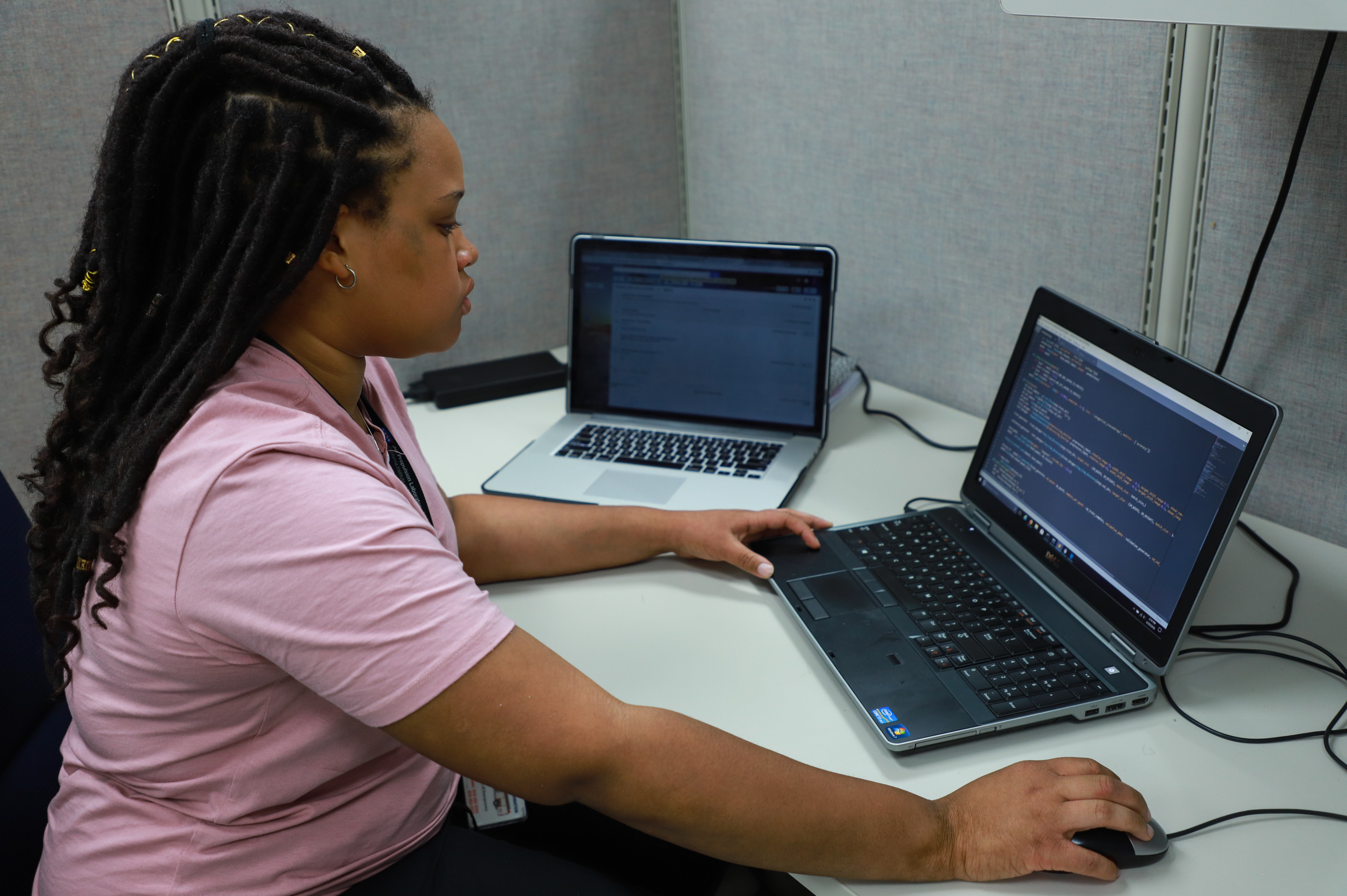 Did you have to do any research or special preparation before you started on the project?
Yes, I had to read a lot, especially about the motivations behind why we're doing this work and how we're going to accomplish our goals. I had to read the technical documentation about different algorithms and different systems that are used to process the images and identify aurora. There's definitely a lot of reading involved every day, and I frequently ask the people I work with questions.
What's the most JPL- or NASA-unique experience you've had so far?
I got to see different hardware and test beds and even mission control where they control the Deep Space Network, [a system of antennas around the world that are used to communicate with spacecraft]. That was really cool.
What about the people here? What's the environment like at JPL?
Everybody is kind of a nerd. Usually when I'm talking about my internship experience to friends back home, I have to edit out things I'd normally say because most of them would find it boring, but here I'm frequently asked what I work on in a genuine way. I know I can always ask anyone anything about their project and for help on my own project. It's a great environment and I'm learning a lot.
How do you feel you're contributing to NASA/JPL missions and science?
Just being able to do this type of work on aurora detection – it has never been done before. Being able to contribute to making data collection and analysis more efficient makes scientists' lives a lot easier and helps us learn more about these phenomena.
If you could travel to any place in space, where would you go and what would you do there?
A black hole, just to see what happens. I'd want to see how destructive it is and how dark it is.
---
Explore JPL's summer and year-round internship programs and apply at: https://www.jpl.nasa.gov/edu/intern
The laboratory's STEM internship and fellowship programs are managed by the JPL Education Office. Extending the NASA Office of Education's reach, JPL Education seeks to create the next generation of scientists, engineers, technologists and space explorers by supporting educators and bringing the excitement of NASA missions and science to learners of all ages.
TAGS: Internships, Interns, College, Students, Opportunities, Science, Careers
---
Update: Sept. 4, 2018 – Ryan Loper was offered and accepted a full-time position with the team he's interned with for the past two summers. He'll start his new role at the laboratory after he graduates in September 2019!
---
During his seven years in the Marine Corps, traveling around the world, Ryan Loper saw how much an education could change a person's life. When his service ended, he enrolled in community college, just to, "take a couple of classes and see," he said – until it ended up changing the course of his life as well. Now a student at Stanford, a two-time JPL intern, and an alumnus of and volunteer for the NASA Community College Aerospace Scholars (NCAS) program, Loper is helping build a test bed for a next-generation space telescope. We caught up with him to find out how he made the transition from military to student life and what he hopes his future at JPL will bring.
What are you working on at JPL?
I'm working on an optical test bed, where we're trying to make a telescope similar to one we would put in space, but a much smaller size.
What's the ultimate goal of the project?
We're preparing for the next-generation space telescope. We want to get to what they call "first light," where you get light to come through the telescope and detect it. Eventually, the team wants to take [the telescope] out and observe a star with it and be able to make measurements.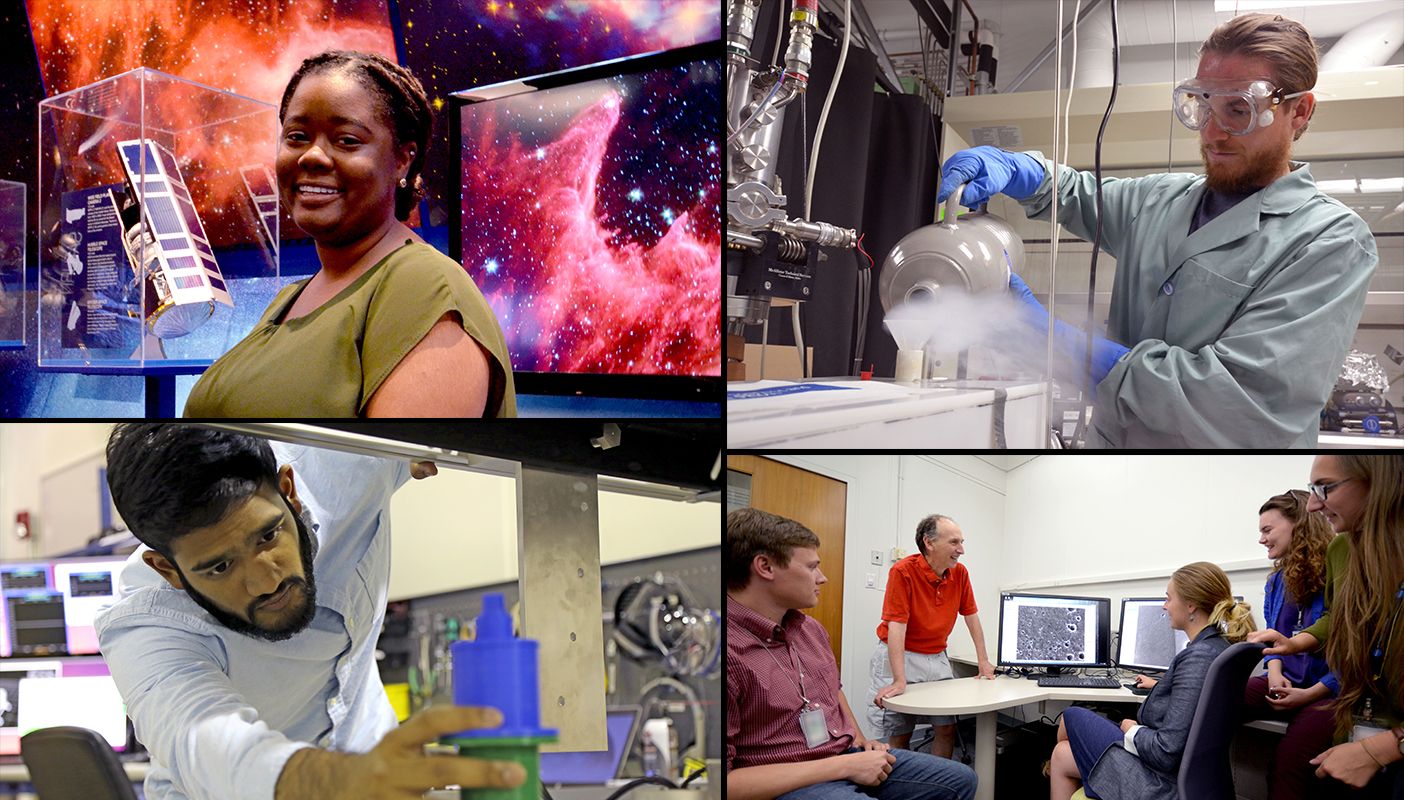 Meet JPL Interns
Read stories from interns pushing the boundaries of space exploration and science at the leading center for robotic exploration of the solar system.
What's a typical day like for you?
They're almost never the same. Just about every day, we have a morning meeting with the principal investigator, the systems engineer for the project and two other interns working on the same project. We talk about where we got yesterday, what our plan is for the day and things we might have to consider going forward. We're producing drawings now on some of the test-bed parts. We're trying to find the right design. Then, as much as I can, I try to get out onto the lab and meet new people and reconnect with some of the people who I met during my internship last year.
You were in the Marines before going to college. Can you tell me a bit about that experience and how it shaped your career path?
Yes. I did very poorly in high school. I didn't have anybody in my family who went to college, and I didn't see the benefit of an education. So two weeks after I graduated, I went to boot camp with the Marine Corps. I spent seven years in the Marines, where I got to travel a lot and go to different parts of the world. I saw how much a lack of an education could hurt an entire group of people. I also saw how a little bit of an education could give someone more opportunities than they ever had. I also happened to have really good mentors while I was in the Marines who pushed me to learn more than what was required. It instilled this hunger for knowledge that's really helped me be successful as a student and ultimately lead to me being able to start at community college and transfer to Stanford to finish my undergraduate degree. It's also what makes me really enjoy JPL, because it's that same type of mentality here. There are a lot of really cool things going on here, but it's not like we just sit back and watch the cool stuff happen. We're doing the stuff no one has done before, and we're continuing to learn and iterate.
It's often challenging for veterans to take that next step after they return from their service. What challenges did you face and how did you overcome them?
It's really difficult when you're first leaving the service because you've been surrounded by a lot of like-minded people in the sense that you have a mission and you're executing that mission to the best of your team's ability. I didn't struggle with this because I happened to go to a community college that had a great veteran population, but some friends of mine who went to different schools felt like there wasn't that camaraderie. I think that's the biggest thing that hinders us when we come out. We're used to that sense of camaraderie and then we go to a place where that's not there, and it leaves you feeling alone.
Some of the situations that you face and see while you're deployed in the military are not what the normal 18-,19-, 20-year-old sees, so it makes it hard to talk to others. I had a lot of trouble with that. I was very antisocial when I first came out of the service, so I did a lot of counseling through [Veterans Affairs]. My wife has been a huge help and has been very patient with me working through it. [It was also helpful] having a good group of friends who are veterans, who I got together and studied with. I think the biggest thing you can do is try to find other veterans or just people you can have in your corner because it does get difficult.
Did you pick the community college you went to because it had a large veteran population?
No. When I first got out, I wasn't sure I was going to go to college. I figured I would take one or two classes [at a community college] and see how it went. My wife went to get information and sign me up and told me there's this whole veterans resource center and that I should go meet this guy Jordan. The first time I went, I was just super uncomfortable. I was there for five or 10 minutes, and I left. I think I made it halfway through the semester and the classes started to get really difficult. So, I finally went back and met Jordan and the community there and right away got involved. I ended up becoming the vice president of our student veterans organization during my time there. But I didn't choose the school because they have a good veteran population. The location and timing just worked out really well.
What made you decide that you wanted to study STEM?
Growing up, I always got in trouble for tinkering. I grew up on a tiny farm. We didn't have any money, but we always had broken stuff lying around. So I would take stuff apart and try to put it together with other things. And then I've always been interested in space and military aircraft. I worked on military aircraft for part of my career. I've just always had that desire to poke my head into things and figure out how they work and take things apart. So STEM kind of seemed like the right thing to get into. It gives me an ability to dig into math and physics, which I enjoy, but also poke around with the creative side of things.
When you started at community college and took those first couple courses, were they STEM-related?
Since I'd been out of school for so long, I had to take a test to see where I would start. I started in trigonometry, which is low on the totem pole for engineering majors, but I had an amazing trig professor, Professor Marquez. He walked into this trig-prep class and said, "Don't think of trig as a subject you have to learn in math, think of it as a superpower." He taught us to think, not to repeat. So later on, it made other classes much easier.
This is your second internship at JPL, and before that, you were here as part of the NASA Community College Aerospace Scholars, or NCAS, workshop. Can you talk a little bit about that and why you've continued to come back to JPL?
I have a friend, Dave, who's also here [as an intern]. He was at the community college I went to. He told me how he was coming to JPL for this program called NCAS. I went online and signed up for it. I did the online class and got invited to come to JPL [for the NCAS onsite workshop]. During the workshop, I fell in love with everything that we got exposed to: the missions that NASA was doing and what JPL was working on. We had guest speakers come in and interns talk about their experiences at JPL. It wasn't necessarily that I thought, that's the job I want to do. It was, those are the people who I want to work with.
After that program, I stayed in contact with my mentor, Otto Polanco. He offered me an opportunity to come to JPL that following summer. I thought, I'll probably go there to do all the stuff that he doesn't want to do, like Excel sheets and trade studies. But then, I showed up, and I was basically handed the keys to the Ferrari and told to go drive. It was the first time with a work experience, especially an internship, where I came in and it was like, "Here's an engineering problem, go figure it out." I loved it.
I was also invited that summer to be a student aid for NCAS at JPL, so I got to be behind the scenes and see all of the work that the JPL Education Office puts into the program. They do a fantastic job and it makes it that much more special for all the students.
What's been the most unique JPL or NASA experience you've had during your time here?
The most unique is being surrounded by people whose work you're reading [in school] and who are guiding what industry is doing – but they're approachable. Like yesterday, I sat with Adam Steltzner, who lead the entry, descent and landing for the Mars rover Curiosity. I had read his book, and last summer, I ran into him and briefly introduced myself and asked if he wanted to meet. He met me for coffee, and then he met me again this year and we got to catch up.
For me, a big thing that I'm considering is the work-life balance because I have a wife and two children. At JPL, you have that opportunity to do really amazing things and work with amazing people and get to be a husband and a father. And you don't have to sacrifice that to do something amazing. That's been unique to me – to find a place that has the culture fit that I've been looking for.
How do you feel you're contributing overall to NASA/JPL missions and science?
Hopefully, the project that I'm working on will help ensure success for the next space-based telescope. I feel as though I get to be part of the future, the next generation of space explorers and what we're going to find out there.
What's your ultimate career goal?
To be an NCAS mentor. That would mean I'd have to be a full-time JPL employee in a position where I'd be able to dedicate some of my time to support the next group of NCAS students, who are going to become interns and then come to JPL full time.
Last question: If you could go anywhere in space, where would you go and what would you do there?
Ooh, if I could go anywhere in space? I would want to go to the farthest point in space from Earth and look back to realize how insignificant it is and how much I take for granted.
---
Explore JPL's summer and year-round internship programs and apply at: https://www.jpl.nasa.gov/edu/intern
The laboratory's STEM internship and fellowship programs are managed by the JPL Education Office. Extending the NASA Office of Education's reach, JPL Education seeks to create the next generation of scientists, engineers, technologists and space explorers by supporting educators and bringing the excitement of NASA missions and science to learners of all ages.
---
When the new crop of summer interns started showing up at NASA's Jet Propulsion Laboratory in Pasadena, California, this past June, they joined the more than 2,000-plus students placed across NASA's 10 field centers, instantly becoming part of the NASA family.
"They may not be together geographically, but these interns are getting this unique experience all over the country," said Katherine Brown, public affairs officer for education at NASA Headquarters.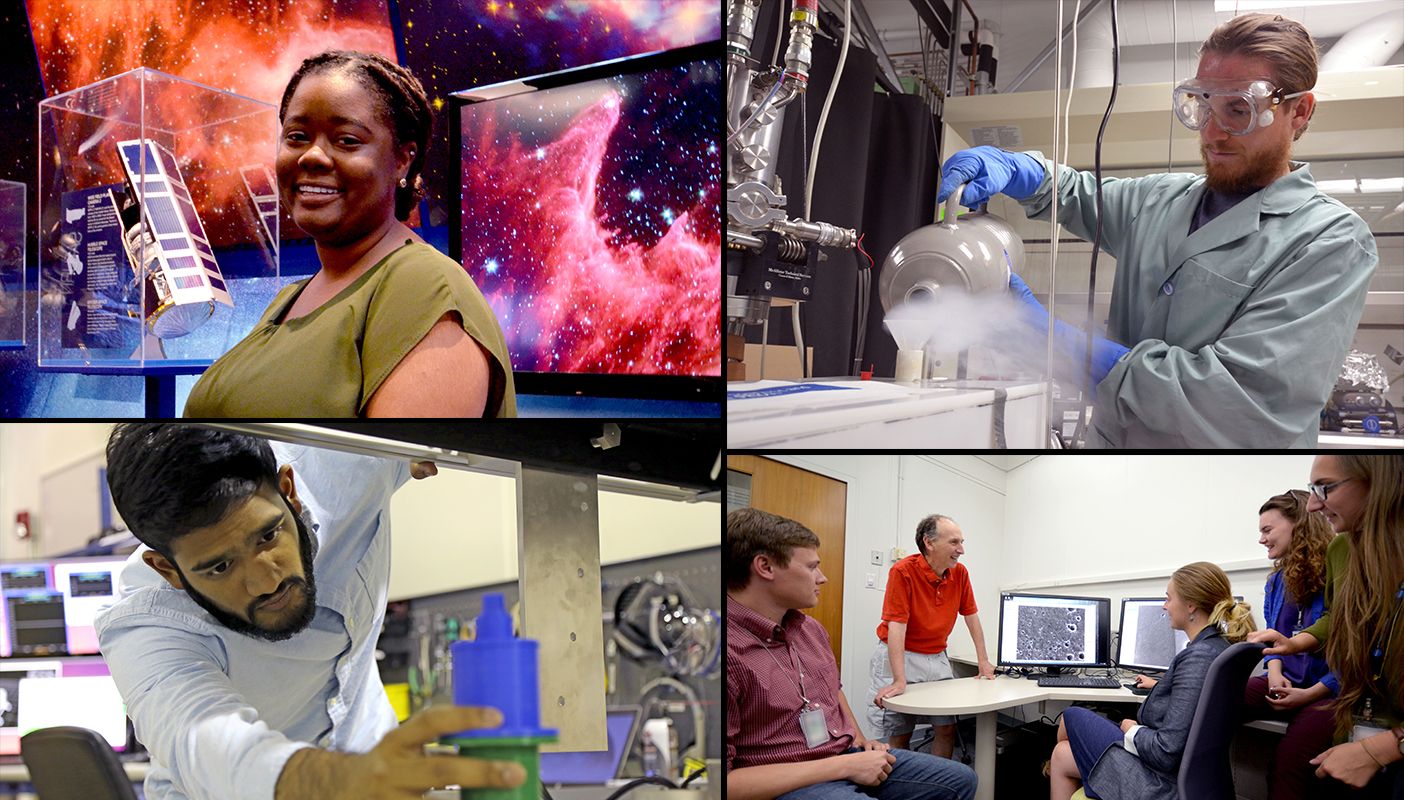 Meet JPL Interns
Read stories from interns pushing the boundaries of space exploration and science at the leading center for robotic exploration of the solar system.
But between the challenging workloads, exciting education opportunities and inspiring culture at JPL, interns who come to the laboratory often see only one piece of the NASA puzzle. Intern and University of Colorado Boulder astrophysics student Maya Yanez has spent the past two summers at JPL – one working on describing potential radical chemistry on Kuiper Belt objects, and one helping to identify potential landing sites on Jupiter's moon Europa.
"You get the chance to be a little sprocket in this massive machine of making things happen at JPL, but then you can kind of lose sight of the fact that JPL is one component of NASA, and there are hundreds of interns at other centers doing comparable things," Yanez said.
This year, NASA Headquarters' internship and communications coordinator Christine Linsinbigler saw opportunities to bring the centers together. She organized an agency-wide live feed of NASA Administrator Jim Bridenstine's intern town hall at Goddard Space Flight Center on July 26, and an ISS downlink Q&A – where interns got to pre-record questions for astronauts to answer live from the space station – on July 30.
"With National Intern Day on July 26, we were able to roll the events into one big intern week," Linsinbigler said.
Answers from the Administrator
This was the first year a NASA administrator conducted a NASA-wide town hall, where interns from all of the centers could submit questions in short videos. Yanez was selected to live-tweet Bridenstine's responses from the JPL Education Office's @NASAJPL_Edu handle so students, JPLers and members of the public could see some of the responses.
"The administrators' town hall was really important because, for the first time, I had an opportunity as an undergrad to ask about our future and the future of space funding," said Yanez, who also hopes to one day run for office. "This is a person who has power over our future. I think it's important to keep that communication between science and politics."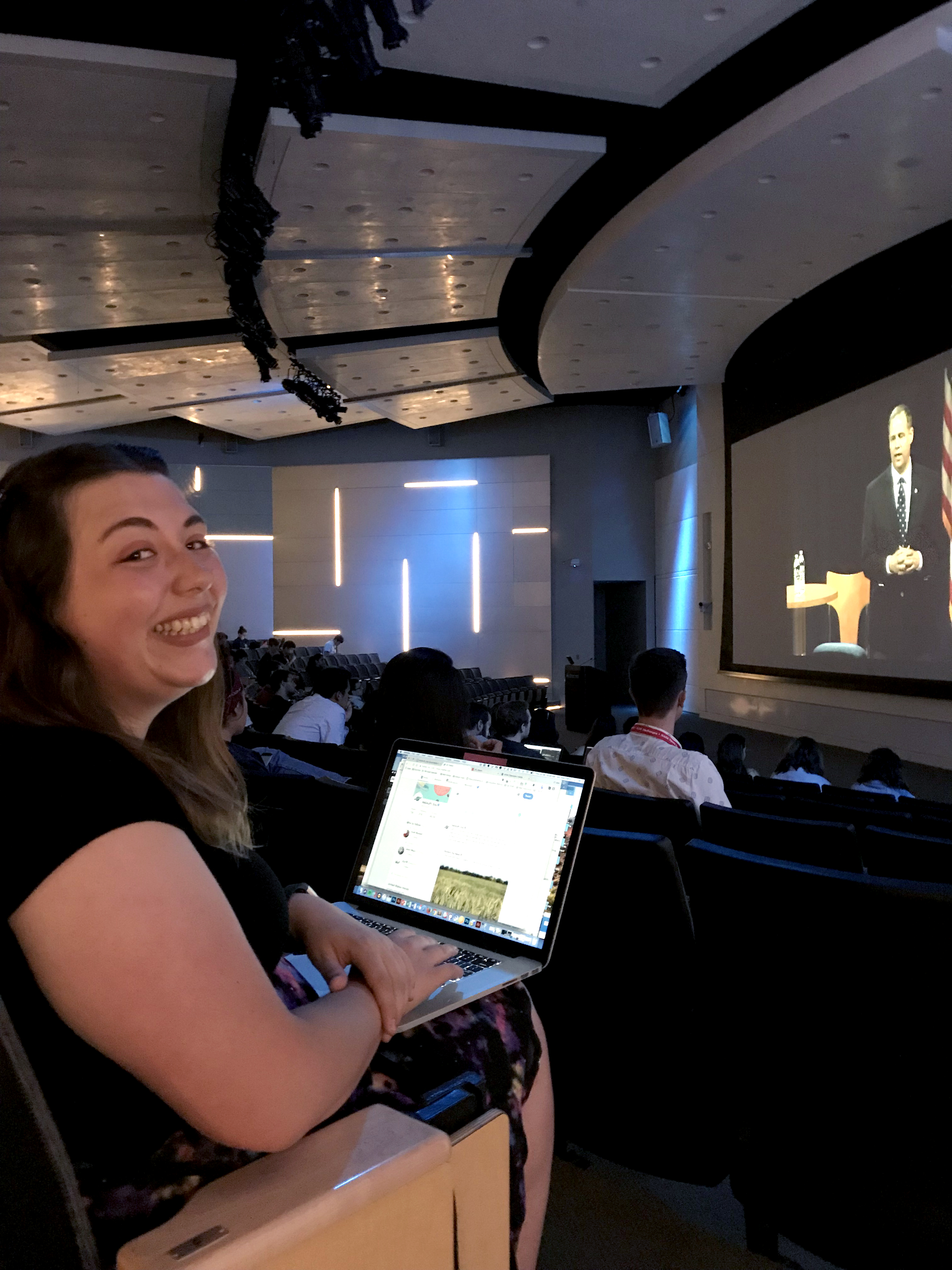 Yanez was also appreciative of the administrator's openness to discuss inclusion and diversity in the field, and how NASA plans to maintain its current programs.
"I'm half Mexican, a female in STEM, a first-generation college student, and low income, so I check off a lot of those representative boxes," Yanez said. "It was nice that he spent as much time on that question as he did. He talked about how it mattered to him and how it should matter to all of us."
At NASA Headquarters, inclusion and diversity within NASA starts with the intern program, which saw its largest and most diverse applicant pool of interns this summer. Brown said it followed a concerted effort of making the public aware that an internship at JPL, Langley or Johnson is more than just for STEM students – there are opportunities in communications, human resources, education and other fields that are all relevant to how the agency runs.
"We've showcased interns on our social media, we held a Reddit 'Ask Me Anything' Q&A with Johnson Space Center Flight Director Allison Bollinger, and we're hoping that including more events like the administrator town hall and ISS downlink will continue to attract a diverse group to NASA," Brown said.
Questions to Space
When JPL intern Zachary Luppen heard about the ISS downlink – and that he would have a chance to ask an astronaut a question – he already had pages of questions lined up.
"I had always wanted to ask an astronaut something, but I didn't know how to go about doing it," said Luppen, who is entering his senior year as an astronomy physics major at the University of Iowa. "I really want to go into space, and here I suddenly have this opportunity to throw a question at an astronaut and get it answered."
The pre-recorded video questions from interns across NASA centers were played during the ISS downlink on July 30, and JPL interns gathered to hear astronaut Ricky Arnold's responses. Luppen asked Arnold if there were any specific pointers he could give NASA interns who want to be astronauts themselves, and go to the ISS, the Moon or even Mars.
"The temptation is to specialize early, and it's great to find your passion and pursue it, but don't lose sight of the bigger picture," Arnold said. "NASA is looking for people with very diverse backgrounds, who have done a lot of different things in different environments with different people."
Luppen said the ISS downlink was special, as it was one of many "bucket list" items he was able to check off during his summer at JPL, but the work he conducted at the laboratory was more important to his future. Over his 10 weeks at JPL, Luppen worked on test procedures for the dual-frequency radar instrument (REASON) slated to ride aboard NASA's Europa Clipper spacecraft. That allowed him to connect with a group of employees who are really doing what he wants to do.
"At Iowa, we're building parts of the Europa [Clipper mission] there too, but we're not working on spacecraft to the degree that JPL is," Luppen said. "I'm here with like-minded people, fantastic scientists and engineers who are working on these projects, and it's just great to finally be at a center where it's so productive. It's almost like chaos, but it's so cool. I mean, how many missions did we have launch this summer? So, it's just like, we're so busy, and I'm getting to be a part of it this summer."
Intern Christopher Jia-Kuan Yen, a senior geology-chemistry student at Brown University, spent his summer working with Deputy Project Scientist Abigail Fraeman on remote sensing and imaging instruments aboard the Mars Reconnaissance Orbiter. As for the question he asked of astronaut Ricky Arnold, it was – of course – imagery based.
"I wanted to know, based on what he's seen from the windows of the ISS, where he would most like to visit on Earth," Yen said.
Arnold responded that the list seems to get longer every day he's on the station, but the mountains of Peru, Chile and Argentina have caught his eye. "I guess I'll have to head down there and check it out someday," Yen said with a smile. In retrospect, Yen viewed the ISS Downlink as one more example of how special interning at JPL can be.
"There are just so many things going on here," he said. "Between the work you're doing, the lectures – I mean, we had the Mars helicopter team present to us – and the events like the ISS Downlink, I don't think you're getting opportunities like those at your university internship."
This summer, 400 JPL employees participated as mentors, providing guidance to the 700 interns working in various fields across the laboratory.
To learn more about this year's interns, visit:
---
Explore JPL's summer and year-round internship programs and apply at: https://www.jpl.nasa.gov/edu/intern
The laboratory's STEM internship and fellowship programs are managed by the JPL Education Office. Extending the NASA Office of Education's reach, JPL Education seeks to create the next generation of scientists, engineers, technologists and space explorers by supporting educators and bringing the excitement of NASA missions and science to learners of all ages.
TAGS: Interns, Internships, Student Programs, STEM, STEM Education, College Students