---
NASA's Scientist for a Day Essay Contest is back for its 15th year, inviting students in grades 5 through 12 to investigate three distant worlds and write an essay about one they would want to explore further.
The worlds chosen for this year's contest are some of the most mysterious and distant in our solar system: Uranus' moon Miranda, Neptune's moon Triton and Pluto's moon Charon. Each has been visited by spacecraft during a single, brief flyby. NASA's Voyager 2 spacecraft flew by Miranda and Triton in the 1980s, and the New Horizons spacecraft flew by Charon in 2015. All three flybys provided the only up-close – and stunning – images we have of these worlds.
To enter the contest, which is hosted in the U.S. and more than a dozen countries, students must submit an essay of up to 500 words explaining why they would want to send a spacecraft to explore the world of their choosing. Essays can also be submitted by teams of up to four students.
Winning essays will be chosen for each topic and grade group (5 to 6, 7 to 8 and 9 to 12) and featured on the NASA Solar System Exploration website. Additionally, U.S. contest winners and their classes will have the chance to participate in a video conference or teleconference with NASA.
Entries for the U.S. contest are due Feb. 20, 2020, on the NASA Scientist for a Day website. (Deadlines for the international contests may vary by host country.) Visit the website for more information, including rules, international contest details and past winners.
For teachers interested in using the contest as a classroom assignment, learn more here. Plus, explore these standards-aligned lessons and activities to get students engaged in space travel and planetary science:
TAGS: K-12 Education, Teachers, Educators, Students, Contests, Competitions, Essay, Language Arts, Science, Planets, Solar System, Moons
---
They've been called the minutes of terror – the moments during which spacecraft perform a series of seemingly impossible maneuvers to get from the top of Mars' atmosphere down to its surface and mission controllers anxiously await the signal heralding a successful landing. This past summer, it was intern Samalis Santini De Leon's task to make sure that when NASA's next Mars rover lands in February 2021, those minutes are as terror-free as possible. That meant bringing her Ph.D. research on the process known as entry, descent and landing, or EDL, to NASA's Jet Propulsion Laboratory, where she could apply it to a real space mission. The Puerto Rico native says she never imagined she would one day play a key role in landing a spacecraft on the Red Planet – especially as an intern. But now that she's worked on the Mars 2020 mission, she'll be just as anxious as the rest of the team when those final minutes arrive. We caught up with the Texas A&M University student to find out how you test a Mars landing while on Earth and how she set herself on a trajectory to NASA.
What are you working on at JPL?
I'm working on Mars 2020 entry, descent and landing simulations. I'm evaluating different scenarios, such as a hardware failure, and I'm trying to assess whether the mission will still land safely on Mars. I'm making sure that the system is robust enough that even if something goes wrong, the mission is not in danger and can still land safely. After all that work, we want the rover to land in one piece and do the science we want to do.
What does entry, descent and landing entail?
It's a series of events and maneuvers required to land safely on a planet. So once you enter the atmosphere, there are things you have to do – steps to ensure that the vehicle lands safely.
What's different about this landing from the one used for NASA's Curiosity Mars rover?
One difference is that we have a new trigger for deploying the spacecraft's parachute. This trigger will help reduce the landing footprint size, meaning we can land closer to the intended landing spot. The mission will also be using Terrain Relative Navigation for the first time. The rover will take images of the surface as it's descending and compare them to its onboard reference maps so it can locate itself with respect to the landing site and avoid any hazards.
What's your average day like?
It's mostly gathering all the concerns from other people on the entry, descent and landing team. Then I run simulations, and I look at the overall behavior of the system and communicate with the teams about what's happening. For example, if there was a hardware concern, I would do simulations to analyze the system's performance and ensure there's no significant effect on the success of the mission.
On the side, I'm doing my Ph.D. work in entry, descent and landing, using artificial intelligence to help analyze very large simulations and communicate critical issues to the experts. As humans, there is only so much we can analyze manually. We hope that these tools can help engineers for future missions.
What lead you to focus on entry, descent and landing for your Ph.D.?
I have no idea. [Laughs.] I did my undergraduate work in mechanical engineering back in Puerto Rico, where I'm from. I volunteered on a project run by Space Grant, building experiments that involved launching sounding rockets from NASA's Wallops Flight Facility. I started to get into space at that time. After that, I tried to pursue aerospace engineering, which is not a possibility in Puerto Rico. So I left Puerto Rico, and I ended up initially working with satellites. Then my advisor said, "I have a friend in EDL, and he's talked about the challenges. Why don't we write a proposal on this?" I got a NASA Science and Technology Research Fellowship for that, and now I'm doing EDL. I was always secretly leaning towards space exploration and getting my hands on a mission.
What made you want to study mechanical engineering initially?
I think it was the closest I could get to aerospace engineering back home. Also, space is very interdisciplinary. I always liked robots. Building robots in high school for competitions got me very interested in that.
What brought you to JPL for this internship?
This is my first summer at JPL. With my fellowship, I do rotations at the NASA centers, so I work with people who do similar stuff.
How many different NASA centers have you interned at now?
I've interned at three. I did two summers at NASA's Ames Research Center, last summer at Langley Research Center, now here at JPL. And in my Space Grant project and undergrad, I did frequent visits to Wallops to put our experiments in the rockets, so that was very cool.
That was all part of the buildup to get here. Coming from an island, it seemed not even possible at the time [that I would ever be at NASA].
What were the challenges that you faced coming from Puerto Rico and trying to pursue aerospace engineering?
The options for aerospace engineering in Puerto Rico are limited. But getting into the Space Grant program was a very good thing to expose me to those fields. After that, the hard part was trying to find a place to do my graduate studies outside of Puerto Rico – where to go, how to get in. There's not a lot of orientation back in Puerto Rico about these things, so you're a little bit on your own. After that, the big problem is dealing with grad school. [Laughs.]
What's your ultimate career goal? Do you think you'd like to go back to Puerto Rico someday?
I would definitely like to continue working on space missions for a while. Whether it's here at JPL or other NASA centers. Just the exposure and the experience – nothing can compare to that. But at some point later on, I would like to go back and consider teaching at the University of Puerto Rico to bring back what I've learned. They're trying to make an aerospace department at the university, so I could bring new perspectives and maybe motivate more people to do what I'm doing.
Maybe I'm biased now that I'm in EDL, but it's one of the biggest challenges. I think getting enough knowledge and expertise in it and playing a role in landing people on the Moon or on Mars would be incredible, because it's a problem we still haven't found a solution to. Being able to help achieve that by whatever means is probably the most amazing thing I could ever do.
What do you hope to accomplish in your role on the Mars 2020 mission?
I definitely want to demonstrate that they've built an amazing system – that it works. I guess the goals are more personal, like getting exposure to the testing side of things, more of the real-life aspects. I'm more locked on the computer simulations. So I'm hoping to get the whole picture of how EDL works and how it all comes together.
Your mentor is Allen Chen, who is the lead for Mars 2020 entry, descent and landing, so he'll be calling the shots on landing day. What is it like having him as a mentor?
It's amazing. I feel very lucky and very proud that I get to work directly with him. He's someone who has so much expertise. I am learning a lot from him. Just sitting in meetings and hearing what he and the team have to say is amazing. He's great, too – easy to talk to, knows way too much about EDL. [Laughs.]
What's been the most unique experience that you've had at JPL this summer?
What I've found the most shocking is seeing the actual rover that's going to Mars and seeing the rover getting built. That has definitely been quite cool. I think JPL is known for stuff like this. It's here that you can see it and you can see the progress. It also seems like a very collaborative environment. That's not common, so that's really cool.
The rover is scheduled to land in February 2021, after your internship has ended. Will you be able to come back to JPL for landing?
It is possible. My mentor [for my Ph.D.] will definitely be here when the rover arrives on Mars. He'll actually spend two months here doing shifts in mission control. He told me he will try to have me here for that to learn about how it all works. I will definitely try to make that happen. The excitement in that room and the fear will collide. It must be very interesting to be in there.
Are you already picturing what it will be like on landing day?
Yeah. Now that I've had some role in it, wherever I am – whether it's here or at home – I'm going to be freaking out. Regardless of how confident we are, it's a challenging process.
---
Explore JPL's summer and year-round internship programs and apply at: jpl.nasa.gov/intern
Career opportunities in STEM and beyond can be found at: jpl.jobs
The laboratory's STEM internship and fellowship programs are managed by the JPL Education Office. Extending the NASA Office of STEM Engagement's reach, JPL Education seeks to create the next generation of scientists, engineers, technologists and space explorers by supporting educators and bringing the excitement of NASA missions and science to learners of all ages.
TAGS: Higher Education, Internships, STEM, Engineering, Interns, College, Robotics, Mars, Rover, Mars 2020, Ph.D., Doctorate, Space Grant, Students, Mars 2020 Interns
---
There's no joystick for driving rovers on Mars. Instead, a team of scientists and engineers gathers every day to plan each move and then beams a series of instructions to the rover's computerized brain, like interplanetary telepathy. As the only tether between the rover and the mission team on Earth, the onboard computer needs to run flawlessly. So before the rover even leaves Earth, its brain is put to the test. That's where Miles Fertel came in this past summer. As an intern with the rover simulation and planning team at NASA's Jet Propulsion Laboratory, Fertel was tasked with writing a program that tests how well the agency's next Mars rover interprets the instructions it receives. The trick, he said, was outsmarting not the rover but the humans who programmed it. We caught up with the Harvard University computer science student to learn more about his internship with the Mars 2020 team and to hear what he considered the most unique experience of his summer at JPL.
What are you working on at JPL?
I'm working on software for the Mars 2020 rover – so the code and tools that allow the rover to function on Mars. My team is rover simulation and planning. The rover planners are the people who take in all the information from the scientists and the rover and write commands to send to the rover through the Deep Space Network, which is basically the internet for space. As the simulation team, we make sure that the commands that we're going to send are going to be effective and that they're going to be safe so that this rover we send to Mars after all this painstaking work isn't going to get stuck in a hole or break because of a wrong command.
What is your average day like on your project?
I work on creating tests that humans couldn't come up with. The average testing for software is you write tests to make sure that the code isn't going to fail when you add in certain instructions. But humans – specifically the humans who write the tests – tend to be the same people who write the code. They're not going to be able to come up with as good of a test, because if they knew what was going to break, they wouldn't have written the bug in the first place.
What I do is use a couple of testing frameworks that use generational input adjustments. They develop in an evolutionary way, starting from a simple input that I put in. So, say we're working on commands for the rover. We can start with, "Go forward," and then the system will modify the instructions based on a dictionary of information I provide. So I say, "These are words that might make sense to the rover. Try coming up with combinations of these that might result in behavior that we haven't seen before." If that behavior is defined, then everything's fine, but if it's going to cause a problem, then it's important that we know that so we can update the code.
What are you studying in school, and what got you interested in that field?
I study computer science at Harvard. I hadn't done any programming before coming to college. I thought I wanted to do something in the area of technology and possibly business, but I didn't really know. So I took the intro to computer science class, and I really loved it. I loved the challenge of feeling like my homework was a puzzle and not a chore. That drew me to it, and I started taking all the classes that I could in that realm.
What is your ultimate career goal?
I don't think anyone should have an ultimate career goal. I think careers should be a fluid thing and that people should build up skills that allow them to do the things that are most interesting to them. Right now, my goal is making sure that the Mars 2020 rover lands on Mars and everything goes swimmingly when it gets there. But, ultimately, I want to work on cool things with interesting people.
How do you feel that you're contributing to Mars 2020 and making the mission a success?
When I came here, my main goal was having a tangible impact on the project. I wanted something where every minute I spent working would be important to meeting the goal of the project. I find bugs every day, and I fix them, and that's great. Hopefully, before the summer's over, I will have a patch that I can write for the software that will end up on the rover.
What brought you to JPL for this internship?
I had a friend who interned here two years ago, and he recommended it really highly, saying he had a terrific time and his team members were great. I applied online, but when you apply, it's a general application and you could be picked for any project based on your set of skills.
I knew that I wanted to work on Mars 2020, so I went on the JPL website, and I researched teams and people working on robotic software for the mission. I emailed Jeng Yen, my group supervisor. I said, "Here's my resume. This is what I'm interested in. Are there any projects that I could work on?" He said, "One of my team members, Steven Myint, is working on something that fits your profile pretty well. You should talk to him." So I talked to him, and the rest is history.
That's great. That's something we recommend students do if there's a particular project or area of research they're interested in. What is the most unique JPL or NASA experience that you've had while you've been here?
Oh, easy. One of my team members, Trevor Reed, is a rover planner for Curiosity. Every morning the team has a tactical meeting in which they go over the schedule for the day for the rover, and they give instructions to the rover planners who will write the commands that tell the rover what to do. When I found out that one of my teammates drives the Curiosity rover, I was like, "Can I please, please shadow you for that process?"
So I showed up at 8 o'clock in the morning in the Curiosity rover tactical office, or conference room, and there's the head scientist, Ashwin Vasavada, who I'd read about in articles. I watched them send the actual commands to the rover. I learned all about the planning and tolerances that are involved in the simulations that we do. I got to see the software that I'm working on in action, because it's also used for Curiosity. It was a pretty amazing experience to sit there for a couple of hours and watch them go through the entire process of a day on Mars.
Now for a fun question: If you could play any role in NASA's plans to send humans back to the Moon or on to Mars, what would you want to do?
Every kid wants to be an astronaut, right? I mean, if you're offering … As much as I would love to be an astronaut, my interests in the short term are contributing to and building projects that I think are important. So for those future missions, I think I would want to have more input on the design, the structure and the planning, overall. So maybe I would want to be a systems engineer or even work on the design.
---
Explore JPL's summer and year-round internship programs and apply at: https://www.jpl.nasa.gov/edu/intern
The laboratory's STEM internship and fellowship programs are managed by the JPL Education Office. Extending the NASA Office of STEM Engagement's reach, JPL Education seeks to create the next generation of scientists, engineers, technologists and space explorers by supporting educators and bringing the excitement of NASA missions and science to learners of all ages.
TAGS: Higher Education, Internships, STEM, Engineering, Interns, College, Robotics, Mars, Rover, Mars 2020, Software, Computer Science, Programming, Coding
---
In the News
It only happens about 13 times a century and won't happen again until 2032, so don't miss the transit of Mercury on Monday, Nov. 11! A transit happens when a planet crosses in front of a star. From our perspective on Earth, we only ever see two planets transit the Sun: Mercury and Venus. This is because these are the only planets between us and the Sun. (Transits of Venus are especially rare. The next one won't happen until 2117.) During the upcoming transit of Mercury, viewers around Earth (using the proper safety equipment) will be able to see a tiny dark spot moving slowly across the disk of the Sun.
Read on to learn how transits contributed to past scientific discoveries and for a look at how scientists use them today. Plus, find resources for engaging students in this rare celestial event!
Why It's Important
Then and Now
In the early 1600s, Johannes Kepler discovered that both Mercury and Venus would transit the Sun in 1631. It was fortunate timing: The telescope had been invented just 23 years earlier, and the transits of both planets wouldn't happen in the same year again until 13425. Kepler didn't survive to see the transits, but French astronomer Pierre Gassendi became the first person to see the transit of Mercury. Poor weather kept other astronomers in Europe from seeing it. (Gassendi attempted to view the transit of Venus the following month, but inaccurate astronomical data led him to mistakenly believe it would be visible from his location.) It was soon understood that transits could be used as an opportunity to measure apparent diameter – how large a planet appears from Earth – with great accuracy.
After observing the transit of Mercury in 1677, Edmond Halley predicted that transits could be used to accurately measure the distance between the Sun and Earth, which wasn't known at the time. This could be done by having observers at distant points on Earth look at the variation in a planet's apparent position against the disk of the Sun – a phenomenon known as parallax shift. This phenomenon is what makes nearby objects appear to shift more than distant objects when you look out the window of a car, for example.
Today, radar is used to measure the distance between Earth and the Sun with greater precision than transit observations. But the transits of Mercury and Venus still provide scientists with opportunities for scientific investigation in two important areas: exospheres and exoplanets.
Exosphere Science
Some objects, like the Moon and Mercury, were originally thought to have no atmosphere. But scientists have discovered that these bodies are actually surrounded by an ultrathin atmosphere of gases called an exosphere. Scientists want to better understand the composition and density of the gases in Mercury's exosphere, and transits make that possible.
"When Mercury is in front of the Sun, we can study the exosphere close to the planet," said NASA scientist Rosemary Killen. "Sodium in the exosphere absorbs and re-emits a yellow-orange color from sunlight, and by measuring that absorption, we can learn about the density of gas there."
Exoplanet Discoveries
When Mercury transits the Sun, it causes a slight dip in the Sun's brightness as it blocks a tiny portion of the Sun's light. Scientists discovered they could use that phenomenon to search for planets orbiting distant stars. These planets, called exoplanets, are otherwise obscured from view by the light of their star. When measuring the brightness of far-off stars, a slight recurring dip in the light curve (a graph of light intensity) could indicate an exoplanet orbiting and transiting its star. NASA's Kepler space telescope found more than 2,700 exoplanets by looking for this telltale drop in brightness. NASA's TESS mission is surveying 200,000 of the brightest stars near our solar system and is expected to potentially discover more than 10,000 transiting exoplanets.
Additionally, scientists have been exploring the atmospheres of exoplanets. Similarly to how we study Mercury's exosphere, scientists can observe the spectra – a measure of light intensity and wavelength – that passes through an exoplanet's atmosphere. As a result, they're beginning to understand the evolution and composition of exoplanet atmospheres, as well as the influence of stellar wind and magnetic fields.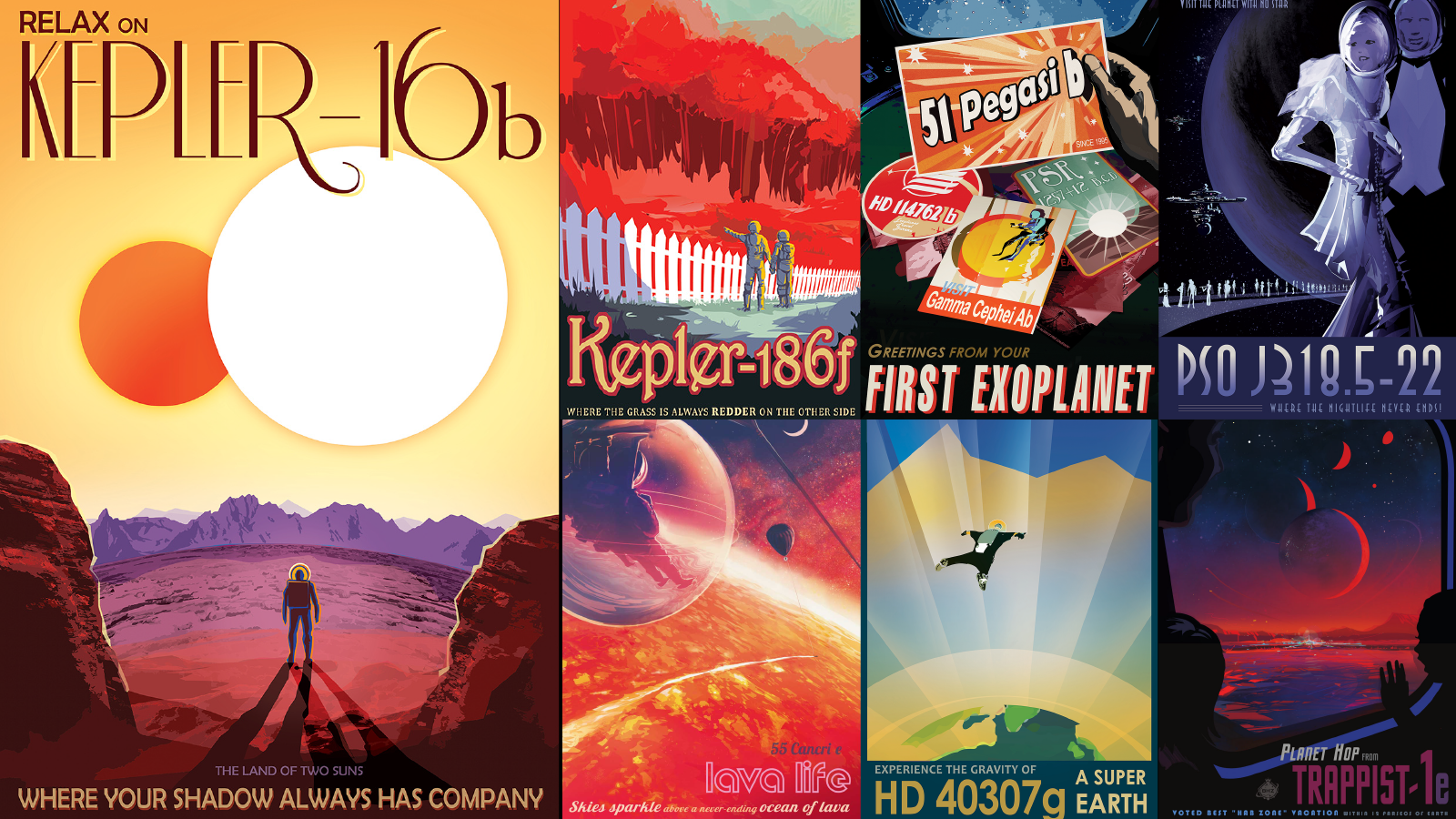 Watch It
During the transit of Mercury, the planet will appear as a tiny dot on the Sun's surface. To see it, you'll need a telescope or binoculars outfitted with a special solar filter.
WARNING! Looking at the Sun directly or through a telescope without proper protection can lead to serious and permanent vision damage. Do not look directly at the Sun without a certified solar filter.
The transit of Mercury will be partly or fully visible across much of the globe. However, it won't be visible from Australia or most of Asia and Alaska.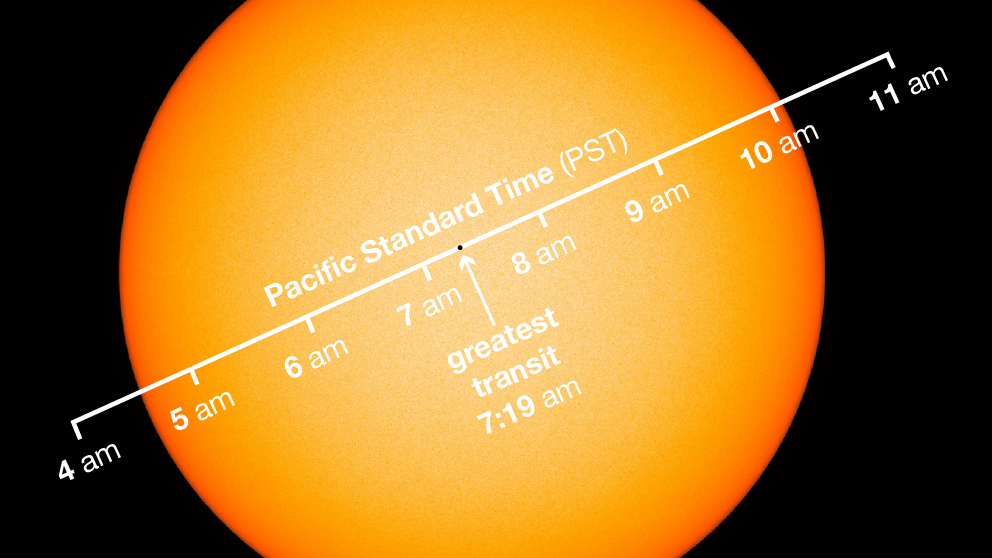 Mercury's trek across the Sun begins at 4:35 a.m. PST (7:35 a.m. EST), meaning viewers on the East Coast of the U.S. can experience the entire event, as the Sun will have already risen before the transit begins. By the time the Sun rises on the West Coast, Mercury will have been transiting the Sun for nearly two hours. Fortunately, the planet will take almost 5.5 hours to completely cross the face of the Sun, so there will be plenty of time for West Coast viewers to witness this event. See the transit map below to learn when and where the transit will be visible.
Don't have access to a telescope or binoculars with a solar filter? Visit the Night Sky Network website to find events near you where amateur astronomers will have viewing opportunities available.
During the transit, NASA will share near-real-time images of the Sun directly from the Solar Dynamics Observatory. Beginning at 4:41 a.m. PST (7:41 a.m. EST) you can see images of Mercury passing in front of the Sun at NASA's 2019 Mercury Transit page, with updates through the end of the transit at 10:04 a.m. PST (1:04 p.m. EST).
If you're in the U.S., don't miss the show, as this is the last time a transit will be visible from the continental United States until 2049!
Teach It
Use these lessons and activities to engage students in the transit of Mercury and the hunt for planets beyond our solar system:
Explore More
Transit Resources:
Exoplanet Resources:
Check out these related resources for kids from NASA's Space Place:
TAGS: K-12 Education, Teachers, Students, Educators, Mercury, Transit, Transit of Mercury, What's Up, Astronomy, Resources for Educators, Exoplanets, Kepler, TESS
---
Growing up in Hawaii, Schelin Ireland used to look up at the night sky and dream of one day setting foot on the Moon. She hasn't made it there yet, but in the meantime, she's helping achieve another milestone for space exploration. This summer, as a Space Grant intern at NASA's Jet Propulsion Laboratory, Ireland was part of the team building an instrument designed to detect signs of past life on Mars. One of several instruments on NASA's next Mars rover, SHERLOC will be the first of its kind on the Red Planet. Situated at the end of the rover's arm, it will shoot a laser into Martian samples and pick up the unique pattern of light waves, or Raman signatures, that result. Scientists can study those light waves to find out what the samples are made of – and whether they contain ingredients for life. Ireland, a geology and geophysics student at the University of Hawaii, Manoa, spent the summer running a laboratory version of the instrument through practice rounds before the real thing launches next summer on its seven-month journey to the Red Planet aboard the Mars 2020 rover. We caught up with her to ask what it's like to be part of the team searching for evidence of past life on Mars and find out what her future plans are for exploring the Moon.
What are you working on at JPL?
I'm collecting a database of Raman signatures for various organic and inorganic materials that scientists will use to interpret the data we get back from the SHERLOC instrument onboard the Mars 2020 rover.
What is SHERLOC, and what will it do?
SHERLOC is a deep UV Raman/fluorescence spectrometer. It will look for evidence that there was once life on Mars. It will shoot a laser into a sample on Mars and pick up Raman and fluorescence signatures.
Raman spectroscopy looks at vibrations of electrons. So you have a light source that hits a sample and causes those electrons to vibrate, and that causes the light to scatter back with a slightly reduced energy. A spectrometer is going to pick up that scattering as a series of peaks, which are the Raman signatures. They tell us what material we're looking at and if it's organic or inorganic material.
Is this technology also on the Mars Curiosity rover?
SHERLOC will be the very first deep UV Raman spectrometer on another planet. Curiosity mostly uses infrared spectroscopy to study samples on Mars. There is some infrared spectroscopy on Mars 2020 as well, but we can look at things in greater detail with Raman spectroscopy. SHERLOC will be able to detect things at a micrometer scale – very, very, very small particles – which is why it's essential for discovering signs of past life. If there are any biosignatures out there, we want to be able to study the smallest particles that we can.
And this device is at the end of the rover's arm?
It's being mounted at the end of the arm. How it works is the arm is going to abrade the surface a little bit and then it's going to rotate so SHERLOC can do its analysis. You don't want the sample superclose. You want it to be a few centimeters away, because you don't want there to be dust on the instrument. You also don't want it to break because, of course, no one will be able to go and repair it.
What's your average day like on this project?
What I've been doing so far is running calibrations on the laboratory version of SHERLOC. Starting next week, I will start looking at the Raman spectra of various materials. So we're going to be looking at some minerals by themselves, and we're going to be looking at mixtures of organic and inorganic materials together – different percentages of organics to see where the limits are for picking up a signal. We'll upload the data onto a computer and then use software to highlight anything that looks interesting that we want to take a further look at.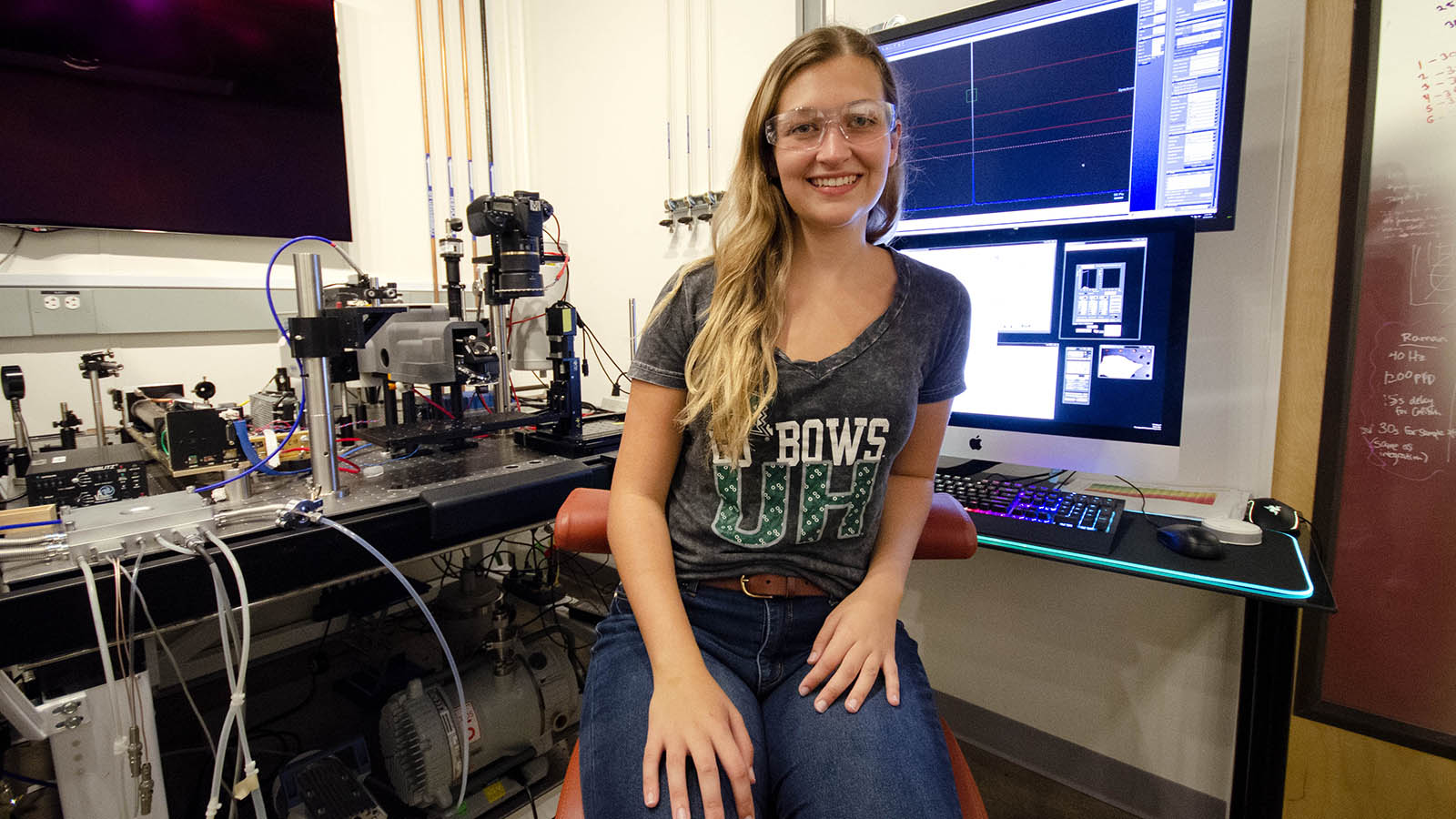 What are you studying in school?
I study geology and geophysics at the University of Hawaii, Manoa. I'm also minoring in mathematics.
Are you from Hawaii?
I'm from Kona on the Big Island of Hawaii. I just did an island hop to go to college. They have a fantastic program for what I want to study, so it's really great that I'm able to study over there and have all the opportunities that made it possible for me to get this internship.
What opportunities lead to your internship here?
NASA Hawaii Space Grant. I did a traineeship with them last semester on something very similar to this, but it was more in the context of the Mars SuperCam [which will also go on the Mars 2020 rover]. We did Raman spectroscopy on that using the laboratory version of SuperCam. We were also looking for detection limits for that instrument and measuring various materials.
After that, I was looking at internships for this summer, and I saw that this one was very similar to what I was working on at UH Manoa. I was very lucky to get it. NASA Hawaii Space Grant is funding the internship. So I did the traineeship with them, and now I'm doing this internship through them.
What got you interested in pursuing science as a career?
Where I'm from, you can see the night sky very clearly on most nights, and I have always wanted to go to the Moon. That's what got me interested in space. I would make dioramas and posters of the solar system and put them all around my room. My mom would take me to the Ellison S. Onizuka Space Center a lot, which is right by the Kona airport. I would read a lot of space books. I thought it was fascinating, but then I kind of got into other things as I grew up.
When I started high school, I joined the science competition team, and my school won first place in the Science Olympiad Regionals for Astronomy. I was one of two people from my school who competed in the astronomy portion of the competition. That really rekindled my interest in science, so I decided this was something that I absolutely wanted to go into.
What's your ultimate career goal?
My ultimate career goal is to be a research scientist studying planetary science and to be an astronaut. One thing that inspired me when I was in high school was knowing that I attended the same high school as Hawaii's first astronaut, Ellison Onizuka. It would be an honor to follow in his footsteps and become Hawaii's first female astronaut.
So if you could play any role in NASA's plans to send humans back to the Moon and on to Mars, would you want it to be as an astronaut?
It would be an honor to be involved in any way. If I were a mission specialist, I could set up a little lab where I analyze samples. I'd fix any equipment that we have onboard, fix any instrumentation that we have onboard and maybe measure moonquakes or marsquakes from there. It would be great to do any little thing that I possibly can. Just to have the experience of being on another celestial body would be absolutely amazing on its own, of course.
Back to the current mission you're working on: What do you hope to contribute to Mars 2020?
By the time my internship is through, I want to make sure that I have used the knowledge that I have developed from the research experience last semester and all of my geology classes and be able to apply it to what we are doing here. I want to make sure that the database I am helping to develop includes minerals and other materials that we are likely to find in the area where the Mars 2020 rover is going to land.
How does it feel to know you could play a role in discovering signs of past life on Mars?
It is a huge honor to know that I am a part – even a small part – of this big mission.
What has been the most unique JPL or NASA experience you've had during your time here?
Being here is a unique experience of its own. I haven't experienced anything like this before, and it is absolutely wonderful. I feel like instead of being a student or some extra labor, I am actually treated as a junior colleague and a research scientist. I'm part of this big scientific team, trying to accomplish something of real significance.
---
Explore JPL's summer and year-round internship programs and apply at: https://www.jpl.nasa.gov/edu/intern
The laboratory's STEM internship and fellowship programs are managed by the JPL Education Office. Extending the NASA Office of STEM Engagement's reach, JPL Education seeks to create the next generation of scientists, engineers, technologists and space explorers by supporting educators and bringing the excitement of NASA missions and science to learners of all ages.
TAGS: Higher Education, Internships, STEM, Engineering, Interns, College, Robotics, Mars, Rover, Mars 2020, Mars Sample Return
---
Marleen Sundgaard laughs when she recalls the details of one of her two internships at NASA's Jet Propulsion Laboratory before she was eventually hired in 2016. "I counted rocks for an entire summer," she says. As one of the interns tasked with scouting out the landing site for the Phoenix mission to Mars, it was a tedious but important task – one that helped the spacecraft land safely on the Red Planet. These days, as the testbed lead for the InSight Mars lander and a future mission designed to orbit a metal asteroid, she's still making sure that spacecraft "stick their landings." But instead of counting rocks, she's working as a trainer of sorts for spacecraft, testing and practicing their every move, looking for issues that might arise and sometimes troubleshooting in a simulated environment millions of miles away from the real thing. Returning intern Evan Kramer caught up with Sundgaard to learn more about her work as a JPL testbed engineer and how she hopes to set foot on Mars one day.
What do you do at JPL?
I am the testbed lead for the InSight Mars lander mission. We have a testbed here at JPL that has engineering models of the lander, the arm and all the instruments on InSight. I'm also the system testbed lead for the Psyche mission, which is going to explore a metal asteroid.
What does it mean to be the testbed lead and does your role vary between the two missions?
They are very different, yeah. For the InSight testbed, we use the lander engineering model to test out all the sequences that use the arm and the instruments here on Earth before we try them on the surface of Mars. For example, when we were deploying the instruments at the beginning of the mission, we did a lot of testing to see what the arm would do when we picked up the instruments off the spacecraft deck, swung them around to the front, and then set them down at different tilt angles. During testing, we found that if we put an instrument down on an increasingly tilted surface, our placement error would increase. So we had to account for that when we were deploying onto tilts on Mars. In the testbed, we also have weight models of the instruments that we're using for deployment. Because Mars has 38 percent of the gravity of Earth, all the instruments deployed in the testbed need to match the weight they would be on Mars because the arm was built for Mars' gravity. To make things a little bit more realistic, we also have two cameras on the arm of the InSight testbed lander that are flight spares from the Curiosity rover. During testing, we used these cameras for analysis of what it would look like when we were actually deploying the instruments on the surface so when we got the pictures back from Mars, we could make sure they all looked right.
For the Psyche mission [which launches in 2022], our testbed is going to be mostly just computer racks. It's just computer racks, electronics boxes and instruments. We don't have any surface stuff because we're orbiting Psyche, so there's really no lab where we can kind of get our hands dirty. It's just going to be a lot of computer simulations and testing sequences through the computer systems on Psyche.
You mentioned sequences. Those are the commands that we will send from Earth to the spacecraft?
Yes. So the spacecraft team writes sequences, the arm team writes sequences, and the instruments teams write sequences. They bundle them all up into one big command load, and then we beam those up to Mars using the Deep Space Network.
What's your average day like?
There was a period of time when I was full-time on InSight, where we were doing a lot of the instrument-deployment testing, and we had a lot of test cases we needed to get done. The deployment team designed the test, the arm team wrote the sequences for the test, and then the testbed team prepared the test. What I mean by preparing is if the deployment team needed to set an instrument down on a 10-degree tilt, we would come into the testbed, and we would build that 10-degree tilt for testing the following day. We also tilted the lander itself. Every time we tilt the lander, we have to stow the arm. So we would stow the arm, move the lander around, un-stow the arm and then recalibrate the metrology cameras. Recalibrating the metrology cameras is important because they are what we use to precisely map a 3D space in our testbed. That's how we keep track of where we are in the testbed and where the ground is.
What is the ultimate goal of what you work on?
To do a lot of the work we want to do on Mars, we need to practice. Most of what we are doing has never been done before, so there are a lot of teams involved in these practice sessions. I try to keep them all on the same page. So many pieces of the science and engineering for these missions come together in the testbed. And those pieces will go on to be actual commands and sequences we run on Mars. We want to make sure we send sequences that have been perfected. There has been a lot of hard work and sweat put in by hundreds, if not thousands, of people, and they are relying on us to complete our part of the puzzle.
You first came to JPL as an intern. What was that experience like?
My first summer here at JPL, I was a Space Grant intern from Washington state. Me and about 11 other students worked for Andrew Gray in the Mission Architecture Group. Our task was to take a technical paper called "Safe on Mars" and figure out how you would implement all the steps it said would be required to land humans on Mars. We had to create a mission that would help us understand the surface of Mars and determine whether it was safe to send humans there. So we checked for toxins in the soil, and we designed a weather station and three landers that were based on the same design as the Phoenix Mars lander (which is also what InSight is based on). We simulated landing the spacecraft in two different areas of Mars and did all of our testing. The second mission we designed was called Spheres. It consisted of three big inflatable balloons that we would land on the surface of Mars. The balloons had a tube in the middle that could take instruments down and bring samples back up.
My project during my second summer at JPL is the one that gets the most laughs because I tell people that I counted rocks for the entire summer. We were trying to determine the probability of the Phoenix lander hitting a boulder upon landing. So we took a lot of Mars Global Surveyor images and determined that any objects that were a pixel wide were meter-wide boulders. Then we just counted pixels – thousands and thousands and thousands of pixels. That was an interesting summer. It was me and three other guys. So there were four of us on the team, just counting rocks to really nail down the probabilities.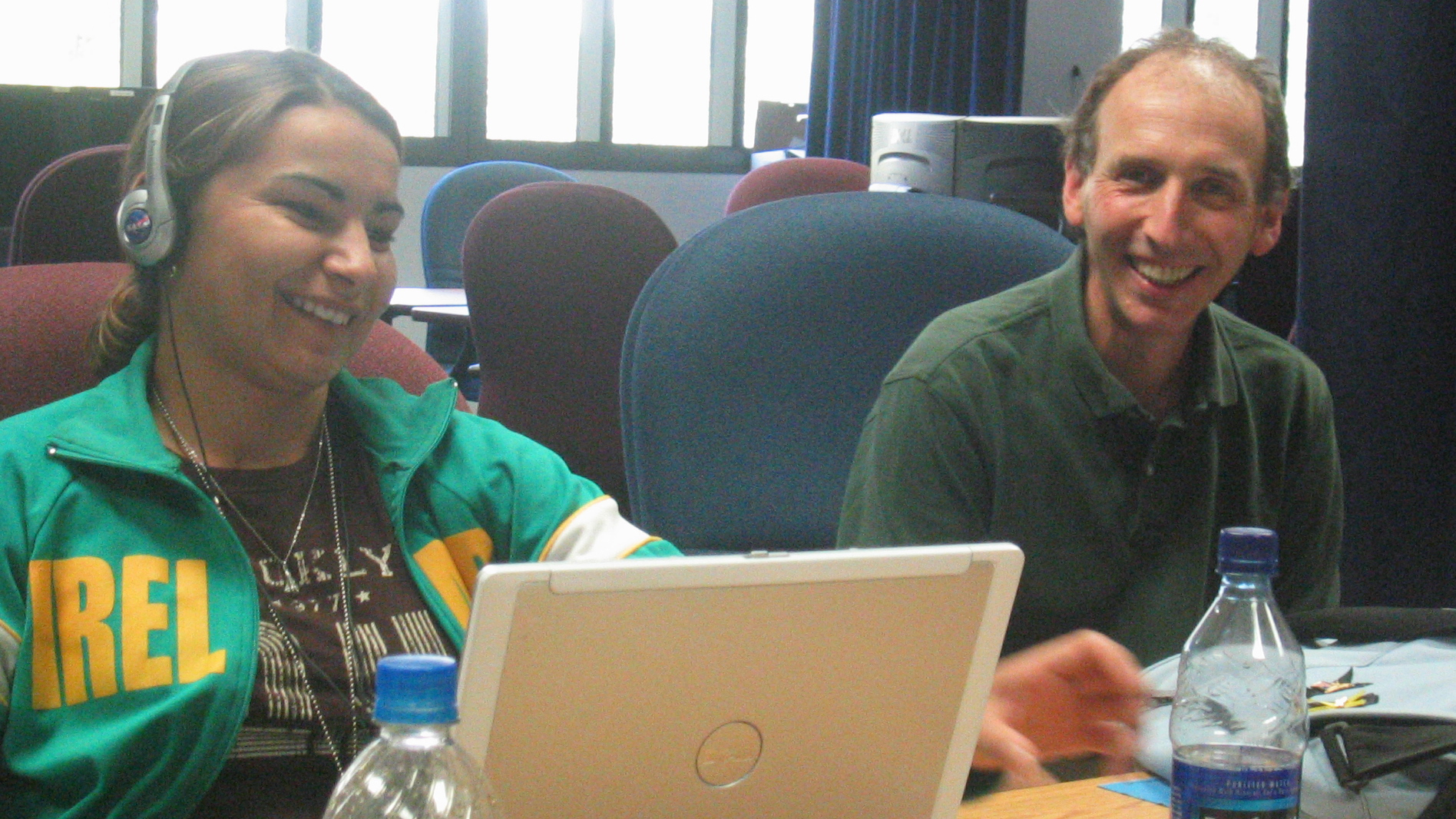 What brought you to JPL for your internships?
As a kid I had a fascination with space, but I went to a really, really small high school. My graduating class was 48 kids – we were out in the boonies of Eastern Washington. I was a migrant farmer. I would go to Mexico every year, so I missed a lot of school. I was kind of behind in that sense. I got really good grades, but my high-school math only went up to pre-calculus, so my senior year, when I should have taken calculus, I just took an independent math study course. When I entered college, I was already a quarter behind. I don't think I really realized what JPL was till I got into college. Pathfinder had landed and then they launched the Mars Exploration Rovers, Spirit and Opportunity, so it was kind of a big thing in the news at the time. I remember thinking, "I really want to work at JPL." So I applied for an internship, and I got it. There weren't a lot of places I wanted to work that summer. It was my third summer internship, but my first at JPL.
What moments or memories from your internships stand out most?
During my second summer internship, the four of us interns in the geology group got the chance to lead the Mars Exploration Rovers geology team for a week. Two interns took the Opportunity rover for a week and another intern and I took the Spirit rover for a week. We basically did all of the geology work for that one week on Mars. It was the summer of 2005, so the rovers had only been there for about a year. I remember we were naming rocks after ice-cream flavors. It was a lot of fun. That was probably my favorite week because I felt like I was really contributing to doing science on Mars.
How did your internships shape your career path and lead to what you're doing now?
I think having the internships really gave me a leg up when I was applying for jobs after college. They saw that I had research experience and work experience. When I graduated from the University of Washington in 2006, JPL wasn't hiring, so I went to work at Lockheed Martin Space Systems, doing assembly, test and launch operations, or ATLO, for satellites. I realized I really liked working with hardware and with my hands and on the actual equipment that would go to space. It gave me something to reach for later in my career, knowing that eventually JPL would start hiring again. I wanted to put myself in a position where getting a job at JPL wasn't going to be too much of a stretch.
Have you had your own interns?
Yeah, the testbed group had one intern last year. She wrote some scripts and helped us work some of the tests we were running. She was a lot of help. It was nice to show her the ropes here in the testbed and let her run stuff on the computers and run sequences.
What was your mentorship style?
We took her everywhere with us. She never really sat at her desk – she didn't really have a desk. If we were going to a meeting, she came with us. If we were going to lunch, she came with us. If we're going to the testbed, she came with us. If we were going to super boring stuff that we didn't think she'd like, she still came with us. We wanted her to get the full experience of what we do here at JPL. She even came in and worked overnight with us in the testbed.
What's your advice for those looking to intern or work at JPL one day?
If you want to intern at JPL, you have to apply. A lot of people don't think they'll get an offer, but they don't even give it a try. We're looking for a lot of different types of people here at JPL. Trust us and yourself. We want people with a big passion for space who are willing to go the extra mile to make sure the work gets done and done correctly. You don't have to have a perfect SAT score or GPA to work here.
Now for the fun question: If you could play any role in NASA's mission to send humans back to the Moon and eventually on to Mars, what would it be?
I want to be the person stepping on the surface of Mars. When I was younger, my dream was to be the first person on Mars. When I realized that might not happen in my generation, my goal became being the first woman to step on the Moon. Now I'm finding I'm a little bit too young to be the first woman to walk on the Moon and too old to be the first woman to walk on Mars! I'm in that sweet spot – too young and too old at the same time. But, nevertheless, I've applied. I've applied for the Astronaut Corps three times. The first time I applied, I wasn't technically eligible. I had two years of work experience and you needed three as a minimum. The second time I applied was in 2012. The third time was 2016. I haven't been selected, but I have my rejection letters as keepsakes to know that I've tried and that I'm not there yet. When 2020 rolls around, I'll apply again. I would love nothing better than to be able to do the work that I do here on Mars.
---
Explore JPL's summer and year-round internship programs and apply at: https://www.jpl.nasa.gov/edu/intern
The laboratory's STEM internship and fellowship programs are managed by the JPL Education Office. Extending the NASA Office of STEM Engagement's reach, JPL Education seeks to create the next generation of scientists, engineers, technologists and space explorers by supporting educators and bringing the excitement of NASA missions and science to learners of all ages.
TAGS: Higher Education, Internships, STEM, Engineering, Interns, College, Careers, Robotics, Mars, Rover, Mars 2020, InSight
---
Finding the best driving route for a Mars rover isn't as easy as turning on a navigation app – but John Park and Hiro Ono want to make it so. A program at NASA's Jet Propulsion Laboratory is helping them turn their idea into a reality, all while promoting diversity in STEM.
A tenure-track faculty member at North Carolina A&T State University, Park has spent the past two summers at JPL through an Education Office initiative designed to connect students and researchers from Historically Black Colleges and Universities (HBCUs) to the Laboratory's missions and science. The NASA-backed pilot program has brought more than a dozen student interns and several faculty researchers to JPL for projects investigating Mars, Earth and planets beyond our solar system.
Until his stint at JPL, Park's research focused solely on Earth-bound transportation technologies, such as those used by self-driving cars. When he learned about JPL's HBCU initiative from a colleague who had participated in the program, he seized on the chance to apply his research to space exploration.
"My previous projects and publications have dealt with decision-making tools for exploring uncertain areas on Earth and maximizing the information that's available," says Park, who also helped connect several students from North Carolina A&T to internship opportunities with the HBCU initiative. "I thought I could help bring that perspective to Mars rovers and helicopters."
While researching potential applications for his research at JPL, Park learned that the challenges of getting around on Mars are similar to those faced by drivers on Earth. Rovers also need to get from place to place safely and efficiently – they're just avoiding boulders instead of traffic jams.
It was precisely those challenges that Hiro Ono in JPL's Robotic Mobility Group also wanted to overcome. "I had an idea that I wanted to try, and we had all the ingredients," says Ono, who designs artificial intelligence systems for future rover missions. "The HBCU program allowed us to try the idea."
The HBCU initiative brought Park and Ono together along with Larkin Folsom, a student intern from North Carolina A&T. Together, the trio developed a proposal for a future system that would work similarly to the navigation apps we use to get through rush-hour traffic. The system would allow rovers to analyze routes as they drive, providing mission planners with information about the routes most likely to be hazard-free so they can make the most efficient use of the spacecraft's limited energy supply and maximize the mission's science goals.
"Previously, the way that we operated on Mars was to make the best guess about drivability solely from looking at orbital images," says Ono. "The idea that we are working on is to introduce the concept of probability. So if there are two terrains that are important to you but one of them is 90% traversable and the other is 60% traversable, which are you going to choose?"
In September, the National Science Foundation awarded Park, who submitted the proposal, with a grant to pursue the project. Park says the funding will go toward a JPL internship opportunity for a Ph.D. student from his university to continue research with Ono's team.
Jenny Tieu is a STEM education project manager at JPL who manages the HBCU initiative with Roslyn Soto. She helped connect Park and Ono and says it's collaborations like these that the initiative was designed to foster.
"Our goal with this initiative is to expand the number of HBCU students and faculty members participating in research at JPL and ultimately increase diversity among the Laboratory's workforce," says Tieu. "This National Science Foundation award is a positive indication that the initiative is not only building strong relationships between HBCUs and JPL, but also creating a ripple effect for additional opportunities."
Now in its fourth year, the HBCU initiative will once again bring students and faculty to JPL for research opportunities in the summer of 2020.
Meanwhile, Park and Ono are exploring ways to expand their technology into other arenas, including hurricane research and emergency response. Park has already received support from the U.S. Department of Transportation as well as the state DOT in Virginia and North Carolina for additional Earth-based applications of the technology.
Ono is serving as a consultant on the projects and has high hopes the results of the research will make its way back to JPL.
Says Ono, "In the long run, having an intern, giving them a good experience, helping their career is going to come back to us. We, as JPL, can build connections around the world and among industry partners that are going to come back to us eventually."
---
Explore JPL's summer and year-round internship programs and apply at: https://www.jpl.nasa.gov/edu/intern
The laboratory's STEM internship and fellowship programs are managed by the JPL Education Office. Extending the NASA Office of STEM Engagement's reach, JPL Education seeks to create the next generation of scientists, engineers, technologists and space explorers by supporting educators and bringing the excitement of NASA missions and science to learners of all ages.
TAGS: Higher Education, Internships, STEM, Engineering, HBCU, Research, Mars, Mars rovers, robotics, AI, navigation, universities, college
---
Students have just over one week more to enter NASA's Name the Rover Essay Contest. While they put the finishing touches on their essays (due Nov. 1, 2019), meet the most recent naming contest winner, Clara Ma. Find out what Ma is up to more than 10 years after submitting her winning name for the Mars rover now known as Curiosity and why she says the experience changed her life.
TAGS: Curiosity, Rover, Contest, Mars, Students, K-12, Teachers, Language Arts, Essay
---
In the News
An extreme weather event is something that falls outside the realm of normal weather patterns. It can range from superpowerful hurricanes to torrential downpours to extended hot dry weather and more. Extreme weather events are, themselves, troublesome, but the effects of such extremes, including damaging winds, floods, drought and wildfires, can be devastating.
NASA uses airborne and space-based platforms, in conjunction with those from the National Oceanic and Atmospheric Administration, or NOAA, to monitor these events and the ways in which our changing climate is contributing to them. Together, the agencies are collecting more detailed data on weather and climate than ever before, improving society's ability to predict, monitor and respond to extreme events.
NASA makes this data available to the public, and students can use it to understand extreme weather events happening in their regions, learn more about weather and climate in general, and design plans for resilience and mitigation. Read on for a look at the various kinds of extreme weather, how climate change is impacting them, and ways students can use NASA data to explore science for themselves.
How It Works
Global climate change, or the overall warming of our planet, has had observable effects on the environment. Glaciers have shrunk, ice on rivers and lakes is breaking up and melting earlier in the year, precipitation patterns have changed, plant and animal habitat ranges have shifted, and trees are flowering sooner, exposing fruit blossoms to damaging erratic spring hail and deadly late frost. Effects that scientists had predicted in the past are now occurring: loss of sea ice, accelerated sea level rise, shifting storm patterns and longer, more intense heat waves.
Some of the most visible and disruptive effects of global climate change are extreme weather and resulting disasters such as wildfires and flooding. These events vary by geographic location, with many regions, such as the Southwest United States and parts of Central and South America, Asia, Europe, Africa and Australia, experiencing more heat, drought and insect outbreaks that contribute to increased wildfires. Other regions of the world, including coastal areas of the United States and many island nations, are experiencing flooding and salt water intrusion into drinking water wells as a result of sea level rise and storm surges from intense tropical storms. And some areas of the world, such as the Midwestern and Southern United States, have been inundated with rain that has resulted in catastrophic flooding.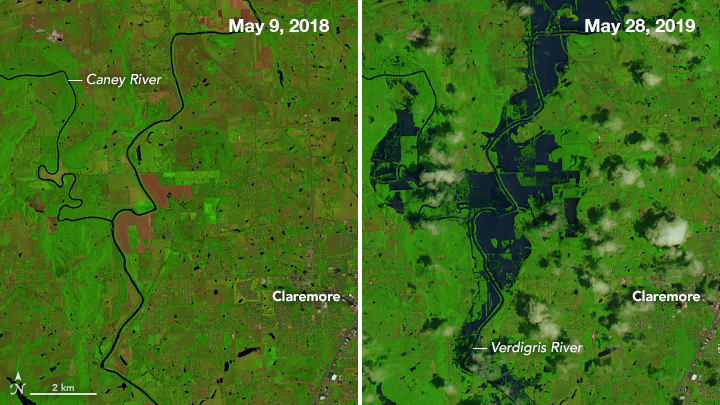 Temperatures, rainfall, droughts, high-intensity hurricanes and severe flooding events all are increasing and projected to continue as the world's climate warms, according to the National Climate Assessment. Weather is dynamic and various types of weather can interact to produce extreme outcomes. Here's how climate change can play a role in some of these weather extremes.
High Temperatures
Eighteen of the 19 warmest years on record have occurred since 2001. September 2019 tied as the hottest month on record for the planet. Since the 1880s, the average global surface temperature has risen about 2 degrees Fahrenheit (1 degree Celsius). As a result of warming temperatures, global average sea level has risen nearly 7 inches (178 millimeters) over the past 100 years. Data show this warming of the Earth system has been driven in large part by increased emissions into the atmosphere of carbon dioxide and other greenhouse gases created by human activities. And as temperatures continue to rise, we can expect more extreme weather.
Drought and Wildfires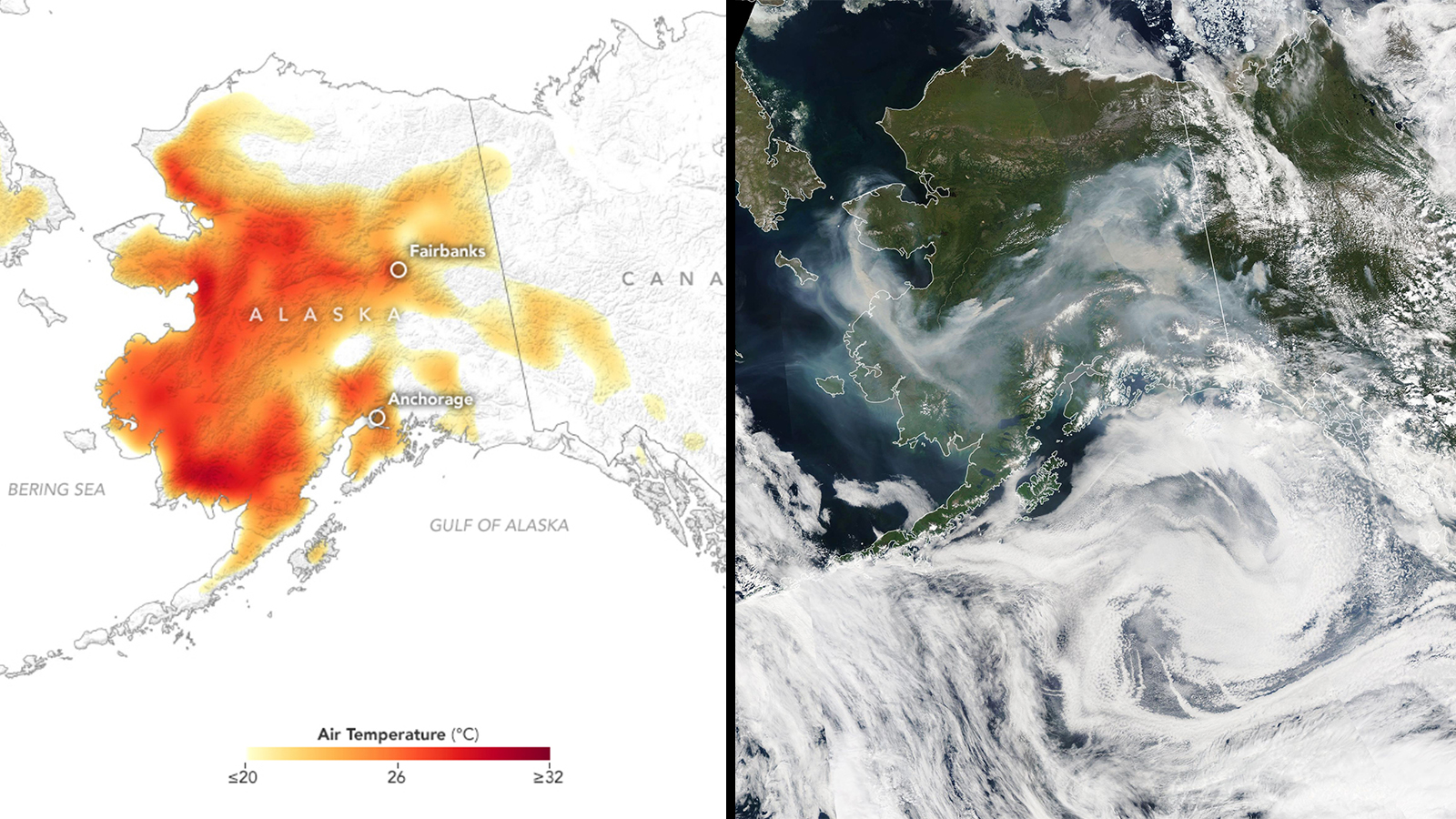 High temperatures alone can lead to drought. Drought can cause problems for humans, animals and crops dependent on water and can weaken trees, making them more susceptible to disease and insect attacks. High temperatures combined with low humidity, dry vegetation and hot, dry, fast winds typify what is known as "fire weather" or "fire season." During fire season, wildfires are more likely to start, spread rapidly and be difficult to extinguish.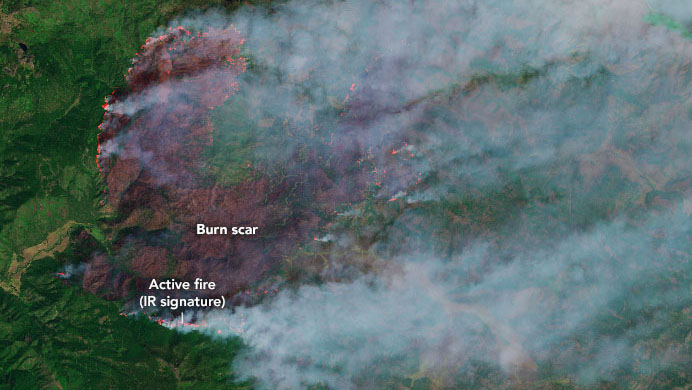 In California, where climate change has brought hotter, drier weather, residents are plagued by two fire seasons – one lasting from June through September that is primarily caused by high heat, low humidity and dry vegetation, and another lasting from October through April that is generally more volatile, as it is fueled by high winds. This 11-month fire season is longer than in past years. In recent years, California has also seen an increase in destructive wildfires. Weather extremes and climate change are partly to blame, even in relatively wet years. In California, these years mean more plant growth and potentially more fuel for fires when those plants dry out in the fall and the winds arrive. Wildfires have some fairly obvious effects on people and property. In addition to the visible destruction, smoke from wildfires can dramatically decrease air quality, pushing carbon into the air and destroying important carbon-sequestering plants and trees. Large-scale biomass destruction, as is happening in the Amazon rainforest, will have a lasting impact on important Earth processes.
Hurricanes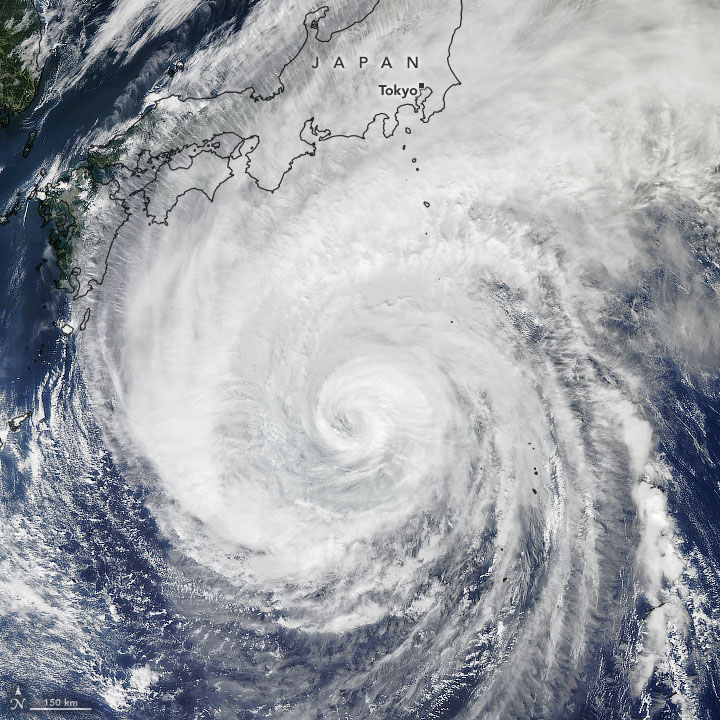 Since the 1980s, regions of the world prone to hurricanes, cyclones and typhoons have witnessed an increase in intensity, frequency and duration of these destructive storms. All three are intense tropical storms that form over oceans. (The different names refer to where on Earth they occur.) They are all fueled by available heat energy from warm ocean water. Warmer oceans provide more energy to passing storms, meaning hurricanes can form more quickly and reach higher speeds. Typhoon Hagibis, which recently left a trail of destruction in Japan, was described as the worst storm to hit the region in decades. Growing unusually quickly from a tropical storm to a Category 5 storm in less than a day, Hagibis was so intense it was called a super typhoon. In 2018, the second strongest cyclone to hit a U.S. territory and the largest typhoon of the year, Super Typhoon Yutu, caused catastrophic destruction on the Mariana Islands, an archipelago in the North Pacific Ocean. More intense storms and rising sea levels make storm surge – ocean water that is pushed toward the shore by strong winds – even worse than in the past. Typhoons can wreak havoc on infrastructure and compromise fresh water reserves. It can take months or even years for a hard-hit region to recover.
Snowstorms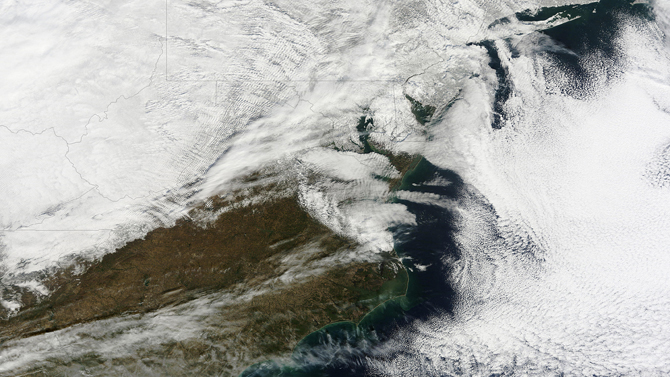 Like any other weather event, extreme cold weather events such as blizzards and unusually heavy snowfall can be, but are not always, linked to climate change. Just as warmer ocean water increases the intensity of a warm tropical storm, warmer than average winter ocean temperatures in the Atlantic feed additional energy and moisture into cold storms, influencing the severity of snowfall once the storm comes ashore in the Eastern United States. There is some natural variability, such as the presence of El Niño conditions, that can also lead to severe snowstorms in the region. But natural variability isn't enough to fully explain the increase in major snowstorms in the U.S. In fact, the frequency of extreme snowstorms in the eastern two-thirds of the region has increased dramatically over the last century. Approximately twice as many extreme snowstorms occurred in the U.S. during the latter half of the 20th century as in the first half.
Why It's Important
Because of the risk to lives and property, monitoring the increasing number of extreme weather events is more important now than ever before. And a number of NASA satellites and airborne science instruments are doing just that.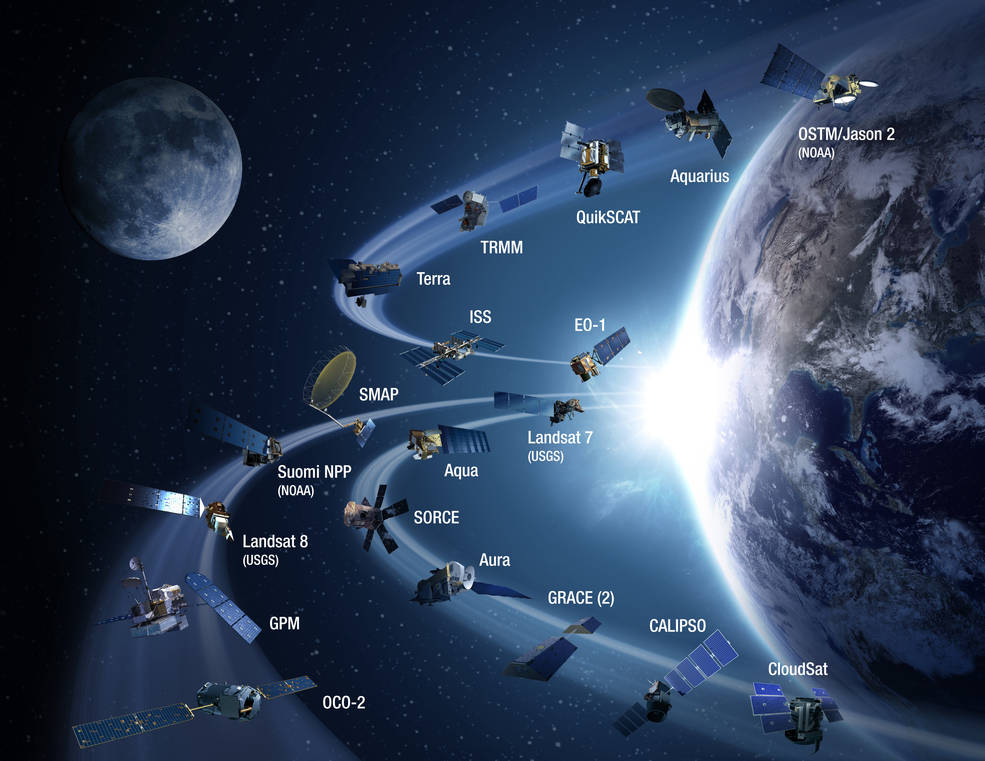 A large global constellation of satellites, operated by NASA and NOAA, combined with a small fleet of planes operated by the U.S. Forest Service, help detect and map the extent, spread and impact of forest fires. As technology has advanced, so has the value of remote sensing, the science of scanning Earth from a distance using satellites and high-flying airplanes. Wildfire data from satellites and aircraft provide information that firefighters and command centers can use to call evacuation orders and make decisions about where to deploy crews to best arrest a fire's progress.
The agencies' satellites and airborne instruments also work in conjunction with those from international partners to provide data about hurricanes to decision makers at the National Hurricane Center, where predictions and warnings are issued so evacuations can be coordinated among the public and local authorities. Visible imagery from NASA satellites helps forecasters understand whether a storm is brewing or weakening based on changes to its structure. Other instruments on NASA satellites can measure sea surface characteristics, wind speeds, precipitation, and the height, thickness and inner structure of clouds.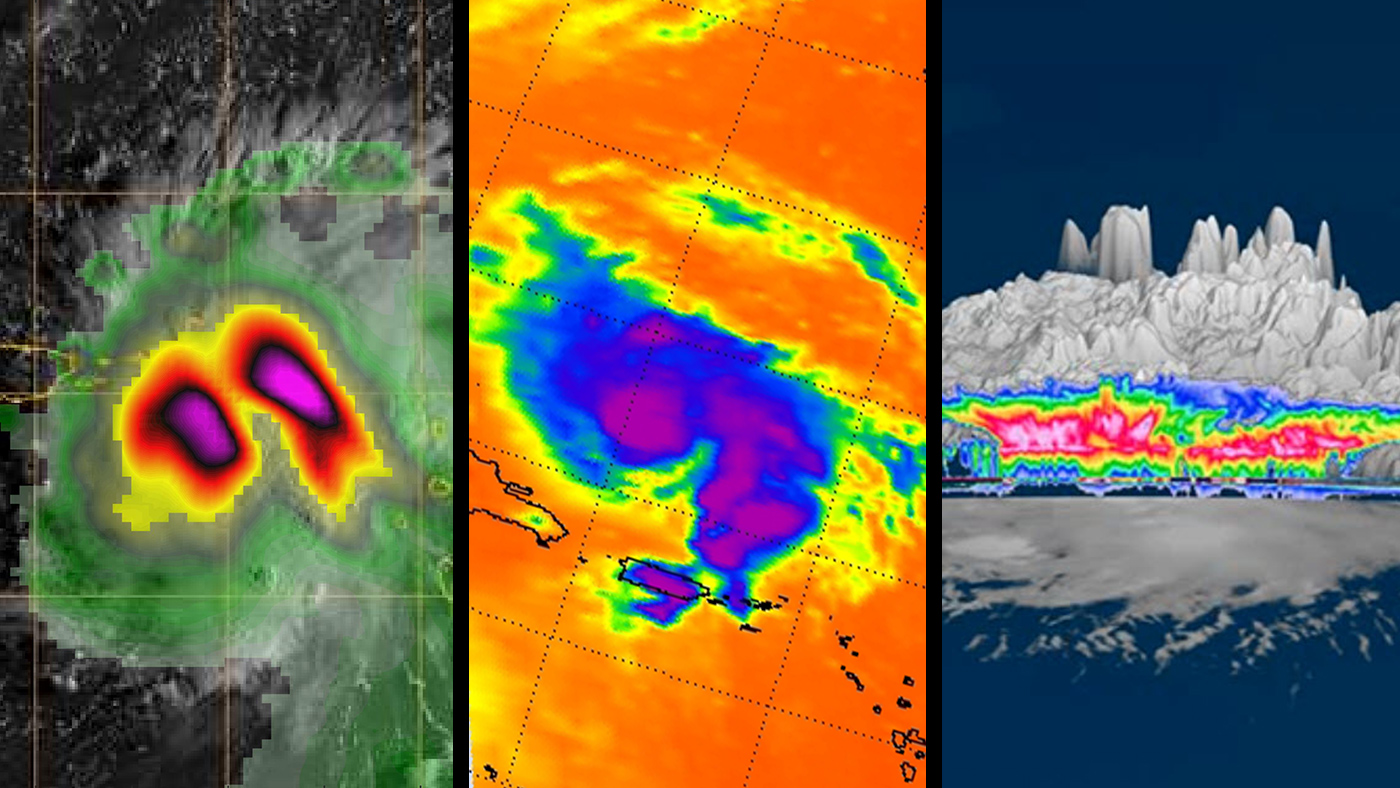 NASA's airborne instruments, such as those aboard the Global Hawk aircraft, provide data from within the storm that cannot be otherwise obtained. Global Hawk can fly above a storm in a back-and-forth pattern and drop instruments called dropsondes through the storm. These instruments measure winds, temperature, pressure and humidity on their way to the surface. This detailed data can be used to characterize a storm, informing scientists of shifting patterns and potential future developments.
NASA missions will continue to study both weather and climate phenomena – whether they be droughts, floods, wildfires, hurricanes or other extremes – returning data for analysis. New airborne instruments aboard the satellite-simulating ER-2 and cloud-penetrating P-3 aircraft will fly missions starting in 2020 to study Atlantic coast-threatening snowstorms. Data from these flights will be combined with ground-based radar measurements and satellite measurements to better understand storms and their potential impact. Meanwhile, climate science instruments and satellites will continue to collect data that can inform everyone about the many aspects of our changing planet.
Teach It
Weather and climate data isn't just for meteorologists. Explore the resources and standards-aligned lessons below to get students analyzing local weather patterns, understanding wildfire monitoring and modeling global climate!
Precipitation and Clouds
Wildfires and Temperature
Sea Level
Satellites and Data
Climate
For Students
Explore More
Resources for Students
TAGS: Earth, Earth science, climate change, weather, extreme weather, hurricane, wildfire, typhoons, drought, flood, sea level rise