Lyle Tavernier is an educational technology specialist at NASA's Jet Propulsion Laboratory. When he's not busy working in the areas of distance learning and instructional technology, you might find him running with his dog, cooking or planning his next trip.
---
Whether discovering something about our own planet or phenomena billions of miles away, NASA missions and scientists unveiled a vast universe of mysteries this past decade. And with each daring landing, visit to a new world and journey into the unknown came new opportunities to inspire the next generation of explorers. Read on for a look at some of NASA's most teachable moments of the decade from missions studying Earth, the solar system and beyond. Plus, find out what's next in space exploration and how to continue engaging students into the 2020s with related lessons, activities and resources.
1. Earth's Changing Climate
Rising sea levels, shrinking ice caps, higher temperatures and extreme weather continued to impact our lives this past decade, making studying Earth's changing climate more important than ever. During the 2010s, NASA and National Oceanic and Atmospheric Administration, or NOAA, led the way by adding new Earth-monitoring satellites to their fleets to measure soil moisture and study carbon dioxide levels. Meanwhile, satellites such as Terra and Aqua continued their work monitoring various aspects of the Earth system such as land cover, the atmosphere, wildfires, water, clouds and ice. NASA's airborne missions, such as Operation IceBridge, Airborne Snow Observatory and Oceans Melting Greenland, returned data on water movement, providing decision makers with more accurate data than ever before. But there's still more to be done in the future to understand the complex systems that make up Earth's climate and improve the scientific models that will help the world prepare for a warmer future. Using these missions and the science they're gathering as a jumping-off point, students can learn about the water cycle, build data-based scientific models and develop an understanding of Earth's energy systems.
Explore More
2. Teachable Moments in the Sky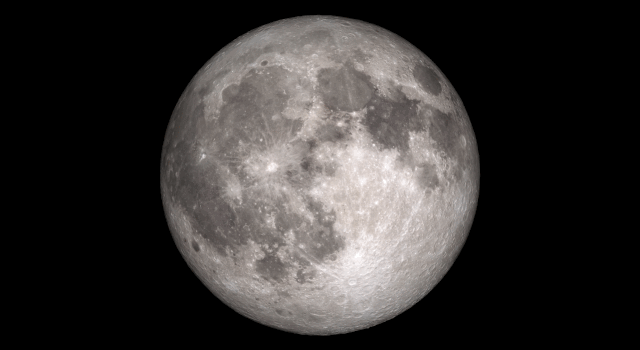 Astronomical events are a sure-fire way to engage students, and this past decade delivered with exciting solar and lunar eclipses that provided real-world lessons about the Sun, the Moon and lunar exploration. The total solar eclipse that crossed the U.S. in 2017 gave students a chance to learn about the dynamic interactions between the Sun and Moon, while brilliant lunar eclipses year after year provided students with lessons in lunar science. There's more to look forward to in the decade ahead as another solar eclipse comes to the U.S. in 2024 – one of nine total solar eclipses around the world in the 2020s. There will be 10 total lunar eclipses in the 2020s, but observing the Moon at any time provides a great opportunity to study celestial patterns and inspire future explorers. Using the lessons below, students can develop and study models to understand the size and scale of the Earth-Moon system, predict future Moon phases and engage in engineering challenges to solve problems that will be faced by future explorers on the Moon!
Explore More
3. Missions to Mars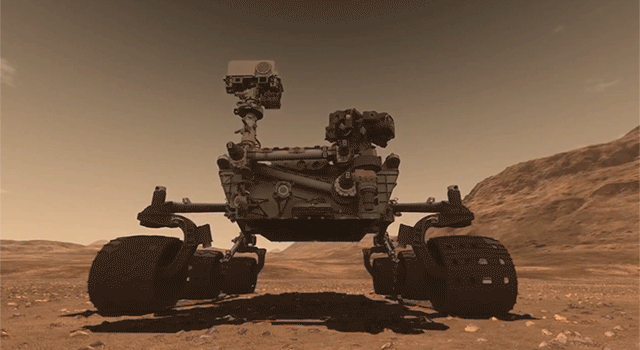 The past decade showed us the Red Planet in a whole new light. We discovered evidence that suggests Mars could have once supported ancient life, and we developed a better understanding of how the planet lost much of its atmosphere and surface water. The Opportunity rover continued exploring long past its expected lifespan of 90 days as NASA sent a larger, more technologically advanced rover, Curiosity, to take the next steps in understanding the planet's ability to support life. (Opportunity's nearly 15-year mission succumbed to the elements in 2019 after a global dust storm engulfed Mars, blocking the critical sunlight the rover needed to stay powered.) The InSight lander touched down in 2018 to begin exploring interior features of the Red Planet, including marsquakes, while high above, long-lived spacecraft like the Mars Reconnaissance Orbiter and Mars Odyssey were joined by NASA's MAVEN Orbiter, and missions from the European Space Agency and the Indian Space Research Organization. The next decade on Mars will get a kick-start with the July launch of the souped-up Mars 2020 rover, which will look for signs of ancient life and begin collecting samples designed to one day be returned to Earth. Mars provides students with countless opportunities to do some of the same engineering as the folks at NASA and design ideas for future Mars exploration. They can also use Mars as a basis for coding activities, real-world math, and lessons in biology and geology.
Explore More
4. Ocean Worlds and the Search for Life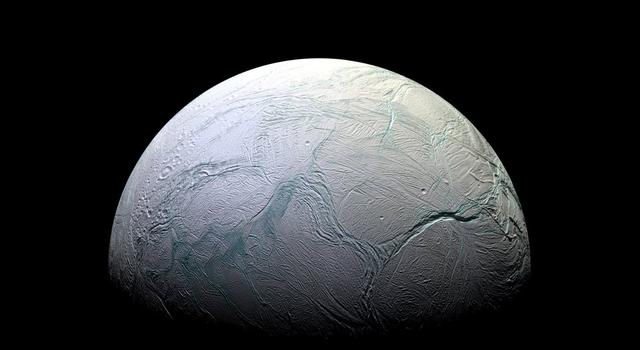 This decade marked the final half of the Cassini spacecraft's 13-year mission at Saturn, during which it made countless discoveries about the planet, its rings and its fascinating moons. Some of the most exciting findings highlighted new frontiers in our search for life beyond Earth. Cassini spotted geysers erupting from cracks in the icy shell of Saturn's moon Enceladus, suggesting the presence of an ocean below. At the moon Titan, the spacecraft peered through the hazy atmosphere to discover an Earth-like hydrologic cycle in which liquid methane and ethane take the place of water. Meanwhile, evidence for another ocean world came to light when the Hubble Space Telescope spotted what appear to be geysers erupting from the icy shell surrounding Jupiter's moon Europa. NASA is currently developing Europa Clipper, a mission that will explore the icy moon of Jupiter to reveal even more about the fascinating world. For students, these discoveries and the moons themselves provide opportunities to build scientific models and improve them as they learn more information. Students can also use math to calculate physical properties of moons throughout the solar system and identify the characteristics that define life as we know it.
Explore More
5. Asteroids, Comets and Dwarf Planets, Oh My!
The past decade was a big deal for small objects in space. NASA's Dawn mission started 2010 as a new arrival in the main asteroid belt. The next eight years saw Dawn explore the two largest objects in the asteroid belt, the giant asteroid Vesta and the dwarf planet Ceres. On its way to comet 67P/Churyumov-Gerasimenko, ESA's Rosetta mission (with contributions from NASA) flew by the asteroid Luticia in 2010. After more than two years at its destination – during which time it measured comet properties, captured breathtaking photos and deposited a lander on the comet – Rosetta's mission ended in dramatic fashion in 2016 when it touched down on 67P/Churyumov-Gerasimenko. In 2013, as scientists around the world eagerly anticipated the near-Earth flyby of asteroid Duende, residents of Chelyabinsk, Russia, got a surprising mid-morning wake-up call when a small, previously undetected asteroid entered the atmosphere, burned as a bright fireball and disintegrated. The team from NASA's OSIRIS-Rex mission wrapped up the decade and set the stage for discoveries in 2020 by selecting the site that the spacecraft will visit in the new year to collect a sample of asteroid Bennu for eventual return to Earth. And in 2022, NASA's Psyche mission will launch for a rendezvous with a type of object never before explored up close: a metal asteroid. The small objects in our solar system present students with chances to explore the composition of comets, use math to calculate properties such as volume, density and kinetic energy of asteroids, and use Newton's Laws in real-world applications, such as spacecraft acceleration.
Explore More
6. Uncovering Pluto's Mysteries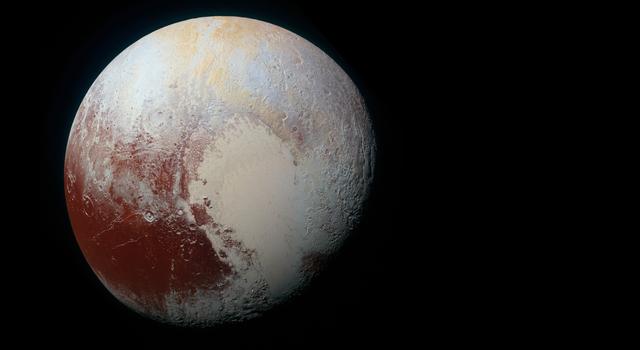 In 2015, after nearly a decade of travel, NASA's New Horizons spacecraft arrived at Pluto for its planned flyby and became the first spacecraft to visit the dwarf planet and its moons. The images and scientific data the spacecraft returned brought into focus a complex and dynamic world, including seas of ice and mountain ranges. And there's still more left to explore. But New Horizons' journey is far from over. After its flyby of Pluto, the spacecraft continued deep into the Kuiper Belt, the band of icy bodies beyond the orbit of Neptune. In 2019, the spacecraft flew by a snowman-shaped object later named Arrokoth. In the 2020s, New Horizons will continue studying distant Kuiper Belt objects to better understand their physical properties and the region they call home. The new information gathered from the Pluto and Arrokoth flybys provides students with real-life examples of the ways in which scientific understanding changes as additional data is collected and gives them a chance to engage with the data themselves. At the same time, New Horizons' long-distance voyage through the Solar System serves as a good launchpad for discussions of solar system size and scale.
Explore More
7. The Voyagers' Journey Into Interstellar Space
In 1977, two spacecraft left Earth on a journey to explore the outer planets. In the 2010s, decades after their prime mission ended, Voyager 1 and Voyager 2 made history by becoming the first spacecraft to enter interstellar space – the region beyond the influence of solar wind from our Sun. The Voyager spacecraft are expected to continue operating into the 2020s, until their fuel and power run out. In the meantime, they will continue sending data back to Earth, shaping our understanding of the structure of the solar system and interstellar space. The Voyagers can help engage students as they learn about and model the structure of the solar system and use math to understand the challenges of communicating with spacecraft so far away.
Explore More
8. The Search for Planets Beyond Our Solar System
It was only a few decades ago that the first planets outside our solar system, or exoplanets, were discovered. The 2010s saw the number of known exoplanets skyrocket in large part thanks to the Kepler mission. A space telescope designed to seek out Earth-sized planets orbiting in the habitable zone – the region around a star where liquid water could exist – Kepler was used to discover more than 2,600 exoplanets. Discoveries from other observatories and amateur astronomers added to the count, now at more than 4,100. In one of the most momentous exoplanet findings of the decade, the Spitzer telescope discovered that the TRAPPIST-1 system, first thought to have three exoplanets, actually had seven – three of which were in the star's habitable zone. With thousands of candidates discovered by Kepler waiting to be confirmed as exoplanets and NASA's latest space telescope, the Transiting Exoplanet Survey Satellite, or TESS, surveying the entire sky, the 2020s promise to be a decade filled with exoplanet science. And we may not have to wait long for exciting new discoveries from the James Webb Space Telescope, set to launch in 2021. Exoplanets are a great way to get students exploring concepts in science and mathematics. In the lessons linked to below, students use math to find the size and orbital period of planets, learn how scientists are using spectrometry to determine what makes up exoplanet atmospheres and more.
Explore More
9. Shining a Light on Black Holes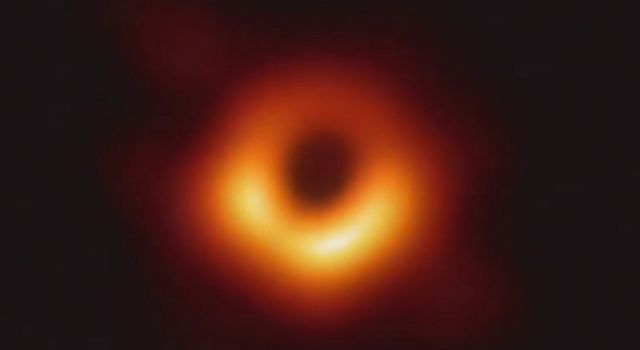 Even from millions and billions of light-years away, black holes made big news in the 2010s. First, a collision of two black holes 1.3 billion light-years away sent gravitational waves across the universe that finally reached Earth in 2015, where the waves were detected by the Laser Interferometer Gravitational-Wave Observatory, or LIGO. This was the first detection of gravitational waves in history and confirmed a prediction Einstein made 100 years earlier in his Theory of General Relativity. Then, in 2019, a team of researchers working on the Event Horizon Telescope project announced they had taken the first image capturing the silhouette of a black hole. To take the historic image of the supermassive black hole (named M87* after its location at the center of the M87 galaxy), the team had to create a virtual telescope as large as Earth itself. In addition to capturing the world's attention, the image gave scientists new information about scientific concepts and measurements they had only been able to theorize about in the past. The innovations that led to these discoveries are changing the way scientists can study black holes and how they interact with the space around them. More revelations are likely in the years ahead as scientists continue to analyze the data from these projects. For students, black holes and gravitational waves provide a basis for developing and modifying scientific models. Since they are a topic of immense interest to students, they can also be used to encourage independent research.
Explore More
TAGS: Teachable Moments, K-12 Education, Educators, Students, STEM, Lessons, Activities, Climate, Moon, Mars, Ocean Worlds, Small Objects, Pluto, Voyager, Exoplanets, Black Holes
---
In the News
It only happens about 13 times a century and won't happen again until 2032, so don't miss the transit of Mercury on Monday, Nov. 11! A transit happens when a planet crosses in front of a star. From our perspective on Earth, we only ever see two planets transit the Sun: Mercury and Venus. This is because these are the only planets between us and the Sun. (Transits of Venus are especially rare. The next one won't happen until 2117.) During the upcoming transit of Mercury, viewers around Earth (using the proper safety equipment) will be able to see a tiny dark spot moving slowly across the disk of the Sun.
Read on to learn how transits contributed to past scientific discoveries and for a look at how scientists use them today. Plus, find resources for engaging students in this rare celestial event!
Why It's Important
Then and Now
In the early 1600s, Johannes Kepler discovered that both Mercury and Venus would transit the Sun in 1631. It was fortunate timing: The telescope had been invented just 23 years earlier, and the transits of both planets wouldn't happen in the same year again until 13425. Kepler didn't survive to see the transits, but French astronomer Pierre Gassendi became the first person to see the transit of Mercury. Poor weather kept other astronomers in Europe from seeing it. (Gassendi attempted to view the transit of Venus the following month, but inaccurate astronomical data led him to mistakenly believe it would be visible from his location.) It was soon understood that transits could be used as an opportunity to measure apparent diameter – how large a planet appears from Earth – with great accuracy.
After observing the transit of Mercury in 1677, Edmond Halley predicted that transits could be used to accurately measure the distance between the Sun and Earth, which wasn't known at the time. This could be done by having observers at distant points on Earth look at the variation in a planet's apparent position against the disk of the Sun – a phenomenon known as parallax shift. This phenomenon is what makes nearby objects appear to shift more than distant objects when you look out the window of a car, for example.
Today, radar is used to measure the distance between Earth and the Sun with greater precision than transit observations. But the transits of Mercury and Venus still provide scientists with opportunities for scientific investigation in two important areas: exospheres and exoplanets.
Exosphere Science
Some objects, like the Moon and Mercury, were originally thought to have no atmosphere. But scientists have discovered that these bodies are actually surrounded by an ultrathin atmosphere of gases called an exosphere. Scientists want to better understand the composition and density of the gases in Mercury's exosphere, and transits make that possible.
"When Mercury is in front of the Sun, we can study the exosphere close to the planet," said NASA scientist Rosemary Killen. "Sodium in the exosphere absorbs and re-emits a yellow-orange color from sunlight, and by measuring that absorption, we can learn about the density of gas there."
Exoplanet Discoveries
When Mercury transits the Sun, it causes a slight dip in the Sun's brightness as it blocks a tiny portion of the Sun's light. Scientists discovered they could use that phenomenon to search for planets orbiting distant stars. These planets, called exoplanets, are otherwise obscured from view by the light of their star. When measuring the brightness of far-off stars, a slight recurring dip in the light curve (a graph of light intensity) could indicate an exoplanet orbiting and transiting its star. NASA's Kepler space telescope found more than 2,700 exoplanets by looking for this telltale drop in brightness. NASA's TESS mission is surveying 200,000 of the brightest stars near our solar system and is expected to potentially discover more than 10,000 transiting exoplanets.
Additionally, scientists have been exploring the atmospheres of exoplanets. Similarly to how we study Mercury's exosphere, scientists can observe the spectra – a measure of light intensity and wavelength – that passes through an exoplanet's atmosphere. As a result, they're beginning to understand the evolution and composition of exoplanet atmospheres, as well as the influence of stellar wind and magnetic fields.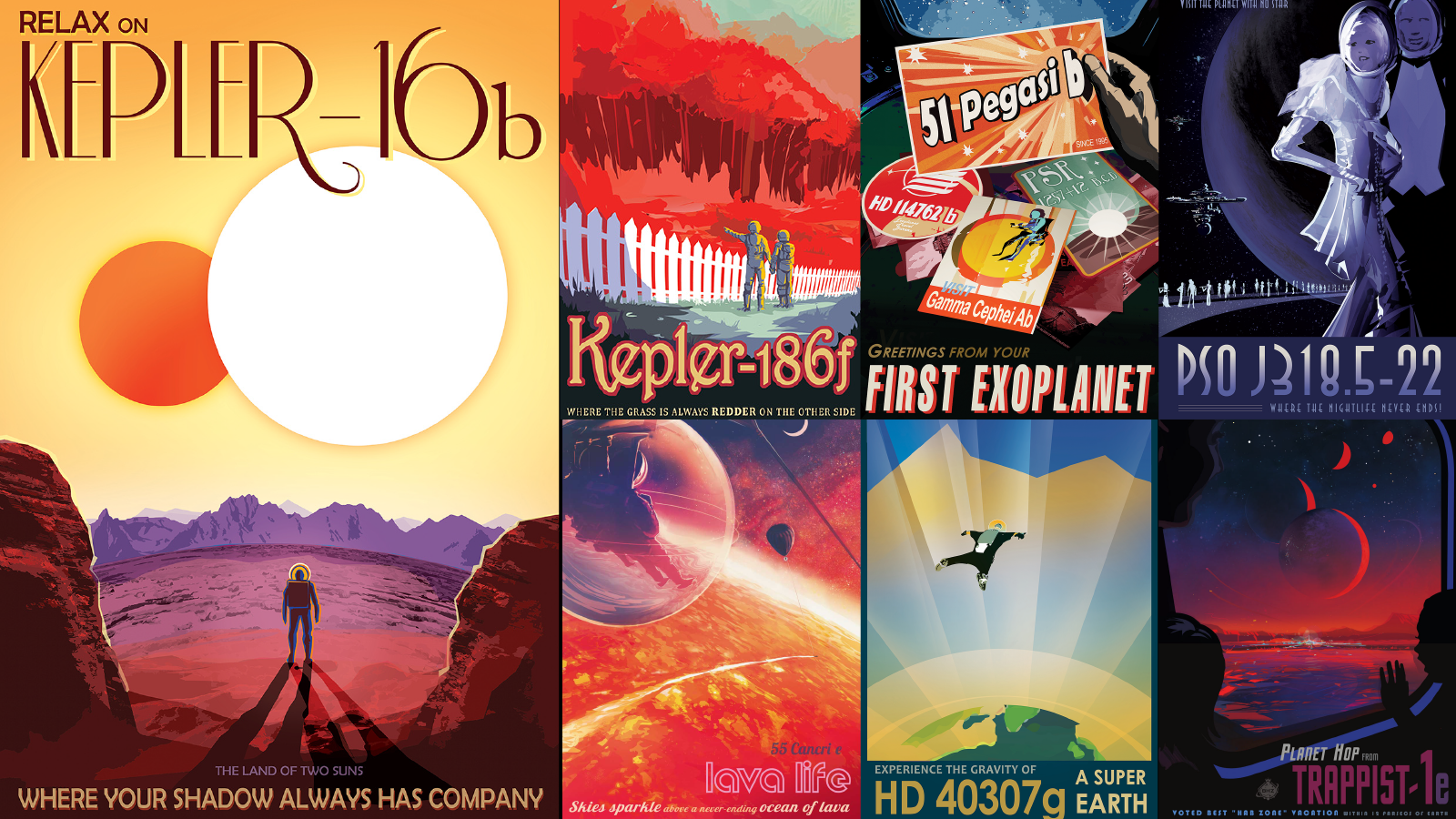 Watch It
During the transit of Mercury, the planet will appear as a tiny dot on the Sun's surface. To see it, you'll need a telescope or binoculars outfitted with a special solar filter.
WARNING! Looking at the Sun directly or through a telescope without proper protection can lead to serious and permanent vision damage. Do not look directly at the Sun without a certified solar filter.
The transit of Mercury will be partly or fully visible across much of the globe. However, it won't be visible from Australia or most of Asia and Alaska.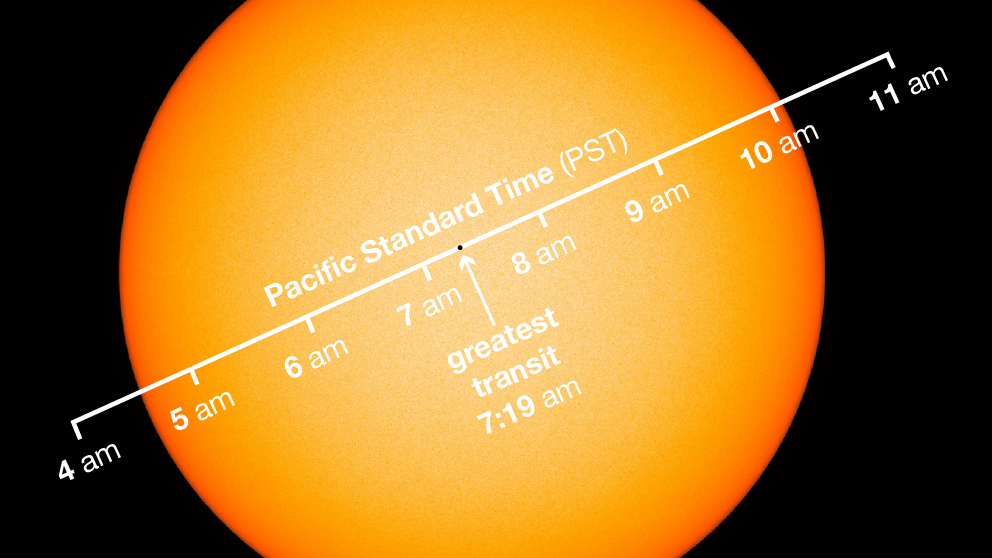 Mercury's trek across the Sun begins at 4:35 a.m. PST (7:35 a.m. EST), meaning viewers on the East Coast of the U.S. can experience the entire event, as the Sun will have already risen before the transit begins. By the time the Sun rises on the West Coast, Mercury will have been transiting the Sun for nearly two hours. Fortunately, the planet will take almost 5.5 hours to completely cross the face of the Sun, so there will be plenty of time for West Coast viewers to witness this event. See the transit map below to learn when and where the transit will be visible.
Don't have access to a telescope or binoculars with a solar filter? Visit the Night Sky Network website to find events near you where amateur astronomers will have viewing opportunities available.
During the transit, NASA will share near-real-time images of the Sun directly from the Solar Dynamics Observatory. Beginning at 4:41 a.m. PST (7:41 a.m. EST) you can see images of Mercury passing in front of the Sun at NASA's 2019 Mercury Transit page, with updates through the end of the transit at 10:04 a.m. PST (1:04 p.m. EST).
If you're in the U.S., don't miss the show, as this is the last time a transit will be visible from the continental United States until 2049!
Teach It
Use these lessons and activities to engage students in the transit of Mercury and the hunt for planets beyond our solar system:
Explore More
Transit Resources:
Exoplanet Resources:
Check out these related resources for kids from NASA's Space Place:
TAGS: K-12 Education, Teachers, Students, Educators, Mercury, Transit, Transit of Mercury, What's Up, Astronomy, Resources for Educators, Exoplanets, Kepler, TESS
---
NASA is inviting students to help name its next Mars rover! Set to launch from Florida in the summer of 2020, NASA's fifth rover to visit the Red Planet is designed to study past environments capable of supporting life, seek signs of ancient microbial life, collect rock and soil samples for a possible future return to Earth, and test technologies that could produce oxygen from the Martian atmosphere for use by humans one day. But before it can do that, it needs a name.
Following in the tracks of NASA's four previous Mars rovers, the agency is asking students to suggest a name. The first Mars rover, which landed in 1997, was called the Microrover Flight Experiment until a 12-year old student from Connecticut suggested the name Sojourner, in honor of abolitionist and women's rights activist Sojourner Truth. In 2004, a third-grade student from Arizona named NASA's twin rovers Spirit and Opportunity. Curiosity, which landed in 2012 and is the most recent rover to visit Mars, was named by a sixth-grade student in Kansas.
To enter the Name the Rover Essay Contest, individual students must submit an essay of up to 150 words by Nov. 1, 2019. In their essay, students will need to propose the name they think best suits the rover and explain their reasoning. Judges will select three finalists (one each from grades K-4, 5-8 and 9-12) from every state and U.S. territory. From there, judges will narrow down the finalists further before they select a final name in the spring of 2020.
So what makes a good name? There are lots of ways to become inspired, but students should start by learning about the rover as well as the Red Planet and why we explore. But they shouldn't stop there. There are many ways to spark ideas from students, including writing planetary poetry, making cosmic art, and having them build rovers of their own. Get students thinking and writing creatively, and encourage them to submit their essay!
The contest is open to U.S. residents enrolled in kindergarten through 12th grade in a U.S. school (including U.S. territories and schools operated by the U.S. for the children of American personnel overseas). Home-school students can also submit a name!
Explore More
TAGS: Mars, rover, contest, Mars 2020, K-12 education, STEM, language arts, essay, science, students
---
This feature was originally published on May 3, 2016.
---
In the News
What do "Star Wars," NASA's Dawn spacecraft and Newton's Laws of Motion have in common? An educational lesson that turns science fiction into science fact using spreadsheets – a powerful tool for developing the scientific models addressed in the Next Generation Science Standards.
The TIE (Twin Ion Engine) fighter is a staple of the "Star Wars" universe. Darth Vader flew one in "A New Hope." Poe Dameron piloted one in "The Force Awakens." And many, many Imperial pilots met their fates in them. While the fictional TIE fighters in "Star Wars" flew a long time ago in a galaxy far, far away, ion engines are a reality in this galaxy today – and have a unique connection to NASA's Jet Propulsion Laboratory.
Launched in 1998, the first spacecraft to use an ion engine was Deep Space 1, which flew by asteroid 9969 Braille and comet Borrelly. Fueled by the success of Deep Space 1, engineers at JPL set forth to develop the next spacecraft that would use ion propulsion. This mission, called Dawn, would take ion-powered spacecraft to the next level by allowing Dawn to go into orbit twice – around the two largest objects in the asteroid belt: Vesta and Ceres.
How Does It Work?
Ion engines rely on two principles that Isaac Newton first described in 1687. First, a positively charged atom (ion) is pushed out of the engine at a high velocity. Newton's Third Law of Motion states that for every action there is an equal and opposite reaction, so then a small force pushes back on the spacecraft in the opposite direction – forward! According to Newton's Second Law of Motion, there is a relationship between the force (F) exerted on an object, its mass (m) and its acceleration (a). The equation F=ma describes that relationship, and tells us that the small force applied to the spacecraft by the exiting atom provides a small amount of acceleration to the spacecraft. Push enough atoms out, and you'll get enough acceleration to really speed things up.

Why is It Important?
Compared with traditional chemical rockets, ion propulsion is faster, cheaper and safer:
Faster:

Spacecraft powered by ion engines can reach speeds of up to 90,000 meters per second (more than 201,000 mph!)

Cheaper:

When it comes to fuel efficiency, ion engines can reach more than 90 percent fuel efficiency, while chemical rockets are only about 35 percent efficient.

Safer:

Ion thrusters are fueled by inert gases. Most of them use xenon, which is a non-toxic, chemically inert (no risk of exploding), odorless, tasteless and colorless gas.
These properties make ion propulsion a very attractive solution when engineers are designing spacecraft. While not every spacecraft can use ion propulsion – some need greater rates of acceleration than ion propulsion can provide – the number and types of missions using these efficient engines is growing. In addition to being used on the Dawn spacecraft and communication satellites orbiting Earth, ion propulsion could be used to boost the International Space Station into higher orbits and will likely be a part of many future missions exploring our own solar system.

Teach It
Newton's Laws of Motion are an important part of middle and high school physical science and are addressed specifically by the Next Generation Science Standards as well as Common Core Math standards. The lesson "Ion Propulsion: Using Spreadsheets to Model Additive Velocity" lets students study the relationship between force, mass and acceleration as described by Newton's Second Law as they develop spreadsheet models that apply those principles to real-world situations.
This lesson meets the following Next Generation Science and Common Core Math Standards:
NGSS Standards:
MS-PS2-2

: Plan an investigation to provide evidence that the change in an object's motion depends on the sum of the forces on the object and the mass of the object.


HS-PS2-1

: Analyze data to support the claim that Newton's second law of motion describes the mathematical relationship among the net force on a macroscopic object, its mass, and its acceleration.


HS-PS2-1

: Use mathematical representations to support the claim that the total momentum of a system of objects is conserved when there is no net force on the system.
Common Core Math Standards:
Grade 8: Expressions and Equations A.4

: Perform operations with numbers expressed in scientific notation, including problems where both decimal and scientific notation are used. Use scientific notation and choose units of appropriate size for measurements of very large or very small quantities (e.g., use millimeters per year for seafloor spreading). Interpret scientific notation that has been generated by technology.

High School: Algebra CED.A.4

: Rearrange formulas to highlight a quantity of interest, using the same reasoning as in solving equations.

High School: Functions LE.A

: Construct and compare linear, quadratic, and exponential models and solve problems.

High School: Functions BF.A.1

: Write a function that describes a relationship between two quantities.

High School: Statistics and Probability ID.C:

Interpret linear Models

High School: Number and Quantity Q.A.1

: Use units as a way to understand problems and to guide the solution of multi-step problems; choose and interpret units consistently in formulas; choose and interpret the scale and the origin in graphs and data displays."
Explore More
TAGS: May the Fourth, Star Wars Day, F=ma, ion propulsion, Dawn, Deep Space 1, lesson, classroom activity, NGSS, Common Core Math
---
Update: March 15, 2019 – The answers to the 2018 NASA Pi Day Challenge are here! View the illustrated answer key
---
In the News
The excitement of Pi Day – and our annual excuse to chow down on pie – is upon us! The holiday celebrating the mathematical constant pi arrives on March 14, and with it comes the sixth installment of the NASA Pi Day Challenge from the Jet Propulsion Laboratory's Education Office. This challenge gives students in grades 6-12 a chance to solve four real-world problems faced by NASA scientists and engineers. (Even if you're done with school, they're worth a try for the bragging rights.)

Why March 14?
Pi, the ratio of a circle's circumference to its diameter, is what is known as an irrational number. As an irrational number, its decimal representation never ends, and it never repeats. Though it has been calculated to trillions of digits, we use far fewer at NASA. In fact, 3.14 is a good approximation, which is why March 14 (or 3/14 in U.S. month/day format) came to be the date that we celebrate this mathematical marvel.
The first-known Pi Day celebration occurred in 1988. In 2009, the U.S. House of Representatives passed a resolution designating March 14 as Pi Day and encouraging teachers and students to celebrate the day with activities that teach students about pi.
The 2019 Challenge
This year's NASA Pi Day Challenge features four planetary puzzlers that show students how pi is used at the agency. The challenges involve weathering a Mars dust storm, sizing up a shrinking storm on Jupiter, estimating the water content of a rain cloud on Earth and blasting ice samples with lasers!
›Take on the 2019 NASA Pi Day Challenge!
The Science Behind the Challenge
In late spring of 2018, a dust storm began stretching across Mars and eventually nearly blanketed the entire planet in thick dust. Darkness fell across Mars' surface, blocking the vital sunlight that the solar-powered Opportunity rover needed to survive. It was the beginning of the end for the rover's 15-year mission on Mars. At its height, the storm covered all but the peak of Olympus Mons, the largest known volcano in the solar system. In the Deadly Dust challenge, students must use pi to calculate what percentage of the Red Planet was covered by the dust storm.
The Terra satellite, orbiting Earth since 1999, uses the nine cameras on its Multi-Angle Imaging SpectroRadiometer, or MISR, instrument to provide scientists with unique views of Earth, returning data about atmospheric particles, land-surface features and clouds. Estimating the amount of water in a cloud, and the potential for rainfall, is serious business. Knowing how much rain may fall in a given area can help residents and first responders prepare for emergencies like flooding and mudslides. In Cloud Computing, students can use their knowledge of pi and geometric shapes to estimate the amount of water contained in a cloud.
Jupiter's Great Red Spot, a giant storm that has been fascinating observers since the early 19th century, is shrinking. The storm has been continuously observed since the 1830s, but measurements from spacecraft like Voyager, the Hubble Space Telescope and Juno indicate the storm is getting smaller. How much smaller? In Storm Spotter, students can determine the answer to that very question faced by scientists.
Scientists studying ices found in space, such as comets, want to understand what they're made of and how they interact and react with the environment around them. To see what molecules may form in space when a comet comes into contact with solar wind or sunlight, scientists place an ice sample in a vacuum and then expose it to electrons or ultraviolet photons. Scientists have analyzed samples in the lab and detected molecules that were later observed in space on comet 67P/Churyumov-Gerasimenko. To analyze the lab samples, an infrared laser is aimed at the ice, causing it to explode. But the ice will explode only if the laser is powerful enough. Scientist use pi to figure out how strong the laser needs to be to explode the sample – and students can do the same when they solve the Icy Intel challenge.
Explore More
Participate
Join the conversation and share your Pi Day Challenge answers with @NASAJPL_Edu on social media using the hashtag #NASAPiDayChallenge
Blogs and Features
Related Activities
Multimedia
Facts and Figures
Missions and Instruments
Websites
TAGS: Pi Day, K-12, STEM, Science, Engineering, Technology, Math, Pi, Educators, Teachers, Informal Education, Museums
---
In the News
Looking up at the Moon can create a sense of awe at any time, but those who do so on the evening of January 20 will be treated to the only total lunar eclipse of 2019. Visible for its entirety in North and South America, this eclipse is being referred to by some as a super blood moon – "super" because the Moon will be closest to Earth in its orbit during the full moon (more on supermoons here) and "blood" because the total lunar eclipse will turn the Moon a reddish hue (more on that below). This is a great opportunity for students to observe the Moon – and for teachers to make connections to in-class science content.
How It Works
Eclipses can occur when the Sun, the Moon and Earth align. Lunar eclipses can happen only during a full moon, when the Moon and the Sun are on opposite sides of Earth. At that point, the Moon can move into the shadow cast by Earth, resulting in a lunar eclipse. However, most of the time, the Moon's slightly tilted orbit brings it above or below Earth's shadow.
The time period when the Moon, Earth and the Sun are lined up and on the same plane – allowing for the Moon to pass through Earth's shadow – is called an eclipse season. Eclipse seasons last about 34 days and occur just shy of every six months. When a full moon occurs during an eclipse season, the Moon travels through Earth's shadow, creating a lunar eclipse.
Unlike solar eclipses, which require special glasses to view and can be seen only for a few short minutes in a very limited area, a total lunar eclipse can be seen for about an hour by anyone on the nighttime side of Earth – as long as skies are clear.
What to Expect
The Moon passes through two distinct parts of Earth's shadow during a lunar eclipse. The outer part of the cone-shaped shadow is called the penumbra. The penumbra is less dark than the inner part of the shadow because it's penetrated by some sunlight. (You have probably noticed that some shadows on the ground are darker than others, depending on how much outside light enters the shadow; the same is true for the outer part of Earth's shadow.) The inner part of the shadow, known as the umbra, is much darker because Earth blocks additional sunlight from entering the umbra.
At 6:36 p.m. PST (9:36 p.m. EST) on January 20, the edge of the Moon will begin entering the penumbra. The Moon will dim very slightly for the next 57 minutes as it moves deeper into the penumbra. Because this part of Earth's shadow is not fully dark, you may notice only some dim shading (if anything at all) on the Moon near the end of this part of the eclipse.
At 7:33 p.m. PST (10:33 p.m. EST), the edge of the Moon will begin entering the umbra. As the Moon moves into the darker shadow, significant darkening of the Moon will be noticeable. Some say that during this part of the eclipse, the Moon looks as if it has had a bite taken out of it. That "bite" gets bigger and bigger as the Moon moves deeper into the shadow.
At 8:41 p.m. PST (11:41 p.m. EST), the Moon will be completely inside the umbra, marking the beginning of the total lunar eclipse. The moment of greatest eclipse, when the Moon is halfway through the umbra, occurs at 9:12 p.m. PST (12:12 a.m. EST).
As the Moon moves completely into the umbra, something interesting happens: The Moon begins to turn reddish-orange. The reason for this phenomenon? Earth's atmosphere. As sunlight passes through it, the small molecules that make up our atmosphere scatter blue light, which is why the sky appears blue. This leaves behind mostly red light that bends, or refracts, into Earth's shadow. We can see the red light during an eclipse as it falls onto the Moon in Earth's shadow. This same effect is what gives sunrises and sunsets a reddish-orange color.
A variety of factors affect the appearance of the Moon during a total lunar eclipse. Clouds, dust, ash, photochemical droplets and organic material in the atmosphere can change how much light is refracted into the umbra. Additionally, the January 2019 lunar eclipse takes place when the full moon is at or near the closest point in its orbit to Earth – a time popularly known as a supermoon. This means the Moon is deeper inside the umbra shadow and therefore may appear darker. The potential for variation provides a great opportunity for students to observe and classify the lunar eclipse based on its brightness. Details can be found in the "Teach It" section below.
At 9:43 p.m. PST (12:43 a.m. EST), the edge of the Moon will begin exiting the umbra and moving into the opposite side of the penumbra. This marks the end of the total lunar eclipse.
At 10:50 p.m. PST (1:50 a.m. EST), the Moon will be completely outside the umbra. It will continue moving out of the penumbra until the eclipse ends at 11:48 p.m (2:48 a.m. EST).
What if it's cloudy where you live? Winter eclipses always bring with them the risk of poor viewing conditions. If your view of the Moon is obscured by the weather, explore options for watching the eclipse online, such as the Time and Date live stream.
Why It's Important
Lunar eclipses have long played an important role in understanding Earth and its motions in space.
In ancient Greece, Aristotle noted that the shadows on the Moon during lunar eclipses were round, regardless of where an observer saw them. He realized that only if Earth were a spheroid would its shadows be round – a revelation that he and others had many centuries before the first ships sailed around the world.
Earth wobbles on its axis like a spinning top that's about to fall over, a phenomenon called precession. Earth completes one wobble, or precession cycle, over the course of 26,000 years. Greek astronomer Hipparchus made this discovery by comparing the position of stars relative to the Sun during a lunar eclipse to those recorded hundreds of years earlier. A lunar eclipse allowed him to see the stars and know exactly where the Sun was for comparison – directly opposite the Moon. If Earth didn't wobble, the stars would appear to be in the same place they were hundreds of years earlier. When Hipparchus saw that the stars' positions had indeed moved, he knew that Earth must wobble on its axis!
Lunar eclipses are also used for modern-day science investigations. Astronomers have used ancient eclipse records and compared them with computer simulations. These comparisons helped scientists determine the rate at which Earth's rotation is slowing.
Teach It
Ask students to observe the lunar eclipse and evaluate the Moon's brightness using the Danjon Scale of Lunar Eclipse Brightness. The Danjon scale illustrates the range of colors and brightness the Moon can take on during a total lunar eclipse, and it's a tool observers can use to characterize the appearance of an eclipse. View the lesson guide below. After the eclipse, have students compare and justify their evaluations of the eclipse.
Use these standards-aligned lessons and related activities to get your students excited about the eclipse, Moon phases and Moon observations:

TAGS: Lunar Eclipse, Moon, Teachers, Educators, K-12 Education, Astronomy
---
UPDATE: Nov. 27, 2018 – The InSight spacecraft successfully touched down on Mars just before noon on Nov. 26, 2018, marking the eighth time NASA has succeeded in landing a spacecraft on the Red Planet. This story has been updated to reflect the current mission status. For more mission updates, follow along on the InSight Mission Blog, JPL News, as well as Facebook and Twitter (@NASAInSight, @NASAJPL and @NASA).
---
In the News
NASA's newest mission to Mars, the InSight lander, touched down just before noon PST on Nov. 26. So while some people were looking for Cyber Monday deals, scientists and engineers at NASA's Jet Propulsion Laboratory were monitoring their screens for something else: signals from the spacecraft that it successfully touched down on the Red Planet.
InSight spent nearly seven months in space, kicked off by the first interplanetary launch from the West Coast of the U.S. Once it arrived at the Red Planet, InSight had to perform its entry, descent and landing, or EDL, to safely touch down on the Martian surface. This was perhaps the most dangerous part of the entire mission because it required that the spacecraft withstand temperatures near 1,500 degrees Fahrenheit, quickly put on its brakes by using the atmosphere to slow down, then release a supersonic parachute and finally lower itself to the surface using 12 retrorockets.

But even after that harrowing trip to the surface, InSight will have to overcome one more challenge before it can get to the most important part of the mission, the science. After a thorough survey of its landing area, InSight will need to carefully deploy each of its science instruments to the surface of Mars. It may sound like an easy task, but it's one that requires precision and patience.
It's also a great opportunity for educators to engage students in NASA's exploration of Mars and the importance of planetary science while making real-world connections to lessons in science, coding and engineering. Read on to find out how.
How It Works: Deploying InSight's Instruments
InSight is equipped with three science investigations with which to study the deep interior of Mars for the first time. The Seismic Experiment for Interior Structures, or SEIS, is a seismometer that will record seismic waves traveling through the interior of Mars.
3
, will investigate how much heat is still flowing out of Mars. It will do so by hammering a probe down to a depth of up to 16 feet (about 5 meters) underground. The Rotation and Interior Structure Experiment, or RISE, will use InSight's telecommunications system to precisely track the movement of Mars through space. This will shed light on the makeup of Mars' iron-rich core.
But to start capturing much of that science data, InSight will have to first carefully move the SEIS and HP3 instruments from its stowage area on the lander deck and place them in precise locations on the ground. Among its many firsts, InSight will be the first spacecraft to use a robotic arm to place instruments on the surface of Mars. Even though each instrument will need to be lowered only a little more than three feet (1 meter) to the ground, it's a delicate maneuver that the team will rehearse to make sure they get it right.
InSight's robotic arm is nearly 6 feet (about 2 meters) long. At the end of the arm is a five-fingered grappler that is designed to grab SEIS and HP3 from the deck of the lander and place them on the ground in front of the lander in a manner similar to how a claw game grabs prizes and deposits them in the collection chute. But on Mars, it has to work every time.
Before the instruments can be set down, the area where they will be deployed – commonly referred to as the work space – must be assessed so SEIS and HP3 can be positioned in the best possible spots to meet their science goals. InSight is designed to land with the solar panels at an east-west orientation and the robotic arm facing south. The work space covers about three-square meters to the south of the rover. Because InSight is a three-legged lander and not a six-wheeled rover, science and engineering teams must find the best areas to deploy the instruments within the limited work space at InSight's landing spot. That is why choosing the best landing site (which for InSight means one that is very flat and has few rocks) is so important.
Just as having two eyes gives us the ability to perceive depth, InSight will use a camera on its robotic arm to take what are known as stereo-pair images. These image pairs, made by taking a photo and then moving the camera slightly to the side for another image, provide 3D elevation information that's used by the science and engineering teams. With this information, they can build terrain maps that show roughness and tilt, and generate something called a goodness map to help identify the best location to place each instrument. Evaluating the work space is expected to take a few weeks.
Once the team has selected the locations where they plan to deploy the instruments, the robotic arm will use its grapple to first grab SEIS and lower it to the surface. When the team confirms that the instrument is on the ground, the grapple will be released and images will be taken. If the team decides they like where the instrument is placed, it will be leveled, and the seismic sensor will be re-centered so it can be calibrated to collect scientific data. If the location is deemed unsuitable, InSight will use its robotic arm to reposition SEIS.
But wait, there's more! SEIS is sensitive to changes in air pressure, wind and even local magnetic fields. In fact, it is so sensitive that it can detect ground movement as small as half the radius of a hydrogen atom! So that the instrument isn't affected by the wind and changes in temperature, the robotic arm will have to cover SEIS with the Wind and Thermal Shield.
After SEIS is on the ground and covered by the shield, and the deployment team is satisfied with their placement, the robotic arm will grab the HP3 instrument and place it on the surface. Just as with SEIS, once the team receives confirmation that HP3 is on the ground, the grapple will be released and the stability of the instrument will be confirmed. The final step in deploying the science instruments is to release the HP3 self-hammering mole from within the instrument so that it will be able to drive itself into the ground. The whole process from landing to final deployment is expected to take two to three months.
Why It's Important
For the science instruments to work – and for the mission to be a success – it's critical that the instruments are safely deployed. So while sending a mission to another planet is a huge accomplishment and getting pictures of other worlds is inspiring, it's important to remember that science is the driver behind these missions. As technologies advance, new techniques are discovered and new ideas are formulated. Opportunities arise to explore new worlds and revisit seemingly familiar worlds with new tools.
Using its science instruments, SEIS and HP3, plus the radio-science experiment (RISE) to study how much Mars wobbles as it orbits the Sun, InSight will help scientists look at Mars in a whole new way: from the inside.
SEIS will help scientists understand how tectonically active Mars is today by measuring the power and frequency of marsquakes, and it will also measure how often meteorites impact the surface of Mars.
HP3 and RISE will give scientists the information they need to determine the size of Mars' core and whether it's liquid or solid; the thickness and structure of the crust; the structure of the mantle and what it's made of; and how warm the interior is and how much heat is still flowing through.
Answering these questions is important for understanding Mars, and on a grander scale, it is key to forming a better picture of the formation of our solar system, including Earth.
Teach It
Use these resources to bring the excitement of NASA's newest Mars mission and the scientific discovery that comes with it into the classroom.
Explore More
Follow Along
Resources and Activities
Feature Stories and Podcasts
Websites and Interactives
TAGS: InSight, Landing, Mars, K-12 Educators, Informal Educators, Engineering, Science, Mission Events
---
All spacecraft are made for extreme environments. They travel through dark, frigid regions of space, battle intense radiation and, in some cases, perform daring feats to land on mysterious worlds. But the rover that Tonya Beatty is helping design for Venus – and other so-called extreme environments – is in a class all its own. Venus is so inhospitable that no spacecraft has ever lasted more than about two hours on the surface. So Beatty, an intern at NASA's Jet Propulsion Laboratory and an aerospace engineering student at College of the Canyons, is working to develop a new kind of rover that's powered mostly by gears rather than sensitive electronics. We caught up with Beatty just before she embarked on another engineering challenge – JPL's annual Halloween pumpkin-carving contest – to find out what it takes to turn an impossible idea into a reality.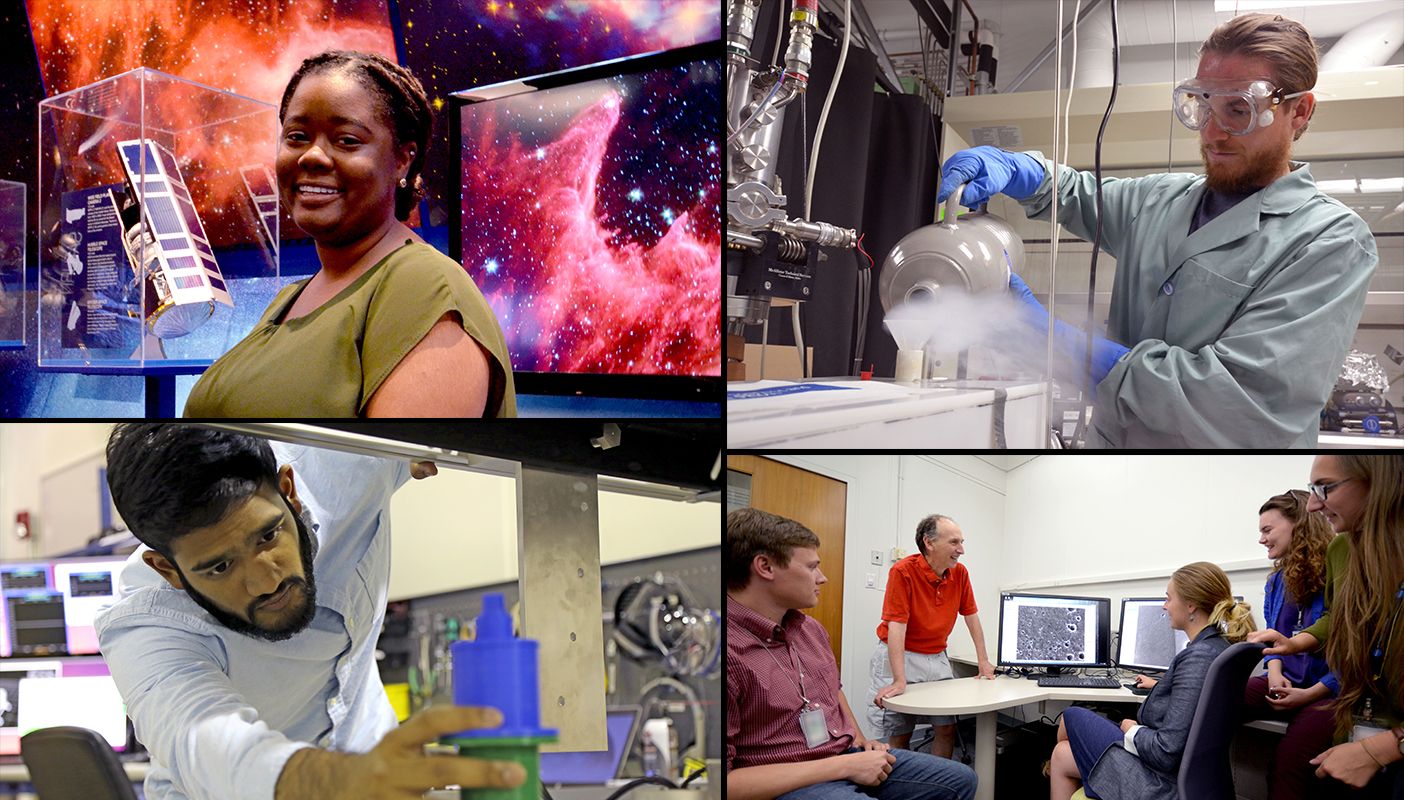 Meet JPL Interns
Read stories from interns pushing the boundaries of space exploration and science at the leading center for robotic exploration of the solar system.
What are you working on at JPL?
I'm working with a team on the HAR-V project, which stands for Hybrid Automaton Rover-Venus. It's a study to develop a rover meant to go to Venus. I'm assisting in the development of mechanical systems and mechanisms on the prototype, using clockwork maneuvers. This rover will use minimal electronics, so when I say clockwork, I mean gears and anything that does not rely on electronics.
Why is this rover not relying on electronics and relying more on a gear system?
The environment on Venus includes sulfuric acid clouds, a surface pressure about 90 times what it is on Earth and a temperature that exceeds 800 degrees Fahrenheit. The materials in most electronics would melt in that extreme environment, so that's why we're trying to go mechanical. The previous landers that have gone to Venus have relied on electronics, and the one that lasted the longest only lasted 127 minutes, whereas ours, using the mechanical design, is projected to last about six months. So that's why we're going with this design.
What does a typical day look like for you?
A typical day for me consists of designing mechanisms, designing mechanical systems, ordering parts for those mechanical systems, testing them on the active prototype that we have and redesigning if necessary. It's kind of a mixture of all that, depending on where we're at in each step.
What is the ultimate goal of your project?
My personal goal with this internship is to connect the things I'm learning in school to real-world applications, as well as see what it would be like to be an aerospace engineer. Specific to the HAR-V study, my goals are to design a power-transfer mechanism, redesign the reversing mechanism on the rover itself, and redesign the obstacle avoidance mechanism. Those are all things that I'm now learning as I'm doing the internship, which is great. I love learning new things.
As for HAR-V itself, the goal is to be able to withstand those extreme environments for longer than 127 minutes and retrieve the groundbreaking data that we've been wanting from Venus but haven't been able to get because we haven't had the time we need [with previous landers].
Personally, at 19, I never thought that I would be working on a rover for Venus at NASA. By sharing my story, I hope people take away that some of the things they might think are impossible are really right there. They've just got to reach for it.
What's the most JPL or NASA unique experience that you've had so far?
As much as I'd like to say something cool like watching the rovers being tested, I have to say it's the deer. Every day, wherever I go – to laser-cut something or go get a coffee – I see deer. One day I saw six. I just think that's so unique because it's something I never expected to get from this experience. And I think it's unique to JPL.
Speaking of unique experiences, your group holds an annual pumpkin-carving contest and makes some amazing creations. Are you planning to participate in the contest this year?
I actually just got the emails today. I didn't know this was a JPL thing. It's a big deal! So, yes, I'd like to!
Do you know what your team is planning to make? Don't worry, we won't share this until after the contest, so it won't leak to any competitor.
We're making Miguel from [the movie] "Coco" with his guitar, and we're going to try and make it move.
How does designing a mechanical or creative pumpkin compare to designing a rover for Venus?
Well, with a pumpkin, I would care about how it looks, whereas with the rover, I care about how it functions. A pumpkin has real guts, and a rover has metaphorical guts. It's got to keep on going. But I think the biggest similarity is the creativeness between both of them, because you have to be creative to make an innovative pumpkin. Just like when you design a rover, you have to be creative; you can't just be smart. You have to have those creative ideas. You have to think outside of the box to actually design efficient and effective components, and you can't just give up. When you have a failed attempt, you try it again.
Do you have any tips for anyone who want to make a creative pumpkin?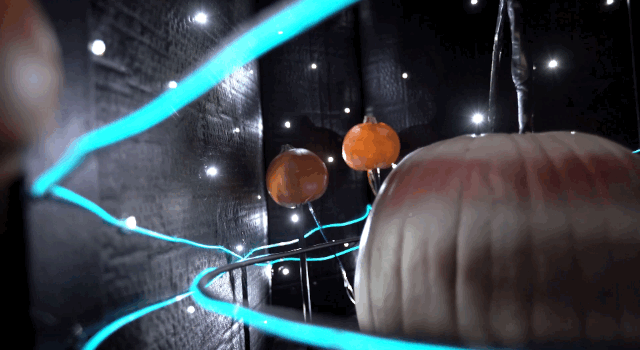 Create a Halloween Pumpkin Like a NASA Engineer
Get tips from NASA engineers on how to make an out-of-this-world Halloween pumpkin.
Don't be afraid of your ideas. Sometimes we limit ourselves because we're like, "You know that's too crazy. We shouldn't do that," but it takes crazy ideas to be an engineer and it takes crazy ideas to carve a good pumpkin.
OK, back to your internship: How do you feel you're contributing to NASA missions and science?
I think my active participation in the rover study is helping contribute to NASA-JPL missions, because something I have designed could very well be on an actual rover that could go to Venus, that would retrieve data, that does help NASA. So I think in that sense, I am contributing.
One last fun question: If you could travel to any place in space, where would you go, and what would you do there?
I would go to Europa. I would like to see first-hand if there is an ocean and if there's an environment that could sustain life. Chemistry has always interested me, so I would love to see that up close and analyze everything.
---
Explore JPL's summer and year-round internship programs and apply at: https://www.jpl.nasa.gov/edu/intern
The laboratory's STEM internship and fellowship programs are managed by the JPL Education Office. Extending the NASA Office of Education's reach, JPL Education seeks to create the next generation of scientists, engineers, technologists and space explorers by supporting educators and bringing the excitement of NASA missions and science to learners of all ages.
TAGS: Women in STEM, Higher Education, Internships, Students, Engineering, Rovers, Venus
---
While the world of engineering is a familiar one to Omar Rehman (his major is transportation design and he comes from a family of engineers) his internship at NASA's Jet Propulsion Laboratory is all about bridging the gap between form and function. NASA's next Mars rover, currently in development and planned for launch in 2020, will acquire a set of carefully selected samples of rocks and surface material and store them in sealed tubes for possible return to Earth by a future mission. Returning samples from Mars is a complicated problem. So, a team at JPL is taking an in-depth look at how it could be done. In addition to using his transportation design background to help the team come up with ideas for a vessel that could bring the samples to Earth, Rehman is using visual arts to convey why a "sample-return mission" would be such a big deal. We caught up with the Art Center College of Design student to find out how he's using art and design to help tell the story of how we're designing missions that might bring the first samples back from Mars.
What are you working on at JPL?
I am on a study team exploring options for a pair of missions that could take key next steps to bring samples back from Mars. I work in JPL's Mobility and Robotics Systems section. I was primarily brought on to do visuals that translate what the mission concept is designed to do in a more cinematic and visual way so people can understand it. However, since getting here, I've been wearing multiple hats: working on visuals but also picking up my engineering hat from back in the day. I'm illustrating scenes for the Mars Sample Return study and conveying my ideas for a transportation vessel that could be used for the endeavor. The bit of engineering experience I had when I was younger has helped me understand and elaborate on the functional and mechanical side of these ideas. I'm absorbing all the knowledge, learning terminology and really getting into it – living the dream as an intern!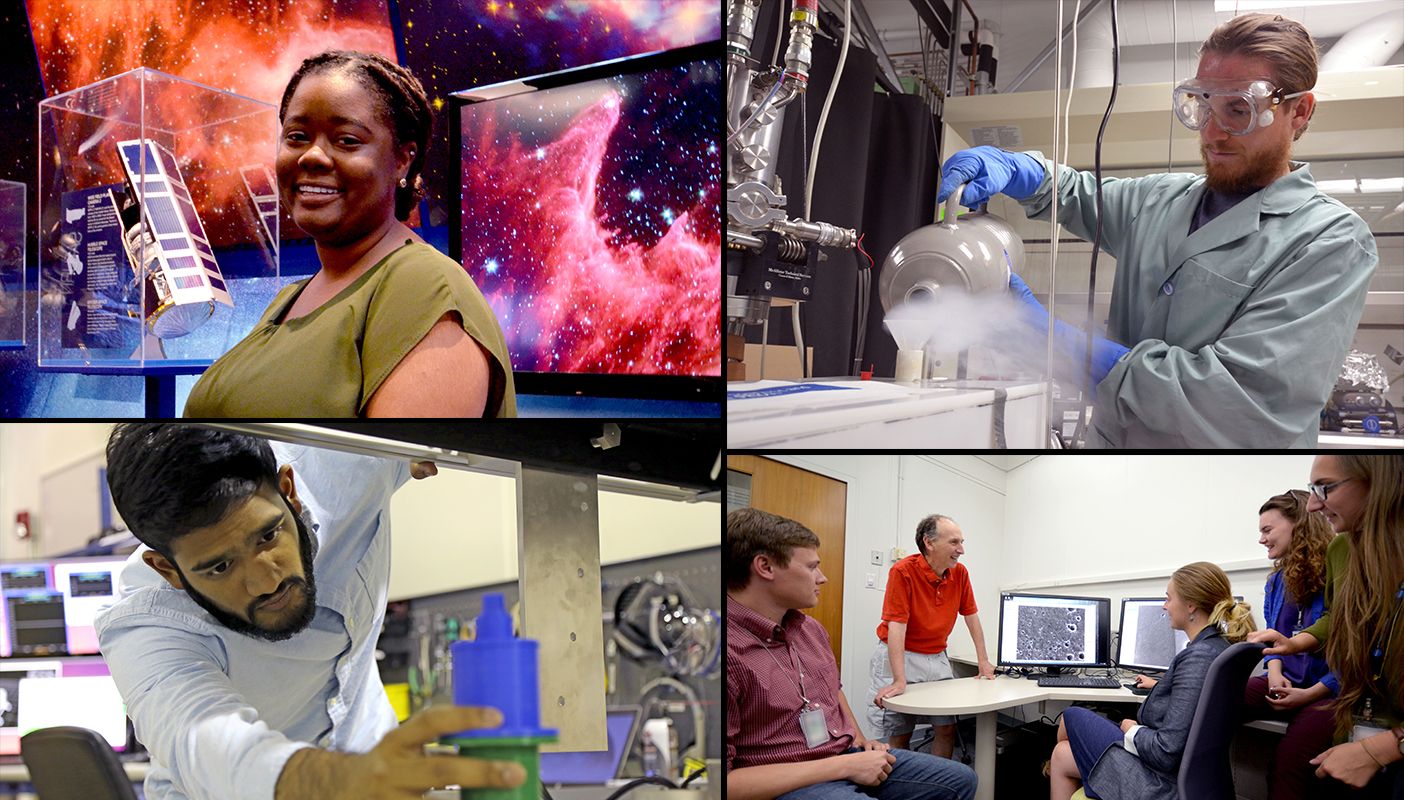 Meet JPL Interns
Read stories from interns pushing the boundaries of space exploration and science at the leading center for robotic exploration of the solar system.
What is a typical day like for you?
What's most important for a designer or design student is to get out your ideas. You've got to keep the practice up. So I actually sketch every morning. If you look at the wall above my desk, it's all sketches: random sketches and concept satellites, maybe some entertainment ideas, some cars here and there, spaceships – who knows? – just anything to keep my juices flowing and keep my creativity going. Then, I put that creative mind to rest for a little bit and start again.
I've also been working on matrices to evaluate the criteria of sample-return mission concepts and the types of innovative variations that would be compatible within the whole system. My work as a designer also comes into play when I create both visual and verbal documents that will help stakeholders understand technical aspects of the designs.
When I get home, I'll maybe have a snack or relax and unwind, then sketch a little more before I go to bed, and do it all again.
What was the ultimate goal of your project?
I really want to convey the options for Mars Sample Return in a very cinematic way so that people can remember it. And then in terms of the engineering side, before I leave, I want to conceive a concept for a system to help transport the Mars samples once they have been captured that would be innovative but also be realistic and work within the aerospace parameters.
How might your project help the average person one day?
I'm conveying the entire story, from liftoff in 2020 to getting to Mars, collecting samples, potentially getting back up off the surface and heading back to Earth. I think it'll help people remember what Mars 2020 is all about and how it fits in the larger story of future missions that may return a sample to Earth. Hopefully they'll remember those images for years, along with the whole mission's success.
What is the most JPL- or NASA-unique experience you've had so far?
So many! Meeting the awesome interns. Seeing everything around JPL that's being developed and tested. That's so cool. Also, the intern before me is now interning at NASA's Armstrong Flight Research Center in the Mojave Desert. He invited the whole team to go visit. We got to see the F-15B Eagle that is being used for NASA research. We looked at concepts they're coming up with – just crazy stuff like you'd see in movies, but it's actually being built!
How do you think you're contributing to NASA/JPL missions and science?
I think bringing the visual-designer mentality to this engineering-driven community is really good. I think that designers can contribute to these kinds of communities. We can help engineers translate ideas really fast. Maybe there are some skills that engineers lack in design and some skills that designers lack in engineering, but when they come together there's a good balance of work output and ideas, and a good combination of solid engineering and design aesthetics coming together to create a beautiful machine. There's beauty in function, but there's also beauty in function being balanced with an appropriate aesthetic.
If you could travel to any place in space, where would you go and what would you do there?
I get really sci-fi about this stuff. Imagine a theoretical scenario in which you have infinite timelines moving in parallel. Let's say it's like a guitar, and each string is you on a different timeline, moving in different places with different stories. If there is somewhere I can go that's either inside this galaxy or outside that can bring me to these different timelines and lets me come back and explore my own reality or different realities, that's where I want to go.
---
Explore JPL's summer and year-round internship programs and apply at: https://www.jpl.nasa.gov/edu/intern
The laboratory's STEM internship and fellowship programs are managed by the JPL Education Office. Extending the NASA Office of Education's reach, JPL Education seeks to create the next generation of scientists, engineers, technologists and space explorers by supporting educators and bringing the excitement of NASA missions and science to learners of all ages.
TAGS: Internships, Higher Education, Career Guidance, Mars 2020, Mars Sample Return