---
In 1975, 10-year-old Nagin Cox's home life was unraveling. It was a time when Cox grew up hearing that girls were "worthless" and thought only about making it to age 18 so she could be free.
"I remember looking up at the stars and thinking, 'I'm going to live and get through this," Cox, now a spacecraft systems engineer for Mars 2020 recalls. "I need to set a goal. I need something so meaningful it will help me get through the next eight years.'"
That goal revealed itself when she was 14, a curly-haired Indian girl fascinated by "Star Trek" and Carl Sagan's "Cosmos." She wanted to explore the universe. And no, she didn't want to be an astronaut.
"If you really want to go where someone has never been, you want to be with the robots. They truly explore first," she says. "There was one place that did that consistently and that was NASA's Jet Propulsion Laboratory."
She just needed to figure out how.
---
When the offer letter arrived from NASA's Jet Propulsion Laboratory, Kiana Williams could hardly believe it. Thousands of science and engineering students apply each year for internships at the lab known for its dare-anything missions to the planets and beyond. Williams never expected it would be her first internship.
"It actually took me about a week to accept that it was a real offer and that I'd actually be coming to intern at NASA/JPL," she said.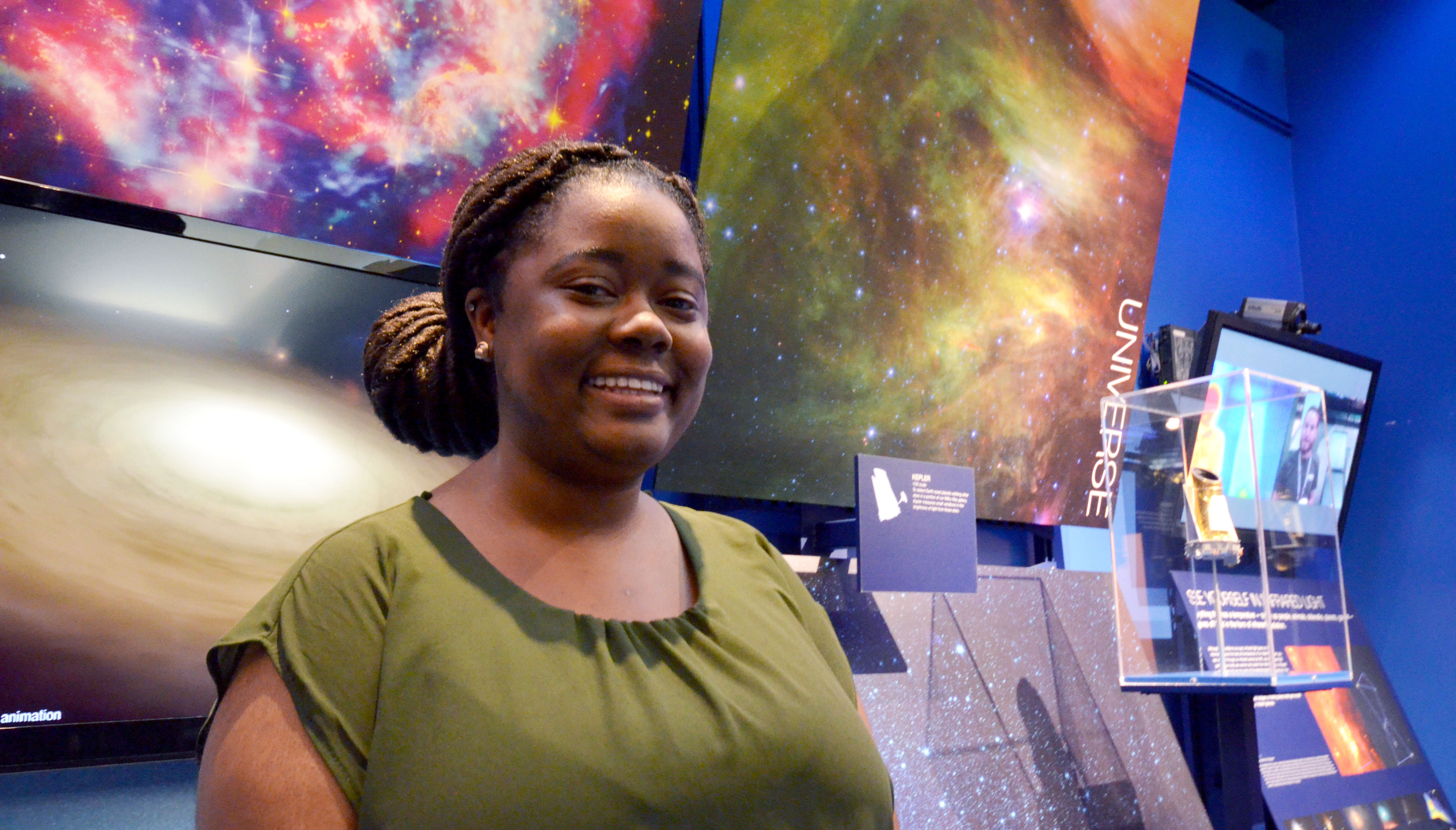 Mechanical engineering student Kiana Williams grew up near JPL in Southern California, but she never thought to apply for an internship until JPL's Education Office visited her university in Alabama. Now, a first-time intern, she says she realizes, "Oh, I can do this." Image credit: NASA/JPL-Caltech
This summer, Williams is joining more than 700 undergraduate, graduate and doctoral students for internships at JPL in Pasadena, California. Over 10 weeks, they will design new ways to study stars, investigate icy moons thought to be hospitable to life, and even help choose a landing spot for the next Mars rover.
"I get the opportunity to design an entire space telescope from top to bottom," said Williams, a senior mechanical engineering student at Tuskegee University in Alabama. "It's kind of a big task, but at the same time it's fun, so it makes my day go really quickly."
One of 10 NASA field centers, JPL is the birthplace of spacecraft and instruments that have explored every planet in the solar system, studied our home planet and looked beyond to discover new worlds. It doesn't just design and build spacecraft, it also operates them, and collects and studies the science they return.
"It's the only place in the world where everyone needed to conceive of, design, build, launch and land spacecraft, get the science data and write the papers about that science data are all in one place," said Matt Golombek, a JPL scientist whose interns over the years have helped choose the landing sites for all five Mars rovers and landers since Pathfinder in 1997.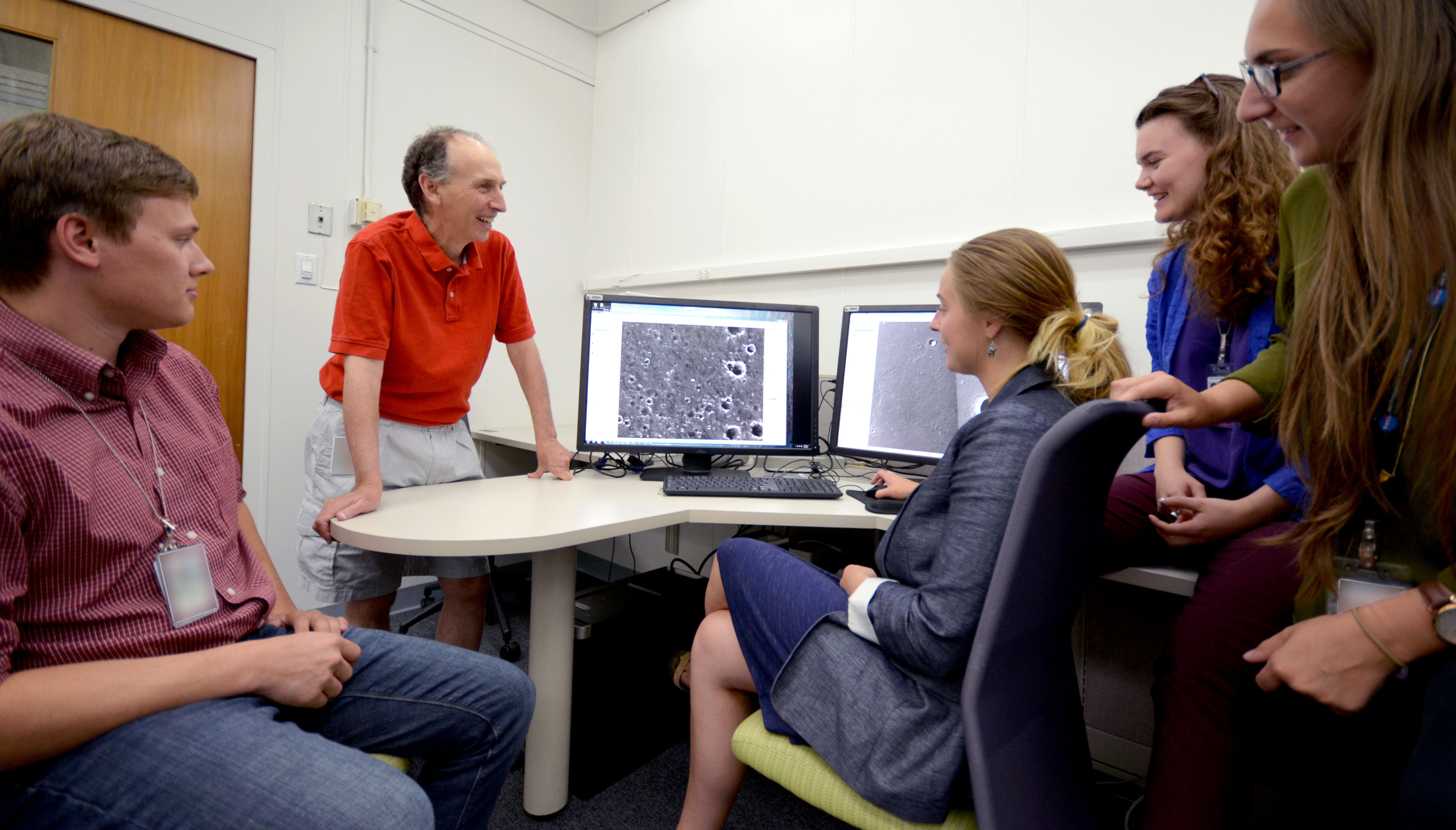 The self-proclaimed "landing site dude," Matt Golombek brings in a host of geology students each year to help identify landing sites on Mars. He has five students this summer helping with site selections for three upcoming missions, including Mars 2020. He says it's rewarding to see how students' JPL experience has a positive impact on their future no matter what they go on to do. (From left to right: Marshall Trautman, Matt Golombek, Rachel Hausman, Carol Hundal, Shannon Hibbard.) Image credit: NASA/JPL-Caltech
The lab's internship programs give students studying everything from aerospace engineering to computer science and chemistry the chance to do research with NASA scientists, build spacecraft, and create new technology for future missions.
With more than 20 active spacecraft plus a to-do list that includes missions to Mars, Jupiter's moon Europa and the asteroid belt, JPL has no shortage of projects ripe for students who are eager for careers in space exploration.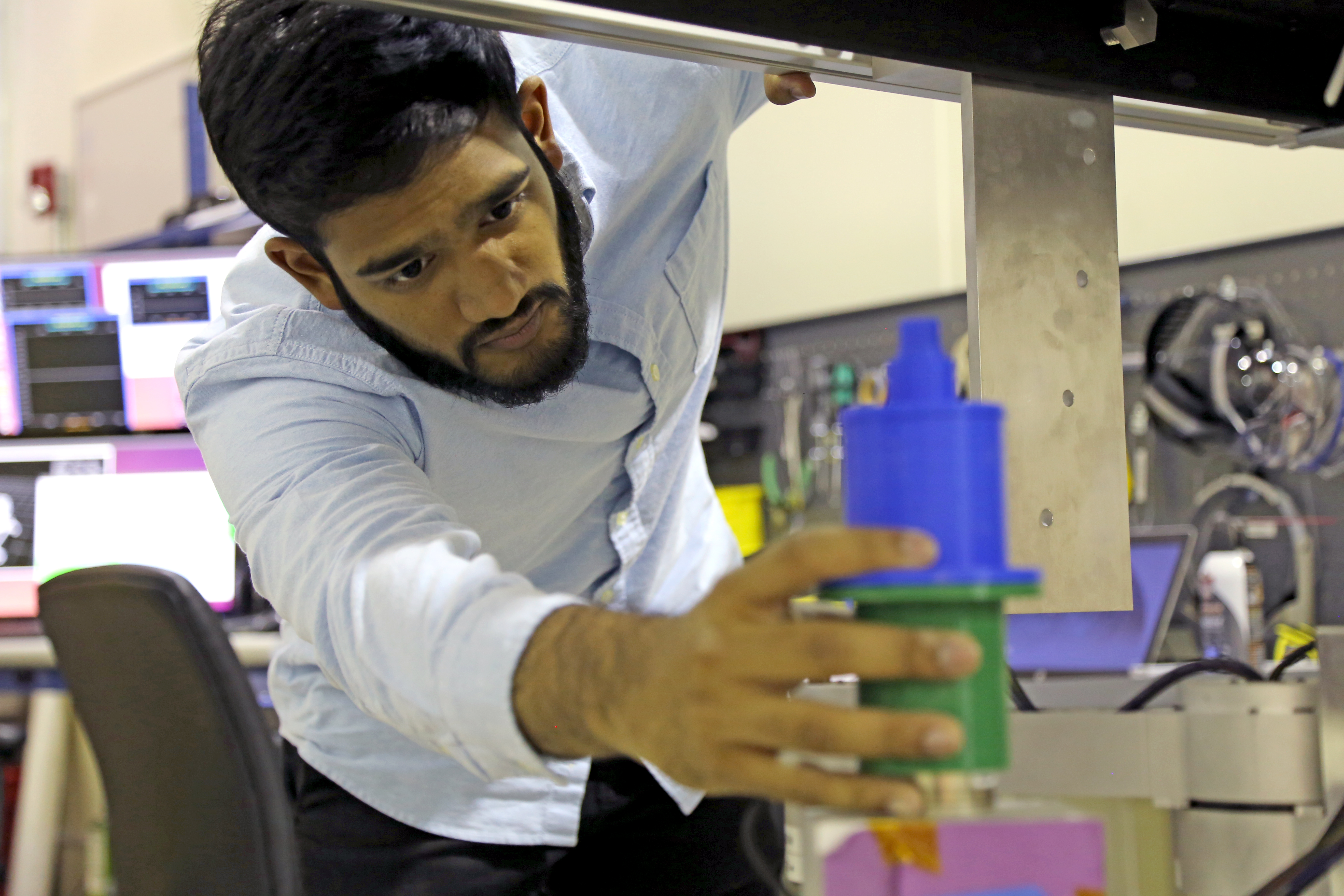 Nirmal Patel says that in addition to the wow-factor of testing parts for a Mars rover, his JPL internship is a chance to meet other engineers and scientists all united in a common goal. "Here, everyone wants to explore. And when you have that common goal, it has a different atmosphere," he said. Image credit: NASA/JPL-Caltech
"It's just amazing knowing that what we're doing now will also be replicated on Mars in a few years," said Nirmal Patel, a mechanical engineering student at the University of Michigan who is testing parts for the Mars 2020 rover. "It's surreal almost. I'm still a student but I'm getting to have an impact on this project."
David Dubois, a three-time intern who studies planetary science at the University of Versailles Saint Quentin near Paris, returned to JPL this summer to continue his research on icy moons around Saturn, Jupiter and Neptune. Using data from the Cassini mission (which will end its nearly 13-year mission at Saturn this September) he is modeling the atmosphere of Saturn's moon Titan to better understand its chemical environment – and maybe discover if it could support life.
He says that in addition to access to one-of-a-kind data directly from spacecraft, JPL offers the opportunity to explore new fields of science and even career paths, if students are open to it.
"Being open is certainly something that I've learned from JPL, not being afraid of tackling different problems in different fields," said Dubois, who is about to publish his first paper as a lead author based on his research at JPL.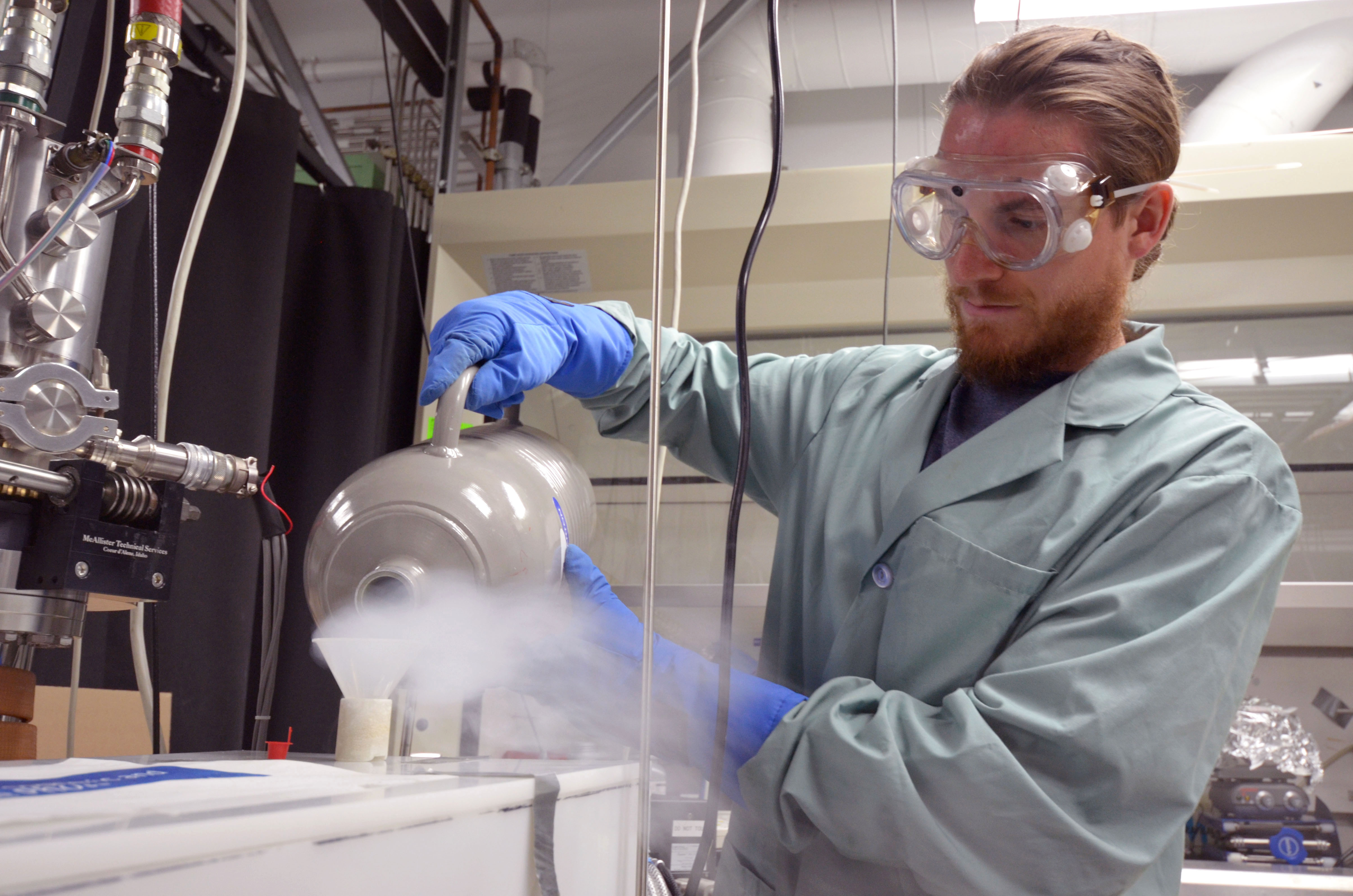 When he's not doing research, David Dubois says he focuses much of his time on outreach, which is one of his other passions. This year, he traveled to India with a friend to visit schools and villages and encourage students there to pursue science. "I like to say that I think anybody is a scientist," he said, "as long as you try to provide an answer to questions around you." Image credit: NASA/JPL-Caltech
It's precisely that exposure to its unique career offerings in science, technology, engineering and math – and a foot in the door – that JPL's Education Office, which manages the lab's internship programs, is working to provide to more students.
"Our students are operating right alongside the mentors and participating in the discovery process," said Adrian Ponce, who manages JPL's higher education group. "It's a fantastic opportunity for them, and it's also a great opportunity for JPL. Our internship programs are designed to bring in students from diverse backgrounds and underrepresented communities who share new ways of thinking and analyzing challenges. Many of them will become the next generation of innovators – and not just at JPL."
For Williams, who plans to continue toward a master's degree in design engineering after she graduates in December, her time at JPL is confirmation that she's on the right path and has the motivation to keep going.
"It makes me feel like school is worth it," said Williams of her internship experience so far. "All the stress I'm going through at school will be worth it because you can find places that are like JPL, that make your job fun."
Explore JPL's summer and year-round internship programs and apply at: https://www.jpl.nasa.gov/edu/intern
The laboratory's STEM internship and fellowship programs are managed by the JPL Education Office. Extending the NASA Office of Education's reach, JPL Education seeks to create the next generation of scientists, engineers, technologists and space explorers by supporting educators and bringing the excitement of NASA missions and science to learners of all ages.
TAGS: Intern, Mars 2020, Europa, Cassini, Titan, Science, Engineering, Missions
---
Update – Feb. 24, 2017: The deadline for the Cassini Scientist for a Day Essay Contest has passed. The winners will be announced in May 2017.
---
In the News
Next week, NASA's Cassini spacecraft will go where no spacecraft has gone before when it flies just past the edge of Saturn's main rings. The maneuver is a first for the spacecraft, which has spent more than 12 years orbiting the ringed giant planet. And it's part of a lead-up to a series of increasingly awesome feats that make up the mission's "Grand Finale" ending with Cassini's plunge into Saturn on Sept. 15, 2017.
How They'll Do It
To prepare for the so-called "ring-grazing orbits," which will bring the spacecraft within 56,000 miles (90,000 km) of Saturn, Cassini engineers have been slowly adjusting the spacecraft's orbit since January. They do this by flying Cassini near Saturn's large moon Titan. The moon's gravity pulls on the spacecraft, changing its direction and speed.
On November 29, Cassini will use a big gravitational pull from Titan to get into an orbit that is closer to perpendicular with respect to the rings of Saturn and its equator. This orbit will send the spacecraft slightly higher above and below Saturn's north and south poles, and allow it to get as close as the outer edge of the main rings – a region as of yet unexplored by Cassini.
Why It's Important
Cassini's ring-grazing orbits will allow scientists to see features in Saturn's rings, up close, that they've only been able to observe from afar. The spacecraft will get so close to the rings, in fact, that it will pass through the dusty edges of the F ring, Saturn's narrow, outermost ring. At that distance, Cassini will be able to study the rings like never before.
Among the firsts will be a "taste test" of Saturn's rings from the inside out, during which Cassini will sample the faint gases surrounding the rings as well as the particles that make up the F ring. Cassini will also capture some of the best high-resolution images of the rings, and our best views of the small moons Atlas, Pan, Daphnis and Pandora, which orbit near the rings' outer edges. Finally, the spacecraft will do reconnaissance work needed to safely carry out its next planned maneuver in April 2017, when Cassini is scheduled to fly through the 1,500-mile (2,350-kilometer) gap between Saturn and its rings.
› Read more about what we might learn from Cassini's ring-grazing orbits.
These orbits are a great example of scientific research in action. Much of what scientists will be seeing in detail during these ring-grazing orbits are features that, despite Cassini's 12 years at Saturn, have remained a mystery. These new perspectives could help answer questions scientists have long puzzled over, but they will also certainly lead to new questions to add to our ongoing exploration of the ringed giant.
Teach It
What better way to share in the excitement of Cassini's exploration than to get students thinking like NASA scientists and writing about their own questions and curiosities?
NASA's Cassini Scientist for a Day Essay Contest, open to students in grades 5-12, encourages students to do just that. Participants research three science and imaging targets and then write an essay on which target would provide the most interesting scientific results, explaining what they hope to learn from the selected target. Winners of the contest will be featured on NASA's Solar System Exploration website and get an opportunity to speak with Cassini scientists and engineers via video conference in the spring.
More information, contest rules and videos can be found here.
The deadline to enter is Feb. 24, 2017.
Explore More
TAGS: Cassini, Saturn's Rings, Saturn, Grand Finale, Spacecraft, Missions, K-12, Lessons, Activities, Language Arts, Science, Essay Contest
---
UPDATE - Sept. 9, 2015: Registration for "Send Your Name to Mars" aboard InSight is now closed. Visit the Send Your Name website to be alerted to future opportunities. The next chance to send your name to Mars will be aboard Exploration Mission 1.
---
Send your name to Mars on NASA's next journey to the Red Planet! Visit the Fly Your Name page by September 8 to have your name added to a silicon microchip headed to the Red Planet aboard NASA's InSight Mars lander.
The InSight mission is scheduled to land on Mars on Sept. 28, 2016 to investigate the deep interior and seismology of the planet. This is the first time such a study has been done on Mars and scientists are hoping it will uncover important details about Martian quakes, the interior structure of Mars and the evolution of all rocky planets, including Earth.
Participants in this fly-your-name opportunity will earn "frequent-flier" points as part of NASA's Journey to Mars campaign. Started with the December 2014 flight of NASA's Orion spacecraft, the campaign offers several opportunities to send your name to Mars -- and collect points -- on NASA missions preparing for human exploration of the Red Planet.
---
Each summer, NASA's Planetary Science Summer School program brings a team of distinguished postdocs and graduate students to the laboratory to learn what its like to design a space mission. Watch how the talented team puts together a mission concept in just five days.

---
During a live NASA Television program on April 28, 2011, schools around the United States asked questions about the farthest human-made objects in space, the twin Voyager spacecraft.