Ota Lutz is a STEM elementary and secondary education specialist at NASA's Jet Propulsion Laboratory. When she's not writing new lessons or teaching, she's probably cooking something delicious, volunteering in the community, or dreaming about where she will travel next.
---
In the News
This month marks the 60th anniversary of the launch of America's first satellite, Explorer 1. The small, pencil-shaped satellite did more than launch the U.S. into the Space Age. With its collection of instruments, or scientific tools, it turned space into not just a new frontier, but also a place of boundless scientific exploration that could eventually unveil secrets of new worlds – as well as the mysteries of our own planet.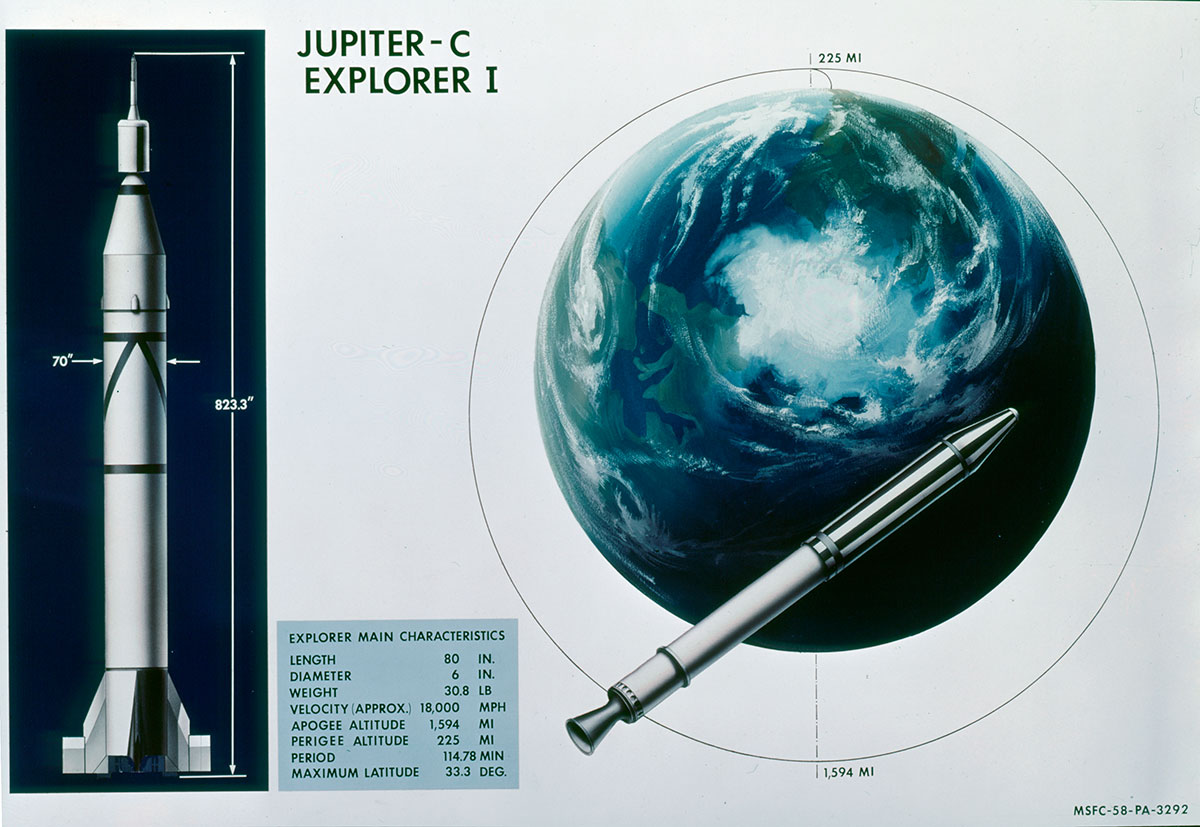 How They Did It
At the height of competition for access to space, the U.S. and the Soviet Union were both building satellites that would ride atop rockets in a quest to orbit Earth. The Soviets launched Sputnik 1 on October 4, 1957. Shortly thereafter, on January 31, 1958, the U.S. launched Explorer 1, the satellite that would begin a new age of scientific space exploration.
Using rockets to do science from orbit was a brand-new option in the late 1950s. Before this time, rockets had only been used for military operations and atmospheric research. Still, rockets of that era weren't very reliable and none had been powerful enough to place an object into Earth orbit.
Rocket Activities
Explore our collection of standards-aligned lessons for grades K-9.
In order to lift Explorer 1 to its destination in Earth orbit, an existing U.S. Army rocket, the Jupiter C, was fitted with a fourth stage, provided by the Jet Propulsion Laboratory in Pasadena, California. For this stage, a rocket motor was integrated into the satellite itself. The new, four-stage rocket was called "Juno 1."
Prior to these first orbiting observatories, everything we knew about space and Earth came from Earth-based observation platforms – sensors and telescopes – and a few atmospheric sounding rockets. With the success of Explorer 1 and the subsequent development of more powerful rockets, we have been able to send satellites beyond Earth orbit to explore planets, moons, asteroids and even our Sun. With a space-based view of Earth, we are able to gain a global perspective and acquire a wide variety and amount of data at a rapid pace.
Why It's Important
The primary science instrument on Explorer 1 was a cosmic ray detector designed to measure the radiation environment in Earth orbit – in part, to understand what hazards future spacecraft (or space-faring humans) might face. Once in space, this experiment, provided by James Van Allen of the University of Iowa, revealed a much lower cosmic ray count than expected. Van Allen theorized that the instrument might have been saturated by very strong radiation from a belt of charged particles trapped in space by Earth's magnetic field. The existence of the radiation belts was confirmed over the next few months by Explorer 3, Pioneer 3 and Explorer 4. The belts became known as the Van Allen radiation belts in honor of their discoverer.
Although we discovered and learned a bit about the Van Allen belts with the Explorer missions, they remain a source of scientific interest. The radiation belts are two (or more) donut-shaped regions encircling Earth, where high-energy particles, mostly electrons and ions, are trapped by Earth's magnetic field. The belts shrink and swell in size in response to incoming radiation from the Sun. They protect Earth from incoming high-energy particles, but this trapped radiation can affect the performance and reliability of our technologies, such as cellphone communication, and pose a threat to astronauts and spacecraft. It's not safe to spend a lot of time inside the Van Allen radiation belts.
Most spacecraft are not designed to withstand high levels of particle radiation and wouldn't last a day in the Van Allen belts. As a result, most spacecraft travel quickly through the belts toward their destinations, and non-essential instruments are turned off for protection during this brief time.
To conquer the challenge of extreme radiation in the belts while continuing the science begun by Explorer 1, NASA launched a pair of radiation-shielded satellites, the Van Allen Probes, in 2012. (The rocket that carried the Van Allen Probes into space was more than twice as tall as the rocket that carried Explorer 1 to orbit!)
The Van Allen Probes carry identical instruments and orbit Earth, following one another in highly elliptical, nearly identical orbits. These orbits bring the probes as close as about 300 miles (500 kilometers) above Earth's surface, and take them as far out as about 19,420 miles (31,250 kilometers), traveling through diverse areas of the belts. By comparing observations from both spacecraft, scientists can distinguish between events that occur simultaneously throughout the belts, those that happen at only a single point in space, and those that move from one point to another over time.
The Van Allen Probes carry on the work begun by Explorer 1 and, like all successful space missions, are providing answers as well as provoking more questions. NASA continues to explore Earth and space using spacecraft launched aboard a variety of rockets designed to place these observatories in just the right spots to return data that will answer and inspire questions for years to come.
Teach It
Explore More
TAGS: Explorer 1, STEM, NASA in the Classroom, Lessons, Activities, Teachable Moments
---
Update – Sept. 11, 2017: This feature (originally published on April 25, 2017) has been updated to reflect Cassini's current mission status, as well as new lessons and activities.
---
In the News
After almost 20 years in space, NASA's Cassini spacecraft has begun the final chapter of its remarkable story of exploration. This last phase of the mission has delivered unprecedented views of Saturn and taken Cassini where no spacecraft has been before – all the way between the planet and its rings. On Friday, Sept. 15 Cassini will perform its Grand Finale: a farewell dive into Saturn's atmosphere to protect the environments of Saturn's moons, including the potentially habitable Enceladus.
Lessons All About Saturn
Explore our collection of standards-aligned lessons about NASA's Cassini mission.
How It Works
On April 22, Cassini flew within 608 miles (979 km) of Saturn's giant moon Titan, using the moon's gravity to place the spacecraft on its path for the ring-gap orbits. Without this gravity assist from Titan, the daring, science-rich mission ending would not be possible.
Cassini is almost out of the propellant that fuels its main engine, which is used to make large course adjustments. A course adjustment requires energy. Because the spacecraft does not have enough rocket fuel on board, Cassini engineers have used an external energy source to set the spacecraft on its new trajectory: the gravity of Saturn's moon Titan. (The engineers have often used Titan to make major shifts in Cassini's flight plan.)
Titan is a massive moon and thus has a significant amount of gravity. As Cassini comes near Titan, the spacecraft is affected by this gravity – and can use it to its advantage. Often referred to as a "slingshot maneuver," a gravity assist is a powerful tool, which uses the gravity of another body to speed up, slow down or otherwise alter the orbital path of a spacecraft.
When Cassini passed close by Titan on April 22, the moon's gravity pulled strongly on the spacecraft. The flyby gave Cassini a change in velocity of about 1,800 mph (800 meters per second) that sent the spacecraft into its first of the ring-gap orbits on April 23. On April 26, Cassini made its first of 22 daring plunges between the planet and its mighty rings.
As Kepler's third law indicates, Cassini traveled faster than ever before during these final smaller orbits. Cassini's orbit continued to cross the orbit of Titan during these ring-gap orbits. And every couple of orbits, Titan passed near enough to give the spacecraft a nudge. One last nudge occured on September 11, placing the spacecraft on its final, half-orbit, impact trajectory toward Saturn.
Because a few hardy microbes from Earth might have survived onboard Cassini all these years, NASA has chosen to safely dispose of the spacecraft in the atmosphere of Saturn to avoid the possibility of Cassini someday colliding with and contaminating moons such as Enceladus and Titan that may hold the potential for life. Cassini will continue to send back science measurements as long as it is able to transmit during its final dive into Saturn.
Why It's Important
Flying closer than ever before to Saturn and its rings has provided an unprecedented opportunity for science. During these orbits, Cassini's cameras have captured ultra-close images of the planet's clouds and the mysterious north polar hexagon, helping us to learn more about Saturn's atmosphere and turbulent storms.
The cameras have been taking high-resolution images of the rings, and to improve our knowledge of how much material is in the rings, Cassini has also been conducting gravitational measurements. Cassini's particle detectors have sampled icy ring particles being funneled into the atmosphere by Saturn's magnetic field. Data and images from these observations are helping bring us closer to understanding the origins of Saturn's massive ring system.
Cassini has also been making detailed maps of Saturn's gravity and magnetic fields to reveal how the planet is structured internally, which could help solve the great mystery of just how fast Saturn is rotating.
On its first pass through the unexplored 1,500-mile-wide (2,400-kilometer) space between the rings and the planet, Cassini was oriented so that its high-gain antenna faced forward, shielding the delicate scientific instruments from potential impacts by ring particles. After this first ring crossing informed scientists about the low number of particles at that particular point in the gap, the spacecraft was oriented differently for the next four orbits, providing the science instruments unique observing angles. For ring crossings 6, 7 and 12, the spacecraft was again oriented so that its high-gain antenna faced forward.
Fittingly, Cassini's final moments will be spent doing what it does best, returning data on never-before-observed regions of the Saturnian system. On September 15, just hours before Cassini enters Saturn's atmosphere for its Grand Finale dive, it will collect and transmit its final images back to Earth. During its fateful dive, Cassini will be sending home new data in real time informing us about Saturn's atmospheric composition. It's our last chance to gather intimate data about Saturn and its rings – until another spacecraft journeys to this distant planet.
Explore the many discoveries made by Cassini and the story of the mission on the Cassini website.
Teach It
Use these standards-aligned lessons to get your students excited about the science we have learned and have yet to learn about the Saturnian system.
Explore More
TAGS: Saturn, Titan, Cassini, Grand Finale, Teachable Moments, Kepler's Laws, K-12, Lessons,
---
In the News
This year marks the 40th anniversary of the launch of the world's farthest and longest-lived spacecraft, NASA's Voyager 1 and 2. Four decades ago, they embarked on an ambitious mission to explore the giant outer planets, the two outermost of which had never been visited. And since completing their flybys of Jupiter, Saturn, Uranus and Neptune in 1989, they have been journeying toward the farthest reaches of our solar system – where no spacecraft has been before. These two intrepid spacecraft continue to return data to NASA daily, offering a window into the mysterious outer realms of our solar system and beyond.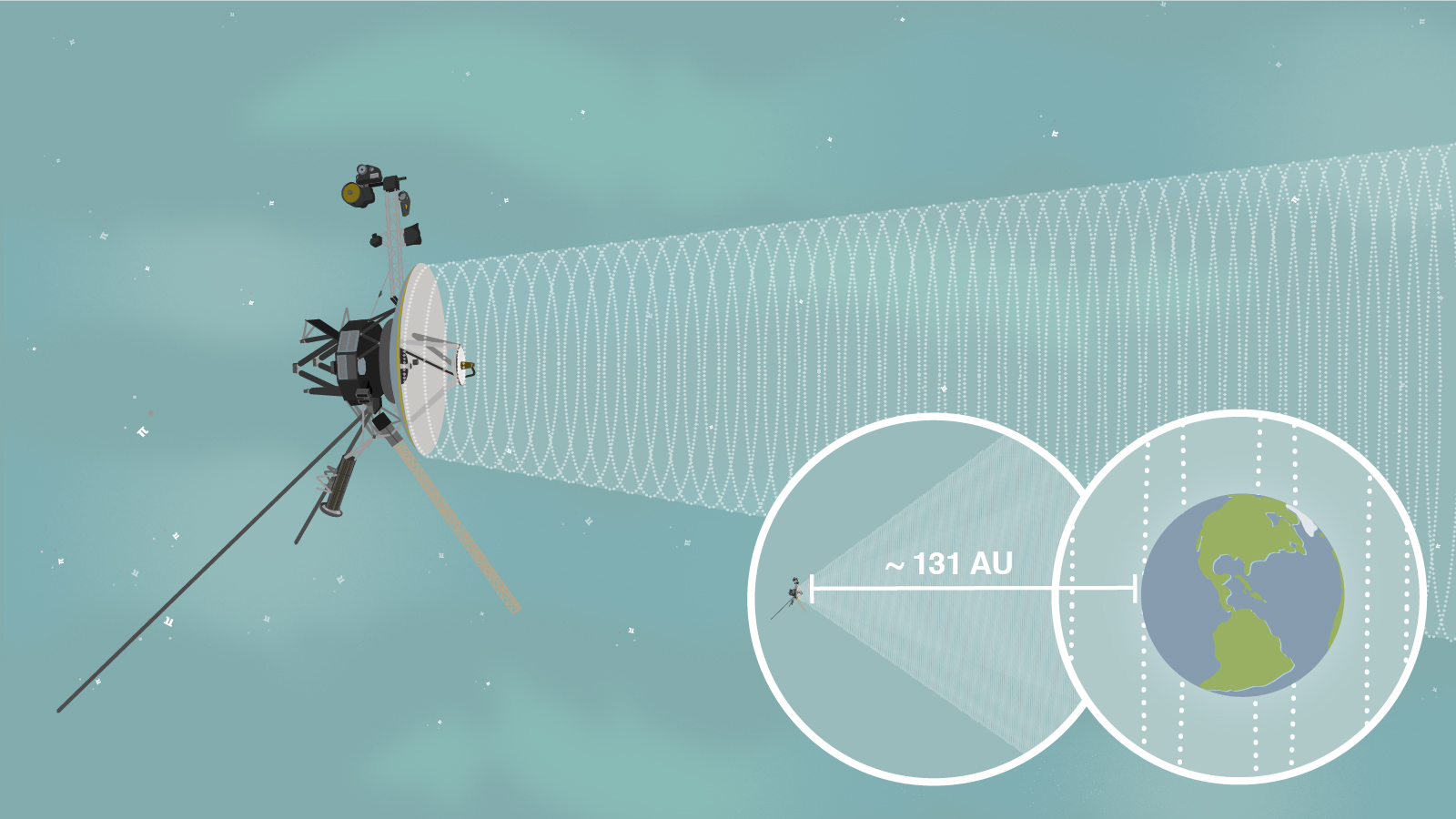 How They Did It
The Voyager spacecraft were launched during a very short window that took advantage of a unique alignment of the four giant outer planets – one that would not occur again for another 176 years. (Try this lesson in calculating launch windows to get an idea of how it was done.) Launching at this point in time enabled the spacecraft to fly by all four planets in a single journey, returning never-before-seen, close-up images and scientific data from Jupiter, Saturn, Uranus and Neptune that greatly contributed to our current understanding of these planets and the solar system.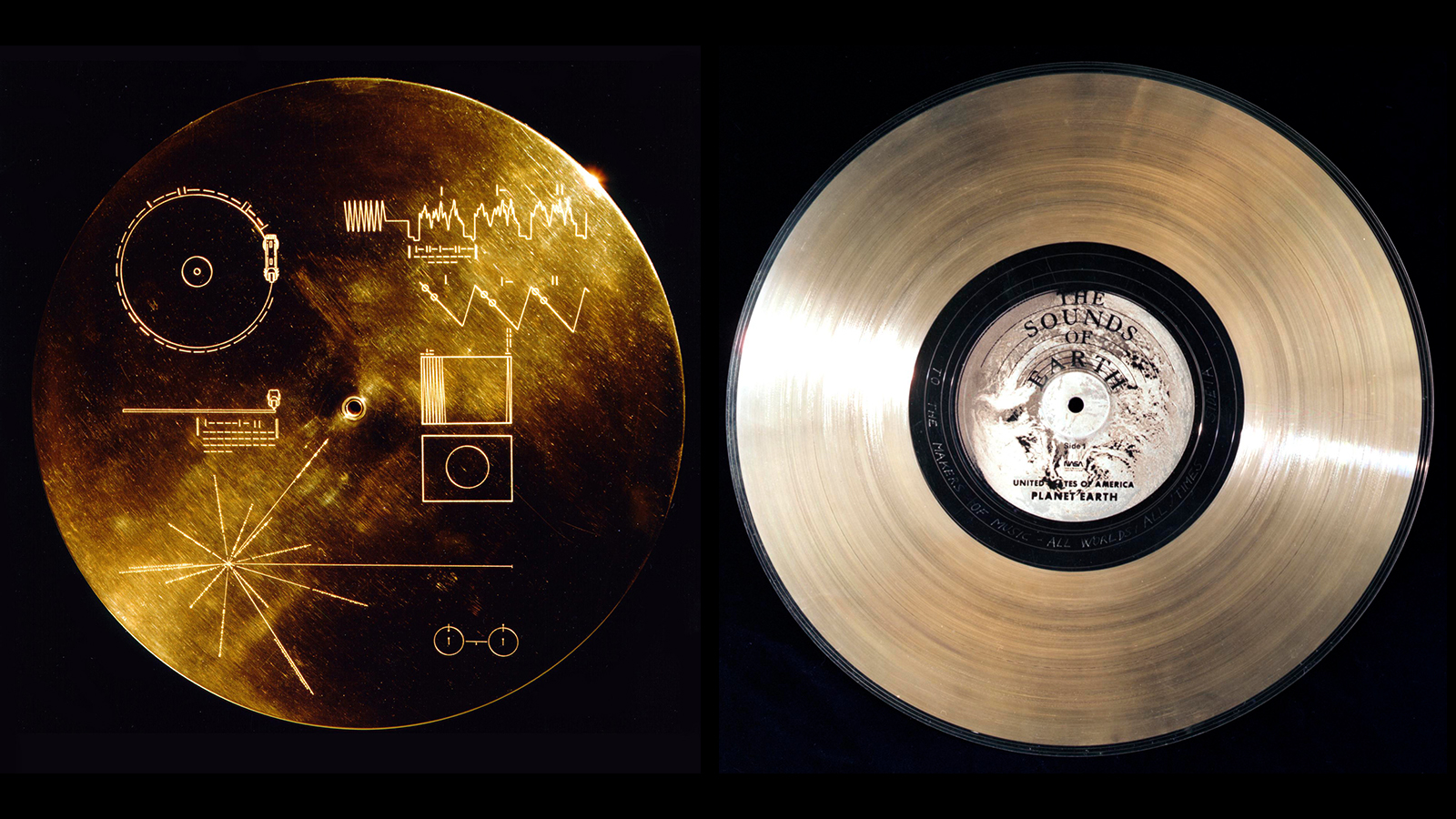 Mission planners knew Voyager would be a historic mission to parts of the solar system never visited by a human-made object. To commemorate the journey, NASA endowed each spacecraft with a time capsule of sorts called the Golden Record intended to communicate the story of our world to extraterrestrials. Both Voyagers carry the 12-inch, gold-plated copper phonograph record containing sounds and images selected to portray the diversity of life and culture on Earth. Find out more about the Golden Record on the
Voyager website
. Credit: NASA/JPL-Caltech
Why It's Important
These images of Jupiter, Saturn, Uranus and Neptune (clockwise from top) were taken by Voyager 1 and 2 as the spacecraft journeyed through the solar system. See a gallery of images that Voyager took on the Voyager website. Credit: NASA/JPL-Caltech
In addition to shaping our understanding of the outer planets, the Voyager spacecraft are helping us learn more about the space beyond the planets – the outer region of our solar system. After completing their "grand tour" of the outer planets, the Voyagers continued on an extended mission to the outer solar system. They are now more than 10 billion miles from Earth, exploring the boundary region between our planetary system and what's called interstellar space.
The beginning of interstellar space is where the constant flow of material from the Sun and its magnetic field stop influencing the surroundings. Most of the Sun's influence is contained within the heliosphere, a bubble created by the Sun and limited by forces in interstellar space. (Note that the heliosphere doesn't actually look like a sphere when it travels through space; it's more of a blunt sphere with a tail.) The outer edge of the heliosphere, before interstellar space, is a boundary region called the heliopause. The heliopause is the outermost boundary of the solar wind, a stream of electrically charged atoms, composed primarily of ionized hydrogen, that stream outward from the Sun. Our planetary system lies inside the bubble of the heliosphere, bordered by the heliopause and surrounded by interstellar space.
Any flat-bottom sink can provide a visual analogy of these solar system components. In this video, the water traveling radially away from where the faucet stream impacts the sink represents the solar wind. The termination shock is the point at which the speed of the solar wind (water) drops abruptly as it begins to be influenced by interstellar wind. The outer edge of the thick ring of water at the bottom of the sink represents the heliopause. Just like the water in the sink, the solar wind at the heliopause changes direction and flows back into the heliosphere. Credit: NASA/JPL-Caltech.
Though we've learned a lot about the heliopause thanks to the Voyager spacecraft, its thickness and variation are still key unanswered questions in space physics. As the Voyagers continue their journey, scientists hope to learn more about the location and properties of the heliopause.
From their unique vantage points – Voyager 1 in the northern hemisphere and Voyager 2 in the southern hemisphere – the spacecraft have already detected differences and asymmetries in the solar wind termination shock, where the wind abruptly slows as it approaches the heliopause. For example, Voyager 2 crossed the termination shock at a distance of about 83.7 AU in the southern hemisphere. (One AU, or astronomical unit, is equal to 150 kilometers (93 million miles), the distance between Earth and the Sun.) That's about 10 AU closer to the Sun than where Voyager 1 crossed the shock in the north. As shown in this diagram, Voyager 1 traveled through the compressed "nose" of the termination shock and Voyager 2 is expected to travel through the flank of the termination shock.
With four remaining powered instruments on Voyager 1 and five remaining powered instruments on Voyager 2, the two spacecraft continue to collect science data comparing their two distinct locations at the far reaches of the solar system.
In August 2012, Voyager 1 detected a dramatic increase in galactic cosmic rays (as shown in this animated chart). The increase, which has continued to the current peak, was associated with the spacecraft's crossing into interstellar space. Credit: NASA/JPL-Caltech
Since it launched from Earth in 1977, Voyager 1 has been using an instrument to measure high-energy, dangerous particles traveling through space called galactic cosmic rays. While studying the interaction between the bubble of the heliosphere and interstellar space, Voyager 1 revealed that the heliosphere is functioning as a radiation shield, protecting our planetary system from most of these galactic cosmic rays. So in August 2012, when Voyager 1 detected a dramatic increase in the rays, which has continued to the current peak, it was associated with the spacecraft's crossing into interstellar space.
Meanwhile, Voyager 2 ­­– which is still in the heliosheath, the outermost layer of the heliosphere between the shock and the heliopause ­– is using its solar wind instrument to measure the directional change of solar wind particles there. Within the next few years, Voyager 2 is also expected to cross into interstellar space, providing us with even more detailed data about this mysterious region.
In another 10 years, we expect one or both Voyagers to cruise outward into a more pristine region of interstellar space, returning data to inform our hypotheses about the concentration of galactic particles and the characteristics of interstellar wind.
Even with 40 years of space flight behind them, the Voyagers are expected to continue returning valuable data until about 2025. Communications will be maintained until the spacecraft's nuclear power sources can no longer supply enough electrical energy to power critical functions. Until then, there's still much to learn about the boundary of our heliosphere and what lies beyond in the space between the stars.
Teach It
Use these standards-aligned lessons and related activities to get students doing math and science with a real-world (and space!) connection.
Hear Here - Students use the mathematical constant pi and information about the current location of Voyager 1 to learn about the faint data-filled signal being returned to Earth.
Solar System Bead Activity – Students calculate and construct a scale model of solar system distances using beads and string.
Catching a Whisper from Space – Students kinesthetically model the mathematics of how NASA communicates with spacecraft.
Explore More
TAGS: Voyager, Farthest, Golden Record, STEM, Teachable Moments, Science, Engineering, Solar System, Interstellar Space, Heliopause, Heliosphere, Heliosheath, Termination Shock, Stars, Heliophysics
---
In the News
Earth Day, the day set aside each year to celebrate our planet and bring attention to the natural world, is on April 22, 2017. More than one billion people are expected to participate in Earth Day events around the globe that will draw attention to what we know about Earth, how it is changing and how we can be kind to our home planet.
One of the ways that NASA participates – not just on Earth Day, but also year-round – is by collecting and analyzing science data from sensors on Earth and satellites. These data allow us to monitor the health of our planet and better understand how and why it is changing.
Earth Day Resources for Educators
Explore our collection of standards-aligned Earth science lessons – plus this new lesson about reading NASA data visualizations and heat maps.

This year, to highlight the importance of these data, NASA is inviting people to "adopt" a portion of Earth's surface and obtain a snapshot of some of the satellite data available for their adopted location. Even though you'll have no legal or ownership rights to this region, it will be fun to learn about the various types of data available for different locations on Earth. Find out how you can participate.
How It Works
NASA's fleet of Earth-observing satellites and airborne sensors provides us with data about such vital information as carbon dioxide, carbon monoxide, global land and sea temperature, ice, sea surface salinity, and chlorophyll – just to name a few. The satellites and sensors collect these data over time and from as many perspectives as possible, allowing us to discern trends in the data.
A snapshot of data is just one piece of a much larger puzzle because it only gives us an indication of what was happening at the exact moment that data was captured. Even data collected over a year has its limitations because local conditions may ebb and flow over longer time periods. Collecting data about multiple elements of the Earth system over decades or centuries enables us to develop correlation and causation models, powerful indicators of why trends are developing as they are. And using multiple platforms (satellite, aerial, Earth-based) to measure data enables us to validate our data sets.
Why It's Important
Humans are dependent on a healthy and functioning Earth to survive, which means we need to keep a close eye on all Earth systems and our impacts on those systems. This process of collecting data over time from multiple perspectives, discerning trends and validating the data is crucial to understanding our planet and helping policymakers formulate actions we can take to preserve Earth for future generations.
Earth is a complex, dynamic system we do not fully understand. To learn more about it, NASA, as the agency with access to space, was tasked with launching the first weather satellite back in 1960. Today, NASA uses satellites, aircraft and even an occasional boat to study our planet's air, land and water. It's called "Earth System Science" and we are trying to answer some big questions: How is the global Earth system changing? What causes these changes? How will Earth change in the future? And what we learn benefits society through applications such as weather forecasting, freshwater availability and disaster response.
› Watch NASA's Earth Minute series
Teach It
First, introduce students to the kinds of data scientists use to study Earth. Participate in NASA's Adopt the Planet campaign to receive a snapshot of Earth science data for one patch of Earth. Then encourage students to dig deeper with these standards-aligned lessons:
Explore More
TAGS: Earth Day, Climate Change, Earth Science, Lessons, Activities, K-12, Teaching
---
In The News
This week, we celebrate the 80th anniversary of the Jet Propulsion Laboratory. JPL was founded long before it became NASA's premier center for robotic exploration of the solar system – and even before the agency existed. In fact, JPL started as the test-bed for some of the earliest rocketry experiments (thus the name "Jet Propulsion Laboratory"). There were a number of factors that conspired to change JPL's focus from rocketry to space exploration. The Space Race and the resulting formation of NASA were two major factors. But also, with its growing expertise in launching rockets to new heights, JPL was anxious to take its experiments even farther. So in 1957, when the Soviet Union won the first leg of the Space Race by placing Sputnik, the first artificial satellite, into Earth orbit, JPL was called into action. A few months later, NASA launched the JPL-built Explorer 1, which became the first U.S. satellite.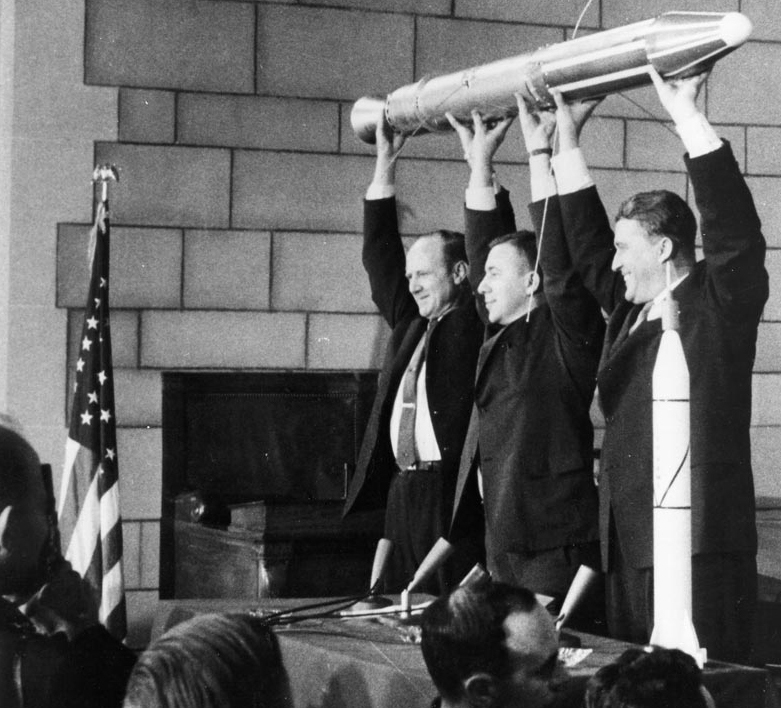 Explorer 1 became the first U.S. space satellite in 1958. It was built at NASA's Jet Propulsion Laboratory in Pasadena, California. Image credit: NASA/JPL-Caltech
Soon, the challenge was to land on the moon – and JPL was once again called to the task. Landing on another planetary body had never been accomplished so, understandably, it took a few tries to get things right. JPL's first attempts at a moon landing with Rangers 1 through 6 all failed for various reasons. Some of the spacecraft flew very near the moon only to miss it by a few hundred kilometers; others met their mark only to have onboard cameras fail. Ranger 7 was the first mission to successfully land on the moon and transmit data, capturing images 1,000-times better than those obtained by ground-based telescopes. It wasn't a particularly soft landing; rather it was a purposeful crash landing, capturing images along the way. But everyone at JPL was thrilled to have hit their target and returned usable data. These data, and those collected by subsequent missions, made possible NASA's later human missions to the moon.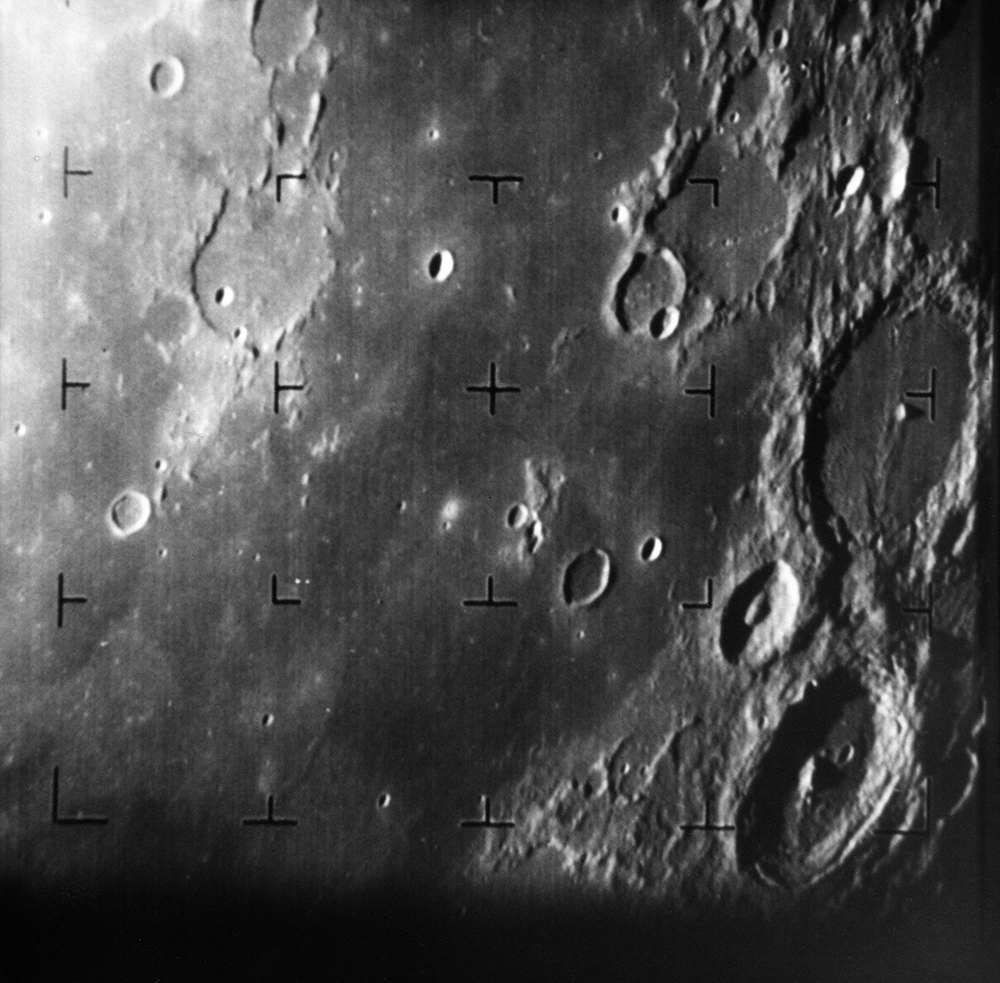 Ranger 7 was the first U.S. mission to successfully impact the moon. This was one of more than 4,300 images sent back during the flyby. Image credit: NASA/JPL-Caltech
At the same time it was launching the Ranger lunar missions, JPL had also set its sights on venturing even farther into space and began launching a series of missions called Mariner to Venus, Mercury and Mars. It wasn't long before JPL's specialty became creating robotic spacecraft to go not just to the moon, but also where no one had gone before.
Learn more about the history of JPL and the U.S. space program in the video series below. And explore the interactive timeline.
How They Did It
What's often not known is that all the early rocket experiments and later missions to the moon and beyond wouldn't have been possible without a team at JPL known as the human "computers." Most of these human computers were women who either had degrees in mathematics or were simply very good at mathematics. Over the course of time, these women not only performed hundreds of thousands of mathematical calculations crucial to the U.S. space program, but also eventually became some of the first computer programmers at NASA.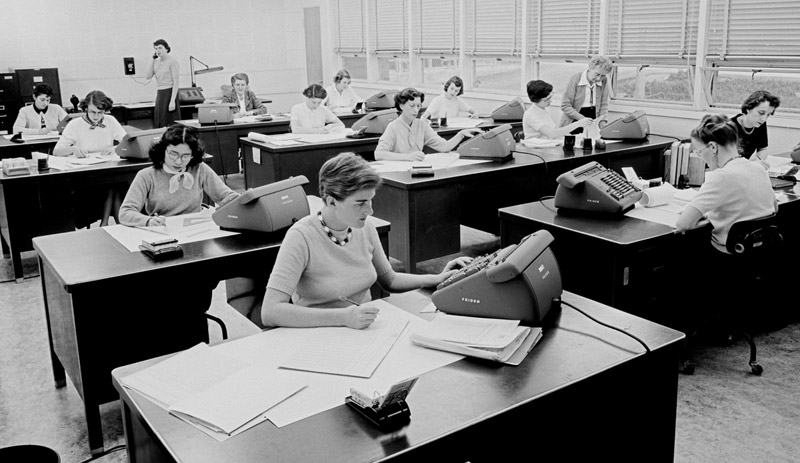 A talented team of women, who were around since JPL's beginnings in 1936 and who were known as computers, were responsible for the number-crunching of launch windows, trajectories, fuel consumption and other details that helped make the U.S. space program a success. Image credit: NASA/JPL-Caltech
In the early days of space exploration, the best mechanical computers were large (the size of a room) and not particularly powerful. Human capabilities were much more powerful for many tasks, including the rapid calculations needed for trajectory analysis and verification, as well as the graphing of data points on trajectories, which made a spacecraft's path easy to see.
One of the human computers' main tasks was computing the planned trajectories, or paths, for a spacecraft based on the vehicle weight, lift capacity of the rocket, and the orbital dynamics of the planets.
When a spacecraft is launched, it begins sending telemetry signals back to Earth. These signals tell engineers information about the spacecraft's location and health. But this information isn't perfectly straightforward. It arrives as a bunch of numbers that need to be combined in formulas along with other constantly changing parameters (such as velocity, vehicle mass and the effect of gravity from nearby bodies) in order to reveal the spacecraft's actual location. Before there were computers (as we know them today) to do these calculations, human computers would feverishly calculate the exact location of the spacecraft as the telemetry came in and compare that to the planned trajectories. Their calculations would reveal whether the spacecraft was on target.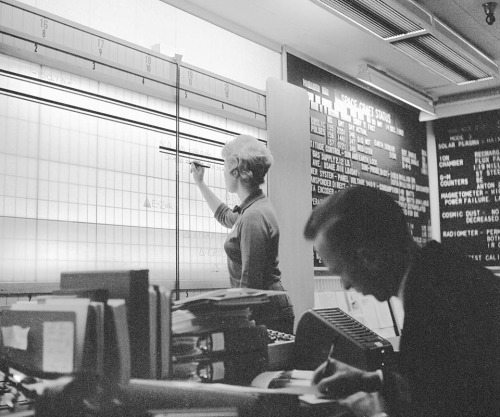 A computer in the control room at JPL tracks the position of Mariner 2. The spacecraft became the first to fly by another planet when it reached Venus in 1962. Image credit: NASA/JPL-Caltech
Doing the calculations required to get Explorer 1 into orbit was no small task. Calculating the trajectory for a Ranger crash landing or a Surveyor soft landing on the moon was even more challenging. Once humans were destined to be on board for the Apollo missions, the stakes were even higher. Fortunately, JPL had set the stage developing the techniques – and calculations – necessary to land a robotic spacecraft safely on the moon.
Why It's Important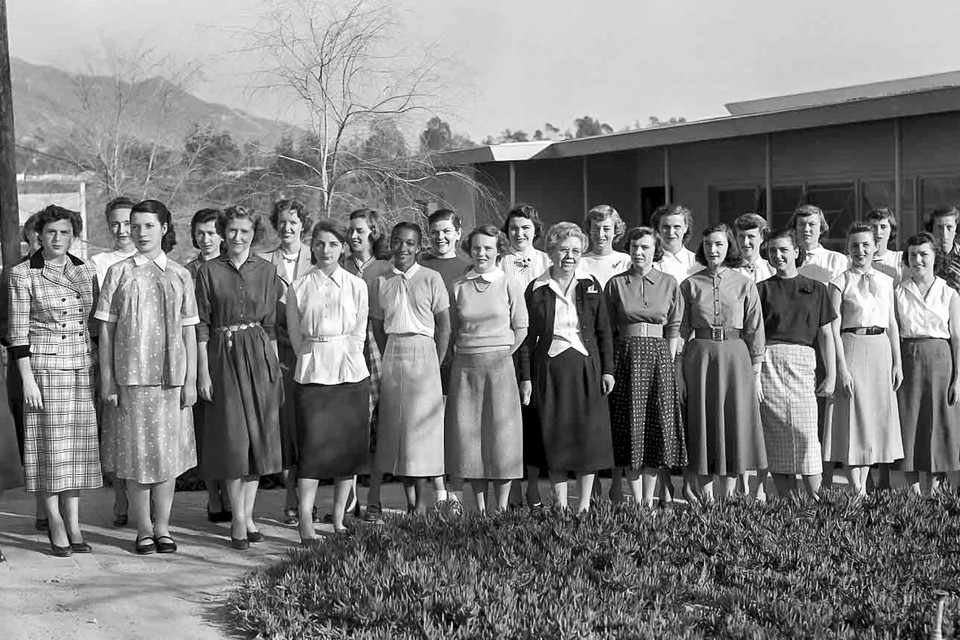 JPL's human computers didn't just help launch the U.S. space program; they also represented an important step forward for women and other underrepresented people at a time when much of the professional world and especially technical fields were dominated by white men. Janez Lawson (seen in this photo from 1953, front row, fifth from the left), was the first African American hired into a technical position at JPL. Having graduated from UCLA with a bachelor's degree in chemical engineering, she later went on to have a successful career as a
chemical engineer. Image credit: NASA/JPL-Caltech
Today, JPL continues setting the pace for exploration of the solar system using robots to go where humans hope to venture one day, such as Mars. Though trajectory computations are now done using modern day computers, humans are still required to do trajectory analysis and mission planning. Every mission is different, and with new techniques comes new simulation equations that must be developed and computations that must be performed during actual mission events to ensure success. But even now, nothing is fail-proof. Lots of variables can and do influence spaceflight. Arriving safely on another planet millions of miles away isn't easy or taken for granted, but when things go right and we achieve a safe landing, it is definitely cause for celebration.
Teach It
When launching to another planet, we want to take the most efficient route, using the least amount of rocket fuel possible. The early human computers quickly discovered that launching when two planets are closest and using a lot of rocket fuel for the job isn't the best plan.
Use this fascinating bit of history as a real world, advanced algebra and physics lesson with students in this standards-aligned activity that has grades 9-12 calculate the next launch window to Mars!
Explore More
TAGS: JPL Anniversary, History, Human Computers, Launch Windows, Algebra, High School
---
In the News
You didn't need to check social media, read the newspaper or watch the local news to know that California wildfires were making headlines this summer. Simply looking up at a smoke-filled sky was enough for millions of people in all parts of the state to know there was a fire nearby.
Fueled by high temperatures, low humidity, high winds and five years of vegetation-drying drought, more than 4,800 fires have engulfed 275,000-plus acres across California already this year. And the traditional fire season – the time of year when fires are more likely to start, spread and consume resources – has only just begun.
With wildfires starting earlier in the year and continuing to ignite throughout all seasons, fire season is now a year-round affair not just in California, but also around the world. In fact, the U.S. Forest Service found that fire seasons have grown longer in 25 percent of Earth's vegetation-covered areas.
For NASA's Jet Propulsion Laboratory, which is located in Southern California, the fires cropping up near and far are a constant reminder that its efforts to study wildfires around the world from space, the air and on the ground are as important as ever.
JPL uses a suite of Earth satellites and airborne instruments to help better understand fires and aide in fire management and mitigation. By looking at multiple images and types of data from these instruments, scientists compare what a region looked like before, during and after a fire, as well as how long the area takes to recover.
While the fire is burning, scientists watch its behavior from an aerial perspective to get a big-picture view of the fire itself and the air pollution it is generating in the form of smoke filled with carbon monoxide and carbon dioxide.
Natasha Stavros, a wildfire expert at JPL, joined Zach Tane with the U.S. Forest Service during a Facebook Live event (viewable below) to discuss some of these technologies and how they're used to understand wildfire behavior and improve wildfire recovery.
This animation shows how FireSat would use a network of satellites around the Earth to detect fires faster than ever before.
Additionally, JPL is working with a startup in San Francisco called Quadra Pi R2E to develop FireSat, a global network of satellites designed to detect wildfires and alert firefighting crews faster. When completed in June 2018, the network's array of more than 200 satellites will use infrared sensors to detect fires around the world much faster than is possible today. Working 24 hours a day, the satellites will be able to automatically detect fires as small as 35 to 50 feet wide within 15 minutes of when they begin. And within three minutes of a fire being detected, the FireSat network will notify emergency responders in the area.
Using these technologies, NASA scientists are gaining a broader understanding of fires and their impacts.
Why It's Important
One of the ways we often hear wildfires classified is by how much area they have burned. Though this is certainly of some importance, of greater significance to fire scientists is the severity of the fire. Wildfires are classified as burning at different levels of severity: low, medium, and high. Severity is a function of intensity, or how hot the fire was, and its spread rate, or the speed at which it travels. A high-severity fire is going to do some real damage. (Severity is measured by the damage left after the fire, but can be estimated during a fire event by calculating spread rate and measuring flame height which indicates intensity.)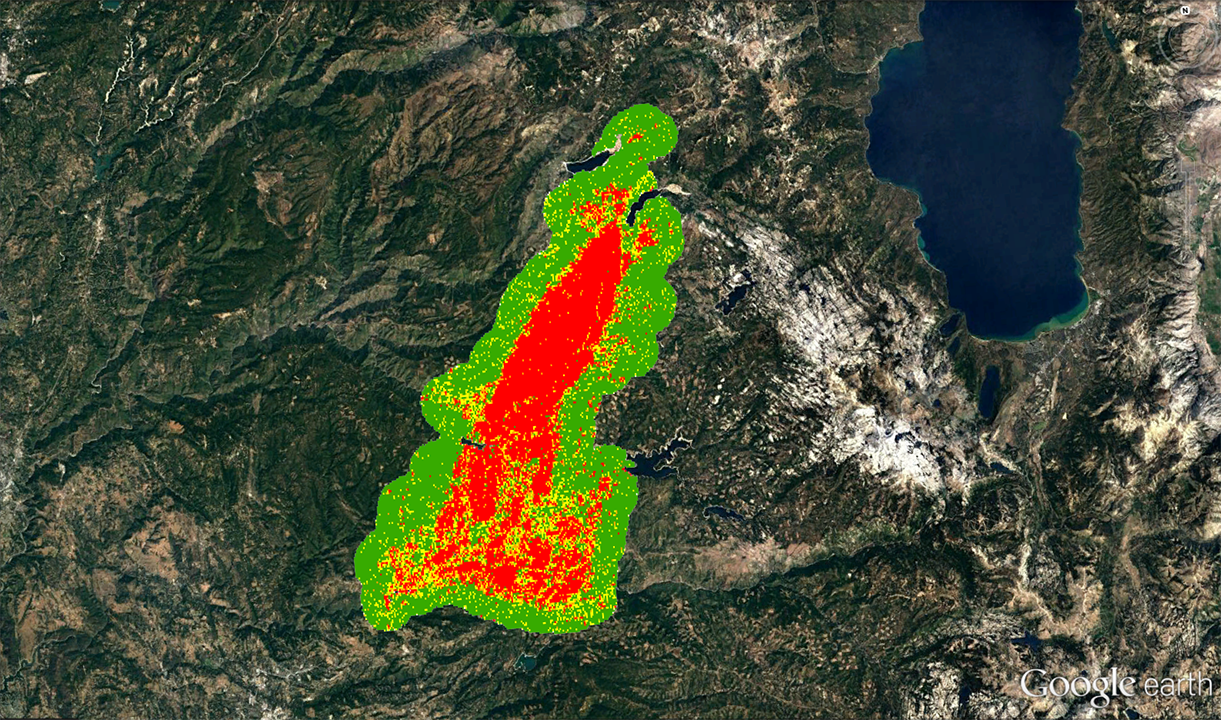 This image, created using data imported into Google Earth, shows the severity of the 2014 King Fire. Green areas are unchanged by the fire; yellow equals low severity; orange equals moderate severity; and red equals high severity. A KMZ file with this data is available in the Fired Up Over Math lesson linked below. Credit: NASA/JPL-Caltech/E. Natasha Stavros.
The impacts of wildfires range from the immediate and tangible to the delayed and less obvious. The potential for loss of life, property and natural areas is one of the first threats that wildfires pose. From a financial standpoint, fires can lead to a downturn in local economies due to loss of tourism and business, high costs related to infrastructure restoration, and impacts to federal and state budgets.
The release of greenhouse gases like carbon dioxide and carbon monoxide is also an important consideration when thinking about the impacts of wildfires. Using NASA satellite data, researchers at the University of California, Berkeley, determined that between 2001 and 2010, California wildfires emitted about 46 million tons of carbon, around five to seven percent of all carbon emitted by the state during that time period.
This animation from
NASA's Eyes on the Earth
visualization program shows carbon monoxide rising (red is the highest concentration) around Southern California as the Station Fire engulfed the area near JPL in 2009. Image credit: NASA/JPL-Caltech
In California and the western United States, longer fire seasons are linked to changes in spring rains, vapor pressure and snowmelt – all of which have been connected to climate change. Wildfires serve as a climate feedback loop, meaning certain effects of wildfires – the release of CO2 and CO – contribute to climate change, thereby enhancing the factors that contribute to longer and stronger fire seasons.
While this may seem like a grim outlook, it's worth noting that California forests still act as carbon sinks – natural environments that are capable of absorbing carbon dioxide from the atmosphere. In certain parts of the state, each hectare of redwood forest is able to store the annual greenhouse gas output of 500 Americans.
Studying and managing wildfires is important for maintaining resources, protecting people, properties and ecosystems, and reducing air pollution, which is why JPL, NASA and other agencies are continuing their study of these threats and developing technologies to better understand them.
Teach It
Have your students try their hands at solving some of the same fire-science problems that NASA scientists do with these two lessons that get students in grades 3 through 12 using NASA data, algebra and geometry to approximate burn areas, fire-spread rate and fire intensity:
Fired Up Over Math: Studying Wildfires from Space - In this activity, younger students use arithmetic, scale, and math tiles; middle school students employ rate and partial polygon area formulas; and high school students use Google Earth software embedded with recent NASA wildfire data to make inferences about fire severity.


Pixels on Fire – In this technology-based lesson, students detect mock fires using mobile devices and study NASA data visualizations to determine when actual California wildfires started.
Explore More
Lyle Tavernier was a co-author on this feature.
TAGS: teachable moments, wildfires, science
---
In the News
History was made recently as the last-existing, flight-qualified external fuel tank for NASA's Space Shuttle Program made a 16.5-mile crawl through the streets of Los Angeles to its new home at the California Science Center. On May 21, 2016, the tank, a nearly 154-foot long, more than 65,000-pound behemoth dubbed ET-94, was towed from the port in Marina del Rey (where it arrived after another epic voyage) to the science center. Eventually, it will be displayed with the space shuttle Endeavour and two solid rocket boosters in launch configuration – looking like it's ready to blast into space.
How They Did It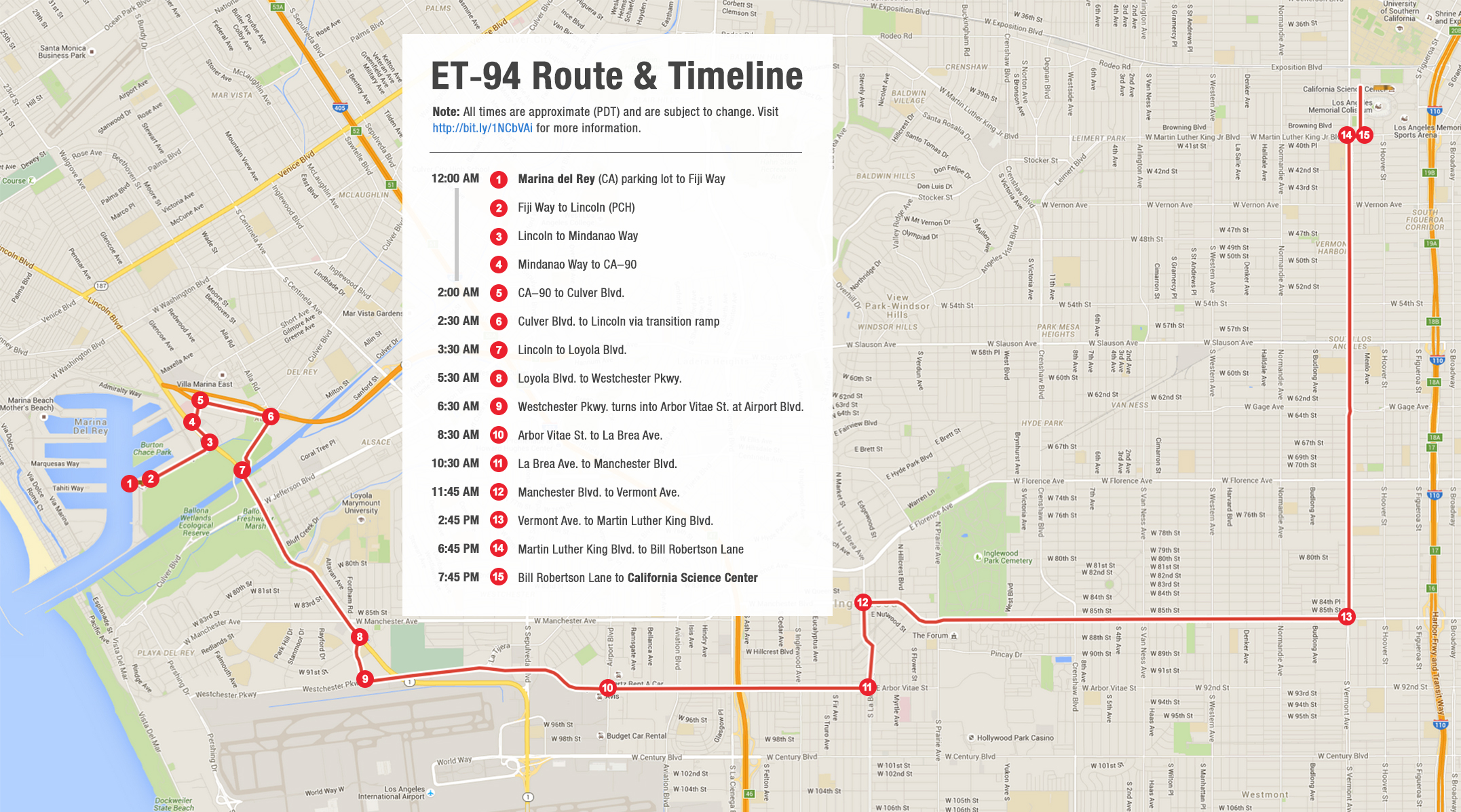 Transporting a large object such as the external tank is no small job. Shuttle external tanks were routinely transferred from their manufacture and assembly point at NASA's Michoud Assembly Facility in New Orleans to the Kennedy Space Center in Florida by way of barge. However, the trip to California is a bit more involved.
In April, ET-94 boarded a barge as usual, but this time traveled west, through the Panama Canal to Marina del Rey in Los Angeles. On May 18, the tank arrived, and three days later, was towed through the streets of Los Angeles – streets that were not designed to accommodate a giant rocket fuel tank!
› Watch the full route from New Orleans to Los Angeles taken by the shuttle's external tank
Los Angeles has some experience with this sort of challenge as the space shuttle orbiter Endeavour traveled a similar route from Los Angeles International Airport to the California Science Center in October 2012. Though Endeavour is wider, taller and heavier, ET-94 is longer. Resting on its side, the tank is half the length of a football field. So it presents a different set of navigational challenges – which, coincidentally, make for some great math problems.
As does this bit of external fuel tank history ...
A Slice of History
Most people will recognize the external tank as the giant orange structure that was attached to the shuttle to supply fuel to the shuttle's main engines during liftoff. Space shuttle external tanks carried freezing cold liquid hydrogen and liquid oxygen and were the only non-reusable part of what was called the Space Transportation System, or STS. But the tanks weren't always orange.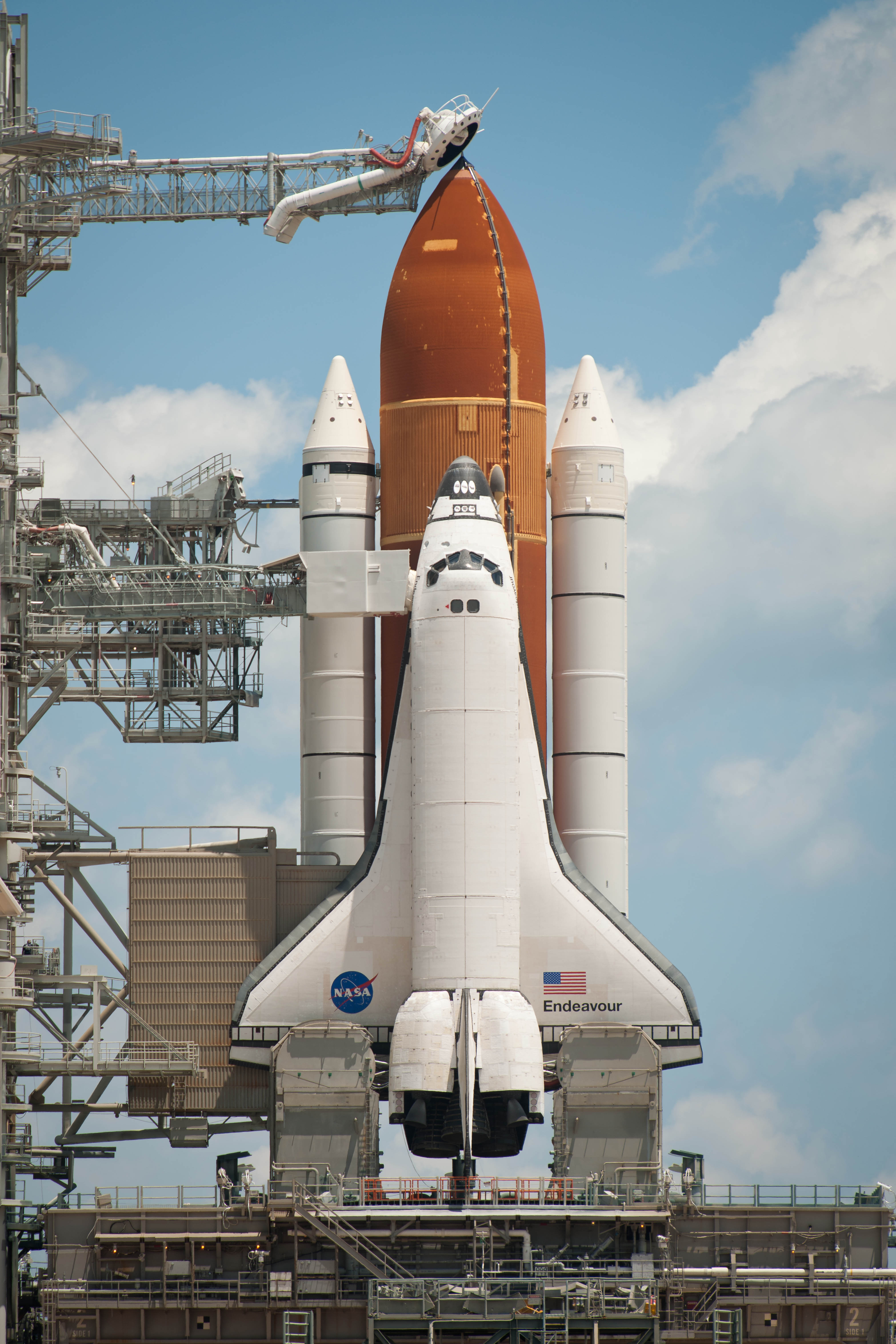 NASA's Endeavour STS-134 on launch pad at Kennedy Space Flight Center in Florida. The orange structure behind the shuttle is an external fuel tank. Image credit: NASA
During the first shuttle missions, engineers were worried that the sun's ultraviolet radiation might damage the insulating foam, so the tanks were painted white. Because the white latex paint had to cover such a large surface area, it added a whopping 600 pounds to the already hefty tanks, which in their earliest iteration were called standard-weight tanks, or SWTs, and made of aluminum alloy 2219 welded via tungsten arc welding and coated with an inch-thick layer of polyisocyanurate foam. They weighed 77,086 empty and fuel added an extra 1,589,577 pounds!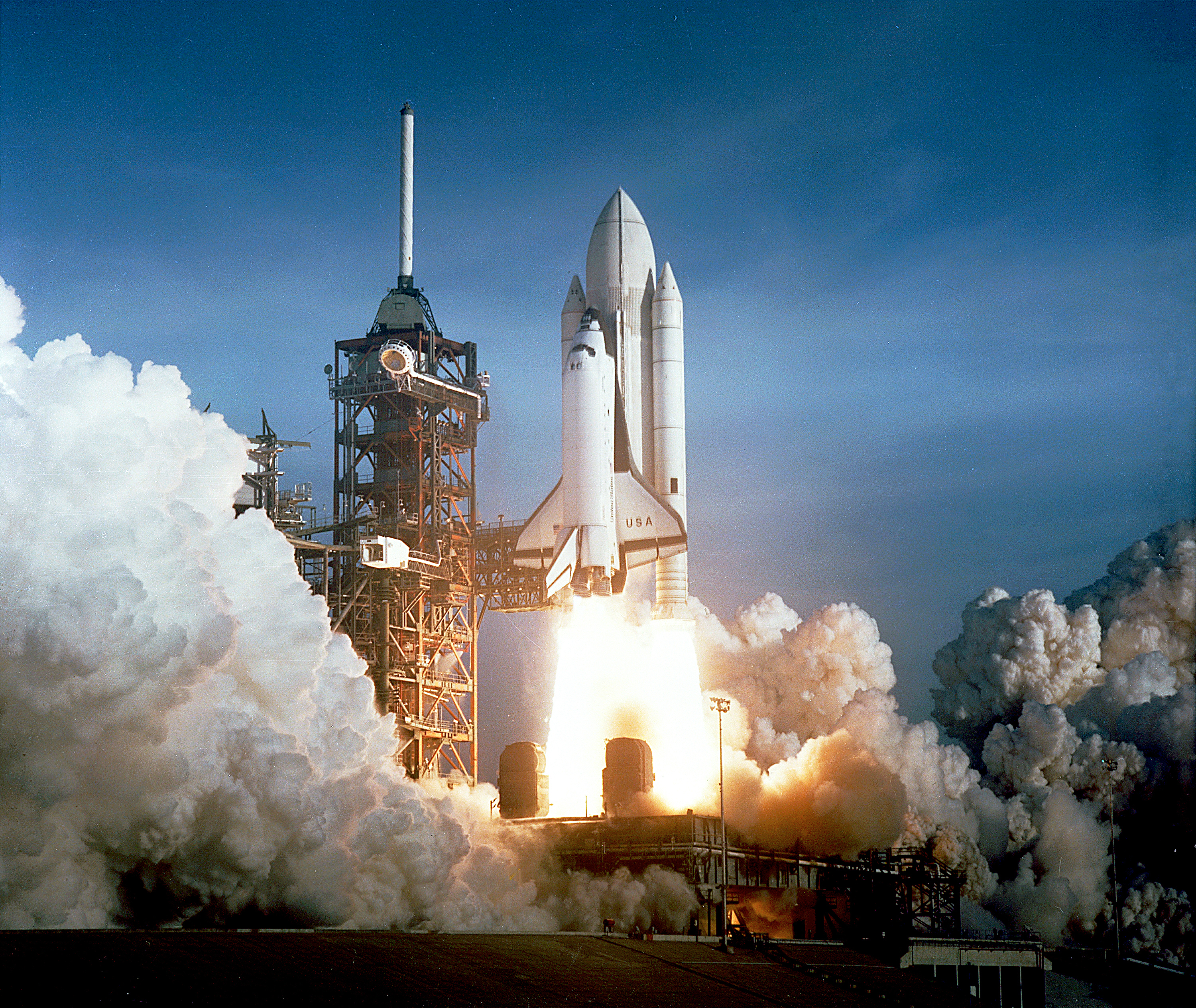 STS-1 launches from Kennedy Space Flight Center in Florida. For the first two shuttle missions, engineers painted the external fuel tanks white because of worries about ultraviolet radiation damaging the tanks' insulating foam. Image credit: NASA
After the first two STS missions, engineers agreed that the sun's ultraviolet radiation merely caused the insulating foam to change color from its original tan to the familiar dark orange and did not pose a structural risk, so the use of white paint was discontinued. The saved poundage allowed subsequent space shuttle missions to carry an additional 600 pounds of science experiments.
Ever striving to lighten the load of the STS to make room for more science payloads, engineers developed the next iteration of external tanks, called lightweight tanks, or LWTs, using weight-shedding techniques including eliminating portions of stringers (structural stiffeners running the length of the hydrogen tank), using fewer stiffener rings, and modifying major frames in the hydrogen tank. This new tank provided a 6,426-pound reduction in specification weight that further evolved to an actual weight of 65,081 pounds for ET-94.
The final iteration of the external tank, called a super lightweight tank, or SLWT, shed an amazing 18,586 pounds from the very first specifications by using a new aluminum-lithium alloy (Al-Li 2195) and some new welding techniques.
Why It's Important
In 2003, disaster struck space shuttle Columbia during the STS-107 mission. The shuttle was fueled by ET-94's sister tank, ET-93, and as the only remaining lightweight tank in existence, ET-94 was heavily analyzed to examine the role played in the incident by the tank's external insulating foam. Several chunks of foam were removed from the tank during the analysis, necessitating future repair work to return it to its original appearance.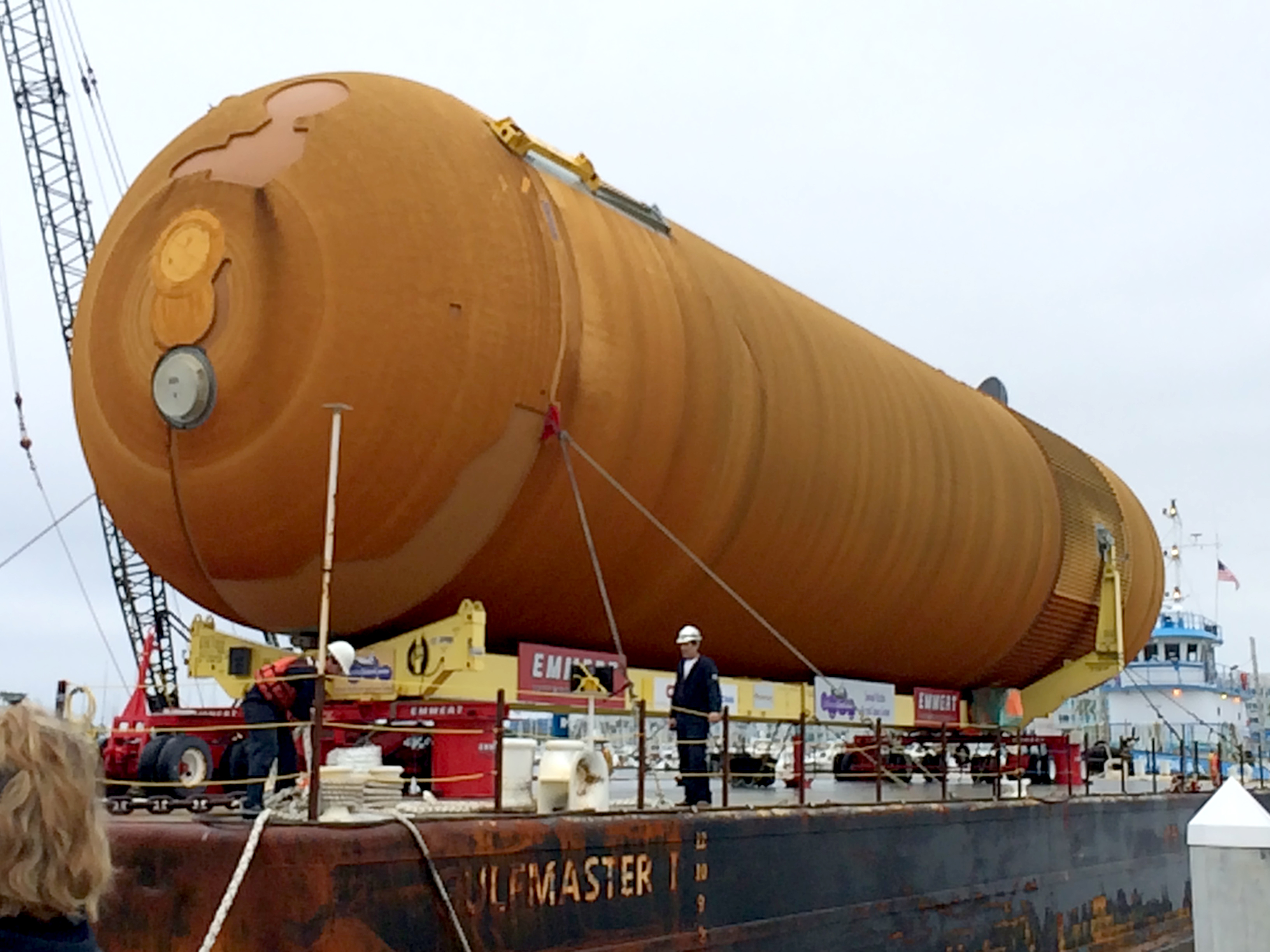 ET-94 arrives in Marina del Rey, California on May 18, 2016. The areas where ET-94's insulating foam were removed for testing can be seen (as light orange patches) in the upper left portion of the photo. Image credit: NASA/JPL-Caltech/David Seidel
After analysis was complete, the tank resided at the Michoud Assembly Facility, awaiting an opportunity to fly to space that never came, as it could not compete with the svelteness of the new super-lightweight tanks and would require some weighty upgrades to meet new safety standards. Eventually, NASA donated ET-94 to the California Science Center for public display. When finalized, the display will be the only complete stack of STS flight hardware in existence.
Teach It
Help your students apply their math problem-solving skills to this history-making event. While considering the challenges encountered in moving a giant fuel tank through the streets of Los Angeles, younger students can practice their number sense skills and older students can solve problems using formulas – plus use mapping technology to help ET-94 find its way to the California Science Center!
Explore More
TAGS: External Fuel Tank, ET-94, Space Shuttle, Endeavour, Columbia, STS, Space Transportation System
---
In the News
"Sea level rise" – we hear that phrase, but what does it mean, really? How does it affect us? Do I have to be concerned about it in my lifetime? These are all great questions!
Sea level rise is the increasing of the average global sea level. It doesn't mean that seas are higher by the same amount everywhere. In fact, in some areas, such as the west coast of the US, sea level has actually dropped slightly … for now. But before we get into that, let's understand the main contributors to sea level rise:
Melting mountain glaciers

- Glaciers are bodies of ice on land that are constantly moving, carving paths through mountains and rock. As glaciers melt, the runoff flows into the oceans, raising their levels.

Melting polar ice caps

- Think of our north and south polar regions. At both locations, we have ice on land ("land ice") and ice floating in the ocean ("sea ice"). Melting sea ice, much like ice cubes melting in a drink, does not affect the level of the oceans. Melting land ice, however, contributes to about one third of sea level rise.

Thermal expansion of water

- Consider that our oceans absorb over 90 percent of the heat trapped by greenhouse gasses in Earth's atmosphere. When water heats up, its molecules become more energetic, causing the water to expand and take up more room, so that accounts for about a third of sea level rise.
Let's take a closer look at global sea levels. Sea level is not constant everywhere. This is because it can be affected by ocean currents and natural cycles, such as the Pacific Decadal Oscillation, or PDO, a 20- to 30-year cyclical fluctuation in the Pacific Ocean's surface temperature. Because of the PDO, right now the Eastern Pacific has higher sea levels than usual, while the Western Pacific has lower sea levels than usual. However, the global average of 3 millimeters of sea level rise per year is increasing and the rate that it's increasing is speeding up. That means that sea level is rising, and it's rising faster and faster. Take a look at this video for some great visuals and further explanation of how phenomena such as the Gulf Stream affect local sea level heights.
Why It's Important
You may be asking yourself, how do we know sea levels are rising? Well, a couple of ways. First, for the past 23 years we have been using data from several NASA satellites to constantly measure sea surface height around the globe. Data from these ocean altimeters is integrated to refine and calibrate measurements. Additionally, we have tide gauges on Earth to ground-truth (locally validate) our satellite measurements. As for historical data, we use sediment cores -- drillings into Earth that yield the oldest layers on the bottom and the youngest layers on top -- to examine where oceans once reached thousands of years ago.
Locally, folks are making observations – and already seeing the impacts of sea level rise on their communities. Places such as Miami are now experiencing regular flooding in downtown city streets at high tide. The South Pacific island nation of Kiribati saw a 2.6 millimeter rise in sea level between 1992 and 2010. That may not seem like much, but when you consider that the land only sits about 2 meters above sea level, that's a big deal; some villages have already had to relocate to escape the rising tides. Residents of China's Yellow River delta are swamped by sea level rise of more than 25 centimeters (9 inches) a year. Even NASA is concerned about some of its facilities that are located in low-lying areas.

Besides wiping out dry land, encroaching salt water can pollute our fresh water supplies and damage fresh-water dependent ecosystems. It's not just fresh water rivers and lakes that are at risk – our aquifers, or natural underground water storage, are at risk of filling with salt water as the ocean encroaches on the land above them.
Clearly, sea level rise is something that is already affecting people and will continue to do so. All three contributors to sea level rise can be attributed to the warming of the Earth system. Warming temperatures cause mountain glaciers and polar ice caps to melt, thereby increasing the volume of water in the oceans. At the same time, our oceans are getting warmer and expanding in volume as a result of this heat (thermal expansion). Since 1880, global sea level has risen 20 centimeters (8 inches); by 2100, it is projected to rise another 30 to 122 centimeters (1 to 4 feet). Watch this video for some illustrations of these facts:
Also check out the Climate Time Machine for Sea Level to see what impact a 1 meter to 6 meter rise in sea level will have on the coastal US and other areas of the world.

If we can control our contributions to the rise in greenhouse gases in Earth's atmosphere, we can perhaps level out the warming of the Earth system and eventually stabilize our sea levels. In the meantime, we need to be prepared for the impact encroaching seas will have on our coastal communities and water supplies.
Teach It

To engage your students in analyzing real climate data and drawing their own conclusions, have them try these Next Generation Science Standards and Common Core Mathematics aligned problems.
> Download student worksheet (PDF)
Have students use these two satellite data graphs to answer the questions below. (To obtain exact data points, place your mouse on the section of the graph you would like to examine.)
What is the source of the data for each graph?




Which years are covered by each graph?




Is one graph a better representation of global sea levels than the other? Why or why not?




By approximately how many millimeters did sea level rise between:

A) 1910 and 1930?

55 mm – 45 mm = 10 mm (approx.)

B) 1930 and 1950?

120 mm – 55 mm = 65 mm (approx.)




What is the approximate average rate of increase of sea level rise between 1870 and 2000?

Note: students of various math abilities may approach and solve this problem within their capabilities. The most sophisticated approach is to find the slope of the line of best fit. The correct answer is approximately 1.5 mm per year.




By how many millimeters did sea level rise between the first measurement obtained in January 1993 and the first measurement obtained in January 2013?




(55.69)-(-16.56) = 72.25 mm




What is the approximate rate of sea level rise between January 1993 and present?




Note: The answer for this problem is directly stated at the top of the graph, 3.21 mm per year. Students of various math abilities may approach and solve this problem within their capabilities. The most sophisticated approach is to find slope of the line of best fit.

Have students examine this line graph for average global temperature and use it to answer the questions below.


By how much did the average global temperature change, and did it increase or decrease between 1910 and 1930? How about between 1930 and 1950?




A) (-0.12)-(-0.46) = 0.34 (increase by 0.34 degrees C)
B) (-0.19)-(-0.12) = -0.07 (decrease by 0.07 degrees C)




Compare your answers to question number 8 with your answers to question number 4. Can you offer an explanation for the correlation or lack thereof?




Encourage students to critically examine the graph, noting the temperature increase that occurred between 1930 and 1944, preceding the temperature decrease between 1944 and 1950. Students familiar with heat capacity should include this concept in their discussion.




What is the approximate average global temperature rise per year from the first measurement taken in 1880 to present?




Note: students of various math abilities may approach and solve this problem within their capabilities. The most sophisticated approach is to find slope of the line of best fit. The most conservative answer is 0.007°C per year, the best-fit answer is closer to 0.01°C.
Now, what can you do to be kind to Earth and do your part to control greenhouse gases in our atmosphere?
First, watch this video to learn more about our changing climate:




Next, check out this interactive feature to see what others around the globe are doing and add your ideas.
Lesson Standards
CCSS-M 5.G.A.2 - Represent real world and mathematical problems by graphing points in the first quadrant of the coordinate plane, and interpret coordinate values of points in the context of the situation.
CCSS-M 7.RP.A.2.B - Identify the constant of proportionality (unit rate) in tables, graphs, equations, diagrams, and verbal descriptions of proportional relationships.
CCSS-M HSF.IF.B.6 - Calculate and interpret the average rate of change of a function (presented symbolically or as a table) over a specified interval. Estimate the rate of change from a graph.
NGSS MS-ESS3-5 - Ask questions to clarify evidence of the factors that have caused the rise in global temperatures over the past century
NGSS MS-ESS3-3 - Apply scientific principles to design a method for monitoring and minimizing a human impact on the environment
NGSS HS-ESS2-4 - Use a model to describe how variations in the flow of energy into and out of Earth's systems result in changes in climate
NGSS HS-ESS3-5 - Analyze geoscience data and the results from global climate models to make an evidence-based forecast of the current rate of global or regional climate change and associated future impacts to Earth systems
Explore More!
Activity

Videos

Images and Graphics
Interactives

News and Resources

TAGS: Sea Level Rise, Climate Change, Global Warming, Earth Science