---
There's no telling what the first spacecraft to land on Jupiter's ice-covered moon Europa could encounter – but this summer, JPL intern Maya Yanez is trying to find out. As part of a team designing the potential Europa Lander, a mission concept that would explore the Jovian moon to search for biosignatures of past or present life, Yanez is combing through images, models, analogs, anything she can find to characterize a spot that's "less than a quarter of a pixel on the highest-resolution image we have of Europa." We caught up with Yanez, an undergraduate student at the University of Colorado at Boulder, to find out what inspired her to get involved in space exploration and ask about her career ambition to discover alien life.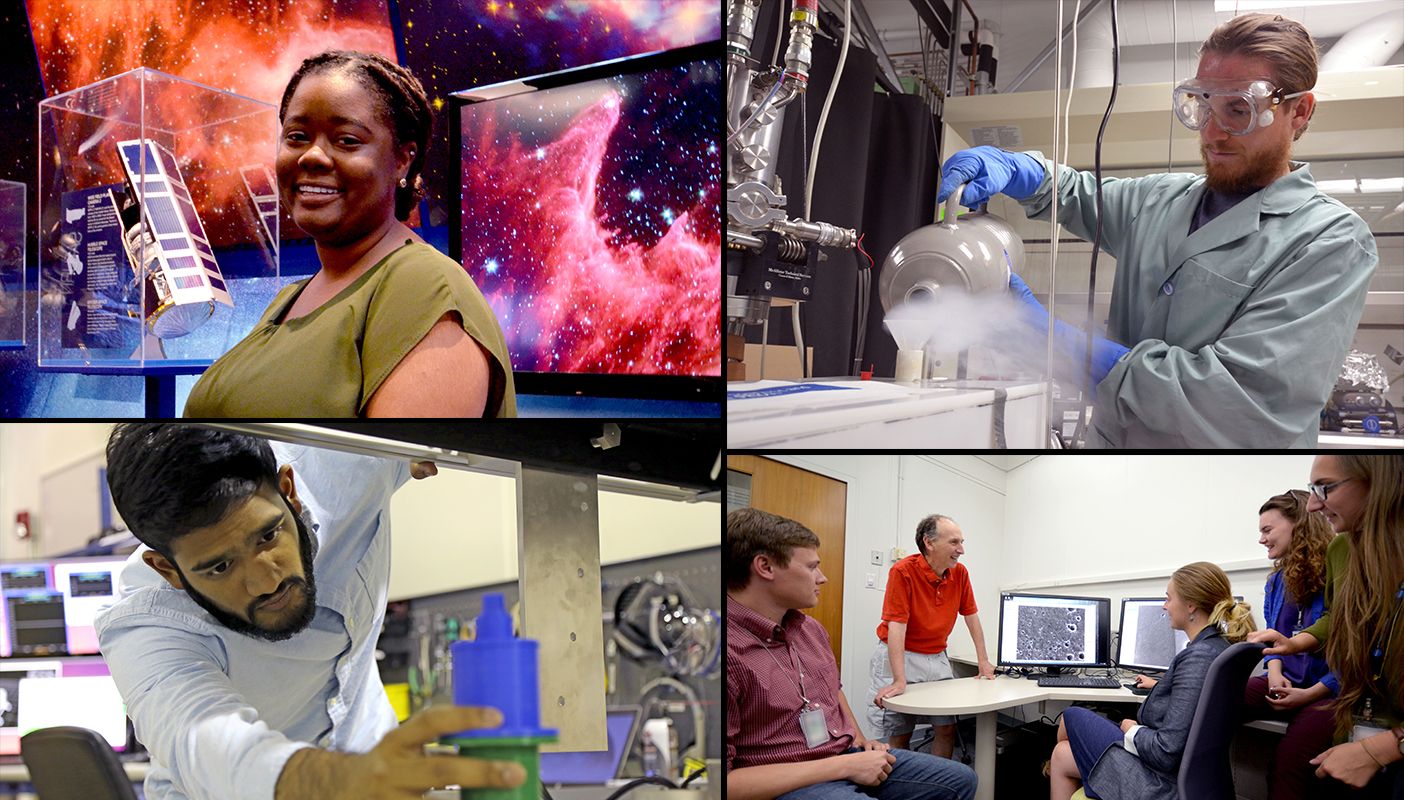 Meet JPL Interns
Read stories from interns pushing the boundaries of space exploration and science at the leading center for robotic exploration of the solar system.
What are you working on at JPL?
I'm working on what may be a robot that we would land on Europa's icy surface. Europa is a moon of Jupiter that has this thick ice shell that we estimate is 25 kilometers [15.5 miles] thick, and there's evidence that underneath that is a huge global ocean. If we're going to find life beyond Earth, it's probably going to be wherever there's water. So this mission concept would be to put a lander on Europa to try to figure out if there are signs of life there. I'm looking at an area on Europa about two square meters [about 7 feet] and about a meter [3 feet] deep. For perspective, we've only explored a few kilometers into our own Earth's surface. What I'm doing is trying to figure out what we might expect is going on in that little tiny area on Europa. What light is interacting with it, what processes might be going on, what little micrometeorites are hitting the surface, what's the ice block distribution? I'm looking at places like Mars, the Moon and Earth to try to put constraints and understanding around what types of variation we might see on Europa and what might be going on underneath the surface.
What's an average day like for you?
A lot of it is looking up papers and trying to get an idea of what information exists about Europa. My first couple of weeks here, I read this thing that we call the "Big Europa Book." It's a 700-page textbook that covers basically all of our knowledge of Europa.
One of the other things that I've been working on is a geologic map, trying to look at what geologic variation exists in a couple of meters on Europa because we don't know. It's kind of crazy to think that when Viking [the first Mars lander] landed, we had no clue what another surface would look like except for the Moon. We had no idea. And then we got those first amazing images and it looked kind of like Earth, except Europa probably won't look like Earth because it's not rock; it's all ice. So even though we're trying, we still have nothing to compare it to.
If it gets selected as an official mission, a Europa lander would come after NASA's Europa Clipper spacecraft. How might data from Europa Clipper contribute to what you're working on now?
Europa Clipper could be really beneficial in that it's going to do more than 40 flybys where it goes around Europa in a bunch of different ways and at different proximities. It's going to curve into the moon's atmosphere and get really close to the surface, about 25 kilometers [15.5 miles] close to the surface. Right now, some of the best data we have is from hundreds of kilometers away, so the images Europa Clipper will take will be pretty nicely resolved. If you look at the current highest resolution image of Europa as compared to one from Voyager [which flew by Jupiter and its moons in 1979], the amount of detail that changes, the amount of cracks and complexity you can see on the surface is huge. So having more images like that can be really beneficial to figure out where we can land and where we should land.
Before this project, you spent a summer at JPL studying the chemistry of icy worlds, such as Pluto. What's it been like working on such different projects and getting experience in fields outside your major, like chemistry and geology?
[Laughs] Yeah, one day I'll get back to astronomy. That's one of the things I love about JPL. Overall, I'd say what I want to do is astrobiology because I want to find life in the solar system. I mean, everyone does. It would be really cool to find out that there are aliens. But one of the great things about astrobiology is it takes chemistry, physics, geology, astronomy and all of these different sciences that you don't always mix together. And that's kind of why I like JPL. So much of the work involves an interdisciplinary approach.
What's the most JPL- or NASA-unique experience you've had so far?
I have one from last summer and one from this summer.
I really want to find life out in space. I'm curious about bacteria and microbes and how they react in space, but it's not something I've ever really done work in. A couple of weeks ago, I got to see astronaut Kathleen Rubins give a talk, meet her afterward and take a picture with her. She was the first person to sequence DNA in space. I would have never met someone like that if it weren't for my internship at JPL. I wouldn't have been able to go up to her and say, "This is really cool! I'd love to talk to you more and get your email" – and get an astronaut's email! Who would ever expect that?
And then last year, I had something happen that was completely unexpected. I was sitting alone in the lab, running an experiment and, throughout the summer, we had a couple of different tours come through. A scientist asked if he could bring in a tour. It was two high-school-age kids and, presumably, their moms. I showed them around and explained what my experiment was doing. It was great. It was a really good time. They left and a couple hours later, Mike Malaska, the scientist who was leading the tour, came back and said, "Thank you so much for doing that tour. Do you know the story of that one? I said no. He said, "Well the boy, he has cancer. This is his Make-a-Wish." His Make-a-Wish was to tour JPL. I had never felt so grateful to be given the opportunity that I was given, to realize that someone's wish before they may or may not die is to visit the place that I'm lucky enough to intern at. It was a very touching moment. It really made me happy to be at JPL.
What was your own personal inspiration for going into astronomy?
I was the nerdy kid. I had a telescope, but I also had a microscope. So it was destined. But in middle school, I started to get this emphasis on life sciences. I'd always really liked biology so I sort of clung to it. We never really talked about space, so I just kind of forgot about it. But my senior year, I took this really cool class in astrobiology taught by an amazing teacher, who I still talk to. After the first week in her class, I was like, I have to do this. At the end of the academic year, that same teacher took me to JPL and gave me a private tour with some of the other scientists. I actually met Morgan Cable, the mentor I worked with last summer and this summer, on that tour. It was definitely a combination of being in this really great class and having that perspective change, realizing that we've learned a lot about life on our own planet, but there's so much to learn about finding it elsewhere.
Did you know about JPL before that?
No. I'm the first generation in my family to go to college, so I'm the one who teaches science to everyone else. I didn't even think science was a career because, when you're a kid, you don't often interact with a lot with scientists. So I didn't realize what JPL was or how cool it was until that tour put everything into perspective. I wasn't a space kid, but I found my own path, and it worked.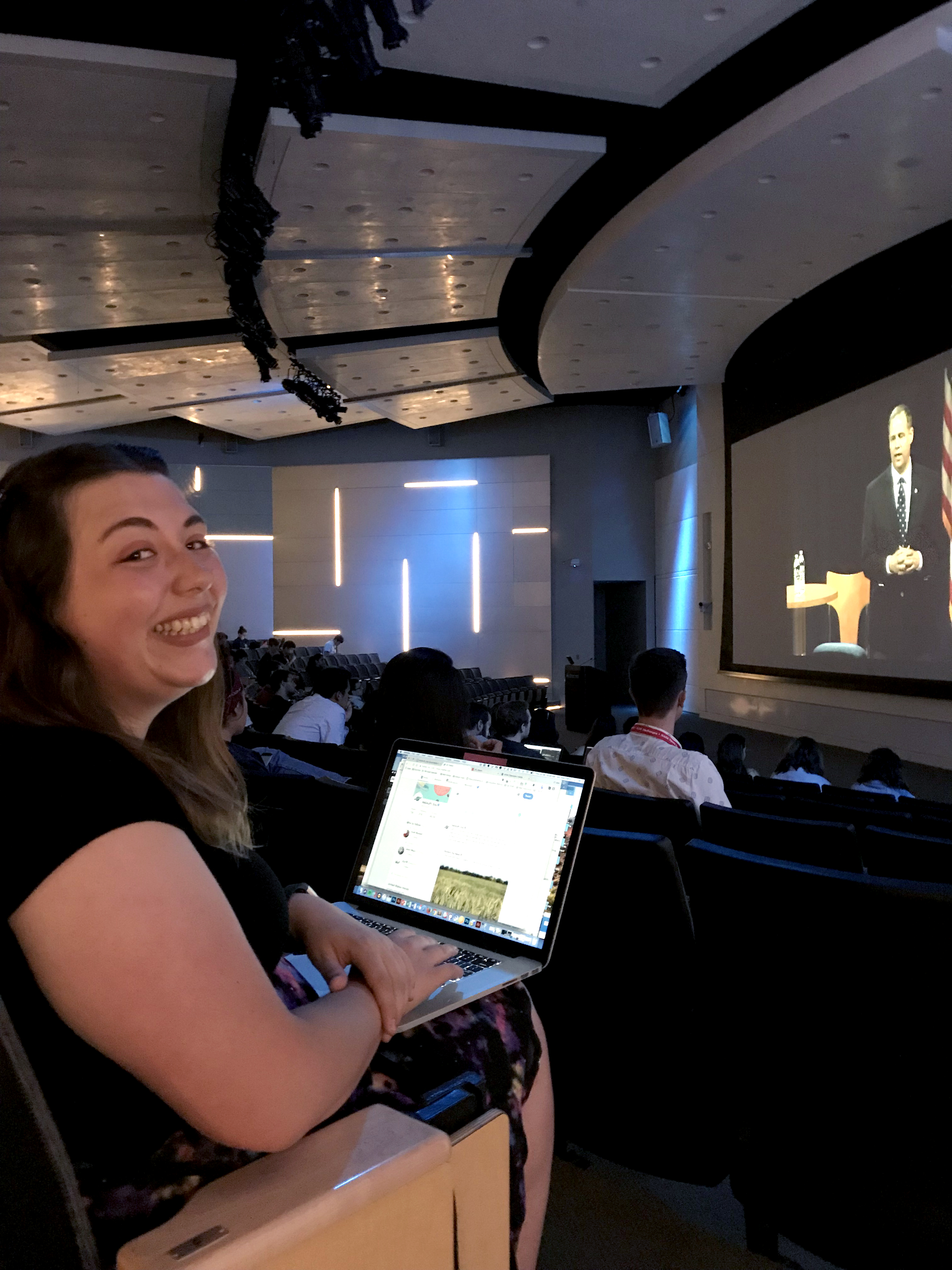 For National Intern Day on July 26, NASA held a special town hall for interns with Administrator Jim Bridenstine. Your question about how the agency prioritizes the search for extraterrestrial life was selected as a finalist to appear during the broadcast. What made you want to ask that particular question?
So it was a little self-serving [laughs]. Part of it is that it's central to my career path, but I also want to run for office one day at some level, and I think it's important that there's this collaboration between science and politics. Without it, science doesn't get funded and politicians aren't as well informed.
How do you feel you're contributing to NASA/JPL missions and science?
What I'm doing requires a lot of reading and putting things together and knowing rocks and putting scales into perspective, so it's not particularly specialized work. But the end goal of my project will be a table that says here's what processes are happening on Europa, here's what depth they govern and here's what it means if biosignatures are caught in these processes. I'm also going to be remaking an old graphic, including more information and trying to better synthesize everything that we know about Europa. Those two products will continue to be used by anyone who's thinking about landing on Europa, for anyone who's thinking about what surface processes govern Europa. Those two products that I'm producing are going to be the best summaries that we have of what's going on there.
OK, so now for the fun question: If you could travel to any place in space, where would you go and what would you do there?
Europa. Obviously [laughs]. Or [Saturn's moon] Titan. Titan is pretty cool, but it scares me a little bit because there's definitely no oxygen. There's not a lot of oxygen on Europa, but what's there is oxygen. I would probably go to Europa and find some way to get through those 25 kilometers of ice, hit that ocean and see what's going on.
---
Explore JPL's summer and year-round internship programs and apply at: https://www.jpl.nasa.gov/edu/intern
The laboratory's STEM internship and fellowship programs are managed by the JPL Education Office. Extending the NASA Office of Education's reach, JPL Education seeks to create the next generation of scientists, engineers, technologists and space explorers by supporting educators and bringing the excitement of NASA missions and science to learners of all ages.
---
Update – August 8, 2018: This feature, originally published on August 23, 2016, has been updated to include information on 2018 fires and current fire research.
Once again, it's fire season in the western United States with many citizens finding themselves shrouded in wildfire smoke. Late summer in the west brings heat, low humidity and wind – optimal conditions for fire. These critical conditions have resulted in the Mendocino Complex Fire, the largest fire in California's recorded history. Burning concurrently in California are numerous other wildfires, including the Carr fire, the 12th largest in California history.
Because of their prevalence and effects on a wide population, wildfires will remain a seasonal teachable moment for decades to come. Follow these links to learn about NASA's fire research and see images of current fires from space. Check out the information and lessons below to help students learn how NASA scientists use technology to monitor and learn about fires and their impacts.
---
In the News
You didn't need to check social media, read the newspaper or watch the local news to know that California wildfires were making headlines this summer. Simply looking up at a smoke-filled sky was enough for millions of people in all parts of the state to know there was a fire nearby.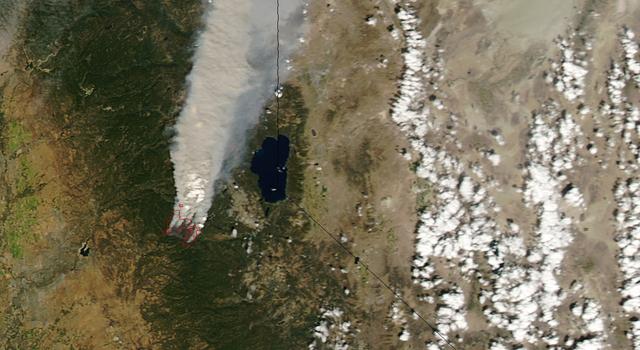 Wildfire Lessons
In these lessons, students play the role of NASA scientist to study the burn area and intensity of wildfires.
Fueled by high temperatures, low humidity, high winds and five years of vegetation-drying drought, more than 4,800 fires have engulfed 275,000-plus acres across California already this year. And the traditional fire season – the time of year when fires are more likely to start, spread and consume resources – has only just begun.
With wildfires starting earlier in the year and continuing to ignite throughout all seasons, fire season is now a year-round affair not just in California, but also around the world. In fact, the U.S. Forest Service found that fire seasons have grown longer in 25 percent of Earth's vegetation-covered areas.
For NASA's Jet Propulsion Laboratory, which is located in Southern California, the fires cropping up near and far are a constant reminder that its efforts to study wildfires around the world from space, the air and on the ground are as important as ever.
JPL uses a suite of Earth satellites and airborne instruments to help better understand fires and aide in fire management and mitigation. By looking at multiple images and types of data from these instruments, scientists compare what a region looked like before, during and after a fire, as well as how long the area takes to recover.
While the fire is burning, scientists watch its behavior from an aerial perspective to get a big-picture view of the fire itself and the air pollution it is generating in the form of smoke filled with carbon monoxide and carbon dioxide.
Natasha Stavros, a wildfire expert at JPL, joined Zach Tane with the U.S. Forest Service during a Facebook Live event (viewable below) to discuss some of these technologies and how they're used to understand wildfire behavior and improve wildfire recovery.
Additionally, JPL is working with a startup in San Francisco called Quadra Pi R2E to develop FireSat, a global network of satellites designed to detect wildfires and alert firefighting crews faster. When completed in June 2018, the network's array of more than 200 satellites will use infrared sensors to detect fires around the world much faster than is possible today. Working 24 hours a day, the satellites will be able to automatically detect fires as small as 35 to 50 feet wide within 15 minutes of when they begin. And within three minutes of a fire being detected, the FireSat network will notify emergency responders in the area.
Using these technologies, NASA scientists are gaining a broader understanding of fires and their impacts.
Why It's Important
One of the ways we often hear wildfires classified is by how much area they have burned. Though this is certainly of some importance, of greater significance to fire scientists is the severity of the fire. Wildfires are classified as burning at different levels of severity: low, medium, and high. Severity is a function of intensity, or how hot the fire was, and its spread rate, or the speed at which it travels. A high-severity fire is going to do some real damage. (Severity is measured by the damage left after the fire, but can be estimated during a fire event by calculating spread rate and measuring flame height which indicates intensity.)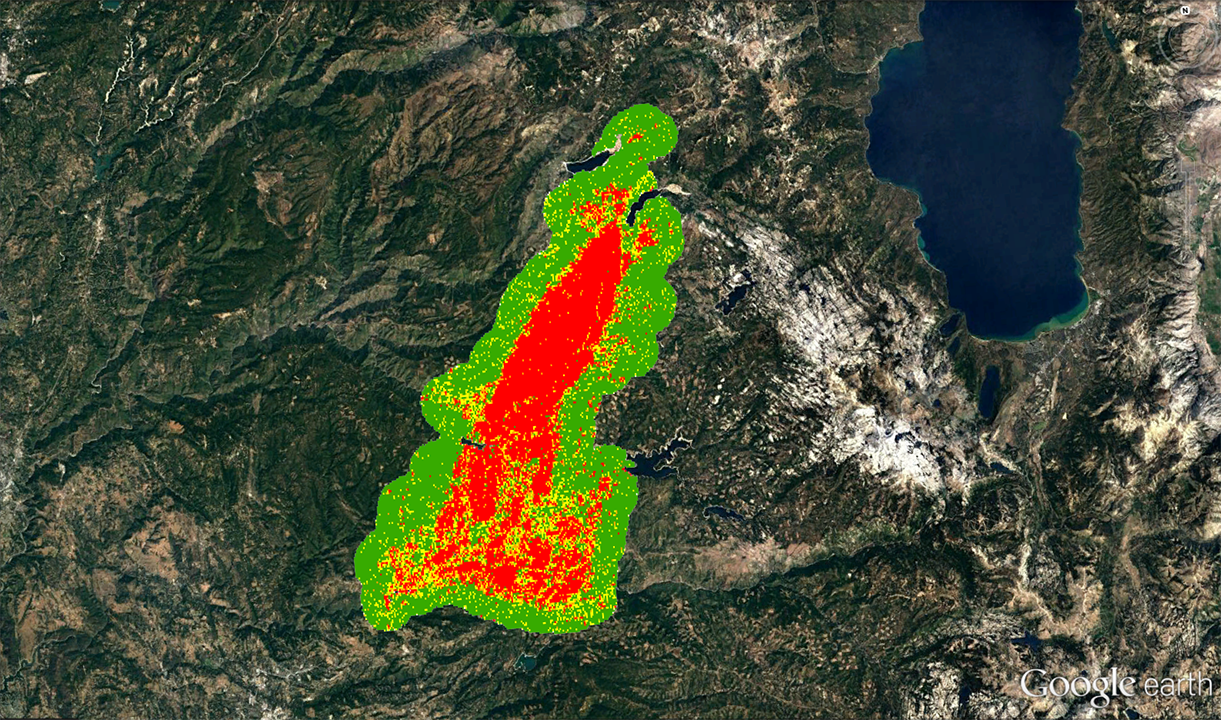 This image, created using data imported into Google Earth, shows the severity of the 2014 King Fire. Green areas are unchanged by the fire; yellow equals low severity; orange equals moderate severity; and red equals high severity. A KMZ file with this data is available in the Fired Up Over Math lesson linked below. Credit: NASA/JPL-Caltech/E. Natasha Stavros.
The impacts of wildfires range from the immediate and tangible to the delayed and less obvious. The potential for loss of life, property and natural areas is one of the first threats that wildfires pose. From a financial standpoint, fires can lead to a downturn in local economies due to loss of tourism and business, high costs related to infrastructure restoration, and impacts to federal and state budgets.
The release of greenhouse gases like carbon dioxide and carbon monoxide is also an important consideration when thinking about the impacts of wildfires. Using NASA satellite data, researchers at the University of California, Berkeley, determined that between 2001 and 2010, California wildfires emitted about 46 million tons of carbon, around five to seven percent of all carbon emitted by the state during that time period.
This animation from
NASA's Eyes on the Earth
visualization program shows carbon monoxide rising (red is the highest concentration) around Southern California as the Station Fire engulfed the area near JPL in 2009. Image credit: NASA/JPL-Caltech
In California and the western United States, longer fire seasons are linked to changes in spring rains, vapor pressure and snowmelt – all of which have been connected to climate change. Wildfires serve as a climate feedback loop, meaning certain effects of wildfires – the release of CO2 and CO – contribute to climate change, thereby enhancing the factors that contribute to longer and stronger fire seasons.
While this may seem like a grim outlook, it's worth noting that California forests still act as carbon sinks – natural environments that are capable of absorbing carbon dioxide from the atmosphere. In certain parts of the state, each hectare of redwood forest is able to store the annual greenhouse gas output of 500 Americans.
Studying and managing wildfires is important for maintaining resources, protecting people, properties and ecosystems, and reducing air pollution, which is why JPL, NASA and other agencies are continuing their study of these threats and developing technologies to better understand them.
Teach It
Have your students try their hands at solving some of the same fire-science problems that NASA scientists do with these two lessons that get students in grades 3 through 12 using NASA data, algebra and geometry to approximate burn areas, fire-spread rate and fire intensity:
Explore More
Lyle Tavernier was a co-author on this feature.
TAGS: teachable moments, wildfires, science
---
Since we can't yet travel to planets outside our solar system, JPL intern Tre'Shunda James creates models of them right here on Earth. We caught up with the Occidental College physics and chemistry major to learn how she's pointing the way toward potentially habitable worlds while helping lead the way toward diversity in her field.
What are you working on at JPL?
My project this summer is studying exoplanet atmospheres and the chemical components that are present in those atmospheres. I'm running a bunch of simulations, or models, using a computer code that my JPL mentor, Renyu Hu, published back when he was in grad school. I change a few things, run the models, look at the results, compile them and analyze what they can tell me about oxygen, which is a possible sign of life on these exoplanets [planets outside our solar system]. So in that way, it's really pushing the field forward in terms of finding out if life could exist on similar planets.
What's the ultimate goal of the project?
The parameters we put into the model are to simulate a terrestrial, habitable exoplanet. Scientists have discovered exoplanets that are terrestrial, but we don't yet know if there's life on them. So this model is a theoretical basis that we can apply to many exoplanets that are discovered to see if they could support life. We just submitted the paper on our findings a couple weeks ago.
What's an average day like for you?
Right before we submitted the paper, we were working nonstop on that. It was the hardest I've worked in such a short time. But it was very rewarding. It was the first time I've been an author on a science paper, so it was pretty cool. I learned a lot.
Typically, I'd come in and look at my code. Sometimes it would run a couple hours and it would be done or it would run a couple days, so I was always anxious to see where it was when I get to my desk. If it was done running, I'd take the results, make graphs, make figures and analyze what I could. And if wasn't done, I'd usually just start a new simulation.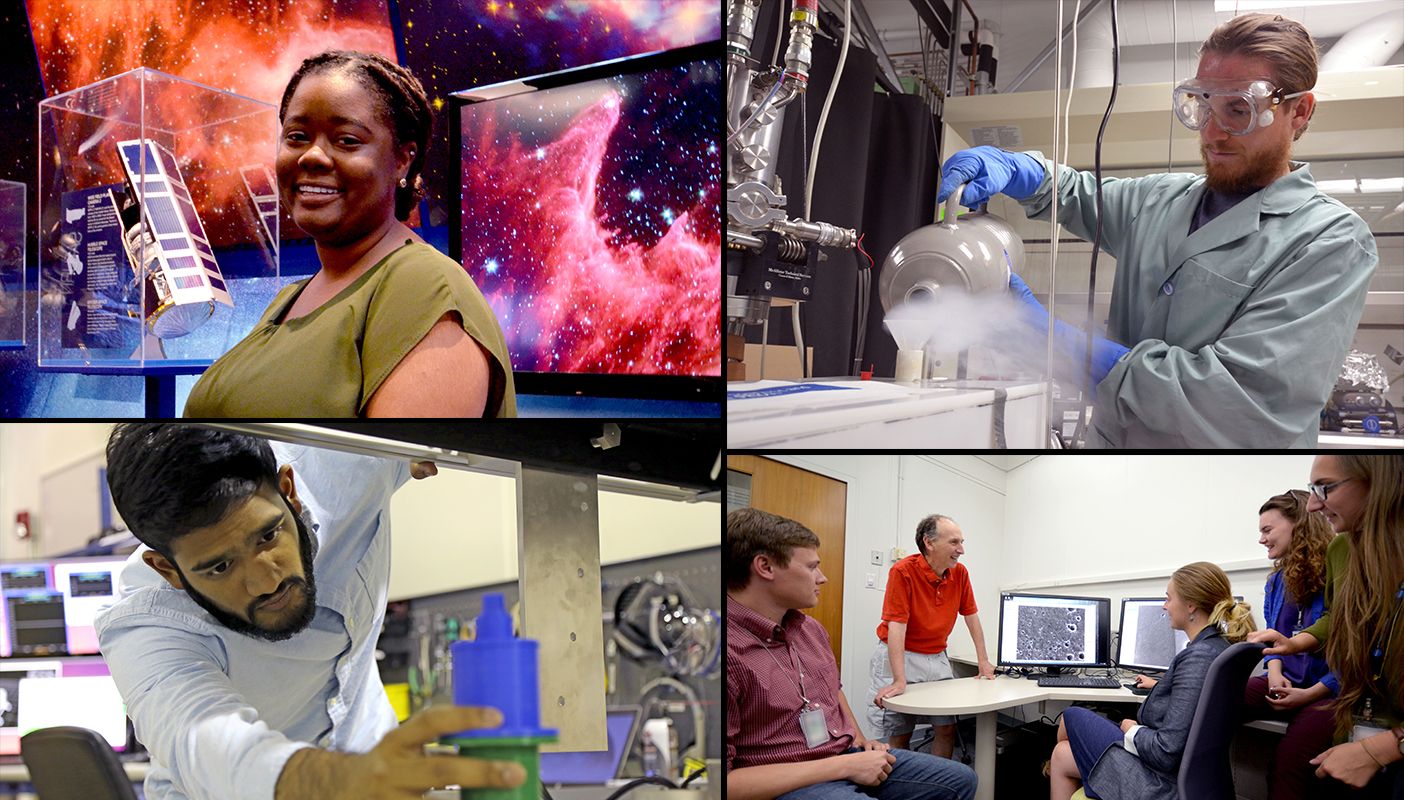 Meet JPL Interns
Read stories from interns pushing the boundaries of space exploration and science at the leading center for robotic exploration of the solar system.
How do you feel you're contributing to NASA/JPL missions and science?
I feel that with the publication, I will contribute a lot, especially because we're scratching surfaces that have never been explored before.
I also feel that I'm contributing as an African American, female engineer doing work in planetary science. I was looking up women in planetary science, specifically African American women, and the only one I could find passed away in 2015. So I feel as though just being here, exploring this field, is pushing the boundaries, and I'm excited about that.
How did you find out about the JPL internship?
I'm a member of a group called COSMOS, Creating Opportunities in Science and Math for Occidental Students. They put me in contact with the SIRI program in the JPL Education Office last year. Before that, I didn't even know that JPL existed.
What's been your impression of JPL?
It's kind of like school. It's like going to school with your professors. It's pretty cool, the collaborative environment.
OK, now for the fun question: If you could travel anywhere in space, where would you go and what would you do there?
I would like to go to Saturn, mostly because I think it's beautiful, and it's one of the first planets that I ever learned about. What would I do there? I don't know exactly. It's funny because I never really had a real interest in space until I started interning here. So everything is still kind of new to me, and I'm just learning about new missions and worlds every day.
What about any of the exoplanets that you're studying? Would you want to go check out any of them?
One thing we're looking to do is study the atmospheres of [the seven planets found orbiting the star TRAPPIST-1]. That would be really cool, especially because it's so close and it's one of the most recent planet-system discoveries. The Exoplanet Travel Bureau posters make it hard not to want to visit these places.
---
Explore JPL's summer and year-round internship programs and apply at: https://www.jpl.nasa.gov/edu/intern
The laboratory's STEM internship and fellowship programs are managed by the JPL Education Office. Extending the NASA Office of Education's reach, JPL Education seeks to create the next generation of scientists, engineers, technologists and space explorers by supporting educators and bringing the excitement of NASA missions and science to learners of all ages.
TAGS: Internships, Interns, Exoplanets, Science, College
---
Kathy Vega went from teaching STEM to doing it first-hand. Now, as an intern at NASA's Jet Propulsion Laboratory, she's building an experiment to simulate ocean worlds. We recently caught up with Vega, a University of Colorado at Boulder engineering physics major, to find out what inspired her to switch careers and how her project is furthering the search for life beyond Earth.
What are you working on at JPL?
In our solar system, there are these icy worlds. Most of them are moons around large gas planets. For example, Europa is an icy moon that orbits Jupiter. There's also Titan and Enceladus orbiting Saturn. From prior missions, such as Galileo and Cassini, we've been able to see that these moons are covered with ice and most likely harbor oceans below that ice, which makes us wonder if these places are habitable for life. My project is supporting the setup of an experiment to simulate possible ocean compositions that would exist on these worlds under different temperatures and different pressures. Working in collaboration with J. Michael Brown's group at the University of Washington in Seattle, this experiment is helping create a library of measurements that have not been collected before. Eventually, it may help us prepare for the development of landers to go to Europa, Enceladus and Titan and collect seismic measurements that we can compare to our simulated ones.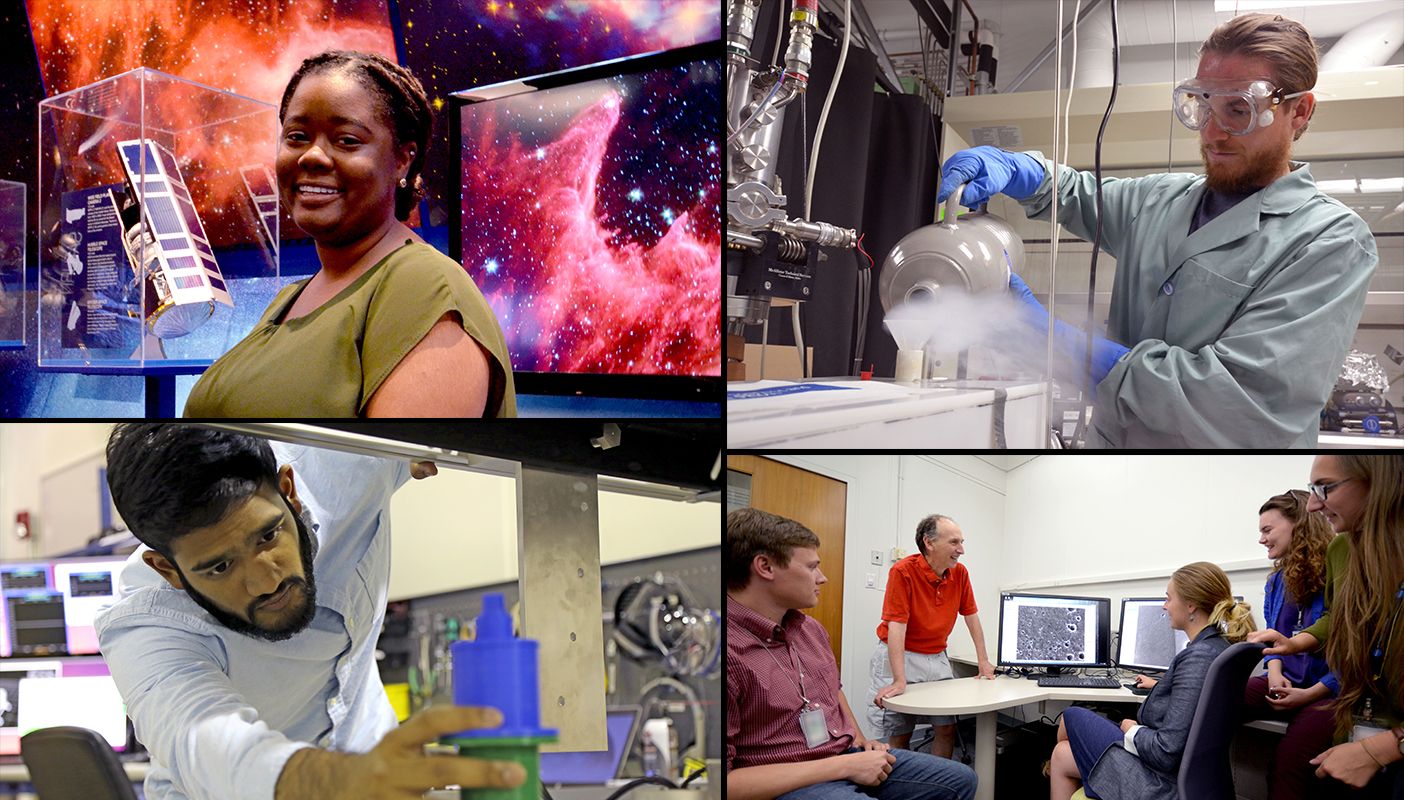 Meet JPL Interns
Read stories from interns pushing the boundaries of space exploration and science at the leading center for robotic exploration of the solar system.
What's a typical day like for you?
Right now, I'm in experiment-design mode. I've been ordering parts for the experiment and speaking with engineering companies. This experiment is already being run at UW in Seattle, but we're attempting to run it at colder temperatures to do a wider range of simulations, which haven't been done before and will be particularly relevant to Jupiter's moon Ganymede and Saturn's moon Titan. I've been working with another intern, and we've been meeting with cryogenic specialists and experiment-design specialists at JPL to design a way to make our current experiment reach colder temperatures.
I also run a lot of simulations with Matlab software. There's a model that my principal investigator developed called Planet Profile that allows the user to input different temperature ranges and composition profiles for a planetary body. It then outputs the density and sound-velocity measurements that we would expect in that environment.
What's the most JPL- or NASA-unique experience you've had so far?
The Europa Clipper mission, [which will orbit Jupiter's moon Europa to learn more about it and prepare for a future lander], is in development right now. A major planning meeting for the mission was held at JPL, and I got to sit in and watch these world-renowned scientists, who I think are like rock stars, talk science. There were all of these people having an open-forum discussion and, gosh, it was so cool. I felt like I was there with the people who are planning the future.
You already have a degree in political science. What made you want to go back to school for STEM?
When I was in high school, I was in Mathletes, but I was also in Mock Trial. I took AP physics, AP chemistry, AP calculus, but also AP civics and AP history. I remember in my junior year, I thought, I love math. Maybe I could be an astronaut one day. Space is so cool. Then AP physics happened. I didn't fail or anything, but after that, I just felt like maybe it's not for me.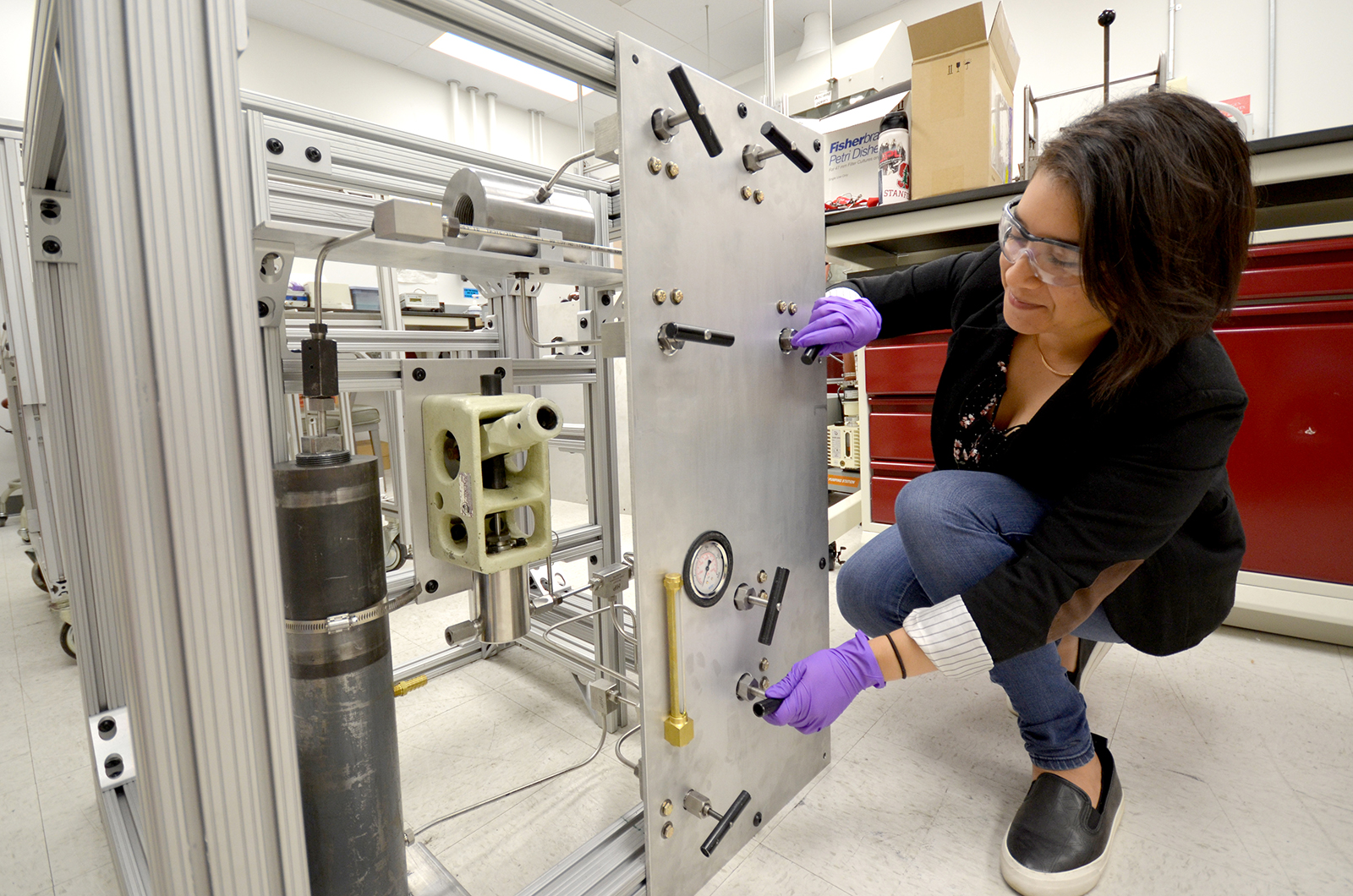 There were also a lot of critical things happening with politics around that time. Immigration was a really hot topic and walkouts were happening at L.A high schools. My family is from El Salvador, and I'm a first-generation college student, so I felt very motivated to study political science and be involved in issues that were happening first-hand in the world and affected my family and people I knew. So I went to Berkeley and got a degree in political science.
After that, I really wanted to get involved with service and just make a difference in the world, so I joined Teach for America. I taught math and I started a robotics club. It was through the robotics club and teaching my students about space and engineering that I really got excited again. I started pressing my siblings and my cousins to go into science. And one day, one of my cousins said, "If space is so cool, Kathy, why aren't you studying it?" I realized, yeah, what happened to that? I really loved that. So I decided to take classes at a local community college and did well. And now I'm at the University of Colorado at Boulder getting a second degree in engineering physics.
Do you ever feel pulled back in the direction of politics?
No [laughs]. Politics is a messy ordeal. I do my part as a citizen, but I like to think that thinking toward the future in science is where my efforts are best used right now.
How do you feel your background in political science has served you in engineering?
Going into engineering and science, I was very conscious of the fact that women and especially women of color are underrepresented in these fields. I think that having the background in political science, having the experiences working with communities gives me the ability to have thoughtful conversations with people about diversity.
How do you think you're contributing to NASA/JPL missions and science?
With this experiment, I've been able to leverage my creative side. I feel like I'm laying the foundation for these missions to explore other moons and worlds.
If you could travel to any place in space, where would you go and what would you do there?
There's a star called Vega, and it might have its own planetary system. It's so far that we have no idea what's in that potential system or if there could be terrestrial planets. I'd want to explore that.
---
Explore JPL's summer and year-round internship programs and apply at: https://www.jpl.nasa.gov/edu/intern
The laboratory's STEM internship and fellowship programs are managed by the JPL Education Office. Extending the NASA Office of Education's reach, JPL Education seeks to create the next generation of scientists, engineers, technologists and space explorers by supporting educators and bringing the excitement of NASA missions and science to learners of all ages.
---
JPL intern Camille V. Yoke is building a thruster like the one that might send astronauts to Mars in the future. The University of South Carolina physics major shares how she's shaping the future of electric propulsion and why she's a fan of the "Mark Watney lifestyle."
What are you working on at JPL?
I am working on a thruster – which is what makes a spacecraft accelerate while it's in the vacuum of space – similar to one that we could ultimately use on either a manned mission to Mars, a cargo mission to Mars, or other future manned missions. I am building what's called a cathode. It goes into an electric propulsion thruster and creates a plume of plasma. My job this summer is to test that plasma and see whether or not we can improve upon previous generations of the same technology.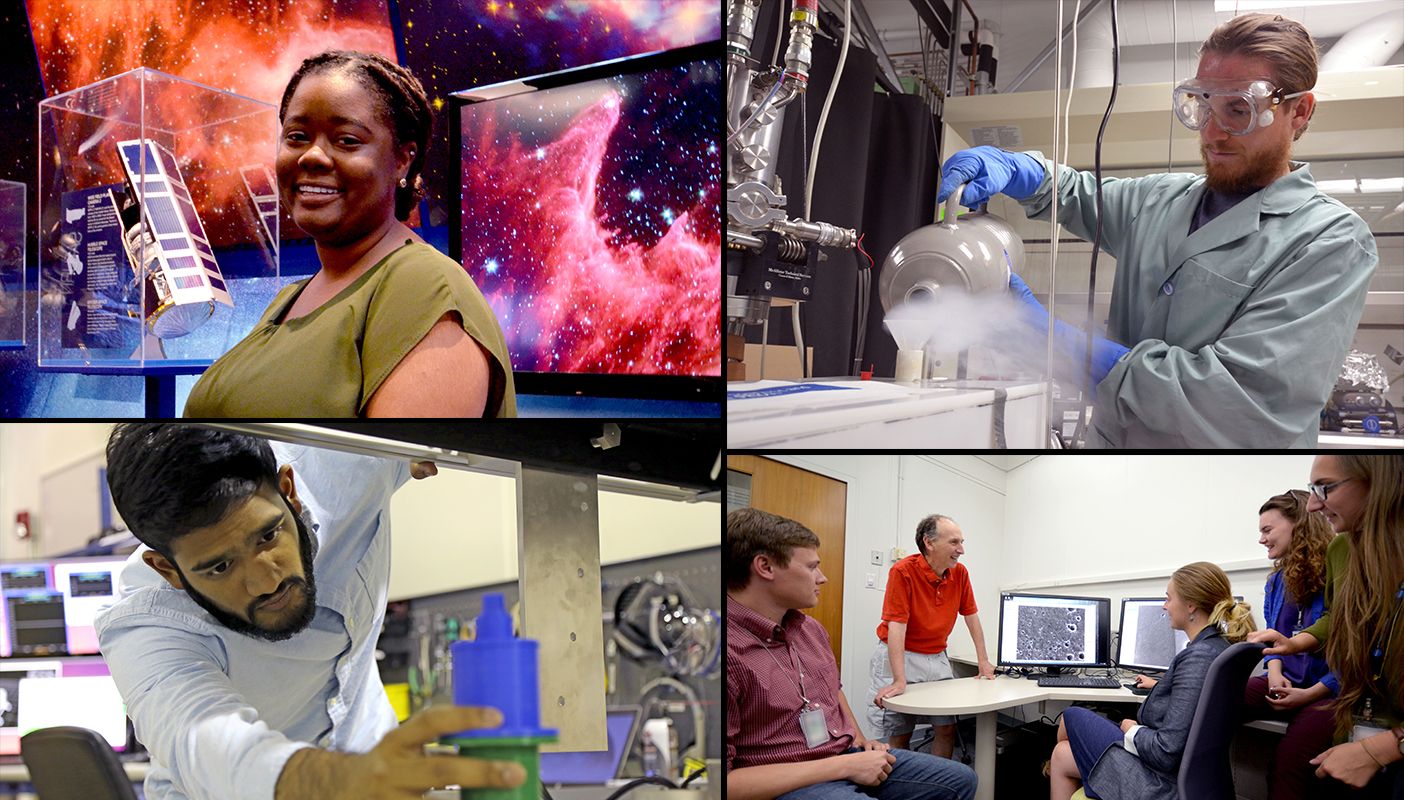 Meet JPL Interns
Read stories from interns pushing the boundaries of space exploration and science at the leading center for robotic exploration of the solar system.
What's a typical day like for you?
I have an office in a lab. Usually, in the morning, I talk with my mentor about the data that I've collected the day before. Then I either continue collecting data of the same variety or we decide that we need something new. The lab that I work in has three very small vacuum chambers, in which we create a plasma plume. I measure things like the density and temperature of the plasma at different positions. Then, I study the data to see what I've found.
What have you found out so far?
The technology I work on is the third-generation cathode for this thruster. The major difference between the third and the second generation is that we're giving the cathode extra fuel in different places. We actually learned today that it might be causing the temperature of the thruster to be much lower than it was previously, which is probably good news – but we don't know yet. We're going to launch into doing more rigorous tests and figure out whether or not that's a mistake in how we were testing it or if that's a pattern of this new technology.
What is electric propulsion and what makes it different than fuel propulsion? Why is it being considered for Mars and manned missions, specifically?
Electric propulsion is really good for deep space missions, meaning those going any farther than the Moon, because it can run for many thousands of hours. It requires power to run an electric thruster, which used to be an issue for NASA, but now large solar arrays are used on spacecraft to generate a lot of power. So for many proposed thrusters, the only limiting factor is the fuel. A main advantage of electric thrusters over chemical propulsion is that less fuel is required, so it's less expensive to get these thrusters into space. This could be important for manned missions in the solar system, such as a manned mission to Mars, which may require lots of cargo shipments.
How do you think you're contributing to NASA missions and science?
Today there was a brief period in which I knew something that nobody else on the planet knew – for 20 minutes before I went and told my boss. You feel like you're contributing when you know that you have discovered something new. I'm a student, so I'm learning and I think that's an important contribution, too. Learning about all these technologies in order to advance them forward when the current experts retire or leave is really important.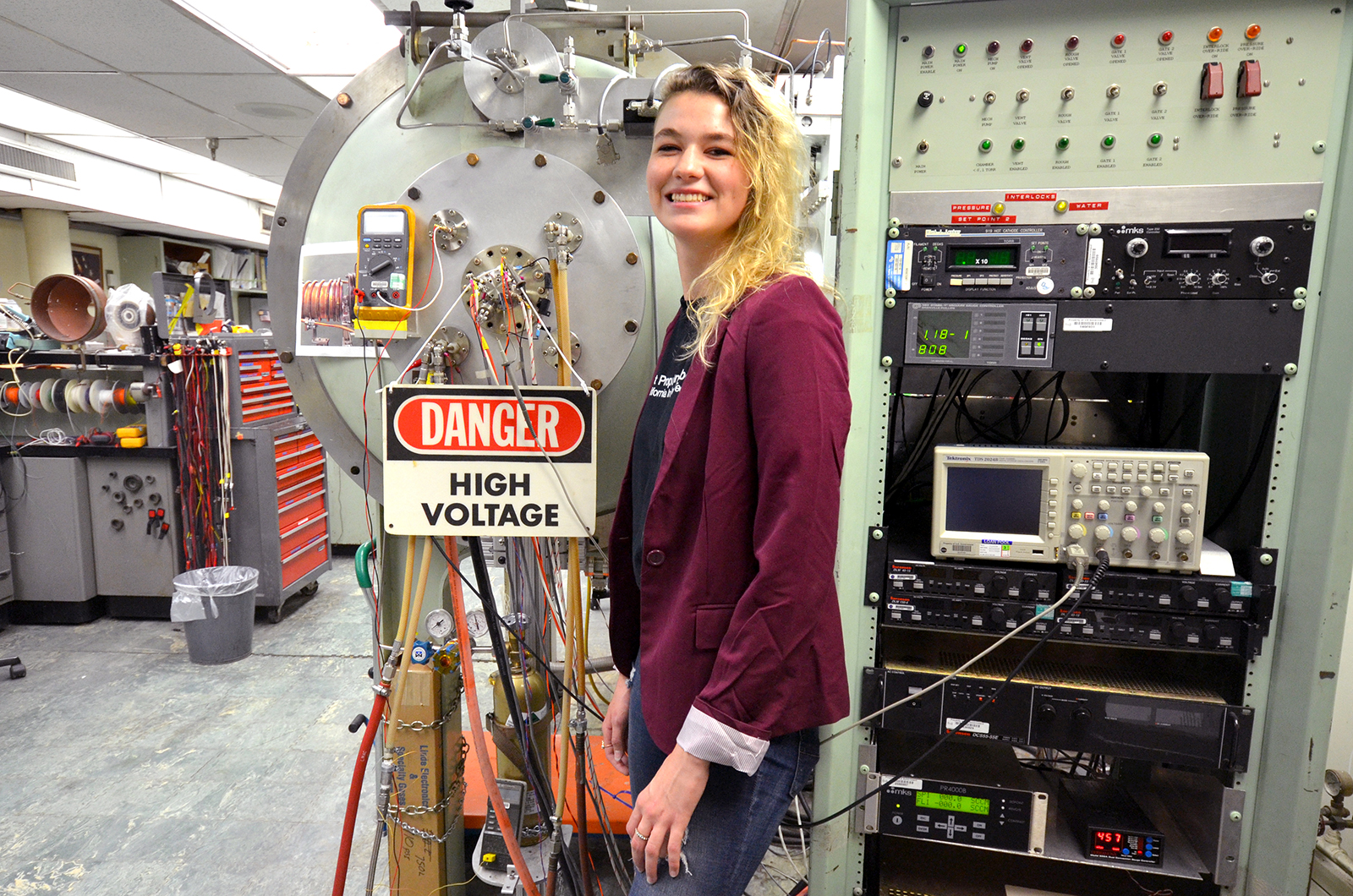 If you could travel to any place in space, where would you go and what would you do there?
I've read a lot about potential floating cities to study Venus, and those always seem really neat. I'm also a fan of the Mark Watney style of life [in "The Martian"], where you're stranded on a planet somewhere and the only thing between you and death is your own ability to work through problems and engineer things on a shoestring. There's this sign in my lab that reads, "Danger, high voltage" and there's another that reads, "There's nitrogen in this room. Two breaths of pure nitrogen will knock you out." That's why I really like applied physics; if you do it wrong, it will kill you. So If I ended up in a situation like Mark Watney's on a floating city on Venus, I wouldn't complain. It would be pretty cool.
---
Explore JPL's summer and year-round internship programs and apply at: https://www.jpl.nasa.gov/edu/intern
The laboratory's STEM internship and fellowship programs are managed by the JPL Education Office. Extending the NASA Office of Education's reach, JPL Education seeks to create the next generation of scientists, engineers, technologists and space explorers by supporting educators and bringing the excitement of NASA missions and science to learners of all ages.
---
To prepare her team to analyze the first sample returned from Mars in the future, JPL intern Amanda Allen is exploring how she can get the biggest science from the smallest places. We caught up with Allen, an Earth science major at UC San Diego who also has a background in costume design, to find out what the tiniest and rarest fossils could tell us about ancient life on Earth – and beyond.
What are you working on at JPL?
I am trying to develop a method to analyze the isotopic ratios of organic carbon preserved in individual microfossils.
Say again?
As living creatures on Earth, one of the most important elements to us is carbon. When we eat food, we are adding carbon to our bodies, and depending on what we eat and where we live, we get different types of carbon, which are called isotopes. Some isotopes are heavier than others, but living organisms have a tendency to process the lighter ones, which we can measure as a ratio.
When a creature dies, and if it becomes a fossil, any carbon that is preserved will hold a record of its isotope ratio. If we can get that fossil, we can use a mass spectrometer instrument to separate the lighter and heavier isotopes to see what that ratio is. Then we can use that to figure out what sort of lifestyle and eating habits the organism had.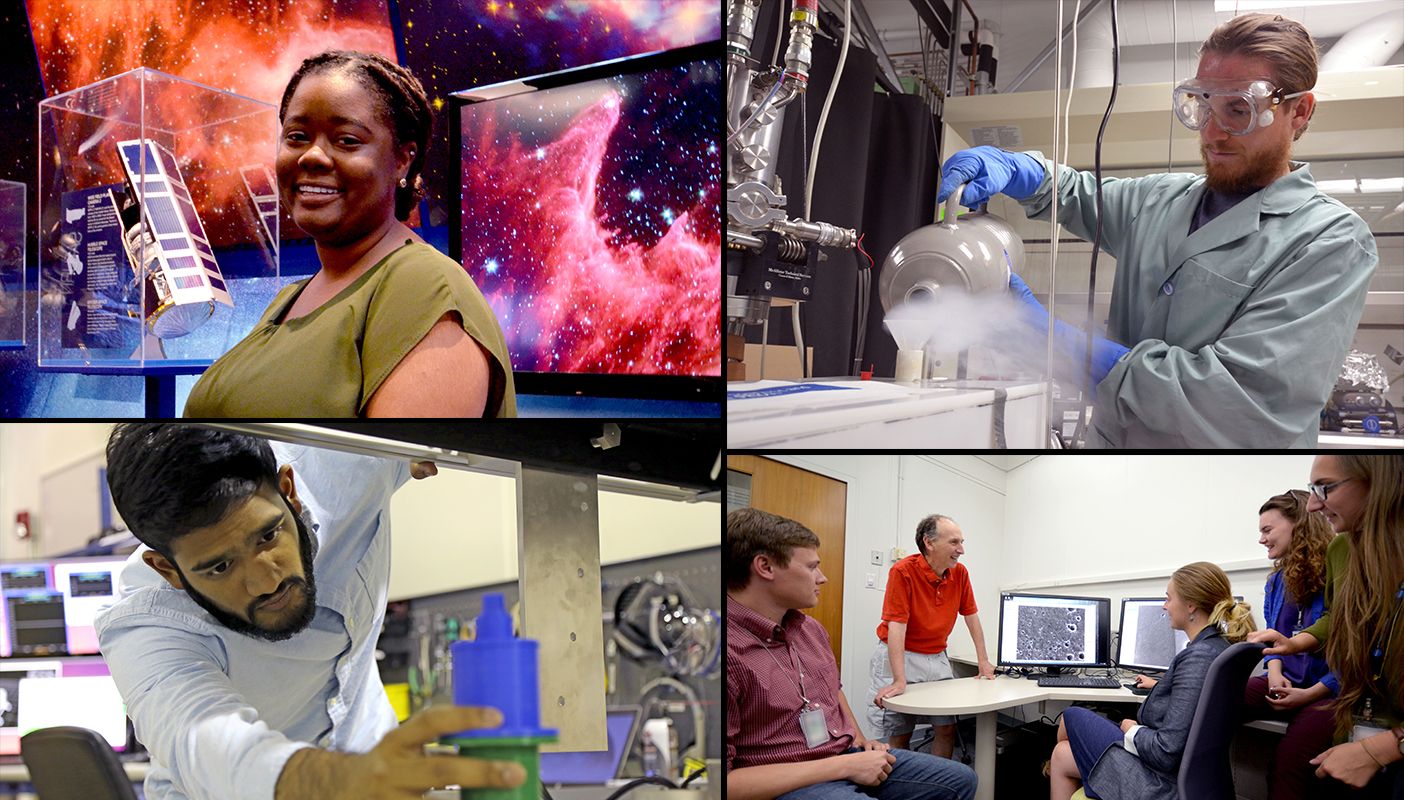 Meet JPL Interns
Read stories from interns pushing the boundaries of space exploration and science at the leading center for robotic exploration of the solar system.
But usually, you don't get a single fossil. Sometimes your sample is what was once sludge at the bottom of a lake, and that makes it difficult to study a specific fossil because there are lots of things that lived in the lake and contributed to that organic-rich sludge.
My lab is investigating some of the earliest evidence of the evolution of life on Earth, and one technique is to examine very tiny fossils – and there are not that many of them. So my project is working towards being able to take an individual microfossil and analyze it with our instruments. Right now, the state-of-the-art method needs a sample with about 10 times as much carbon as these microfossils to work properly. There's also a lot of possible contamination with that method. So I'm working on trying to get a different method to work.
How does this work play into NASA missions and science?
We're planning on eventually getting samples back to Earth sometime in the future after the Mars 2020 rover lands, and we want to be able to get the most information out of the tiniest amount of material so that more people can have the opportunity to experiment on it.
What are the samples that you're working with?
The samples that I'm working with are these little blobs of organic, carbon-walled microfossils. We don't really know what they are. They're called acritarchs, which is basically a lump-all term for, "of uncertain origin," but they're some of the oldest biological signatures on Earth.
What's an average day like for you?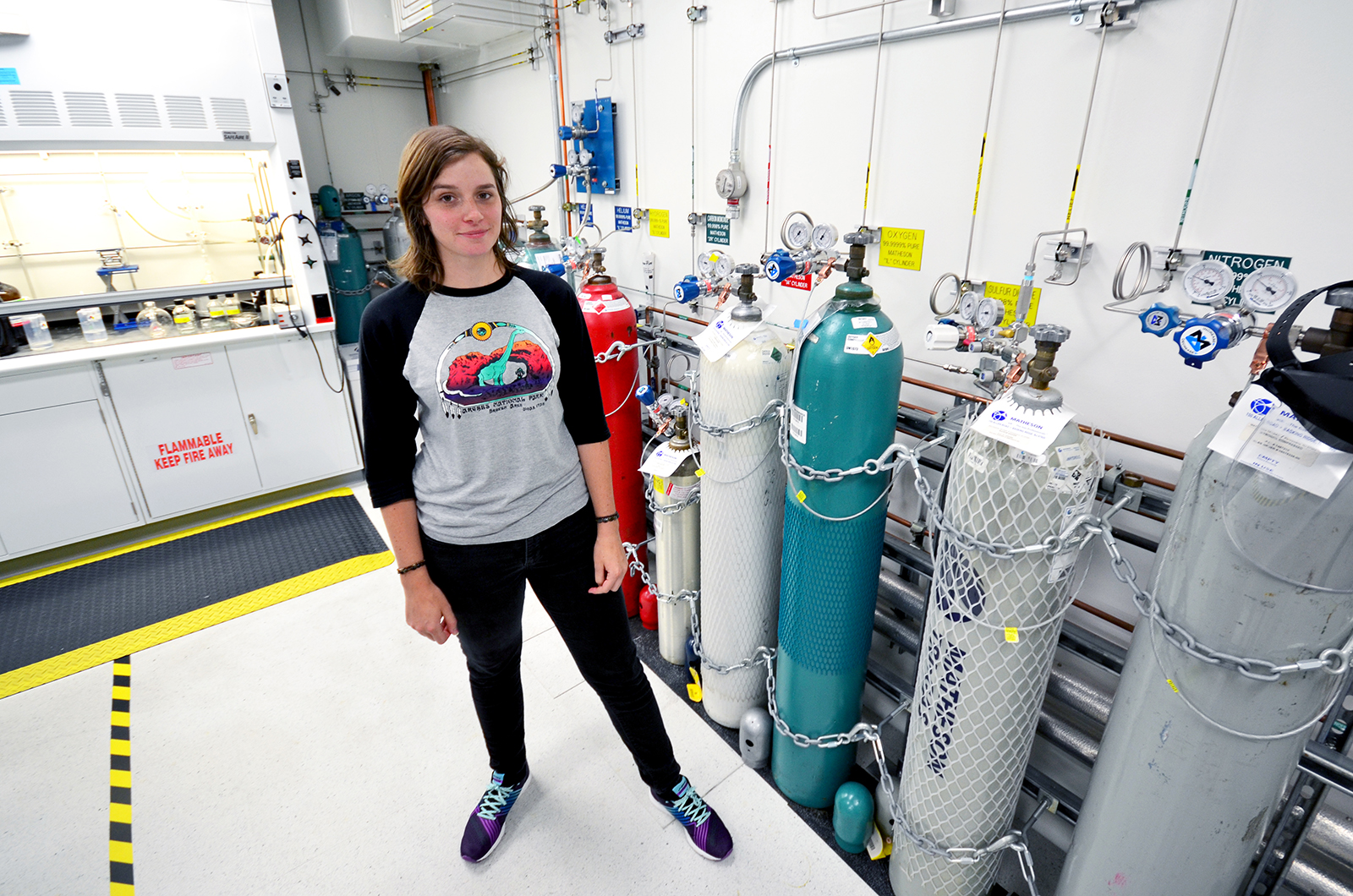 I've been working with the same lab over the past 3 years. At first, I was trying to get a handle on imaging the samples, studying them with a light microscope and our scanning electron microscope, looking for things like whether the surfaces had any rock bits left on them, estimating how much carbon they had, and then preparing them to be analyzed.
This summer, the instrument I'm working with is this really cool device called a Pyroprobe. It has a little platinum wire coil, and you fit a tiny little sample tube into it and the platinum coil will heat up to around 1,500 degrees Celsius [about 2,700 degrees Fahrenheit]. We use oxygen to combust the sample so any carbon on it will turn into carbon dioxide. The carbon dioxide can get passed to our isotope ratio mass spectrometer.
How do you feel that you're contributing to NASA missions and science?
I think the people I work with have a really good vision and intention when going about investigations like this. We want to be the ones who they hand the samples to when they come back from Mars. We want to show that we're taking every necessary precaution to treat the samples with care and that we have instruments that can look at thin sections of rocks and make images of them that can be shared instantaneously. I really like being a part of that.
I also feel like my superpower is being able to find things. So if there's something cool to find on Mars related to astrobiology, I think I can help with that. Finding life or signs of life on Mars is the coolest application of my superpower [laughs].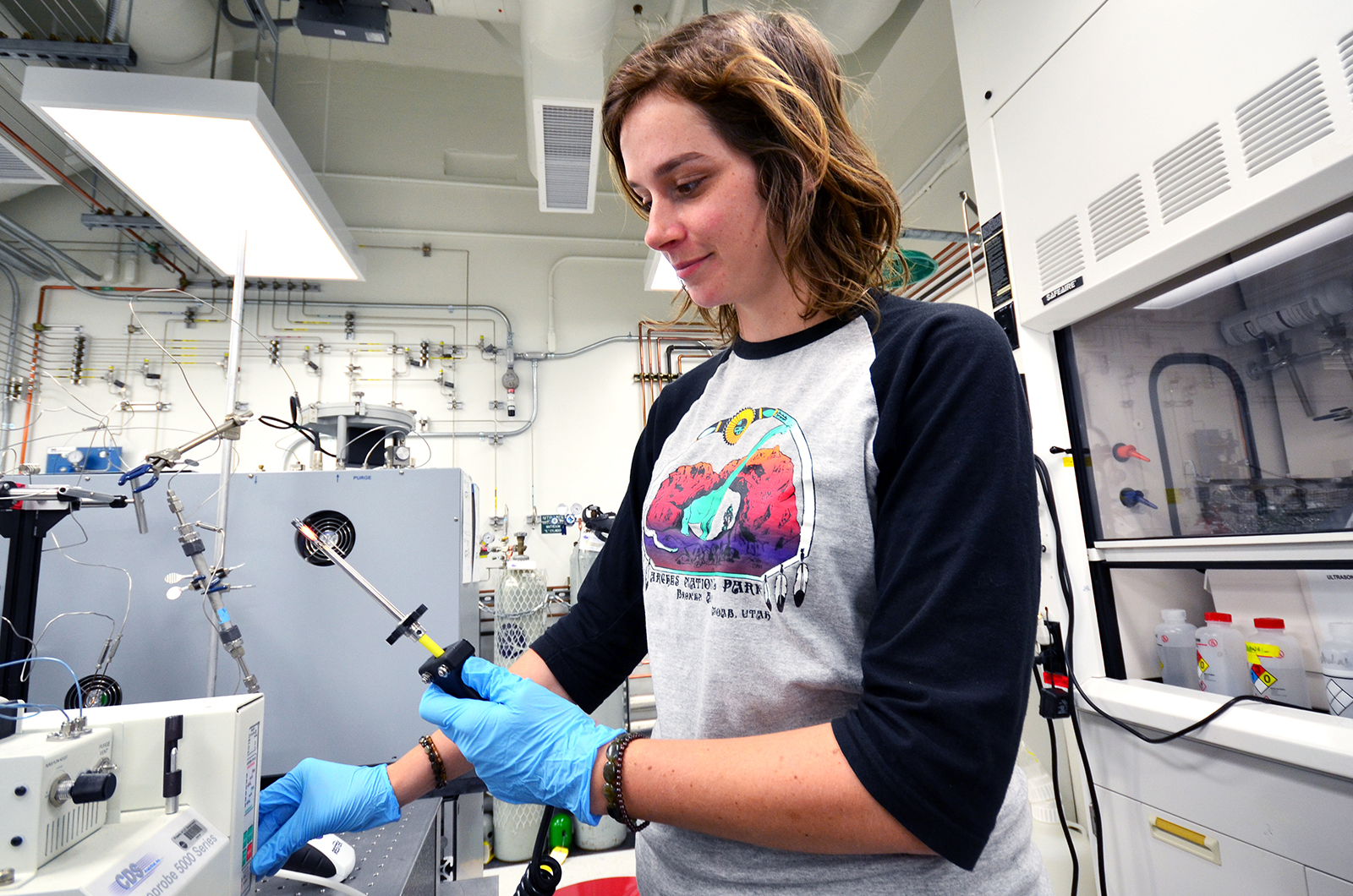 Before taking the science route, you were involved in theater and costume design. What made you choose to study science?
I had a really hard time choosing between costuming and geology for a long time. But then I realized that they didn't have to be separate things, or I could use one to kind of fuel the other one, and use an understanding of the natural world to inspire my art. Being able to actualize new ways of understanding the universe and helping other people understand it is really important, and I think that's where art comes in.
What's the most JPL or NASA unique experience you've had so far?
I think it's just being able to start up a conversation in the lunch line with someone and hear about this whole other experience and the important work that they are doing. People here are excited about what they do and excited to come to work. They want to cross boundaries. It's people's job to be the intermediary between the engineering side of things and the science side of things, and I'm totally into that emphasis on communication and bridging traditionally divided disciplines.
If you could travel anywhere in space, where would you go and what would you do there?
Hiking around Pluto would be pretty cool. I never thought I would say that until I saw the images of Pluto from New Horizons. I also realized recently that I'm more interested in going to Mars than another place on Earth. I'm like, oh yeah, Prague is cool, but I'm just more interested in Mars.
---
Explore JPL's summer and year-round internship programs and apply at: https://www.jpl.nasa.gov/edu/intern
The laboratory's STEM internship and fellowship programs are managed by the JPL Education Office. Extending the NASA Office of Education's reach, JPL Education seeks to create the next generation of scientists, engineers, technologists and space explorers by supporting educators and bringing the excitement of NASA missions and science to learners of all ages.
---
Update: March 15, 2018 – The answers to the 2018 NASA Pi Day Challenge are here! View the illustrated answer key
---
In the News
The 2018 NASA Pi Day Challenge
Can you solve these stellar mysteries with pi? Click to get started.
Pi Day, the annual celebration of one of mathematics' most popular numbers, is back! Representing the ratio of a circle's circumference to its diameter, pi has many practical applications, including the development and operation of space missions at NASA's Jet Propulsion Laboratory.
The March 14 holiday is celebrated around the world by math enthusiasts and casual fans alike – from memorizing digits of pi (the current Pi World Ranking record is 70,030 digits) to baking and eating pies.
JPL is inviting people to participate in its 2018 NASA Pi Day Challenge – four illustrated math puzzlers involving pi and real problems scientists and engineers solve to explore space, also available as a free poster! Answers will be released on March 15.
Why March 14?
Pi is what's known as an irrational number, meaning its decimal representation never ends and it never repeats. It has been calculated to more than one trillion digits, but NASA scientists and engineers actually use far fewer digits in their calculations (see "How Many Decimals of Pi Do We Really Need?"). The approximation 3.14 is often precise enough, hence the celebration occurring on March 14, or 3/14 (when written in U.S. month/day format). The first known celebration occurred in 1988, and in 2009, the U.S. House of Representatives passed a resolution designating March 14 as Pi Day and encouraging teachers and students to celebrate the day with activities that teach students about pi.

NASA's Pi Day Challenge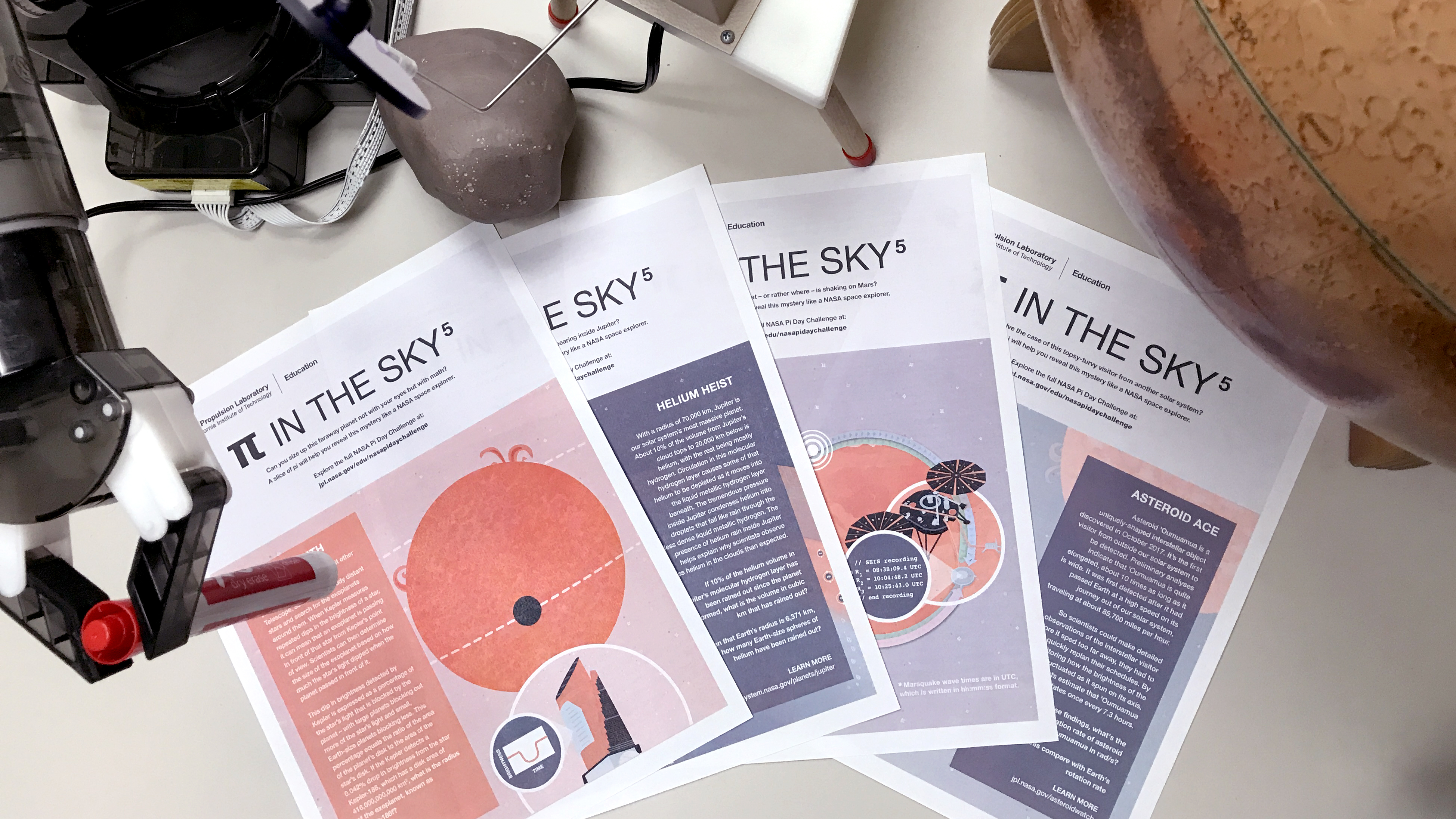 Lessons: Pi in the Sky
Explore the entire NASA Pi Day Challenge lesson collection, including free posters and handouts!
To show students how pi is used at NASA and give them a chance to do the very same math, the JPL Education Office has once again put together a Pi Day challenge featuring real-world math problems used for space exploration. This year's challenge includes exploring the interior of Mars, finding missing helium in the clouds of Jupiter, searching for Earth-size exoplanets and uncovering the mysteries of an asteroid from outside our solar system.
Here's some of the science behind this year's challenge:
Scheduled to launch May 5, 2018, the InSight Mars lander will be equipped with several scientific instruments, including a heat flow probe and a seismometer. Together, these instruments will help scientists understand the interior structure of the Red Planet. It's the first time we'll get an in-depth look at what's happening inside Mars. On Earth, seismometers are used to measure the strength and location of earthquakes. Similarly, the seismometer on Insight will allow us to measure marsquakes! The way seismic waves travel through the interior of Mars can tell us a lot about what lies beneath the surface. This year's Quake Quandary problem challenges students to determine the distance from InSight to a hypothetical marsquake using pi!
Also launching in spring is NASA's Transiting Exoplanet Survey Satellite, or TESS, mission. TESS is designed to build upon the discoveries made by NASA's Kepler Space Telescope by searching for exoplanets – planets that orbit stars other than our Sun. Like Kepler, TESS will monitor hundreds of thousands of stars across the sky, looking for the temporary dips in brightness that occur when an exoplanet passes in front of its star from the perspective of TESS. The amount that the star dims helps scientists determine the radius of the exoplanet. Like those exoplanet-hunting scientists, students will have to use pi along with data from Kepler to find the size of an exoplanet in the Solar Sleuth challenge.
Jupiter is our solar system's largest planet. Shrouded in clouds, the planet's interior holds clues to the formation of our solar system. In 1995, NASA's Galileo spacecraft dropped a probe into Jupiter's atmosphere. The probe detected unusually low levels of helium in the upper atmosphere. It has been hypothesized that the helium was depleted out of the upper atmosphere and transported deeper inside the planet. The extreme pressure inside Jupiter condenses helium into droplets that form inside a liquid metallic hydrogen layer below. Because the helium is denser than the surrounding hydrogen, the helium droplets fall like rain through the liquid metallic hydrogen. In 2016, the Juno spacecraft, which is designed to study Jupiter's interior, entered orbit around the planet. Juno's initial gravity measurements have helped scientists better understand the inner layers of Jupiter and how they interact, giving them a clearer window into what goes on inside the planet. In the Helium Heist problem, students can use pi to find out just how much helium has been depleted from Jupiter's upper atmosphere over the planet's lifetime.
In October 2017, astronomers spotted a uniquely-shaped object traveling in our solar system. Its path and high velocity led scientists to believe 'Oumuamua, as it has been dubbed, is actually an object from outside of our solar system – the first ever interstellar visitor to be detected – that made its way to our neighborhood thanks to the Sun's gravity. In addition to its high speed, 'Oumuamua is reflecting the Sun's light with great variation as the asteroid rotates on its axis, causing scientists to conclude it has an elongated shape. In the Asteroid Ace problem, students can use pi to find the rate of rotation for 'Oumuamua and compare it with Earth's rotation rate.
Explore More
Join the Conversation
Standards-Aligned Lessons
Multimedia
18 Ways NASA Uses Pi – Whether it's sending spacecraft to other planets, driving rovers on Mars, finding out what planets are made of or how deep alien oceans are, pi takes us far at NASA. Find out how pi helps us explore space.
Facts and Figures
Missions
Websites
TAGS: Pi Day, Math, Science, Engineering, NASA Pi Day Challenge, K-12, Lesson, Activity, Slideshow, Mars, Jupiter, Exoplanets, Kepler, Kepler-186f, Juno, InSight, TESS, 'Oumuamua, asteroid, asteroids, NEO, Nearth Earth Object
---
In the Education Office at NASA's Jet Propulsion Laboratory, we're always working to bring exciting scientific content to K-12 classrooms. Educators can access many of these free resources, classroom materials and activities online, and we're adding more all the time. The inspiration for these products often comes from the work being done at JPL and NASA, but sometimes it's the teachers we work with whose creative ideas inspire the lessons we share with our community of STEM educators. Our new column, Teacher Feature, is an effort to capture those creative ideas and highlight the teachers behind them.
---
Featured Lesson: How to Read a Heat Map
Students learn to read, interpret and compare "heat maps" representing Earth science data.
LoriAnn Pawlik recently shared her NASA-inspired lesson during a professional development workshop hosted by the agency.
LoriAnn teaches STEM to grades K-5 at Penn Elementary School in Prince William County, Virginia, which focuses on students learning English, as well as those with learning disorders and autism. When she recently came across a lesson on the NASA/JPL Edu website, she saw an opportunity to bring real-world NASA data to her students.
How do you use NASA in the classroom?
Using the lesson "How to Read a Heat Map" as a jumping-off point, LoriAnn had her students first dive into the practice of reading and interpreting graphs. From here, she extended the lesson with an exploration of NASA satellites and the data they collect, focusing on the Gravity Recovery And Climate Experiment, or GRACE mission, to tie in with a community science night on water science.
GRACE was launched in 2002 to track changes in the distribution of liquid water, ice and land masses on Earth by measuring changes in the planet's gravity field every 30 days. Circling Earth 16 times each day, GRACE spent more than 15 years collecting data – all of which is available online – before its science mission ended last October. The mission provided students the perfect context to study climate and water through authentic NASA data.
How did students react to the lesson?
LoriAnn set the stage for her students by explaining to them that they would be providing their data to NASA scientists.
"I told them that I was working on a project for a scientist from NASA-JPL and that we needed their help," she said via email. "By the time I gave them the background and showed a brief GRACE video, they were all in – excited, eager enthusiastic! It helped that each table, or 'engineering group,' was responsible for a different U.S. state."
As a result, students were able to plot the changes in gravitational fields for multiple locations over several years.
What are other ways you use NASA lessons or resources?
By extending the lesson, LoriAnn gave her students a sense of authentic ownership of the data and practice in real scientific analysis. But it wasn't her first time uniting NASA science with her school curriculum:
"I'd been working with our second-graders on field studies of habitats," LoriAnn explained. "We observed, journaled and tracked the migration of monarch butterflies, discussed what happened to habitats of living things since Hurricane Harvey and Hurricane Irma were just going through, and then I used the [NASA Mars Exploration website] to have students extend the findings to space habitats."
---
Have a great idea for implementing NASA research in your class or looking to bring NASA science into your classroom? The Educator Professional Development Collaborative, or EPDC, can help. The EPDC at JPL serves educators in the greater Los Angeles area. Contact JPL education specialist Brandon Rodriguez at brandon.rodriguez@jpl.nasa.gov. Note: Due to the popularity of EPDC programs, JPL may not be able to fulfill all requests.
Outside the Southern California area? The EPDC operates in all 50 states. Find an EPDC specialist near you.
The EPDC is managed by Texas State University as part of the NASA Office of Education. A free service for K-12 educators nationwide, the EPDC connects educators with the classroom tools and resources they need to foster students' passion for careers in STEM and produce the next generation of scientists and engineers.
---
When Halloween rolls around at NASA's Jet Propulsion Laboratory, we really let our nerd flags fly. Pumpkin carving contests turn into serious engineering design challenges and costume inspiration runs the gamut from real science to science fiction.
This year, join us in all our geekdom with these spooky (and educational!) space activities from the Education Office at NASA/JPL:
---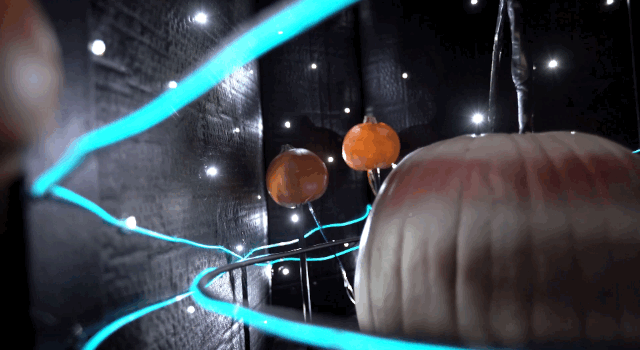 ---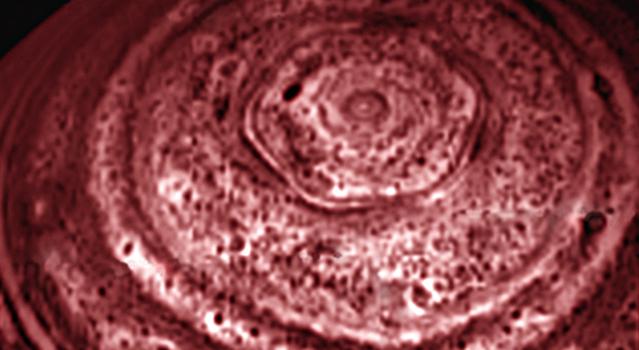 ---