---
UPDATE: Nov. 27, 2018 – The InSight spacecraft successfully touched down on Mars just before noon on Nov. 26, 2018, marking the eighth time NASA has succeeded in landing a spacecraft on the Red Planet. This story has been updated to reflect the current mission status. For more mission updates, follow along on the InSight Mission Blog, JPL News, as well as Facebook and Twitter (@NASAInSight, @NASAJPL and @NASA).
---
Matt Golombek's job is one that could only exist at a place that regularly lands spacecraft on Mars. And for more than 20 years, the self-proclaimed "landing-site dude" and his rotating cast of interns at NASA's Jet Propulsion Laboratory have helped select seven of the agency's landing sites on the Red Planet.
Golombek got his start in the Mars landing-site business as the project scientist for the first rover mission to the Red Planet in 1997. Since that time, he has enlisted the help of geology students to make the maps that tell engineers, scientists, stakeholders and now even the rovers and landers themselves where – and where not – to land. Among the list of no-gos can be rock fields, craters, cliffs, "inescapable hazards" and anything else that might impede an otherwise healthy landing or drive on Mars.
For Golombek's interns, the goal of helping safely land a spacecraft on Mars is as awe-inspiring as it comes, but the awe can sometimes be forgotten in the day-to-day work of counting rocks and merging multitudes of maps, especially when a landing is scheduled for well after their internships are over. But with the landing site for NASA's next Mars rover just announced and the careful work of deciding where to lay down science instruments for the freshly landed InSight mission soon to begin, interns Lauren Berger, Rachel Hausmann and Heather Lethcoe are well aware of the significance of their work – the most important of which lies just ahead.
Site Unseen
Selecting a landing site on Mars requires a careful balancing act between engineering capabilities and science goals. It's a partnership that for Golombek, a geologist, has evolved over the years.
Golombek reflects on the time before spacecraft like the now-critical Mars Reconnaissance Orbiter provided high-resolution, global views of the Martian terrain. In those early days, without close-up images of the surface, the science was largely guesswork, using similar terrain on Earth to get a sense for what the team might be up against. Spacecraft would successfully touch down, but engineers would look aghast at images sent back of vast rock fields punctuated by sharp boulders that could easily destroy a lander speeding to the surface from space. NASA's 1997 Pathfinder spacecraft, encased in airbags for landing, bounced as high as a 10-story building before rolling to a stop at its jagged outpost.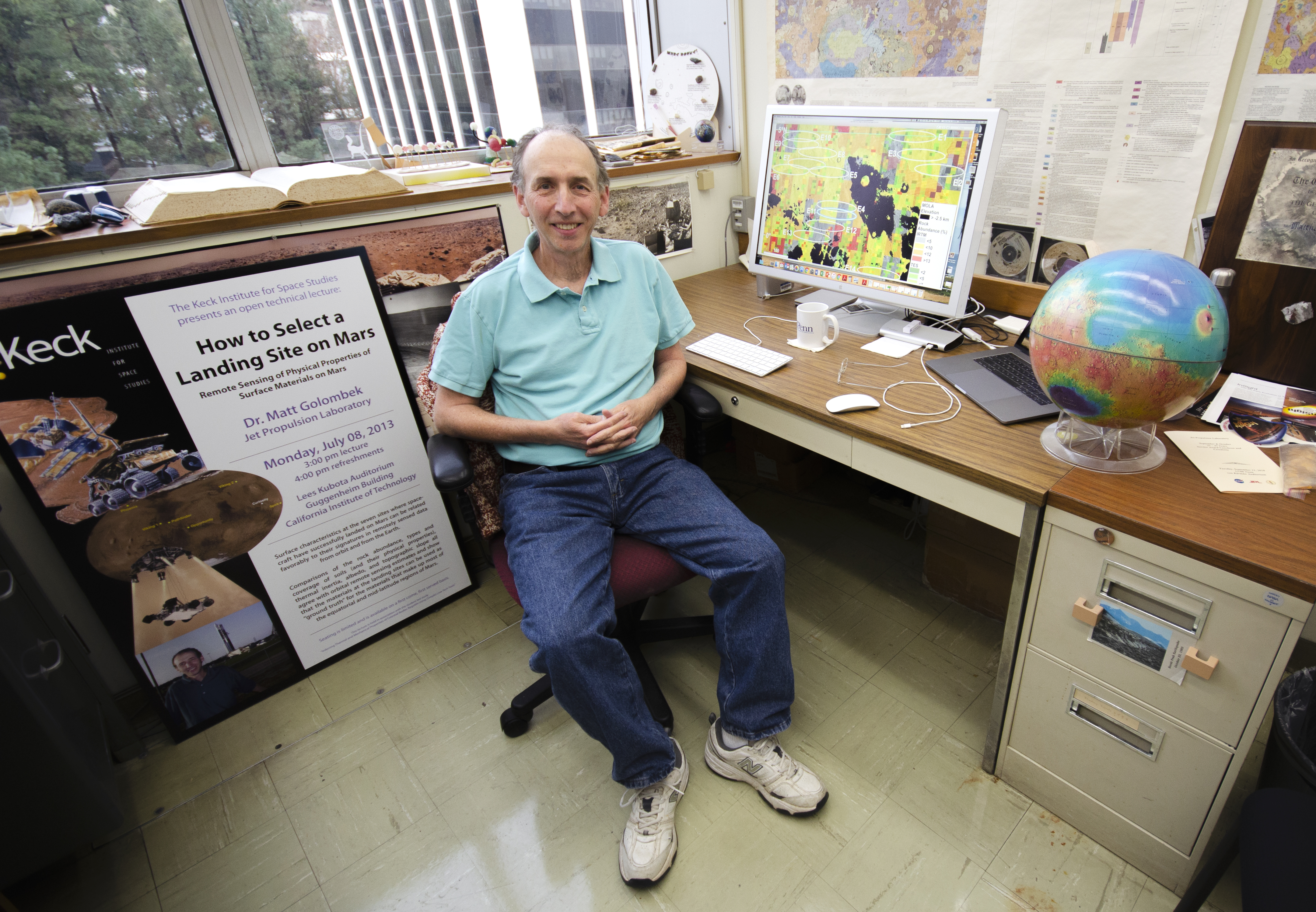 Now, Golombek and his interns take a decidedly more technological approach, feeding images of candidate landing sites into a machine-learning program designed to measure the size of rocks based on the shadows they cast and carefully combining a series of images, maps and other data using Geographical Information Systems, or GIS, software (a required skill for Golombek's interns).
Still, there are some things that must be done by hand – or eye, as the case may be.
"Lauren [Berger] is now an expert on inescapable hazards," says Golombek of one of his current trio of interns. "She can look at those ripples, and she knows immediately whether it's inescapable, probably inescapable, probably escapable or not a problem."
"Or, as we like to say, death, part death and no death," jokes Berger.
"We work with them to train them so their eye can see it. And so far, that's the best way to [identify such hazards]. We don't have any automated way to do that," says Golombek.
"I like to call Lauren the Jedi master of ripples-pattern mapping," says fellow intern Heather Lethcoe, who is the team's mapping expert for the Mars 2020 rover mission. "I helped her a little bit with that, and now I'm seeing ripples closing my eyes at night."
Until recently, Lethcoe and Berger were busily preparing maps for October's landing site workshop, during which scientists debated the merits of the final four touchdown locations for the Mars 2020 mission. If Golombek's team had a preferred candidate, they wouldn't say. Their task was to identify the risks and determine what's safe, not what's most scientifically worthy. Thanks to new technology that for the first time will allow the rover to divert to the safest part of its landing ellipse using a map created by Golombek's team, the debate about where to land was solely focused on science. So unlike landing site workshops for past Mars missions, Golombek's team stayed on the sidelines and let the scientists "have at it." (In the end, as with all other missions, the final site recommendation was made by the mission with NASA's approval.)
Now, with an official landing site announced, it might seem that Golombek's team is out of work. But really, the work is just beginning. "We'll be heavily involved in making the final hazard map for the [Mars 2020] landing site, which will then get handed to the engineers to code up so that the rover will make the right decisions," says Golombek.
Meanwhile, the team will be busy with the outcome of another Mars landing: InSight, a spacecraft designed to study the inner workings of Mars and investigate how rocky planets, including Earth, came to be.
Golombek's third intern, Rachel Hausmann, became a master at piecing together the hundreds of images, rock maps, slope maps and other data that were used to successfully land InSight. But because InSight is a stationary spacecraft, one of the most important parts of ensuring the mission's success will happen after it lands. The team will need to survey the landing area and determine how and where to place each of the mission's science instruments on the surface.
"If you think about it, it's like landing-site selection, just a little smaller scale," says Golombek. "You don't want [the instruments] sitting on a slope. You don't want them sitting on a rock."
For that, Golombek is getting the help of not just Hausmann but all three interns. "It's a once-in-a-lifetime opportunity to have students who happen to be in the right place at the right time when a spacecraft lands and needs their expertise."
Practice Makes Perfect
To prepare for this rare opportunity, the students have been embedded with different working groups, rehearsing the steps that will be required to place each of InSight's instruments safely on Mars several weeks after landing.
"The groups have rehearsals for different anomalies, or issues, that could go wrong," says Hausmann. "They do this to problem solve even down to, 'Are we in the right room? Do we have enough space?' because when you're working on a space mission, you can't have an issue with facilities."
The students took part in the first of these so-called Operational Readiness Tests in early October and say it was an eye-opening experience.
"It was really helpful just to get to know the team and really understand what's going to happen," says Berger. "Now we know how to make it happen, and everyone's a lot more ready. Also, it was so much fun."
"That's what I was going to say!" says Lethcoe. "That was just the rehearsal, and at the end of it, I felt so amped and pumped up. I can't even imagine when we're actually doing it how good that's going to feel."
Lethcoe says there was also the matter of balancing homework and midterms with full-time preparations for a Mars landing. That was its own sort of readiness test for December when the real work of deploying the instruments will coincide with finals.
Perhaps most surprising, say the students, was their realization that their expertise is valued by a team that's well-versed in Mars landings.
"Imposter syndrome is real," says Hausmann. But the team's internships are serving as the perfect antidote.
"I had this fear that I don't know if I'm going to be more in the way and more pestering or if I'm actually going to be helpful," says Lethcoe, a student at Cal State University, Northridge, who was first exposed to the mapping software used by the team during her time in the U.S. Army. "It turns out that the [InSight geology] team lead gave me really nice reviews."
Berger interjects to add supportive emphasis to Lethcoe's statement – a common occurrence among the three women who have shared the same small office for more than a year now. "He said he absolutely needed her and she could not go away."
Lethcoe laughs. "[My co-mentor] texted me to let me know, 'You earned this," and I tried not to take screenshots and send them to all my friends and my mom. They definitely make it known how much we're appreciated."
Adds Berger, "I think JPL really teaches you to have confidence in what you know."
More than the mapping skills and research experience they've picked up during their time at JPL, it's that confidence that they're most eager to take back to school with them and impart to other young women interested in STEM careers.
Berger gave a talk about imposter syndrome at her school, Occidental College in Los Angeles, earlier this month. And Hausmann, a student at Oregon State University, says her efforts to encourage and coach young women are the most important contribution she's making as a JPL intern.
"My mom didn't go to college. My dad left us when we were in high school. And so I didn't really focus on my career," says Hausmann. "I just want to help young women get in [to research and internships] early because I got in kind of late. I think that's so important, just as important as the work we're doing."
The Next Frontier
When your internship or your job is to help land spacecraft and deploy instruments on Mars, the question, "Where do we go from here?" is literal and figurative. While the next year or so will be perhaps one of the busiest Golombek's team has ever known, his future as the landing-site dude is uncertain.
"If what you do is select landing sites for a living, it's kind of an odd thing because you can only work at one place," says Golombek. "You need to have a spacecraft that needs a landing site selected for it. And for the past 20 years, there have been spacecraft that we've been landing on Mars. So I'm kind of out of business now because Mars 2020 is the last for the time being – there are no new [NASA Mars] landing sites that are being conceived of."
At the mention of possible lander missions to other worlds, Golombek shrugs and his near-constant grin sinks into a thin horizon. "Don't know," he says. "I'm kind of a Martian, and I'll probably stick with Mars."
Maybe it's a torch best carried by his intern alums, many of whom have gone from their internships to careers at JPL or other NASA centers. While Lethcoe, Berger and Hausmann are still enmeshed in their education – Lethcoe is in her junior year, Berger is taking a gap year before applying to graduate programs, and Hausmann is applying to Ph.D. programs in January – their experiences are sure to have a profound impact on their future. In many ways, they already have.
Could they be the landing-site dudes of the future? Maybe someday.
But for now, they're focused on the challenges of the immediate future, helping NASA take the next steps in its exploration of Mars. And for that, "They're super well trained," Golombek says, "and just perfect for the job."
---
Explore JPL's summer and year-round internship programs and apply at: https://www.jpl.nasa.gov/edu/intern
The laboratory's STEM internship and fellowship programs are managed by the JPL Education Office. Extending the NASA Office of Education's reach, JPL Education seeks to create the next generation of scientists, engineers, technologists and space explorers by supporting educators and bringing the excitement of NASA missions and science to learners of all ages.
TAGS: Interns, Internships, Higher Education, College, Geology, Science, Rovers, Landers, Mars, InSight, Mars 2020
---
All spacecraft are made for extreme environments. They travel through dark, frigid regions of space, battle intense radiation and, in some cases, perform daring feats to land on mysterious worlds. But the rover that Tonya Beatty is helping design for Venus – and other so-called extreme environments – is in a class all its own. Venus is so inhospitable that no spacecraft has ever lasted more than about two hours on the surface. So Beatty, an intern at NASA's Jet Propulsion Laboratory and an aerospace engineering student at College of the Canyons, is working to develop a new kind of rover that's powered mostly by gears rather than sensitive electronics. We caught up with Beatty just before she embarked on another engineering challenge – JPL's annual Halloween pumpkin-carving contest – to find out what it takes to turn an impossible idea into a reality.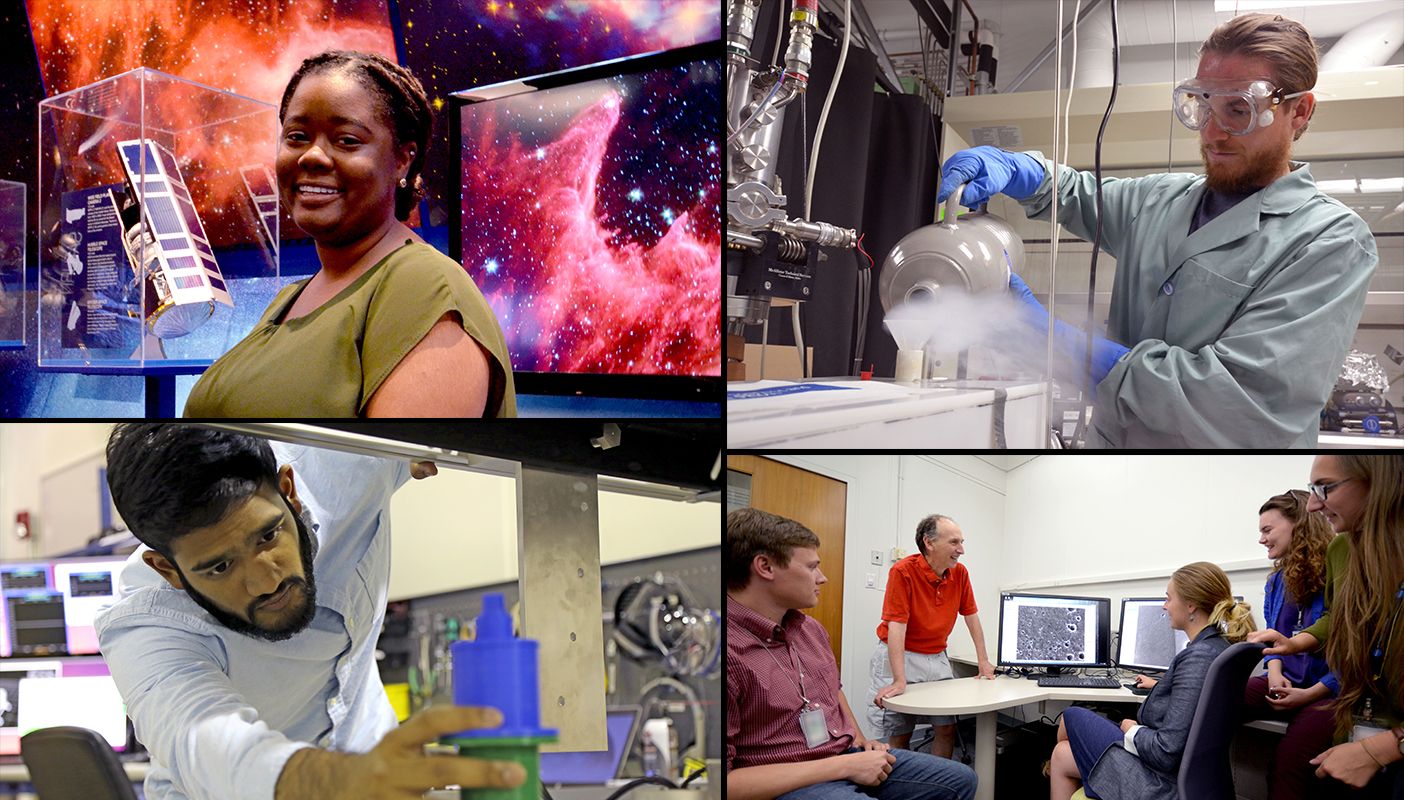 Meet JPL Interns
Read stories from interns pushing the boundaries of space exploration and science at the leading center for robotic exploration of the solar system.
What are you working on at JPL?
I'm working with a team on the HAR-V project, which stands for Hybrid Automaton Rover-Venus. It's a study to develop a rover meant to go to Venus. I'm assisting in the development of mechanical systems and mechanisms on the prototype, using clockwork maneuvers. This rover will use minimal electronics, so when I say clockwork, I mean gears and anything that does not rely on electronics.
Why is this rover not relying on electronics and relying more on a gear system?
The environment on Venus includes sulfuric acid clouds, a surface pressure about 90 times what it is on Earth and a temperature that exceeds 800 degrees Fahrenheit. The materials in most electronics would melt in that extreme environment, so that's why we're trying to go mechanical. The previous landers that have gone to Venus have relied on electronics, and the one that lasted the longest only lasted 127 minutes, whereas ours, using the mechanical design, is projected to last about six months. So that's why we're going with this design.
What does a typical day look like for you?
A typical day for me consists of designing mechanisms, designing mechanical systems, ordering parts for those mechanical systems, testing them on the active prototype that we have and redesigning if necessary. It's kind of a mixture of all that, depending on where we're at in each step.
What is the ultimate goal of your project?
My personal goal with this internship is to connect the things I'm learning in school to real-world applications, as well as see what it would be like to be an aerospace engineer. Specific to the HAR-V study, my goals are to design a power-transfer mechanism, redesign the reversing mechanism on the rover itself, and redesign the obstacle avoidance mechanism. Those are all things that I'm now learning as I'm doing the internship, which is great. I love learning new things.
As for HAR-V itself, the goal is to be able to withstand those extreme environments for longer than 127 minutes and retrieve the groundbreaking data that we've been wanting from Venus but haven't been able to get because we haven't had the time we need [with previous landers].
Personally, at 19, I never thought that I would be working on a rover for Venus at NASA. By sharing my story, I hope people take away that some of the things they might think are impossible are really right there. They've just got to reach for it.
What's the most JPL or NASA unique experience that you've had so far?
As much as I'd like to say something cool like watching the rovers being tested, I have to say it's the deer. Every day, wherever I go – to laser-cut something or go get a coffee – I see deer. One day I saw six. I just think that's so unique because it's something I never expected to get from this experience. And I think it's unique to JPL.
Speaking of unique experiences, your group holds an annual pumpkin-carving contest and makes some amazing creations. Are you planning to participate in the contest this year?
I actually just got the emails today. I didn't know this was a JPL thing. It's a big deal! So, yes, I'd like to!
Do you know what your team is planning to make? Don't worry, we won't share this until after the contest, so it won't leak to any competitor.
We're making Miguel from [the movie] "Coco" with his guitar, and we're going to try and make it move.
How does designing a mechanical or creative pumpkin compare to designing a rover for Venus?
Well, with a pumpkin, I would care about how it looks, whereas with the rover, I care about how it functions. A pumpkin has real guts, and a rover has metaphorical guts. It's got to keep on going. But I think the biggest similarity is the creativeness between both of them, because you have to be creative to make an innovative pumpkin. Just like when you design a rover, you have to be creative; you can't just be smart. You have to have those creative ideas. You have to think outside of the box to actually design efficient and effective components, and you can't just give up. When you have a failed attempt, you try it again.
Do you have any tips for anyone who want to make a creative pumpkin?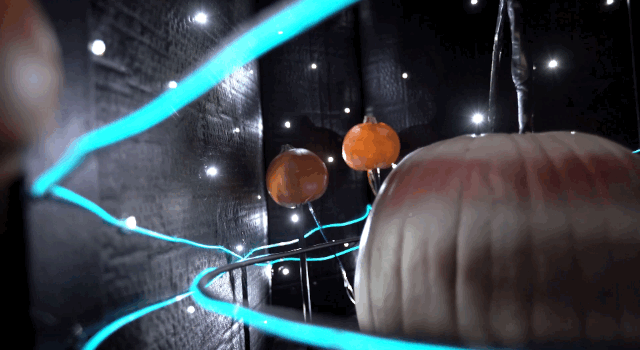 Create a Halloween Pumpkin Like a NASA Engineer
Get tips from NASA engineers on how to make an out-of-this-world Halloween pumpkin.
Don't be afraid of your ideas. Sometimes we limit ourselves because we're like, "You know that's too crazy. We shouldn't do that," but it takes crazy ideas to be an engineer and it takes crazy ideas to carve a good pumpkin.
OK, back to your internship: How do you feel you're contributing to NASA missions and science?
I think my active participation in the rover study is helping contribute to NASA-JPL missions, because something I have designed could very well be on an actual rover that could go to Venus, that would retrieve data, that does help NASA. So I think in that sense, I am contributing.
One last fun question: If you could travel to any place in space, where would you go, and what would you do there?
I would go to Europa. I would like to see first-hand if there is an ocean and if there's an environment that could sustain life. Chemistry has always interested me, so I would love to see that up close and analyze everything.
---
Explore JPL's summer and year-round internship programs and apply at: https://www.jpl.nasa.gov/edu/intern
The laboratory's STEM internship and fellowship programs are managed by the JPL Education Office. Extending the NASA Office of Education's reach, JPL Education seeks to create the next generation of scientists, engineers, technologists and space explorers by supporting educators and bringing the excitement of NASA missions and science to learners of all ages.
---
Roll aside, wheeled rovers! Sawyer Elliott is developing a cube-shaped rolling robot to go where no rover has gone before. Find out how the NASA Space Technology Research Fellow from Cornell University is fashioning a rover for extreme environments, what inspired him to go into aerospace engineering, and where he most wants to travel in space.
What are you working on at JPL?
I work on extreme terrain mobility, so being able to maneuver through terrains that traditional rovers have a tough time traversing.
What does that entail?
I work on a rover that, instead of driving around with wheels like traditional rovers, hops or rolls by itself and is actually a cube or tetrahedron. So we look at how well it can do this rolling motion, how power-efficient it is, and its capabilities in different environments.
What kinds of environments are we talking about?
Microgravity environments [where gravity is very weak, such as on asteroids and comets] are a big one because it's difficult for wheeled rovers to maneuver through those types of environments. Also places that are extremely rocky, where it's difficult for wheeled rovers to get into.
What's an average day like for you?
I do a lot of analyses on the rover, looking at the dynamics and the controls. I look at how it interacts with the environment and make sure my controllers work as expected and that the math I've done is reasonable. It's a lot of sitting in front of simulations. But in the end, it's nice because I get to see the robustness of the controllers and if they actually work in a realistic environment.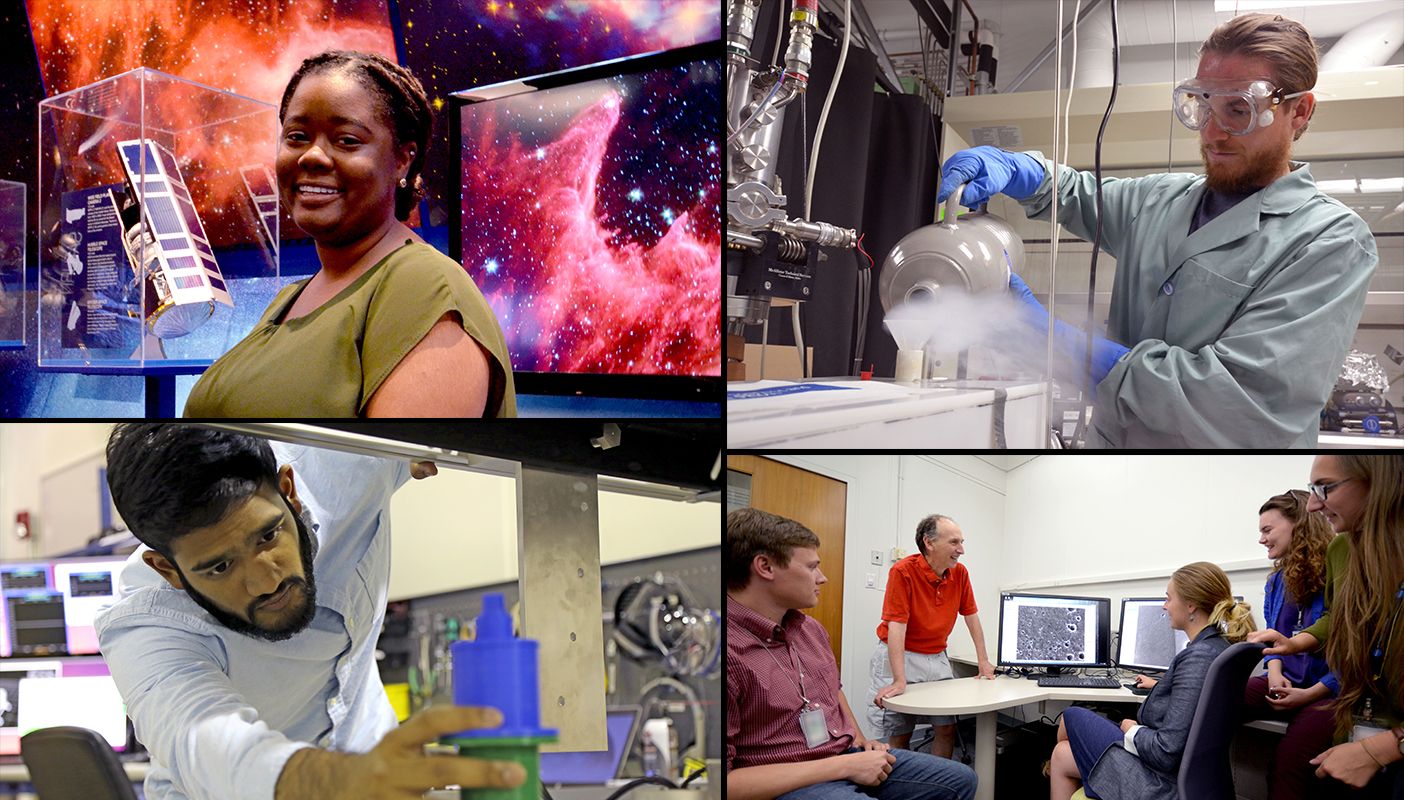 Meet JPL Interns
Read stories from interns pushing the boundaries of space exploration and science at the leading center for robotic exploration of the solar system.
How do you feel you're contributing overall to NASA/JPL missions and science?
The hope is that my work is advancing the capabilities of not only this type of rover architecture – so how we do our cube-type rolling – but also controls and planning for rovers in general, making them more autonomous, making the planning better and our modeling of the systems better.
What got you interested in engineering in the first place?
I think it was mostly my father. We traveled a lot to NASA's Kennedy Space Center and I got to see the Saturn V there. Anyone who has seen the Saturn V loves rockets because it's amazing. After that, I was basically sold. I got my undergraduate degree in aerospace engineering and now I am getting my graduate degree in aerospace engineering. I'm only getting more and more interested as I go, so I guess that's a good sign.
What's your ultimate career goal?
My ultimate goal would be to be a senior researcher or a senior fellow at some place like JPL or another NASA center or research center.
OK, now for the fun question: If you could travel to any place in space, where would you go and what would you do there?
I think going to a microgravity environment would be most fun. It's cool to explore places that have crazy environments, but just going to any microgravity environment, where you could go ballistic just by jumping or leaping, that sounds so fun to me, to complete half an orbit around an asteroid.
---
Explore JPL's summer and year-round internship programs and apply at: https://www.jpl.nasa.gov/edu/intern
The laboratory's STEM internship and fellowship programs are managed by the JPL Education Office. Extending the NASA Office of Education's reach, JPL Education seeks to create the next generation of scientists, engineers, technologists and space explorers by supporting educators and bringing the excitement of NASA missions and science to learners of all ages.
---
Former NASA/JPL high school intern Carrine Johnson talks about her summer internship working with a large rover.
---
During a live web chat on January 27, 2011, NASA/JPL engineer Nagin Cox answers questions from students about Mars exploration and rovers.