---
Four pre-service teachers at Cal Poly Pomona are developing their skills in lesson design and delivery as they study Earth science concepts and prepare for graduation.
---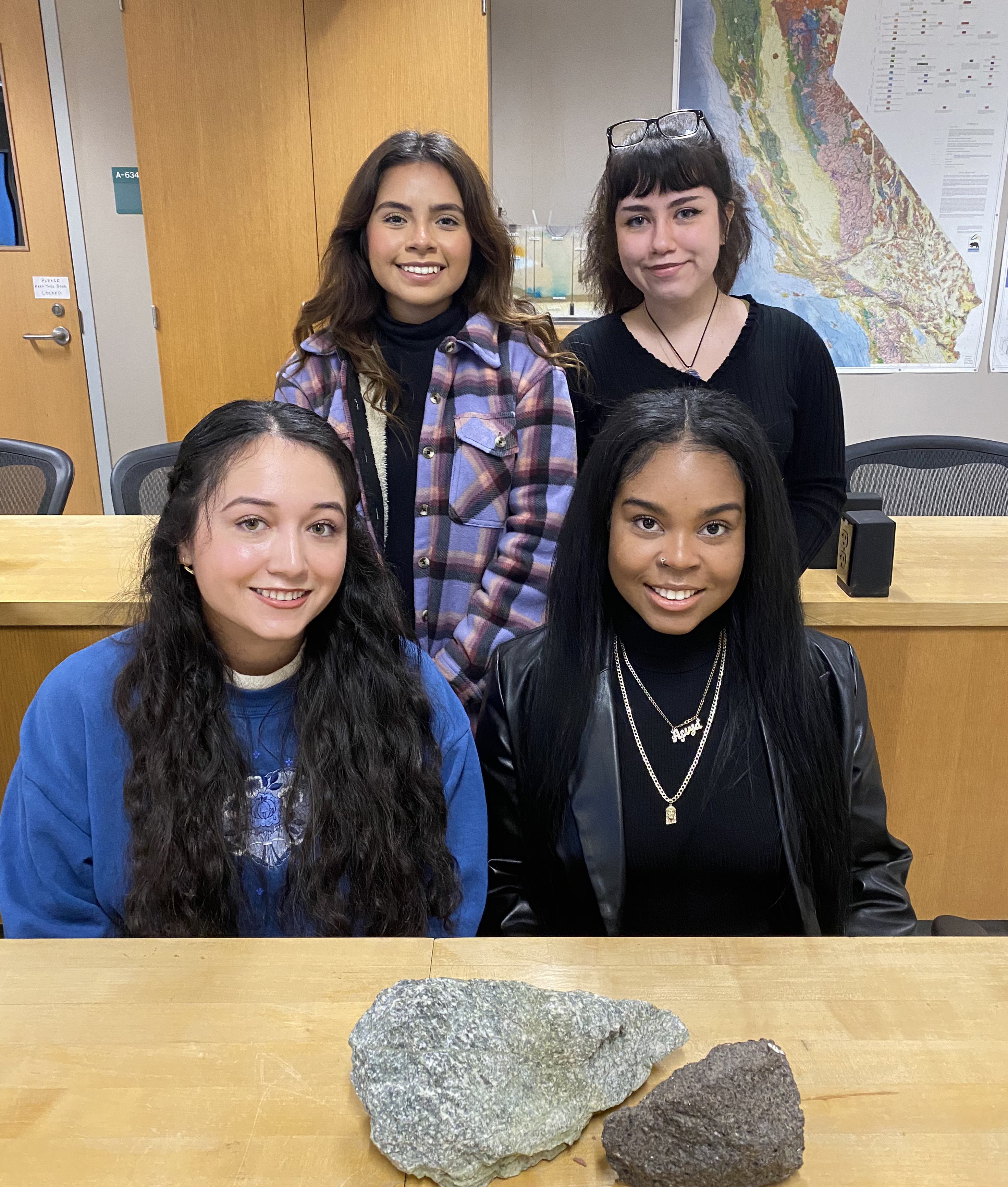 During the fall semester of 2022, I had the privilege of working with the Education Department at California Polytechnic University in Pomona, specifically with pre-service teachers taking coursework in Earth science. During our collaboration, the curriculum had the students split time in class between learning about geology and Earth's history and then designing and engaging in classroom activities related to the technical content that they could take to their own classes in the future. This combination had Cal Poly students learning science and education hand-in-hand each week and led to some amazing classroom lessons and lab activities.
One group of young women in the program stood out as exceptionally passionate about their future careers. This team consisted of four seniors: Jacquelin Galvez-Coyt, hoping to someday teach kindergarten; Amie Gallardo, who is planning to teach fourth grade; Afiya Kindle, who is interested in teaching elementary or middle school; and Sofia Vallejo, who is interested in kindergarten through sixth grade.
Despite their interest in working with young students and collaborating to design lessons for those students, each of these pre-service teachers allowed their individuality to shape how they navigated lesson design and implementation. I recently sat down with them to ask about their instructional style and aspirations for classrooms of their own.
Now that we're back to in-person classes, how is the transition going?
Sofia: Returning from remote instruction felt eerie at first, but it's so nice to return to communicate with people and build connections in a non-digital way. In-person classes prepare you to communicate with colleagues in real life, build social skills, and read body language. All of these skills are critical for a teacher in order to understand and better help students to succeed.
Amie: Returning from remote instruction has been amazing. While it had its perks, I believe, as students, we learn a lot more while working hands-on with our projects than is possible in distance learning. If we're trying to develop and assess activities we can do with kids, that really requires being face-to-face.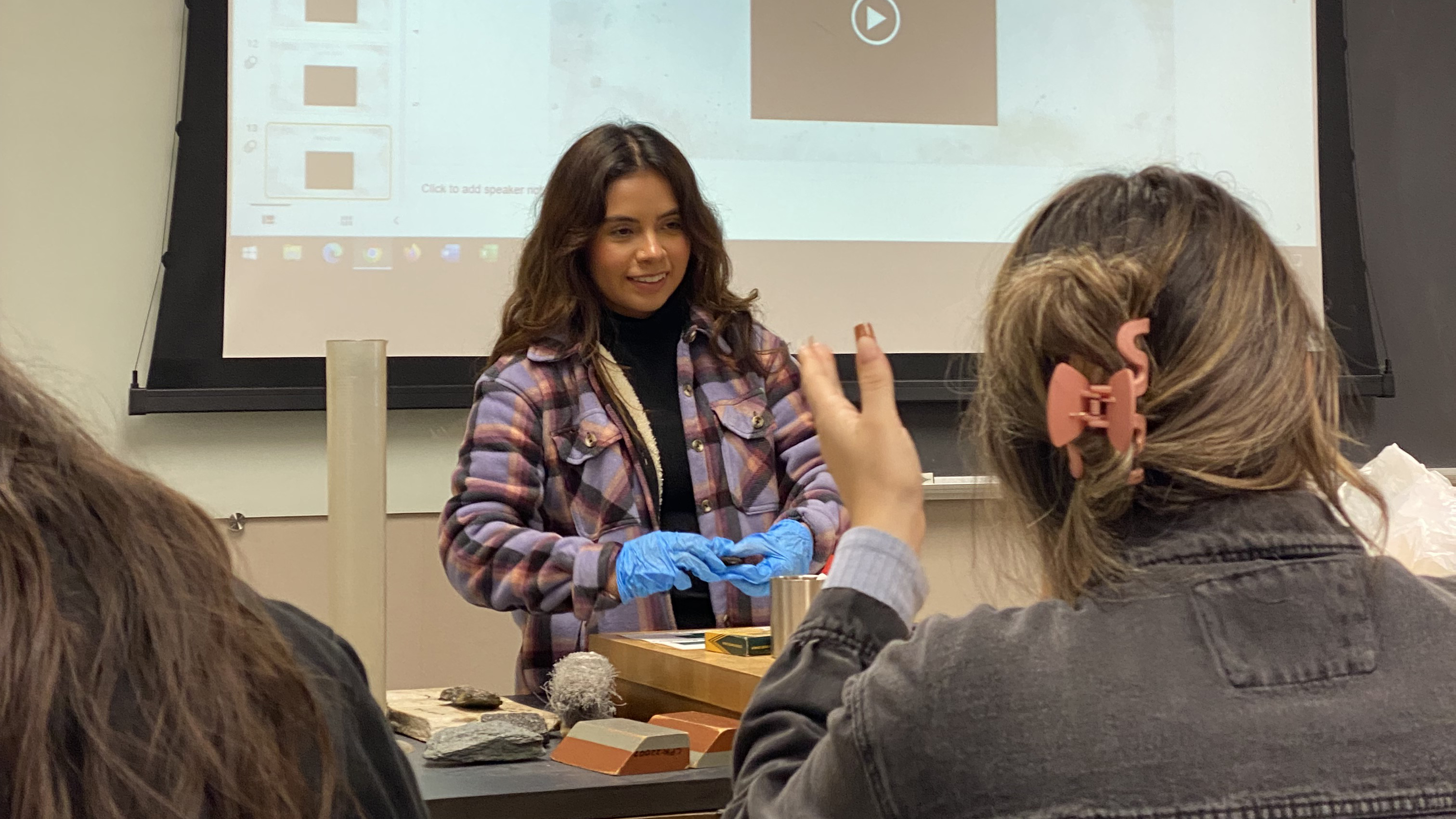 What are you most excited about when it comes to having your own classroom, and how will you get your kids excited about STEM?
Afiya: I am most confident about creating a genuine safe space for kids. I'll be able to communicate how much I care about them and about our shared future, and I think there could never be enough genuinely kind and caring teachers in this world.
Jacquelin: I think my kids will be excited about STEM because of how easy it's become to incorporate activities. There are many resources out there for teachers to use for teaching math and science that don't rely solely on a textbook. Activities that use inexpensive materials or that require a little DIY skills go a long way for students.
Afiya: Exactly! I know I developed my love for science from being hands-on and actually somewhat "in charge" of an experiment on my own. Winning a science fair competition in seventh grade for a greenhouse I built really boosted my confidence and helped reassure me of my scholastic abilities as a kid.
You led a really cool lesson with your classmates where you had them use Oreos to model tectonic boundaries. How do you feel that lesson went?
Jacqueline: I was really proud of our group. After giving a lecture to the students about tectonic plate boundaries, we dispersed Oreos to everyone. We were set up around the classroom demonstrating the activity and giving verbal instructions for everyone to follow. My favorite part was when I saw two students by me go, "Oohhhh," and smile once they got their Oreos to demonstrate the plate boundaries correctly.
Amie: I thought it went really well! All the students in our classroom enjoyed it. Although we, as adults, may know about plate tectonics, having our hands on the Oreos to understand it made it more enjoyable.
Afiya: Plus, who doesn't love Oreos? They're even vegan!
Which of the NASA-JPL lessons that you've implemented did you enjoy, and why?
Jacqueline: My favorite JPL activity we did was the Moon Phases activity. Having one team member to the side to give the instructions allows another student to view the different Moon phases. Then you switch so both students get to see that perspective. My second favorite activity was creating layers with different colored Play-Doh and demonstrating them as different plate boundaries and folds.
Amie: The NASA lesson that I enjoyed the most was the one we did on lunar eclipses. Much like myself, many students often have an early fascination with the Moon. Learning more about the Moon and lunar eclipses made me excited about the semester.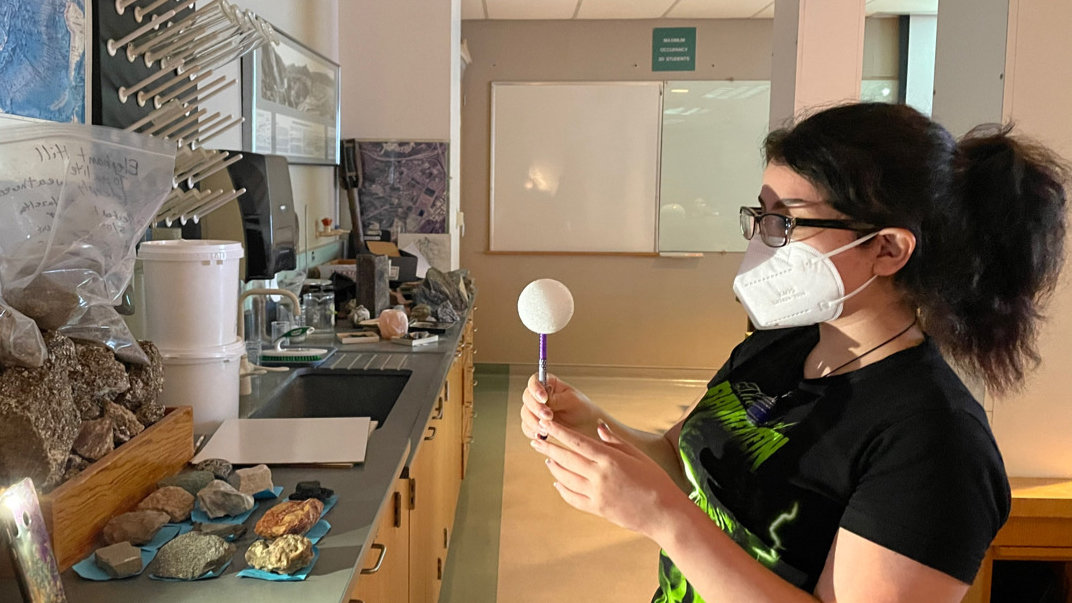 What's next for you after you finish at Cal Poly Pomona?
Jacqueline: After I graduate at Cal Poly, I plan to attend UC Riverside to complete my credential program. While I am there, I would love to get my student teaching experience. Once I complete my credential program, I plan to apply to work at schools in the Inland Empire [in Southern California]. I want to be able to give back to the communities that influenced who I am today.
Sofia: My plans after Cal Poly are to take some time off to gain experience in the field as a substitute teacher. I also am looking to gain more volunteer experience, skills, and exposure. In the future, I want to enroll in UC Riverside to earn my teaching credential and master's degree.
Looking for ways to bring NASA STEM into your classroom or already have a great idea? The Education Office at NASA's Jet Propulsion Laboratory serves educators in the greater Los Angeles area. Contact us at education@jpl.nasa.gov.
Explore More
TAGS: Teachers, School, Remote School, Classroom, Instruction, K-12, STEAM, Science, Math, resources, lessons
---
There's no better time to learn about the Moon than during a lunar eclipse. Here's how eclipses work, what to expect, and how to get students engaged.
This article has been updated to include information about the visibility and timing of the total lunar eclipse on Nov. 8, 2022. See What to Expect for details.
---
A full moon is always a good reason to go outside and look up, but a total or partial lunar eclipse is an awe-inspiring site that gives students a great opportunity to engage in practical sky watching. Whether it's the Moon's reddish hue during a total lunar eclipse or the "bite" taken out of the Moon during a partial lunar eclipse, there's always something exciting to observe during these celestial events.
Read on to see what to expect during the next lunar eclipse. Plus, explore resources you can use at home or in the classroom to teach students about moon phases, craters, and more!
How It Works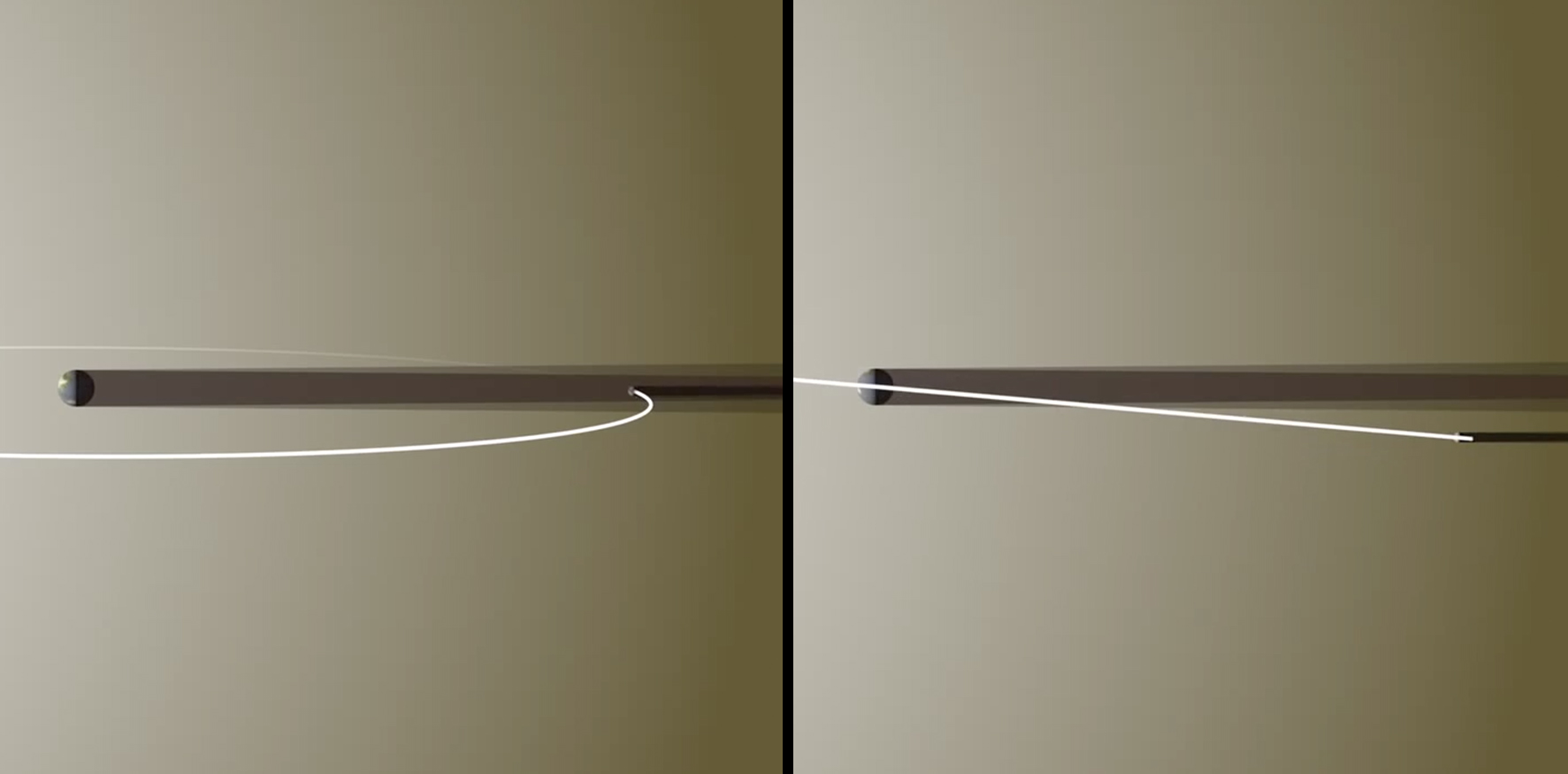 Eclipses can occur when the Sun, the Moon and Earth align. Lunar eclipses can only happen during the full moon phase, when the Moon and the Sun are on opposite sides of Earth. At that point, the Moon could move into the shadow cast by Earth, resulting in a lunar eclipse. However, most of the time, the Moon's slightly tilted orbit brings it above or below the shadow of Earth.
The time period when the Moon, Earth and the Sun are lined up and on the same plane – allowing for the Moon to pass through Earth's shadow – is called an eclipse season. Eclipse seasons last about 34 days and occur just shy of every six months. When a full moon occurs during an eclipse season, the Moon travels through Earth's shadow, creating a lunar eclipse.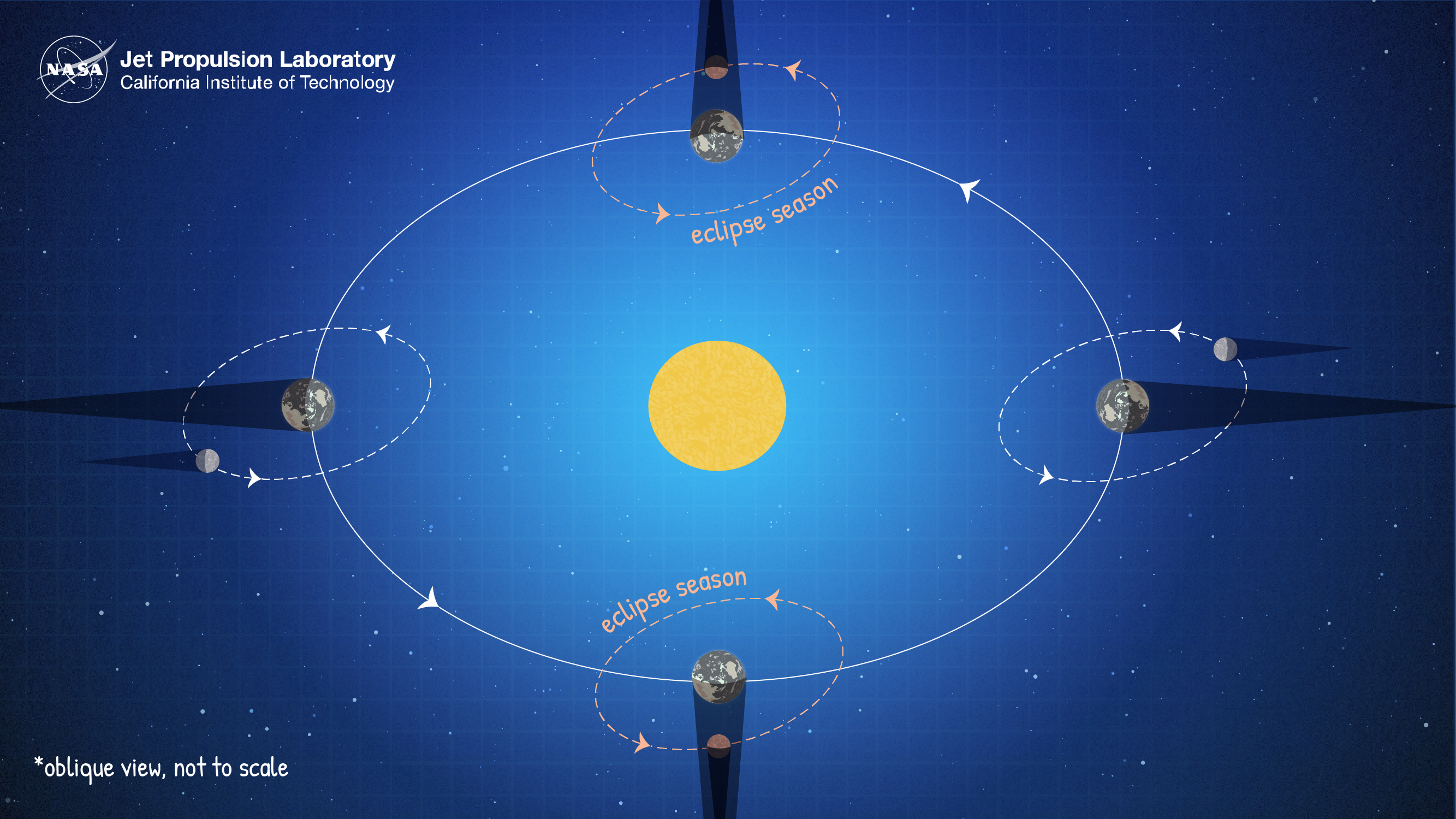 Unlike solar eclipses, which require special glasses to view and can only be seen for a few short minutes in a very limited area, a total lunar eclipse can last over an hour and be seen by anyone on the nighttime side of Earth – as long as skies are clear!
Why It's Important
Lunar eclipses have long played an important role in understanding Earth and its motions in space.
In ancient Greece, Aristotle noted that the shadows on the Moon during lunar eclipses were round, regardless of where an observer saw them. He realized that only if Earth were a spheroid would its shadows be round – a revelation that he and others had many centuries before the first ships sailed around the world.
Earth wobbles on its axis like a spinning top that's about to fall over, a phenomenon called precession. Earth completes one wobble, or precession cycle, over the course of 26,000 years. Greek astronomer Hipparchus made this discovery by comparing the position of stars relative to the Sun during a lunar eclipse to those recorded hundreds of years earlier. A lunar eclipse allowed him to see the stars and know exactly where the Sun was for comparison – directly opposite the Moon. If Earth didn't wobble, the stars would appear to be in the same place they were hundreds of years earlier. When Hipparchus saw that the stars' positions had indeed moved, he knew that Earth must wobble on its axis!
Additionally, modern-day astronomers have used ancient eclipse records and compared them with computer simulations. These comparisons helped scientists determine the rate at which Earth's rotation is slowing.
What to Expect
The Moon passes through two distinct parts of Earth's shadow during a lunar eclipse. The outer part of the cone-shaped shadow is called the penumbra. The penumbra is less dark than the inner part of the shadow because it's penetrated by some sunlight. (You have probably noticed that some shadows on the ground are darker than others, depending on how much outside light enters the shadow; the same is true for the outer part of Earth's shadow). The inner part of the shadow, known as the umbra, is much darker because Earth blocks additional sunlight from entering the umbra.
Here's what to expect during the total lunar eclipse on Nov. 8, 2022, which will be visible in North and South America, as well as Asia and Australia. Viewers in the most eastern parts of the continental U.S. will see the Moon set below the horizon as it exits Earth's shadow in the second half of the eclipse.
At 12:02 a.m. PST (3:02 a.m. EST), the edge of the Moon will begin entering the penumbra. The Moon will dim very slightly for the next 67 minutes as it moves deeper into the penumbra. Because this part of Earth's shadow is not fully dark, you may only notice some dim shading (if anything at all) on the Moon near the end of this part of the eclipse. Should you decide to skip this part of the eclipse, you won't miss much.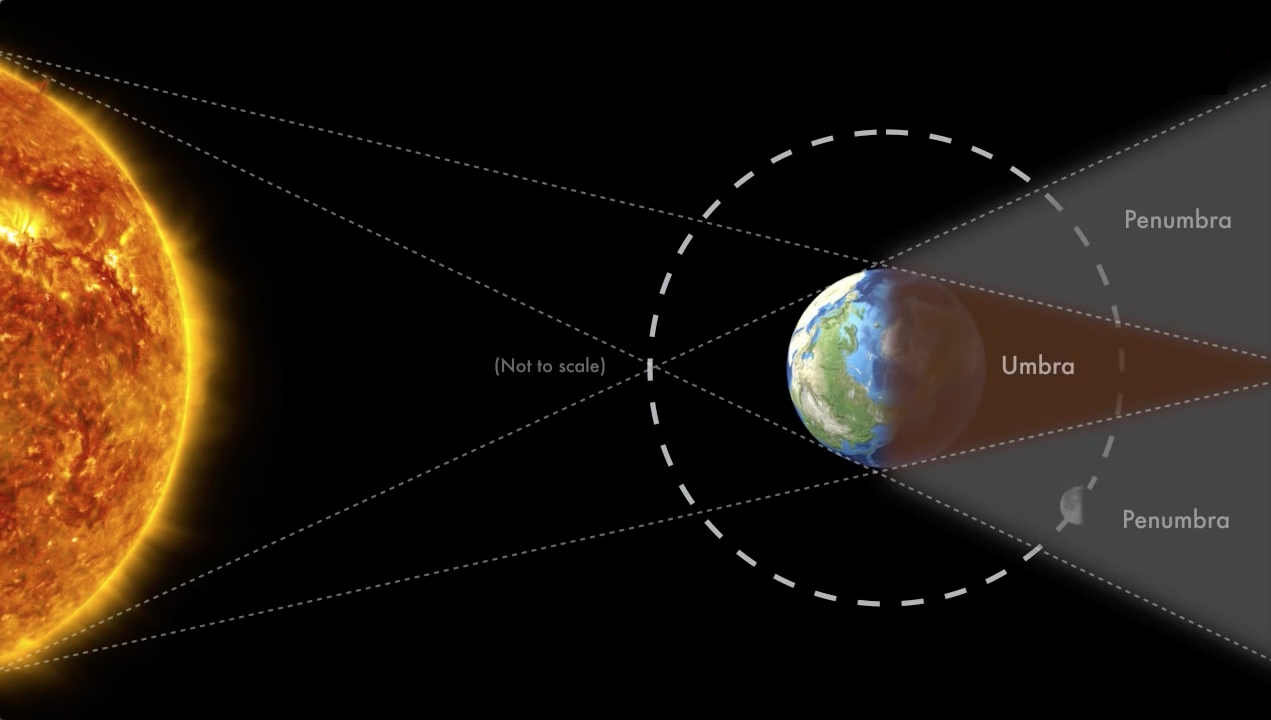 At 1:09 a.m. PST (4:09 a.m. EST), the edge of the Moon will begin entering the umbra. As the Moon moves into the darker shadow, significant darkening will be noticeable. Some say that during this part of the eclipse, the Moon looks as if it has had a bite taken out of it. That "bite" gets bigger and bigger as the Moon moves deeper into the shadow.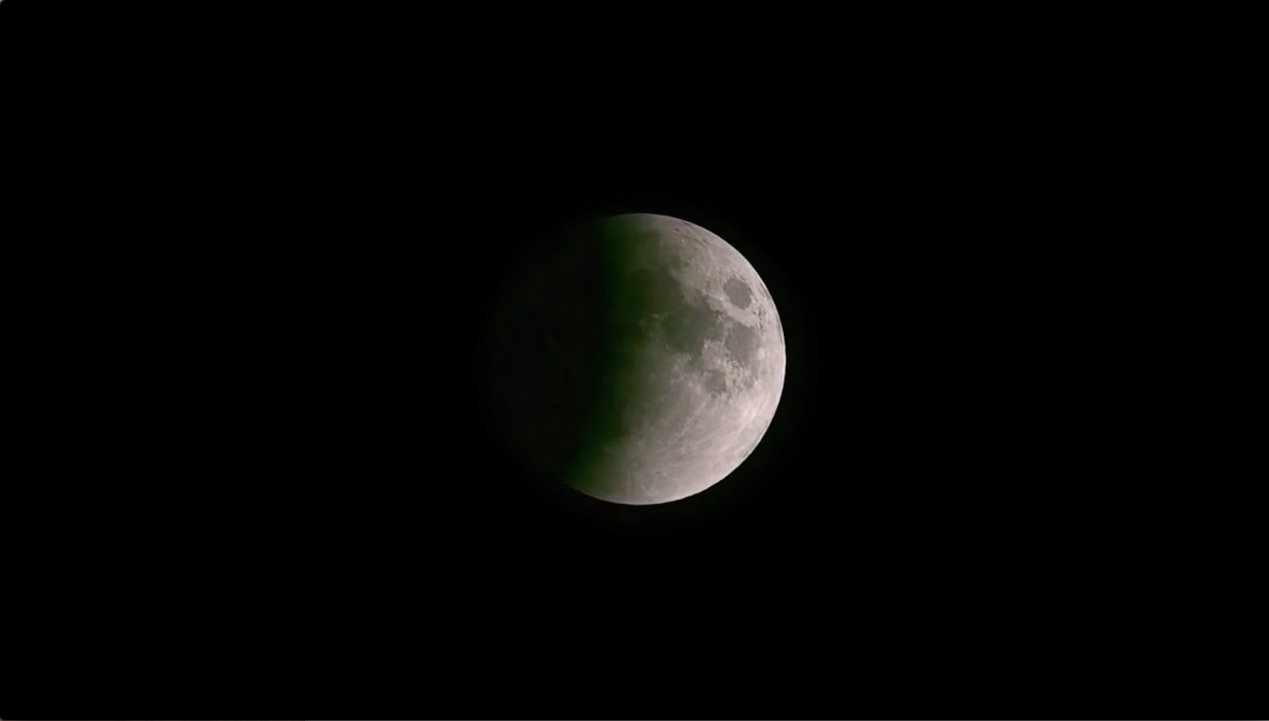 At 2:16 a.m. PST (5:16 a.m. EST), the Moon will be completely inside the umbra, marking the beginning of the total lunar eclipse, also known as totality.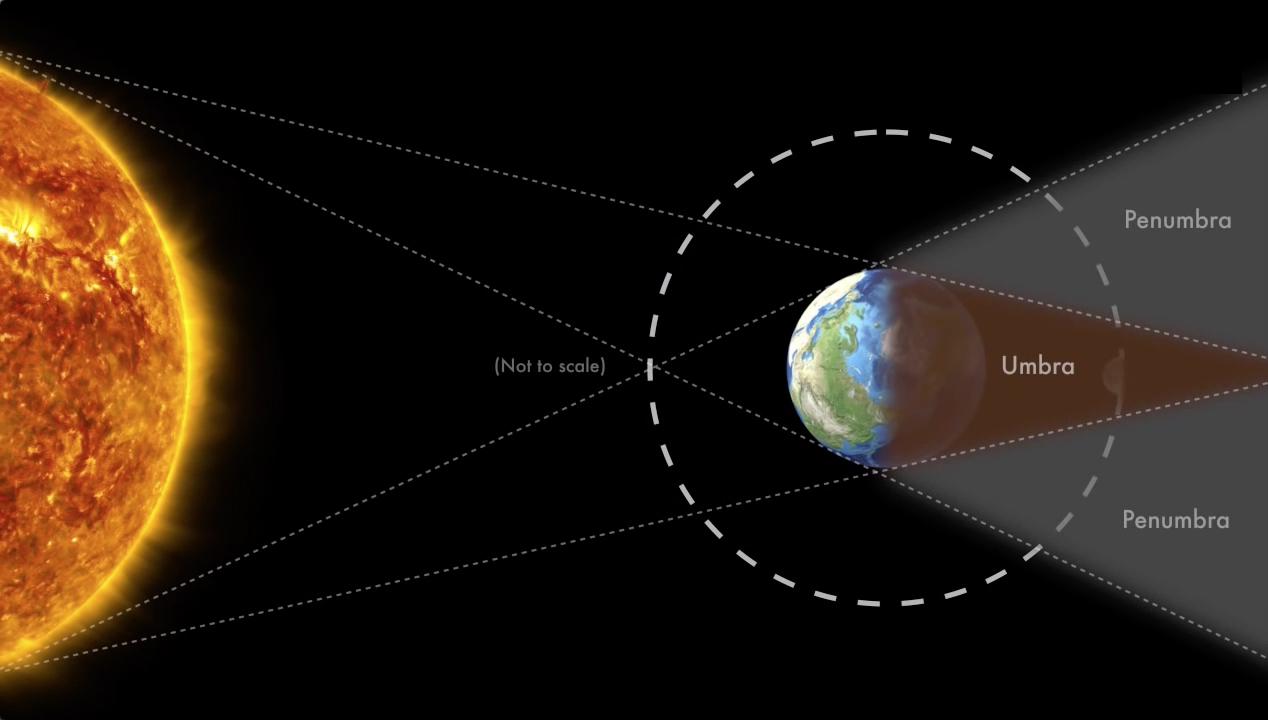 The moment of greatest eclipse, when the Moon is halfway through its path across the umbra, occurs at 2:59 a.m. PST (5:59 a.m. EST). As the Moon moves completely into the umbra – the part of the eclipse known as totality – something interesting happens: The Moon begins to turn reddish-orange. The reason for this phenomenon? Earth's atmosphere. As sunlight passes through it, the small molecules that make up our atmosphere scatter blue light, which is why the sky appears blue. This leaves behind mostly red light that bends, or refracts, into Earth's shadow. We can see the red light during an eclipse as it falls onto the Moon in Earth's shadow. This same effect is what gives sunrises and sunsets a reddish-orange color.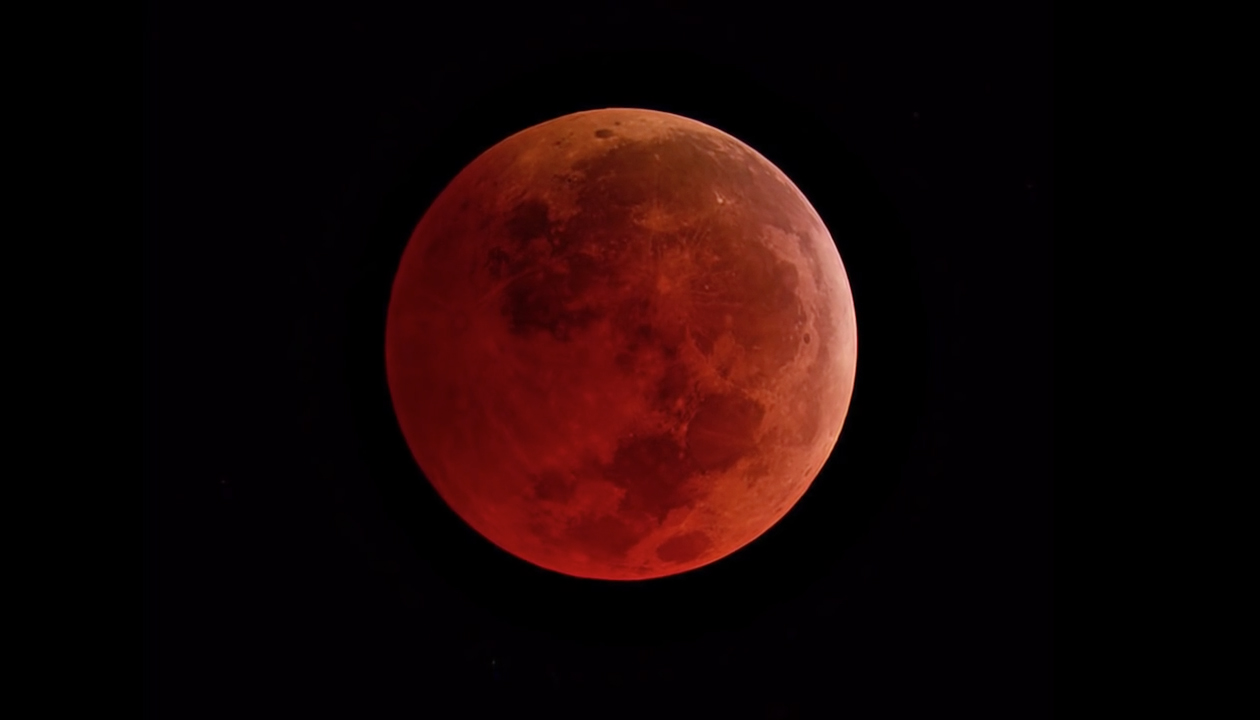 A variety of factors affect the appearance of the Moon during a total lunar eclipse. Clouds, dust, ash, photochemical droplets and organic material in the atmosphere can change how much light is refracted into the umbra. The potential for variation provides a great opportunity for students to observe and classify the lunar eclipse based on its brightness. Details can be found below in the Teach It section.
At 3:41 a.m. PST (6:41 a.m. EST), the edge of the Moon will begin exiting the umbra and moving into the opposite side of the penumbra, reversing the "bite" pattern seen earlier. At this point, the Moon will have just set in the most northeastern portions of the continental United States. More and more eastern states will see the Moon set over the next hour as the eclipse progresses.
At 4:49 a.m. PST, the Moon will be completely outside of the umbra and no longer visible in the eastern United States. Those in the central United States will see the Moon begin setting around this time (6:49 a.m. CST). The Moon will continue exiting the penumbra until the eclipse officially ends at 5:56 a.m. PST, remaining visible only to viewers in the western United States, including many in the Mountain Time Zone one hour ahead.
Teach It
Ask students to observe the lunar eclipse and evaluate the Moon's brightness using the Danjon Scale of Lunar Eclipse Brightness. The Danjon scale illustrates the range of colors and brightness the Moon can take on during a total lunar eclipse and is a tool observers can use to characterize the appearance of an eclipse. View the lesson guide here. After the eclipse, have students compare and justify their evaluations of the eclipse.
Use these standards-aligned lessons and related activities to get your students excited about the eclipse, moon phases, and Moon observations.
Educator Guides & Resources
Student Activities
Explore More
TAGS: Lunar Eclipse, Moon, Super Blue Blood Moon, Observe the Moon, Eclipse, K-12, Classroom Activities, Teaching
---
A Los Angeles math teacher gets students engaged with connections to science and exploring the human side of math, such as how leaders inspire change in their communities.
---
Katherine Risbrough has been teaching high school math for almost 10 years. She began her teaching career in the Hickory Hill community of Memphis, Tennessee, where she taught everything from Algebra 1 to Calculus and served as a math coach for the district. Five years ago, she came to Los Angeles to teach Integrated Math and Calculus at Synergy Quantum Academy High School.
Outside of math, Ms. Risbrough is also a superfan of college football and never misses a game at her alma mater, the University of Southern California. Her fandom for making the game is rivaled only by her love of Harry Potter, having been to every midnight book and movie release.
I caught up with Ms. Risbrough to find out how she gets students excited about math, and I learned about a new strategy she used this past year: bridging math and science by teaming up with the AP Physics teacher. Her cross-discipline curriculum focused on helping students make connections between subjects and got them engaged as they returned from more than a year of remote learning.
---
Math can be intimidating for students and it can be difficult to keep them engaged. How do you get your students excited about math?
Sometimes it's easier said than done, but math needs to be as hands-on and discussion-based as possible. We use a lot of the calc-medic curriculum, which is application and discovery first followed by a whole class discussion to share ideas and cement new learning. When students have to speak and defend a hypothesis or an argument, they are practicing mathematical reasoning, which is a skill they can take into all STEM coursework. I avoid lectures as much as possible. We also do a lot of flipped classroom learning (videos at home and practice in class), group work, use technology, and do activities that get students moving around the classroom.
I believe that learning mathematics should be a collaborative, exploratory process and that every student already has the skills necessary to become a successful mathematician. It's my job to give them opportunities to show off and strengthen those skills, so that they can be just as successful with or without me present to help them.
This year you've introduced some interesting projects to make your class more interdisciplinary. Tell me a bit more about that.
I've really focused on keeping the math contextualized by being sure the content is interdisciplinary. For example, over half of my AP Calculus students are also taking AP Physics. This year, in particular, I was sure to coordinate with the physics teacher to see how we could align our curriculum in kinematics with what we were doing with integrals and derivatives. This began with students doing JPL's additive velocity lesson in their physics class to set the stage for how calculus ties together acceleration, velocity, and displacement.
Both classes are so challenging for students, but when they see how strategies in one class can help lift them in another, it's almost as if they are getting to see two different strategies to solve the same problem. Designing challenges that could be solved with both physics and math gave the students an ability to approach problems from either side. At first, they were pretty intimidated to see their two most challenging classes teaming up, but the end result was some incredible student projects and dramatic improvement in their ability to graph out relationships.
I also kick off new units by making connections to students' own life or even their future careers. They need to know the "why" beyond just, "because you'll be tested on it." We try to talk about STEM historical figures and current leaders (specifically mathematicians and scientists of color) as often as possible. For example, I use clips from the movies "October Sky" and "Hidden Figures" to set the stage and then lead into projects about rocket trajectories and elliptical orbits.
This year, in calculus, we started the year with the idea of "Agents of Change" and looked at thought leaders such as veteran astronaut Ellen Ochoa and climate scientist Nicole Hernandez Hammer and how their work relates to "instant rates of change" and "average rates of change" in calculus. Then, I had students think about moments of change in their life, and how that instant can be carried forward to a make a long term change in their careers and communities.
Coming back from COVID-19 and more than a year of remote instruction, how are your students adjusting to being back in the classroom?
Our students missed out on so many social and academic opportunities because of COVID, but they aren't letting that stop them. The biggest struggle was starting off the school year and getting back into routines. Because of the demographics of our students, there have been more absences than usual, as many of our students help support their family at home. Many parents struggled to keep work through the pandemic, and a lot of my students work outside of school or take care of their siblings. The effects of caring for their families while still trying to focus on applying to college has really taken a toll on students.
I'm fortunate that so many kids are comfortable and open sharing feelings of increased anxiety, responsibility, or worry over the past two years. I believe it's important that my classroom and our group first and foremost be an escape from that space rather than an added stress. Their success in math – even a rigorous AP math class with a breakneck pace – comes from me being there for them as a person first and a teacher second. We focus so much on "catching them up" that we forget to take some time for them to process all they have had to manage.
As we move toward graduation, what is one story of success that you will take away from this year?
Honestly, it's the success of my students. They have jumped into AP Calculus after 1.5 years of distance learning and the social-emotional learning burdens of Covid, and have done amazing work. They are thoughtful, persistent, and often learning multiple grades worth of skills within one calculus lesson. I guess I'm a small piece of that, but all that I've really done is give them space to explore, discuss, and learn. It's what they've done with that space that has been the best thing to watch!
---
Looking for ways to bring NASA STEM into your classroom or already have a great idea? The Education Office at NASA's Jet Propulsion Laboratory serves educators in the greater Los Angeles area. Contact us at education@jpl.nasa.gov.
Explore More
TAGS: Teachers, School, Classroom, Instruction, K-12, High School, Math, Calculus, Physics, Algebra, Lessons, Resources
---
Find out how scientists captured the first image of Sagittarius A*, why it's important, and how to turn it into a learning opportunity for students.
---
Our home galaxy, the Milky Way, has a supermassive black hole at its center, but we've never actually seen it – until now. The Event Horizon Telescope, funded by the National Science Foundation, has released the first image of our galactic black hole, Sagittarius A* (pronounced "Sagittarius A-star" and abbreviated Sgr A*).
Read on to find out how the image was acquired and learn more about black holes and Sagittarius A*. Then, explore resources to engage learners in the exciting topic of black holes.
How Black Holes Work
A black hole is a location in space with a gravitational pull so strong that nothing, not even light, can escape it. A black hole's outer edge, called its event horizon, defines the spherical boundary where the velocity needed to escape exceeds the speed of light. Matter and radiation fall in, but they can't get out. Because not even light can escape, a black hole is literally black. Contrary to their name's implication, black holes are not empty. In fact, a black hole contains a great amount of matter packed into a relatively small space. Black holes come in various sizes and can exist throughout space.
We can surmise a lot about the origin of black holes from their size. Scientists know how some types of black holes form, yet the formation of others is a mystery. There are three different types of black holes, categorized by their size: stellar-mass, intermediate-mass, and supermassive black holes.
Stellar-mass black holes are found throughout our Milky Way galaxy and have masses less than about 100 times that of our Sun. They comprise one of the possible endpoints of the lives of high-mass stars. Stars are fueled by the nuclear fusion of hydrogen, which forms helium and other elements deep in their interiors. The outflow of energy from the central regions of the star provides the pressure necessary to keep the star from collapsing under its own weight.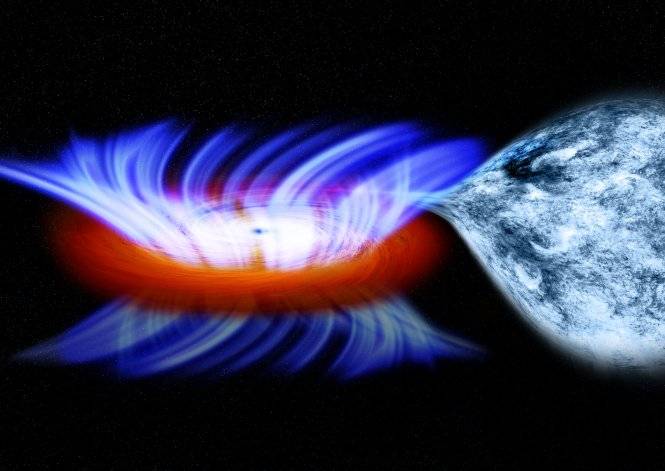 Once the fuel in the core of a high-mass star has completely burned out, the star collapses, sometimes producing a supernova explosion that releases an enormous amount of energy, detectable across the electromagnetic spectrum. If the star's mass is more than about 25 times that of our Sun, a stellar-mass black hole can form.
Intermediate-mass black holes have masses between about 100 and 100,000 times that of our Sun. Until recently, the existence of intermediate-mass black holes had only been theorized. NASA's Chandra X-ray Observatory has identified several intermediate-mass black hole candidates by observing X-rays emitted by the gas surrounding the black hole. The Laser Interferometer Gravitational Wave Observatory, or LIGO, funded by the National Science Foundation, detected the merger of two stellar-mass black holes with masses 65 and 85 times that of our Sun forming an intermediate-mass black hole of 142 solar masses. (Some of the mass was converted to energy and about nine solar masses were radiated away as gravitational waves.)
Supermassive black holes contain between a million and a billion times as much mass as a stellar-mass black hole. Scientists are uncertain how supermassive black holes form, but one theory is that they result from the combining of stellar-mass black holes.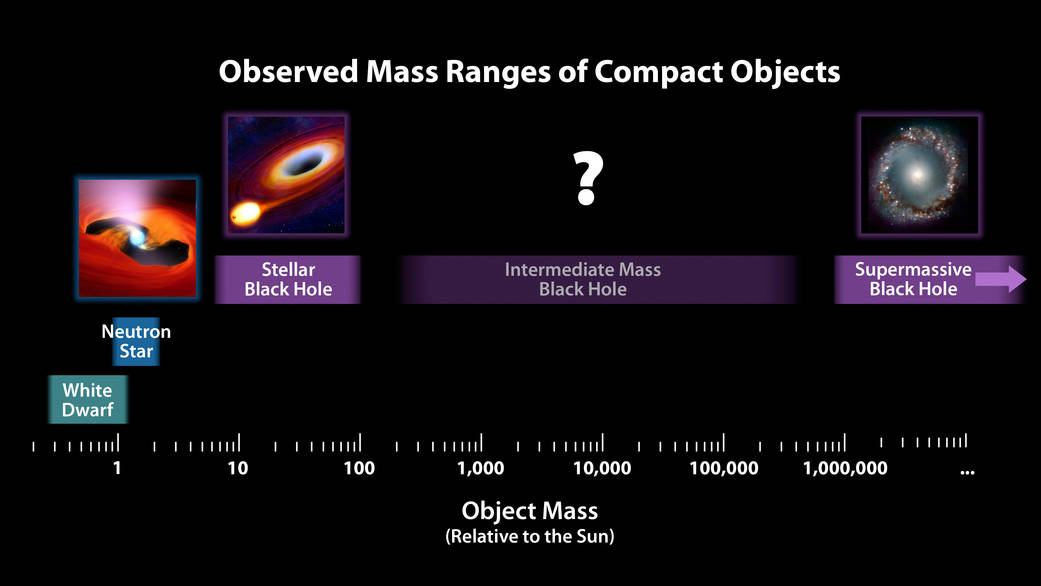 Our local galactic center's black hole, Sagittarius A*, is a supermassive black hole with a mass of about four million suns, which is fairly small for a supermassive black hole. NASA's Hubble Space Telescope and other telescopes have determined that many galaxies have supermassive black holes at their center.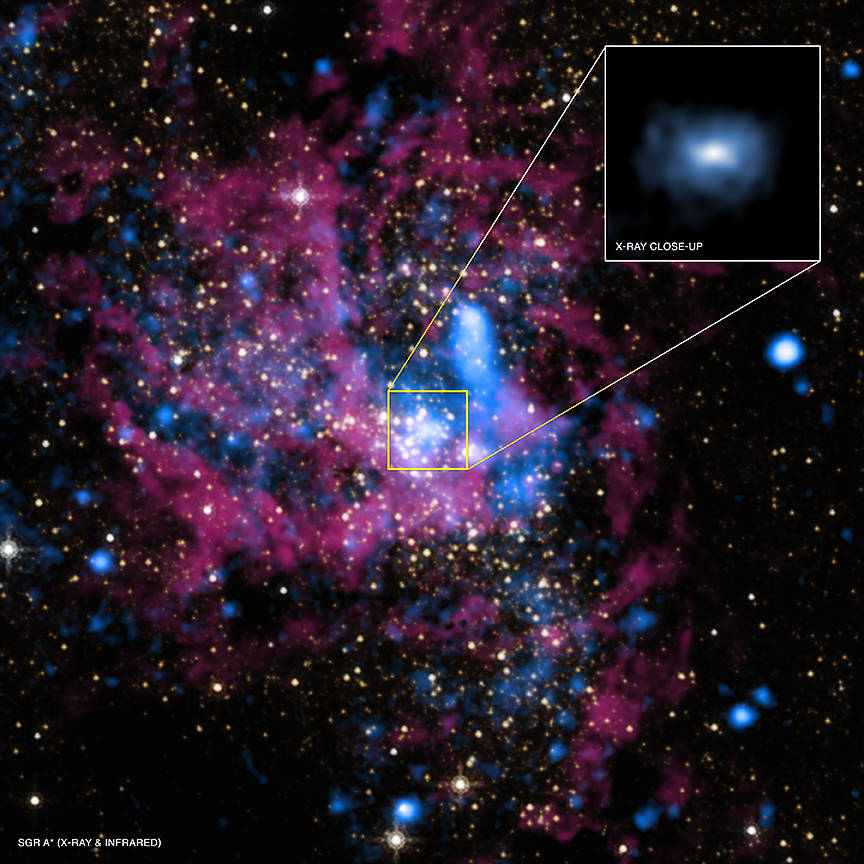 Why They're Important
Black holes hold allure for everyone from young children to professional astronomers. For astronomers, in particular, learning about Sagittarius A* is important because it provides insights into the formation of our galaxy and black holes themselves.
Understanding the physics of black hole formation and growth, as well as their surrounding environments, gives us a window into the evolution of galaxies. Though Sagittarius A* is more than 26,000 light years (152 quadrillion miles) away from Earth, it is our closest supermassive black hole. Its formation and physical processes influence our galaxy as galactic matter continually crosses the event horizon, growing the black hole's mass.
Studying black holes also helps us further understand how space and time interact. As one gets closer to a black hole, the flow of time slows down compared with the flow of time far from the black hole. In fact, according to Einstein's theory of general relativity, the flow of time slows near any massive object. But it takes an incredibly massive object, such as a black hole, to make an appreciable difference in the flow of time. There's still much to learn about what happens to time and space inside a black hole, so the more we study them, the more we can learn.
How Scientists Imaged Sagittarius A*
Black holes, though invisible to the human eye, can be detected by observing their effects on nearby space and matter. As a result of their enormous mass, black holes have extremely high gravity, which pulls in surrounding material at rapid speeds, causing this material to become very hot and emit X-rays.
X-ray-detecting telescopes such as NASA's Chandra X-ray Observatory can image the material spiraling into a black hole, revealing the black hole's location. NASA's Hubble Space Telescope can measure the speed of the gas and stars orbiting a point in space that may be a black hole. Scientists use these measurements of speed to determine the mass of the black hole. Hubble and Chandra are also able to image the effects of gravitational lensing, or the bending of light that results from the gravitational pull of black holes or other high-mass objects such as galaxies.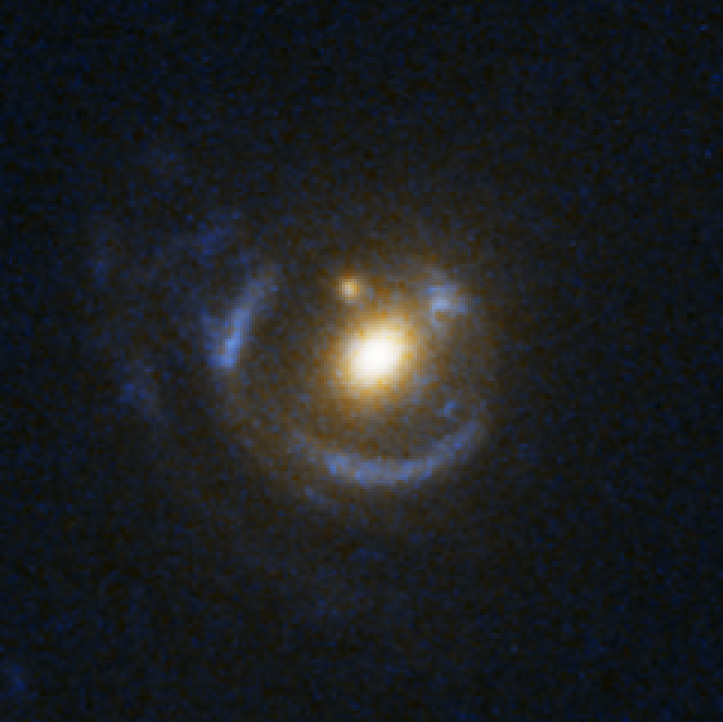 To directly image the matter surrounding a black hole, thus revealing the silhouette of the black hole itself, scientists from around the world collaborated to create the Event Horizon Telescope. The Event Horizon Telescope harnesses the combined power of numerous telescopes around the world that can detect radio-wave emissions from the sky to create a virtual telescope the size of Earth.
In 2019, the team released the first image of a black hole's silhouette when they captured the glowing gasses surrounding the M87* galactic black hole nearly 53 million light-years (318 quintillion miles) away from Earth. The team then announced that one of their next endeavors was to image Sagittarius A*.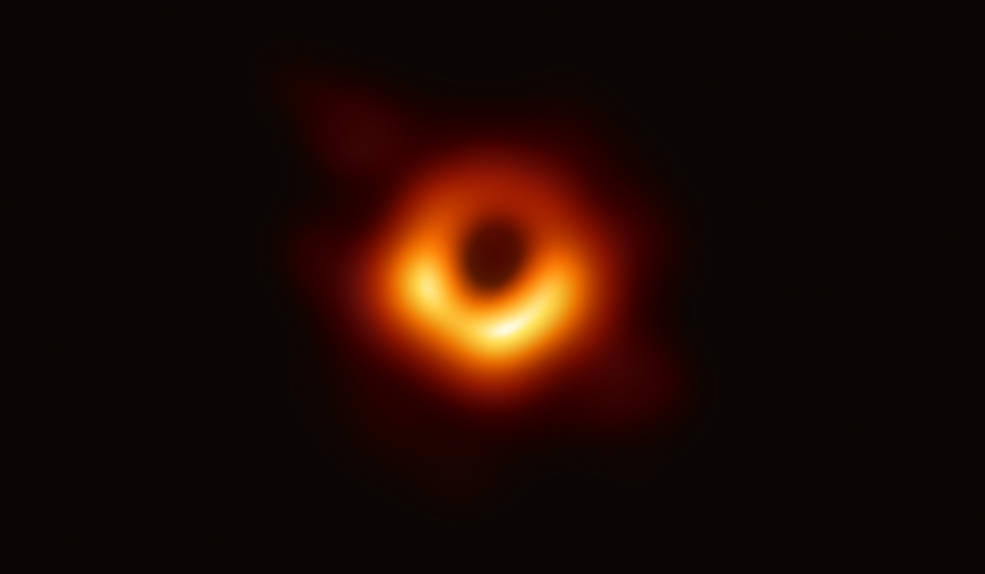 To make the newest observation, the Event Horizon Telescope focused its array of observing platforms on the center of the Milky Way. A telescope array is a group of telescopes arranged so that, as a set, they function similarly to one giant telescope. In addition to the telescopes used to acquire the M87* image, three additional radio telescopes joined the array to acquire the image of Sagittarius A*: the Greenland Telescope, the Kitt Peak 12-meter Telescope in Arizona, and the NOrthern Extended Millimeter Array, or NOEMA, in France.
The distance from the center of Sagittarius A* to its event horizon, a measurement known as the Schwarzschild radius, is enormous at seven million miles (12,000,000 kilometers or 0.08 astronomical units). But its apparent size when viewed from Earth is tiny because it is so far away. The apparent Schwarzschild radius for Sagittarius A* is 10 microarcseconds, about the angular size of a large blueberry on the Moon.
Acquiring a good image of a large object that appears tiny when viewed from Earth requires a telescope with extraordinarily fine resolution, or the ability to detect the smallest possible details in an image. The better the resolution, the better the image and the more detail the image will show. Even the best individual telescopes or array of telescopes at one location do not have a good enough resolution to image Sagittarius A*.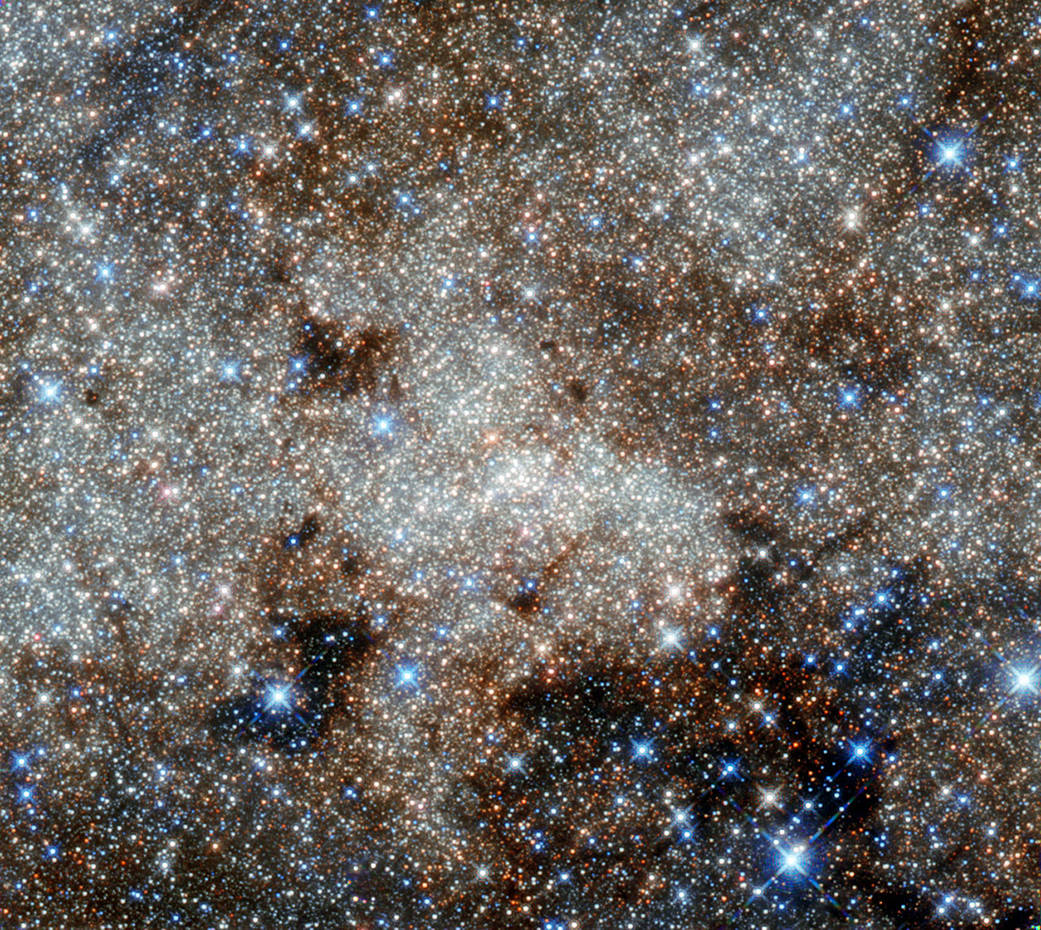 The addition of the 12-meter Greenland Telescope, though a relatively small instrument, widened the diameter, or aperture, of the Event Horizon Telescope to nearly the diameter of Earth. And NOEMA – itself an array of twelve 15-meter antennas with maximum separation of 2,500 feet (760 meters) – helped further increase the Event Horizon Telescope's light-gathering capacity.
Altogether, when combined into the mighty Event Horizon Telescope, the virtual array obtained an image of Sagittarius A* spanning about 50 microarcseconds, or about 1/13th of a billionth the span of the night sky.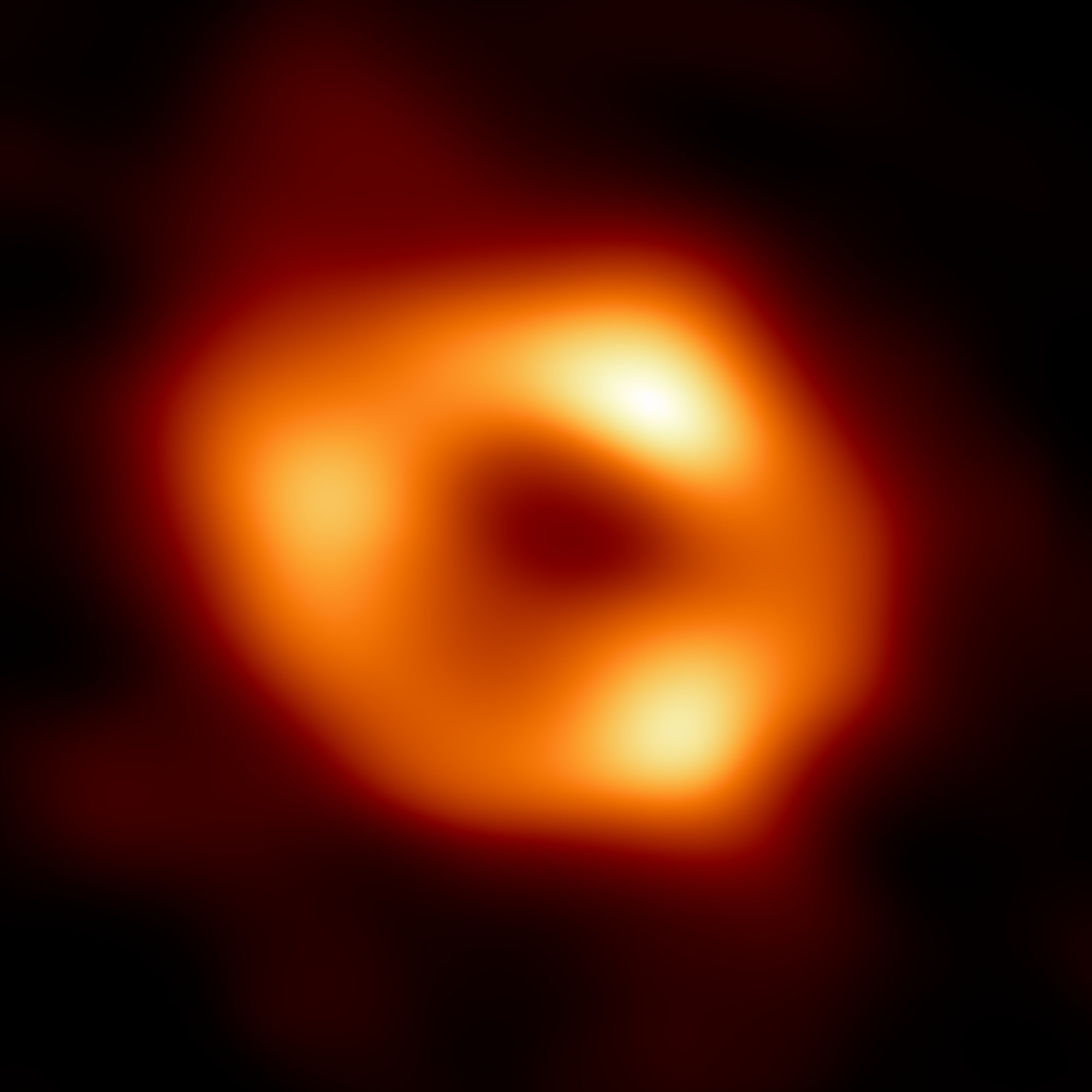 While the Event Horizon Telescope was busy capturing the stunning radio image of Sagittarius A*, an additional worldwide contingent of astronomical observatories was also focused on the black hole and the region surrounding it. The aim of the team, known as the Event Horizon Telescope Multiwavelength Science Working Group, was to observe the black hole in other parts of the electromagnetic spectrum beyond radio. As part of the effort, X-ray data were collected by NASA's Chandra X-ray Observatory, Nuclear Spectroscopic Telescope (NuSTAR), and Neil Gehrels Swift Observatory, additional radio data were collected by the East Asian Very Long-Baseline Interferometer (VLBI) network and the Global 3 millimeter VLBI array, and infrared data were collected by the European Southern Observatory's Very Large Telescope.
The data from these multiple platforms will allow scientists to continue building their understanding of the behavior of Sagittarius A* and to refine their models of black holes in general. The data collected from these multiwavelength observations are crucial to the study of black holes, such as the Chandra data revealing how quickly material falls in toward the disk of hot gas orbiting the black hole's event horizon. Data such as these will hopefully help scientists better understand black hole accretion, or the process by which black holes grow.
Teach It
Check out these resources to bring the real-life STEM of black holes into your teaching, plus learn about opportunities to involve students in real astronomy research.
Explore More
Articles
Educator Guides
Student Activities
Check out these related resources for students from NASA's Space Place
Across the NASA-Verse
---
This Teachable Moment was created in partnership with NASA's Universe of Learning. Universe of Learning materials are based upon work supported by NASA under award number NNX16AC65A to the Space Telescope Science Institute, working in partnership with Caltech/IPAC, Center for Astrophysics | Harvard & Smithsonian, and the Jet Propulsion Laboratory.
TAGS: Black hole, Milky Way, galaxy, universe, stars, teachers, educators, lessons, Teachable Moments, K-12, science
---
Learn about the role that dust plays in Earth's climate, why scientists are interested in studying dust from space, and how to engage students in the science with STEM resources from JPL.
---
A NASA instrument launched to the International Space Station this summer will explore how dust impacts global temperatures, cloud formation, and the health of our oceans. The Earth Surface Mineral Dust Source Investigation, or EMIT, is the first instrument of its kind, designed to collect measurements from space of some of the most arid regions on Earth to understand the composition of soils that generate dust and the larger role dust plays in climate change.
Read on to find out how the instrument works and why scientists are hoping to learn more about the composition of dust. Then, explore how to bring the science into your classroom with related climate lessons that bridge physical sciences with engineering practices.
Why It's Important
Scientists have long studied the movements of dust. The fact that dust storms can carry tiny particles great distances was reported in the scientific literature nearly two centuries ago by none other than Charles Darwin as he sailed across the Atlantic on the HMS Beagle. What still remains a mystery all these years later is what that dust is made of, how it moves, and how that affects the health of our planet.
For example, we now know that dust deposited on snow speeds up snow melt even more than increased air temperature. That is to say, that dust traveling to cold places can cause increased snow melt.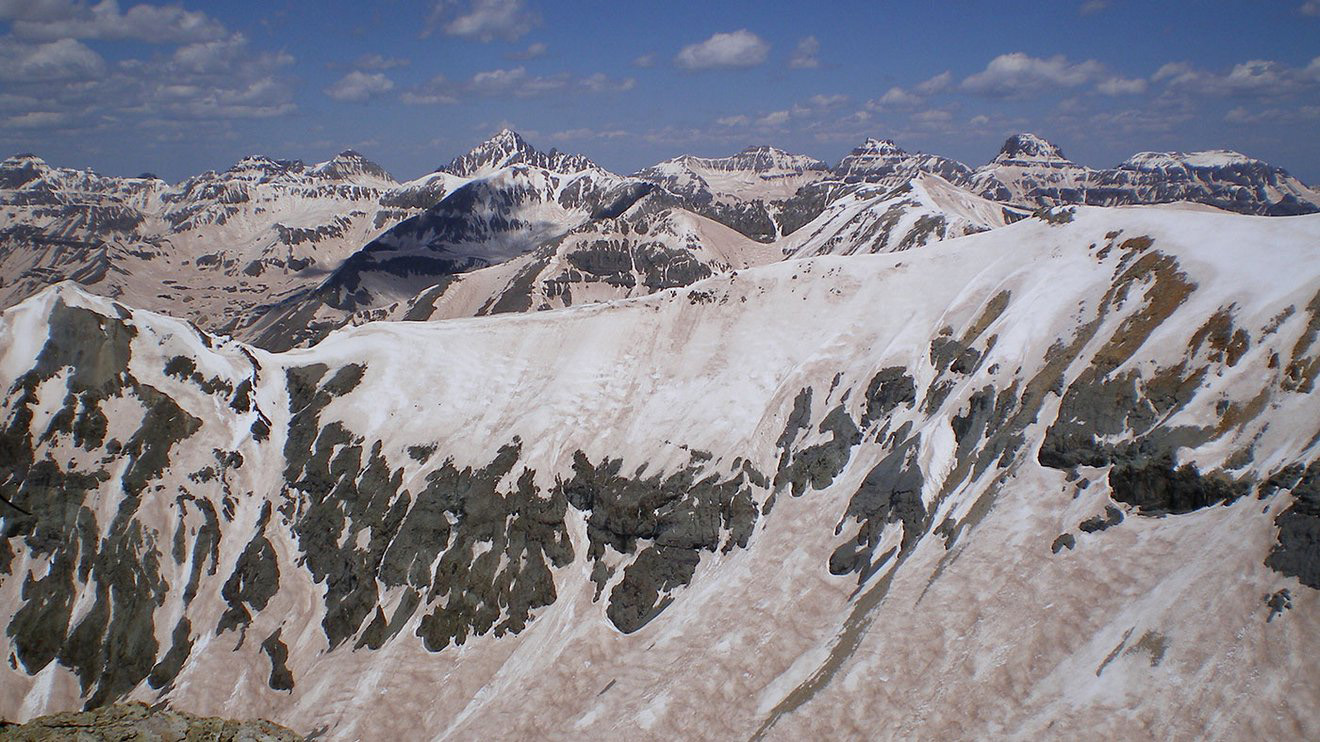 Dust can affect air temperatures as well. For example, dust with more iron absorbs light and can cause the air to warm, while dust with less iron reflects light and is responsible for local cooling. Iron in dust can also act as a fertilizer for plankton in oceans, supplying them with nutrients needed for growth and reproduction.
Floating dust potentially alters the composition of clouds and how quickly or slowly they form, which can ultimately impact weather patterns, including the formation of hurricanes. That's because clouds need particles to act as seeds around which droplets of moisture in the atmosphere can form. This process of coalescing water particles, called nucleation, is one factor in how clouds form.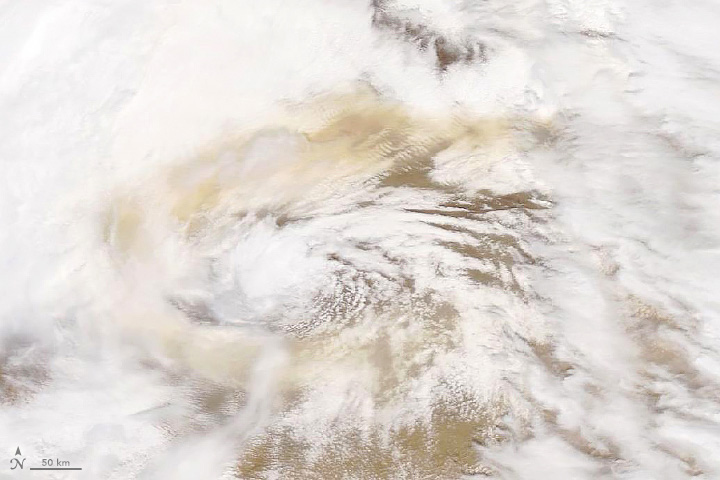 Thanks to EMIT, we'll take the first steps in understanding how the movements of dust particles contribute to local and global changes in climate by producing "mineral maps". These mineral maps will reveal differences in the chemical makeup of dust, providing essential information to help us model the way dust can transform Earth's climate.
› Learn more about what EMIT will do from JPL News
How It Works
NASA has been exploring how dust moves across the globe by combining on-the-ground field studies with cutting-edge technology.
Dr. Olga Kalashnikova, an aerosol scientist at NASA's Jet Propulsion Laboratory and a co-investigator for EMIT, has been using satellite data to study atmospheric mineral dust for many years, including tracking the movements of dust and investigating trends in the frequency of dust storms.
As Dr. Kalashnikova describes, "From the ground, we can see what types of dusts are lifted into the atmosphere by dust storms on a local scale, but with EMIT, we can understand how they differ and where they originally came from."
EMIT is the first instrument designed to observe a key part of the mineral dust cycle from space, allowing scientists to track different dust compositions on a global scale, instead of in just one region at a time. To understand dust's impact on Earth's climate, scientists will use EMIT to answer key questions, including:
How does dust uplifted in the atmosphere alter global temperatures?
What role do dusts play in fertilizing our oceans when they are deposited?
How do dust particles in the atmosphere affect cloud nucleation; the process by which clouds are 'seeded' and begin to coalesce into larger clouds?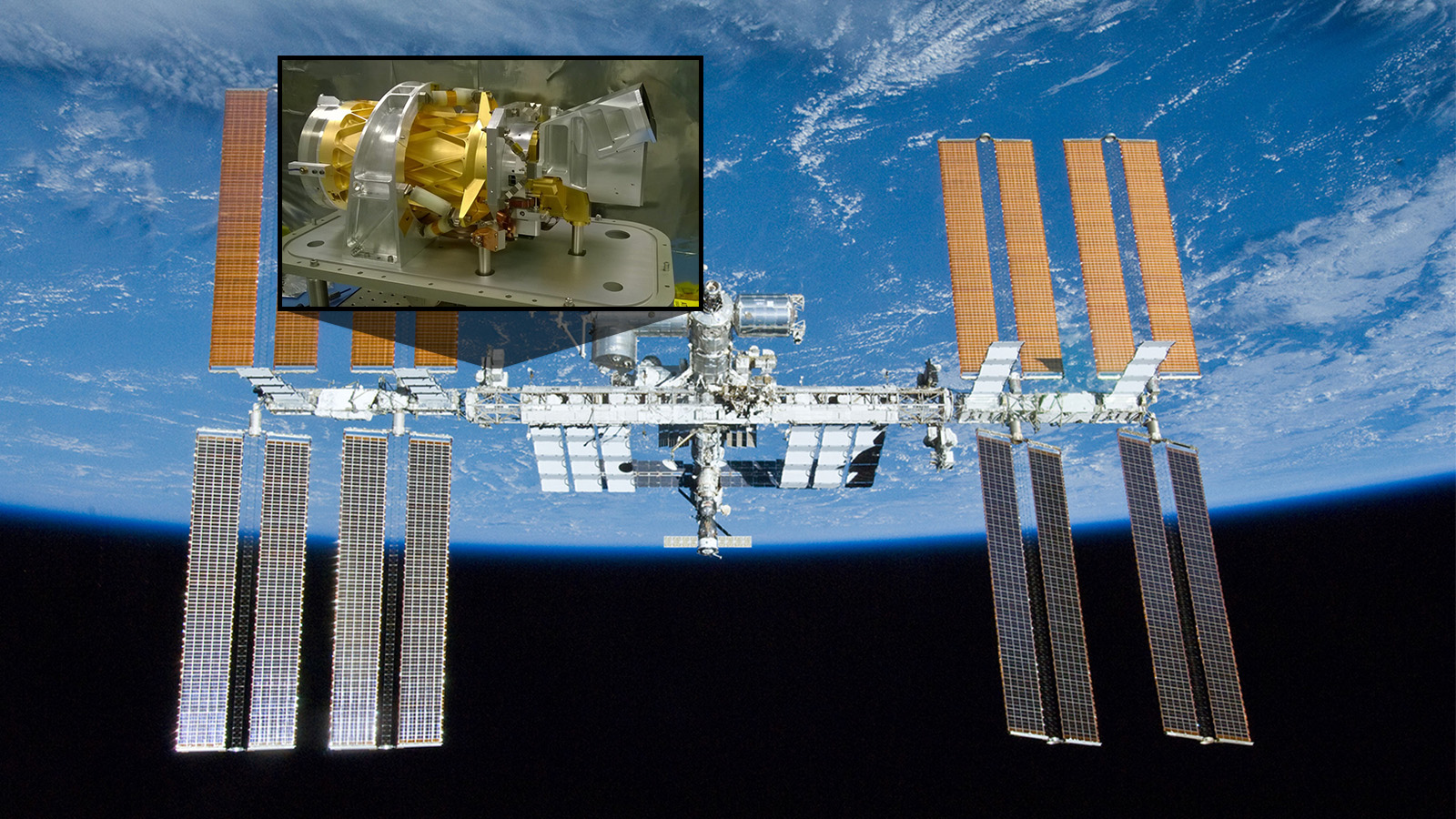 To achieve its objectives, EMIT will spend 12 months collecting what are called "hyperspectral images" of some of the most arid regions of our planet selected by scientists and engineers as areas of high dust mobility, such as Northern Africa, the Middle East, and the American Southwest.
These images are measurements of light reflected from the Earth below, calibrated to the distinct patterns, or spectra, of light we see when certain minerals are present. The EMIT team has identified 10 minerals that are most common, including gypsum, hematite, and kaolinite.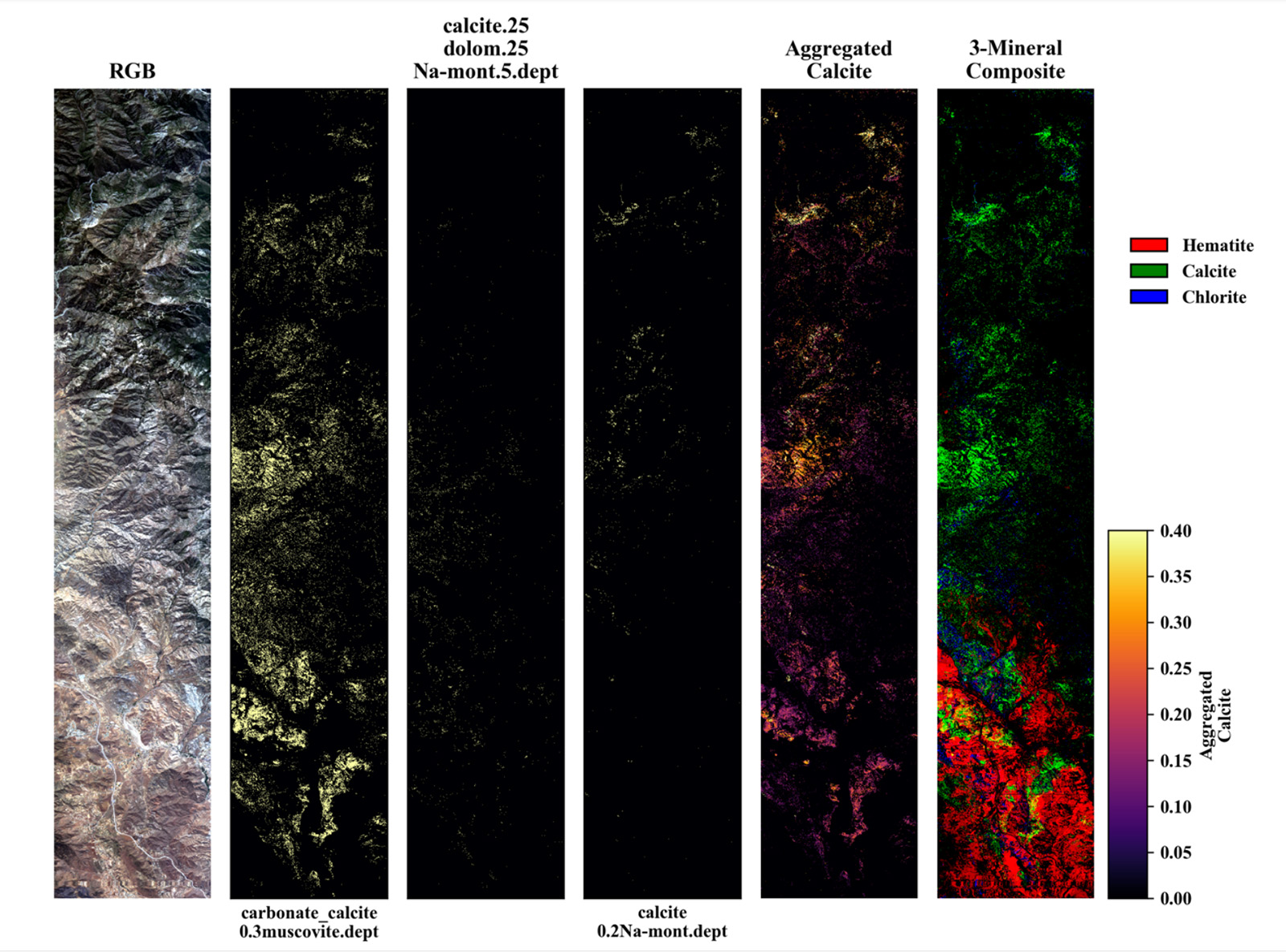 Why are these minerals important? One key reason is the presence or absence of the element iron, found in some minerals but not others.
Dr. Bethany Ehlmann is a planetary scientist and co-investigator for the EMIT project at Caltech and explains that when it comes to heating, "a little bit of iron goes a long way." Iron in minerals absorbs visible and infrared light, meaning that even if only a small amount is present, it will result in a much warmer dust particle. Large amounts of warm dust in our atmosphere may have an impact on temperatures globally since those dust particles radiate heat as they travel, sometimes as far as across oceans!
Collecting images from space is, of course, no easy task, especially when trying to look only at the ground below. Yet it does allow scientists to get a global picture that's not possible to capture from the ground. Field studies allow us to take individual samples from tiny places of interest, but from space, we can scan the entire planet in remote places where no scientist can visit.
Of course, there are some complications in trying to study the light reflected off the surface of Earth, such as interference from clouds. To prevent this problem, the EMIT team plans to collect data at each location several times to ensure that the images aren't being obscured by clouds between the instrument and the minerals we're looking for.
The data collected by EMIT will provide a map of the compositions of dust from dry, desert environments all over the world, but the team involved won't stop there. Knowing more about what the dust is made of sets the stage for a broader understanding of a few more of the complex processes that make up our global climate cycle. Upon completion of this study, EMIT's mineral maps will support further campaigns to complete our global dust picture. For example, NASA hopes to couple the data from EMIT with targeted field campaigns, in which scientists can collect wind-blown dust from the ground to learn more about where dust particles move over time and answer questions about what types of dust are on the go.
Furthermore, missions such as the Multiangle Imager for Aerosols, or MAIA, will allow us to better understand the effects of these dust particles on air-quality and public health.
Teach it
Studying Earth's climate is a complex puzzle, consisting of many trackable features. These can range from sea level to particles in our atmosphere, but each makes a contribution to measuring the health of our planet. Bring EMIT and NASA Earth Science into your classroom with these lessons, articles, and activities to better understand how we're exploring climate change.
Educator Guides
Student Activities
Articles
Websites
TAGS: Earth, climate, geology, weather, EMIT, Teachers, Classroom, Lessons, Earth Science, Climate Change, Dust, Global Warming, Educators, K-12, Teachable Moments, Climate TM
---
This fourth-grade teacher is finding creative ways to get her students back into the flow of classroom learning with the help of STEAM education resources from JPL.
---
Jackie Prosser is a fourth-grade teacher in Fairfield, California, finishing her second year as a classroom teacher. She is a recent graduate of the University of California, Riverside, where she simultaneously received her teaching credential and her master's in education. This was where I was fortunate enough to meet Miss Prosser, through a collaboration between the Education Office at NASA's Jet Propulsion Laboratory and UCR designed to help new teachers incorporate STEM into their future classrooms. She and her cohort immediately struck me as passionate future teachers already exploring unique ways to bring space science into their teaching.
But it's been a challenging transition for Miss Prosser and teachers like her who started their careers amid a pandemic. She began her student-teaching in person only to find that she would have to switch to teaching remotely just four months into the job. Now, she's back in the classroom but facing new challenges getting students up to speed academically while reacquainting them with the social aspects of in-person learning.
I caught up with her to find out how she's managing the transition and developing creative ways to support the individual needs of her students and, at the same time, incorporating science and art into her curriculum with the help of STEAM resources from the JPL Education Office.
---
What made you want to become an elementary school teacher?
Originally, I became a teacher because I love to see that moment of light when a concept finally clicks in a kid's mind. I am still a teacher (even after the craziest two years ever) because every kid deserves someone to fight for them, and I know I can be that person for at least 32 kids a year.
I love to teach young kids especially for two reasons. The first is their honesty; no one will tell you exactly like it is like a nine-year-old will. The second is that I love the excitement kids have for learning at this age.
It has been a bumpy couple years, especially this past school year when it was unclear if we would be remote again or back in the classroom. How has it been coming back from remote learning?
Coming back from remote learning has been an incredible challenge, but we've come a long way since the beginning of the year. Students really struggled being back in a highly structured environment. It was very hard to balance meeting the individual needs of each student and getting them used to the structure and expectations of the classroom.
My fourth graders were online for the last part of second grade and a vast majority of third grade. This is when students really start to solve conflicts and regulate their emotions with less support from adults. I have seen a lot more problems with emotion regulation and conflict among my students this year than in years past.
There is a lot of pressure on teachers right now to make up for all the learning loss and for students being behind on grade-level standards. But I don't think enough people talk about how much joy and social interaction they also lost during remote learning. Teachers are also feeling the pressure of that. I want to help my students be the very best versions of themselves and being happy and comfortable with themselves is a huge part of that.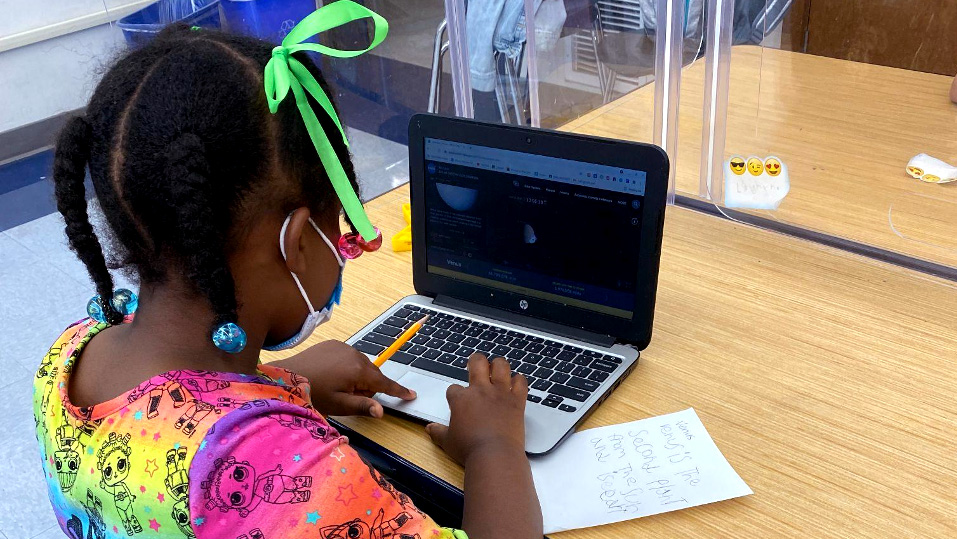 How do you structure your class to get students back in the flow of a school setting?
I use a lot of manipulatives in my math lessons and try to make their learning as hands-on as possible. I also teach math in small groups to be able to better meet the individual needs of my students. I have one group with me learning the lesson, one group doing their independent practice of the skill, and one group on their computers. Then, the students switch until each group has done each activity.
You're a big fan of science and came to several JPL Education workshops while you were still in school yourself. Are there JPL Education resources that you have found particularly impactful for your students?
I have always loved teaching science. It is so often left behind or pushed aside. I think a lot of time that happens because teachers feel like they do not have enough background knowledge to teach high-quality science lessons or they think that the lessons will add to the already enormous workload teachers have. My district does not have an adopted or prescribed curriculum for teachers to follow, so we have a lot of freedom for when and how to make the time for STEAM.
The education resources [from NASA's Jet Propulsion Laboratory] have made it so easy for me to teach and get kids excited about science, and my kids absolutely love them. Our favorites always seem to be Make a Paper Mars Helicopter and Art and the Cosmic Connection.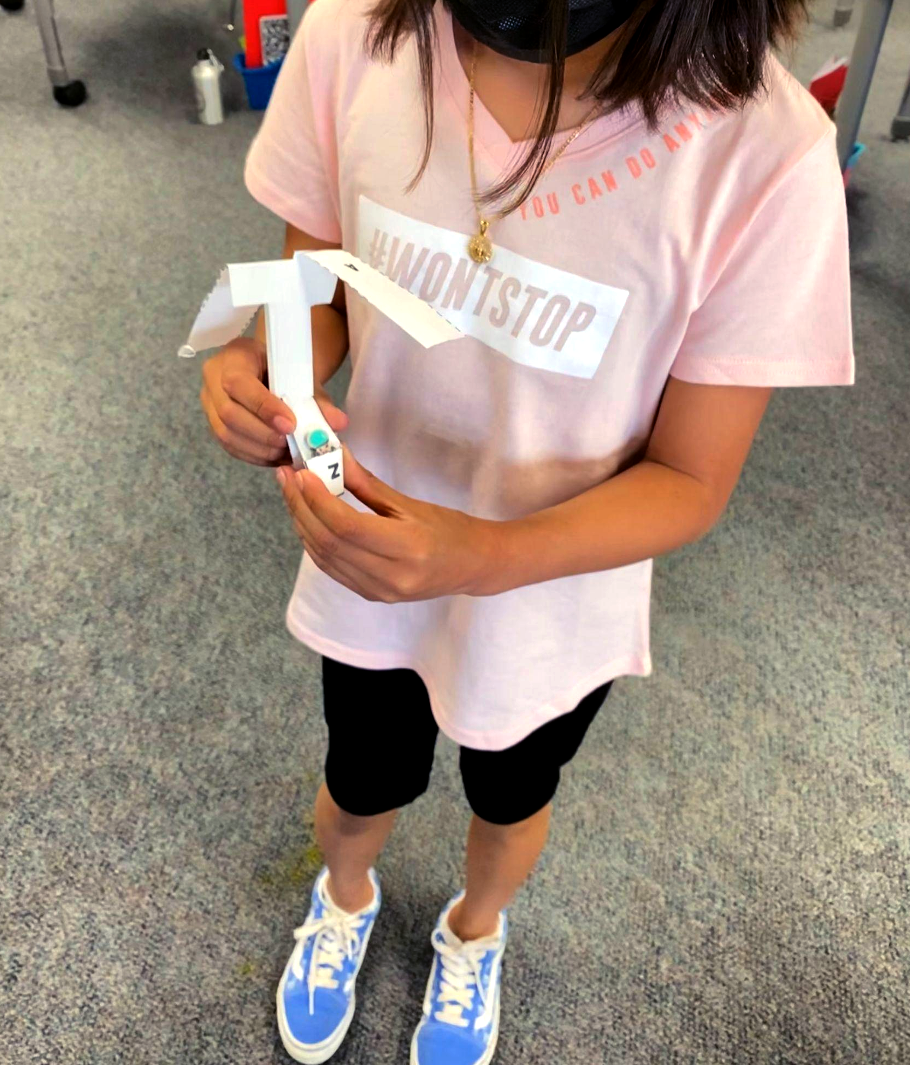 I also am part of my district's science pilot program. It has been so cool to be able to decide what curriculum to pilot and watch my students test it out and give feedback on their learning. Last year, I had the amazing opportunity to teach science for two elementary schools' summer programs. My partner teacher and I got to create the curriculum for them, and we pulled a ton of lessons from the JPL Education website. It was by far the most fun I have ever had at a job.
Despite being a new teacher, you've already seen so much. How have you navigated the changing landscape?
I have an amazing network of teachers supporting me at every turn. My grade-level team and my friends from my credential program are some of the most amazing people and educators I have ever met. There is no way I would be able to get through the more difficult aspects of teaching without them.
I am also coaching the boys soccer team, directing the school's "Lion King Jr." play, contributing to the science pilot program, and serving on the social committee for teachers and staff. I love using these different roles to make connections with not just my students, but also students from all grades.
---
Looking for ways to bring NASA STEM into your classroom or already have a great idea? The Education Office at NASA's Jet Propulsion Laboratory serves educators in the greater Los Angeles area. Contact us at education@jpl.nasa.gov.
Explore More
TAGS: Teachers, School, Remote School, Classroom, Instruction, K-12, Fourth Grade, STEAM, Science, Math, Art, UC Riverside, resources, lessons
---
Learn about pi and some of the ways the number is used at NASA. Then, dig into the science behind the Pi Day Challenge.
---
Update: March 15, 2022 – The answers are here! Visit the NASA Pi Day Challenge slideshow to view the illustrated answer keys for each of the problems in the 2022 challenge.
In the News
No matter what Punxsutawney Phil saw on Groundhog Day, a sure sign that spring approaches is Pi Day. Celebrated on March 14, it's the annual holiday that pays tribute to the mathematical constant pi – the number that results from dividing any circle's circumference by its diameter.
Every year, Pi Day gives us a reason to not only celebrate the mathematical wonder that helps NASA explore the universe, but also to enjoy our favorite sweet and savory pies. Students can join in the fun by using pi to explore Earth and space themselves in our ninth annual NASA Pi Day Challenge.
Read on to learn more about the science behind this year's challenge and find out how students can put their math mettle to the test to solve real problems faced by NASA scientists and engineers as we explore Earth, the Moon, Mars, and beyond!
How It Works
Dividing any circle's circumference by its diameter gives you an answer of pi, which is usually rounded to 3.14. Because pi is an irrational number, its decimal representation goes on forever and never repeats. In 2021, a supercomputer calculated pi to more than 62 trillion digits. But you might be surprised to learn that for space exploration, NASA uses far fewer digits of pi.
Here at NASA, we use pi to understand how much signal we can receive from a distant spacecraft, to calculate the rotation speed of a Mars helicopter blade, and to collect asteroid samples. But pi isn't just used for exploring the cosmos. Since pi can be used to find the area or circumference of round objects and the volume or surface area of shapes like cylinders, cones, and spheres, it is useful in all sorts of ways. Architects use pi when designing bridges or buildings with arches; electricians use pi when calculating the conductance of wire; and you might even want to use pi to figure out how much frozen goodness you are getting in your ice cream cone.
In the United States, March 14 can be written as 3.14, which is why that date was chosen for celebrating all things pi. In 2009, the U.S. House of Representatives passed a resolution officially designating March 14 as Pi Day and encouraging teachers and students to celebrate the day with activities that teach students about pi. And that's precisely what the NASA Pi Day Challenge is all about!
The Science Behind the 2022 NASA Pi Day Challenge
This ninth installment of the NASA Pi Day Challenge includes four brain-busters that get students using pi to measure frost deep within craters on the Moon, estimate the density of Mars' core, calculate the water output from a dam to assess its potential environmental impact, and find how far a planet-hunting satellite needs to travel to send data back to Earth.
Read on to learn more about the science and engineering behind the problems or click the link below to jump right into the challenge.
› Take the NASA Pi Day Challenge
› Educators, get the lesson here!
Lunar Logic
NASA's Lunar Flashlight mission is a small satellite that will seek out signs of frost in deep, permanently shadowed craters around the Moon's south pole. By sending infrared laser pulses to the surface and measuring how much light is reflected back, scientists can determine which areas of the lunar surface contain frost and which are dry. Knowing the locations of water-ice on the Moon could be key for future crewed missions to the Moon, when water will be a precious resource. In Lunar Logic, students use pi to find out how much surface area Lunar Flashlight will measure with a single pulse from its laser.
Core Conundrum
Since 2018, the InSight lander has studied the interior of Mars by measuring vibrations from marsquakes and the "wobble" of the planet as it rotates on its axis. Through careful analysis of the data returned from InSight, scientists were able to measure the size of Mars' liquid core for the first time and estimate its density. In Core Conundrum, students use pi to do some of the same calculations, determining the volume and density of the Red Planet's core and comparing it to that of Earth's core.
Dam Deduction
The Surface Water and Ocean Topography, or SWOT mission will conduct NASA's first global survey of Earth's surface water. SWOT's state-of-the-art radar will measure the elevation of water in major lakes, rivers, wetlands, and reservoirs while revealing unprecedented detail on the ocean surface. This data will help scientists track how these bodies of water are changing over time and improve weather and climate models. In Dam Deduction, students learn how data from SWOT can be used to assess the environmental impact of dams. Students then use pi to do their own analysis, finding the powered output of a dam based on the water height of its reservoir and inferring potential impacts of this quick-flowing water.
Telescope Tango
The Transiting Exoplanet Survey Satellite, or TESS, is designed to survey the sky in search of planets orbiting bright, nearby stars. TESS does this while circling Earth in a unique, never-before-used orbit that brings the spacecraft close to Earth about once every two weeks to transmit its data. This special orbit keeps TESS stable while giving it an unobstructed view of space. In its first two years, TESS identified more than 2,600 possible exoplanets in our galaxy with thousands more discovered during its extended mission. In Telescope Tango, students will use pi to calculate the distance traveled by TESS each time it sends data back to Earth.
Teach It
Celebrate Pi Day by getting students thinking like NASA scientists and engineers to solve real-world problems in NASA Pi Day Challenge. Completing the problem set and reading about other ways NASA uses pi is a great way for students to see the importance of the M in STEM.
Pi Day Resources
Plus, join the conversation using the hashtag #NASAPiDayChallenge on Facebook, Twitter, and Instagram.
Recursos en español
Related Lessons for Educators
Related Activities for Students
Explore More
Infographic
Facts and Figures
Missions and Instruments
Websites
TAGS: Pi Day, Pi, Math, NASA Pi Day Challenge, Moon, Lunar Flashlight, Mars, InSight, Earth, Climate, SWOT, Exoplanets, Universe, TESS, Teachers, Educators, Parents, Students, Lessons, Activities, Resources, K-12
---
In 2021, we added nearly 80 STEM education resources to our online catalog of lessons, activities, articles, and videos for educators, students, and families. The resources feature NASA's latest missions exploring Earth, the Moon, Mars, asteroids, the Solar System and the universe beyond. Here are the 10 resources our audiences visited most this year.
---
To kick off the year, we invited students, educators, and families from around the world to create their own mission to Mars as we counted down to the Perseverance rover's epic landing on the Red Planet in February. More than one million students participated in the Mission to Mars Student Challenge, which features seven weeks of guided education plans, student projects, and expert talks and interviews highlighting each phase of a real Mars mission.
It's no surprise that this was our most popular product of the year. And good news: It's still available and timely! With Perseverance actively exploring Mars and making new discoveries all the time, the challenge offers ongoing opportunities to get students engaged in real-world STEM.
Need a primer on the Perseverance Mars rover mission, first? This article from our Teachable Moments series has you covered.
---
This video offers a short and simple answer to two of students' most enduring questions: How do the sizes of planets compare and how far is it between them? Plus, it gets at why we don't often (or ever) see images that show all the planets' sizes and distances to scale. Spoiler alert: It's pretty much impossible to do.
Get students exploring solar system size and distance in more detail and even making their own scale models with this student project.
---
As you'll soon see from the rest of this list, coding projects were a big draw this year. This one took off along with Ingenuity, the first helicopter designed to fly on Mars, which made its historic first flight in April. Designed as a test of technology that could be used on future missions, Ingenuity was only slated for a few flights, but it has far exceeded even that lofty goal.
In this project, students use the free visual programming language Scratch to create a game inspired by the helicopter-that-could.
---
Just updated for 2022, this project is part educational activity and part art for your walls. Students learn about moon phases to complete this interactive calendar, which shows when and where to see moon phases throughout the year, plus lists moon events such as lunar eclipses and supermoons. The art-deco inspired design might just have you wanting to make one for yourself, too.
---
This year marked the eighth installment of our annual Pi Day Challenge, a set of illustrated math problems featuring pi (of course) and NASA missions and science. Don't let the name fool you – these problems are fun to solve year round.
Students can choose from 32 different problems that will develop their math skills while they take on some of the same challenges faced by NASA scientists and engineers. New this year are puzzlers featuring the OSIRIS-REx asteroid mission, Mars helicopter, Deep Space Network, and aurora science.
Educator guides for each problem and problem set are also available here. And don't miss the downloadable posters and virtual meeting backgrounds.
---
Another coding challenge using the visual programming language Scratch, this project is inspired by the Perseverance Mars rover mission, which is collecting samples that could be brought back to Earth by a potential future mission.
While developing a gamified version of the process, students are introduced to some of the considerations scientists and engineers have to make when collecting samples on Mars.
---
As if launching a rover to Mars wasn't hard enough, you still have to land when you get there. And that means using a complex series of devices – from parachutes to jet packs to bungee cords – and maneuvers that have to be performed remotely using instructions programmed into the spacecraft's computer.
Students who are ready to take their programming skills to the next level can get an idea of what it takes in this project, which has them use Python and microcontrollers to simulate the process of landing a rover on Mars.
---
Without giving the answer away: It's not as far as you might think.
In this activity, students stack coins (or other objects) on a map of their local area as a scale model of the distance to space. The stacking continues to the International Space Station, the Moon, and finally to the future orbit of the James Webb Space Telescope, which is slated to launch on Dec. 22.
---
You don't have to be a big kid to start learning about space exploration. This activity, which is designed for kids in kindergarten through second grade, has learners use geometric shapes called tangrams to fill in a Mars rover design. It provides an introduction to geometry and thinking spatially.
Once kids become experts at building rovers, have them try building rockets.
---
Technically a classroom activity (it is standards-aligned, after all), this game will appeal to students and strategy card game enthusiasts alike. Download and print out a set for your classroom (or your next game night).
Players work collaboratively to explore destinations including the Moon, Mars, Jupiter and Jupiter's Moon Europa with actual NASA spacecraft and science instruments while working to overcome realistic challenges at their destination including dust storms and instrument failures.
TAGS: K-12, Lessons, Activities, Education Resources, Teachers, Students, Families, Kids, Learning, STEM, Science, Engineering, Technology, Math, Coding, Programming, Mars, Solar System, Moon
---
Jayme Wisdom has been teaching for 15 years at the Vaughn Charter System in Pacoima, California. She has taught eighth-grade science for most of her career but switched to high school biology for the first time this year.
Ms. Wisdom has long utilized NASA and JPL educational resources, finding creative ways to adapt lessons to meet her students' needs and exposing them to STEM careers.
A self-described professional nerd, she doesn't shy away from her love of all things Star Trek and Star Wars (and stands firm in her refusal to pick which is superior). While presenting during a recent JPL Education workshop, she shared how she continues to get her students excited about science – both in the classroom and remotely – during the COVID era.
What unique challenges do you face engaging or addressing the needs of your students?
Many of the students I teach face challenges including poverty, homelessness, and learning English as a second language. This year, in particular, has been extremely difficult for all of us dealing with the pandemic and distance learning. As a teacher, I have had to find ways to make sure that my students are engaged in scientific inquiry and have access to resources and materials while learning remotely. This begins and ends with a conscious effort to acknowledge that kids are struggling with this online format and carving out time in every single class to provide the socio-emotional support they have come to expect from a classroom environment. Before we dive into content, this means making time for check-ins and updates. In any in-person classroom, we carve out time to get to know each other, and being online should not diminish that. Of course, as we all learned this year, easier said than done.
Social isolation is another factor that contributes to the challenges of distance learning. Even though students see their peers virtually, it is often difficult for them to open up and talk as freely as they would if they were in a physical classroom. So I have had to find ways to make sure that my students are comfortable with engaging in a virtual setting by allowing them opportunities to talk and collaborate with each other online.
Using breakout sessions was difficult at first, because the students were very self-conscious about speaking to each other on screen and were reluctant to share ideas. So every day, we spent the first few minutes in each class just talking to each other through text-based chat to get them socializing and feeling more comfortable with this new way of interacting. Now they are more comfortable engaging in scientific inquiry with each other and have meaningful discussions to expand their learning. It is not the same as having them physically perform labs together in class but things are definitely improving.
Another challenge has been providing all of my students with access to resources and materials that allow them to simulate a laboratory experience at home. I have been pleasantly surprised at the wealth of resources I have available to me as a teacher to provide virtual labs and activities to my students. Whether it is virtual demonstrations and simulations or scientific investigations that require simple materials that students can find around the house, we have been very resourceful so we can give students the best experience possible through distance learning. Promoting lab science with home supplies has been instrumental in student engagement, as they really get to explore in their own context, expressing themselves creatively with what they have at their disposal instead of being provided the materials.
How have you used lessons from NASA and JPL to keep students engaged while teaching in person and remotely?
I have always been fascinated by outer space and have loved sci-fi TV shows and movies since I was very young. So as a teacher, I was so excited to discover ways to use my love of astronomy to engage my students.
When I discovered NASA and JPL's resources and lessons, I went through them like a kid in a candy store. I found so many different activities that I could adapt to use in my own classroom. Over the past few years, I have used several JPL Education lessons and modified and extended them for my students.
For example, I took JPL's Touchdown lesson and allowed students to create their own planetary lander using materials they could find around their home. I challenged them to create a way to quantify how much impact the touchdown would have on the "astronauts" in their lander. Some students used balls of play dough as their astronauts, and quantified the impact by measuring the dents made in the play dough by paper clips that they had placed on the "seats" of their lander.
Another example was when I combined the Soda-Straw Rocket and Stomp Rockets lessons. I had my students create a straw-stomp rocket to investigate how changing the angle of the rocket launch could have an effect on the distance the rocket traveled.
My students also had the opportunity to participate in engineering activities with JPL and college students from Pasadena City College. The impact that this had on my students was profound and long-lasting. It was inspiring for my students to hear from NASA scientists and student role-models who encouraged them to pursue careers in science, engineering, and technology.
How have students reacted to these lessons?
The biggest payoff for me was seeing students envision themselves as NASA scientists. They learned to collaborate with each other, learn from each other, and challenge each other. They were able to experience every step of the engineering process firsthand. They were actively involved in designing, building, and testing their rockets and landers. They could also gather information from watching other students revise and improve their designs. Learning from each other was so much fun for them. As a teacher, watching my students strengthen their critical thinking, practical engineering, and problem-solving skills is one of the best parts of my job.
You switched from teaching middle school to teaching high school this year. How are you thinking about incorporating NASA resources into lessons for older students?
Growing up, I loved how the technology that I saw in the sci-fi shows I watched as a kid eventually made its way into our reality. I am always amazed at how NASA scientists push the boundaries of technology development and are only limited by the scope of their imagination.
As a high school biology teacher, I'm looking forward to having my students examine the ways that space technology is being used to help humans improve the health of the planet. Investigating climate change and the ecological impact humans have on the environment is so important. Looking at how NASA gathers data to better understand climate change is especially critical at this time because my students' generation is going to play a pivotal role in developing technologies for improving life on Earth. I'm looking forward to continuing to use JPL Education resources to help my students prepare for that challenge.
---
Looking for ways to bring NASA STEM into your classroom or already have a great idea? The Education Office at NASA's Jet Propulsion Laboratory serves educators in the greater Los Angeles area. Contact us at education@jpl.nasa.gov.
Explore More
TAGS: Teaching, Teachers, K-12, Middle School, High School, Remote Instruction, Classroom, Lessons, Educators, Workshops, Professional Development