---
Thursday, April 14
---
3 p.m. - Firsts and Thanks ... Until Next Time

Once the group photos were taken and the rovers dismantled, students gathered in the conference room where they had spent most of the last four days. Where rover parts, notebooks and laptops once stood, now it was just 40 suitcases laying in wait for the return home. But the experience wouldn't end until awards and several rounds of thanks were given to the organizers, mentors and students who made the experience possible – and as program coordinators Roslyn Soto and Eddie Gonzales were sure to point out, contributed to a number of firsts for the National Community College Aerospace Scholars program.
The networking challenge and planetarium show were among some of the firsts. As was the first female majority among the team's project managers (three of four were women) as well as the number of women participating in the on-site experience overall.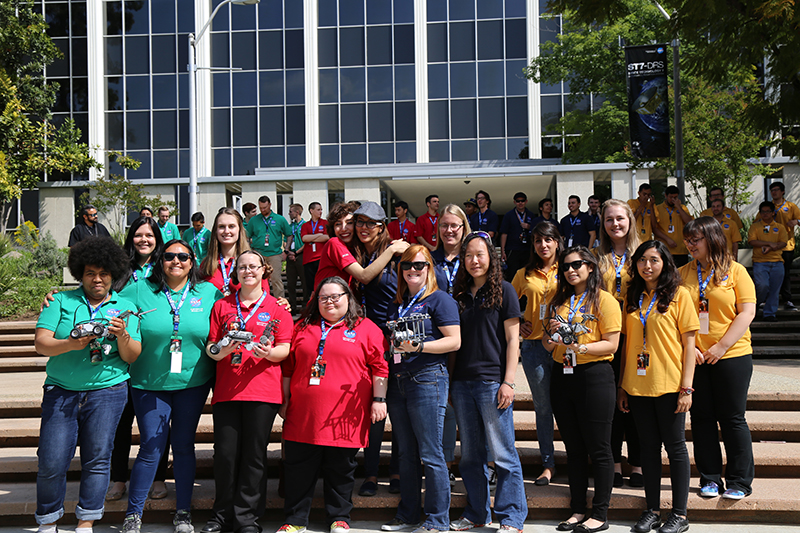 The women of NCAS Spring 2016 pose for a photo with their teams' rovers. Image credit: NASA/JPL-Caltech/Kim Orr
By the time the winning team was announced, the students were so full with congratulations that they seemed to have almost forgotten there was a winning team at all. But it didn't dull the Blue Team's celebration when, without further ado, they were announced as the winners by (another first) the smallest margin ever.

The Blue Team celebrates their win (left) along with their mentor Amelia Quon (right). Image credit: NASA/JPL-Caltech/Kim Orr
Soto and Gonzales said the level of teamwork – even between teams – was one of the biggest standouts of this session of NCAS and urged future teams to take note.
"The collaboration between teams was a thing of beauty," said Gonzales. "It felt more like one huge team versus four individual teams. They helped each other in every facet of the competition and were graceful and showed incredible sportsmanship like I've never witnessed before."
With round after round of applause and standing ovations for Soto and Gonzales, the students, mentors and program coordinators said their final goodbyes, and by 2 p.m., the once hectic conference room was dark and quite … that is until the next crop of hopeful students arrives this fall.
> Learn more about NCAS and apply for the Fall 2016 session
> See a collection of photos from the Spring 2016 session
> Explore all the internship and fellowship programs at JPL and apply

---
10 a.m. - The Final Challenge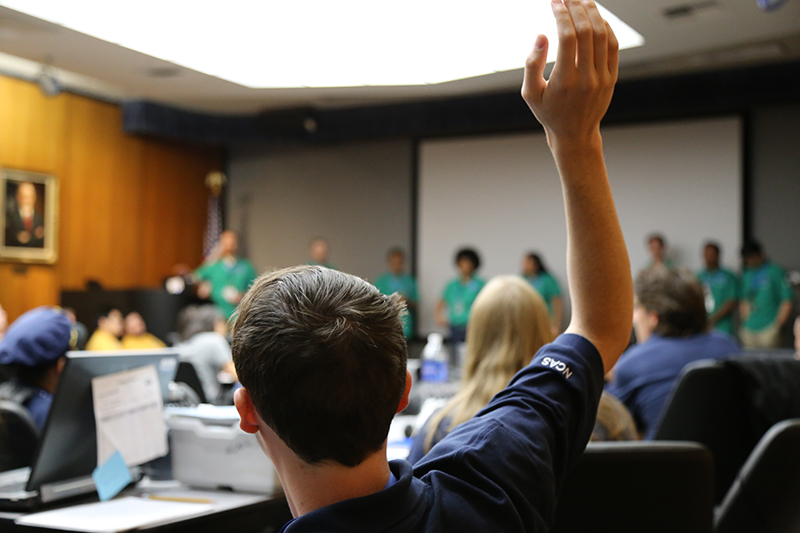 Image credit: NASA/JPL-Caltech/Kim Orr
Today, on the fourth and final day of the NCAS on-site experience, students had one more challenge before the scores were tallied. They had five minutes to make a presentation to a mock "NASA Headquarters panel" about why their rover mission should be green-lighted. Channeling their inner Steve Jobs, the teams used music, videos, lighting and of course their rovers to make their case.
The Gold Team impressed with their marketing video that used two LEGO figurines (borrowed from their mentor) to tell a story about two people on a quest to add a rover to their family.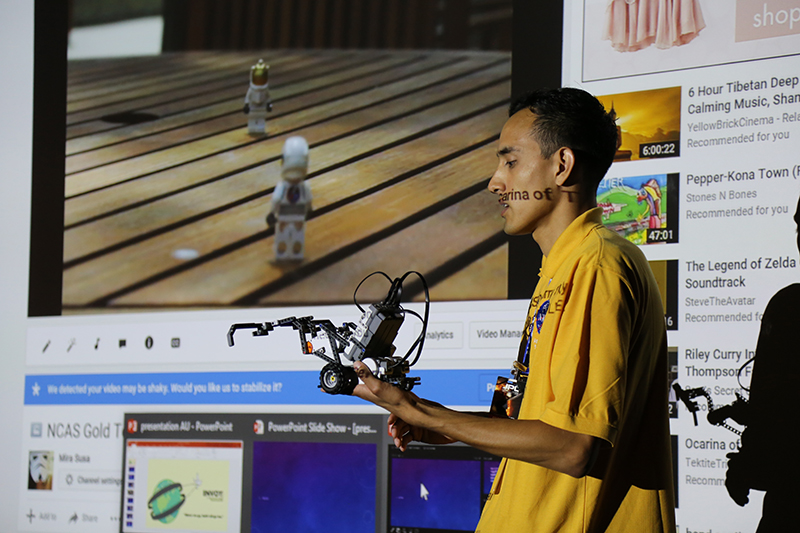 Image credit: NASA/JPL-Caltech/Kim Orr
The Red Team started their presentation with a dance and later presented "scholarship certificates" from their reserved education budget to the JPL Education Office staff and other NCAS helpers.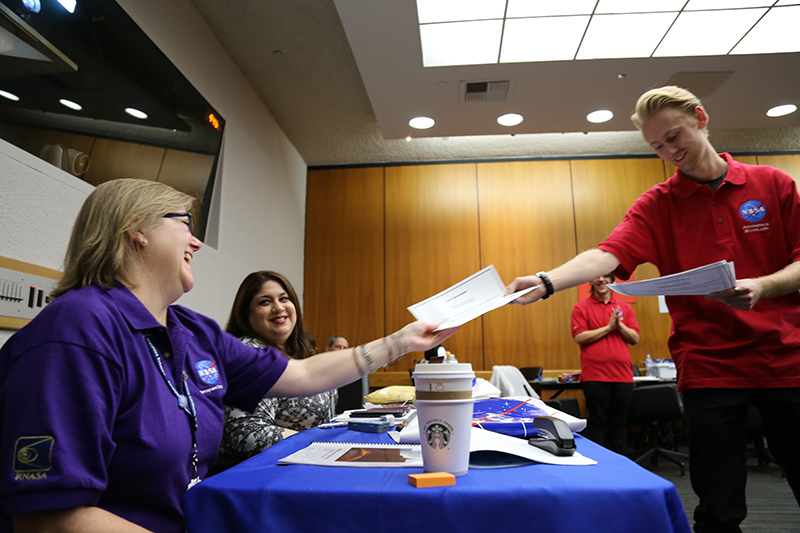 Image credit: NASA/JPL-Caltech/Kim Orr
The Blue Team got laughs for a slide on their mission objectives, which was introduced by audio of Lakers basketball star Kobe Bryant saying, "Success on success on success."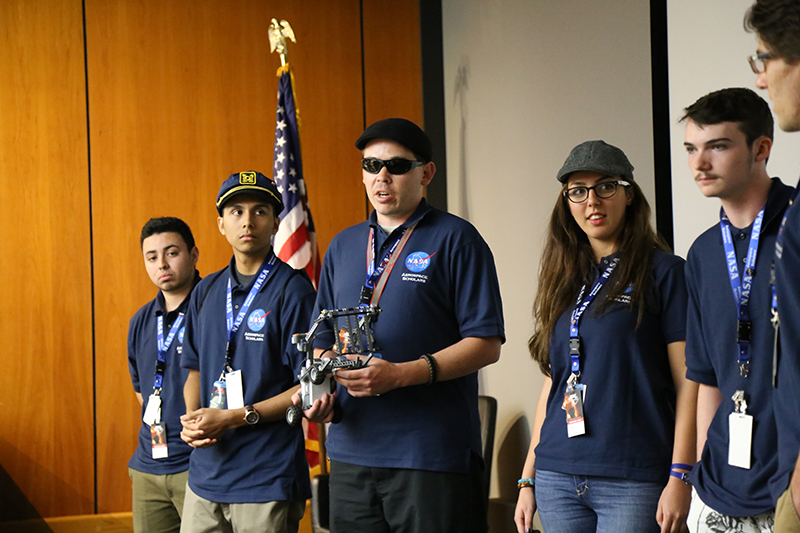 Image credit: NASA/JPL-Caltech/Kim Orr
And the Green Team, which took the either coveted or dreaded task of being first to present, showcased their teamwork by sharing the stage to present the various facets of their mission.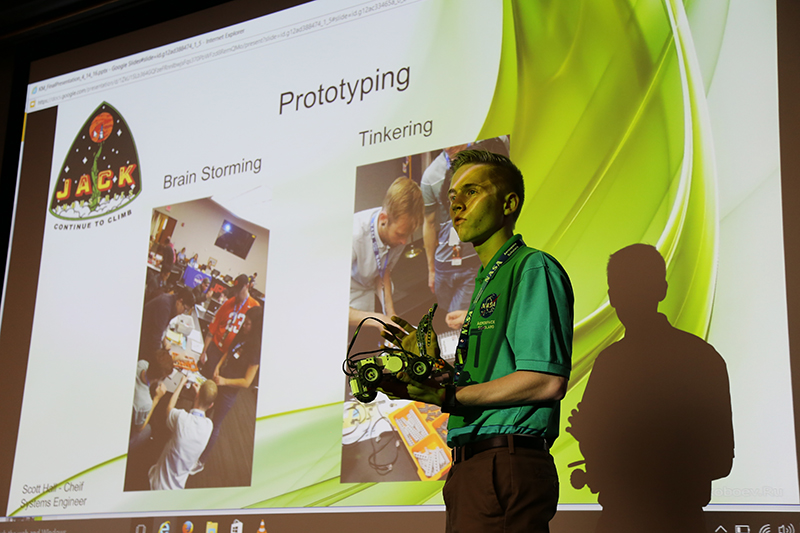 Image credit: NASA/JPL-Caltech/Kim Orr
When presentations were over, it was time for the customary group photos and then perhaps the hardest part of the on-site experience: dismantling the rovers and packing up.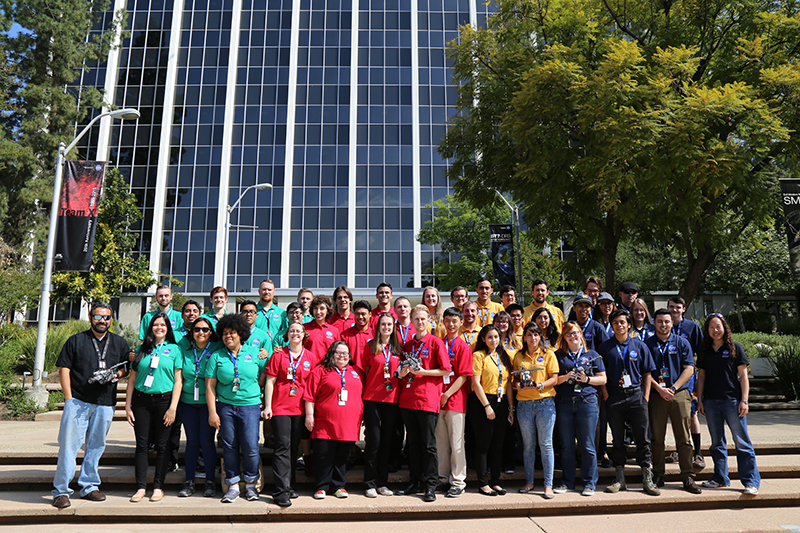 Image credit: NASA/JPL-Caltech/Kim Orr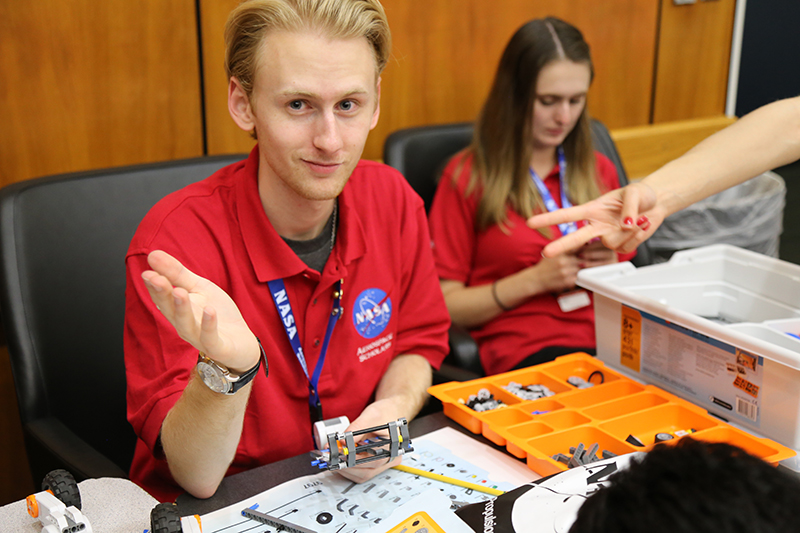 Image credit: NASA/JPL-Caltech/Kim Orr
---
Wednesday, April 13
---
6:30 p.m. - Mission Two
It's less than an hour away from the second and final mission for the teams' rovers. Tonight, the rovers must autonomously retrieve and rescue a stranded "Mars Buggy" from the simulated Mars surface. While the challenge involves a different set of commands and even changes in the design of the rovers, the lessons students learned from last night's mission are ever present. We asked the teams to share the single biggest lesson they're taking into tonight's challenge:
"If we try our best, we can succeed." – #GreenTeam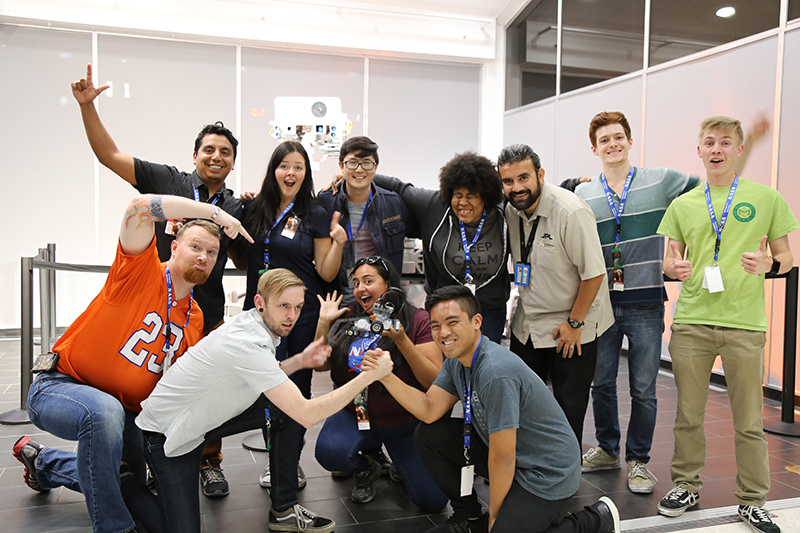 Image credit: NASA/JPL-Caltech/Lyle Tavernier
"Simplicity and planning are key." – #BlueTeam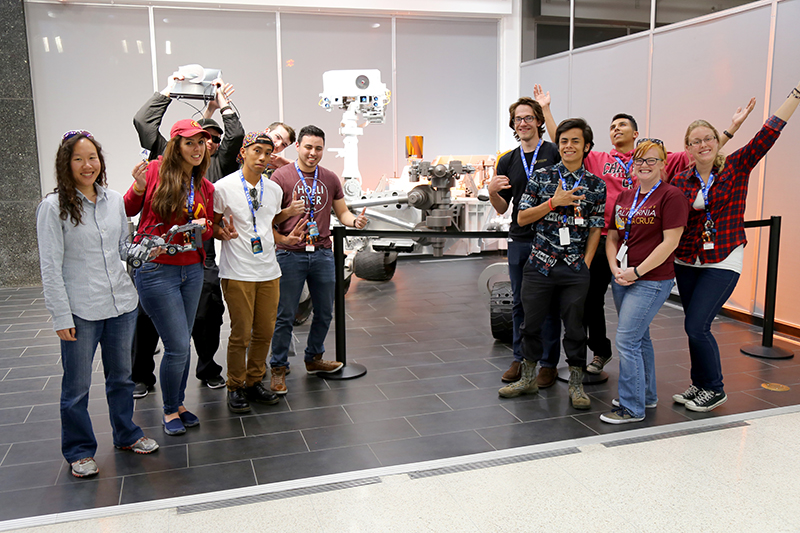 Image credit: NASA/JPL-Caltech/Lyle Tavernier
"No matter how much we plan for every scenario, at the end of the day, it's inevitable that mistakes will come up. As a team, we learned to push forward through the doubts and frustrations. For tonight, we will use this lesson to enhance our troubleshooting." – #GoldTeam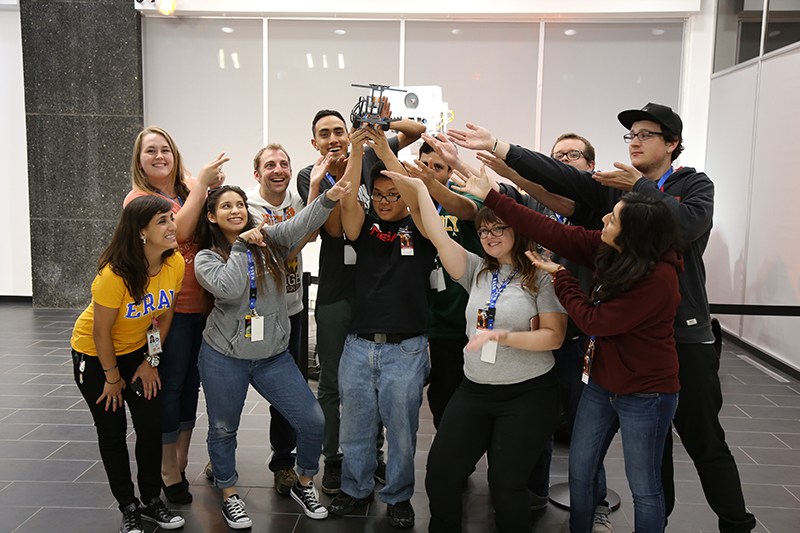 Image credit: NASA/JPL-Caltech/Lyle Tavernier
"We must embrace the unexpected difficulties" – #RedTeam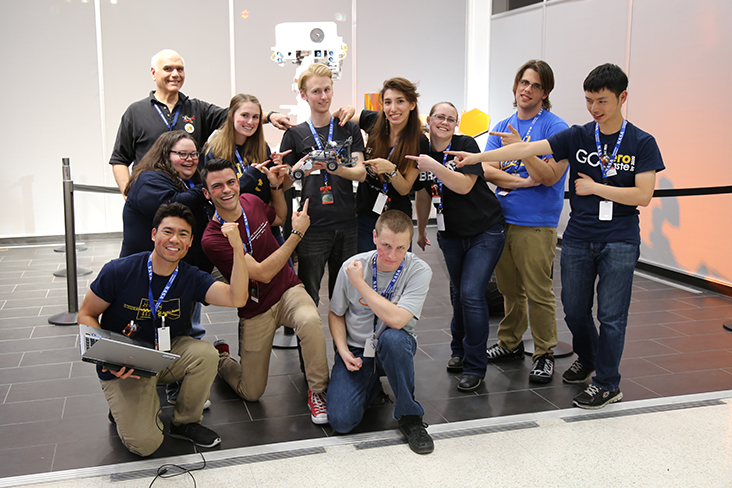 Image credit: NASA/JPL-Caltech/Lyle Tavernier
---
5:30 p.m. – Meet the Mentors
Each NCAS team works with a mentor who helps guide students with not just the mission at hand, but also their career missions. With four fully packed days of activities and challenges, it can be a big time commitment – especially since mentors are scientists and engineers themselves, and have their own missions and projects competing for their attention. But as we found out when we caught up with the mentors for this session, it's well worth the hectic four days.

Amelia Quon - #BlueTeam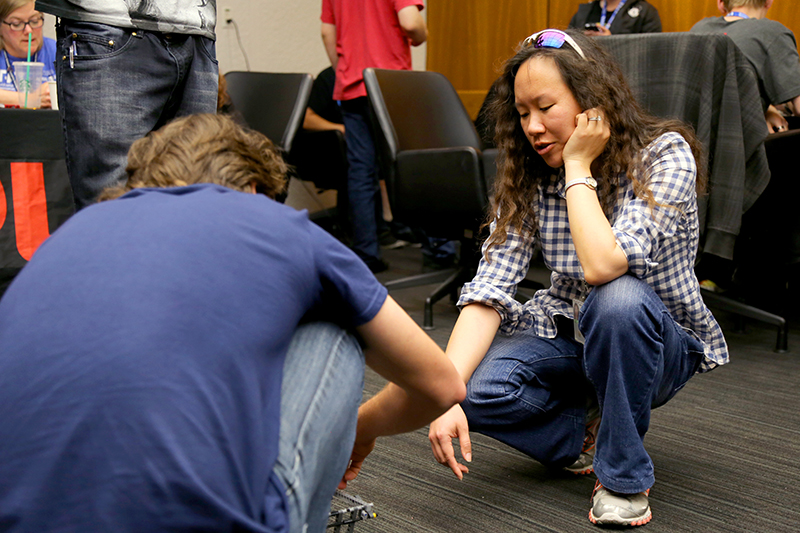 Image credit: NASA/JPL-Caltech/Lyle Tavernier
What do you do at JPL?
I am a mechanical integration engineer. My group builds the tools used to assemble and test spacecraft, as well as helping with the assembly and testing process. I'm currently working on a thermal-vacuum test where we're using the 25-ft space simulator to mimic Martian atmospheric pressure, which is less than 1 percent of sea level atmospheric pressure on Earth.

How long have you been an NCAS mentor and what made you want to become one?
I've been an NCAS mentor since 2012. I enjoy helping the students gain confidence in their problem-solving skills as they work through the (rock and rover retrieval) missions. I participated in NASA's High School Aerospace Scholars program as a high school student and had a great experience, so it's nice to be able to support the program and help create similarly positive memories for the students.

How would you describe your mentoring style?
As a mentor, I try to clarify the parameters of the (rock and rover retrieval) missions for the students. I help them develop strategies for programming and building their rovers, and ask questions to encourage them to reason through problems they encounter.

What are some of the challenges or obstacles your team has faced so far and how are you overcoming them?
While testing their rover, my team discovered that many of the rocks they picked up were falling out of their basket. They went through several iterations of building and testing new designs before they came up with a design that performed as intended.

What do you most want students to take away from their experience?
I want them to realize that everyone on an engineering team is integral to the team's success, and that setbacks and challenges can be overcome.

Luz Martinez Sierra - #GoldTeam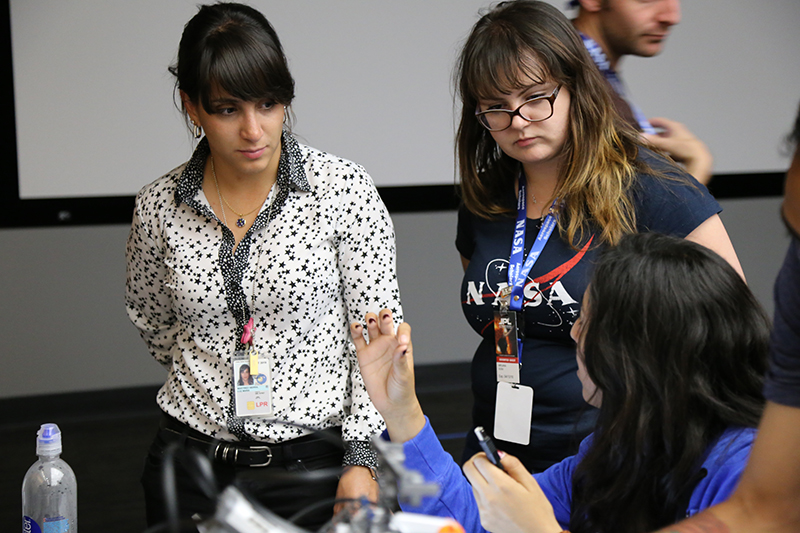 Image credit: NASA/JPL-Caltech/Lyle Tavernier
What do you do at JPL?
I am in the Natural Space Environments group. We are in charge of defining the radiation and debris environment that the spacecraft will encounter in space. This is very important to evaluate the risks so the designer and engineers can take the necessary measurements to avoid any failure. I am also involved with the nuclear physics instruments that are used to determine the composition of other planetary bodies or to better understand the radiation environments in space. I am also a part-time Nuclear Engineering Ph.D student at Texas A&M. I am trying to finish my Ph.D while still being a full-time employee at JPL.
How long have you been an NCAS mentor and what made you want to become one?
This is the first time I've been involved with NCAS, and I am loving it.

How would you describe your mentoring style?
I think I can relate with the young student quite easily. I have a younger sister, and I have done mentorships in the past. I like to get to know students and make a safe environment for them to ask me questions and to not be afraid of participation. I like to show them a strong attitude without making them scared of me. I want them to feel like they are in a collaborative atmosphere. I don't have all the answers, but I am there to guide them in finding the answers.

What are some of the challenges or obstacles your team has faced so far and how are you overcoming them?
We had a rough start with issues regarding the division of the work. There was not a clear line between who was in charge of what, and they were focusing in one task instead of approaching it at different angles. We talked, and I encouraged the project manager to assign responsibilities and to try to make sure they still communicate with the team promptly.

What do you most want students to take away from their experience?
I want them to feel comfortable with their career, and show them that it is possible to achieve their dreams. Also I want them to realize how much can be accomplished in a few days, and make them confident of their capabilities. I want to see them succeed in life and in a professional way. They are wonderful young adults ready to take the challenge. They just need to hear it and believe it.

Otto Polanco - #GreenTeam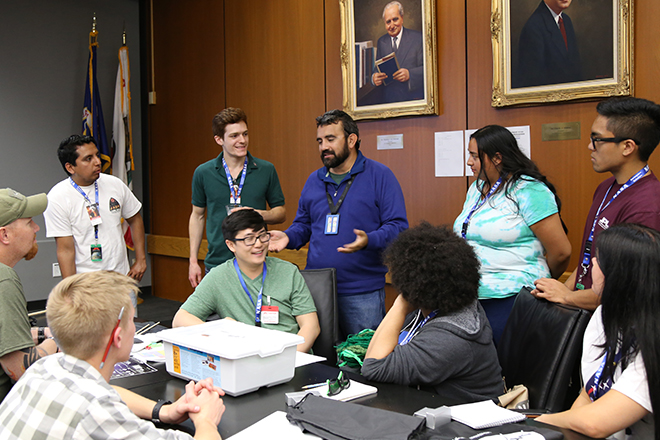 Image credit: NASA/JPL-Caltech/Lyle Tavernier
What do you do at JPL?
I am a mechanical engineer in the payload development group. I work with engineers across different disciplines to develop instruments and complete system payloads for various customers that come to JPL for this type of development.
How long have you been an NCAS mentor and what made you want to become one?
Since the beginning. Five years now. Wow. Already. Simple. When I was in High school, Dr. Jeff Martin, a principal for LAUSD, provided guidance on what college life was all about, how to be successful, and how to prepare for a career. Unfortunately, Dr. Martin passed away from cancer a year and a half later, but my time with him was invaluable, as he opened my eyes to the possibilities of what my future could be.
How would you describe your mentoring style?
Aggressive and hopeful, like Dr. Martin, but with a twist. No excuses. Failure is an option, but NO Quitting is permitted. I'm encouraging and pass on words of wisdom and lessons learned since my start as an intern here at JPL.
What are some of the challenges or obstacles your team has faced so far and how are you overcoming them?
Organization, laptop and programming the rover. They got organized by coming together as a team with a single leader and co-leader. Programming was done with paper and pen, then executed flawlessly when a laptop became available through great communication and team work. They have asked for help when they got stuck and/or looked bewildered. They are nervous, but they work hard and smile.
What do you most want students to take away from their experience?
Blow by the sky limit and reach for the stars. Do not place limits on what you and your future will accomplish.
Steve Edberg - #RedTeam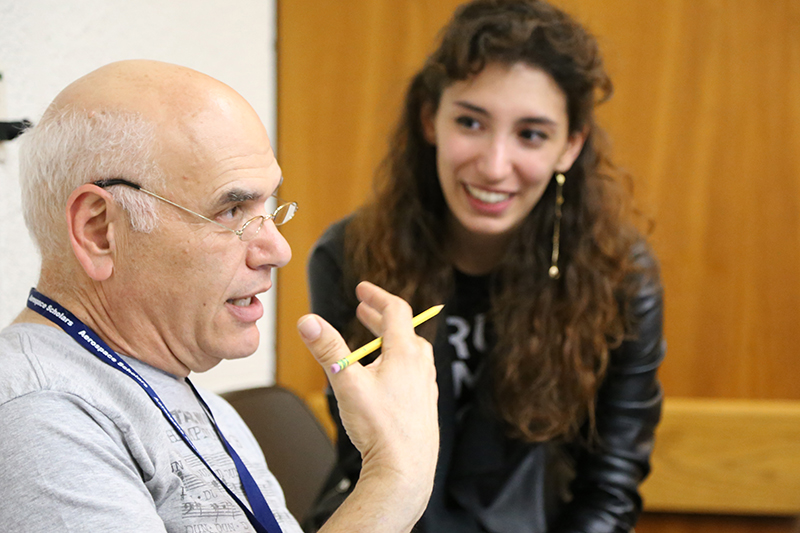 Image credit: NASA/JPL-Caltech/Lyle Tavernier
What do you do at JPL?
My career has been "bipolar." About half of the 36+ years I've been at JPL, I have worked on flight missions, from development to flight operations. The other half has been in education and public outreach. Both have been good for each other and for the projects I've worked on and the people I have interacted with.

How long have you been an NCAS mentor and what made you want to become one?
I have been a mentor for four or five sessions, starting in 2010 or 2011.

How would you describe your mentoring style?
For the competition, I help, encourage and suggest options. For the individuals on the team (and anyone else in earshot), I share experiences, suggest ways to successfully get into STEM as a career, and describe what we do as a human endeavor, including the anecdotes that prove it.

What are some of the challenges or obstacles your team has faced so far and how are you overcoming them?
There were not enough computers ready at the start of the design/build day. The Red Team agreed to wait for delivery of theirs, but that took much longer than expected, and it wasn't ready to use and needed technicians to get the software working as designed. This delay strongly affected the software team and limited their ability to make a more complete set of command routines. The software team built sufficient routines for the rock retrieval challenge by making maximum use of the software and technology available for the challenge. To their credit, they did this on their own.

What do you most want students to take away from their experience?
I want them to remember this as a taste of the real thing. I want them to realize that finding what THEY want to do (individually) is what they should aim for, and that they should aim high. They should come away knowing that space exploration, and each part of STEM, whether exploring space or not, is a wonderful, challenging, and joyous way to spend a lifetime.

---
2 p.m. - Networking Challenge
Students spent the morning touring the Space Flight Operations Facility, also known as mission control, and the Mars Yard, a simulated Mars terrain where engineers test maneuvers for the Curiosity rover.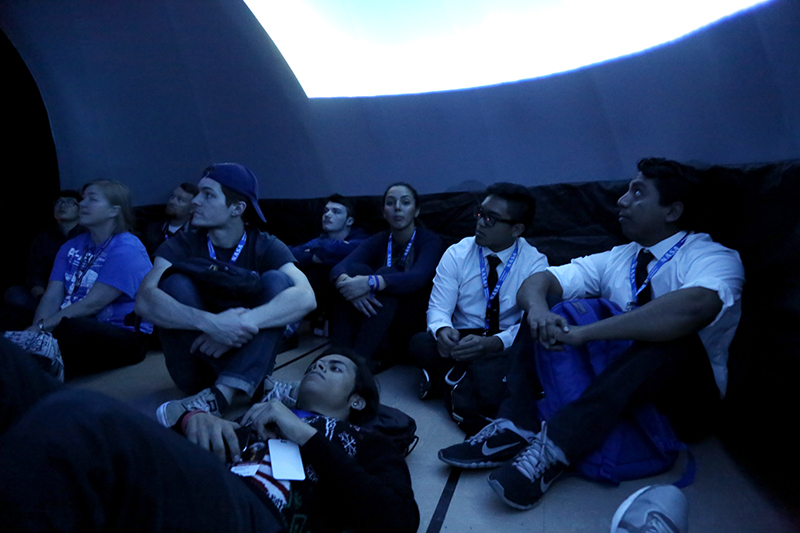 Students also saw a show in our educational inflatable planetarium. Image credit: NASA/JPL-Caltech/Lyle Tavernier
Then it was time to get up close and personal with the people of JPL during NCAS' first-ever Networking Challenge. Shannon Barger of JPL's Education Office came up with the idea for the challenge: "The best way to move forward [at JPL and in your career] is to get your name out there and have connections."
So, armed with questionnaires (that served as networking icebreakers of a sort) students caught up with JPLers as they were out in full: during lunch.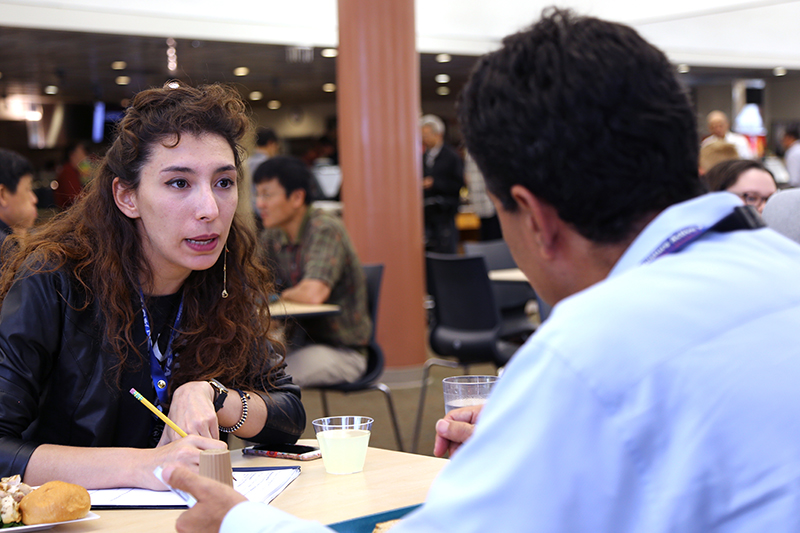 Students participated in NCAS' first-ever Networking Challenge. Image credit: NASA/JPL-Caltech/Lyle Tavernier
It turned out that JPLers were just as excited to talk to NCAS students as the students were to talk to JPLers. More than a few students were asked for their resumes and others left with promises to attend the presentations tomorrow. The students said they were impressed by the diversity of people and careers at JPL, which they learned can include such things as ripple effect engineering and planetary science.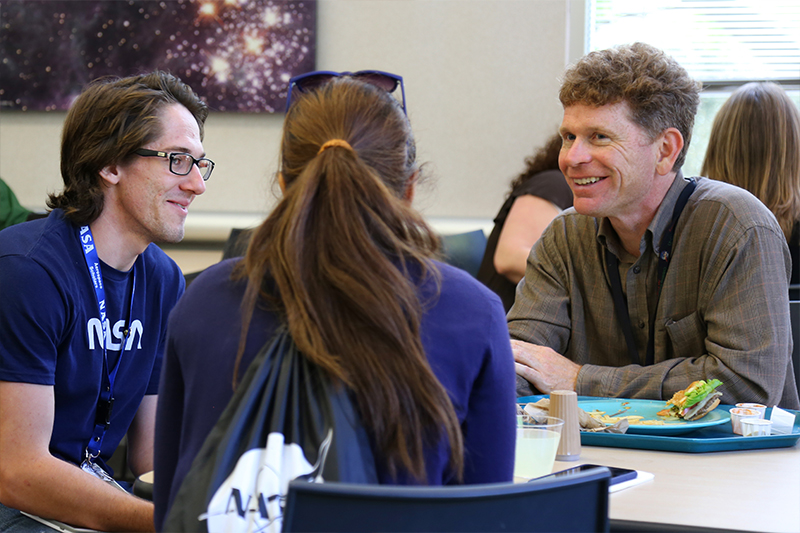 Students went from table to table at the JPL cafeteria during lunchtime to ask employees about their careers and what inspired them. Image credit: NASA/JPL-Caltech/Lyle Tavernier
"I love that you can go talk to anyone at JPL and they'll talk to you for an hour about what they do," said Scott Hall, a member of the Green Team who's studying mechanical engineering and physics at Ohlone College in Fremont, California.

Roslyn Soto and Eddie Gonzales, who manage the NCAS program for JPL, said they hope to make the challenge a regular part of the on-site experience.

---
Tuesday, April 12
---
9:35 p.m. – Mission One
After a full day of listening to inspirational speakers, building rovers, programming them and testing them, the teams were ready for their first mission. One by one, each team brought their rover to the mission site where they were given a two-minute trial run followed by one minute to make modifications to their rover. Once the modification window elapsed, teams had 10 minutes to command their rover to autonomously collect as many rock samples as possible.
Having completed the mission, teams retired for the evening, their scores to be calculated and added to the cumulative total at the end of the program.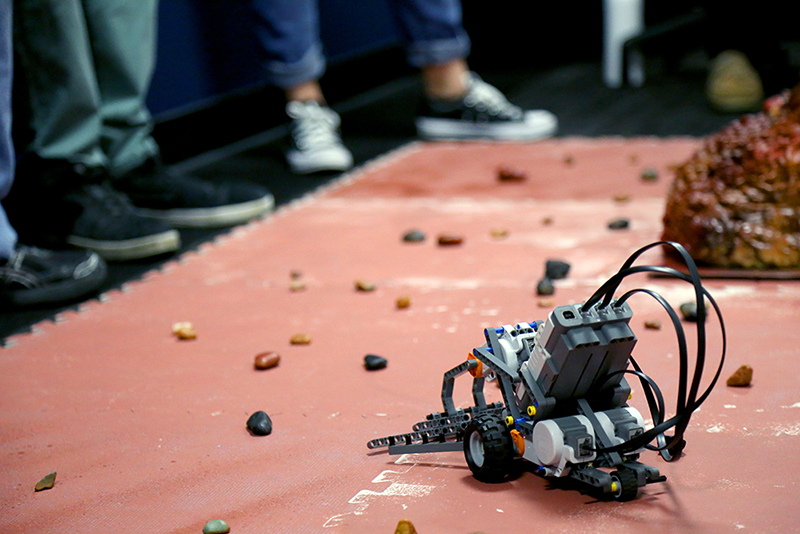 The gold team's rover collects rock samples during its 10-minute scored mission. Image credit: NASA/JPL-Caltech/Lyle Tavernier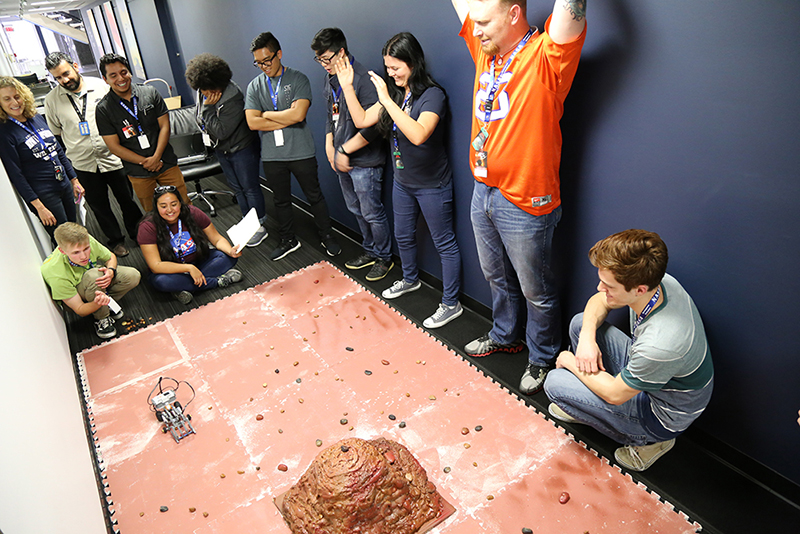 The green team cheers as their rover returns a rock sample to home base. Image credit: NASA/JPL-Caltech/Lyle Tavernier
---
5:45 p.m. – What's Your Strategy?

While each team has the same mission in mind, their approach and strategy can vary wildly. The team members' personalities and experience, their mentor and any challenges they face along the way all make an impact on the outcome of their final mission. Tonight, the teams will compete in their first mission, which involves programming their rovers to autonomously collect and transport rock samples on the simulated Mars terrain. As the teams learned earlier in the day from Mars rover engineer Rob Manning, it all comes down to the team with the most thorough design and testing – plus a bit of luck. We wondered what each team's strategy or motto is going into the challenge, so we asked them to describe it in five words or fewer. Here's what they said: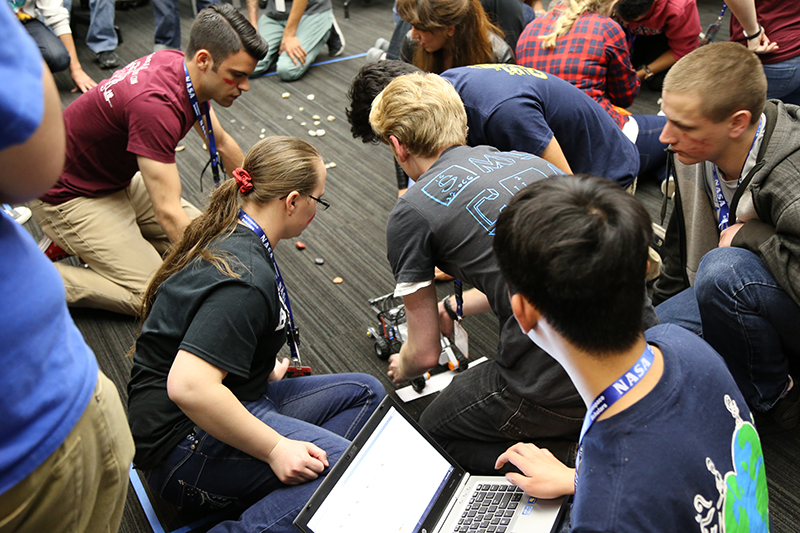 "Every action requires team heart"
– #RedTeam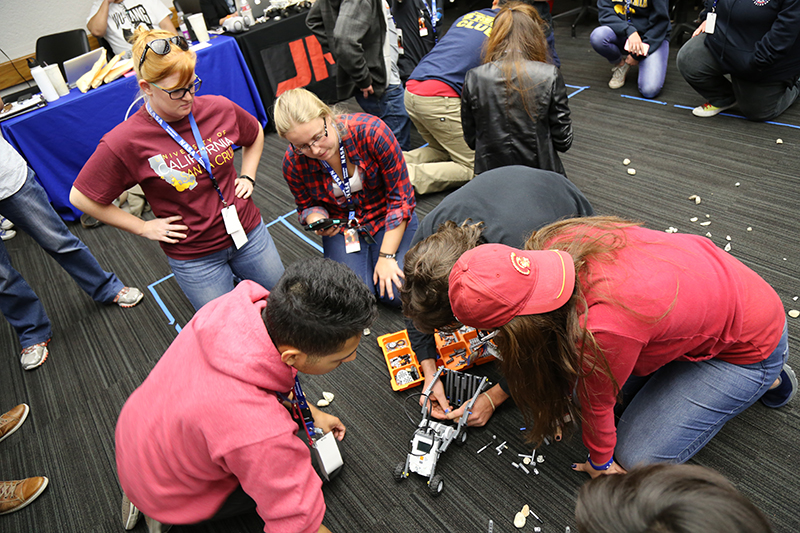 "Simple, efficient, applicable, logical science" – #BlueTeam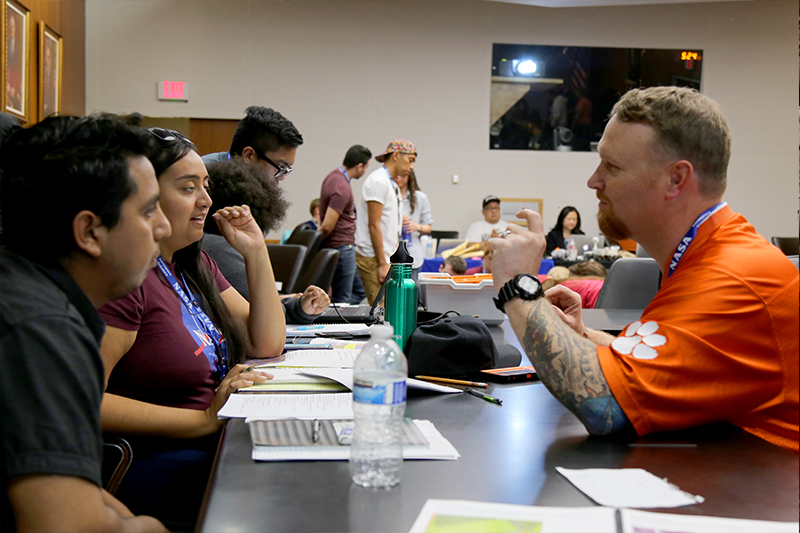 "Forward, drop, drag" – #GreenTeam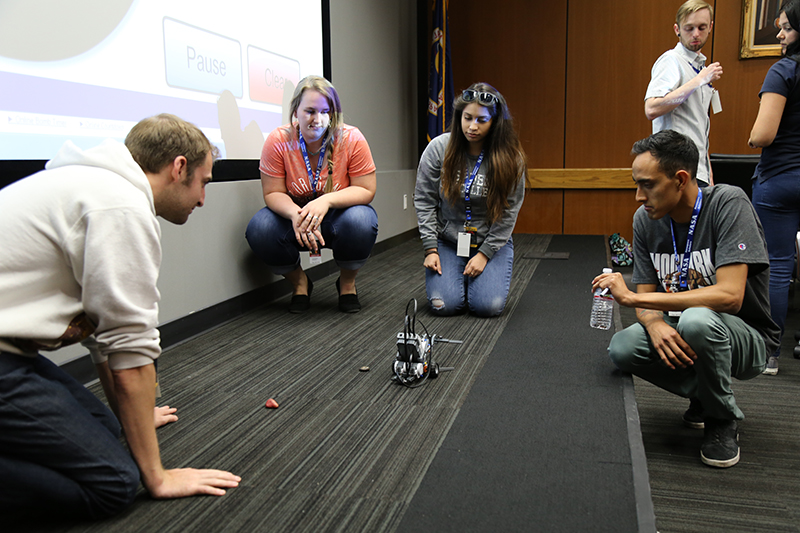 "Off-world specimen cache and retrieval" – #GoldTeam
Tell us which one is your favorite and wish them luck on Facebook and Twitter, using #NCAS2016 and the team hashtag.
---
3 p.m. – Their Mission, Should They Choose to Accept It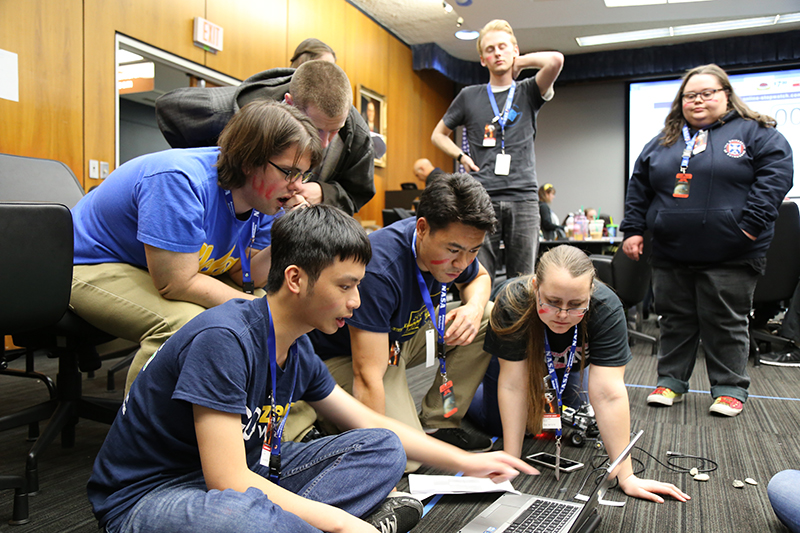 The red team gathers to discuss their mission. Image credit: NASA/JPL-Caltech/Lyle Tavernier
As soon as students arrived at JPL yesterday, they began working on what will be their mission for the next three days: building a working Mars rover prototype that can perform two separate missions on a simulated Mars terrain. The rover doesn't look like much. It's an amalgamation of LEGOs and a programming console. And the Mars terrain consists of red floor tiles with sand, colored rocks and a faux Olympus Mons. But despite the looks of it all, the challenge is just about as close as it gets to the real thing.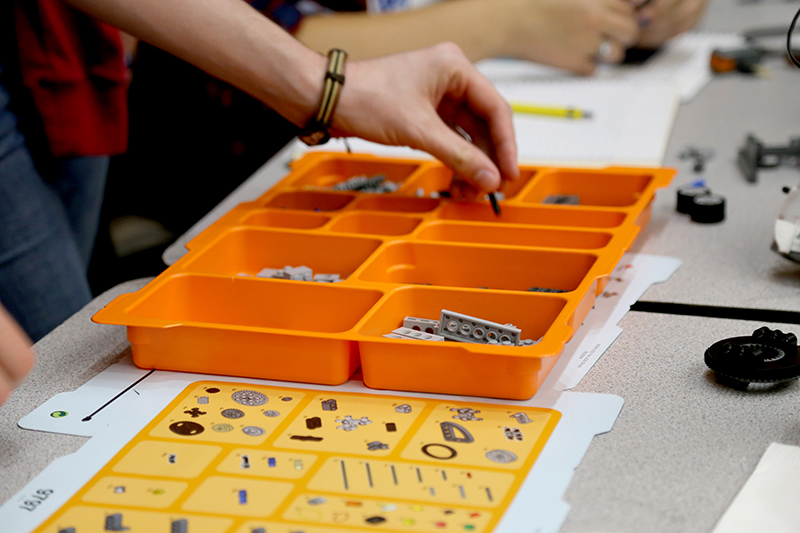 Teams must use parts from a LEGO Mindstorm kit to design and build their rovers. Image credit: NASA/JPL-Caltech/Lyle Tavernier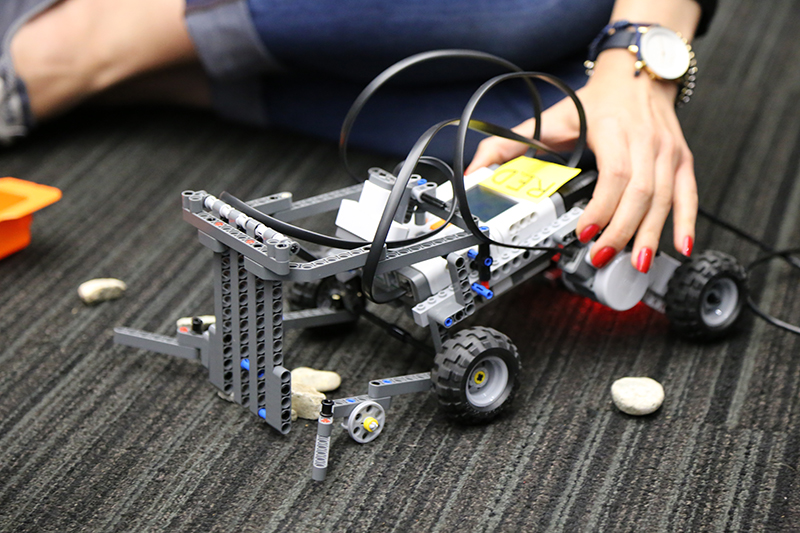 The rovers must be able to successfully complete two mission challenges: collecting and transporting samples, and retrieving and rescuing a stranded "Mars Buggy." Image credit: NASA/JPL-Caltech/Lyle Tavernier
The students are divided into four teams, each lead by a JPL mentor, and are assigned project roles such as project manager, software engineer, even marketing and communications manager. On Day One, teams are given a $600 million budget to build a rover that can successfully complete two missions: gather and transport sample rocks, and later rescue and retrieve a stranded "Mars Buggy." They then have to design and build their rovers using a LEGO Mindstorm kit with various parts that are each assigned a dollar value. They are allowed to purchase and sell parts from other teams, but they can't exceed their budget. Monetary fines and bonuses are given for things like losing equipment (fine) or asking good questions (bonus). Teams are also awarded money for performing successful maneuvers during their missions.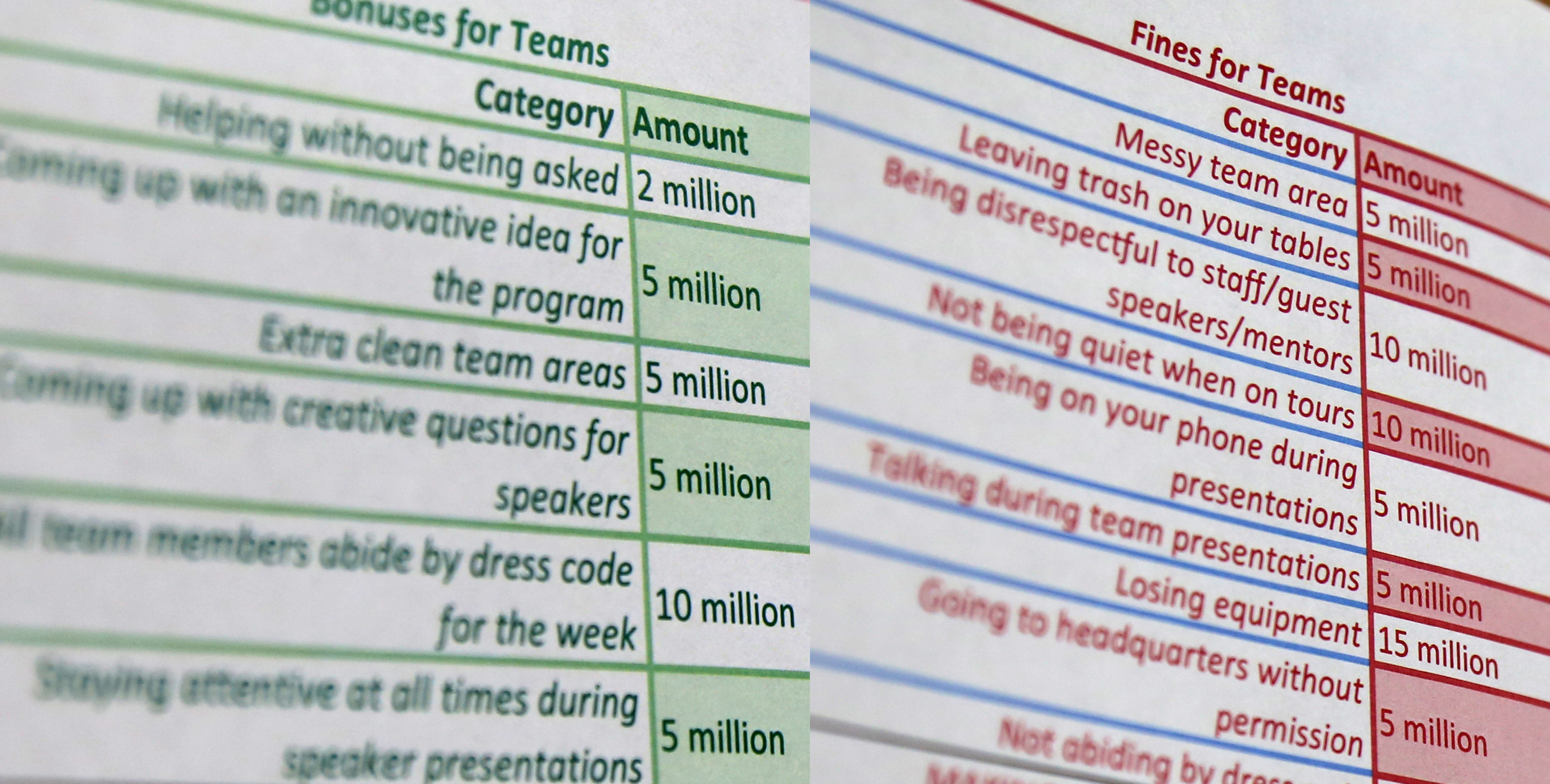 Students are given fines and bonuses that may help or detract from their overall mission budget of $600 million. Image credit: NASA/JPL-Caltech/Lyle Tavernier
On the final day of their experience, teams will make final presentations to a mock NASA mission selection panel, during which they will have to explain their rover's scientific objective and sell their design.
"We push them to take on roles outside of their comfort zones, to speak up and have their voice heard and to learn from each other," said Roslyn Soto, who along with Eddie Gonzales helps manage the program for JPL. "We want students to have a good understanding of the kind of teamwork that is required in engineering and other STEM fields and walk away with a better understanding of the research and career opportunities available to them."
---
12 p.m. – Lessons from a Career Mars Rover Engineer
Mars rover chief engineer Rob Manning gives a talk to students. Image credit: NASA/JPL-Caltech/Lyle Tavernier
The students took a break from building their rovers to hear a talk by Rob Manning, the chief engineer for the Mars Curiosity rover. Manning has been a Mars rover engineer since the Pathfinder mission of the 1990s, which landed Sojourner, the first rover ever on the Red Planet.

He shared his experiences designing and building rovers for NASA and how the process has evolved during his 35 years at the laboratory.
"Can you believe that JPL started building its first spacecraft the year I was born, 1958. These people were building spacecraft without the use of computers. Everything was done by hand. So if you wanted to design [a spacecraft], you had to draw out all the details on a piece of paper."
On building spacecraft for Mars, he said:
"What I like about building spacecraft for Mars is you can build it, design it, test it and launch it, and in seven months, it's on Mars. So the very same people who thought of it, can operate it."
Students used the opportunity to ask Manning about some of the more creative engineering solutions his teams have come up with over the years, such as the bounce landing used for the Spirit and Opportunity rovers.
"Back then people thought we were really goofy by doing that. 'So you're going to land how many times?' Imagine dropping your spaceship from 23 meters on another planet."
He stressed the importance of designing spacecraft with potential issues in mind, but said a lot of it comes down to luck.

"Sometimes you get lucky. And the trick is to design your systems so you think of these things. In many respects, what happens on the day of landing is out of our control. In some sense, the future has already happened because if it doesn't work, it's because of something we missed or we didn't test ahead of time."

---
11 a.m. – Welcome NCAS 2016 Students!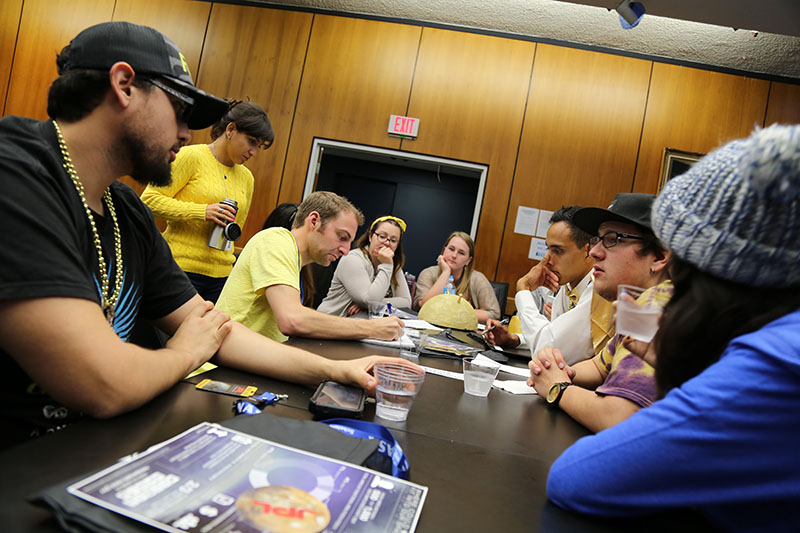 Forty community college students are participating in the Spring 2016 on-site experience at JPL as part of NASA's National Community College Aerospace Scholars program. Image credit: NASA/JPL-Caltech/Lyle Tavernier
Forty community college students descended on NASA's Jet Propulsion Laboratory yesterday for a four-day experience and engineering competition hosted by NASA's National Community College Aerospace Scholars, or NCAS, program. The program, which consists of a five-week online course, webinars with NASA scientists and engineers, a project planning a mission to Mars, and the opportunity to qualify for a four-day on-site experience at a NASA center, is designed to give community college students a window into science, technology, engineering and mathematics careers at NASA. Of the nearly 300 accepted for the online workshop, 120 are invited for an on-site experience at a NASA center.
This week JPL, Johnson Space Center, Armstrong Flight Research Center and Stennis Space Center are hosting 40 students each for the Spring 2016 on-site experience, during which student teams will compete to win a fictional mission contract for a future Mars rover. Teams must design and build their rovers using a LEGO Mindstorm kit, test them on a simulated Mars surface and finally sell their mission concept to a panel of NASA experts. Each of the four teams at JPL is guided by a laboratory engineer, who will mentor them throughout the competition.

Follow all the action this week here and on
Twitter using the hashtag #NCAS2016
.
TAGS: NCAS, Community College, Programs, Workshops, STEM, Robotics, Engineering

---
Earlier this week, we received this question from a fan on Facebook who wondered how many decimals of the mathematical constant pi (π) NASA-JPL scientists and engineers use when making calculations:
Does JPL only use 3.14 for its pi calculations? Or do you use more decimals like say: 3.141592653589793238462643383279502884197169399375105820974944592307816406286208998628034825342117067982148086513282306647093844609550582231725359408128481117450284102701938521105559644622948954930381964428810975665933446128475648233786783165271201909145648566923460348610454326648213393607260249141273724587006606315588174881520920962829254091715364367892590360
We posed this question to the director and chief engineer for NASA's Dawn mission, Marc Rayman. Here's what he said:
Thank you for your question! This isn't the first time I've heard a question like this. In fact, it was posed many years ago by a sixth-grade science and space enthusiast who was later fortunate enough to earn a doctorate in physics and become involved in space exploration. His name was Marc Rayman.

To start, let me answer your question directly. For JPL's highest accuracy calculations, which are for interplanetary navigation, we use 3.141592653589793. Let's look at this a little more closely to understand why we don't use more decimal places. I think we can even see that there are no physically realistic calculations scientists ever perform for which it is necessary to include nearly as many decimal points as you present. Consider these examples:

The most distant spacecraft from Earth is Voyager 1. It is about 12.5 billion miles away. Let's say we have a circle with a radius of exactly that size (or 25 billion miles in diameter) and we want to calculate the circumference, which is pi times the radius times 2. Using pi rounded to the 15th decimal, as I gave above, that comes out to a little more than 78 billion miles. We don't need to be concerned here with

exactly

what the value is (you can multiply it out if you like) but rather what the error in the value is by not using more digits of pi. In other words, by cutting pi off at the 15th decimal point, we would calculate a circumference for that circle that is very slightly off. It turns out that our calculated circumference of the 25 billion mile diameter circle would be wrong by 1.5 inches. Think about that. We have a circle more than 78 billion miles around, and our calculation of that distance would be off by perhaps less than the length of your little finger.


We can bring this down to home with our planet Earth. It is 7,926 miles in diameter at the equator. The circumference then is 24,900 miles. That's how far you would travel if you circumnavigated the globe (and didn't worry about hills, valleys, obstacles like buildings, rest stops, waves on the ocean, etc.). How far off would your odometer be if you used the limited version of pi above? It would be off by the size of a molecule. There are many different kinds of molecules, of course, so they span a wide range of sizes, but I hope this gives you an idea. Another way to view this is that your error by not using more digits of pi would be 10,000 times thinner than a hair!


Let's go to the largest size there is: the visible universe. The radius of the universe is about 46 billion light years. Now let me ask a different question: How many digits of pi would we need to calculate the circumference of a circle with a radius of 46 billion light years to an accuracy equal to the diameter of a hydrogen atom (the simplest atom)? The answer is that you would need 39 or 40 decimal places. If you think about how fantastically vast the universe is — truly far beyond what we can conceive, and certainly far, far, far beyond what you can see with your eyes even on the darkest, most beautiful, star-filled night — and think about how incredibly tiny a single atom is, you can see that we would not need to use many digits of pi to cover the entire range.
Read more from Marc Rayman on the Dawn Journal, where he writes monthly updates about the Dawn spacecraft currently exploring the dwarf planet Ceres to provide scientists with a window into the dawn of the solar system.
Can you use pi like a NASA scientist?
› Take the Pi in the Sky Challenge!
TAGS: Pi, Pi Day, Dawn, Voyager, Engineering, Science, Mathematics

---
More than 50 students from schools across Los Angeles County took their science experiments and engineering designs on the road on Tuesday for the opportunity to display their work during a science fair showcase at NASA's Jet Propulsion Laboratory in Pasadena, California.
Students as young as 11 filed into JPL's von Karman auditorium, eager to speak with professional scientists and engineers about their projects, which examined questions like: Could a solar oven be an effective cooking tool? How well does the human eye adjust to light? Is hagfish slime an efficient material for cleaning up oil spills? And how do different building bracing systems stand up in an earthquake?
JPL's chief scientist, Dan McCleese, who oversees the laboratory's research programs, met with students about their projects to offer feedback and encouragement.
"What you're working on today may end up being what you do for the rest of your life, and it's the greatest thing in the world," McCleese said during an opening address to the students. "When I was a freshman in high school, I started studying Mars, and I will admit I do that today."
David Seidel, manager of K-12 programs for JPL's Education Office, which organized the showcase, said it's statements like McCleese's that illustrate the value of science fairs for students.
"When students do a science project and they're properly mentored and they're doing real science, they're experiencing it. They're actually doing the science and engineering themselves and not just talking about it or following some sort of recipe," Seidel said. "So if you're looking for the next generation of scientists, let's get them in the habit of actually trying to do some science while they're still young."
While eighth-grader Sarah Garelick, 13, hasn't yet decided on her future career, her science fair project did give her the chance to investigate a personal interest.
"I was inspired by my dad," said Garelick, whose project looked at how the rate of glucose released into a pancreas would affect insulin levels. "He had his pancreas removed when I was little."
It was a similar motivation that drove sixth-grader Jeanie Benedict, 11, to create an elaborate evaporative cooling system for chinchillas -- a system she named "Chinchiller."
"Last summer during a Los Angeles heatwave, my pet chinchilla died of a heatstroke, so I wanted to create something that could have prevented it," said Benedict, whose project proved such a curiosity for passers-by that she barely had time to grab a slice of the free cake on offer to attendees.
"What stood out to me was the diversity of student projects that represented the diversity of student interests," said education specialist Ota Lutz, who created and starred in an online video series that walks students through the ins and outs of creating their own science fair projects. "Students do a lot of work to develop these science fair projects, so this event was a great opportunity for them to showcase their hard work and interact with professional scientists and engineers."
Enthusiasm for the event was so high that when participants, who had already presented their projects at the Los Angeles County Science Fair, were invited to register for the showcase, the available slots filled up within 24 hours.
"It was a big success," said Seidel. "I think it was eye-opening for a lot of the students and the chaperones to learn about the range of activities we have here at JPL and interact with people who are doing these things professionally."
For more events, activities and resources for students, provided by the JPL Education Office, visit http://www.jpl.nasa.gov/education/students/
The JPL Education Office provides formal and informal educators, parents and students with NASA science, technology, engineering and mathematics (STEM) content, including resources, classroom activities and internship opportunities.
TAGS: Science Fair, Science, Engineering, High School, Middle School

---
I'm trying to figure out exactly which decision it was that started me on the unlikely path to where I am now -- enjoying this remarkable summer internship at NASA's Jet Propulsion Laboratory in sunny Pasadena, California. Fourteen years ago, I decided to forego a college education in favor of moving to Austin, Texas, to become a rock star with my best friends from high school. That didn't pan out for us. But it was only after five years of being a dad, throwing and attending little kid birthday parties, and slogging through the daily grind of the uneducated man's perpetual life of toil and bills that I finally decided to give college a shot. Why?
The final straw came unexpectedly. In the summer of 2012, my wife, our three girls and I were in the middle of a family camping trip. I was finishing the final pages of a book on neuroscience entitled, "Free Will", when that became the culmination of a 12-year quest for meaning and direction in my life. I read the last words on the last page, and the sense of peace and purpose that I had been looking for settled upon me like a cloud of butterflies. I was 30 years old, and I knew what I wanted to do when I grew up! I wanted to help make the world a better place through science and discovery, through exploration of this beautiful planet and universe. Yup, that's probably the moment when my life began its inexorable crawl toward JPL.
The first step in achieving my goal of "net world-happiness increase" was to enroll at my local school for highly motivated nontraditional students: Tulsa Community College (TCC). Roughly a year and a half after that strategic victory, I learned of a limited number of TCC-funded summer internships to this place called JPL, which I had never heard of. I had heard of NASA though -- and I knew roughly where Mars was located -- so I made this internship my primary goal and spent nearly every spare moment planning and working toward it, in between school, work, and my family life.
In May of this year, I was selected as a JPL intern along with two other students from my class, never suspecting that such a profoundly worthwhile and transformative experience would ensue. In June, I began working with JPL microfluidics specialist and engineer Mike Lee in JPL's Non Destructive Evaluation and Advanced Actuators Lab and in the Microdevices Lab. I am helping with a project called the AstroBioNibbler. It's a conceptual spacecraft instrument whose goal is to detect minute biomarkers in regolith and extraplanetary rocks. We're not on a mission -- yet -- but that's what we're working toward.
The work here is rewarding and stimulating, the people are inspiring, the activities and talks are mind-blowing. I feel humbled and grateful to be lending my hands to something so huge and important as this: humanity's quest for knowledge of the cosmos. NASA and JPL's space program have become part of my identity now. I am sure that I'll never feel like Mars is quite as far away as I used to and that, whether I'm invited back next summer or not, I'll always be a JPLer at heart. But seriously, invite me back, please.
If you would like to follow Dallas' experiences throughout the summer as a JPL intern, check out his blog at: omnidimensionalcheesesandwich.wordpress.com.
TAGS: Engineering, Microdevices, AstroBioNibbler, Tulsa Community College

---
On my second "first day" as an intern at the Jet Propulsion Laboratory, I felt a very different kind of nervousness from my first internship, last summer. I still had butterflies, and I didn't know what my team would be like, but I also felt very comfortable with what I was about to encounter -- even the long daily commute from Orange County. As I sat through student orientation, I once again found myself thinking about how I got here, and I'm still in disbelief! Two years ago, I was sitting in my algebra class at Santa Ana College, a digital arts major, when I learned about my school's Bridge to Engineering Program (B2E). The rapid evolution of computers and the amazing things that technology makes possible have always astounded me. I love art, but I decided I wanted to use my artistic abilities to create something that was useful and innovative, as well as attractive. Through the B2E program, I saw the opportunity to choose a major that I originally thought would be too difficult to take on as a returning student (who had been away from school for over 10 years) a wife, and mother of two. So I changed my major to software engineering.

B2E provides a lot of support that will allow me to fulfill the math courses I require to transfer to a four-year-university as a software engineering major. And it was through B2E that I learned about the opportunity to apply for a robotics internship with JPL's Minority Student Programs in 2013 -- even though I was only starting my freshman year as a software engineering major. Last summer, my assignment was to help test an extreme-terrain rover prototype called Axel. With my team and my mentor, Issa Nesnas, I developed test plans for the rover; I designed and constructed dust barriers for its three on-board cameras (the cone-shaped barrier alleviated potential glitches with video transmissions); and, I helped conduct remote tests of the rover, driving it "blindly" (using only the rover's images and telemetry to direct it) down the hills above JPL.
Driving the Axel rover was one of the most exciting and at the same time nerve-wracking things I have ever done. Just imagine: You're only a freshman, this is your first internship, and your mentor says to you, "Here, drive this rover, worth thousands of dollars, blindly down the slopes and through the trees. Just make sure you don't break it." Pretty awesome, right? I must have done OK, because my internship was extended. It was one of the most rewarding, exciting and exhausting things I have ever done.
After I finished my internship, I confirmed that software was what I wanted to do. I also wanted to learn more about everything I did over the summer, so I took my first robotics class when I returned to school.

My experience at JPL was so incredible that without thinking about the long commute, I decided to apply again. And I feel very fortunate to be here two years in a row, just as excited as the first time, absorbing everything I possibly can from everyone I meet and everything I see. I'm in the robotics section again, this time working with quadrotors alongside my mentor, Roland Brockers. My teammates and I are producing materials for a research video and designing a graphical user interface (i.e., a way for humans to interact with a computer system) for micro air vehicle (MAV) control. My team's dynamic this year is very different than the last. It's a bigger group. All the guys are great. They are all very smart, and I'm learning a lot from them.

What I've learned during both of my internships is that there is nothing like hands-on experience. Practice is crucial to learning programming; and, team work and a good group dynamic are vital to a project's success.

I still walk around JPL in awe, but it feels more and more familiar every day. I am still in junior college and most of the interns I've met are either seniors or recent graduates from prestigious four-year universities. Some might think it would be intimidating, but I feel lucky to be surrounded by such intelligent people -- people who I can learn from. My experience as a summer intern here has only reinforced my desire to continue with my education and tackle any obstacles that the journey brings to one day have a job that I love -- one that challenges me and teaches me something new every day. I am grateful for the opportunity to participate in this unforgettable experience and for the support I receive from my family to fulfill this incredible dream. It is amazing knowing that my sons associate everything space related to their mommy. I love that.

Learn more about JPL internships and fellowships

TAGS: Student Stories, Bridge to Engineering, Engineering, Robotics, Internships & Fellowships, Santa Ana College, Women in STEM

---
NASA's Curiosity Mars rover this week completed its first Martian year -- 687 Earth days -- since landing in August 2012. Each day of the rover working on Mars requires several dozen rover team members completing tasks on Earth.
To celebrate reaching this longevity milestone, which had been set as one of the mission's goals from the start, the Curiosity team planned staffing a special day, with women fulfilling 76 out of 102 operational roles.
› Larger image
NASA's Curiosity Mars rover this week completed its first Martian year -- 687 Earth days -- since landing in August 2012. Each day of the rover working on Mars requires several dozen rover team members completing tasks on Earth.
To celebrate reaching this longevity milestone, which had been set as one of the mission's goals from the start, the Curiosity team planned staffing a special day, with women fulfilling 76 out of 102 operational roles.
"I see this as a chance to illustrate to girls and young women that there's not just a place for them in technical fields, but a wide range of jobs and disciplines that are part of the team needed for a project as exciting as a rover on Mars," said Colette Lohr, an engineer at NASA's Jet Propulsion Laboratory, Pasadena, California.
"There's no practical way any one person could learn all the disciplines needed for operating Curiosity," she said. "It takes a team and we rely on each other."
Disciplines range from soil science to software engineering, from chemistry to cartography, in duties ranging from assessing rover-temperature data freshly arriving from Mars to choosing where to point the rover's cameras. Descriptions of the roles, along with names and locations of the team members filling them today, are part of Curiosity Women's Day information available at:
Lohr's role today is strategic mission manager, which means she is responsible for review and approval of plans being developed and modified during the day for rover activities more than three or four days in the future.
She and most of the other engineers and managers on the team are at JPL in California. Today's team, not atypically, also includes members working in 11 other U.S. states, from Massachusetts to Montana, and four other nations: Canada, France, Russia and Spain. Each of the rover's 10 science instruments has people responsible for evaluating newly received data and planning to get more data. Other scientists participating in operations serve on theme groups that pull together information from multiple instruments and choose priorities for upcoming activities.
Curiosity Deputy Project Scientist Joy Crisp of JPL helped organize the special day and will fill the project scientist role, providing scientific leadership in the strategic planning process. She said, "The team has both scientists and engineers, but it's one team working together to accomplish the mission goals."
Each day's rover activities must be planned to fit within budgets of how much time, power and data-downlink capacity are available.
The operational roles fall into categories of tactical, supra-tactical and strategic, which focus, respectively, on the next day's rover activities, the activities two to five days ahead, and planning for weeks or months ahead.
"While some people are focused on today's plan for tomorrow, we need other people to be looking further ahead," Crisp said. "We wouldn't be able to plan complex activities for the rover if we started from scratch each day. We do a lot of work to get a head start on each day."
The operations team for Curiosity is larger than the operations teams for the previous generation of rovers, NASA's Mars Exploration Rovers Spirit and Opportunity. In an experience similar to Women's Curiosity Day, one day in February 2008, Spirit's tactical operations team of about 30 people was almost entirely women.
NASA's Mars Science Laboratory Project is using Curiosity to assess ancient habitable environments and major changes in Martian environmental conditions. JPL, a division of the California Institute of Technology in Pasadena, built the rover and manages the project for NASA's Science Mission Directorate in Washington.
For more information about Curiosity, visit:
http://www.jpl.nasa.gov/msl , http://www.nasa.gov/msl and http://mars.jpl.nasa.gov/msl/
You can follow the mission on Facebook and Twitter at:
http://www.facebook.com/marscuriosity
http://www.twitter.com/marscuriosity
TAGS: Women in STEM, Curiosity, Science, Engineering,

---
It's Moogega Cooper's second Nerd War and she's in uncharted territory. She's been picked to play "Shadow Raven" in a fantasy story line about a "dark cult trying to resurrect an elder god." It's not that she's unaccustomed to playing a hero of sorts. As a planetary protection engineer at NASA's Jet Propulsion Laboratory in Pasadena, Calif., her job is quite literally to protect our planet and others in the solar system. It's just that this isn't her particular brand of nerd-dom -- yet.
This summer, Cooper took a break from her day job at JPL analyzing contamination risks for distant spacecraft and testing the might of extreme organisms to spend a month entrenched in a world of nerd dancing, extreme gaming and superhero debates as part of King of the Nerds, a reality competition show airing Thursday nights on TBS.
"It's a show that gets 11 nerds from across this nerd spectrum, which includes 'cosplay,' the people who do costume play, people who like comic books, scientists and engineers," said Cooper.
The nerds are pitted against each other in Survivor-style challenges, called Nerd Wars, with uniquely geeky twists, all while dealing with the often larger challenge of living under the same roof: a Pasadena, Calif., mansion dubbed "Nerdvana."
Cooper, who in the episode airing tonight is one of five finalists, says of the show that it was a test not just in smarts but in pure mental stamina. By the time the Nerd War got to her expertise in physics, "one plus one did not equal two at that point," she said.
Each of the self-proclaimed nerds have their specialties - Ivan is a video game developer, Celeste is a gamer, Danielle is an internet star and Genevieve is a Batman fangirl -- that come into play through the various team challenges and especially in the drama in Nerdvana. Cooper (who said she would avoid the drama by sneaking off to do puzzles) gets her nerd chops from her background and work in astrophysics, which has fascinated her from an early age.
"The main thing that sparked my interest in science was Carl Sagan's Cosmos," said Cooper who also spent much of her young life in Hampton, Va., near NASA's Langley Research Center. "When we would go to the library, we would rent the videos. Because he had several, we would take one every week. And because of him and Stephen Hawking, I thought, I'm going to be an astrophysicist."
Cooper was quick to turn that thought into a reality, doubling up on high school classes during her summers so she could start her undergraduate work at Hampton University at the age of 16. She later scored a place at JPL as a NASA Harriett G. Jenkins Pre-doctoral Fellow studying the use of non-equilibrium plasmas for spacecraft sterilization.
Now, at 27, she's switched to what she jokingly calls "the dark side" -- that is, engineering -- and spends her days working on various projects that involve keeping chemical or biological elements from hitching a ride on spacecraft and contaminating our planet (on returning to Earth) and other planets.
"The coolest part of my job is just having a new task to work on all the time," said Cooper. "I mean there's the same umbrella goal, but it manifests itself in either the test bed here or looking at the chemistry of a sample when it interacts with spacecraft hardware or playing with bacteria and seeing if we can kill it."
So while she's certainly got nerd cred, she also has one of the coolest jobs around. The question is whether she can survive the extreme environment of a house of nerds.
"It's kind of like moving back home, where you know there are people that you have to live with and you can't really escape," said Cooper. "There were times when the personalities didn't quite mesh together completely but because we eventually got to learn about each other and what makes us the way we are, everybody was just family."

TAGS: King of the Nerds, TV, Engineering, Science, Planetary Protection, Women in STEM

---
There are certain people in life that exude such enthusiasm and passion, that you are helpless to escape their tractor beam of positivity. This summer, during my second internship at NASA's Jet Propulsion Laboratory in Pasadena, Calif., I was fortunate enough to meet and befriend just that kind of person. Todd Barber has such passion and talent for exploring and doing what humans do best: pushing the boundaries of what humankind is capable of. As the lead propulsion engineer for the Cassini spacecraft, he was at the controls for the tricky insertion of the spacecraft into Saturn's orbit and recently was at the helm for the cruise stage of the Mars Science Laboratory's Curiosity rover during its "seven minutes of terror" descent through the Martian atmosphere. As if that's not interesting enough, during his free time, he goes on math-based adventures, inspires students through NASA outreach activities and plays in at least two jazz bands. I caught up with Todd just days before he helped successfully land NASA's Curiosity rover on Mars to learn a bit about his path to success and how he inspires others.
How did you get to be the lead propulsion engineer for Cassini, one of my personal favorite missions?
"I started here 22 years ago. Often when they bring you in, they put you on mission operations, flying something, because you get to interface with all the other sub-system engineers and what they do, including thermal, power, communications, propulsion, essentially a boot camp. I started at JPL on the Galileo mission, doing mission ops. I loved mission ops so much, and I had a penchant for ops work. I think I'm a planetary science geek. The Voyager missions are what grabbed me. My way to contribute to planetary science is by being a propulsion engineer. I didn't know what missions I'd work on after Galileo, and luckily a Cassini engineer moved on. Six months before launch, they sought me out, and I've been on Cassini ever since. I get to work on other missions part-time, including the Mars Exploration Rovers, Deep Impact and a Mars airplane study."
"The Cassini job opened up, and my mentor, Dick Cowley, was the lead propulsion engineer at the time, but near retirement. He worked on Apollo -- the F1 engine -- so this guy was the propulsion guru. I picked his brain every day until he retired, and then one day, he said, 'I think it's time we make you the lead propulsion engineer.' This was a couple years before Saturn orbit insertion, and I had the privilege of presenting to the review boards, getting barbecued at the flight reviews. But all went smoothly and we had a marvelous orbit insertion, and now the Cassini spacecraft is still sending amazing images and data home every day. I like to say that if everything goes well, I'll be 51 years old after these missions and wonder what I'll do when I grow up, because I've been having so much fun on these outer planet missions!"
What exactly does a lead propulsion engineer for Cassini do?
"I am responsible for the health and safety of the propulsion system. We are like 'space plumbers.' All the engines, regulators, tanks, valves, we are responsible for all these systems. The Cassini propulsion system is the most complex propulsion system ever flown by JPL. It's a plumber's nightmare! My job also includes figuring out the gas mileage of the spacecraft -- bean counting the propellant, if you will -- and that is getting very important now as our monopropellant gas tank on the spacecraft is half full. (I'm an optimist.)"
What happens to Cassini when it runs out of its propellant?
"At the end of the mission, we will cross inside Saturn's rings, getting views and pictures we've never seen before, and then go out in a blaze of glory. On September 15, 2017, Cassini will be crushed and vaporized by Saturn's atmosphere."
Why not save the spacecraft?
"Actually, it's for astrobiological reasons. We would never want to accidently crash the spacecraft into Enceladus or Titan, two of Saturn's moons, and possibly contaminate them. Even though it's hard to imagine 'hearty spores' could have hitched a ride on the spacecraft from Earth that are just waiting for liquid water, we would never want that to happen before we can answer the most fundamental question, 'Did indigenous life start on its own?' It's called 'forward planetary protection.' The opposite is true as well, which is called 'backward planetary protection,' where if you bring things back to Earth from other planets, you would never want to bring back something that could wipe out humanity. We want to be as careful as we can."
Do you have to dodge asteroid belts, space junk, etc.?
"Yes. We have to worry about Saturn's ring plane, made up of dust and small particles. The rings are very thin, like a phonograph record, but huge across. There's a ton of dust and particles that make up the rings, and sometimes we have to turn the spacecraft around with the antenna facing forward, which acts as a giant dust shield. The dust can damage the engines, so we built a dust cover similar to a baby stroller sun shield that folds down. We've had to use it 70 times on the mission, and the engine is still working great! Our engine has a wonderful heritage, as it was the same reaction control thruster that carried Neil Armstrong and Buzz Aldrin on Apollo!"
Where do you think we should explore next?
"Well, I love the outer planets, I would love to work a Neptune orbiter and would love to go to Saturn's moons Titan and Enceladus, or Jupiter's moon Europa. There are very complex propulsion trajectories to get there, but the payoff could be huge!"
Were you an intern before you worked here at JPL?
"No, I was not. I actually interviewed here three times and got turned down twice. The third time was a charm. After getting turned down the first time after getting my undergrad in aerospace engineering, I went back and got my masters in aerospace engineering at MIT, and then I got my dream job. I remember the summer of my 8th grade year, I saw a National Geographic with the Voyager spacecraft flying by Jupiter and Saturn and was hooked. I said, 'I have to work there at JPL!'"
I know that you are very involved with NASA's educational outreach and are constantly inspiring and trying to get kids involved with NASA and JPL. What do you feel is the most vital thing we need to tell young people today to get them inspired?
"Well, I think the most vital thing is showing them that math and science are cool. Math and science are not generally thought of as cool, but when you see math and science in action at NASA, it's the coolest -- especially during our missions such as the Mars Science Laboratory. For the U.S. to stay competitive, I think we really need to focus on new innovation, for that's what made this country great!"
"I've had strange hobbies that have helped me apply math and science. One of my hobbies is 'confluence hunting,' basically geeks with GPS devices trying to find and visit integer (whole counting numbers) latitude and longitude intersections [across the globe]. There are 850 confluence points in the continental United States, and I visited 17 of the last 50. They gave me the nickname 'The Closer' on the website."
Do you think innovation is a learned trait, or something people are just naturally good at?
"I'm here because of great teachers. I'm the first to sing the praises of teachers who got me fired me up about math and science. I went to public schools and got really lucky that my teachers were world class and fired up on math and science, and I'm still in touch with them. They follow all my missions and tell the kids that I was once a former student of theirs and to shoot for the stars."
"I had two dreams as a kid, to work for NASA, and to compose music. I'm so happy that they both came true, and I feel like I have an explorer's spirit, and need to share that with others."
Speaking of music, I hear that you are in a Jazz band called "The Big Band Theory," and that you have a minor from MIT in music? Well, I play the classical violin, and I was wondering if we could jam sometime?
"Haha, absolutely! I'm in two bands, The Big Band Theory and The Jazz Propulsion Band, and I'm always playing music. Let's make that happen!"
TAGS: Todd Barber, Propulsion, Engineering, Cassini, Math

---
Each summer, NASA's Planetary Science Summer School program brings a team of distinguished postdocs and graduate students to the laboratory to learn what its like to design a space mission. Watch how the talented team puts together a mission concept in just five days.