When 'Intern Life' Means Studying How Life Got Started on Earth
Erika Flores might be the longest-serving intern at NASA's Jet Propulsion Laboratory. As a high-school student, she helped test the arm for the Phoenix Mars Lander, which launched about a year later, in 2007. When she returned in 2014 as an undergraduate intern, she joined a team of JPL scientists studying how life began on Earth. A chemical engineering student at Cal Poly at the time, Flores helped the team with one of its early breakthroughs, producing amino acids, which are central to life processes, under conditions found on early Earth. Now known as the "senior intern," Flores has been an integral part of the team ever since. Meanwhile, she's earned a bachelor's degree, was accepted to graduate school for environmental science and started writing her master's thesis. She also recently picked up a part-time gig helping the Mars 2020 rover team keep the spacecraft – which is being built at JPL – clear of microbes that could hitch a ride to the Red Planet. We caught up with Flores to ask what she plans to do next, how her internships have shaped her career path and, as she says with a laugh, how they've changed her personality.
You've had five or six JPL internships, dating back to when you were in high school. How did you first come to the Lab, and what's brought you back all these years?
My very first internship was when I was a high school student going from my junior to my senior year. I think one of my teachers recommended I apply to SHIP, the Summer High School Internship Program, at JPL, and I got the internship. When I came in, it was a little overwhelming. I was 16. I still wasn't exactly sure what I wanted to major in, but I got matched with a mentor who was an electrical engineer, doing some robotics testing on the arm for the Phoenix Mars Lander. So that was really exciting when I heard afterward that they were sending Phoenix to Mars. That's definitely what – I wouldn't say piqued my interest because I was already into space, but it was like, "OK, I want to come back here."
I went off to community college, and after I transferred to Cal Poly to get my bachelor's degree in chemical engineering, I applied [for a JPL internship]. I started working with Laurie Barge in JPL's Astrobiology Lab, doing experiments on the origins of life. We started with research on early Earth conditions because our experiments have to reflect Earth before life as we know it existed. From there, we did a couple of experiments using iron mineral, or iron hydroxide, which is pretty basic and you can find it in nature. Then we adjusted the conditions. So we adjusted the pH to what it would be in early Earth – concentrations that you would find in the ocean floor. Using previous experiments and previous literature, we did an experiment to see if we could produce amino acids – so organics – based off of these reactions that could have been happening on early Earth. And our experiment was successful. We made alanine, which is an amino acid, and lactate, which is an alpha hydroxy acid. We use them for different properties in our body. So we expanded on the experiment, tried different conditions. Now we have a science paper in review. And that all lead to some other internships that are also related to the origins of life.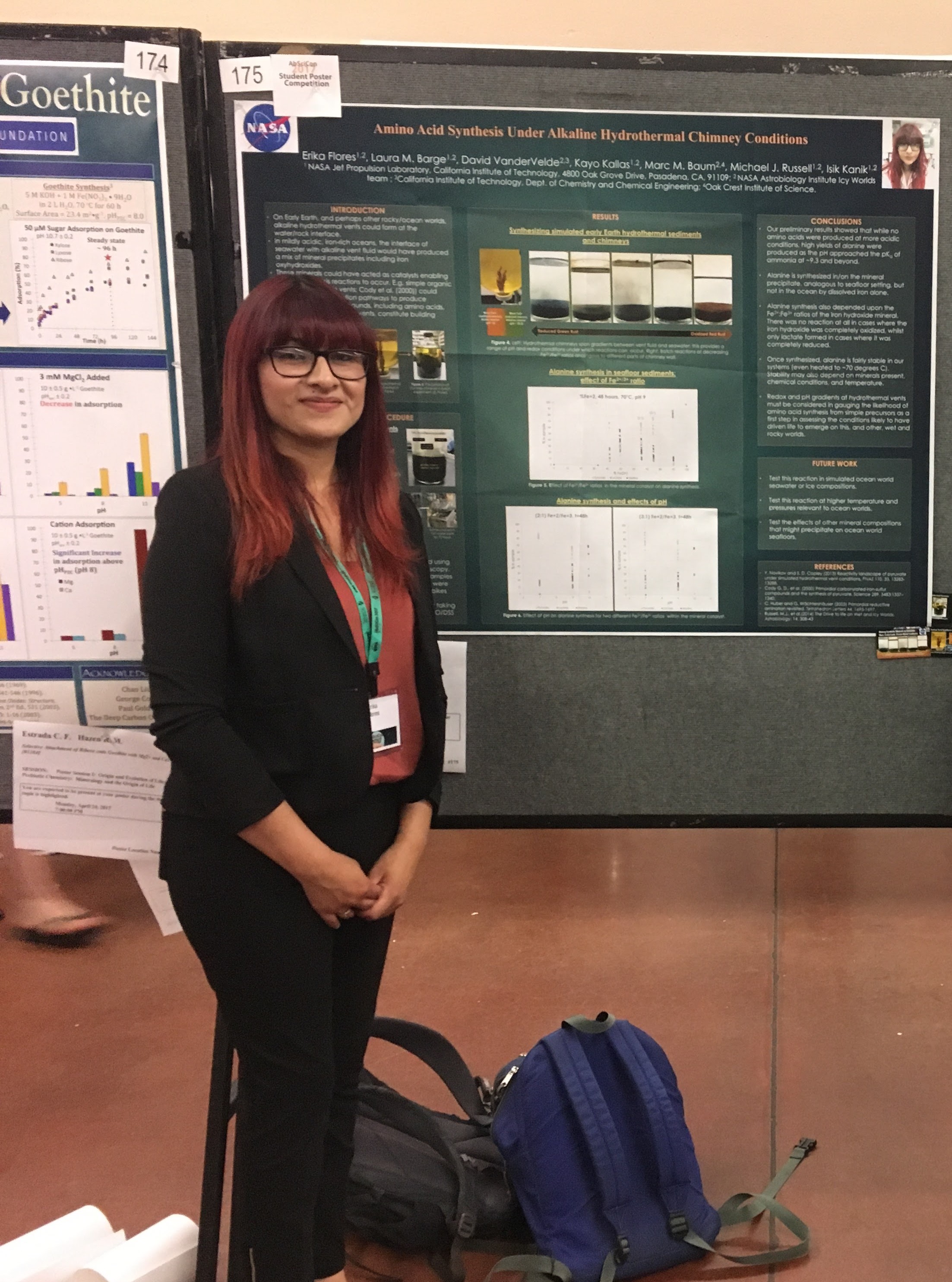 Once I graduated, I wasn't able to qualify for an internship anymore. So Laurie hired me as a contractor. I was a lab technician, working part-time while I decided to go back to school. Once I got my acceptance letter to grad school, I was able to return again as an intern. Now I'm referred to as the "senior intern." So we get new interns during the summer or some throughout the year, and I train them, show them around, things like that, which is also pretty great because like they say, you learn more by teaching others.
What are you hoping to do once you graduate?
Since I will be graduating next year, Laurie, who is such a great mentor, has been pushing me to go talk to people and go network. She talked to one of our old postdocs, who happened to be looking for an intern. So just this September, I was converted to an academic part-time employee, which has really allowed me to branch out. Now I'm part-time with Laurie and part-time working with the Mars 2020 contamination control team, handling samples, cataloging them and dropping them off for analysis. The Contamination Control Group determines cleaning methods and the allowable amount of microbial and particulate contamination for spacecraft so that they don't bring those contaminants to the places that they visit. For the Mars 2020 rover, this is an especially crucial step because it will be collecting samples that could potentially be returned to Earth one day. I kind of get to see what's going on behind the scenes of the mission, which an intern normally would not get the chance to do, so it's been a really rewarding experience.
Hopefully, when I graduate, I'll land a full-time job at JPL. Working with Laurie is great, and I feel like she would want to keep me here, but from talking to people higher up, they say if you want to be in the Science Division, you need a Ph.D., and I'm still debating whether I want to do a Ph.D. Perhaps I will in the future, but right now, I'm finishing up my master's thesis and my goal is just to get a full-time job. I find JPL to be so exciting regardless of what you're doing, so at this point, I don't care what it is. It'll still be part of a bigger picture. But it would be great if I could continue with the Mars 2020 mission as an engineer. Since I've lived in LA, I've always known of JPL. So I think this has always been my ultimate goal.
How have your various JPL internships influenced the evolution of your career path?
I started with chemical engineering [as an undergrad], but then I realized a lot of people in my field were going into the oil industry. I was like, "I kinda wanna save the planet, do environmental stuff." I only graduated three years ago, but even then, I didn't hear much about environmental science or environmental engineering as a major, so it wasn't really an option.
The reason why Laurie chose me as her intern was because of my chemistry background, which is pretty awesome because even though I studied engineering, I saw myself doing more lab work. Being here in the lab with Laurie has been amazing. It has solidified my thoughts that "Yes, this is what I want to do." I definitely like doing experiments, taking samples, running analyses and then inputting the data.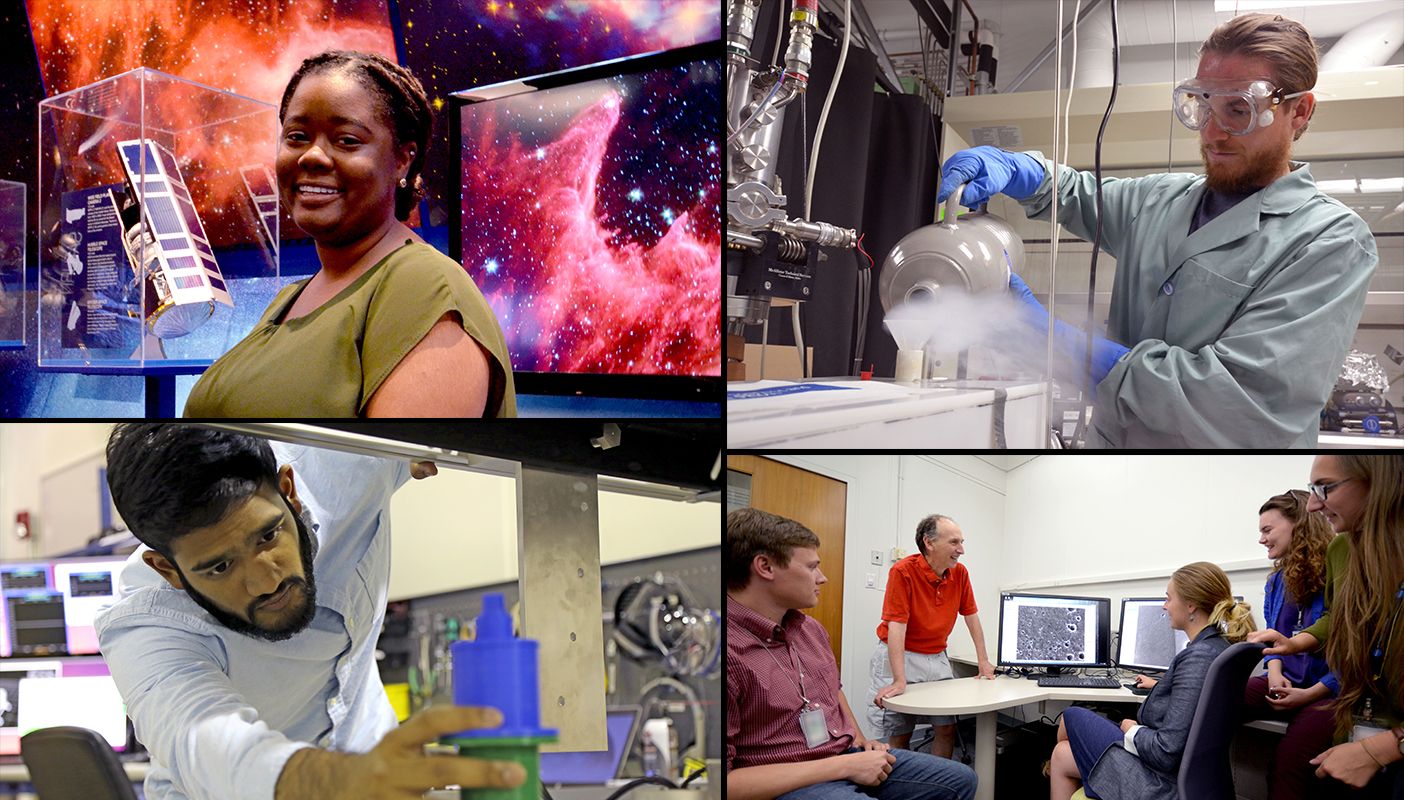 Meet JPL Interns
Read stories from interns pushing the boundaries of space exploration and science at the leading center for robotic exploration of the solar system.
[Before going to grad school], I started turning to a lot of the talks here, because I was like, "OK, maybe I could be more involved with astronomy, astrobiology – things like that." But I felt that a lot of the talks were over my head. But then when I would attend some talks that had to do with climate change or, for example, the new ECOSTRESS [Earth science mission], I was captivated and interested. So it confirmed that I want to stick to the environmental side. That's why, for my master's, I went into environmental science with an option in engineering.
What got you interested in science and engineering initially?
I've always really liked math, but I knew I couldn't just do a math major. I knew I wanted to do more. Growing up, my favorite types of movies were sci-fi, and I was definitely into outer space and astronomy. Knowing how things work was always a curiosity. Trying to know the unknown was what really drew me into science. And then for engineering, I just couldn't decide. I wanted to learn a little bit of everything. The whole reason why I chose engineering was that I couldn't choose one specific subject. With engineering, you need your math, your physics, you need your chemistry, you need some biology, depending on what kind of engineering you go into, but it encompasses everything.
Is anyone in your family involved in engineering or science?
No. I'm actually the middle child of five. My mom came here from Mexico. So we're all first-generation. But I was the first one to even graduate high school. My little brother is in college, and I'm pushing him, because I see my other brother, who is working overnight and overtime and always tired, and it's obviously something he didn't think he was going to end up doing. Also, my mom came here and she struggled a lot, and she's still struggling. As sad as it sounds, I don't want that to be me. So I had to push through. Luckily for me, I was always into school, so it wasn't that hard to keep going.
Going back to the research that you're doing, what's the ultimate goal, and what might it mean for the search for life beyond Earth?
So most of my experiments don't have to do with other planetary systems; they're more focused on Earth and the origins of life here. But we could take some of this knowledge and apply it to other planets. Our research is figuring out what happened here, first, and then applying it to other places. Our ultimate goal is to explore processes for the origin of life.
How do you feel you're contributing to NASA/JPL missions and science?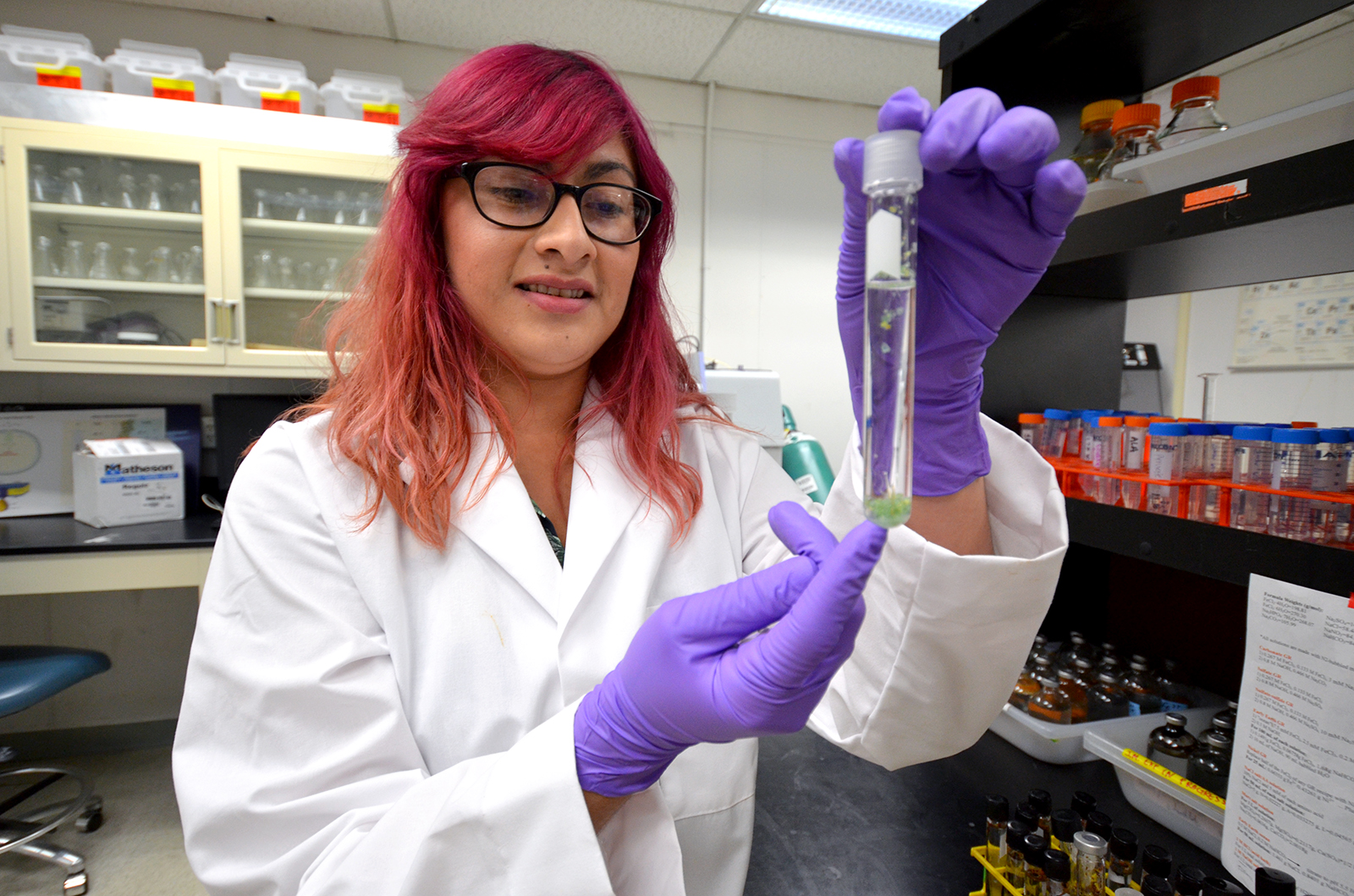 Even if you do the smallest task, it still has to be done. Someone has to take these samples to get analyzed, someone has to drop these things off. But, personally, working with Laurie Barge and the origins of life, I feel like I've contributed a lot. We have one paper in review, and we're doing more experiments. Our research has implications for other celestial bodies, so I'm excited for us to learn more about Mars and Saturn's moon Enceladus so we can adjust our experiment to represent their environments. I have also been helping interns with their experiments. I don't think you can disregard anything you do here. I think everything is important, and you're always learning and teaching others. Whenever I meet students, I'm always saying, "Make sure you apply to JPL." It's a wonderful opportunity. I consider myself so lucky to still be here after all these years.
What's the most unique NASA or JPL experience you've had while you've been here?
Recently, my mentor has been hosting science happy hours. At school, it's not like you just go out and drink with your professor. [Laughs.] But the whole point of it was for her to introduce us to other people who are working in the science department. So going to these happy hours gives us a chance to talk and see what everyone is working on. It's all about collaborating. So, to me, that has been a bit of a unique experience.
Also, going to conferences. I've gone to maybe four or five. Meeting these people from all over the world is definitely a unique experience. It's crazy how we're all kind of working toward the same goal. Before I used to be very shy, more introverted, but meeting people from all over the world and knowing their stories and their background and how much we have in common, despite where we live, has gotten me to be more open. So that's helped me out in the whole networking aspect of things, which is very, very important when you're trying to get a job.
I really think this internship changed my personality. [Laughs.] I really do.
Last question, and it's a fun one: If you could travel to any place in space, where would you go and what would you do there?
With the possibility of seeing humans on Mars within my lifetime, I have joked with my friends that I would love to die on Mars. But I wouldn't want to limit myself. So if possible, at an older age, I would keep traveling through space, passing by every celestial body imaginable. That would be an astonishing and beautiful sight. Once I felt like I had witnessed it all, I would travel straight into a black hole to witness what no one else ever has, the unknown.
---
Explore JPL's summer and year-round internship programs and apply at: https://www.jpl.nasa.gov/edu/intern
The laboratory's STEM internship and fellowship programs are managed by the JPL Education Office. Extending the NASA Office of Education's reach, JPL Education seeks to create the next generation of scientists, engineers, technologists and space explorers by supporting educators and bringing the excitement of NASA missions and science to learners of all ages.
TAGS: Women in STEM, Internships, Higher Education, College, STEM, Science, Engineering, Mars 2020, Hispanic Heritage Month, Women at NASA