---
You've probably heard about some of the fascinating missions and science happening at NASA, but wouldn't it be great if you could see it in person? You can!
Every day, hundreds of museums, planetariums, observatories, libraries and other institutions participating in NASA's Museum Alliance offer exhibits, planetarium shows and events featuring NASA science, technology and engineering. As the school year comes to a close, you can keep students – and learners of all ages – engaged by visiting your local informal education institutions. So make May the month you plan your next museum adventure and support organizations that bring the inspiration of NASA to you! Not sure where to start? Use the Museum Alliance's "Map of Members" to find destinations near you or explore the dynamic "Events Near Me" map, which lets you search by date to find the latest offerings.
For example, this month you could check out the new exhibits Out of this World: A Space Adventure at The Living Arts & Science Center in Lexington, Kentucky, or the Discover NASA traveling exhibition at the Auburn Public Library in Maine. You could experience "Intergalactic: A Space Odyssey" in the digital dome theater of Mid-America Science Museum in Hot Springs, Arkansas. Or, also this month, join the fun in California at the San Diego Air & Space Museum's Space Day 2016, or sign up for the New Mexico Museum of Space History's Rocketeer Academy summer camps.
Every year, more visits are made to U.S. museums – more than 850 million – than to all major sporting events and theme parks combined. Americans love their museums - get out there and see why!
At a museum, science center, library, camp or other informal education institution? Learn how you can join the more than 700 organizations participating in NASA's Museum Alliance, here.
TAGS: International Museum Day, Museums, Events, NASA, JPL, STEM, Informal Education,

---
Thursday, April 14
---
3 p.m. - Firsts and Thanks ... Until Next Time

Once the group photos were taken and the rovers dismantled, students gathered in the conference room where they had spent most of the last four days. Where rover parts, notebooks and laptops once stood, now it was just 40 suitcases laying in wait for the return home. But the experience wouldn't end until awards and several rounds of thanks were given to the organizers, mentors and students who made the experience possible – and as program coordinators Roslyn Soto and Eddie Gonzales were sure to point out, contributed to a number of firsts for the National Community College Aerospace Scholars program.
The networking challenge and planetarium show were among some of the firsts. As was the first female majority among the team's project managers (three of four were women) as well as the number of women participating in the on-site experience overall.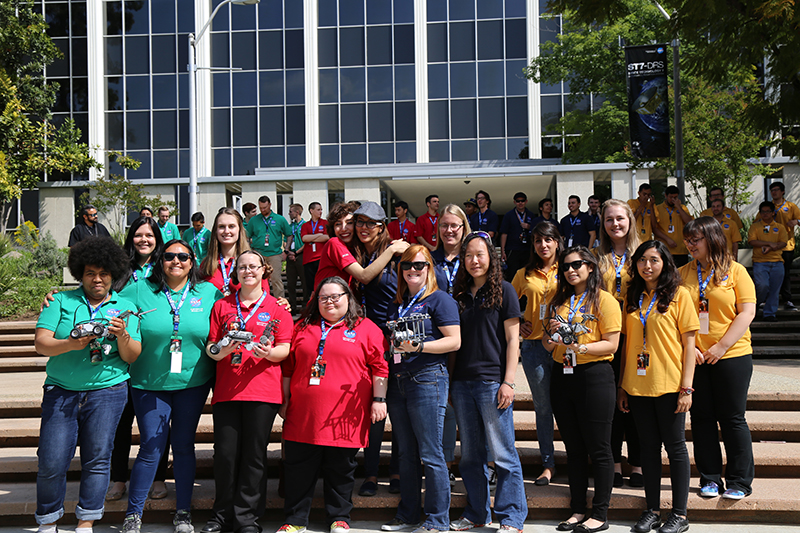 The women of NCAS Spring 2016 pose for a photo with their teams' rovers. Image credit: NASA/JPL-Caltech/Kim Orr
By the time the winning team was announced, the students were so full with congratulations that they seemed to have almost forgotten there was a winning team at all. But it didn't dull the Blue Team's celebration when, without further ado, they were announced as the winners by (another first) the smallest margin ever.

The Blue Team celebrates their win (left) along with their mentor Amelia Quon (right). Image credit: NASA/JPL-Caltech/Kim Orr
Soto and Gonzales said the level of teamwork – even between teams – was one of the biggest standouts of this session of NCAS and urged future teams to take note.
"The collaboration between teams was a thing of beauty," said Gonzales. "It felt more like one huge team versus four individual teams. They helped each other in every facet of the competition and were graceful and showed incredible sportsmanship like I've never witnessed before."
With round after round of applause and standing ovations for Soto and Gonzales, the students, mentors and program coordinators said their final goodbyes, and by 2 p.m., the once hectic conference room was dark and quite … that is until the next crop of hopeful students arrives this fall.
> Learn more about NCAS and apply for the Fall 2016 session
> See a collection of photos from the Spring 2016 session
> Explore all the internship and fellowship programs at JPL and apply

---
10 a.m. - The Final Challenge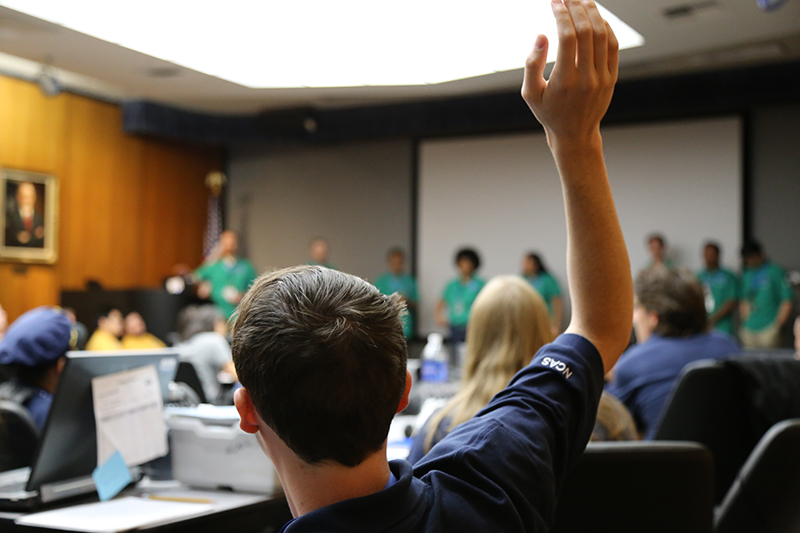 Image credit: NASA/JPL-Caltech/Kim Orr
Today, on the fourth and final day of the NCAS on-site experience, students had one more challenge before the scores were tallied. They had five minutes to make a presentation to a mock "NASA Headquarters panel" about why their rover mission should be green-lighted. Channeling their inner Steve Jobs, the teams used music, videos, lighting and of course their rovers to make their case.
The Gold Team impressed with their marketing video that used two LEGO figurines (borrowed from their mentor) to tell a story about two people on a quest to add a rover to their family.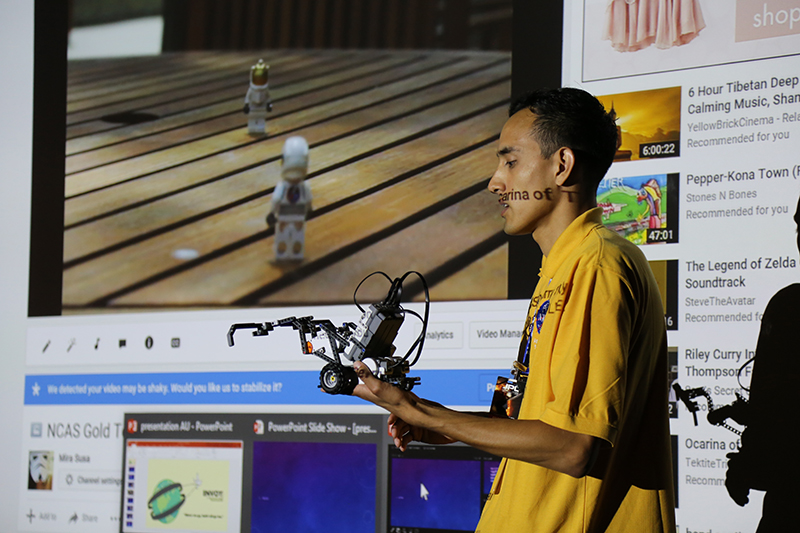 Image credit: NASA/JPL-Caltech/Kim Orr
The Red Team started their presentation with a dance and later presented "scholarship certificates" from their reserved education budget to the JPL Education Office staff and other NCAS helpers.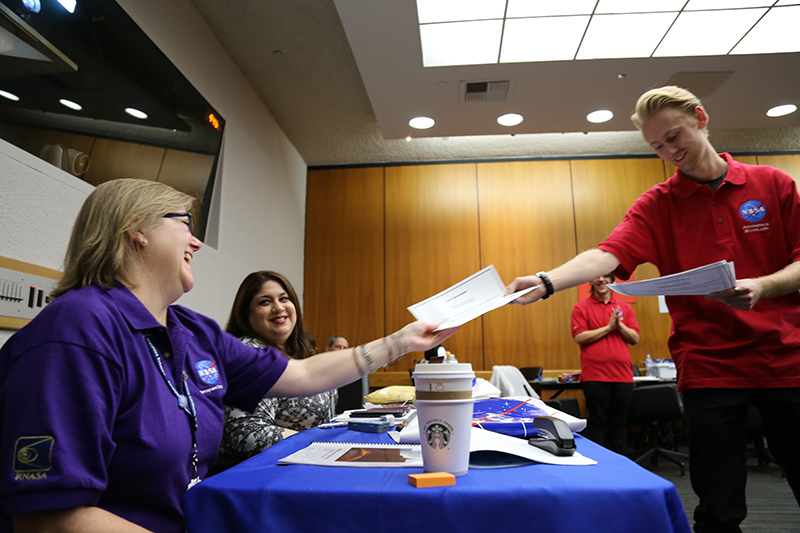 Image credit: NASA/JPL-Caltech/Kim Orr
The Blue Team got laughs for a slide on their mission objectives, which was introduced by audio of Lakers basketball star Kobe Bryant saying, "Success on success on success."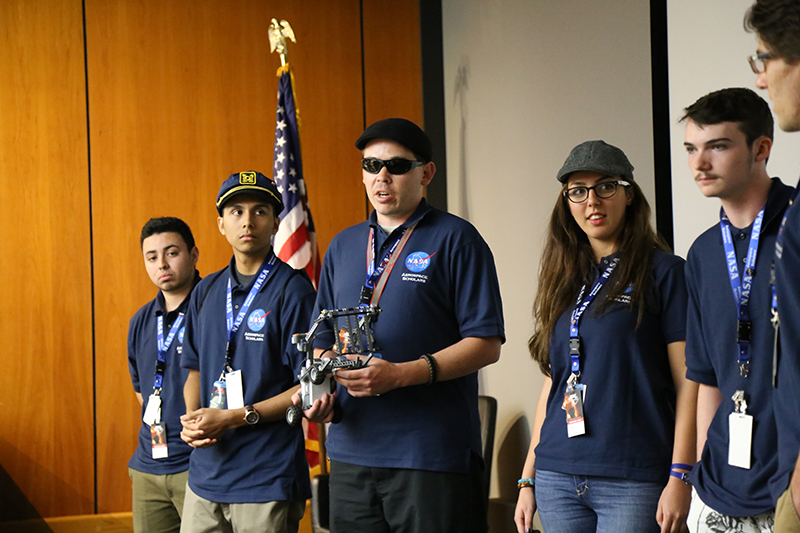 Image credit: NASA/JPL-Caltech/Kim Orr
And the Green Team, which took the either coveted or dreaded task of being first to present, showcased their teamwork by sharing the stage to present the various facets of their mission.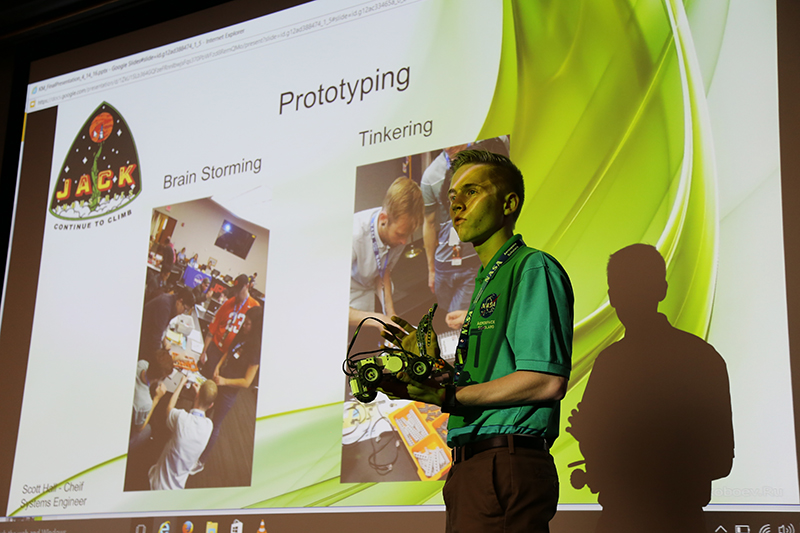 Image credit: NASA/JPL-Caltech/Kim Orr
When presentations were over, it was time for the customary group photos and then perhaps the hardest part of the on-site experience: dismantling the rovers and packing up.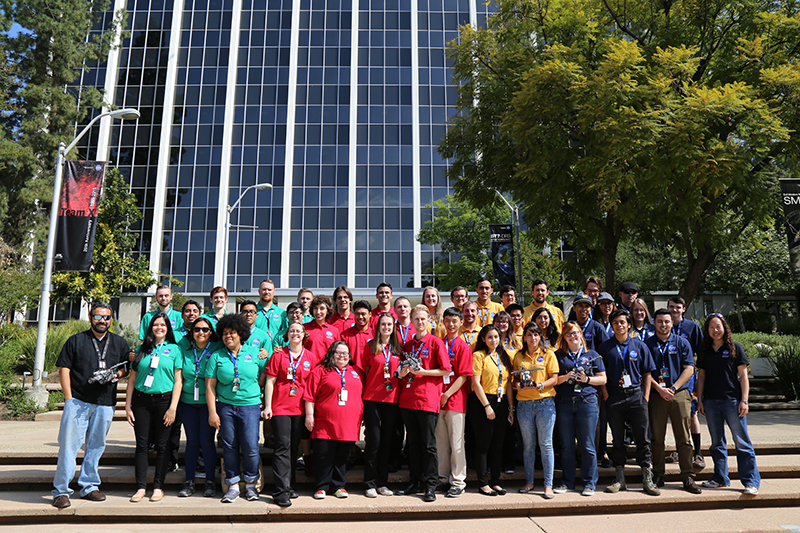 Image credit: NASA/JPL-Caltech/Kim Orr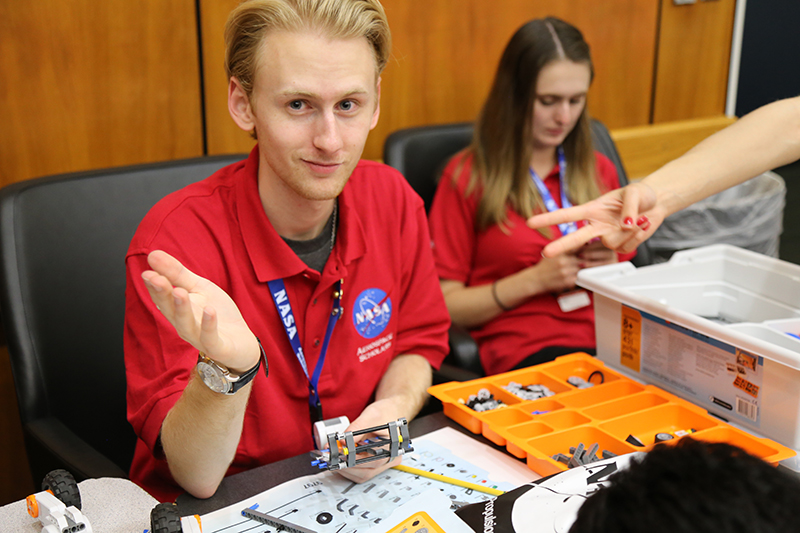 Image credit: NASA/JPL-Caltech/Kim Orr
---
Wednesday, April 13
---
6:30 p.m. - Mission Two
It's less than an hour away from the second and final mission for the teams' rovers. Tonight, the rovers must autonomously retrieve and rescue a stranded "Mars Buggy" from the simulated Mars surface. While the challenge involves a different set of commands and even changes in the design of the rovers, the lessons students learned from last night's mission are ever present. We asked the teams to share the single biggest lesson they're taking into tonight's challenge:
"If we try our best, we can succeed." – #GreenTeam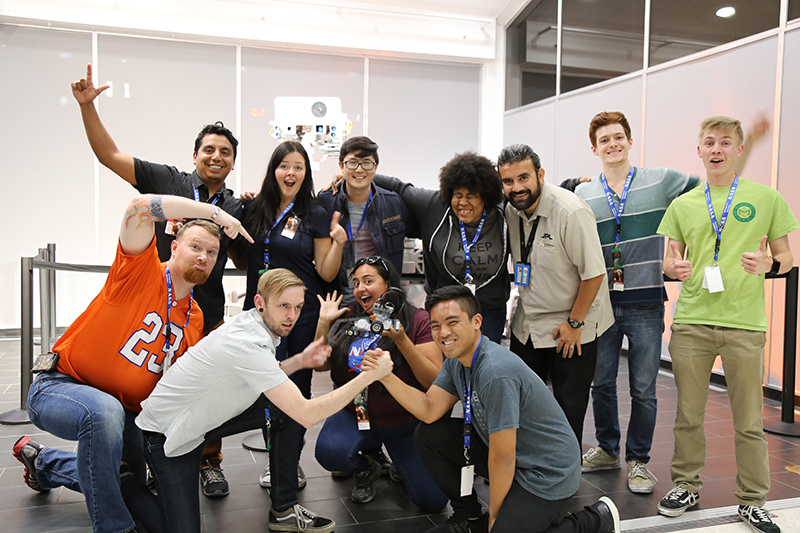 Image credit: NASA/JPL-Caltech/Lyle Tavernier
"Simplicity and planning are key." – #BlueTeam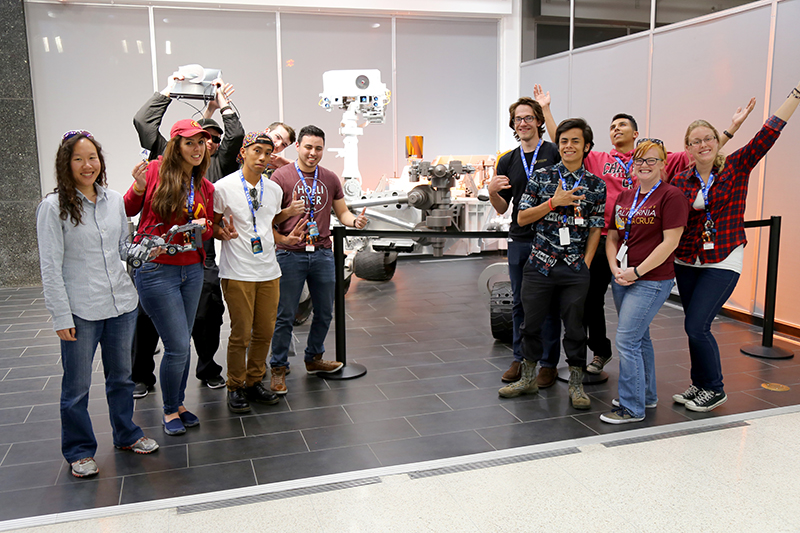 Image credit: NASA/JPL-Caltech/Lyle Tavernier
"No matter how much we plan for every scenario, at the end of the day, it's inevitable that mistakes will come up. As a team, we learned to push forward through the doubts and frustrations. For tonight, we will use this lesson to enhance our troubleshooting." – #GoldTeam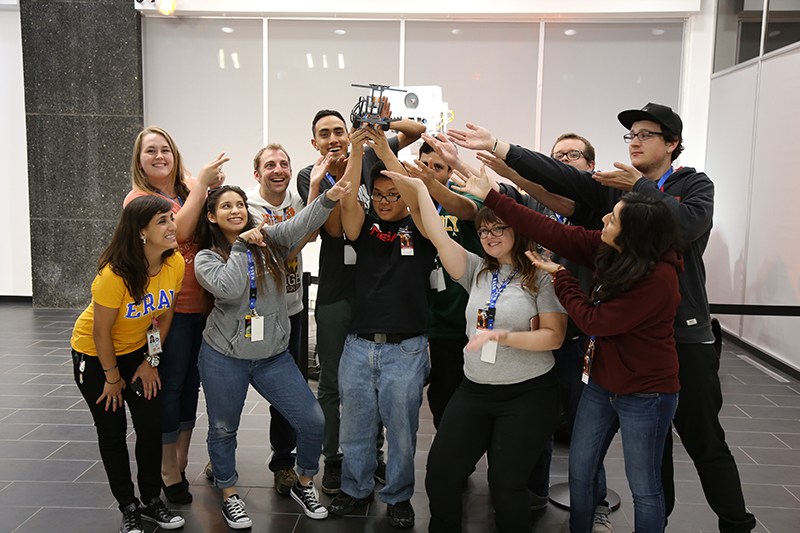 Image credit: NASA/JPL-Caltech/Lyle Tavernier
"We must embrace the unexpected difficulties" – #RedTeam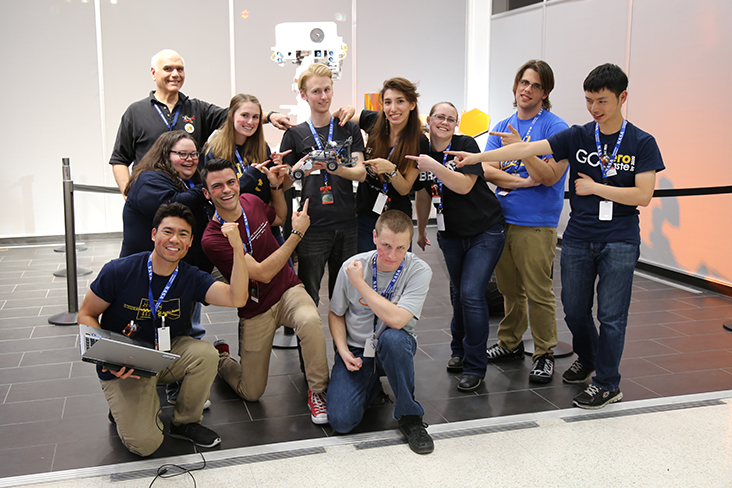 Image credit: NASA/JPL-Caltech/Lyle Tavernier
---
5:30 p.m. – Meet the Mentors
Each NCAS team works with a mentor who helps guide students with not just the mission at hand, but also their career missions. With four fully packed days of activities and challenges, it can be a big time commitment – especially since mentors are scientists and engineers themselves, and have their own missions and projects competing for their attention. But as we found out when we caught up with the mentors for this session, it's well worth the hectic four days.

Amelia Quon - #BlueTeam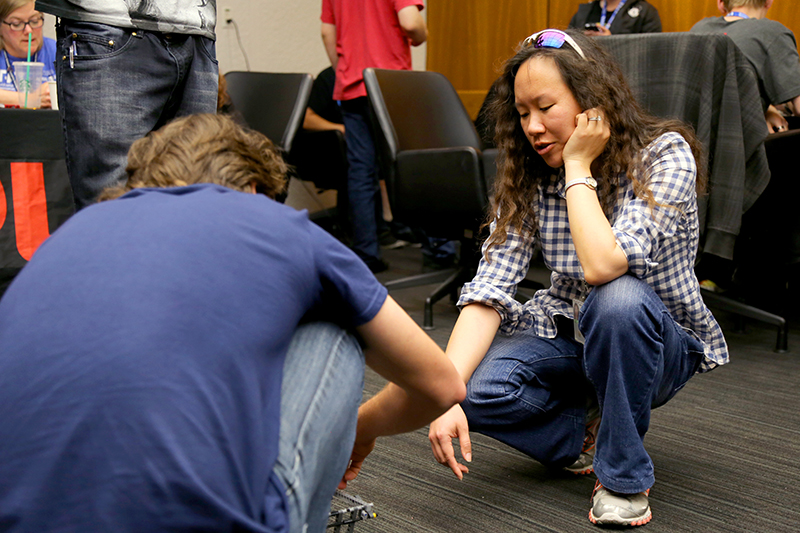 Image credit: NASA/JPL-Caltech/Lyle Tavernier
What do you do at JPL?
I am a mechanical integration engineer. My group builds the tools used to assemble and test spacecraft, as well as helping with the assembly and testing process. I'm currently working on a thermal-vacuum test where we're using the 25-ft space simulator to mimic Martian atmospheric pressure, which is less than 1 percent of sea level atmospheric pressure on Earth.

How long have you been an NCAS mentor and what made you want to become one?
I've been an NCAS mentor since 2012. I enjoy helping the students gain confidence in their problem-solving skills as they work through the (rock and rover retrieval) missions. I participated in NASA's High School Aerospace Scholars program as a high school student and had a great experience, so it's nice to be able to support the program and help create similarly positive memories for the students.

How would you describe your mentoring style?
As a mentor, I try to clarify the parameters of the (rock and rover retrieval) missions for the students. I help them develop strategies for programming and building their rovers, and ask questions to encourage them to reason through problems they encounter.

What are some of the challenges or obstacles your team has faced so far and how are you overcoming them?
While testing their rover, my team discovered that many of the rocks they picked up were falling out of their basket. They went through several iterations of building and testing new designs before they came up with a design that performed as intended.

What do you most want students to take away from their experience?
I want them to realize that everyone on an engineering team is integral to the team's success, and that setbacks and challenges can be overcome.

Luz Martinez Sierra - #GoldTeam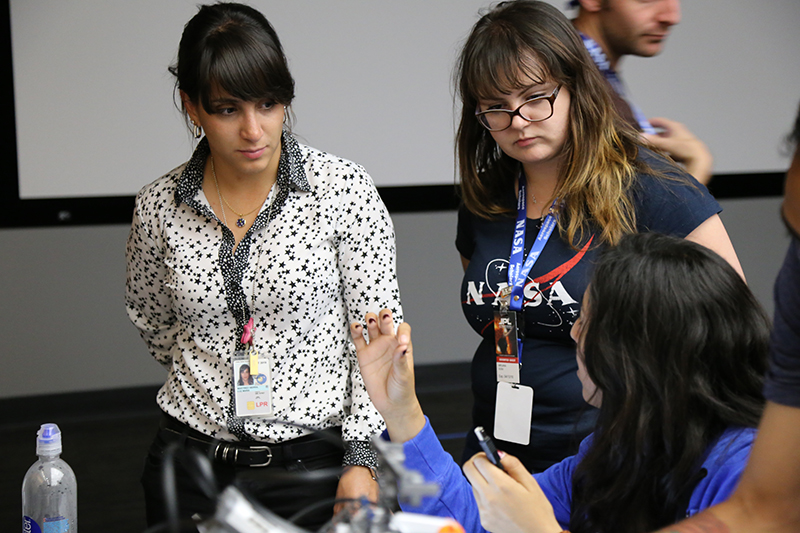 Image credit: NASA/JPL-Caltech/Lyle Tavernier
What do you do at JPL?
I am in the Natural Space Environments group. We are in charge of defining the radiation and debris environment that the spacecraft will encounter in space. This is very important to evaluate the risks so the designer and engineers can take the necessary measurements to avoid any failure. I am also involved with the nuclear physics instruments that are used to determine the composition of other planetary bodies or to better understand the radiation environments in space. I am also a part-time Nuclear Engineering Ph.D student at Texas A&M. I am trying to finish my Ph.D while still being a full-time employee at JPL.
How long have you been an NCAS mentor and what made you want to become one?
This is the first time I've been involved with NCAS, and I am loving it.

How would you describe your mentoring style?
I think I can relate with the young student quite easily. I have a younger sister, and I have done mentorships in the past. I like to get to know students and make a safe environment for them to ask me questions and to not be afraid of participation. I like to show them a strong attitude without making them scared of me. I want them to feel like they are in a collaborative atmosphere. I don't have all the answers, but I am there to guide them in finding the answers.

What are some of the challenges or obstacles your team has faced so far and how are you overcoming them?
We had a rough start with issues regarding the division of the work. There was not a clear line between who was in charge of what, and they were focusing in one task instead of approaching it at different angles. We talked, and I encouraged the project manager to assign responsibilities and to try to make sure they still communicate with the team promptly.

What do you most want students to take away from their experience?
I want them to feel comfortable with their career, and show them that it is possible to achieve their dreams. Also I want them to realize how much can be accomplished in a few days, and make them confident of their capabilities. I want to see them succeed in life and in a professional way. They are wonderful young adults ready to take the challenge. They just need to hear it and believe it.

Otto Polanco - #GreenTeam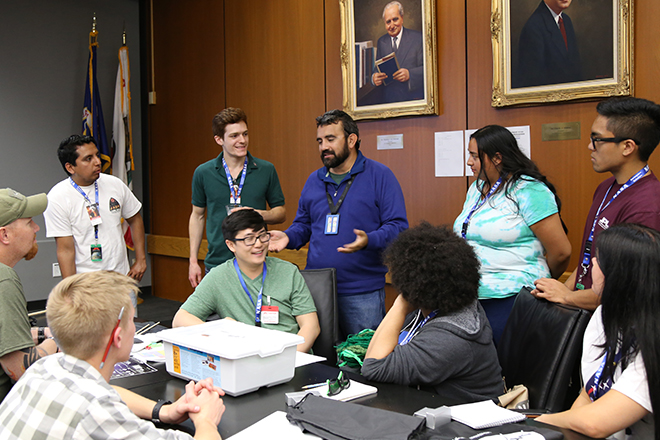 Image credit: NASA/JPL-Caltech/Lyle Tavernier
What do you do at JPL?
I am a mechanical engineer in the payload development group. I work with engineers across different disciplines to develop instruments and complete system payloads for various customers that come to JPL for this type of development.
How long have you been an NCAS mentor and what made you want to become one?
Since the beginning. Five years now. Wow. Already. Simple. When I was in High school, Dr. Jeff Martin, a principal for LAUSD, provided guidance on what college life was all about, how to be successful, and how to prepare for a career. Unfortunately, Dr. Martin passed away from cancer a year and a half later, but my time with him was invaluable, as he opened my eyes to the possibilities of what my future could be.
How would you describe your mentoring style?
Aggressive and hopeful, like Dr. Martin, but with a twist. No excuses. Failure is an option, but NO Quitting is permitted. I'm encouraging and pass on words of wisdom and lessons learned since my start as an intern here at JPL.
What are some of the challenges or obstacles your team has faced so far and how are you overcoming them?
Organization, laptop and programming the rover. They got organized by coming together as a team with a single leader and co-leader. Programming was done with paper and pen, then executed flawlessly when a laptop became available through great communication and team work. They have asked for help when they got stuck and/or looked bewildered. They are nervous, but they work hard and smile.
What do you most want students to take away from their experience?
Blow by the sky limit and reach for the stars. Do not place limits on what you and your future will accomplish.
Steve Edberg - #RedTeam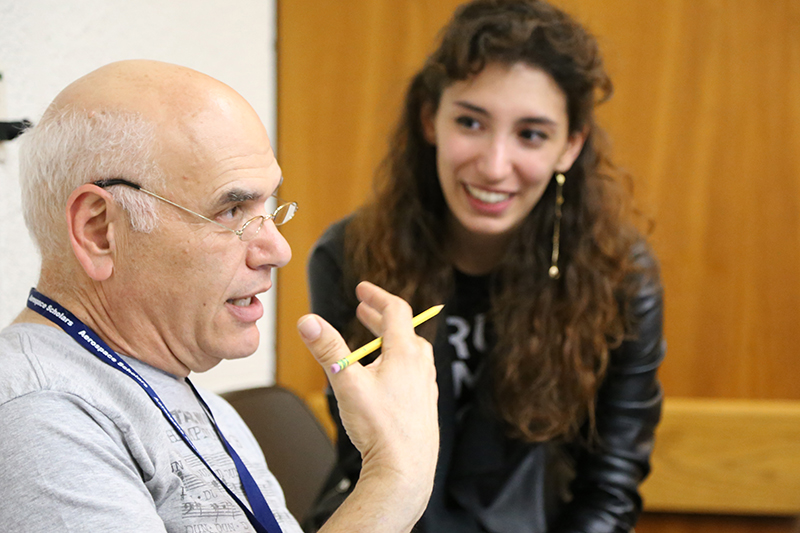 Image credit: NASA/JPL-Caltech/Lyle Tavernier
What do you do at JPL?
My career has been "bipolar." About half of the 36+ years I've been at JPL, I have worked on flight missions, from development to flight operations. The other half has been in education and public outreach. Both have been good for each other and for the projects I've worked on and the people I have interacted with.

How long have you been an NCAS mentor and what made you want to become one?
I have been a mentor for four or five sessions, starting in 2010 or 2011.

How would you describe your mentoring style?
For the competition, I help, encourage and suggest options. For the individuals on the team (and anyone else in earshot), I share experiences, suggest ways to successfully get into STEM as a career, and describe what we do as a human endeavor, including the anecdotes that prove it.

What are some of the challenges or obstacles your team has faced so far and how are you overcoming them?
There were not enough computers ready at the start of the design/build day. The Red Team agreed to wait for delivery of theirs, but that took much longer than expected, and it wasn't ready to use and needed technicians to get the software working as designed. This delay strongly affected the software team and limited their ability to make a more complete set of command routines. The software team built sufficient routines for the rock retrieval challenge by making maximum use of the software and technology available for the challenge. To their credit, they did this on their own.

What do you most want students to take away from their experience?
I want them to remember this as a taste of the real thing. I want them to realize that finding what THEY want to do (individually) is what they should aim for, and that they should aim high. They should come away knowing that space exploration, and each part of STEM, whether exploring space or not, is a wonderful, challenging, and joyous way to spend a lifetime.

---
2 p.m. - Networking Challenge
Students spent the morning touring the Space Flight Operations Facility, also known as mission control, and the Mars Yard, a simulated Mars terrain where engineers test maneuvers for the Curiosity rover.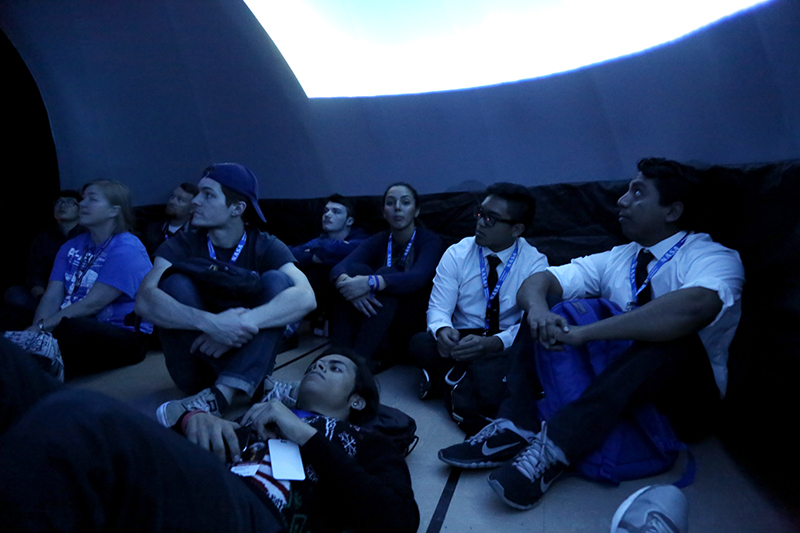 Students also saw a show in our educational inflatable planetarium. Image credit: NASA/JPL-Caltech/Lyle Tavernier
Then it was time to get up close and personal with the people of JPL during NCAS' first-ever Networking Challenge. Shannon Barger of JPL's Education Office came up with the idea for the challenge: "The best way to move forward [at JPL and in your career] is to get your name out there and have connections."
So, armed with questionnaires (that served as networking icebreakers of a sort) students caught up with JPLers as they were out in full: during lunch.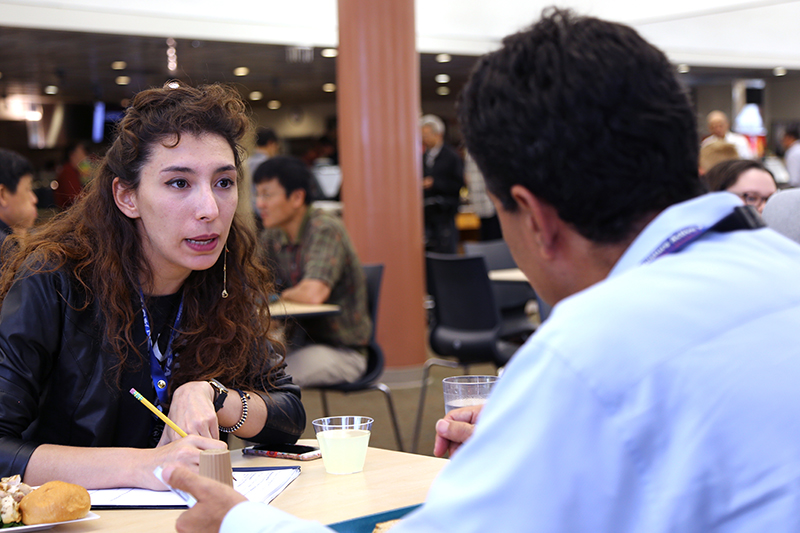 Students participated in NCAS' first-ever Networking Challenge. Image credit: NASA/JPL-Caltech/Lyle Tavernier
It turned out that JPLers were just as excited to talk to NCAS students as the students were to talk to JPLers. More than a few students were asked for their resumes and others left with promises to attend the presentations tomorrow. The students said they were impressed by the diversity of people and careers at JPL, which they learned can include such things as ripple effect engineering and planetary science.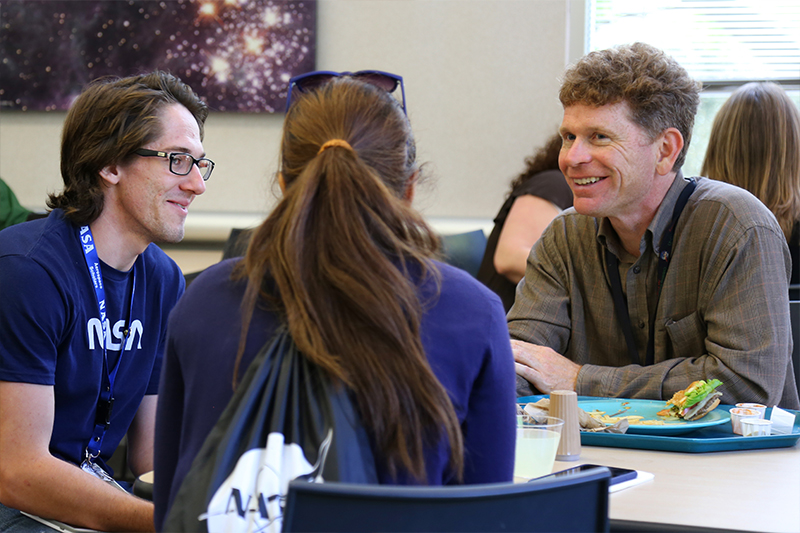 Students went from table to table at the JPL cafeteria during lunchtime to ask employees about their careers and what inspired them. Image credit: NASA/JPL-Caltech/Lyle Tavernier
"I love that you can go talk to anyone at JPL and they'll talk to you for an hour about what they do," said Scott Hall, a member of the Green Team who's studying mechanical engineering and physics at Ohlone College in Fremont, California.

Roslyn Soto and Eddie Gonzales, who manage the NCAS program for JPL, said they hope to make the challenge a regular part of the on-site experience.

---
Tuesday, April 12
---
9:35 p.m. – Mission One
After a full day of listening to inspirational speakers, building rovers, programming them and testing them, the teams were ready for their first mission. One by one, each team brought their rover to the mission site where they were given a two-minute trial run followed by one minute to make modifications to their rover. Once the modification window elapsed, teams had 10 minutes to command their rover to autonomously collect as many rock samples as possible.
Having completed the mission, teams retired for the evening, their scores to be calculated and added to the cumulative total at the end of the program.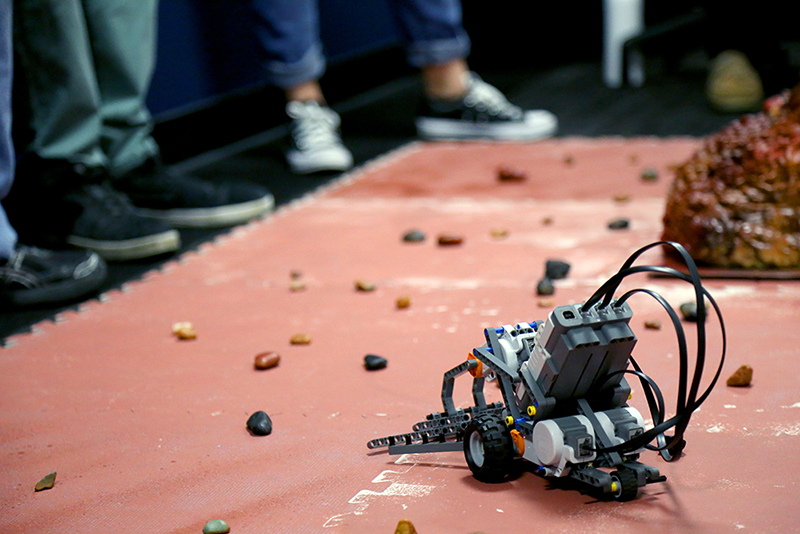 The gold team's rover collects rock samples during its 10-minute scored mission. Image credit: NASA/JPL-Caltech/Lyle Tavernier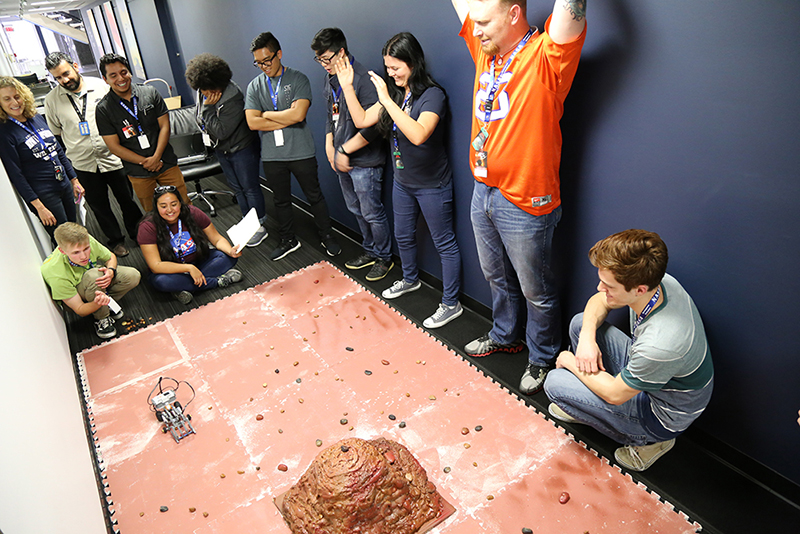 The green team cheers as their rover returns a rock sample to home base. Image credit: NASA/JPL-Caltech/Lyle Tavernier
---
5:45 p.m. – What's Your Strategy?

While each team has the same mission in mind, their approach and strategy can vary wildly. The team members' personalities and experience, their mentor and any challenges they face along the way all make an impact on the outcome of their final mission. Tonight, the teams will compete in their first mission, which involves programming their rovers to autonomously collect and transport rock samples on the simulated Mars terrain. As the teams learned earlier in the day from Mars rover engineer Rob Manning, it all comes down to the team with the most thorough design and testing – plus a bit of luck. We wondered what each team's strategy or motto is going into the challenge, so we asked them to describe it in five words or fewer. Here's what they said: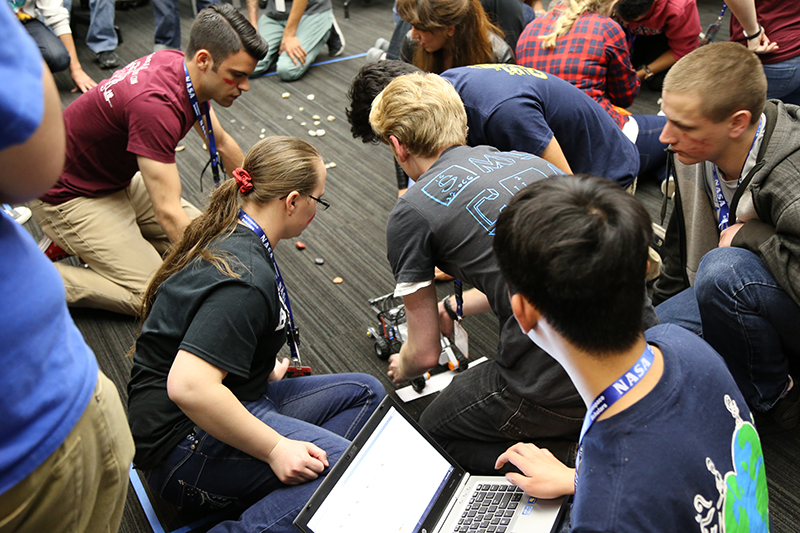 "Every action requires team heart"
– #RedTeam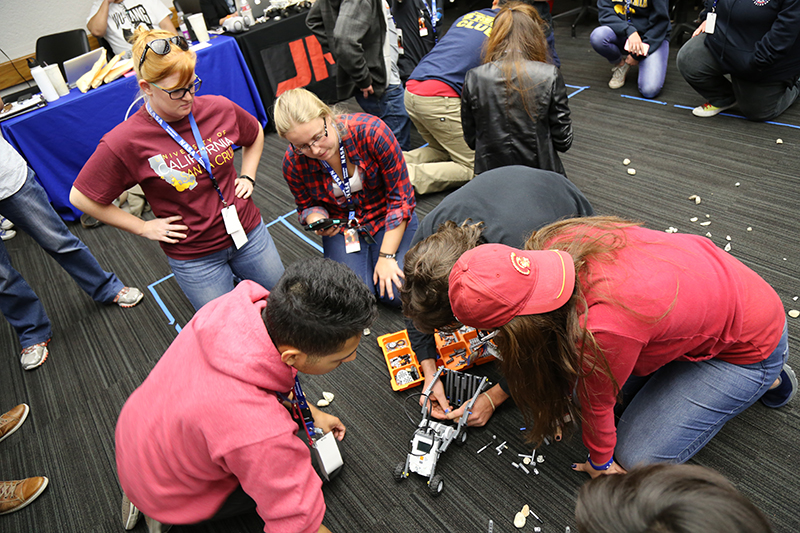 "Simple, efficient, applicable, logical science" – #BlueTeam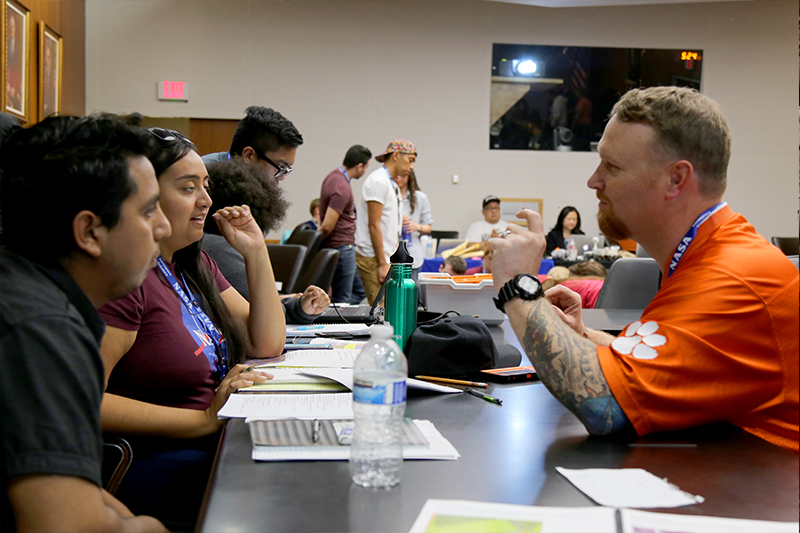 "Forward, drop, drag" – #GreenTeam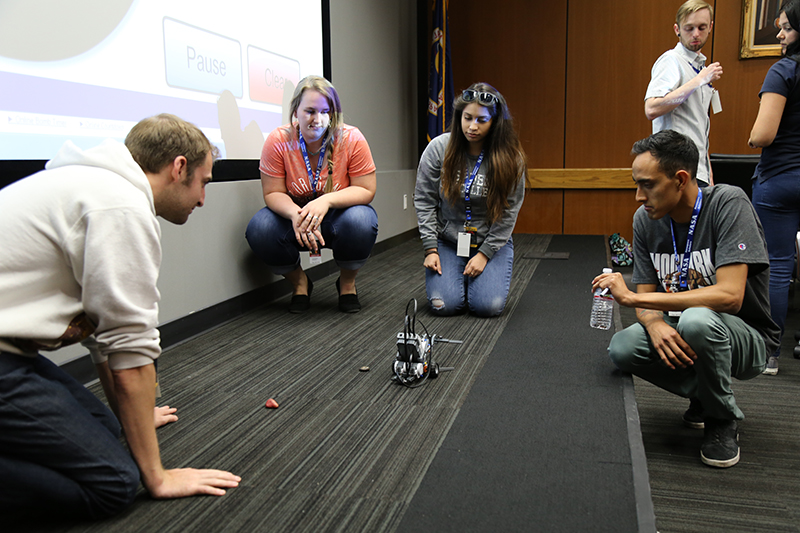 "Off-world specimen cache and retrieval" – #GoldTeam
Tell us which one is your favorite and wish them luck on Facebook and Twitter, using #NCAS2016 and the team hashtag.
---
3 p.m. – Their Mission, Should They Choose to Accept It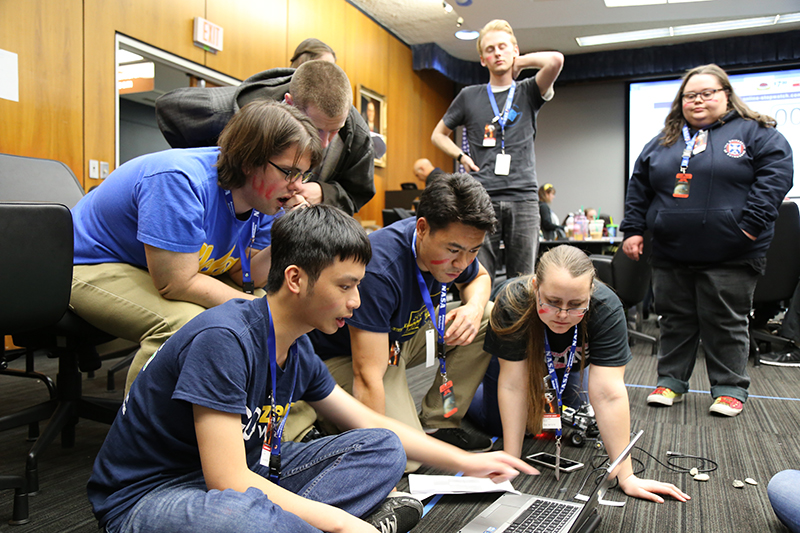 The red team gathers to discuss their mission. Image credit: NASA/JPL-Caltech/Lyle Tavernier
As soon as students arrived at JPL yesterday, they began working on what will be their mission for the next three days: building a working Mars rover prototype that can perform two separate missions on a simulated Mars terrain. The rover doesn't look like much. It's an amalgamation of LEGOs and a programming console. And the Mars terrain consists of red floor tiles with sand, colored rocks and a faux Olympus Mons. But despite the looks of it all, the challenge is just about as close as it gets to the real thing.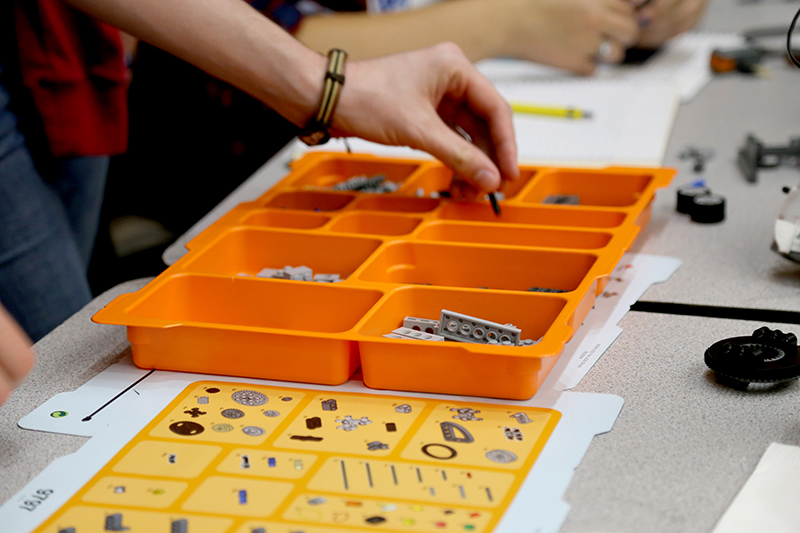 Teams must use parts from a LEGO Mindstorm kit to design and build their rovers. Image credit: NASA/JPL-Caltech/Lyle Tavernier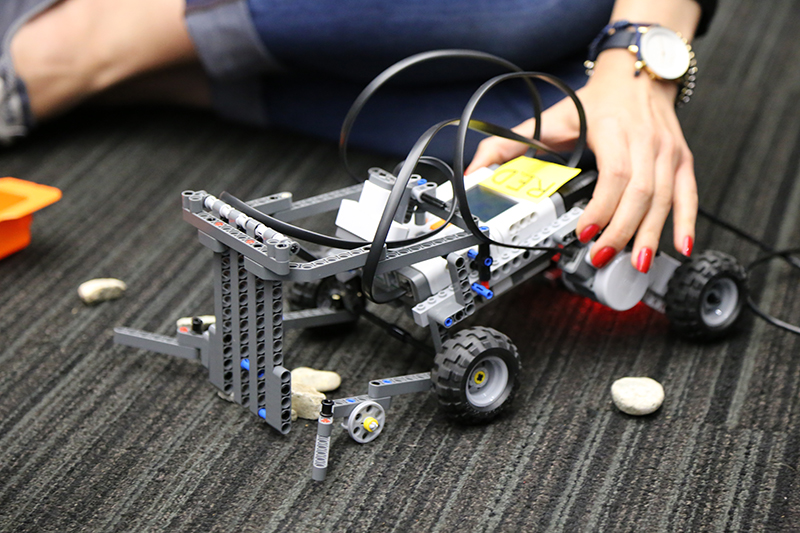 The rovers must be able to successfully complete two mission challenges: collecting and transporting samples, and retrieving and rescuing a stranded "Mars Buggy." Image credit: NASA/JPL-Caltech/Lyle Tavernier
The students are divided into four teams, each lead by a JPL mentor, and are assigned project roles such as project manager, software engineer, even marketing and communications manager. On Day One, teams are given a $600 million budget to build a rover that can successfully complete two missions: gather and transport sample rocks, and later rescue and retrieve a stranded "Mars Buggy." They then have to design and build their rovers using a LEGO Mindstorm kit with various parts that are each assigned a dollar value. They are allowed to purchase and sell parts from other teams, but they can't exceed their budget. Monetary fines and bonuses are given for things like losing equipment (fine) or asking good questions (bonus). Teams are also awarded money for performing successful maneuvers during their missions.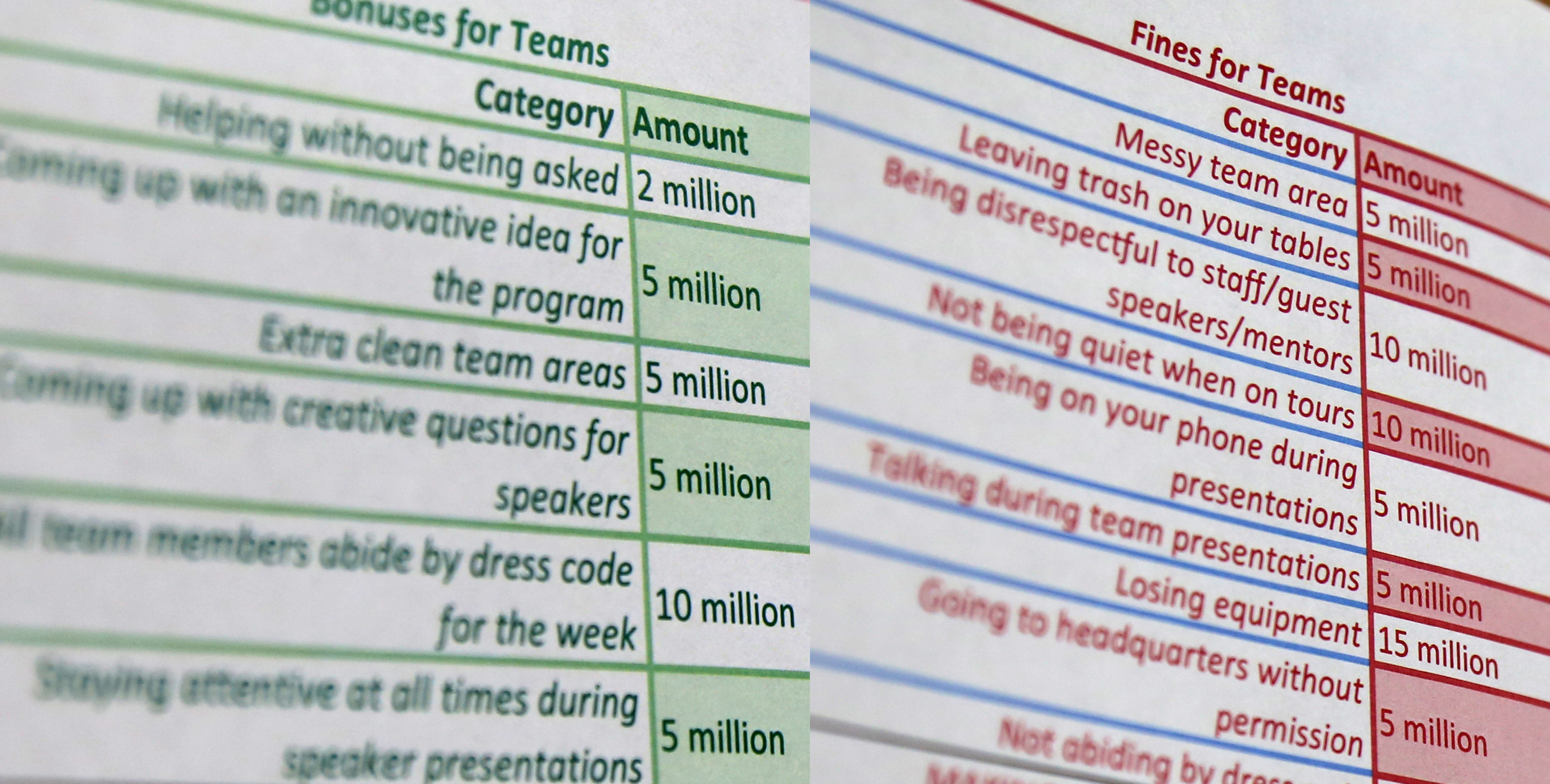 Students are given fines and bonuses that may help or detract from their overall mission budget of $600 million. Image credit: NASA/JPL-Caltech/Lyle Tavernier
On the final day of their experience, teams will make final presentations to a mock NASA mission selection panel, during which they will have to explain their rover's scientific objective and sell their design.
"We push them to take on roles outside of their comfort zones, to speak up and have their voice heard and to learn from each other," said Roslyn Soto, who along with Eddie Gonzales helps manage the program for JPL. "We want students to have a good understanding of the kind of teamwork that is required in engineering and other STEM fields and walk away with a better understanding of the research and career opportunities available to them."
---
12 p.m. – Lessons from a Career Mars Rover Engineer
Mars rover chief engineer Rob Manning gives a talk to students. Image credit: NASA/JPL-Caltech/Lyle Tavernier
The students took a break from building their rovers to hear a talk by Rob Manning, the chief engineer for the Mars Curiosity rover. Manning has been a Mars rover engineer since the Pathfinder mission of the 1990s, which landed Sojourner, the first rover ever on the Red Planet.

He shared his experiences designing and building rovers for NASA and how the process has evolved during his 35 years at the laboratory.
"Can you believe that JPL started building its first spacecraft the year I was born, 1958. These people were building spacecraft without the use of computers. Everything was done by hand. So if you wanted to design [a spacecraft], you had to draw out all the details on a piece of paper."
On building spacecraft for Mars, he said:
"What I like about building spacecraft for Mars is you can build it, design it, test it and launch it, and in seven months, it's on Mars. So the very same people who thought of it, can operate it."
Students used the opportunity to ask Manning about some of the more creative engineering solutions his teams have come up with over the years, such as the bounce landing used for the Spirit and Opportunity rovers.
"Back then people thought we were really goofy by doing that. 'So you're going to land how many times?' Imagine dropping your spaceship from 23 meters on another planet."
He stressed the importance of designing spacecraft with potential issues in mind, but said a lot of it comes down to luck.

"Sometimes you get lucky. And the trick is to design your systems so you think of these things. In many respects, what happens on the day of landing is out of our control. In some sense, the future has already happened because if it doesn't work, it's because of something we missed or we didn't test ahead of time."

---
11 a.m. – Welcome NCAS 2016 Students!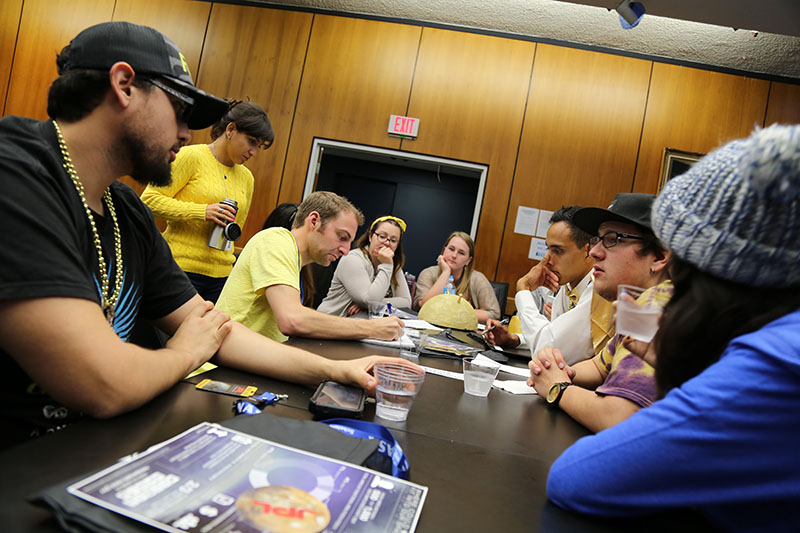 Forty community college students are participating in the Spring 2016 on-site experience at JPL as part of NASA's National Community College Aerospace Scholars program. Image credit: NASA/JPL-Caltech/Lyle Tavernier
Forty community college students descended on NASA's Jet Propulsion Laboratory yesterday for a four-day experience and engineering competition hosted by NASA's National Community College Aerospace Scholars, or NCAS, program. The program, which consists of a five-week online course, webinars with NASA scientists and engineers, a project planning a mission to Mars, and the opportunity to qualify for a four-day on-site experience at a NASA center, is designed to give community college students a window into science, technology, engineering and mathematics careers at NASA. Of the nearly 300 accepted for the online workshop, 120 are invited for an on-site experience at a NASA center.
This week JPL, Johnson Space Center, Armstrong Flight Research Center and Stennis Space Center are hosting 40 students each for the Spring 2016 on-site experience, during which student teams will compete to win a fictional mission contract for a future Mars rover. Teams must design and build their rovers using a LEGO Mindstorm kit, test them on a simulated Mars surface and finally sell their mission concept to a panel of NASA experts. Each of the four teams at JPL is guided by a laboratory engineer, who will mentor them throughout the competition.

Follow all the action this week here and on
Twitter using the hashtag #NCAS2016
.
TAGS: NCAS, Community College, Programs, Workshops, STEM, Robotics, Engineering

---
On a recent school night, seven enthusiastic female engineers and scientists from NASA's Jet Propulsion Laboratory in Pasadena, California, rolled into Santa Clarita, armed with three eight-wheeled Mars rover models. Their mission: to encourage hundreds of junior high and high school girls to reach for the stars in their education and future careers. Their strategy: to pique the girls' interest with an event called "Women in STEM: Going to Mars and Beyond!"
The evening featured rover races, demos and encouragement from the JPLers, who told the girls, "You, too, can do what we do someday."
There was definitely an audience for a message like that. Within five days of being advertised online, the March 18 event at Golden Valley High School "sold out," with 550 free tickets distributed and a waiting list cut off after 90 people.
"This just shows that people are hungry for events where girls can learn about STEM careers and consider them as an option," said Dennis Young, who works on the Mars Curiosity rover mission at JPL. Young, a longtime Santa Clarita resident, initiated and organized the event. His motivation was to expose his young daughter and other girls like her to career opportunities in STEM - science, technology, engineering and math - in the same way as his son and other boys. He had the blessing of Curiosity Project Manager Jim Erickson, who said, "I'm happy to support our team in fostering interest in STEM by young people."
The event was a collaboration between JPL and the William S. Hart Union School District. Janis Fiock, the district's college and career advisor, said she was thrilled when Young first proposed the event to her. "I recognize that women are under-represented in STEM careers. Girls need exceptional role models such as the women scientists and engineers from JPL to encourage them to move forward with their goals. They need to know that it's 'cool' to be smart."
Among the role models participating that night was Mars Curiosity Deputy Project Manager Jennifer Trosper, who also lives in Santa Clarita. Trosper had already teamed up with Young for previous community outreach and education events. She eagerly agreed to speak at the Women in STEM event, as did the six other speakers. Trosper's presentation included hands-on demonstrations, such as asking a young girl to jump as high as she could, then showing her with a tape measure how much higher she could jump under the lesser gravity of Mars.
One common theme ran through all the personal stories shared by the JPL speakers: STEM is not just for boys. Mechanical engineer Jackie Lyra explained that as a child in Brazil, she was literally told the opposite - that engineering school was only for boys. But she ended up studying in the U.S. and ultimately working at JPL, where she has been involved in landing four rovers on Mars, including Curiosity.
Lyra believes that because girls are generally not exposed to STEM topics as often as boys, the subject matter might seem intimidating to some, and they might be afraid to fail. She tried to drive home the point that it's okay to fail, as long as you learn from your mistakes and try again.
Looking back on the evening, Trosper recalls one particular conversation with a girl that reminded her why it's important to promote STEM opportunities. The girl had previously been told at a career fair that she should pursue a job in sales because she was pretty and could make a lot more money.
"This turned her off to engineering, even though she had dreamed of building a spacecraft to capture space junk and designing rocket engines to travel to distant stars," Trosper said. "Her mother dragged her to our STEM event to see if her interest in space could be sparked again." Trosper hopes she encouraged the girl to pursue her dreams, whatever they are, and not to let anyone else tell her what her talents or interests should be. "Besides, I told her I probably make more money than many people in sales."
Lyra brought up that same point in her presentation, throwing out a few numbers to demonstrate that the girls can potentially make more money in STEM. She asked the audience "Who wants to make $280 today?" After hands shot up throughout the auditorium, Lyra explained that STEM careers are not only fun and exciting, but lucrative as well -- a female fresh out of college could make about $75,000 a year with a bachelor's degree.
Other JPL speakers included Molly Bitner, just a few years out of college and working as a systems engineer, who told the girls she loves STEM, skydiving and chocolate; Victoria Davis, a chemist in the JPL battery group who lives in Santa Clarita and, in fact, introduced two local teachers who had pushed her toward excellence at Saugus High School; and Kim Lichtenberg, who, despite being the daughter of an astronaut and thinking she herself would not pursue a STEM career, eventually carved her own path in the sciences, with specialties such as analyzing Martian terrain.
Another JPLer, Shannon Statham, an aerospace engineer, described how she works with CubeSats -- "big satellites in small packages" and, in her free time, perfects salsa dancing. Diana Trujillo told the audience she spoke minimal English when she came to the United States from Colombia. She worked hard to become an engineer and now, at JPL, she "telecommutes" to Mars, as part of the team that sends computer commands to Curiosity.
During the course of the evening, the non-human guests also got their share of attention. The three Mars rover models arranged on the stage sprang into action at times, first when the girls joined in races with them. Then, the audience was invited to come up and get "rolled over" by a mini rover. The first volunteer was Hart School District Superintendent Vicki Engbrecht, who gamely went up on stage to have a rover "run over" her back. Once the ice was broken, the girls and their parents lined up to sprawl on a blanket so the rover could roll over them, too.
Young points out that, because numerous studies show that girls often hesitate to raise their hands and ask a question in a group setting, there was no formal Q and A. Instead, at the end of the event, there was a casual meet-and-greet, featuring the women of JPL standing near tables festooned with spacecraft parts, brochures and stickers.
As the audience filed out afterwards, smiles were clearly visible on the faces of the students, parents and JPL participants.
Young has heard from grateful parents who were thrilled that their daughters were able to meet real-life female role models from JPL. But he thinks perhaps the ultimate measure of success came during the program, while the JPL women were speaking. He watched the audience closely and did not see even one girl looking down at a cell phone or texting.
For more information about hiring JPL speakers for your classroom or group, visit the JPL Speakers Bureau page.
To hear more inspirational stories from female engineers and scientists at JPL, visit the Women at JPL website.
TAGS: STEM, Women in STEM, High School, Middle School, Elementary School

---
Out of the many student programs and internships offered at NASA's Jet Propulsion Laboratory, only one focuses entirely on future math and science teachers, the individuals directly responsible for inspiring the next generations of scientists and engineers. The Science Teacher and Researcher (STAR) program provides aspiring science and math teachers with paid summer internships in national, independent and university laboratories, allowing participants to pursue a prestigious dual "teacher-researcher" career path.
JPL has hosted 28 interns during its three years of participation in the program, which is offered by the California State University system in partnership with government agencies that include the U.S. Department of Energy, the National Science Foundation and NASA, as well as private research organizations. Out of the 12 STAR undergraduate and graduate school interns participating in the program at JPL this summer, five have been offered teaching positions for the fall. The seven other interns are continuing their education.
"Providing research opportunities for STAR participants is one of many ways JPL adds to science, technology, engineering and mathematics, or STEM, education in California and nationwide," said Petra Kneissl-Milanian, a JPL education program specialist who coordinates the STAR program. "Our scientists and engineers enable these aspiring science and math teachers to experience real, hands-on science and absorb the culture of JPL specifically and the scientific environment in general. These young teachers will carry this excitement into their future classrooms, teaching and inspiring learners."
Bryan Rebar is the director of the STAR program and works out of Cal Poly San Luis Obispo, where the program was founded and implemented by their Center for Excellence in Science and Mathematics Education and is administered on behalf of the California State University system. "Science and math teachers benefit from firsthand experience conducting research at cutting edge labs because it gives them an understanding and a vision for how science and math skills are applied in careers," Rebar said. "We provide STAR fellows with support to translate their experience into classroom practice."
With the guidance of a research mentor, STAR fellows work on original science projects for eight to ten weeks. Weekly education workshops and an opening and closing conference provide context and opportunities for the participants to consider how the "doing of science" may be translated into the "teaching of science." The ultimate goals of the STAR program are to enhance the recruitment, preparation and retention of quality science and math teachers.
Skyler Lassman worked as a STAR intern this summer in JPL's Propulsion and Materials Engineering Section on electric propulsion systems and recently took a job at Orcutt Academy High School in Orcutt, Calif. teaching physics and biology. "What will be the most beneficial is being able to know how JPLers conduct research, what tools they use and how they solve problems," Lassman said. "For example, I now have a clearer idea of why it is important to teach students to write lab reports and how to interpret graphs."
JPL STAR intern Jessica Potter will be teaching biology at Arroyo Valley High School in San Bernardino this fall. This summer, she worked in the Water and Carbon Cycles Group on remote sensing as applied toward studying Earth's ecosystem. "Perhaps the most important thing I will take away from my time at JPL will be the ability to guide my students interested in pursuing science," she said. "I have just become the advisor of the new science club created by two students who want to attend Caltech. They were so excited that I had worked at JPL, and I am looking forward to assisting them in achieving their dreams."
Lassman and Potter weren't the only participants this summer who were recently hired as teachers: Shin Adachi is working at the Synergy Quantum Academy in Los Angeles, Andrew Giang at Los Altos High School in Hacienda Heights and Adorina Moshava at Taft High School in Woodland Hills.
The STAR Program hopes to change the way science and education are viewed. "We believe that STAR offers a transformative experience," said Rebar. "Rather than entering a classroom as a teacher of science, STAR fellows arrive thinking as scientists who have the skills to teach."

TAGS: Educators, Teachers, STEM, Science Teacher and Researcher Program