---
Brandon Murphy's family was well accustomed to his months-long jaunts to Virginia, Florida and Texas, the home of whichever NASA facility had offered him an internship that semester. Freshly inspired and equipped with new skills, yet a little homesick, Murphy always returned to North Carolina, where he'd lived and gone to school since the age of 12.
But when his fifth NASA internship rolled around in the spring of 2016, a dream opportunity at the agency's Jet Propulsion Laboratory in Southern California, Murphy sat his family down and told them he wouldn't be coming home this time.
"I packed up my entire house, put it on the back of a truck, and had them ship it here. Then I drove 36 hours from North Carolina to California in El Niño," said Murphy, who at the time was still finishing up his master's in computer science at North Carolina A&T State University.
A few years earlier, in the hope of improving his career prospects and "making a difference in the world," Murphy had set his sights firmly on finding an internship – and eventually, a career – at NASA. When shortly after applying for an internship he got a call from the agency's Wallops Flight Facility in Virginia, he couldn't believe it. "At first I thought they were joking. I was like, you're kidding me. You said NASA, right?"
He accepted almost immediately and spent the next four months developing visualizations and software for an airborne mapping instrument. It didn't take long before he was hooked. "Ever since [that first internship], I applied at NASA every semester and some opportunities showed up that I didn't even apply for," said Murphy.
So when he got an internship offer from his top choice, JPL, with just months to go before earning his degree, Murphy decided to risk it all. "I just took a risk and said, I'm going to come to JPL, put my best foot forward and fingers crossed a full-time position opens up for me."
His parents, military veterans who had tried to instill the values of minimizing risk were understandably worried. But six months after arriving at JPL, and on the eve of his sixth and final internship, Murphy got the position he was waiting for: a full-time gig in JPL's cyber security group hunting for threats to the laboratory's systems and developing defenses against them.
Diversity in the Pipeline
Murphy's story is exactly the kind Jenny Tieu is hoping to see more of at JPL. As one of several program coordinators in the laboratory's Education Office, which brings hundreds of interns and fellows to JPL each year, Tieu focuses specifically on reaching underrepresented students, like Murphy, and bringing them into NASA's pipeline – a cadre of workshops, internships and professional development designed to produce the next generation of scientists and engineers.
Internships are an important piece of that pipeline, providing hands-on experience and a foot in the door. Once in the pipeline, students are more likely to end up with a career at a NASA center. This year, for example, close to half of JPL's new employees who recently graduated from college started at the laboratory as interns or fellows, a new record.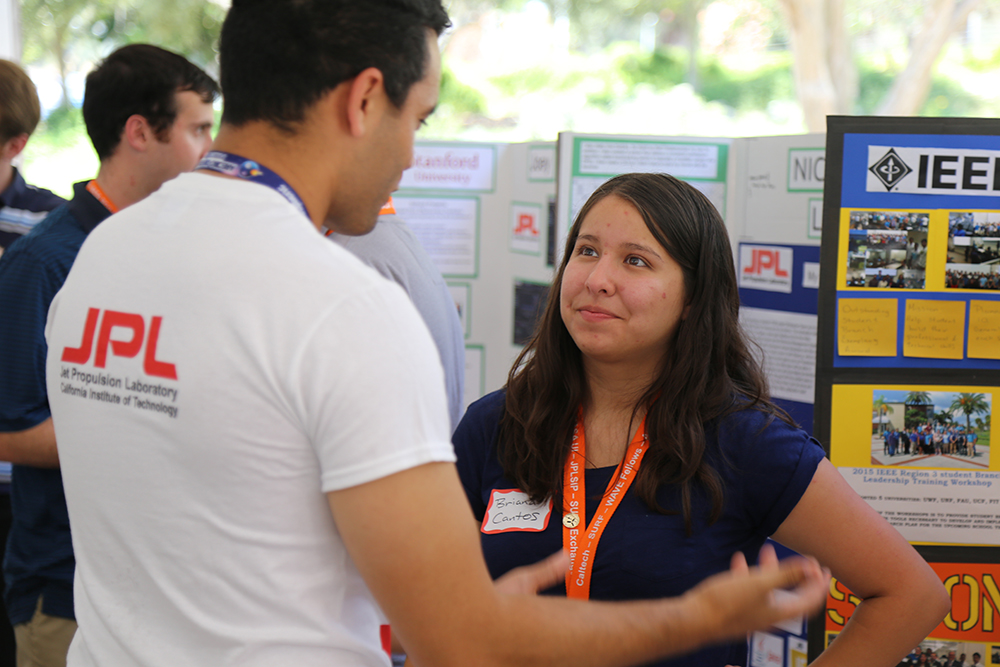 Graduating seniors present their research during a poster session at JPL in August 2016. The poster day is one of a number of strategies JPL is using to bring students through the final step in NASA's pipeline, a full-time job. Image credit: NASA/JPL-Caltech/Lyle Tavernier
But more than just shape the workforce that will design the spacecraft of the future and explore new worlds, the pipeline is, "a great opportunity to cultivate a community of diverse thinkers and innovators who bring unique perspectives from a multitude of backgrounds," said Tieu.
Promoting diversity in the pipeline involves a number of strategies by JPL and other NASA centers to reach out to schools that enroll high numbers of students who aren't typically well represented in science, technology, engineering and math (STEM), and partner with organizations working to get students involved in those fields.
One agency-wide program, the Minority University Research and Education Project, or MUREP, is what gave Murphy a chance to explore several careers at NASA – and helped him stand out.
"The combination of all the experiences and opportunities that Brandon had at different NASA centers really helped solidify his experience and make him a prime candidate for a full-time position," said Tieu. "This is really the work of the MUREP community coming together as a team to provide opportunities and prepare students for the workforce."
Creating diversity is not without its challenges, though. Perhaps the biggest hurdle is simply making sure students know that opportunities exist for them at NASA. The Education Office and its counterparts across the agency are constantly in search of new ways to reach out to students and encourage them to apply.
In his own way, Murphy is too. He says of his six internships, it was important for him to not only do well for himself, but also for his school, a Historically Black College and University (HBCU), so places like NASA would continue to seek out interns there. Already that attitude has paid off for at least one classmate who recently stopped Murphy in the school's computer lab to thank him for setting a good example.
"He said, 'I just wanted to thank you, because when [NASA Johnson Space Center] called to offer me an internship, they said that because of the work you did, they sought other students from A&T,'" said Murphy. "I was like, wow. He's really going to get an opportunity to experience the great things that I experienced because I got there and put my best foot forward."
When the Pipeline Ends?
The ultimate goal of the pipeline is to turn students who are interested in STEM into scientists and engineers. But what happens once the former interns are hired comes down to efforts at each NASA center to wrap them into the unique culture.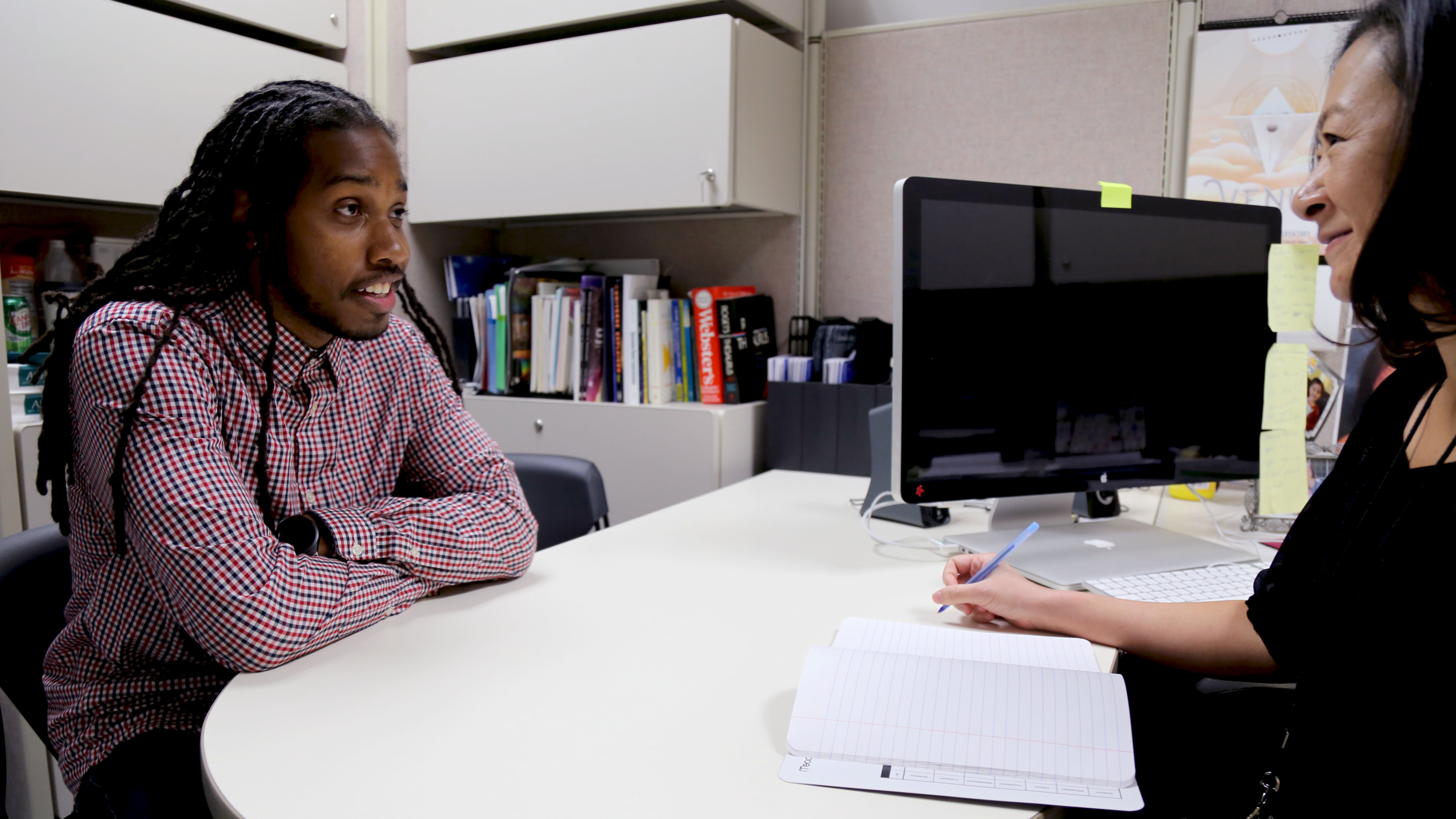 Murphy catches up with Tieu midway through his first week as a full-time employee at JPL. The laboratory's Education Office keeps in touch with former interns even after they're hired to help ease them into professional life. Image credit: NASA/JPL-Caltech/Kim Orr
In recent years, JPL has built a strong supportive community for employees who are new to the professional world, offering mentorship and networking opportunities that help with retention. Meanwhile, Tieu and others in the Education Office stay connected with former interns and provide them with resources and help from support groups.
So far, for Murphy, who just started his full-time job last week, it feels like everything fits just right. "This is the place that I really feel comfortable in the work that I'm doing and I see the overall goal, the bigger picture," said Murphy. "If this is how work is going to be for the rest of my career, I could get used to this."
His parents have gotten used to it, too. "My mom's really spilling it all out on Facebook, so I know she's proud of me," said Murphy.
---
Explore our Intern page to learn more about opportunities at JPL and NASA, and apply.
See stories and photos from JPL interns and fellows:
TAGS: Internships, Fellowships, Programs, MUREP, NASA

---
Thursday, April 14
---
3 p.m. - Firsts and Thanks ... Until Next Time

Once the group photos were taken and the rovers dismantled, students gathered in the conference room where they had spent most of the last four days. Where rover parts, notebooks and laptops once stood, now it was just 40 suitcases laying in wait for the return home. But the experience wouldn't end until awards and several rounds of thanks were given to the organizers, mentors and students who made the experience possible – and as program coordinators Roslyn Soto and Eddie Gonzales were sure to point out, contributed to a number of firsts for the National Community College Aerospace Scholars program.
The networking challenge and planetarium show were among some of the firsts. As was the first female majority among the team's project managers (three of four were women) as well as the number of women participating in the on-site experience overall.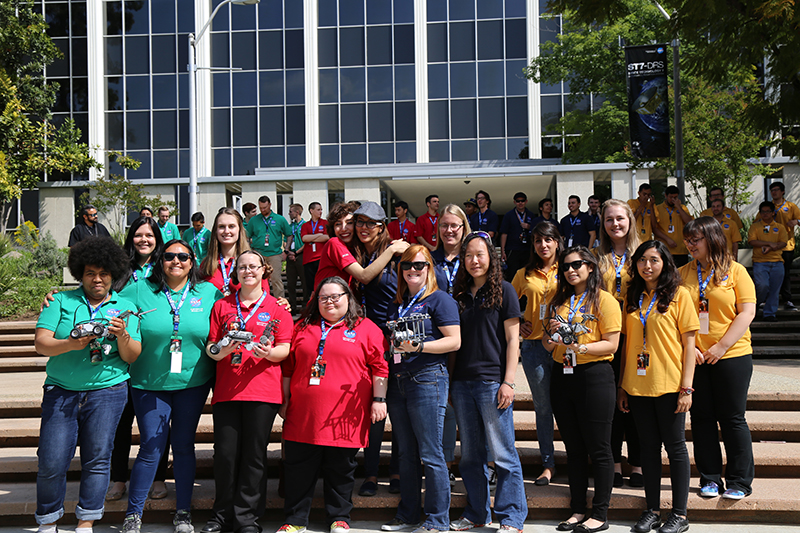 The women of NCAS Spring 2016 pose for a photo with their teams' rovers. Image credit: NASA/JPL-Caltech/Kim Orr
By the time the winning team was announced, the students were so full with congratulations that they seemed to have almost forgotten there was a winning team at all. But it didn't dull the Blue Team's celebration when, without further ado, they were announced as the winners by (another first) the smallest margin ever.

The Blue Team celebrates their win (left) along with their mentor Amelia Quon (right). Image credit: NASA/JPL-Caltech/Kim Orr
Soto and Gonzales said the level of teamwork – even between teams – was one of the biggest standouts of this session of NCAS and urged future teams to take note.
"The collaboration between teams was a thing of beauty," said Gonzales. "It felt more like one huge team versus four individual teams. They helped each other in every facet of the competition and were graceful and showed incredible sportsmanship like I've never witnessed before."
With round after round of applause and standing ovations for Soto and Gonzales, the students, mentors and program coordinators said their final goodbyes, and by 2 p.m., the once hectic conference room was dark and quite … that is until the next crop of hopeful students arrives this fall.
> Learn more about NCAS and apply for the Fall 2016 session
> See a collection of photos from the Spring 2016 session
> Explore all the internship and fellowship programs at JPL and apply

---
10 a.m. - The Final Challenge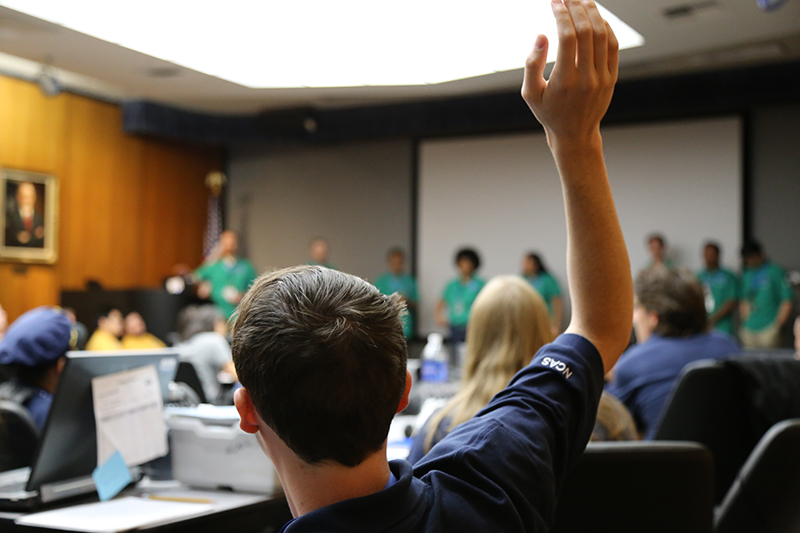 Image credit: NASA/JPL-Caltech/Kim Orr
Today, on the fourth and final day of the NCAS on-site experience, students had one more challenge before the scores were tallied. They had five minutes to make a presentation to a mock "NASA Headquarters panel" about why their rover mission should be green-lighted. Channeling their inner Steve Jobs, the teams used music, videos, lighting and of course their rovers to make their case.
The Gold Team impressed with their marketing video that used two LEGO figurines (borrowed from their mentor) to tell a story about two people on a quest to add a rover to their family.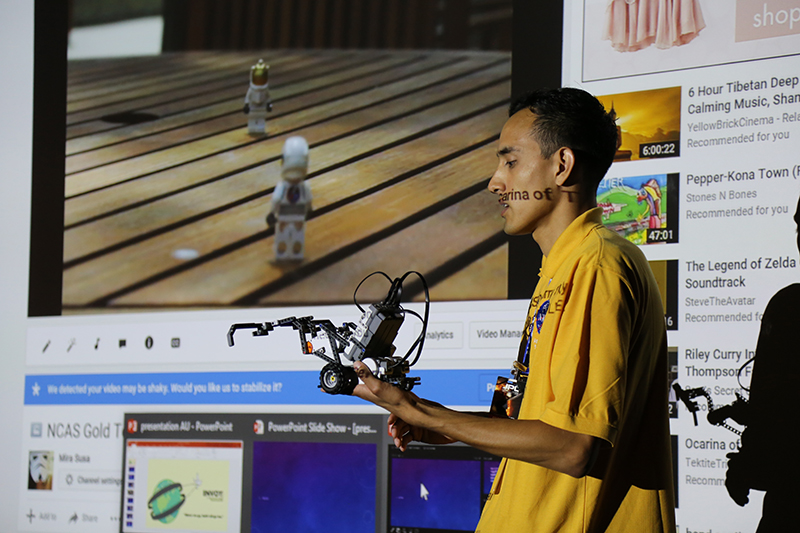 Image credit: NASA/JPL-Caltech/Kim Orr
The Red Team started their presentation with a dance and later presented "scholarship certificates" from their reserved education budget to the JPL Education Office staff and other NCAS helpers.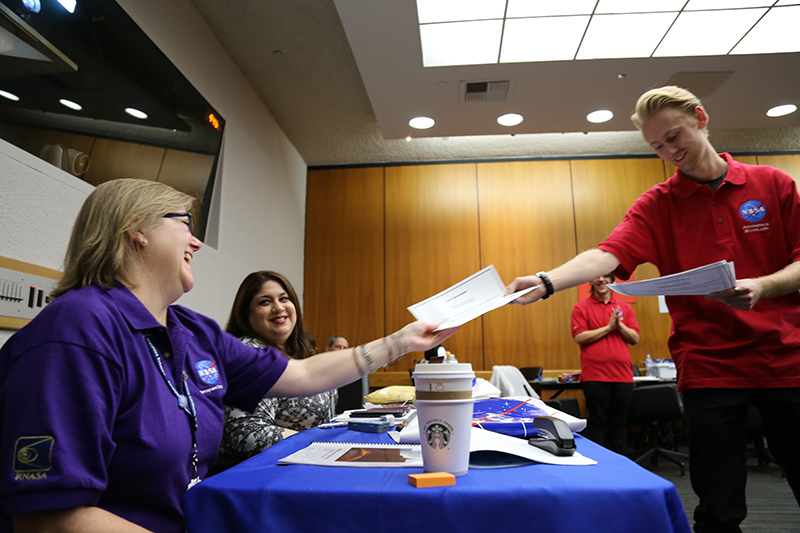 Image credit: NASA/JPL-Caltech/Kim Orr
The Blue Team got laughs for a slide on their mission objectives, which was introduced by audio of Lakers basketball star Kobe Bryant saying, "Success on success on success."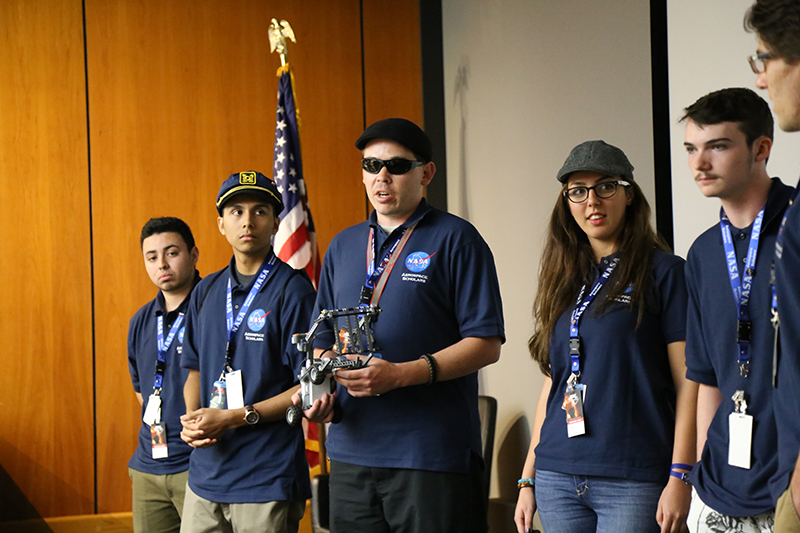 Image credit: NASA/JPL-Caltech/Kim Orr
And the Green Team, which took the either coveted or dreaded task of being first to present, showcased their teamwork by sharing the stage to present the various facets of their mission.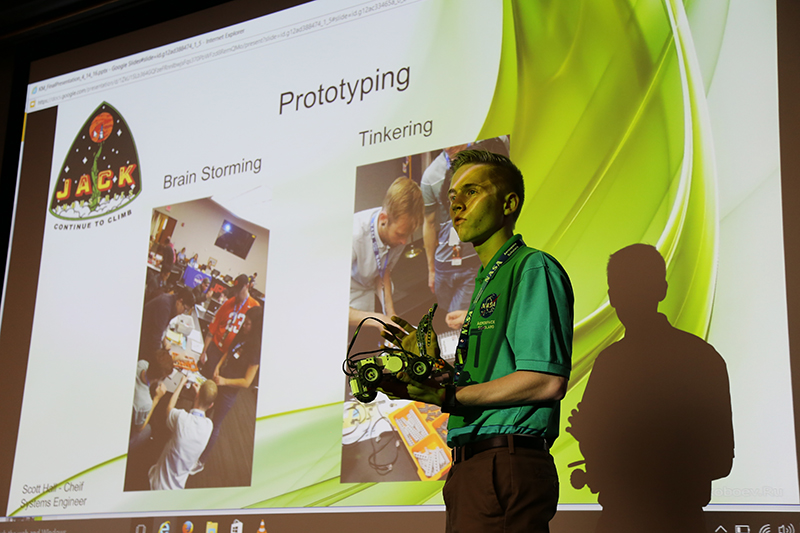 Image credit: NASA/JPL-Caltech/Kim Orr
When presentations were over, it was time for the customary group photos and then perhaps the hardest part of the on-site experience: dismantling the rovers and packing up.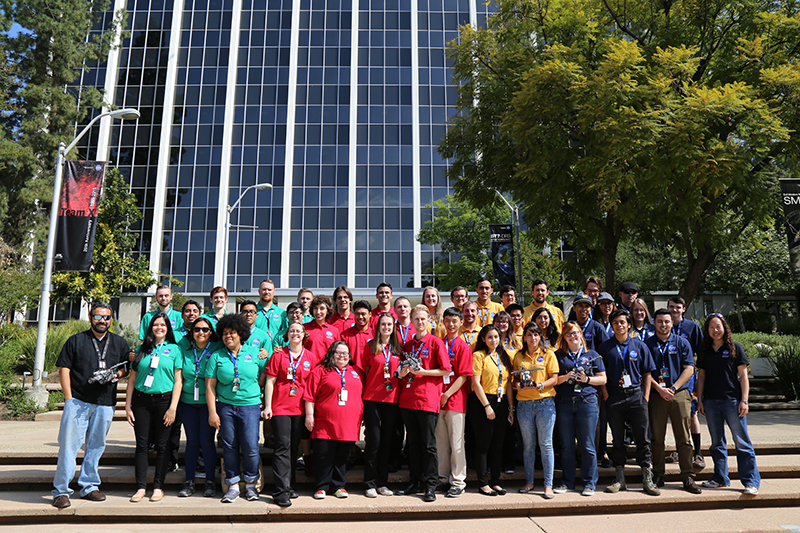 Image credit: NASA/JPL-Caltech/Kim Orr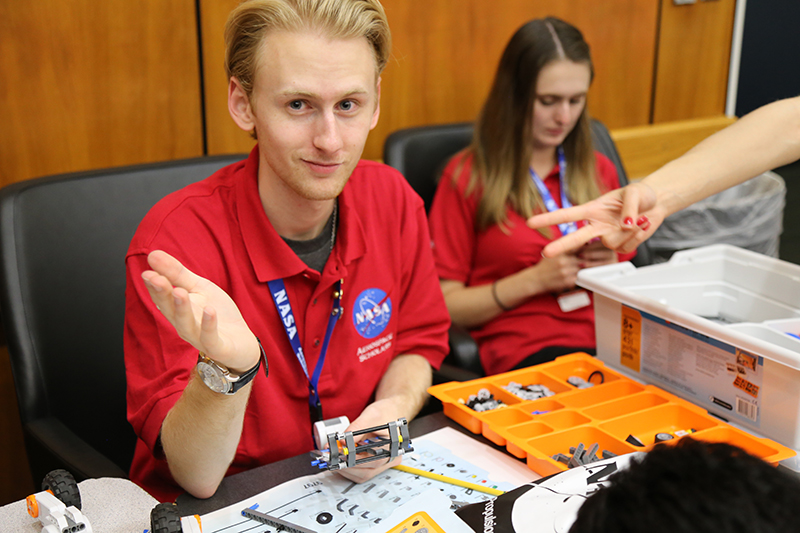 Image credit: NASA/JPL-Caltech/Kim Orr
---
Wednesday, April 13
---
6:30 p.m. - Mission Two
It's less than an hour away from the second and final mission for the teams' rovers. Tonight, the rovers must autonomously retrieve and rescue a stranded "Mars Buggy" from the simulated Mars surface. While the challenge involves a different set of commands and even changes in the design of the rovers, the lessons students learned from last night's mission are ever present. We asked the teams to share the single biggest lesson they're taking into tonight's challenge:
"If we try our best, we can succeed." – #GreenTeam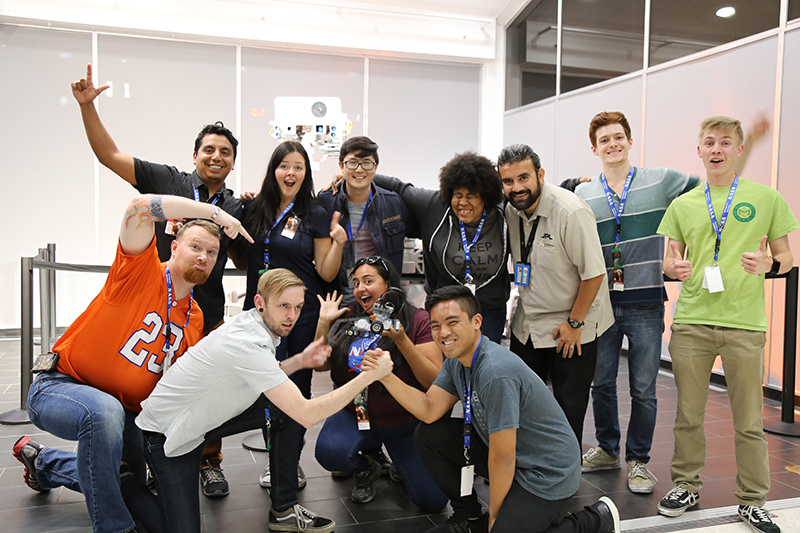 Image credit: NASA/JPL-Caltech/Lyle Tavernier
"Simplicity and planning are key." – #BlueTeam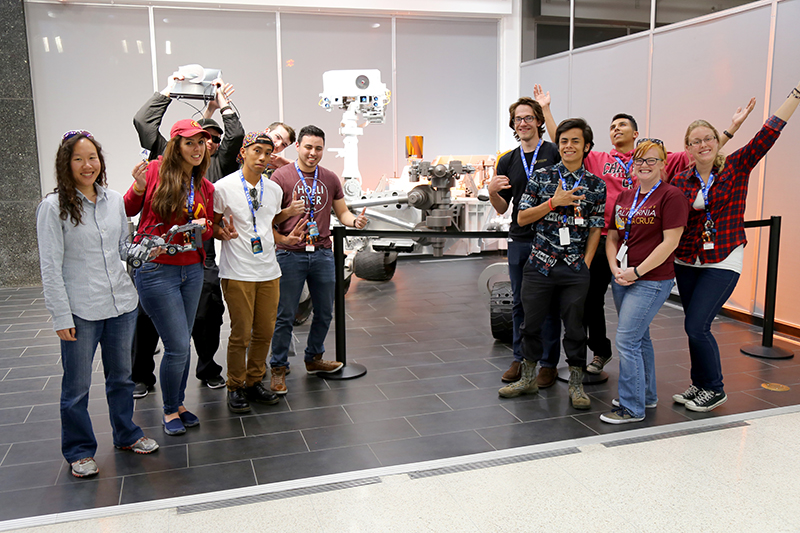 Image credit: NASA/JPL-Caltech/Lyle Tavernier
"No matter how much we plan for every scenario, at the end of the day, it's inevitable that mistakes will come up. As a team, we learned to push forward through the doubts and frustrations. For tonight, we will use this lesson to enhance our troubleshooting." – #GoldTeam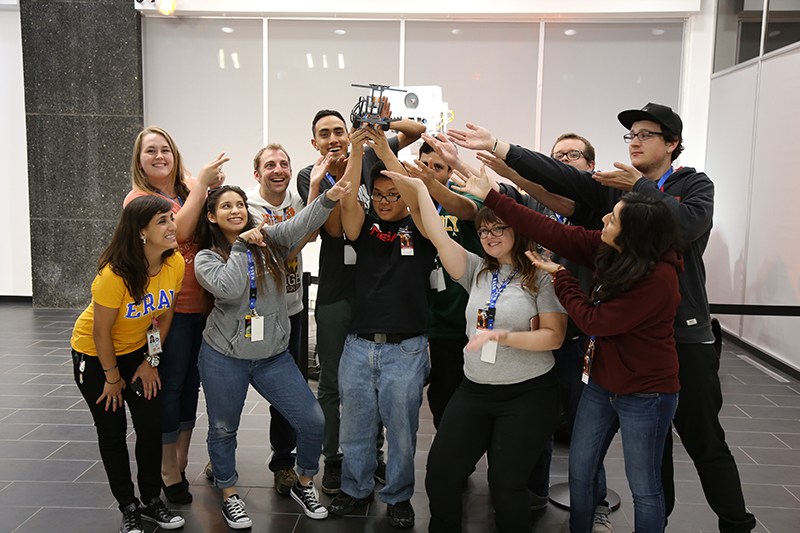 Image credit: NASA/JPL-Caltech/Lyle Tavernier
"We must embrace the unexpected difficulties" – #RedTeam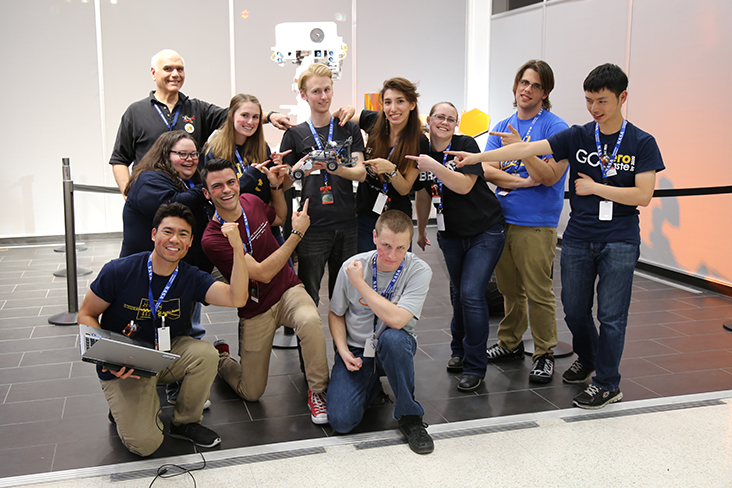 Image credit: NASA/JPL-Caltech/Lyle Tavernier
---
5:30 p.m. – Meet the Mentors
Each NCAS team works with a mentor who helps guide students with not just the mission at hand, but also their career missions. With four fully packed days of activities and challenges, it can be a big time commitment – especially since mentors are scientists and engineers themselves, and have their own missions and projects competing for their attention. But as we found out when we caught up with the mentors for this session, it's well worth the hectic four days.

Amelia Quon - #BlueTeam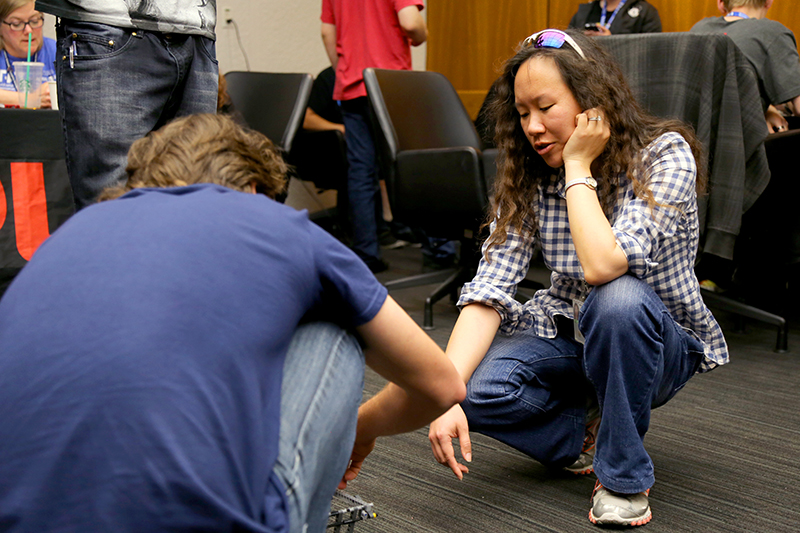 Image credit: NASA/JPL-Caltech/Lyle Tavernier
What do you do at JPL?
I am a mechanical integration engineer. My group builds the tools used to assemble and test spacecraft, as well as helping with the assembly and testing process. I'm currently working on a thermal-vacuum test where we're using the 25-ft space simulator to mimic Martian atmospheric pressure, which is less than 1 percent of sea level atmospheric pressure on Earth.

How long have you been an NCAS mentor and what made you want to become one?
I've been an NCAS mentor since 2012. I enjoy helping the students gain confidence in their problem-solving skills as they work through the (rock and rover retrieval) missions. I participated in NASA's High School Aerospace Scholars program as a high school student and had a great experience, so it's nice to be able to support the program and help create similarly positive memories for the students.

How would you describe your mentoring style?
As a mentor, I try to clarify the parameters of the (rock and rover retrieval) missions for the students. I help them develop strategies for programming and building their rovers, and ask questions to encourage them to reason through problems they encounter.

What are some of the challenges or obstacles your team has faced so far and how are you overcoming them?
While testing their rover, my team discovered that many of the rocks they picked up were falling out of their basket. They went through several iterations of building and testing new designs before they came up with a design that performed as intended.

What do you most want students to take away from their experience?
I want them to realize that everyone on an engineering team is integral to the team's success, and that setbacks and challenges can be overcome.

Luz Martinez Sierra - #GoldTeam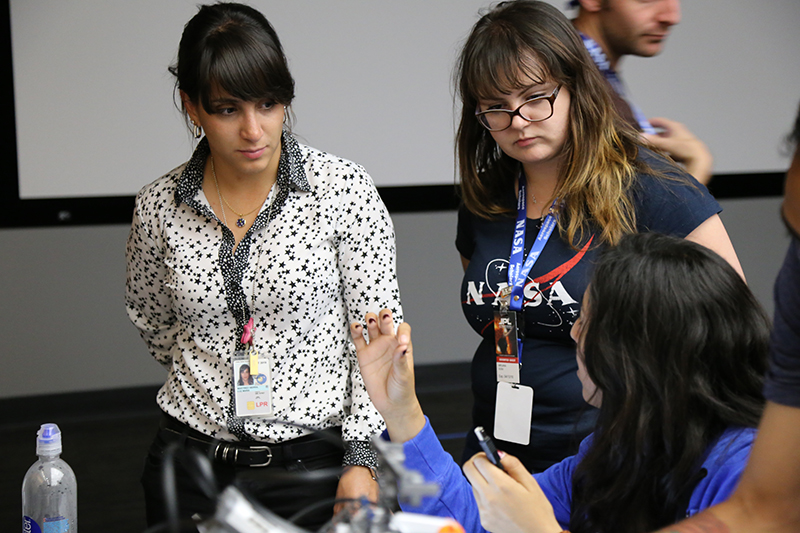 Image credit: NASA/JPL-Caltech/Lyle Tavernier
What do you do at JPL?
I am in the Natural Space Environments group. We are in charge of defining the radiation and debris environment that the spacecraft will encounter in space. This is very important to evaluate the risks so the designer and engineers can take the necessary measurements to avoid any failure. I am also involved with the nuclear physics instruments that are used to determine the composition of other planetary bodies or to better understand the radiation environments in space. I am also a part-time Nuclear Engineering Ph.D student at Texas A&M. I am trying to finish my Ph.D while still being a full-time employee at JPL.
How long have you been an NCAS mentor and what made you want to become one?
This is the first time I've been involved with NCAS, and I am loving it.

How would you describe your mentoring style?
I think I can relate with the young student quite easily. I have a younger sister, and I have done mentorships in the past. I like to get to know students and make a safe environment for them to ask me questions and to not be afraid of participation. I like to show them a strong attitude without making them scared of me. I want them to feel like they are in a collaborative atmosphere. I don't have all the answers, but I am there to guide them in finding the answers.

What are some of the challenges or obstacles your team has faced so far and how are you overcoming them?
We had a rough start with issues regarding the division of the work. There was not a clear line between who was in charge of what, and they were focusing in one task instead of approaching it at different angles. We talked, and I encouraged the project manager to assign responsibilities and to try to make sure they still communicate with the team promptly.

What do you most want students to take away from their experience?
I want them to feel comfortable with their career, and show them that it is possible to achieve their dreams. Also I want them to realize how much can be accomplished in a few days, and make them confident of their capabilities. I want to see them succeed in life and in a professional way. They are wonderful young adults ready to take the challenge. They just need to hear it and believe it.

Otto Polanco - #GreenTeam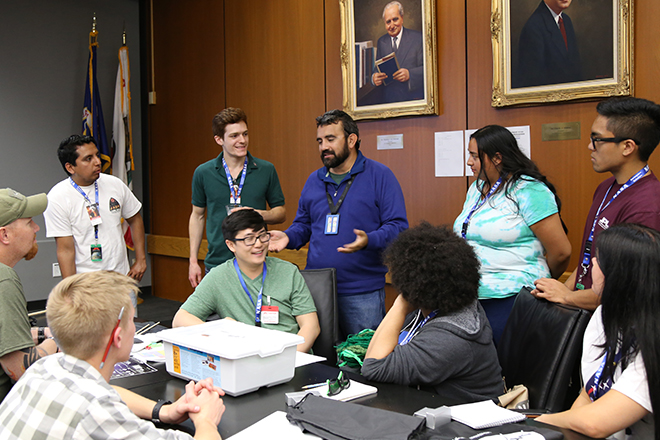 Image credit: NASA/JPL-Caltech/Lyle Tavernier
What do you do at JPL?
I am a mechanical engineer in the payload development group. I work with engineers across different disciplines to develop instruments and complete system payloads for various customers that come to JPL for this type of development.
How long have you been an NCAS mentor and what made you want to become one?
Since the beginning. Five years now. Wow. Already. Simple. When I was in High school, Dr. Jeff Martin, a principal for LAUSD, provided guidance on what college life was all about, how to be successful, and how to prepare for a career. Unfortunately, Dr. Martin passed away from cancer a year and a half later, but my time with him was invaluable, as he opened my eyes to the possibilities of what my future could be.
How would you describe your mentoring style?
Aggressive and hopeful, like Dr. Martin, but with a twist. No excuses. Failure is an option, but NO Quitting is permitted. I'm encouraging and pass on words of wisdom and lessons learned since my start as an intern here at JPL.
What are some of the challenges or obstacles your team has faced so far and how are you overcoming them?
Organization, laptop and programming the rover. They got organized by coming together as a team with a single leader and co-leader. Programming was done with paper and pen, then executed flawlessly when a laptop became available through great communication and team work. They have asked for help when they got stuck and/or looked bewildered. They are nervous, but they work hard and smile.
What do you most want students to take away from their experience?
Blow by the sky limit and reach for the stars. Do not place limits on what you and your future will accomplish.
Steve Edberg - #RedTeam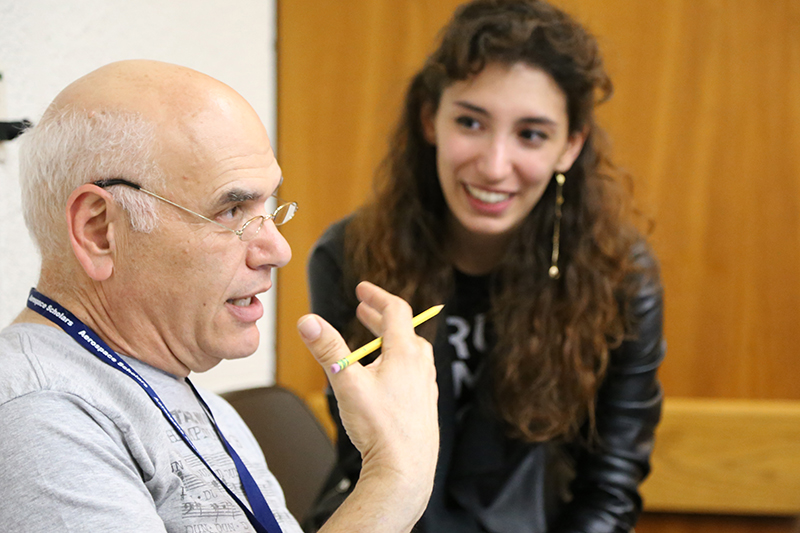 Image credit: NASA/JPL-Caltech/Lyle Tavernier
What do you do at JPL?
My career has been "bipolar." About half of the 36+ years I've been at JPL, I have worked on flight missions, from development to flight operations. The other half has been in education and public outreach. Both have been good for each other and for the projects I've worked on and the people I have interacted with.

How long have you been an NCAS mentor and what made you want to become one?
I have been a mentor for four or five sessions, starting in 2010 or 2011.

How would you describe your mentoring style?
For the competition, I help, encourage and suggest options. For the individuals on the team (and anyone else in earshot), I share experiences, suggest ways to successfully get into STEM as a career, and describe what we do as a human endeavor, including the anecdotes that prove it.

What are some of the challenges or obstacles your team has faced so far and how are you overcoming them?
There were not enough computers ready at the start of the design/build day. The Red Team agreed to wait for delivery of theirs, but that took much longer than expected, and it wasn't ready to use and needed technicians to get the software working as designed. This delay strongly affected the software team and limited their ability to make a more complete set of command routines. The software team built sufficient routines for the rock retrieval challenge by making maximum use of the software and technology available for the challenge. To their credit, they did this on their own.

What do you most want students to take away from their experience?
I want them to remember this as a taste of the real thing. I want them to realize that finding what THEY want to do (individually) is what they should aim for, and that they should aim high. They should come away knowing that space exploration, and each part of STEM, whether exploring space or not, is a wonderful, challenging, and joyous way to spend a lifetime.

---
2 p.m. - Networking Challenge
Students spent the morning touring the Space Flight Operations Facility, also known as mission control, and the Mars Yard, a simulated Mars terrain where engineers test maneuvers for the Curiosity rover.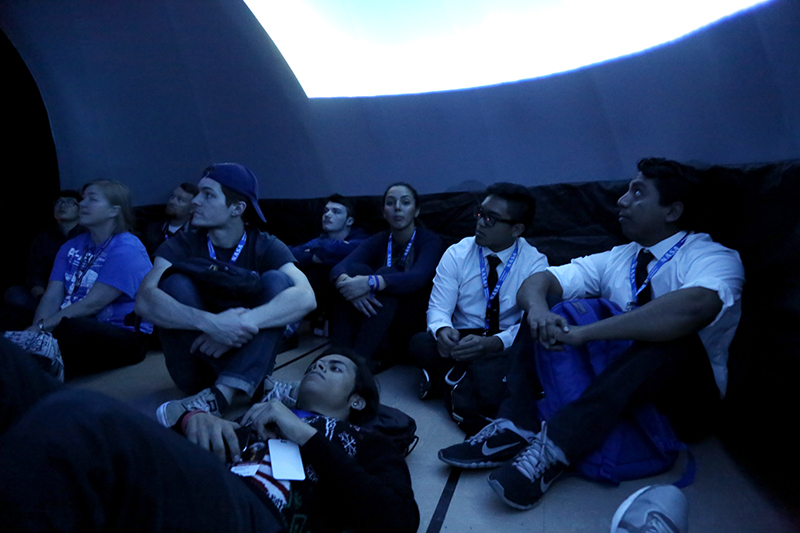 Students also saw a show in our educational inflatable planetarium. Image credit: NASA/JPL-Caltech/Lyle Tavernier
Then it was time to get up close and personal with the people of JPL during NCAS' first-ever Networking Challenge. Shannon Barger of JPL's Education Office came up with the idea for the challenge: "The best way to move forward [at JPL and in your career] is to get your name out there and have connections."
So, armed with questionnaires (that served as networking icebreakers of a sort) students caught up with JPLers as they were out in full: during lunch.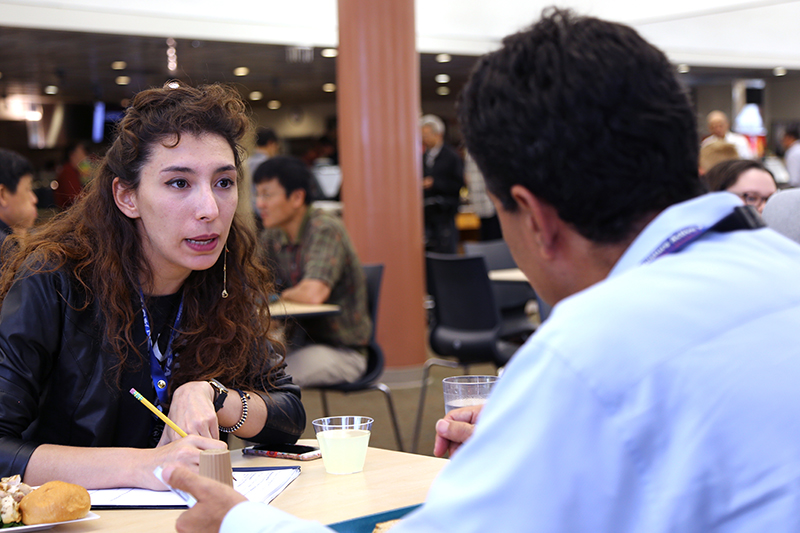 Students participated in NCAS' first-ever Networking Challenge. Image credit: NASA/JPL-Caltech/Lyle Tavernier
It turned out that JPLers were just as excited to talk to NCAS students as the students were to talk to JPLers. More than a few students were asked for their resumes and others left with promises to attend the presentations tomorrow. The students said they were impressed by the diversity of people and careers at JPL, which they learned can include such things as ripple effect engineering and planetary science.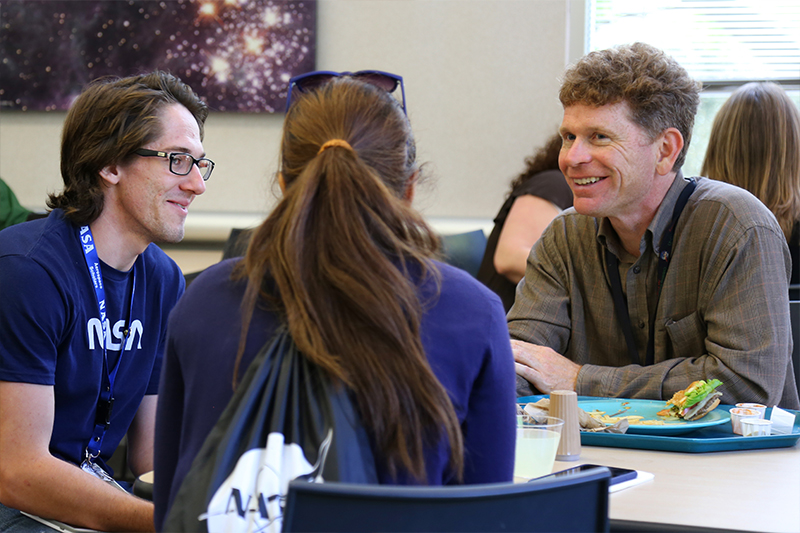 Students went from table to table at the JPL cafeteria during lunchtime to ask employees about their careers and what inspired them. Image credit: NASA/JPL-Caltech/Lyle Tavernier
"I love that you can go talk to anyone at JPL and they'll talk to you for an hour about what they do," said Scott Hall, a member of the Green Team who's studying mechanical engineering and physics at Ohlone College in Fremont, California.

Roslyn Soto and Eddie Gonzales, who manage the NCAS program for JPL, said they hope to make the challenge a regular part of the on-site experience.

---
Tuesday, April 12
---
9:35 p.m. – Mission One
After a full day of listening to inspirational speakers, building rovers, programming them and testing them, the teams were ready for their first mission. One by one, each team brought their rover to the mission site where they were given a two-minute trial run followed by one minute to make modifications to their rover. Once the modification window elapsed, teams had 10 minutes to command their rover to autonomously collect as many rock samples as possible.
Having completed the mission, teams retired for the evening, their scores to be calculated and added to the cumulative total at the end of the program.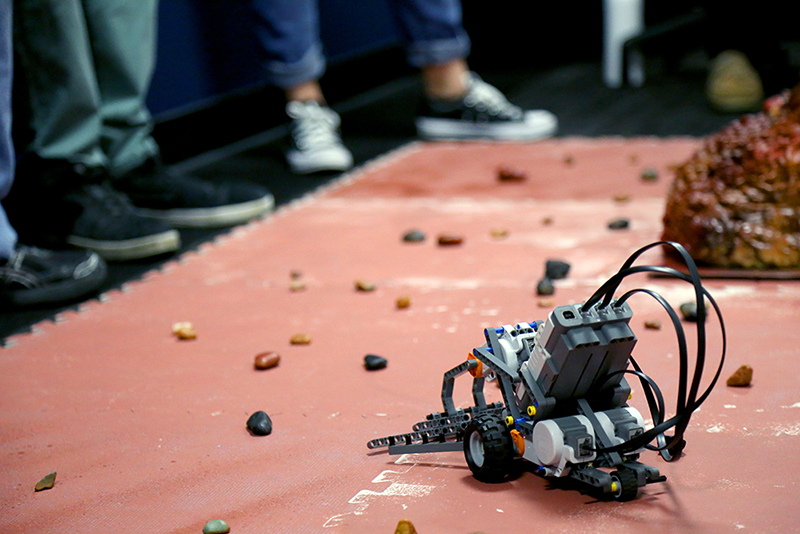 The gold team's rover collects rock samples during its 10-minute scored mission. Image credit: NASA/JPL-Caltech/Lyle Tavernier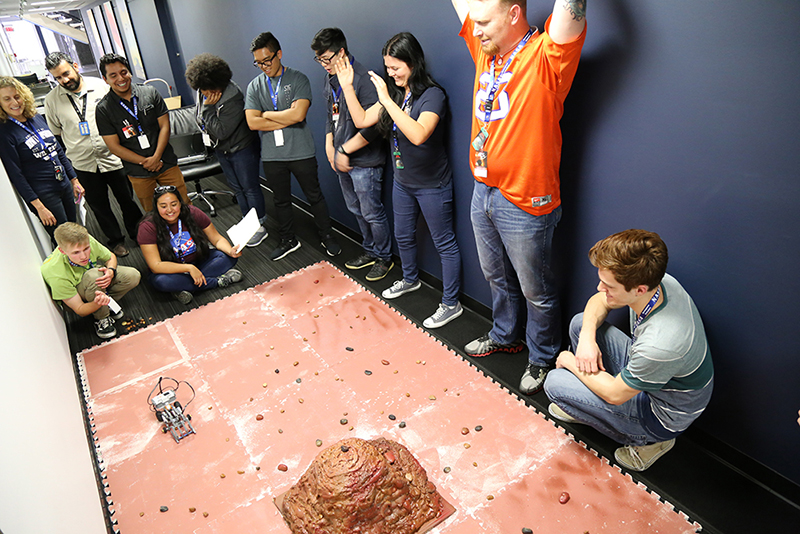 The green team cheers as their rover returns a rock sample to home base. Image credit: NASA/JPL-Caltech/Lyle Tavernier
---
5:45 p.m. – What's Your Strategy?

While each team has the same mission in mind, their approach and strategy can vary wildly. The team members' personalities and experience, their mentor and any challenges they face along the way all make an impact on the outcome of their final mission. Tonight, the teams will compete in their first mission, which involves programming their rovers to autonomously collect and transport rock samples on the simulated Mars terrain. As the teams learned earlier in the day from Mars rover engineer Rob Manning, it all comes down to the team with the most thorough design and testing – plus a bit of luck. We wondered what each team's strategy or motto is going into the challenge, so we asked them to describe it in five words or fewer. Here's what they said: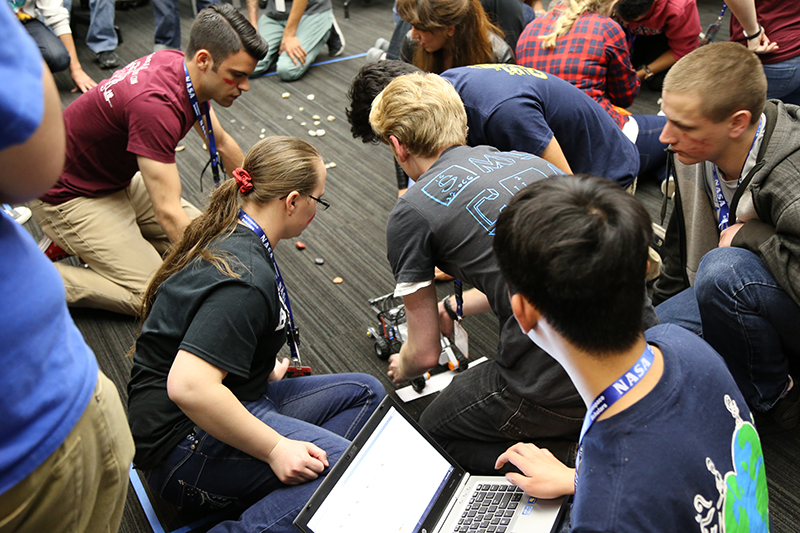 "Every action requires team heart"
– #RedTeam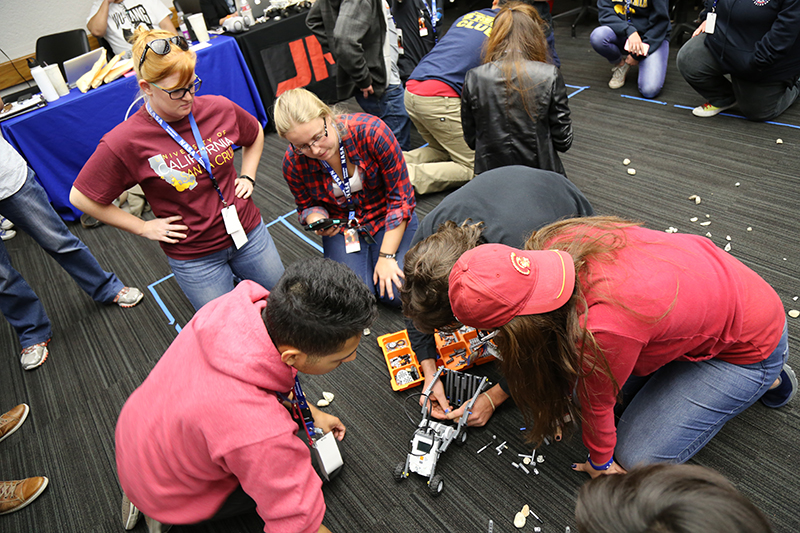 "Simple, efficient, applicable, logical science" – #BlueTeam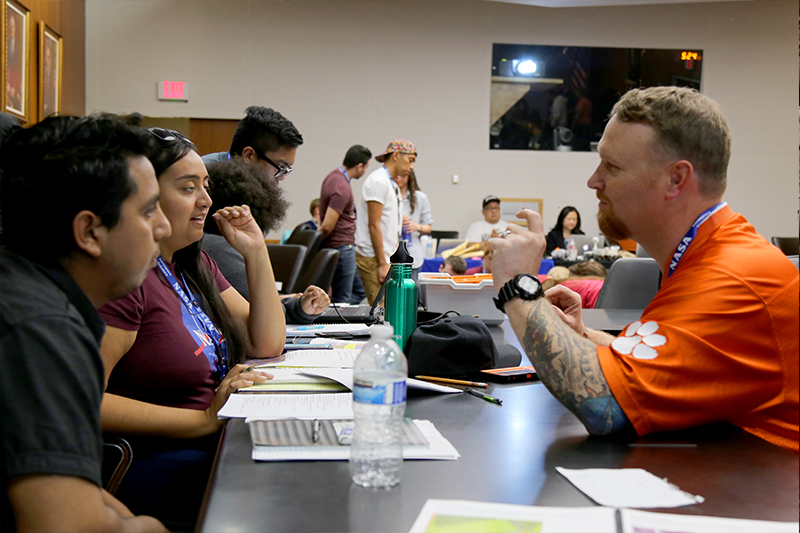 "Forward, drop, drag" – #GreenTeam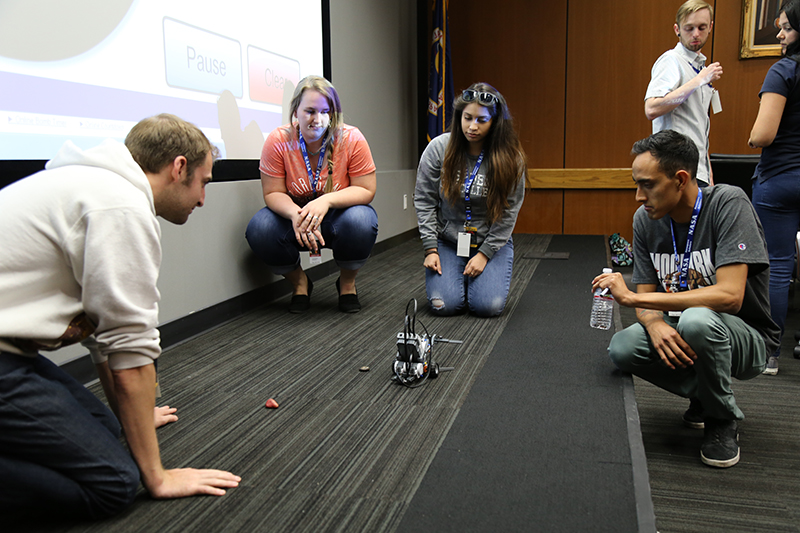 "Off-world specimen cache and retrieval" – #GoldTeam
Tell us which one is your favorite and wish them luck on Facebook and Twitter, using #NCAS2016 and the team hashtag.
---
3 p.m. – Their Mission, Should They Choose to Accept It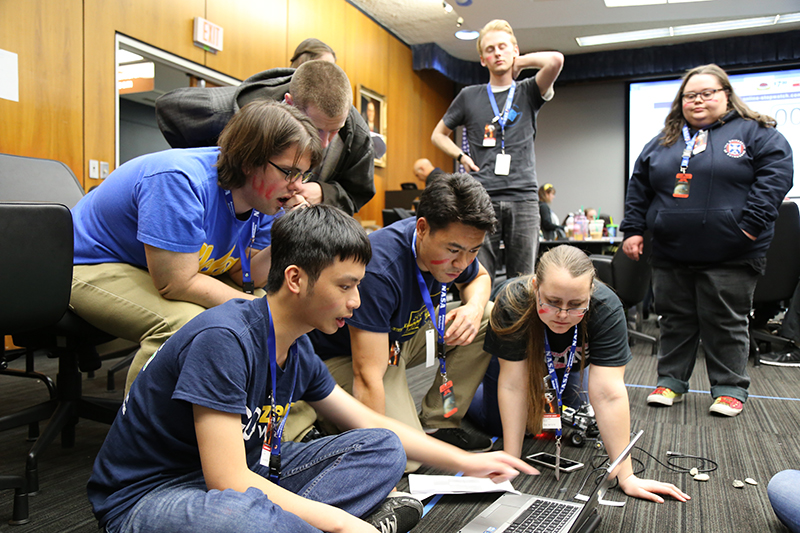 The red team gathers to discuss their mission. Image credit: NASA/JPL-Caltech/Lyle Tavernier
As soon as students arrived at JPL yesterday, they began working on what will be their mission for the next three days: building a working Mars rover prototype that can perform two separate missions on a simulated Mars terrain. The rover doesn't look like much. It's an amalgamation of LEGOs and a programming console. And the Mars terrain consists of red floor tiles with sand, colored rocks and a faux Olympus Mons. But despite the looks of it all, the challenge is just about as close as it gets to the real thing.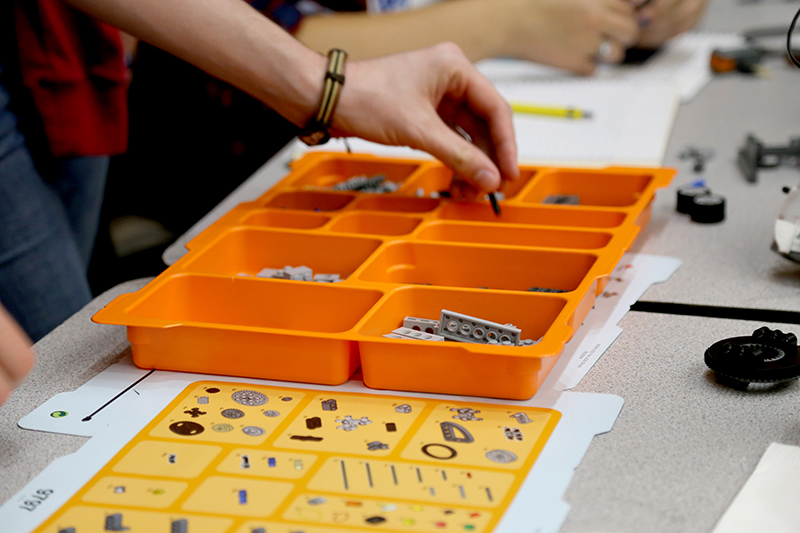 Teams must use parts from a LEGO Mindstorm kit to design and build their rovers. Image credit: NASA/JPL-Caltech/Lyle Tavernier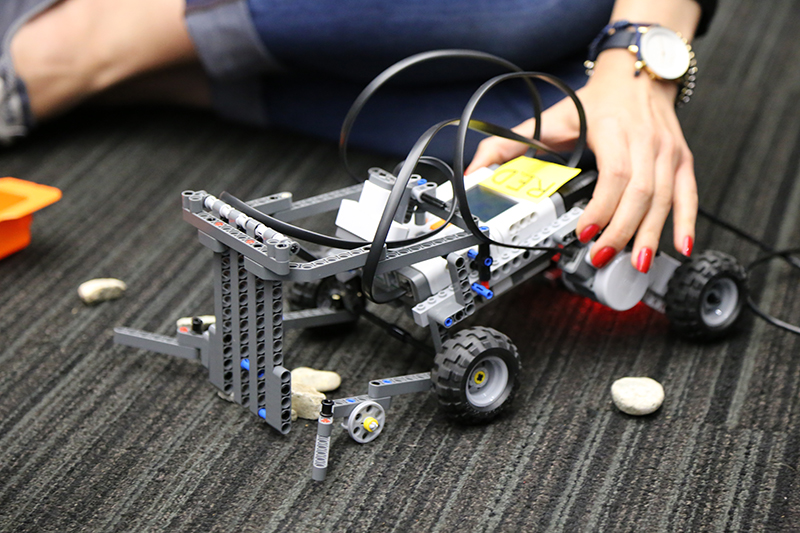 The rovers must be able to successfully complete two mission challenges: collecting and transporting samples, and retrieving and rescuing a stranded "Mars Buggy." Image credit: NASA/JPL-Caltech/Lyle Tavernier
The students are divided into four teams, each lead by a JPL mentor, and are assigned project roles such as project manager, software engineer, even marketing and communications manager. On Day One, teams are given a $600 million budget to build a rover that can successfully complete two missions: gather and transport sample rocks, and later rescue and retrieve a stranded "Mars Buggy." They then have to design and build their rovers using a LEGO Mindstorm kit with various parts that are each assigned a dollar value. They are allowed to purchase and sell parts from other teams, but they can't exceed their budget. Monetary fines and bonuses are given for things like losing equipment (fine) or asking good questions (bonus). Teams are also awarded money for performing successful maneuvers during their missions.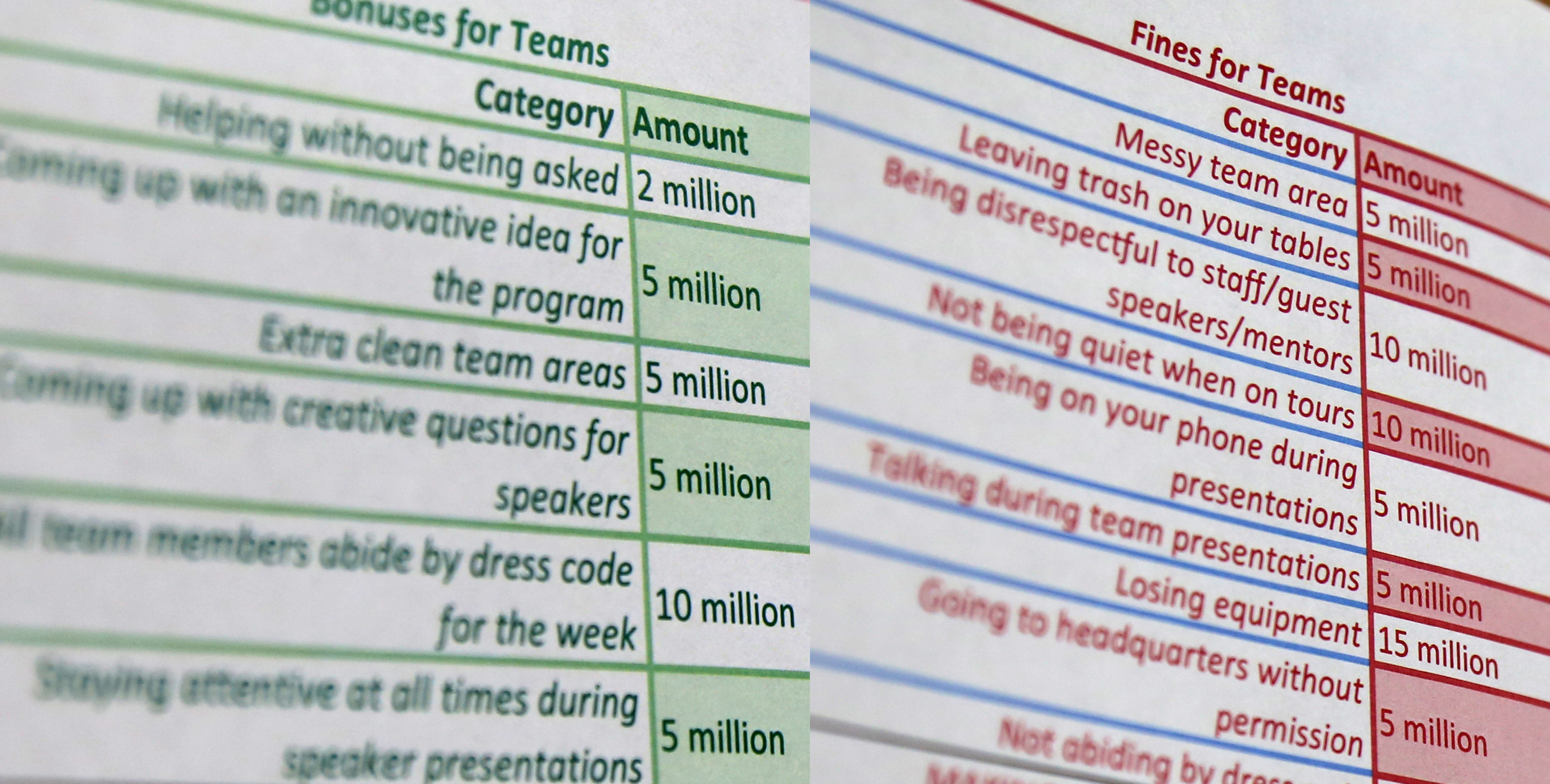 Students are given fines and bonuses that may help or detract from their overall mission budget of $600 million. Image credit: NASA/JPL-Caltech/Lyle Tavernier
On the final day of their experience, teams will make final presentations to a mock NASA mission selection panel, during which they will have to explain their rover's scientific objective and sell their design.
"We push them to take on roles outside of their comfort zones, to speak up and have their voice heard and to learn from each other," said Roslyn Soto, who along with Eddie Gonzales helps manage the program for JPL. "We want students to have a good understanding of the kind of teamwork that is required in engineering and other STEM fields and walk away with a better understanding of the research and career opportunities available to them."
---
12 p.m. – Lessons from a Career Mars Rover Engineer
Mars rover chief engineer Rob Manning gives a talk to students. Image credit: NASA/JPL-Caltech/Lyle Tavernier
The students took a break from building their rovers to hear a talk by Rob Manning, the chief engineer for the Mars Curiosity rover. Manning has been a Mars rover engineer since the Pathfinder mission of the 1990s, which landed Sojourner, the first rover ever on the Red Planet.

He shared his experiences designing and building rovers for NASA and how the process has evolved during his 35 years at the laboratory.
"Can you believe that JPL started building its first spacecraft the year I was born, 1958. These people were building spacecraft without the use of computers. Everything was done by hand. So if you wanted to design [a spacecraft], you had to draw out all the details on a piece of paper."
On building spacecraft for Mars, he said:
"What I like about building spacecraft for Mars is you can build it, design it, test it and launch it, and in seven months, it's on Mars. So the very same people who thought of it, can operate it."
Students used the opportunity to ask Manning about some of the more creative engineering solutions his teams have come up with over the years, such as the bounce landing used for the Spirit and Opportunity rovers.
"Back then people thought we were really goofy by doing that. 'So you're going to land how many times?' Imagine dropping your spaceship from 23 meters on another planet."
He stressed the importance of designing spacecraft with potential issues in mind, but said a lot of it comes down to luck.

"Sometimes you get lucky. And the trick is to design your systems so you think of these things. In many respects, what happens on the day of landing is out of our control. In some sense, the future has already happened because if it doesn't work, it's because of something we missed or we didn't test ahead of time."

---
11 a.m. – Welcome NCAS 2016 Students!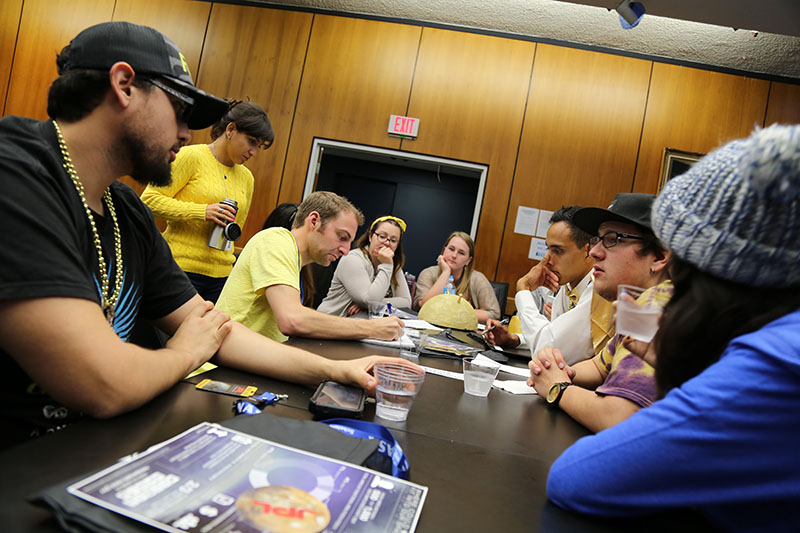 Forty community college students are participating in the Spring 2016 on-site experience at JPL as part of NASA's National Community College Aerospace Scholars program. Image credit: NASA/JPL-Caltech/Lyle Tavernier
Forty community college students descended on NASA's Jet Propulsion Laboratory yesterday for a four-day experience and engineering competition hosted by NASA's National Community College Aerospace Scholars, or NCAS, program. The program, which consists of a five-week online course, webinars with NASA scientists and engineers, a project planning a mission to Mars, and the opportunity to qualify for a four-day on-site experience at a NASA center, is designed to give community college students a window into science, technology, engineering and mathematics careers at NASA. Of the nearly 300 accepted for the online workshop, 120 are invited for an on-site experience at a NASA center.
This week JPL, Johnson Space Center, Armstrong Flight Research Center and Stennis Space Center are hosting 40 students each for the Spring 2016 on-site experience, during which student teams will compete to win a fictional mission contract for a future Mars rover. Teams must design and build their rovers using a LEGO Mindstorm kit, test them on a simulated Mars surface and finally sell their mission concept to a panel of NASA experts. Each of the four teams at JPL is guided by a laboratory engineer, who will mentor them throughout the competition.

Follow all the action this week here and on
Twitter using the hashtag #NCAS2016
.
TAGS: NCAS, Community College, Programs, Workshops, STEM, Robotics, Engineering

---
I grew up moving around in the U.S. and Mexico, which made it hard to keep up with school. I mainly struggled with my language arts classes, but there were areas in which I excelled: math and science. I was in high school when I decided I wanted to be a scientist; I was fascinated by the explanations of the world through chemistry and physics. Although I was living in Mexico at that time, I never gave up on the dream of attending an American university to pursue my education. In 2010, my family and I moved to California to escape the dangers of drug cartels that had invaded our town.

I was already a high school senior in my last semester when I enrolled in school. I had already missed all the university deadlines, hadn't taken the SATs and had to attend adult school in the afternoon to make up for missing credits. Despite all of that, I graduated on time and decided to attend the College of the Sequoias, a local community college, where I am now majoring in chemistry. (I will be transferring to the University of California, Los Angeles in the fall!)
During my freshman year, I heard about the NASA National Community College Aerospace Scholars Program, and I decided to give it a shot. I used my basic knowledge of chemistry to write a series of proposals for a mission to Mars that included a timeline, budget and rover design. Based on my individual performance, I was selected on a competitive basis to attend the on-site team project at NASA's Jet Propulsion Laboratory. There were about 40 students from all over the U.S. We were split into four teams to put our ideas together and build a rover. We called our team "Red Planet Research" and our rover was named "Isis." (It was my birthday!) Through this I experience, I saw what it takes to be a NASA scientist and engineer. I also discovered that I wanted to become one of the JPL scientists who are involved with exploration missions. I was hooked on studying the Earth and planets. I returned to my school excited for what was to come and shared my excitement with others. I am happy to say that four students from my community college participated in NCAS this year at JPL.

In August of 2013, I received an email from NASA Education saying that I had been selected to receive the Minority University Research and Education Program (MUREP) scholarship! The program guarantees two summer internships at any NASA center. Right away, I knew I wanted to come back to JPL. Although I come from a small community college, I managed to be a competitive applicant due to my involvement with science, technology, engineering and mathematics programs, such as the Mathematics Engineering Science Achievement Program and the Society for Advancement of Chicanos and Native Americans in Science.

This summer, for the first of my two NASA internships as a MUREP scholar, I am working in the AstroBiogeoChemistry (ABC) Lab measuring hydrogen and oxygen isotopes in hydrated clay minerals. Our goal is to improve instrument precision and techniques for possible future return-sample missions.

It's a dream come true to finally work in a planetary chemistry and astrobiology lab. I have the opportunity to meet researchers who are passionate about their work and be involved in exciting research. But I think the best part of the internship is my lab group. There are two other interns, two post-doctorate interns, a Ph.D. student, and my mentor. They all take the time to tell us about the work they're doing and, most important, mentor us as rising scientists. Throughout my experience, I have learned a lot about research, and I am inspired to continue in the STEM field. I was nervous before coming to JPL and didn't know what to expect, but being part of the ABC Lab has exceeded all my expectations. I encourage all community college students to apply for NASA opportunities.

Although my internship is coming to an end, I am happy to say that I will be back next summer to do more exciting research.

Learn more about JPL internships and fellowships
TAGS: NCAS, Community College, Internships & Fellowships, Chemistry, Planetary Science, Astrobiology, Geology, Women in STEM

---
Ciara Lynton is no stranger to the limelight. The 19-year-old electrical engineering major has been featured in a number of magazines for her academic and leadership accomplishments. So it was no surprise that she soared, arms first, into her internship at NASA's Jet Propulsion Laboratory in Pasadena, California. With a team of three other interns, Lynton is working with a highly innovative and cutting-edge contraption: the BioSleeve.
"The BioSleeve is a gesture-based interface that will be used to translate muscle movement and activity into robot control," Lynton said. "We want to use the BioSleeve to be able to control robots and prosthetic limbs." Her team is hopeful that the apparatus will be used by astronauts in the near future. As of now, Lynton is making significant strides in assisting the development of the innovative mechanism, working on system integration and hardware design.

Lynton will soon start her junior year at Morgan State University in Baltimore. Although a number of factors lead her into the electrical engineering field, Lynton says her love of electronics and computers was the driving force. "And I get to make a difference," she said.
Lynton's inquisitive nature was unveiled at the tender age of six when she disassembled her first computer -- unbeknownst to her mother. "Growing up, I would always play 'Where in the World is Carmen Sandiego' and 'Reader Rabbit,' so I really wanted to know the makeup of the computer and how it operated," said Lynton, who was born and raised in Baltimore. She reassembled the computer after her careful assessment, and it still worked. "My mom was not the happiest, but that's when she knew," said Lynton of her tech-savvy capabilities.
Lynton is a recipient of NASA's Minority University Research and Education Program fellowship, which provides academic stipends and internships to underrepresented students completing undergraduate degrees in science, technology, engineering and mathematics (STEM) fields in an effort to diversify the STEM workforce. "The most challenging obstacle I had to face was getting the scholarship because there was a lot of competition," said Lynton. Her effort came to avail when she received an email from her mentor, Christopher Assad, asking if she would like to participate in a once-in-a-lifetime internship opportunity with JPL's Mobility and Robotic Systems group. "I really like NASA and robotics, so I was like, 'Yea!'" she said.
This isn't Lynton's first time venturing into unknown terrains. Last summer, she participated in a cyber-security internship offered through her school's research lab. And she has her sights set on exploring even more places her major might take her. "I try to do a different [internship] each year -- get as much exposure as I can before I have to lock down a specific interest for graduate school," she said.
For now, the summer intern is thoroughly enjoying her experience at JPL, "Working with the BioSleeve is really rewarding, plus everybody here is really friendly and the environment is very laid back."
TAGS: Electrical Engineering, BioSleeve, Robotics, Morgan State University, Women in STEM

---
I'm trying to figure out exactly which decision it was that started me on the unlikely path to where I am now -- enjoying this remarkable summer internship at NASA's Jet Propulsion Laboratory in sunny Pasadena, California. Fourteen years ago, I decided to forego a college education in favor of moving to Austin, Texas, to become a rock star with my best friends from high school. That didn't pan out for us. But it was only after five years of being a dad, throwing and attending little kid birthday parties, and slogging through the daily grind of the uneducated man's perpetual life of toil and bills that I finally decided to give college a shot. Why?
The final straw came unexpectedly. In the summer of 2012, my wife, our three girls and I were in the middle of a family camping trip. I was finishing the final pages of a book on neuroscience entitled, "Free Will", when that became the culmination of a 12-year quest for meaning and direction in my life. I read the last words on the last page, and the sense of peace and purpose that I had been looking for settled upon me like a cloud of butterflies. I was 30 years old, and I knew what I wanted to do when I grew up! I wanted to help make the world a better place through science and discovery, through exploration of this beautiful planet and universe. Yup, that's probably the moment when my life began its inexorable crawl toward JPL.
The first step in achieving my goal of "net world-happiness increase" was to enroll at my local school for highly motivated nontraditional students: Tulsa Community College (TCC). Roughly a year and a half after that strategic victory, I learned of a limited number of TCC-funded summer internships to this place called JPL, which I had never heard of. I had heard of NASA though -- and I knew roughly where Mars was located -- so I made this internship my primary goal and spent nearly every spare moment planning and working toward it, in between school, work, and my family life.
In May of this year, I was selected as a JPL intern along with two other students from my class, never suspecting that such a profoundly worthwhile and transformative experience would ensue. In June, I began working with JPL microfluidics specialist and engineer Mike Lee in JPL's Non Destructive Evaluation and Advanced Actuators Lab and in the Microdevices Lab. I am helping with a project called the AstroBioNibbler. It's a conceptual spacecraft instrument whose goal is to detect minute biomarkers in regolith and extraplanetary rocks. We're not on a mission -- yet -- but that's what we're working toward.
The work here is rewarding and stimulating, the people are inspiring, the activities and talks are mind-blowing. I feel humbled and grateful to be lending my hands to something so huge and important as this: humanity's quest for knowledge of the cosmos. NASA and JPL's space program have become part of my identity now. I am sure that I'll never feel like Mars is quite as far away as I used to and that, whether I'm invited back next summer or not, I'll always be a JPLer at heart. But seriously, invite me back, please.
If you would like to follow Dallas' experiences throughout the summer as a JPL intern, check out his blog at: omnidimensionalcheesesandwich.wordpress.com.
TAGS: Engineering, Microdevices, AstroBioNibbler, Tulsa Community College

---
Not many interns get the opportunity to study one of humanity's biggest questions: How did life emerge? But mechanical engineering major Jessica Nuñez is having the experience of a lifetime in search of the answer. Nuñez is interning this summer in the Planetary Sciences Section at NASA's Jet Propulsion Laboratory in Pasadena, California.
As part of a NASA Astrobiology Institute project led by Isik Kanik, Nuñez constructs and analyzes simulated hydrothermal vents, chimney-like structures that are hypothesized to have been the birthing grounds for the emergence of life. On a daily basis, she examines the chimneys, which she constructs herself through a chemical process, and analyzes them with one of her favorite tools on lab: an electron microscope. "It gets the coolest pictures," she said. "It's awesome to be exposed to technology here at JPL that I wouldn't be exposed to anywhere else." Nuñez observes the chimney's composition to see how its structure changes over periods of time. Along with her cohorts, she is hoping to see a chemical reaction similar to the one that scientists believe produced life on Earth.
Working closely with her mentors, Mike Russell and Laurie Barge, Nuñez is eager to lend a helping hand in research that could answer such an important question. "There are a bunch of different pieces to this big puzzle to see how life could have surfaced," she said.
While Nuñez's ultimate career goal is to work in the engineering field, she is excited about the new challenges and experiences an internship in planetary sciences might offer. "It was kind of intimidating at first, but at the same time I was excited about all the possibilities JPL has and all there is to learn," she said. "I would like to get exposed to as much as possible, so it's exciting for me to get my foot in the door here and see what work I can do in the future."
This fall, the 22-year-old West Covina native is bidding adieu to Citrus Community College in order to sail into new terrains at the University of California, Berkeley. Nuñez believes she will have an edge as she enters a new academic chapter. "In a sense, I think this internship is preparing me to transfer, because I am learning something new every day, so it's nice," she said.
Whether she is taking a run in the neighboring mountains, or investigating the deeply webbed quest of life's emergence, Nuñez is thoroughly enjoying her internship experience. And like many scientists and engineers who venture to JPL, she is already planning for her future endeavors. "I would love to continue working here, maybe even in different areas within JPL or other NASA laboratories," she said.
In the near future, she hopes to participate in developing missions to visit Europa and Enceladus, the icy moons of Jupiter and Saturn, widely regarded as the next frontiers in the search for life beyond Earth.
Says Nuñez, "I've never been into space or exposed to it, but now that I have, I love it."


TAGS: Mechanical Engineering, Astrobiology, Internships & Fellowships, Citrus Community College, University of California, Berkeley, Women in STEM

---
On my second "first day" as an intern at the Jet Propulsion Laboratory, I felt a very different kind of nervousness from my first internship, last summer. I still had butterflies, and I didn't know what my team would be like, but I also felt very comfortable with what I was about to encounter -- even the long daily commute from Orange County. As I sat through student orientation, I once again found myself thinking about how I got here, and I'm still in disbelief! Two years ago, I was sitting in my algebra class at Santa Ana College, a digital arts major, when I learned about my school's Bridge to Engineering Program (B2E). The rapid evolution of computers and the amazing things that technology makes possible have always astounded me. I love art, but I decided I wanted to use my artistic abilities to create something that was useful and innovative, as well as attractive. Through the B2E program, I saw the opportunity to choose a major that I originally thought would be too difficult to take on as a returning student (who had been away from school for over 10 years) a wife, and mother of two. So I changed my major to software engineering.

B2E provides a lot of support that will allow me to fulfill the math courses I require to transfer to a four-year-university as a software engineering major. And it was through B2E that I learned about the opportunity to apply for a robotics internship with JPL's Minority Student Programs in 2013 -- even though I was only starting my freshman year as a software engineering major. Last summer, my assignment was to help test an extreme-terrain rover prototype called Axel. With my team and my mentor, Issa Nesnas, I developed test plans for the rover; I designed and constructed dust barriers for its three on-board cameras (the cone-shaped barrier alleviated potential glitches with video transmissions); and, I helped conduct remote tests of the rover, driving it "blindly" (using only the rover's images and telemetry to direct it) down the hills above JPL.
Driving the Axel rover was one of the most exciting and at the same time nerve-wracking things I have ever done. Just imagine: You're only a freshman, this is your first internship, and your mentor says to you, "Here, drive this rover, worth thousands of dollars, blindly down the slopes and through the trees. Just make sure you don't break it." Pretty awesome, right? I must have done OK, because my internship was extended. It was one of the most rewarding, exciting and exhausting things I have ever done.
After I finished my internship, I confirmed that software was what I wanted to do. I also wanted to learn more about everything I did over the summer, so I took my first robotics class when I returned to school.

My experience at JPL was so incredible that without thinking about the long commute, I decided to apply again. And I feel very fortunate to be here two years in a row, just as excited as the first time, absorbing everything I possibly can from everyone I meet and everything I see. I'm in the robotics section again, this time working with quadrotors alongside my mentor, Roland Brockers. My teammates and I are producing materials for a research video and designing a graphical user interface (i.e., a way for humans to interact with a computer system) for micro air vehicle (MAV) control. My team's dynamic this year is very different than the last. It's a bigger group. All the guys are great. They are all very smart, and I'm learning a lot from them.

What I've learned during both of my internships is that there is nothing like hands-on experience. Practice is crucial to learning programming; and, team work and a good group dynamic are vital to a project's success.

I still walk around JPL in awe, but it feels more and more familiar every day. I am still in junior college and most of the interns I've met are either seniors or recent graduates from prestigious four-year universities. Some might think it would be intimidating, but I feel lucky to be surrounded by such intelligent people -- people who I can learn from. My experience as a summer intern here has only reinforced my desire to continue with my education and tackle any obstacles that the journey brings to one day have a job that I love -- one that challenges me and teaches me something new every day. I am grateful for the opportunity to participate in this unforgettable experience and for the support I receive from my family to fulfill this incredible dream. It is amazing knowing that my sons associate everything space related to their mommy. I love that.

Learn more about JPL internships and fellowships

TAGS: Student Stories, Bridge to Engineering, Engineering, Robotics, Internships & Fellowships, Santa Ana College, Women in STEM

---
JPL intern Brooke Goree goes to new heights testing the dynamics of high-altitude parachutes for NASA's Orion spacecraft, designed to take astronauts to exciting new destinations.
---
Find out how one student's far-fetched dream landed her an internship at JPL. Astronomy intern Alyx Stevens shares what it's like to work at the leading center for robotic exploration of the solar system.