---
In the News
Next week, NASA's Cassini spacecraft will go where no spacecraft has gone before when it flies just past the edge of Saturn's main rings. The maneuver is a first for the spacecraft, which has spent more than 12 years orbiting the ringed giant planet. And it's part of a lead-up to a series of increasingly awesome feats that make up the mission's "Grand Finale" ending with Cassini's plunge into Saturn on Sept. 15, 2017.
How They'll Do It
To prepare for the so-called "ring-grazing orbits," which will bring the spacecraft within 56,000 miles (90,000 km) of Saturn, Cassini engineers have been slowly adjusting the spacecraft's orbit since January. They do this by flying Cassini near Saturn's large moon Titan. The moon's gravity pulls on the spacecraft, changing its direction and speed.
On November 29, Cassini will use a big gravitational pull from Titan to get into an orbit that is closer to perpendicular with respect to the rings of Saturn and its equator. This orbit will send the spacecraft slightly higher above and below Saturn's north and south poles, and allow it to get as close as the outer edge of the main rings – a region as of yet unexplored by Cassini.
Why It's Important
Cassini's ring-grazing orbits will allow scientists to see features in Saturn's rings, up close, that they've only been able to observe from afar. The spacecraft will get so close to the rings, in fact, that it will pass through the dusty edges of the F ring, Saturn's narrow, outermost ring. At that distance, Cassini will be able to study the rings like never before.
Among the firsts will be a "taste test" of Saturn's rings from the inside out, during which Cassini will sample the faint gases surrounding the rings as well as the particles that make up the F ring. Cassini will also capture some of the best high-resolution images of the rings, and our best views of the small moons Atlas, Pan, Daphnis and Pandora, which orbit near the rings' outer edges. Finally, the spacecraft will do reconnaissance work needed to safely carry out its next planned maneuver in April 2017, when Cassini is scheduled to fly through the 1,500-mile (2,350-kilometer) gap between Saturn and its rings.
› Read more about what we might learn from Cassini's ring-grazing orbits.
These orbits are a great example of scientific research in action. Much of what scientists will be seeing in detail during these ring-grazing orbits are features that, despite Cassini's 12 years at Saturn, have remained a mystery. These new perspectives could help answer questions scientists have long puzzled over, but they will also certainly lead to new questions to add to our ongoing exploration of the ringed giant.
Teach It
What better way to share in the excitement of Cassini's exploration than to get students thinking like NASA scientists and writing about their own questions and curiosities?
NASA's Cassini Scientist for a Day Essay Contest, open to students in grades 5-12, encourages students to do just that. Participants research three science and imaging targets and then write an essay on which target would provide the most interesting scientific results, explaining what they hope to learn from the selected target. Winners of the contest will be featured on NASA's Solar System Exploration website and get an opportunity to speak with Cassini scientists and engineers via video conference in the spring.
More information, contest rules and videos can be found here.
The deadline to enter is Feb. 24, 2017.
Explore More
TAGS: Cassini, Saturn's Rings, Saturn, Grand Finale, Spacecraft, Missions, K-12, Lessons, Activities, Language Arts, Science, Essay Contest
---
This summer, while many of us were sleeping in and avoiding heavy school work, lots of exciting things were happening in and around our solar system! Here's a guide to launching the 2016 school year right and turning those stellar events into educational connections from NASA.
Science on Fire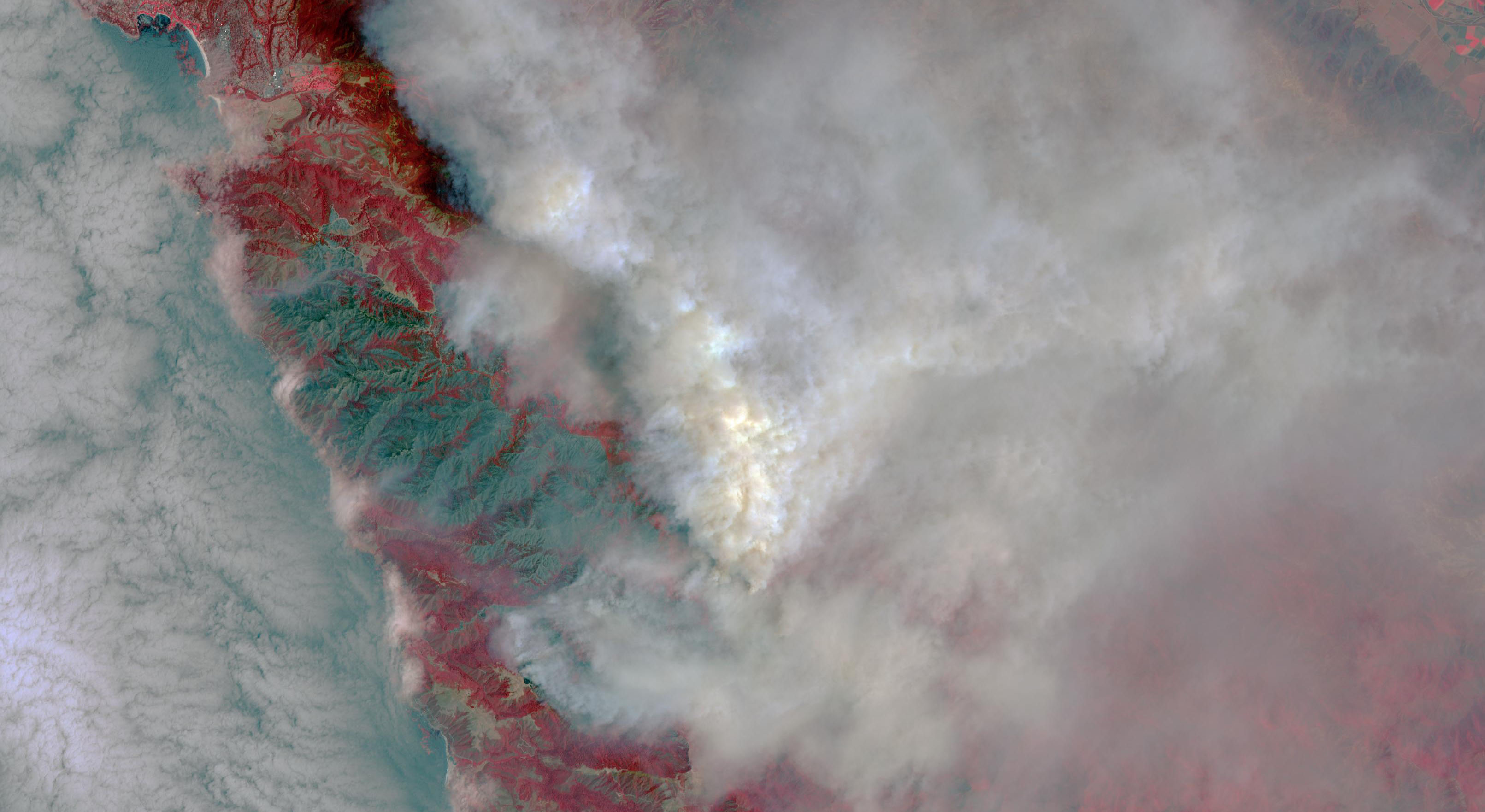 This false-color image of the Soberanes fire in Northern California, near Big Sur, was captured by the Advanced Spaceborne Thermal Emission and Reflection Radiometer (ASTER) instrument on NASA's Terra spacecraft on July 28, 2016.
Here at home, on Earth, it is fire season in many places in the Northern Hemisphere. Fire season comes about with warmer temperatures, dry air, and dry brush. Once a fire gets started in these conditions, it can rapidly spread and become out of control, especially when high winds are involved. This summer has already witnessed some dangerous fires including the Sand Fire in Southern California and the Soberanes Fire near Big Sur on the Central California coast. Beyond the immediate threat from flames, smoke degrades air quality and burn scars leave hillsides vulnerable to rain-induced mudslides.
NASA satellites and airborne instruments are helping scientists better understand wildfires and their impacts on our changing climate. And in the immediate term, they are helping firefighters track wildfires and respond to people and structures in risk areas.
Check out JPL's latest Teachable Moment to find out more about how scientists are studying wildfires, what they're learning and why it's important. And get links to two new lessons for students in grades 3-12 that have students use NASA data, algebra and geometry to approximate burn areas, fire-spread rate and fire intensity. (You can also go straight to the new lessons at: Fired Up Over Math: Studying Wildfires from Space and Pixels on Fire)
And speaking of Earth science, find out how you can get a free bulletin board featuring posters and lithographs about NASA Earth science and missions for your classroom!
Greetings from Jupiter
Watch a recap of the July 4 excitement as NASA's Juno spacecraft entered orbit around Jupiter.
On July 4, just in time for a fireworks spectacle, the Juno spacecraft went into orbit around Jupiter. Juno launched from Earth aboard a huge rocket and had been hurtling toward Jupiter for nearly five years. Getting into orbit around Jupiter was a real nail-biter here at NASA's Jet Propulsion Laboratory (which helps manage the mission) and we are all very happy everything went as planned. Juno's mission is to study the origin, core and magnetic fields of our solar system's largest planet. Juno will orbit Jupiter for only about 20 months before Jupiter's intense radiation environment takes a toll on the spacecraft.
Communicating with a spacecraft as far away as Juno is a challenge that involves a lot of planning and teamwork. Try out this new lesson for young learners that demonstrates this process and provides practice with number concepts, counting and geometry, and data collection in a concrete, active manner.
Wish you had your very own Juno spacecraft you could use to uncover secrets beneath Jupiter? Check out this easy-to-build Juno model that uses household objects and can be used in a game with friends and family!
Explore more about Juno with these related lessons and videos:
---
UPDATE - May 9, 2016: NASA's Solar Dynamics Observatory, or SDO, spacecraft captured stunning images of the May 9, 2016 transit of Mercury. Visit the mission's Transit of Mercury page to see a collection of videos of the transit compiled using SDO images. And have students play "Can You Spot Mercury?" in our educational slideshow.

---
In the News
It only happens about 13 times per century and hasn't happened in nearly a decade, but on Monday, May 9, Mercury will transit the sun. A transit happens when a planet crosses in front of a star. From our perspective on Earth, we only ever see two planets transit the sun: Mercury and Venus. (Transits of Venus are even more rare. The next one won't happen until 2117!) On May 9, as Mercury passes in front of the sun, viewers around Earth (using the proper safety equipment) will be able to see a tiny dark spot moving slowly across the disk of the sun.

CAUTION: Looking directly at the sun can cause permanent vision damage – see below for tips on how to safely view the transit.
Why It's Important
Then and Now
In the early 1600s, Johannes Kepler discovered that both Mercury and Venus would transit the sun in 1631. It was fortunate timing: The telescope had been invented just 23 years earlier and the transits wouldn't happen in the same year again until 13425. Kepler didn't survive to see the transits, but French astronomer Pierre Gassendi became the first person to see the transit of Mercury (the transit of Venus wasn't visible from Europe). It was soon understood that transits could be used as an opportunity to measure the apparent diameter – how large a planet appears from Earth – with great accuracy.
In 1677, Edmond Halley observed the transit of Mercury and realized that the parallax shift of the planet – the variation in Mercury's apparent position against the disk of the sun as seen by observers at distant points on Earth – could be used to accurately measure the distance between the sun and Earth, which wasn't known at the time.
Today, radar is used to measure the distance between Earth and the sun with greater precision than can be found using transit observations, but the transit of Mercury still provides scientists with opportunities for scientific investigation in two important areas: exospheres and exoplanets.
Exosphere Science
Some objects, like the moon and Mercury, were originally thought to have no atmosphere. But scientists have discovered that these bodies are actually surrounded in an ultra-thin atmosphere of gases called an exosphere. Scientists want to better understand the composition and density of the gases that make up Mercury's exosphere and transits make that possible.
"When Mercury is in front of the sun, we can study the exosphere close to the planet," said NASA scientist Rosemary Killen. "Sodium in the exosphere absorbs and re-emits a yellow-orange color from sunlight, and by measuring that absorption, we can learn about the density of gas there."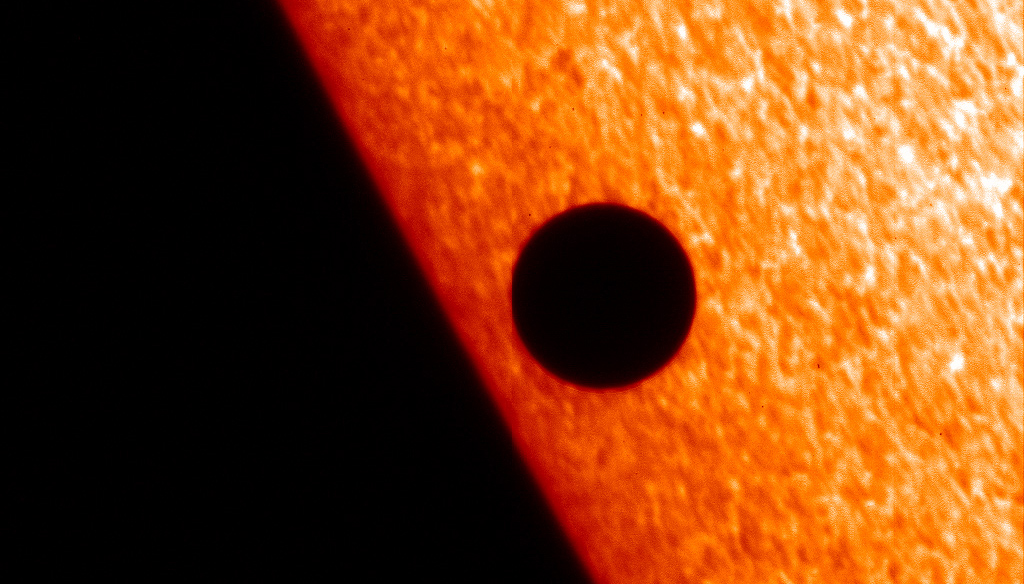 This image of Mercury passing in front of the sun was captured on Nov. 8, 2006 by the Solar Optical Telescope, one of three primary instruments on the Hinode spacecraft. Image credit: Hinode JAXA/NASA/PPARC
Exoplanet Discoveries
When Mercury transits the sun, it causes a slight dip in the sun's brightness as it blocks a tiny portion of the sun's light. Scientists discovered they could use that phenomenon to search for planets orbiting distant stars, called exoplanets, that are otherwise obscured from view by the light of the star. When measuring the brightness of far-off stars, a slight recurring dip in the light curve (a graph of light intensity) could indicate an exoplanet orbiting and transiting its star. NASA's Kepler mission has found more than 1,000 exoplanets by looking for this telltale drop in brightness.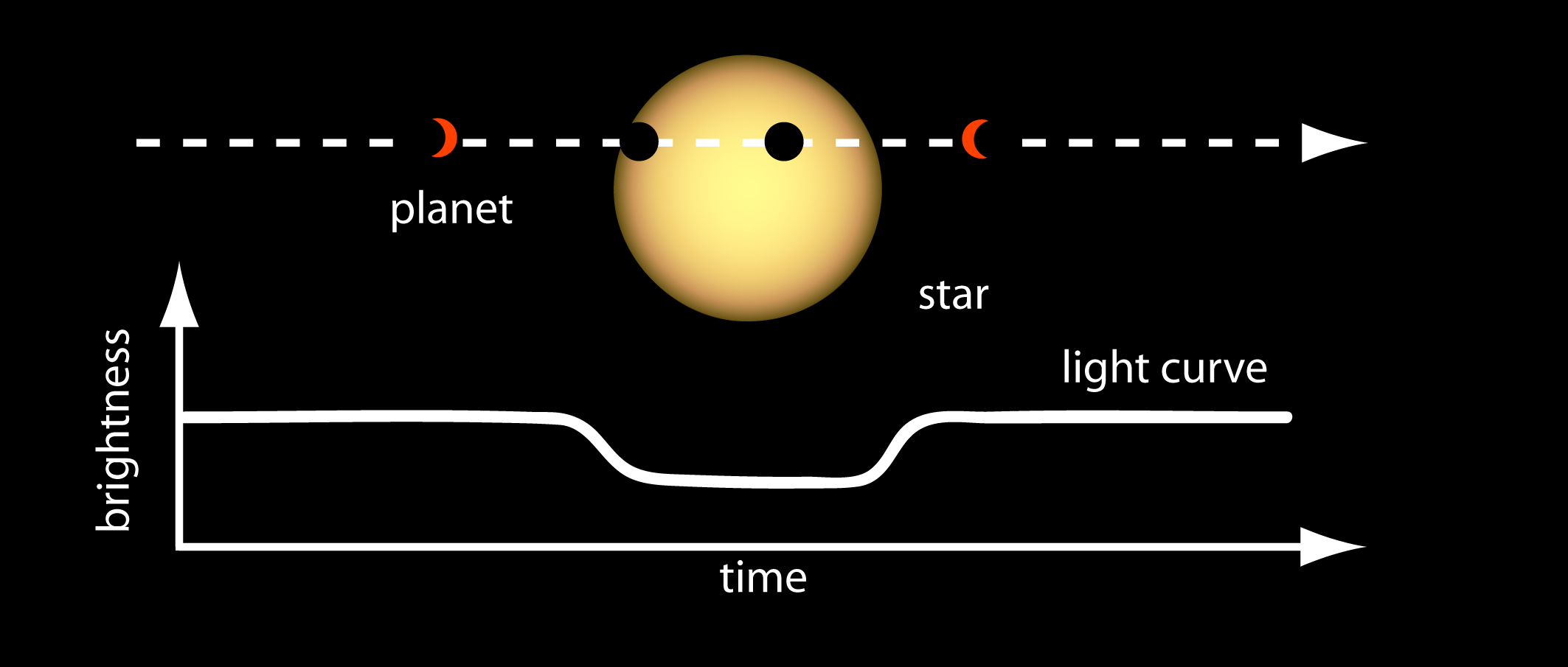 This diagram shows how scientists use the light curves of distant stars to search for planets outside our solar system. A drop in the light curve, as illustrated here, is a good indication that there's a planet orbiting the observed star. Credit: NASA Ames
The Kepler mission measures the brightness of stars. The data will look like an EKG showing the heart beat. Whenever a planet passes in front of its parent star as viewed from the spacecraft, a tiny pulse or beat is produced. From the repeated beats, we can detect and verify the existence of Earth-size planets and learn about the orbit and size of the planet. Video credit: NASA Ames and Dana Berry
Additionally, scientists have begun exploring the exospheres of exoplanets. By observing the spectra of the light that passes through an exosphere – similar to how we study Mercury's exosphere – scientists are beginning to understand the evolution of exoplanet atmospheres as well as the influence of stellar wind and magnetic fields.

Watch It

Mercury will appear as a tiny dot on the sun's surface and will require a telescope or binoculars with a special solar filter to see. Looking at the sun directly or through a telescope without proper protection can lead to serious and permanent vision damage. Do not look directly at the sun without a solar filter.
The transit of Mercury will begin at 4:12 a.m. PDT, meaning by the time the sun rises on the West Coast, Mercury will have been transiting the sun for nearly two hours. Fortunately, it will take seven and a half hours for Mercury to completely cross the sun's face, so there will be plenty of time for West Coast viewers to witness this event. See the transit map to learn when and where the transit will be visible.

Don't have access to a telescope, binoculars or a solar filter? Visit the Night Sky Network website for the location of events near you where amateur astronomers will have viewing opportunities available.
NASA also will stream a live program on NASA TV and the agency's Facebook page from 7:30 to 8:30 a.m. PDT (10:30 to 11:30 a.m. EDT) -- an informal roundtable during which experts representing planetary, heliophysics and astrophysics will discuss the science behind the Mercury transit. Viewers can ask questions via Facebook and Twitter using #AskNASA.
Teach It
Here are two ways to turn the transit of Mercury into a lesson for students.

Exploring Exoplanets with Kepler - Students use math concepts related to transits to discover real-world data about Mercury, Venus and planets outside our solar system.
Pi in the Sky 3 - Try the "Sun Screen" problem on this illustrated math problem set that has students calculate the percentage drop in sunlight reaching Earth when Mercury transits.
Explore More
Transit Resources:
Exoplanet Resources:
TAGS: Transit, Transit of Mercury, Mercury, Venus, Sun, Exoplanets, Teach, Classroom Activities, Lessons,