---
In the News
Next week, NASA's Cassini spacecraft will go where no spacecraft has gone before when it flies just past the edge of Saturn's main rings. The maneuver is a first for the spacecraft, which has spent more than 12 years orbiting the ringed giant planet. And it's part of a lead-up to a series of increasingly awesome feats that make up the mission's "Grand Finale" ending with Cassini's plunge into Saturn on Sept. 15, 2017.
How They'll Do It
To prepare for the so-called "ring-grazing orbits," which will bring the spacecraft within 56,000 miles (90,000 km) of Saturn, Cassini engineers have been slowly adjusting the spacecraft's orbit since January. They do this by flying Cassini near Saturn's large moon Titan. The moon's gravity pulls on the spacecraft, changing its direction and speed.
On November 29, Cassini will use a big gravitational pull from Titan to get into an orbit that is closer to perpendicular with respect to the rings of Saturn and its equator. This orbit will send the spacecraft slightly higher above and below Saturn's north and south poles, and allow it to get as close as the outer edge of the main rings – a region as of yet unexplored by Cassini.
Why It's Important
Cassini's ring-grazing orbits will allow scientists to see features in Saturn's rings, up close, that they've only been able to observe from afar. The spacecraft will get so close to the rings, in fact, that it will pass through the dusty edges of the F ring, Saturn's narrow, outermost ring. At that distance, Cassini will be able to study the rings like never before.
Among the firsts will be a "taste test" of Saturn's rings from the inside out, during which Cassini will sample the faint gases surrounding the rings as well as the particles that make up the F ring. Cassini will also capture some of the best high-resolution images of the rings, and our best views of the small moons Atlas, Pan, Daphnis and Pandora, which orbit near the rings' outer edges. Finally, the spacecraft will do reconnaissance work needed to safely carry out its next planned maneuver in April 2017, when Cassini is scheduled to fly through the 1,500-mile (2,350-kilometer) gap between Saturn and its rings.
› Read more about what we might learn from Cassini's ring-grazing orbits.
These orbits are a great example of scientific research in action. Much of what scientists will be seeing in detail during these ring-grazing orbits are features that, despite Cassini's 12 years at Saturn, have remained a mystery. These new perspectives could help answer questions scientists have long puzzled over, but they will also certainly lead to new questions to add to our ongoing exploration of the ringed giant.
Teach It
What better way to share in the excitement of Cassini's exploration than to get students thinking like NASA scientists and writing about their own questions and curiosities?
NASA's Cassini Scientist for a Day Essay Contest, open to students in grades 5-12, encourages students to do just that. Participants research three science and imaging targets and then write an essay on which target would provide the most interesting scientific results, explaining what they hope to learn from the selected target. Winners of the contest will be featured on NASA's Solar System Exploration website and get an opportunity to speak with Cassini scientists and engineers via video conference in the spring.
More information, contest rules and videos can be found here.
The deadline to enter is Feb. 24, 2017.
Explore More
TAGS: Cassini, Saturn's Rings, Saturn, Grand Finale, Spacecraft, Missions, K-12, Lessons, Activities, Language Arts, Science, Essay Contest
---
In the News
You didn't need to check social media, read the newspaper or watch the local news to know that California wildfires were making headlines this summer. Simply looking up at a smoke-filled sky was enough for millions of people in all parts of the state to know there was a fire nearby.
Fueled by high temperatures, low humidity, high winds and five years of vegetation-drying drought, more than 4,800 fires have engulfed 275,000-plus acres across California already this year. And the traditional fire season – the time of year when fires are more likely to start, spread and consume resources – has only just begun.
With wildfires starting earlier in the year and continuing to ignite throughout all seasons, fire season is now a year-round affair not just in California, but also around the world. In fact, the U.S. Forest Service found that fire seasons have grown longer in 25 percent of Earth's vegetation-covered areas.
For NASA's Jet Propulsion Laboratory, which is located in Southern California, the fires cropping up near and far are a constant reminder that its efforts to study wildfires around the world from space, the air and on the ground are as important as ever.
JPL uses a suite of Earth satellites and airborne instruments to help better understand fires and aide in fire management and mitigation. By looking at multiple images and types of data from these instruments, scientists compare what a region looked like before, during and after a fire, as well as how long the area takes to recover.
While the fire is burning, scientists watch its behavior from an aerial perspective to get a big-picture view of the fire itself and the air pollution it is generating in the form of smoke filled with carbon monoxide and carbon dioxide.
Natasha Stavros, a wildfire expert at JPL, joined Zach Tane with the U.S. Forest Service during a Facebook Live event (viewable below) to discuss some of these technologies and how they're used to understand wildfire behavior and improve wildfire recovery.
This animation shows how FireSat would use a network of satellites around the Earth to detect fires faster than ever before.
Additionally, JPL is working with a startup in San Francisco called Quadra Pi R2E to develop FireSat, a global network of satellites designed to detect wildfires and alert firefighting crews faster. When completed in June 2018, the network's array of more than 200 satellites will use infrared sensors to detect fires around the world much faster than is possible today. Working 24 hours a day, the satellites will be able to automatically detect fires as small as 35 to 50 feet wide within 15 minutes of when they begin. And within three minutes of a fire being detected, the FireSat network will notify emergency responders in the area.
Using these technologies, NASA scientists are gaining a broader understanding of fires and their impacts.
Why It's Important
One of the ways we often hear wildfires classified is by how much area they have burned. Though this is certainly of some importance, of greater significance to fire scientists is the severity of the fire. Wildfires are classified as burning at different levels of severity: low, medium, and high. Severity is a function of intensity, or how hot the fire was, and its spread rate, or the speed at which it travels. A high-severity fire is going to do some real damage. (Severity is measured by the damage left after the fire, but can be estimated during a fire event by calculating spread rate and measuring flame height which indicates intensity.)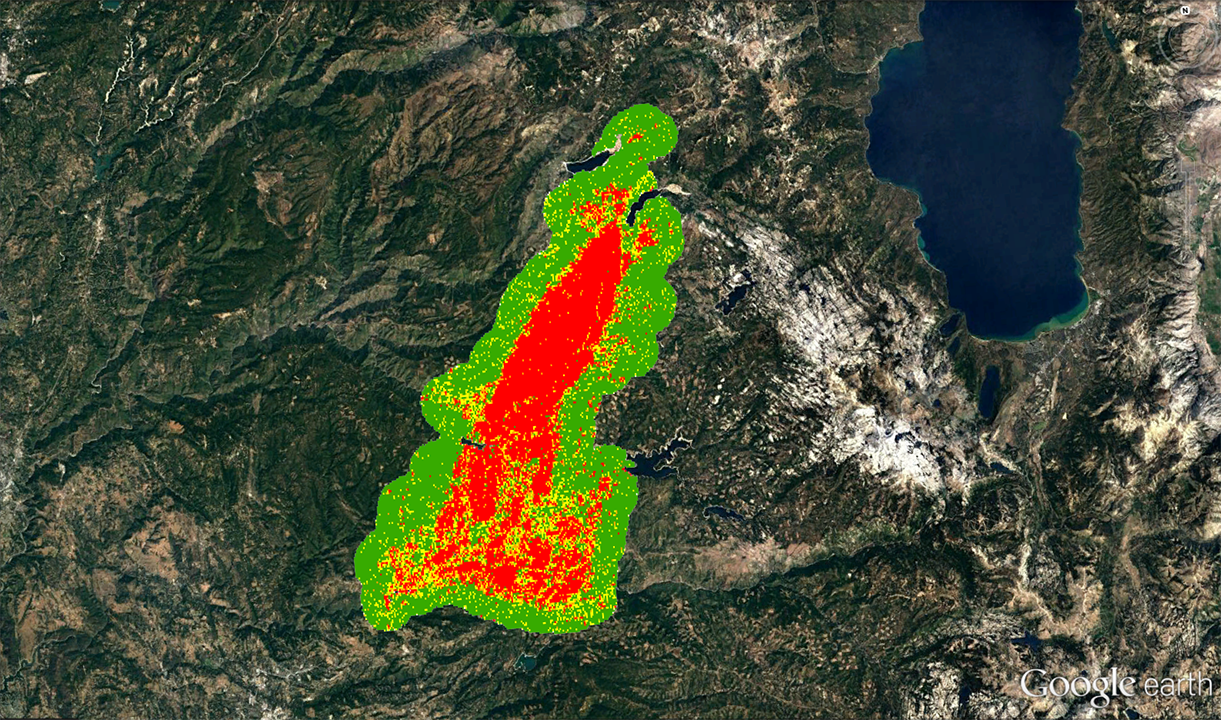 This image, created using data imported into Google Earth, shows the severity of the 2014 King Fire. Green areas are unchanged by the fire; yellow equals low severity; orange equals moderate severity; and red equals high severity. A KMZ file with this data is available in the Fired Up Over Math lesson linked below. Credit: NASA/JPL-Caltech/E. Natasha Stavros.
The impacts of wildfires range from the immediate and tangible to the delayed and less obvious. The potential for loss of life, property and natural areas is one of the first threats that wildfires pose. From a financial standpoint, fires can lead to a downturn in local economies due to loss of tourism and business, high costs related to infrastructure restoration, and impacts to federal and state budgets.
The release of greenhouse gases like carbon dioxide and carbon monoxide is also an important consideration when thinking about the impacts of wildfires. Using NASA satellite data, researchers at the University of California, Berkeley, determined that between 2001 and 2010, California wildfires emitted about 46 million tons of carbon, around five to seven percent of all carbon emitted by the state during that time period.
This animation from
NASA's Eyes on the Earth
visualization program shows carbon monoxide rising (red is the highest concentration) around Southern California as the Station Fire engulfed the area near JPL in 2009. Image credit: NASA/JPL-Caltech
In California and the western United States, longer fire seasons are linked to changes in spring rains, vapor pressure and snowmelt – all of which have been connected to climate change. Wildfires serve as a climate feedback loop, meaning certain effects of wildfires – the release of CO2 and CO – contribute to climate change, thereby enhancing the factors that contribute to longer and stronger fire seasons.
While this may seem like a grim outlook, it's worth noting that California forests still act as carbon sinks – natural environments that are capable of absorbing carbon dioxide from the atmosphere. In certain parts of the state, each hectare of redwood forest is able to store the annual greenhouse gas output of 500 Americans.
Studying and managing wildfires is important for maintaining resources, protecting people, properties and ecosystems, and reducing air pollution, which is why JPL, NASA and other agencies are continuing their study of these threats and developing technologies to better understand them.
Teach It
Have your students try their hands at solving some of the same fire-science problems that NASA scientists do with these two lessons that get students in grades 3 through 12 using NASA data, algebra and geometry to approximate burn areas, fire-spread rate and fire intensity:
Fired Up Over Math: Studying Wildfires from Space - In this activity, younger students use arithmetic, scale, and math tiles; middle school students employ rate and partial polygon area formulas; and high school students use Google Earth software embedded with recent NASA wildfire data to make inferences about fire severity.


Pixels on Fire – In this technology-based lesson, students detect mock fires using mobile devices and study NASA data visualizations to determine when actual California wildfires started.
Explore More
Lyle Tavernier was a co-author on this feature.
TAGS: teachable moments, wildfires, science

---
Earlier this week, we received this question from a fan on Facebook who wondered how many decimals of the mathematical constant pi (π) NASA-JPL scientists and engineers use when making calculations:
Does JPL only use 3.14 for its pi calculations? Or do you use more decimals like say: 3.141592653589793238462643383279502884197169399375105820974944592307816406286208998628034825342117067982148086513282306647093844609550582231725359408128481117450284102701938521105559644622948954930381964428810975665933446128475648233786783165271201909145648566923460348610454326648213393607260249141273724587006606315588174881520920962829254091715364367892590360
We posed this question to the director and chief engineer for NASA's Dawn mission, Marc Rayman. Here's what he said:
Thank you for your question! This isn't the first time I've heard a question like this. In fact, it was posed many years ago by a sixth-grade science and space enthusiast who was later fortunate enough to earn a doctorate in physics and become involved in space exploration. His name was Marc Rayman.

To start, let me answer your question directly. For JPL's highest accuracy calculations, which are for interplanetary navigation, we use 3.141592653589793. Let's look at this a little more closely to understand why we don't use more decimal places. I think we can even see that there are no physically realistic calculations scientists ever perform for which it is necessary to include nearly as many decimal points as you present. Consider these examples:

The most distant spacecraft from Earth is Voyager 1. It is about 12.5 billion miles away. Let's say we have a circle with a radius of exactly that size (or 25 billion miles in diameter) and we want to calculate the circumference, which is pi times the radius times 2. Using pi rounded to the 15th decimal, as I gave above, that comes out to a little more than 78 billion miles. We don't need to be concerned here with

exactly

what the value is (you can multiply it out if you like) but rather what the error in the value is by not using more digits of pi. In other words, by cutting pi off at the 15th decimal point, we would calculate a circumference for that circle that is very slightly off. It turns out that our calculated circumference of the 25 billion mile diameter circle would be wrong by 1.5 inches. Think about that. We have a circle more than 78 billion miles around, and our calculation of that distance would be off by perhaps less than the length of your little finger.


We can bring this down to home with our planet Earth. It is 7,926 miles in diameter at the equator. The circumference then is 24,900 miles. That's how far you would travel if you circumnavigated the globe (and didn't worry about hills, valleys, obstacles like buildings, rest stops, waves on the ocean, etc.). How far off would your odometer be if you used the limited version of pi above? It would be off by the size of a molecule. There are many different kinds of molecules, of course, so they span a wide range of sizes, but I hope this gives you an idea. Another way to view this is that your error by not using more digits of pi would be 10,000 times thinner than a hair!


Let's go to the largest size there is: the visible universe. The radius of the universe is about 46 billion light years. Now let me ask a different question: How many digits of pi would we need to calculate the circumference of a circle with a radius of 46 billion light years to an accuracy equal to the diameter of a hydrogen atom (the simplest atom)? The answer is that you would need 39 or 40 decimal places. If you think about how fantastically vast the universe is — truly far beyond what we can conceive, and certainly far, far, far beyond what you can see with your eyes even on the darkest, most beautiful, star-filled night — and think about how incredibly tiny a single atom is, you can see that we would not need to use many digits of pi to cover the entire range.
Read more from Marc Rayman on the Dawn Journal, where he writes monthly updates about the Dawn spacecraft currently exploring the dwarf planet Ceres to provide scientists with a window into the dawn of the solar system.
Can you use pi like a NASA scientist?
› Take the Pi in the Sky Challenge!
TAGS: Pi, Pi Day, Dawn, Voyager, Engineering, Science, Mathematics

---
In the News
Saturn's icy moon Enceladus has been making news lately, and it could make even bigger news soon! In September, scientists confirmed that there was a global ocean underneath Enceladus' thick icy shell. That was just the latest in a long history of exciting finds dating back to the beginning of NASA's Cassini-Huygens Mission to Saturn in 2004 that have helped scientists to better understand this fascinating world!
Even while Cassini was still on its way to Saturn, its Cosmic Dust Analyzer detected microscopic grains of silica (tiny grains of sand). On Earth, grains of silica similar in size to those detected near Saturn form when hydrothermal activity -- the processes involving heated water beneath Earth's surface or ocean -- causes salty water to chemically interact with rocky material to form silica. But where were these grains coming from in the space around Saturn?
In 2005, scientists were surprised to find out that Enceladus' south pole is both warmer than expected and warmer than the surrounding areas, suggesting there is a heat source inside Enceladus. Not only that, but they also discovered long parallel cracks in the ice on Enceladus' south pole. The young age of these cracks, nicknamed Tiger Stripes, meant that Saturn's icy moon is a geologically active place.
Another piece of this puzzle was put in place with the discovery of jets of material spraying out of the Tiger Stripes. Studies have shown these jets are composed of mostly of water vapor, tiny ice particles and small amounts of other material (for example, microscopic silica grains). Together, over 100 jets make up a feature called a plume. Investigating further, scientists have hypothesized that these silica grains are the result of hydrothermal activity on the ocean floor below Enceladus' icy crust.
On October 28, Cassini will fly right through the plume jetting out of Enceladus' south pole at an altitude of only 49 kilometers (30 miles) – closer than any previous passes directly through the plume! This is an exciting moment in the mission -- one that allows science teams to use a combination of tools on board the spacecraft to strengthen previous findings and potentially make new discoveries.
---
More than 50 students from schools across Los Angeles County took their science experiments and engineering designs on the road on Tuesday for the opportunity to display their work during a science fair showcase at NASA's Jet Propulsion Laboratory in Pasadena, California.
Students as young as 11 filed into JPL's von Karman auditorium, eager to speak with professional scientists and engineers about their projects, which examined questions like: Could a solar oven be an effective cooking tool? How well does the human eye adjust to light? Is hagfish slime an efficient material for cleaning up oil spills? And how do different building bracing systems stand up in an earthquake?
JPL's chief scientist, Dan McCleese, who oversees the laboratory's research programs, met with students about their projects to offer feedback and encouragement.
"What you're working on today may end up being what you do for the rest of your life, and it's the greatest thing in the world," McCleese said during an opening address to the students. "When I was a freshman in high school, I started studying Mars, and I will admit I do that today."
David Seidel, manager of K-12 programs for JPL's Education Office, which organized the showcase, said it's statements like McCleese's that illustrate the value of science fairs for students.
"When students do a science project and they're properly mentored and they're doing real science, they're experiencing it. They're actually doing the science and engineering themselves and not just talking about it or following some sort of recipe," Seidel said. "So if you're looking for the next generation of scientists, let's get them in the habit of actually trying to do some science while they're still young."
While eighth-grader Sarah Garelick, 13, hasn't yet decided on her future career, her science fair project did give her the chance to investigate a personal interest.
"I was inspired by my dad," said Garelick, whose project looked at how the rate of glucose released into a pancreas would affect insulin levels. "He had his pancreas removed when I was little."
It was a similar motivation that drove sixth-grader Jeanie Benedict, 11, to create an elaborate evaporative cooling system for chinchillas -- a system she named "Chinchiller."
"Last summer during a Los Angeles heatwave, my pet chinchilla died of a heatstroke, so I wanted to create something that could have prevented it," said Benedict, whose project proved such a curiosity for passers-by that she barely had time to grab a slice of the free cake on offer to attendees.
"What stood out to me was the diversity of student projects that represented the diversity of student interests," said education specialist Ota Lutz, who created and starred in an online video series that walks students through the ins and outs of creating their own science fair projects. "Students do a lot of work to develop these science fair projects, so this event was a great opportunity for them to showcase their hard work and interact with professional scientists and engineers."
Enthusiasm for the event was so high that when participants, who had already presented their projects at the Los Angeles County Science Fair, were invited to register for the showcase, the available slots filled up within 24 hours.
"It was a big success," said Seidel. "I think it was eye-opening for a lot of the students and the chaperones to learn about the range of activities we have here at JPL and interact with people who are doing these things professionally."
For more events, activities and resources for students, provided by the JPL Education Office, visit http://www.jpl.nasa.gov/education/students/
The JPL Education Office provides formal and informal educators, parents and students with NASA science, technology, engineering and mathematics (STEM) content, including resources, classroom activities and internship opportunities.
TAGS: Science Fair, Science, Engineering, High School, Middle School

---
NASA's Curiosity Mars rover this week completed its first Martian year -- 687 Earth days -- since landing in August 2012. Each day of the rover working on Mars requires several dozen rover team members completing tasks on Earth.
To celebrate reaching this longevity milestone, which had been set as one of the mission's goals from the start, the Curiosity team planned staffing a special day, with women fulfilling 76 out of 102 operational roles.
› Larger image
NASA's Curiosity Mars rover this week completed its first Martian year -- 687 Earth days -- since landing in August 2012. Each day of the rover working on Mars requires several dozen rover team members completing tasks on Earth.
To celebrate reaching this longevity milestone, which had been set as one of the mission's goals from the start, the Curiosity team planned staffing a special day, with women fulfilling 76 out of 102 operational roles.
"I see this as a chance to illustrate to girls and young women that there's not just a place for them in technical fields, but a wide range of jobs and disciplines that are part of the team needed for a project as exciting as a rover on Mars," said Colette Lohr, an engineer at NASA's Jet Propulsion Laboratory, Pasadena, California.
"There's no practical way any one person could learn all the disciplines needed for operating Curiosity," she said. "It takes a team and we rely on each other."
Disciplines range from soil science to software engineering, from chemistry to cartography, in duties ranging from assessing rover-temperature data freshly arriving from Mars to choosing where to point the rover's cameras. Descriptions of the roles, along with names and locations of the team members filling them today, are part of Curiosity Women's Day information available at:
Lohr's role today is strategic mission manager, which means she is responsible for review and approval of plans being developed and modified during the day for rover activities more than three or four days in the future.
She and most of the other engineers and managers on the team are at JPL in California. Today's team, not atypically, also includes members working in 11 other U.S. states, from Massachusetts to Montana, and four other nations: Canada, France, Russia and Spain. Each of the rover's 10 science instruments has people responsible for evaluating newly received data and planning to get more data. Other scientists participating in operations serve on theme groups that pull together information from multiple instruments and choose priorities for upcoming activities.
Curiosity Deputy Project Scientist Joy Crisp of JPL helped organize the special day and will fill the project scientist role, providing scientific leadership in the strategic planning process. She said, "The team has both scientists and engineers, but it's one team working together to accomplish the mission goals."
Each day's rover activities must be planned to fit within budgets of how much time, power and data-downlink capacity are available.
The operational roles fall into categories of tactical, supra-tactical and strategic, which focus, respectively, on the next day's rover activities, the activities two to five days ahead, and planning for weeks or months ahead.
"While some people are focused on today's plan for tomorrow, we need other people to be looking further ahead," Crisp said. "We wouldn't be able to plan complex activities for the rover if we started from scratch each day. We do a lot of work to get a head start on each day."
The operations team for Curiosity is larger than the operations teams for the previous generation of rovers, NASA's Mars Exploration Rovers Spirit and Opportunity. In an experience similar to Women's Curiosity Day, one day in February 2008, Spirit's tactical operations team of about 30 people was almost entirely women.
NASA's Mars Science Laboratory Project is using Curiosity to assess ancient habitable environments and major changes in Martian environmental conditions. JPL, a division of the California Institute of Technology in Pasadena, built the rover and manages the project for NASA's Science Mission Directorate in Washington.
For more information about Curiosity, visit:
http://www.jpl.nasa.gov/msl , http://www.nasa.gov/msl and http://mars.jpl.nasa.gov/msl/
You can follow the mission on Facebook and Twitter at:
http://www.facebook.com/marscuriosity
http://www.twitter.com/marscuriosity
TAGS: Women in STEM, Curiosity, Science, Engineering,

---
It's Moogega Cooper's second Nerd War and she's in uncharted territory. She's been picked to play "Shadow Raven" in a fantasy story line about a "dark cult trying to resurrect an elder god." It's not that she's unaccustomed to playing a hero of sorts. As a planetary protection engineer at NASA's Jet Propulsion Laboratory in Pasadena, Calif., her job is quite literally to protect our planet and others in the solar system. It's just that this isn't her particular brand of nerd-dom -- yet.
This summer, Cooper took a break from her day job at JPL analyzing contamination risks for distant spacecraft and testing the might of extreme organisms to spend a month entrenched in a world of nerd dancing, extreme gaming and superhero debates as part of King of the Nerds, a reality competition show airing Thursday nights on TBS.
"It's a show that gets 11 nerds from across this nerd spectrum, which includes 'cosplay,' the people who do costume play, people who like comic books, scientists and engineers," said Cooper.
The nerds are pitted against each other in Survivor-style challenges, called Nerd Wars, with uniquely geeky twists, all while dealing with the often larger challenge of living under the same roof: a Pasadena, Calif., mansion dubbed "Nerdvana."
Cooper, who in the episode airing tonight is one of five finalists, says of the show that it was a test not just in smarts but in pure mental stamina. By the time the Nerd War got to her expertise in physics, "one plus one did not equal two at that point," she said.
Each of the self-proclaimed nerds have their specialties - Ivan is a video game developer, Celeste is a gamer, Danielle is an internet star and Genevieve is a Batman fangirl -- that come into play through the various team challenges and especially in the drama in Nerdvana. Cooper (who said she would avoid the drama by sneaking off to do puzzles) gets her nerd chops from her background and work in astrophysics, which has fascinated her from an early age.
"The main thing that sparked my interest in science was Carl Sagan's Cosmos," said Cooper who also spent much of her young life in Hampton, Va., near NASA's Langley Research Center. "When we would go to the library, we would rent the videos. Because he had several, we would take one every week. And because of him and Stephen Hawking, I thought, I'm going to be an astrophysicist."
Cooper was quick to turn that thought into a reality, doubling up on high school classes during her summers so she could start her undergraduate work at Hampton University at the age of 16. She later scored a place at JPL as a NASA Harriett G. Jenkins Pre-doctoral Fellow studying the use of non-equilibrium plasmas for spacecraft sterilization.
Now, at 27, she's switched to what she jokingly calls "the dark side" -- that is, engineering -- and spends her days working on various projects that involve keeping chemical or biological elements from hitching a ride on spacecraft and contaminating our planet (on returning to Earth) and other planets.
"The coolest part of my job is just having a new task to work on all the time," said Cooper. "I mean there's the same umbrella goal, but it manifests itself in either the test bed here or looking at the chemistry of a sample when it interacts with spacecraft hardware or playing with bacteria and seeing if we can kill it."
So while she's certainly got nerd cred, she also has one of the coolest jobs around. The question is whether she can survive the extreme environment of a house of nerds.
"It's kind of like moving back home, where you know there are people that you have to live with and you can't really escape," said Cooper. "There were times when the personalities didn't quite mesh together completely but because we eventually got to learn about each other and what makes us the way we are, everybody was just family."

TAGS: King of the Nerds, TV, Engineering, Science, Planetary Protection, Women in STEM

---
Today, successful women in science all contribute to a "little piece of the puzzle." Farisa Morales makes her contribution as an astronomer at NASA's Jet Propulsion Laboratory studying other planetary systems, observing the sky through the Spitzer Space Telescope and analyzing the dust around distant stars outside our solar system in search of new planets. But she didn't discover this passion until she was in college.
At the start of her college experience, Morales was majoring in mathematics and decided on taking an internship at JPL for engineering. She was later introduced to Spitzer Project Scientist Michael Werner, who asked her to take on huge task far from her comport zone: help take in data from the giant space telescope. This would range from searching for baby star formations to discovering distant galaxies at the edges of the universe. Farisa found her calling and she wanted to be exposed to even more. She switched her major to astrophysics and now has her PhD. "Life just takes you places and you are the main force pushing through," said Morales.
As part of the University of Southern California's Organization of Women in Physics, Morales takes an active role in encouraging women to be a part of the science field. Over the years she's juggled raising two kids, working and studies, but she says, "If I can do it, why can't others?" hoping to see a rise in the number of women in science.
These days, she spends her time writing proposals, programming downloaded images from Spitzer, learning about a specific telescope or publishing a recent finding. Even teaching astronomy at Cerritos College, Los Angeles Mission College, Pierce College and California State University, Northridge adds to her busy schedule. In five to ten years she sees herself at a full-time job teaching at a university while still maintaining her research activities at JPL. She's earned a few awards including an American Astronomical Society Chambliss award. To Morales, the work itself is satisfying. "My life has not been in vain because I'm providing the answers to one little tiny piece of the cosmic puzzle," she said. "I came into this world, and I worked and solved a little tiny piece of the puzzle. And when I leave, that is my legacy. The realization of knowing you're a productive human being and you're leaving something positive for humanity to continue to build upon is just tremendous!"

TAGS: Women in STEM, Women's History Month, High School, Astronomy, Science

---
It's been said that the best opportunities come when least expected. Margaret Glasscoe was on her way to becoming a journalist when one class during her freshman year of college set her life on a different course. It would turn out to be the catalyst that set her future into full throttle.
Glasscoe was born on the Air Force base in Blytheville, Arkansas, to an air force engineer and his wife. Her family moved to Arizona when she was nine years old. There she become a star pupil. She was among the other high achieving students at Sahuaro High School in Tucson, Arizona, that were "slated" to go to college. Even though her main focus in high school revolved around journalism, she still loved the sciences. Astronomy research was an activity she participated in during her junior year of high school. Playing clarinet in the school band, volunteering with the district video crew and participating with the school newspaper were among her favorite high school activities.
Journalism was how she came to California. The University of Southern California was doing recruitment for their school of journalism, and it sparked her interest in the school. However, her decision to attend USC led to more than just a change of scenery.
College definitely brought out Glasscoe's inner passions. College is where people go to try new things, discover themselves and their future; Glasscoe accomplished this and more. Staying true to her roots, she became involved with the college radio station as a disc-jockey and news-staff reporter. This was on top of tutoring students and working. Amazingly, she found time to take a class in oceanography. And it was that small decision that would lead her to declare a major in geology her sophomore year. It was only the beginning. She would go on to participate in the Geology Honor's Society and take an internship with NASA's Jet Propulsion Laboratory - the beginning of a long and rewarding relationship between herself and JPL. The work she did during her summer internship at JPL involved developing web-based modules for global positioning systems. The internship allowed her to explore all the possibilities that JPL had to offer. She even went on to achieve a master's degree in geology from the University of California at Davis. She is now on her way to completing her doctorate in geology, which will mark her fourth degree including her bachelor's in print journalism, for which she never forgot her passion.
Today, Glasscoe's contribution to science goes beyond her background. When people do what they love, it becomes less like work and more like play. Glasscoe has gotten to play around with some of the coolest "toys" JPL has to offer all in the name of science. She is a master multi-tasker. Not only is she the principal investigator on the E-DECIDER (Earthquake Data Enhanced Cyber-Infrastructure for Disaster Evaluation and Response) project, but she also collaborates with other researchers, scientists and engineers on the QuakeSim and DESDynI projects. These projects take research to another level. The E-DECIDER project is striving to find better response scenarios for earthquakes using a web-based tool that interprets complex science data so decision-makers can be better prepared to react to earthquake events. The QuakeSim project is what interprets that data and makes it useful.
Such complexity requires teamwork. Glasscoe collaborates with the researchers, scientists and engineers at Indiana University, University of California at Davis, and the Sacramento U.S. Geological Survey. Even with all these great people and resources at her disposal, she stays almost constantly busy, but being able to solve problems of this scale helps keep her motivated. It also lets other women know that this kind of field isn't impossible. Glasscoe is proving that women serve important roles in science and that even more can be accomplished.
Glasscoe has done marvels for the world of science. Her research contributes to improvements in earthquake response. Her past contributes to her individuality and drive. Her decisions contribute to her future. Glasscoe is paving the way for women pursuing careers in science.
TAGS: Women in STEM, Women's History Month, Earthquakes, Science, High School