NASA Mission Takes a Deep Dive Into Earth's Surface Water
Explore how and why the SWOT mission will take stock of Earth's water budget, what it could mean for assessing climate change, and how to bring it all to students.
Update: Dec. 15, 2022 – NASA, the French space agency, and SpaceX are now targeting 3:46 a.m. PST (6:46 a.m. EST) on Friday, Dec.16, for the launch of the Surface Water and Ocean Topography (SWOT) satellite. Visit NASA's SWOT launch blog for the latest updates.
---
NASA is launching an Earth-orbiting mission that will map the planet's surface water resources better than ever before. Scheduled to launch on Dec. 16 from Vandenberg Space Force Base in California, the Surface Water and Ocean Topography, or SWOT mission is the latest international collaboration designed to monitor and report on our home planet. By providing us with a highly detailed 3D view of rivers, lakes, and oceans, SWOT promises to improve our understanding of Earth's water cycle and the role oceans play in climate change, as well as help us better respond to drought and flooding.
Read on to find out why we're hoping to learn more about Earth's surface water, get to know the science behind SWOT's unique design, and follow along with STEM teaching and learning resources.
Why It's Important
Observing Earth from space provides scientists with a global view that is important for understanding the whole climate system. In the case of SWOT, we will be able to monitor Earth's surface water with unprecedented detail and accuracy. SWOT will provide scientists with measurements of water volume change and movement that will inform our understanding of fresh water availability, flood hazards, and the mechanisms of climate change.
Water Flow
Scientists use a variety of methods to track Earth's water. These include stream and lake gauges and even measurements from space such as sea surface altimetry and gravitational measurements of aquifer volumes. Monitoring of river flow and lake volume is important because it can tell us how much freshwater is readily available and at what locations. River flow monitoring can also help us make inferences about the downstream environmental impact. But monitoring Earth's surface water in great detail with enough frequency to track water movement has proven challenging. Until now, most monitoring of river flow and lake levels has relied on water-flow and water-level gauges placed across Earth, which requires that they be accessible and maintained. Not all streams and lakes have gauges and previous space-based altimetry and gravitational measurements, though useful for large bodies of water, have not been able to adequately track the constant movement of water through smaller rivers or lakes.
SWOT will be able to capture these measurements across the globe in 3D every 21 days. The mission will monitor how much water is flowing through hundreds of thousands of rivers wider than 330 feet (100 meters) and keep a close watch on the levels of more than a million lakes larger than 15 acres (6 hectares). Data from the mission will be used to create detailed maps of rivers, lakes, and reservoirs that will enable accurate monitoring to provide a view of freshwater resources that is not reliant on physical access. Meanwhile, SWOT's volumetric measurements of rivers, lakes, and reservoirs will help hydrologists better track drought and flooding impacts in near-real-time.
Coastal Sea Level Rise
SWOT will measure our oceans with unprecedented accuracy, revealing details of ocean features as small as 9 miles (15 kilometers) across. SWOT will also monitor sea levels and tides. Though we have excellent global sea level data, we do not have detailed sea level measurements near coastlines. Coastal sea levels vary across the globe as a result of ocean currents, weather patterns, land changes, and other factors. Sea levels are rising faster than ever, and higher sea levels also mean that hurricane storm surges will reach farther inland than ever before, causing substantially more damage than the same category of hurricanes in the past. SWOT will be able to monitor coastal sea level variations and fill gaps in the observations we currently have from other sources.
Ocean Heat Sinks
Further contributing to our understanding of the role Earth's oceans play in climate change, SWOT will explore how the ocean absorbs atmospheric heat and carbon, moderating global temperatures and climate change. Scientists understand ocean circulation on a large scale and know that ocean currents are driven by temperature and salinity differences. However, scientists do not currently have a good understanding of fine-scale ocean currents, where most of the ocean's motion-related energy is stored and lost. Circulation at these fine scales is thought to be responsible for transporting half of the heat and carbon from the upper ocean to deeper layers. Such downward ocean currents have helped to mitigate the decades-long rise in global air temperatures by absorbing and storing heat and carbon away from the atmosphere. Knowing more about this process is critical for understanding the mechanisms of global climate change.
These fine-scale ocean currents also transport nutrients to marine life and circulate pollutants such as crude oil and debris. Understanding nutrient transport helps oceanographers assess ocean health and the productivity of fisheries. And tracking pollutants aids in natural hazard assessment, prediction, and response.
How It Works
A joint effort between NASA and the French space agency – with contributions from the Canadian and UK space agencies – SWOT will continue NASA's decades-long record of monitoring sea surface height across the globe. But this mission will add a level of detail never before achieved.
SWOT will measure more than 90% of Earth's surface water, scanning the planet between 78°N latitude and 78°S latitude within 1 centimeter of accuracy and retracing the same path every 21 days. Achieving this level of accuracy from a spacecraft height of 554 miles (891 kilometers) requires that the boom using radar to measure water elevation remain stable within 2 microns – or about 3% of the thickness of a human hair.
Prior to SWOT, spacecraft have used conventional nadir, or straight-down, altimetry to measure sea surface height. Conventional nadir altimetry sends a series of radar or laser pulses down to the surface and measures the time it takes for each signal to return to the spacecraft, thus revealing distances to surface features. To acquire more detailed information on surface water, SWOT will use an innovative instrument called the Ka-band Radar Interferometer, or KaRIn, to measure water height with exceptional accuracy. Ka-band is a portion of the microwave part of the electromagnetic spectrum. SWOT uses microwaves because they can penetrate clouds to return data about water surfaces.
The KaRIn instrument uses the principles of synthetic aperture radar combined with interferometry to measure sea surface height. A radar signal is emitted from the end of the 10-meter-wide boom on the spacecraft. The reflected signal is then received by antennas on both ends of the boom, capturing data from two 30-mile (50-kilometer) wide swaths on either side of the spacecraft. The received signals will be slightly out of sync, or phase, from one another because they will travel different distances to return to the receivers on either end of the boom. Knowing the phase difference, the distance between the antennas, and the radar wavelength allows us to calculate the distance to the surface.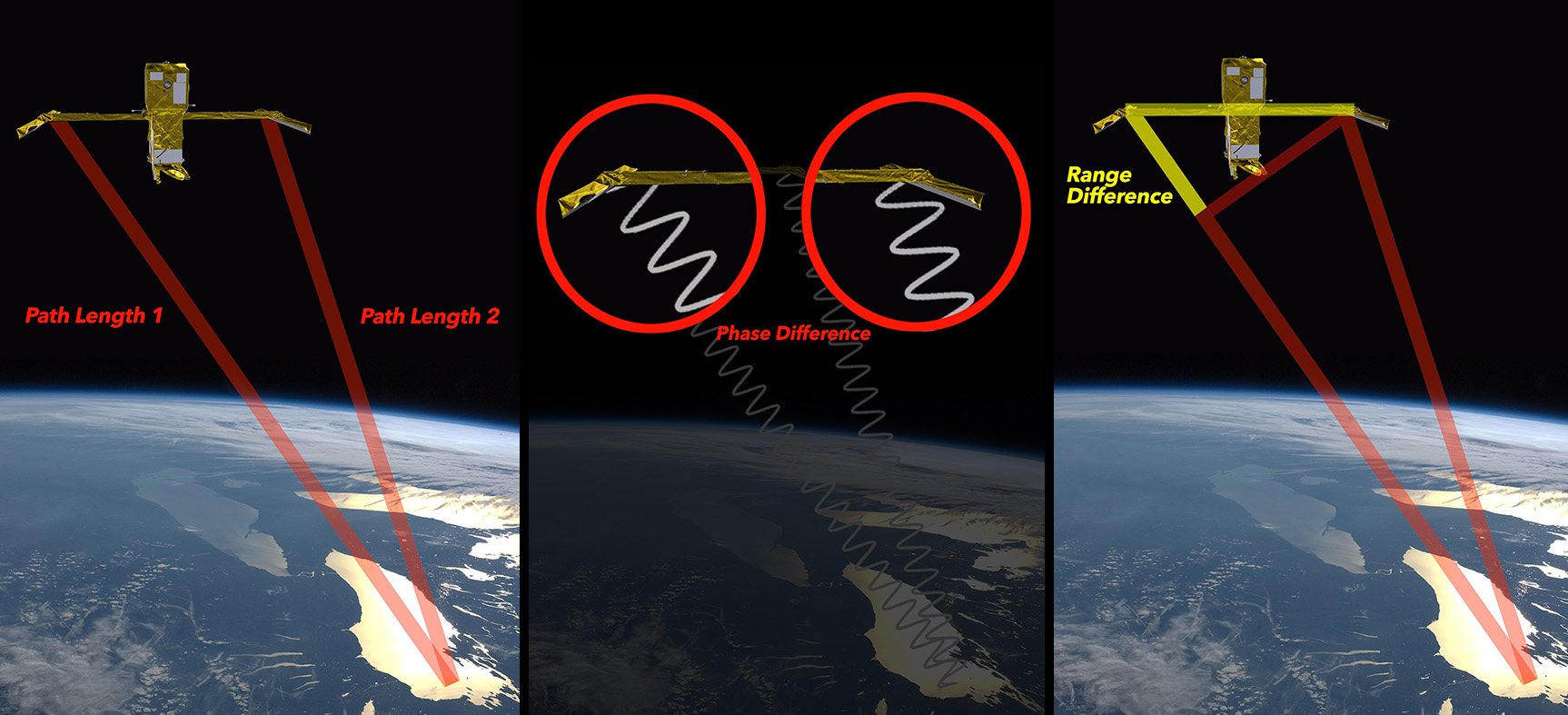 The observations acquired by the two antennas can be combined into what is known as an interferogram. An interferogram is a pattern of wave interference that can reveal more detail beyond the 1-centimeter resolution captured by the radar. To explain how it works, we'll recall a couple of concepts from high school physics. When out-of-phase waves from the two antennas are combined, constructive and destructive interference patterns result in some wave crests being higher and some wave troughs being lower than those of the original waves. The patterns that result from the combination of the waves reveal more detail with resolution better than the 1-centimeter wavelength of the original Ka-band radar waves because the interference occurs over a portion of a wavelength. An interferogram can be coupled with elevation data to reveal a 3D representation of the water's surface.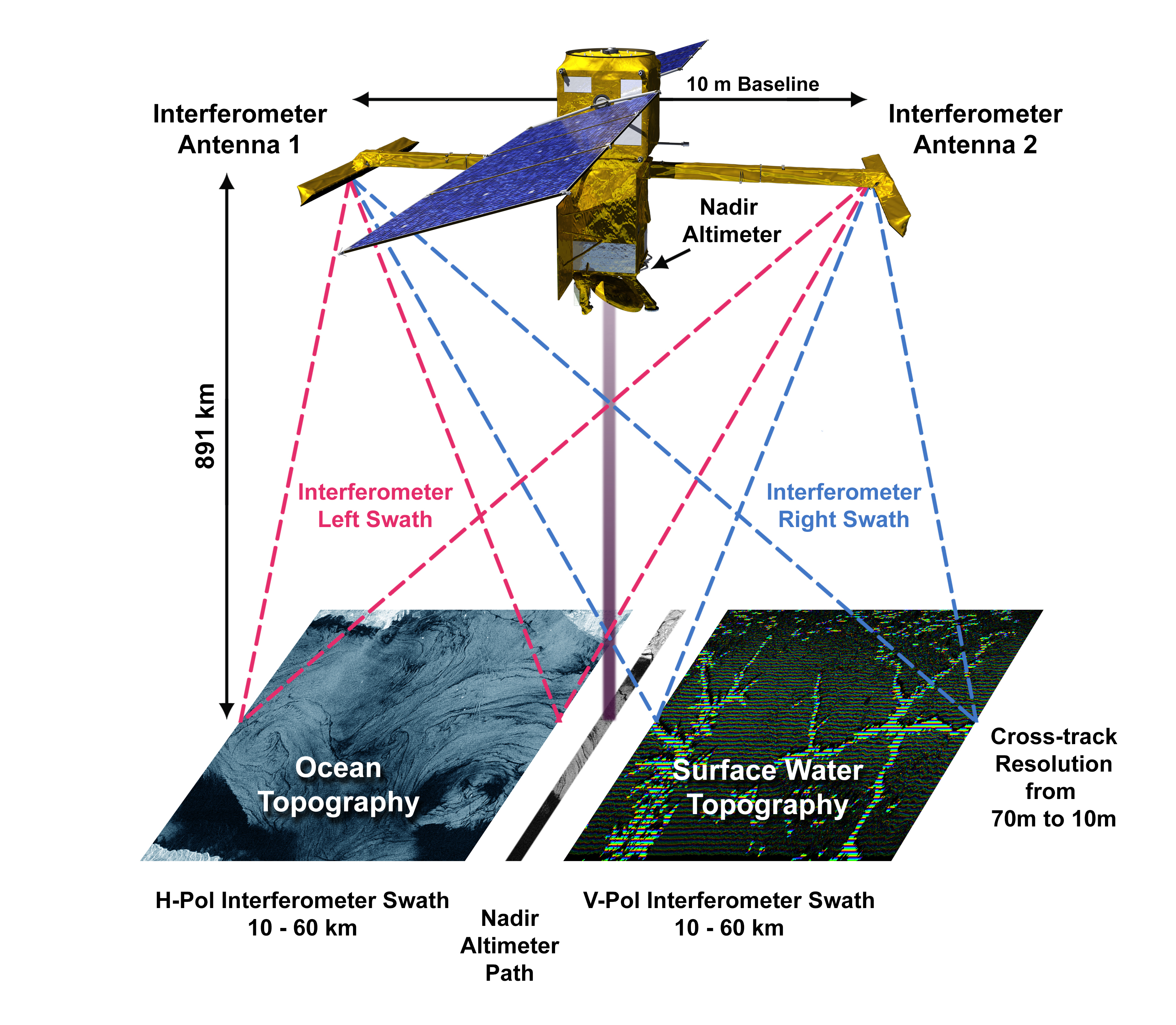 This highly accurate 3D view of Earth's surface water is what makes SWOT so unique and will enable scientists to more closely monitor the dynamics of the water cycle. In addition to observing ocean currents and eddies that will inform our understanding of the ocean's role in climate change, SWOT's use of interferometry will allow scientists to track volumetric changes in lakes and quantify river flooding, tasks that cannot yet be done on a wide scale in any other way.
Follow Along
SWOT is scheduled to launch no earlier than Dec. 16, 2022, on a SpaceX Falcon 9 rocket from Vandenberg Space Force Base in California. Tune in to watch the launch on NASA TV.
After launch, the spacecraft will spend 6-months in a calibration and validation phase, during which it will make a full orbit of Earth every day at an altitude of 553 miles (857 kilometers). Upon completion of this phase, SWOT will increase its altitude to 554 miles (891 kilometers) and assume a 21-day repeat orbit for the remainder of its mission.
Visit the mission website to follow along as data are returned and explore the latest news, images, and updates as SWOT provides a new view on one of our planet's most important resources.
Teach It
The SWOT mission is the perfect opportunity to engage students in studying Earth's water budget and water cycle. Explore these lessons and resources to get students excited about the STEM involved in studying Earth's water and climate change from space.
Educator Resources
Student Activities
Explore More
Activities for Kids
Websites
Facts & Figures
Videos
Interactives
Image Gallery
Articles
Podcast
TAGS: K-12 Education, Teachers, Educators, Earth Science, Earth, Climate Change, Climate, Satellites, Teachable Moments