The lander is the core of the InSight spacecraft. Not only will it be the element carrying out all of the activity on Mars, its computer also controls functions of the three secondary elements of the flight system: the cruise stage, back shell and heat shield.
The InSight spacecraft is based on the design of NASA's 2007-2008 Phoenix Mars Lander, with updates to accommodate InSight's unique science payload and new mission requirements. Some key functions and features of the InSight spacecraft are power, communications, command and data handling, propulsion, guidance and thermal control.
Lockheed Martin Space in Denver designed, built and tested the InSight spacecraft. Lockheed Martin Space previously delivered the Phoenix spacecraft and all three NASA orbiters currently active at Mars: Mars Odyssey, Mars Reconnaissance Orbiter and Mars Atmosphere and Volatile Evolution (MAVEN).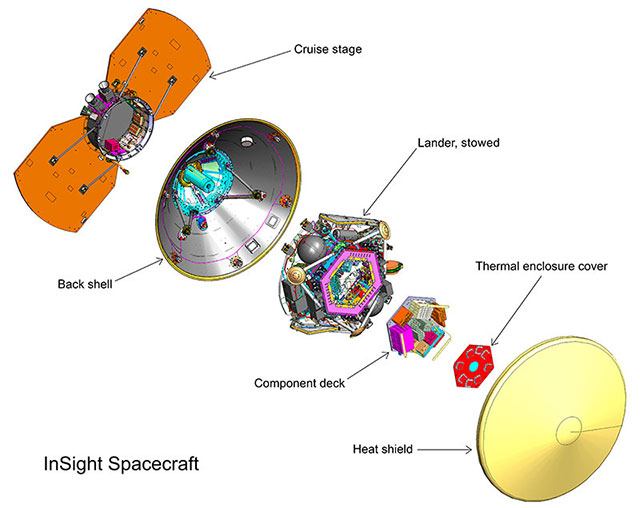 The InSight flight system comprises the lander, with its component deck and thermal enclosure cover, encapsulated in the aeroshell formed by the back shell and heat shield, and topped by the cruise stage. Credit: NASA/JPL-Caltech/Lockheed Martin Space
Download image