The InSight project is managed by the Jet Propulsion Laboratory in Pasadena, California, for NASA's Science Mission Directorate in Washington. JPL is a division of Caltech in Pasadena.
The InSight mission was competitively chosen and funded as part of the NASA Discovery Program. As a complement to NASA's larger "flagship" planetary science explorations, the Discovery Program's goal is to achieve outstanding results by launching many smaller missions using fewer resources and shorter development times.
More information on NASA's Discovery Program can be found in the Appendix and at: https://planetarymissions.nasa.gov.
At NASA Headquarters, Washington, the Discovery Program is managed by the Science Mission Directorate. Thomas Zurbuchen is associate administrator for the Science Mission Directorate. Jim Green is director of NASA's Planetary Division. Ramon DePaula is program executive for InSight and Robert Fogel is the program scientist.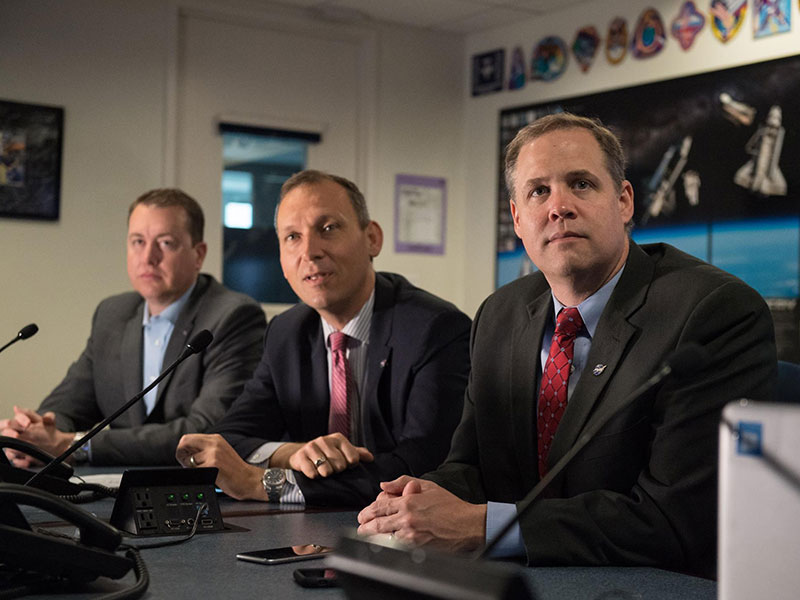 Right to left: NASA Administrator Jim Bridenstine, Associate Administrator for the Science Mission Directorate Thomas Zurbuchen, and Chief Financial Officer Jeff DeWit, watch the InSight launch at NASA Headquarters in Washington NASA.
---

InSight Principal Investigator Bruce Banerdt, speaking before reporters and social media participants days before launch NASA/KSC
---
Discovery Program class missions are managed for NASA's Planetary Science Division by the Planetary Missions Program Office at Marshall Space Flight Center in Huntsville, Alabama. At Marshall, Brian Key is the acting program manager of the Planetary Missions Program Office and Rick Turner is Planetary Missions Program Office mission manager.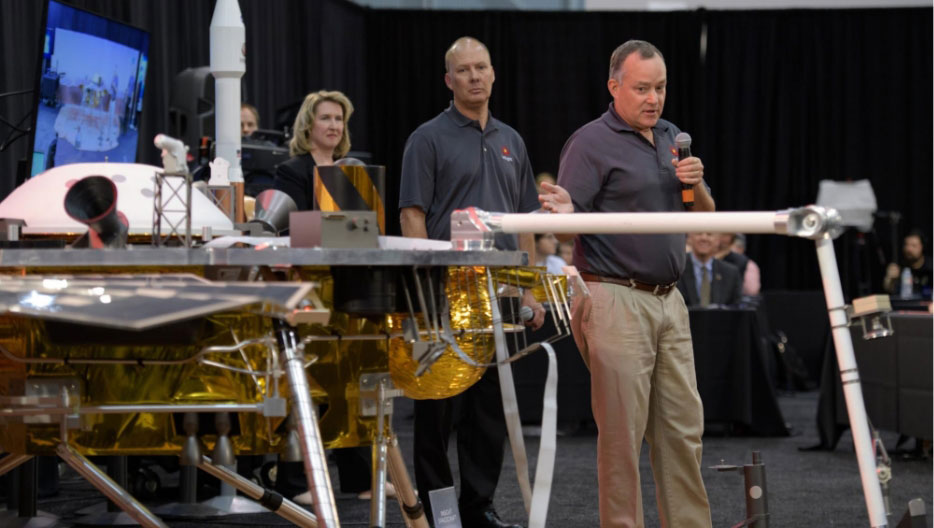 InSight Project Manager Tom Hoffman of JPL (foreground), pointing to a model of the InSight spacecraft, with Stu Spath, Lockheed Martin Space's InSight program manager (middle). Credit: NASA
At JPL, for InSight, Bruce Banerdt is the principal investigator, Sue Smrekar is deputy principal investigator, Tom Hoffman is project manager, Chuck Scott is deputy project manager and Rick Welch is mission manager.
---
Lockheed Martin Space, Denver, built the InSight spacecraft and collaborates with JPL in mission operations. Stu Spath is InSight program manager at Lockheed Martin.
---
Joel Krajewski of JPL is project manager for Mars Cube One (MarCO). JPL built MarCO.