---
NASA's Scientist for a Day Essay Contest is back for its 15th year, inviting students in grades 5 through 12 to investigate three distant worlds and write an essay about one they would want to explore further.
The worlds chosen for this year's contest are some of the most mysterious and distant in our solar system: Uranus' moon Miranda, Neptune's moon Triton and Pluto's moon Charon. Each has been visited by spacecraft during a single, brief flyby. NASA's Voyager 2 spacecraft flew by Miranda and Triton in the 1980s, and the New Horizons spacecraft flew by Charon in 2015. All three flybys provided the only up-close – and stunning – images we have of these worlds.
To enter the contest, which is hosted in the U.S. and more than a dozen countries, students must submit an essay of up to 500 words explaining why they would want to send a spacecraft to explore the world of their choosing. Essays can also be submitted by teams of up to four students.
Winning essays will be chosen for each topic and grade group (5 to 6, 7 to 8 and 9 to 12) and featured on the NASA Solar System Exploration website. Additionally, U.S. contest winners and their classes will have the chance to participate in a video conference or teleconference with NASA.
Entries for the U.S. contest are due Feb. 20, 2020, on the NASA Scientist for a Day website. (Deadlines for the international contests may vary by host country.) Visit the website for more information, including rules, international contest details and past winners.
For teachers interested in using the contest as a classroom assignment, learn more here. Plus, explore these standards-aligned lessons and activities to get students engaged in space travel and planetary science:
TAGS: K-12 Education, Teachers, Educators, Students, Contests, Competitions, Essay, Language Arts, Science, Planets, Solar System, Moons
---
Students have just over one week more to enter NASA's Name the Rover Essay Contest. While they put the finishing touches on their essays (due Nov. 1, 2019), meet the most recent naming contest winner, Clara Ma. Find out what Ma is up to more than 10 years after submitting her winning name for the Mars rover now known as Curiosity and why she says the experience changed her life.
---
NASA is inviting students to help name its next Mars rover! Set to launch from Florida in the summer of 2020, NASA's fifth rover to visit the Red Planet is designed to study past environments capable of supporting life, seek signs of ancient microbial life, collect rock and soil samples for a possible future return to Earth, and test technologies that could produce oxygen from the Martian atmosphere for use by humans one day. But before it can do that, it needs a name.
Following in the tracks of NASA's four previous Mars rovers, the agency is asking students to suggest a name. The first Mars rover, which landed in 1997, was called the Microrover Flight Experiment until a 12-year old student from Connecticut suggested the name Sojourner, in honor of abolitionist and women's rights activist Sojourner Truth. In 2004, a third-grade student from Arizona named NASA's twin rovers Spirit and Opportunity. Curiosity, which landed in 2012 and is the most recent rover to visit Mars, was named by a sixth-grade student in Kansas.
To enter the Name the Rover Essay Contest, individual students must submit an essay of up to 150 words by Nov. 1, 2019. In their essay, students will need to propose the name they think best suits the rover and explain their reasoning. Judges will select three finalists (one each from grades K-4, 5-8 and 9-12) from every state and U.S. territory. From there, judges will narrow down the finalists further before they select a final name in the spring of 2020.
So what makes a good name? There are lots of ways to become inspired, but students should start by learning about the rover as well as the Red Planet and why we explore. But they shouldn't stop there. There are many ways to spark ideas from students, including writing planetary poetry, making cosmic art, and having them build rovers of their own. Get students thinking and writing creatively, and encourage them to submit their essay!
The contest is open to U.S. residents enrolled in kindergarten through 12th grade in a U.S. school (including U.S. territories and schools operated by the U.S. for the children of American personnel overseas). Home-school students can also submit a name!
Explore More
TAGS: Mars, rover, contest, Mars 2020, K-12 education, STEM, language arts, essay, science, students
---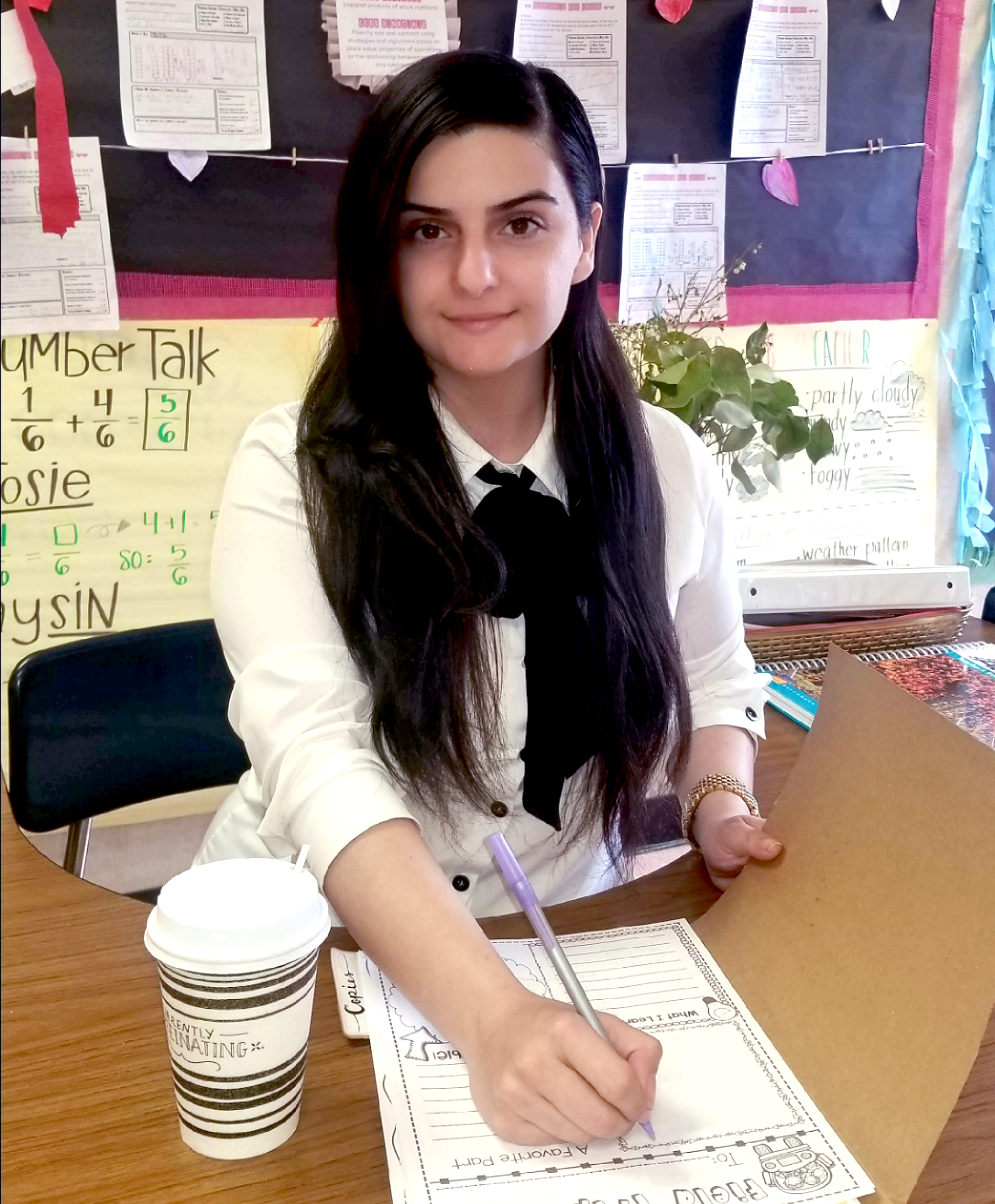 Lina Khosrovian is a first-year teacher at Stonehurst Magnet Elementary, a STEAM magnet school in Los Angeles County. She teaches third-grade students subjects including language arts, math, science and social studies. Ms. Khosrovian recently reached out about how she added her own creative spin to the JPL lesson Art and the Cosmic Connection to have it reflect her multidisciplinary classroom.
What inspires you to teach?
I am in my first year of teaching, and I could not be more driven and excited to teach my students about all the wonders of life. I am a learner myself, and I strive to discover new and moving ways to instill knowledge upon my students.
I consider myself extremely lucky to be teaching at Stonehurst, where we have a passion for teaching STEAM to our students. I especially appreciate the students' enthusiasm for learning science.
What challenges do you face engaging or addressing the needs of your students?
I have found that the key to effectively and successfully teaching students is to teach what they admire, are curious or fascinated about or have an appreciation for. I always ask my students about their interests and what they would like to learn. This inspires my lessons and tends to each students' individual interest in learning.

How did you incorporate a JPL Education lesson into your classroom?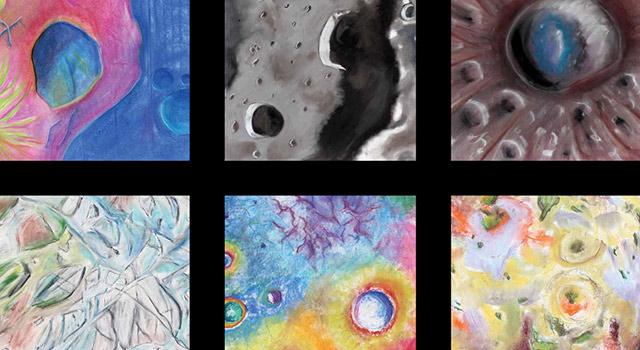 Art and the Cosmic Connection
In this lesson for grades K-12, students use art to describe and recognize the geology on planetary surfaces.
Brandon Rodriguez, an educator professional development specialist at NASA's Jet Propulsion Laboratory, visited our school and presented a lesson called Art and the Cosmic Connection.
After showing us images of planets, Mr. Rodriguez handed out paper, chalk, crayons and markers, and instructed us to draw our own imaginary planet. Listening to his awe-inspiring lecture, I began to think about the beautiful garden at our school and wondered how I could incorporate it into a similar activity with my students. I decided that I would have my students create their own planet inspired by the school garden.
First, my students and I began to learn about different planets together, discussing the possible history of each unique world. We conversed and wrote about our theories. Then each student drew and wrote about their own, imaginary planet. Some students drew icy planets and said that the ice had melted when the planet was close to the Sun. Other students explained that the uniqueness of their planet was due to the presence of life and water.
With our knowledge, ideas and imagination, we grabbed paper bags to collect soil, sticks, hay, leaves, rocks and other natural items from the garden. Back in the classroom, each student began to construct 3-D versions of their drawings with the materials they collected. Their work was beautifully presented, with soil representing land, leaves representing life, blue paint representing water, and mixtures representing unknown and unique creations – plus some silver paint to make it all more "cosmic."
How did it help you meet your objectives? How did students react to the lesson?
This lesson allowed my students to engage with the world around them and understand that planets have a uniqueness and a history that is quite remarkable. The lesson gave students a chance to discover more about their own planet and express their connection to it.
I sincerely value the JPL Education lessons, activities and resources, as they are quite beneficial to teachers. Each activity and lesson provides the opportunity for students to learn and wonder. And when you're inspired to wonder, the possibilities are endless – and so is the fun!
---
Looking for ways to bring NASA STEM into your classroom or already have a great idea? The Education Office at NASA's Jet Propulsion Laboratory serves educators in the greater Los Angeles area. Contact us at education@jpl.nasa.gov.
TAGS: Art, Language Arts, Earth Science, Classroom Activities, NASA in the Classroom
---
Update – Feb. 24, 2017: The deadline for the Cassini Scientist for a Day Essay Contest has passed. The winners will be announced in May 2017.
---
In the News
Next week, NASA's Cassini spacecraft will go where no spacecraft has gone before when it flies just past the edge of Saturn's main rings. The maneuver is a first for the spacecraft, which has spent more than 12 years orbiting the ringed giant planet. And it's part of a lead-up to a series of increasingly awesome feats that make up the mission's "Grand Finale" ending with Cassini's plunge into Saturn on Sept. 15, 2017.
How They'll Do It
To prepare for the so-called "ring-grazing orbits," which will bring the spacecraft within 56,000 miles (90,000 km) of Saturn, Cassini engineers have been slowly adjusting the spacecraft's orbit since January. They do this by flying Cassini near Saturn's large moon Titan. The moon's gravity pulls on the spacecraft, changing its direction and speed.
On November 29, Cassini will use a big gravitational pull from Titan to get into an orbit that is closer to perpendicular with respect to the rings of Saturn and its equator. This orbit will send the spacecraft slightly higher above and below Saturn's north and south poles, and allow it to get as close as the outer edge of the main rings – a region as of yet unexplored by Cassini.
Why It's Important
Cassini's ring-grazing orbits will allow scientists to see features in Saturn's rings, up close, that they've only been able to observe from afar. The spacecraft will get so close to the rings, in fact, that it will pass through the dusty edges of the F ring, Saturn's narrow, outermost ring. At that distance, Cassini will be able to study the rings like never before.
Among the firsts will be a "taste test" of Saturn's rings from the inside out, during which Cassini will sample the faint gases surrounding the rings as well as the particles that make up the F ring. Cassini will also capture some of the best high-resolution images of the rings, and our best views of the small moons Atlas, Pan, Daphnis and Pandora, which orbit near the rings' outer edges. Finally, the spacecraft will do reconnaissance work needed to safely carry out its next planned maneuver in April 2017, when Cassini is scheduled to fly through the 1,500-mile (2,350-kilometer) gap between Saturn and its rings.
› Read more about what we might learn from Cassini's ring-grazing orbits.
These orbits are a great example of scientific research in action. Much of what scientists will be seeing in detail during these ring-grazing orbits are features that, despite Cassini's 12 years at Saturn, have remained a mystery. These new perspectives could help answer questions scientists have long puzzled over, but they will also certainly lead to new questions to add to our ongoing exploration of the ringed giant.
Teach It
What better way to share in the excitement of Cassini's exploration than to get students thinking like NASA scientists and writing about their own questions and curiosities?
NASA's Cassini Scientist for a Day Essay Contest, open to students in grades 5-12, encourages students to do just that. Participants research three science and imaging targets and then write an essay on which target would provide the most interesting scientific results, explaining what they hope to learn from the selected target. Winners of the contest will be featured on NASA's Solar System Exploration website and get an opportunity to speak with Cassini scientists and engineers via video conference in the spring.
More information, contest rules and videos can be found here.
The deadline to enter is Feb. 24, 2017.
Explore More
TAGS: Cassini, Saturn's Rings, Saturn, Grand Finale, Spacecraft, Missions, K-12, Lessons, Activities, Language Arts, Science, Essay Contest