---
Most years, summertime at NASA's Jet Propulsion Laboratory arrives with an influx of more than 800 interns, raring to play a hands-on role in exploring Earth and space with robotic spacecraft.
Perhaps as exciting as adding NASA to their resumes and working alongside the scientists and engineers they have long admired is the chance to explore the laboratory's smorgasbord of science labs, spacecraft assembly facilities, space simulators, the historic mission control center and a place called the Mars Yard, where engineers test drive Mars rovers.
But this year, as the summer internship season approached with most of JPL's more than 6,000 employees still on mandatory telework, the laboratory – and the students who were offered internships at the Southern California center – had a decision to make.
"We asked the students and the mentors [the employees bringing them in] whether their projects could still be achieved remotely and provide the educational component we consider to be so crucial to these experiences," said Adrian Ponce, deputy section manager of JPL's Education Office, which runs the laboratory's STEM internship programs.
The answer was a resounding yes, which meant the laboratory had just a matter of weeks to create virtual alternatives for every aspect of the internship experience, from accessing specialized software for studying Earth and planetary science to testing and fine-tuning the movements of spacecraft in development and preparing others for launch to attending enrichment activities like science talks and team building events.
"We were able to transition almost all of the interns to aspects of their projects that are telework-compatible. Others agreed to a future start date," said Ponce, adding that just 2% of the students offered internships declined to proceed or had their projects canceled.
Now, JPL's 600-plus summer interns – some who were part-way through internships when the stay-at-home orders went into effect, others who are returning and many who are first-timers – are getting an extended lesson in the against-the-odds attitude on which the laboratory prides itself.
We wanted to hear about their experiences as JPL's first class of remote interns. What are their routines and home offices like in cities across the country? How have their teams adapted to building spacecraft and doing science remotely? Read a collection of their responses below to learn how JPL interns are finding ways to persevere, whether it's using their engineering skills to fashion homemade desks, getting accustomed to testing spacecraft from 2,000 miles away or working alongside siblings, kids, and pets.
---
"I am working with an astronomer on the NEOWISE project, which is an automated system that detects near-Earth objects, such as asteroids. The goal of my project is to identify any objects missed by the automated system and use modeling to learn more about their characteristics. My average day consists of writing scripts in Python to manipulate the NEOWISE data and visually vet that the objects in the images are asteroids and not noise or stars.
My office setup consists of a table with scattered books, papers, and pencils, a laptop, television, a child in the background asking a million questions while I work, and a bird on my shoulder that watches me at times."
– Jennifer Bragg will be studying optics at the University of Arizona as an incoming graduate student starting this August. She is completing her summer internship from Pahoa, Hawaii.
---
"I'm helping support the Perseverance Mars rover launch this summer. So far, I have been working remotely, but I'm lucky enough to have the opportunity to go to Pasadena, California, in late July to support the launch from JPL! On launch day, I will be in the testbed, where myself and a few other members of my group will be 'shadowing' the spacecraft. This means that when operators send their commands to the actual spacecraft, when it's on the launch pad and during its first day or so in space, we'll send the same instructions to the test-bed version. This way, if anything goes wrong, we'll have a high-fidelity simulation ready for debugging.
I have a desk in my bedroom, so my office setup is decent enough. I bought a little whiteboard to write myself notes. As for my average working day, it really depends on what I'm doing. Some days, I'm writing procedures or code, so it's a text editor, a hundred internet tabs, and a messenger to ask my team members questions. Other days, I'm supporting a shift in the test bed, so I'm on a web call with a few other people talking about the test we're doing. Luckily, a large portion of my team's work can be done on our personal computers. The biggest change has been adding the ability to operate the test bed remotely. I'm often amazed that from New York, I can control hardware in California.
I was ecstatic that I was still able to help with the Perseverance Mars rover mission! I spent the second half of 2019 working on launch and cruise testing for the mission, so I'm happy to be able to see it through."
– Radina Yanakieva is an undergraduate student studying aerospace engineering at Georgia Tech and interning from Staten Island, New York.
---
"Our team is using radar data [from the European Space Agency's Mars Express spacecraft] to find out what lies beneath the large icy deposits on Mars' south pole. My average day consists of analyzing this radar data on my computer to find and map the topography of an older surface that lies below the ice on Mars' south pole, while my plants look on approvingly.
I was delighted to be offered the chance to work at JPL again. (This is my fourth JPL internship.) Even though it's better to be 'on lab,' it is an honor to get to learn from the coolest and smartest people in the world."
– Aditya Khuller is a graduate student working toward a Ph.D. in planetary science at Arizona State University and interning from Tempe, Arizona.
---
"I am working on the Perseverance Mars rover mission [launching this summer]. As a member of the mobility team, I am testing the rover's auto-navigation behaviors. If given a specific location, flight software should be able to return data about where that location is relative to the rover. My project is to create test cases and develop procedures to verify the data returned by the flight software when this feature is used.
My average day starts with me eating breakfast with my mom who is also working from home. Then, I write a brief plan for my day. Next, I meet with my mentor to discuss any problems and/or updates. I spend the rest of my day at my portable workstation working on code to test the rover's behaviors and analyzing the data from the tests. I have a mini desk that I either set up in my bedroom in front of my Georgia Tech Buzz painting or in the dining room.
If I could visit in person, the first thing I would want to see is the Mars rover engineering model "Scarecrow." I would love to visit the Mars Yard [a simulated Mars environment at JPL] and watch Scarecrow run through different tests. It would be so cool to see a physical representation of the things that I've been working on."
– Breanna Ivey is an undergraduate student studying electrical engineering at the Georgia Institute of Technology and interning from Macon, Georgia.
---
"I am working on the Psyche mission as a member of the Assembly Test and Launch Operations team, also known as ATLO. (We engineers love our acronyms!) Our goal is to assemble and test the Psyche spacecraft to make sure everything works correctly so that the spacecraft will be able to orbit and study its target, a metal asteroid also called Psyche. Scientists theorize that the asteroid is actually the metal core of what was once another planet. By studying it, we hope to learn more about the formation of Earth.
I always start out my virtual work day by giving my dog a hug, grabbing a cup of coffee and heading up to my family's guest bedroom, which has turned into my office for the summer. On the window sill in my office are a number of space-themed Lego sets including the 'Women of NASA' set, which helps me get into the space-exploration mood! Once I have fueled up on coffee, my brain is ready for launch, and I log in to the JPL virtual network to start writing plans for testing Psyche's propulsion systems. While the ATLO team is working remotely, we are focused on writing test plans and procedures so that they can be ready as soon as the Psyche spacecraft is in the lab for testing. We have a continuous stream of video calls set up throughout the week to meet virtually with the teams helping to build the spacecraft."
– Kaelan Oldani is a master's student studying aerospace engineering at the University of Michigan and interning from Ann Arbor, Michigan. She recently accepted a full-time position at JPL and is starting in early 2021.
---
"NASA's Deep Space Network is a system of antennas positioned around the world – in Australia, Spain, and Goldstone, California – that's used to communicate with spacecraft. My internship is working on a risk assessment of the hydraulic system for the 70-meter antenna at the Goldstone facility. The hydraulic system is what allows the antenna and dish surrounding it to move so it can accurately track spacecraft in flight. The ultimate goal of the work is to make sure the antenna's hydraulic systems meet NASA standards.
My average day starts by getting ready for work (morning routine), accessing my work computer through a virtual interface and talking with my mentor on [our collaboration tool]. Then, I dive into work, researching hydraulic schematics, JPL technical drawings of the antenna, and NASA standards, and adding to a huge spreadsheet that I use to track every component of the antenna's hydraulic system. Currently, I'm tracking every flexible hydraulic fluid hose on the system and figuring out what dangers a failure of the hose could have on personnel and the mission."
– Ricardo Isai Melgar is an undergraduate student studying mechanical engineering at East Los Angeles College and interning from Los Angeles.
---
"My project this summer is to develop a network of carbon-dioxide sensors to be used aboard the International Space Station for monitoring the levels of carbon dioxide that crewmembers experience.
My 'office setup' is actually just a board across the end of my bed balanced on the other side by a small dresser that I pull into the middle of the room every day so that I can sit and have a hard surface to work on.
At first I wasn't sure if I was interested in doing a virtual engineering internship. How would that even work? But after talking to my family, I decided to accept. Online or in person, getting to work at JPL is still a really cool opportunity."
– Susanna Eschbach is an undergraduate student studying electrical and computer engineering at Northern Illinois University and interning from DeKalb, Illinois.
---
"I'm planning test procedures for the Europa Clipper mission [which is designed to make flybys of Jupiter's moon Europa]. The end goal is to create a list of tests we can perform that will prove that the spacecraft meets its requirements and works as a whole system.
I was very excited when I got the offer to do a virtual internship at JPL. My internship was originally supposed to be with the Perseverance Mars rover mission, but it required too much in-person work, so I was moved to the Europa Clipper project. While I had been looking forward to working on a project that was going to be launching so soon, Jupiter's moon Europa has always captured my imagination because of the ocean under its surface. It was an added bonus to know I had an internship secured for the summer."
– Izzie Torres is an undergraduate student studying aerospace engineering and management at MIT and interning from Seattle.
---
"I am investigating potential spacecraft trajectories to reach the water worlds orbiting the outer planets, specifically Jupiter's moon Europa. If you take both Jupiter and Europa into account, their gravitational force fields combine to allow for some incredibly fuel-efficient maneuvers between the two. The ultimate goal is to make it easier for mission designers to use these low-energy trajectories to develop mission plans that use very little fuel.
I'm not a gamer, but I just got a new gaming laptop because it has a nice graphics processing unit, or GPU. During my internship at JPL last summer, we used several GPUs and a supercomputer to make our trajectory computations 10,000 times faster! We plan to use the GPU to speed up my work this summer as well. I have my laptop connected to a second monitor up in the loft of the cabin where my wife and I are staying. We just had a baby two months ago, so I have to make the most of the quiet times when he's napping!"
– Jared Blanchard is a graduate student working toward a Ph.D. in aeronautics and astronautics at Stanford University.
---
"I'm doing a theory-based project on the topic of nanotechnology under the mentorship of Mohammad Ashtijou and Eric Perez.
I vividly remember being infatuated with NASA as a youth, so much so that my parents ordered me a pamphlet from Space Center Houston with posters and stickers explaining all of the cool things happening across NASA. I will never forget when I was able to visit Space Center Houston on spring break in 2009. It was by far the most amazing thing I have ever witnessed as a youth. When I was offered the internship at JPL, I was excited, challenged, and motivated. There is a great deal of respect that comes with being an NASA intern, and I look forward to furthering my experiences.
But the challenges are prevalent, too. Unfortunately, the internship is completely virtual and there are limitations to my experience. It is hard working at home with the multiple personalities in my family. I love them, but have you attempted to conduct research with a surround system of romantic comedies playing in the living room, war video games blasting grenades, and the sweet voice of your grandmother asking for help getting pans from the top shelf?"
– Yohn I. Ellis Jr. is a graduate student studying electrical engineering at Prairie View A&M University and interning from Houston.
---
"This summer, I am supporting the proposal for a small satellite mission concept called Cupid's Arrow. Cupid's Arrow would be a small probe designed to fly through Venus' atmosphere and collect samples. The ultimate goal of the project is to understand the "origin story" of Venus' atmosphere and how, despite their comparable sizes, Earth and Venus evolved so differently geologically, with the former being the habitable, friendly planet that we call home and the latter being the hottest planet in our solar system with a mainly carbon dioxide atmosphere.
While ordinary JPL meetings include discussions of space probes, rockets, and visiting other planets, my working day rarely involves leaving my desk. Because all of my work can be done on my computer, I have a pretty simple office setup: a desk, my computer, and a wall full of posters of Earth and the Solar System. An average day is usually a combination of data analysis, reading and learning about Venus, and a number of web meetings. The team has several different time zones represented, so a morning meeting in Pacific time accommodates all of Pacific, Eastern and European time zones that exist within the working hours of the team."
– Mina Cezairli is an undergraduate student studying mechanical engineering at Yale University and is interning from New Haven, Connecticut.
---
"I'm characterizing the genetic signatures of heat-resistant bacteria. The goal is to improve the techniques we use to sterilize spacecraft to prevent them from contaminating other worlds or bringing contaminants back to Earth. Specifically, I'm working to refine the amount of time spacecraft need to spend getting blasted by dry heat as a sanitation method.
"As someone who has a biology-lab heavy internship, I was quite skeptical of how an online internship would work. There was originally supposed to be lab work, but I think the project took an interesting turn into research and computational biology. It has been a really cool intersection to explore, and I have gained a deeper understanding of the math and analysis involved in addition to the biology concepts."
– Izabella Zamora is an undergraduate student studying biology and computer science at the Massachusetts Institute of Technology and interning from Brimfield, Massachusetts.
---
"I am working on the engineering operations team for the Perseverance Mars rover. After the rover lands on Mars, it will send daily status updates. Every day, an engineer at JPL will need to make sure that the status update looks healthy so that the rover can continue its mission. I am writing code to make that process a lot faster for the engineers.
When I was offered the internship back in November, I thought I would be working on hardware for the rover. Once the COVID-19 crisis began ramping up and I saw many of my friends' internships get cancelled or shortened, I was worried that the same would happen to me. One day, I got a call letting me know that my previous internship wouldn't be possible but that there was an opportunity to work on a different team. I was so grateful to have the opportunity to retain my internship at JPL and get the chance to work with my mentor, Farah Alibay, who was once a JPL intern herself."
– Leilani Trautman is an undergraduate student studying electrical engineering and computer science at MIT and interning from San Diego, California.
---
"I am working on electronics for the coronagraph instrument that will fly aboard the Nancy Grace Roman Space Telescope. The Roman Space Telescope will study dark energy, dark matter, and exoplanets [planets outside our solar system]. The science instrument I'm working on will be used to image exoplanets. It's also serving as a technology demonstration to advance future coronagraphs [which are instruments designed to observe objects close to bright stars].
I was both nervous and excited to have a virtual internship. I'm a returning intern, continuing my work on the coronagraph instrument. I absolutely love my work and my project at JPL, so I was really looking forward to another internship. Since I'm working with the same group, I was relieved that I already knew my team, but nervous about how I would connect with my team, ask questions, and meet other 'JPLers.' But I think my team is just as effective working virtually as we were when working 'on lab.' My mentor and I have even figured out how to test hardware virtually by video calling the engineer in the lab and connecting remotely into the lab computer."
– Kathryn Chamberlin is an undergraduate student studying electrical engineering at Arizona State University and interning from Phoenix.
---
"I am working on the flight system for the Perseverance Mars rover. The first half of my internship was spent learning the rules of the road for the entire flight system. My first task was updating command-line Python scripts, which help unpack the data that is received from the rover. After that, I moved on to testing a part of the flight software that manages which mechanisms and instruments the spacecraft can use at a certain time. I have been so grateful to contribute to the Perseverance Mars rover project, especially during the summer that it launches!
I have always been one to be happy with all the opportunities I am granted, but I do have to say it was hard to come to the realization that I would not be able to step foot on the JPL campus. However, I was truly grateful to receive this opportunity, and I have been so delighted to see the JPL spirit translate to the online video chats and communication channels. It's definitely the amazing people who make JPL into the place that everybody admires. Most important, I would like to thank my mentor, Jessica Samuels, for taking the time to meet with me every day and show me the true compassion and inspiration of the engineers at JPL."
– Daniel Stover is an undergraduate student studying electrical and computer engineering at Virginia Tech and interning from Leesburg, Virginia.
---
"I'm working on a project called the Multi-Angle Imager for Aerosols, or MAIA. It's an instrument that will go into lower Earth orbit and collect images of particulate matter to learn about air pollution and its effects on health. I'm programming some of the software used to control the instrument's electronics. I'm also testing the simulated interface used to communicate with the instrument.
I was ecstatic to still have my internship! I'm very blessed to be able to do all my work remotely. It has sometimes proven to be a challenge when I find myself more than four layers deep in virtual environments. And it can be confusing to program hardware on the West Coast with software that I wrote all the way over here on the East Coast. However, I've learned so much and am surprised by and grateful for the meaningful relationships I've already built."
– Sophia Yoo is an incoming graduate student studying electrical and computer engineering at Princeton University and is interning from Souderton, Pennsylvania.
---
"My summer research project is focused on using machine-learning algorithms to make predictions about the density of electrons in Earth's ionosphere [a region of the planet's upper atmosphere]. Our work seeks to allow scientists to forecast this electron density, as it has important impacts on things such as GPS positioning and aircraft navigation.
Despite the strangeness of working remotely, I have learned a ton about the research process and what it is like to be part of a real research team. Working alongside my mentors to adapt to the unique challenges of working remotely has also been educational. In research, and in life, there will always be new and unforeseen problems and challenges. This extreme circumstance is valuable in that it teaches us interns the importance of creative problem solving, adaptability, and making the most out of the situation we are given."
– Natalie Maus is an undergraduate student studying astrophysics and computer science at Colby College and interning from Evergreen, Colorado.
---
"I have two projects at JPL. My first project focuses on the Europa Clipper mission [designed to make flybys of Jupiter's moon Europa]. I study how the complex topography on the icy moon influences the temperature of the surface. This work is crucial to detect 'hot spots,' which are areas the mission (and future missions) aim to study because they might correspond to regions that could support life! My other work consists of studying frost on Mars and whether it indicates the presence of water-ice below the surface.
JPL and NASA interns are connected through social networks, and it's impressive to see the diversity. Some talks are given by 'JPLers' who make themselves available to answer questions. When I came to JPL, I expected to meet superheroes. This wish has been entirely fulfilled. Working remotely doesn't mean working alone. On the contrary, I think it increases our connections and solidarity."
– Lucas Lange is an undergraduate student studying aerospace engineering and planetary science at ISAE-SUPAERO [aerospace institute in France] and interning from Pasadena, California.
---
Explore JPL's summer and year-round internship programs and apply at: jpl.nasa.gov/intern
Career opportunities in STEM and beyond can be found online at jpl.jobs. Learn more about careers and life at JPL on LinkedIn and by following @nasajplcareers on Instagram.
The laboratory's STEM internship and fellowship programs are managed by the JPL Education Office. Extending the NASA Office of STEM Engagement's reach, JPL Education seeks to create the next generation of scientists, engineers, technologists and space explorers by supporting educators and bringing the excitement of NASA missions and science to learners of all ages.
TAGS: Higher Education, Internships, STEM, College Students, Virtual Internships, Telework, Mars 2020 interns, Mars 2020, Perseverance, DSN, Deep Space Network, Mars, Asteroids, NEOWISE, Science, Technology, Engineering, Computer Science, Psyche, International Space Station, ISS, Europa, Jupiter, Europa Clipper, trajectory, nanotechnology, Cupid's Arrow, Proposal, Venus, Planetary Protection, Biology, Nancy Grace Roman Space Telescope, Dark Matter, Exoplanets, Multi-Angle Imager for Aerosols, MAIA, Earth, Earth science, air pollution, Hispanic Heritage Month, Black History Month, Asian Pacific American Heritage Month
---
Deciding where to land on Mars has always meant striking the right balance between potential science wins and the risk of mission failure. But new technology that will allow NASA's next Mars rover, Perseverance, to adjust its trajectory to the safest spot within an otherwise riskier landing area is giving science its biggest edge yet. This past summer, it was intern Tiffany Shi's task to help prepare the new technology, called the Lander Vision System, for its debut on Mars. Analyzing data from test flights in California's Death Valley, the Stanford University student joined the team at NASA's Jet Propulsion Laboratory to make sure the new landing system will work as designed, guiding the Perseverance rover to a safe landing as the spacecraft speeds toward the surface into Mars' Jezero Crater. We caught up with Shi to find out what it was like to work on the technology, how she managed the 8-to-5 and how she found a new approach to problem solving.
What are you working on at JPL?
I'm working with the Mars 2020 mission, building the lander system for the Perseverance Mars rover. This is new technology in that [as the rover is landing on Mars] it is going to be able to look down at the surface below and figure out where is the safest place to land within the chosen area. Because of this technology, we're going to be able to land in a place that's more geologically and scientifically interesting than anywhere else we've been on Mars.
How did previous Mars landings work?
Before, it was only really safe to land if we picked a huge, flat area and programmed the spacecraft to land somewhere in there. But for the Mars 2020 mission, the spacecraft will take images of the terrain below as it descends into the atmosphere and will match those images to reference maps that we have from the work of previous missions. This will allow us to autonomously detect potential landing hazards and divert our spacecraft from them. In other words, the spacecraft is going to be able to look below and find the safest place to land in an area that's generally more hazardous [than what previous rovers have landed in].
What is your average day like on the project?
My average day consists of coming here at 8. That is very new for me [laughs]. I sit in the basement with two office mates, and we each work on our own things. I'm doing error analysis to find any bugs in the Lander Vision System, which is what will be used to land the rover on Mars. The algorithm for the landing system is pretty much written, and I'm analyzing the field-test data that they got from the tests that were done in Death Valley in February. Both my office mates are also working on the Lander Vision System, but they're not on the same exact project. They are all super-nice and helpful, and we all talk about our work, so it's a lot of fun.
Tell me more about the field tests and how you're analyzing the results.
In February, the team took a helicopter and they attached a copy of the Lander Vision System to the front. The helicopter did a bunch of nosedives and spirals over the terrain, which is really similar to what the rover will see on Mars. The goal is to see how accurate our predictions are for our algorithm relative to our reference maps. We're using the tests to improve our algorithm before the spacecraft launches.
What are you studying at Stanford?
I'm not sure what my major will be yet. I don't have to declare it until the end of my second year. I've only just finished my freshman year. I'm thinking maybe computer science or a mix of computer science and philosophy, because I really like both.
What got you interested in those majors?
I did debate in high school, and a lot of debaters use philosophy to argue different perspectives. So that's what got me started.
What about the computer science side?
I was in Girls Who Code while I was in high school, and there were JPL mentors who came to my school every Friday and taught us everything that we wanted to know. It was a super-fun place, super-inclusive. You see a lot of shy girls who don't normally talk in classes really open up. They had great debates, great questions, and it was just really cool to see.
Had you had any experience coding before that?
No, but I started taking some classes after that, and I did an internship at Caltech my junior year.
What was the internship at Caltech?
It was actually with Christine Moran, who now works at JPL. When she was doing her postdoc at Caltech, she brought in 12 high-school student interns through a program called Summer App Space. I worked in a team that classified galaxies into 36 different categories using training and test images from an online machine-learning community.
Very cool! What has been the most uniquely JPL or NASA experience that you've had while you've been here?
I went to see the rover being built in the clean room with my mentor, and that was just surreal. Even though I am sure my contributions are going to be very small, I think it's wild that I am actually working on something that's going to Mars.
Has your internship opened your eyes to any potential career paths?
I haven't taken any aeronautics and astronautics classes, and I think I might see if I'm interested in studying that. It is so interesting working on something that is literally going to be in space. In college, you have an answer to work towards, and here you are finding the answer. I think I didn't really process what I was going to be doing before coming here.
Eventually, I know I want to go into computer science, but also I want to go into maybe social impact work. I'd love to find some intersection between those. I feel like I grew up really privileged, so I want to use my skills to help other people. But I do love computer science or something where I'd be really at the forefront of research.
Be there. I met Jessica Watkins, who used to intern here, and now she's one of the new NASA astronauts. She spoke to us during my Caltech internship. It was super surreal meeting her. So if I could play any part, I'd want to be up there.
---
Explore JPL's summer and year-round internship programs and apply at: jpl.nasa.gov/intern
Career opportunities in STEM and beyond can be found at: jpl.jobs
The laboratory's STEM internship and fellowship programs are managed by the JPL Education Office. Extending the NASA Office of STEM Engagement's reach, JPL Education seeks to create the next generation of scientists, engineers, technologists and space explorers by supporting educators and bringing the excitement of NASA missions and science to learners of all ages.
TAGS: Higher Education, Internships, STEM, Engineering, Interns, College, Robotics, Mars, Rover, Mars 2020, Landing, Mars 2020 Interns, Perseverance, Asian Pacific American Heritage Month
---
Until she discovered game development, Michelle Vo's daydreams were a problem. She couldn't focus in her computer science classes. Her grades were dipping. She wondered whether she was cut out to be a programmer or for school at all. So she took a break to make something just for fun, a self-help game. And help her, it did. Now focusing on virtual and augmented reality, Vo is back at school, studying not just computer science, but also cognitive science, linguistics and digital humanities. It's a lot, but to create a virtual world, she says one has to first understand how people navigate the real one. This summer, at NASA's Jet Propulsion Laboratory, the UCLA student applied her talents to VR and AR experiences that help scientists explore a totally different world, Mars. While Vo's tendency to daydream hasn't gone away, she now knows how to use the distractions for good; she turns them into VR inspiration.
What are you working on at JPL?
I worked on this project called OnSight, which just won NASA Software of the Year! I also worked on another project for the InSight Mars lander mission. Honestly, it's been such a dream come true to intern here. I actually used to struggle a lot with school because I would often get caught up in my own daydreams. However, I'm really glad I found a unique career path in VR where I can turn those dreams into something useful.
That's so great that you were able to channel your daydreams in that way. How did you go from struggling in school to doing VR?
When I first tried on a VR headset, I was like, "This is the future. I need to do whatever I can to learn about this." I decided to study computer science, but it was easy to get lost and fall behind in a large classroom environment. Not a lot of people know this, but I was on academic probation for a while. Looking back, I think my shyness held me back from asking for the help that I needed.
When I took a break from school, I decided I wanted to try making a game. I wanted to do something just for fun, and I was determined to fix my bad habits. So with some friends, I created a self-help game at AthenaHacks, a women's hackathon. For 24 hours, I was just immersed in my work. I had never felt that way about anything in my life, where I was just zoned in, in my own world, building something I loved. And that's when I realized, I think it's game development. I think this is what I want.
So I spent the year teaching myself [game development], and I got a lot more comfortable using the Unity game engine. I went on to attend Make School's VR Summer Academy in San Francisco. That smaller learning environment opened up the world for me. It boosted my confidence more than anything to have the support I needed. I was like, "Maybe my grades aren't so great, but I know how to build VR applications – and the world needs VR right now."
So when I went back to my university, I thought, "I'll try again. I'm going to go back to computer science." And so far so good. I'm into my fourth year at UCLA studying cognitive science, linguistics, computer science and digital humanities. It sounds like a lot, but they're all related in the sense that they're all connected to VR. To me, VR is mainly a study of the mind and how we perceive reality. It's not just about game development; you also need to understand human behavior to create good user-friendly VR.
So going back to your JPL internship, how are you using your VR skills to help scientists and engineers?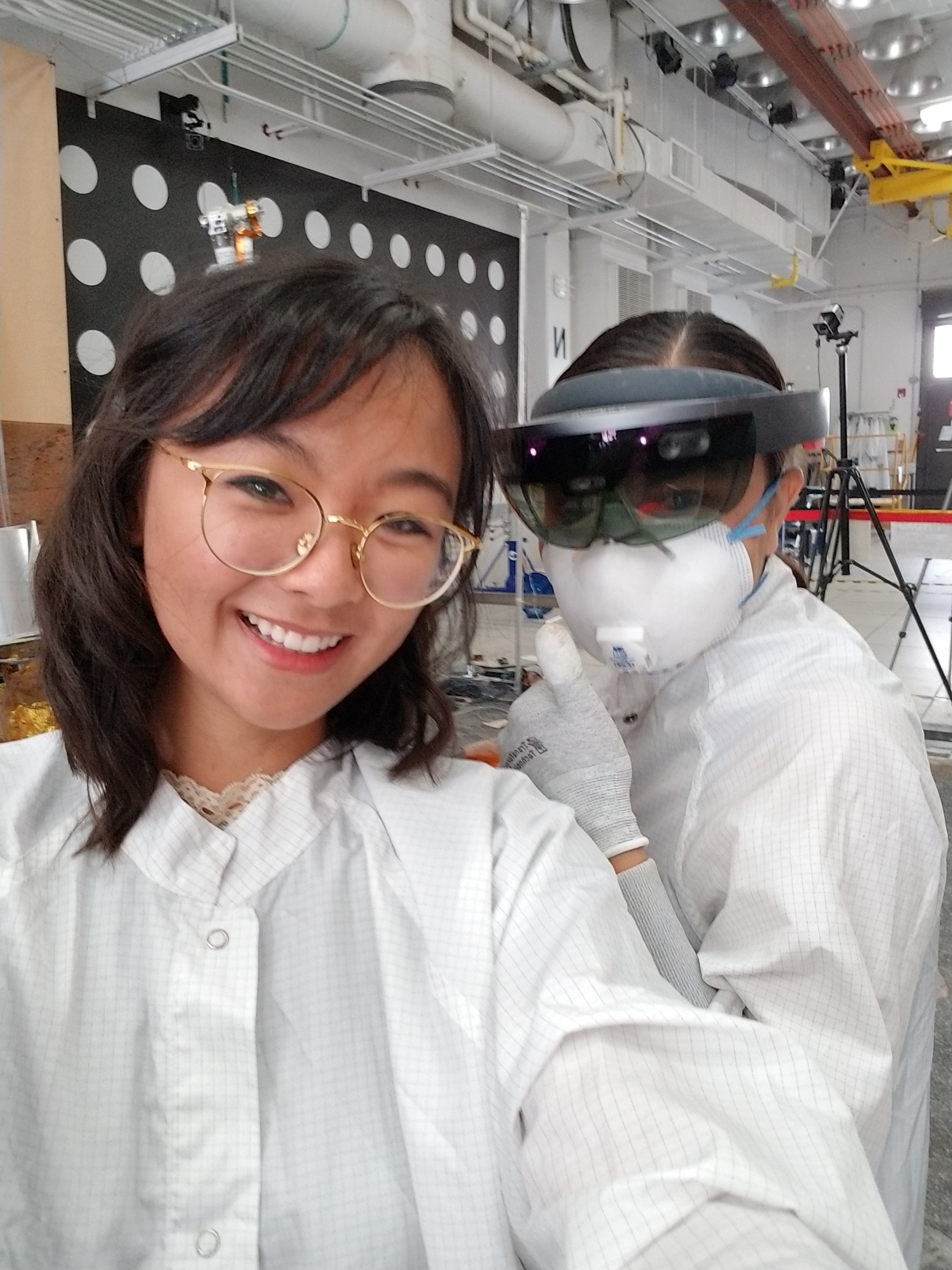 I'm interning in the Ops Lab, and the project I've been working on primarily is called OnSight. OnSight uses Microsoft's HoloLens [mixed-reality software] to simulate walking on Mars. Mars scientists use it to collaborate with each other. We had "Meet on Mars" this morning, actually. On certain days, Mars scientists will put on their headsets and hang out virtually on Mars. They see each other. They talk. They look at Mars rocks and take notes. It's based on images from the Curiosity Mars rover. We converted those images to 3-D models to create the virtual terrain, so through VR, we can simulate walking on Mars without being there.
For a few weeks, I worked on another project with the InSight Mars lander mission. We took the terrain model that's generated from images of [the landing site] and made it so the team could see that terrain on top of their testbed [at JPL] with a HoloLens. For them, that's important because they're trying to recreate the terrain to … Wait, I recorded this.
[Michelle quickly scans through the photo library on her phone and pulls up a video she recorded from JPL's In-Situ Instruments Laboratory. Pranay Mishra, a testbed engineer for the InSight mission, stands in a simulated Mars landscape next to a working model of the lander and explains:]
"When InSight reaches Mars, we're going to get images of the terrain that we land on. The instruments will be deployed to that terrain, so we will want to practice those deployments in the testbed. One of the biggest things that affects our deployment ability is the terrain. If the terrain is tilted or there are rocks in certain spots, that all has a strong effect on our deployment accuracy. To practice it here, we want the terrain in the testbed to match the terrain on Mars. The only things we can view from Mars are the images that we get back [from the lander]. We want to put those into the HoloLens so that we can start terraforming, or "marsforming," the testbed terrain to match the terrain on Mars. That way, we can maybe get a rough idea of what the deployment would look like on Mars by practicing it on Earth."
› Learn more about how scientists and engineers are creating a version of InSight's Mars landing site on Earth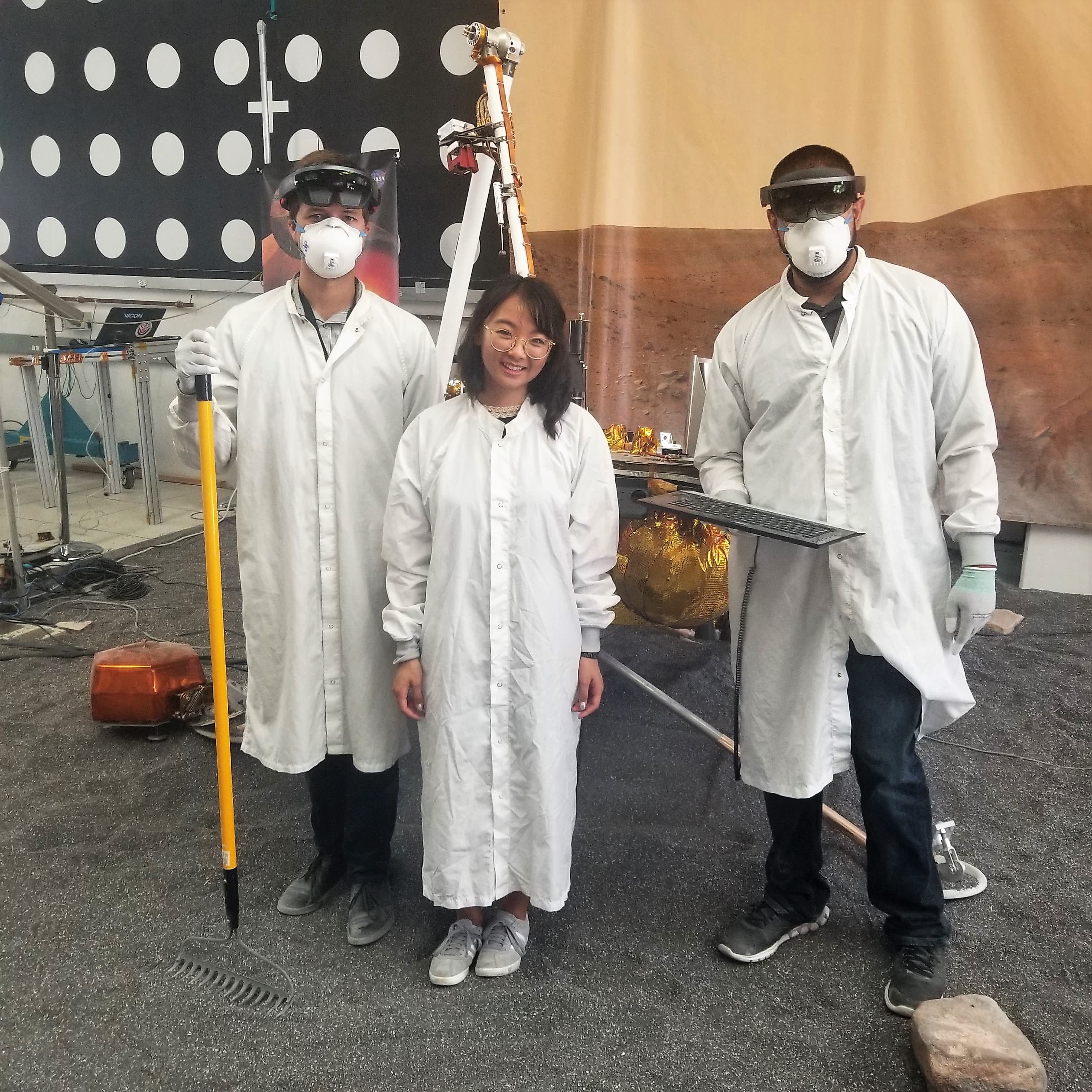 They already gave us photos of Mars, which they turned into a 3D model. I created an AR project, where you look through the HoloLens – looking at the real world – and the 3D model is superimposed on the testbed. So the [testbed team] will shovel through and shape the terrain to match what it's like on Mars, at InSight's landing site.
Did you know that this was an area that you could work in at JPL before interning here?
OnSight was a well known project in the VR/AR space, since it was the first project to use the Microsoft Hololens. I remember being excited to see a panel on the project at the VRLA conference. So when I finally got on board with the team, I was ecstatic. I also realized that there's room for improvement, and that's OK. That's why I'm here as an intern; I can bring in a fresh look.One of the things I did on this project was incorporate physical controllers. My critique when I first started was, "This interface is a bit tricky to use," and if it's challenging for me to use as a millenial, how is this going to be usable for people of all ages? I try to think in terms of accessibility for everybody. Through lots of testing, I realized that people need to be touching things, physical things. That's what OnSight lacked, a physical controller. There were a lot of things that I experimented with, and eventually, it came down to a keyboard that allows you to manipulate the simulated Mars rovers. So now with OnSight, you can drive the [simulated] rovers around with a keyboard controller and possibly in the future, type notes within the application. Previously, you had to tap into the air to use an AR keyboard, and that's not intuitive. I believe we still need to touch the physical world.
How has this project compared with other ones that you've done elsewhere?
I felt really in my element. And for the first time ever, the imposter-syndrome voice went away. I felt like I could just be myself and actually have a voice to contribute. You know, I might be small, I might be the shortest one, but I'm mighty. It's been such a positive and supportive environment. I've had an incredible internship and learned so much.
What has been the most unique experience that you've had at JPL?
Working in the Ops Lab has been such a unique experience. Every day, we're tinkering with cutting-edge technology in AR and VR. I am so thankful to have my mentors, Victor Luo and Parker Abercrombie, who give me the support and guidance I need to grow and learn. Outside of the Ops Lab, I also had the unique opportunity to meet astronaut Kate Rubins and talk about VR with her. I had lunch with NASA Administrator Jim Bridenstine when he visited JPL. And working with the InSight mission and Marleen Sundgaard, the mission's testbed lead, was especially cool. I can't believe I was able to use my skills for something the Mars InSight mission needed. Being able to say that is something I'm really proud of. And seeing how far I came, from knowing nothing to being here, makes me feel happy. If I can transform, anyone can do this too, if they choose to work hard, follow their own path and see it in themselves to take a risk.
What advice do you have for others looking to follow your path?
Listen to your gut. Your gut knows. It's easy to feel discouraged when learning something new, but trust me, you're not alone. You've always got to stay optimistic about finding a solution. I've always been someone who has experimented with a lot of things, and I think learning is something you should definitely experiment with. If the classroom setting is not for you, try teaching yourself, try a bootcamp, try asking a friend – just any alternative. There is nothing wrong with carving your own path when it comes to your education. Everyone's at their own pace, just don't give up!
My biggest inspiration is the future. I think about it on a daily basis. I know I have a very cheery, idealistic view on life, but I think, "What's wrong with that?" as long as you can bring it back to reality.
Speaking of that, what is your ultimate dream for your career and your future?
I was raised in the Bay Area, and I grew up in Santa Clara so the tech culture of Silicon Valley was inescapable. I love Silicon Valley, but there is still a huge homelessness issue. I've always thought, "We have the brightest engineers and scientists doing the most amazing, crazy things, yet we still can't alleviate homelessness." Everybody deserves a place to sleep and shower. People need to have their basic needs met. I'd love to see some sort of VR wellness center that could help people train for a job, overcome fears and treat mental health.
That's my idealistic dream, but back to present-day dreams: I'm actually doing a 180. I'm leaving tech for a little bit, and I'm taking Fall quarter off. I'll start back at UCLA in January, but I'm taking a leave to explore being an artist. I'm writing a science-fiction play about Vietnamese-American culture. I was inspired by my experience here at JPL. I feel really optimistic about the future of technology, which is funny because science fiction usually likes to depict tech as something crazy, like an apocalypse or the world crashing down. But I'm like, "Vietnamese people survived an actual war, and they're still here." For my parents and grandparents, their country as they knew it came crashing down on them when they were just about my age. They escaped Vietnam by boat and faced many hardships as immigrants who came to America penniless and without knowing English. For them to have survived all of that and sacrificed so much to make it possible for me to be here is incredible. I think it's a testament to how, despite the worst things, there's always good that continues. I'm so grateful and thankful for my family. I wouldn't be here living my dream without them, and I want to create a play about that.
It's funny. Before I used to be so shy, so shy. I used to be that one kid who would never talk to anybody. So it's kind of nice to see what happens when the introvert comes out of her shell. And this is what happens. All of this. [Laughs.]
---
Explore JPL's summer and year-round internship programs and apply at: https://www.jpl.nasa.gov/edu/intern
The laboratory's STEM internship and fellowship programs are managed by the JPL Education Office. Extending the NASA Office of Education's reach, JPL Education seeks to create the next generation of scientists, engineers, technologists and space explorers by supporting educators and bringing the excitement of NASA missions and science to learners of all ages.
TAGS: Women in STEM, Higher Education, College, Students, STEM, VR, AR, Technology, Mars, InSight, Curiosity, Women in STEM, Asian Pacific American Heritage Month
---
While the world of engineering is a familiar one to Omar Rehman (his major is transportation design and he comes from a family of engineers) his internship at NASA's Jet Propulsion Laboratory is all about bridging the gap between form and function. NASA's next Mars rover, currently in development and planned for launch in 2020, will acquire a set of carefully selected samples of rocks and surface material and store them in sealed tubes for possible return to Earth by a future mission. Returning samples from Mars is a complicated problem. So, a team at JPL is taking an in-depth look at how it could be done. In addition to using his transportation design background to help the team come up with ideas for a vessel that could bring the samples to Earth, Rehman is using visual arts to convey why a "sample-return mission" would be such a big deal. We caught up with the Art Center College of Design student to find out how he's using art and design to help tell the story of how we're designing missions that might bring the first samples back from Mars.
What are you working on at JPL?
I am on a study team exploring options for a pair of missions that could take key next steps to bring samples back from Mars. I work in JPL's Mobility and Robotics Systems section. I was primarily brought on to do visuals that translate what the mission concept is designed to do in a more cinematic and visual way so people can understand it. However, since getting here, I've been wearing multiple hats: working on visuals but also picking up my engineering hat from back in the day. I'm illustrating scenes for the Mars Sample Return study and conveying my ideas for a transportation vessel that could be used for the endeavor. The bit of engineering experience I had when I was younger has helped me understand and elaborate on the functional and mechanical side of these ideas. I'm absorbing all the knowledge, learning terminology and really getting into it – living the dream as an intern!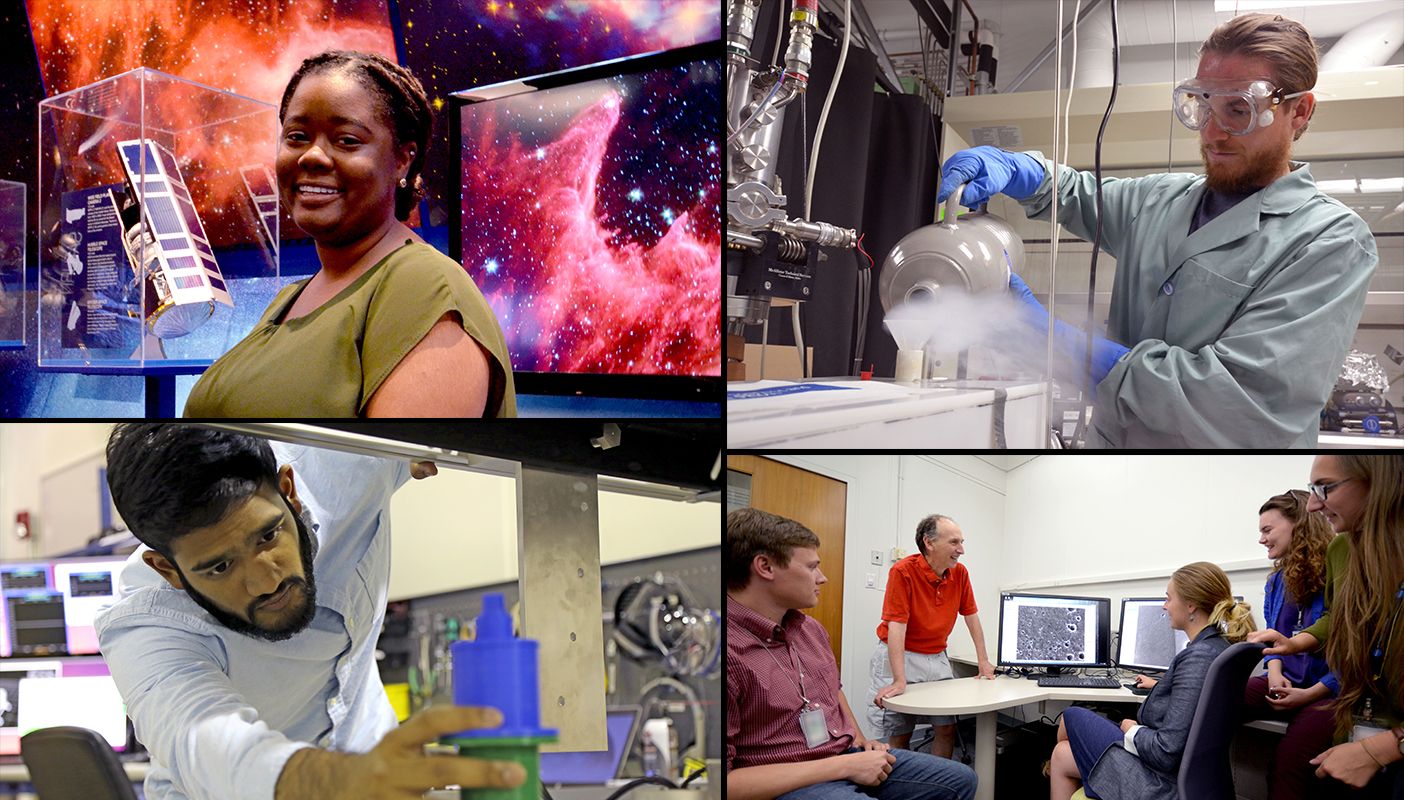 Meet JPL Interns
Read stories from interns pushing the boundaries of space exploration and science at the leading center for robotic exploration of the solar system.
What is a typical day like for you?
What's most important for a designer or design student is to get out your ideas. You've got to keep the practice up. So I actually sketch every morning. If you look at the wall above my desk, it's all sketches: random sketches and concept satellites, maybe some entertainment ideas, some cars here and there, spaceships – who knows? – just anything to keep my juices flowing and keep my creativity going. Then, I put that creative mind to rest for a little bit and start again.
I've also been working on matrices to evaluate the criteria of sample-return mission concepts and the types of innovative variations that would be compatible within the whole system. My work as a designer also comes into play when I create both visual and verbal documents that will help stakeholders understand technical aspects of the designs.
When I get home, I'll maybe have a snack or relax and unwind, then sketch a little more before I go to bed, and do it all again.
What was the ultimate goal of your project?
I really want to convey the options for Mars Sample Return in a very cinematic way so that people can remember it. And then in terms of the engineering side, before I leave, I want to conceive a concept for a system to help transport the Mars samples once they have been captured that would be innovative but also be realistic and work within the aerospace parameters.
How might your project help the average person one day?
I'm conveying the entire story, from liftoff in 2020 to getting to Mars, collecting samples, potentially getting back up off the surface and heading back to Earth. I think it'll help people remember what Mars 2020 is all about and how it fits in the larger story of future missions that may return a sample to Earth. Hopefully they'll remember those images for years, along with the whole mission's success.
What is the most JPL- or NASA-unique experience you've had so far?
So many! Meeting the awesome interns. Seeing everything around JPL that's being developed and tested. That's so cool. Also, the intern before me is now interning at NASA's Armstrong Flight Research Center in the Mojave Desert. He invited the whole team to go visit. We got to see the F-15B Eagle that is being used for NASA research. We looked at concepts they're coming up with – just crazy stuff like you'd see in movies, but it's actually being built!
How do you think you're contributing to NASA/JPL missions and science?
I think bringing the visual-designer mentality to this engineering-driven community is really good. I think that designers can contribute to these kinds of communities. We can help engineers translate ideas really fast. Maybe there are some skills that engineers lack in design and some skills that designers lack in engineering, but when they come together there's a good balance of work output and ideas, and a good combination of solid engineering and design aesthetics coming together to create a beautiful machine. There's beauty in function, but there's also beauty in function being balanced with an appropriate aesthetic.
If you could travel to any place in space, where would you go and what would you do there?
I get really sci-fi about this stuff. Imagine a theoretical scenario in which you have infinite timelines moving in parallel. Let's say it's like a guitar, and each string is you on a different timeline, moving in different places with different stories. If there is somewhere I can go that's either inside this galaxy or outside that can bring me to these different timelines and lets me come back and explore my own reality or different realities, that's where I want to go.
---
Explore JPL's summer and year-round internship programs and apply at: https://www.jpl.nasa.gov/edu/intern
The laboratory's STEM internship and fellowship programs are managed by the JPL Education Office. Extending the NASA Office of Education's reach, JPL Education seeks to create the next generation of scientists, engineers, technologists and space explorers by supporting educators and bringing the excitement of NASA missions and science to learners of all ages.
TAGS: Internships, Higher Education, Career Guidance, Mars 2020, Mars Sample Return, Mars 2020 Interns, Perseverance, Asian Pacific American Heritage Month
---
When Lean Teodoro was growing up on the remote island of Saipan in the middle of the Pacific Ocean, her dream of one day working for NASA always seemed a bit far-fetched to those around her. Now, a geophysics student on the premed track at the University of Hawaii and a summer 2018 intern at NASA's Jet Propulsion Laboratory, Teodoro is making her dream a reality. This summer, she took a short break from her internship searching for asteroids with NASA's NEOWISE team to tell us about her career journey so far, what inspired her to study STEM and how she hopes to play a role in human space exploration of the future.
What are you working on at JPL?
I work with the NEOWISE team, the Near-Earth Object Wide-field Infrared Survey Explorer. My focus is on near-Earth asteroids. I do a lot of image analysis and processing. Not all of the time do asteroids get detected through our automated system, so my job is to look at archives to find previously undetected asteroids.
What is a near-Earth object and how do you look for them?
Near-Earth objects are objects [such as asteroids and comets] that are very near to Earth's orbit. There are other asteroids that are located roughly between the orbits of Mars and Jupiter, but my focus is on those that are closer to Earth. The way that we detect them is we have this [space telescope called NEOWISE] that surveys the sky in two wavelengths. It senses the heat of asteroids. So I look at images from NEOWISE and, if I see a red dot that is bright, then that's usually an asteroid. But I go through several search techniques to see if the signal-to-noise ratio is good. So there are several processes that work.
What is the ultimate goal of the project?
My ultimate goal is to try to increase the number of known near-Earth objects so that, in the future, we can get more precise measurements for their positions and movements -- just in case they pose a risk to Earth.
What's an average day like for you?
I go through, I'd say, hundreds of images per day. I also took part in a side project where I had to get the measurements of an asteroid that was observed 39 years before it was officially discovered. We looked at this astronomical plate from the 1950s. You can see a very small arrow pointing to an asteroid. Positions for the asteroid hadn't been discovered yet, so my job was also to find those. It had a lot to do with coding and I had very little experience with coding, so it was nice.
What other skills have you been able to pick up at JPL?
My major is geophysics, so I had little knowledge about astronomy. My whole research team exposed me to an exciting world of astronomy, so that was really nice. They were very encouraging. I've learned so much more about astronomy this summer than I did throughout my whole undergrad career. I mean, there is some connection between geophysics and astronomy, in a way, but this summer, I really learned so much.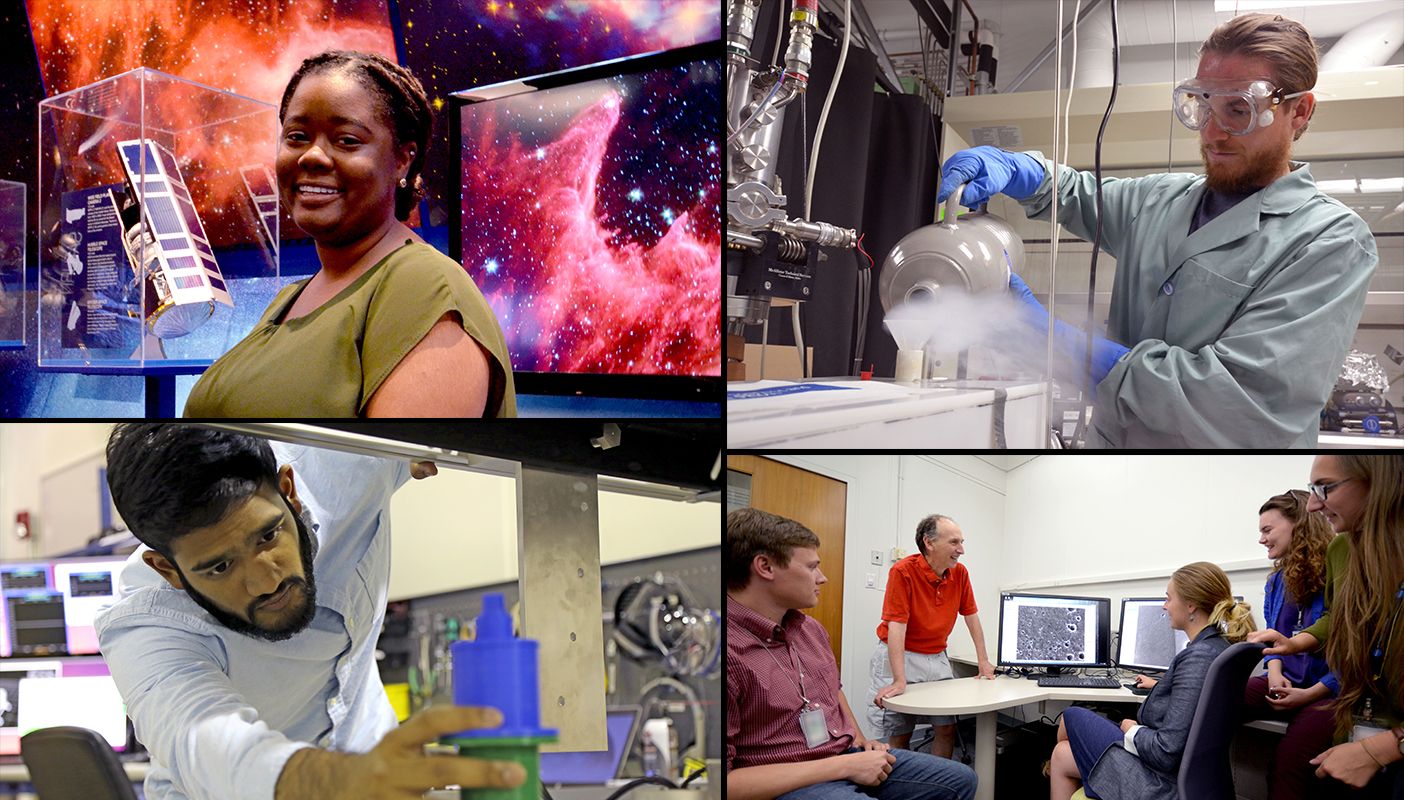 Meet JPL Interns
Read stories from interns pushing the boundaries of space exploration and science at the leading center for robotic exploration of the solar system.
You grew up on the remote island of Saipan in the Northern Mariana Islands. How did you get exposed to STEM and what got interested in pursuing it as a career?
When I was young, my dad would always make us go fly kites at night on the beach. There was this one night where I was just looking at the Moon. I was like, "Oh my god, I really want to learn more about astronomy." I think since then, I've been interested in STEM. But when you're coming from a really small island, you feel very limited. So I didn't have that strong foundation in STEM. And that's the reason why I wanted to move off the island -- because I knew that I couldn't get the opportunities if I stayed. That's the reason I moved to the University of Hawaii. They have a strong geology and geophysics program, and it's a great research university. Since I started there, I've been doing research related to NASA -- like the NASA Hawaii Space Grant Consortium. I feel like if I didn't move to the University of Hawaii, I wouldn't be where I am today, interning at JPL.
So you moved from one island to another?
[Laughs.] Yeah, I couldn't leave the island vibe, I guess. I think it's just a little closer to home. I feel more at home when I'm in Hawaii. Not only that, but also they have a great program, so that was a plus, too. And they have close affiliations with NASA, so that was really great, because my goal was to work for NASA.
Was it a challenge to move away from the island where you grew up?
It was definitely a challenge leaving family and friends behind. I was there on my own. The reason why I chose the University of Hawaii is because of their program. I had a really hard time choosing my major because I was interested in health, but I was interested in geology as well. I'm doing premed as well [as geology and geophysics]. I'm really interested in how humans or organisms can adapt to extreme environments and in learning about geology – for example on Mars – and health, and seeing how we can combine those two fields to contribute to future human space exploration.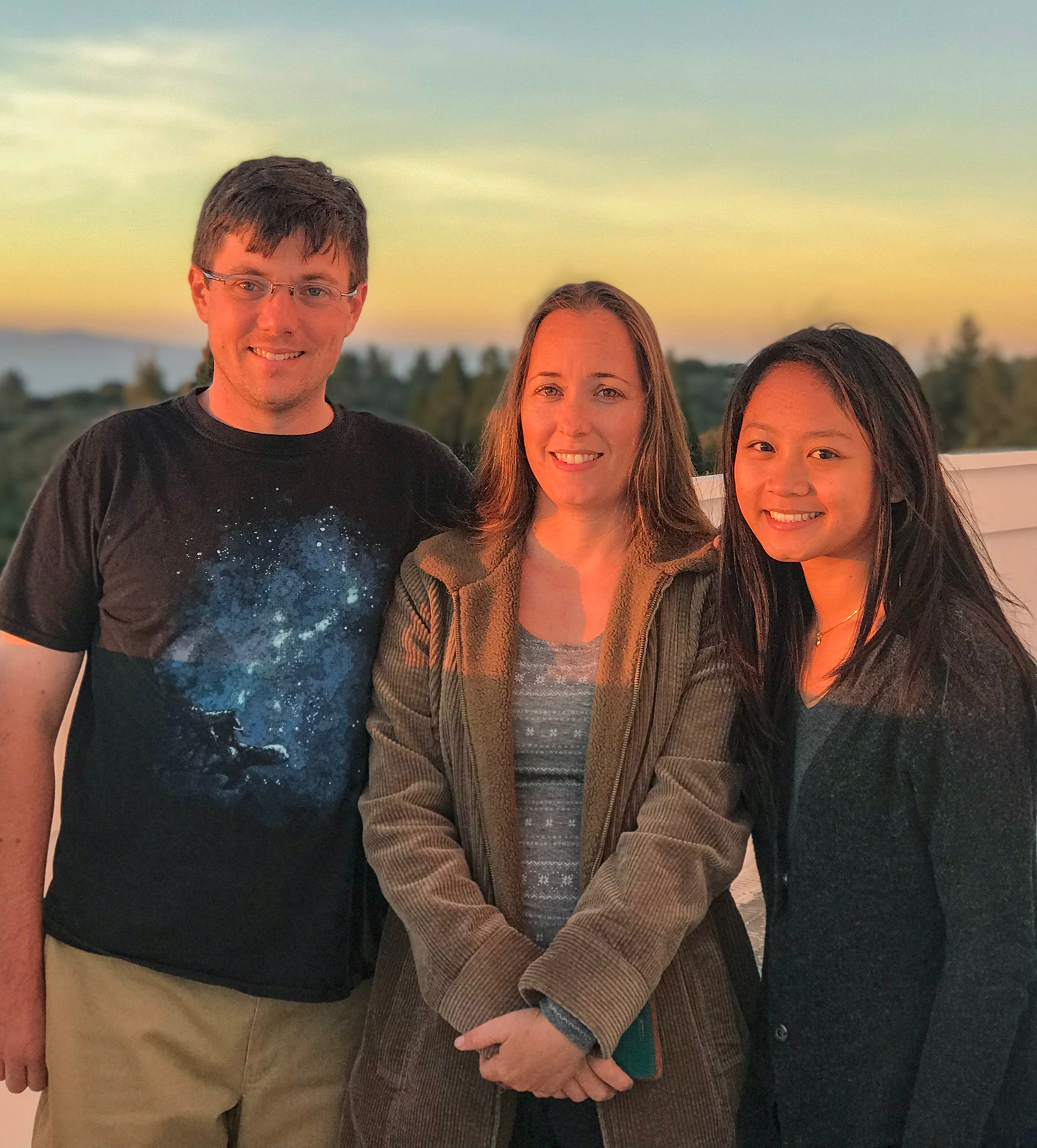 What do your family and people back home think of your career path?
It's so funny because I remember, in middle school, I would always tell my friends and family how I wanted to work for NASA, and they would laugh about it because I don't think anyone back home has ever done something big like that. Having them see me working here -- it just kind of opened their eyes, like, "Wow, it's possible," you know? Most of the time, people back home just stay for financial reasons. It was really expensive moving to Hawaii. But I really wanted to do it. So here I am, and I'm so happy.
Did you know that we have a group of student teachers from the Northern Mariana Islands that has come to NASA's MUREP Educator Institute at JPL the past couple summers?
Yeah! So three weeks ago, I was walking to my office, and I saw a few friends from back home. I was like, "Oh my god, what are you guys doing here?" We all went to the same high school and everything! They were telling me about that whole program. I was like, "Oh my god, I feel so happy. That's so great." The chances -- it was mind-blowing. I'm so happy for them. I'm really excited for the future of Saipan and the whole Northern Mariana Islands.
What's the most JPL- or NASA-unique experience you've had so far?
Of all the internships I've had in the past, JPL is really unique because everyone is just so passionate about the work that they do, so it really rubs off on you. Not only that, but also the intern community here is just amazing. And not only the interns, but also my mentors and the other scientists and engineers I've met. I've made so many friends throughout my summer here from all over the nation and all over the world, which is nice because I'm from this small island, and it just makes me realize how big the world is.
I feel like interning at JPL builds a foundation for me. And with my mentors here at JPL and in Hawaii, I do feel more confident in being a minority and a woman in STEM. I feel more driven to be successful and to inspire people from back home to go and pursue what they want to do. Don't let the confinements of your environment stop you from what you want to do.
What's your ultimate career goal?
My ultimate goal is to try and contribute to future human space exploration. That's what I really want to do. I'm still trying to figure out how I can pave my path by combining health and geosciences. We'll see how it goes.
---
Explore JPL's summer and year-round internship programs and apply at: https://www.jpl.nasa.gov/edu/intern
The laboratory's STEM internship and fellowship programs are managed by the JPL Education Office. Extending the NASA Office of Education's reach, JPL Education seeks to create the next generation of scientists, engineers, technologists and space explorers by supporting educators and bringing the excitement of NASA missions and science to learners of all ages.
TAGS: Women in STEM, Internships, Higher Education, Science, Astronomy, Asteroids and Comets, NEOWISE, Asian Pacific American Heritage Month
---
The Starshade project aims to do pretty much what the name suggests: suppress the light from distant stars so scientists can learn more about the planets that surround them – including whether they're likely to support life. In practice, it requires building a giant, precisely shaped structure that can unfurl from a relatively tiny package and fly in perfect sequence with a space telescope. Interns have been key to making the idea a reality. The team has brought in more than 40 interns in the past seven years. We already caught up with three-time Starshade intern Christopher Esquer-Rosas, who is using his origami skills to help a full-scale model of the giant sunflower-shaped structure unfurl. Meanwhile, intern Allison Ayad, a mechanical engineering student at Pasadena City College, is creating a working miniature model to narrow in on the design. Fellow intern Evan Kramer met up with Ayad to find out how she's contributing to the project and how she's bringing what she's learning back to school.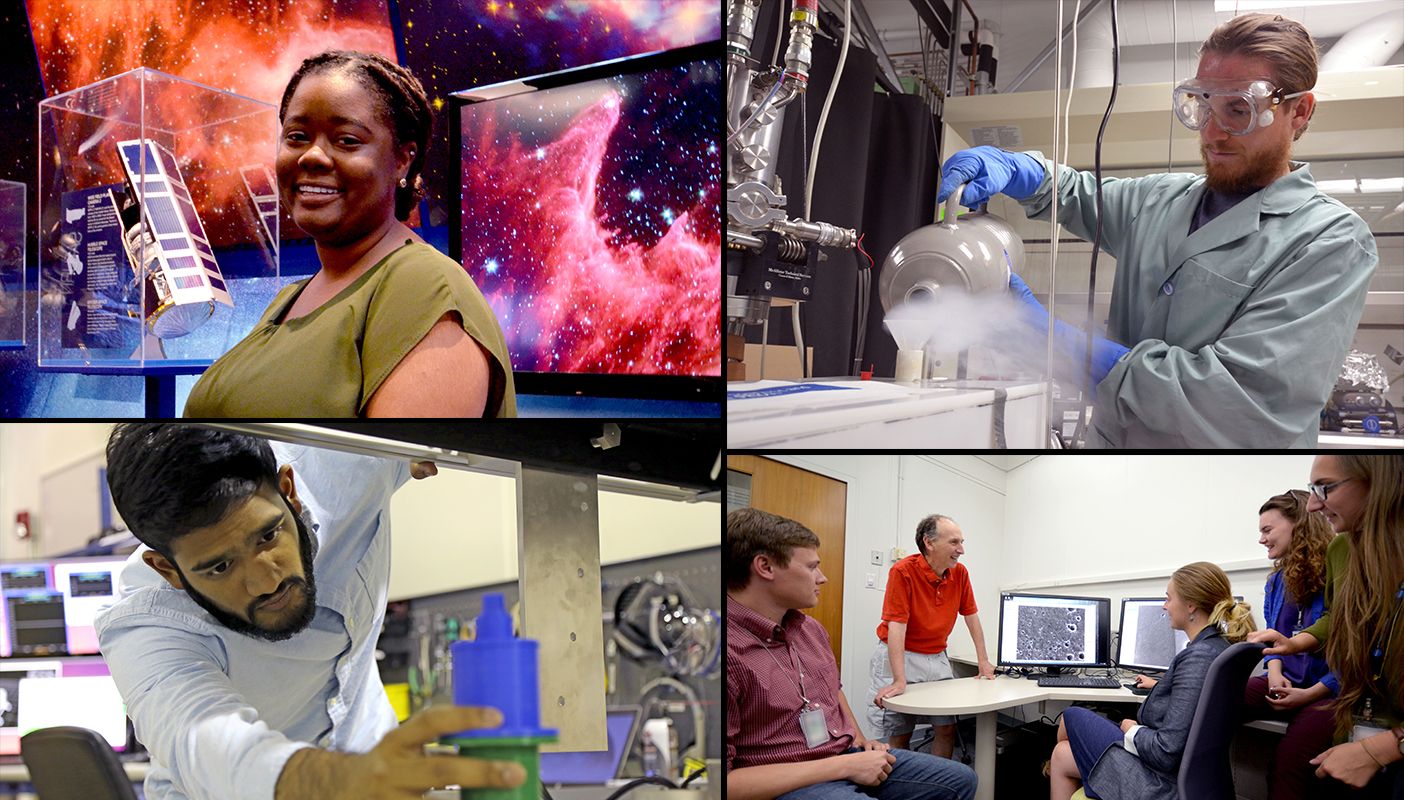 Meet JPL Interns
Read stories from interns pushing the boundaries of space exploration and science at the leading center for robotic exploration of the solar system.
What are you working on at JPL?
I'm working on a project called Starshade, which is a 26-meter diameter, flower-shaped structure we want to send to space to help us get images of exoplanets, [planets outside our solar system]. With these images, we could learn more about exoplanets and see if they could potentially harbor life.
So Starshade is a sort of spacecraft?
Yeah, it is! Starshade would fly out and position itself between a space telescope and a star. Its shape would suppress the light from the star so the spacecraft could get direct images of the exoplanets around it. It's similar to when you try to take a picture outside, and the Sun washes out the image. If you block the light from the Sun, then you can see everything in more detail. That's pretty much what Starshade would do.
What's a typical day like for you?
Every day is very different. What I am working on is making a mini, fully deployable Starshade for interactive purposes, so we can show all the different stages of deployment. It will sort of be the first of its kind.
When I come in, I usually do work on my computer with [software] like Solidworks. Then, I do a lot of rapid prototyping with the use of 3D printers and laser cutters to test out all the little, moving components that are going into the real model.
I spend some of my time helping with the big structure that's out here. [She points to the warehouse-like space where the team is assembling a full-scale version of Starshade, which is about the size of a baseball diamond fully unfurled.] But most of the time, I'm working on the mini one. At least once a day, I'll talk with my mentor, David Webb, about the ideas that I have on how to make things work. We'll bounce ideas off each other, then I'll have stuff to think about for the next day.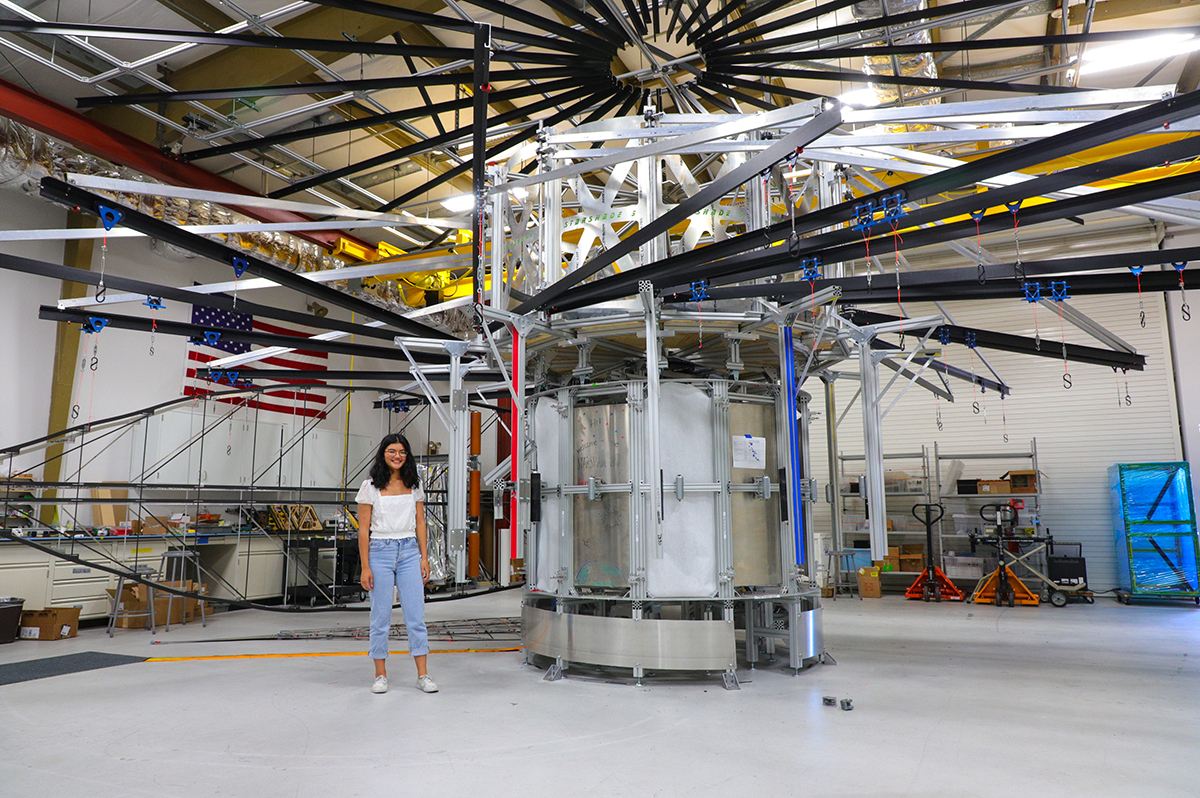 What's been the most JPL- or NASA-unique experience you've had so far?
I've been here for a year and a half now, and I think the Starshade lab is the coolest at JPL, but I'm a little bit biased. It's really cool because we have a bunch of prototypes everywhere, so you get to see what Starshade would look like in real life. And there are a bunch of interactive models that you can play with to see all the different deployment stages.
How do you think you're contributing to NASA/JPL missions and science?
The full Starshade isn't really finished being designed yet, so a lot of the problems that [the team that is building the full-scale model] is facing, I'm also facing with the mini one. The ideas that I'm thinking through could potentially help with the real flight-model design.
How has the work you've done here influenced you back at school?
When I first started interning here, I actually didn't have a lot of the core class requirements [for my major] done. So a lot of the terms and concepts that people were using at JPL were still new to me. Then when I took the classes, all [the lessons from my internship] came back, and I was like, whoa, I already kind of learned this stuff and got a hands-on approach to it. I'm a very hands-on learner, so having that previous experience and then learning more of the math behind it helped with that learning process.
If you could travel to any place in space, where would you go? And what would you do there?
I'd like to go to Mars just because we're so close to doing it. It'd be cool to see what's there. I personally think there's a really good chance there was once life on Mars. If I could go and see for myself, that would be pretty awesome.
---
Explore JPL's summer and year-round internship programs and apply at: https://www.jpl.nasa.gov/edu/intern
The laboratory's STEM internship and fellowship programs are managed by the JPL Education Office. Extending the NASA Office of Education's reach, JPL Education seeks to create the next generation of scientists, engineers, technologists and space explorers by supporting educators and bringing the excitement of NASA missions and science to learners of all ages.
TAGS: Women in STEM, Internships, Interns, Students, College, STEM, Opportunities, Starshade, Exoplanets, Engineering, Asian Pacific American Heritage Month
---
If you're reading this, there's a good chance that you or someone you know has been in a science fair. Chances are that your project did not lead directly to a collaboration with a scientist at NASA's Jet Propulsion Laboratory, Pasadena, California, and a paper in the professional journal Environmental Research Letters. Alice Zhai's project did.
The 16-year-old Zhai, who will be a senior this fall at La Cañada High School near JPL in southern California, and JPL research scientist Jonathan Jiang built on Zhai's science fair project, a statistical model of economic losses from hurricanes. They found that the common practice of using only wind speed to represent hurricanes in economic hurricane damage models is inadequate for large storms, such as 2012's Hurricane Sandy. Zhai and Jiang are the first to quantify the economic impacts of increasing hurricane size.
Hurricanes by the numbers
Analyzing 73 hurricanes from 1988 to the present, Zhai and Jiang found that a doubling in size, without a change in wind speed, more than quadruples the economic loss a hurricane causes. Tripling its size multiplies the loss by almost 20 times.
These numbers may be startling, but the idea that storm size matters is not. Experience has proven that not only size but the height of the storm surge, total rainfall and other characteristics affect a storm's impacts. So why do models include only wind speed? In the United States, we still classify hurricanes solely by their speed, using the Saffir-Simpson scale. The scale was devised before satellite observations made it possible to view a storm's size.
By comparison, there is no standardized scale of hurricane size. Different databases use different benchmarks -- for example, the distance from the storm's center to the location where the wind speed is either 34 or 64 nautical miles per hour, or knots. As part of their study, Zhai and Jiang recalibrated all storms to the 34-knot reference point.

From the science fair to the real world
Hurricane Sandy was the trigger for Zhai's 2013 project in the Los Angeles County Science Fair. "After seeing the devastation on TV and in the news, I was really curious," Zhai said. "I heard that it was an extremely destructive hurricane, and I noticed that it had a relatively low wind speed but an abnormally large size." Her project won third place in the Earth science division and an "outstanding achievement" award from the American Meteorological Society Los Angeles chapter.
Jiang met Zhai because he was judging other projects at the fair and stopped to see her poster. Her exceptional engagement and inquiring mind impressed him. As a long-time science fair judge, "I've met many high school students," he said. "Some people only have a high GPA because their parents put pressure on them, but Alice is genuinely interested. I put a lot of weight on people having curiosity."
Under Jiang's direction, Zhai kept working on her model to create publishable results, more than doubling the number of storms in the study and doing a more rigorous statistical analysis. The first time the authors submitted the paper, it was turned down. Some teenagers would have been crushed, but not Zhai. "Being rejected wasn't too terrible, because the reviewers' comments were encouraging," she said. "It motivated me to keep going with the project." They modified the paper and resubmitted it to the journal successfully.
Jiang encouraged Zhai to apply for an internship at the California Institute of Technology (Caltech) in Pasadena and then convinced her adviser there, Yuk Yung, to allow Zhai to expand her hurricane work at JPL this summer. She is improving their hurricane loss model by adding factors such as storm duration and regional economic wealth and using more accurate data on hurricane size based on measurements from NASA's QuikScat satellite.
Zhai is the youngest person by far in Jiang's group, but she's treated no differently than the postdoctoral fellows. "Sometimes I'm very picky, but Alice has never complained," Jiang said. In fact, she appears to be thriving. "I didn't know that my work could actually be applied to a big, real-world problem," she said. "That's kind of unbelievable. Working in a professional setting opened my mind about science. Before this experience, I wasn't sure what I was going to do, but now I want to pursue a math and science career."
The paper is available online at: http://iopscience.iop.org/1748-9326/9/6/064019/
Caltech manages JPL for NASA.
Learn more about JPL internships and fellowships
TAGS: Women in STEM, Earth, Hurricanes, Science Fair, Internships & Fellowships, High School, Asian Pacific American Heritage Month