Media Contacts
Dwayne Brown
NASA Headquarters
Washington D.C.
202-358-1726
dwayne.c.brown@nasa.gov
Laurie Cantillo
NASA Headquarters
Washington D.C.
202-358-1077
laura.l.cantillo@nasa.gov
DC Agle
Jet Propulsion Laboratory
Pasadena, California
818-393-9011
agle@jpl.nasa.gov
Deb Schmid
Southwest Research Institute
San Antonio, Texas

210-522-2254
deb.schmid@swri.org
Gary Napier
Lockheed Martin Space Systems
Denver, Colorado
303-971-4012
gary.p.napier@lmco.com
Media Services Information
News and Status Reports
NASA and the Juno team will issue periodic status reports on mission activities and make them available online at http://www.nasa.gov/juno and http://missionjuno.swri.edu . NASA released several media advisories before the Jupiter Orbit Insertion with details of press accreditation, media briefings, special media opportunities, on-site logistics at the Jet Propulsion Laboratory, and NASA TV and Web coverage.
Video and Images
Video and images related to the Juno mission are available at the following websites: https://vimeo.com/172488766 and http://photojournal.jpl.nasa.gov/mission/Juno
NASA Television
NASA Television is carried on the Web and on an MPEG-2 digital signal accessed via satellite AMC-6, at 72 degrees west longitude, transponder 17C, 4040 MHz, vertical polarization. It is available in Alaska and Hawaii on AMC-7, at 137 degrees west longitude, transponder 18C, at 4060 MHz, horizontal polarization. A Digital Video Broadcast compliant Integrated Receiver Decoder is required for reception. For NASA TV information and schedules on the Web, visit www.nasa.gov/ntv.
Live NASA TV programming on NASA's public channel is available on the web at www.nasa.gov/ntv and at http://www.ustream.tv/nasahdtv. The NASA TV media channel is available live at http://www.ustream.tv/channel/nasa-media-channel. Archived NASA TV programming is available soon after it airs at www.youtube.com/nasatelevision.
On-Site Media Logistics
News media representatives covering the Jupiter Orbit Insertion in person must be accredited through the Jet Propulsion Laboratory Media Relations office. Registration for media ended June 2, 2016. Journalists may call (818) 354-5011 for information and to request interviews.
Juno on the Web
Juno information -- including an electronic copy of this press kit, news releases, fact sheets, mission details and background, status reports and images — is available on the web at http://www.nasa.gov/juno and http://missionjuno.swri.edu.
Mission updates are also available on Twitter (@NASAJuno), Facebook (www.facebook.com/NASAJuno, Tumblr (nasajunocam.tumblr.com) and YouTube (youtube.com/NASAJuno).
Eyes on the Solar System
If you can't be at the Jet Propulsion Laboratory – or in orbit around Jupiter – for Jupiter orbit insertion, the next best place to be might be in front of your computer watching NASA's Eyes on the Solar System app. Or, you could be watching NASA TV commentary on July 4 – which not only includes interviews and live views from mission control – but has a presentation about Eyes on the Solar System.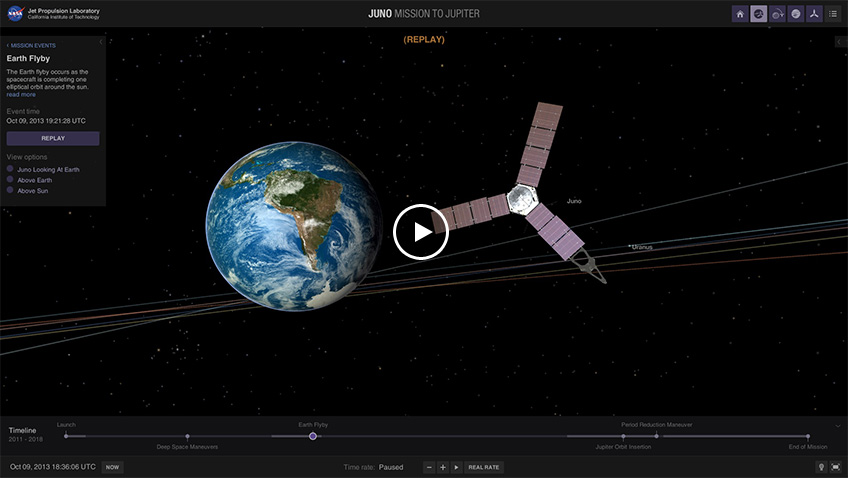 Eyes On The Solar System has developed a module dedicated to the Juno mission to Jupiter. In this online, interactive visualization, you can ride along with the Juno spacecraft in real-time as it arrives at Jupiter on the 4th of July, or travel backward or forward in time to from launch to its planned fiery end of mission in February of 2018. 
Go to: http://eyes.nasa.gov/juno