---
It may look cartoonish, but the face of NASA's next Mars rover is serious business for Jeff Carlson. A former intern at NASA's Jet Propulsion Laboratory, Carlson is now part of the JPL team tasked with assembling and testing the "head" and "neck" (officially called the Remote Sensing Mast) for the Mars 2020 rover. Carlson jokes that his job is a bit like making and following instructions for assembling IKEA furniture – that is, if the furniture were going to another planet with no option to return for spare parts. With its five cameras that will do everything from guiding the rover to recording ambient sounds to blasting objects with lasers so it can study their chemical composition, the mast will play a key role in the mission's goal of finding evidence for ancient microbial life. Returning JPL intern Evan Kramer met up with Carlson to learn more about his role in readying the rover for its planned February 2021 debut on Mars and about the summer internship that propelled Carlson to where he is now.
What do you do at JPL?
I am a mechanical engineer working on the remote sensing mast for Mars 2020, [NASA's next Mars rover]. The remote sensing mast is the "neck" and the "head" of the rover. Scientifically, it is our vision system for seeing far away and doing remote detecting. So instead of using the drill on the rover to study something up close, the mast uses spectroscopy and lasers to see things that are far away and read their chemical composition.
The mast has lots of instruments on it. On the head, itself, there are five cameras. Two of them are for navigation, [NavCams]. They will guide the rover past obstacles, for example. Then, there are two Mastcam-Zs. On the Curiosity rover, they are called Mastcams. On Mars 2020, they're called Mastcam-Zs, because they have zoom lenses on them. Those cameras will take amazing panorama photographs that we can learn a lot from. Then, we've got SuperCam, which is the big "eyeball." SuperCam shoots a laser that incinerates, or ablates, a far-off target. During that ablation, the camera takes a very quick picture. The color of the flash that the laser makes on the target will be unique to the target's chemical makeup. SuperCam also has a microphone on it, which is new for this mission. It will allow us to hear the wind and the movements of gravel and rocks. And then down on the neck of the remote sensing mast, we've got two wind sensors, 90 degrees apart from each other. One of them is a deployable boom, which can reach out pretty far from the neck and give us measurements of wind direction and velocity. There are also three air temperature sensors, a humidity sensor and a thermal IR sensor. Together, those make up an instrument suite known as MEDA.
What's your role in working with all of these components?
A lot of my time has been devoted to the role of cognizant engineer, which I share with one other person. That's essentially the engineer who's responsible for delivering the hardware to the spacecraft. That includes everything from making sure you have all the nuts and bolts for the assembly – physically counting them and weighing them and recording all the part information and inspection reports – as well as writing the procedures to build everything. So that's like the document that you get with your IKEA furniture that shows how to put the pieces together. Our team is pretty small, so usually, once we've developed these procedures, we go into the cleanroom lab, take the parts and put them all together. On a typical day, I'll usually do a little bit of all of that. And then I provide the oversight to make sure it comes together the way it's supposed to.
You first came to JPL as an intern in summer 2015. What was that experience like?
When I was an intern, I was working on a project that I had no idea existed until I became an intern, and now I can't stop thinking about it. It's called Starshade, and it is a sunflower-shaped device the size of a baseball diamond. It's designed to fly far out in the sky and suppress the light from a distant star so that a space telescope can get a direct image of the planets orbiting the star. Using the same kind of spectroscopy that's in the SuperCam on Mars 2020, scientists can then characterize which elements are in the atmospheres of these planets, called exoplanets. If we could do that, it would be groundbreaking because it could tell us if a distant planet is habitable or maybe even already inhabited.
What part of Starshade were you working on?
The Starshade is made up of two systems, and I was working on both. There's a deployable truss, which is a large hoop that forms the circumference of the giant sunflower shape. That has to fit into a rocket to go up to space. So we needed to figure out how to fit something that can expand out to the size of a baseball diamond into about a four-meter-diameter cylinder. I was working on building and designing that truss structure. The other part was making the sunflower shape so that it suppresses the starlight, and that is in the realm of origami. So I was also working with origami specialists to figure out how to connect this folding object to the truss structure.
What brought you to JPL for your internship?
The first time I ever heard about JPL was when people from the Curiosity rover mission team visited my campus at the University of Colorado Boulder. They talked about the entry, descent and landing process for the mission, and that was the first time I'd ever even really heard about that process.
Seeing the ["7 Minutes of Terror"] video for the first time and hearing how impossible it seems to try to land an SUV-size rover on another planet, I thought, "That's the coolest thing I've ever heard of. I've got to go be a part of that in some way." I didn't even really know or care how I could be helpful. I just knew that's where I wanted to be.
What moments or memories from your internship stand out most?
We were kind of a big intern team. I think there were 13 of us on the Starshade project. There were these days when we would assemble scale models of Starshade. These are enormous carbon-fiber structures that all have to be bonded together with epoxy that you're squirting out of syringes, and it's very hands-on. So all 13 of us were in a kind of assembly line doing this. By the end of the internship, we were competing with each other to see who could do it better, faster, cleaner and all of that. And for me, that was just so fun. I learned a lot about how to work effectively on a team. That's certainly one of the things that makes JPL a special place. No one at JPL would have accomplished what they did without being on an amazing team. That's really the root of our success.
How did your internship shape your career path and lead to what you're doing now?
When I first started my internship, I thought that what I wanted to do was mostly CAD, [computer-aided design], work, sitting in front of a computer 3D modeling and making drawings. The internship taught me the joys of tinkering with stuff that might go to space. There are so many things to think about, from launch environments to micro-meteoroids to ridiculous temperatures and pressures. It changes the way you think about a problem to be on the formulation side, putting the hardware together. I didn't even know that was a career option for me until I started doing it. My JPL internship really opened my eyes to that. I didn't even know the role that I'm in right now existed.
Did your internship also give you the opportunity to meet people who would potentially become your managers?
Yes. I think one thing that makes JPL really awesome is that if an intern has a really great idea, it doesn't matter that they're a student. They will be listened to with the same openness as if the chief engineer had the same idea. Somebody described JPL to me as a meritocracy, and I think more than any other place I've been, that's true. I've seen it myself. Even as a starting full-time engineer, there are times when I think, "Who am I to suggest this? I don't have as much experience as all these other people." But I say it because the culture here supports that. And then it affects the way the mission is designed. It changes something important.
Have you had your own interns? If so, what's your mentorship style? What do you hope they take away from the experience?
Yes, I've had interns of my own. I tried to emulate my mentors from when I was an intern. Looking back on it now, they are part of what made me really successful – allowing me the freedom to realize that I am smart enough to make decisions. Coming from school, I think interns have this idea that they need to be told what to do because it's like a school assignment. But for some of the tasks that we have going on here, the A, B, and C of getting a job done is not all there is. Sometimes it's up to the intern to determine the path forward. So I try to give my interns enough freedom to make these kinds of decisions. I think the validation that you get from seeing an idea come to fruition is going to make you a much better engineer than if you were just told to do a task and you performed it.
What's your advice for those looking to intern or work at JPL one day?
One thing that was a detriment to me trying to work here was seeing myself as a student, hanging out with adults, or seeing myself as kind of underneath my coworkers. So for an intern in a meeting with other engineers, don't be afraid to speak up, feel confident in the education that you've received.
Lastly, I hear that you write poetry and draw in your free time. Have your experiences at JPL influenced your creative side or vice versa?
Being here has opened my eyes to a lot of things. Since I've started working here, I've opened up more to allow other people's ideas and perspectives to influence my own. Also, JPL encourages creativity. Caltech [which manages JPL for NASA] has an art show every year. I put some pieces in there. I think it's awesome to blend engineering and art. There's also a talent show at JPL every year. I sing in the talent show with a little looper pedal. So JPL encourages and confirms, in my mind, that you don't have to be just an engineer. This is a good place to say, we can do this and that.
Explore More
---
Explore JPL's summer and year-round internship programs and apply at: https://www.jpl.nasa.gov/edu/intern
The laboratory's STEM internship and fellowship programs are managed by the JPL Education Office. Extending the NASA Office of STEM Engagement's reach, JPL Education seeks to create the next generation of scientists, engineers, technologists and space explorers by supporting educators and bringing the excitement of NASA missions and science to learners of all ages.
TAGS: Higher Education, Internships, STEM, Engineering, Interns, College, Careers, Robotics, Mars, Rover, Mars 2020, Starshade
---
NASA is inviting students to help name its next Mars rover! Set to launch from Florida in the summer of 2020, NASA's fifth rover to visit the Red Planet is designed to study past environments capable of supporting life, seek signs of ancient microbial life, collect rock and soil samples for a possible future return to Earth, and test technologies that could produce oxygen from the Martian atmosphere for use by humans one day. But before it can do that, it needs a name.
Following in the tracks of NASA's four previous Mars rovers, the agency is asking students to suggest a name. The first Mars rover, which landed in 1997, was called the Microrover Flight Experiment until a 12-year old student from Connecticut suggested the name Sojourner, in honor of abolitionist and women's rights activist Sojourner Truth. In 2004, a third-grade student from Arizona named NASA's twin rovers Spirit and Opportunity. Curiosity, which landed in 2012 and is the most recent rover to visit Mars, was named by a sixth-grade student in Kansas.
To enter the Name the Rover Essay Contest, individual students must submit an essay of up to 150 words by Nov. 1, 2019. In their essay, students will need to propose the name they think best suits the rover and explain their reasoning. Judges will select three finalists (one each from grades K-4, 5-8 and 9-12) from every state and U.S. territory. From there, judges will narrow down the finalists further before they select a final name in the spring of 2020.
So what makes a good name? There are lots of ways to become inspired, but students should start by learning about the rover as well as the Red Planet and why we explore. But they shouldn't stop there. There are many ways to spark ideas from students, including writing planetary poetry, making cosmic art, and having them build rovers of their own. Get students thinking and writing creatively, and encourage them to submit their essay!
The contest is open to U.S. residents enrolled in kindergarten through 12th grade in a U.S. school (including U.S. territories and schools operated by the U.S. for the children of American personnel overseas). Home-school students can also submit a name!
Explore More
TAGS: Mars, rover, contest, Mars 2020, K-12 education, STEM, language arts, essay, science, students
---
UPDATE - Aug. 31, 2016: Our Mars Bulletin Board materials are out of stock. To download and print out the resources, click on the links next to each product.

---
Get the school year back in gear with a Mars-themed bulletin board for your school, classroom, library or educational program. The Educator Resource Center at NASA's Jet Propulsion Laboratory is offering a set of free posters and lithographs with fun facts about the Red Planet and NASA's Mars missions.

The Mars Bulletin Board includes: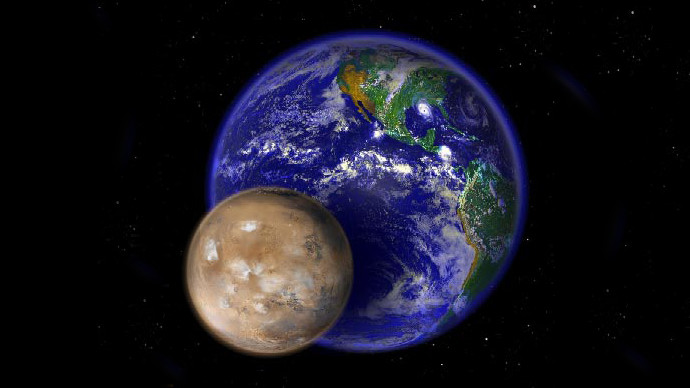 This poster highlights the likenesses and differences between the Red Planet and Earth.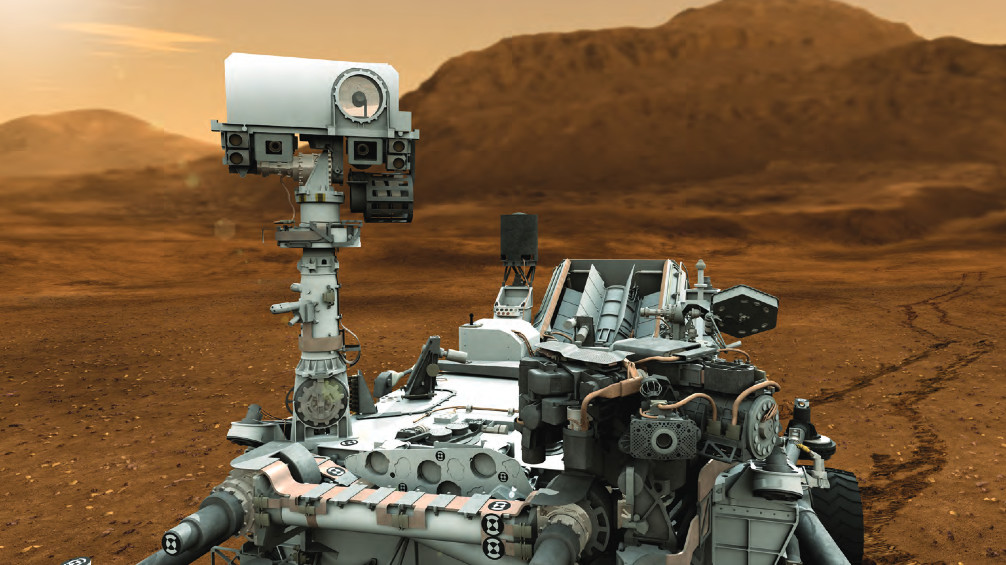 Mars Science Laboratory: Curiosity Rover lithograph set
This lithograph set features images of NASA's Mars rover Curiosity as well as images the rover has taken on the Red Planet. Facts about Curiosity and its discoveries are included on the back of each image.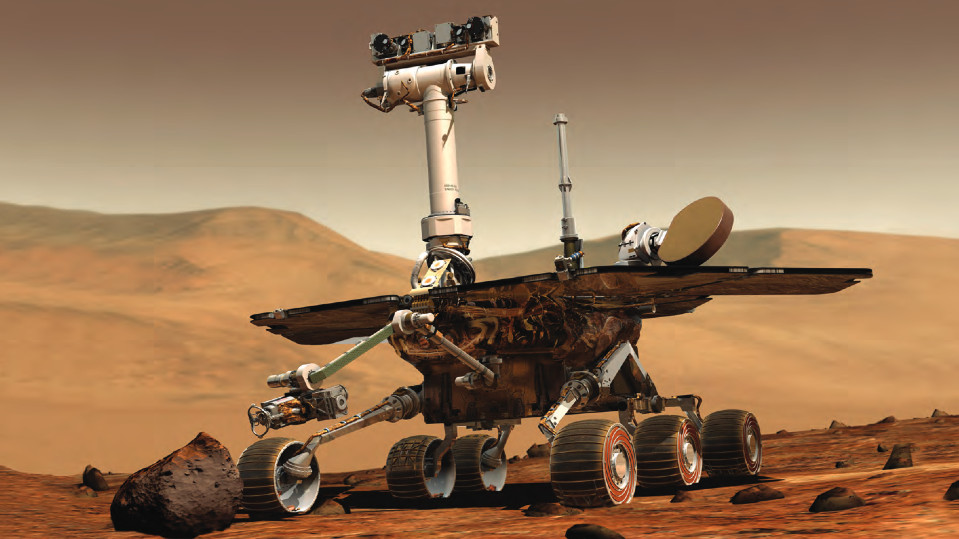 Mars Exploration Rovers, Spirit and Opportunity lithograph
Learn about the twin Mars Exploration Rovers, Spirit and Opportunity, and their key discoveries. (Opportunity is still roving on Mars, more than 10 years after landing on the Red Planet!)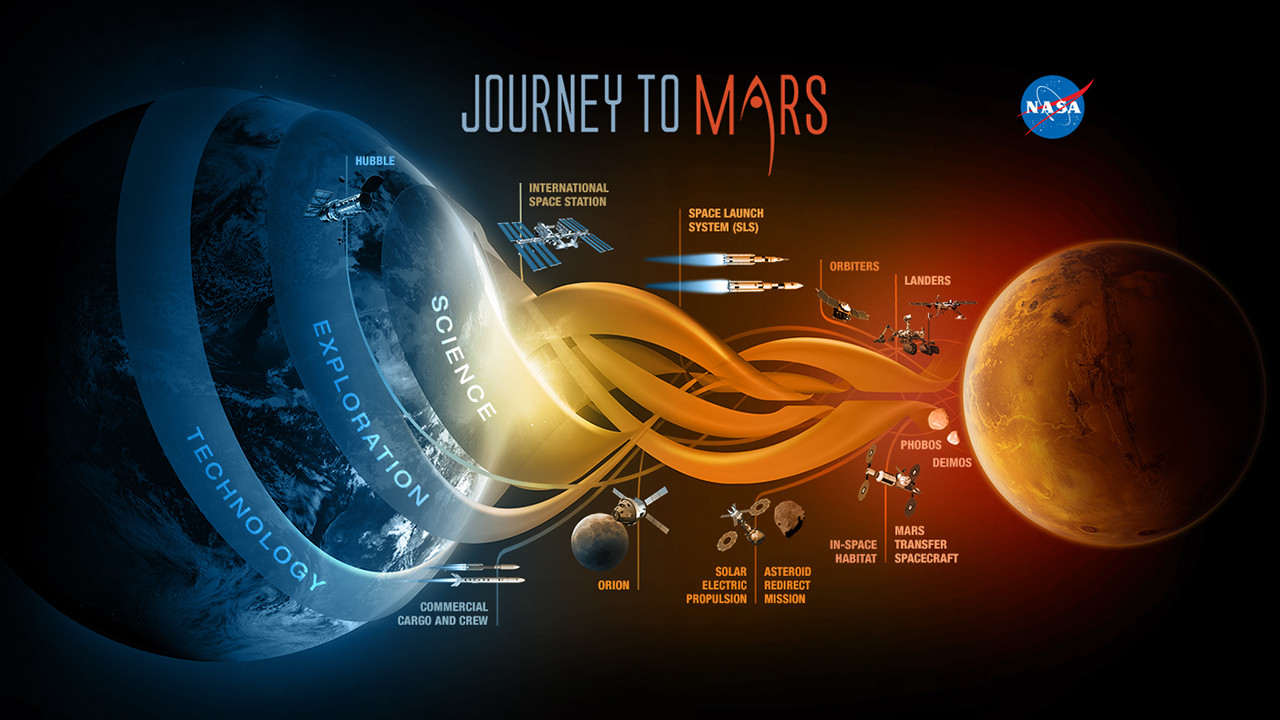 As part of its "Journey to Mars" initiative, NASA is developing spacecraft and technologies that will pave the way for a future manned mission to the Red Planet. This graphic shows some of the key milestones of that initiative.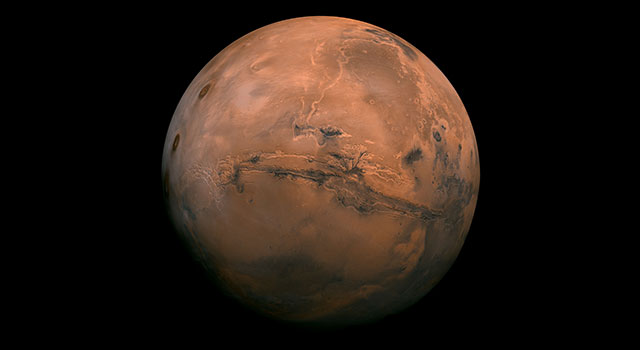 Learn about the history, composition and exploration of Mars on this lithograph featuring images of the Red Planet on one side and fun facts on the other.
The NASA/JPL Educator Resource Center provides formal and informal educators with NASA resources and materials that support STEM learning. For more information, visit the
Educator Resource Center page
.
TAGS: Bulletin Board, Mars, Journey to Mars, Rover, Spacecraft
---
Two weeks before I returned to NASA's Jet Propulsion Laboratory in Pasadena, Calif., for my second internship working on projects with the Deep Space Network and the Department of Defense, something special happened. I was poised to present my research from JPL and Montana State University's Space Science and Engineering Laboratory -- where I've been building cube-satellites while going to school -- as part of the Montana Space Grant Consortium Research Symposium. The crowd was full of distinguished scientists and professors, but there was one face that stood out among the rest. She helped send robots to Mars, she's a famous public speaker, and she has a passion for space exploration. But more than that, her perseverance and drive are an inspiration to me. (Plus, like me, she's from Montana!)
The face I was looking at was that of Jaime Waydo, the mobility team lead mechanical systems engineer for NASA's next Mars rover, Curiosity, which is scheduled to land on Mars on August 5. An MSU mechanical engineering alum, Jaime went through the same program and schooling that I'm going through and was returning to her alma mater to speak to the next generation of explorers and engineers after working on two successful Mars rover missions and leading the mobility team on a third. Space Grant, the program that brought me to JPL for my internship, thought it would be a great idea that Jaime and I meet. (Little did I know she would be listening to my speeches!) What follows is our conversation, which not only highlighted the power of education -- and my JPL internship -- but also reaffirmed my passion to reach for the stars.
Me: Do you giggle every night when you go to bed knowing that you work for JPL?

Jaime: Umm, yes ... a little bit. I remember one time my boss looked at me and said, "Jaime, you've been putting in a ton of hours, we can get you some overtime pay," and I looked at him and I said, "I can't believe I get paid to work here!"

Me: When you were growing up in Montana, did you ever think that you would someday be working for NASA, or was that a childhood goal?
Jaime: In our science class in seventh grade, we learned about NASA's Viking spacecraft landing on Mars, and I was especially attracted to Viking because it landed the year I was born. I looked at my teacher and said, "I'm going to build stuff that will go to Mars!" The stars aligned, and I got to go to JPL at a time when there were Mars missions all the time. And I got to work on two of the most famous Mars landings of all time and soon to be a third. It's been a great career.

Me: How did you get to JPL?
Jaime: I was working at Perkins Family Restaurant during school at MSU in Bozeman, Montana. A couple would come in and eat everyday at 4 p.m., and one day the lady pulled me aside and said, "What are you doing with your life? I don't want you to be a waitress forever." And I said, "I go to school at MSU. I'm a mechanical engineer student, and my dream is to go work at JPL in California." The lady said, "My brother just retired from there. I'll bring him in." Two weeks later, her brother came in to Perkins and took my resume. Then, a week later, the famous Don Bickler [who leads the Advanced Mechanical Systems team for JPL] called. Don brought me in to JPL, where the stars aligned again, and gave me an internship in the group that was designing mobility systems to go to Mars. It was everything I had ever wanted.You learn to be really sharp when you work for Don. He's the father and inventor of Martian mobility.
Me: With all the pressure and stress of flight missions and landing on Mars, how do you leave the office and go home to a family and sleep?
Jaime: When you are on a flight project, everybody is 100 percent committed, and you know that even if your system is having bugs or not working today, other people are pulling it up by its bootstraps and helping to fix the problem. It's an incredible team that works at JPL, and you will never find, I don't think, in one spot, so many talented people in one place.
Me: Tell me about the bogie joint on Curiosity that you worked on and helped design for the rover. Is that new to suspension or mobility systems on rovers?
Jaime: No, it's not new; it's a take off of old train technology. It balances the weight between the two wheels. Sojourner had it, Spirit and Opportunity had it, and now Curiosity has it. When I started working on Curiosity, JPL asked me to run the mobility team, and I said ok, but I want to do hardware too. I was worried about a career trajectory that would take me into management and not be so technical, and I still really wanted to be technical. I'm really proud of the fact that I ran this amazing team of highly creative, talented people who allowed me to be a manager, and build hardware like the bogie joint at the same time, and to fulfill a lifelong dream of building hardware to go to Mars. [I look over at my father backstage who just retired from 46.5 years on the railroad, and Jaime says to him, "Bill, I bet there was a bogie joint on the train!" He grins from ear to ear and says, "Yep!"]

Me: Tell me about this? [I show Jaime a picture that I took at JPL last summer of a huge pink steel platform that was used as a test bed to work on the mobility system for the rover.]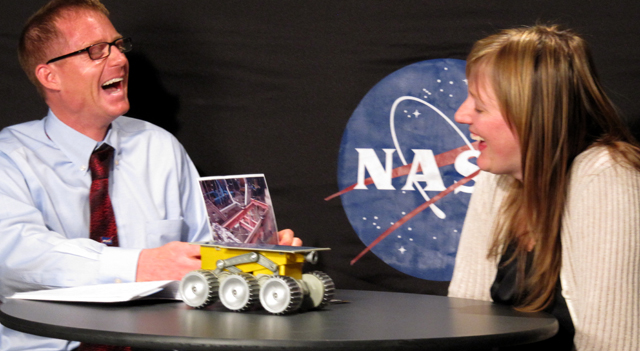 I interview Jaime Waydo, the mobility team lead mechanical systems engineer for NASA's next Mars rover, Curiosity, during the Montana Space Grant Consortium Research Symposium. Image credit: NASA/JPL-Caltech
Jaime: [laughing] that's called the "Pink Pig." It's a piece of support equipment for the rover mobility system. I decided that we needed a little bit of "girl" in the mobility team. I was the only girl on the mobility team for a long time, and if I could do anything to make girls more excited about science and engineering, then I was going to do it. I figured that if girls saw this huge pink piece of equipment, and realized that a girl had been there and done that and worked on the rover, it would make girls excited. And it did. Engineering school is really hard: the all night studying, the thermodynamics. The fact that I made it through engineering school still blows my mind. It was tunnel vision focus to get to JPL to be on that spacecraft team. If I can do it, then I want to inspire other girls to go for it as well.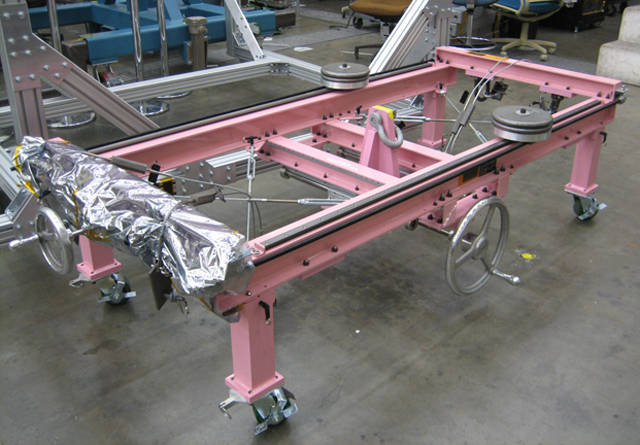 Jaime had the idea to paint this piece of support equipment for the Curiosity rover bright pink to show girls that engineering can be fun. Image credit: NASA/JPL-Caltech
Not only does Jaime continue to inspire girls and boys alike, she inspires countless students and future engineers. She has a way of making you feel like you have the right stuff and should continue to shoot for the stars. The next time I see Jaime will be at JPL on August 5, when Curiosity is scheduled to land on Mars. On that night, when I look toward Mars in the sky, I'll know that Jaime was a part of paving the way for space exploration, my greatest passion.
TAGS: Women in STEM, Jaime Waydo, Mars, Rover, Robotics