---
Over the past four years in the Education Office at NASA's Jet Propulsion Laboratory, I have had the good fortune to work with amazing educators and their students across Southern California. While it's not always possible to visit schools in person, there are sometimes projects and curricula so unique that a visit is too hard to pass up. That was the case when the fifth-grade staff at Toluca Lake Elementary School in Los Angeles reached out to me. This team of teachers has long been implementing exciting science activities and programs not just for their students, but also for parents and the community at large. The team – made up of Dennis Hagensmith, Rick Lee and Hamilton Wyatt – shared some of their background with us, as well as tips for getting young students excited about science in and out of the classroom.
Tell us about your background. How long have you been teaching?
Hagensmith: I've been teaching for 32 years total, with 29 of them at Toluca Lake Elementary. I began my teaching career in a split fourth- and fifth-grade classroom and moved to sixth grade for several years. But I have spent most of my career working with fifth graders.
Lee: This is my seventh year teaching and my fourth year teaching fifth grade. I have also taught kindergarten and second grade. Although there are aspects of teaching primary grades that I miss, fifth grade is my favorite of the three because the standards students are working toward are so comprehensive. It keeps me interested and excited about learning along with my students.
Wyatt: I have taught for almost three years. Before that, I was a teacher's assistant and instructional aid for three years.
How do you use resources from NASA in the classroom?
Hagensmith: I have used NASA resources to create hands-on lessons measuring the relative size of our solar system, to prepare a salad demonstrating the Sun's mass, to make bracelets with colored beads matching the chemical composition of the cosmos and assemble handmade telescopes.
Lee: Dennis and I recently attended an oceanography workshop put on by JPL that involved learning from teachers and researchers who had just completed cruises aboard the Exploration Vessel Nautilus. We were inspired to include similar activities leading up to and during an already-planned after-school screening of [the Netflix documentary] "Chasing Coral." The lesson complements other JPL lessons related to sea-level rise and global climate change.
Wyatt: Many of the JPL resources aren't just about science – they are generally thought-provoking activities. I use many of the activities pertaining to art because my students this year are artistically talented and curious.
How do you address the specific needs of your students and get the community involved in their education?
Hagensmith: Teaching in a low-income area, it is imperative that we find ways to make our families feel welcome and encourage academic excellence. Our goal is to create a school culture in which all realize their potential and make the most of their education. To that goal, we host a variety of parent and community nights each year, including Night of the Arts, Family Science Night, Family Reading Night, family writing workshops and Family Pi Night. The most popular of all of these is our annual Family Astronomy Night and Star Party. The evening always kicks off with a presentation from a visiting scientist, then families participate in a number of hands-on workshops. The most popular activity is often the telescopes provided by the Burbank Sidewalk Astronomers taking aim at various celestial objects.
This idea for the family events came about back in 2010 when I took a class at JPL with scientist Bonnie Burrati. The class inspired me to take steps to enhance my science instruction. We became a NASA partner school and began utilizing lessons from the NASA-JPL Education website. As a result of these lessons, two of our students – Ali Freas and Caitline Molina – were awarded a trip to NASA's Johnson Space Center in 2012 to participate in the Student Science Symposium. That year, we also presented NASA's "Space School Musical" at our annual Night of the Arts. I began doing the star party sometime around that era. Originally, it was just parents from my class and one guest presenter. As the years went by, we were able to recruit more teachers to host workshops and get speakers from JPL and UCLA. Last year, we had nearly 200 guests at the star party.
Lee: I really try to maximize the impact of field trips. Students bring study guides and circulate through the tour, working as investigators searching for information and formulating their own conclusions about the topic we're exploring. This approach is useful for focusing student attention on key concepts at a wide range of locations. Recently, we visited the ecosystems and Space Shuttle Endeavour exhibits at the California Science Center, we've seen art at the Getty and Los Angeles County Museum of Art, and we've built cultural understanding at Los Angeles Plaza and the California African American Museum.
Wyatt: Many students that come to me struggle with social-emotional skills and really need a jump-start on how to express themselves without feeling overwhelmed or picked on by other students. It is very important to me to begin by engaging with my students in a way that communicates that they can feel safe, comforted and empowered when they are in my class. All students have the ability to express themselves and still be strong scholars. I strive to help my students find that sweet spot in my classroom.
One thing teachers struggle with, especially in primary grades, is making science cross-curricular. How have you brought science into the everyday lesson?
Hagensmith: Part of my success as a teacher has come from letting students direct their own assessments. I believe students need to see that learning isn't done in isolation. Subjects are connected with one another and with real-world applications. Each activity is preceded by lessons providing a context for students' learning. For example, after reading a book, students may create a diorama, write a review for the school newspaper, dress as one of the characters and get interviewed by peers, make a presentation and so forth. This provides a vehicle for students to build upon their unique skills and interests.
Lee: I've found success especially with topics related to the environment. I completed the National Geographic Educator Certification program last year, and that experience made a huge impact on me personally and professionally. I highly recommend it to all educators. National Geographic resources, combined with those offered by NASA-JPL, are guaranteed to create highly engaging, cooperative learning opportunities for students across all disciplines.
---
Have a great idea for incorporating NASA research into your curriculum or looking to bring NASA science into the classroom? The Educator Professional Development Specialist at JPL can help. Contact Brandon Rodriguez at
brandon.rodriguez@jpl.nasa.gov
. Note: Due to the popularity of programs, JPL may not be able to fulfill all requests.
TAGS: K-12 Education, Teachers, Educators, Resources, Lessons, Classroom, STEM, Professional Development
---
This past school year, the Education Office at NASA's Jet Propulsion Laboratory supported a comprehensive, multischool physics project that served as a capstone project for high-school students. Seven schools in three school districts across the Los Angeles area participated, tasked by their teachers with building a habitat including working circuitry and renewable power sources that was capable of withstanding seismic events.
Hundreds of physics students from underserved communities participated in the project, constructing their habitats as part of a Next Generation Science Standards, or NGSS, curriculum. One of the key components of NGSS, which was adopted by California in 2013, is its inclusion of science content areas, such as Earth science and physics. The project, drawing upon the lessons found on the JPL Education website, was a chance for students to apply their knowledge of numerous high-school science courses into one summative project. It was also a rare opportunity for the students, who were coming from underserved communities, to see connections between classroom content and real-world science.
"It is difficult for [students] to connect what they do in school with their future," wrote Joshua Gagnier, a physics teacher at Santa Ana High School, who participated in the project. "The only advice they receive is to study, work hard and get help, which without clear goals, are abstract concepts. It is opportunities such as the JPL challenge, which had a tangible academic award, that my students need."
To help students apply their knowledge in a real-world context, teachers presented a challenge to build functional habitats, complete with power, wiring and the ability to withstand the elements. Each school focused on and contributed different components to the habitats, such as solar power or thermodynamics. Students were given broad freedom to construct rooms and devices that were of interest to them while still demonstrating their knowledge throughout the school year. Gagnier had his classes focus on the electromagnetic spectrum and use their understanding of waves – for example, the threat of seismic waves to physical stability and the availability of light waves for solar power – to select a habitat location. He also had students examine the use of solar energy to power their habitats.
"The students used JPL and NASA resources to understand the elevation of [electromagnetic] penetration in combination with Google Earth to find the altitude of the geography they were evaluating," he wrote. "When students were trying to find a way to heat water for their habitat using the limited available supplies, JPL's Think Green lesson was one of the main sources for their solution." This lesson, in particular, allowed students to measure flux and available solar energy at different regions in the country using NASA data available online.
Ultimately, it was up to the students to design and craft their habitats based on the lessons they learned. So the final prototype structures varied dramatically from class to class and even more from school to school. One school focused on habitats powered solely by renewable energy, while another school focused more on the structure's ability to withstand earthquakes via a shake table. Vaughn International Studies Academy worked across class periods to build "modular" homes – with each group building a single room instead of a whole habitat. These rooms, which included a living room, bedroom and even a sauna, were connected to a central power supply. In all cases, students had to quantify the amount of energy produced, determine how to disperse it throughout their home and present a sales pitch for their habitat, describing how it satisfied their criteria.
At the end of the challenge, a winning group from each school was invited to JPL with their teachers to meet students from participating schools and tour the laboratory. It was also a chance for students and teachers to compare their projects. Due to the success of the pilot program, the participating teachers are already making plans for next school year, discussing ways to improve the challenge and expand the program to several more schools in the Los Angeles area.
---
Have a great idea for implementing NASA research in your class or looking to bring NASA science into your classroom? Contact JPL education specialist Brandon Rodriguez at brandon.rodriguez@jpl.nasa.gov
Special thanks to Kris Schmidt, Joshua Gagnier, Sandra Hightower and Jill Mayorga for their participation and dedication to bringing NASA science to their students.
TAGS: K-12 education, STEM, educators, teachers, science, engineering, physics, resources, lessons, students
---
UPDATE - Sept. 13, 2016: Our Earth Science Bulletin Board materials are out of stock. To download and print out the resources, click on the links next to each product.

---
Climate change is a hot topic and one that's become a key part of science education. Introduce students to NASA's climate-science research and Earth satellites with this free bulletin board from the Educator Resource Center at NASA's Jet Propulsion Laboratory. The set of posters, lithographs and stickers helps visually engage students while teaching them about topics such as sea-level rise, clouds and greenhouse gases. Note:Materials are available on a first-come-first-served basis.

The Earth Science Bulletin Board includes: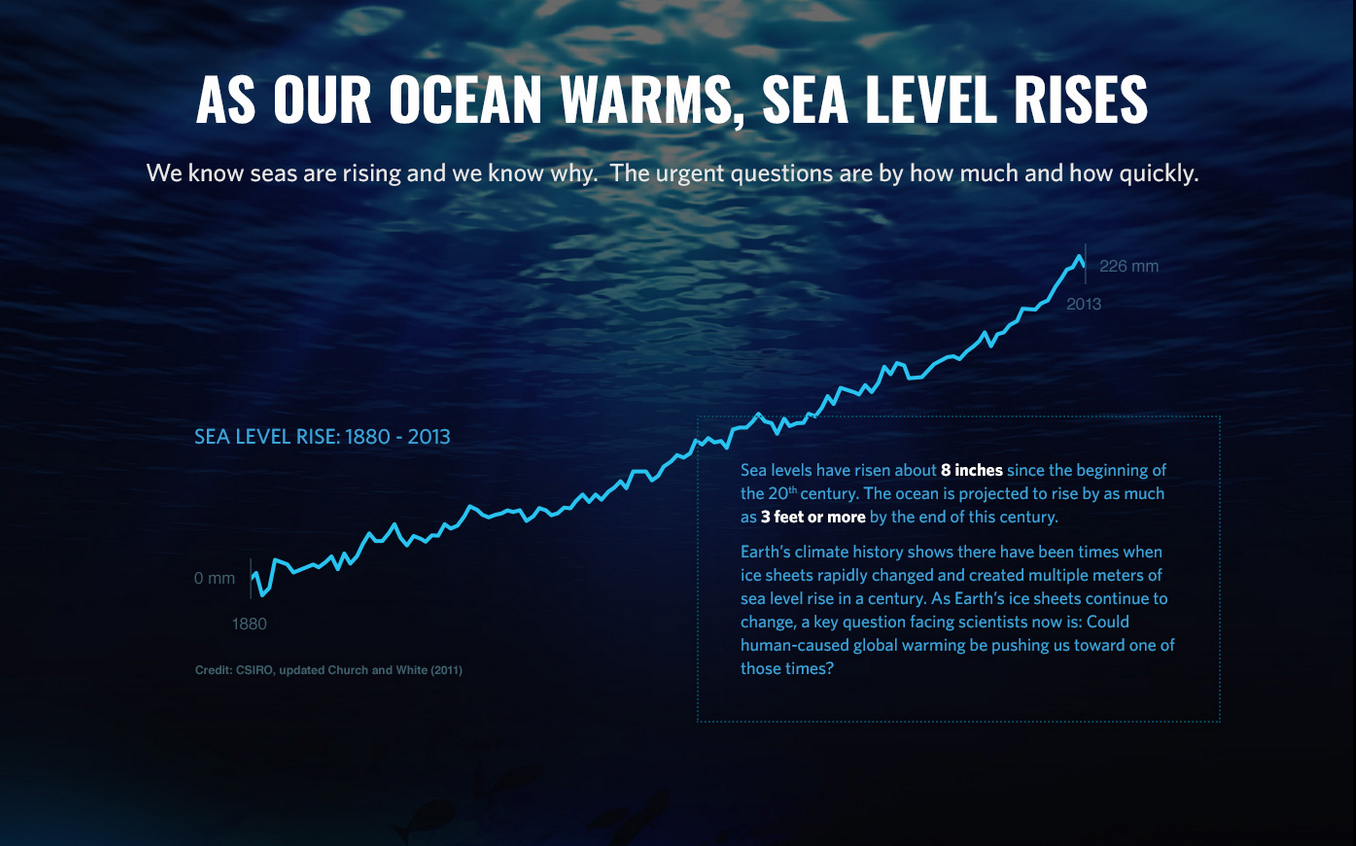 This poster describes the science behind sea-level rise, who's affected and what NASA is doing to help.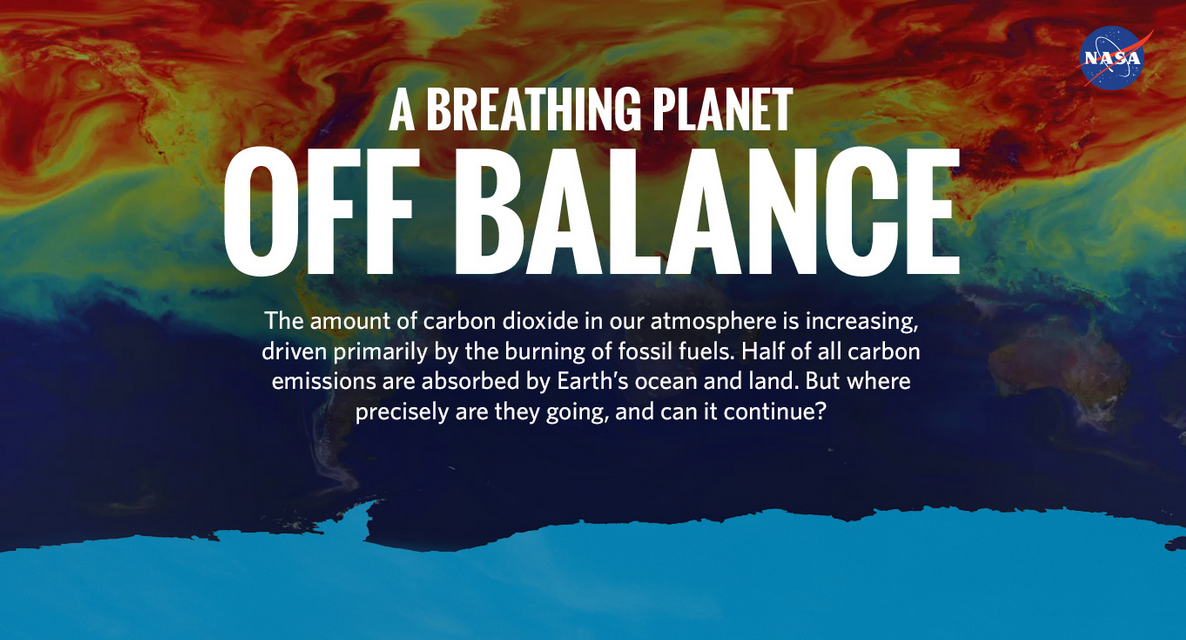 Earth's Carbon is Off Balance Mini Poster
See what NASA scientists are doing to understand if our land and ocean can continue to absorb carbon dioxide at the current rate – and for how long.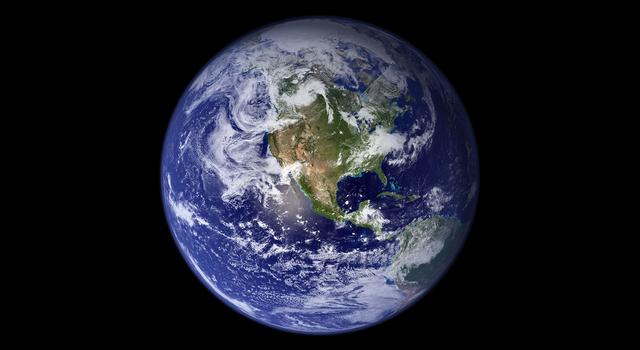 Get fun facts about Earth science on this two-sided lithograph featuring a stunning image of our home planet.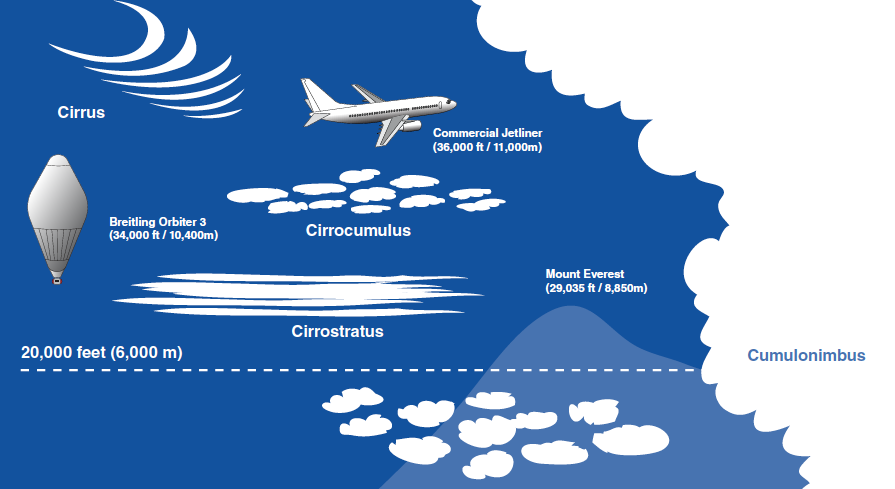 This poster illustrates how NASA satellites study clouds from space.
Additional materials may include rulers, stickers and lithographs featuring NASA Earth science missions.
---
In the News
Twenty years after the first discovery of a planet orbiting another sun-like star, scientists have discovered the most Earth-like exoplanet ever: Kepler-452b. Located in the habitable zone of a star very much like our sun, Kepler-452b is only about 60 percent wider than Earth.

What makes it the most Earth-like exoplanet ever discovered?
First a couple definitions: An exoplanet is simply a planet that orbits another star. And the habitable zone? That's the area around a star in which water has the potential to be liquid -- not so close to the star that all water would evaporate, and not so far that all water would freeze. Think about Goldilocks eating porridge. The habitable zone is not too hot, and not too cold. It's just right.
Okay, back to Kepler-452b. Out of more than a thousand exoplanets that NASA's Kepler spacecraft has detected, only 12 have been found in the habitable zone of their stars and are smaller than twice the size of Earth, making Earth-like planets a rarity. Until this discovery, all of them have orbited stars that are smaller and cooler than our sun.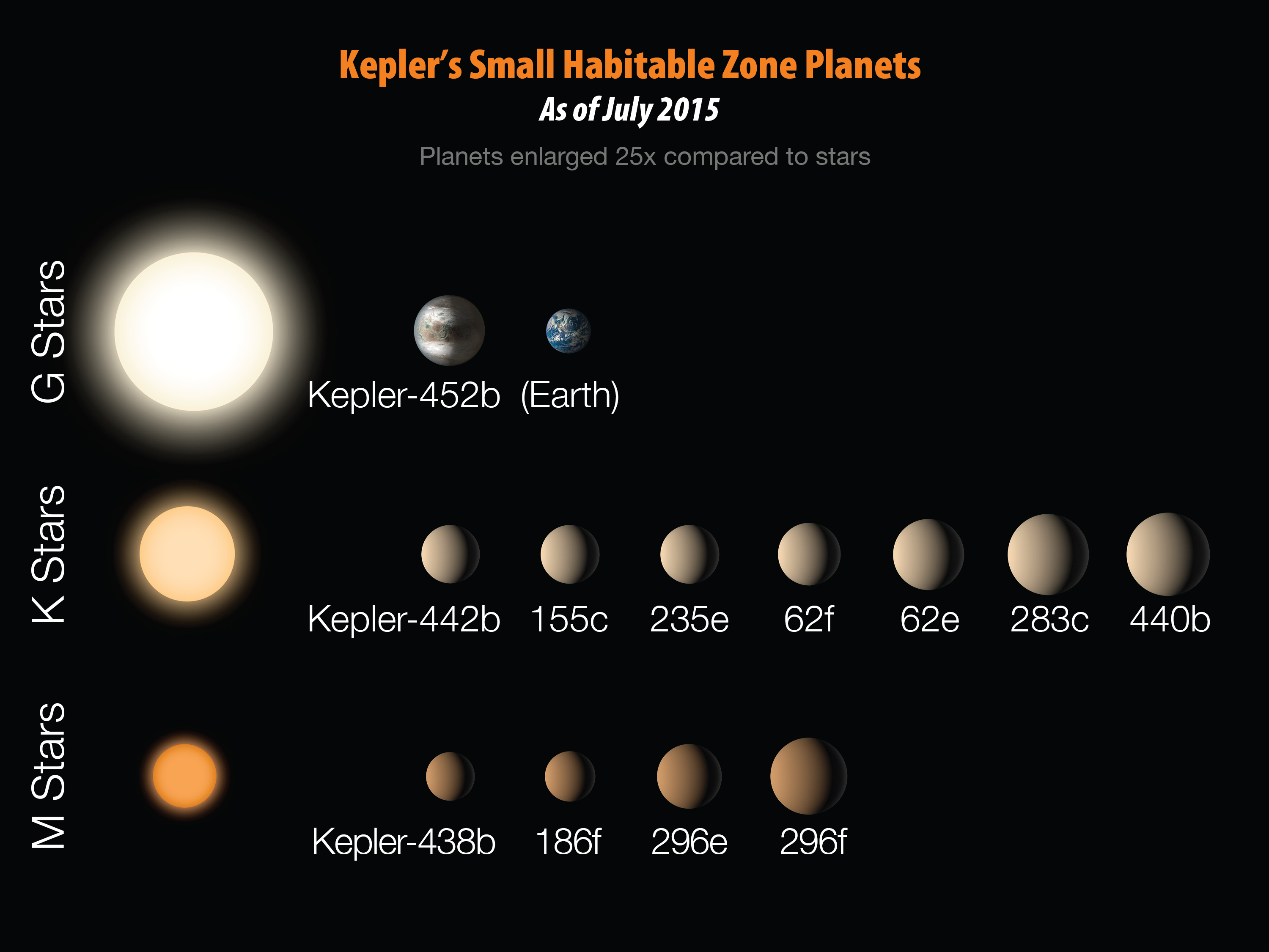 Twelve Exoplanet discoveries from Kepler that are less than twice the size of Earth and reside in the habitable zone of their host star. The sizes of the exoplanets are represented by the size of each sphere. These are arranged by size from left to right, and by the type of star they orbit, from the M stars that are significantly cooler and smaller than the sun, to the K stars that are somewhat cooler and smaller than the sun, to the G stars that include the sun. The sizes of the planets are enlarged by 25X compared to the stars. The Earth is shown for reference. Image credit: NASA/JPL-Caltech/R. Hurt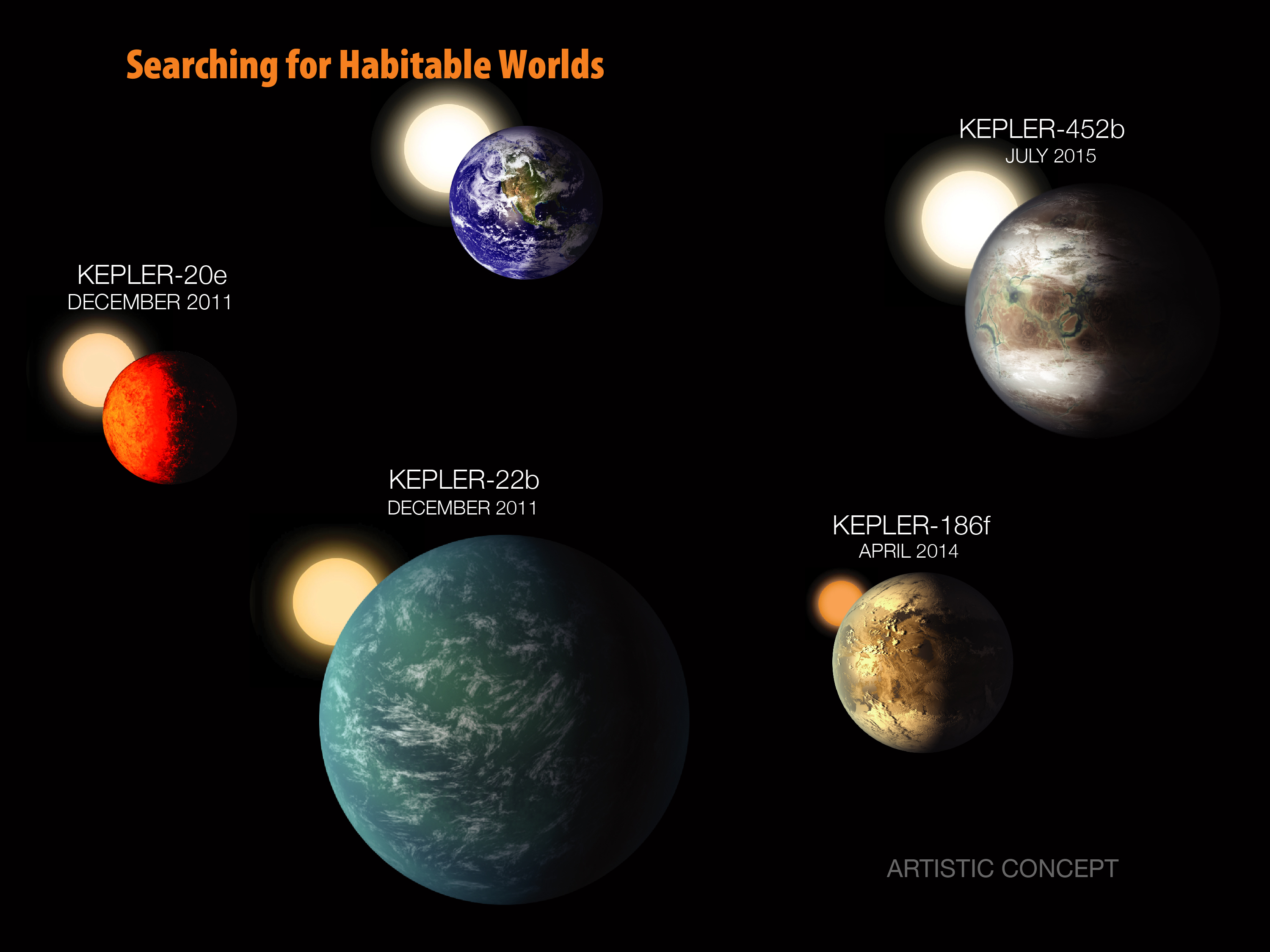 The sweep of NASA Kepler mission's search for small, habitable planets in the last six years. The first planet smaller than Earth, Kepler-20e, was discovered in December 2011 orbiting a Sun-like star slightly cooler and smaller than our sun every six days. But it is scorching hot and unable to maintain an atmosphere or a liquid water ocean. Kepler-22b was announced in the same month, as the first planet in the habitable zone of a sun-like star, but is more than twice the size of Earth and therefore unlikely to have a solid surface. Kepler-186f was discovered in April 2014 and is the first Earth-size planet found in the habitable zone of a small, cool M dwarf about half the size and mass of our sun. Kepler-452b is the first near-Earth-Size planet in the habitable zone of a star very similar to the sun. Image credits: NASA Ames/W. Stenzel
Kepler-452b is the first to be discovered orbiting a star that is about the same size and temperature as our sun. Not only that, but it orbits at nearly the same distance from its star as Earth does from our sun! Conditions on Kepler-452b could be similar to conditions here on Earth and the light you would feel there would be much like the sunlight you feel here on Earth. Scientists believe that Kepler-452b has been in the habitable zone for around six billion years -- longer than Earth has even existed!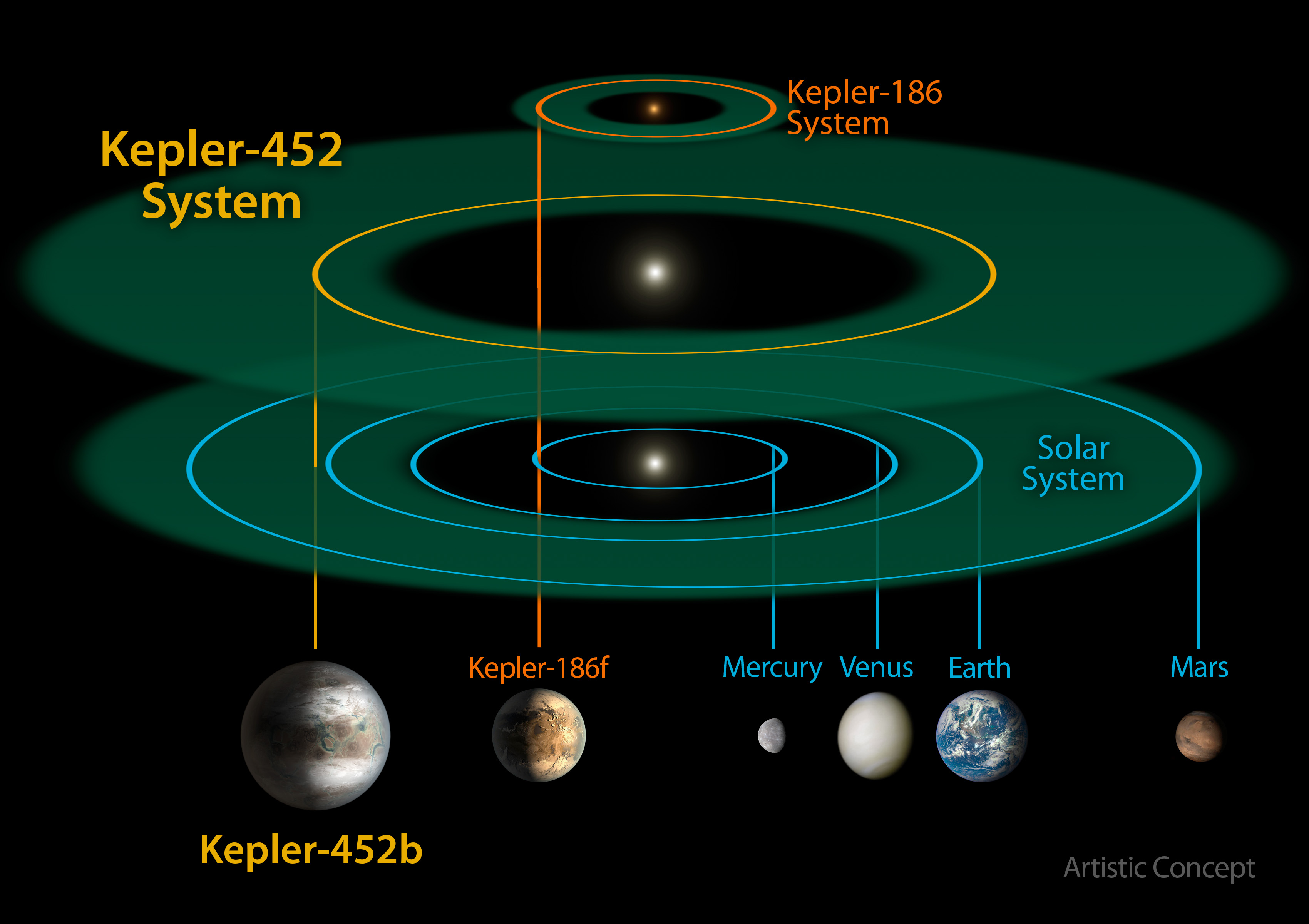 This size and scale of the Kepler-452 system compared alongside the Kepler-186 system and the solar system. Kepler-186 is a miniature solar system that would fit entirely inside the orbit of Mercury. The habitable zone of Kepler-186 is very small compared to that of Kepler-452 or the sun because it is a much smaller, cooler star. The size and extent of the habitable zone of Kepler-452 is nearly the same as that of the sun, but is slightly bigger because Kepler-452 is somewhat older, bigger and brighter. The size of the orbit of Kepler-452b is nearly the same as that of the Earth at 1.05 AU. Kepler-452b orbits its star once every 385 days.Image credit: NASA/JPL-Caltech/R. Hurt
How They Did It
The Kepler spacecraft, named for mathematician and astronomer Johannes Kepler, has been working since 2009 to find distant worlds like Kepler-452b. It does so by looking at more than 100,000 stars near the constellation Cygnus. If one of those stars dims temporarily, it could be that an object passed between the spacecraft and the star. If it dims with a repeatable pattern, there's a good chance an exoplanet is passing by again and again as it orbits the star. The repeated dimming around one of those stars is what led to the discovery of Kepler-452b.

Kepler measures the brightness of stars. The data will look like an EKG showing the heart beat. Whenever a planet passes in front of its parent star as viewed from the spacecraft, a tiny pulse or beat is produced. From the repeated beats we can detect and verify the existence of Earth-size planets and learn about the orbit and size of the planet.Video credit: NASA Ames and Dana Berry
Teach It
This exciting discovery provides opportunities for students to practice math skills in upper elementary and middle school, and gives high school students a practical application of Kepler's third law of planetary motion. Take a look below to see where these might fit into your curriculum.

Upper Elementary and Middle School
After learning about Earth's cousin, students might wonder about a trip to this world. Scientists have calculated the distance between Earth and Kepler-452b at 1,400 light years. A light year is a measure of distance that shows how far light travels in one year. It's equal to about 10 trillion kilometers (six trillion miles) or, to be more precise, 9,461,000,000,000 kilometers (5,878,000,000,000 miles). Ask students to calculate the distance between Earth and Kepler-452b at various levels of precision, depending on what they are prepared for or learning. For an added challenge, have them determine how long it would take a fast moving spacecraft like Voyager 1 traveling at 61,000 kph (38,000 mph) to reach this new world.
Note: Due to the approximations of spacecraft speed and light year distance used for these problems in both standard and metric units, there is a variation among the answers.
Distance: 10 trillion km x 1,400 = 14,000 trillion km (that's 14,000,000,000,000,000 kilometers!)
Travel time: 14,000 trillion km ÷ 61,000 kph ÷ 24 ÷ 365 ≈ 26,000,000 years
Distance: 6 trillion miles x 1,400 = 8,400 trillion miles (that's 8,400,000,000,000,000 miles!)
Travel time: 8,400 trillion miles ÷ 38,000 mph ÷ 24 ÷ 365 ≈ 25,000,000 years
or more precisely…
Distance: 9,461,000,000,000 km x 1,400 = 13,245,400,000,000,000 km
Travel time: 13,245,400,000,000,000 km ÷ 61,000 kph ÷ 24 ÷ 365 ≈ 25,000,000 years
Distance: 5,878,000,000,000 miles x 1,400 = 8,229,200,000,000,000 miles
Travel time: 8,229,200,000,000,000 miles ÷ 38,000 mph ÷ 24 ÷ 365 ≈ 25,000,000 years
or using exponents and powers of 10…
Distance: 9.461 x 1012 x km x 1.4 x 103 = 1.32454 x 1016 km
Travel time: 1.32454 x 1016 km ÷ 6.1 x 104 kph ÷ 2.4 x 101 ÷ 3.65 x 102 ≈ 2.5 x 107 years
Distance: 5.878 x 1012 miles x 1.4 x 103 = 8.2292 x 1015 miles
Travel time: 8.2292 x 1015 miles ÷ 3.8 x 104 mph ÷ 2.4 x 101 ÷ 3.65 x 102 ≈ 2.5 x 107 years
Middle and High School
The time between detected periods of dimming, the duration of the dimming, and the amount of dimming, combined with a little math, can be used to calculate a great deal of information about an exoplanet, such as the length of its orbital period (year), the distance from its star, and its size.
Kepler-452b has an orbital period of 384.84 days -- very similar to Earth's 365.25 days. Students can use the orbital period to find the distance from its star in astronomical units. An astronomical unit is the average distance between Earth and our Sun, about 150 million kilometers (93 million miles).
Kepler's 3rd law states that the square of the orbital period is proportional to the cube of the semi-major axis of an ellipse about the sun. For planets orbiting other stars, we can use R = ∛(T2 ∙ Ms) where R = semi-major axis, T = orbital period in Earth years, and Ms = the mass of the star relative to our sun (the star that Kepler-452b orbits has been measured to be 1.037 times the mass of our sun).
T = 384.84 ÷ 365.25 = 1.05
R = ∛(1.052 ∙ 1.037)
R = ∛1.143 = 1.05 AU
Explore More
Activities
Multimedia
Interactives
Facts and Figures
Websites
Events
TAGS: Exoplanets, Kepler, Kepler-452b, Habitable Zone, Math, Activities, Classroom Activities, Resources
---
UPDATE - Aug. 31, 2016: Our Solar System Bulletin Board materials are out of stock. To download and print out the resources, click on the links next to each product.

---
Get ready for back-to-school with a "Solar System Bulletin Board" for your school, classroom, library or educational program. The NASA/JPL Educator Resource Center is offering free back-to-school materials featuring NASA images, science and fun facts.
The set includes: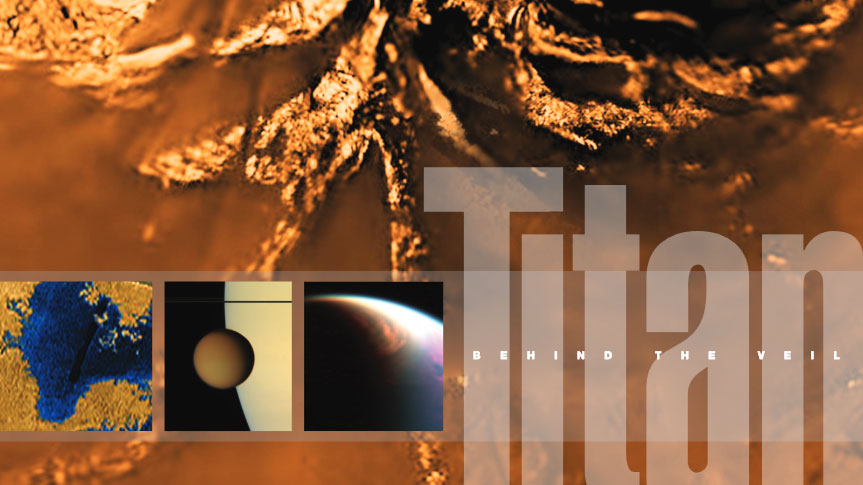 Titan Poster
This poster features an image of Saturn's mysterious moon Titan taken by NASA's Cassini mission at Saturn as well as activities for students in grades 1 through 8.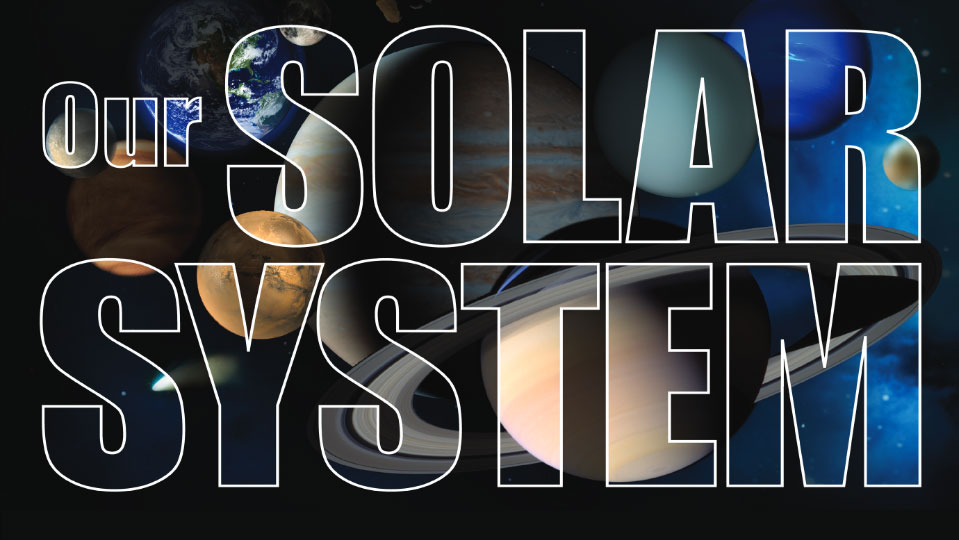 Solar System Lithograph Set
Featuring NASA images of planets, moons, asteroids, comets and other solar system bodies, this Solar System Lithograph set also includes key facts about each body.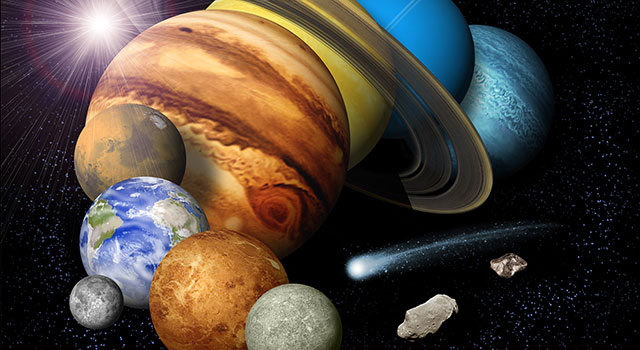 Extreme Space Facts Lithograph
This lithograph features a solar system "family portrait" on one side and 16 extreme space facts on the other.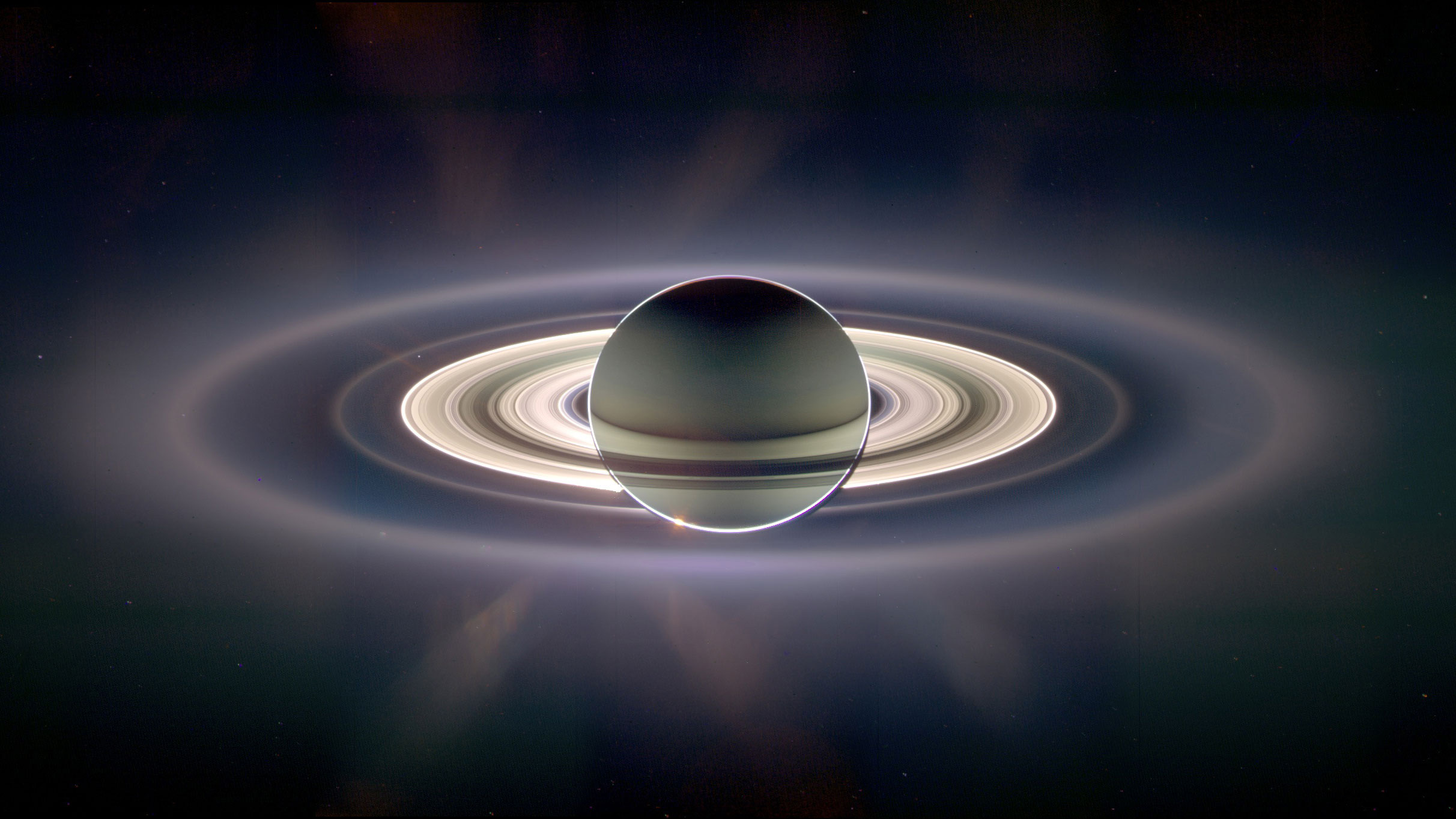 Saturn and Our Pale Blue Orb Lithograph
This stunning lithograph featuring an image of Earth as seen at Saturn describes how the image was captured by NASA's Cassini mission at Saturn.
The NASA/JPL Educator Resource Center provides formal and informal educators with NASA resources and materials that support STEM learning. For more information, visit the
Educator Resource Center page
.
TAGS: Back to School, Resources, Materials, Bulletin Board, Educator Resource Center