---
With 180 lessons in our online catalog, you can explore Earth and space with us all year long. We show you how with this handy NASA-JPL school year calendar.
---
We just added the 180th lesson to our online catalog of standards-aligned STEM lessons, which means JPL Education now has a lesson for every day of the school year. To celebrate and help you make the year ahead stellar, we've put together this monthly calendar of upcoming NASA events along with links to our related lessons, Teachable Moments articles, and student projects you can use to engage students in STEM while they explore Earth and space with us all year long.
---
August
The Voyagers Turn 45
The twin Voyager spacecraft launched in 1977 on a journey to explore the outer planets and beyond – and they're still going. Now more than 12 billion miles (19 billion kilometers) from Earth in a region known as interstellar space, they're the most distant human-made objects in space.
Get a primer on these fascinating spacecraft from Teachable Moments, then use it as a jumping off point for lessons on the scale, size, and structure of our solar system and how we communicate with distant spacecraft.
Lessons & Resources:
---
September
Rendezvous with an Asteroid
A distant asteroid system 6.8 million miles (11 million kilometers) from Earth was the site of NASA's first attempt at redirecting an asteroid. On September 26, the Double Asteroid Redirection Test, or DART, mission impacted the asteroid Dimorphos in an attempt to alter its speed and path around a larger asteroid known as Didymos. Dimorphos and Didymos do not pose a threat to Earth, which makes them a good proving ground for testing whether a similar technique could be used to defend Earth against potential impacts by hazardous asteroids in the future.
Get a primer on the DART mission and find related resources for the classroom in this article from our Teachable Moments series. Plus, explore our collection of standards-aligned lessons and activities all about asteroids to get students learning about different kinds of space rocks, geology, and meteoroid math.
Lessons & Resources:
A Closer Look at Europa
Just a few days later, on September 29, the Juno spacecraft that had been orbiting Jupiter since 2016 captured the closest views of Jupiter's moon Europa in more than 20 years. The ice-covered moon is thought to contain a subsurface liquid-water ocean, making it an exciting new frontier in our search for life beyond Earth. NASA's Europa Clipper mission, which is scheduled to launch in 2024 is designed to study the moon in more detail. But until Europa Clipper arrives at the Jovian system in 2030, these observations from Juno are our best chance to get a closer look at this fascinating moon.
Learn more about Europa and why it is interesting to scientists in this talk from our Teaching Space With NASA series featuring a Europa Clipper mission scientist. Then, explore our Ocean Worlds Lesson Collection for ideas on making classroom connections.
Lessons & Resources:
---
October
Celebrate Halloween Like a Space Explorer
The month of October is the perfect time to get students exploring our STEM activities with a Halloween twist. Students can learn how to carve a pumpkin like a JPL engineer, take a tour of mysterious locations throughout the solar system, and dig into the geology inside their Halloween candy.
October 31 is also JPL's 86th birthday, which makes October a great time to learn more about JPL history, including the team of female mathematicians known as "human computers" who performed some of the earliest spacecraft-tracking calculations and the Laboratory's role in launching the first U.S. space satellite.
Lessons & Resources:
---
November
Watch a Total Lunar Eclipse
Look up in the early morning hours of November 8 to watch one of the most stunning spectacles visible from Earth: a total lunar eclipse. This one will be viewable in North and South America, as well as Asia and Australia.
Learn more about lunar eclipses and how to watch them from our Teachable Moments series. Then, get students of all ages outside and observing the Moon with lessons on moon phases and the hows and whys of eclipses. Students can even build a Moon calendar so they always know when and where to look for the next eclipse.
Lessons & Resources:
Artemis Takes a Giant Leap
NASA is making plans to send astronauts back to the Moon for the first time since 1972 – this time to establish a sustainable presence and prepare for future human missions to Mars. The first major step is Artemis I, which is testing three key components required to send astronauts beyond the Moon: the Orion spacecraft, the Space Launch System, or SLS, rocket and the ground systems at Kennedy Space Center in Florida. The uncrewed Artemis I mission marks the first test of all three components at once.
Get your K-12 students following along with lessons in rocketry and what it takes to live in space. Plus, register to follow along with the mission with resources and updates from NASA's Office of STEM Engagement.
Lessons & Resources:
---
December
Satellite Launches on a Mission to Follow the Water
As crucial as water is to human life, did you know that no one has ever completed a global survey of Earth's surface water? That is about to change with the launch of the SWOT mission, scheduled for December 15. SWOT, which stands for Surface Water Ocean Topography, will use a state-of-the-art radar to measure the elevation of water in major lakes, rivers, wetlands, and reservoirs. It will also provide an unprecedented level of detail on the ocean surface. This data will help scientists track how these bodies of water are changing over time and improve weather and climate models.
Engage your students in learning about Earth's water budget and how we monitor Earth from space with these lessons. And be sure to check out our upcoming Teachable Moments article for more about the SWOT mission and the science of our changing climate.
Update: Nov. 30, 2022 – NASA, the French space agency, and SpaceX are now targeting 3:46 a.m. PST (6:46 a.m. EST) on Thursday, Dec.15, for the launch of the Surface Water and Ocean Topography (SWOT) satellite. Visit NASA's SWOT launch blog for the latest updates.
Lessons & Resources:
Prepare for the Science Fair
Before you know it, it'll be science fair time. Avoid the stress of science fair prep by getting students organized and thinking about their projects before the winter recess. Start by watching our video series How to Do a Science Fair Project. A scientist and an engineer from JPL walk your students through all the steps they will need to create an original science fair project by observing the world around them and asking questions. You can also explore our science fair starter pack of lessons and projects to get students generating ideas and thinking like scientists and engineers.
Lessons & Resources:
---
January
Explore STEM Careers
January is the time when many of us set goals for the year ahead, so it's the perfect month to get students exploring their career goals and opportunities in STEM. Students can learn more about careers in STEM and hear directly from scientists and engineers working on NASA missions in our Teaching Space video series. Meanwhile, our news page has more on what it takes to be a NASA astronaut and what it's like to be a JPL intern.
For students already in college and pursuing STEM degrees, now is the time to start exploring internship opportunities for the summer. The deadline for JPL summer internships is in March, so it's a good idea to refresh your resume and get your application started now. Learn how to stand out with this article on how to get an internship at JPL – which also includes advice for pre-college students.
Resources:
---
February
Mars Rover Celebrates 2-Year 'Landiversary'
NASA's Perseverance Mars rover celebrates its "landiversary" on February 18, which marks two years since the rover made its nail-biting descent on the Red Planet. The rover continues to explore Jezero Crater using science tools to analyze rocks and soil in search of signs of ancient microbial life. As of this writing, the rover has collected twelve rock core samples that will be sent to Earth by a future mission. Perseverance even witnessed a solar eclipse! Meanwhile, the Ingenuity Mars helicopter, which the rover deployed shortly after landing, has gone on to achieve feats of its own.
The Mission to Mars Student Challenge is a great way to get students of all ages exploring STEM and the Red Planet right along with the Perseverance rover. The challenge includes seven weeks of education content that can be customized for your classroom as well as education plans, expert talks, and resources from NASA.
Lessons & Resources:
---
March
Take On the Pi Day Challenge
Math teachers, pie-lovers, and pun-aficionados rejoice! March 14 is Pi Day, the annual celebration of the mathematical constant used throughout the STEM world – and especially for space exploration. This year's celebration brings the 10th installment of the NASA Pi Day Challenge, featuring four new illustrated math problems involving pi along with NASA missions and science.
The new problems will make their debut on March 10, but you don't have to wait to get students using pi like NASA scientists and engineers. Explore our evergreen collection of Pi Day Challenge problems, get students learning about how we use pi at NASA, and hear from a JPL engineer on how many decimals of pi we use for space exploration.
Lessons & Resources:
---
April
Celebrate Earth Day With NASA
You may not immediately think of Earth science when you think of NASA, but it's a big part of what we do. Earth Day on April 22 is a great time to explore Earth science with NASA, especially as new missions are taking to the skies to study the movements of dust, measure surface water across the planet, and track tiny land movements to better predict natural disasters.
Whether you want to focus on Earth's surface and geology, climate change, extreme weather, or the water budget, we have an abundance of lessons, student projects and Teachable Moments to guide your way.
Lessons & Resources:
---
May
Summer Learning Adventures
As the school year comes to a close, send your students off on an adventure of summer learning with our do-it-yourself STEM projects. Additionally, our Learning Space With NASA at Home page and video series is a great resource for parents and guardians to help direct their students' learning during out-of-school time.
Lessons & Resources:
TAGS: K-12 Education, Teachers, Students, Lessons, Resources, Projects, Events, Artemis, Voyager, DART, Asteroids, Europa, Ocean Worlds, Halloween, History, Earth, Climate, SWOT, Lunar Eclipse, Science Fair, Career Advice, Mars, Perseverance, Pi Day, Earth Day, Summer STEM
---
Learn about the role that dust plays in Earth's climate, why scientists are interested in studying dust from space, and how to engage students in the science with STEM resources from JPL.
---
A NASA instrument launched to the International Space Station this summer will explore how dust impacts global temperatures, cloud formation, and the health of our oceans. The Earth Surface Mineral Dust Source Investigation, or EMIT, is the first instrument of its kind, designed to collect measurements from space of some of the most arid regions on Earth to understand the composition of soils that generate dust and the larger role dust plays in climate change.
Read on to find out how the instrument works and why scientists are hoping to learn more about the composition of dust. Then, explore how to bring the science into your classroom with related climate lessons that bridge physical sciences with engineering practices.
Why It's Important
Scientists have long studied the movements of dust. The fact that dust storms can carry tiny particles great distances was reported in the scientific literature nearly two centuries ago by none other than Charles Darwin as he sailed across the Atlantic on the HMS Beagle. What still remains a mystery all these years later is what that dust is made of, how it moves, and how that affects the health of our planet.
For example, we now know that dust deposited on snow speeds up snow melt even more than increased air temperature. That is to say, that dust traveling to cold places can cause increased snow melt.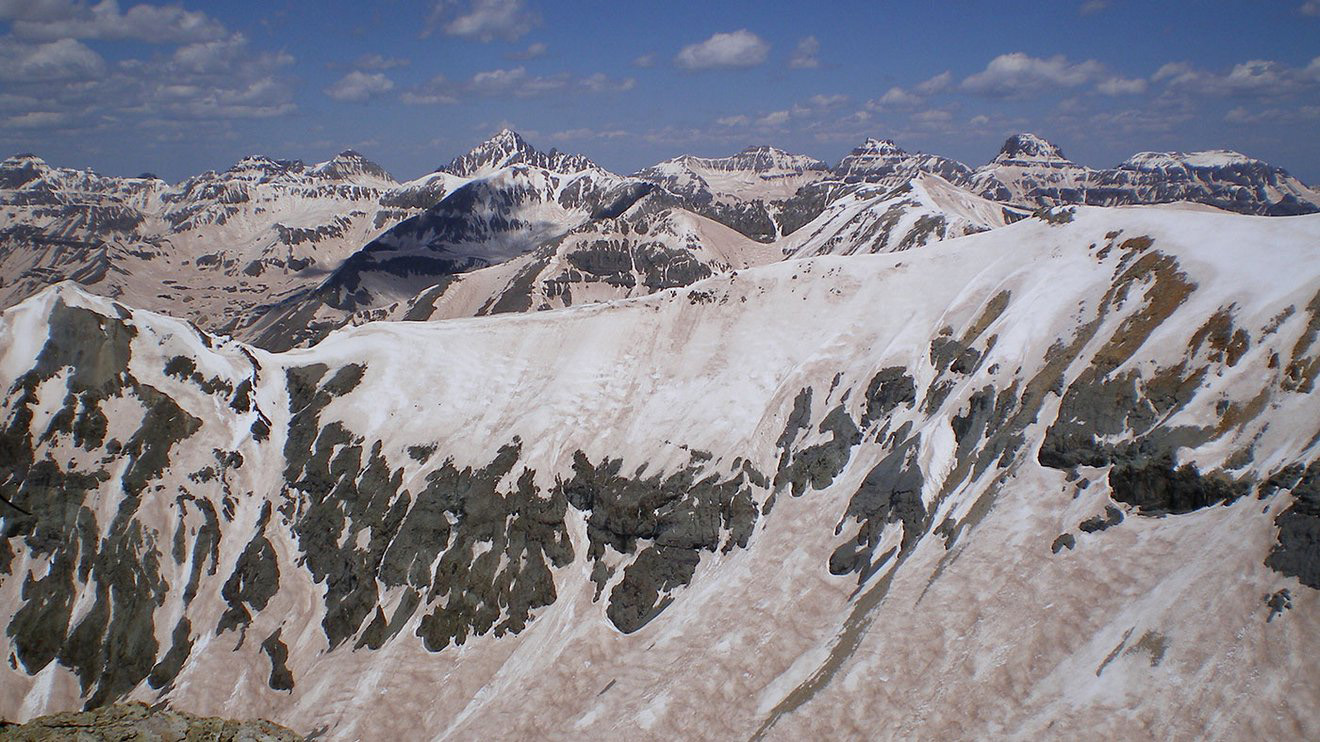 Dust can affect air temperatures as well. For example, dust with more iron absorbs light and can cause the air to warm, while dust with less iron reflects light and is responsible for local cooling. Iron in dust can also act as a fertilizer for plankton in oceans, supplying them with nutrients needed for growth and reproduction.
Floating dust potentially alters the composition of clouds and how quickly or slowly they form, which can ultimately impact weather patterns, including the formation of hurricanes. That's because clouds need particles to act as seeds around which droplets of moisture in the atmosphere can form. This process of coalescing water particles, called nucleation, is one factor in how clouds form.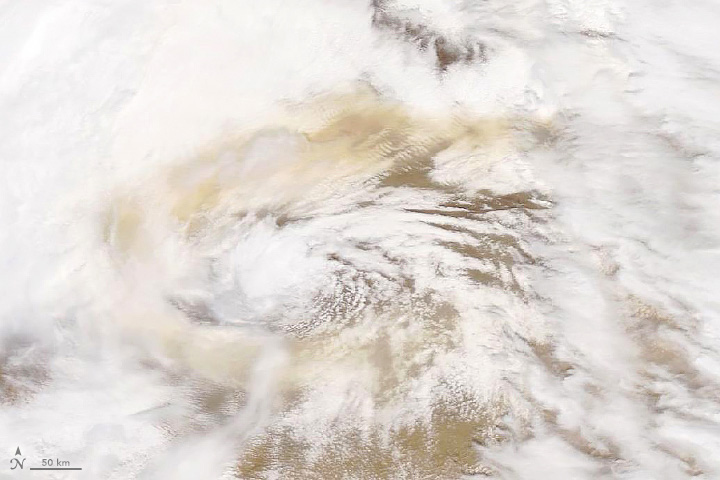 Thanks to EMIT, we'll take the first steps in understanding how the movements of dust particles contribute to local and global changes in climate by producing "mineral maps". These mineral maps will reveal differences in the chemical makeup of dust, providing essential information to help us model the way dust can transform Earth's climate.
› Learn more about what EMIT will do from JPL News
How It Works
NASA has been exploring how dust moves across the globe by combining on-the-ground field studies with cutting-edge technology.
Dr. Olga Kalashnikova, an aerosol scientist at NASA's Jet Propulsion Laboratory and a co-investigator for EMIT, has been using satellite data to study atmospheric mineral dust for many years, including tracking the movements of dust and investigating trends in the frequency of dust storms.
As Dr. Kalashnikova describes, "From the ground, we can see what types of dusts are lifted into the atmosphere by dust storms on a local scale, but with EMIT, we can understand how they differ and where they originally came from."
EMIT is the first instrument designed to observe a key part of the mineral dust cycle from space, allowing scientists to track different dust compositions on a global scale, instead of in just one region at a time. To understand dust's impact on Earth's climate, scientists will use EMIT to answer key questions, including:
How does dust uplifted in the atmosphere alter global temperatures?
What role do dusts play in fertilizing our oceans when they are deposited?
How do dust particles in the atmosphere affect cloud nucleation; the process by which clouds are 'seeded' and begin to coalesce into larger clouds?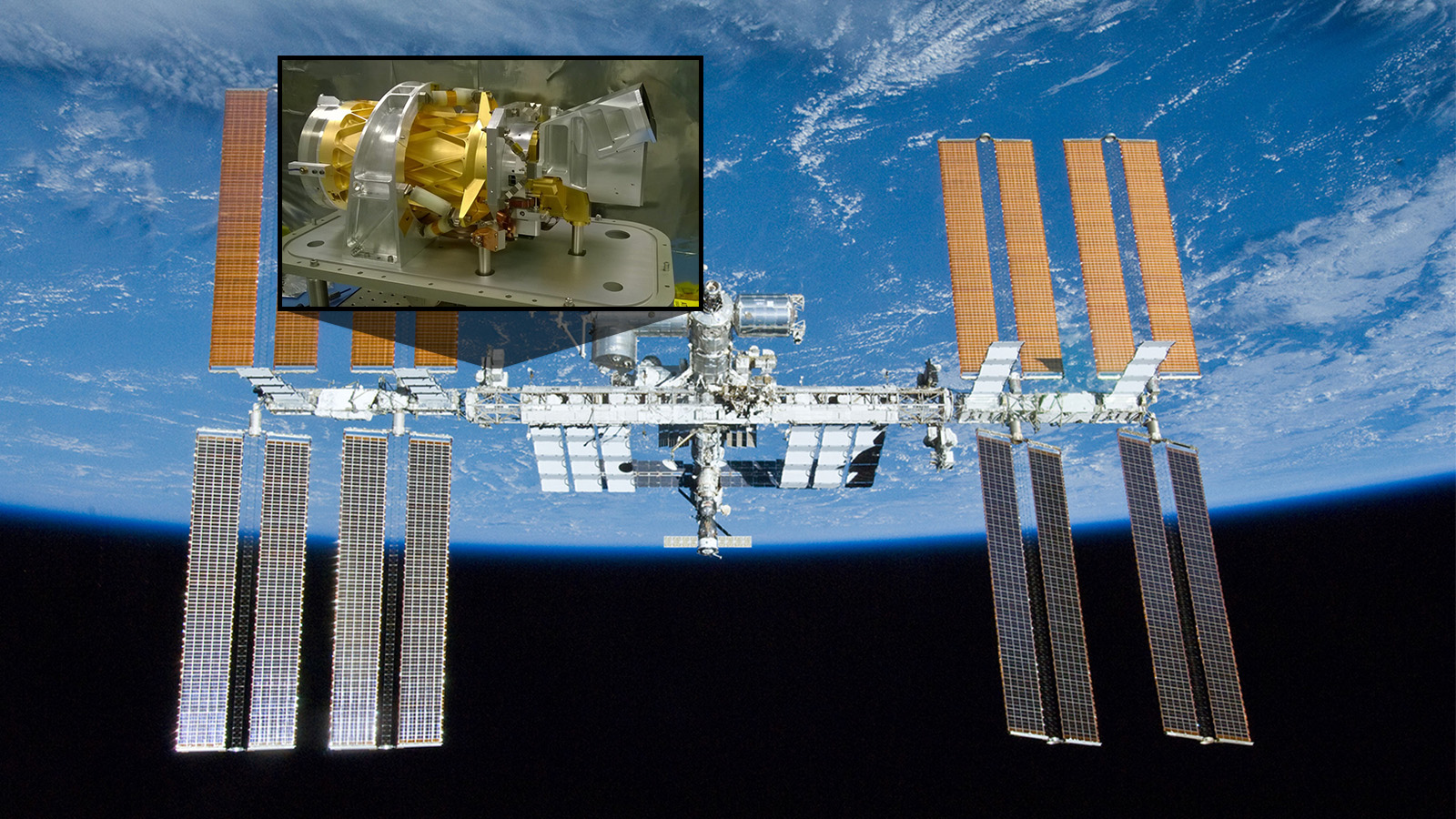 To achieve its objectives, EMIT will spend 12 months collecting what are called "hyperspectral images" of some of the most arid regions of our planet selected by scientists and engineers as areas of high dust mobility, such as Northern Africa, the Middle East, and the American Southwest.
These images are measurements of light reflected from the Earth below, calibrated to the distinct patterns, or spectra, of light we see when certain minerals are present. The EMIT team has identified 10 minerals that are most common, including gypsum, hematite, and kaolinite.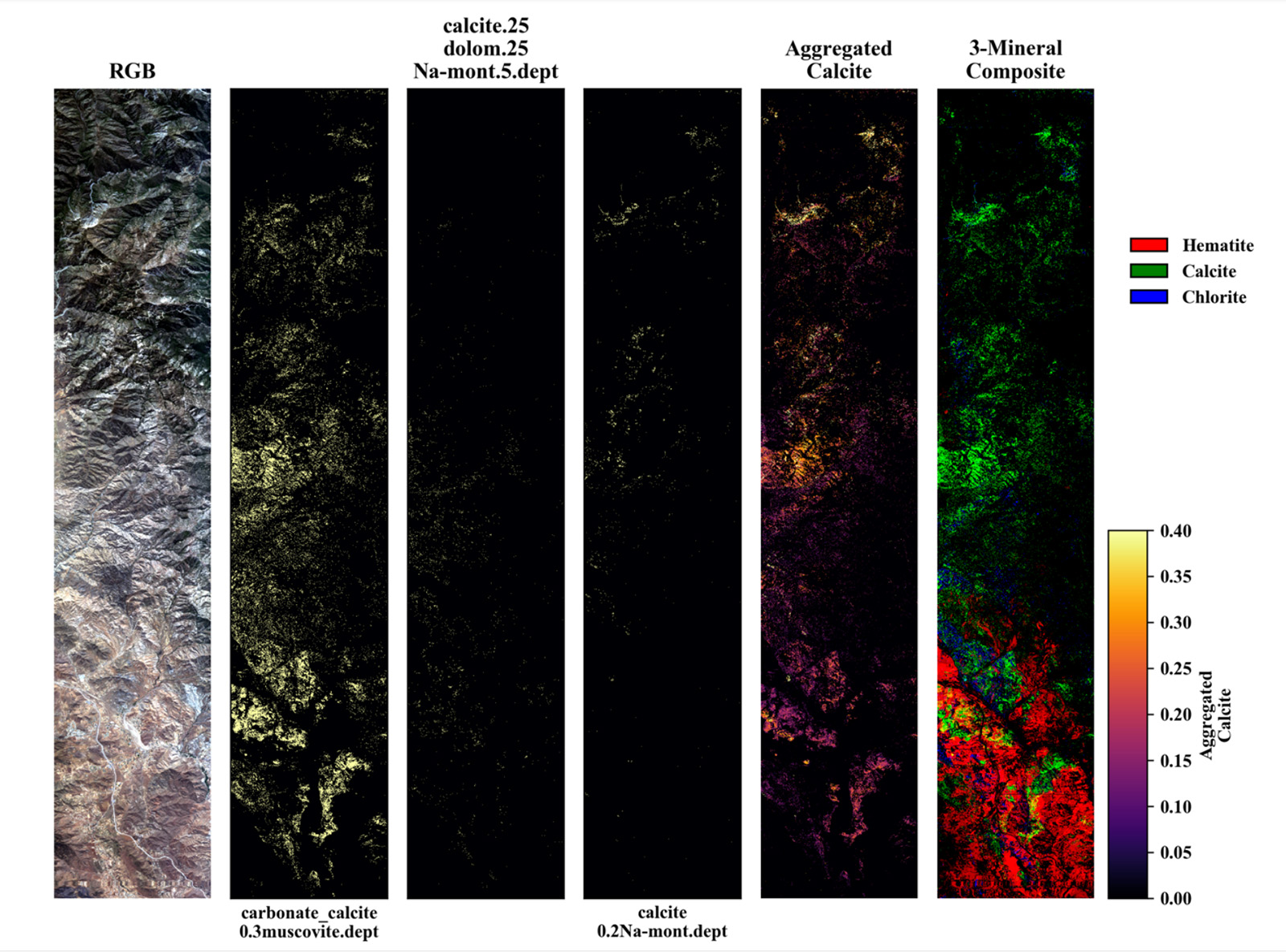 Why are these minerals important? One key reason is the presence or absence of the element iron, found in some minerals but not others.
Dr. Bethany Ehlmann is a planetary scientist and co-investigator for the EMIT project at Caltech and explains that when it comes to heating, "a little bit of iron goes a long way." Iron in minerals absorbs visible and infrared light, meaning that even if only a small amount is present, it will result in a much warmer dust particle. Large amounts of warm dust in our atmosphere may have an impact on temperatures globally since those dust particles radiate heat as they travel, sometimes as far as across oceans!
Collecting images from space is, of course, no easy task, especially when trying to look only at the ground below. Yet it does allow scientists to get a global picture that's not possible to capture from the ground. Field studies allow us to take individual samples from tiny places of interest, but from space, we can scan the entire planet in remote places where no scientist can visit.
Of course, there are some complications in trying to study the light reflected off the surface of Earth, such as interference from clouds. To prevent this problem, the EMIT team plans to collect data at each location several times to ensure that the images aren't being obscured by clouds between the instrument and the minerals we're looking for.
The data collected by EMIT will provide a map of the compositions of dust from dry, desert environments all over the world, but the team involved won't stop there. Knowing more about what the dust is made of sets the stage for a broader understanding of a few more of the complex processes that make up our global climate cycle. Upon completion of this study, EMIT's mineral maps will support further campaigns to complete our global dust picture. For example, NASA hopes to couple the data from EMIT with targeted field campaigns, in which scientists can collect wind-blown dust from the ground to learn more about where dust particles move over time and answer questions about what types of dust are on the go.
Furthermore, missions such as the Multiangle Imager for Aerosols, or MAIA, will allow us to better understand the effects of these dust particles on air-quality and public health.
Teach it
Studying Earth's climate is a complex puzzle, consisting of many trackable features. These can range from sea level to particles in our atmosphere, but each makes a contribution to measuring the health of our planet. Bring EMIT and NASA Earth Science into your classroom with these lessons, articles, and activities to better understand how we're exploring climate change.
Educator Guides
Student Activities
Articles
Websites
TAGS: Earth, climate, geology, weather, EMIT, Teachers, Classroom, Lessons, Earth Science, Climate Change, Dust, Global Warming, Educators, K-12, Teachable Moments, Climate TM
---
Learn about pi and some of the ways the number is used at NASA. Then, dig into the science behind the Pi Day Challenge.
---
Update: March 15, 2022 – The answers are here! Visit the NASA Pi Day Challenge slideshow to view the illustrated answer keys for each of the problems in the 2022 challenge.
In the News
No matter what Punxsutawney Phil saw on Groundhog Day, a sure sign that spring approaches is Pi Day. Celebrated on March 14, it's the annual holiday that pays tribute to the mathematical constant pi – the number that results from dividing any circle's circumference by its diameter.
Every year, Pi Day gives us a reason to not only celebrate the mathematical wonder that helps NASA explore the universe, but also to enjoy our favorite sweet and savory pies. Students can join in the fun by using pi to explore Earth and space themselves in our ninth annual NASA Pi Day Challenge.
Read on to learn more about the science behind this year's challenge and find out how students can put their math mettle to the test to solve real problems faced by NASA scientists and engineers as we explore Earth, the Moon, Mars, and beyond!
How It Works
Dividing any circle's circumference by its diameter gives you an answer of pi, which is usually rounded to 3.14. Because pi is an irrational number, its decimal representation goes on forever and never repeats. In 2021, a supercomputer calculated pi to more than 62 trillion digits. But you might be surprised to learn that for space exploration, NASA uses far fewer digits of pi.
Here at NASA, we use pi to understand how much signal we can receive from a distant spacecraft, to calculate the rotation speed of a Mars helicopter blade, and to collect asteroid samples. But pi isn't just used for exploring the cosmos. Since pi can be used to find the area or circumference of round objects and the volume or surface area of shapes like cylinders, cones, and spheres, it is useful in all sorts of ways. Architects use pi when designing bridges or buildings with arches; electricians use pi when calculating the conductance of wire; and you might even want to use pi to figure out how much frozen goodness you are getting in your ice cream cone.
In the United States, March 14 can be written as 3.14, which is why that date was chosen for celebrating all things pi. In 2009, the U.S. House of Representatives passed a resolution officially designating March 14 as Pi Day and encouraging teachers and students to celebrate the day with activities that teach students about pi. And that's precisely what the NASA Pi Day Challenge is all about!
The Science Behind the 2022 NASA Pi Day Challenge
This ninth installment of the NASA Pi Day Challenge includes four brain-busters that get students using pi to measure frost deep within craters on the Moon, estimate the density of Mars' core, calculate the water output from a dam to assess its potential environmental impact, and find how far a planet-hunting satellite needs to travel to send data back to Earth.
Read on to learn more about the science and engineering behind the problems or click the link below to jump right into the challenge.
› Take the NASA Pi Day Challenge
› Educators, get the lesson here!
Lunar Logic
NASA's Lunar Flashlight mission is a small satellite that will seek out signs of frost in deep, permanently shadowed craters around the Moon's south pole. By sending infrared laser pulses to the surface and measuring how much light is reflected back, scientists can determine which areas of the lunar surface contain frost and which are dry. Knowing the locations of water-ice on the Moon could be key for future crewed missions to the Moon, when water will be a precious resource. In Lunar Logic, students use pi to find out how much surface area Lunar Flashlight will measure with a single pulse from its laser.
Core Conundrum
Since 2018, the InSight lander has studied the interior of Mars by measuring vibrations from marsquakes and the "wobble" of the planet as it rotates on its axis. Through careful analysis of the data returned from InSight, scientists were able to measure the size of Mars' liquid core for the first time and estimate its density. In Core Conundrum, students use pi to do some of the same calculations, determining the volume and density of the Red Planet's core and comparing it to that of Earth's core.
Dam Deduction
The Surface Water and Ocean Topography, or SWOT mission will conduct NASA's first global survey of Earth's surface water. SWOT's state-of-the-art radar will measure the elevation of water in major lakes, rivers, wetlands, and reservoirs while revealing unprecedented detail on the ocean surface. This data will help scientists track how these bodies of water are changing over time and improve weather and climate models. In Dam Deduction, students learn how data from SWOT can be used to assess the environmental impact of dams. Students then use pi to do their own analysis, finding the powered output of a dam based on the water height of its reservoir and inferring potential impacts of this quick-flowing water.
Telescope Tango
The Transiting Exoplanet Survey Satellite, or TESS, is designed to survey the sky in search of planets orbiting bright, nearby stars. TESS does this while circling Earth in a unique, never-before-used orbit that brings the spacecraft close to Earth about once every two weeks to transmit its data. This special orbit keeps TESS stable while giving it an unobstructed view of space. In its first two years, TESS identified more than 2,600 possible exoplanets in our galaxy with thousands more discovered during its extended mission. In Telescope Tango, students will use pi to calculate the distance traveled by TESS each time it sends data back to Earth.
Teach It
Celebrate Pi Day by getting students thinking like NASA scientists and engineers to solve real-world problems in NASA Pi Day Challenge. Completing the problem set and reading about other ways NASA uses pi is a great way for students to see the importance of the M in STEM.
Pi Day Resources
Plus, join the conversation using the hashtag #NASAPiDayChallenge on Facebook, Twitter, and Instagram.
Recursos en español
Related Lessons for Educators
Related Activities for Students
Explore More
Infographic
Facts and Figures
Missions and Instruments
Websites
TAGS: Pi Day, Pi, Math, NASA Pi Day Challenge, Moon, Lunar Flashlight, Mars, InSight, Earth, Climate, SWOT, Exoplanets, Universe, TESS, Teachers, Educators, Parents, Students, Lessons, Activities, Resources, K-12
---
Explore how the OMG mission discovered more about what's behind one of the largest contributors to global sea level rise. Plus, learn what it means for communities around the world and how to get students engaged.
---
After six years investigating the effects of warming oceans on Greenland's ice sheet, the Oceans Melting Greenland, or OMG, mission has concluded. This airborne and seaborne mission studied how our oceans are warming and determined that ocean water is melting Greenland's glaciers as much as warm air is melting them from above.
Read on to learn more about how OMG accomplished its goals and the implications of what we learned. Then, explore educational resources to engage students in the science of this eye-opening mission.
Why It's Important
Global sea level rise is one of the major environmental challenges of the 21st century. As oceans rise, water encroaches on land, affecting populations that live along shorelines. Around the world – including U.S. regions along the Gulf of Mexico and Eastern Seaboard and in Alaska – residents are feeling the impact of rising seas. Additionally, freshwater supplies are being threatened by encroaching saltwater from rising seas.
Sea level rise is mostly caused by melting land ice (primarily glaciers), which adds water to the ocean, as well as thermal expansion, the increase in volume that occurs when water heats up. Both ice melt and thermal expansion result from rising global average temperatures on land and in the sea – one facet of climate change.
Greenland's melting glaciers contribute more freshwater to sea level rise than any other source, which is why the OMG mission set out to better understand the mechanisms behind this melting.
How We Did It
The OMG mission used a variety of instruments onboard airplanes and ships to map the ocean floor, measure the behemoth Greenland glaciers, and track nearby water temperature patterns.
Early on, the mission team created a map of the ocean floor, known as a bathymetric map, by combining multibeam sonar surveys taken from ships and gravity measurements taken from airplanes. Interactions among glaciers and warming seas are highly dependent on the geometry of the ocean floor. For example, continental shelf troughs carved by glaciers allow pathways for water to interact with glacial ice. So understanding Greenland's local bathymetry was crucial to OMG's mission.
To locate the edges of Greenland's glaciers and measure their heights, the mission used a radar instrument known as the Glacier and Ice Surface Topography Interferometer. Every spring during the six-year OMG mission, the radar was deployed on NASA's Gulfstream III airplane that flew numerous paths over Greenland's more than 220 glaciers. Data from the instrument allowed scientists to determine how the thickness and area of the glaciers are changing over time.
Finally, to measure ocean temperature and salinity patterns, scientists deployed numerous cylindrical probes. These probes dropped from an airplane and fell through the water, taking measurements from the surface all the way to the ocean floor. Each probe relayed its information back to computers onboard the plane where ocean temperatures and salinity were mapped. Then, scientists took this data back to their laboratories and analyzed it for trends, determining temperature variations and circulation patterns.
What We Discovered
Prior to the OMG mission, scientists knew that warming air melted glaciers from above, like an ice cube on a hot day. However, glaciers also flow toward the ocean and break off into icebergs in a process called calving. Scientists had the suspicion that warmer ocean waters were melting the glaciers from below, causing them to break off more icebergs and add to rising seas. It wasn't until they acquired the data from OMG, that they discovered the grim truth: Glaciers are melting from above and below, and warming oceans are having a significant effect on glacial melt.
What this means for our Earth's climate is that as we continue burning fossil fuels and contributing to greenhouse gas accumulation, the oceans, which store more than 90% of the heat that is trapped by greenhouse gases, will continue to warm, causing glaciers to melt faster than ever. As warming ocean water moves against glaciers, it eats away at their base, causing the ice above to break off. In other words, calving rates increase and sea level rises even faster.
Our oceans control our climate and affect our everyday lives, whether or not we live near them. With the pace of the melt increasing, our shorelines and nearby communities will be in trouble sooner than previously expected. And it's not just the beaches that will be affected. If Greenland's glaciers all melt, global sea levels will rise by over 24 feet (7.4 meters), bringing dramatic change to the landscapes of major cities around the world.
› Read more about OMG's findings and how scientists are continuing their research through ongoing initiatives and projects.
Teach It
Check out these resources to bring the real-life STEM behind the mission into your teaching. With lessons for educators and student projects, engage students in learning about the OMG mission and NASA climate science.
Educator Guides
Student Projects
Articles
Explore More
Websites
Facts & Figures
Videos
Interactives
Image Gallery
Articles
Podcast
TAGS: Teachable Moment, Climate, Earth Science, Glaciers, Greenland, Ice, Sea Level Rise, Teachers, Educators, Parents, Lessons, Missions, Earth, Climate TM
---
Watch this 30-minute video chat where a NASA/JPL scientist answered pre-submitted student questions about Earth and climate.
Watch archived program on USTREAM

TAGS: Live, Chat, Earth Day, Climate