---
Update: March 15, 2019 – The answers to the 2019 NASA Pi Day Challenge are here! View the illustrated answer key
---
In the News
The excitement of Pi Day – and our annual excuse to chow down on pie – is upon us! The holiday celebrating the mathematical constant pi arrives on March 14, and with it comes the sixth installment of the NASA Pi Day Challenge from the Jet Propulsion Laboratory's Education Office. This challenge gives students in grades 6-12 a chance to solve four real-world problems faced by NASA scientists and engineers. (Even if you're done with school, they're worth a try for the bragging rights.)

Why March 14?
Pi, the ratio of a circle's circumference to its diameter, is what is known as an irrational number. As an irrational number, its decimal representation never ends, and it never repeats. Though it has been calculated to trillions of digits, we use far fewer at NASA. In fact, 3.14 is a good approximation, which is why March 14 (or 3/14 in U.S. month/day format) came to be the date that we celebrate this mathematical marvel.
The first-known Pi Day celebration occurred in 1988. In 2009, the U.S. House of Representatives passed a resolution designating March 14 as Pi Day and encouraging teachers and students to celebrate the day with activities that teach students about pi.
The 2019 Challenge
This year's NASA Pi Day Challenge features four planetary puzzlers that show students how pi is used at the agency. The challenges involve weathering a Mars dust storm, sizing up a shrinking storm on Jupiter, estimating the water content of a rain cloud on Earth and blasting ice samples with lasers!
›Take on the 2019 NASA Pi Day Challenge!
The Science Behind the Challenge
In late spring of 2018, a dust storm began stretching across Mars and eventually nearly blanketed the entire planet in thick dust. Darkness fell across Mars' surface, blocking the vital sunlight that the solar-powered Opportunity rover needed to survive. It was the beginning of the end for the rover's 15-year mission on Mars. At its height, the storm covered all but the peak of Olympus Mons, the largest known volcano in the solar system. In the Deadly Dust challenge, students must use pi to calculate what percentage of the Red Planet was covered by the dust storm.
The Terra satellite, orbiting Earth since 1999, uses the nine cameras on its Multi-Angle Imaging SpectroRadiometer, or MISR, instrument to provide scientists with unique views of Earth, returning data about atmospheric particles, land-surface features and clouds. Estimating the amount of water in a cloud, and the potential for rainfall, is serious business. Knowing how much rain may fall in a given area can help residents and first responders prepare for emergencies like flooding and mudslides. In Cloud Computing, students can use their knowledge of pi and geometric shapes to estimate the amount of water contained in a cloud.
Jupiter's Great Red Spot, a giant storm that has been fascinating observers since the early 19th century, is shrinking. The storm has been continuously observed since the 1830s, but measurements from spacecraft like Voyager, the Hubble Space Telescope and Juno indicate the storm is getting smaller. How much smaller? In Storm Spotter, students can determine the answer to that very question faced by scientists.
Scientists studying ices found in space, such as comets, want to understand what they're made of and how they interact and react with the environment around them. To see what molecules may form in space when a comet comes into contact with solar wind or sunlight, scientists place an ice sample in a vacuum and then expose it to electrons or ultraviolet photons. Scientists have analyzed samples in the lab and detected molecules that were later observed in space on comet 67P/Churyumov-Gerasimenko. To analyze the lab samples, an infrared laser is aimed at the ice, causing it to explode. But the ice will explode only if the laser is powerful enough. Scientist use pi to figure out how strong the laser needs to be to explode the sample – and students can do the same when they solve the Icy Intel challenge.
Explore More
Participate
Join the conversation and share your Pi Day Challenge answers with @NASAJPL_Edu on social media using the hashtag #NASAPiDayChallenge
Blogs and Features
Related Activities
Multimedia
Facts and Figures
Missions and Instruments
Websites
TAGS: Pi Day, K-12, STEM, Science, Engineering, Technology, Math, Pi, Educators, Teachers, Informal Education, Museums
---
In the News
The Voyager 2 spacecraft, launched in 1977, has reached interstellar space, a region beyond the heliosphere – the protective bubble of particles and magnetic fields created by the Sun – where the only other human-made object is its twin, Voyager 1.
The achievement means new opportunities for scientists to study this mysterious region. And for educators, it's a chance to get students exploring the scale and anatomy of our solar system, plus the engineering and math required for such an epic journey.
How They Did It
Launched just 16 days apart, Voyager 1 and Voyager 2 were designed to take advantage of a rare alignment of the outer planets that only occurs once every 176 years. Their trajectory took them by the outer planets, where they captured never-before-seen images. They were also able to steal a little momentum from Jupiter and Saturn that helped send them on a path toward interstellar space. This "gravity assist" gave the spacecraft a velocity boost without expending any fuel. Though both spacecraft were destined for interstellar space, they followed slightly different trajectories.
Voyager 1 followed a path that enabled it to fly by Jupiter in 1979, discovering the gas giant's rings. It continued on for a 1980 close encounter with Saturn's moon Titan before a gravity assist from Saturn hurled it above the plane of the solar system and out toward interstellar space. After Voyager 2 visited Jupiter in 1979 and Saturn in 1981, it continued on to encounter Uranus in 1986, where it obtained another assist. Its last planetary visit before heading out of the solar system was Neptune in 1989, where the gas giant's gravity sent the probe in a southward direction toward interstellar space. Since the end of its prime mission at Neptune, Voyager 2 has been using its onboard instruments to continue sensing the environment around it, communicating data back to scientists on Earth. It was this data that scientists used to determine Voyager 2 had entered interstellar space.
How We Know
Interstellar space, the region between the stars, is beyond the influence of the solar wind, charged particles emanating from the Sun, and before the influence of the stellar wind of another star. One hint that Voyager 2 was nearing interstellar space came in late August when the Cosmic Ray Subsystem, an instrument that measures cosmic rays coming from the Sun and galactic cosmic rays coming from outside our solar system, measured an increase in galactic cosmic rays hitting the spacecraft. Then on November 5, the instrument detected a sharp decrease in high energy particles from the Sun. That downward trend continued over the following weeks.
The data from the cosmic ray instrument provided strong evidence that Voyager 2 had entered interstellar space because its twin had returned similar data when it crossed the boundary of the heliosheath. But the most compelling evidence came from its Plasma Science Experiment – an instrument that had stopped working on Voyager 1 in 1980. Until recently, the space surrounding Voyager 2 was filled mostly with plasma flowing out from our Sun. This outflow, called the solar wind, creates a bubble, the heliosphere, that envelopes all the planets in our solar system. Voyager 2's Plasma Science Experiment can detect the speed, density, temperature, pressure and flux of that solar wind. On the same day that the spacecraft's cosmic ray instrument detected a steep decline in the number of solar energetic particles, the plasma science instrument observed a decline in the speed of the solar wind. Since that date, the plasma instrument has observed no solar wind flow in the environment around Voyager 2, which makes mission scientists confident the probe has entered interstellar space.
Though the spacecraft have left the heliosphere, Voyager 1 and Voyager 2 have not yet left the solar system, and won't be leaving anytime soon. The boundary of the solar system is considered to be beyond the outer edge of the Oort Cloud, a collection of small objects that are still under the influence of the Sun's gravity. The width of the Oort Cloud is not known precisely, but it is estimated to begin at about 1,000 astronomical units from the Sun and extend to about 100,000 AU. (One astronomical unit, or AU, is the distance from the Sun to Earth.) It will take about 300 years for Voyager 2 to reach the inner edge of the Oort Cloud and possibly 30,000 years to fly beyond it. By that time, both Voyager spacecraft will be completely out of the hydrazine fuel used to point them toward Earth (to send and receive data) and their power sources will have decayed beyond their usable lifetime.
Why It's Important
Since the Voyager spacecraft launched more than 40 years ago, no other NASA missions have encountered as many planets (some of which had never been visited) and continued making science observations from such great distances. Other spacecraft, such as New Horizons and Pioneer 10 and 11, will eventually make it to interstellar space, but we will have no data from them to confirm their arrival or explore the region because their instruments already have or will have shut off by then.
Interstellar space is a region that's still mysterious because until 2012, when Voyager 1 arrived there, no spacecraft had visited it. Now, data from Voyager 2 will help add to scientists' growing understanding of the region. Scientists are hoping to continue using Voyager 2's plasma science instrument to study the properties of the ionized gases, or plasma, that exist in the interstellar medium by making direct measurements of the plasma density and temperature. This new data may shed more light on the evolution of our solar neighborhood and will most certainly provide a window into the exciting unexplored region of interstellar space, improving our understanding of space and our place in it.
As power wanes on Voyager 2, scientists will have to make tough choices about which instruments to keep turned on. Further complicating the situation is the freezing cold temperature at which the spacecraft is currently operating – perilously close to the freezing point of its hydrazine fuel. But for as long as both Voyager spacecraft are able to maintain power and communication, we will continue to learn about the uncharted territory of interstellar space.
Teach It
Use these standards-aligned lessons and related activities to get students doing math and science with a real-world (and space!) connection.
Explore More
TAGS: Teachers, Educators, Science, Engineering, Technology, Solar System, Voyager, Spacecraft, Educator Resources, Lessons, Activities
---
Until she discovered game development, Michelle Vo's daydreams were a problem. She couldn't focus in her computer science classes. Her grades were dipping. She wondered whether she was cut out to be a programmer or for school at all. So she took a break to make something just for fun, a self-help game. And help her, it did. Now focusing on virtual and augmented reality, Vo is back at school, studying not just computer science, but also cognitive science, linguistics and digital humanities. It's a lot, but to create a virtual world, she says one has to first understand how people navigate the real one. This summer, at NASA's Jet Propulsion Laboratory, the UCLA student applied her talents to VR and AR experiences that help scientists explore a totally different world, Mars. While Vo's tendency to daydream hasn't gone away, she now knows how to use the distractions for good; she turns them into VR inspiration.
What are you working on at JPL?
I worked on this project called OnSight, which just won NASA Software of the Year! I also worked on another project for the InSight Mars lander mission. Honestly, it's been such a dream come true to intern here. I actually used to struggle a lot with school because I would often get caught up in my own daydreams. However, I'm really glad I found a unique career path in VR where I can turn those dreams into something useful.
That's so great that you were able to channel your daydreams in that way. How did you go from struggling in school to doing VR?
When I first tried on a VR headset, I was like, "This is the future. I need to do whatever I can to learn about this." I decided to study computer science, but it was easy to get lost and fall behind in a large classroom environment. Not a lot of people know this, but I was on academic probation for a while. Looking back, I think my shyness held me back from asking for the help that I needed.
When I took a break from school, I decided I wanted to try making a game. I wanted to do something just for fun, and I was determined to fix my bad habits. So with some friends, I created a self-help game at AthenaHacks, a women's hackathon. For 24 hours, I was just immersed in my work. I had never felt that way about anything in my life, where I was just zoned in, in my own world, building something I loved. And that's when I realized, I think it's game development. I think this is what I want.
So I spent the year teaching myself [game development], and I got a lot more comfortable using the Unity game engine. I went on to attend Make School's VR Summer Academy in San Francisco. That smaller learning environment opened up the world for me. It boosted my confidence more than anything to have the support I needed. I was like, "Maybe my grades aren't so great, but I know how to build VR applications – and the world needs VR right now."
So when I went back to my university, I thought, "I'll try again. I'm going to go back to computer science." And so far so good. I'm into my fourth year at UCLA studying cognitive science, linguistics, computer science and digital humanities. It sounds like a lot, but they're all related in the sense that they're all connected to VR. To me, VR is mainly a study of the mind and how we perceive reality. It's not just about game development; you also need to understand human behavior to create good user-friendly VR.
So going back to your JPL internship, how are you using your VR skills to help scientists and engineers?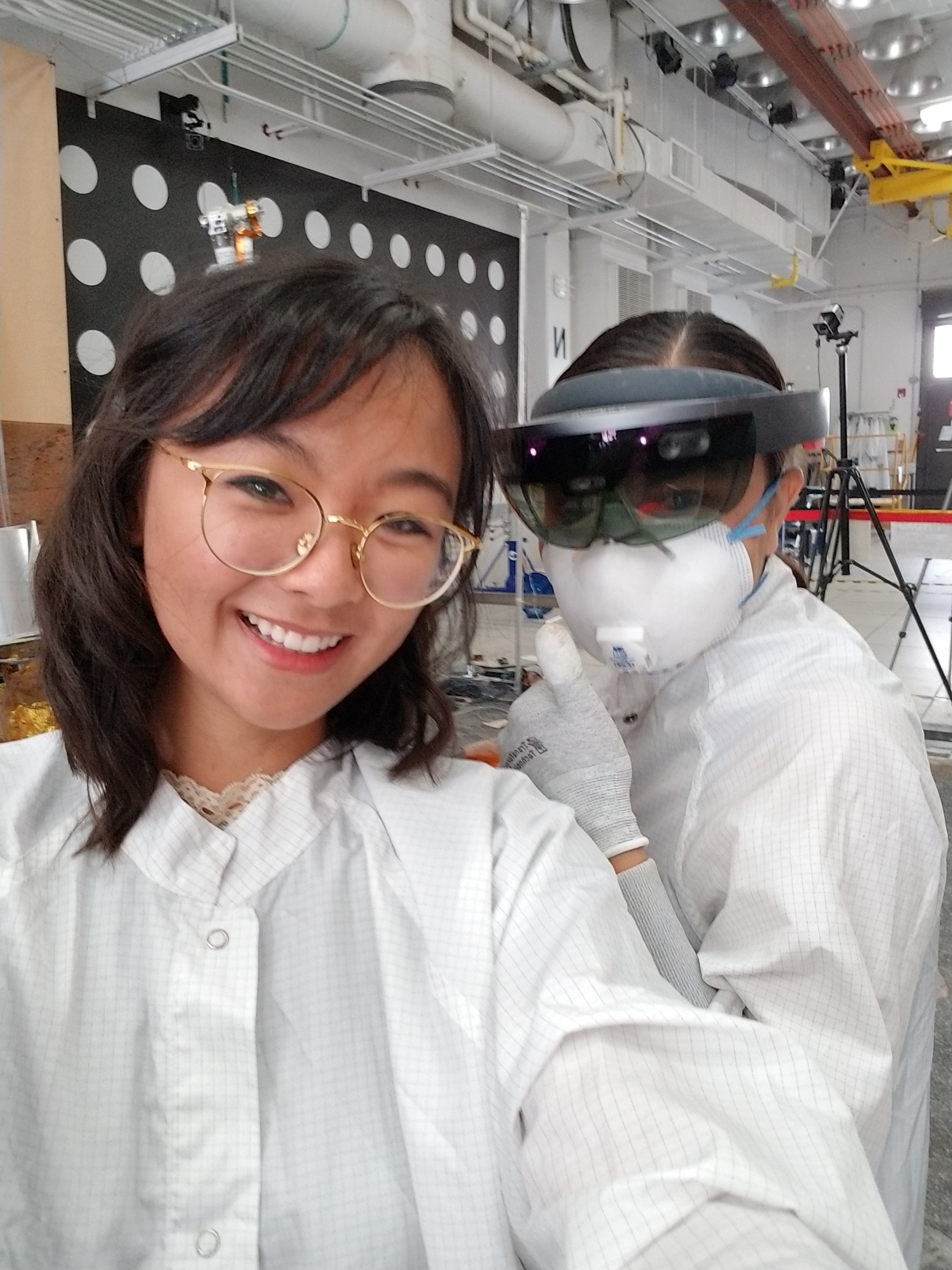 I'm interning in the Ops Lab, and the project I've been working on primarily is called OnSight. OnSight uses Microsoft's HoloLens [mixed-reality software] to simulate walking on Mars. Mars scientists use it to collaborate with each other. We had "Meet on Mars" this morning, actually. On certain days, Mars scientists will put on their headsets and hang out virtually on Mars. They see each other. They talk. They look at Mars rocks and take notes. It's based on images from the Curiosity Mars rover. We converted those images to 3-D models to create the virtual terrain, so through VR, we can simulate walking on Mars without being there.
For a few weeks, I worked on another project with the InSight Mars lander mission. We took the terrain model that's generated from images of [the landing site] and made it so the team could see that terrain on top of their testbed [at JPL] with a HoloLens. For them, that's important because they're trying to recreate the terrain to … Wait, I recorded this.
[Michelle quickly scans through the photo library on her phone and pulls up a video she recorded from JPL's In-Situ Instruments Laboratory. Pranay Mishra, a testbed engineer for the InSight mission, stands in a simulated Mars landscape next to a working model of the lander and explains:]
"When InSight reaches Mars, we're going to get images of the terrain that we land on. The instruments will be deployed to that terrain, so we will want to practice those deployments in the testbed. One of the biggest things that affects our deployment ability is the terrain. If the terrain is tilted or there are rocks in certain spots, that all has a strong effect on our deployment accuracy. To practice it here, we want the terrain in the testbed to match the terrain on Mars. The only things we can view from Mars are the images that we get back [from the lander]. We want to put those into the HoloLens so that we can start terraforming, or "marsforming," the testbed terrain to match the terrain on Mars. That way, we can maybe get a rough idea of what the deployment would look like on Mars by practicing it on Earth."
› Learn more about how scientists and engineers are creating a version of InSight's Mars landing site on Earth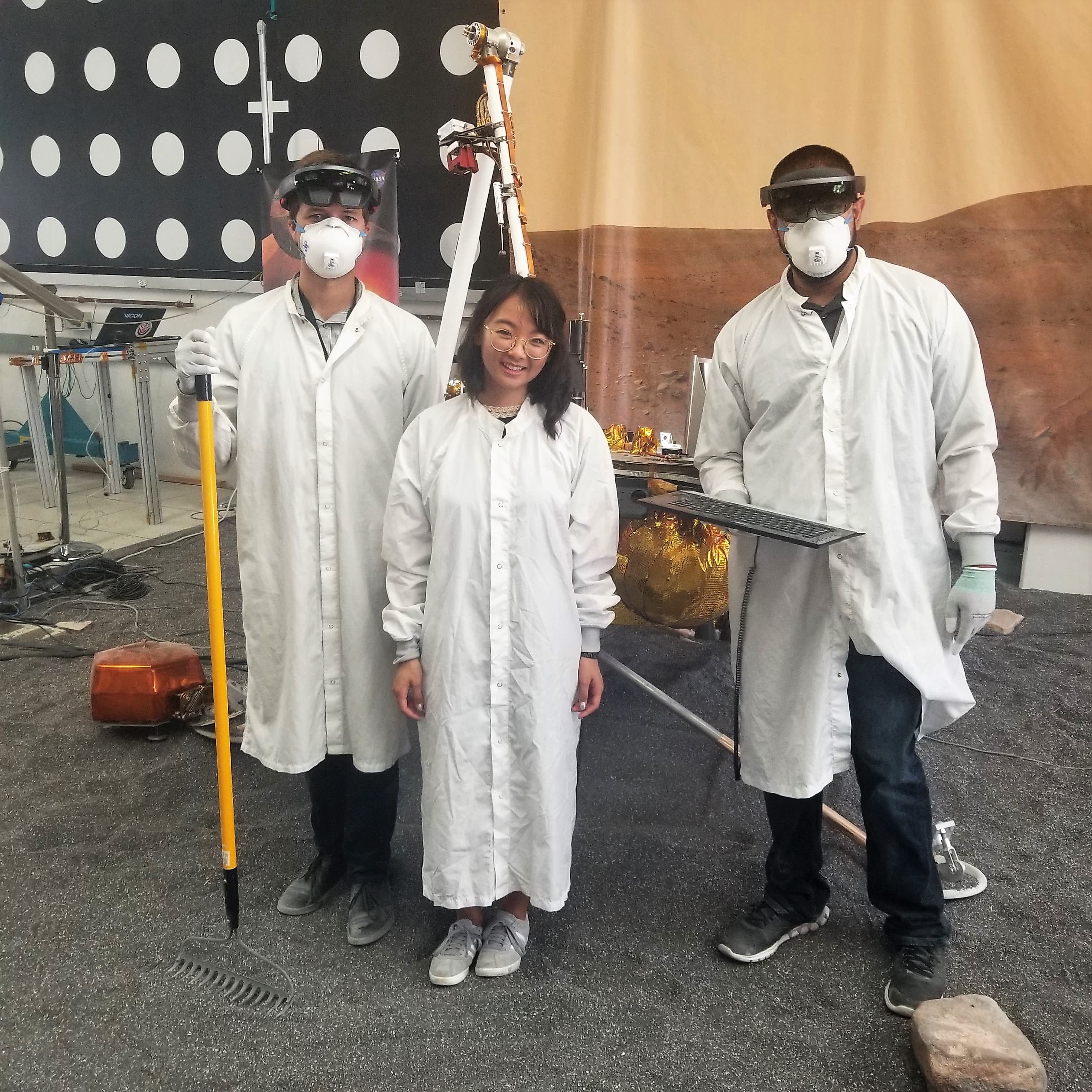 They already gave us photos of Mars, which they turned into a 3D model. I created an AR project, where you look through the HoloLens – looking at the real world – and the 3D model is superimposed on the testbed. So the [testbed team] will shovel through and shape the terrain to match what it's like on Mars, at InSight's landing site.
Did you know that this was an area that you could work in at JPL before interning here?
OnSight was a well known project in the VR/AR space, since it was the first project to use the Microsoft Hololens. I remember being excited to see a panel on the project at the VRLA conference. So when I finally got on board with the team, I was ecstatic. I also realized that there's room for improvement, and that's OK. That's why I'm here as an intern; I can bring in a fresh look.One of the things I did on this project was incorporate physical controllers. My critique when I first started was, "This interface is a bit tricky to use," and if it's challenging for me to use as a millenial, how is this going to be usable for people of all ages? I try to think in terms of accessibility for everybody. Through lots of testing, I realized that people need to be touching things, physical things. That's what OnSight lacked, a physical controller. There were a lot of things that I experimented with, and eventually, it came down to a keyboard that allows you to manipulate the simulated Mars rovers. So now with OnSight, you can drive the [simulated] rovers around with a keyboard controller and possibly in the future, type notes within the application. Previously, you had to tap into the air to use an AR keyboard, and that's not intuitive. I believe we still need to touch the physical world.
How has this project compared with other ones that you've done elsewhere?
I felt really in my element. And for the first time ever, the imposter-syndrome voice went away. I felt like I could just be myself and actually have a voice to contribute. You know, I might be small, I might be the shortest one, but I'm mighty. It's been such a positive and supportive environment. I've had an incredible internship and learned so much.
What has been the most unique experience that you've had at JPL?
Working in the Ops Lab has been such a unique experience. Every day, we're tinkering with cutting-edge technology in AR and VR. I am so thankful to have my mentors, Victor Luo and Parker Abercrombie, who give me the support and guidance I need to grow and learn. Outside of the Ops Lab, I also had the unique opportunity to meet astronaut Kate Rubins and talk about VR with her. I had lunch with NASA Administrator Jim Bridenstine when he visited JPL. And working with the InSight mission and Marleen Sundgaard, the mission's testbed lead, was especially cool. I can't believe I was able to use my skills for something the Mars InSight mission needed. Being able to say that is something I'm really proud of. And seeing how far I came, from knowing nothing to being here, makes me feel happy. If I can transform, anyone can do this too, if they choose to work hard, follow their own path and see it in themselves to take a risk.
What advice do you have for others looking to follow your path?
Listen to your gut. Your gut knows. It's easy to feel discouraged when learning something new, but trust me, you're not alone. You've always got to stay optimistic about finding a solution. I've always been someone who has experimented with a lot of things, and I think learning is something you should definitely experiment with. If the classroom setting is not for you, try teaching yourself, try a bootcamp, try asking a friend – just any alternative. There is nothing wrong with carving your own path when it comes to your education. Everyone's at their own pace, just don't give up!
My biggest inspiration is the future. I think about it on a daily basis. I know I have a very cheery, idealistic view on life, but I think, "What's wrong with that?" as long as you can bring it back to reality.
Speaking of that, what is your ultimate dream for your career and your future?
I was raised in the Bay Area, and I grew up in Santa Clara so the tech culture of Silicon Valley was inescapable. I love Silicon Valley, but there is still a huge homelessness issue. I've always thought, "We have the brightest engineers and scientists doing the most amazing, crazy things, yet we still can't alleviate homelessness." Everybody deserves a place to sleep and shower. People need to have their basic needs met. I'd love to see some sort of VR wellness center that could help people train for a job, overcome fears and treat mental health.
That's my idealistic dream, but back to present-day dreams: I'm actually doing a 180. I'm leaving tech for a little bit, and I'm taking Fall quarter off. I'll start back at UCLA in January, but I'm taking a leave to explore being an artist. I'm writing a science-fiction play about Vietnamese-American culture. I was inspired by my experience here at JPL. I feel really optimistic about the future of technology, which is funny because science fiction usually likes to depict tech as something crazy, like an apocalypse or the world crashing down. But I'm like, "Vietnamese people survived an actual war, and they're still here." For my parents and grandparents, their country as they knew it came crashing down on them when they were just about my age. They escaped Vietnam by boat and faced many hardships as immigrants who came to America penniless and without knowing English. For them to have survived all of that and sacrificed so much to make it possible for me to be here is incredible. I think it's a testament to how, despite the worst things, there's always good that continues. I'm so grateful and thankful for my family. I wouldn't be here living my dream without them, and I want to create a play about that.
It's funny. Before I used to be so shy, so shy. I used to be that one kid who would never talk to anybody. So it's kind of nice to see what happens when the introvert comes out of her shell. And this is what happens. All of this. [Laughs.]
---
Explore JPL's summer and year-round internship programs and apply at: https://www.jpl.nasa.gov/edu/intern
The laboratory's STEM internship and fellowship programs are managed by the JPL Education Office. Extending the NASA Office of Education's reach, JPL Education seeks to create the next generation of scientists, engineers, technologists and space explorers by supporting educators and bringing the excitement of NASA missions and science to learners of all ages.
TAGS: Women in STEM, Higher Education, College, Students, STEM, VR, AR, Technology, Mars, InSight, Curiosity, Women in STEM
---
Origami is going to space and Chris Esquer-Rosas is helping it get there. A computer engineering student at San Bernardino Valley College in Southern California, Esquer-Rosas used to do origami only as a hobby, but now he's using it to build a giant sunflower-shaped structure that his team hopes will provide a new window into worlds beyond our solar system. Esquer-Rosas explains how he's putting his origami skills to use and what got him folding in the first place.
What are you working on at JPL?
I'm working on Starshade, specifically the Petal Launch and Unfurler System.
What is starshade and what is it supposed to do?
Starshade is a proposal to fly a giant, sunflower-shaped shade in front of a space telescope, so we can directly image exoplanets, which are planets outside of our solar system. One of the big issues that we have is that we know exoplanets are there, but we can't get the data we want about them because the stars that the planets are surrounding are too bright and they're basically blocking our view. So what Starshade is going to do is suppress or diffract sunlight while a telescope with all the science instruments directly images those exoplanets. It will probably be a little image, like one-by-one pixel, but with that one image, we can actually get a ton of data about these exoplanets – so carbon dioxide emissions, possibly water vapor, methane, gases and things like that.
There's a lot of origami involved in building Starshade. How does it come into play?
When it unfurls in space, Starshade is supposed to be 36 meters (about 118 feet) in diameter, which is about the size of a baseball diamond, and it's supposed to be only 2.5 meters (about 8 feet) in diameter when it's stowed for launch. We're using origami concepts to make that possible. Origami involves a lot of math. A lot of people don't realize that. But what actually goes into it is lots of geometric shapes and angles that you have to account for. One of the first things that I started doing on Starshade was helping with the stow pattern. So starting out with one sheet, how do you fold it so you can stow it at a much smaller size? Do you want it to be taller or shorter? How many folds do you want? And then, how small do you want it to be? We developed a bunch of algorithms, so now all you have to do is input the specs, push enter, and a new pattern is created instead of having to refold things over and over and over again.
What are some of the challenges in getting that whole operation to work?
There are lots of challenges. The first challenge is making sure none of the petals gets nicked. [Starshade is shaped like a sunflower.] The petal edges are razor sharp and they are what allow the light to be diffracted so we can image the exoplanet. The curvature of the petals has to be within half-a-human-hair-width accuracy, so we have to make sure nothing happens to them. If any of them gets nicked, then now we have this giant bright spot in our images. We also have to make sure all the petals end up in the correct position once Starshade unfurls. And we have to make sure no light comes through any part of the Starshade itself.
Which of those challenges are you working on solving?
What I'm working on is making sure none of the petals touches each other. That's one of the big challenges. We have to find a way to slowly unwrap the petals so nothing interferes or touches any of the petal edges or the petal itself.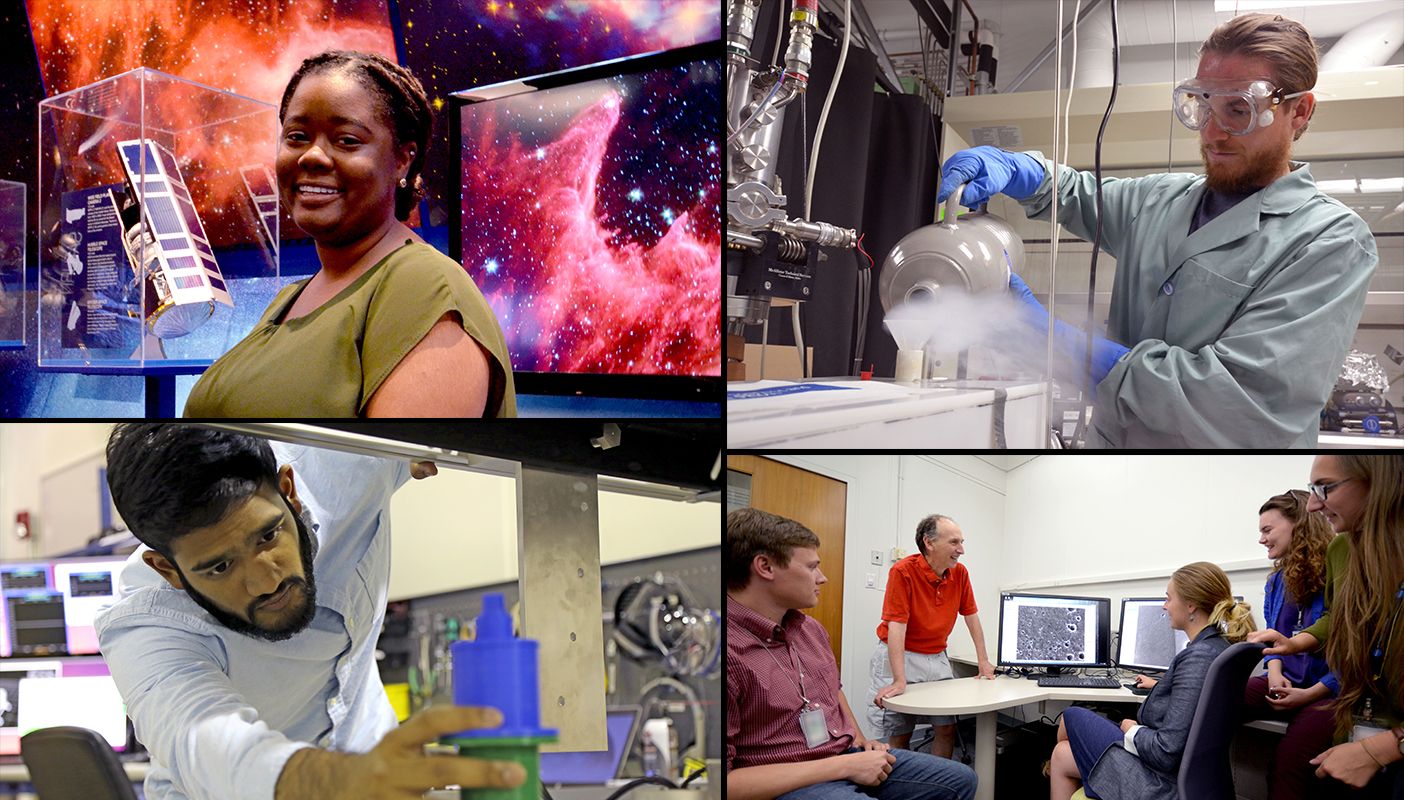 Meet JPL Interns
Read stories from interns pushing the boundaries of space exploration and science at the leading center for robotic exploration of the solar system.
Tell me about your background in origami and how it brought you to JPL.
I've been doing origami since the fourth grade, when my teacher read us "Sadako and the Thousand Paper Cranes." At the end of the book, it teaches you how to fold your own paper crane. After I folded it, I just had this instinct to want to unfold it to see what it looked like. It has this unique pattern. So I started measuring it, and I figured out that different angles give you different lengths for the wings and the legs. So I was like, ok, what if you rotate the entire crease pattern 45 degrees? Now you get these more beautiful wings and you get a different shape. Then, I started folding other people's designs and learning how to design my own origami. I loved origami so much that I started learning the math behind it. A friend of mine, Robert Salazar, had started at JPL, and he was also an origami guy. We've been friends since seventh grade. He started on Starshade and then, eventually, he was leaving and he told them about me. They interviewed me a few times and then they were like, OK, come in and help us out.
Before that, did you have any idea there was an application for origami in space exploration?
I knew there were applications for other things like airbags and deployable mirrors, but I didn't know that there were space applications. That's what blew my mind. I was like, origami is going to space now? This is amazing.
Are you studying something origami-related in school?
I'm actually studying computer engineering, so it's completely different.
Has interning with Starshade made you want to change your career path?
It's like this close, because I've wanted to be a computer engineer since fourth grade as well. But since working here, a lot of the mechanical stuff has been a big learning experience. I didn't know mechanical engineering existed, but now that I do, it's amazing.
How do you feel you're contributing to NASA/JPL missions and science?
I feel like I'm contributing because, right now, interns are on the front lines of testing out the hardware and making sure everything works. We're dealing with issues, trying to fix them, and coming up with ideas. I feel like we're actually contributing a lot to how this thing could eventually deploy in space.
---
Explore JPL's summer and year-round internship programs and apply at: https://www.jpl.nasa.gov/edu/intern
The laboratory's STEM internship and fellowship programs are managed by the JPL Education Office. Extending the NASA Office of Education's reach, JPL Education seeks to create the next generation of scientists, engineers, technologists and space explorers by supporting educators and bringing the excitement of NASA missions and science to learners of all ages.
TAGS: Interns, Internships, College, Higher Education, Student Programs, Starshade, Origami, Exoplanets, Technology
---
Try this lesson from NASA/JPL Edu to get involved and bring the excitement of NASA Mars exploration to students: