---
In 1975, 10-year-old Nagin Cox's home life was unraveling. It was a time when Cox grew up hearing that girls were "worthless" and thought only about making it to age 18 so she could be free.
"I remember looking up at the stars and thinking, 'I'm going to live and get through this," Cox, now a spacecraft systems engineer for Mars 2020 recalls. "I need to set a goal. I need something so meaningful it will help me get through the next eight years.'"
That goal revealed itself when she was 14, a curly-haired Indian girl fascinated by "Star Trek" and Carl Sagan's "Cosmos." She wanted to explore the universe. And no, she didn't want to be an astronaut.
"If you really want to go where someone has never been, you want to be with the robots. They truly explore first," she says. "There was one place that did that consistently and that was NASA's Jet Propulsion Laboratory."
She just needed to figure out how.
---
Using a test bed that looks like something out of a sci-fi movie, Becca Foust is exploring ways to bring spacecraft components together in space. Here's how the NASA Space Technology Research Fellow, who's earning her Ph.D. at the University of Illinois at Urbana-Champaign, is helping create spacecraft of the future.
What are you working on at JPL?
I like to call it space K'nex, like the toys. We're using a bunch of component satellites and trying to figure out how to bring all of the pieces together and make them fit together in orbit. Then, once they're together, can you pop them apart and make something new? Using many satellites allows for much more versatility than with a conventional single satellite, plus some structures you need are simply too big to fit into the rockets we have today. So this summer, I'm testing my algorithm for assembling satellites on some actual robots in our new test bed.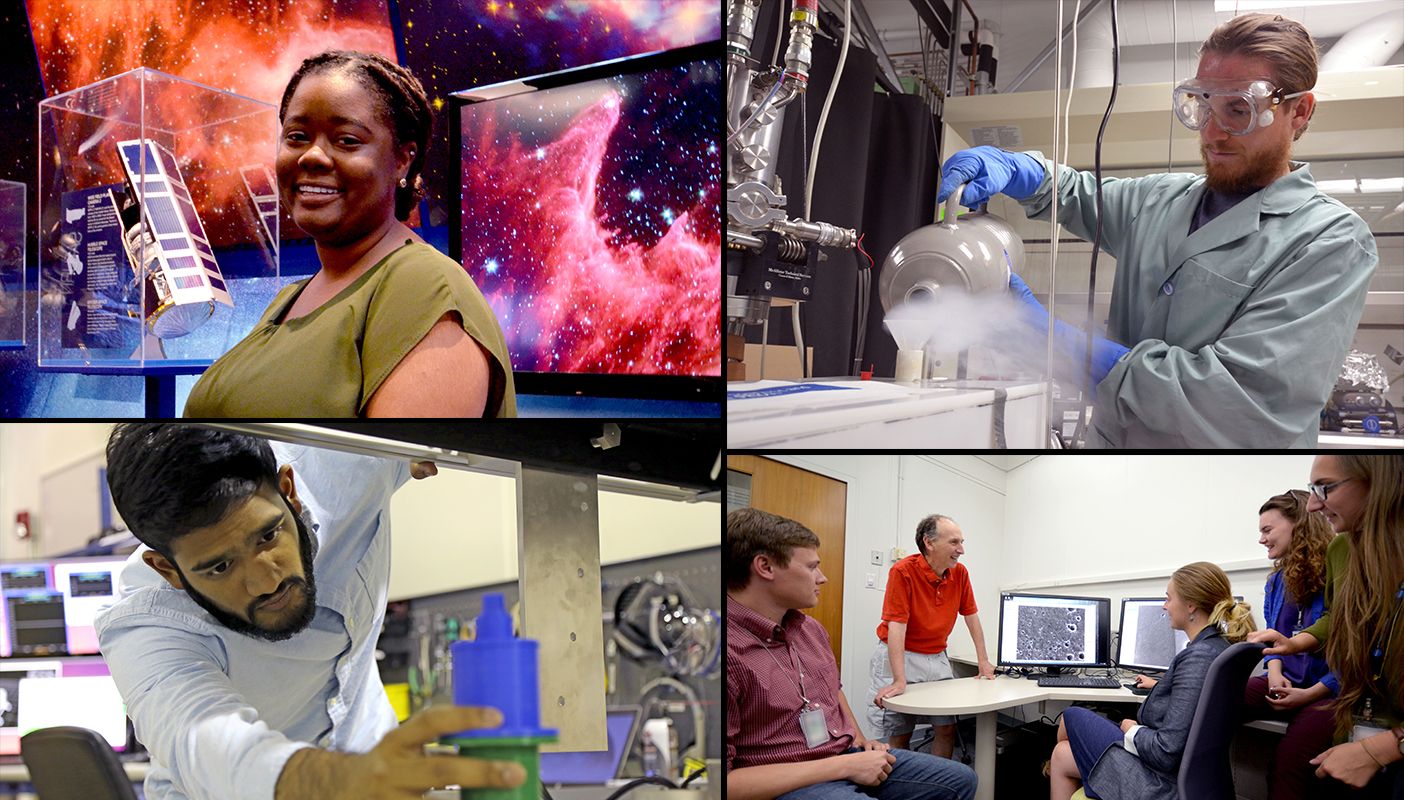 Meet JPL Interns
Read stories from interns pushing the boundaries of space exploration and science at the leading center for robotic exploration of the solar system.
Tell me about the test bed.
We have five spacecraft simulators that "fly" in a specially designed flat-floor facility. The spacecraft simulators use air bearings to lift the robots off the floor, kind of like a reverse air hockey table. The top part of the spacecraft simulators can move up and down and rotate all around in a similar way to real satellites. All these things combine to let the robots move around using the same components used on real satellites in space. The floor has to be very precisely flat and we have to clean frequently because, if a single hair is on the ground, it will affect the motion of the simulators. We also have two rails with highly articulated robot arms on the side and the back of the room to interact with the simulators as other satellites or as a comet to be mapped.
What happens during the simulations?
Most of what our group does is guidance and control, so telling spacecraft where to go and how to get there. When we're testing those algorithms, it's really important that we know where our spacecraft is because we can't tell it where to go if we don't know where it is. So, in the test bed, our robots are all tracked using a motion capture system. It's sort of like CGI. The system tracks these little reflective dots and tells us very precisely the position and orientation of the object.
So if we're testing a guidance and control algorithm, we will turn on the motion capture system, make sure everything is working, and then we just turn on the robots and press go. Our simulators are autonomous and everything runs on board, so we do a lot of legwork before running experiments to make sure things will run as expected.
What is it that you're looking for during these simulations in the test bed?
Before we had this test bed, we did a ton of simulations on the computer, but it's very different having it work on an actual robot. So we're trying to see that when we run things on the robots, it works the way it did in the simulations. Is it tracking the expected trajectory nicely? Is it computing properly? Is everything working?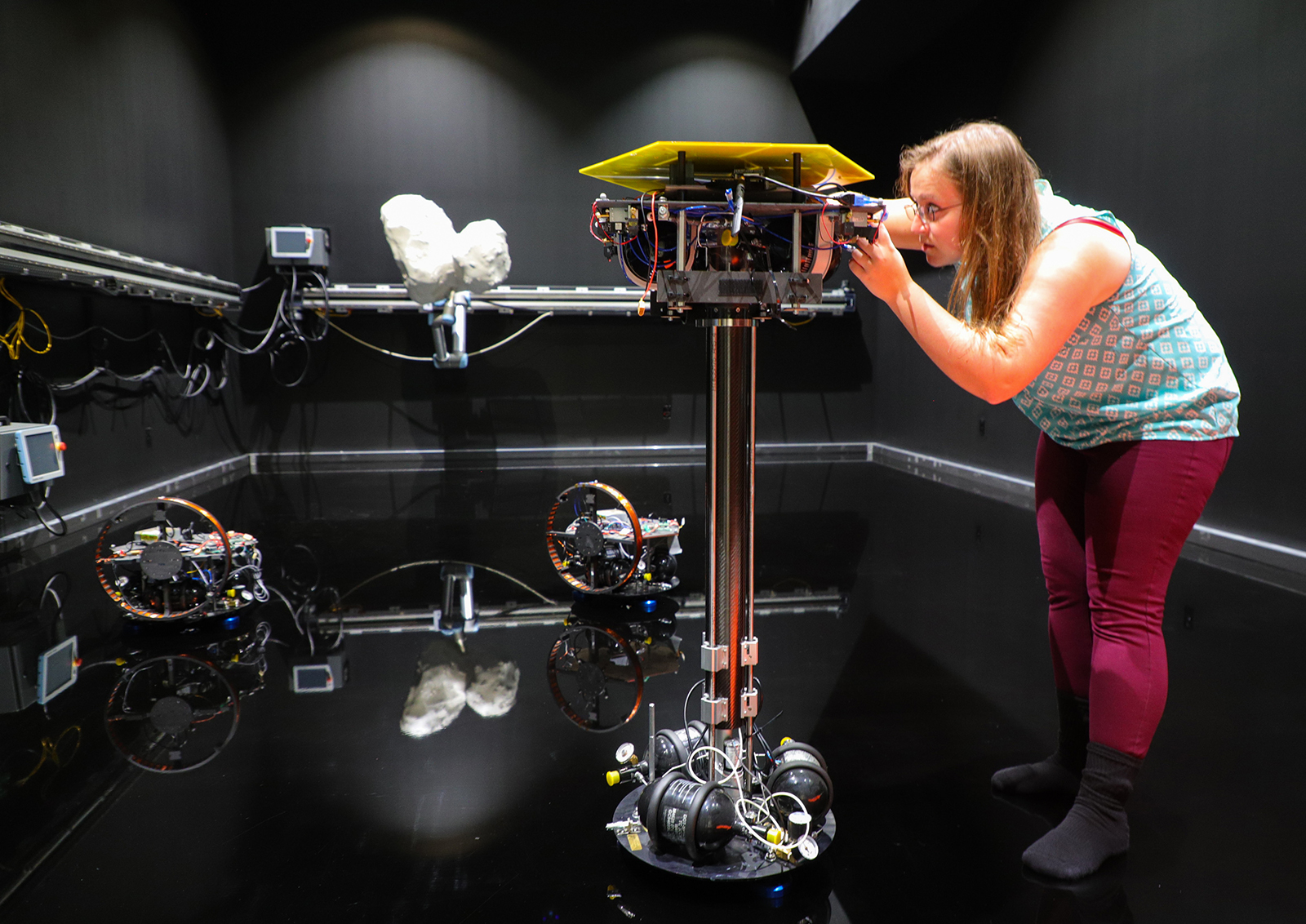 We'll probably end up adding some safeguards in case a command goes astray. We'll probably need to make our algorithms be able to handle issues and faults that come up. That's actually one of the problems we're working on with JPL, increasing satellite autonomy by looking at failures that happen within satellites, trying to figure out what they are and recover from them.
What's the goal of your research?
I hope my research leads to smarter, more efficient satellites for in-space construction and assembly. The algorithm that I'm using is very fuel-efficient and it finds trajectories that aren't really being considered and haven't been tried yet in space. By watching it in our version of space, we can show that these paths can actually be executed in real space. So maybe we can actually start using these more efficient trajectories and then all of our satellites can live longer, go farther and do more.
What's an average day like for you?
I try to work on some mathematical proofs in the morning when I'm still sharp-ish. So I work on that until I get frustrated. After that, I'll wander over to our lab and do some hands-on robotics-type things, like working on the spacecraft simulators and making them work more efficiently. Then, I'll spend a while teaching our undergraduate interns how to use the Robot Operating System, which runs on all of our robots.
What's the most JPL- or NASA-unique experience you've had so far?
I would say meeting people at JPL. There are so many experts in so many different fields. The first summer I was at JPL, there was a presentation on almost exactly my topic. So I got to meet with that speaker, and we set up a meeting time and talked more about it. He had a bunch of really good ideas for my topic and some other people to talk to. One connection sort of leads to another.
If you could go anywhere in space, where would you go and what would you do there?
We're talking imaginary, right? Because I would like to go to space eventually, if I can. I think I would go to – this is probably a really popular answer but – Jupiter's moon Europa. I'd just want to figure out what on Earth is going on there.
---
Explore JPL's summer and year-round internship programs and apply at: https://www.jpl.nasa.gov/edu/intern
The laboratory's STEM internship and fellowship programs are managed by the JPL Education Office. Extending the NASA Office of Education's reach, JPL Education seeks to create the next generation of scientists, engineers, technologists and space explorers by supporting educators and bringing the excitement of NASA missions and science to learners of all ages.
TAGS: Intern, Internships, Students, STEM, Engineering, Spacecraft
---
Update – Feb. 24, 2017: The deadline for the Cassini Scientist for a Day Essay Contest has passed. The winners will be announced in May 2017.
---
In the News
Next week, NASA's Cassini spacecraft will go where no spacecraft has gone before when it flies just past the edge of Saturn's main rings. The maneuver is a first for the spacecraft, which has spent more than 12 years orbiting the ringed giant planet. And it's part of a lead-up to a series of increasingly awesome feats that make up the mission's "Grand Finale" ending with Cassini's plunge into Saturn on Sept. 15, 2017.
How They'll Do It
To prepare for the so-called "ring-grazing orbits," which will bring the spacecraft within 56,000 miles (90,000 km) of Saturn, Cassini engineers have been slowly adjusting the spacecraft's orbit since January. They do this by flying Cassini near Saturn's large moon Titan. The moon's gravity pulls on the spacecraft, changing its direction and speed.
On November 29, Cassini will use a big gravitational pull from Titan to get into an orbit that is closer to perpendicular with respect to the rings of Saturn and its equator. This orbit will send the spacecraft slightly higher above and below Saturn's north and south poles, and allow it to get as close as the outer edge of the main rings – a region as of yet unexplored by Cassini.
Why It's Important
Cassini's ring-grazing orbits will allow scientists to see features in Saturn's rings, up close, that they've only been able to observe from afar. The spacecraft will get so close to the rings, in fact, that it will pass through the dusty edges of the F ring, Saturn's narrow, outermost ring. At that distance, Cassini will be able to study the rings like never before.
Among the firsts will be a "taste test" of Saturn's rings from the inside out, during which Cassini will sample the faint gases surrounding the rings as well as the particles that make up the F ring. Cassini will also capture some of the best high-resolution images of the rings, and our best views of the small moons Atlas, Pan, Daphnis and Pandora, which orbit near the rings' outer edges. Finally, the spacecraft will do reconnaissance work needed to safely carry out its next planned maneuver in April 2017, when Cassini is scheduled to fly through the 1,500-mile (2,350-kilometer) gap between Saturn and its rings.
› Read more about what we might learn from Cassini's ring-grazing orbits.
These orbits are a great example of scientific research in action. Much of what scientists will be seeing in detail during these ring-grazing orbits are features that, despite Cassini's 12 years at Saturn, have remained a mystery. These new perspectives could help answer questions scientists have long puzzled over, but they will also certainly lead to new questions to add to our ongoing exploration of the ringed giant.
Teach It
What better way to share in the excitement of Cassini's exploration than to get students thinking like NASA scientists and writing about their own questions and curiosities?
NASA's Cassini Scientist for a Day Essay Contest, open to students in grades 5-12, encourages students to do just that. Participants research three science and imaging targets and then write an essay on which target would provide the most interesting scientific results, explaining what they hope to learn from the selected target. Winners of the contest will be featured on NASA's Solar System Exploration website and get an opportunity to speak with Cassini scientists and engineers via video conference in the spring.
More information, contest rules and videos can be found here.
The deadline to enter is Feb. 24, 2017.
Explore More
TAGS: Cassini, Saturn's Rings, Saturn, Grand Finale, Spacecraft, Missions, K-12, Lessons, Activities, Language Arts, Science, Essay Contest
---
NASA is giving people around the world a reason to ooh and aah this July Fourth. At 8:18 p.m. PDT, as fireworks are streaming through the skies across the U.S., the Juno spacecraft will be taking the on-ramp to an orbit around Jupiter.
Can you calculate just how much Juno needs to slow down to get into orbit around Jupiter?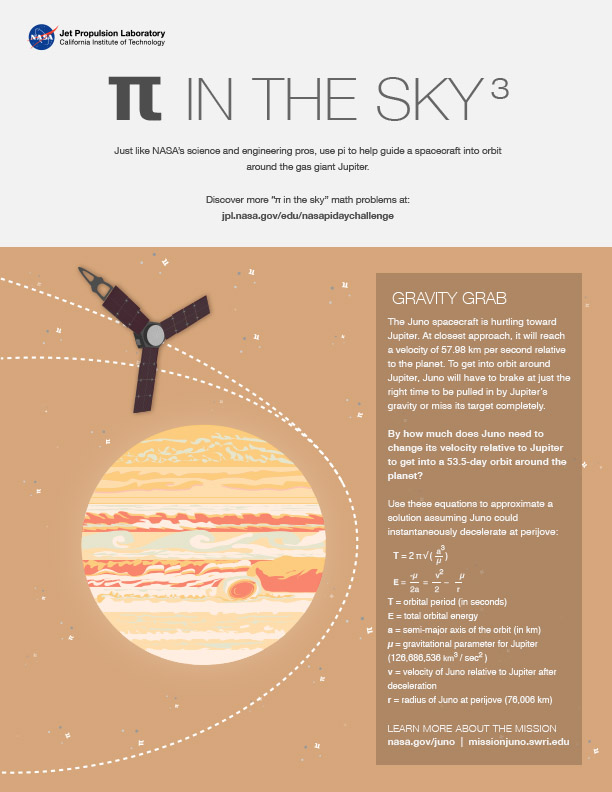 See the full problem set (optimized for screen readers and mobile devices) and answers, here
While maybe not as dramatic as a jet-powered landing on Mars, the Juno Orbit Insertion (the name for the process, also called JOI) requires that the spacecraft slow down just enough to not go zooming past Jupiter. As of Thursday, the spacecraft's fate rested on a series of 1s and Os as a command sequence made the 48-minute journey from a gargantuan antenna in Goldstone, California, to the spacecraft 534 million miles away.
While a successful orbit insertion is now largely out of mission controllers' hands, there will be no shortage of nail biting on July Fourth. With a five-year journey behind it and lofty goals ahead – which include peering through Jupiter's thick cloud cover to uncover clues about how our solar system was formed – Juno has a lot resting on what will amount to a 35-minute engine burn. And perhaps even bigger risks are still to come as Juno begins its 33.5 oblong orbits around Jupiter, which will bring the spacecraft closer than ever before to the planet's cloud tops – and to its lethal radiation.
To follow along on July 4 as Juno begins its journey into Jupiter's orbit, watch NASA TV live coverage beginning at 7:30 p.m. PDT.
For a mission countdown, images, facts about Jupiter and Juno and other resources, visit NASA's Solar System Exploration website.
And check out these educational activities for students and teachers from NASA/JPL Edu:
TAGS: Juno, Jupiter, JOI, Spacecraft, Mission, Events
---
UPDATE - Aug. 31, 2016: Our Mars Bulletin Board materials are out of stock. To download and print out the resources, click on the links next to each product.

---
Get the school year back in gear with a Mars-themed bulletin board for your school, classroom, library or educational program. The Educator Resource Center at NASA's Jet Propulsion Laboratory is offering a set of free posters and lithographs with fun facts about the Red Planet and NASA's Mars missions.

The Mars Bulletin Board includes: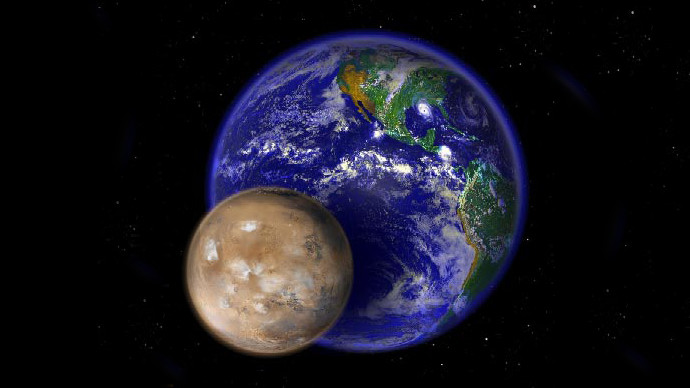 This poster highlights the likenesses and differences between the Red Planet and Earth.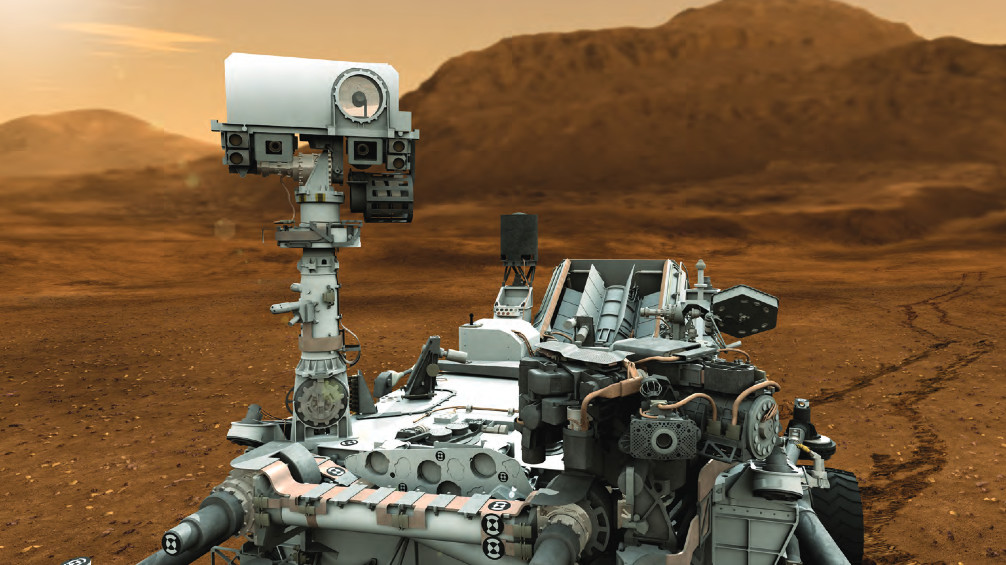 Mars Science Laboratory: Curiosity Rover lithograph set
This lithograph set features images of NASA's Mars rover Curiosity as well as images the rover has taken on the Red Planet. Facts about Curiosity and its discoveries are included on the back of each image.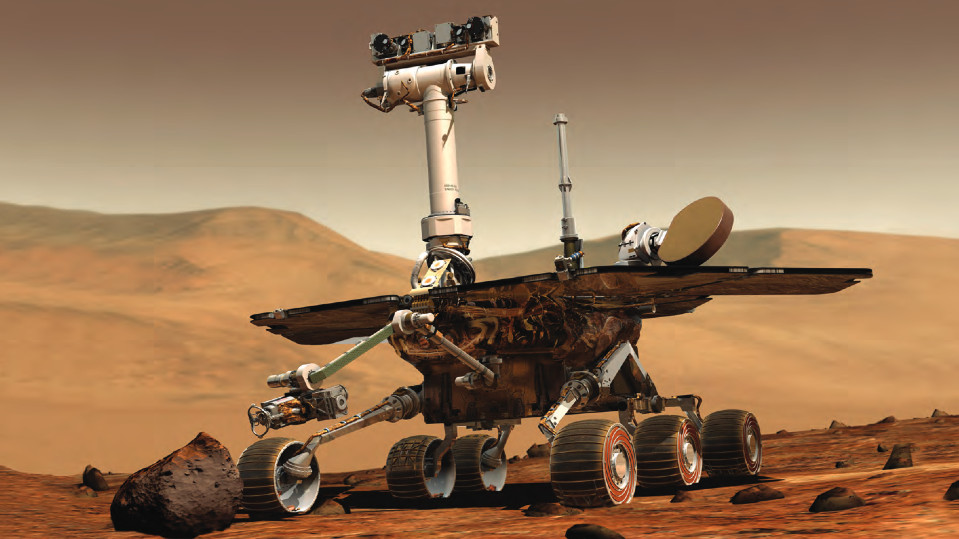 Mars Exploration Rovers, Spirit and Opportunity lithograph
Learn about the twin Mars Exploration Rovers, Spirit and Opportunity, and their key discoveries. (Opportunity is still roving on Mars, more than 10 years after landing on the Red Planet!)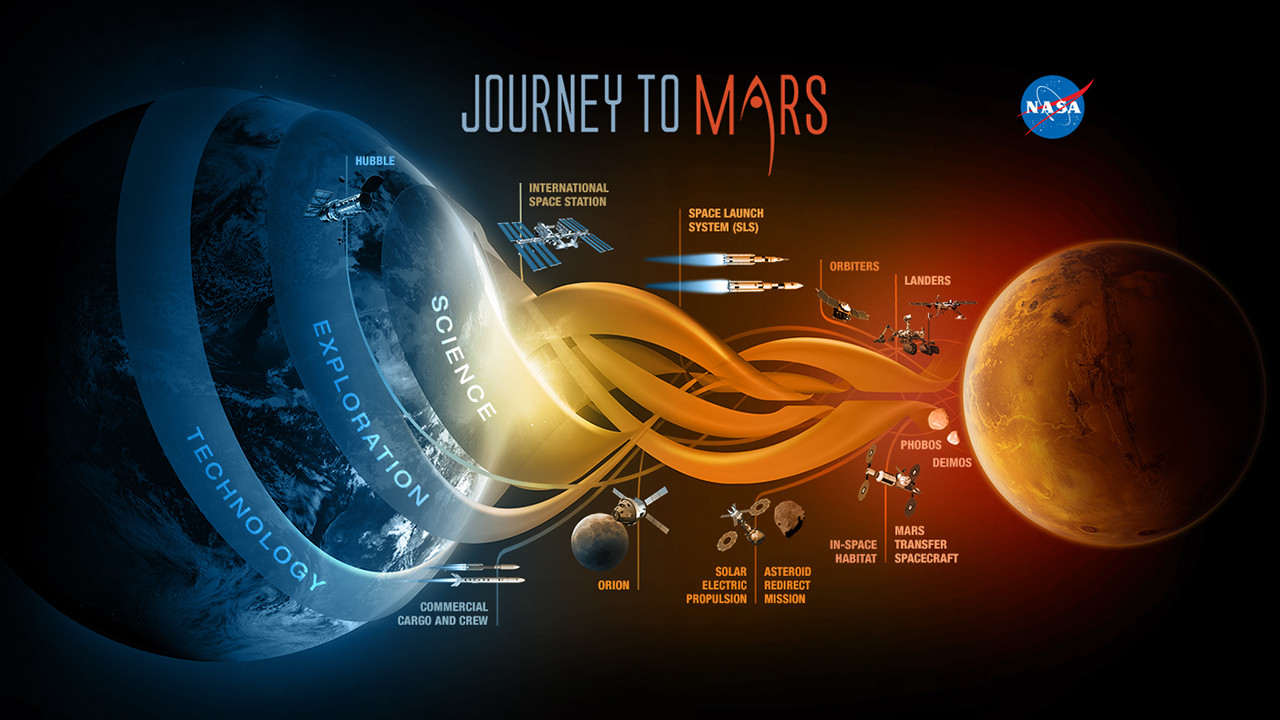 As part of its "Journey to Mars" initiative, NASA is developing spacecraft and technologies that will pave the way for a future manned mission to the Red Planet. This graphic shows some of the key milestones of that initiative.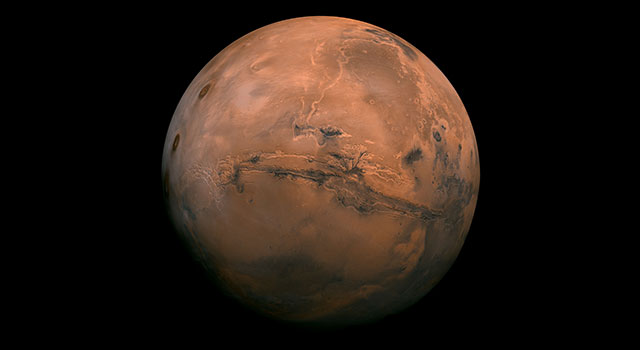 Learn about the history, composition and exploration of Mars on this lithograph featuring images of the Red Planet on one side and fun facts on the other.
The NASA/JPL Educator Resource Center provides formal and informal educators with NASA resources and materials that support STEM learning. For more information, visit the
Educator Resource Center page
.
TAGS: Bulletin Board, Mars, Journey to Mars, Rover, Spacecraft
---
In the News
Saturn's icy moon Enceladus has been making news lately, and it could make even bigger news soon! In September, scientists confirmed that there was a global ocean underneath Enceladus' thick icy shell. That was just the latest in a long history of exciting finds dating back to the beginning of NASA's Cassini-Huygens Mission to Saturn in 2004 that have helped scientists to better understand this fascinating world!
Even while Cassini was still on its way to Saturn, its Cosmic Dust Analyzer detected microscopic grains of silica (tiny grains of sand). On Earth, grains of silica similar in size to those detected near Saturn form when hydrothermal activity -- the processes involving heated water beneath Earth's surface or ocean -- causes salty water to chemically interact with rocky material to form silica. But where were these grains coming from in the space around Saturn?
In 2005, scientists were surprised to find out that Enceladus' south pole is both warmer than expected and warmer than the surrounding areas, suggesting there is a heat source inside Enceladus. Not only that, but they also discovered long parallel cracks in the ice on Enceladus' south pole. The young age of these cracks, nicknamed Tiger Stripes, meant that Saturn's icy moon is a geologically active place.
Another piece of this puzzle was put in place with the discovery of jets of material spraying out of the Tiger Stripes. Studies have shown these jets are composed of mostly of water vapor, tiny ice particles and small amounts of other material (for example, microscopic silica grains). Together, over 100 jets make up a feature called a plume. Investigating further, scientists have hypothesized that these silica grains are the result of hydrothermal activity on the ocean floor below Enceladus' icy crust.
On October 28, Cassini will fly right through the plume jetting out of Enceladus' south pole at an altitude of only 49 kilometers (30 miles) – closer than any previous passes directly through the plume! This is an exciting moment in the mission -- one that allows science teams to use a combination of tools on board the spacecraft to strengthen previous findings and potentially make new discoveries.