---
Update – Sept. 13, 2018: Due to the number of requests we have received, this bulletin board registration is now closed. In the event more materials become available, an update will be posted here. All materials are also available to download at the links below.
---
Launch back into STEM with these back-to-school resources from NASA all about hurricanes, clouds, weather, Earth science – and the satellites that study them. For a limited time, the Educator Resource Center at NASA's Jet Propulsion Laboratory is offering free bulletin-board materials to educators for display in classrooms or other educational settings.
Register today to receive free materials mailed directly to you or download them at the links below.
Out of stock
Bulletin board mailers are limited to teachers at U.S.-based institutions.
Available while supplies last.
Requests will be fulfilled in the order they are received.
Download bulletin board materials:
Visit our educator resources page for more downloads and online resources.
---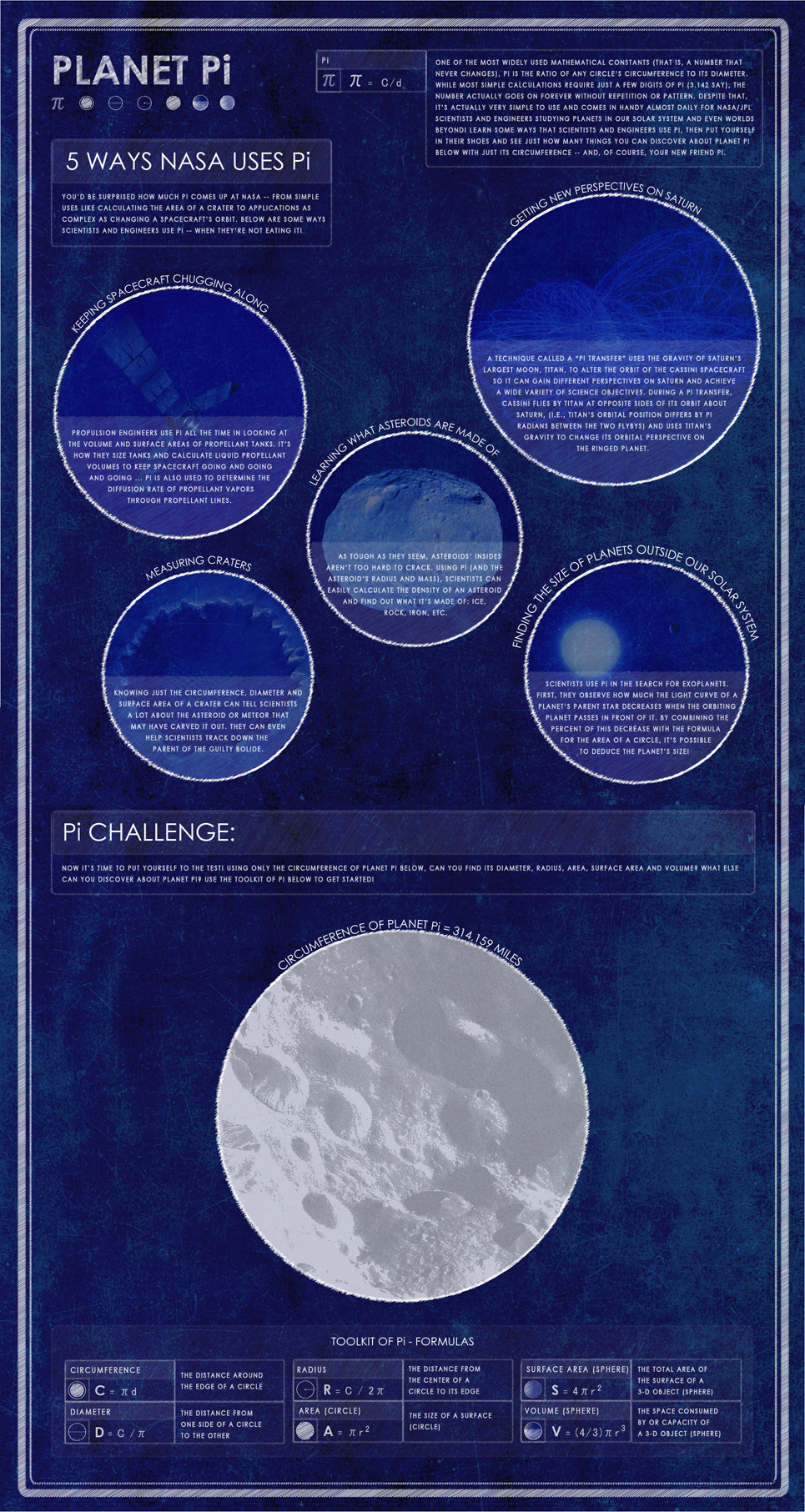 In honor of Pi Day, March 14 (or 3.14), 2013, the JPL Education Office has released an infographic highlighting some of the ways scientists and engineers at the laboratory use pi in their daily work. For example, scientists can use pi (along with mass and radius) to calculate the density of an asteroid and its material makeup.

The infographic also features a pi- and planetary-themed mathematics challenge for students that asks them to find various measurements for a fictional "Planet Pi," which appropriately has a circumference of 314,152 miles.
The infographic is available on the
JPL Infographics website
and as a full-resolution download below.
"Planet Pi" Downloads:
TAGS: Pi Day, Infographics, Math, K-12, Downloads, Posters