---
Update: March 15, 2021 – The answers are here! Visit the NASA Pi Day Challenge slideshow to view the illustrated answer keys (also available as a text-only doc) with each problem.
---
Learn about pi and the history of Pi Day before exploring some of the ways the number is used at NASA. Then, try the math for yourself in our Pi Day Challenge.
In the News
As March 14 approaches, it's time to get ready to celebrate Pi Day! It's the annual holiday that pays tribute to the mathematical constant pi – the number that results from dividing any circle's circumference by its diameter.
Pi Day comes around only once a year, giving us a reason to chow down on our favorite sweet and savory pies while we appreciate the mathematical marvel that helps NASA explore Earth, the solar system, and beyond. There's no better way to observe this day than by getting students exploring space right along with NASA by doing the math in our Pi Day Challenge. Keep reading to find out how students – and you – can put their math mettle to the test and solve real problems faced by NASA scientists and engineers as they explore the cosmos!
How It Works
Dividing any circle's circumference by its diameter gives us pi, which is often rounded to 3.14. However, pi is an irrational number, meaning its decimal representation goes on forever and never repeats. Pi has been calculated to 50 trillion digits, but NASA uses far fewer for space exploration.
Some people may think that a circle has no points. In fact, a circle does have points, and knowing what pi is and how to use it is far from pointless. Pi is used for calculating the area and circumference of circular objects and the volume of shapes like spheres and cylinders. So it's useful for everyone from farmers storing crops in silos to manufacturers of water storage tanks to people who want to find the best value when ordering a pizza. At NASA, we use pi to find the best place to touch down on Mars, study the health of Earth's coral reefs, measure the size of a ring of planetary debris light years away, and lots more.
In the United States, one format to write March 14 is 3.14, which is why we celebrate on that date. In 2009, the U.S. House of Representatives passed a resolution officially designating March 14 as Pi Day and encouraging teachers and students to celebrate the day with activities that teach students about pi. And you're in luck, because that's precisely what the NASA Pi Day Challenge is all about.
The Science Behind the 2021 NASA Pi Day Challenge
This year, the NASA Pi Day Challenge offers up four brain-ticklers that will require students to use pi to collect samples from an asteroid, fly a helicopter on Mars for the first time, find efficient ways to talk with distant spacecraft, and study the forces behind Earth's beautiful auroras. Learn more about the science and engineering behind the problems below or click the link below to jump right into the challenge. Be sure to check back on March 15 for the answers to this year's challenge.
› Take the NASA Pi Day Challenge
› Educators, get the lesson here!
Sample Science
NASA's OSIRIS-REx mission has flown to an asteroid and collected a sample of surface material to bring back to Earth. (It will arrive back at Earth in 2023.) The mission is designed to help scientists understand how planets form and add to what we know about near-Earth asteroids, like the one visited by OSIRIS-REx, asteroid Bennu. Launched in 2016, OSIRIS-REx began orbiting Bennu in 2018 and successfully performed its maneuver to retrieve a sample on October 20, 2020. In the Sample Science problem, students use pi to determine how much of the spacecraft's sample-collection device needs to make contact with the surface of Bennu to meet mission requirements for success.
Whirling Wonder
Joining the Perseverance rover on Mars is the first helicopter designed to fly on another planet. Named Ingenuity, the helicopter is a technology demonstration, meaning it's a test to see if a similar device could be used for a future Mars mission. To achieve the first powered flight on another planet, Ingenuity must spin its blades at a rapid rate to generate lift in Mars' thin atmosphere. In Twirly Whirly, students use pi to compare the spin rate of Ingenuity's blades to those of a typical helicopter on Earth.
Signal Solution
NASA uses radio signals to communicate with spacecraft across the solar system and in interstellar space. As more and more data flows between Earth and these distant spacecraft, NASA needs new technologies to improve how quickly data can be received. One such technology in development is Deep Space Optical Communications, which will use near-infrared light instead of radio waves to transmit data. Near-infrared light, with its higher frequency than radio waves, allows for more data to be transmitted per second. In Signal Solution, students can compare the efficiency of optical communication with radio communication, using pi to crunch the numbers.
Force Field
Earth's magnetic field extends from within the planet to space, and it serves as a protective shield, blocking charged particles from the Sun. Known as the solar wind, these charged particles of helium and hydrogen race from the Sun at hundreds of miles per second. When they reach Earth, they would bombard our planet and orbiting satellites were it not for the magnetic field. Instead, they are deflected, though some particles become trapped by the field and are directed toward the poles, where they interact with the atmosphere, creating auroras. Knowing how Earth's magnetic field shifts and how particles interact with the field can help keep satellites in safe orbits. In Force Field, students use pi to calculate how much force a hydrogen atom would experience at different points along Earth's magnetic field.
Teach It
Pi Day is a fun and engaging way to get students thinking like NASA scientists and engineers. By solving the NASA Pi Day Challenge problems below, reading about other ways NASA uses pi, and doing the related activities, students can see first hand how math is an important part of STEM.
Pi Day Resources
Plus, join the conversation using the hashtag #NASAPiDayChallenge on Facebook, Twitter, and Instagram.
Related Lessons for Educators
Related Activities for Students
Explore More

Infographic

Facts and Figures

Missions and Instruments

Websites
TAGS: Pi, Pi Day, NASA Pi Day Challenge, Math, Mars, Perseverance, Ingenuity, Mars Helicopter, OSIRIS-REx, Bennu, Asteroid, Auroras, Earth, Magnetic Field, DSOC, Light Waves, DSN, Deep Space Network, Space Communications
---
In the News
On April 19, an asteroid named 2014 JO25 will safely fly by Earth, passing at a distance of about 1.1 million miles (1.8 million kilometers) of the planet. This asteroid poses no threat to Earth and, in fact, asteroids safely fly by Earth quite regularly. What makes the upcoming close approach of asteroid 2014 JO25 unique is that it is a rather large asteroid, measuring about 2,000 feet (more than 600 meters) across. The last time an asteroid that large, or larger, came that close to Earth was in 2004. Not much is known about asteroid 2014 JO25 other than its approximate size, its trajectory (or path around the sun) and that its surface is about twice as reflective as that of the moon. When it passes by, the asteroid will be bright enough that small optical telescopes can be used to spot it in the night sky. Scientists around the world will also study the asteroid with telescopes to determine its composition and rotation and with radar that could reveal small surface features.
Asteroid Resources for Educators
Explore our collection of standards-aligned lessons all about asteroids!

Why It's Important
Asteroids are some of what remains of the material that formed our solar system about 4.6 billion years ago. Unchanged by the forces that have altered rocks on our home planet, the moon, Mars and other destinations around the solar system, asteroids provide a glimpse into what conditions were like when our solar system took shape. Studying the chemical and physical properties, as well as the location and motion of asteroids, is vital to helping us understand how the sun, planets and other solar system bodies came to be.
The study of asteroids is so important, in fact, that NASA has sent several spacecraft to study some of these objects up close. For example, in 2007, the Dawn mission was sent to explore the two largest objects in the asteroid belt, Vesta and Ceres. Dawn arrived at the giant protoplanet Vesta in 2011 and orbited it for about one year before flying to the dwarf planet Ceres, which it continues to orbit and study today. Data from the Dawn mission showed Vesta to be a fascinating world more closely related to terrestrial planets than to typical asteroids and revealed clues that indicate there is a large amount of ice and maybe subsurface liquid water on Ceres. In 2016, NASA launched a spacecraft called OSIRIS-REx, which is headed for an asteroid called Bennu. When it arrives in August 2018, OSIRIS-REx will map the asteroid and collect a sample to return to Earth.
Learn more about NASA's OSIRIS-REx spacecraft and its mission to asteroid Bennu.
But there is another reason studying asteroids and their movements is important: detecting nearby asteroids and predicting any hazard they might pose to Earth.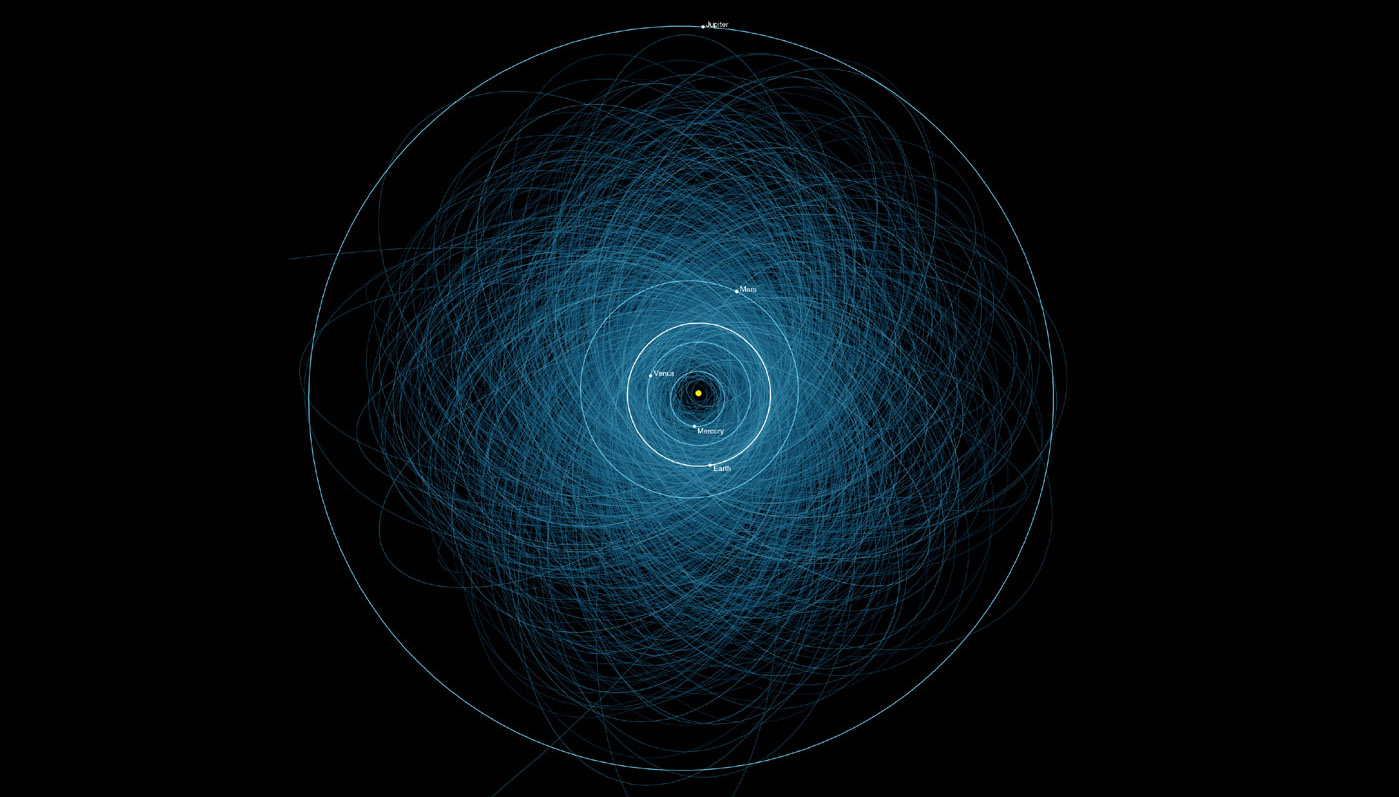 This graphic shows the orbits of all the known "potentially hazardous asteroids," numbering over 1,400 as of early 2013. Being classified as a potentially hazardous asteroid does not mean that an asteroid will impact Earth. None of these asteroids depicted is a worrisome threat over the next hundred years. By continuing to observe and track these asteroids, their orbits can be refined and more precise predictions made of their future close approaches and impact probabilities. Image credit: NASA/JPL-Caltech | › Full image and caption
Both 2014 JO25 and Bennu are considered near-Earth objects, meaning their orbits bring them closer than 1.3 astronomical units (AU) from the sun. For comparison, Earth is 1 AU from the sun, or about 93,000,000 miles (150,000,000 kilometers). Also, both asteroids are classified as "potentially hazardous." A potentially hazardous asteroid is one with an orbit that comes within 0.05 AU (about 4,650,000 miles or 7,480,000 km) of Earth's orbit and has an absolute magnitude, a measure of brightness, of 22 or less. (On the magnitude scale, the lower the number, the brighter the object.) Absolute magnitude can be an indicator of size, so in other words, potentially hazardous asteroids are large – typically larger than about 500 feet (140 meters) across – and could get close to Earth. Having a designation of "potentially hazardous" does not necessarily indicate the object is a threat to Earth. Scientists use the classification to indicate an object deserves increased attention.
Out of more than 730,000 known asteroids, about 16,000 are near-Earth objects, and there are currently 1,784 potentially hazardous asteroids. But the risks of a large asteroid like 2014 JO25 or Bennu impacting Earth are exceedingly rare. And thanks to the Center for Near Earth Object Studies, or CNEOS, at NASA's Jet Propulsion Laboratory, we have a very good understanding of where many of these asteroids are and where they are headed. Supporting NASA's Planetary Defense Coordination Office, CNEOS continually uses new data acquired by telescopes and submitted to the Minor Planet Center to update orbit calculations, analyzes asteroid impact risks over the next century and provides data for every near-Earth object.
How It Works
This animated gif shows asteroid 2013 MZ5 as seen by the University of Hawaii's PanSTARR-1 telescope. The asteroid moves relative to a fixed background of stars. Asteroid 2013 MZ5 is in the right of the first image, towards the top, moving diagonally left/down. Image credit: PS-1/UH
Detecting near-Earth objects, or NEOs, is done by comparing multiple images, taken several minutes apart, of the same region of the sky. The vast majority of the objects appearing in these images are stars and galaxies, and their positions are fixed in the same relative position on all the images. Because a moving near-Earth object would be in a slightly different position on each image while the background stars and galaxies are in the same positions, it can be easy to identify the moving target if it is bright enough.
Surveys done by NASA-supported ground-based telescopes – including Pans-STARRS1 in Maui, Hawaii, as well as the Catalina Sky Survey near Tucson, Arizona – have identified thousands of near-Earth objects. And a space-based telescope called NEOWISE has identified hundreds of others while scanning the skies at near-infrared wavelengths of light from its polar orbit around Earth. Many ground-based telescopes perform follow-up observations to further aid in orbit calculations and to study the physical properties of the objects.
One of the ways that NASA detects and tracks asteroids is with a space telescope called NEOWISE. The spacecraft uses infrared to detect and characterize asteroids and comets. Since December 2013, NEOWISE has discovered 72 near-Earth objects and characterized 439 others. Credit: NASA-JPL/Caltech
Once a near-Earth object is detected, its orbital characteristics are analyzed and astronomers determine if it is a potentially hazardous asteroid. This information is entered into CNEOS' database, where it is continually updated and impact risks are monitored as new data becomes available.
Teach It
Asteroid 2014 JO25 won't be this close for another 500 years, so now is a great opportunity to share this close approach with students and remind them that while it's a close encounter by space standards, Earthlings need not be concerned. Try these standards-aligned lessons and activities with students:
Follow @AsteroidWatch on Twitter or visit the NASA Asteroid Watch website to find out more about upcoming close approaches.
Explore More

TAGS: Asteroid Flyby, Asteroids, Near-Earth Objects, NEOs, Asteroid 2014 JO25, Dawn, OSIRIS-REx, NEOWISE, Asteroid TM