---
There's no joystick for driving rovers on Mars. Instead, a team of scientists and engineers gathers every day to plan each move and then beams a series of instructions to the rover's computerized brain, like interplanetary telepathy. As the only tether between the rover and the mission team on Earth, the onboard computer needs to run flawlessly. So before the rover even leaves Earth, its brain is put to the test. That's where Miles Fertel came in this past summer. As an intern with the rover simulation and planning team at NASA's Jet Propulsion Laboratory, Fertel was tasked with writing a program that tests how well the agency's next Mars rover interprets the instructions it receives. The trick, he said, was outsmarting not the rover but the humans who programmed it. We caught up with the Harvard University computer science student to learn more about his internship with the Mars 2020 team and to hear what he considered the most unique experience of his summer at JPL.
What are you working on at JPL?
I'm working on software for the Mars 2020 rover – so the code and tools that allow the rover to function on Mars. My team is rover simulation and planning. The rover planners are the people who take in all the information from the scientists and the rover and write commands to send to the rover through the Deep Space Network, which is basically the internet for space. As the simulation team, we make sure that the commands that we're going to send are going to be effective and that they're going to be safe so that this rover we send to Mars after all this painstaking work isn't going to get stuck in a hole or break because of a wrong command.
What is your average day like on your project?
I work on creating tests that humans couldn't come up with. The average testing for software is you write tests to make sure that the code isn't going to fail when you add in certain instructions. But humans – specifically the humans who write the tests – tend to be the same people who write the code. They're not going to be able to come up with as good of a test, because if they knew what was going to break, they wouldn't have written the bug in the first place.
What I do is use a couple of testing frameworks that use generational input adjustments. They develop in an evolutionary way, starting from a simple input that I put in. So, say we're working on commands for the rover. We can start with, "Go forward," and then the system will modify the instructions based on a dictionary of information I provide. So I say, "These are words that might make sense to the rover. Try coming up with combinations of these that might result in behavior that we haven't seen before." If that behavior is defined, then everything's fine, but if it's going to cause a problem, then it's important that we know that so we can update the code.
What are you studying in school, and what got you interested in that field?
I study computer science at Harvard. I hadn't done any programming before coming to college. I thought I wanted to do something in the area of technology and possibly business, but I didn't really know. So I took the intro to computer science class, and I really loved it. I loved the challenge of feeling like my homework was a puzzle and not a chore. That drew me to it, and I started taking all the classes that I could in that realm.
What is your ultimate career goal?
I don't think anyone should have an ultimate career goal. I think careers should be a fluid thing and that people should build up skills that allow them to do the things that are most interesting to them. Right now, my goal is making sure that the Mars 2020 rover lands on Mars and everything goes swimmingly when it gets there. But, ultimately, I want to work on cool things with interesting people.
How do you feel that you're contributing to Mars 2020 and making the mission a success?
When I came here, my main goal was having a tangible impact on the project. I wanted something where every minute I spent working would be important to meeting the goal of the project. I find bugs every day, and I fix them, and that's great. Hopefully, before the summer's over, I will have a patch that I can write for the software that will end up on the rover.
What brought you to JPL for this internship?
I had a friend who interned here two years ago, and he recommended it really highly, saying he had a terrific time and his team members were great. I applied online, but when you apply, it's a general application and you could be picked for any project based on your set of skills.
I knew that I wanted to work on Mars 2020, so I went on the JPL website, and I researched teams and people working on robotic software for the mission. I emailed Jeng Yen, my group supervisor. I said, "Here's my resume. This is what I'm interested in. Are there any projects that I could work on?" He said, "One of my team members, Steven Myint, is working on something that fits your profile pretty well. You should talk to him." So I talked to him, and the rest is history.
That's great. That's something we recommend students do if there's a particular project or area of research they're interested in. What is the most unique JPL or NASA experience that you've had while you've been here?
Oh, easy. One of my team members, Trevor Reed, is a rover planner for Curiosity. Every morning the team has a tactical meeting in which they go over the schedule for the day for the rover, and they give instructions to the rover planners who will write the commands that tell the rover what to do. When I found out that one of my teammates drives the Curiosity rover, I was like, "Can I please, please shadow you for that process?"
So I showed up at 8 o'clock in the morning in the Curiosity rover tactical office, or conference room, and there's the head scientist, Ashwin Vasavada, who I'd read about in articles. I watched them send the actual commands to the rover. I learned all about the planning and tolerances that are involved in the simulations that we do. I got to see the software that I'm working on in action, because it's also used for Curiosity. It was a pretty amazing experience to sit there for a couple of hours and watch them go through the entire process of a day on Mars.
Now for a fun question: If you could play any role in NASA's plans to send humans back to the Moon or on to Mars, what would you want to do?
Every kid wants to be an astronaut, right? I mean, if you're offering … As much as I would love to be an astronaut, my interests in the short term are contributing to and building projects that I think are important. So for those future missions, I think I would want to have more input on the design, the structure and the planning, overall. So maybe I would want to be a systems engineer or even work on the design.
---
Explore JPL's summer and year-round internship programs and apply at: https://www.jpl.nasa.gov/edu/intern
The laboratory's STEM internship and fellowship programs are managed by the JPL Education Office. Extending the NASA Office of STEM Engagement's reach, JPL Education seeks to create the next generation of scientists, engineers, technologists and space explorers by supporting educators and bringing the excitement of NASA missions and science to learners of all ages.
TAGS: Higher Education, Internships, STEM, Engineering, Interns, College, Robotics, Mars, Rover, Mars 2020, Software, Computer Science, Programming, Coding
---
Growing up in Hawaii, Schelin Ireland used to look up at the night sky and dream of one day setting foot on the Moon. She hasn't made it there yet, but in the meantime, she's helping achieve another milestone for space exploration. This summer, as a Space Grant intern at NASA's Jet Propulsion Laboratory, Ireland was part of the team building an instrument designed to detect signs of past life on Mars. One of several instruments on NASA's next Mars rover, SHERLOC will be the first of its kind on the Red Planet. Situated at the end of the rover's arm, it will shoot a laser into Martian samples and pick up the unique pattern of light waves, or Raman signatures, that result. Scientists can study those light waves to find out what the samples are made of – and whether they contain ingredients for life. Ireland, a geology and geophysics student at the University of Hawaii, Manoa, spent the summer running a laboratory version of the instrument through practice rounds before the real thing launches next summer on its seven-month journey to the Red Planet aboard the Mars 2020 rover. We caught up with her to ask what it's like to be part of the team searching for evidence of past life on Mars and find out what her future plans are for exploring the Moon.
What are you working on at JPL?
I'm collecting a database of Raman signatures for various organic and inorganic materials that scientists will use to interpret the data we get back from the SHERLOC instrument onboard the Mars 2020 rover.
What is SHERLOC, and what will it do?
SHERLOC is a deep UV Raman/fluorescence spectrometer. It will look for evidence that there was once life on Mars. It will shoot a laser into a sample on Mars and pick up Raman and fluorescence signatures.
Raman spectroscopy looks at vibrations of electrons. So you have a light source that hits a sample and causes those electrons to vibrate, and that causes the light to scatter back with a slightly reduced energy. A spectrometer is going to pick up that scattering as a series of peaks, which are the Raman signatures. They tell us what material we're looking at and if it's organic or inorganic material.
Is this technology also on the Mars Curiosity rover?
SHERLOC will be the very first deep UV Raman spectrometer on another planet. Curiosity mostly uses infrared spectroscopy to study samples on Mars. There is some infrared spectroscopy on Mars 2020 as well, but we can look at things in greater detail with Raman spectroscopy. SHERLOC will be able to detect things at a micrometer scale – very, very, very small particles – which is why it's essential for discovering signs of past life. If there are any biosignatures out there, we want to be able to study the smallest particles that we can.
And this device is at the end of the rover's arm?
It's being mounted at the end of the arm. How it works is the arm is going to abrade the surface a little bit and then it's going to rotate so SHERLOC can do its analysis. You don't want the sample superclose. You want it to be a few centimeters away, because you don't want there to be dust on the instrument. You also don't want it to break because, of course, no one will be able to go and repair it.
What's your average day like on this project?
What I've been doing so far is running calibrations on the laboratory version of SHERLOC. Starting next week, I will start looking at the Raman spectra of various materials. So we're going to be looking at some minerals by themselves, and we're going to be looking at mixtures of organic and inorganic materials together – different percentages of organics to see where the limits are for picking up a signal. We'll upload the data onto a computer and then use software to highlight anything that looks interesting that we want to take a further look at.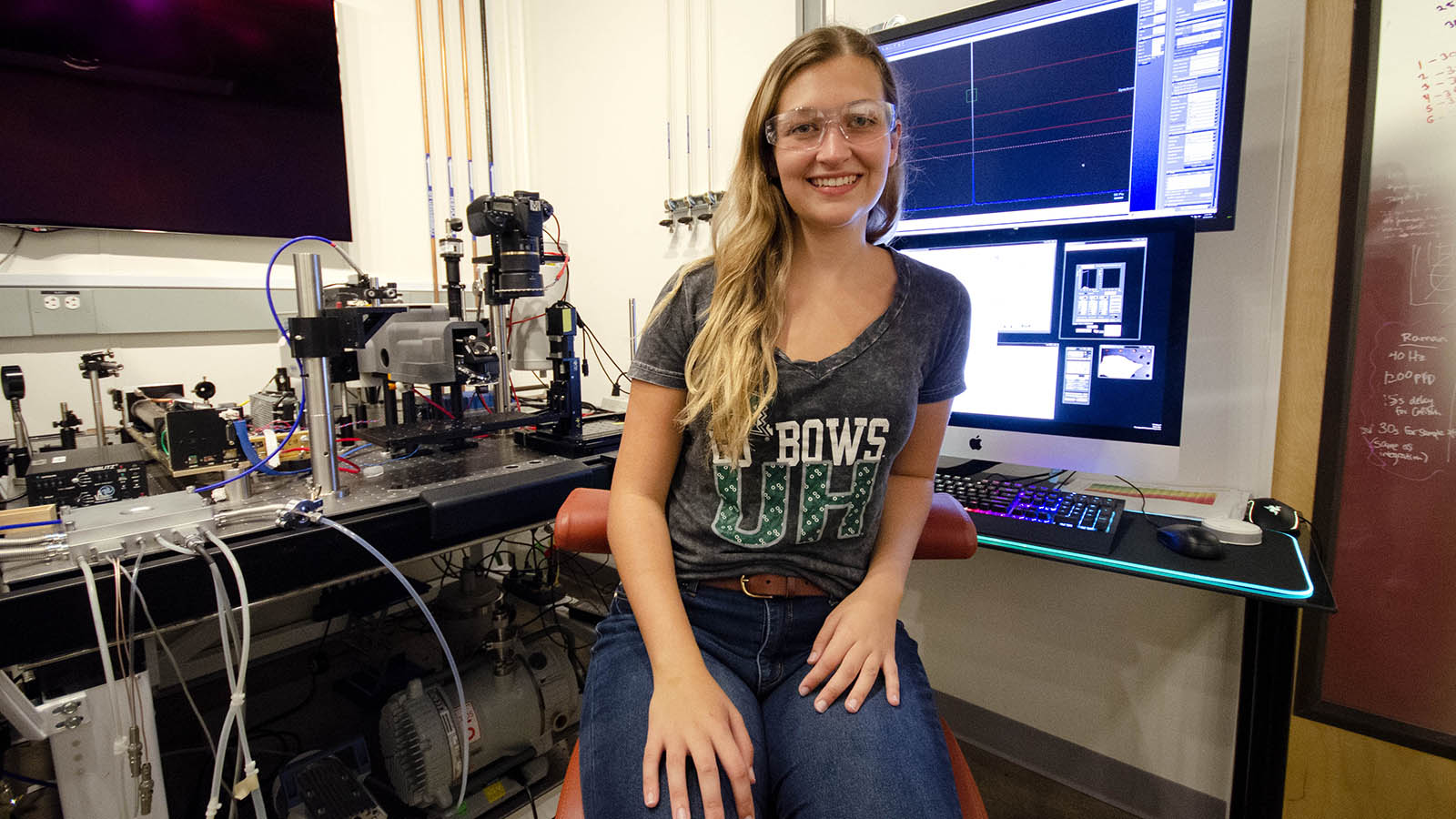 What are you studying in school?
I study geology and geophysics at the University of Hawaii, Manoa. I'm also minoring in mathematics.
Are you from Hawaii?
I'm from Kona on the Big Island of Hawaii. I just did an island hop to go to college. They have a fantastic program for what I want to study, so it's really great that I'm able to study over there and have all the opportunities that made it possible for me to get this internship.
What opportunities lead to your internship here?
NASA Hawaii Space Grant. I did a traineeship with them last semester on something very similar to this, but it was more in the context of the Mars SuperCam [which will also go on the Mars 2020 rover]. We did Raman spectroscopy on that using the laboratory version of SuperCam. We were also looking for detection limits for that instrument and measuring various materials.
After that, I was looking at internships for this summer, and I saw that this one was very similar to what I was working on at UH Manoa. I was very lucky to get it. NASA Hawaii Space Grant is funding the internship. So I did the traineeship with them, and now I'm doing this internship through them.
What got you interested in pursuing science as a career?
Where I'm from, you can see the night sky very clearly on most nights, and I have always wanted to go to the Moon. That's what got me interested in space. I would make dioramas and posters of the solar system and put them all around my room. My mom would take me to the Ellison S. Onizuka Space Center a lot, which is right by the Kona airport. I would read a lot of space books. I thought it was fascinating, but then I kind of got into other things as I grew up.
When I started high school, I joined the science competition team, and my school won first place in the Science Olympiad Regionals for Astronomy. I was one of two people from my school who competed in the astronomy portion of the competition. That really rekindled my interest in science, so I decided this was something that I absolutely wanted to go into.
What's your ultimate career goal?
My ultimate career goal is to be a research scientist studying planetary science and to be an astronaut. One thing that inspired me when I was in high school was knowing that I attended the same high school as Hawaii's first astronaut, Ellison Onizuka. It would be an honor to follow in his footsteps and become Hawaii's first female astronaut.
So if you could play any role in NASA's plans to send humans back to the Moon and on to Mars, would you want it to be as an astronaut?
It would be an honor to be involved in any way. If I were a mission specialist, I could set up a little lab where I analyze samples. I'd fix any equipment that we have onboard, fix any instrumentation that we have onboard and maybe measure moonquakes or marsquakes from there. It would be great to do any little thing that I possibly can. Just to have the experience of being on another celestial body would be absolutely amazing on its own, of course.
Back to the current mission you're working on: What do you hope to contribute to Mars 2020?
By the time my internship is through, I want to make sure that I have used the knowledge that I have developed from the research experience last semester and all of my geology classes and be able to apply it to what we are doing here. I want to make sure that the database I am helping to develop includes minerals and other materials that we are likely to find in the area where the Mars 2020 rover is going to land.
How does it feel to know you could play a role in discovering signs of past life on Mars?
It is a huge honor to know that I am a part – even a small part – of this big mission.
What has been the most unique JPL or NASA experience you've had during your time here?
Being here is a unique experience of its own. I haven't experienced anything like this before, and it is absolutely wonderful. I feel like instead of being a student or some extra labor, I am actually treated as a junior colleague and a research scientist. I'm part of this big scientific team, trying to accomplish something of real significance.
---
Explore JPL's summer and year-round internship programs and apply at: https://www.jpl.nasa.gov/edu/intern
The laboratory's STEM internship and fellowship programs are managed by the JPL Education Office. Extending the NASA Office of STEM Engagement's reach, JPL Education seeks to create the next generation of scientists, engineers, technologists and space explorers by supporting educators and bringing the excitement of NASA missions and science to learners of all ages.
TAGS: Higher Education, Internships, STEM, Engineering, Interns, College, Robotics, Mars, Rover, Mars 2020, Mars Sample Return
---
Marleen Sundgaard laughs when she recalls the details of one of her two internships at NASA's Jet Propulsion Laboratory before she was eventually hired in 2016. "I counted rocks for an entire summer," she says. As one of the interns tasked with scouting out the landing site for the Phoenix mission to Mars, it was a tedious but important task – one that helped the spacecraft land safely on the Red Planet. These days, as the testbed lead for the InSight Mars lander and a future mission designed to orbit a metal asteroid, she's still making sure that spacecraft "stick their landings." But instead of counting rocks, she's working as a trainer of sorts for spacecraft, testing and practicing their every move, looking for issues that might arise and sometimes troubleshooting in a simulated environment millions of miles away from the real thing. Returning intern Evan Kramer caught up with Sundgaard to learn more about her work as a JPL testbed engineer and how she hopes to set foot on Mars one day.
What do you do at JPL?
I am the testbed lead for the InSight Mars lander mission. We have a testbed here at JPL that has engineering models of the lander, the arm and all the instruments on InSight. I'm also the system testbed lead for the Psyche mission, which is going to explore a metal asteroid.
What does it mean to be the testbed lead and does your role vary between the two missions?
They are very different, yeah. For the InSight testbed, we use the lander engineering model to test out all the sequences that use the arm and the instruments here on Earth before we try them on the surface of Mars. For example, when we were deploying the instruments at the beginning of the mission, we did a lot of testing to see what the arm would do when we picked up the instruments off the spacecraft deck, swung them around to the front, and then set them down at different tilt angles. During testing, we found that if we put an instrument down on an increasingly tilted surface, our placement error would increase. So we had to account for that when we were deploying onto tilts on Mars. In the testbed, we also have weight models of the instruments that we're using for deployment. Because Mars has 38 percent of the gravity of Earth, all the instruments deployed in the testbed need to match the weight they would be on Mars because the arm was built for Mars' gravity. To make things a little bit more realistic, we also have two cameras on the arm of the InSight testbed lander that are flight spares from the Curiosity rover. During testing, we used these cameras for analysis of what it would look like when we were actually deploying the instruments on the surface so when we got the pictures back from Mars, we could make sure they all looked right.
For the Psyche mission [which launches in 2022], our testbed is going to be mostly just computer racks. It's just computer racks, electronics boxes and instruments. We don't have any surface stuff because we're orbiting Psyche, so there's really no lab where we can kind of get our hands dirty. It's just going to be a lot of computer simulations and testing sequences through the computer systems on Psyche.
You mentioned sequences. Those are the commands that we will send from Earth to the spacecraft?
Yes. So the spacecraft team writes sequences, the arm team writes sequences, and the instruments teams write sequences. They bundle them all up into one big command load, and then we beam those up to Mars using the Deep Space Network.
What's your average day like?
There was a period of time when I was full-time on InSight, where we were doing a lot of the instrument-deployment testing, and we had a lot of test cases we needed to get done. The deployment team designed the test, the arm team wrote the sequences for the test, and then the testbed team prepared the test. What I mean by preparing is if the deployment team needed to set an instrument down on a 10-degree tilt, we would come into the testbed, and we would build that 10-degree tilt for testing the following day. We also tilted the lander itself. Every time we tilt the lander, we have to stow the arm. So we would stow the arm, move the lander around, un-stow the arm and then recalibrate the metrology cameras. Recalibrating the metrology cameras is important because they are what we use to precisely map a 3D space in our testbed. That's how we keep track of where we are in the testbed and where the ground is.
What is the ultimate goal of what you work on?
To do a lot of the work we want to do on Mars, we need to practice. Most of what we are doing has never been done before, so there are a lot of teams involved in these practice sessions. I try to keep them all on the same page. So many pieces of the science and engineering for these missions come together in the testbed. And those pieces will go on to be actual commands and sequences we run on Mars. We want to make sure we send sequences that have been perfected. There has been a lot of hard work and sweat put in by hundreds, if not thousands, of people, and they are relying on us to complete our part of the puzzle.
You first came to JPL as an intern. What was that experience like?
My first summer here at JPL, I was a Space Grant intern from Washington state. Me and about 11 other students worked for Andrew Gray in the Mission Architecture Group. Our task was to take a technical paper called "Safe on Mars" and figure out how you would implement all the steps it said would be required to land humans on Mars. We had to create a mission that would help us understand the surface of Mars and determine whether it was safe to send humans there. So we checked for toxins in the soil, and we designed a weather station and three landers that were based on the same design as the Phoenix Mars lander (which is also what InSight is based on). We simulated landing the spacecraft in two different areas of Mars and did all of our testing. The second mission we designed was called Spheres. It consisted of three big inflatable balloons that we would land on the surface of Mars. The balloons had a tube in the middle that could take instruments down and bring samples back up.
My project during my second summer at JPL is the one that gets the most laughs because I tell people that I counted rocks for the entire summer. We were trying to determine the probability of the Phoenix lander hitting a boulder upon landing. So we took a lot of Mars Global Surveyor images and determined that any objects that were a pixel wide were meter-wide boulders. Then we just counted pixels – thousands and thousands and thousands of pixels. That was an interesting summer. It was me and three other guys. So there were four of us on the team, just counting rocks to really nail down the probabilities.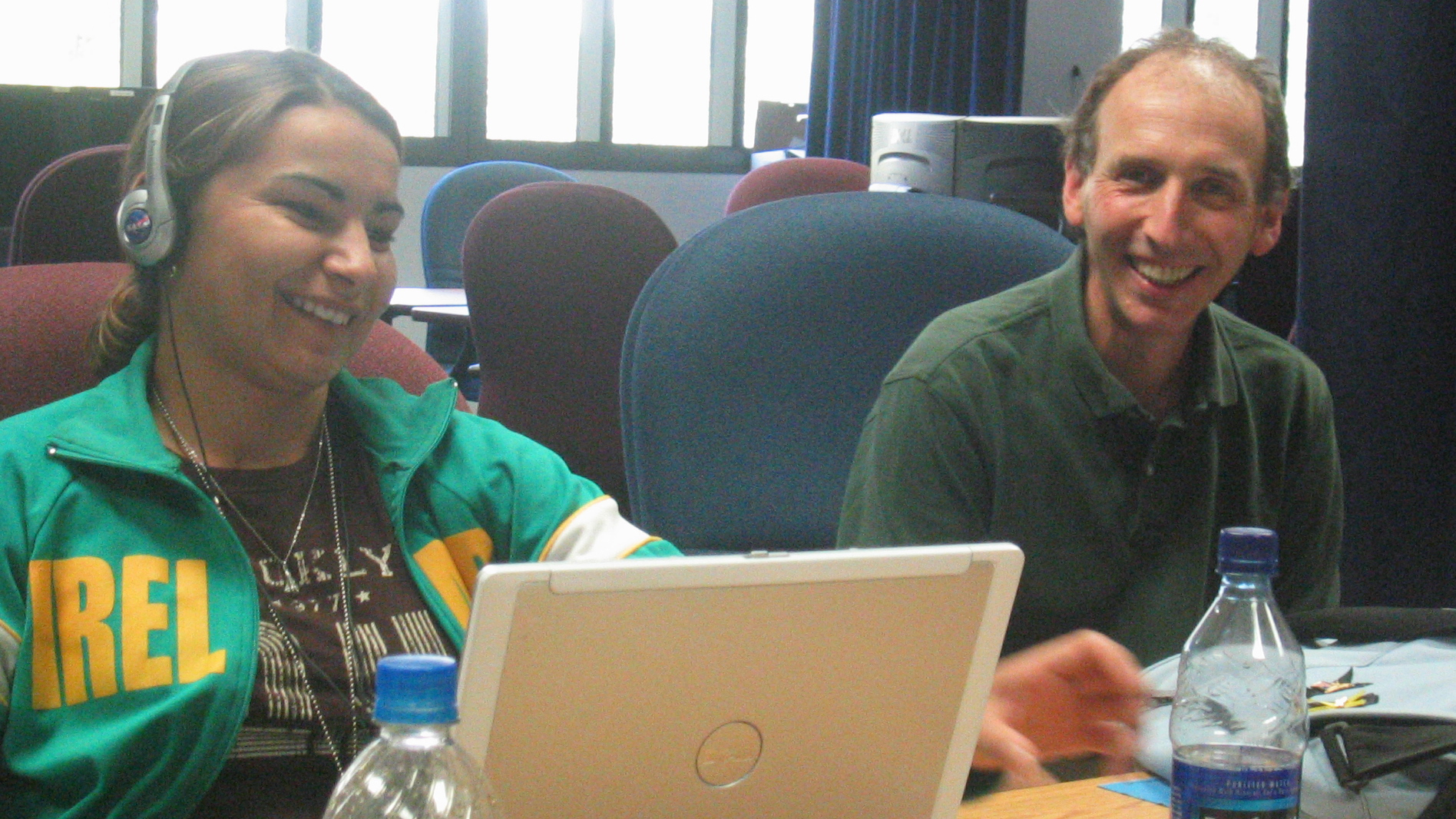 What brought you to JPL for your internships?
As a kid I had a fascination with space, but I went to a really, really small high school. My graduating class was 48 kids – we were out in the boonies of Eastern Washington. I was a migrant farmer. I would go to Mexico every year, so I missed a lot of school. I was kind of behind in that sense. I got really good grades, but my high-school math only went up to pre-calculus, so my senior year, when I should have taken calculus, I just took an independent math study course. When I entered college, I was already a quarter behind. I don't think I really realized what JPL was till I got into college. Pathfinder had landed and then they launched the Mars Exploration Rovers, Spirit and Opportunity, so it was kind of a big thing in the news at the time. I remember thinking, "I really want to work at JPL." So I applied for an internship, and I got it. There weren't a lot of places I wanted to work that summer. It was my third summer internship, but my first at JPL.
What moments or memories from your internships stand out most?
During my second summer internship, the four of us interns in the geology group got the chance to lead the Mars Exploration Rovers geology team for a week. Two interns took the Opportunity rover for a week and another intern and I took the Spirit rover for a week. We basically did all of the geology work for that one week on Mars. It was the summer of 2005, so the rovers had only been there for about a year. I remember we were naming rocks after ice-cream flavors. It was a lot of fun. That was probably my favorite week because I felt like I was really contributing to doing science on Mars.
How did your internships shape your career path and lead to what you're doing now?
I think having the internships really gave me a leg up when I was applying for jobs after college. They saw that I had research experience and work experience. When I graduated from the University of Washington in 2006, JPL wasn't hiring, so I went to work at Lockheed Martin Space Systems, doing assembly, test and launch operations, or ATLO, for satellites. I realized I really liked working with hardware and with my hands and on the actual equipment that would go to space. It gave me something to reach for later in my career, knowing that eventually JPL would start hiring again. I wanted to put myself in a position where getting a job at JPL wasn't going to be too much of a stretch.
Have you had your own interns?
Yeah, the testbed group had one intern last year. She wrote some scripts and helped us work some of the tests we were running. She was a lot of help. It was nice to show her the ropes here in the testbed and let her run stuff on the computers and run sequences.
What was your mentorship style?
We took her everywhere with us. She never really sat at her desk – she didn't really have a desk. If we were going to a meeting, she came with us. If we were going to lunch, she came with us. If we're going to the testbed, she came with us. If we were going to super boring stuff that we didn't think she'd like, she still came with us. We wanted her to get the full experience of what we do here at JPL. She even came in and worked overnight with us in the testbed.
What's your advice for those looking to intern or work at JPL one day?
If you want to intern at JPL, you have to apply. A lot of people don't think they'll get an offer, but they don't even give it a try. We're looking for a lot of different types of people here at JPL. Trust us and yourself. We want people with a big passion for space who are willing to go the extra mile to make sure the work gets done and done correctly. You don't have to have a perfect SAT score or GPA to work here.
Now for the fun question: If you could play any role in NASA's mission to send humans back to the Moon and eventually on to Mars, what would it be?
I want to be the person stepping on the surface of Mars. When I was younger, my dream was to be the first person on Mars. When I realized that might not happen in my generation, my goal became being the first woman to step on the Moon. Now I'm finding I'm a little bit too young to be the first woman to walk on the Moon and too old to be the first woman to walk on Mars! I'm in that sweet spot – too young and too old at the same time. But, nevertheless, I've applied. I've applied for the Astronaut Corps three times. The first time I applied, I wasn't technically eligible. I had two years of work experience and you needed three as a minimum. The second time I applied was in 2012. The third time was 2016. I haven't been selected, but I have my rejection letters as keepsakes to know that I've tried and that I'm not there yet. When 2020 rolls around, I'll apply again. I would love nothing better than to be able to do the work that I do here on Mars.
---
Explore JPL's summer and year-round internship programs and apply at: https://www.jpl.nasa.gov/edu/intern
The laboratory's STEM internship and fellowship programs are managed by the JPL Education Office. Extending the NASA Office of STEM Engagement's reach, JPL Education seeks to create the next generation of scientists, engineers, technologists and space explorers by supporting educators and bringing the excitement of NASA missions and science to learners of all ages.
TAGS: Higher Education, Internships, STEM, Engineering, Interns, College, Careers, Robotics, Mars, Rover, Mars 2020, InSight
---
A single movement of NASA's next Mars rover could require, among other things, the careful dance of six independently motored wheels, a retractable arm containing a laboratory's worth of tools, a swiveling head supporting multiple cameras and a computer that can pinpoint the rover's precise location. So this past summer, while other teams and their interns at NASA's Jet Propulsion Laboratory were testing cameras and calibrating science instruments to prepare the rover for its February 2021 debut on Mars, intern Isabel Rayas was making sure all those pieces move seamlessly together. This meant spending a lot of time in the laboratory's Mars Yard, a sandbox of sorts where engineers put models of the rover through various test drives. For Rayas, a graduate student studying computer science and robotics at the University of Southern California, it was also a window into one potential future career, although, she says, "I'm definitely still exploring." We chatted with Rayas to learn more about her role on the Mars 2020 mission and what it's like to drive a rover.
What are you working on at JPL?
I am working on mobility testing for the Mars 2020 rover. It's taking all of these parts that impact something like mobility – the motion of the rover – and understanding how they work together. We're testing everything to make sure that all the parts play nicely together and that one of them doesn't have a bug that's going to cause a failure in another part of the system.
Are you working on the actual rover that's going to Mars?
There's a whole spectrum of testbeds. What you're testing will dictate which testbed you use. If you're only trying to test one small part of the rover, you're not going to bother using the full system. The flight software testbed, where I'm working, has the real flight computer. It has some of the real cameras. It doesn't have the real motors yet, but we're working on it. Assembly, Test and Launch Operations, or ATLO, is actually putting together the real thing and doing tests with the real hardware.
Tell me more about your role in the flight software testbed.
There are two main things that I am working on this summer: One of them is getting all the hardware pieces in the flight software testbed that impact the mobility of the rover.
You might think that mobility is just the wheels of the rover, but there are a lot of subsystems and instruments that have an influence on mobility. There is an instrument called RIMFAX that will be used for radar sounding. It will point at the Martian surface to collect readings of what the subterranean surface looks like and what it's made up of. You wouldn't necessarily think that has an impact on mobility, but it actually does, because you have to know exactly where you are when you take a radar sounding in order to make any sense of it. You have to be able to tell, "I've moved this far, and this is what I'm sounding, and that's what the ground looks like at this specific spot." So that's a piece of hardware that needs to be integrated into a full mobility test. Then there's the flight computer. There's a computer just for processing the images from the rover. That's also not in the testbed yet, so that's something I'm trying to get delivered so we can run tests with it.
Once we get all these hardware parts into the testbed, we want to run a mobility sequence that tells the motors to move while doing all of these tasks to make sure the system works. So I'm writing the procedure and making sure that all the parts are in the testbed for that.
The second thing I'm working on is in the Mars Yard. While we do test drives around the Mars Yard, we want to know precisely where the rover is located, because we want to be able to know whether or not the autonomous system that tells the rover where it is works. So I'm looking at different systems that will help us do those tests.
What is your average day like?
There's no good answer to that. It changes day by day, which is exciting. This morning, for example, I was in the Mars Yard learning about a position tracking system with someone who was setting it up to do a test. As a systems engineer, you have to go to a lot of meetings, because you have to learn from different teams about what's going on and go over test procedures. I compile all the information from the meetings, try to understand it and meet with more people to get questions answered. I'm in and out of the office. I'm in the Mars Yard. I'm in the testbed, in the cleanroom – all kinds of stuff.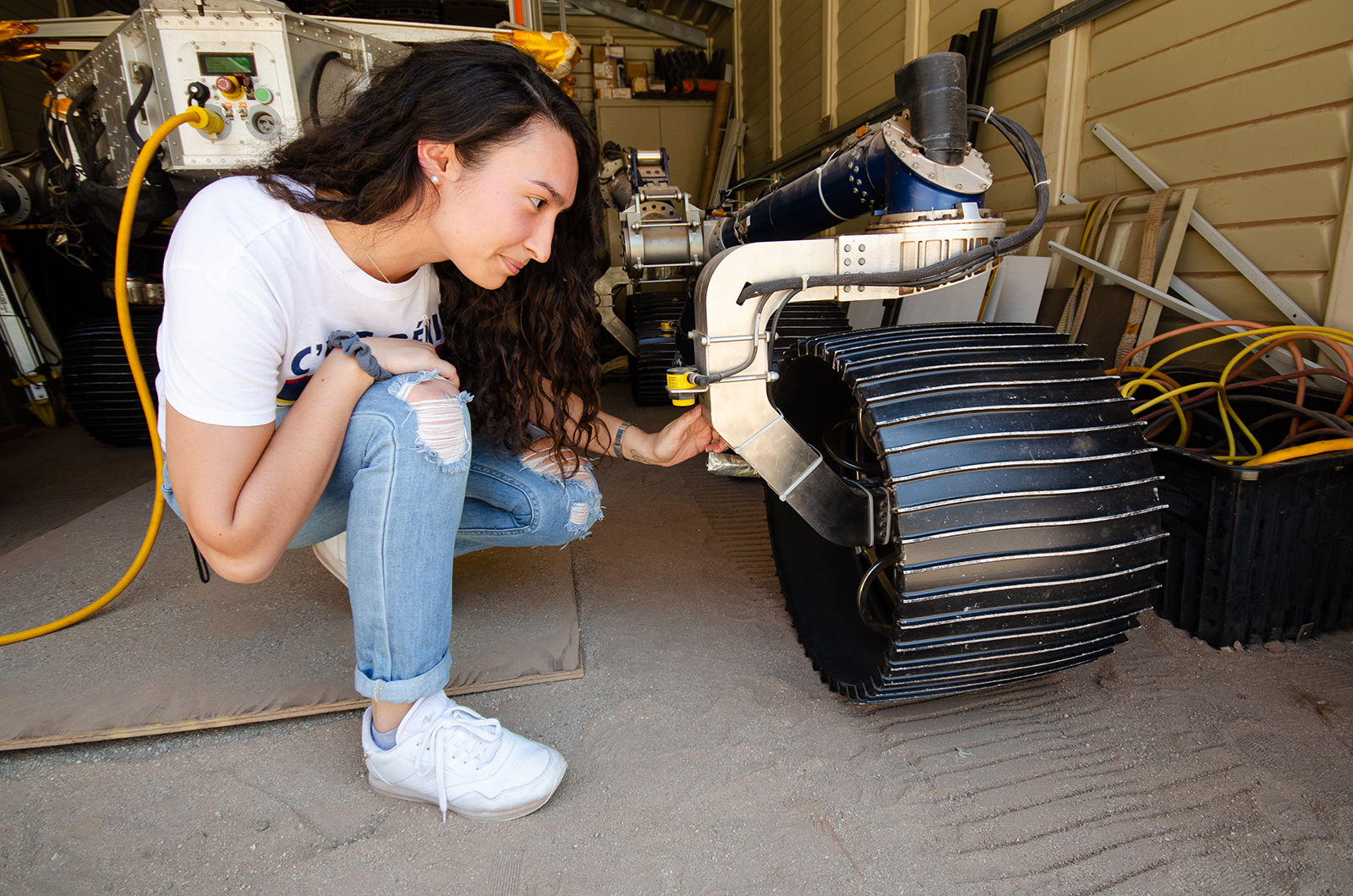 You mentioned your project deals with systems engineering. What's the job of a systems engineer?
You do a little of everything. For the rover, you have people designing the wheels, and you have people designing the instruments. Those people have to be experts in that thing and understand exactly how it works and make sure that nothing's going to break. While those people are experts in a specific part of the system, they can't be expected to also understand how everything comes together and how that impacts the whole system. So that's where systems engineers come in. They are not experts in any one of the areas, but they have to understand enough about each of them to know how they impact each other.
Is that what you are studying in school?
No. I just finished my first year of grad school at the University of Southern California, studying computer science and robotics. I got my undergrad in aerospace engineering from MIT, so I have previous experience in aerospace, but I haven't taken any systems engineering classes. My senior capstone had a systems engineering project, and I got exposure to it there, but we had maybe 100 requirements for our project, and here there are tens of thousands. It's a little bit of a step up.
What got you into aerospace engineering?
I think this is maybe true of most kids, but I really liked looking at the stars and thinking about the planets. I knew from a very young age that I was interested in STEM. I took an astronomy class in high school that I loved, and I thought I wanted to do astrophysics, but when I got to college, I took a physics class and didn't like it at all. I switched to the closest thing that wasn't science, which was aerospace engineering.
I also minored in brain and cognitive sciences, because I really couldn't decide. I took some computer science classes during college as well. So I've been kind of all over the place, and I ended up here again.
What made you focus on computer science and robotics for grad school?
My undergrad was in aerospace, but with a concentration in autonomous systems. I've always been interested in the robotic applications of aerospace – not necessarily the rocket design, or propulsion, or the aerodynamics or anything like that.
What brought you to JPL for this internship?
I actually interned here two years ago. My friend had interned at JPL the year before, and she was like, "This was awesome. I love it so much." As an aerospace major, it's kind of the dream, right? So I ended up coming here two years ago. Now that I'm at USC, it's so close that I thought I could probably find some way to be here again this summer, doing something new that's not really related to my program at school.
What's the most JPL- or NASA-unique experience that you've had here?
My first day was right after the Explore JPL event, so thousands of people had come through that weekend to learn about what JPL does and see all the different labs and technology. They had brought the Scarecrow rover, [used to test Mars rover drives], down to the entrance of JPL so people could see it move around. When I got here on Monday, it was my mentor's job to bring it back to the Mars Yard, which is all the way down the street, up the hill – not close at all. So he was like, "Do you want to move the rover across the Lab?"
We had to pick up the rover with a crane and drive it across lab. People were taking videos of us as we went by. After that, my mentor was like, "Do you want to drive it around the Mars Yard?" So I got to drive it around for a while. That was something that I think is kind of unique.
What do you hope to accomplish during your time here?
I would really like to see this test procedure run. I have high hopes. Ten weeks [at JPL] is such a short amount of time. I think it would be easy to get caught up in a lot of things that are less important and end up having something half-finished. I know from talking to my mentor that a test that includes all of this hardware could be really valuable, because it would help the team find bugs before they're too late to fix. Knowing that's my responsibility is exciting. It's a little bit scary, but in a good way.
What's your ultimate goal for your career?
I'm not really sure yet. I'm definitely still exploring. I think internships are a great way to do that, so I'm planning on doing as many as I can in as many different fields as I can. Beyond that, I think my overarching career goal is to keep learning. I don't know where that will take me.
Wow. That's tough. I would love to be one of the people who goes to the Moon. I don't think I would want to go to Mars.
Why not?
It's too far. I like Earth a lot. It's probably my favorite planet. So I wouldn't want to get too far from home. But I would love to go to space. Going to the Moon would be a nice, happy medium.
Have you ever thought about applying to be an astronaut?
Not seriously. I wanted to be an astronaut for the first couple of years in college. But I thought about it some more and about how much training you have to do, and I didn't want to dedicate all my time to training. I thought I could use engineering instead to help us get there.
---
Explore JPL's summer and year-round internship programs and apply at: https://www.jpl.nasa.gov/edu/intern
The laboratory's STEM internship and fellowship programs are managed by the JPL Education Office. Extending the NASA Office of STEM Engagement's reach, JPL Education seeks to create the next generation of scientists, engineers, technologists and space explorers by supporting educators and bringing the excitement of NASA missions and science to learners of all ages.
TAGS: Higher Education, Internships, STEM, Engineering, Interns, College, Robotics, Mars, Rover, Mars 2020, Computer Science
---
It may look cartoonish, but the face of NASA's next Mars rover is serious business for Jeff Carlson. A former intern at NASA's Jet Propulsion Laboratory, Carlson is now part of the JPL team tasked with assembling and testing the "head" and "neck" (officially called the Remote Sensing Mast) for the Mars 2020 rover. Carlson jokes that his job is a bit like making and following instructions for assembling IKEA furniture – that is, if the furniture were going to another planet with no option to return for spare parts. With its five cameras that will do everything from guiding the rover to recording ambient sounds to blasting objects with lasers so it can study their chemical composition, the mast will play a key role in the mission's goal of finding evidence for ancient microbial life. Returning JPL intern Evan Kramer met up with Carlson to learn more about his role in readying the rover for its planned February 2021 debut on Mars and about the summer internship that propelled Carlson to where he is now.
What do you do at JPL?
I am a mechanical engineer working on the remote sensing mast for Mars 2020, [NASA's next Mars rover]. The remote sensing mast is the "neck" and the "head" of the rover. Scientifically, it is our vision system for seeing far away and doing remote detecting. So instead of using the drill on the rover to study something up close, the mast uses spectroscopy and lasers to see things that are far away and read their chemical composition.
The mast has lots of instruments on it. On the head, itself, there are five cameras. Two of them are for navigation, [NavCams]. They will guide the rover past obstacles, for example. Then, there are two Mastcam-Zs. On the Curiosity rover, they are called Mastcams. On Mars 2020, they're called Mastcam-Zs, because they have zoom lenses on them. Those cameras will take amazing panorama photographs that we can learn a lot from. Then, we've got SuperCam, which is the big "eyeball." SuperCam shoots a laser that incinerates, or ablates, a far-off target. During that ablation, the camera takes a very quick picture. The color of the flash that the laser makes on the target will be unique to the target's chemical makeup. SuperCam also has a microphone on it, which is new for this mission. It will allow us to hear the wind and the movements of gravel and rocks. And then down on the neck of the remote sensing mast, we've got two wind sensors, 90 degrees apart from each other. One of them is a deployable boom, which can reach out pretty far from the neck and give us measurements of wind direction and velocity. There are also three air temperature sensors, a humidity sensor and a thermal IR sensor. Together, those make up an instrument suite known as MEDA.
What's your role in working with all of these components?
A lot of my time has been devoted to the role of cognizant engineer, which I share with one other person. That's essentially the engineer who's responsible for delivering the hardware to the spacecraft. That includes everything from making sure you have all the nuts and bolts for the assembly – physically counting them and weighing them and recording all the part information and inspection reports – as well as writing the procedures to build everything. So that's like the document that you get with your IKEA furniture that shows how to put the pieces together. Our team is pretty small, so usually, once we've developed these procedures, we go into the cleanroom lab, take the parts and put them all together. On a typical day, I'll usually do a little bit of all of that. And then I provide the oversight to make sure it comes together the way it's supposed to.
You first came to JPL as an intern in summer 2015. What was that experience like?
When I was an intern, I was working on a project that I had no idea existed until I became an intern, and now I can't stop thinking about it. It's called Starshade, and it is a sunflower-shaped device the size of a baseball diamond. It's designed to fly far out in the sky and suppress the light from a distant star so that a space telescope can get a direct image of the planets orbiting the star. Using the same kind of spectroscopy that's in the SuperCam on Mars 2020, scientists can then characterize which elements are in the atmospheres of these planets, called exoplanets. If we could do that, it would be groundbreaking because it could tell us if a distant planet is habitable or maybe even already inhabited.
What part of Starshade were you working on?
The Starshade is made up of two systems, and I was working on both. There's a deployable truss, which is a large hoop that forms the circumference of the giant sunflower shape. That has to fit into a rocket to go up to space. So we needed to figure out how to fit something that can expand out to the size of a baseball diamond into about a four-meter-diameter cylinder. I was working on building and designing that truss structure. The other part was making the sunflower shape so that it suppresses the starlight, and that is in the realm of origami. So I was also working with origami specialists to figure out how to connect this folding object to the truss structure.
What brought you to JPL for your internship?
The first time I ever heard about JPL was when people from the Curiosity rover mission team visited my campus at the University of Colorado Boulder. They talked about the entry, descent and landing process for the mission, and that was the first time I'd ever even really heard about that process.
Seeing the ["7 Minutes of Terror"] video for the first time and hearing how impossible it seems to try to land an SUV-size rover on another planet, I thought, "That's the coolest thing I've ever heard of. I've got to go be a part of that in some way." I didn't even really know or care how I could be helpful. I just knew that's where I wanted to be.
What moments or memories from your internship stand out most?
We were kind of a big intern team. I think there were 13 of us on the Starshade project. There were these days when we would assemble scale models of Starshade. These are enormous carbon-fiber structures that all have to be bonded together with epoxy that you're squirting out of syringes, and it's very hands-on. So all 13 of us were in a kind of assembly line doing this. By the end of the internship, we were competing with each other to see who could do it better, faster, cleaner and all of that. And for me, that was just so fun. I learned a lot about how to work effectively on a team. That's certainly one of the things that makes JPL a special place. No one at JPL would have accomplished what they did without being on an amazing team. That's really the root of our success.
How did your internship shape your career path and lead to what you're doing now?
When I first started my internship, I thought that what I wanted to do was mostly CAD, [computer-aided design], work, sitting in front of a computer 3D modeling and making drawings. The internship taught me the joys of tinkering with stuff that might go to space. There are so many things to think about, from launch environments to micro-meteoroids to ridiculous temperatures and pressures. It changes the way you think about a problem to be on the formulation side, putting the hardware together. I didn't even know that was a career option for me until I started doing it. My JPL internship really opened my eyes to that. I didn't even know the role that I'm in right now existed.
Did your internship also give you the opportunity to meet people who would potentially become your managers?
Yes. I think one thing that makes JPL really awesome is that if an intern has a really great idea, it doesn't matter that they're a student. They will be listened to with the same openness as if the chief engineer had the same idea. Somebody described JPL to me as a meritocracy, and I think more than any other place I've been, that's true. I've seen it myself. Even as a starting full-time engineer, there are times when I think, "Who am I to suggest this? I don't have as much experience as all these other people." But I say it because the culture here supports that. And then it affects the way the mission is designed. It changes something important.
Have you had your own interns? If so, what's your mentorship style? What do you hope they take away from the experience?
Yes, I've had interns of my own. I tried to emulate my mentors from when I was an intern. Looking back on it now, they are part of what made me really successful – allowing me the freedom to realize that I am smart enough to make decisions. Coming from school, I think interns have this idea that they need to be told what to do because it's like a school assignment. But for some of the tasks that we have going on here, the A, B, and C of getting a job done is not all there is. Sometimes it's up to the intern to determine the path forward. So I try to give my interns enough freedom to make these kinds of decisions. I think the validation that you get from seeing an idea come to fruition is going to make you a much better engineer than if you were just told to do a task and you performed it.
What's your advice for those looking to intern or work at JPL one day?
One thing that was a detriment to me trying to work here was seeing myself as a student, hanging out with adults, or seeing myself as kind of underneath my coworkers. So for an intern in a meeting with other engineers, don't be afraid to speak up, feel confident in the education that you've received.
Lastly, I hear that you write poetry and draw in your free time. Have your experiences at JPL influenced your creative side or vice versa?
Being here has opened my eyes to a lot of things. Since I've started working here, I've opened up more to allow other people's ideas and perspectives to influence my own. Also, JPL encourages creativity. Caltech [which manages JPL for NASA] has an art show every year. I put some pieces in there. I think it's awesome to blend engineering and art. There's also a talent show at JPL every year. I sing in the talent show with a little looper pedal. So JPL encourages and confirms, in my mind, that you don't have to be just an engineer. This is a good place to say, we can do this and that.
Explore More
---
Explore JPL's summer and year-round internship programs and apply at: https://www.jpl.nasa.gov/edu/intern
The laboratory's STEM internship and fellowship programs are managed by the JPL Education Office. Extending the NASA Office of STEM Engagement's reach, JPL Education seeks to create the next generation of scientists, engineers, technologists and space explorers by supporting educators and bringing the excitement of NASA missions and science to learners of all ages.
TAGS: Higher Education, Internships, STEM, Engineering, Interns, College, Careers, Robotics, Mars, Rover, Mars 2020, Starshade
---
NASA is inviting students to help name its next Mars rover! Set to launch from Florida in the summer of 2020, NASA's fifth rover to visit the Red Planet is designed to study past environments capable of supporting life, seek signs of ancient microbial life, collect rock and soil samples for a possible future return to Earth, and test technologies that could produce oxygen from the Martian atmosphere for use by humans one day. But before it can do that, it needs a name.
Following in the tracks of NASA's four previous Mars rovers, the agency is asking students to suggest a name. The first Mars rover, which landed in 1997, was called the Microrover Flight Experiment until a 12-year old student from Connecticut suggested the name Sojourner, in honor of abolitionist and women's rights activist Sojourner Truth. In 2004, a third-grade student from Arizona named NASA's twin rovers Spirit and Opportunity. Curiosity, which landed in 2012 and is the most recent rover to visit Mars, was named by a sixth-grade student in Kansas.
To enter the Name the Rover Essay Contest, individual students must submit an essay of up to 150 words by Nov. 1, 2019. In their essay, students will need to propose the name they think best suits the rover and explain their reasoning. Judges will select three finalists (one each from grades K-4, 5-8 and 9-12) from every state and U.S. territory. From there, judges will narrow down the finalists further before they select a final name in the spring of 2020.
So what makes a good name? There are lots of ways to become inspired, but students should start by learning about the rover as well as the Red Planet and why we explore. But they shouldn't stop there. There are many ways to spark ideas from students, including writing planetary poetry, making cosmic art, and having them build rovers of their own. Get students thinking and writing creatively, and encourage them to submit their essay!
The contest is open to U.S. residents enrolled in kindergarten through 12th grade in a U.S. school (including U.S. territories and schools operated by the U.S. for the children of American personnel overseas). Home-school students can also submit a name!
Explore More
TAGS: Mars, rover, contest, Mars 2020, K-12 education, STEM, language arts, essay, science, students
---
UPDATE: Nov. 27, 2018 – The InSight spacecraft successfully touched down on Mars just before noon on Nov. 26, 2018, marking the eighth time NASA has succeeded in landing a spacecraft on the Red Planet. This story has been updated to reflect the current mission status. For more mission updates, follow along on the InSight Mission Blog, JPL News, as well as Facebook and Twitter (@NASAInSight, @NASAJPL and @NASA).
---
Matt Golombek's job is one that could only exist at a place that regularly lands spacecraft on Mars. And for more than 20 years, the self-proclaimed "landing-site dude" and his rotating cast of interns at NASA's Jet Propulsion Laboratory have helped select seven of the agency's landing sites on the Red Planet.
Golombek got his start in the Mars landing-site business as the project scientist for the first rover mission to the Red Planet in 1997. Since that time, he has enlisted the help of geology students to make the maps that tell engineers, scientists, stakeholders and now even the rovers and landers themselves where – and where not – to land. Among the list of no-gos can be rock fields, craters, cliffs, "inescapable hazards" and anything else that might impede an otherwise healthy landing or drive on Mars.
For Golombek's interns, the goal of helping safely land a spacecraft on Mars is as awe-inspiring as it comes, but the awe can sometimes be forgotten in the day-to-day work of counting rocks and merging multitudes of maps, especially when a landing is scheduled for well after their internships are over. But with the landing site for NASA's next Mars rover just announced and the careful work of deciding where to lay down science instruments for the freshly landed InSight mission soon to begin, interns Lauren Berger, Rachel Hausmann and Heather Lethcoe are well aware of the significance of their work – the most important of which lies just ahead.
Site Unseen
Selecting a landing site on Mars requires a careful balancing act between engineering capabilities and science goals. It's a partnership that for Golombek, a geologist, has evolved over the years.
Golombek reflects on the time before spacecraft like the now-critical Mars Reconnaissance Orbiter provided high-resolution, global views of the Martian terrain. In those early days, without close-up images of the surface, the science was largely guesswork, using similar terrain on Earth to get a sense for what the team might be up against. Spacecraft would successfully touch down, but engineers would look aghast at images sent back of vast rock fields punctuated by sharp boulders that could easily destroy a lander speeding to the surface from space. NASA's 1997 Pathfinder spacecraft, encased in airbags for landing, bounced as high as a 10-story building before rolling to a stop at its jagged outpost.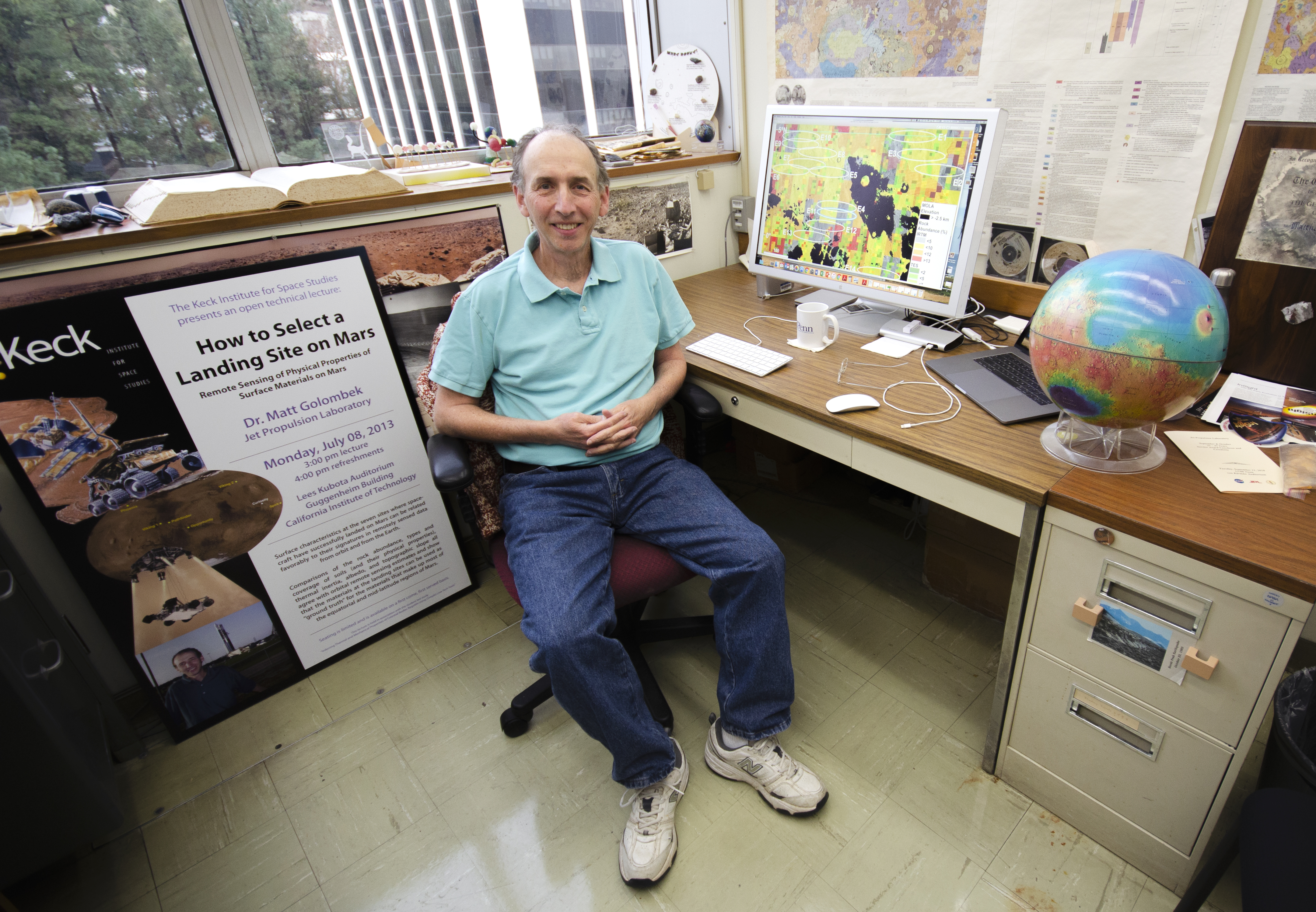 Now, Golombek and his interns take a decidedly more technological approach, feeding images of candidate landing sites into a machine-learning program designed to measure the size of rocks based on the shadows they cast and carefully combining a series of images, maps and other data using Geographical Information Systems, or GIS, software (a required skill for Golombek's interns).
Still, there are some things that must be done by hand – or eye, as the case may be.
"Lauren [Berger] is now an expert on inescapable hazards," says Golombek of one of his current trio of interns. "She can look at those ripples, and she knows immediately whether it's inescapable, probably inescapable, probably escapable or not a problem."
"Or, as we like to say, death, part death and no death," jokes Berger.
"We work with them to train them so their eye can see it. And so far, that's the best way to [identify such hazards]. We don't have any automated way to do that," says Golombek.
"I like to call Lauren the Jedi master of ripples-pattern mapping," says fellow intern Heather Lethcoe, who is the team's mapping expert for the Mars 2020 rover mission. "I helped her a little bit with that, and now I'm seeing ripples closing my eyes at night."
Until recently, Lethcoe and Berger were busily preparing maps for October's landing site workshop, during which scientists debated the merits of the final four touchdown locations for the Mars 2020 mission. If Golombek's team had a preferred candidate, they wouldn't say. Their task was to identify the risks and determine what's safe, not what's most scientifically worthy. Thanks to new technology that for the first time will allow the rover to divert to the safest part of its landing ellipse using a map created by Golombek's team, the debate about where to land was solely focused on science. So unlike landing site workshops for past Mars missions, Golombek's team stayed on the sidelines and let the scientists "have at it." (In the end, as with all other missions, the final site recommendation was made by the mission with NASA's approval.)
Now, with an official landing site announced, it might seem that Golombek's team is out of work. But really, the work is just beginning. "We'll be heavily involved in making the final hazard map for the [Mars 2020] landing site, which will then get handed to the engineers to code up so that the rover will make the right decisions," says Golombek.
Meanwhile, the team will be busy with the outcome of another Mars landing: InSight, a spacecraft designed to study the inner workings of Mars and investigate how rocky planets, including Earth, came to be.
Golombek's third intern, Rachel Hausmann, became a master at piecing together the hundreds of images, rock maps, slope maps and other data that were used to successfully land InSight. But because InSight is a stationary spacecraft, one of the most important parts of ensuring the mission's success will happen after it lands. The team will need to survey the landing area and determine how and where to place each of the mission's science instruments on the surface.
"If you think about it, it's like landing-site selection, just a little smaller scale," says Golombek. "You don't want [the instruments] sitting on a slope. You don't want them sitting on a rock."
For that, Golombek is getting the help of not just Hausmann but all three interns. "It's a once-in-a-lifetime opportunity to have students who happen to be in the right place at the right time when a spacecraft lands and needs their expertise."
Practice Makes Perfect
To prepare for this rare opportunity, the students have been embedded with different working groups, rehearsing the steps that will be required to place each of InSight's instruments safely on Mars several weeks after landing.
"The groups have rehearsals for different anomalies, or issues, that could go wrong," says Hausmann. "They do this to problem solve even down to, 'Are we in the right room? Do we have enough space?' because when you're working on a space mission, you can't have an issue with facilities."
The students took part in the first of these so-called Operational Readiness Tests in early October and say it was an eye-opening experience.
"It was really helpful just to get to know the team and really understand what's going to happen," says Berger. "Now we know how to make it happen, and everyone's a lot more ready. Also, it was so much fun."
"That's what I was going to say!" says Lethcoe. "That was just the rehearsal, and at the end of it, I felt so amped and pumped up. I can't even imagine when we're actually doing it how good that's going to feel."
Lethcoe says there was also the matter of balancing homework and midterms with full-time preparations for a Mars landing. That was its own sort of readiness test for December when the real work of deploying the instruments will coincide with finals.
Perhaps most surprising, say the students, was their realization that their expertise is valued by a team that's well-versed in Mars landings.
"Imposter syndrome is real," says Hausmann. But the team's internships are serving as the perfect antidote.
"I had this fear that I don't know if I'm going to be more in the way and more pestering or if I'm actually going to be helpful," says Lethcoe, a student at Cal State University, Northridge, who was first exposed to the mapping software used by the team during her time in the U.S. Army. "It turns out that the [InSight geology] team lead gave me really nice reviews."
Berger interjects to add supportive emphasis to Lethcoe's statement – a common occurrence among the three women who have shared the same small office for more than a year now. "He said he absolutely needed her and she could not go away."
Lethcoe laughs. "[My co-mentor] texted me to let me know, 'You earned this," and I tried not to take screenshots and send them to all my friends and my mom. They definitely make it known how much we're appreciated."
Adds Berger, "I think JPL really teaches you to have confidence in what you know."
More than the mapping skills and research experience they've picked up during their time at JPL, it's that confidence that they're most eager to take back to school with them and impart to other young women interested in STEM careers.
Berger gave a talk about imposter syndrome at her school, Occidental College in Los Angeles, earlier this month. And Hausmann, a student at Oregon State University, says her efforts to encourage and coach young women are the most important contribution she's making as a JPL intern.
"I just want to help young women get in [to research and internships] as early as possible in their college careers," says Hausmann. "I think that's so important, just as important as the work we're doing."
The Next Frontier
When your internship or your job is to help land spacecraft and deploy instruments on Mars, the question, "Where do we go from here?" is literal and figurative. While the next year or so will be perhaps one of the busiest Golombek's team has ever known, his future as the landing-site dude is uncertain.
"If what you do is select landing sites for a living, it's kind of an odd thing because you can only work at one place," says Golombek. "You need to have a spacecraft that needs a landing site selected for it. And for the past 20 years, there have been spacecraft that we've been landing on Mars. So I'm kind of out of business now because Mars 2020 is the last for the time being – there are no new [NASA Mars] landing sites that are being conceived of."
At the mention of possible lander missions to other worlds, Golombek shrugs and his near-constant grin sinks into a thin horizon. "Don't know," he says. "I'm kind of a Martian, and I'll probably stick with Mars."
Maybe it's a torch best carried by his intern alums, many of whom have gone from their internships to careers at JPL or other NASA centers. While Lethcoe, Berger and Hausmann are still enmeshed in their education – Lethcoe is in her junior year, Berger is taking a gap year before applying to graduate programs, and Hausmann is applying to Ph.D. programs in January – their experiences are sure to have a profound impact on their future. In many ways, they already have.
Could they be the landing-site dudes of the future? Maybe someday.
But for now, they're focused on the challenges of the immediate future, helping NASA take the next steps in its exploration of Mars. And for that, "They're super well trained," Golombek says, "and just perfect for the job."
---
Explore JPL's summer and year-round internship programs and apply at: https://www.jpl.nasa.gov/edu/intern
The laboratory's STEM internship and fellowship programs are managed by the JPL Education Office. Extending the NASA Office of Education's reach, JPL Education seeks to create the next generation of scientists, engineers, technologists and space explorers by supporting educators and bringing the excitement of NASA missions and science to learners of all ages.
TAGS: Women in STEM, Interns, Internships, Higher Education, College, Geology, Science, Rovers, Landers, Mars, InSight, Mars 2020
---
Erika Flores might be the longest-serving intern at NASA's Jet Propulsion Laboratory. As a high-school student, she helped test the arm for the Phoenix Mars Lander, which launched about a year later, in 2007. When she returned in 2014 as an undergraduate intern, she joined a team of JPL scientists studying how life began on Earth. A chemical engineering student at Cal Poly at the time, Flores helped the team with one of its early breakthroughs, producing amino acids, which are central to life processes, under conditions found on early Earth. Now known as the "senior intern," Flores has been an integral part of the team ever since. Meanwhile, she's earned a bachelor's degree, was accepted to graduate school for environmental science and started writing her master's thesis. She also recently picked up a part-time gig helping the Mars 2020 rover team keep the spacecraft – which is being built at JPL – clear of microbes that could hitch a ride to the Red Planet. We caught up with Flores to ask what she plans to do next, how her internships have shaped her career path and, as she says with a laugh, how they've changed her personality.
You've had five or six JPL internships, dating back to when you were in high school. How did you first come to the Lab, and what's brought you back all these years?
My very first internship was when I was a high school student going from my junior to my senior year. I think one of my teachers recommended I apply to SHIP, the Summer High School Internship Program, at JPL, and I got the internship. When I came in, it was a little overwhelming. I was 16. I still wasn't exactly sure what I wanted to major in, but I got matched with a mentor who was an electrical engineer, doing some robotics testing on the arm for the Phoenix Mars Lander. So that was really exciting when I heard afterward that they were sending Phoenix to Mars. That's definitely what – I wouldn't say piqued my interest because I was already into space, but it was like, "OK, I want to come back here."
I went off to community college, and after I transferred to Cal Poly to get my bachelor's degree in chemical engineering, I applied [for a JPL internship]. I started working with Laurie Barge in JPL's Astrobiology Lab, doing experiments on the origins of life. We started with research on early Earth conditions because our experiments have to reflect Earth before life as we know it existed. From there, we did a couple of experiments using iron mineral, or iron hydroxide, which is pretty basic and you can find it in nature. Then we adjusted the conditions. So we adjusted the pH to what it would be in early Earth – concentrations that you would find in the ocean floor. Using previous experiments and previous literature, we did an experiment to see if we could produce amino acids – so organics – based off of these reactions that could have been happening on early Earth. And our experiment was successful. We made alanine, which is an amino acid, and lactate, which is an alpha hydroxy acid. We use them for different properties in our body. So we expanded on the experiment, tried different conditions. Now we have a science paper in review. And that all lead to some other internships that are also related to the origins of life.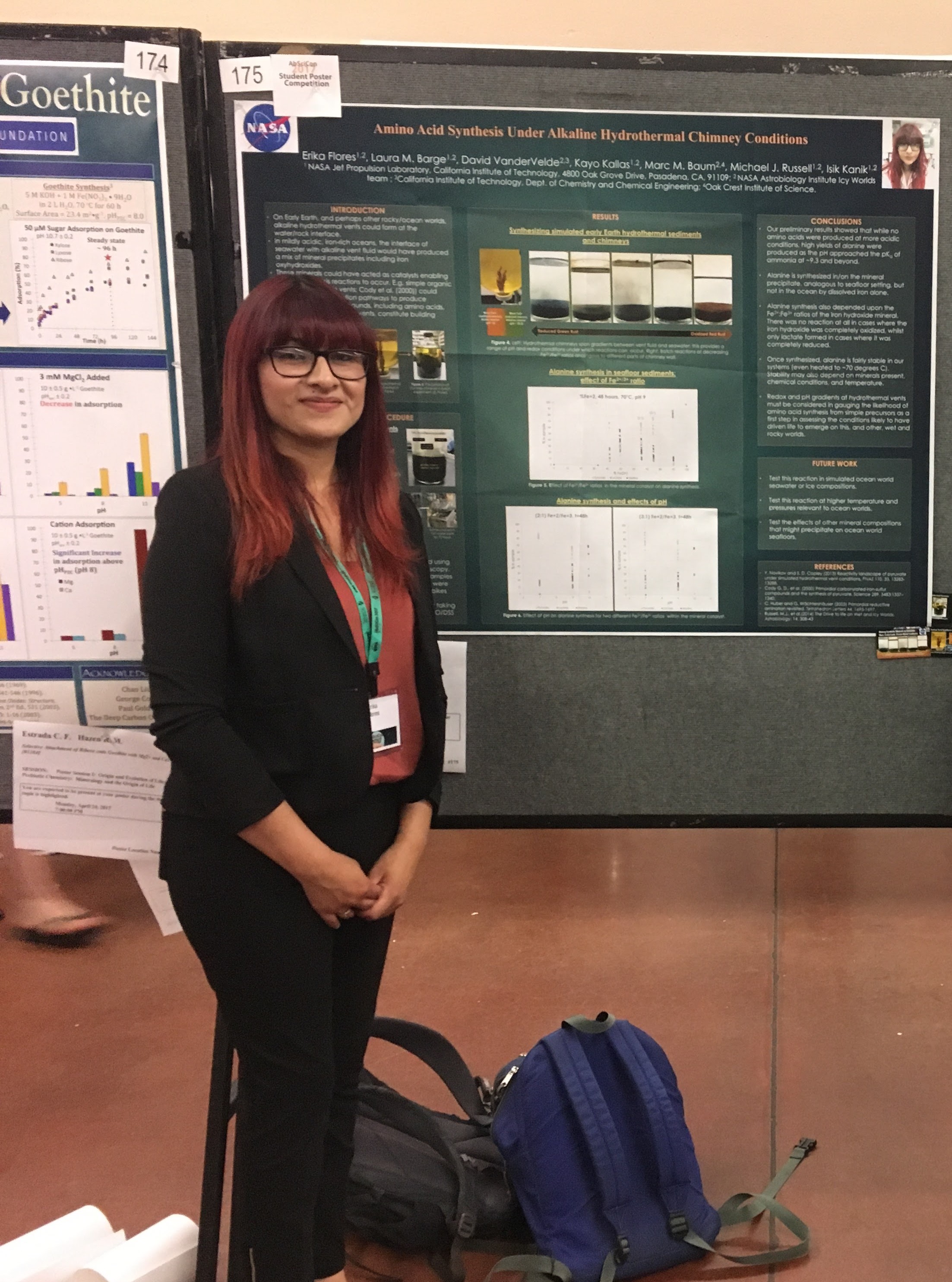 Once I graduated, I wasn't able to qualify for an internship anymore. So Laurie hired me as a contractor. I was a lab technician, working part-time while I decided to go back to school. Once I got my acceptance letter to grad school, I was able to return again as an intern. Now I'm referred to as the "senior intern." So we get new interns during the summer or some throughout the year, and I train them, show them around, things like that, which is also pretty great because like they say, you learn more by teaching others.
What are you hoping to do once you graduate?
Since I will be graduating next year, Laurie, who is such a great mentor, has been pushing me to go talk to people and go network. She talked to one of our old postdocs, who happened to be looking for an intern. So just this September, I was converted to an academic part-time employee, which has really allowed me to branch out. Now I'm part-time with Laurie and part-time working with the Mars 2020 contamination control team, handling samples, cataloging them and dropping them off for analysis. The Contamination Control Group determines cleaning methods and the allowable amount of microbial and particulate contamination for spacecraft so that they don't bring those contaminants to the places that they visit. For the Mars 2020 rover, this is an especially crucial step because it will be collecting samples that could potentially be returned to Earth one day. I kind of get to see what's going on behind the scenes of the mission, which an intern normally would not get the chance to do, so it's been a really rewarding experience.
Hopefully, when I graduate, I'll land a full-time job at JPL. Working with Laurie is great, and I feel like she would want to keep me here, but from talking to people higher up, they say if you want to be in the Science Division, you need a Ph.D., and I'm still debating whether I want to do a Ph.D. Perhaps I will in the future, but right now, I'm finishing up my master's thesis and my goal is just to get a full-time job. I find JPL to be so exciting regardless of what you're doing, so at this point, I don't care what it is. It'll still be part of a bigger picture. But it would be great if I could continue with the Mars 2020 mission as an engineer. Since I've lived in LA, I've always known of JPL. So I think this has always been my ultimate goal.
How have your various JPL internships influenced the evolution of your career path?
I started with chemical engineering [as an undergrad], but then I realized a lot of people in my field were going into the oil industry. I was like, "I kinda wanna save the planet, do environmental stuff." I only graduated three years ago, but even then, I didn't hear much about environmental science or environmental engineering as a major, so it wasn't really an option.
The reason why Laurie chose me as her intern was because of my chemistry background, which is pretty awesome because even though I studied engineering, I saw myself doing more lab work. Being here in the lab with Laurie has been amazing. It has solidified my thoughts that "Yes, this is what I want to do." I definitely like doing experiments, taking samples, running analyses and then inputting the data.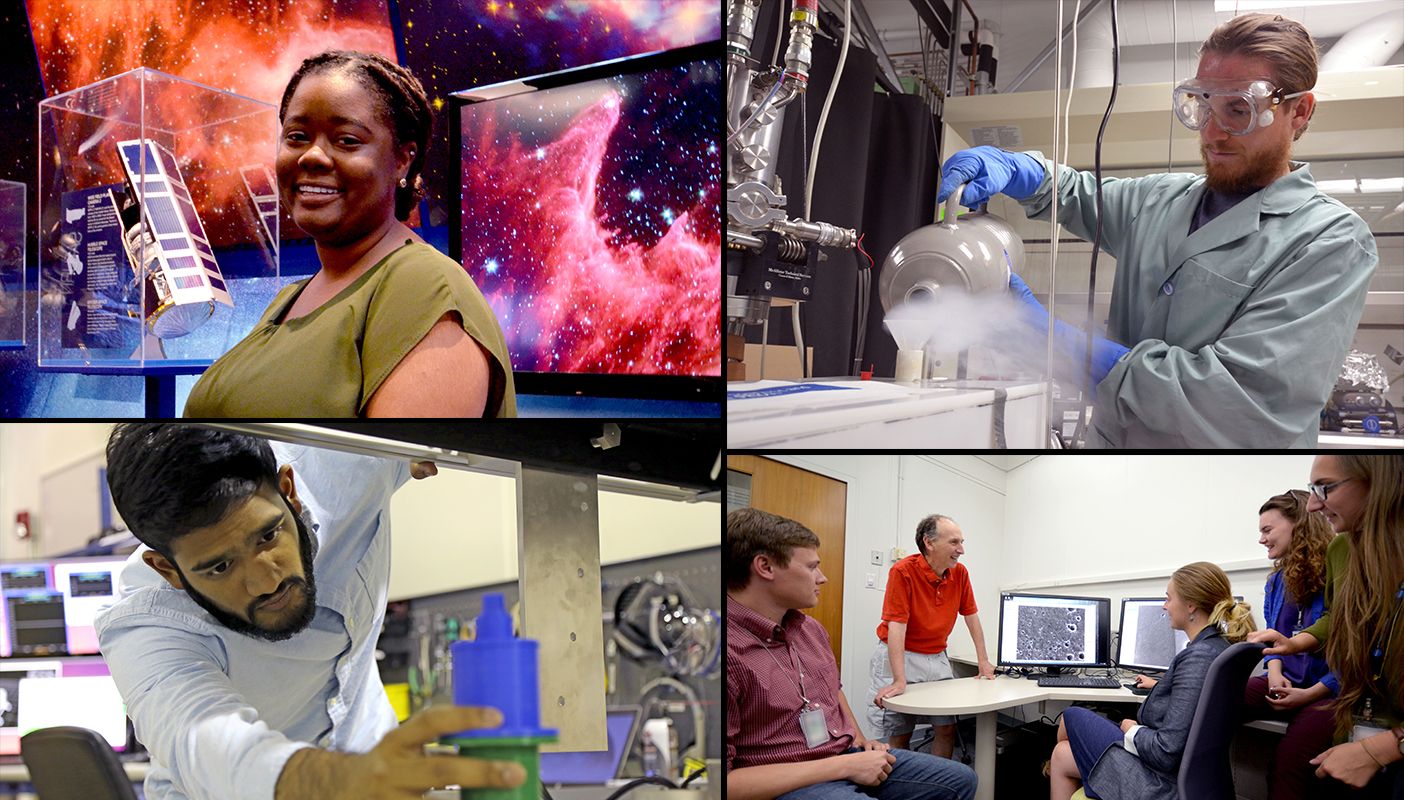 Meet JPL Interns
Read stories from interns pushing the boundaries of space exploration and science at the leading center for robotic exploration of the solar system.
[Before going to grad school], I started turning to a lot of the talks here, because I was like, "OK, maybe I could be more involved with astronomy, astrobiology – things like that." But I felt that a lot of the talks were over my head. But then when I would attend some talks that had to do with climate change or, for example, the new ECOSTRESS [Earth science mission], I was captivated and interested. So it confirmed that I want to stick to the environmental side. That's why, for my master's, I went into environmental science with an option in engineering.
What got you interested in science and engineering initially?
I've always really liked math, but I knew I couldn't just do a math major. I knew I wanted to do more. Growing up, my favorite types of movies were sci-fi, and I was definitely into outer space and astronomy. Knowing how things work was always a curiosity. Trying to know the unknown was what really drew me into science. And then for engineering, I just couldn't decide. I wanted to learn a little bit of everything. The whole reason why I chose engineering was that I couldn't choose one specific subject. With engineering, you need your math, your physics, you need your chemistry, you need some biology, depending on what kind of engineering you go into, but it encompasses everything.
Is anyone in your family involved in engineering or science?
No. I'm actually the middle child of five. My mom came here from Mexico. So we're all first-generation. But I was the first one to even graduate high school. My little brother is in college, and I'm pushing him, because I see my other brother, who is working overnight and overtime and always tired, and it's obviously something he didn't think he was going to end up doing. Also, my mom came here and she struggled a lot, and she's still struggling. As sad as it sounds, I don't want that to be me. So I had to push through. Luckily for me, I was always into school, so it wasn't that hard to keep going.
Going back to the research that you're doing, what's the ultimate goal, and what might it mean for the search for life beyond Earth?
So most of my experiments don't have to do with other planetary systems; they're more focused on Earth and the origins of life here. But we could take some of this knowledge and apply it to other planets. Our research is figuring out what happened here, first, and then applying it to other places. Our ultimate goal is to explore processes for the origin of life.
How do you feel you're contributing to NASA/JPL missions and science?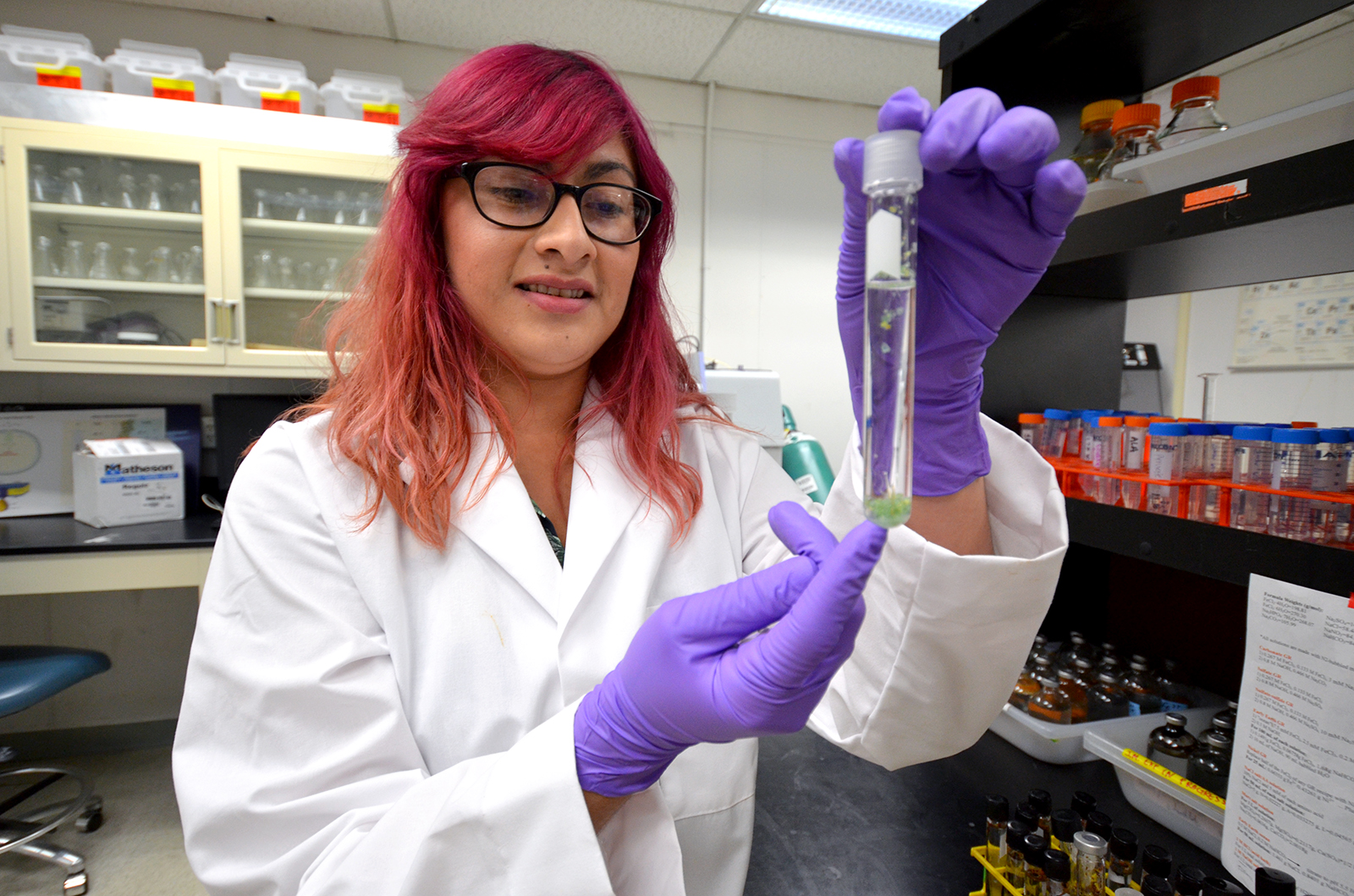 Even if you do the smallest task, it still has to be done. Someone has to take these samples to get analyzed, someone has to drop these things off. But, personally, working with Laurie Barge and the origins of life, I feel like I've contributed a lot. We have one paper in review, and we're doing more experiments. Our research has implications for other celestial bodies, so I'm excited for us to learn more about Mars and Saturn's moon Enceladus so we can adjust our experiment to represent their environments. I have also been helping interns with their experiments. I don't think you can disregard anything you do here. I think everything is important, and you're always learning and teaching others. Whenever I meet students, I'm always saying, "Make sure you apply to JPL." It's a wonderful opportunity. I consider myself so lucky to still be here after all these years.
What's the most unique NASA or JPL experience you've had while you've been here?
Recently, my mentor has been hosting science happy hours. At school, it's not like you just go out and drink with your professor. [Laughs.] But the whole point of it was for her to introduce us to other people who are working in the science department. So going to these happy hours gives us a chance to talk and see what everyone is working on. It's all about collaborating. So, to me, that has been a bit of a unique experience.
Also, going to conferences. I've gone to maybe four or five. Meeting these people from all over the world is definitely a unique experience. It's crazy how we're all kind of working toward the same goal. Before I used to be very shy, more introverted, but meeting people from all over the world and knowing their stories and their background and how much we have in common, despite where we live, has gotten me to be more open. So that's helped me out in the whole networking aspect of things, which is very, very important when you're trying to get a job.
I really think this internship changed my personality. [Laughs.] I really do.
Last question, and it's a fun one: If you could travel to any place in space, where would you go and what would you do there?
With the possibility of seeing humans on Mars within my lifetime, I have joked with my friends that I would love to die on Mars. But I wouldn't want to limit myself. So if possible, at an older age, I would keep traveling through space, passing by every celestial body imaginable. That would be an astonishing and beautiful sight. Once I felt like I had witnessed it all, I would travel straight into a black hole to witness what no one else ever has, the unknown.
---
Explore JPL's summer and year-round internship programs and apply at: https://www.jpl.nasa.gov/edu/intern
The laboratory's STEM internship and fellowship programs are managed by the JPL Education Office. Extending the NASA Office of Education's reach, JPL Education seeks to create the next generation of scientists, engineers, technologists and space explorers by supporting educators and bringing the excitement of NASA missions and science to learners of all ages.
TAGS: Women in STEM, Internships, Higher Education, College, STEM, Science, Engineering, Mars 2020
---
In 1975, 10-year-old Nagin Cox's home life was unraveling. It was a time when Cox grew up hearing that girls were "worthless" and thought only about making it to age 18 so she could be free.
"I remember looking up at the stars and thinking, 'I'm going to live and get through this," Cox, now a spacecraft systems engineer for Mars 2020 recalls. "I need to set a goal. I need something so meaningful it will help me get through the next eight years.'"
That goal revealed itself when she was 14, a curly-haired Indian girl fascinated by "Star Trek" and Carl Sagan's "Cosmos." She wanted to explore the universe. And no, she didn't want to be an astronaut.
"If you really want to go where someone has never been, you want to be with the robots. They truly explore first," she says. "There was one place that did that consistently and that was NASA's Jet Propulsion Laboratory."
She just needed to figure out how.