---
In the News
NASA's next mission to Mars, the InSight lander, is scheduled to land around noon PST on Monday, Nov. 26. So while some people are looking for Cyber Monday deals, scientists and engineers at NASA's Jet Propulsion Laboratory will be monitoring their screens for something else: signals from the spacecraft that it successfully touched down on the Red Planet.
› Watch online starting at 11 a.m. PST on Nov. 26
Explore the full broadcast schedule of InSight Landing programming. (Starts Nov. 21.)
InSight has spent nearly seven months in space, kicked off by the first interplanetary launch from the West Coast of the U.S. Once it arrives at the Red Planet, InSight will have to perform its entry, descent and landing, or EDL, to safely touch down on the Martian surface. This is perhaps the most dangerous part of the entire mission because it requires that the spacecraft withstand temperatures near 1,500 degrees Fahrenheit, quickly put on its brakes by using the atmosphere to slow down, then release a supersonic parachute and finally lower itself to the surface using 12 retrorockets.
But even after that harrowing trip to the surface, InSight will have to overcome one more challenge before it can get to the most important part of the mission, the science. After a thorough survey of its landing area, InSight will need to carefully deploy each of its science instruments to the surface of Mars. It may sound like an easy task, but it's one that requires precision and patience.
It's also a great opportunity for educators to engage students in NASA's exploration of Mars and the importance of planetary science while making real-world connections to lessons in science, coding and engineering. Read on to find out how.
How It Works: Deploying InSight's Instruments
InSight is equipped with three science investigations with which to study the deep interior of Mars for the first time. The Seismic Experiment for Interior Structures, or SEIS, is a seismometer that will record seismic waves traveling through the interior of Mars.
3
, will investigate how much heat is still flowing out of Mars. It will do so by hammering a probe down to a depth of up to 16 feet (about 5 meters) underground. The Rotation and Interior Structure Experiment, or RISE, will use InSight's telecommunications system to precisely track the movement of Mars through space. This will shed light on the makeup of Mars' iron-rich core.
But to start capturing much of that science data, InSight will have to first carefully move the SEIS and HP3 instruments from its stowage area on the lander deck and place them in precise locations on the ground. Among its many firsts, InSight will be the first spacecraft to use a robotic arm to place instruments on the surface of Mars. Even though each instrument will need to be lowered only a little more than three feet (1 meter) to the ground, it's a delicate maneuver that the team will rehearse to make sure they get it right.
InSight's robotic arm is nearly 6 feet (about 2 meters) long. At the end of the arm is a five-fingered grappler that is designed to grab SEIS and HP3 from the deck of the lander and place them on the ground in front of the lander in a manner similar to how a claw game grabs prizes and deposits them in the collection chute. But on Mars, it has to work every time.
Before the instruments can be set down, the area where they will be deployed – commonly referred to as the work space – must be assessed so SEIS and HP3 can be positioned in the best possible spots to meet their science goals. InSight is designed to land with the solar panels at an east-west orientation and the robotic arm facing south. The work space covers about three-square meters to the south of the rover. Because InSight is a three-legged lander and not a six-wheeled rover, science and engineering teams must find the best areas to deploy the instruments within the limited work space at InSight's landing spot. That is why choosing the best landing site (which for InSight means one that is very flat and has few rocks) is so important.
Just as having two eyes gives us the ability to perceive depth, InSight will use a camera on its robotic arm to take what are known as stereo-pair images. These image pairs, made by taking a photo and then moving the camera slightly to the side for another image, provide 3D elevation information that's used by the science and engineering teams. With this information, they can build terrain maps that show roughness and tilt, and generate something called a goodness map to help identify the best location to place each instrument. Evaluating the work space is expected to take a few weeks.
Once the team has selected the locations where they plan to deploy the instruments, the robotic arm will use its grapple to first grab SEIS and lower it to the surface. When the team confirms that the instrument is on the ground, the grapple will be released and images will be taken. If the team decides they like where the instrument is placed, it will be leveled, and the seismic sensor will be re-centered so it can be calibrated to collect scientific data. If the location is deemed unsuitable, InSight will use its robotic arm to reposition SEIS.
But wait, there's more! SEIS is sensitive to changes in air pressure, wind and even local magnetic fields. In fact, it is so sensitive that it can detect ground movement as small as half the radius of a hydrogen atom! So that the instrument isn't affected by the wind and changes in temperature, the robotic arm will have to cover SEIS with the Wind and Thermal Shield.
After SEIS is on the ground and covered by the shield, and the deployment team is satisfied with their placement, the robotic arm will grab the HP3 instrument and place it on the surface. Just as with SEIS, once the team receives confirmation that HP3 is on the ground, the grapple will be released and the stability of the instrument will be confirmed. The final step in deploying the science instruments is to release the HP3 self-hammering mole from within the instrument so that it will be able to drive itself into the ground. The whole process from landing to final deployment is expected to take two to three months.
Why It's Important
For the science instruments to work – and for the mission to be a success – it's critical that the instruments are safely deployed. So while sending a mission to another planet is a huge accomplishment and getting pictures of other worlds is inspiring, it's important to remember that science is the driver behind these missions. As technologies advance, new techniques are discovered and new ideas are formulated. Opportunities arise to explore new worlds and revisit seemingly familiar worlds with new tools.
Using its science instruments, SEIS and HP3, plus the radio-science experiment (RISE) to study how much Mars wobbles as it orbits the Sun, InSight will help scientists look at Mars in a whole new way: from the inside.
SEIS will help scientists understand how tectonically active Mars is today by measuring the power and frequency of marsquakes, and it will also measure how often meteorites impact the surface of Mars.
HP3 and RISE will give scientists the information they need to determine the size of Mars' core and whether it's liquid or solid; the thickness and structure of the crust; the structure of the mantle and what it's made of; and how warm the interior is and how much heat is still flowing through.
Answering these questions is important for understanding Mars, and on a grander scale, it is key to forming a better picture of the formation of our solar system, including Earth.
Teach It
Use these resources to bring the excitement of NASA's newest Mars mission and the scientific discovery that comes with it into the classroom.
Explore More
Follow Along
Resources and Activities
Feature Stories and Podcasts
Websites and Interactives
TAGS: InSight, Landing, Mars, K-12 Educators, Informal Educators, Engineering, Science, Mission Events
---
In the News
A spacecraft designed to study seismic activity on Mars, or "marsquakes," is scheduled to lift off on a nearly seven-month journey to the Red Planet on May 5, 2018.
NASA's InSight Mars lander is designed to get the first in-depth look at the "heart" of Mars: its crust, mantle and core. In other words, it will be the Red Planet's first thorough checkup since it formed 4.5 billion years ago. The launch, from Vandenberg Air Force Base in Central California, also marks a first: It will be the first time a spacecraft bound for another planet lifts off from the West Coast. It's a great opportunity to get students excited about the science and math used to launch rockets and explore other planets.
How It Works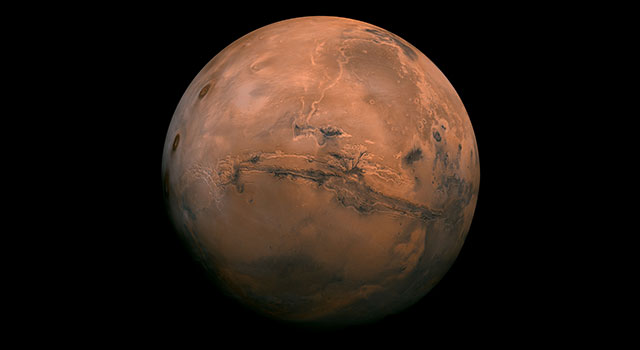 Mars Lessons
Explore our collection of standards-aligned, STEM lessons all about Mars and missions to the Red Planet.
NASA usually launches interplanetary spacecraft from the East Coast, at Cape Canaveral in Florida, to provide them with a momentum boost from Earth's easterly rotation. It's similar to how running in the direction you are throwing a ball can provide a momentum boost to the ball. If a spacecraft is launched without that extra earthly boost, the difference must be made up by the rocket engine. Since InSight is a small, lightweight spacecraft, its rocket can easily accommodate getting it into orbit without the help of Earth's momentum.
Scheduled to launch no earlier than 4:05 a.m. PDT on May 5, InSight will travel aboard an Atlas V 401 launch vehicle on a southerly trajectory over the Pacific Ocean. (Here's how to watch the launch in person or online.) If the weather is bad or there are any mechanical delays, InSight can launch the next day. In fact, InSight can launch any day between May 5 and June 8, a time span known as a launch period, which has multiple launch opportunities during a two-hour launch window each day.
Regardless of the date when InSight launches, its landing on Mars is planned for November 26, 2018, around noon PST. Mission controllers can account for the difference in planetary location between the beginning of the launch window and the end by varying the amount of time InSight spends in what's called a parking orbit. A parking orbit is a temporary orbit that a spacecraft can enter before moving to its final orbit or trajectory. For InSight, the Atlas V 401 will boost the spacecraft into a parking orbit where it will coast for a while to get into proper position for an engine burn that will send it toward Mars. The parking orbit will last 59 to 66 minutes, depending on the date and time of the launch.
Why It's Important
Previous missions to Mars have investigated the history of the Red Planet's surface by examining features like canyons, volcanoes, rocks and soil. However, many important details about the planet's formation can only be found by studying the planet's interior, far below the surface. And to do that, you need specialized instruments and sensors like those found on InSight.
The InSight mission, designed to operate for one Mars year (approximately two Earth years), will use its suite of instruments to investigate the interior of Mars and uncover how a rocky body forms and becomes a planet. Scientists hope to learn the size of Mars' core, what it's made of and whether it's liquid or solid. InSight will also study the thickness and structure of Mars' crust, the structure and composition of the mantle and the temperature of the planet's interior. And a seismometer will determine how often Mars experiences tectonic activity, known as "marsquakes," and meteorite impacts.
Together, the instruments will measure Mars' vital signs: its "pulse" (seismology), "temperature" (heat flow), and "reflexes" (wobble). Here's how they work: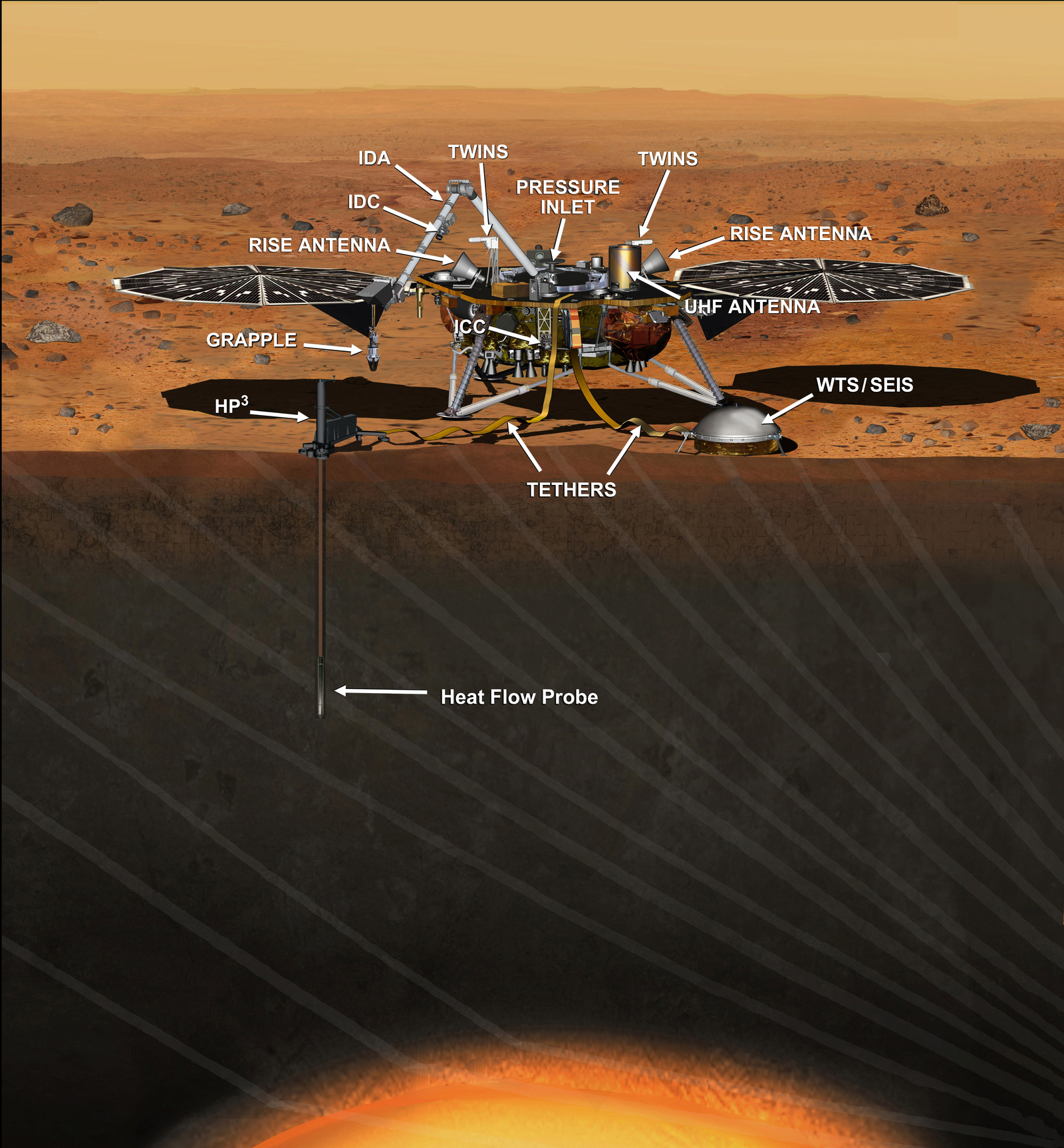 InSight's seismometer is called SEIS, or the Seismic Experiment for Interior Structure. By measuring seismic vibrations across Mars, it will provide a glimpse into the planet's internal activity. The volleyball-size instrument will sit on the Martian surface and wait patiently to sense the seismic waves from marsquakes and meteorite impacts. These measurements can tell scientists about the arrangement of different materials inside Mars and how the rocky planets of the solar system first formed. The seismometer may even be able to tell us if there's liquid water or rising columns of hot magma from active volcanoes underneath the Martian surface.
The Heat Flow and Physical Properties Probe, HP3 for short, burrows down almost 16 feet (five meters) into Mars' surface. That's deeper than any previous spacecraft arms, scoops, drills or probes have gone before. Like studying the heat leaving a car engine, HP3 will measure the heat coming from Mars' interior to reveal how much heat is flowing out and what the source of the heat is. This will help scientists determine whether Mars formed from the same material as Earth and the Moon, and will give them a sneak peek into how the planet evolved.
InSight's Rotation and Interior Structure Experiment, or RISE, instrument tracks tiny variations in the location of the lander. Even though InSight is stationary on the planet, its position in space will wobble slightly with Mars itself, as the planet spins on its axis. Scientists can use what they learn about the Red Planet's wobble to determine the size of Mars' iron-rich core, whether the core is liquid, and which other elements, besides iron, may be present.
When InSight lifts off, along for the ride in the rocket will be two briefcase-size satellites, or CubeSats, known as MarCO, or Mars Cube One. They will take their own path to Mars behind InSight, arriving in time for landing. If all goes as planned, as InSight enters the Martian atmosphere, MarCO will relay data to Earth about entry, descent and landing operations, potentially faster than ever before. InSight will also transmit data to Earth the way previous Mars spacecraft have, by using NASA's Mars Reconnaissance Orbiter as a relay. MarCO will be the first test of CubeSat technology at another planet, and if successful, it could provide a new way to communicate with spacecraft in the future, providing news of a safe landing – or any potential problems – sooner.
Thanks to the Mars rovers, landers and orbiters that have come before, scientists know that Mars has low levels of geological activity – but a lander like InSight can reveal what might be lurking below the surface. And InSight will give us a chance to discover more not just about the history of Mars, but also of our own planet's formation.
Teach It
When launching to another planet, we want to take the most efficient route, using the least amount of rocket fuel possible. To take this path, we must launch during a specific window of time, called a launch window. Use this lesson in advanced algebra to estimate the launch window for the InSight lander and future Mars missions.
SEIS will record the times that marsquake surface waves arrive at the lander. Try your hand, just like NASA scientists, using these times, a little bit of algebra and the mathematical constant π to determine the timing and location of a marsquake!
Take students on a journey to Mars with this set of 19 standards-aligned STEM lessons that can be modified to fit various learning environments, including out-of-school time.
Build, test and launch your very own air-powered rocket to celebrate the first West Coast interplanetary spacecraft launch!
Explore More
Try these related resources for students from NASA's Space Place:
TAGS: InSight, Lessons, K-12, Activities, Teaching, STEM, Mars
---
Update: March 15, 2018 – The answers to the 2018 NASA Pi Day Challenge are here! View the illustrated answer key
---
In the News
The 2018 NASA Pi Day Challenge
Can you solve these stellar mysteries with pi? Click to get started.
Pi Day, the annual celebration of one of mathematics' most popular numbers, is back! Representing the ratio of a circle's circumference to its diameter, pi has many practical applications, including the development and operation of space missions at NASA's Jet Propulsion Laboratory.
The March 14 holiday is celebrated around the world by math enthusiasts and casual fans alike – from memorizing digits of pi (the current Pi World Ranking record is 70,030 digits) to baking and eating pies.
JPL is inviting people to participate in its 2018 NASA Pi Day Challenge – four illustrated math puzzlers involving pi and real problems scientists and engineers solve to explore space, also available as a free poster! Answers will be released on March 15.
Why March 14?
Pi is what's known as an irrational number, meaning its decimal representation never ends and it never repeats. It has been calculated to more than one trillion digits, but NASA scientists and engineers actually use far fewer digits in their calculations (see "How Many Decimals of Pi Do We Really Need?"). The approximation 3.14 is often precise enough, hence the celebration occurring on March 14, or 3/14 (when written in U.S. month/day format). The first known celebration occurred in 1988, and in 2009, the U.S. House of Representatives passed a resolution designating March 14 as Pi Day and encouraging teachers and students to celebrate the day with activities that teach students about pi.

NASA's Pi Day Challenge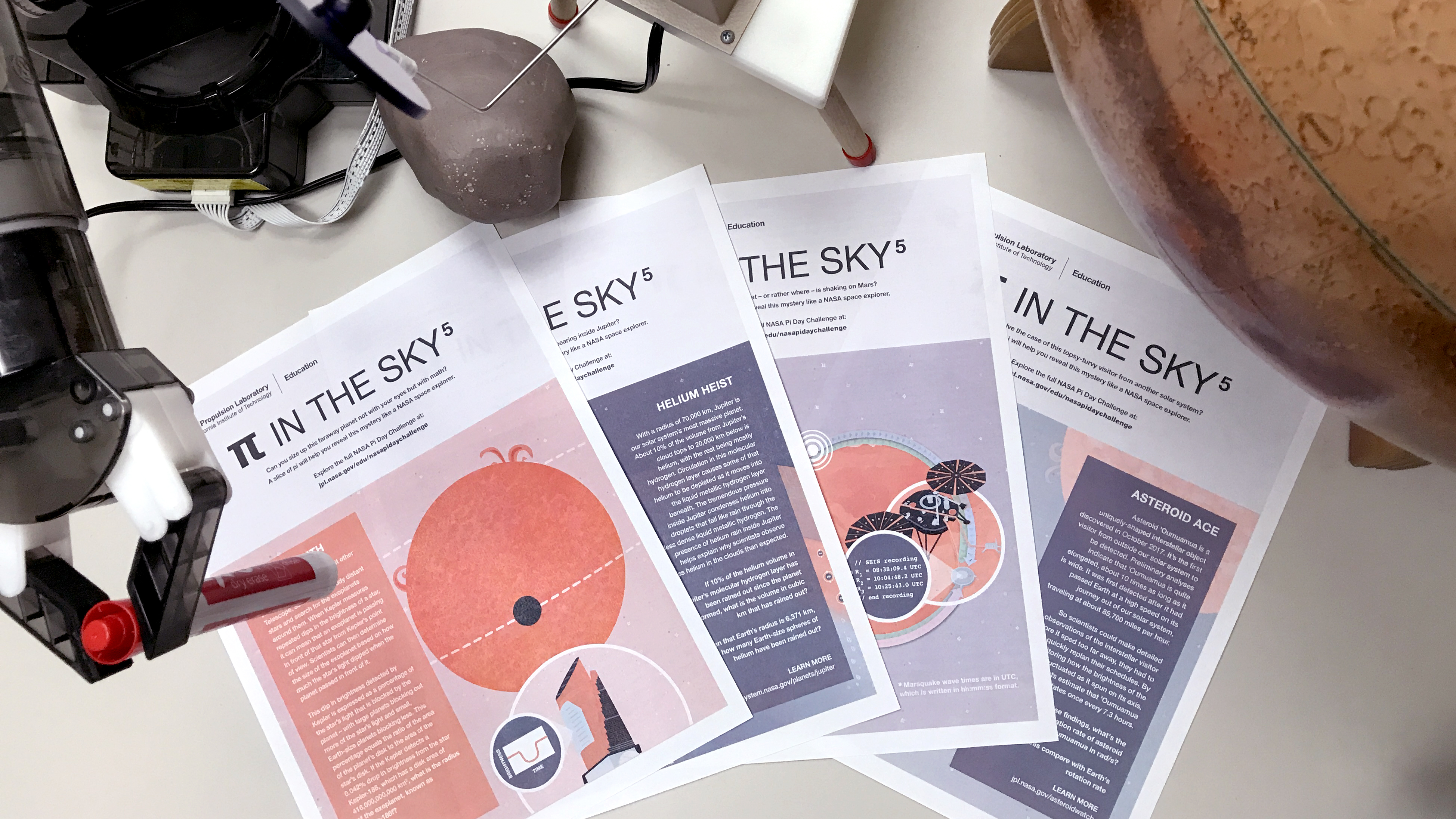 Lessons: Pi in the Sky
Explore the entire NASA Pi Day Challenge lesson collection, including free posters and handouts!
To show students how pi is used at NASA and give them a chance to do the very same math, the JPL Education Office has once again put together a Pi Day challenge featuring real-world math problems used for space exploration. This year's challenge includes exploring the interior of Mars, finding missing helium in the clouds of Jupiter, searching for Earth-size exoplanets and uncovering the mysteries of an asteroid from outside our solar system.
Here's some of the science behind this year's challenge:
Scheduled to launch May 5, 2018, the InSight Mars lander will be equipped with several scientific instruments, including a heat flow probe and a seismometer. Together, these instruments will help scientists understand the interior structure of the Red Planet. It's the first time we'll get an in-depth look at what's happening inside Mars. On Earth, seismometers are used to measure the strength and location of earthquakes. Similarly, the seismometer on Insight will allow us to measure marsquakes! The way seismic waves travel through the interior of Mars can tell us a lot about what lies beneath the surface. This year's Quake Quandary problem challenges students to determine the distance from InSight to a hypothetical marsquake using pi!
Also launching in spring is NASA's Transiting Exoplanet Survey Satellite, or TESS, mission. TESS is designed to build upon the discoveries made by NASA's Kepler Space Telescope by searching for exoplanets – planets that orbit stars other than our Sun. Like Kepler, TESS will monitor hundreds of thousands of stars across the sky, looking for the temporary dips in brightness that occur when an exoplanet passes in front of its star from the perspective of TESS. The amount that the star dims helps scientists determine the radius of the exoplanet. Like those exoplanet-hunting scientists, students will have to use pi along with data from Kepler to find the size of an exoplanet in the Solar Sleuth challenge.
Jupiter is our solar system's largest planet. Shrouded in clouds, the planet's interior holds clues to the formation of our solar system. In 1995, NASA's Galileo spacecraft dropped a probe into Jupiter's atmosphere. The probe detected unusually low levels of helium in the upper atmosphere. It has been hypothesized that the helium was depleted out of the upper atmosphere and transported deeper inside the planet. The extreme pressure inside Jupiter condenses helium into droplets that form inside a liquid metallic hydrogen layer below. Because the helium is denser than the surrounding hydrogen, the helium droplets fall like rain through the liquid metallic hydrogen. In 2016, the Juno spacecraft, which is designed to study Jupiter's interior, entered orbit around the planet. Juno's initial gravity measurements have helped scientists better understand the inner layers of Jupiter and how they interact, giving them a clearer window into what goes on inside the planet. In the Helium Heist problem, students can use pi to find out just how much helium has been depleted from Jupiter's upper atmosphere over the planet's lifetime.
In October 2017, astronomers spotted a uniquely-shaped object traveling in our solar system. Its path and high velocity led scientists to believe 'Oumuamua, as it has been dubbed, is actually an object from outside of our solar system – the first ever interstellar visitor to be detected – that made its way to our neighborhood thanks to the Sun's gravity. In addition to its high speed, 'Oumuamua is reflecting the Sun's light with great variation as the asteroid rotates on its axis, causing scientists to conclude it has an elongated shape. In the Asteroid Ace problem, students can use pi to find the rate of rotation for 'Oumuamua and compare it with Earth's rotation rate.
Explore More
Join the Conversation
Standards-Aligned Lessons
Multimedia
18 Ways NASA Uses Pi – Whether it's sending spacecraft to other planets, driving rovers on Mars, finding out what planets are made of or how deep alien oceans are, pi takes us far at NASA. Find out how pi helps us explore space.
Facts and Figures
Missions
Websites
TAGS: Pi Day, Math, Science, Engineering, NASA Pi Day Challenge, K-12, Lesson, Activity, Slideshow, Mars, Jupiter, Exoplanets, Kepler, Kepler-186f, Juno, InSight, TESS, 'Oumuamua, asteroid, asteroids, NEO, Nearth Earth Object
---
Today, after spending 340 days aboard the International Space Station on a mission to better understand the bodily impacts of extended stays in space, NASA astronaut Scott Kelly will begin his return trip to Earth.
> See the NASA Television schedule for coverage of Kelly's return March 1-4
Kelly's mission is a key step in NASA's Journey to Mars, which aims to send American astronauts deeper into space and, eventually, all the way to Mars – on missions lasting more than 900 days.
To get astronauts to Mars, scientists and engineers won't only need to study how such a journey might affect the human body, but also invent new modes of transportation that can land astronauts on the Red Planet and then launch them back to Earth; find efficient ways to supply astronauts with food, water and oxygen; and develop systems for living and working on Mars.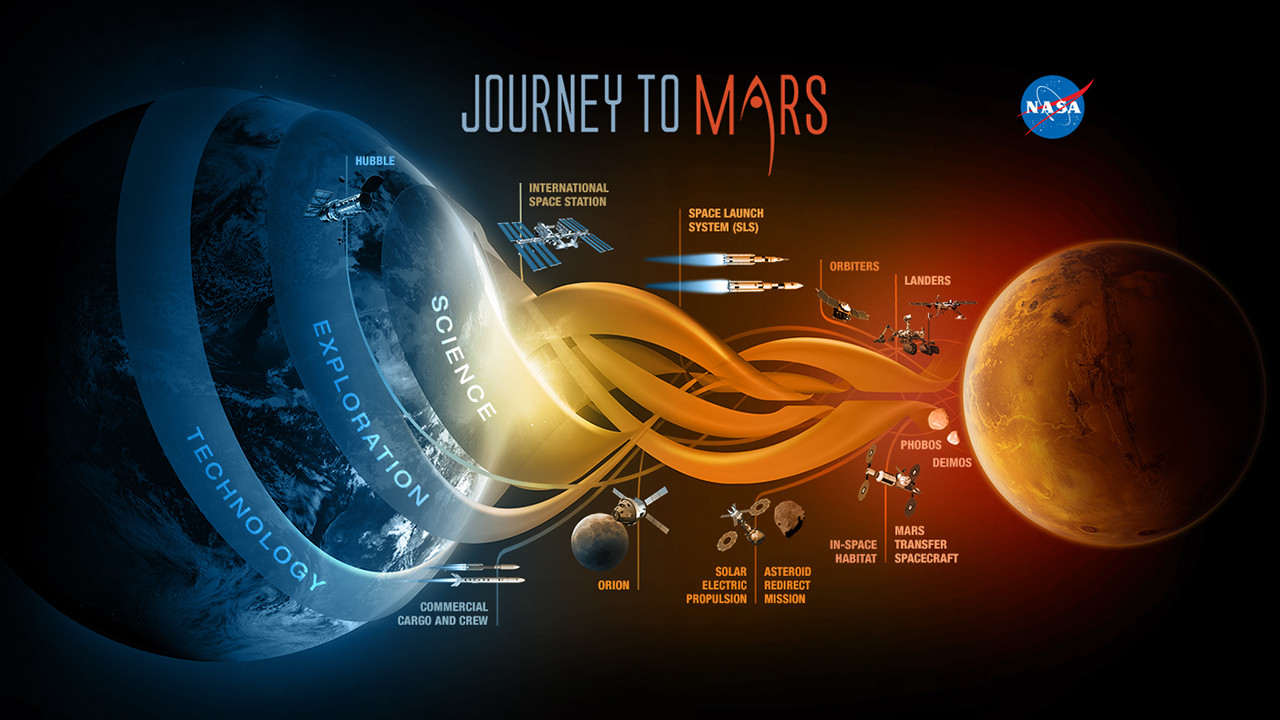 > See this infographic from NASA that shows what's in the works and the plans ahead for NASA's Journey to Mars
As a leading center for robotic exploration of the solar system, NASA's Jet Propulsion Laboratory may not seem like it has much to do with sending humans to Mars. But actually, JPL scientists and engineers are helping lay much of the groundwork (sometimes literally!) for NASA's Journey to Mars. The Curiosity, Spirit and Opportunity rovers as well as the Mars Reconnaissance Orbiter have spent years on and around Mars collecting science that may help identify a landing location for a human mission, determine the kinds of science that astronauts will do, and discover key info about surviving in the harsh environment. And a number of other missions and technologies being developed at JPL – Low-Density Supersonic Decelerator (LDSD), Mars 2020 and Mars Sample Return, to name a few – are helping to bring astronauts one small step closer to Mars.
Learn more about the Journey to Mars and get students involved with these activities and resources:
Lessons and Activities
Multimedia and Interactives
Websites
Blog

Join the Conversation
TAGS: Year in Space, Journey to Mars, Humans on Mars, Astronauts, Living in Space, Mars, Mars Missions
---
UPDATE - Aug. 31, 2016: Our Mars Bulletin Board materials are out of stock. To download and print out the resources, click on the links next to each product.

---
Get the school year back in gear with a Mars-themed bulletin board for your school, classroom, library or educational program. The Educator Resource Center at NASA's Jet Propulsion Laboratory is offering a set of free posters and lithographs with fun facts about the Red Planet and NASA's Mars missions.

The Mars Bulletin Board includes: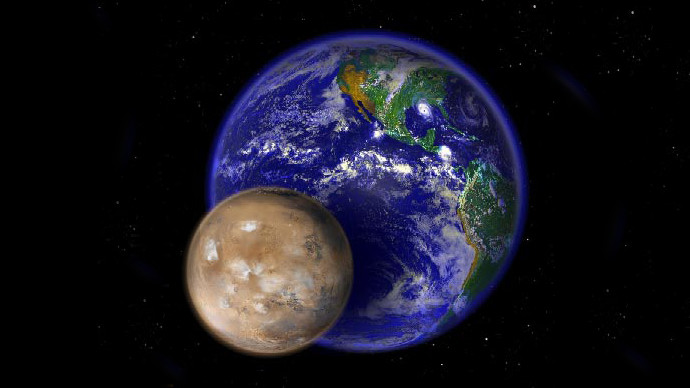 This poster highlights the likenesses and differences between the Red Planet and Earth.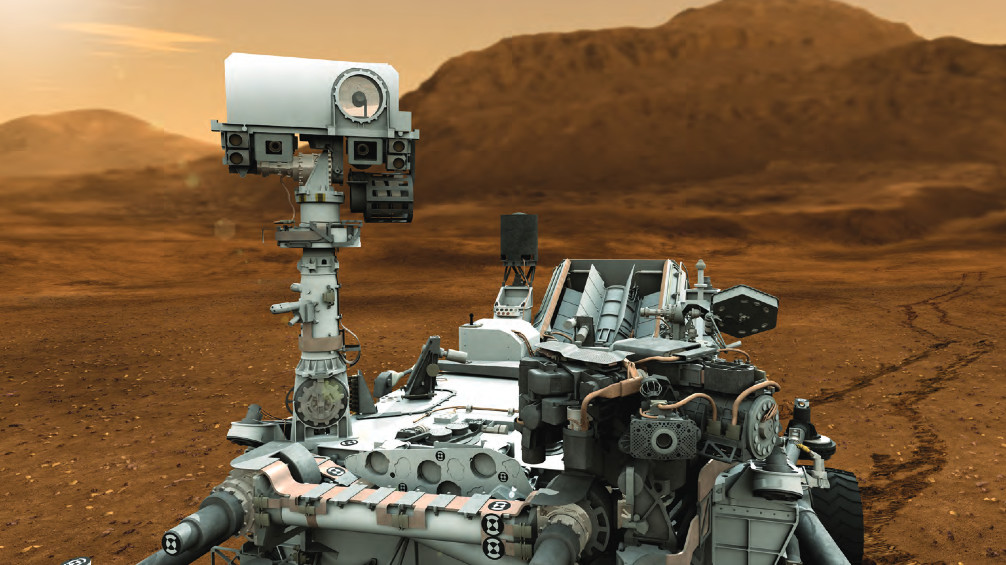 Mars Science Laboratory: Curiosity Rover lithograph set
This lithograph set features images of NASA's Mars rover Curiosity as well as images the rover has taken on the Red Planet. Facts about Curiosity and its discoveries are included on the back of each image.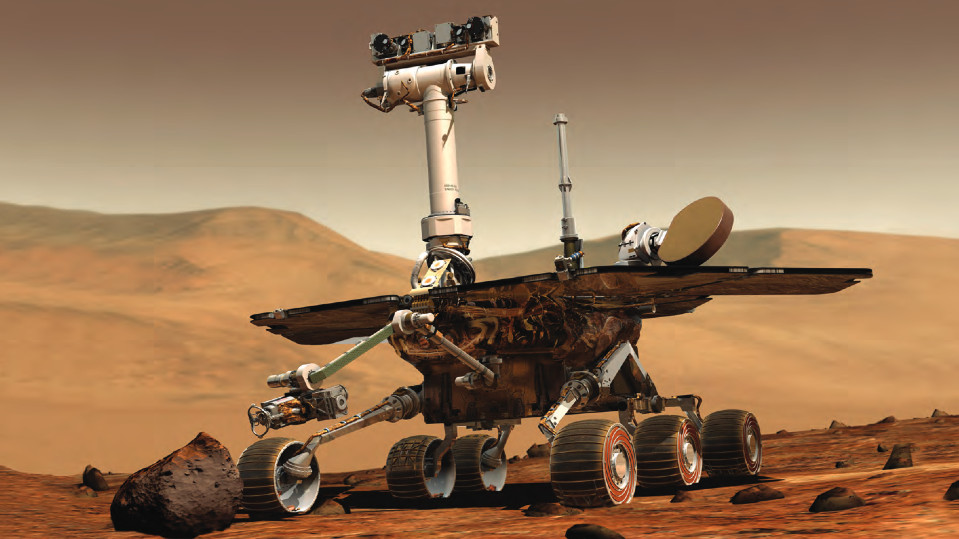 Mars Exploration Rovers, Spirit and Opportunity lithograph
Learn about the twin Mars Exploration Rovers, Spirit and Opportunity, and their key discoveries. (Opportunity is still roving on Mars, more than 10 years after landing on the Red Planet!)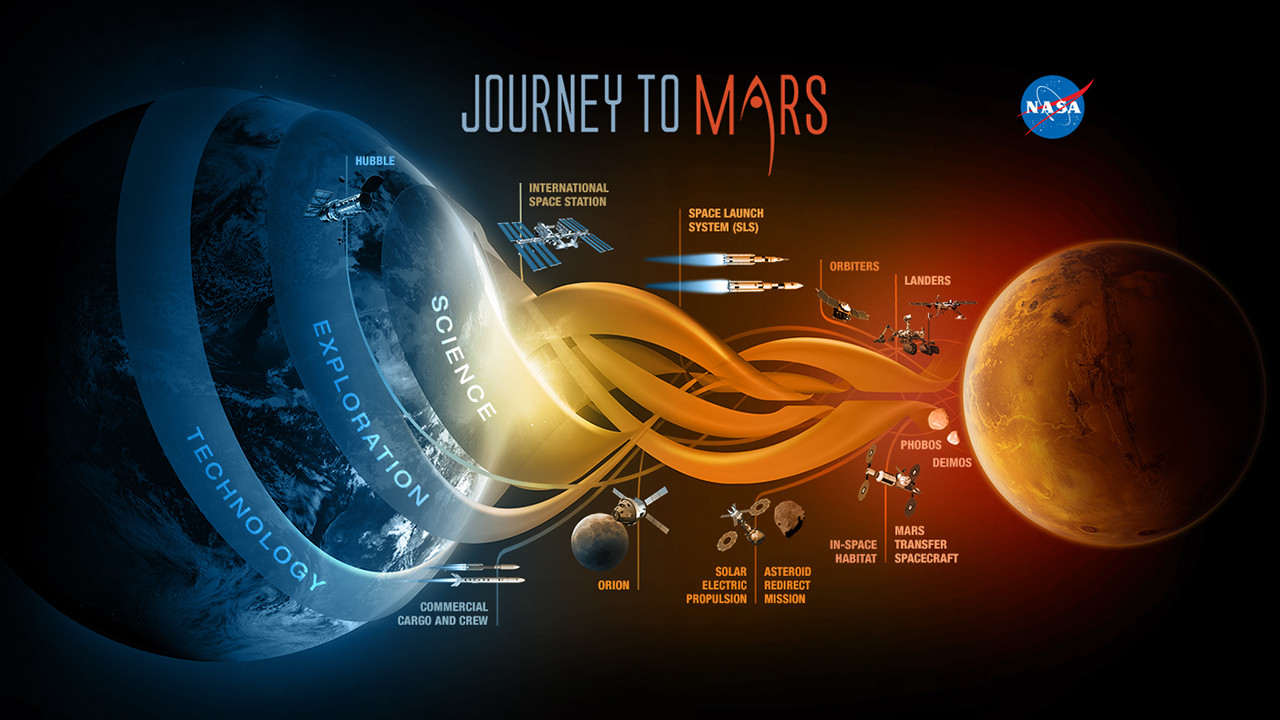 As part of its "Journey to Mars" initiative, NASA is developing spacecraft and technologies that will pave the way for a future manned mission to the Red Planet. This graphic shows some of the key milestones of that initiative.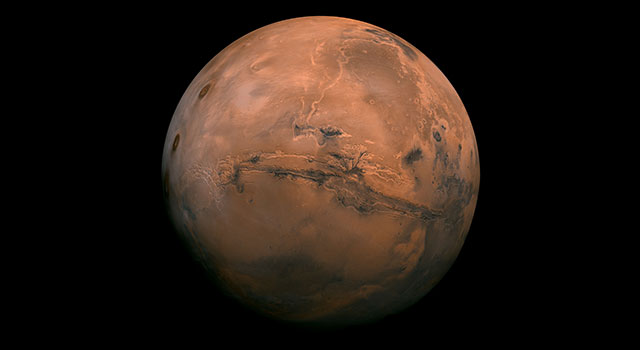 Learn about the history, composition and exploration of Mars on this lithograph featuring images of the Red Planet on one side and fun facts on the other.
The NASA/JPL Educator Resource Center provides formal and informal educators with NASA resources and materials that support STEM learning. For more information, visit the
Educator Resource Center page
.
TAGS: Bulletin Board, Mars, Journey to Mars, Rover, Spacecraft
---
UPDATE - Sept. 9, 2015: Registration for "Send Your Name to Mars" aboard InSight is now closed. Visit the Send Your Name website to be alerted to future opportunities. The next chance to send your name to Mars will be aboard Exploration Mission 1.
---
Send your name to Mars on NASA's next journey to the Red Planet! Visit the Fly Your Name page by September 8 to have your name added to a silicon microchip headed to the Red Planet aboard NASA's InSight Mars lander.
The InSight mission is scheduled to land on Mars on Sept. 28, 2016 to investigate the deep interior and seismology of the planet. This is the first time such a study has been done on Mars and scientists are hoping it will uncover important details about Martian quakes, the interior structure of Mars and the evolution of all rocky planets, including Earth.
Participants in this fly-your-name opportunity will earn "frequent-flier" points as part of NASA's Journey to Mars campaign. Started with the December 2014 flight of NASA's Orion spacecraft, the campaign offers several opportunities to send your name to Mars -- and collect points -- on NASA missions preparing for human exploration of the Red Planet.
---

UPDATE - March 17, 2014: The pi challenge answer key is now available for download.
---
In honor of everyone's favorite mathematical holiday, Pi Day, which celebrates the mathematical constant 3.14 on March 14, NASA/JPL Edu has crafted a set of stellar middle- and high-school math problems to show students that pi is more than just a fancy number.
Pi is all over our skies! It helps power our spacecraft, keeps our Mars rovers' wheels spinning, lets us peer beneath the clouds on Jupiter and gives us new perspectives on Earth. Take part in the fun and see if your classroom can solve some of the same problems that real NASA scientists and engineers do.
Each pi-filled word problem gets a graphic treatment in this printable infographic (available in both poster-size and 8.5-by-11 handouts) that helps students visualize the steps they need to get to a solution. A companion answer key is also available below and walks students through each step of the solutions. It can be printed on the back of the problem-set infographic for an educational classroom poster.
"Pi in the Sky" Downloads:
---
Two weeks before I returned to NASA's Jet Propulsion Laboratory in Pasadena, Calif., for my second internship working on projects with the Deep Space Network and the Department of Defense, something special happened. I was poised to present my research from JPL and Montana State University's Space Science and Engineering Laboratory -- where I've been building cube-satellites while going to school -- as part of the Montana Space Grant Consortium Research Symposium. The crowd was full of distinguished scientists and professors, but there was one face that stood out among the rest. She helped send robots to Mars, she's a famous public speaker, and she has a passion for space exploration. But more than that, her perseverance and drive are an inspiration to me. (Plus, like me, she's from Montana!)
The face I was looking at was that of Jaime Waydo, the mobility team lead mechanical systems engineer for NASA's next Mars rover, Curiosity, which is scheduled to land on Mars on August 5. An MSU mechanical engineering alum, Jaime went through the same program and schooling that I'm going through and was returning to her alma mater to speak to the next generation of explorers and engineers after working on two successful Mars rover missions and leading the mobility team on a third. Space Grant, the program that brought me to JPL for my internship, thought it would be a great idea that Jaime and I meet. (Little did I know she would be listening to my speeches!) What follows is our conversation, which not only highlighted the power of education -- and my JPL internship -- but also reaffirmed my passion to reach for the stars.
Me: Do you giggle every night when you go to bed knowing that you work for JPL?

Jaime: Umm, yes ... a little bit. I remember one time my boss looked at me and said, "Jaime, you've been putting in a ton of hours, we can get you some overtime pay," and I looked at him and I said, "I can't believe I get paid to work here!"

Me: When you were growing up in Montana, did you ever think that you would someday be working for NASA, or was that a childhood goal?
Jaime: In our science class in seventh grade, we learned about NASA's Viking spacecraft landing on Mars, and I was especially attracted to Viking because it landed the year I was born. I looked at my teacher and said, "I'm going to build stuff that will go to Mars!" The stars aligned, and I got to go to JPL at a time when there were Mars missions all the time. And I got to work on two of the most famous Mars landings of all time and soon to be a third. It's been a great career.

Me: How did you get to JPL?
Jaime: I was working at Perkins Family Restaurant during school at MSU in Bozeman, Montana. A couple would come in and eat everyday at 4 p.m., and one day the lady pulled me aside and said, "What are you doing with your life? I don't want you to be a waitress forever." And I said, "I go to school at MSU. I'm a mechanical engineer student, and my dream is to go work at JPL in California." The lady said, "My brother just retired from there. I'll bring him in." Two weeks later, her brother came in to Perkins and took my resume. Then, a week later, the famous Don Bickler [who leads the Advanced Mechanical Systems team for JPL] called. Don brought me in to JPL, where the stars aligned again, and gave me an internship in the group that was designing mobility systems to go to Mars. It was everything I had ever wanted.You learn to be really sharp when you work for Don. He's the father and inventor of Martian mobility.
Me: With all the pressure and stress of flight missions and landing on Mars, how do you leave the office and go home to a family and sleep?
Jaime: When you are on a flight project, everybody is 100 percent committed, and you know that even if your system is having bugs or not working today, other people are pulling it up by its bootstraps and helping to fix the problem. It's an incredible team that works at JPL, and you will never find, I don't think, in one spot, so many talented people in one place.
Me: Tell me about the bogie joint on Curiosity that you worked on and helped design for the rover. Is that new to suspension or mobility systems on rovers?
Jaime: No, it's not new; it's a take off of old train technology. It balances the weight between the two wheels. Sojourner had it, Spirit and Opportunity had it, and now Curiosity has it. When I started working on Curiosity, JPL asked me to run the mobility team, and I said ok, but I want to do hardware too. I was worried about a career trajectory that would take me into management and not be so technical, and I still really wanted to be technical. I'm really proud of the fact that I ran this amazing team of highly creative, talented people who allowed me to be a manager, and build hardware like the bogie joint at the same time, and to fulfill a lifelong dream of building hardware to go to Mars. [I look over at my father backstage who just retired from 46.5 years on the railroad, and Jaime says to him, "Bill, I bet there was a bogie joint on the train!" He grins from ear to ear and says, "Yep!"]

Me: Tell me about this? [I show Jaime a picture that I took at JPL last summer of a huge pink steel platform that was used as a test bed to work on the mobility system for the rover.]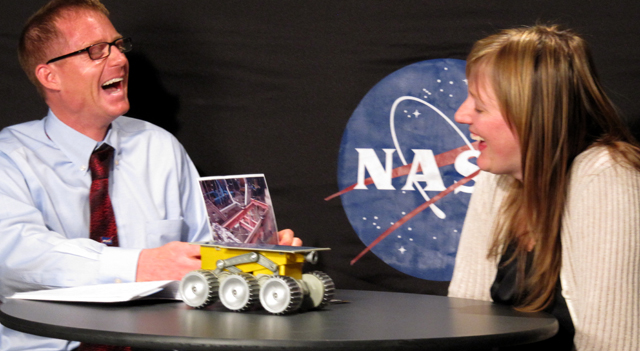 I interview Jaime Waydo, the mobility team lead mechanical systems engineer for NASA's next Mars rover, Curiosity, during the Montana Space Grant Consortium Research Symposium. Image credit: NASA/JPL-Caltech
Jaime: [laughing] that's called the "Pink Pig." It's a piece of support equipment for the rover mobility system. I decided that we needed a little bit of "girl" in the mobility team. I was the only girl on the mobility team for a long time, and if I could do anything to make girls more excited about science and engineering, then I was going to do it. I figured that if girls saw this huge pink piece of equipment, and realized that a girl had been there and done that and worked on the rover, it would make girls excited. And it did. Engineering school is really hard: the all night studying, the thermodynamics. The fact that I made it through engineering school still blows my mind. It was tunnel vision focus to get to JPL to be on that spacecraft team. If I can do it, then I want to inspire other girls to go for it as well.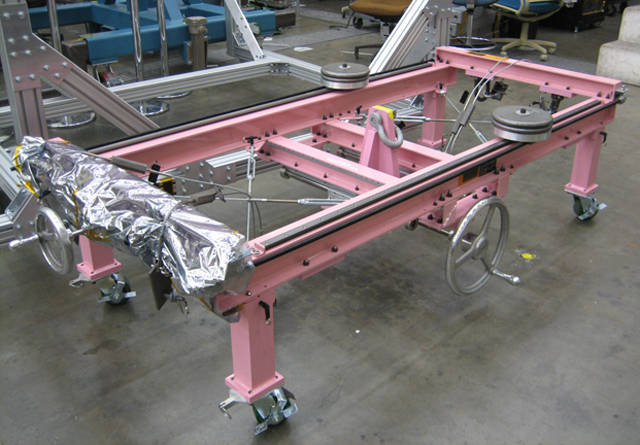 Jaime had the idea to paint this piece of support equipment for the Curiosity rover bright pink to show girls that engineering can be fun. Image credit: NASA/JPL-Caltech
Not only does Jaime continue to inspire girls and boys alike, she inspires countless students and future engineers. She has a way of making you feel like you have the right stuff and should continue to shoot for the stars. The next time I see Jaime will be at JPL on August 5, when Curiosity is scheduled to land on Mars. On that night, when I look toward Mars in the sky, I'll know that Jaime was a part of paving the way for space exploration, my greatest passion.
TAGS: Jaime Waydo, Mars, Rover, Robotics
---
During a live web chat on January 27, 2011, NASA/JPL engineer Nagin Cox answers questions from students about Mars exploration and rovers.