---
To remotely operate NASA's next Mars rover on a planet millions of miles away, mission team members will need to carefully plan out every drive, head swivel and arm extension before sending their coded commands to the vehicle. A wrong move could jeopardize the mission and, at the least, eat into the rover's precious energy supply. So this past summer, it was intern Vivian Li's task to design a web tool that will let mission operators ensure they're sending all the right moves to Mars. The internship at NASA's Jet Propulsion Laboratory gave Li, an information and computer science major at Cornell University, a chance to bring her design skills to a team that's typically more focused on building interfaces for robots rather than for humans. We caught up with Li to learn how she's adding a human touch to robotic navigation on the Mars 2020 mission.
What are you working on at JPL?
I'm working on a user interface for the
Mars 2020 rover
that takes in commands and produces a 3D simulation of the commands. So a rover driver could input what they want the rover to do – for example, drive 100 meters forward – and then, based on the terrain and all the other external factors, the program would take in the commands and simulate the path of the rover.
Is this something completely new for Mars 2020?
They've had the simulation software for a really long time. This is just a different way to package it and for people to be able to easily use it. The current version only runs on certain computers, so we're moving it to a web-based platform that can run on pretty much any modern browser.
What's your average day like at JPL?
I get in around 7:30 a.m., and at that time I just sort of warm up for the day in that I don't do anything that's super-taxing. I check my meetings and get set up. Then right after that, I jump into what I need to do. Right now, my primary project is creating the front end for the interface, writing a little bit of code and fixing bugs in the flight software simulation for Mars 2020.
If I'm not in meetings, I'll be writing code all day and doing a lot of planning. I'm in a different office than my team, so me and my co-intern will sometimes ask for help with our project, but it's a lot of independent work. It's great because my co-intern and I help each other a lot. Our mentors tell us what they want – like yesterday, they wanted us to incorporate a camera view into the simulation – then, we're the ones who figure out how to do it.
Pretty soon, we'll be going into user testing. There are a couple of people who would actually be using the technology who volunteered to test it out. Once they do, we can edit it based on how they feel about what we have right now.
What has been the most uniquely JPL or NASA experience that you've had so far?
Two things: First, just getting to stroll in and watch the Mars 2020 rover being built in the clean room. Second is meeting the people who work here. The people here all share a similar love of science and exploration research, which is really different from how a lot of computer science is oriented. All the engineers and even people who are in physics or communications share a common goal. I've learned so much from just talking to people and even other interns. It's been so cool, because I don't really get that exposure at school.
What made you decide to study information and computer science?
I actually went into college studying biology and English. I had done a year of coding in my senior year of high school, so I knew a little bit of [the programming language] Python. When I got to college, I decided to study biology, and I kind of started orienting toward computational biology. I worked in a lab, and the people there told me, "If you have computer science skills, you can kind of go into any field you want." So I had this career crisis moment when I was like, "I don't want to study biology anymore," because I had been in a microbiology lab all summer and it was not very fun. I figured if I did computer information sciences, it would give me more time to decide.
Even though I know a lot of people here have a lot more experience than me and they started a lot younger, I feel like my skills are so much more adaptable now, and that is what made me stay in the major.
So you still wanted to have that science focus?
Yeah. I don't want to fully isolate myself from the thing that I wanted to study originally, because I still do love biology, just not the career path that goes with it.
What about the user-interface side? Is that something that you're interested in, or did you get thrown into it for your internship?
That's what's special about my major in computer information science: Not only are we technically-based, but also we're user-and-society-based. So for our core classes, we take communications, law, ethics and policy, and all that. Through all those classes, I learned just how important the user-interface side is and accessibility design, and just how much easier life gets if the engineer really understands the user. I think having a good understanding of society and technology is what we should all be focusing on.
Are you bringing some of that user focus to your work with the Mars 2020 mission?
With my mentors being more on the software side and my co-intern being more on the development side, I think my having the user-interface design skills is unique in a very technical workspace. For Mars 2020, even though I'm not working on the design of the rover or one of the software systems, being here allows me to reinforce that the users are still really important, and we want to make it as easy as possible for someone to understand the technology even though it's super-complex.
What brought you to JPL for this internship?
A year and a half ago, I went on a trip to Texas with my friend from school. She brought her friend from home, who brought his friend. The two of them had interned at JPL. They spent the entire week talking about JPL nonstop, on all of our hikes [laughs]. I had never met people who loved their work so much that they wanted to talk about it 24/7. That made me think that JPL must be a great workplace and somewhere that everyone is really passionate. Since then, I've just wanted to come here.
How do you feel you're contributing to the Mars 2020 mission and making it a success?
I feel like the work I am doing is really important. And because I'm bringing a unique skill set to my team, it makes me feel like I'm valued at JPL. I've also been working with other teams who might also want to use my software. Because of that, I think that this concept could be developed for other missions and be really useful in the future as well.
What is your ultimate career goal?
I don't know yet. I just really wanted to work at JPL this summer because I felt like I would get exposed to a lot more. I think now I'm more stressed, because I have seen so many things I want to do [laughs]. But I definitely want to be somewhere in the realm of tech and society. My overarching goal is that I want to have an ethical career, something that can help humanity. And I think JPL is doing that.
If you could play any role in NASA's plans to send humans to the Moon or on to Mars, what would it be?
I really enjoy the work I'm doing now and would love to continue doing that in the future. I don't think I personally want to be an astronaut. I want to stay on Earth for everything that this planet has to offer.
---
Explore JPL's summer and year-round internship programs and apply at: jpl.nasa.gov/intern
Career opportunities in STEM and beyond can be found at: jpl.jobs
The laboratory's STEM internship and fellowship programs are managed by the JPL Education Office. Extending the NASA Office of STEM Engagement's reach, JPL Education seeks to create the next generation of scientists, engineers, technologists and space explorers by supporting educators and bringing the excitement of NASA missions and science to learners of all ages.
TAGS: Higher Education, Internships, STEM, Engineering, Interns, College, Robotics, Mars, Rover, Mars 2020, Coding, Computer Science
---
Max Rudolph has had Mars rovers on the brain for as long as he can remember, and this past summer, as an intern at NASA's Jet Propulsion Laboratory, he joined the team building the most advanced Mars rover ever. His role was to find bugs in the software that directs the precise movements of cameras that serve as the literal eyes of the rover and ensure that every swivel of the rover's cartoon-like "head" goes off without a hitch. For the Georgia Institute of Technology student, it was a step into a world beyond his electrical engineering major, but one to which he found he was well suited. We caught up with Rudolph between shifts in the In-Situ Instrument Laboratory, where engineers test spacecraft components in simulated otherworldly environments, to find out what an average day for him is like on the Mars 2020 mission and what brought him to JPL.
What are you working on at JPL?
I work on the Mars 2020 systems engineering testbed. I do mechanism integration and verification of flight software. Basically, I work with the remote-sensing mast on the rover, running tests to make sure everything works and try to find bugs in the software [we use to operate it].
What is the remote-sensing mast?
It's basically the head and neck of the rover. It kind of juts up off of the deck of the rover and makes it look a bit like WALL-E, the Pixar character. It has science instruments designed to measure the Martian wind and study the chemical composition of rocks and soil, as well as navigation cameras that serve as the "eyes" of the rover.
What kinds of tests are you running?
This summer, I've mostly been testing the cameras and the movements of the remote-sensing mast. So we move the remote-sensing mast around, use the cameras on the front of the mast to take pictures and see whether it can do what it's designed to do. We get instructions from the subsystem engineers, the people who designed and built different parts of the mast [such as the cameras and science instruments]. We try out the movements and commands they designed to see if they actually work when the whole system is together.
What's your average day like?
There are two types of days I have. Some days I have shifts in the testbed, and other days, I do work at my desk. When I'm in the testbed, I run tests and run through procedures with the remote-sensing mast on a replica [or engineering model] of the rover.
The rest of my time is spent preparing or wrapping up work I did when I was in the testbed. For example, before I run procedures in the testbed, I send the software commands we're going to use to test the mast through a simulation that tells me if they are valid or not. After I run a test, I note what changes I made to the procedure, and what worked and what didn't work, so I can refer to it later.
Where do you go to school, and what are you studying?
I'm going to Georgia Tech, studying electrical engineering.
What got you interested in studying electrical engineering?
I don't know how I got into it [laughs]. A lot of people ask me, "Why electrical engineering?" Not often, "Why engineering?" I think I chose electrical engineering because it's a very broad field. At school, I focus on controls and signal processing. I also do research in robotics for various professors.
But here, I'm not doing that at all. This is a systems engineering lab, and I've never done systems engineering. I am doing robotics, but it's very different from my classes. Kareem Badaruddin, who's my group supervisor, says, "We recruit a lot of electrical engineers. They usually know the skills. They have a base knowledge."
So I think I chose electrical engineering because there's a lot of variation in what you can do with your degree. You can go into software, robotics or hardware design and circuits. There are a lot of opportunities.
As far as what got me into engineering, I don't remember a time when I didn't want to do this.
What brought you to JPL?
This is one of those places that I have known about for years. I'm 20, so I probably learned about JPL in eighth grade. I was interested in working here because everything is going to space – there's nothing cooler than that. Being here is something I always thought about wanting to do, and now I have the opportunity.
Was there a particular mission or event that lead you to JPL?
It probably was Curiosity or maybe the [Mars Exploration rovers, Spirit and Opportunity]. I always had the rovers in the back of my mind – even before I knew that JPL built them. One day, I found my way to the JPL website, and I was like, "Oh, these spacecraft are all built here."
How do you hope you're contributing to this mission and making it a success?
I hope I find any issues that exist in the system so we can fix them before the rover goes to Mars. It's a good thing if we find an issue with the rover when we test it because now we can fix it, and that's one less thing that can fail when the rover is millions of miles away on Mars. My main goal is to learn and contribute as much as I can.
What has been the most uniquely JPL or NASA experience that you've had while you've been here?
People might think it's humdrum, but I think it's really cool: I worked on a side project, helping with the Mars Helicopter Delivery System, which is a mechanism on the 2020 rover that will place the first helicopter on Mars. We were testing it, and I got to see the first time this thing moved. It wasn't historic like Apollo and wasn't actually landing on Mars, but seeing it – even on a replica of the rover – gave me a lot of pleasure. Like a lot of things at JPL, it was one of a kind.
What's your ultimate career goal?
I know I want to be here, because no one in the world does what JPL does. But just as important, I want to make an impact on the world.
OK, now for a fun question: If you could play any role in NASA's plans to send humans back to the Moon or on to Mars, what would it be?
Ideally, I'd be the one going. But I'd also really like to be part of the team that gets the spacecraft to the Moon or Mars.
---
Explore JPL's summer and year-round internship programs and apply at: jpl.nasa.gov/intern
Career opportunities in STEM and beyond can be found at: jpl.jobs
The laboratory's STEM internship and fellowship programs are managed by the JPL Education Office. Extending the NASA Office of STEM Engagement's reach, JPL Education seeks to create the next generation of scientists, engineers, technologists and space explorers by supporting educators and bringing the excitement of NASA missions and science to learners of all ages.
TAGS: Higher Education, Internships, STEM, Engineering, Interns, College, Robotics, Mars, rover, Mars 2020, Electrical Engineering
---
Whether discovering something about our own planet or phenomena billions of miles away, NASA missions and scientists unveiled a vast universe of mysteries this past decade. And with each daring landing, visit to a new world and journey into the unknown came new opportunities to inspire the next generation of explorers. Read on for a look at some of NASA's most teachable moments of the decade from missions studying Earth, the solar system and beyond. Plus, find out what's next in space exploration and how to continue engaging students into the 2020s with related lessons, activities and resources.
1. Earth's Changing Climate
Rising sea levels, shrinking ice caps, higher temperatures and extreme weather continued to impact our lives this past decade, making studying Earth's changing climate more important than ever. During the 2010s, NASA and National Oceanic and Atmospheric Administration, or NOAA, led the way by adding new Earth-monitoring satellites to their fleets to measure soil moisture and study carbon dioxide levels. Meanwhile, satellites such as Terra and Aqua continued their work monitoring various aspects of the Earth system such as land cover, the atmosphere, wildfires, water, clouds and ice. NASA's airborne missions, such as Operation IceBridge, Airborne Snow Observatory and Oceans Melting Greenland, returned data on water movement, providing decision makers with more accurate data than ever before. But there's still more to be done in the future to understand the complex systems that make up Earth's climate and improve the scientific models that will help the world prepare for a warmer future. Using these missions and the science they're gathering as a jumping-off point, students can learn about the water cycle, build data-based scientific models and develop an understanding of Earth's energy systems.
Explore More
2. Teachable Moments in the Sky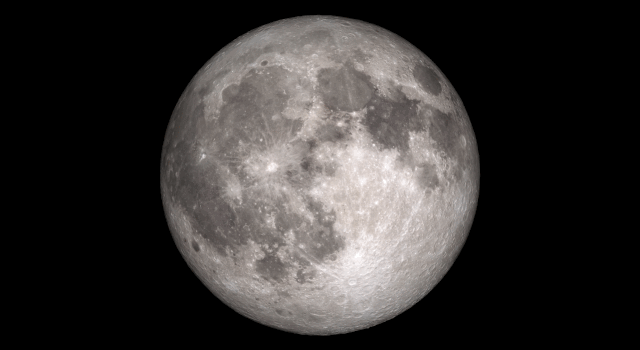 Astronomical events are a sure-fire way to engage students, and this past decade delivered with exciting solar and lunar eclipses that provided real-world lessons about the Sun, the Moon and lunar exploration. The total solar eclipse that crossed the U.S. in 2017 gave students a chance to learn about the dynamic interactions between the Sun and Moon, while brilliant lunar eclipses year after year provided students with lessons in lunar science. There's more to look forward to in the decade ahead as another solar eclipse comes to the U.S. in 2024 – one of nine total solar eclipses around the world in the 2020s. There will be 10 total lunar eclipses in the 2020s, but observing the Moon at any time provides a great opportunity to study celestial patterns and inspire future explorers. Using the lessons below, students can develop and study models to understand the size and scale of the Earth-Moon system, predict future Moon phases and engage in engineering challenges to solve problems that will be faced by future explorers on the Moon!
Explore More
3. Missions to Mars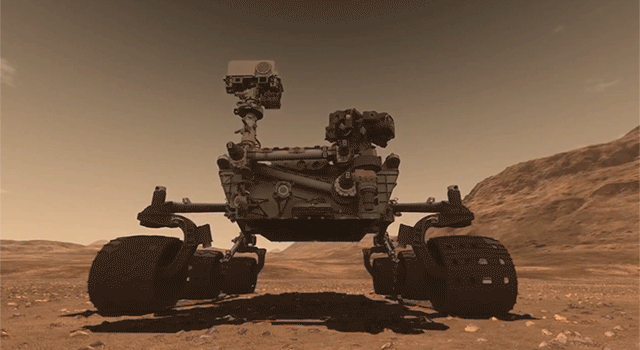 The past decade showed us the Red Planet in a whole new light. We discovered evidence that suggests Mars could have once supported ancient life, and we developed a better understanding of how the planet lost much of its atmosphere and surface water. The Opportunity rover continued exploring long past its expected lifespan of 90 days as NASA sent a larger, more technologically advanced rover, Curiosity, to take the next steps in understanding the planet's ability to support life. (Opportunity's nearly 15-year mission succumbed to the elements in 2019 after a global dust storm engulfed Mars, blocking the critical sunlight the rover needed to stay powered.) The InSight lander touched down in 2018 to begin exploring interior features of the Red Planet, including marsquakes, while high above, long-lived spacecraft like the Mars Reconnaissance Orbiter and Mars Odyssey were joined by NASA's MAVEN Orbiter, and missions from the European Space Agency and the Indian Space Research Organization. The next decade on Mars will get a kick-start with the July launch of the souped-up Mars 2020 rover, which will look for signs of ancient life and begin collecting samples designed to one day be returned to Earth. Mars provides students with countless opportunities to do some of the same engineering as the folks at NASA and design ideas for future Mars exploration. They can also use Mars as a basis for coding activities, real-world math, and lessons in biology and geology.
Explore More
4. Ocean Worlds and the Search for Life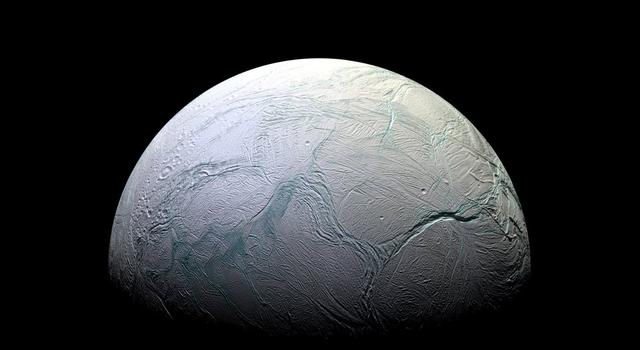 This decade marked the final half of the Cassini spacecraft's 13-year mission at Saturn, during which it made countless discoveries about the planet, its rings and its fascinating moons. Some of the most exciting findings highlighted new frontiers in our search for life beyond Earth. Cassini spotted geysers erupting from cracks in the icy shell of Saturn's moon Enceladus, suggesting the presence of an ocean below. At the moon Titan, the spacecraft peered through the hazy atmosphere to discover an Earth-like hydrologic cycle in which liquid methane and ethane take the place of water. Meanwhile, evidence for another ocean world came to light when the Hubble Space Telescope spotted what appear to be geysers erupting from the icy shell surrounding Jupiter's moon Europa. NASA is currently developing Europa Clipper, a mission that will explore the icy moon of Jupiter to reveal even more about the fascinating world. For students, these discoveries and the moons themselves provide opportunities to build scientific models and improve them as they learn more information. Students can also use math to calculate physical properties of moons throughout the solar system and identify the characteristics that define life as we know it.
Explore More
5. Asteroids, Comets and Dwarf Planets, Oh My!
The past decade was a big deal for small objects in space. NASA's Dawn mission started 2010 as a new arrival in the main asteroid belt. The next eight years saw Dawn explore the two largest objects in the asteroid belt, the giant asteroid Vesta and the dwarf planet Ceres. On its way to comet 67P/Churyumov-Gerasimenko, ESA's Rosetta mission (with contributions from NASA) flew by the asteroid Luticia in 2010. After more than two years at its destination – during which time it measured comet properties, captured breathtaking photos and deposited a lander on the comet – Rosetta's mission ended in dramatic fashion in 2016 when it touched down on 67P/Churyumov-Gerasimenko. In 2013, as scientists around the world eagerly anticipated the near-Earth flyby of asteroid Duende, residents of Chelyabinsk, Russia, got a surprising mid-morning wake-up call when a small, previously undetected asteroid entered the atmosphere, burned as a bright fireball and disintegrated. The team from NASA's OSIRIS-Rex mission wrapped up the decade and set the stage for discoveries in 2020 by selecting the site that the spacecraft will visit in the new year to collect a sample of asteroid Bennu for eventual return to Earth. And in 2022, NASA's Psyche mission will launch for a rendezvous with a type of object never before explored up close: a metal asteroid. The small objects in our solar system present students with chances to explore the composition of comets, use math to calculate properties such as volume, density and kinetic energy of asteroids, and use Newton's Laws in real-world applications, such as spacecraft acceleration.
Explore More
6. Uncovering Pluto's Mysteries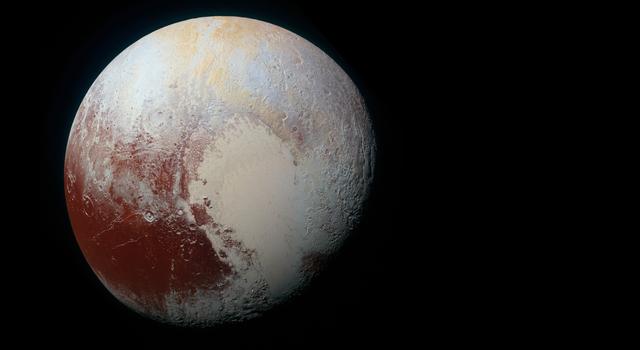 In 2015, after nearly a decade of travel, NASA's New Horizons spacecraft arrived at Pluto for its planned flyby and became the first spacecraft to visit the dwarf planet and its moons. The images and scientific data the spacecraft returned brought into focus a complex and dynamic world, including seas of ice and mountain ranges. And there's still more left to explore. But New Horizons' journey is far from over. After its flyby of Pluto, the spacecraft continued deep into the Kuiper Belt, the band of icy bodies beyond the orbit of Neptune. In 2019, the spacecraft flew by a snowman-shaped object later named Arrokoth. In the 2020s, New Horizons will continue studying distant Kuiper Belt objects to better understand their physical properties and the region they call home. The new information gathered from the Pluto and Arrokoth flybys provides students with real-life examples of the ways in which scientific understanding changes as additional data is collected and gives them a chance to engage with the data themselves. At the same time, New Horizons' long-distance voyage through the Solar System serves as a good launchpad for discussions of solar system size and scale.
Explore More
7. The Voyagers' Journey Into Interstellar Space
In 1977, two spacecraft left Earth on a journey to explore the outer planets. In the 2010s, decades after their prime mission ended, Voyager 1 and Voyager 2 made history by becoming the first spacecraft to enter interstellar space – the region beyond the influence of solar wind from our Sun. The Voyager spacecraft are expected to continue operating into the 2020s, until their fuel and power run out. In the meantime, they will continue sending data back to Earth, shaping our understanding of the structure of the solar system and interstellar space. The Voyagers can help engage students as they learn about and model the structure of the solar system and use math to understand the challenges of communicating with spacecraft so far away.
Explore More
8. The Search for Planets Beyond Our Solar System
It was only a few decades ago that the first planets outside our solar system, or exoplanets, were discovered. The 2010s saw the number of known exoplanets skyrocket in large part thanks to the Kepler mission. A space telescope designed to seek out Earth-sized planets orbiting in the habitable zone – the region around a star where liquid water could exist – Kepler was used to discover more than 2,600 exoplanets. Discoveries from other observatories and amateur astronomers added to the count, now at more than 4,100. In one of the most momentous exoplanet findings of the decade, the Spitzer telescope discovered that the TRAPPIST-1 system, first thought to have three exoplanets, actually had seven – three of which were in the star's habitable zone. With thousands of candidates discovered by Kepler waiting to be confirmed as exoplanets and NASA's latest space telescope, the Transiting Exoplanet Survey Satellite, or TESS, surveying the entire sky, the 2020s promise to be a decade filled with exoplanet science. And we may not have to wait long for exciting new discoveries from the James Webb Space Telescope, set to launch in 2021. Exoplanets are a great way to get students exploring concepts in science and mathematics. In the lessons linked to below, students use math to find the size and orbital period of planets, learn how scientists are using spectrometry to determine what makes up exoplanet atmospheres and more.
Explore More
9. Shining a Light on Black Holes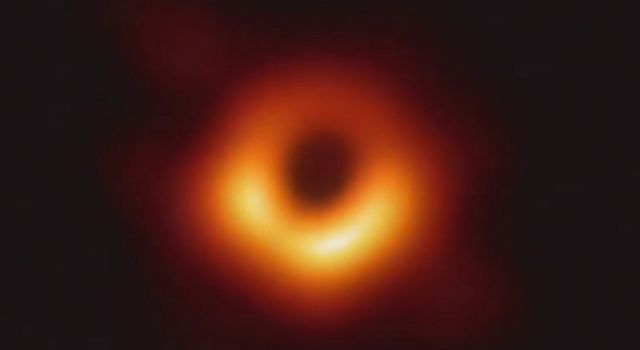 Even from millions and billions of light-years away, black holes made big news in the 2010s. First, a collision of two black holes 1.3 billion light-years away sent gravitational waves across the universe that finally reached Earth in 2015, where the waves were detected by the Laser Interferometer Gravitational-Wave Observatory, or LIGO. This was the first detection of gravitational waves in history and confirmed a prediction Einstein made 100 years earlier in his Theory of General Relativity. Then, in 2019, a team of researchers working on the Event Horizon Telescope project announced they had taken the first image capturing the silhouette of a black hole. To take the historic image of the supermassive black hole (named M87* after its location at the center of the M87 galaxy), the team had to create a virtual telescope as large as Earth itself. In addition to capturing the world's attention, the image gave scientists new information about scientific concepts and measurements they had only been able to theorize about in the past. The innovations that led to these discoveries are changing the way scientists can study black holes and how they interact with the space around them. More revelations are likely in the years ahead as scientists continue to analyze the data from these projects. For students, black holes and gravitational waves provide a basis for developing and modifying scientific models. Since they are a topic of immense interest to students, they can also be used to encourage independent research.
Explore More
TAGS: Teachable Moments, K-12 Education, Educators, Students, STEM, Lessons, Activities, Climate, Moon, Mars, Ocean Worlds, Small Objects, Pluto, Voyager, Exoplanets, Black Holes
---
Bringing the first samples of Martian rock and soil to Earth requires a multi-part plan that starts with NASA's next Mars rover and would end with a series of never-attempted engineering feats – many of which are still the stuff of imagination. So this past summer, Brandon Ethridge joined a team of other interns at NASA's Jet Propulsion Laboratory to bring the concept one step closer to reality. This meant building a small-scale model of something that's never been made before: a vehicle capable of launching off the Martian surface with the precious samples collected by the 2020 Rover in tow and rendezvousing with another spacecraft designed to bring them to Earth. NASA's plans for returning samples from Mars are still early in development and could change. So Ethridge and his team were given a wide berth to dream up new ideas. The project is paving a path not just for Mars exploration, but also for Ethridge himself. Shortly after his internship ended, he graduated from North Carolina A&T State University with a degree in mechanical engineering and accepted a full-time position with the team at JPL that puts spacecraft together and ensures they are working properly. Read on to learn what it's like to envision an entirely new spacecraft for Mars and find out what brought Ethridge to JPL as a first-generation college student.
What are you working on at JPL?
I am working on creating a concept model for a possible future Mars ascent vehicle that would bring samples collected by the Mars 2020 Rover back to Earth. This would be the first time that we would bring samples back from Mars.
NASA is still discussing how we would bring these samples back to Earth, so we're exploring a concept that would be conducted in three stages. The first stage would be to collect the samples and bring them to the Mars ascent vehicle. The second stage would be to use the Mars ascent vehicle to launch into Mars orbit. And the third stage would be to take the spacecraft from orbit back to Earth. I'm primarily working on the second stage. Specifically, I'm working on creating a model of the mechanism that would launch the Mars ascent vehicle from the surface into orbit.
What are the challenges of creating a model of something like this since it's never been done before?
That's definitely one of the challenges. A lot of it is speculation due to our not knowing all the conditions associated with launching anything from another planet. The concept that we're working with is a brand-new design with minimal references, so we're kind of figuring it out as we go. Our group of interns is working to scale down the preliminary design that we got from the engineers to see if it will work on a smaller scale. Then, obviously, you have to account for the changes between Earth and Mars. Even just getting the designs from the engineers has been a struggle, because they're just figuring it out as well.
What's your average day like?
I work with four other interns, and we have two mentors. We've gotten a couple benchmark concepts from the engineers. We're all working to analyze different concepts, comparing and contrasting, and trying to figure out what we think would be best.
Right now, we're in the analysis stage, where we are whittling things down to one specific concept that we want to work towards. We're trying to isolate the exact architecture of the launch mechanism itself, trying to all get on the same page, make sure our numbers match up, and see if we can even theoretically do this. It seems pretty promising – we just have to iron out the kinks.
What's it like working on a team of interns?
We all get along really well, and we're typically all on the same page. We have extroverted personalities, introverted personalities, but we all do pretty well at taking our time to let everyone get their opinions in, so it's a really good team. We bring different perspectives, different specialties. I am very thankful to have a good group of people to work with and fantastic mentors who really let us express ourselves and learn in the process.
How are you working with the engineers who are designing the concepts for this potential future mission?
We're working parallel to them rather than in conjunction with them, which is interesting because they're looking at it as more of a long-term project. Since I'm only here for the 10-week period, my mentors wanted to make sure that I got something out of this. So we're going to scale down the model to expedite the process. Hopefully at the end, we'll be able to present it to the engineers while they're still ironing out their kinks. But it's geared on a tight timeframe, a lot of quick learning.
What are you studying in school?
I am studying mechanical engineering with a concentration in aerospace.
How did you get into that field?
I think it was in middle school that I caught myself always staring at the planes in the sky. I recognized that I really wanted to fly. I wanted to be a pilot for a long time. But then, as I got a little bit older, I recognized that even the pilots aren't familiar with how the planes work exactly or the process that gets them there. I was just fascinated with the phenomenon in itself, where you can take this massive vehicle made of metal and make it appear lighter than air. So I decided to study engineering. I didn't really have any guidance toward it. It just happened that I liked planes, I looked into career options online and that lead me toward engineering and aerospace.
Is anyone else in your family involved in STEM?
No. I'm a first-generation college student. My brother-in-law is a civil engineering professor at Morgan State, and he's helped me a lot. He has been my mentor from the beginning. We don't talk all the time, but he's the one who kind of set me in a direction and told me, "All right, time to go."
How did you find out about the JPL internship and decide to apply?
I got an email one day before an info session was happening on my campus at North Carolina A&T. I had a class at that time, so I didn't think I was going to go, but the class ended early. I ended up attending the info session and speaking with Jenny Tieu and Roslyn Soto [who manage JPL's HBCU initiative]. I brought a resume, and Roslyn critiqued it for me and told me, "You have good experience. Resubmit this with these changes and see how it goes." That's how it worked out.
Did you have any idea that you wanted to come to JPL at some point?
I didn't even know what JPL was, if I'm honest. When I first saw the email, I read, "Jet Propulsion Laboratory," and I thought, "Oh, this sounds interesting." Then I was like, "Wait, this is NASA!" Coming from not knowing or learning about it growing up or being familiar with it, you kind of have to figure things out as you go. It's a little embarrassing to say that I'm here and I didn't even know about this place about a year ago. But at the same time, I figured it out and that's kind of how it goes. Just learn as you go.
What has been your impression of JPL so far?
I love it here. I've been working since I was legally able to work, and this is the first time I've ever enjoyed my job. I'm a night person, but I'm waking up early perfectly fine – not complaining about it, not having bad days. Every day, it's been really good for me. That's something that I don't take for granted, because I've worked jobs that I didn't like in the past. Being out here, being around the people at JPL, it's a really cool experience. It's also my first time away from the East Coast, so I'm just completely thrown into it. I love it. It's been a really great experience.
What's your ultimate career goal?
It's hard for me to say for sure because I have a lot of aspirations. I love the idea of continuing to work with NASA, working on things that are going to space and potentially getting into some of the human space flight projects going on. But I'm also very interested in management positions, maybe learning about some of the business side. Right now, I'm just taking all the experiences for what they are. I know that I want to be in and around aerospace, but as far as in what capacity – whether that's aerodynamics, systems engineering, mechanical engineering – I'm still trying to figure that out.
How do you feel you're contributing to NASA and JPL missions and science?
If we can finish our project by the end of the summer – which would kind of be impressive in itself – and prove that our design does work and is capable of being scaled up to use for an actual Mars ascent vehicle, then I'm sure that would be valuable. Not to mention, I'm learning a lot while I'm here, understanding a lot more and familiarizing myself with everything. So hopefully I can contribute in the future, too.
How does it feel to be working on something that could go to another planet and has never been tried before?
Honestly, it's somewhat unreal to be working on something that's so important and so new. It's not monotonous work. It's not like you're just punching numbers. Everything that I'm working on has the potential to be implemented in some sense for the very first time on another planet. That's something that makes me excited to go to work every day.
I would love to go. But if our launcher mechanism works, there's no reason we couldn't use it for applications on the Moon or on Mars. I also really like the idea of being in mission control, working with the astronauts, working with the Space Station or Gateway in the future.
Have you ever considered applying to be an astronaut?
Only recently. It's one of those things that if you don't grow up with it in your scope, you don't acknowledge it as a possibility. It's just something that doesn't really seem attainable.
Throughout my college career and my life, I've been realizing that almost anything is attainable. It's just going to take time and effort. So [being an astronaut] is something that I was actually looking into last night, and recently, I was having a discussion with my mentors about it. It's definitely something that I think I'll try to do.
What inspired you to start looking into being an astronaut?
I have always had a fascination with the natural world and been enamored with the night sky. Becoming an astronaut had never been on my radar as a possibility, but seeing the world from a perspective beyond its surface is what motivated me to want to become a pilot, which eventually materialized into pursuing engineering. Once I did research and recognized that astronauts really are regular people with similar interests to mine, I began looking into it as a possibility.
Also, the idea of seeing these worlds for myself is something that I can't really get past.
What's been the most JPL- or NASA-unique experience that you've had during your internship?
Probably the fact that everything is just open to you. The work going on at my previous internship was only shared on a need-to-know basis. Here, everyone is very open to telling you what they're doing. They're open to showing you what's going on, all the brand-new things being built. You can just walk around and look at them. It makes it so much more exciting to be here because it's not that you're just placed on one project and stuck with it. It's, "Please explore." They encourage it. "Please come learn and experience everything."
You recently accepted a full-time position at JPL. Congrats! What is the position and what will you be working on?
Thank you! I am thrilled for the opportunity. I will be working in the Flight Systems Engineering, Integration & Test Section. Interestingly, I am not sure which group I will be in yet, because I was offered the position on the spot, at the conclusion of a day of interviews. I was told by my section manager that they are unsure which group I will work in specifically but that they want me to be a part of their team for sure. The plan is for me to start in June 2020.
---
Explore JPL's summer and year-round internship programs and apply at: jpl.nasa.gov/intern
Career opportunities in STEM and beyond can be found at: jpl.jobs
The laboratory's STEM internship and fellowship programs are managed by the JPL Education Office. Extending the NASA Office of STEM Engagement's reach, JPL Education seeks to create the next generation of scientists, engineers, technologists and space explorers by supporting educators and bringing the excitement of NASA missions and science to learners of all ages.
TAGS: Higher Education, Internships, STEM, Engineering, Interns, College, Robotics, Mars, Rover, Mars 2020, Mars Sample Return, HBCU, Students, Careers
---
They've been called the minutes of terror – the moments during which spacecraft perform a series of seemingly impossible maneuvers to get from the top of Mars' atmosphere down to its surface and mission controllers anxiously await the signal heralding a successful landing. This past summer, it was intern Samalis Santini De Leon's task to make sure that when NASA's next Mars rover lands in February 2021, those minutes are as terror-free as possible. That meant bringing her Ph.D. research on the process known as entry, descent and landing, or EDL, to NASA's Jet Propulsion Laboratory, where she could apply it to a real space mission. The Puerto Rico native says she never imagined she would one day play a key role in landing a spacecraft on the Red Planet – especially as an intern. But now that she's worked on the Mars 2020 mission, she'll be just as anxious as the rest of the team when those final minutes arrive. We caught up with the Texas A&M University student to find out how you test a Mars landing while on Earth and how she set herself on a trajectory to NASA.
What are you working on at JPL?
I'm working on Mars 2020 entry, descent and landing simulations. I'm evaluating different scenarios, such as a hardware failure, and I'm trying to assess whether the mission will still land safely on Mars. I'm making sure that the system is robust enough that even if something goes wrong, the mission is not in danger and can still land safely. After all that work, we want the rover to land in one piece and do the science we want to do.
What does entry, descent and landing entail?
It's a series of events and maneuvers required to land safely on a planet. So once you enter the atmosphere, there are things you have to do – steps to ensure that the vehicle lands safely.
What's different about this landing from the one used for NASA's Curiosity Mars rover?
One difference is that we have a new trigger for deploying the spacecraft's parachute. This trigger will help reduce the landing footprint size, meaning we can land closer to the intended landing spot. The mission will also be using Terrain Relative Navigation for the first time. The rover will take images of the surface as it's descending and compare them to its onboard reference maps so it can locate itself with respect to the landing site and avoid any hazards.
What's your average day like?
It's mostly gathering all the concerns from other people on the entry, descent and landing team. Then I run simulations, and I look at the overall behavior of the system and communicate with the teams about what's happening. For example, if there was a hardware concern, I would do simulations to analyze the system's performance and ensure there's no significant effect on the success of the mission.
On the side, I'm doing my Ph.D. work in entry, descent and landing, using artificial intelligence to help analyze very large simulations and communicate critical issues to the experts. As humans, there is only so much we can analyze manually. We hope that these tools can help engineers for future missions.
What lead you to focus on entry, descent and landing for your Ph.D.?
I have no idea. [Laughs.] I did my undergraduate work in mechanical engineering back in Puerto Rico, where I'm from. I volunteered on a project run by Space Grant, building experiments that involved launching sounding rockets from NASA's Wallops Flight Facility. I started to get into space at that time. After that, I tried to pursue aerospace engineering, which is not a possibility in Puerto Rico. So I left Puerto Rico, and I ended up initially working with satellites. Then my advisor said, "I have a friend in EDL, and he's talked about the challenges. Why don't we write a proposal on this?" I got a NASA Science and Technology Research Fellowship for that, and now I'm doing EDL. I was always secretly leaning towards space exploration and getting my hands on a mission.
What made you want to study mechanical engineering initially?
I think it was the closest I could get to aerospace engineering back home. Also, space is very interdisciplinary. I always liked robots. Building robots in high school for competitions got me very interested in that.
What brought you to JPL for this internship?
This is my first summer at JPL. With my fellowship, I do rotations at the NASA centers, so I work with people who do similar stuff.
How many different NASA centers have you interned at now?
I've interned at three. I did two summers at NASA's Ames Research Center, last summer at Langley Research Center, now here at JPL. And in my Space Grant project and undergrad, I did frequent visits to Wallops to put our experiments in the rockets, so that was very cool.
That was all part of the buildup to get here. Coming from an island, it seemed not even possible at the time [that I would ever be at NASA].
What were the challenges that you faced coming from Puerto Rico and trying to pursue aerospace engineering?
The options for aerospace engineering in Puerto Rico are limited. But getting into the Space Grant program was a very good thing to expose me to those fields. After that, the hard part was trying to find a place to do my graduate studies outside of Puerto Rico – where to go, how to get in. There's not a lot of orientation back in Puerto Rico about these things, so you're a little bit on your own. After that, the big problem is dealing with grad school. [Laughs.]
What's your ultimate career goal? Do you think you'd like to go back to Puerto Rico someday?
I would definitely like to continue working on space missions for a while. Whether it's here at JPL or other NASA centers. Just the exposure and the experience – nothing can compare to that. But at some point later on, I would like to go back and consider teaching at the University of Puerto Rico to bring back what I've learned. They're trying to make an aerospace department at the university, so I could bring new perspectives and maybe motivate more people to do what I'm doing.
Maybe I'm biased now that I'm in EDL, but it's one of the biggest challenges. I think getting enough knowledge and expertise in it and playing a role in landing people on the Moon or on Mars would be incredible, because it's a problem we still haven't found a solution to. Being able to help achieve that by whatever means is probably the most amazing thing I could ever do.
What do you hope to accomplish in your role on the Mars 2020 mission?
I definitely want to demonstrate that they've built an amazing system – that it works. I guess the goals are more personal, like getting exposure to the testing side of things, more of the real-life aspects. I'm more locked on the computer simulations. So I'm hoping to get the whole picture of how EDL works and how it all comes together.
Your mentor is Allen Chen, who is the lead for Mars 2020 entry, descent and landing, so he'll be calling the shots on landing day. What is it like having him as a mentor?
It's amazing. I feel very lucky and very proud that I get to work directly with him. He's someone who has so much expertise. I am learning a lot from him. Just sitting in meetings and hearing what he and the team have to say is amazing. He's great, too – easy to talk to, knows way too much about EDL. [Laughs.]
What's been the most unique experience that you've had at JPL this summer?
What I've found the most shocking is seeing the actual rover that's going to Mars and seeing the rover getting built. That has definitely been quite cool. I think JPL is known for stuff like this. It's here that you can see it and you can see the progress. It also seems like a very collaborative environment. That's not common, so that's really cool.
The rover is scheduled to land in February 2021, after your internship has ended. Will you be able to come back to JPL for landing?
It is possible. My mentor [for my Ph.D.] will definitely be here when the rover arrives on Mars. He'll actually spend two months here doing shifts in mission control. He told me he will try to have me here for that to learn about how it all works. I will definitely try to make that happen. The excitement in that room and the fear will collide. It must be very interesting to be in there.
Are you already picturing what it will be like on landing day?
Yeah. Now that I've had some role in it, wherever I am – whether it's here or at home – I'm going to be freaking out. Regardless of how confident we are, it's a challenging process.
---
Explore JPL's summer and year-round internship programs and apply at: jpl.nasa.gov/intern
Career opportunities in STEM and beyond can be found at: jpl.jobs
The laboratory's STEM internship and fellowship programs are managed by the JPL Education Office. Extending the NASA Office of STEM Engagement's reach, JPL Education seeks to create the next generation of scientists, engineers, technologists and space explorers by supporting educators and bringing the excitement of NASA missions and science to learners of all ages.
TAGS: Higher Education, Internships, STEM, Engineering, Interns, College, Robotics, Mars, Rover, Mars 2020, Ph.D., Doctorate, Space Grant, Students, Mars 2020 Interns
---
There's no joystick for driving rovers on Mars. Instead, a team of scientists and engineers gathers every day to plan each move and then beams a series of instructions to the rover's computerized brain, like interplanetary telepathy. As the only tether between the rover and the mission team on Earth, the onboard computer needs to run flawlessly. So before the rover even leaves Earth, its brain is put to the test. That's where Miles Fertel came in this past summer. As an intern with the rover simulation and planning team at NASA's Jet Propulsion Laboratory, Fertel was tasked with writing a program that tests how well the agency's next Mars rover interprets the instructions it receives. The trick, he said, was outsmarting not the rover but the humans who programmed it. We caught up with the Harvard University computer science student to learn more about his internship with the Mars 2020 team and to hear what he considered the most unique experience of his summer at JPL.
What are you working on at JPL?
I'm working on software for the Mars 2020 rover – so the code and tools that allow the rover to function on Mars. My team is rover simulation and planning. The rover planners are the people who take in all the information from the scientists and the rover and write commands to send to the rover through the Deep Space Network, which is basically the internet for space. As the simulation team, we make sure that the commands that we're going to send are going to be effective and that they're going to be safe so that this rover we send to Mars after all this painstaking work isn't going to get stuck in a hole or break because of a wrong command.
What is your average day like on your project?
I work on creating tests that humans couldn't come up with. The average testing for software is you write tests to make sure that the code isn't going to fail when you add in certain instructions. But humans – specifically the humans who write the tests – tend to be the same people who write the code. They're not going to be able to come up with as good of a test, because if they knew what was going to break, they wouldn't have written the bug in the first place.
What I do is use a couple of testing frameworks that use generational input adjustments. They develop in an evolutionary way, starting from a simple input that I put in. So, say we're working on commands for the rover. We can start with, "Go forward," and then the system will modify the instructions based on a dictionary of information I provide. So I say, "These are words that might make sense to the rover. Try coming up with combinations of these that might result in behavior that we haven't seen before." If that behavior is defined, then everything's fine, but if it's going to cause a problem, then it's important that we know that so we can update the code.
What are you studying in school, and what got you interested in that field?
I study computer science at Harvard. I hadn't done any programming before coming to college. I thought I wanted to do something in the area of technology and possibly business, but I didn't really know. So I took the intro to computer science class, and I really loved it. I loved the challenge of feeling like my homework was a puzzle and not a chore. That drew me to it, and I started taking all the classes that I could in that realm.
What is your ultimate career goal?
I don't think anyone should have an ultimate career goal. I think careers should be a fluid thing and that people should build up skills that allow them to do the things that are most interesting to them. Right now, my goal is making sure that the Mars 2020 rover lands on Mars and everything goes swimmingly when it gets there. But, ultimately, I want to work on cool things with interesting people.
How do you feel that you're contributing to Mars 2020 and making the mission a success?
When I came here, my main goal was having a tangible impact on the project. I wanted something where every minute I spent working would be important to meeting the goal of the project. I find bugs every day, and I fix them, and that's great. Hopefully, before the summer's over, I will have a patch that I can write for the software that will end up on the rover.
What brought you to JPL for this internship?
I had a friend who interned here two years ago, and he recommended it really highly, saying he had a terrific time and his team members were great. I applied online, but when you apply, it's a general application and you could be picked for any project based on your set of skills.
I knew that I wanted to work on Mars 2020, so I went on the JPL website, and I researched teams and people working on robotic software for the mission. I emailed Jeng Yen, my group supervisor. I said, "Here's my resume. This is what I'm interested in. Are there any projects that I could work on?" He said, "One of my team members, Steven Myint, is working on something that fits your profile pretty well. You should talk to him." So I talked to him, and the rest is history.
That's great. That's something we recommend students do if there's a particular project or area of research they're interested in. What is the most unique JPL or NASA experience that you've had while you've been here?
Oh, easy. One of my team members, Trevor Reed, is a rover planner for Curiosity. Every morning the team has a tactical meeting in which they go over the schedule for the day for the rover, and they give instructions to the rover planners who will write the commands that tell the rover what to do. When I found out that one of my teammates drives the Curiosity rover, I was like, "Can I please, please shadow you for that process?"
So I showed up at 8 o'clock in the morning in the Curiosity rover tactical office, or conference room, and there's the head scientist, Ashwin Vasavada, who I'd read about in articles. I watched them send the actual commands to the rover. I learned all about the planning and tolerances that are involved in the simulations that we do. I got to see the software that I'm working on in action, because it's also used for Curiosity. It was a pretty amazing experience to sit there for a couple of hours and watch them go through the entire process of a day on Mars.
Now for a fun question: If you could play any role in NASA's plans to send humans back to the Moon or on to Mars, what would you want to do?
Every kid wants to be an astronaut, right? I mean, if you're offering … As much as I would love to be an astronaut, my interests in the short term are contributing to and building projects that I think are important. So for those future missions, I think I would want to have more input on the design, the structure and the planning, overall. So maybe I would want to be a systems engineer or even work on the design.
---
Explore JPL's summer and year-round internship programs and apply at: https://www.jpl.nasa.gov/edu/intern
The laboratory's STEM internship and fellowship programs are managed by the JPL Education Office. Extending the NASA Office of STEM Engagement's reach, JPL Education seeks to create the next generation of scientists, engineers, technologists and space explorers by supporting educators and bringing the excitement of NASA missions and science to learners of all ages.
TAGS: Higher Education, Internships, STEM, Engineering, Interns, College, Robotics, Mars, Rover, Mars 2020, Software, Computer Science, Programming, Coding
---
Growing up in Hawaii, Schelin Ireland used to look up at the night sky and dream of one day setting foot on the Moon. She hasn't made it there yet, but in the meantime, she's helping achieve another milestone for space exploration. This summer, as a Space Grant intern at NASA's Jet Propulsion Laboratory, Ireland was part of the team building an instrument designed to detect signs of past life on Mars. One of several instruments on NASA's next Mars rover, SHERLOC will be the first of its kind on the Red Planet. Situated at the end of the rover's arm, it will shoot a laser into Martian samples and pick up the unique pattern of light waves, or Raman signatures, that result. Scientists can study those light waves to find out what the samples are made of – and whether they contain ingredients for life. Ireland, a geology and geophysics student at the University of Hawaii, Manoa, spent the summer running a laboratory version of the instrument through practice rounds before the real thing launches next summer on its seven-month journey to the Red Planet aboard the Mars 2020 rover. We caught up with her to ask what it's like to be part of the team searching for evidence of past life on Mars and find out what her future plans are for exploring the Moon.
What are you working on at JPL?
I'm collecting a database of Raman signatures for various organic and inorganic materials that scientists will use to interpret the data we get back from the SHERLOC instrument onboard the Mars 2020 rover.
What is SHERLOC, and what will it do?
SHERLOC is a deep UV Raman/fluorescence spectrometer. It will look for evidence that there was once life on Mars. It will shoot a laser into a sample on Mars and pick up Raman and fluorescence signatures.
Raman spectroscopy looks at vibrations of electrons. So you have a light source that hits a sample and causes those electrons to vibrate, and that causes the light to scatter back with a slightly reduced energy. A spectrometer is going to pick up that scattering as a series of peaks, which are the Raman signatures. They tell us what material we're looking at and if it's organic or inorganic material.
Is this technology also on the Mars Curiosity rover?
SHERLOC will be the very first deep UV Raman spectrometer on another planet. Curiosity mostly uses infrared spectroscopy to study samples on Mars. There is some infrared spectroscopy on Mars 2020 as well, but we can look at things in greater detail with Raman spectroscopy. SHERLOC will be able to detect things at a micrometer scale – very, very, very small particles – which is why it's essential for discovering signs of past life. If there are any biosignatures out there, we want to be able to study the smallest particles that we can.
And this device is at the end of the rover's arm?
It's being mounted at the end of the arm. How it works is the arm is going to abrade the surface a little bit and then it's going to rotate so SHERLOC can do its analysis. You don't want the sample superclose. You want it to be a few centimeters away, because you don't want there to be dust on the instrument. You also don't want it to break because, of course, no one will be able to go and repair it.
What's your average day like on this project?
What I've been doing so far is running calibrations on the laboratory version of SHERLOC. Starting next week, I will start looking at the Raman spectra of various materials. So we're going to be looking at some minerals by themselves, and we're going to be looking at mixtures of organic and inorganic materials together – different percentages of organics to see where the limits are for picking up a signal. We'll upload the data onto a computer and then use software to highlight anything that looks interesting that we want to take a further look at.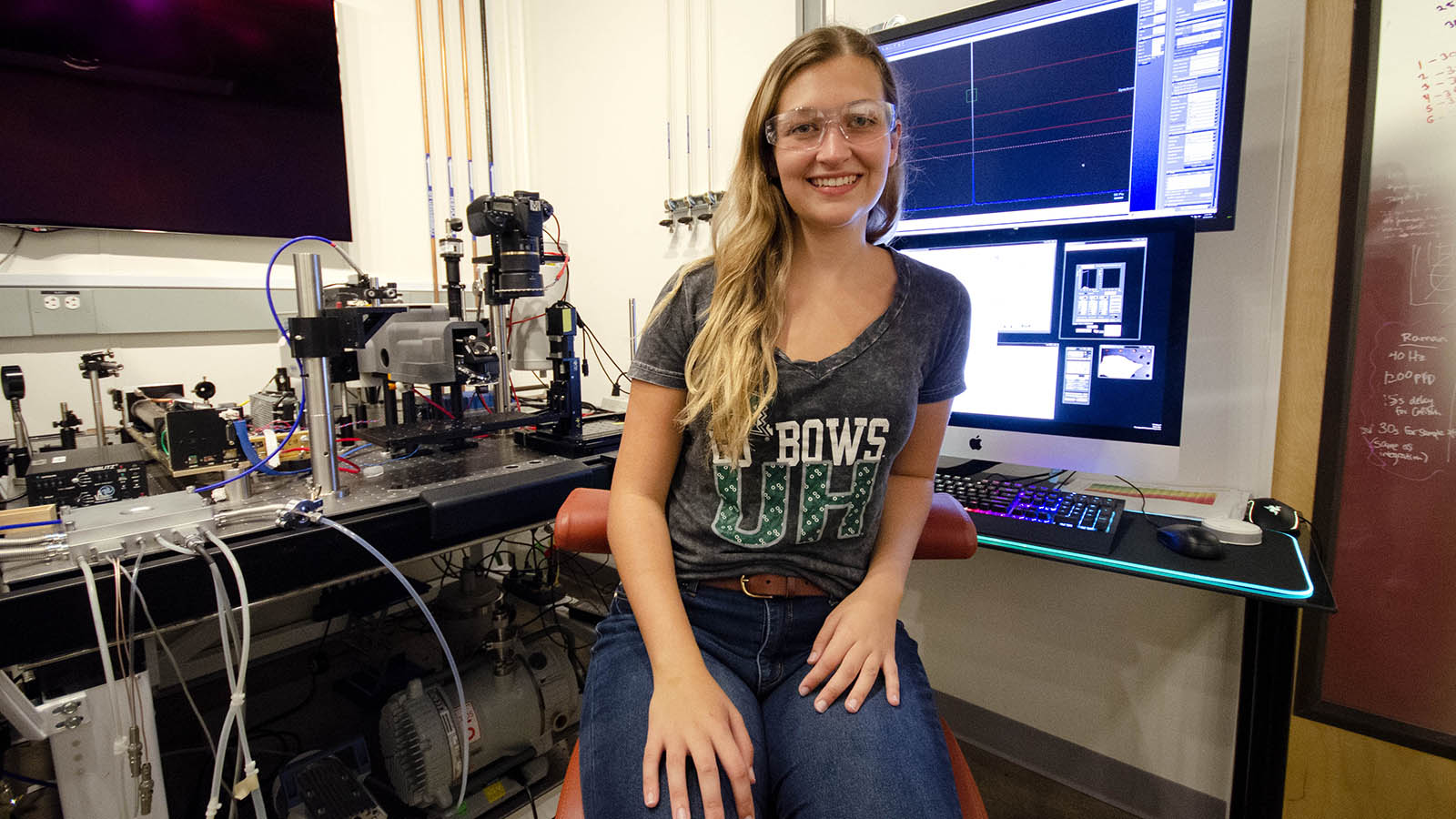 What are you studying in school?
I study geology and geophysics at the University of Hawaii, Manoa. I'm also minoring in mathematics.
Are you from Hawaii?
I'm from Kona on the Big Island of Hawaii. I just did an island hop to go to college. They have a fantastic program for what I want to study, so it's really great that I'm able to study over there and have all the opportunities that made it possible for me to get this internship.
What opportunities lead to your internship here?
NASA Hawaii Space Grant. I did a traineeship with them last semester on something very similar to this, but it was more in the context of the Mars SuperCam [which will also go on the Mars 2020 rover]. We did Raman spectroscopy on that using the laboratory version of SuperCam. We were also looking for detection limits for that instrument and measuring various materials.
After that, I was looking at internships for this summer, and I saw that this one was very similar to what I was working on at UH Manoa. I was very lucky to get it. NASA Hawaii Space Grant is funding the internship. So I did the traineeship with them, and now I'm doing this internship through them.
What got you interested in pursuing science as a career?
Where I'm from, you can see the night sky very clearly on most nights, and I have always wanted to go to the Moon. That's what got me interested in space. I would make dioramas and posters of the solar system and put them all around my room. My mom would take me to the Ellison S. Onizuka Space Center a lot, which is right by the Kona airport. I would read a lot of space books. I thought it was fascinating, but then I kind of got into other things as I grew up.
When I started high school, I joined the science competition team, and my school won first place in the Science Olympiad Regionals for Astronomy. I was one of two people from my school who competed in the astronomy portion of the competition. That really rekindled my interest in science, so I decided this was something that I absolutely wanted to go into.
What's your ultimate career goal?
My ultimate career goal is to be a research scientist studying planetary science and to be an astronaut. One thing that inspired me when I was in high school was knowing that I attended the same high school as Hawaii's first astronaut, Ellison Onizuka. It would be an honor to follow in his footsteps and become Hawaii's first female astronaut.
So if you could play any role in NASA's plans to send humans back to the Moon and on to Mars, would you want it to be as an astronaut?
It would be an honor to be involved in any way. If I were a mission specialist, I could set up a little lab where I analyze samples. I'd fix any equipment that we have onboard, fix any instrumentation that we have onboard and maybe measure moonquakes or marsquakes from there. It would be great to do any little thing that I possibly can. Just to have the experience of being on another celestial body would be absolutely amazing on its own, of course.
Back to the current mission you're working on: What do you hope to contribute to Mars 2020?
By the time my internship is through, I want to make sure that I have used the knowledge that I have developed from the research experience last semester and all of my geology classes and be able to apply it to what we are doing here. I want to make sure that the database I am helping to develop includes minerals and other materials that we are likely to find in the area where the Mars 2020 rover is going to land.
How does it feel to know you could play a role in discovering signs of past life on Mars?
It is a huge honor to know that I am a part – even a small part – of this big mission.
What has been the most unique JPL or NASA experience you've had during your time here?
Being here is a unique experience of its own. I haven't experienced anything like this before, and it is absolutely wonderful. I feel like instead of being a student or some extra labor, I am actually treated as a junior colleague and a research scientist. I'm part of this big scientific team, trying to accomplish something of real significance.
---
Explore JPL's summer and year-round internship programs and apply at: https://www.jpl.nasa.gov/edu/intern
The laboratory's STEM internship and fellowship programs are managed by the JPL Education Office. Extending the NASA Office of STEM Engagement's reach, JPL Education seeks to create the next generation of scientists, engineers, technologists and space explorers by supporting educators and bringing the excitement of NASA missions and science to learners of all ages.
TAGS: Higher Education, Internships, STEM, Engineering, Interns, College, Robotics, Mars, Rover, Mars 2020, Mars Sample Return
---
Marleen Sundgaard laughs when she recalls the details of one of her two internships at NASA's Jet Propulsion Laboratory before she was eventually hired in 2016. "I counted rocks for an entire summer," she says. As one of the interns tasked with scouting out the landing site for the Phoenix mission to Mars, it was a tedious but important task – one that helped the spacecraft land safely on the Red Planet. These days, as the testbed lead for the InSight Mars lander and a future mission designed to orbit a metal asteroid, she's still making sure that spacecraft "stick their landings." But instead of counting rocks, she's working as a trainer of sorts for spacecraft, testing and practicing their every move, looking for issues that might arise and sometimes troubleshooting in a simulated environment millions of miles away from the real thing. Returning intern Evan Kramer caught up with Sundgaard to learn more about her work as a JPL testbed engineer and how she hopes to set foot on Mars one day.
What do you do at JPL?
I am the testbed lead for the InSight Mars lander mission. We have a testbed here at JPL that has engineering models of the lander, the arm and all the instruments on InSight. I'm also the system testbed lead for the Psyche mission, which is going to explore a metal asteroid.
What does it mean to be the testbed lead and does your role vary between the two missions?
They are very different, yeah. For the InSight testbed, we use the lander engineering model to test out all the sequences that use the arm and the instruments here on Earth before we try them on the surface of Mars. For example, when we were deploying the instruments at the beginning of the mission, we did a lot of testing to see what the arm would do when we picked up the instruments off the spacecraft deck, swung them around to the front, and then set them down at different tilt angles. During testing, we found that if we put an instrument down on an increasingly tilted surface, our placement error would increase. So we had to account for that when we were deploying onto tilts on Mars. In the testbed, we also have weight models of the instruments that we're using for deployment. Because Mars has 38 percent of the gravity of Earth, all the instruments deployed in the testbed need to match the weight they would be on Mars because the arm was built for Mars' gravity. To make things a little bit more realistic, we also have two cameras on the arm of the InSight testbed lander that are flight spares from the Curiosity rover. During testing, we used these cameras for analysis of what it would look like when we were actually deploying the instruments on the surface so when we got the pictures back from Mars, we could make sure they all looked right.
For the Psyche mission [which launches in 2022], our testbed is going to be mostly just computer racks. It's just computer racks, electronics boxes and instruments. We don't have any surface stuff because we're orbiting Psyche, so there's really no lab where we can kind of get our hands dirty. It's just going to be a lot of computer simulations and testing sequences through the computer systems on Psyche.
You mentioned sequences. Those are the commands that we will send from Earth to the spacecraft?
Yes. So the spacecraft team writes sequences, the arm team writes sequences, and the instruments teams write sequences. They bundle them all up into one big command load, and then we beam those up to Mars using the Deep Space Network.
What's your average day like?
There was a period of time when I was full-time on InSight, where we were doing a lot of the instrument-deployment testing, and we had a lot of test cases we needed to get done. The deployment team designed the test, the arm team wrote the sequences for the test, and then the testbed team prepared the test. What I mean by preparing is if the deployment team needed to set an instrument down on a 10-degree tilt, we would come into the testbed, and we would build that 10-degree tilt for testing the following day. We also tilted the lander itself. Every time we tilt the lander, we have to stow the arm. So we would stow the arm, move the lander around, un-stow the arm and then recalibrate the metrology cameras. Recalibrating the metrology cameras is important because they are what we use to precisely map a 3D space in our testbed. That's how we keep track of where we are in the testbed and where the ground is.
What is the ultimate goal of what you work on?
To do a lot of the work we want to do on Mars, we need to practice. Most of what we are doing has never been done before, so there are a lot of teams involved in these practice sessions. I try to keep them all on the same page. So many pieces of the science and engineering for these missions come together in the testbed. And those pieces will go on to be actual commands and sequences we run on Mars. We want to make sure we send sequences that have been perfected. There has been a lot of hard work and sweat put in by hundreds, if not thousands, of people, and they are relying on us to complete our part of the puzzle.
You first came to JPL as an intern. What was that experience like?
My first summer here at JPL, I was a Space Grant intern from Washington state. Me and about 11 other students worked for Andrew Gray in the Mission Architecture Group. Our task was to take a technical paper called "Safe on Mars" and figure out how you would implement all the steps it said would be required to land humans on Mars. We had to create a mission that would help us understand the surface of Mars and determine whether it was safe to send humans there. So we checked for toxins in the soil, and we designed a weather station and three landers that were based on the same design as the Phoenix Mars lander (which is also what InSight is based on). We simulated landing the spacecraft in two different areas of Mars and did all of our testing. The second mission we designed was called Spheres. It consisted of three big inflatable balloons that we would land on the surface of Mars. The balloons had a tube in the middle that could take instruments down and bring samples back up.
My project during my second summer at JPL is the one that gets the most laughs because I tell people that I counted rocks for the entire summer. We were trying to determine the probability of the Phoenix lander hitting a boulder upon landing. So we took a lot of Mars Global Surveyor images and determined that any objects that were a pixel wide were meter-wide boulders. Then we just counted pixels – thousands and thousands and thousands of pixels. That was an interesting summer. It was me and three other guys. So there were four of us on the team, just counting rocks to really nail down the probabilities.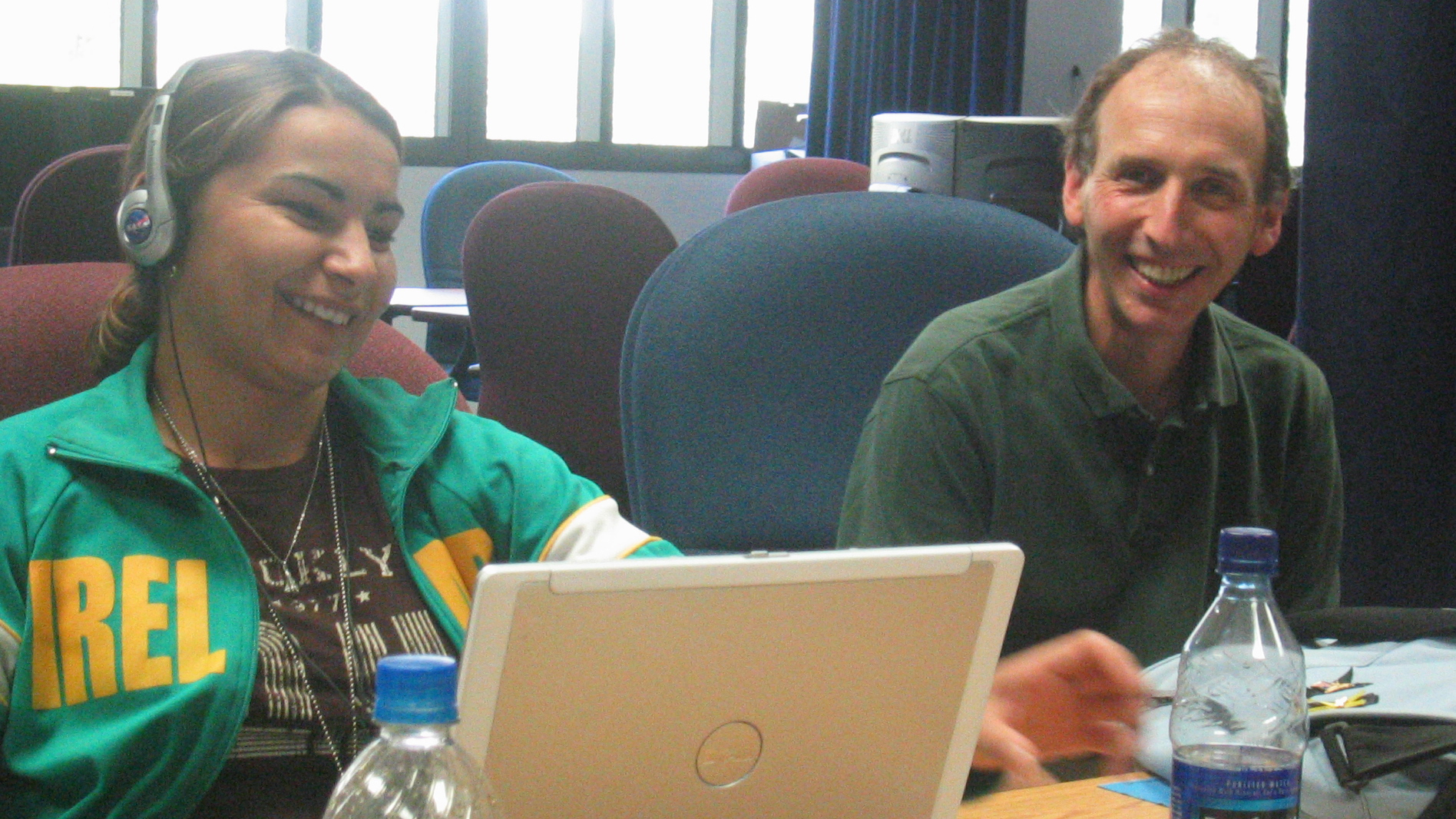 What brought you to JPL for your internships?
As a kid I had a fascination with space, but I went to a really, really small high school. My graduating class was 48 kids – we were out in the boonies of Eastern Washington. I was a migrant farmer. I would go to Mexico every year, so I missed a lot of school. I was kind of behind in that sense. I got really good grades, but my high-school math only went up to pre-calculus, so my senior year, when I should have taken calculus, I just took an independent math study course. When I entered college, I was already a quarter behind. I don't think I really realized what JPL was till I got into college. Pathfinder had landed and then they launched the Mars Exploration Rovers, Spirit and Opportunity, so it was kind of a big thing in the news at the time. I remember thinking, "I really want to work at JPL." So I applied for an internship, and I got it. There weren't a lot of places I wanted to work that summer. It was my third summer internship, but my first at JPL.
What moments or memories from your internships stand out most?
During my second summer internship, the four of us interns in the geology group got the chance to lead the Mars Exploration Rovers geology team for a week. Two interns took the Opportunity rover for a week and another intern and I took the Spirit rover for a week. We basically did all of the geology work for that one week on Mars. It was the summer of 2005, so the rovers had only been there for about a year. I remember we were naming rocks after ice-cream flavors. It was a lot of fun. That was probably my favorite week because I felt like I was really contributing to doing science on Mars.
How did your internships shape your career path and lead to what you're doing now?
I think having the internships really gave me a leg up when I was applying for jobs after college. They saw that I had research experience and work experience. When I graduated from the University of Washington in 2006, JPL wasn't hiring, so I went to work at Lockheed Martin Space Systems, doing assembly, test and launch operations, or ATLO, for satellites. I realized I really liked working with hardware and with my hands and on the actual equipment that would go to space. It gave me something to reach for later in my career, knowing that eventually JPL would start hiring again. I wanted to put myself in a position where getting a job at JPL wasn't going to be too much of a stretch.
Have you had your own interns?
Yeah, the testbed group had one intern last year. She wrote some scripts and helped us work some of the tests we were running. She was a lot of help. It was nice to show her the ropes here in the testbed and let her run stuff on the computers and run sequences.
What was your mentorship style?
We took her everywhere with us. She never really sat at her desk – she didn't really have a desk. If we were going to a meeting, she came with us. If we were going to lunch, she came with us. If we're going to the testbed, she came with us. If we were going to super boring stuff that we didn't think she'd like, she still came with us. We wanted her to get the full experience of what we do here at JPL. She even came in and worked overnight with us in the testbed.
What's your advice for those looking to intern or work at JPL one day?
If you want to intern at JPL, you have to apply. A lot of people don't think they'll get an offer, but they don't even give it a try. We're looking for a lot of different types of people here at JPL. Trust us and yourself. We want people with a big passion for space who are willing to go the extra mile to make sure the work gets done and done correctly. You don't have to have a perfect SAT score or GPA to work here.
Now for the fun question: If you could play any role in NASA's mission to send humans back to the Moon and eventually on to Mars, what would it be?
I want to be the person stepping on the surface of Mars. When I was younger, my dream was to be the first person on Mars. When I realized that might not happen in my generation, my goal became being the first woman to step on the Moon. Now I'm finding I'm a little bit too young to be the first woman to walk on the Moon and too old to be the first woman to walk on Mars! I'm in that sweet spot – too young and too old at the same time. But, nevertheless, I've applied. I've applied for the Astronaut Corps three times. The first time I applied, I wasn't technically eligible. I had two years of work experience and you needed three as a minimum. The second time I applied was in 2012. The third time was 2016. I haven't been selected, but I have my rejection letters as keepsakes to know that I've tried and that I'm not there yet. When 2020 rolls around, I'll apply again. I would love nothing better than to be able to do the work that I do here on Mars.
---
Explore JPL's summer and year-round internship programs and apply at: https://www.jpl.nasa.gov/edu/intern
The laboratory's STEM internship and fellowship programs are managed by the JPL Education Office. Extending the NASA Office of STEM Engagement's reach, JPL Education seeks to create the next generation of scientists, engineers, technologists and space explorers by supporting educators and bringing the excitement of NASA missions and science to learners of all ages.
TAGS: Higher Education, Internships, STEM, Engineering, Interns, College, Careers, Robotics, Mars, Rover, Mars 2020, InSight
---
Finding the best driving route for a Mars rover isn't as easy as turning on a navigation app – but John Park and Hiro Ono want to make it so. A program at NASA's Jet Propulsion Laboratory is helping them turn their idea into a reality, all while promoting diversity in STEM.
A tenure-track faculty member at North Carolina A&T State University, Park has spent the past two summers at JPL through an Education Office initiative designed to connect students and researchers from Historically Black Colleges and Universities (HBCUs) to the Laboratory's missions and science. The NASA-backed pilot program has brought more than a dozen student interns and several faculty researchers to JPL for projects investigating Mars, Earth and planets beyond our solar system.
Until his stint at JPL, Park's research focused solely on Earth-bound transportation technologies, such as those used by self-driving cars. When he learned about JPL's HBCU initiative from a colleague who had participated in the program, he seized on the chance to apply his research to space exploration.
"My previous projects and publications have dealt with decision-making tools for exploring uncertain areas on Earth and maximizing the information that's available," says Park, who also helped connect several students from North Carolina A&T to internship opportunities with the HBCU initiative. "I thought I could help bring that perspective to Mars rovers and helicopters."
While researching potential applications for his research at JPL, Park learned that the challenges of getting around on Mars are similar to those faced by drivers on Earth. Rovers also need to get from place to place safely and efficiently – they're just avoiding boulders instead of traffic jams.
It was precisely those challenges that Hiro Ono in JPL's Robotic Mobility Group also wanted to overcome. "I had an idea that I wanted to try, and we had all the ingredients," says Ono, who designs artificial intelligence systems for future rover missions. "The HBCU program allowed us to try the idea."
The HBCU initiative brought Park and Ono together along with Larkin Folsom, a student intern from North Carolina A&T. Together, the trio developed a proposal for a future system that would work similarly to the navigation apps we use to get through rush-hour traffic. The system would allow rovers to analyze routes as they drive, providing mission planners with information about the routes most likely to be hazard-free so they can make the most efficient use of the spacecraft's limited energy supply and maximize the mission's science goals.
"Previously, the way that we operated on Mars was to make the best guess about drivability solely from looking at orbital images," says Ono. "The idea that we are working on is to introduce the concept of probability. So if there are two terrains that are important to you but one of them is 90% traversable and the other is 60% traversable, which are you going to choose?"
In September, the National Science Foundation awarded Park, who submitted the proposal, with a grant to pursue the project. Park says the funding will go toward a JPL internship opportunity for a Ph.D. student from his university to continue research with Ono's team.
Jenny Tieu is a STEM education project manager at JPL who manages the HBCU initiative with Roslyn Soto. She helped connect Park and Ono and says it's collaborations like these that the initiative was designed to foster.
"Our goal with this initiative is to expand the number of HBCU students and faculty members participating in research at JPL and ultimately increase diversity among the Laboratory's workforce," says Tieu. "This National Science Foundation award is a positive indication that the initiative is not only building strong relationships between HBCUs and JPL, but also creating a ripple effect for additional opportunities."
Now in its fourth year, the HBCU initiative will once again bring students and faculty to JPL for research opportunities in the summer of 2020.
Meanwhile, Park and Ono are exploring ways to expand their technology into other arenas, including hurricane research and emergency response. Park has already received support from the U.S. Department of Transportation as well as the state DOT in Virginia and North Carolina for additional Earth-based applications of the technology.
Ono is serving as a consultant on the projects and has high hopes the results of the research will make their way back to JPL.
Says Ono, "In the long run, having an intern, giving them a good experience, helping their career is going to come back to us. We, as JPL, can build connections around the world and among industry partners that are going to come back to us eventually."
---
Explore JPL's summer and year-round internship programs and apply at: https://www.jpl.nasa.gov/edu/intern
The laboratory's STEM internship and fellowship programs are managed by the JPL Education Office. Extending the NASA Office of STEM Engagement's reach, JPL Education seeks to create the next generation of scientists, engineers, technologists and space explorers by supporting educators and bringing the excitement of NASA missions and science to learners of all ages.
TAGS: Higher Education, Internships, STEM, Engineering, HBCU, Research, Mars, Mars rovers, robotics, AI, navigation, universities, college