---
This summer, while many of us were sleeping in and avoiding heavy school work, lots of exciting things were happening in and around our solar system! Here's a guide to launching the 2016 school year right and turning those stellar events into educational connections from NASA.
Science on Fire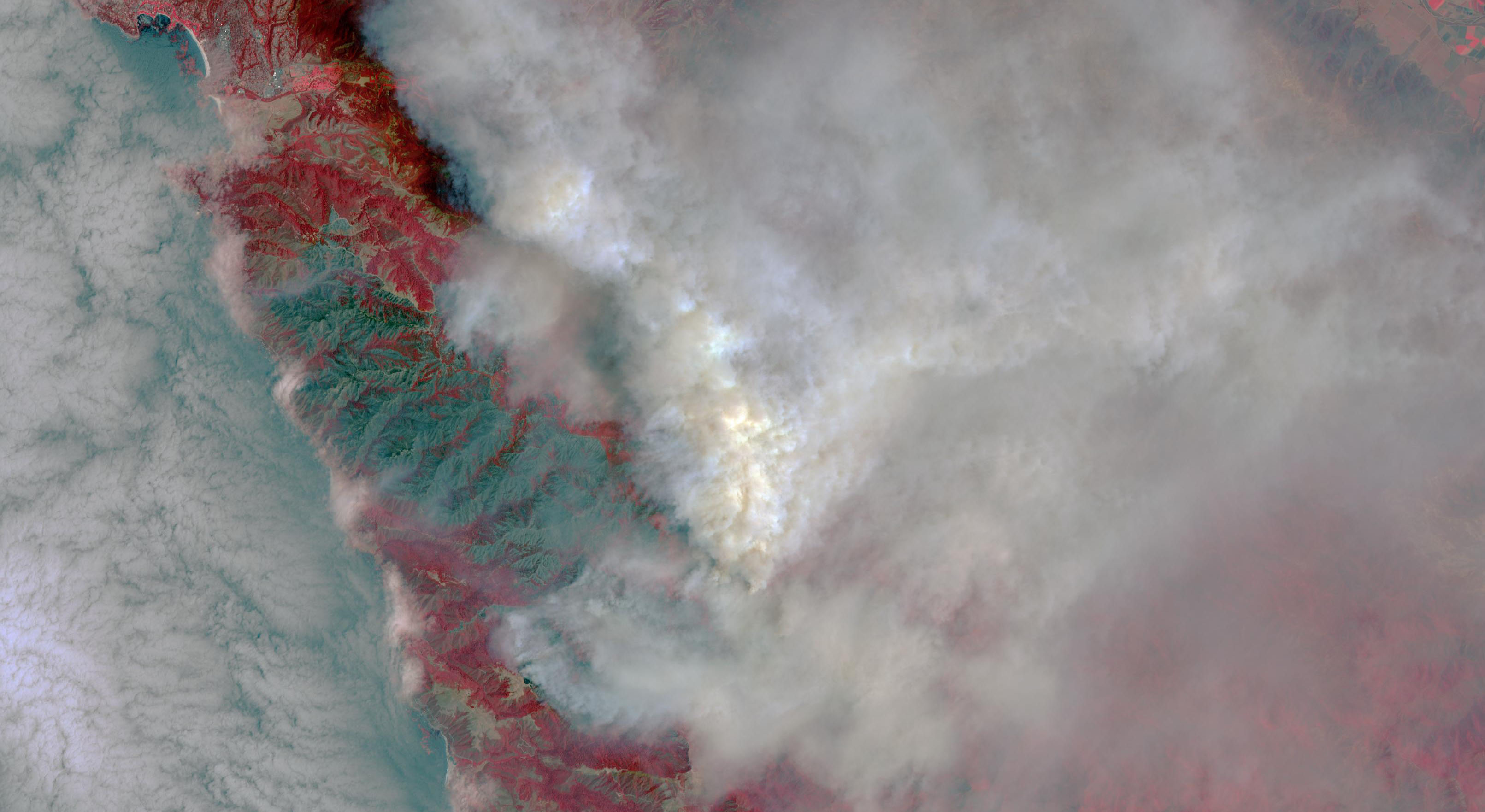 This false-color image of the Soberanes fire in Northern California, near Big Sur, was captured by the Advanced Spaceborne Thermal Emission and Reflection Radiometer (ASTER) instrument on NASA's Terra spacecraft on July 28, 2016.
Here at home, on Earth, it is fire season in many places in the Northern Hemisphere. Fire season comes about with warmer temperatures, dry air, and dry brush. Once a fire gets started in these conditions, it can rapidly spread and become out of control, especially when high winds are involved. This summer has already witnessed some dangerous fires including the Sand Fire in Southern California and the Soberanes Fire near Big Sur on the Central California coast. Beyond the immediate threat from flames, smoke degrades air quality and burn scars leave hillsides vulnerable to rain-induced mudslides.
NASA satellites and airborne instruments are helping scientists better understand wildfires and their impacts on our changing climate. And in the immediate term, they are helping firefighters track wildfires and respond to people and structures in risk areas.
Check out JPL's latest Teachable Moment to find out more about how scientists are studying wildfires, what they're learning and why it's important. And get links to two new lessons for students in grades 3-12 that have students use NASA data, algebra and geometry to approximate burn areas, fire-spread rate and fire intensity. (You can also go straight to the new lessons at: Fired Up Over Math: Studying Wildfires from Space and Pixels on Fire)
And speaking of Earth science, find out how you can get a free bulletin board featuring posters and lithographs about NASA Earth science and missions for your classroom!
Greetings from Jupiter
Watch a recap of the July 4 excitement as NASA's Juno spacecraft entered orbit around Jupiter.
On July 4, just in time for a fireworks spectacle, the Juno spacecraft went into orbit around Jupiter. Juno launched from Earth aboard a huge rocket and had been hurtling toward Jupiter for nearly five years. Getting into orbit around Jupiter was a real nail-biter here at NASA's Jet Propulsion Laboratory (which helps manage the mission) and we are all very happy everything went as planned. Juno's mission is to study the origin, core and magnetic fields of our solar system's largest planet. Juno will orbit Jupiter for only about 20 months before Jupiter's intense radiation environment takes a toll on the spacecraft.
Communicating with a spacecraft as far away as Juno is a challenge that involves a lot of planning and teamwork. Try out this new lesson for young learners that demonstrates this process and provides practice with number concepts, counting and geometry, and data collection in a concrete, active manner.
Wish you had your very own Juno spacecraft you could use to uncover secrets beneath Jupiter? Check out this easy-to-build Juno model that uses household objects and can be used in a game with friends and family!
Explore more about Juno with these related lessons and videos:
---
NASA is giving people around the world a reason to ooh and aah this July Fourth. At 8:18 p.m. PDT, as fireworks are streaming through the skies across the U.S., the Juno spacecraft will be taking the on-ramp to an orbit around Jupiter.
Can you calculate just how much Juno needs to slow down to get into orbit around Jupiter?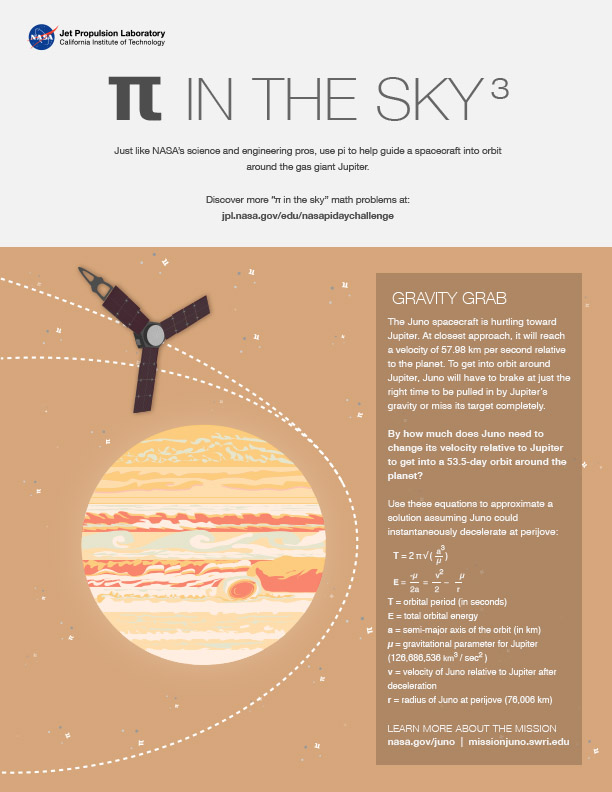 See the full problem set (optimized for screen readers and mobile devices) and answers, here
While maybe not as dramatic as a jet-powered landing on Mars, the Juno Orbit Insertion (the name for the process, also called JOI) requires that the spacecraft slow down just enough to not go zooming past Jupiter. As of Thursday, the spacecraft's fate rested on a series of 1s and Os as a command sequence made the 48-minute journey from a gargantuan antenna in Goldstone, California, to the spacecraft 534 million miles away.
While a successful orbit insertion is now largely out of mission controllers' hands, there will be no shortage of nail biting on July Fourth. With a five-year journey behind it and lofty goals ahead – which include peering through Jupiter's thick cloud cover to uncover clues about how our solar system was formed – Juno has a lot resting on what will amount to a 35-minute engine burn. And perhaps even bigger risks are still to come as Juno begins its 33.5 oblong orbits around Jupiter, which will bring the spacecraft closer than ever before to the planet's cloud tops – and to its lethal radiation.
To follow along on July 4 as Juno begins its journey into Jupiter's orbit, watch NASA TV live coverage beginning at 7:30 p.m. PDT.
For a mission countdown, images, facts about Jupiter and Juno and other resources, visit NASA's Solar System Exploration website.
And check out these educational activities for students and teachers from NASA/JPL Edu:
TAGS: Juno, Jupiter, JOI, Spacecraft, Mission, Events
---
In the News
NASA's Juno mission, the first solar-powered mission to Jupiter, has become the farthest solar-powered spacecraft ever! Juno, and its eight science instruments designed to study the interior of Jupiter, has passed the mark previously held by the European Space Agency's Rosetta mission and reached a distance of 5.3 astronomical units from the sun (an astronomical unit is equal to the average distance between Earth and the sun – about 149.6 million kilometers). Using only power from the sun, Juno will complete the five-year trip to Jupiter in July 2016 and begin studying the solar system's most massive world in an attempt to better understand the origins of the planet, and in turn, our solar system.
What Made It Possible
Just as a bright source of light dims as you move away from it, sunlight becomes less intense the farther a spacecraft travels from the sun, limiting the amount of power that can be generated using solar cells. Previous missions that visited Jupiter, like Galileo, Voyager 1 and Voyager 2, couldn't use solar power and instead used radioisotope thermoelectric generators (RTGs) to supply power.
Advances in solar panel efficiency along with improvements in the way spacecraft and their instruments use power have recently made solar power a viable option for spacecraft heading as far as Jupiter – though going beyond will require further technological advances.
Engineers designed Juno with three massive solar panels, each nearly 30 feet long. Combined, they provide Juno with 49.7 m2 of active solar cells. Once it reaches Jupiter, Juno will generate more than 400 watts of power, which may not sound like a lot, but it's an impressive feat at so great a distance. For comparison, Juno's solar panels can generate about 14 kilowatts near Earth.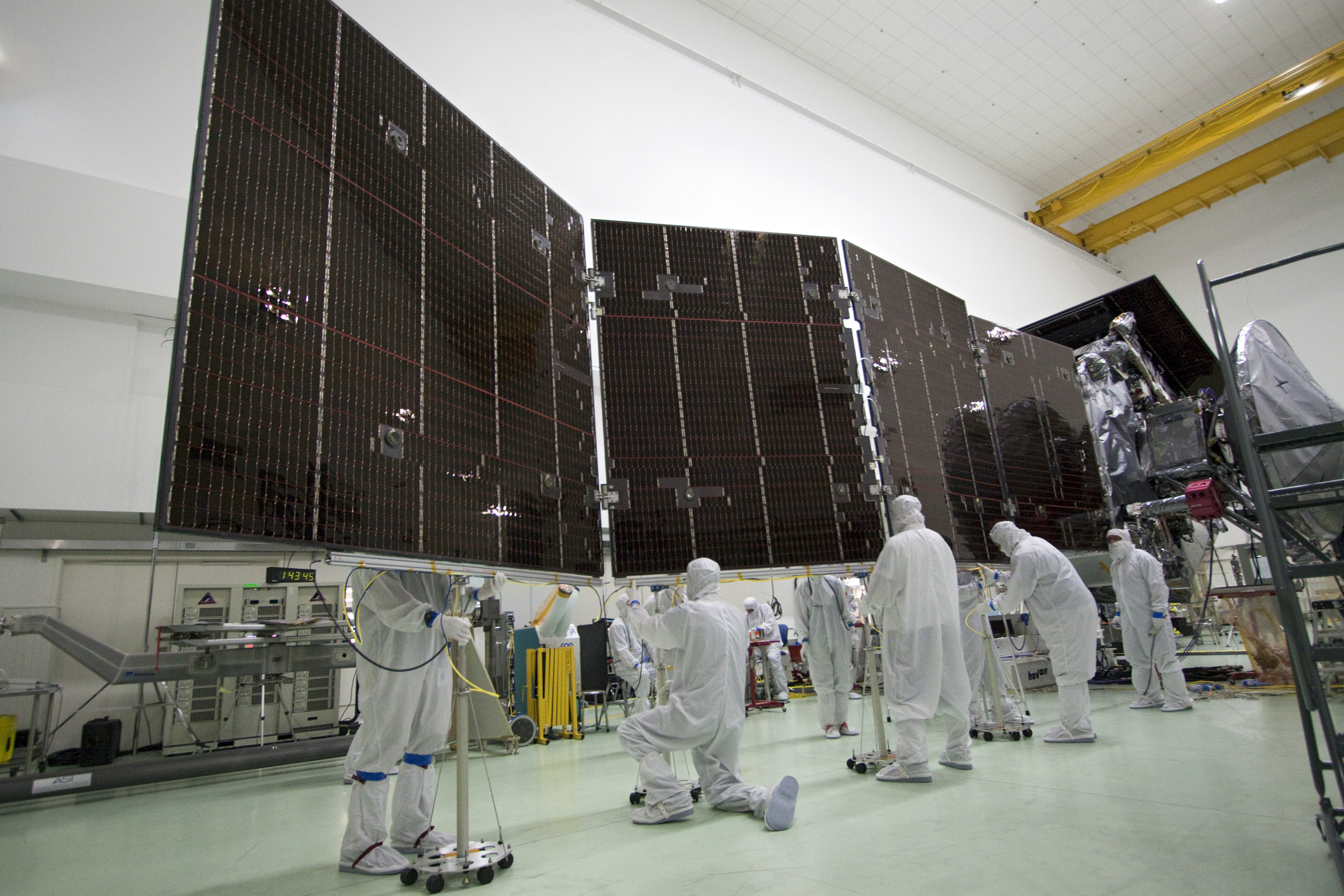 Technicians stow for launch a solar array on NASA's Juno spacecraft. Each of Juno's three solar arrays is 9 feet (2.7 meters wide), by 29 feet (8.9 meters long). Image credit: NASA/JPL-Caltech/KSC
Teach It

Juno's record-setting achievement translates into a powerful lesson in exponents.
Middle school students and other students working with exponents will find challenging, real-world applications related to the work being done here at NASA while addressing four Common Core Math standards:
Grade 6: Expressions and Equations A.1

- "Write and evaluate numerical expressions involving whole-number exponents."

Grade 6: Expressions and Equations A.2

- "Write, read, and evaluate expressions in which letters stand for numbers."

Grade 6: Expressions and Equations A.2.C

- "Evaluate expressions at specific values of their variables. Include expressions that arise from formulas used in real-world problems. Perform arithmetic operations, including those involving whole-number exponents, in the conventional order when there are no parentheses to specify a particular order (Order of Operations)."

Grade 8: Expressions and Equations A.1

- "Know and apply the properties of integer exponents to generate equivalent numerical expressions. For example, 32 × 3-5 = 3-3 = 1/33 = 1/27."
Explore More!

TAGS: Juno, Jupiter, Exponents, Math, Lesson, Activity, Teachable Moment
---

UPDATE - March 17, 2014: The pi challenge answer key is now available for download.
---
In honor of everyone's favorite mathematical holiday, Pi Day, which celebrates the mathematical constant 3.14 on March 14, NASA/JPL Edu has crafted a set of stellar middle- and high-school math problems to show students that pi is more than just a fancy number.
Pi is all over our skies! It helps power our spacecraft, keeps our Mars rovers' wheels spinning, lets us peer beneath the clouds on Jupiter and gives us new perspectives on Earth. Take part in the fun and see if your classroom can solve some of the same problems that real NASA scientists and engineers do.
Each pi-filled word problem gets a graphic treatment in this printable infographic (available in both poster-size and 8.5-by-11 handouts) that helps students visualize the steps they need to get to a solution. A companion answer key is also available below and walks students through each step of the solutions. It can be printed on the back of the problem-set infographic for an educational classroom poster.
"Pi in the Sky" Downloads: