---
In high school, science was the last thing on Jose Martinez-Camacho's mind. But one day, he was flipping through his chemistry textbook, and a diagram caught his eye. It described an experiment that was the first to identify the structure of an atom. Martinez-Camacho was amazed that a science experiment could reveal the inner workings of something so mysterious. He was hooked. Now a physics major at Cal Poly Pomona and in his fourth year interning at NASA's Jet Propulsion Laboratory, Martinez-Camacho is immersed in unveiling the details of other mysterious objects: lunar craters. Using a simulation he developed, Martinez-Camacho is working to understand how the temperatures inside and around craters in the permanently shadowed regions of the Moon might point the way to water ice. We caught up with him to find out more about his internship and his career journey so far.
You've done several internships at JPL, starting in 2015. What are the projects you've worked on?
My first internship in the summer of 2015 was with the Lunar Flashlight mission. The idea of the mission is to reflect sunlight into the permanent shadowed regions of the Moon to detect water ice. My project was testing and characterizing the photodetectors that would be used to identify the water ice. So most of that project involved setting up an experiment to test those detectors.
My next internship was still with the Lunar Flashlight mission, but my project was to model the amount of stray light that the detector was expected to receive from the lunar surface.
After that, I started to work with the Lunar Reconnaissance Orbiter Diviner team. [Diviner is an instrument on the Lunar Reconnaissance Orbiter that creates detailed daytime and nighttime temperature maps of the Moon.] In that project, I was working with Catherine Elder to validate one of her algorithms that can identify the abundance and size distribution of lunar rocks in a single pixel of an image taken by Diviner. So I used the algorithm to analyze the rock populations around the Surveyor landers, which took images on the lunar surface that we could use to validate our results.
What I'm working on now is 2D thermal modeling of craters in the polar regions of the Moon. The end goal is to better understand the thermal environments of the Moon's permanently shadowed regions, which can harbor water ice. Because the stability of water ice is very sensitive to temperatures, knowing the thermal environment can tell us a lot about where these water-ice deposits might exist.
What is your average day like on your current project?
I'm using MATLAB to write code [that I use to model the craters]. I wrote the code from scratch. Right now I'm at the point where I've written the program, I've gone through most of the debugging and the derivations of the equations and picking the algorithm, so I'm just running the model and waiting for results. So an average day would be to come in and run the model for different cases. There's a range of crater diameters and a range of latitudes where permanent shadows exist, so I run the model for these different cases, wait for the results and interpret the results at the end of the simulations. I also do some debugging now and then to deal with problems in the code.
What got you interested in a science career?
I think it happened in my junior year of high school. I was always disinterested in school and never paid attention. In chemistry class, we were learning about the atom, and for some reason, I opened up my chemistry book at home and started looking at the diagrams. I found a section on the Rutherford gold foil experiment, which showed that atoms consist of a tightly packed positive nucleus surrounded by electrons. I was amazed that someone could deduce that from a simple experiment. So that sparked my interest in science. After that, I started to read about chemistry and astronomy and all types of science. That was the pivotal moment.
How did you pursue that career path, and were there any challenges along the way?
I knew I'd have to go to community college because, at the time, my GPA wasn't going to get me anywhere. So I knew I had to start at the very, very beginning. But I had a very clear plan: Just keep studying, keep getting good grades until you get to where you want to be.
Sometimes students – especially community college students – feel intimidated applying for JPL internships, even though they should absolutely apply! Did you feel that way at all, and if so, how did you overcome that fear?
I was almost not going to submit my application just because I thought I wasn't good enough to intern at JPL. But ultimately, I had nothing to lose if I got rejected. It would be the same outcome as if I didn't apply, so I submitted my application. And I was really surprised when I got the acceptance letter.
What was your first experience at JPL like?
Everything was super-unfamiliar. I was in a lab, working on a science instrument, and I wasn't an instruments guy. But I got a lot of help from other people who were on the project. Even though it was difficult, it made it very enjoyable to always have someone there with the right answer or a suggestion.
How has your time at JPL molded your career path?
I think it established it. Next year, I'm going to Southern Methodist University to start a geophysics Ph.D. and my graduate advisor is someone who I met at one of the Diviner team meetings. Being at JPL has made that connection for me. And through JPL, I found what I want to do as a career.
What is your ultimate career goal?
After grad school, it would be really, really nice to come back here as a research scientist.
Are you interested in lunar research or anything planetary?
I think I'm really biased toward the Moon just because it's been my focus throughout my JPL internships. But I could see myself studying other planets or bodies. Mercury is very similar to the Moon. Anything without an atmosphere will do. That's what I'm comfortable with. If you add an atmosphere, the science is different. Ultimately, I think I'm interested in planetary science; it's just a matter of learning new science and learning about new planetary bodies.
Well, that leads nicely into my fun question: If you could travel to any place in space, where would you go and what would you do there?
I think I'd go somewhere around Saturn, or a moon of Saturn. Looking up from one of Saturn's moons would be a pretty amazing sight, with Saturn and its rings on the horizon.
Going back to your career path so far, did you have any mentors along the way?
In high school, I don't think so. I just needed to graduate. But in community college, I was part of this program called EOPS, or Extended Opportunity Programs and Services. It's for minorities and disadvantaged groups. There's counseling involved with people who knew what someone like me might be struggling with. There was that support group throughout my time at Citrus College. And there was also the Summer Research Experience Program [at Citrus.] That's the one I applied to in order to get the summer internship here. It was through Citrus College's partnership with JPL. One of the people who was in charge of that, Dr. Marianne Smith, she was always encouraging me, saying, "Just because you come from a community college doesn't mean you're any less than someone who is at UCLA or any other university." So that was another source of support.
Did you see advantages to going the community college route?
Yeah, definitely. It's a smaller community, so you get to form connections a lot easier than you would at a larger college. The quality of education there is probably on par with other universities. So, there was certainly no disadvantage. And then there was that advantage of the smaller community. It's more personalized and easier to get help.
What would you recommend to other students in community college who are interested in coming to JPL?
Apply to the program. Take advantage of the summers and apply to internships. At Citrus College they have the Summer Research Experience Program, and they probably have something similar at other community colleges. Take advantage of that. If I hadn't applied to that program that summer, my life would be totally different. Those decisions can shape your future.
---
Explore JPL's summer and year-round internship programs and apply at: https://www.jpl.nasa.gov/edu/intern
The laboratory's STEM internship and fellowship programs are managed by the JPL Education Office. Extending the NASA Office of STEM Engagement's reach, JPL Education seeks to create the next generation of scientists, engineers, technologists and space explorers by supporting educators and bringing the excitement of NASA missions and science to learners of all ages.
TAGS: Higher Education, College, Internships, Interns, Science, Moon, Community College, Students
---
Brittney Cooper loves studying weather – and she's taking that passion all the way to Mars. A graduate student at York University in Toronto, Cooper has spent the past two years working with the science team for NASA's Mars rover Curiosity. In January, she authored her first science paper on a study she designed with the Curiosity team that looked at how clouds scatter light and what that tells us about the shapes of their ice crystals. Despite her involvement in the Curiosity mission, the Canada native has never actually been to a NASA center. But that's about to change this summer when she'll embark on her first internship at JPL in Pasadena, California. We caught up with Cooper to find out what she's looking forward to most about her internship and how she's planning to take her studies of Martian clouds even farther.
You're currently earning your master's at York University in Toronto. What are you studying and what got you interested in that field?
I'm doing my master's in Earth and space science. But if you really want an interesting story [laughs] … I've always been interested in astronomy, space and science, but I also really love art. Coming to the end of high school, I realized that maybe it was going to be too hard for me to pursue science. Maybe I was a little scared and I didn't really think I was going to be able to do it. So I went to university for photography for two years. After two years, I realized photography wasn't challenging me in the right ways and wasn't what I wanted to do for the rest of my life. So I left. I did night school to get credits for calculus and all the grade-12 physics and chemistry that I needed to pursue a degree in atmospheric science, which is not even remotely astronomy, but I've also always loved weather – pretty much anything in the sky. I still had a passion for astronomy, so I started volunteering at the Allan I. Carswell observatory at York. There, I met a professor who I ended up doing research with for many years. He told me, "There's the field called planetary science, where you can study the atmospheres of other planets and you can kind of marry those two fields that you're interested in [astronomy and atmospheric science]." So I ended up adding an astronomy major.
NASA's Mars Science Laboratory mission
and he was graduating. John had said something along the lines of, "There's an opening, and I know it's always been your dream to work in mission control, so do you want to be on the mission?" And I was, like, "Yes, I definitely do!" I couldn't believe it. And I was never intending to do a master's, but then I realized I really loved the work I was doing, working on constraining physical properties of Martian water-ice clouds using the Mars Curiosity rover. We got to design this observation, which ran on the rover, and then I got to work with the data from it, which was really cool. So I stayed on to do my master's, and I'm still on the mission, which is pretty awesome.
In January you authored your first science paper on that research. Tell me more about that.
My research focuses on the physical scattering properties of Martian water-ice clouds. A lot of people don't even realize that there are clouds on Mars, which I totally get because Mars doesn't have much of an atmosphere. But it does have enough of an atmosphere to create very thin, wispy, almost cirrus-like clouds similar to the ones we have on Earth. They're made up of small, water-ice crystals. These kinds of clouds do have a noticeable impact on Earth's climate, so we have now started thinking about what these clouds are doing in Mars' climate. The scattering properties can tell us a bit about that. They can tell us how much radiation is scattered back to space by these clouds or kept in Mars' atmosphere and whether or not we can see really fun things like halos, glories and different types of optical phenomena that we can see here on Earth.
We designed this observation that uses the Navcam imager on Curiosity. The engineering folks with the mission helped us design it. I got to present at a science discussion, which was superscary, but everyone was so kind. And then the observation was approved to run on Mars once a week from September 2017 to March 2018. During this observation window, Curiosity would take images of the sky to capture clouds at as many different scattering angles as possible. Once we got all the data back, we were able to constrain the dominant ice crystal shapes in the clouds based upon this thing called the phase function, which tells you how these clouds scatter light and radiation. I was the lead author on the research paper that came from that, and it got accepted. We started working on this right when I was really new to the mission, and it was my first paper. I couldn't believe everyone wasn't, like, "Who the heck are you? Why are we going to let you do anything?" But everyone was so kind, and it was just such a great experience.
What was the hardest part about writing that first paper?
The hardest part was probably just getting over the fear of thinking people aren't going to listen to you or you aren't going to be smart enough or you won't be able to answer questions. It was really just getting over my own fears and worries and not holding myself back because of them. I have a really great mentor who pushed me to do all these things, so I was able to suck it up and say, "If he believes in me and he thinks I can do it, maybe he's right." Every time I did a presentation or I would talk about the observation or try to advocate for it, I was just met with such positivity that I was, like, "OK, these fears are rooted in nothing."
In July, you're coming to JPL for your first internship here. What will you be working on?
Yes, I'm so excited! I'll be working with two scientists, Michael Mischna and Manuel de la Torre Juarez. We're going to be working with the Rover Environmental Monitoring Station, or REMS, which is an instrument on Curiosity that measures the temperature, relative humidity and pressure around the rover on Mars. From those measurements, we're going to try to infer the presence of clouds at night. So far, the way we've used Curiosity to study clouds is with optical instruments [or cameras]. So we take pictures of the clouds. But that's not really something we can do at night. So using REMS and its temperature sensors at night, we can try to see if clouds around the rover are emitting infrared radiation, heating up the atmosphere around the rover. We can try to detect them that way. So that's what we're going to try to do – look for some patterns and see what we can come up with. We'll also be comparing what we find with data from NASA's Mars Climate Sounder, which is in orbit around Mars and takes nighttime measurements of the atmosphere.
What are you most excited about coming to JPL?
I would be lying if I said it wasn't just getting to come to a NASA center – especially as a Canadian. It's every little space enthusiast's dream. I'm also excited to meet all the people who I've been working with for the last two years. The people are such an awesome part of this mission that I've been a part of. So I'm looking forward to meeting them in person and working with them in a closer way.
What do you see as the ultimate goal of your research?
We're just trying to better understand Mars. It's kind of a crazy place. There is a lot of evidence that shows us that there's a lot more going on than we know now and it's just about trying to put the pieces of the puzzle together. There are also a lot of similarities to Earth. So we can try to take what we learn about Mars and apply it to our planet as well.
What's your ultimate career goal?
What I would really love is to work in spacecraft operations. I absolutely love working in science and working with data, but getting a chance to be a part of this mission and do operations – be part of a team and do multidisciplinary work – it's so exciting, and it's something that I never thought that I'd get to experience. And now that I've had a bit of a taste, I'm wanting more. So that's what I'm hoping for in the future.
Do you ever think about how you moved away from studying photography but are using photography to do science on Mars?
Yes! Every once in a while, that hits me, and I think to myself, "That's so cool." It's just very, very cool. Ten years ago, I never thought I'd be where I am now. But also just to know that there's that connection, that I'm working with visual data, with optical data – I don't think it's a coincidence. I really love working with images, so I think it's pretty cool that I get to do that.
Just one last fun question: If you could travel to any place in space, where would you go and what would you do there?
Without a doubt, it would have to be [Saturn's moon] Titan. I actually would probably go there to study the atmosphere. The first research project that I ever did was trying to find methane and ethane fog on Titan and the surface data was quite limited, so I would like to go there. I want to see water-ice rocks. I want to see methane lakes and methane rain, set up a little vacation spot there [laughs].
---
Explore JPL's summer and year-round internship programs and apply at: https://www.jpl.nasa.gov/edu/intern
The laboratory's STEM internship and fellowship programs are managed by the JPL Education Office. Extending the NASA Office of STEM Engagement's reach, JPL Education seeks to create the next generation of scientists, engineers, technologists and space explorers by supporting educators and bringing the excitement of NASA missions and science to learners of all ages.
TAGS: Higher Education, College, Internships, Interns, Students, Science, Mars, Rovers, Weather
---
UPDATE: Nov. 27, 2018 – The InSight spacecraft successfully touched down on Mars just before noon on Nov. 26, 2018, marking the eighth time NASA has succeeded in landing a spacecraft on the Red Planet. This story has been updated to reflect the current mission status. For more mission updates, follow along on the InSight Mission Blog, JPL News, as well as Facebook and Twitter (@NASAInSight, @NASAJPL and @NASA).
---
Matt Golombek's job is one that could only exist at a place that regularly lands spacecraft on Mars. And for more than 20 years, the self-proclaimed "landing-site dude" and his rotating cast of interns at NASA's Jet Propulsion Laboratory have helped select seven of the agency's landing sites on the Red Planet.
Golombek got his start in the Mars landing-site business as the project scientist for the first rover mission to the Red Planet in 1997. Since that time, he has enlisted the help of geology students to make the maps that tell engineers, scientists, stakeholders and now even the rovers and landers themselves where – and where not – to land. Among the list of no-gos can be rock fields, craters, cliffs, "inescapable hazards" and anything else that might impede an otherwise healthy landing or drive on Mars.
For Golombek's interns, the goal of helping safely land a spacecraft on Mars is as awe-inspiring as it comes, but the awe can sometimes be forgotten in the day-to-day work of counting rocks and merging multitudes of maps, especially when a landing is scheduled for well after their internships are over. But with the landing site for NASA's next Mars rover just announced and the careful work of deciding where to lay down science instruments for the freshly landed InSight mission soon to begin, interns Lauren Berger, Rachel Hausmann and Heather Lethcoe are well aware of the significance of their work – the most important of which lies just ahead.
Site Unseen
Selecting a landing site on Mars requires a careful balancing act between engineering capabilities and science goals. It's a partnership that for Golombek, a geologist, has evolved over the years.
Golombek reflects on the time before spacecraft like the now-critical Mars Reconnaissance Orbiter provided high-resolution, global views of the Martian terrain. In those early days, without close-up images of the surface, the science was largely guesswork, using similar terrain on Earth to get a sense for what the team might be up against. Spacecraft would successfully touch down, but engineers would look aghast at images sent back of vast rock fields punctuated by sharp boulders that could easily destroy a lander speeding to the surface from space. NASA's 1997 Pathfinder spacecraft, encased in airbags for landing, bounced as high as a 10-story building before rolling to a stop at its jagged outpost.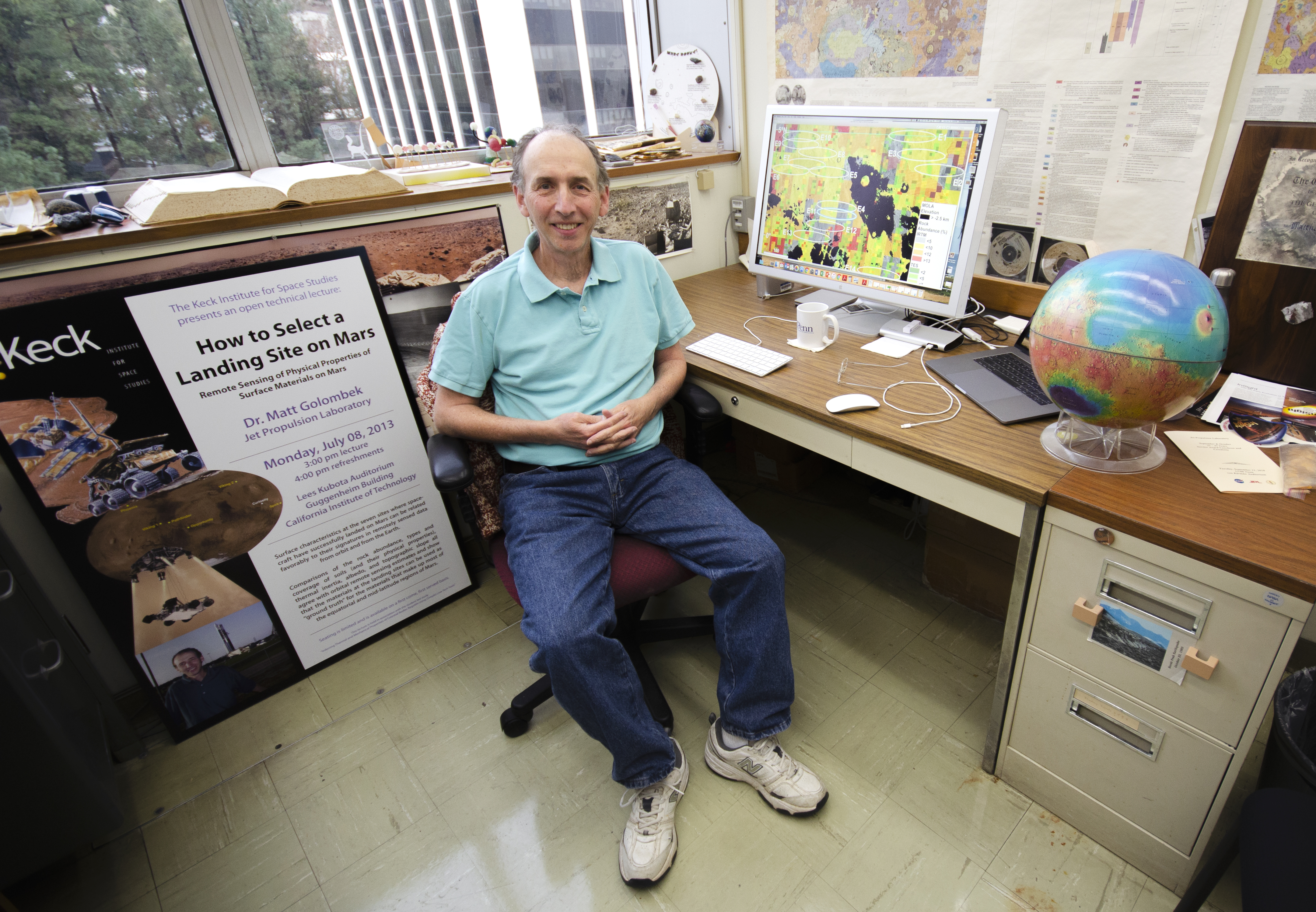 Now, Golombek and his interns take a decidedly more technological approach, feeding images of candidate landing sites into a machine-learning program designed to measure the size of rocks based on the shadows they cast and carefully combining a series of images, maps and other data using Geographical Information Systems, or GIS, software (a required skill for Golombek's interns).
Still, there are some things that must be done by hand – or eye, as the case may be.
"Lauren [Berger] is now an expert on inescapable hazards," says Golombek of one of his current trio of interns. "She can look at those ripples, and she knows immediately whether it's inescapable, probably inescapable, probably escapable or not a problem."
"Or, as we like to say, death, part death and no death," jokes Berger.
"We work with them to train them so their eye can see it. And so far, that's the best way to [identify such hazards]. We don't have any automated way to do that," says Golombek.
"I like to call Lauren the Jedi master of ripples-pattern mapping," says fellow intern Heather Lethcoe, who is the team's mapping expert for the Mars 2020 rover mission. "I helped her a little bit with that, and now I'm seeing ripples closing my eyes at night."
Until recently, Lethcoe and Berger were busily preparing maps for October's landing site workshop, during which scientists debated the merits of the final four touchdown locations for the Mars 2020 mission. If Golombek's team had a preferred candidate, they wouldn't say. Their task was to identify the risks and determine what's safe, not what's most scientifically worthy. Thanks to new technology that for the first time will allow the rover to divert to the safest part of its landing ellipse using a map created by Golombek's team, the debate about where to land was solely focused on science. So unlike landing site workshops for past Mars missions, Golombek's team stayed on the sidelines and let the scientists "have at it." (In the end, as with all other missions, the final site recommendation was made by the mission with NASA's approval.)
Now, with an official landing site announced, it might seem that Golombek's team is out of work. But really, the work is just beginning. "We'll be heavily involved in making the final hazard map for the [Mars 2020] landing site, which will then get handed to the engineers to code up so that the rover will make the right decisions," says Golombek.
Meanwhile, the team will be busy with the outcome of another Mars landing: InSight, a spacecraft designed to study the inner workings of Mars and investigate how rocky planets, including Earth, came to be.
Golombek's third intern, Rachel Hausmann, became a master at piecing together the hundreds of images, rock maps, slope maps and other data that were used to successfully land InSight. But because InSight is a stationary spacecraft, one of the most important parts of ensuring the mission's success will happen after it lands. The team will need to survey the landing area and determine how and where to place each of the mission's science instruments on the surface.
"If you think about it, it's like landing-site selection, just a little smaller scale," says Golombek. "You don't want [the instruments] sitting on a slope. You don't want them sitting on a rock."
For that, Golombek is getting the help of not just Hausmann but all three interns. "It's a once-in-a-lifetime opportunity to have students who happen to be in the right place at the right time when a spacecraft lands and needs their expertise."
Practice Makes Perfect
To prepare for this rare opportunity, the students have been embedded with different working groups, rehearsing the steps that will be required to place each of InSight's instruments safely on Mars several weeks after landing.
"The groups have rehearsals for different anomalies, or issues, that could go wrong," says Hausmann. "They do this to problem solve even down to, 'Are we in the right room? Do we have enough space?' because when you're working on a space mission, you can't have an issue with facilities."
The students took part in the first of these so-called Operational Readiness Tests in early October and say it was an eye-opening experience.
"It was really helpful just to get to know the team and really understand what's going to happen," says Berger. "Now we know how to make it happen, and everyone's a lot more ready. Also, it was so much fun."
"That's what I was going to say!" says Lethcoe. "That was just the rehearsal, and at the end of it, I felt so amped and pumped up. I can't even imagine when we're actually doing it how good that's going to feel."
Lethcoe says there was also the matter of balancing homework and midterms with full-time preparations for a Mars landing. That was its own sort of readiness test for December when the real work of deploying the instruments will coincide with finals.
Perhaps most surprising, say the students, was their realization that their expertise is valued by a team that's well-versed in Mars landings.
"Imposter syndrome is real," says Hausmann. But the team's internships are serving as the perfect antidote.
"I had this fear that I don't know if I'm going to be more in the way and more pestering or if I'm actually going to be helpful," says Lethcoe, a student at Cal State University, Northridge, who was first exposed to the mapping software used by the team during her time in the U.S. Army. "It turns out that the [InSight geology] team lead gave me really nice reviews."
Berger interjects to add supportive emphasis to Lethcoe's statement – a common occurrence among the three women who have shared the same small office for more than a year now. "He said he absolutely needed her and she could not go away."
Lethcoe laughs. "[My co-mentor] texted me to let me know, 'You earned this," and I tried not to take screenshots and send them to all my friends and my mom. They definitely make it known how much we're appreciated."
Adds Berger, "I think JPL really teaches you to have confidence in what you know."
More than the mapping skills and research experience they've picked up during their time at JPL, it's that confidence that they're most eager to take back to school with them and impart to other young women interested in STEM careers.
Berger gave a talk about imposter syndrome at her school, Occidental College in Los Angeles, earlier this month. And Hausmann, a student at Oregon State University, says her efforts to encourage and coach young women are the most important contribution she's making as a JPL intern.
"I just want to help young women get in [to research and internships] as early as possible in their college careers," says Hausmann. "I think that's so important, just as important as the work we're doing."
The Next Frontier
When your internship or your job is to help land spacecraft and deploy instruments on Mars, the question, "Where do we go from here?" is literal and figurative. While the next year or so will be perhaps one of the busiest Golombek's team has ever known, his future as the landing-site dude is uncertain.
"If what you do is select landing sites for a living, it's kind of an odd thing because you can only work at one place," says Golombek. "You need to have a spacecraft that needs a landing site selected for it. And for the past 20 years, there have been spacecraft that we've been landing on Mars. So I'm kind of out of business now because Mars 2020 is the last for the time being – there are no new [NASA Mars] landing sites that are being conceived of."
At the mention of possible lander missions to other worlds, Golombek shrugs and his near-constant grin sinks into a thin horizon. "Don't know," he says. "I'm kind of a Martian, and I'll probably stick with Mars."
Maybe it's a torch best carried by his intern alums, many of whom have gone from their internships to careers at JPL or other NASA centers. While Lethcoe, Berger and Hausmann are still enmeshed in their education – Lethcoe is in her junior year, Berger is taking a gap year before applying to graduate programs, and Hausmann is applying to Ph.D. programs in January – their experiences are sure to have a profound impact on their future. In many ways, they already have.
Could they be the landing-site dudes of the future? Maybe someday.
But for now, they're focused on the challenges of the immediate future, helping NASA take the next steps in its exploration of Mars. And for that, "They're super well trained," Golombek says, "and just perfect for the job."
---
Explore JPL's summer and year-round internship programs and apply at: https://www.jpl.nasa.gov/edu/intern
The laboratory's STEM internship and fellowship programs are managed by the JPL Education Office. Extending the NASA Office of Education's reach, JPL Education seeks to create the next generation of scientists, engineers, technologists and space explorers by supporting educators and bringing the excitement of NASA missions and science to learners of all ages.
TAGS: Women in STEM, Interns, Internships, Higher Education, College, Geology, Science, Rovers, Landers, Mars, InSight, Mars 2020
---
The Starshade project aims to do pretty much what the name suggests: suppress the light from distant stars so scientists can learn more about the planets that surround them – including whether they're likely to support life. In practice, it requires building a giant, precisely shaped structure that can unfurl from a relatively tiny package and fly in perfect sequence with a space telescope. Interns have been key to making the idea a reality. The team has brought in more than 40 interns in the past seven years. We already caught up with three-time Starshade intern Christopher Esquer-Rosas, who is using his origami skills to help a full-scale model of the giant sunflower-shaped structure unfurl. Meanwhile, intern Allison Ayad, a mechanical engineering student at Pasadena City College, is creating a working miniature model to narrow in on the design. Fellow intern Evan Kramer met up with Ayad to find out how she's contributing to the project and how she's bringing what she's learning back to school.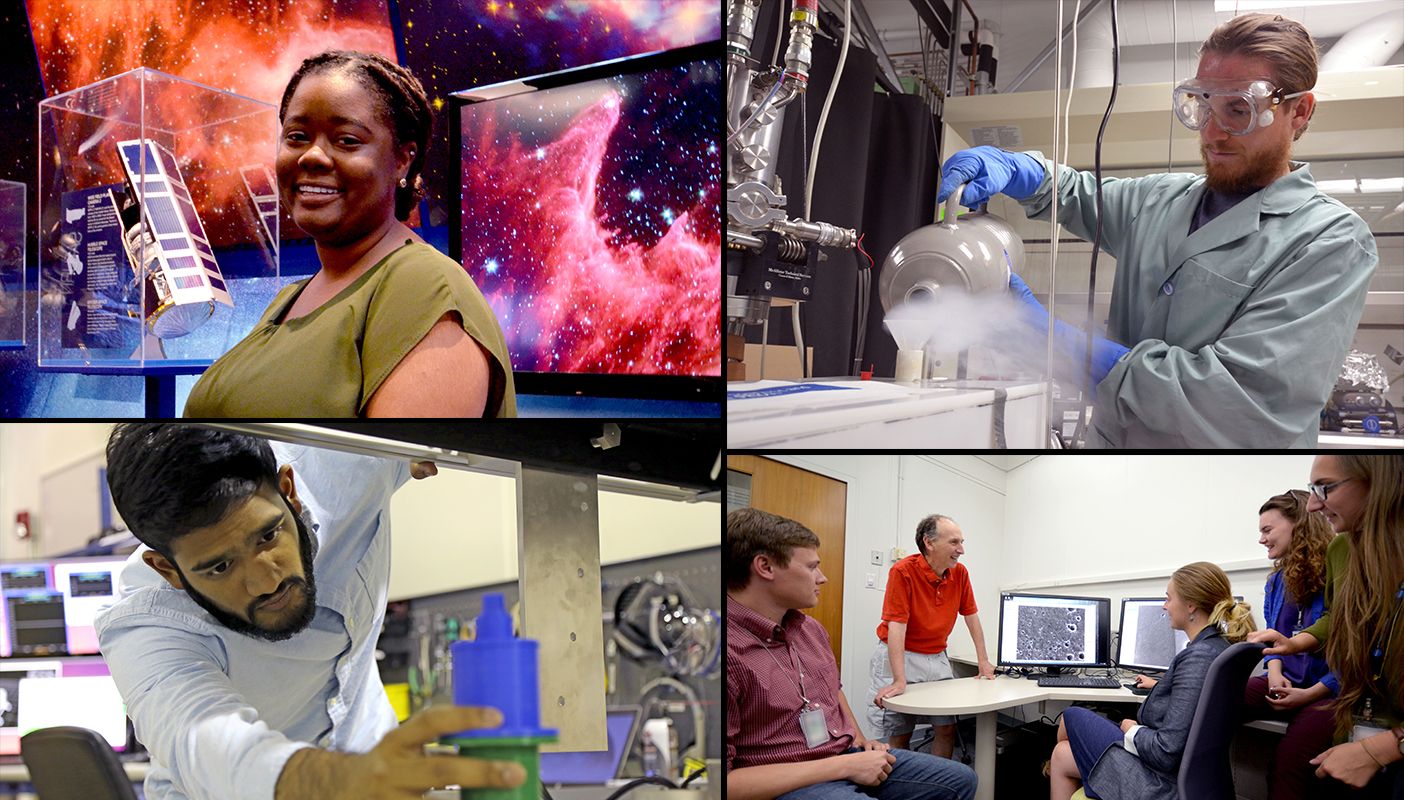 Meet JPL Interns
Read stories from interns pushing the boundaries of space exploration and science at the leading center for robotic exploration of the solar system.
What are you working on at JPL?
I'm working on a project called Starshade, which is a 26-meter diameter, flower-shaped structure we want to send to space to help us get images of exoplanets, [planets outside our solar system]. With these images, we could learn more about exoplanets and see if they could potentially harbor life.
So Starshade is a sort of spacecraft?
Yeah, it is! Starshade would fly out and position itself between a space telescope and a star. Its shape would suppress the light from the star so the spacecraft could get direct images of the exoplanets around it. It's similar to when you try to take a picture outside, and the Sun washes out the image. If you block the light from the Sun, then you can see everything in more detail. That's pretty much what Starshade would do.
What's a typical day like for you?
Every day is very different. What I am working on is making a mini, fully deployable Starshade for interactive purposes, so we can show all the different stages of deployment. It will sort of be the first of its kind.
When I come in, I usually do work on my computer with [software] like Solidworks. Then, I do a lot of rapid prototyping with the use of 3D printers and laser cutters to test out all the little, moving components that are going into the real model.
I spend some of my time helping with the big structure that's out here. [She points to the warehouse-like space where the team is assembling a full-scale version of Starshade, which is about the size of a baseball diamond fully unfurled.] But most of the time, I'm working on the mini one. At least once a day, I'll talk with my mentor, David Webb, about the ideas that I have on how to make things work. We'll bounce ideas off each other, then I'll have stuff to think about for the next day.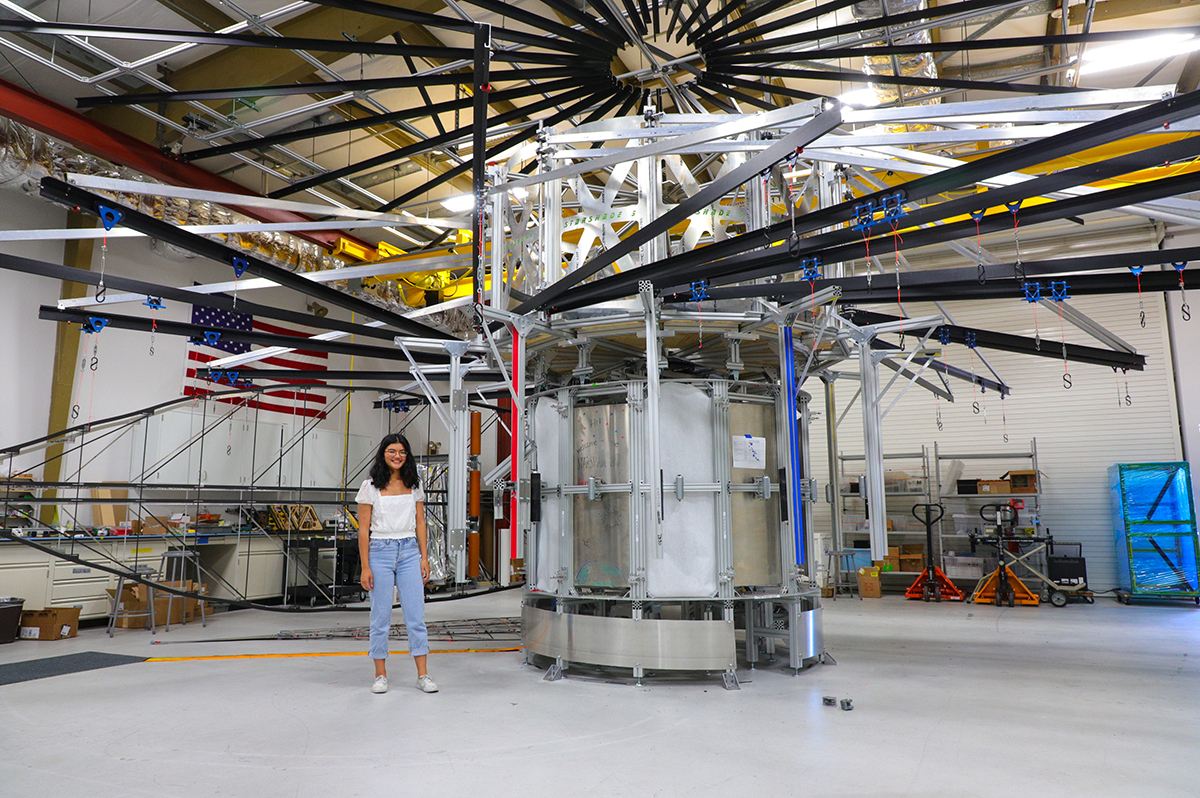 What's been the most JPL- or NASA-unique experience you've had so far?
I've been here for a year and a half now, and I think the Starshade lab is the coolest at JPL, but I'm a little bit biased. It's really cool because we have a bunch of prototypes everywhere, so you get to see what Starshade would look like in real life. And there are a bunch of interactive models that you can play with to see all the different deployment stages.
How do you think you're contributing to NASA/JPL missions and science?
The full Starshade isn't really finished being designed yet, so a lot of the problems that [the team that is building the full-scale model] is facing, I'm also facing with the mini one. The ideas that I'm thinking through could potentially help with the real flight-model design.
How has the work you've done here influenced you back at school?
When I first started interning here, I actually didn't have a lot of the core class requirements [for my major] done. So a lot of the terms and concepts that people were using at JPL were still new to me. Then when I took the classes, all [the lessons from my internship] came back, and I was like, whoa, I already kind of learned this stuff and got a hands-on approach to it. I'm a very hands-on learner, so having that previous experience and then learning more of the math behind it helped with that learning process.
If you could travel to any place in space, where would you go? And what would you do there?
I'd like to go to Mars just because we're so close to doing it. It'd be cool to see what's there. I personally think there's a really good chance there was once life on Mars. If I could go and see for myself, that would be pretty awesome.
---
Explore JPL's summer and year-round internship programs and apply at: https://www.jpl.nasa.gov/edu/intern
The laboratory's STEM internship and fellowship programs are managed by the JPL Education Office. Extending the NASA Office of Education's reach, JPL Education seeks to create the next generation of scientists, engineers, technologists and space explorers by supporting educators and bringing the excitement of NASA missions and science to learners of all ages.
TAGS: Women in STEM, Internships, Interns, Students, College, STEM, Opportunities, Starshade, Exoplanets, Engineering
---
There is still a lot of mystery around what exactly causes aurora, the swirling spectacles of light that grace Earth's southern and northern high-latitude skies. So, this summer, Jasmine Cameron, a JPL intern and computer science major at Howard University, helped push aurora science further by developing an algorithm to detect the phenomena in video taken from a weather balloon. Fellow intern Evan Kramer caught up with Cameron to ask how learning about aurora might help the average person and what it's like to work with NASA scientists and engineers.
What are you working on at JPL?
My project is in computer science. What we're trying to do is image aurora, so your northern and southern lights, during the day time. A near-infrared camera goes up on a weather balloon and takes a video of the sky at up to 30 frames per second. It stores the collected data and sends back video containing auroras. What we want to do is develop an efficient, real-time algorithm based on machine learning technology that can identify frames with aurora in them so that we can collect science data about these phenomena. Our algorithm needs to give the scientists as many true-positives, or useful images with auroras in them, as possible so they can better understand what they are. It also needs to fit on the computer aboard the balloon so that it will be power efficient and high performance.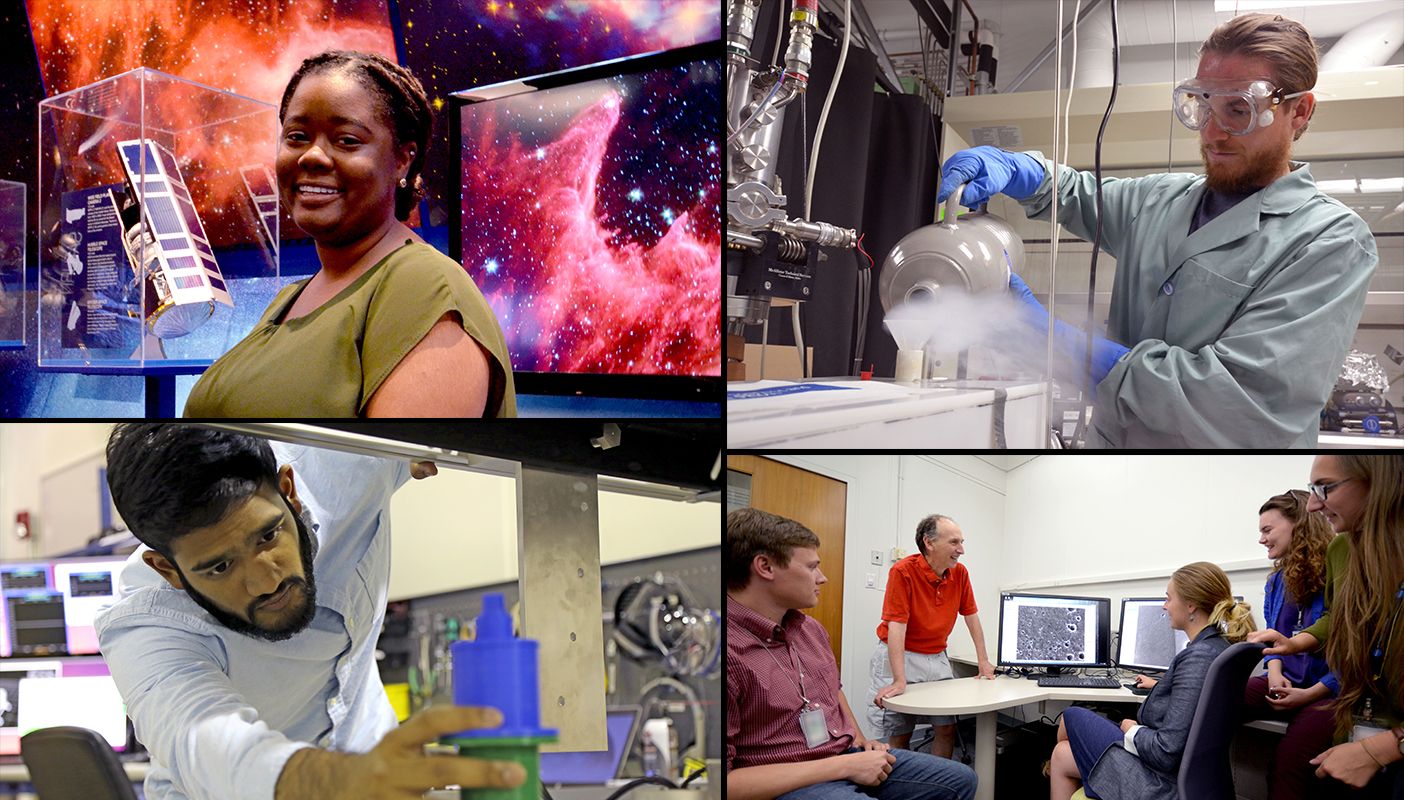 Meet JPL Interns
Read stories from interns pushing the boundaries of space exploration and science at the leading center for robotic exploration of the solar system.
How might understanding aurora help the average person one day?
Auroras are the result of a complicated interaction between the Sun and Earth. This interaction is a fundamental cosmic process that will affect space weather, which in turn will affect our daily life in terms of radiation exposure, satellite and radio communication, power systems, and so on. Studying aurora could help us better understand and forecast space weather.
What's a typical day like for you?
I come in and check my email to see if my mentor has sent me any new data to process. Then I'll get to work on algorithms I think would work as a detection system for identifying the presence of aurora in images. There are a lot of different machine-learning algorithms out there that we can test.
How does the algorithm work?
The algorithm is based on machine learning technology. You create a model with unknown parameters. You then take the data and set it up between training data and testing data. Your training data is a bunch of base images with aurora in them and defined parameters used to detect aurora. Then, you develop the algorithm to look for those parameters in your test data, and it will conclude if there is an aurora or not in each of the test images. Then, you use a validation directory with only true-positives to compare the images in your test data that were identified as having aurora in them to actual aurora images to see how well your algorithm is working. My job is to see what algorithm works the best in identifying aurora in the test images.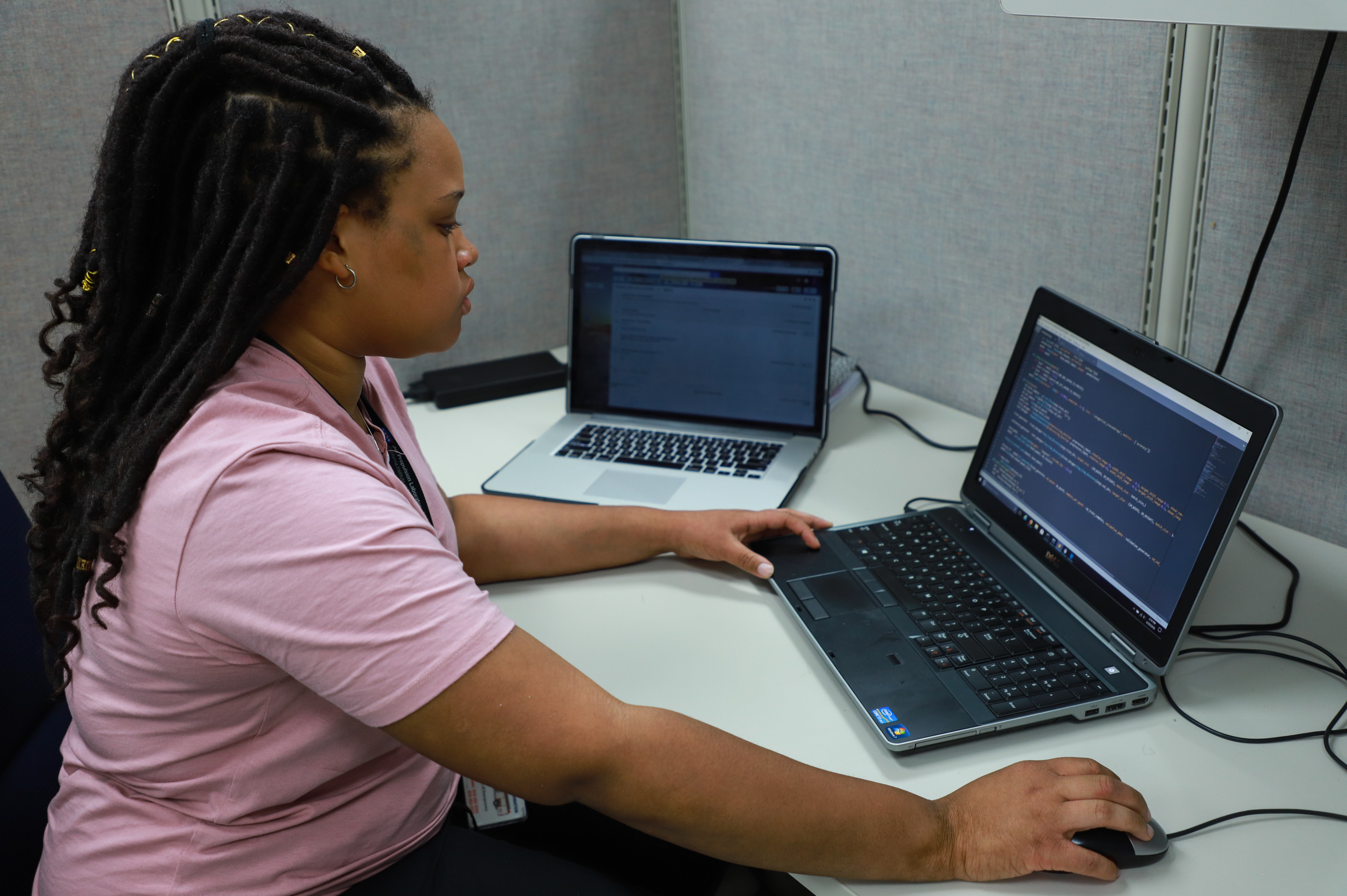 Did you have to do any research or special preparation before you started on the project?
Yes, I had to read a lot, especially about the motivations behind why we're doing this work and how we're going to accomplish our goals. I had to read the technical documentation about different algorithms and different systems that are used to process the images and identify aurora. There's definitely a lot of reading involved every day, and I frequently ask the people I work with questions.
What's the most JPL- or NASA-unique experience you've had so far?
I got to see different hardware and test beds and even mission control where they control the Deep Space Network, [a system of antennas around the world that are used to communicate with spacecraft]. That was really cool.
What about the people here? What's the environment like at JPL?
Everybody is kind of a nerd. Usually when I'm talking about my internship experience to friends back home, I have to edit out things I'd normally say because most of them would find it boring, but here I'm frequently asked what I work on in a genuine way. I know I can always ask anyone anything about their project and for help on my own project. It's a great environment and I'm learning a lot.
How do you feel you're contributing to NASA/JPL missions and science?
Just being able to do this type of work on aurora detection – it has never been done before. Being able to contribute to making data collection and analysis more efficient makes scientists' lives a lot easier and helps us learn more about these phenomena.
If you could travel to any place in space, where would you go and what would you do there?
A black hole, just to see what happens. I'd want to see how destructive it is and how dark it is.
---
Explore JPL's summer and year-round internship programs and apply at: https://www.jpl.nasa.gov/edu/intern
The laboratory's STEM internship and fellowship programs are managed by the JPL Education Office. Extending the NASA Office of Education's reach, JPL Education seeks to create the next generation of scientists, engineers, technologists and space explorers by supporting educators and bringing the excitement of NASA missions and science to learners of all ages.
TAGS: Women in STEM, Internships, Interns, College, Students, Opportunities, Science, Careers
---
Update: Sept. 4, 2018 – Ryan Loper was offered and accepted a full-time position with the team he's interned with for the past two summers. He'll start his new role at the laboratory after he graduates in September 2019!
---
During his seven years in the Marine Corps, traveling around the world, Ryan Loper saw how much an education could change a person's life. When his service ended, he enrolled in community college, just to, "take a couple of classes and see," he said – until it ended up changing the course of his life as well. Now a student at Stanford, a two-time JPL intern, and an alumnus of and volunteer for the NASA Community College Aerospace Scholars (NCAS) program, Loper is helping build a test bed for a next-generation space telescope. We caught up with him to find out how he made the transition from military to student life and what he hopes his future at JPL will bring.
What are you working on at JPL?
I'm working on an optical test bed, where we're trying to make a telescope similar to one we would put in space, but a much smaller size.
What's the ultimate goal of the project?
We're preparing for the next-generation space telescope. We want to get to what they call "first light," where you get light to come through the telescope and detect it. Eventually, the team wants to take [the telescope] out and observe a star with it and be able to make measurements.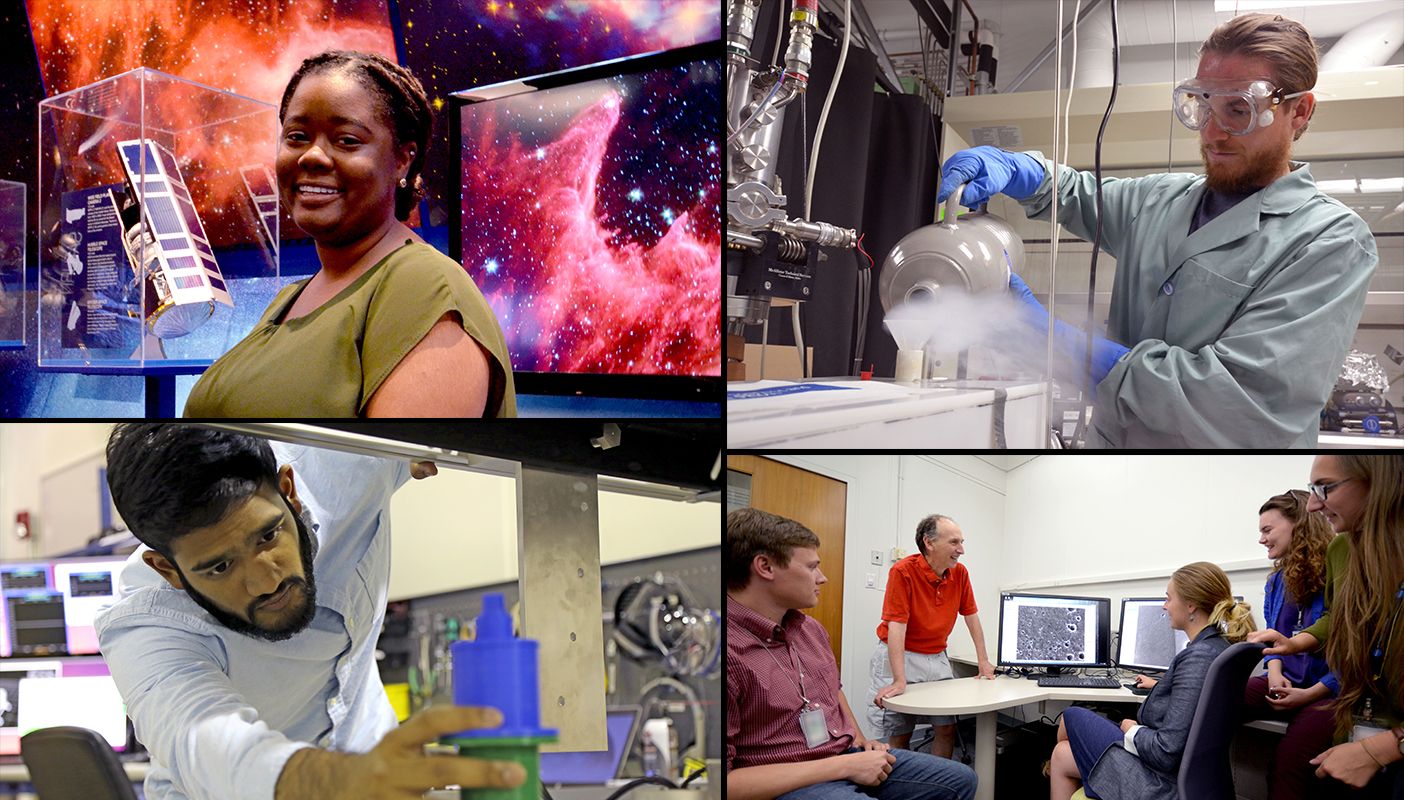 Meet JPL Interns
Read stories from interns pushing the boundaries of space exploration and science at the leading center for robotic exploration of the solar system.
What's a typical day like for you?
They're almost never the same. Just about every day, we have a morning meeting with the principal investigator, the systems engineer for the project and two other interns working on the same project. We talk about where we got yesterday, what our plan is for the day and things we might have to consider going forward. We're producing drawings now on some of the test-bed parts. We're trying to find the right design. Then, as much as I can, I try to get out onto the lab and meet new people and reconnect with some of the people who I met during my internship last year.
You were in the Marines before going to college. Can you tell me a bit about that experience and how it shaped your career path?
Yes. I did very poorly in high school. I didn't have anybody in my family who went to college, and I didn't see the benefit of an education. So two weeks after I graduated, I went to boot camp with the Marine Corps. I spent seven years in the Marines, where I got to travel a lot and go to different parts of the world. I saw how much a lack of an education could hurt an entire group of people. I also saw how a little bit of an education could give someone more opportunities than they ever had. I also happened to have really good mentors while I was in the Marines who pushed me to learn more than what was required. It instilled this hunger for knowledge that's really helped me be successful as a student and ultimately lead to me being able to start at community college and transfer to Stanford to finish my undergraduate degree. It's also what makes me really enjoy JPL, because it's that same type of mentality here. There are a lot of really cool things going on here, but it's not like we just sit back and watch the cool stuff happen. We're doing the stuff no one has done before, and we're continuing to learn and iterate.
It's often challenging for veterans to take that next step after they return from their service. What challenges did you face and how did you overcome them?
It's really difficult when you're first leaving the service because you've been surrounded by a lot of like-minded people in the sense that you have a mission and you're executing that mission to the best of your team's ability. I didn't struggle with this because I happened to go to a community college that had a great veteran population, but some friends of mine who went to different schools felt like there wasn't that camaraderie. I think that's the biggest thing that hinders us when we come out. We're used to that sense of camaraderie and then we go to a place where that's not there, and it leaves you feeling alone.
Some of the situations that you face and see while you're deployed in the military are not what the normal 18-,19-, 20-year-old sees, so it makes it hard to talk to others. I had a lot of trouble with that. I was very antisocial when I first came out of the service, so I did a lot of counseling through [Veterans Affairs]. My wife has been a huge help and has been very patient with me working through it. [It was also helpful] having a good group of friends who are veterans, who I got together and studied with. I think the biggest thing you can do is try to find other veterans or just people you can have in your corner because it does get difficult.
Did you pick the community college you went to because it had a large veteran population?
No. When I first got out, I wasn't sure I was going to go to college. I figured I would take one or two classes [at a community college] and see how it went. My wife went to get information and sign me up and told me there's this whole veterans resource center and that I should go meet this guy Jordan. The first time I went, I was just super uncomfortable. I was there for five or 10 minutes, and I left. I think I made it halfway through the semester and the classes started to get really difficult. So, I finally went back and met Jordan and the community there and right away got involved. I ended up becoming the vice president of our student veterans organization during my time there. But I didn't choose the school because they have a good veteran population. The location and timing just worked out really well.
What made you decide that you wanted to study STEM?
Growing up, I always got in trouble for tinkering. I grew up on a tiny farm. We didn't have any money, but we always had broken stuff lying around. So I would take stuff apart and try to put it together with other things. And then I've always been interested in space and military aircraft. I worked on military aircraft for part of my career. I've just always had that desire to poke my head into things and figure out how they work and take things apart. So STEM kind of seemed like the right thing to get into. It gives me an ability to dig into math and physics, which I enjoy, but also poke around with the creative side of things.
When you started at community college and took those first couple courses, were they STEM-related?
Since I'd been out of school for so long, I had to take a test to see where I would start. I started in trigonometry, which is low on the totem pole for engineering majors, but I had an amazing trig professor, Professor Marquez. He walked into this trig-prep class and said, "Don't think of trig as a subject you have to learn in math, think of it as a superpower." He taught us to think, not to repeat. So later on, it made other classes much easier.
This is your second internship at JPL, and before that, you were here as part of the NASA Community College Aerospace Scholars, or NCAS, workshop. Can you talk a little bit about that and why you've continued to come back to JPL?
I have a friend, Dave, who's also here [as an intern]. He was at the community college I went to. He told me how he was coming to JPL for this program called NCAS. I went online and signed up for it. I did the online class and got invited to come to JPL [for the NCAS onsite workshop]. During the workshop, I fell in love with everything that we got exposed to: the missions that NASA was doing and what JPL was working on. We had guest speakers come in and interns talk about their experiences at JPL. It wasn't necessarily that I thought, that's the job I want to do. It was, those are the people who I want to work with.
After that program, I stayed in contact with my mentor, Otto Polanco. He offered me an opportunity to come to JPL that following summer. I thought, I'll probably go there to do all the stuff that he doesn't want to do, like Excel sheets and trade studies. But then, I showed up, and I was basically handed the keys to the Ferrari and told to go drive. It was the first time with a work experience, especially an internship, where I came in and it was like, "Here's an engineering problem, go figure it out." I loved it.
I was also invited that summer to be a student aid for NCAS at JPL, so I got to be behind the scenes and see all of the work that the JPL Education Office puts into the program. They do a fantastic job and it makes it that much more special for all the students.
What's been the most unique JPL or NASA experience you've had during your time here?
The most unique is being surrounded by people whose work you're reading [in school] and who are guiding what industry is doing – but they're approachable. Like yesterday, I sat with Adam Steltzner, who lead the entry, descent and landing for the Mars rover Curiosity. I had read his book, and last summer, I ran into him and briefly introduced myself and asked if he wanted to meet. He met me for coffee, and then he met me again this year and we got to catch up.
For me, a big thing that I'm considering is the work-life balance because I have a wife and two children. At JPL, you have that opportunity to do really amazing things and work with amazing people and get to be a husband and a father. And you don't have to sacrifice that to do something amazing. That's been unique to me – to find a place that has the culture fit that I've been looking for.
How do you feel you're contributing overall to NASA/JPL missions and science?
Hopefully, the project that I'm working on will help ensure success for the next space-based telescope. I feel as though I get to be part of the future, the next generation of space explorers and what we're going to find out there.
What's your ultimate career goal?
To be an NCAS mentor. That would mean I'd have to be a full-time JPL employee in a position where I'd be able to dedicate some of my time to support the next group of NCAS students, who are going to become interns and then come to JPL full time.
Last question: If you could go anywhere in space, where would you go and what would you do there?
Ooh, if I could go anywhere in space? I would want to go to the farthest point in space from Earth and look back to realize how insignificant it is and how much I take for granted.
---
Explore JPL's summer and year-round internship programs and apply at: https://www.jpl.nasa.gov/edu/intern
The laboratory's STEM internship and fellowship programs are managed by the JPL Education Office. Extending the NASA Office of Education's reach, JPL Education seeks to create the next generation of scientists, engineers, technologists and space explorers by supporting educators and bringing the excitement of NASA missions and science to learners of all ages.
TAGS: Interns, Internships, Veterans, College, STEM, STEM Education
---
When the new crop of summer interns started showing up at NASA's Jet Propulsion Laboratory in Pasadena, California, this past June, they joined the more than 2,000-plus students placed across NASA's 10 field centers, instantly becoming part of the NASA family.
"They may not be together geographically, but these interns are getting this unique experience all over the country," said Katherine Brown, public affairs officer for education at NASA Headquarters.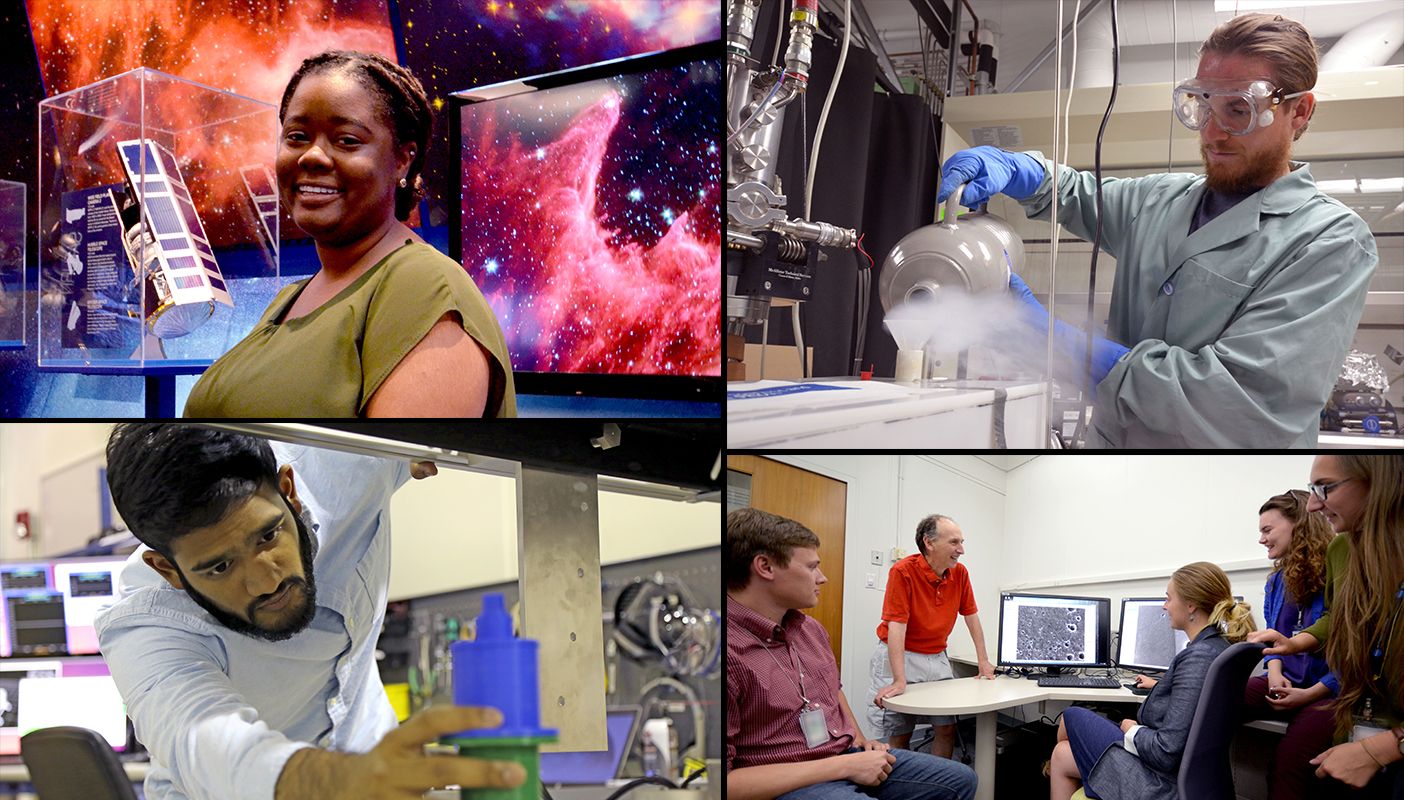 Meet JPL Interns
Read stories from interns pushing the boundaries of space exploration and science at the leading center for robotic exploration of the solar system.
But between the challenging workloads, exciting education opportunities and inspiring culture at JPL, interns who come to the laboratory often see only one piece of the NASA puzzle. Intern and University of Colorado Boulder astrophysics student Maya Yanez has spent the past two summers at JPL – one working on describing potential radical chemistry on Kuiper Belt objects, and one helping to identify potential landing sites on Jupiter's moon Europa.
"You get the chance to be a little sprocket in this massive machine of making things happen at JPL, but then you can kind of lose sight of the fact that JPL is one component of NASA, and there are hundreds of interns at other centers doing comparable things," Yanez said.
This year, NASA Headquarters' internship and communications coordinator Christine Linsinbigler saw opportunities to bring the centers together. She organized an agency-wide live feed of NASA Administrator Jim Bridenstine's intern town hall at Goddard Space Flight Center on July 26, and an ISS downlink Q&A – where interns got to pre-record questions for astronauts to answer live from the space station – on July 30.
"With National Intern Day on July 26, we were able to roll the events into one big intern week," Linsinbigler said.
Answers from the Administrator
This was the first year a NASA administrator conducted a NASA-wide town hall, where interns from all of the centers could submit questions in short videos. Yanez was selected to live-tweet Bridenstine's responses from the JPL Education Office's @NASAJPL_Edu handle so students, JPLers and members of the public could see some of the responses.
"The administrators' town hall was really important because, for the first time, I had an opportunity as an undergrad to ask about our future and the future of space funding," said Yanez, who also hopes to one day run for office. "This is a person who has power over our future. I think it's important to keep that communication between science and politics."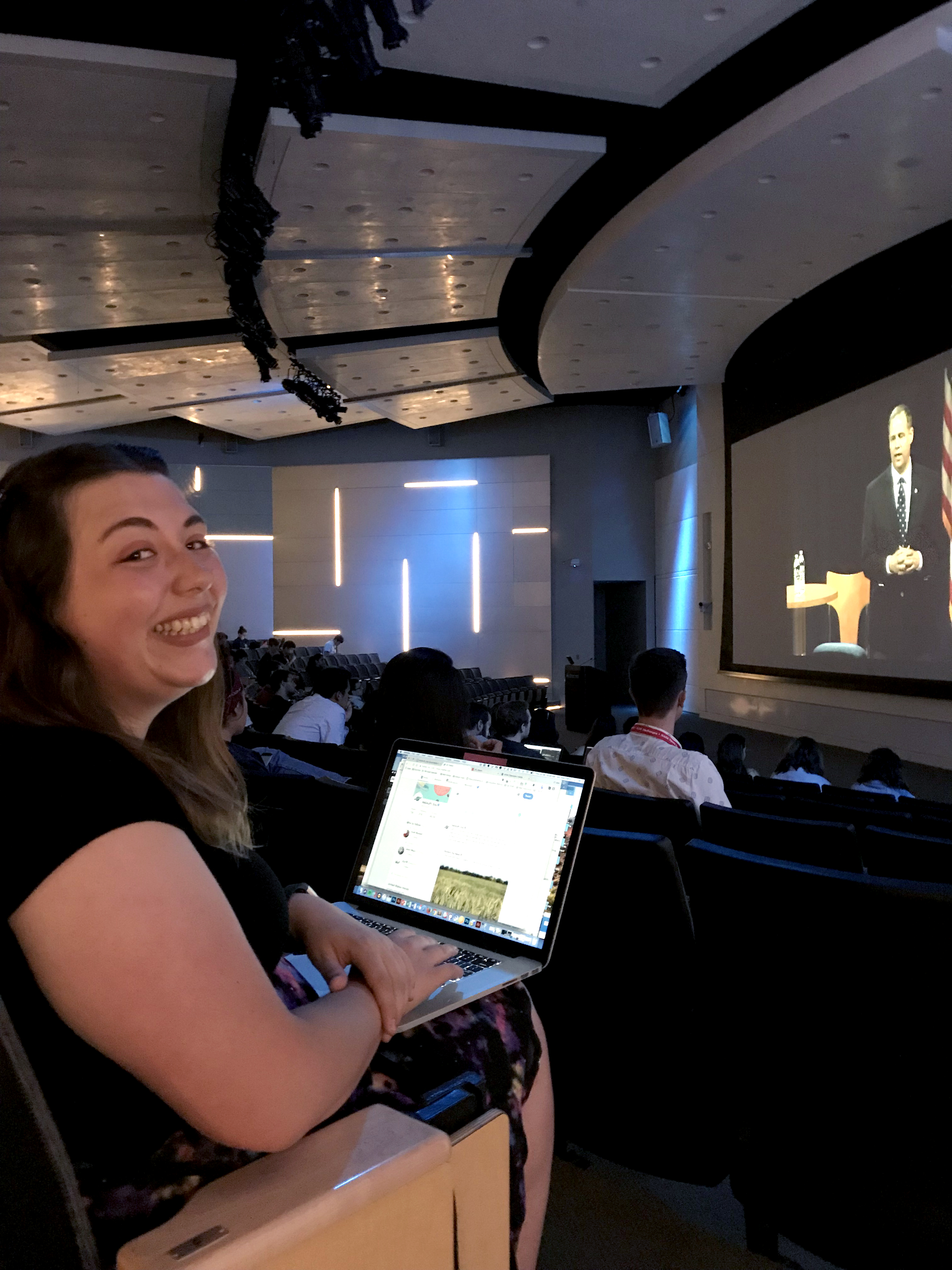 Yanez was also appreciative of the administrator's openness to discuss inclusion and diversity in the field, and how NASA plans to maintain its current programs.
"I'm half Mexican, a female in STEM, a first-generation college student, and low income, so I check off a lot of those representative boxes," Yanez said. "It was nice that he spent as much time on that question as he did. He talked about how it mattered to him and how it should matter to all of us."
At NASA Headquarters, inclusion and diversity within NASA starts with the intern program, which saw its largest and most diverse applicant pool of interns this summer. Brown said it followed a concerted effort of making the public aware that an internship at JPL, Langley or Johnson is more than just for STEM students – there are opportunities in communications, human resources, education and other fields that are all relevant to how the agency runs.
"We've showcased interns on our social media, we held a Reddit 'Ask Me Anything' Q&A with Johnson Space Center Flight Director Allison Bollinger, and we're hoping that including more events like the administrator town hall and ISS downlink will continue to attract a diverse group to NASA," Brown said.
Questions to Space
When JPL intern Zachary Luppen heard about the ISS downlink – and that he would have a chance to ask an astronaut a question – he already had pages of questions lined up.
"I had always wanted to ask an astronaut something, but I didn't know how to go about doing it," said Luppen, who is entering his senior year as an astronomy physics major at the University of Iowa. "I really want to go into space, and here I suddenly have this opportunity to throw a question at an astronaut and get it answered."
The pre-recorded video questions from interns across NASA centers were played during the ISS downlink on July 30, and JPL interns gathered to hear astronaut Ricky Arnold's responses. Luppen asked Arnold if there were any specific pointers he could give NASA interns who want to be astronauts themselves, and go to the ISS, the Moon or even Mars.
"The temptation is to specialize early, and it's great to find your passion and pursue it, but don't lose sight of the bigger picture," Arnold said. "NASA is looking for people with very diverse backgrounds, who have done a lot of different things in different environments with different people."
Luppen said the ISS downlink was special, as it was one of many "bucket list" items he was able to check off during his summer at JPL, but the work he conducted at the laboratory was more important to his future. Over his 10 weeks at JPL, Luppen worked on test procedures for the dual-frequency radar instrument (REASON) slated to ride aboard NASA's Europa Clipper spacecraft. That allowed him to connect with a group of employees who are really doing what he wants to do.
"At Iowa, we're building parts of the Europa [Clipper mission] there too, but we're not working on spacecraft to the degree that JPL is," Luppen said. "I'm here with like-minded people, fantastic scientists and engineers who are working on these projects, and it's just great to finally be at a center where it's so productive. It's almost like chaos, but it's so cool. I mean, how many missions did we have launch this summer? So, it's just like, we're so busy, and I'm getting to be a part of it this summer."
Intern Christopher Jia-Kuan Yen, a senior geology-chemistry student at Brown University, spent his summer working with Deputy Project Scientist Abigail Fraeman on remote sensing and imaging instruments aboard the Mars Reconnaissance Orbiter. As for the question he asked of astronaut Ricky Arnold, it was – of course – imagery based.
"I wanted to know, based on what he's seen from the windows of the ISS, where he would most like to visit on Earth," Yen said.
Arnold responded that the list seems to get longer every day he's on the station, but the mountains of Peru, Chile and Argentina have caught his eye. "I guess I'll have to head down there and check it out someday," Yen said with a smile. In retrospect, Yen viewed the ISS Downlink as one more example of how special interning at JPL can be.
"There are just so many things going on here," he said. "Between the work you're doing, the lectures – I mean, we had the Mars helicopter team present to us – and the events like the ISS Downlink, I don't think you're getting opportunities like those at your university internship."
This summer, 400 JPL employees participated as mentors, providing guidance to the 700 interns working in various fields across the laboratory.
To learn more about this year's interns, visit:
---
Explore JPL's summer and year-round internship programs and apply at: https://www.jpl.nasa.gov/edu/intern
The laboratory's STEM internship and fellowship programs are managed by the JPL Education Office. Extending the NASA Office of Education's reach, JPL Education seeks to create the next generation of scientists, engineers, technologists and space explorers by supporting educators and bringing the excitement of NASA missions and science to learners of all ages.
TAGS: Interns, Internships, Student Programs, STEM, STEM Education, College Students
---
There's no telling what the first spacecraft to land on Jupiter's ice-covered moon Europa could encounter – but this summer, JPL intern Maya Yanez is trying to find out. As part of a team designing the potential Europa Lander, a mission concept that would explore the Jovian moon to search for biosignatures of past or present life, Yanez is combing through images, models, analogs, anything she can find to characterize a spot that's "less than a quarter of a pixel on the highest-resolution image we have of Europa." We caught up with Yanez, an undergraduate student at the University of Colorado at Boulder, to find out what inspired her to get involved in space exploration and ask about her career ambition to discover alien life.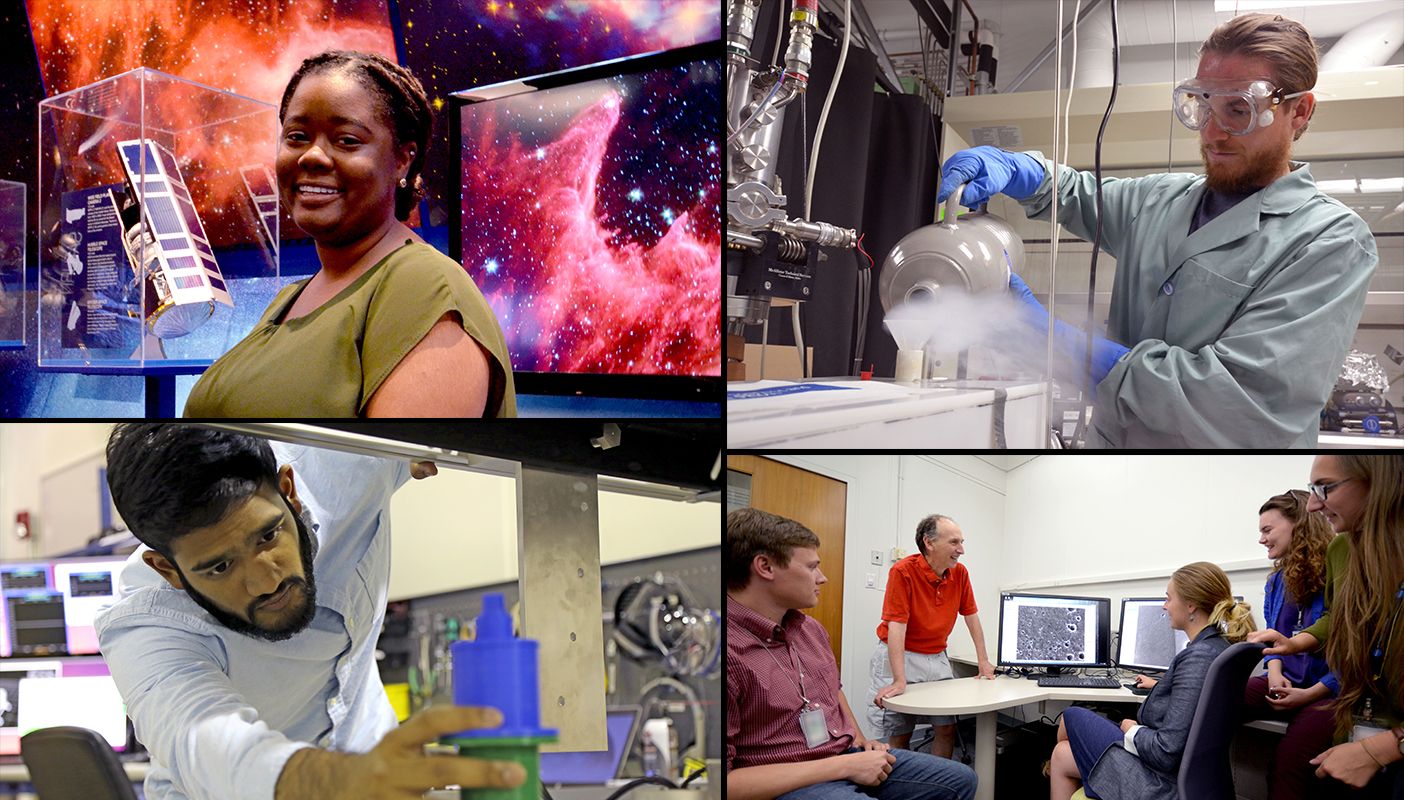 Meet JPL Interns
Read stories from interns pushing the boundaries of space exploration and science at the leading center for robotic exploration of the solar system.
What are you working on at JPL?
I'm working on what may be a robot that we would land on Europa's icy surface. Europa is a moon of Jupiter that has this thick ice shell that we estimate is 25 kilometers [15.5 miles] thick, and there's evidence that underneath that is a huge global ocean. If we're going to find life beyond Earth, it's probably going to be wherever there's water. So this mission concept would be to put a lander on Europa to try to figure out if there are signs of life there. I'm looking at an area on Europa about two square meters [about 7 feet] and about a meter [3 feet] deep. For perspective, we've only explored a few kilometers into our own Earth's surface. What I'm doing is trying to figure out what we might expect is going on in that little tiny area on Europa. What light is interacting with it, what processes might be going on, what little micrometeorites are hitting the surface, what's the ice block distribution? I'm looking at places like Mars, the Moon and Earth to try to put constraints and understanding around what types of variation we might see on Europa and what might be going on underneath the surface.
What's an average day like for you?
A lot of it is looking up papers and trying to get an idea of what information exists about Europa. My first couple of weeks here, I read this thing that we call the "Big Europa Book." It's a 700-page textbook that covers basically all of our knowledge of Europa.
One of the other things that I've been working on is a geologic map, trying to look at what geologic variation exists in a couple of meters on Europa because we don't know. It's kind of crazy to think that when Viking [the first Mars lander] landed, we had no clue what another surface would look like except for the Moon. We had no idea. And then we got those first amazing images and it looked kind of like Earth, except Europa probably won't look like Earth because it's not rock; it's all ice. So even though we're trying, we still have nothing to compare it to.
If it gets selected as an official mission, a Europa lander would come after NASA's Europa Clipper spacecraft. How might data from Europa Clipper contribute to what you're working on now?
Europa Clipper could be really beneficial in that it's going to do more than 40 flybys where it goes around Europa in a bunch of different ways and at different proximities. It's going to curve into the moon's atmosphere and get really close to the surface, about 25 kilometers [15.5 miles] close to the surface. Right now, some of the best data we have is from hundreds of kilometers away, so the images Europa Clipper will take will be pretty nicely resolved. If you look at the current highest resolution image of Europa as compared to one from Voyager [which flew by Jupiter and its moons in 1979], the amount of detail that changes, the amount of cracks and complexity you can see on the surface is huge. So having more images like that can be really beneficial to figure out where we can land and where we should land.
Before this project, you spent a summer at JPL studying the chemistry of icy worlds, such as Pluto. What's it been like working on such different projects and getting experience in fields outside your major, like chemistry and geology?
[Laughs] Yeah, one day I'll get back to astronomy. That's one of the things I love about JPL. Overall, I'd say what I want to do is astrobiology because I want to find life in the solar system. I mean, everyone does. It would be really cool to find out that there are aliens. But one of the great things about astrobiology is it takes chemistry, physics, geology, astronomy and all of these different sciences that you don't always mix together. And that's kind of why I like JPL. So much of the work involves an interdisciplinary approach.
What's the most JPL- or NASA-unique experience you've had so far?
I have one from last summer and one from this summer.
I really want to find life out in space. I'm curious about bacteria and microbes and how they react in space, but it's not something I've ever really done work in. A couple of weeks ago, I got to see astronaut Kathleen Rubins give a talk, meet her afterward and take a picture with her. She was the first person to sequence DNA in space. I would have never met someone like that if it weren't for my internship at JPL. I wouldn't have been able to go up to her and say, "This is really cool! I'd love to talk to you more and get your email" – and get an astronaut's email! Who would ever expect that?
And then last year, I had something happen that was completely unexpected. I was sitting alone in the lab, running an experiment and, throughout the summer, we had a couple of different tours come through. A scientist asked if he could bring in a tour. It was two high-school-age kids and, presumably, their moms. I showed them around and explained what my experiment was doing. It was great. It was a really good time. They left and a couple hours later, Mike Malaska, the scientist who was leading the tour, came back and said, "Thank you so much for doing that tour. Do you know the story of that one? I said no. He said, "Well the boy, he has cancer. This is his Make-a-Wish." His Make-a-Wish was to tour JPL. I had never felt so grateful to be given the opportunity that I was given, to realize that someone's wish before they may or may not die is to visit the place that I'm lucky enough to intern at. It was a very touching moment. It really made me happy to be at JPL.
What was your own personal inspiration for going into astronomy?
I was the nerdy kid. I had a telescope, but I also had a microscope. So it was destined. But in middle school, I started to get this emphasis on life sciences. I'd always really liked biology so I sort of clung to it. We never really talked about space, so I just kind of forgot about it. But my senior year, I took this really cool class in astrobiology taught by an amazing teacher, who I still talk to. After the first week in her class, I was like, I have to do this. At the end of the academic year, that same teacher took me to JPL and gave me a private tour with some of the other scientists. I actually met Morgan Cable, the mentor I worked with last summer and this summer, on that tour. It was definitely a combination of being in this really great class and having that perspective change, realizing that we've learned a lot about life on our own planet, but there's so much to learn about finding it elsewhere.
Did you know about JPL before that?
No. I'm the first generation in my family to go to college, so I'm the one who teaches science to everyone else. I didn't even think science was a career because, when you're a kid, you don't often interact with a lot with scientists. So I didn't realize what JPL was or how cool it was until that tour put everything into perspective. I wasn't a space kid, but I found my own path, and it worked.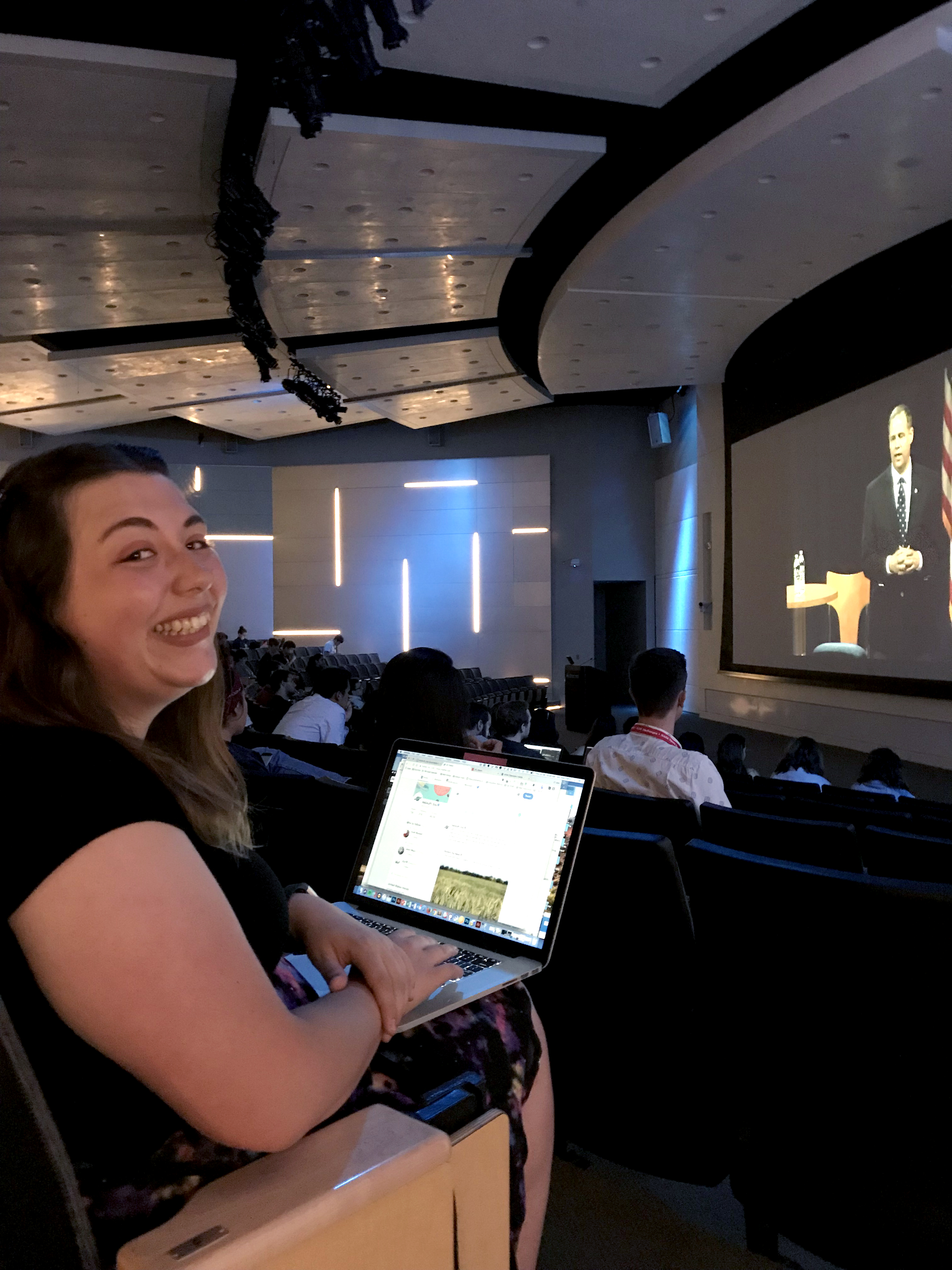 For National Intern Day on July 26, NASA held a special town hall for interns with Administrator Jim Bridenstine. Your question about how the agency prioritizes the search for extraterrestrial life was selected as a finalist to appear during the broadcast. What made you want to ask that particular question?
So it was a little self-serving [laughs]. Part of it is that it's central to my career path, but I also want to run for office one day at some level, and I think it's important that there's this collaboration between science and politics. Without it, science doesn't get funded and politicians aren't as well informed.
How do you feel you're contributing to NASA/JPL missions and science?
What I'm doing requires a lot of reading and putting things together and knowing rocks and putting scales into perspective, so it's not particularly specialized work. But the end goal of my project will be a table that says here's what processes are happening on Europa, here's what depth they govern and here's what it means if biosignatures are caught in these processes. I'm also going to be remaking an old graphic, including more information and trying to better synthesize everything that we know about Europa. Those two products will continue to be used by anyone who's thinking about landing on Europa, for anyone who's thinking about what surface processes govern Europa. Those two products that I'm producing are going to be the best summaries that we have of what's going on there.
OK, so now for the fun question: If you could travel to any place in space, where would you go and what would you do there?
Europa. Obviously [laughs]. Or [Saturn's moon] Titan. Titan is pretty cool, but it scares me a little bit because there's definitely no oxygen. There's not a lot of oxygen on Europa, but what's there is oxygen. I would probably go to Europa and find some way to get through those 25 kilometers of ice, hit that ocean and see what's going on.
---
Explore JPL's summer and year-round internship programs and apply at: https://www.jpl.nasa.gov/edu/intern
The laboratory's STEM internship and fellowship programs are managed by the JPL Education Office. Extending the NASA Office of Education's reach, JPL Education seeks to create the next generation of scientists, engineers, technologists and space explorers by supporting educators and bringing the excitement of NASA missions and science to learners of all ages.
TAGS: Women in STEM, Internships, Interns, College, Students, STEM, Science, Engineering, Europa, Europa Clipper, Europa Lander
---
Since we can't yet travel to planets outside our solar system, JPL intern Tre'Shunda James creates models of them right here on Earth. We caught up with the Occidental College physics and chemistry major to learn how she's pointing the way toward potentially habitable worlds while helping lead the way toward diversity in her field.
What are you working on at JPL?
My project this summer is studying exoplanet atmospheres and the chemical components that are present in those atmospheres. I'm running a bunch of simulations, or models, using a computer code that my JPL mentor, Renyu Hu, published back when he was in grad school. I change a few things, run the models, look at the results, compile them and analyze what they can tell me about oxygen, which is a possible sign of life on these exoplanets [planets outside our solar system]. So in that way, it's really pushing the field forward in terms of finding out if life could exist on similar planets.
What's the ultimate goal of the project?
The parameters we put into the model are to simulate a terrestrial, habitable exoplanet. Scientists have discovered exoplanets that are terrestrial, but we don't yet know if there's life on them. So this model is a theoretical basis that we can apply to many exoplanets that are discovered to see if they could support life. We just submitted the paper on our findings a couple weeks ago.
What's an average day like for you?
Right before we submitted the paper, we were working nonstop on that. It was the hardest I've worked in such a short time. But it was very rewarding. It was the first time I've been an author on a science paper, so it was pretty cool. I learned a lot.
Typically, I'd come in and look at my code. Sometimes it would run a couple hours and it would be done or it would run a couple days, so I was always anxious to see where it was when I get to my desk. If it was done running, I'd take the results, make graphs, make figures and analyze what I could. And if wasn't done, I'd usually just start a new simulation.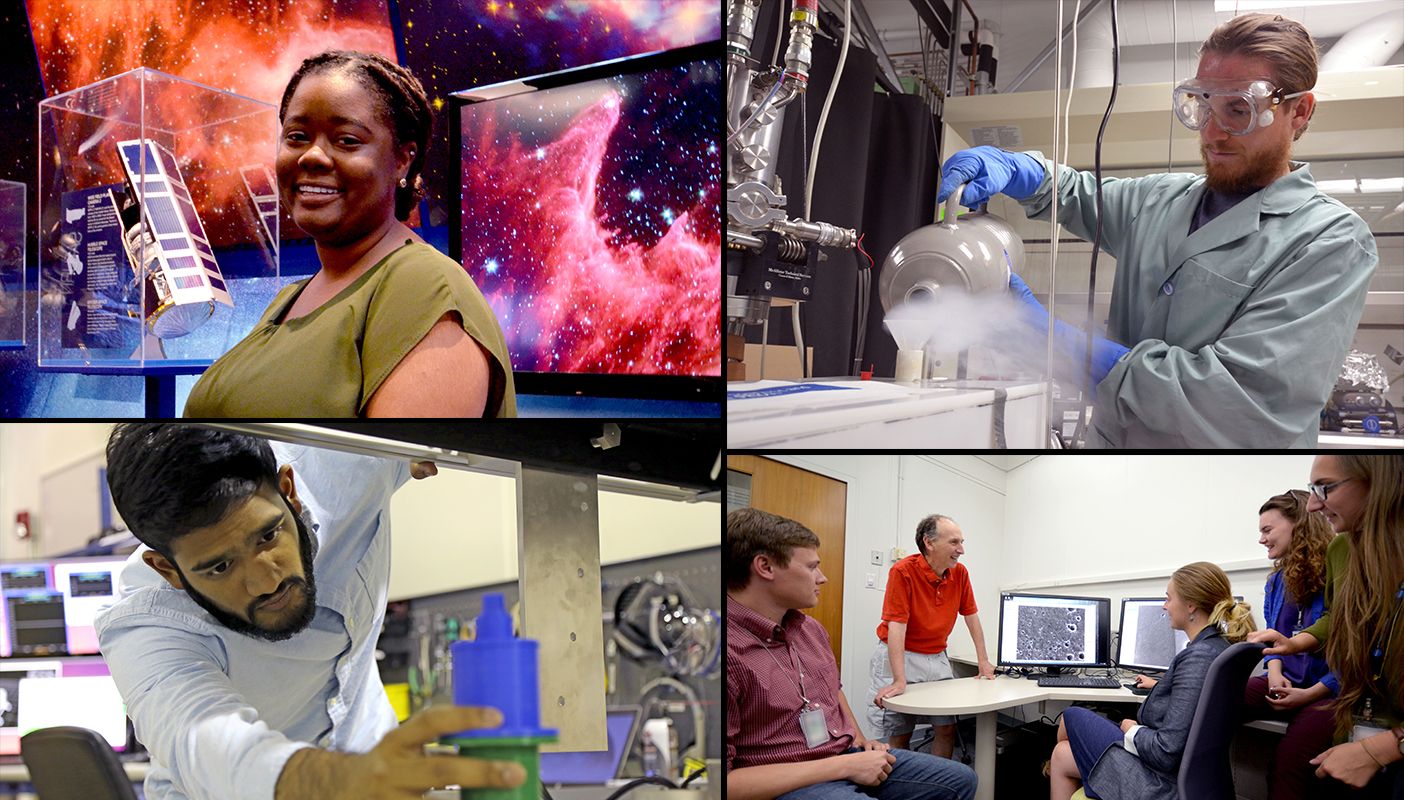 Meet JPL Interns
Read stories from interns pushing the boundaries of space exploration and science at the leading center for robotic exploration of the solar system.
How do you feel you're contributing to NASA/JPL missions and science?
I feel that with the publication, I will contribute a lot, especially because we're scratching surfaces that have never been explored before.
I also feel that I'm contributing as an African American, female engineer doing work in planetary science. I was looking up women in planetary science, specifically African American women, and the only one I could find passed away in 2015. So I feel as though just being here, exploring this field, is pushing the boundaries, and I'm excited about that.
How did you find out about the JPL internship?
I'm a member of a group called COSMOS, Creating Opportunities in Science and Math for Occidental Students. They put me in contact with the SIRI program in the JPL Education Office last year. Before that, I didn't even know that JPL existed.
What's been your impression of JPL?
It's kind of like school. It's like going to school with your professors. It's pretty cool, the collaborative environment.
OK, now for the fun question: If you could travel anywhere in space, where would you go and what would you do there?
I would like to go to Saturn, mostly because I think it's beautiful, and it's one of the first planets that I ever learned about. What would I do there? I don't know exactly. It's funny because I never really had a real interest in space until I started interning here. So everything is still kind of new to me, and I'm just learning about new missions and worlds every day.
What about any of the exoplanets that you're studying? Would you want to go check out any of them?
One thing we're looking to do is study the atmospheres of [the seven planets found orbiting the star TRAPPIST-1]. That would be really cool, especially because it's so close and it's one of the most recent planet-system discoveries. The Exoplanet Travel Bureau posters make it hard not to want to visit these places.
---
Explore JPL's summer and year-round internship programs and apply at: https://www.jpl.nasa.gov/edu/intern
The laboratory's STEM internship and fellowship programs are managed by the JPL Education Office. Extending the NASA Office of Education's reach, JPL Education seeks to create the next generation of scientists, engineers, technologists and space explorers by supporting educators and bringing the excitement of NASA missions and science to learners of all ages.
TAGS: Women in STEM, Internships, Interns, Exoplanets, Science, College