---
Using a test bed that looks like something out of a sci-fi movie, Becca Foust is exploring ways to bring spacecraft components together in space. Here's how the NASA Space Technology Research Fellow, who's earning her Ph.D. at the University of Illinois at Urbana-Champaign, is helping create spacecraft of the future.
What are you working on at JPL?
I like to call it space K'nex, like the toys. We're using a bunch of component satellites and trying to figure out how to bring all of the pieces together and make them fit together in orbit. Then, once they're together, can you pop them apart and make something new? Using many satellites allows for much more versatility than with a conventional single satellite, plus some structures you need are simply too big to fit into the rockets we have today. So this summer, I'm testing my algorithm for assembling satellites on some actual robots in our new test bed.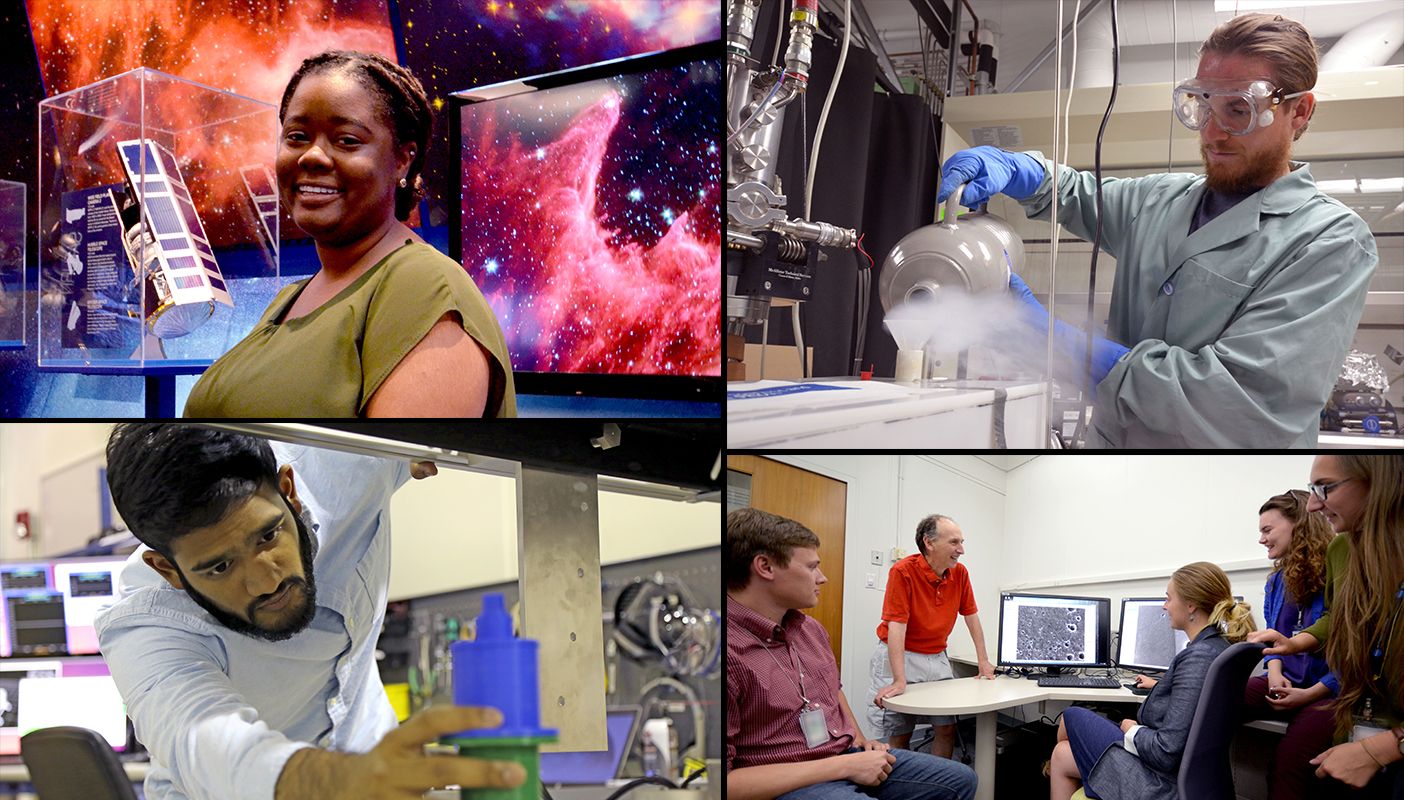 Meet JPL Interns
Read stories from interns pushing the boundaries of space exploration and science at the leading center for robotic exploration of the solar system.
Tell me about the test bed.
We have five spacecraft simulators that "fly" in a specially designed flat-floor facility. The spacecraft simulators use air bearings to lift the robots off the floor, kind of like a reverse air hockey table. The top part of the spacecraft simulators can move up and down and rotate all around in a similar way to real satellites. All these things combine to let the robots move around using the same components used on real satellites in space. The floor has to be very precisely flat and we have to clean frequently because, if a single hair is on the ground, it will affect the motion of the simulators. We also have two rails with highly articulated robot arms on the side and the back of the room to interact with the simulators as other satellites or as a comet to be mapped.
What happens during the simulations?
Most of what our group does is guidance and control, so telling spacecraft where to go and how to get there. When we're testing those algorithms, it's really important that we know where our spacecraft is because we can't tell it where to go if we don't know where it is. So, in the test bed, our robots are all tracked using a motion capture system. It's sort of like CGI. The system tracks these little reflective dots and tells us very precisely the position and orientation of the object.
So if we're testing a guidance and control algorithm, we will turn on the motion capture system, make sure everything is working, and then we just turn on the robots and press go. Our simulators are autonomous and everything runs on board, so we do a lot of legwork before running experiments to make sure things will run as expected.
What is it that you're looking for during these simulations in the test bed?
Before we had this test bed, we did a ton of simulations on the computer, but it's very different having it work on an actual robot. So we're trying to see that when we run things on the robots, it works the way it did in the simulations. Is it tracking the expected trajectory nicely? Is it computing properly? Is everything working?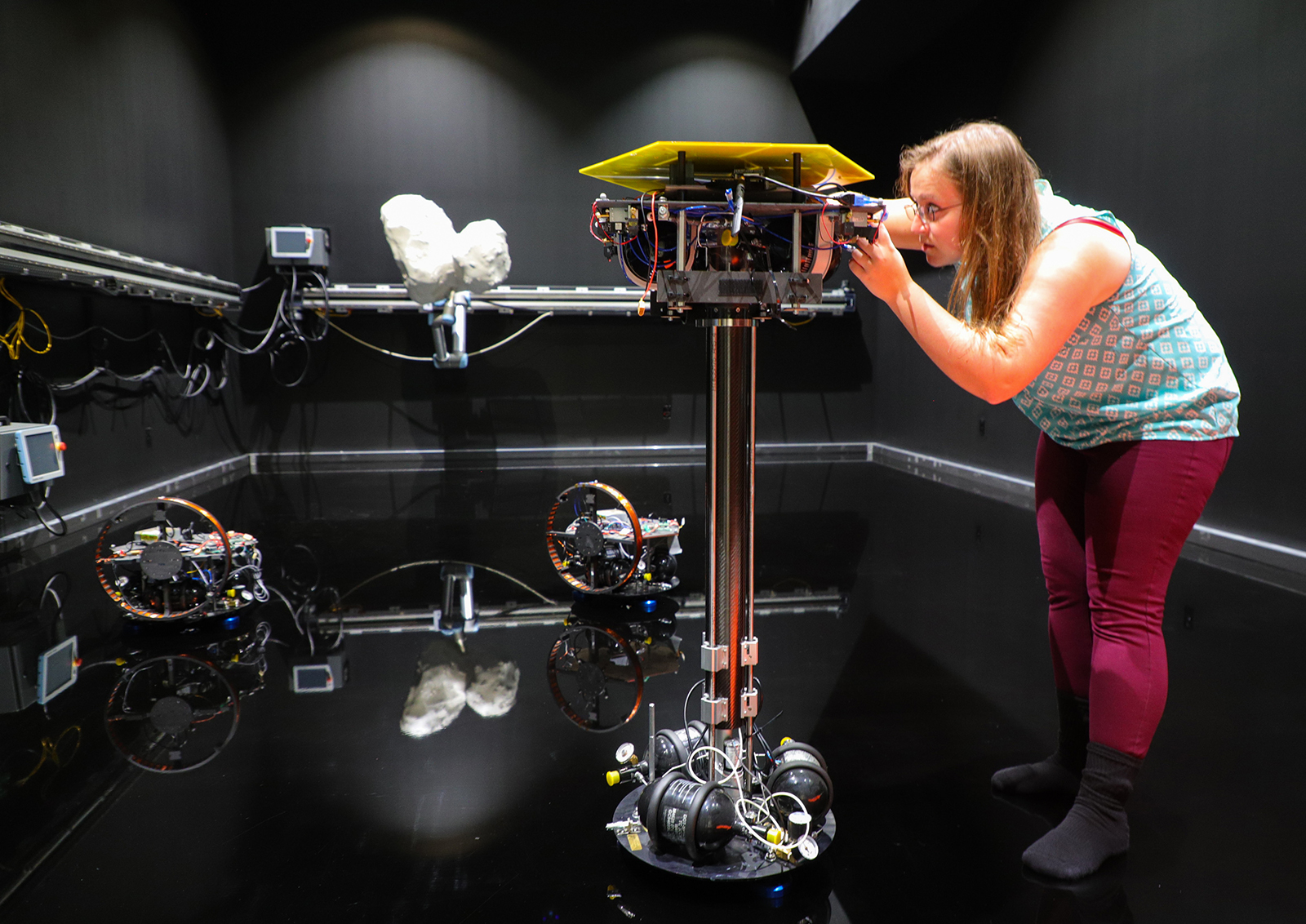 We'll probably end up adding some safeguards in case a command goes astray. We'll probably need to make our algorithms be able to handle issues and faults that come up. That's actually one of the problems we're working on with JPL, increasing satellite autonomy by looking at failures that happen within satellites, trying to figure out what they are and recover from them.
What's the goal of your research?
I hope my research leads to smarter, more efficient satellites for in-space construction and assembly. The algorithm that I'm using is very fuel-efficient and it finds trajectories that aren't really being considered and haven't been tried yet in space. By watching it in our version of space, we can show that these paths can actually be executed in real space. So maybe we can actually start using these more efficient trajectories and then all of our satellites can live longer, go farther and do more.
What's an average day like for you?
I try to work on some mathematical proofs in the morning when I'm still sharp-ish. So I work on that until I get frustrated. After that, I'll wander over to our lab and do some hands-on robotics-type things, like working on the spacecraft simulators and making them work more efficiently. Then, I'll spend a while teaching our undergraduate interns how to use the Robot Operating System, which runs on all of our robots.
What's the most JPL- or NASA-unique experience you've had so far?
I would say meeting people at JPL. There are so many experts in so many different fields. The first summer I was at JPL, there was a presentation on almost exactly my topic. So I got to meet with that speaker, and we set up a meeting time and talked more about it. He had a bunch of really good ideas for my topic and some other people to talk to. One connection sort of leads to another.
If you could go anywhere in space, where would you go and what would you do there?
We're talking imaginary, right? Because I would like to go to space eventually, if I can. I think I would go to – this is probably a really popular answer but – Jupiter's moon Europa. I'd just want to figure out what on Earth is going on there.
---
Explore JPL's summer and year-round internship programs and apply at: https://www.jpl.nasa.gov/edu/intern
The laboratory's STEM internship and fellowship programs are managed by the JPL Education Office. Extending the NASA Office of Education's reach, JPL Education seeks to create the next generation of scientists, engineers, technologists and space explorers by supporting educators and bringing the excitement of NASA missions and science to learners of all ages.
TAGS: Women in STEM, Intern, Internships, Students, STEM, Engineering, Spacecraft
---
When the offer letter arrived from NASA's Jet Propulsion Laboratory, Kiana Williams could hardly believe it. Thousands of science and engineering students apply each year for internships at the lab known for its dare-anything missions to the planets and beyond. Williams never expected it would be her first internship.
"It actually took me about a week to accept that it was a real offer and that I'd actually be coming to intern at NASA/JPL," she said.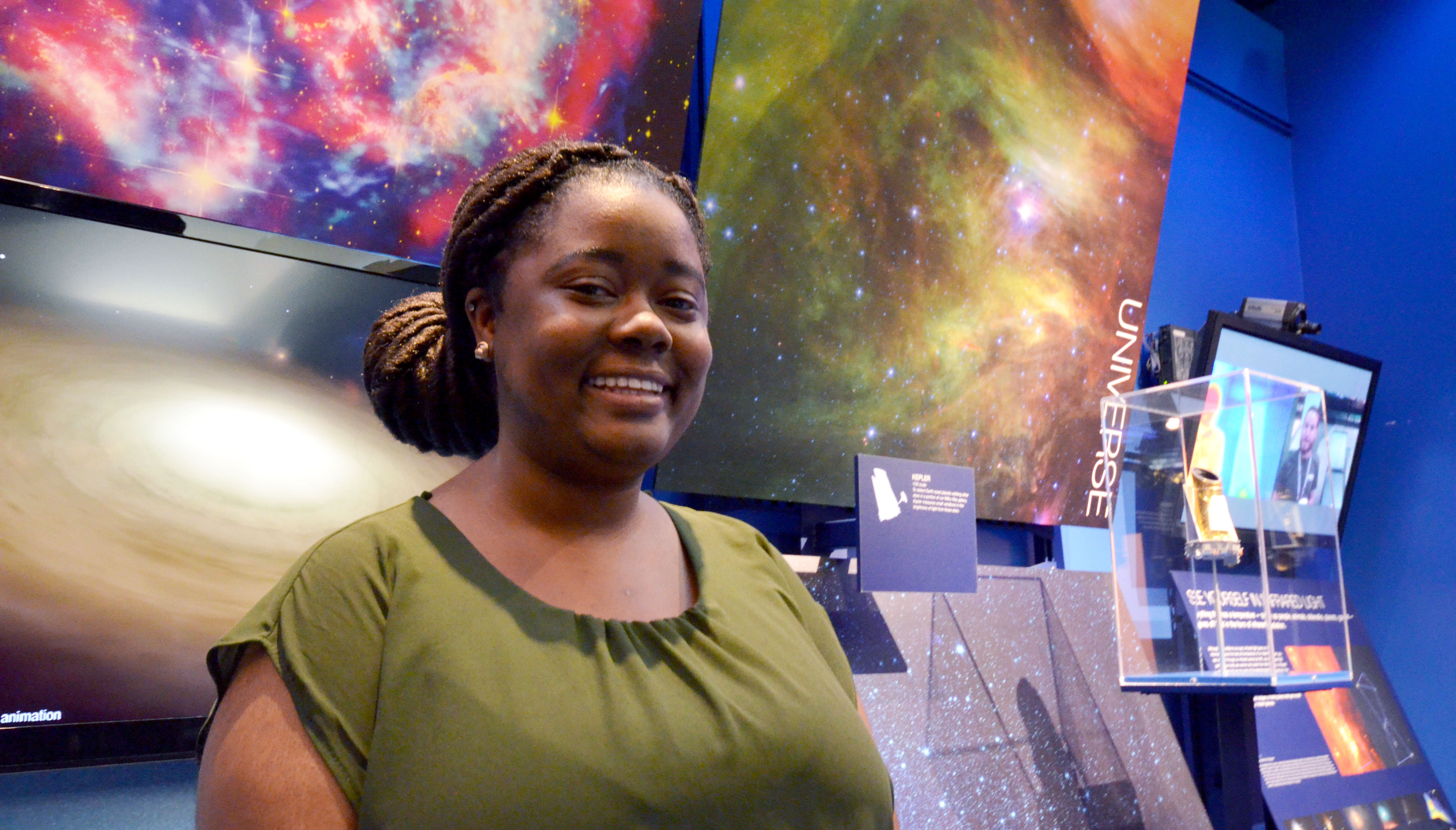 Mechanical engineering student Kiana Williams grew up near JPL in Southern California, but she never thought to apply for an internship until JPL's Education Office visited her university in Alabama. Now, a first-time intern, she says she realizes, "Oh, I can do this." Image credit: NASA/JPL-Caltech
This summer, Williams is joining more than 700 undergraduate, graduate and doctoral students for internships at JPL in Pasadena, California. Over 10 weeks, they will design new ways to study stars, investigate icy moons thought to be hospitable to life, and even help choose a landing spot for the next Mars rover.
"I get the opportunity to design an entire space telescope from top to bottom," said Williams, a senior mechanical engineering student at Tuskegee University in Alabama. "It's kind of a big task, but at the same time it's fun, so it makes my day go really quickly."
One of 10 NASA field centers, JPL is the birthplace of spacecraft and instruments that have explored every planet in the solar system, studied our home planet and looked beyond to discover new worlds. It doesn't just design and build spacecraft, it also operates them, and collects and studies the science they return.
"It's the only place in the world where everyone needed to conceive of, design, build, launch and land spacecraft, get the science data and write the papers about that science data are all in one place," said Matt Golombek, a JPL scientist whose interns over the years have helped choose the landing sites for all five Mars rovers and landers since Pathfinder in 1997.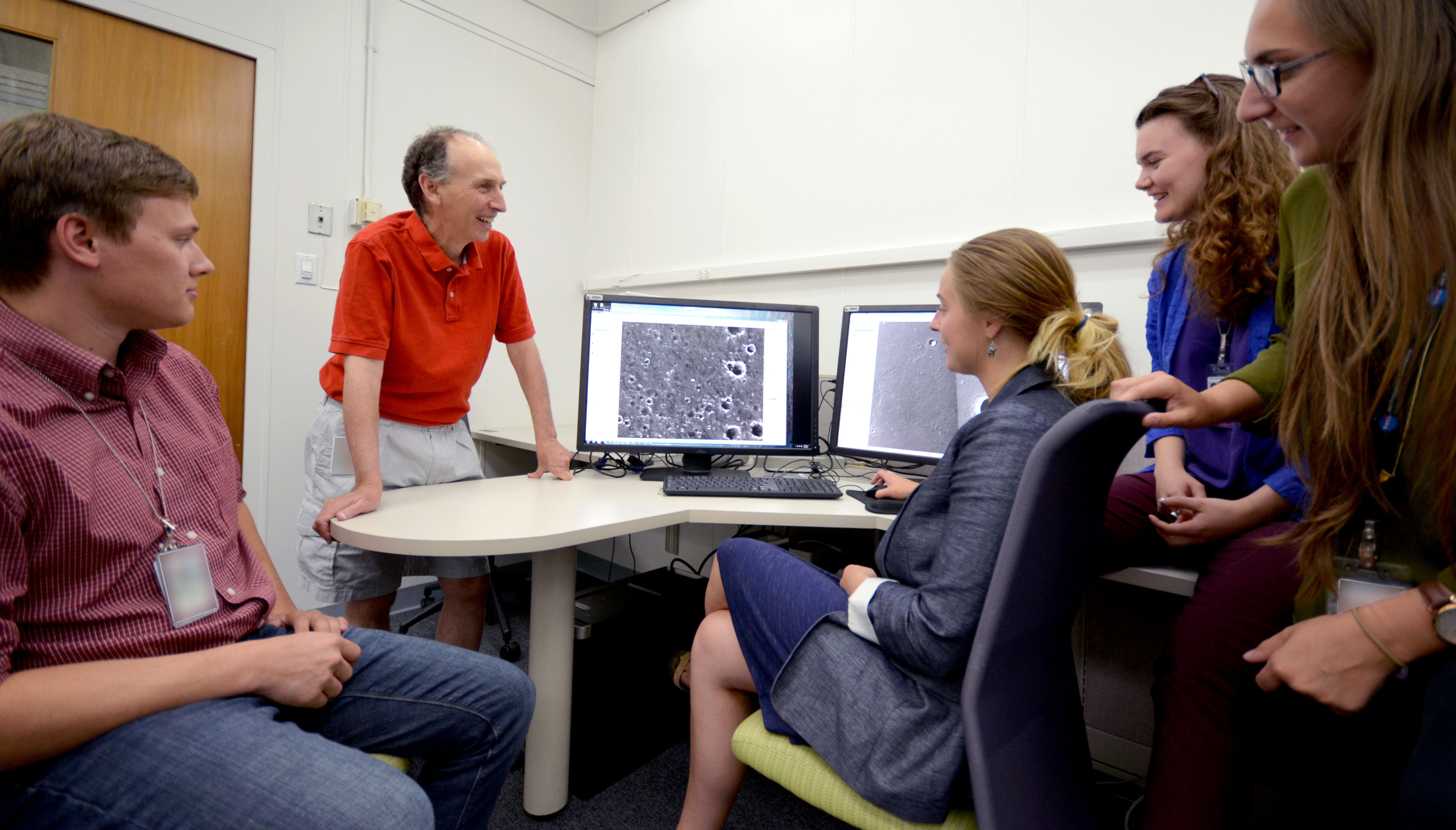 The self-proclaimed "landing site dude," Matt Golombek brings in a host of geology students each year to help identify landing sites on Mars. He has five students this summer helping with site selections for three upcoming missions, including Mars 2020. He says it's rewarding to see how students' JPL experience has a positive impact on their future no matter what they go on to do. (From left to right: Marshall Trautman, Matt Golombek, Rachel Hausman, Carol Hundal, Shannon Hibbard.) Image credit: NASA/JPL-Caltech
The lab's internship programs give students studying everything from aerospace engineering to computer science and chemistry the chance to do research with NASA scientists, build spacecraft, and create new technology for future missions.
With more than 20 active spacecraft plus a to-do list that includes missions to Mars, Jupiter's moon Europa and the asteroid belt, JPL has no shortage of projects ripe for students who are eager for careers in space exploration.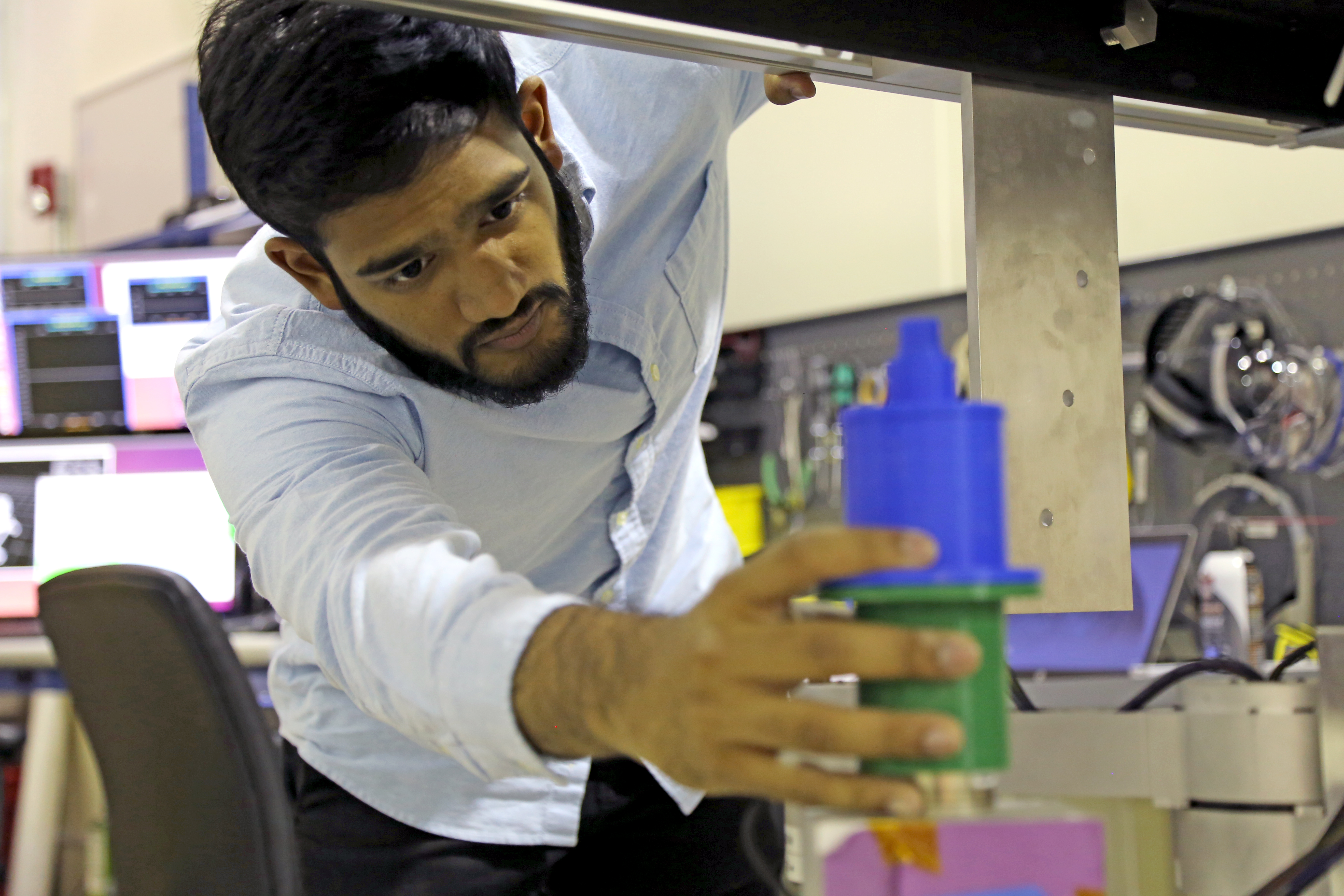 Nirmal Patel says that in addition to the wow-factor of testing parts for a Mars rover, his JPL internship is a chance to meet other engineers and scientists all united in a common goal. "Here, everyone wants to explore. And when you have that common goal, it has a different atmosphere," he said. Image credit: NASA/JPL-Caltech
"It's just amazing knowing that what we're doing now will also be replicated on Mars in a few years," said Nirmal Patel, a mechanical engineering student at the University of Michigan who is testing parts for the Mars 2020 rover. "It's surreal almost. I'm still a student but I'm getting to have an impact on this project."
David Dubois, a three-time intern who studies planetary science at the University of Versailles Saint Quentin near Paris, returned to JPL this summer to continue his research on icy moons around Saturn, Jupiter and Neptune. Using data from the Cassini mission (which will end its nearly 13-year mission at Saturn this September) he is modeling the atmosphere of Saturn's moon Titan to better understand its chemical environment – and maybe discover if it could support life.
He says that in addition to access to one-of-a-kind data directly from spacecraft, JPL offers the opportunity to explore new fields of science and even career paths, if students are open to it.
"Being open is certainly something that I've learned from JPL, not being afraid of tackling different problems in different fields," said Dubois, who is about to publish his first paper as a lead author based on his research at JPL.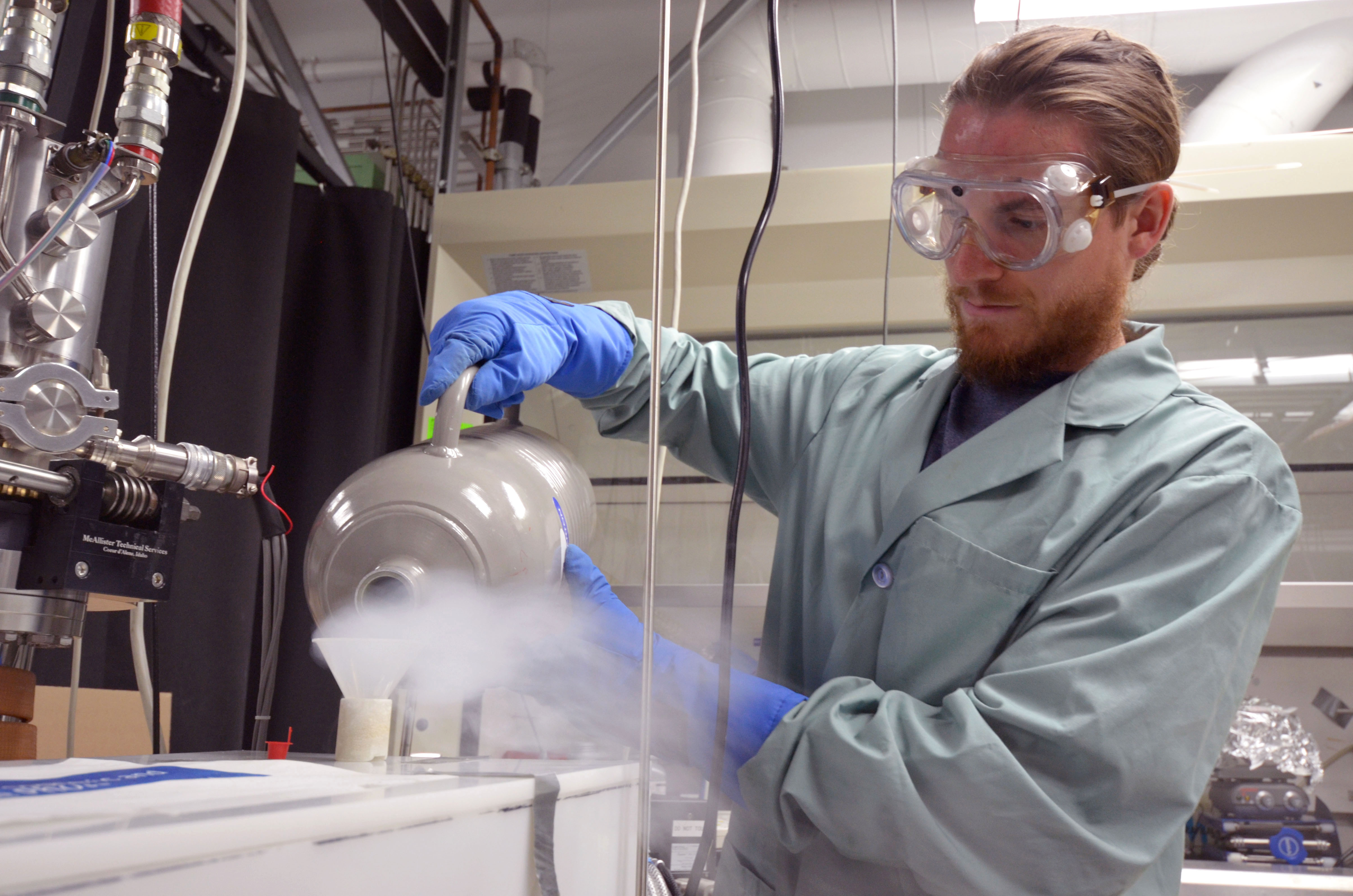 When he's not doing research, David Dubois says he focuses much of his time on outreach, which is one of his other passions. This year, he traveled to India with a friend to visit schools and villages and encourage students there to pursue science. "I like to say that I think anybody is a scientist," he said, "as long as you try to provide an answer to questions around you." Image credit: NASA/JPL-Caltech
It's precisely that exposure to its unique career offerings in science, technology, engineering and math – and a foot in the door – that JPL's Education Office, which manages the lab's internship programs, is working to provide to more students.
"Our students are operating right alongside the mentors and participating in the discovery process," said Adrian Ponce, who manages JPL's higher education group. "It's a fantastic opportunity for them, and it's also a great opportunity for JPL. Our internship programs are designed to bring in students from diverse backgrounds and underrepresented communities who share new ways of thinking and analyzing challenges. Many of them will become the next generation of innovators – and not just at JPL."
For Williams, who plans to continue toward a master's degree in design engineering after she graduates in December, her time at JPL is confirmation that she's on the right path and has the motivation to keep going.
"It makes me feel like school is worth it," said Williams of her internship experience so far. "All the stress I'm going through at school will be worth it because you can find places that are like JPL, that make your job fun."
Explore JPL's summer and year-round internship programs and apply at: https://www.jpl.nasa.gov/edu/intern
The laboratory's STEM internship and fellowship programs are managed by the JPL Education Office. Extending the NASA Office of Education's reach, JPL Education seeks to create the next generation of scientists, engineers, technologists and space explorers by supporting educators and bringing the excitement of NASA missions and science to learners of all ages.
TAGS: Intern, Mars 2020, Europa, Cassini, Titan, Science, Engineering, Missions
---
For more than 22 years, since before NASA's Cassini mission even launched, flight controllers have invited summer interns to NASA's Jet Propulsion Laboratory to help make the mission at Saturn happen. But with the spacecraft's journey ending in September, the current summer interns will be Cassini's last.
Meet the students and learn what role they're playing in the nearly 13-year mission at Saturn.
› See the full story and image gallery on the Cassini Mission website
---
Explore JPL's summer and year-round internship programs and apply at:
http://www.jpl.nasa.gov/edu/intern
The laboratory's STEM internship and fellowship programs are managed by the JPL Education Office. Extending the NASA Office of Education's reach, JPL Education seeks to create the next generation of scientists, engineers, technologists and space explorers by supporting educators and bringing the excitement of NASA missions and science to learners of all ages.
TAGS: Cassini Mission, Saturn, Intern
---
Marco Dolci did not set out to become a NASA engineer. Instead, like many of Dolci's pursuits, the career path presented itself on his lifelong quest "to know" – that is, to answer any and every question that crosses his mind. As a boy, his never-ending stampede of questions became too much even for his ever-patient parents, so they presented him with a book, 1001 Questions and Answers on Planet Earth. But rather than satiate his quest for answers, it spurred him to seek more.
Today, Dolci still asks a multitude of questions, but the answers he finds through his own determination and curiosity, which have taken him from studies in linguistics to physics to aerospace engineering to robotics – and across the world, from his hometown of Lodi, Italy to NASA's Jet Propulsion Laboratory in Pasadena, California.
Dolci first came to the Laboratory in 2013 as part of the JPL Visiting Student Researchers Program, or JVSRP. Having just earned a master's in physics, Dolci was pursuing a second master's in aerospace engineering at the Polytechnic University of Milan when he entered and won a scholarship sponsored by the Italian Space Agency and the Italian Scientists and Scholars of North America Foundation. His prize: a paid internship at any North American laboratory. He says JPL was the obvious choice.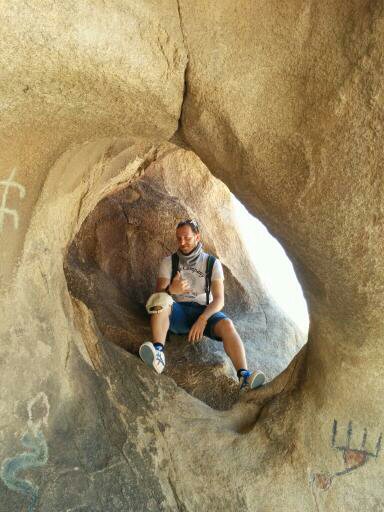 Dolci in California's Joshua Tree National Park. Photo courtesy: Marco Dolci
"I chose JPL because it's the best place to work on anything related to space," said Dolci, adding that he only learned later that the laboratory is located in California, a fact that made it all the more desirable. "I just wanted to come here."
Dolci spent two months working on concepts and proposals for missions designed to study black holes, protoplanetary discs, X-rays and cosmic rays. He became the lead author on a science paper about the latter, and the team was so impressed with his work that Dolci's internship was extended another 10 months.
After a year, however, Dolci's visa was up and so was his time in America and at JPL. But his next step was clear: He would find a way to come back. "I was really impressed by JPL, both for the people that I found here, who are open to learn and challenge themselves," said Dolci. "And the fact that it puts on the table resources that allow great projects."

So Dolci formulated a plan. First, he entered a PhD program in aerospace engineering at the Polytechnic University of Turin, which in Italy offered the chance to spend part of his studies abroad supported by his university. He also applied for the US Diversity Immigrant Visa program, sometimes called the "green card lottery." With only 50,000 people across the world randomly chosen for green cards each year from about 10 million qualified applicants, it was a long-shot – but luck was on Dolci's side.
In 2016, Dolci returned to JPL to do research for his PhD under the JVSRP program – but this time with a green card in hand.
For the last year, in concert with his PhD thesis, Dolci has been helping develop technology for a possible future NASA mission to bring samples from Mars back to Earth. In 2020, the agency will send a rover to the surface of Mars, where one of its goals will be to collect samples of Martian rocks and soil that could be returned to Earth in the future. Getting those samples to Earth would require a series of never-attempted feats, each with unique challenges.
Dolci is helping develop a device to transfer the sample from a container launched from Mars to a spacecraft that would carry the samples home. It would all need to happen remotely, in space, without the device jamming or exposing the samples to contaminants.
Having always approached problems from a theoretical perspective, Dolci says the chance to get hands-on with actual hardware has opened his eyes to new career possibilities.
"I think that you can really learn something when you put your hands on it," said Dolci. "Otherwise, yeah, you know the theory, but there's an ocean between theory and practice."
Recently, Dolci's manager encouraged him to apply for a job at JPL. He used the invitation as a chance to explore a career move – one that would take him beyond theory to start building devices capable of answering questions.
"I'm looking for a unity between science and space technology," said Dolci, who will start his new job in JPL's Robotic Vehicles and Manipulators group in November. "Robotics seems to me to be the best place in which these two interests find the common point to be able to provide a technological answer to scientific problems."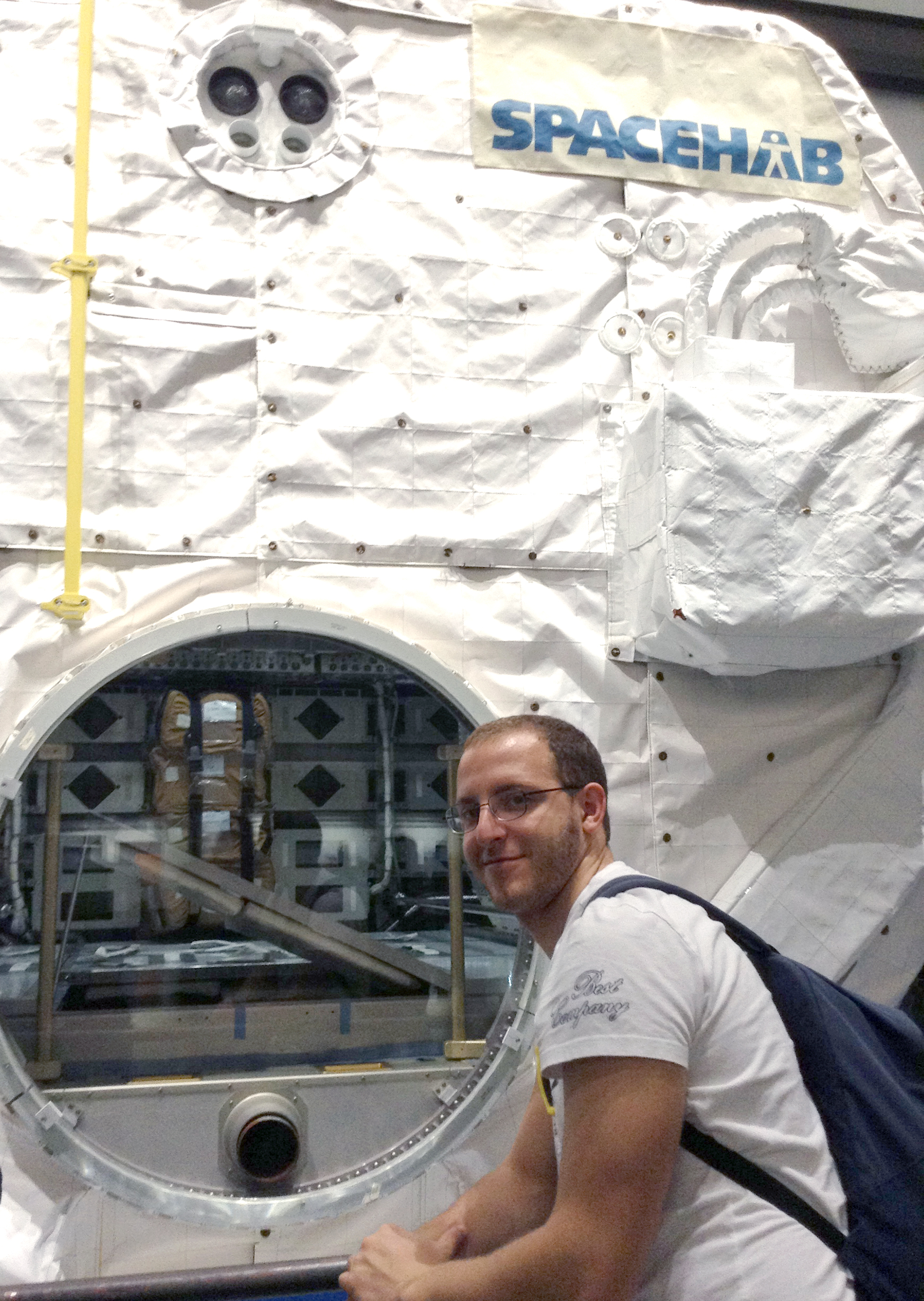 Dolci poses in front of an astronaut workstation called SPACEHAB on display at the California Science Center in Los Angeles. Photo courtesy: Marco Dolci
Dolci admits with a sheepish grin that he still has another big aspiration. In four years, once he becomes a US citizen, he plans to apply to be an astronaut. For now, though, he's focused on learning all he can, continuing to ask questions and finding new ways to seek answers.
"I consider myself really lucky to be in a place like JPL," said Dolci. "Working here is a possibility to keep moving up, to become more mature in terms of deciding who I am, what I want to do, where I want to contribute."
To others looking to follow his trajectory, Dolci says while luck helped push things along, it was the power of determination, his quest "to know" and a support network of family, friends and mentors that made his dreams a reality.
"I would have never made it to JPL without the support of someone who has bet on me," said Dolci. "Don't give up on desiring good things. Dare mighty things because we are made for great things."
Explore JPL internship programs and apply at: http://www.jpl.nasa.gov/edu/intern
The laboratory's STEM internship and fellowship programs are managed by the JPL Education Office. Extending the reach of NASA's Office of Education, JPL Education seeks to create the next generation of scientists, engineers, technologists and space explorers by supporting educators and bringing the excitement of NASA missions and science to learners of all ages.
TAGS: Intern, Internships, JVSRP, Mars 2020, Robotics, Science, Engineering, STEM, Mars 2020 Interns, Perseverance