---
Four pre-service teachers at Cal Poly Pomona are developing their skills in lesson design and delivery as they study Earth science concepts and prepare for graduation.
---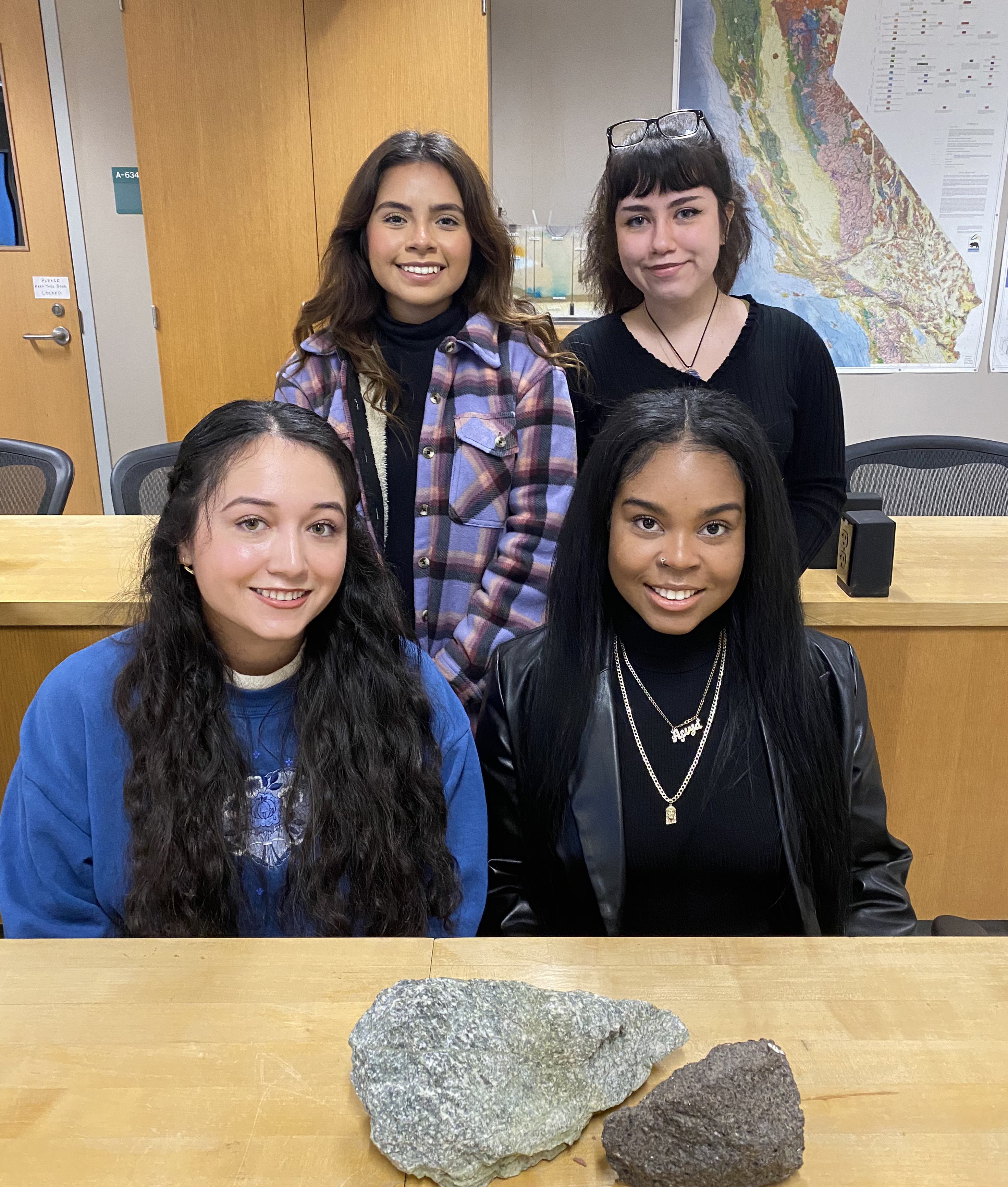 During the fall semester of 2022, I had the privilege of working with the Education Department at California Polytechnic University in Pomona, specifically with pre-service teachers taking coursework in Earth science. During our collaboration, the curriculum had the students split time in class between learning about geology and Earth's history and then designing and engaging in classroom activities related to the technical content that they could take to their own classes in the future. This combination had Cal Poly students learning science and education hand-in-hand each week and led to some amazing classroom lessons and lab activities.
One group of young women in the program stood out as exceptionally passionate about their future careers. This team consisted of four seniors: Jacquelin Galvez-Coyt, hoping to someday teach kindergarten; Amie Gallardo, who is planning to teach fourth grade; Afiya Kindle, who is interested in teaching elementary or middle school; and Sofia Vallejo, who is interested in kindergarten through sixth grade.
Despite their interest in working with young students and collaborating to design lessons for those students, each of these pre-service teachers allowed their individuality to shape how they navigated lesson design and implementation. I recently sat down with them to ask about their instructional style and aspirations for classrooms of their own.
Now that we're back to in-person classes, how is the transition going?
Sofia: Returning from remote instruction felt eerie at first, but it's so nice to return to communicate with people and build connections in a non-digital way. In-person classes prepare you to communicate with colleagues in real life, build social skills, and read body language. All of these skills are critical for a teacher in order to understand and better help students to succeed.
Amie: Returning from remote instruction has been amazing. While it had its perks, I believe, as students, we learn a lot more while working hands-on with our projects than is possible in distance learning. If we're trying to develop and assess activities we can do with kids, that really requires being face-to-face.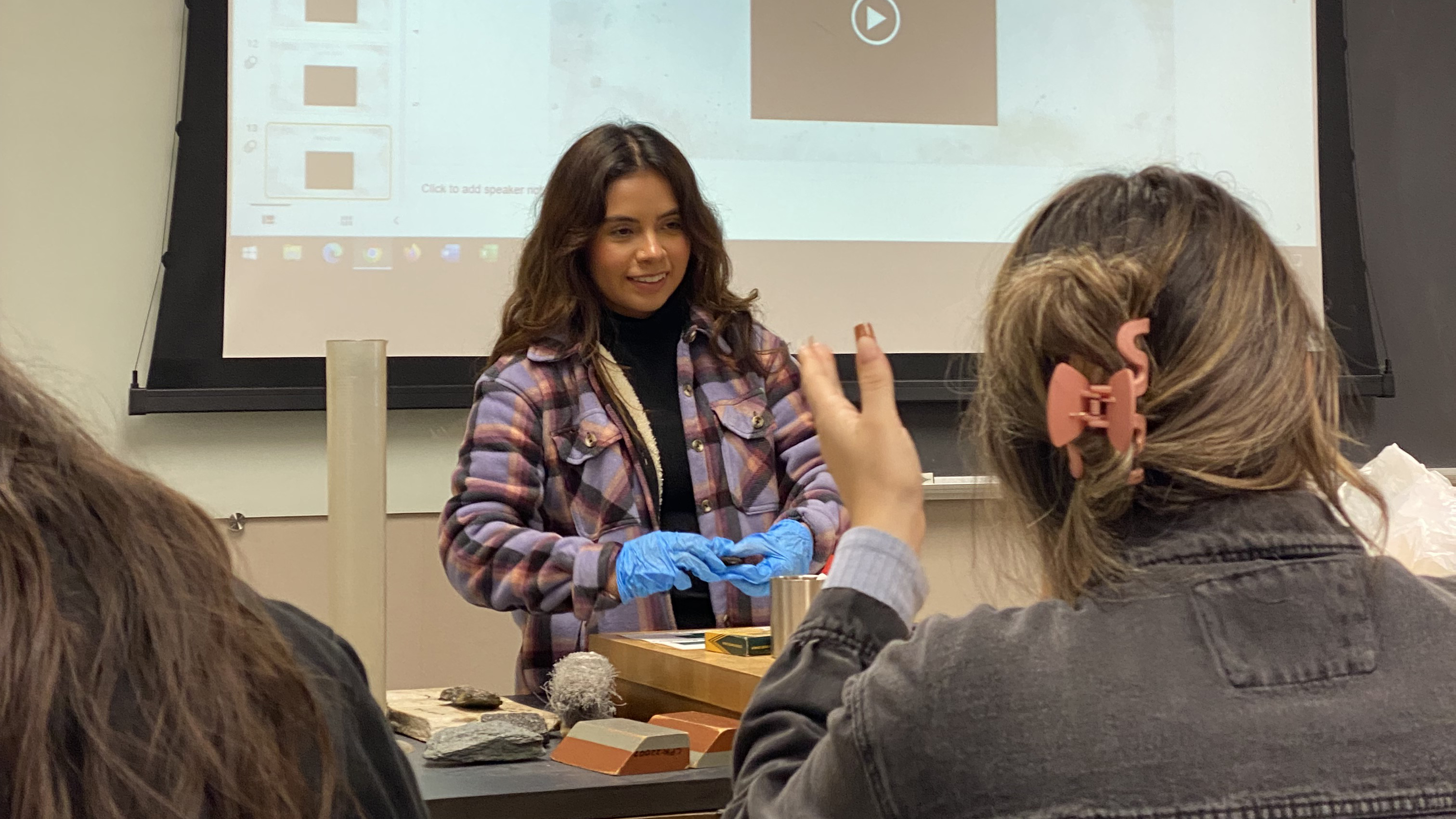 What are you most excited about when it comes to having your own classroom, and how will you get your kids excited about STEM?
Afiya: I am most confident about creating a genuine safe space for kids. I'll be able to communicate how much I care about them and about our shared future, and I think there could never be enough genuinely kind and caring teachers in this world.
Jacquelin: I think my kids will be excited about STEM because of how easy it's become to incorporate activities. There are many resources out there for teachers to use for teaching math and science that don't rely solely on a textbook. Activities that use inexpensive materials or that require a little DIY skills go a long way for students.
Afiya: Exactly! I know I developed my love for science from being hands-on and actually somewhat "in charge" of an experiment on my own. Winning a science fair competition in seventh grade for a greenhouse I built really boosted my confidence and helped reassure me of my scholastic abilities as a kid.
You led a really cool lesson with your classmates where you had them use Oreos to model tectonic boundaries. How do you feel that lesson went?
Jacqueline: I was really proud of our group. After giving a lecture to the students about tectonic plate boundaries, we dispersed Oreos to everyone. We were set up around the classroom demonstrating the activity and giving verbal instructions for everyone to follow. My favorite part was when I saw two students by me go, "Oohhhh," and smile once they got their Oreos to demonstrate the plate boundaries correctly.
Amie: I thought it went really well! All the students in our classroom enjoyed it. Although we, as adults, may know about plate tectonics, having our hands on the Oreos to understand it made it more enjoyable.
Afiya: Plus, who doesn't love Oreos? They're even vegan!
Which of the NASA-JPL lessons that you've implemented did you enjoy, and why?
Jacqueline: My favorite JPL activity we did was the Moon Phases activity. Having one team member to the side to give the instructions allows another student to view the different Moon phases. Then you switch so both students get to see that perspective. My second favorite activity was creating layers with different colored Play-Doh and demonstrating them as different plate boundaries and folds.
Amie: The NASA lesson that I enjoyed the most was the one we did on lunar eclipses. Much like myself, many students often have an early fascination with the Moon. Learning more about the Moon and lunar eclipses made me excited about the semester.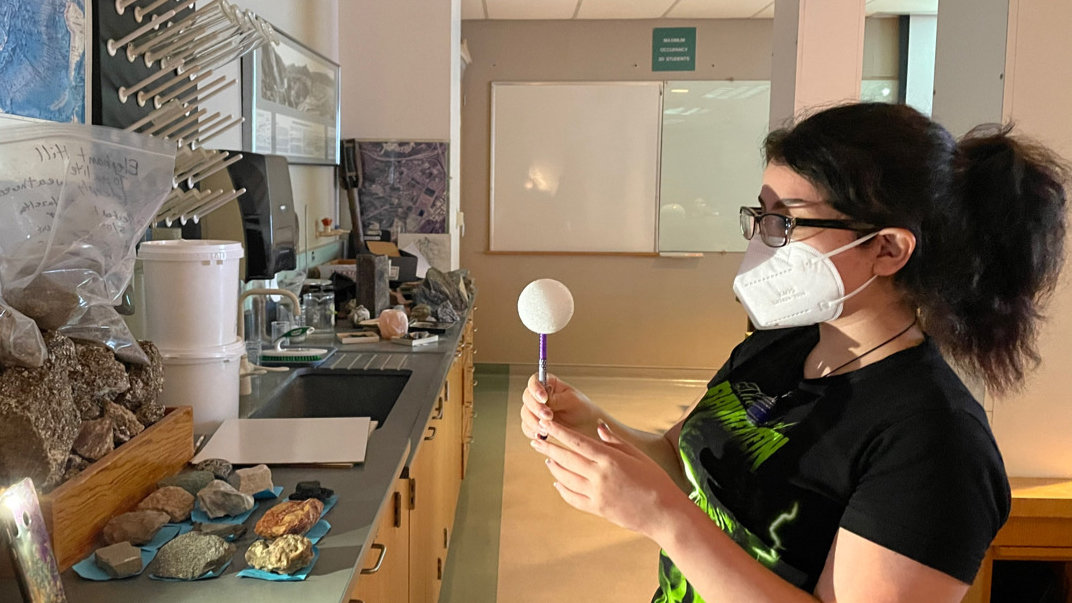 What's next for you after you finish at Cal Poly Pomona?
Jacqueline: After I graduate at Cal Poly, I plan to attend UC Riverside to complete my credential program. While I am there, I would love to get my student teaching experience. Once I complete my credential program, I plan to apply to work at schools in the Inland Empire [in Southern California]. I want to be able to give back to the communities that influenced who I am today.
Sofia: My plans after Cal Poly are to take some time off to gain experience in the field as a substitute teacher. I also am looking to gain more volunteer experience, skills, and exposure. In the future, I want to enroll in UC Riverside to earn my teaching credential and master's degree.
Looking for ways to bring NASA STEM into your classroom or already have a great idea? The Education Office at NASA's Jet Propulsion Laboratory serves educators in the greater Los Angeles area. Contact us at education@jpl.nasa.gov.
Explore More
TAGS: Teachers, School, Remote School, Classroom, Instruction, K-12, STEAM, Science, Math, resources, lessons
---
A Los Angeles math teacher gets students engaged with connections to science and exploring the human side of math, such as how leaders inspire change in their communities.
---
Katherine Risbrough has been teaching high school math for almost 10 years. She began her teaching career in the Hickory Hill community of Memphis, Tennessee, where she taught everything from Algebra 1 to Calculus and served as a math coach for the district. Five years ago, she came to Los Angeles to teach Integrated Math and Calculus at Synergy Quantum Academy High School.
Outside of math, Ms. Risbrough is also a superfan of college football and never misses a game at her alma mater, the University of Southern California. Her fandom for making the game is rivaled only by her love of Harry Potter, having been to every midnight book and movie release.
I caught up with Ms. Risbrough to find out how she gets students excited about math, and I learned about a new strategy she used this past year: bridging math and science by teaming up with the AP Physics teacher. Her cross-discipline curriculum focused on helping students make connections between subjects and got them engaged as they returned from more than a year of remote learning.
---
Math can be intimidating for students and it can be difficult to keep them engaged. How do you get your students excited about math?
Sometimes it's easier said than done, but math needs to be as hands-on and discussion-based as possible. We use a lot of the calc-medic curriculum, which is application and discovery first followed by a whole class discussion to share ideas and cement new learning. When students have to speak and defend a hypothesis or an argument, they are practicing mathematical reasoning, which is a skill they can take into all STEM coursework. I avoid lectures as much as possible. We also do a lot of flipped classroom learning (videos at home and practice in class), group work, use technology, and do activities that get students moving around the classroom.
I believe that learning mathematics should be a collaborative, exploratory process and that every student already has the skills necessary to become a successful mathematician. It's my job to give them opportunities to show off and strengthen those skills, so that they can be just as successful with or without me present to help them.
This year you've introduced some interesting projects to make your class more interdisciplinary. Tell me a bit more about that.
I've really focused on keeping the math contextualized by being sure the content is interdisciplinary. For example, over half of my AP Calculus students are also taking AP Physics. This year, in particular, I was sure to coordinate with the physics teacher to see how we could align our curriculum in kinematics with what we were doing with integrals and derivatives. This began with students doing JPL's additive velocity lesson in their physics class to set the stage for how calculus ties together acceleration, velocity, and displacement.
Both classes are so challenging for students, but when they see how strategies in one class can help lift them in another, it's almost as if they are getting to see two different strategies to solve the same problem. Designing challenges that could be solved with both physics and math gave the students an ability to approach problems from either side. At first, they were pretty intimidated to see their two most challenging classes teaming up, but the end result was some incredible student projects and dramatic improvement in their ability to graph out relationships.
I also kick off new units by making connections to students' own life or even their future careers. They need to know the "why" beyond just, "because you'll be tested on it." We try to talk about STEM historical figures and current leaders (specifically mathematicians and scientists of color) as often as possible. For example, I use clips from the movies "October Sky" and "Hidden Figures" to set the stage and then lead into projects about rocket trajectories and elliptical orbits.
This year, in calculus, we started the year with the idea of "Agents of Change" and looked at thought leaders such as veteran astronaut Ellen Ochoa and climate scientist Nicole Hernandez Hammer and how their work relates to "instant rates of change" and "average rates of change" in calculus. Then, I had students think about moments of change in their life, and how that instant can be carried forward to a make a long term change in their careers and communities.
Coming back from COVID-19 and more than a year of remote instruction, how are your students adjusting to being back in the classroom?
Our students missed out on so many social and academic opportunities because of COVID, but they aren't letting that stop them. The biggest struggle was starting off the school year and getting back into routines. Because of the demographics of our students, there have been more absences than usual, as many of our students help support their family at home. Many parents struggled to keep work through the pandemic, and a lot of my students work outside of school or take care of their siblings. The effects of caring for their families while still trying to focus on applying to college has really taken a toll on students.
I'm fortunate that so many kids are comfortable and open sharing feelings of increased anxiety, responsibility, or worry over the past two years. I believe it's important that my classroom and our group first and foremost be an escape from that space rather than an added stress. Their success in math – even a rigorous AP math class with a breakneck pace – comes from me being there for them as a person first and a teacher second. We focus so much on "catching them up" that we forget to take some time for them to process all they have had to manage.
As we move toward graduation, what is one story of success that you will take away from this year?
Honestly, it's the success of my students. They have jumped into AP Calculus after 1.5 years of distance learning and the social-emotional learning burdens of Covid, and have done amazing work. They are thoughtful, persistent, and often learning multiple grades worth of skills within one calculus lesson. I guess I'm a small piece of that, but all that I've really done is give them space to explore, discuss, and learn. It's what they've done with that space that has been the best thing to watch!
---
Looking for ways to bring NASA STEM into your classroom or already have a great idea? The Education Office at NASA's Jet Propulsion Laboratory serves educators in the greater Los Angeles area. Contact us at education@jpl.nasa.gov.
Explore More
TAGS: Teachers, School, Classroom, Instruction, K-12, High School, Math, Calculus, Physics, Algebra, Lessons, Resources
---
This fourth-grade teacher is finding creative ways to get her students back into the flow of classroom learning with the help of STEAM education resources from JPL.
---
Jackie Prosser is a fourth-grade teacher in Fairfield, California, finishing her second year as a classroom teacher. She is a recent graduate of the University of California, Riverside, where she simultaneously received her teaching credential and her master's in education. This was where I was fortunate enough to meet Miss Prosser, through a collaboration between the Education Office at NASA's Jet Propulsion Laboratory and UCR designed to help new teachers incorporate STEM into their future classrooms. She and her cohort immediately struck me as passionate future teachers already exploring unique ways to bring space science into their teaching.
But it's been a challenging transition for Miss Prosser and teachers like her who started their careers amid a pandemic. She began her student-teaching in person only to find that she would have to switch to teaching remotely just four months into the job. Now, she's back in the classroom but facing new challenges getting students up to speed academically while reacquainting them with the social aspects of in-person learning.
I caught up with her to find out how she's managing the transition and developing creative ways to support the individual needs of her students and, at the same time, incorporating science and art into her curriculum with the help of STEAM resources from the JPL Education Office.
---
What made you want to become an elementary school teacher?
Originally, I became a teacher because I love to see that moment of light when a concept finally clicks in a kid's mind. I am still a teacher (even after the craziest two years ever) because every kid deserves someone to fight for them, and I know I can be that person for at least 32 kids a year.
I love to teach young kids especially for two reasons. The first is their honesty; no one will tell you exactly like it is like a nine-year-old will. The second is that I love the excitement kids have for learning at this age.
It has been a bumpy couple years, especially this past school year when it was unclear if we would be remote again or back in the classroom. How has it been coming back from remote learning?
Coming back from remote learning has been an incredible challenge, but we've come a long way since the beginning of the year. Students really struggled being back in a highly structured environment. It was very hard to balance meeting the individual needs of each student and getting them used to the structure and expectations of the classroom.
My fourth graders were online for the last part of second grade and a vast majority of third grade. This is when students really start to solve conflicts and regulate their emotions with less support from adults. I have seen a lot more problems with emotion regulation and conflict among my students this year than in years past.
There is a lot of pressure on teachers right now to make up for all the learning loss and for students being behind on grade-level standards. But I don't think enough people talk about how much joy and social interaction they also lost during remote learning. Teachers are also feeling the pressure of that. I want to help my students be the very best versions of themselves and being happy and comfortable with themselves is a huge part of that.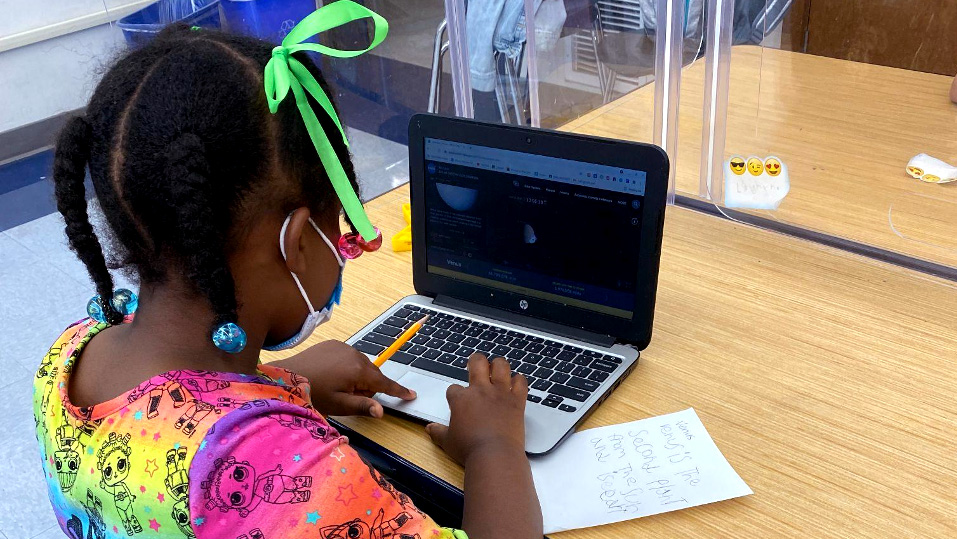 How do you structure your class to get students back in the flow of a school setting?
I use a lot of manipulatives in my math lessons and try to make their learning as hands-on as possible. I also teach math in small groups to be able to better meet the individual needs of my students. I have one group with me learning the lesson, one group doing their independent practice of the skill, and one group on their computers. Then, the students switch until each group has done each activity.
You're a big fan of science and came to several JPL Education workshops while you were still in school yourself. Are there JPL Education resources that you have found particularly impactful for your students?
I have always loved teaching science. It is so often left behind or pushed aside. I think a lot of time that happens because teachers feel like they do not have enough background knowledge to teach high-quality science lessons or they think that the lessons will add to the already enormous workload teachers have. My district does not have an adopted or prescribed curriculum for teachers to follow, so we have a lot of freedom for when and how to make the time for STEAM.
The education resources [from NASA's Jet Propulsion Laboratory] have made it so easy for me to teach and get kids excited about science, and my kids absolutely love them. Our favorites always seem to be Make a Paper Mars Helicopter and Art and the Cosmic Connection.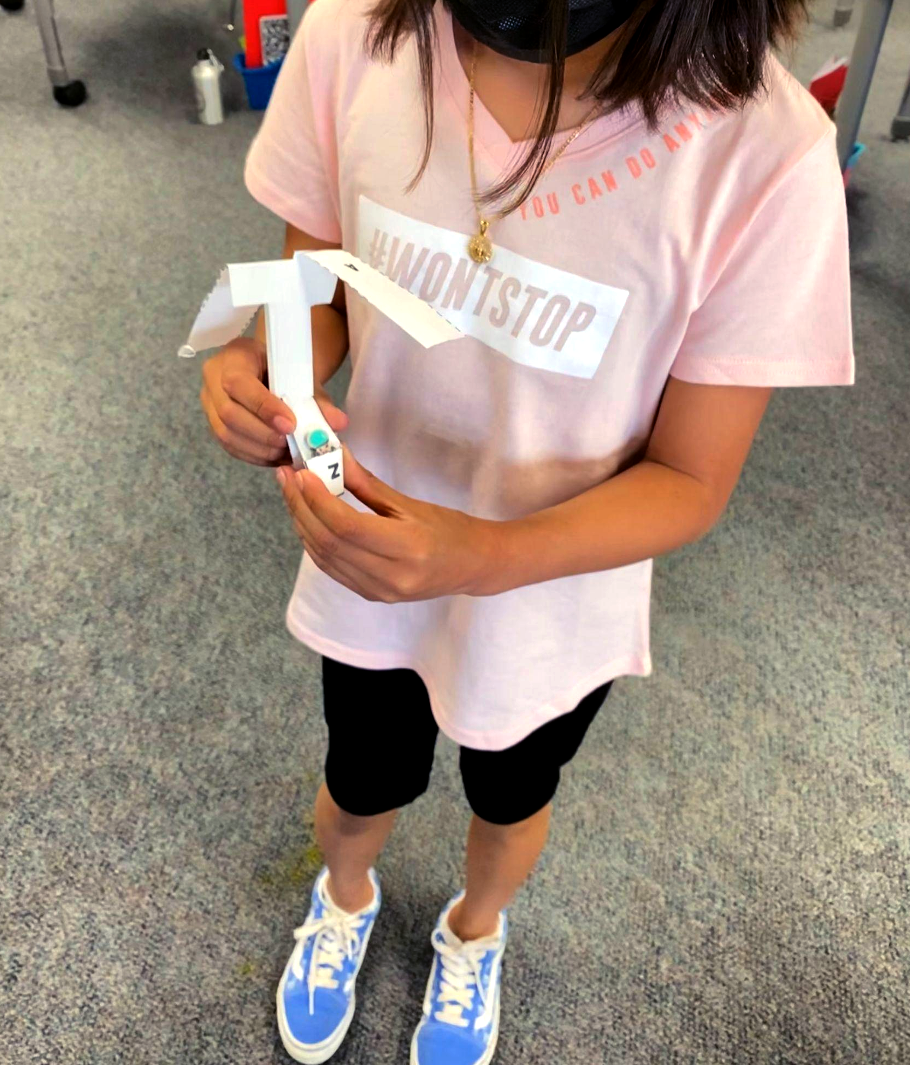 I also am part of my district's science pilot program. It has been so cool to be able to decide what curriculum to pilot and watch my students test it out and give feedback on their learning. Last year, I had the amazing opportunity to teach science for two elementary schools' summer programs. My partner teacher and I got to create the curriculum for them, and we pulled a ton of lessons from the JPL Education website. It was by far the most fun I have ever had at a job.
Despite being a new teacher, you've already seen so much. How have you navigated the changing landscape?
I have an amazing network of teachers supporting me at every turn. My grade-level team and my friends from my credential program are some of the most amazing people and educators I have ever met. There is no way I would be able to get through the more difficult aspects of teaching without them.
I am also coaching the boys soccer team, directing the school's "Lion King Jr." play, contributing to the science pilot program, and serving on the social committee for teachers and staff. I love using these different roles to make connections with not just my students, but also students from all grades.
---
Looking for ways to bring NASA STEM into your classroom or already have a great idea? The Education Office at NASA's Jet Propulsion Laboratory serves educators in the greater Los Angeles area. Contact us at education@jpl.nasa.gov.
Explore More
TAGS: Teachers, School, Remote School, Classroom, Instruction, K-12, Fourth Grade, STEAM, Science, Math, Art, UC Riverside, resources, lessons