---
To remotely operate NASA's next Mars rover on a planet millions of miles away, mission team members will need to carefully plan out every drive, head swivel and arm extension before sending their coded commands to the vehicle. A wrong move could jeopardize the mission and, at the least, eat into the rover's precious energy supply. So this past summer, it was intern Vivian Li's task to design a web tool that will let mission operators ensure they're sending all the right moves to Mars. The internship at NASA's Jet Propulsion Laboratory gave Li, an information and computer science major at Cornell University, a chance to bring her design skills to a team that's typically more focused on building interfaces for robots rather than for humans. We caught up with Li to learn how she's adding a human touch to robotic navigation on the Mars 2020 mission.
What are you working on at JPL?
I'm working on a user interface for the
Mars 2020 rover
that takes in commands and produces a 3D simulation of the commands. So a rover driver could input what they want the rover to do – for example, drive 100 meters forward – and then, based on the terrain and all the other external factors, the program would take in the commands and simulate the path of the rover.
Is this something completely new for Mars 2020?
They've had the simulation software for a really long time. This is just a different way to package it and for people to be able to easily use it. The current version only runs on certain computers, so we're moving it to a web-based platform that can run on pretty much any modern browser.
What's your average day like at JPL?
I get in around 7:30 a.m., and at that time I just sort of warm up for the day in that I don't do anything that's super-taxing. I check my meetings and get set up. Then right after that, I jump into what I need to do. Right now, my primary project is creating the front end for the interface, writing a little bit of code and fixing bugs in the flight software simulation for Mars 2020.
If I'm not in meetings, I'll be writing code all day and doing a lot of planning. I'm in a different office than my team, so me and my co-intern will sometimes ask for help with our project, but it's a lot of independent work. It's great because my co-intern and I help each other a lot. Our mentors tell us what they want – like yesterday, they wanted us to incorporate a camera view into the simulation – then, we're the ones who figure out how to do it.
Pretty soon, we'll be going into user testing. There are a couple of people who would actually be using the technology who volunteered to test it out. Once they do, we can edit it based on how they feel about what we have right now.
What has been the most uniquely JPL or NASA experience that you've had so far?
Two things: First, just getting to stroll in and watch the Mars 2020 rover being built in the clean room. Second is meeting the people who work here. The people here all share a similar love of science and exploration research, which is really different from how a lot of computer science is oriented. All the engineers and even people who are in physics or communications share a common goal. I've learned so much from just talking to people and even other interns. It's been so cool, because I don't really get that exposure at school.
What made you decide to study information and computer science?
I actually went into college studying biology and English. I had done a year of coding in my senior year of high school, so I knew a little bit of [the programming language] Python. When I got to college, I decided to study biology, and I kind of started orienting toward computational biology. I worked in a lab, and the people there told me, "If you have computer science skills, you can kind of go into any field you want." So I had this career crisis moment when I was like, "I don't want to study biology anymore," because I had been in a microbiology lab all summer and it was not very fun. I figured if I did computer information sciences, it would give me more time to decide.
Even though I know a lot of people here have a lot more experience than me and they started a lot younger, I feel like my skills are so much more adaptable now, and that is what made me stay in the major.
So you still wanted to have that science focus?
Yeah. I don't want to fully isolate myself from the thing that I wanted to study originally, because I still do love biology, just not the career path that goes with it.
What about the user-interface side? Is that something that you're interested in, or did you get thrown into it for your internship?
That's what's special about my major in computer information science: Not only are we technically-based, but also we're user-and-society-based. So for our core classes, we take communications, law, ethics and policy, and all that. Through all those classes, I learned just how important the user-interface side is and accessibility design, and just how much easier life gets if the engineer really understands the user. I think having a good understanding of society and technology is what we should all be focusing on.
Are you bringing some of that user focus to your work with the Mars 2020 mission?
With my mentors being more on the software side and my co-intern being more on the development side, I think my having the user-interface design skills is unique in a very technical workspace. For Mars 2020, even though I'm not working on the design of the rover or one of the software systems, being here allows me to reinforce that the users are still really important, and we want to make it as easy as possible for someone to understand the technology even though it's super-complex.
What brought you to JPL for this internship?
A year and a half ago, I went on a trip to Texas with my friend from school. She brought her friend from home, who brought his friend. The two of them had interned at JPL. They spent the entire week talking about JPL nonstop, on all of our hikes [laughs]. I had never met people who loved their work so much that they wanted to talk about it 24/7. That made me think that JPL must be a great workplace and somewhere that everyone is really passionate. Since then, I've just wanted to come here.
How do you feel you're contributing to the Mars 2020 mission and making it a success?
I feel like the work I am doing is really important. And because I'm bringing a unique skill set to my team, it makes me feel like I'm valued at JPL. I've also been working with other teams who might also want to use my software. Because of that, I think that this concept could be developed for other missions and be really useful in the future as well.
What is your ultimate career goal?
I don't know yet. I just really wanted to work at JPL this summer because I felt like I would get exposed to a lot more. I think now I'm more stressed, because I have seen so many things I want to do [laughs]. But I definitely want to be somewhere in the realm of tech and society. My overarching goal is that I want to have an ethical career, something that can help humanity. And I think JPL is doing that.
If you could play any role in NASA's plans to send humans to the Moon or on to Mars, what would it be?
I really enjoy the work I'm doing now and would love to continue doing that in the future. I don't think I personally want to be an astronaut. I want to stay on Earth for everything that this planet has to offer.
---
Explore JPL's summer and year-round internship programs and apply at: jpl.nasa.gov/intern
Career opportunities in STEM and beyond can be found at: jpl.jobs
The laboratory's STEM internship and fellowship programs are managed by the JPL Education Office. Extending the NASA Office of STEM Engagement's reach, JPL Education seeks to create the next generation of scientists, engineers, technologists and space explorers by supporting educators and bringing the excitement of NASA missions and science to learners of all ages.
TAGS: Higher Education, Internships, STEM, Engineering, Interns, College, Robotics, Mars, Rover, Mars 2020, Coding, Computer Science
---
Each year, 1,000 students come to NASA's Jet Propulsion Laboratory for internships at the place where space robots are born and science is made. Their projects span the STEM spectrum, from engineering the next Mars rover to designing virtual-reality interfaces to studying storms on Jupiter and the possibility of life on other planets. But the opportunity for students to "dare mighty things" at JPL wouldn't exist without the people who bring them to the Laboratory in the first place – the people known as mentors.
A community of about 500 scientists, engineers, technologists and others serve as mentors to students annually as part of the internship programs managed by the JPL Education Office. Their title as mentors speaks to the expansiveness of their role, which isn't just about generating opportunities for students, but also guiding and shaping their careers.
"Mentors are at the core of JPL's mission, pushing the frontiers of space exploration while also guiding the next generation of explorers," says Adrian Ponce, who leads the team that manages JPL's internship programs. "They are an essential part of the career pipeline for future innovators who will inspire and enable JPL missions and science."
Planetary scientist Glenn Orton has been bringing students to JPL for internships studying the atmospheres of planets like Jupiter and Saturn since 1985. He keeps a list of their names and the year they interned with him pinned to his office wall in case he's contacted as a reference. The single-spaced names take up 10 sheets of paper, and he hasn't even added the names of the students he's brought in since just last year.
It makes one wonder what he could need that many students to do – until he takes out another paper listing the 11 projects in which he's involved.
"I think I probably have the record for the largest number of [projects] at JPL," says Orton, who divides his time between observing Jupiter with various ground- and space-based telescopes, comparing his observations with the ones made by NASA's Juno spacecraft, contributing to a database where all of the above is tracked and producing science papers about the team's discoveries.
"Often, you get to be the first person in the world who will know about something," says Orton. "That's probably the best thing in the world. The most exciting moment you have in this job is when you discover something."
Over the years, Orton's interns have been authors on science papers and have even taken part in investigating unexpected stellar phenomena – like the time when a mysterious object sliced into Jupiter's atmosphere, sparking an urgent whodunnit that had Orton and his team of interns on the case.
Orton says his passion for mentoring students comes from the lack of mentorship he received as a first-generation college student. At the same time, he acknowledges the vast opportunities he was given and says he wants students to have them, too.
"As a graduate student, it was close to my first experience doing guided research, so I had no idea how research was communicated or conducted," says Orton of his time at Caltech, when he often worried that his classmates and professors would discover he wasn't "Nobel material." "I want to be able to work with students, which I sincerely enjoy, to instruct them on setting down a research goal, determining an approach, modifying it when things inevitably hit a bump, as well as communicating results and evaluating next steps."
For Alexandra Holloway and Krys Blackwood, the chance to provide new opportunities isn't just what drives them to be mentors, but also something they look for when choosing interns.
"I look for underdogs, students who are not representing themselves well on paper," says Holloway. "Folks from underrepresented backgrounds are less likely to have somebody guide them through, 'Here's how you make your résumé. Here's how you apply.' The most important thing is their enthusiasm for learning something new or trying something new."
It's for this reason that Holloway and Blackwood have become evangelists for JPL's small group of high-school interns, who come to the Laboratory through a competitive program sponsored by select local school districts. While less experienced than college students, high-school interns more than make up for it with perseverance and passion, says Blackwood.
"[High-school interns] compete to get a spot in the program, so they are highly motivated kids," she says. "Your results may vary on their level of skill when they come in, but they work so hard and they put out such great work."
Holloway and Blackwood met while working on the team that designs the systems people use to operate spacecraft and other robotic technology at JPL – that is, the human side of robotics. Holloway has since migrated back to robots as the lead software engineer for NASA's next Mars rover. But the two still often work together as mentors for the students they bring in to design prototypes or develop software used to operate rovers and the antennas that communicate with spacecraft across the solar system.
It's important to them that students get a window into different career possibilities so they can discover the path that speaks to them most. The pair say they've seen several students surprised by the career revelation that came at the end of their internships.
"For all of our interns, we tailor the project to the intern, the intern's abilities, their desires and which way they want to grow," says Holloway. "This is such a nice place where you can stretch for just a little bit of time, try something new and decide whether it's for you or not. We've had interns who did design tasks for us and at the end of the internship, they were like, 'You know what? I've realized that this is not for me.' And we were like, 'Awesome! You just saved yourself five years.'"
The revelations of students who intern with Parag Vaishampayan in JPL's Planetary Protection group come from something much smaller in scale – microscopic, even.
Vaishampayan's team studies some of the most extreme forms of life on Earth. The group is trying to learn whether similar kinds of tough microbes could survive on other worlds – and prevent those on Earth from hitching a ride to other planets on NASA spacecraft. An internship in Planetary Protection means students may have a chance to study these microbes, collect samples of bacteria inside the clean room where engineers are building the latest spacecraft or, for a lucky few, name bacteria.
"Any researcher who finds a new kind of bacteria gets a chance to name it," says Vaishampayan. "So we always give our students a chance to name any bacterium they discover after whoever they want. People have named bacteria after their professors, astronauts, famous scientists and so forth. We just published a paper where we named a bacterium after Carl Sagan."
The Planetary Protection group hosts about 10 students a year, and Vaishampayan says he's probably used every JPL internship program to bring them in. Recently, he's become a superuser of one designed for international students and another that partners with historically black colleges and universities, or HBCUs, to attract students from diverse backgrounds and set them on a pathway to a career at the Laboratory.
"I can talk for hours and hours about JPL internships. I think they are the soul of the active research we are doing here," says Vaishampayan. "Had we not had these programs, we would not have been able to do so much research work." In the years ahead, the programs might become even more essential for Vaishampayan as he takes on a new project analyzing 6,000 bacteria samples collected from spacecraft built in JPL's clean rooms since 1975.
With interns making up more than 15 percent of the Laboratory population each year, Vaishampayan is certainly not alone in his affection for JPL's internship programs. And JPL is equally appreciative of those willing to lend time and support to mentoring the next generation of explorers.
Says Adrian Ponce of those who take on the mentorship role through the programs his team manages, "Especially with this being National Mentoring Month, it's a great time to highlight the work of our thriving mentor community. I'd like to thank JPL mentors for their tremendous efforts and time commitment as they provide quality, hands-on experiences to students that support NASA missions and science, and foster a diverse and talented future workforce."
---
Explore JPL's summer and year-round internship programs and apply at: jpl.nasa.gov/intern
Career opportunities in STEM and beyond can be found at: jpl.jobs
The laboratory's STEM internship and fellowship programs are managed by the JPL Education Office. Extending the NASA Office of STEM Engagement's reach, JPL Education seeks to create the next generation of scientists, engineers, technologists and space explorers by supporting educators and bringing the excitement of NASA missions and science to learners of all ages.
TAGS: Higher Education, Internships, Mentors, Research, Researchers, STEM, Interns, Juno, Jupiter, Science, Astrobiology, Planetary Protection, Computer Science, Design, Mentoring, Careers
---
There's no joystick for driving rovers on Mars. Instead, a team of scientists and engineers gathers every day to plan each move and then beams a series of instructions to the rover's computerized brain, like interplanetary telepathy. As the only tether between the rover and the mission team on Earth, the onboard computer needs to run flawlessly. So before the rover even leaves Earth, its brain is put to the test. That's where Miles Fertel came in this past summer. As an intern with the rover simulation and planning team at NASA's Jet Propulsion Laboratory, Fertel was tasked with writing a program that tests how well the agency's next Mars rover interprets the instructions it receives. The trick, he said, was outsmarting not the rover but the humans who programmed it. We caught up with the Harvard University computer science student to learn more about his internship with the Mars 2020 team and to hear what he considered the most unique experience of his summer at JPL.
What are you working on at JPL?
I'm working on software for the Mars 2020 rover – so the code and tools that allow the rover to function on Mars. My team is rover simulation and planning. The rover planners are the people who take in all the information from the scientists and the rover and write commands to send to the rover through the Deep Space Network, which is basically the internet for space. As the simulation team, we make sure that the commands that we're going to send are going to be effective and that they're going to be safe so that this rover we send to Mars after all this painstaking work isn't going to get stuck in a hole or break because of a wrong command.
What is your average day like on your project?
I work on creating tests that humans couldn't come up with. The average testing for software is you write tests to make sure that the code isn't going to fail when you add in certain instructions. But humans – specifically the humans who write the tests – tend to be the same people who write the code. They're not going to be able to come up with as good of a test, because if they knew what was going to break, they wouldn't have written the bug in the first place.
What I do is use a couple of testing frameworks that use generational input adjustments. They develop in an evolutionary way, starting from a simple input that I put in. So, say we're working on commands for the rover. We can start with, "Go forward," and then the system will modify the instructions based on a dictionary of information I provide. So I say, "These are words that might make sense to the rover. Try coming up with combinations of these that might result in behavior that we haven't seen before." If that behavior is defined, then everything's fine, but if it's going to cause a problem, then it's important that we know that so we can update the code.
What are you studying in school, and what got you interested in that field?
I study computer science at Harvard. I hadn't done any programming before coming to college. I thought I wanted to do something in the area of technology and possibly business, but I didn't really know. So I took the intro to computer science class, and I really loved it. I loved the challenge of feeling like my homework was a puzzle and not a chore. That drew me to it, and I started taking all the classes that I could in that realm.
What is your ultimate career goal?
I don't think anyone should have an ultimate career goal. I think careers should be a fluid thing and that people should build up skills that allow them to do the things that are most interesting to them. Right now, my goal is making sure that the Mars 2020 rover lands on Mars and everything goes swimmingly when it gets there. But, ultimately, I want to work on cool things with interesting people.
How do you feel that you're contributing to Mars 2020 and making the mission a success?
When I came here, my main goal was having a tangible impact on the project. I wanted something where every minute I spent working would be important to meeting the goal of the project. I find bugs every day, and I fix them, and that's great. Hopefully, before the summer's over, I will have a patch that I can write for the software that will end up on the rover.
What brought you to JPL for this internship?
I had a friend who interned here two years ago, and he recommended it really highly, saying he had a terrific time and his team members were great. I applied online, but when you apply, it's a general application and you could be picked for any project based on your set of skills.
I knew that I wanted to work on Mars 2020, so I went on the JPL website, and I researched teams and people working on robotic software for the mission. I emailed Jeng Yen, my group supervisor. I said, "Here's my resume. This is what I'm interested in. Are there any projects that I could work on?" He said, "One of my team members, Steven Myint, is working on something that fits your profile pretty well. You should talk to him." So I talked to him, and the rest is history.
That's great. That's something we recommend students do if there's a particular project or area of research they're interested in. What is the most unique JPL or NASA experience that you've had while you've been here?
Oh, easy. One of my team members, Trevor Reed, is a rover planner for Curiosity. Every morning the team has a tactical meeting in which they go over the schedule for the day for the rover, and they give instructions to the rover planners who will write the commands that tell the rover what to do. When I found out that one of my teammates drives the Curiosity rover, I was like, "Can I please, please shadow you for that process?"
So I showed up at 8 o'clock in the morning in the Curiosity rover tactical office, or conference room, and there's the head scientist, Ashwin Vasavada, who I'd read about in articles. I watched them send the actual commands to the rover. I learned all about the planning and tolerances that are involved in the simulations that we do. I got to see the software that I'm working on in action, because it's also used for Curiosity. It was a pretty amazing experience to sit there for a couple of hours and watch them go through the entire process of a day on Mars.
Now for a fun question: If you could play any role in NASA's plans to send humans back to the Moon or on to Mars, what would you want to do?
Every kid wants to be an astronaut, right? I mean, if you're offering … As much as I would love to be an astronaut, my interests in the short term are contributing to and building projects that I think are important. So for those future missions, I think I would want to have more input on the design, the structure and the planning, overall. So maybe I would want to be a systems engineer or even work on the design.
---
Explore JPL's summer and year-round internship programs and apply at: https://www.jpl.nasa.gov/edu/intern
The laboratory's STEM internship and fellowship programs are managed by the JPL Education Office. Extending the NASA Office of STEM Engagement's reach, JPL Education seeks to create the next generation of scientists, engineers, technologists and space explorers by supporting educators and bringing the excitement of NASA missions and science to learners of all ages.
TAGS: Higher Education, Internships, STEM, Engineering, Interns, College, Robotics, Mars, Rover, Mars 2020, Software, Computer Science, Programming, Coding
---
A single movement of NASA's next Mars rover could require, among other things, the careful dance of six independently motored wheels, a retractable arm containing a laboratory's worth of tools, a swiveling head supporting multiple cameras and a computer that can pinpoint the rover's precise location. So this past summer, while other teams and their interns at NASA's Jet Propulsion Laboratory were testing cameras and calibrating science instruments to prepare the rover for its February 2021 debut on Mars, intern Isabel Rayas was making sure all those pieces move seamlessly together. This meant spending a lot of time in the laboratory's Mars Yard, a sandbox of sorts where engineers put models of the rover through various test drives. For Rayas, a graduate student studying computer science and robotics at the University of Southern California, it was also a window into one potential future career, although, she says, "I'm definitely still exploring." We chatted with Rayas to learn more about her role on the Mars 2020 mission and what it's like to drive a rover.
What are you working on at JPL?
I am working on mobility testing for the Mars 2020 rover. It's taking all of these parts that impact something like mobility – the motion of the rover – and understanding how they work together. We're testing everything to make sure that all the parts play nicely together and that one of them doesn't have a bug that's going to cause a failure in another part of the system.
Are you working on the actual rover that's going to Mars?
There's a whole spectrum of testbeds. What you're testing will dictate which testbed you use. If you're only trying to test one small part of the rover, you're not going to bother using the full system. The flight software testbed, where I'm working, has the real flight computer. It has some of the real cameras. It doesn't have the real motors yet, but we're working on it. Assembly, Test and Launch Operations, or ATLO, is actually putting together the real thing and doing tests with the real hardware.
Tell me more about your role in the flight software testbed.
There are two main things that I am working on this summer: One of them is getting all the hardware pieces in the flight software testbed that impact the mobility of the rover.
You might think that mobility is just the wheels of the rover, but there are a lot of subsystems and instruments that have an influence on mobility. There is an instrument called RIMFAX that will be used for radar sounding. It will point at the Martian surface to collect readings of what the subterranean surface looks like and what it's made up of. You wouldn't necessarily think that has an impact on mobility, but it actually does, because you have to know exactly where you are when you take a radar sounding in order to make any sense of it. You have to be able to tell, "I've moved this far, and this is what I'm sounding, and that's what the ground looks like at this specific spot." So that's a piece of hardware that needs to be integrated into a full mobility test. Then there's the flight computer. There's a computer just for processing the images from the rover. That's also not in the testbed yet, so that's something I'm trying to get delivered so we can run tests with it.
Once we get all these hardware parts into the testbed, we want to run a mobility sequence that tells the motors to move while doing all of these tasks to make sure the system works. So I'm writing the procedure and making sure that all the parts are in the testbed for that.
The second thing I'm working on is in the Mars Yard. While we do test drives around the Mars Yard, we want to know precisely where the rover is located, because we want to be able to know whether or not the autonomous system that tells the rover where it is works. So I'm looking at different systems that will help us do those tests.
What is your average day like?
There's no good answer to that. It changes day by day, which is exciting. This morning, for example, I was in the Mars Yard learning about a position tracking system with someone who was setting it up to do a test. As a systems engineer, you have to go to a lot of meetings, because you have to learn from different teams about what's going on and go over test procedures. I compile all the information from the meetings, try to understand it and meet with more people to get questions answered. I'm in and out of the office. I'm in the Mars Yard. I'm in the testbed, in the cleanroom – all kinds of stuff.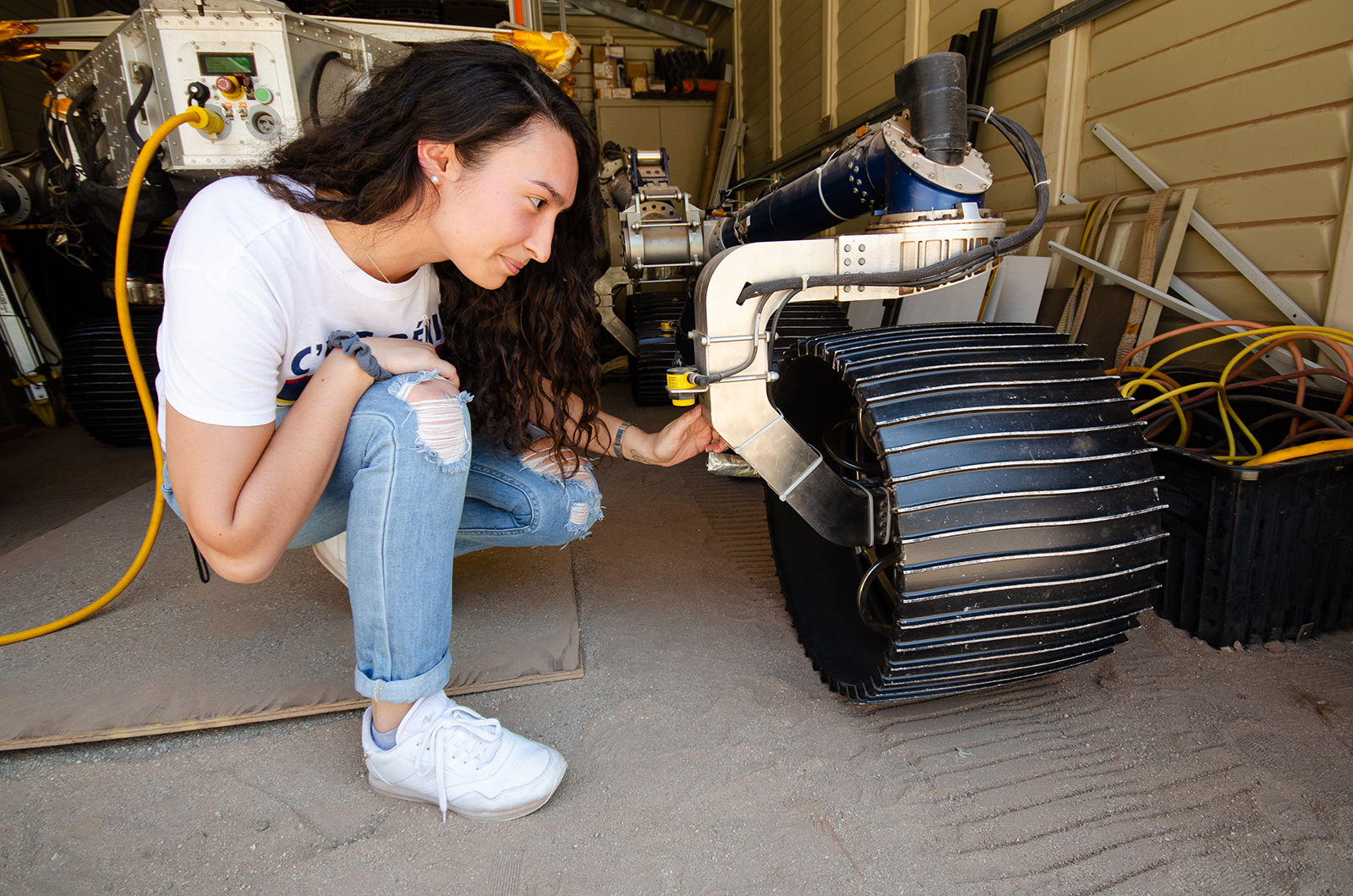 You mentioned your project deals with systems engineering. What's the job of a systems engineer?
You do a little of everything. For the rover, you have people designing the wheels, and you have people designing the instruments. Those people have to be experts in that thing and understand exactly how it works and make sure that nothing's going to break. While those people are experts in a specific part of the system, they can't be expected to also understand how everything comes together and how that impacts the whole system. So that's where systems engineers come in. They are not experts in any one of the areas, but they have to understand enough about each of them to know how they impact each other.
Is that what you are studying in school?
No. I just finished my first year of grad school at the University of Southern California, studying computer science and robotics. I got my undergrad in aerospace engineering from MIT, so I have previous experience in aerospace, but I haven't taken any systems engineering classes. My senior capstone had a systems engineering project, and I got exposure to it there, but we had maybe 100 requirements for our project, and here there are tens of thousands. It's a little bit of a step up.
What got you into aerospace engineering?
I think this is maybe true of most kids, but I really liked looking at the stars and thinking about the planets. I knew from a very young age that I was interested in STEM. I took an astronomy class in high school that I loved, and I thought I wanted to do astrophysics, but when I got to college, I took a physics class and didn't like it at all. I switched to the closest thing that wasn't science, which was aerospace engineering.
I also minored in brain and cognitive sciences, because I really couldn't decide. I took some computer science classes during college as well. So I've been kind of all over the place, and I ended up here again.
What made you focus on computer science and robotics for grad school?
My undergrad was in aerospace, but with a concentration in autonomous systems. I've always been interested in the robotic applications of aerospace – not necessarily the rocket design, or propulsion, or the aerodynamics or anything like that.
What brought you to JPL for this internship?
I actually interned here two years ago. My friend had interned at JPL the year before, and she was like, "This was awesome. I love it so much." As an aerospace major, it's kind of the dream, right? So I ended up coming here two years ago. Now that I'm at USC, it's so close that I thought I could probably find some way to be here again this summer, doing something new that's not really related to my program at school.
What's the most JPL- or NASA-unique experience that you've had here?
My first day was right after the Explore JPL event, so thousands of people had come through that weekend to learn about what JPL does and see all the different labs and technology. They had brought the Scarecrow rover, [used to test Mars rover drives], down to the entrance of JPL so people could see it move around. When I got here on Monday, it was my mentor's job to bring it back to the Mars Yard, which is all the way down the street, up the hill – not close at all. So he was like, "Do you want to move the rover across the Lab?"
We had to pick up the rover with a crane and drive it across lab. People were taking videos of us as we went by. After that, my mentor was like, "Do you want to drive it around the Mars Yard?" So I got to drive it around for a while. That was something that I think is kind of unique.
What do you hope to accomplish during your time here?
I would really like to see this test procedure run. I have high hopes. Ten weeks [at JPL] is such a short amount of time. I think it would be easy to get caught up in a lot of things that are less important and end up having something half-finished. I know from talking to my mentor that a test that includes all of this hardware could be really valuable, because it would help the team find bugs before they're too late to fix. Knowing that's my responsibility is exciting. It's a little bit scary, but in a good way.
What's your ultimate goal for your career?
I'm not really sure yet. I'm definitely still exploring. I think internships are a great way to do that, so I'm planning on doing as many as I can in as many different fields as I can. Beyond that, I think my overarching career goal is to keep learning. I don't know where that will take me.
Wow. That's tough. I would love to be one of the people who goes to the Moon. I don't think I would want to go to Mars.
Why not?
It's too far. I like Earth a lot. It's probably my favorite planet. So I wouldn't want to get too far from home. But I would love to go to space. Going to the Moon would be a nice, happy medium.
Have you ever thought about applying to be an astronaut?
Not seriously. I wanted to be an astronaut for the first couple of years in college. But I thought about it some more and about how much training you have to do, and I didn't want to dedicate all my time to training. I thought I could use engineering instead to help us get there.
---
Explore JPL's summer and year-round internship programs and apply at: https://www.jpl.nasa.gov/edu/intern
The laboratory's STEM internship and fellowship programs are managed by the JPL Education Office. Extending the NASA Office of STEM Engagement's reach, JPL Education seeks to create the next generation of scientists, engineers, technologists and space explorers by supporting educators and bringing the excitement of NASA missions and science to learners of all ages.
TAGS: Higher Education, Internships, STEM, Engineering, Interns, College, Robotics, Mars, Rover, Mars 2020, Computer Science
---
With wildfires around the world occurring increasingly often and burning over a longer portion of the year, scientists at NASA's Jet Propulsion Laboratory are working to understand whether the blazes could have long-term impacts on global climate change. In some respects, it's a tough question to answer – not because of an absence of data, but because of an overabundance. That's where intern Jarod Boone, a computer engineering student at Brown University, comes in. As part of a program at JPL that brings together designers, computer programmers and scientists to answer data-heavy science questions using visualizations, Boone spent this summer helping climate researchers visualize tens of thousands of files containing wildfire data collected by instruments on NASA's Terra satellite. Boone shared what it was like visualizing wildfire data as more than a dozen wildfires burned across California (where JPL is located) and how he never quite got used to JPLers' tendency to speak in acronyms.
What are you working on at JPL?
I'm doing the programming for a data visualization tool to help researchers who are using the Terra satellite analyze wildfire data and how high these fires inject into the atmosphere. That's a question scientists are really concerned with because you have all these fires burning up matter, and all the matter that they burn goes into the air and just floats around for many, many days afterward. We don't really know how exactly that affects global climate change, so it's good to take a look at the data.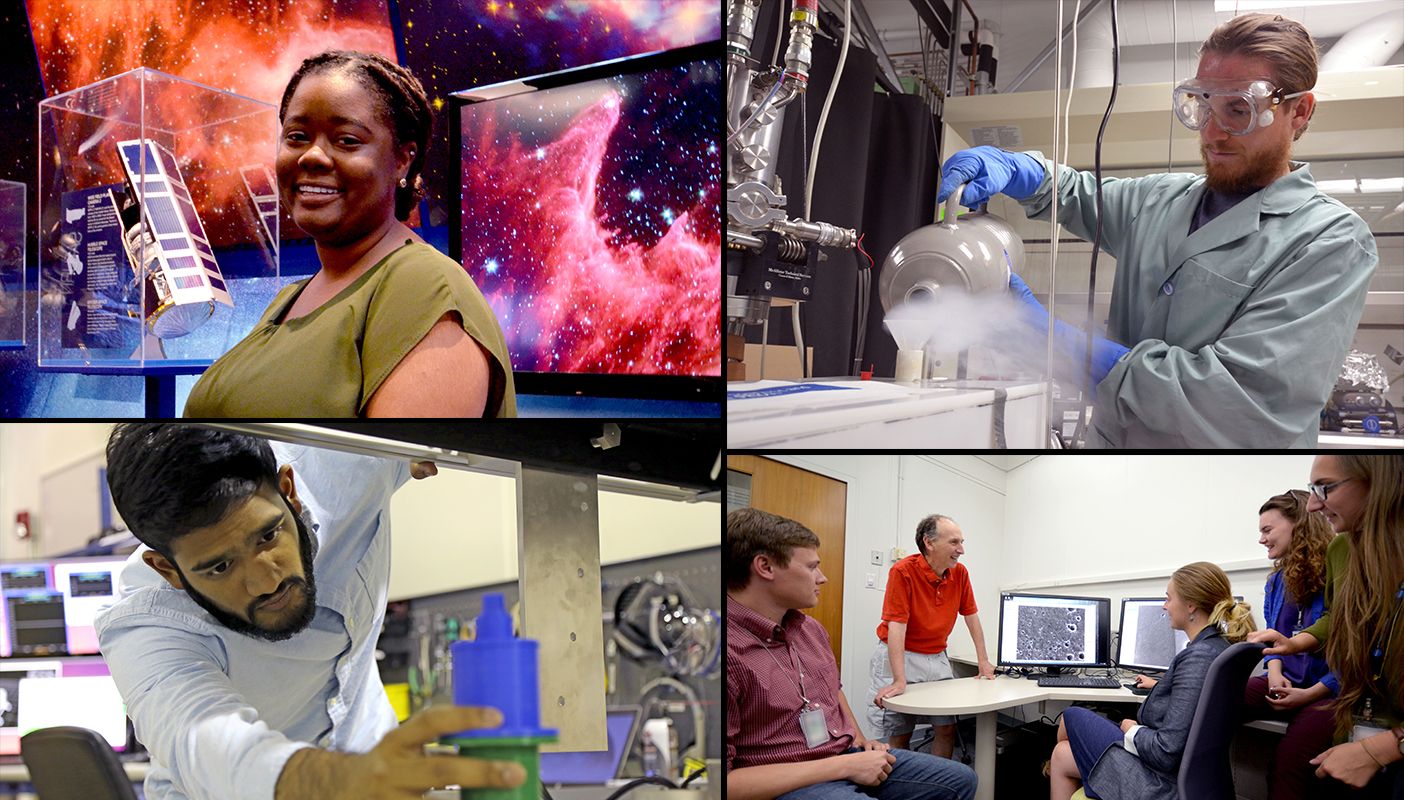 Meet JPL Interns
Read stories from interns pushing the boundaries of space exploration and science at the leading center for robotic exploration of the solar system.
Have you discovered anything so far from these visualizations?
Not quite yet. So the [Data to Discovery Visualization Program] that I'm a part of is sort of a unique program here at JPL. We have two designers and three computer science teams, and we have three projects that we work on. It's very design focused. So in the course of my projects, we have several weeks of what we call contextual inquiry, which is going in and doing interviews, creating prototypes and basically trying to get an idea of what scientists do for their workflow, because it's kind of hard to conceive of what you would do to answer a scientific question if you don't have a scientific background. So we spend a lot of time getting to know what the scientists are trying to accomplish. We're trying to make the best interface possible for them to use this data. That's actually a huge problem in science: There's a huge barrier to entry with a lot of these data sets, so it discourages things like exploratory science.
Have you been adding all the recent wildfires in the western U.S. to your data set?
I'm mostly working with older fires because it takes a bit of time to digitize the fires that are imaged by the Terra satellite. They have to go through this process where they take a bunch of images of the fire – because you have these flat images and you're trying to get plume height and the satellite is moving – and they essentially need to stitch together the images of the fire to get an idea of how high the smoke plume is, which is quite a process. And it has to be done one by one. But there are enough older fires for us to work with.
You're from Massachusetts, a state that doesn't have a lot of wildfires. Has being in Southern California during all the wildfires this summer changed your perspective on how to go about these visualizations?
It's a little hard because the visualizations and working with all the satellite data is so detached, and they're really abstracted away from any actual fires. So it's like I'm just seeing all these data points and getting all these data products, like optical depth. I don't really know what that is, so when I see a real fire, I'm like, "Whoa, that's what that is." But there's not really a huge cognitive connection. It's definitely cool to be able to work with something that's pretty pertinent and definitely a problem in California.
What's the ultimate goal of the project both for you and for JPL?
For JPL, it is to refine our ideas of climate models and better take fires into account. The global climate models right now do a fairly poor job of taking fires into account because it's really difficult. They happen so sporadically. It's not a fluid weather system. It's these discrete fires, and they're just huge dumps of energy. How do we account for that? So that's definitely the end goal for JPL.
I am not a climate scientist. I will not be doing any updates to the climate models, but I do hope to encourage exploratory research. And I'm sort of trying to introduce principles of design and human-centered interfacing and accessibility to climate scientists. Actually, one of my mentors was very excited about what I was working on and had me submit an abstract for the [American Geophysical Union Fall Meeting]. So visualizing is important. You should be able to conceive of the data you're using.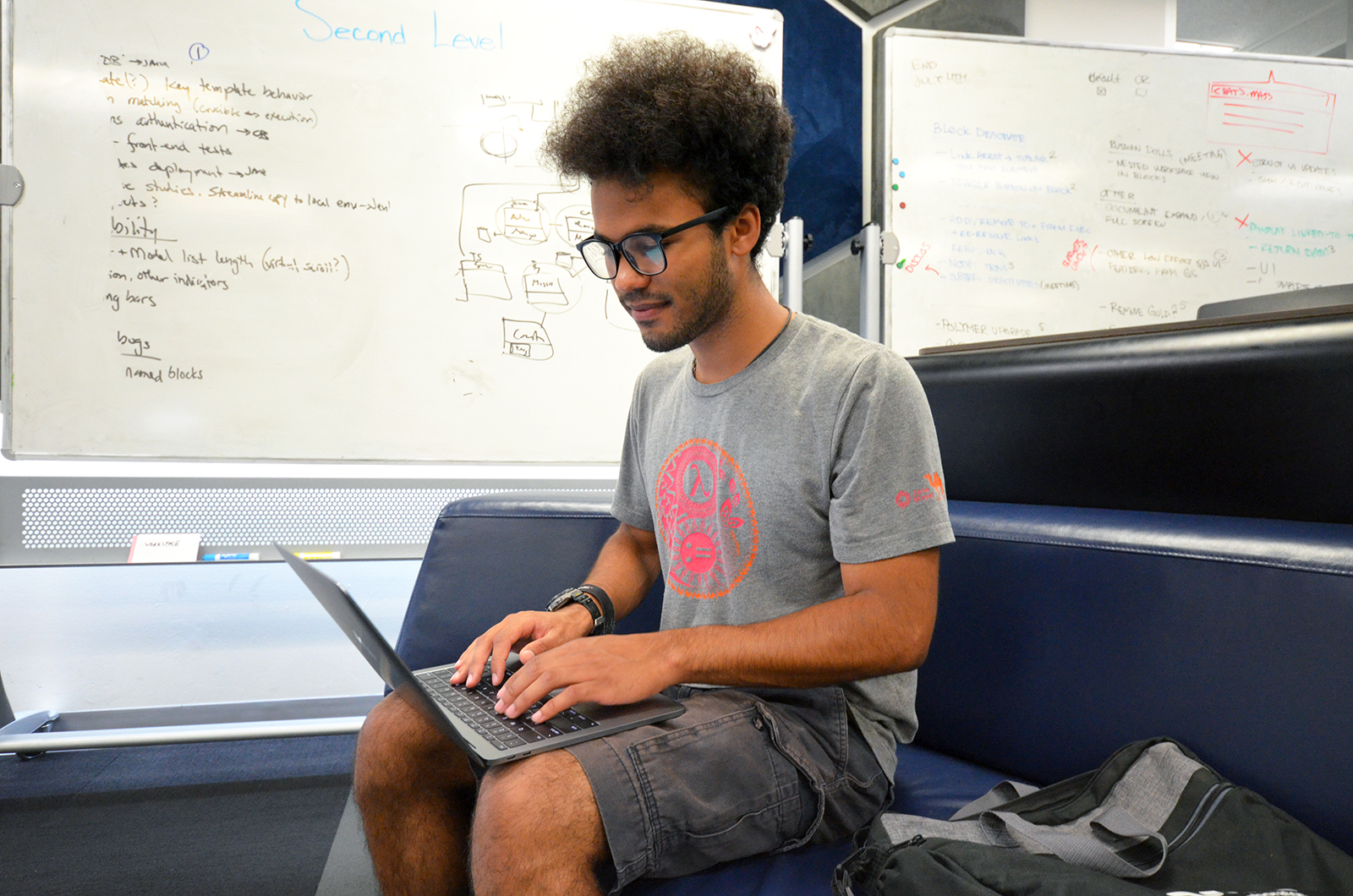 How did you get involved in the program that brought you to JPL to do this work?
I had done a lot of visualization work at my school. Not on purpose, tangentially. I worked at the Brown University Center for Computation and Visualization, so we had a lot of people coming in wanting to do some kind of research visualization and they had a lot of technical problems. So I sort of got sucked into the visualization and research-aid world. One of my bosses knew Santiago Lombeyda, one of the mentors in this program from Caltech, and he said he was looking for data visualization students who were well versed in that and able to do computer science. JPL seemed pretty cool, so I decided to apply.
What are you thinking you want to do eventually?
So long, long term, I have this vision of humanizing computer systems. A lot of software developers don't know entirely how systems work. A lot of consumers are still confused by computers, and we're still using a bunch of folders spread out to represent files rather than something more intuitive or something that represents the data better. The fact that most users need to troubleshoot online to figure out how to use their computer and answer how to fix certain problems is a problem. I feel like we know enough about computers at this point and this generation is, in general, literate enough about computer science to be able to understand what's going on. We can possibly do a lot better making operating systems transparent. That's what I would like to do. I think that would be a cool project.
Is there a particular place that you'd want to do that?
In practice, I would just like to work a little bit in industry, doing systems development either in hardware or software. It's really cool to work with a data system like this, a satellite that has a lot of nuanced issues with how you get the data and what you can do with the data and how you transmit it back and forth and, at the end, what you do with that data problem.
What's an average day like for you?
So we actually split up a decent amount of our time between here and Caltech [which manages JPL for NASA]. Most days I'll have meetings with our research groups just to touch base and see what's happening. On Mondays, we'll have [critiques] all day, which is where our mentors review our projects up to that point. Then, pretty much the rest of the day I'll spend meeting with my designers and programming. Sometimes I go for walks or explore the campus a little bit. But most of the time, I'm just holed up doing the computer thing.
What's been the most JPL or NASA unique experience you've had so far?
During the second meeting that I had with my mentor, Abigail Nastan, she used like five acronyms in the same sentence. And I was just, "Can you just use words?" [Laughs.] You guys should just have an acronyms cheat-sheet for interns.
Also, going to the Mars Yard, sitting in the rocks. Every experience here is a NASA experience.
If you could travel to any place in space, where would you go and what would you do there?
In space? I mean, Earth is really cool. I guess I'd probably go to Jupiter, just because something fishy is going on there. [Laughs.] That planet is too big. Also, I just don't trust gas giants. What do you mean, you don't have a surface? I definitely would not go on Jupiter – I'd just watch it from afar.
---
Explore JPL's summer and year-round internship programs and apply at: https://www.jpl.nasa.gov/edu/intern
The laboratory's STEM internship and fellowship programs are managed by the JPL Education Office. Extending the NASA Office of Education's reach, JPL Education seeks to create the next generation of scientists, engineers, technologists and space explorers by supporting educators and bringing the excitement of NASA missions and science to learners of all ages.
TAGS: Internships, Higher Education, Career Guidance, Computer Science, Visualizations, Data, Earth Science, Wildfires
---
Try this lesson from NASA/JPL Edu to get involved and bring the excitement of NASA Mars exploration to students: