---
We talked to a few JPL interns about what they've been working on, how they're taking NASA into the future, and what it all means to them.
---
Despite the challenges of the past two years, it's been a busy time for NASA's Jet Propulsion Laboratory. Among the Lab's activities have been the launch and landing of a new Mars rover, preparations for sending a spacecraft to explore an ocean world beyond Earth, first light for missions studying our changing climate and the universe beyond, and the development of technology to help address the COVID pandemic.
All the while, JPL interns have continued supporting scientists, engineers, and technologists behind the scenes to make those missions and projects happen.
More than 600 summer interns are taking part in that crucial work – both in-person at the laboratory in Southern California as well as from their homes and dorms across the country. In May, JPL welcomed summer interns back on site for the first time since 2019 while continuing to offer remote internships as projects allow.
We wanted to hear what interns have been up to, how they're contributing to NASA missions and science, and what the experience has meant to them. So we caught up with three students who have helped see the lab through the last year or two – and in one case, seven years. Watch their stories in the video above.
Explore More
---
The laboratory's STEM internship and fellowship programs are managed by the JPL Education Office. Extending the NASA Office of STEM Engagement's reach, JPL Education seeks to create the next generation of scientists, engineers, technologists and space explorers by supporting educators and bringing the excitement of NASA missions and science to learners of all ages.
Career opportunities in STEM and beyond can be found online at jpl.jobs. Learn more about careers and life at JPL on LinkedIn and by following @nasajplcareers on Instagram.
TAGS: Interns, Internships, College Students, Science, Engineering, InSight, Mars, Europa, Ocean Worlds, Enceladus, Saturn, Cassini, Ceres
---
Update – Sept. 11, 2017: This feature (originally published on April 25, 2017) has been updated to reflect Cassini's current mission status, as well as new lessons and activities.
---
In the News
After almost 20 years in space, NASA's Cassini spacecraft has begun the final chapter of its remarkable story of exploration. This last phase of the mission has delivered unprecedented views of Saturn and taken Cassini where no spacecraft has been before – all the way between the planet and its rings. On Friday, Sept. 15 Cassini will perform its Grand Finale: a farewell dive into Saturn's atmosphere to protect the environments of Saturn's moons, including the potentially habitable Enceladus.
Lessons All About Saturn
Explore our collection of standards-aligned lessons about NASA's Cassini mission.
How It Works
On April 22, Cassini flew within 608 miles (979 km) of Saturn's giant moon Titan, using the moon's gravity to place the spacecraft on its path for the ring-gap orbits. Without this gravity assist from Titan, the daring, science-rich mission ending would not be possible.
Cassini is almost out of the propellant that fuels its main engine, which is used to make large course adjustments. A course adjustment requires energy. Because the spacecraft does not have enough rocket fuel on board, Cassini engineers have used an external energy source to set the spacecraft on its new trajectory: the gravity of Saturn's moon Titan. (The engineers have often used Titan to make major shifts in Cassini's flight plan.)
Titan is a massive moon and thus has a significant amount of gravity. As Cassini comes near Titan, the spacecraft is affected by this gravity – and can use it to its advantage. Often referred to as a "slingshot maneuver," a gravity assist is a powerful tool, which uses the gravity of another body to speed up, slow down or otherwise alter the orbital path of a spacecraft.
When Cassini passed close by Titan on April 22, the moon's gravity pulled strongly on the spacecraft. The flyby gave Cassini a change in velocity of about 1,800 mph (800 meters per second) that sent the spacecraft into its first of the ring-gap orbits on April 23. On April 26, Cassini made its first of 22 daring plunges between the planet and its mighty rings.
As Kepler's third law indicates, Cassini traveled faster than ever before during these final smaller orbits. Cassini's orbit continued to cross the orbit of Titan during these ring-gap orbits. And every couple of orbits, Titan passed near enough to give the spacecraft a nudge. One last nudge occured on September 11, placing the spacecraft on its final, half-orbit, impact trajectory toward Saturn.
Because a few hardy microbes from Earth might have survived onboard Cassini all these years, NASA has chosen to safely dispose of the spacecraft in the atmosphere of Saturn to avoid the possibility of Cassini someday colliding with and contaminating moons such as Enceladus and Titan that may hold the potential for life. Cassini will continue to send back science measurements as long as it is able to transmit during its final dive into Saturn.
Why It's Important
Flying closer than ever before to Saturn and its rings has provided an unprecedented opportunity for science. During these orbits, Cassini's cameras have captured ultra-close images of the planet's clouds and the mysterious north polar hexagon, helping us to learn more about Saturn's atmosphere and turbulent storms.
The cameras have been taking high-resolution images of the rings, and to improve our knowledge of how much material is in the rings, Cassini has also been conducting gravitational measurements. Cassini's particle detectors have sampled icy ring particles being funneled into the atmosphere by Saturn's magnetic field. Data and images from these observations are helping bring us closer to understanding the origins of Saturn's massive ring system.
Cassini has also been making detailed maps of Saturn's gravity and magnetic fields to reveal how the planet is structured internally, which could help solve the great mystery of just how fast Saturn is rotating.
On its first pass through the unexplored 1,500-mile-wide (2,400-kilometer) space between the rings and the planet, Cassini was oriented so that its high-gain antenna faced forward, shielding the delicate scientific instruments from potential impacts by ring particles. After this first ring crossing informed scientists about the low number of particles at that particular point in the gap, the spacecraft was oriented differently for the next four orbits, providing the science instruments unique observing angles. For ring crossings 6, 7 and 12, the spacecraft was again oriented so that its high-gain antenna faced forward.
Fittingly, Cassini's final moments will be spent doing what it does best, returning data on never-before-observed regions of the Saturnian system. On September 15, just hours before Cassini enters Saturn's atmosphere for its Grand Finale dive, it will collect and transmit its final images back to Earth. During its fateful dive, Cassini will be sending home new data in real time informing us about Saturn's atmospheric composition. It's our last chance to gather intimate data about Saturn and its rings – until another spacecraft journeys to this distant planet.
Explore the many discoveries made by Cassini and the story of the mission on the Cassini website.
Teach It
Use these standards-aligned lessons to get your students excited about the science we have learned and have yet to learn about the Saturnian system.
Explore More
TAGS: Saturn, Titan, Cassini, Grand Finale, Teachable Moments, Kepler's Laws, K-12, Lessons, Ocean Worlds
---
When the offer letter arrived from NASA's Jet Propulsion Laboratory, Kiana Williams could hardly believe it. Thousands of science and engineering students apply each year for internships at the lab known for its dare-anything missions to the planets and beyond. Williams never expected it would be her first internship.
"It actually took me about a week to accept that it was a real offer and that I'd actually be coming to intern at NASA/JPL," she said.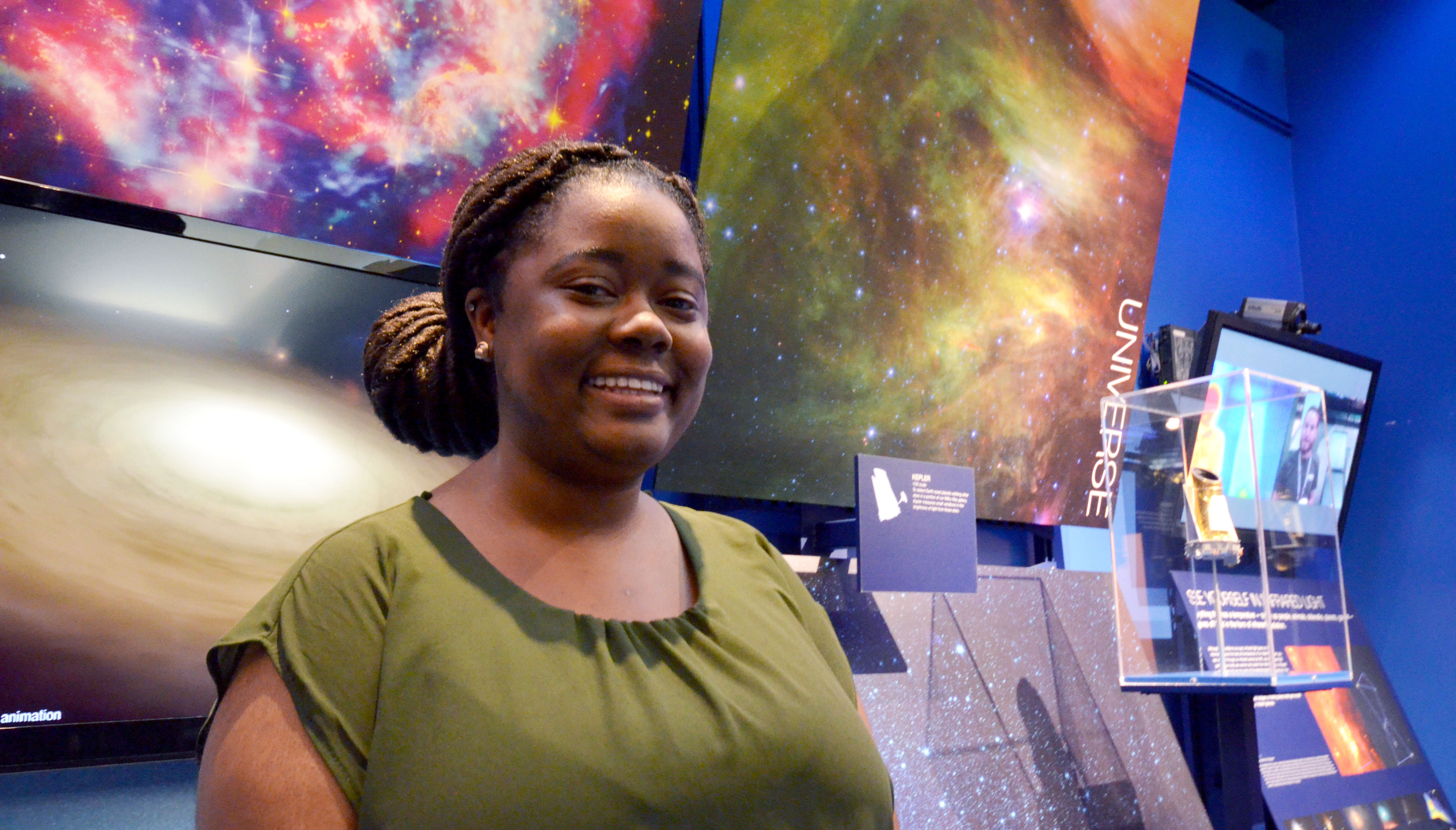 Mechanical engineering student Kiana Williams grew up near JPL in Southern California, but she never thought to apply for an internship until JPL's Education Office visited her university in Alabama. Now, a first-time intern, she says she realizes, "Oh, I can do this." Image credit: NASA/JPL-Caltech
This summer, Williams is joining more than 700 undergraduate, graduate and doctoral students for internships at JPL in Pasadena, California. Over 10 weeks, they will design new ways to study stars, investigate icy moons thought to be hospitable to life, and even help choose a landing spot for the next Mars rover.
"I get the opportunity to design an entire space telescope from top to bottom," said Williams, a senior mechanical engineering student at Tuskegee University in Alabama. "It's kind of a big task, but at the same time it's fun, so it makes my day go really quickly."
One of 10 NASA field centers, JPL is the birthplace of spacecraft and instruments that have explored every planet in the solar system, studied our home planet and looked beyond to discover new worlds. It doesn't just design and build spacecraft, it also operates them, and collects and studies the science they return.
"It's the only place in the world where everyone needed to conceive of, design, build, launch and land spacecraft, get the science data and write the papers about that science data are all in one place," said Matt Golombek, a JPL scientist whose interns over the years have helped choose the landing sites for all five Mars rovers and landers since Pathfinder in 1997.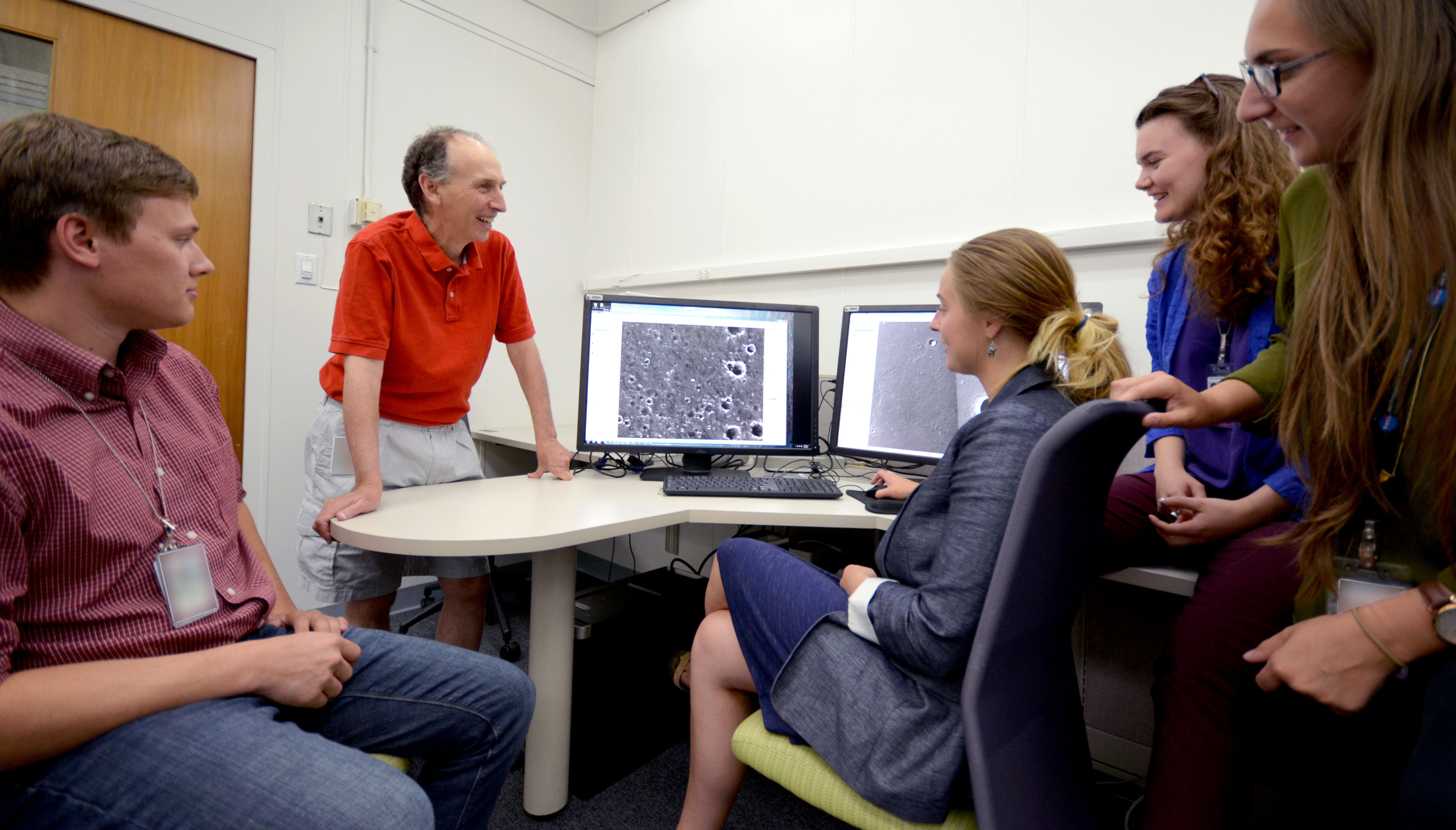 The self-proclaimed "landing site dude," Matt Golombek brings in a host of geology students each year to help identify landing sites on Mars. He has five students this summer helping with site selections for three upcoming missions, including Mars 2020. He says it's rewarding to see how students' JPL experience has a positive impact on their future no matter what they go on to do. (From left to right: Marshall Trautman, Matt Golombek, Rachel Hausman, Carol Hundal, Shannon Hibbard.) Image credit: NASA/JPL-Caltech
The lab's internship programs give students studying everything from aerospace engineering to computer science and chemistry the chance to do research with NASA scientists, build spacecraft, and create new technology for future missions.
With more than 20 active spacecraft plus a to-do list that includes missions to Mars, Jupiter's moon Europa and the asteroid belt, JPL has no shortage of projects ripe for students who are eager for careers in space exploration.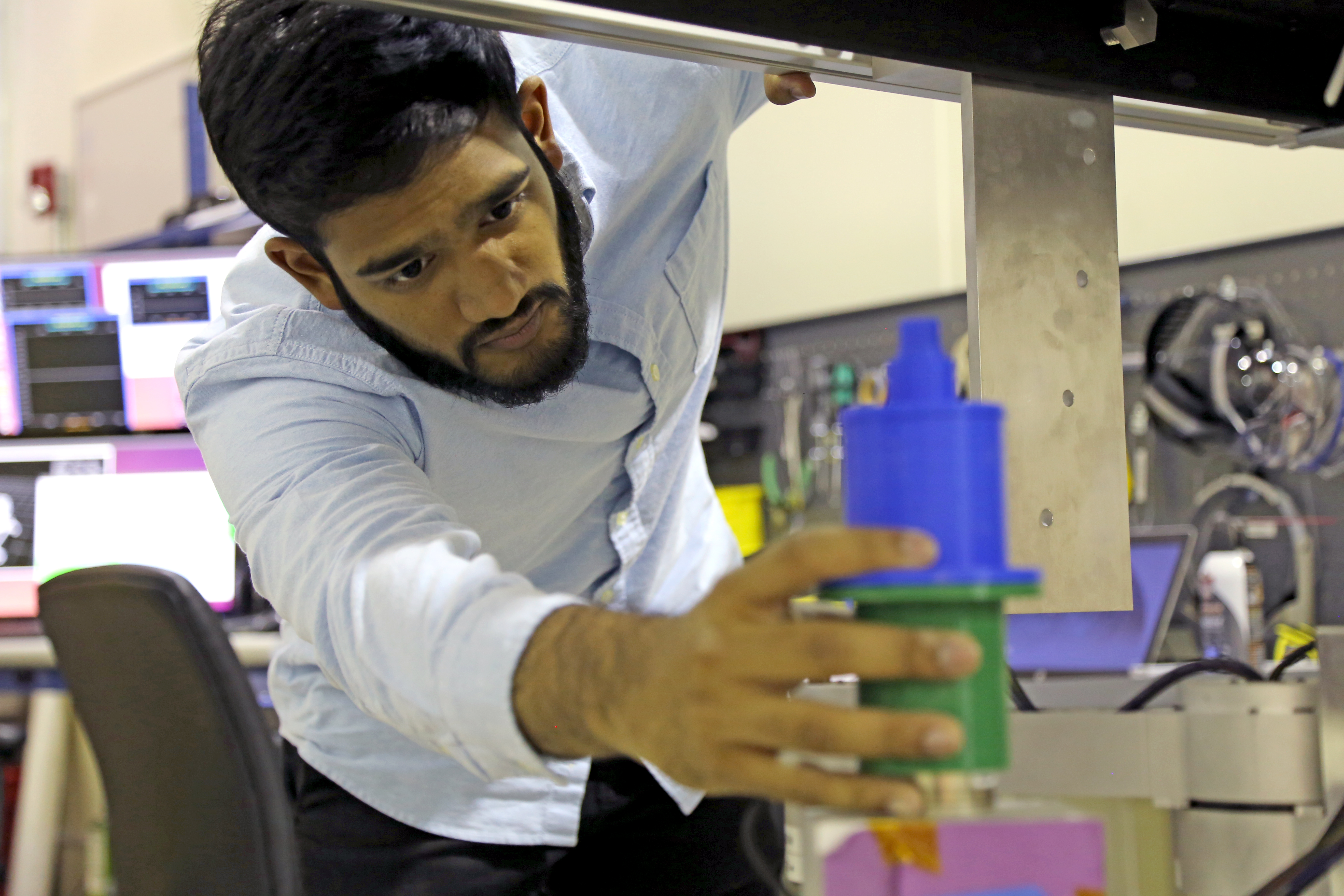 Nirmal Patel says that in addition to the wow-factor of testing parts for a Mars rover, his JPL internship is a chance to meet other engineers and scientists all united in a common goal. "Here, everyone wants to explore. And when you have that common goal, it has a different atmosphere," he said. Image credit: NASA/JPL-Caltech
"It's just amazing knowing that what we're doing now will also be replicated on Mars in a few years," said Nirmal Patel, a mechanical engineering student at the University of Michigan who is testing parts for the Mars 2020 rover. "It's surreal almost. I'm still a student but I'm getting to have an impact on this project."
David Dubois, a three-time intern who studies planetary science at the University of Versailles Saint Quentin near Paris, returned to JPL this summer to continue his research on icy moons around Saturn, Jupiter and Neptune. Using data from the Cassini mission (which will end its nearly 13-year mission at Saturn this September) he is modeling the atmosphere of Saturn's moon Titan to better understand its chemical environment – and maybe discover if it could support life.
He says that in addition to access to one-of-a-kind data directly from spacecraft, JPL offers the opportunity to explore new fields of science and even career paths, if students are open to it.
"Being open is certainly something that I've learned from JPL, not being afraid of tackling different problems in different fields," said Dubois, who is about to publish his first paper as a lead author based on his research at JPL.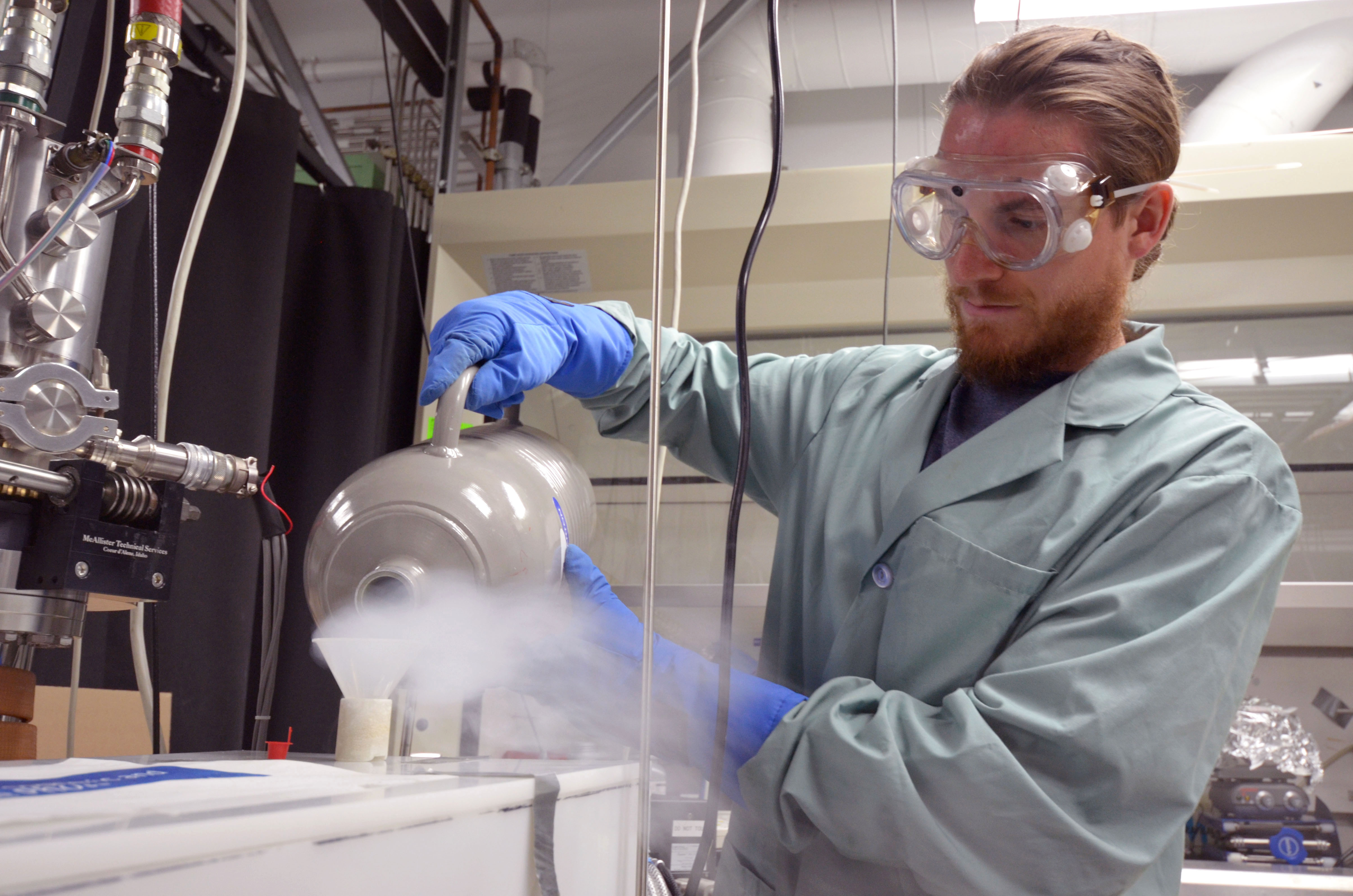 When he's not doing research, David Dubois says he focuses much of his time on outreach, which is one of his other passions. This year, he traveled to India with a friend to visit schools and villages and encourage students there to pursue science. "I like to say that I think anybody is a scientist," he said, "as long as you try to provide an answer to questions around you." Image credit: NASA/JPL-Caltech
It's precisely that exposure to its unique career offerings in science, technology, engineering and math – and a foot in the door – that JPL's Education Office, which manages the lab's internship programs, is working to provide to more students.
"Our students are operating right alongside the mentors and participating in the discovery process," said Adrian Ponce, who manages JPL's higher education group. "It's a fantastic opportunity for them, and it's also a great opportunity for JPL. Our internship programs are designed to bring in students from diverse backgrounds and underrepresented communities who share new ways of thinking and analyzing challenges. Many of them will become the next generation of innovators – and not just at JPL."
For Williams, who plans to continue toward a master's degree in design engineering after she graduates in December, her time at JPL is confirmation that she's on the right path and has the motivation to keep going.
"It makes me feel like school is worth it," said Williams of her internship experience so far. "All the stress I'm going through at school will be worth it because you can find places that are like JPL, that make your job fun."
Explore JPL's summer and year-round internship programs and apply at: https://www.jpl.nasa.gov/edu/intern
The laboratory's STEM internship and fellowship programs are managed by the JPL Education Office. Extending the NASA Office of Education's reach, JPL Education seeks to create the next generation of scientists, engineers, technologists and space explorers by supporting educators and bringing the excitement of NASA missions and science to learners of all ages.
TAGS: Intern, Mars 2020, Europa, Cassini, Titan, Science, Engineering, Missions
---
Update – Feb. 24, 2017: The deadline for the Cassini Scientist for a Day Essay Contest has passed. The winners will be announced in May 2017.
---
In the News
Next week, NASA's Cassini spacecraft will go where no spacecraft has gone before when it flies just past the edge of Saturn's main rings. The maneuver is a first for the spacecraft, which has spent more than 12 years orbiting the ringed giant planet. And it's part of a lead-up to a series of increasingly awesome feats that make up the mission's "Grand Finale" ending with Cassini's plunge into Saturn on Sept. 15, 2017.
How They'll Do It
To prepare for the so-called "ring-grazing orbits," which will bring the spacecraft within 56,000 miles (90,000 km) of Saturn, Cassini engineers have been slowly adjusting the spacecraft's orbit since January. They do this by flying Cassini near Saturn's large moon Titan. The moon's gravity pulls on the spacecraft, changing its direction and speed.
On November 29, Cassini will use a big gravitational pull from Titan to get into an orbit that is closer to perpendicular with respect to the rings of Saturn and its equator. This orbit will send the spacecraft slightly higher above and below Saturn's north and south poles, and allow it to get as close as the outer edge of the main rings – a region as of yet unexplored by Cassini.
Why It's Important
Cassini's ring-grazing orbits will allow scientists to see features in Saturn's rings, up close, that they've only been able to observe from afar. The spacecraft will get so close to the rings, in fact, that it will pass through the dusty edges of the F ring, Saturn's narrow, outermost ring. At that distance, Cassini will be able to study the rings like never before.
Among the firsts will be a "taste test" of Saturn's rings from the inside out, during which Cassini will sample the faint gases surrounding the rings as well as the particles that make up the F ring. Cassini will also capture some of the best high-resolution images of the rings, and our best views of the small moons Atlas, Pan, Daphnis and Pandora, which orbit near the rings' outer edges. Finally, the spacecraft will do reconnaissance work needed to safely carry out its next planned maneuver in April 2017, when Cassini is scheduled to fly through the 1,500-mile (2,350-kilometer) gap between Saturn and its rings.
› Read more about what we might learn from Cassini's ring-grazing orbits.
These orbits are a great example of scientific research in action. Much of what scientists will be seeing in detail during these ring-grazing orbits are features that, despite Cassini's 12 years at Saturn, have remained a mystery. These new perspectives could help answer questions scientists have long puzzled over, but they will also certainly lead to new questions to add to our ongoing exploration of the ringed giant.
Teach It
What better way to share in the excitement of Cassini's exploration than to get students thinking like NASA scientists and writing about their own questions and curiosities?
NASA's Cassini Scientist for a Day Essay Contest, open to students in grades 5-12, encourages students to do just that. Participants research three science and imaging targets and then write an essay on which target would provide the most interesting scientific results, explaining what they hope to learn from the selected target. Winners of the contest will be featured on NASA's Solar System Exploration website and get an opportunity to speak with Cassini scientists and engineers via video conference in the spring.
More information, contest rules and videos can be found here.
The deadline to enter is Feb. 24, 2017.
Explore More
TAGS: Cassini, Saturn's Rings, Saturn, Grand Finale, Spacecraft, Missions, K-12, Lessons, Activities, Language Arts, Science, Essay Contest
---
In the News
Saturn's icy moon Enceladus has been making news lately, and it could make even bigger news soon! In September, scientists confirmed that there was a global ocean underneath Enceladus' thick icy shell. That was just the latest in a long history of exciting finds dating back to the beginning of NASA's Cassini-Huygens Mission to Saturn in 2004 that have helped scientists to better understand this fascinating world!
Even while Cassini was still on its way to Saturn, its Cosmic Dust Analyzer detected microscopic grains of silica (tiny grains of sand). On Earth, grains of silica similar in size to those detected near Saturn form when hydrothermal activity -- the processes involving heated water beneath Earth's surface or ocean -- causes salty water to chemically interact with rocky material to form silica. But where were these grains coming from in the space around Saturn?
In 2005, scientists were surprised to find out that Enceladus' south pole is both warmer than expected and warmer than the surrounding areas, suggesting there is a heat source inside Enceladus. Not only that, but they also discovered long parallel cracks in the ice on Enceladus' south pole. The young age of these cracks, nicknamed Tiger Stripes, meant that Saturn's icy moon is a geologically active place.
Another piece of this puzzle was put in place with the discovery of jets of material spraying out of the Tiger Stripes. Studies have shown these jets are composed of mostly of water vapor, tiny ice particles and small amounts of other material (for example, microscopic silica grains). Together, over 100 jets make up a feature called a plume. Investigating further, scientists have hypothesized that these silica grains are the result of hydrothermal activity on the ocean floor below Enceladus' icy crust.
On October 28, Cassini will fly right through the plume jetting out of Enceladus' south pole at an altitude of only 49 kilometers (30 miles) – closer than any previous passes directly through the plume! This is an exciting moment in the mission -- one that allows science teams to use a combination of tools on board the spacecraft to strengthen previous findings and potentially make new discoveries.
---

UPDATE - March 17, 2014: The pi challenge answer key is now available for download.
---
In honor of everyone's favorite mathematical holiday, Pi Day, which celebrates the mathematical constant 3.14 on March 14, NASA/JPL Edu has crafted a set of stellar middle- and high-school math problems to show students that pi is more than just a fancy number.
Pi is all over our skies! It helps power our spacecraft, keeps our Mars rovers' wheels spinning, lets us peer beneath the clouds on Jupiter and gives us new perspectives on Earth. Take part in the fun and see if your classroom can solve some of the same problems that real NASA scientists and engineers do.
Each pi-filled word problem gets a graphic treatment in this printable infographic (available in both poster-size and 8.5-by-11 handouts) that helps students visualize the steps they need to get to a solution. A companion answer key is also available below and walks students through each step of the solutions. It can be printed on the back of the problem-set infographic for an educational classroom poster.
"Pi in the Sky" Downloads:
---
There are certain people in life that exude such enthusiasm and passion, that you are helpless to escape their tractor beam of positivity. This summer, during my second internship at NASA's Jet Propulsion Laboratory in Pasadena, Calif., I was fortunate enough to meet and befriend just that kind of person. Todd Barber has such passion and talent for exploring and doing what humans do best: pushing the boundaries of what humankind is capable of. As the lead propulsion engineer for the Cassini spacecraft, he was at the controls for the tricky insertion of the spacecraft into Saturn's orbit and recently was at the helm for the cruise stage of the Mars Science Laboratory's Curiosity rover during its "seven minutes of terror" descent through the Martian atmosphere. As if that's not interesting enough, during his free time, he goes on math-based adventures, inspires students through NASA outreach activities and plays in at least two jazz bands. I caught up with Todd just days before he helped successfully land NASA's Curiosity rover on Mars to learn a bit about his path to success and how he inspires others.
How did you get to be the lead propulsion engineer for Cassini, one of my personal favorite missions?
"I started here 22 years ago. Often when they bring you in, they put you on mission operations, flying something, because you get to interface with all the other sub-system engineers and what they do, including thermal, power, communications, propulsion, essentially a boot camp. I started at JPL on the Galileo mission, doing mission ops. I loved mission ops so much, and I had a penchant for ops work. I think I'm a planetary science geek. The Voyager missions are what grabbed me. My way to contribute to planetary science is by being a propulsion engineer. I didn't know what missions I'd work on after Galileo, and luckily a Cassini engineer moved on. Six months before launch, they sought me out, and I've been on Cassini ever since. I get to work on other missions part-time, including the Mars Exploration Rovers, Deep Impact and a Mars airplane study."
"The Cassini job opened up, and my mentor, Dick Cowley, was the lead propulsion engineer at the time, but near retirement. He worked on Apollo -- the F1 engine -- so this guy was the propulsion guru. I picked his brain every day until he retired, and then one day, he said, 'I think it's time we make you the lead propulsion engineer.' This was a couple years before Saturn orbit insertion, and I had the privilege of presenting to the review boards, getting barbecued at the flight reviews. But all went smoothly and we had a marvelous orbit insertion, and now the Cassini spacecraft is still sending amazing images and data home every day. I like to say that if everything goes well, I'll be 51 years old after these missions and wonder what I'll do when I grow up, because I've been having so much fun on these outer planet missions!"
What exactly does a lead propulsion engineer for Cassini do?
"I am responsible for the health and safety of the propulsion system. We are like 'space plumbers.' All the engines, regulators, tanks, valves, we are responsible for all these systems. The Cassini propulsion system is the most complex propulsion system ever flown by JPL. It's a plumber's nightmare! My job also includes figuring out the gas mileage of the spacecraft -- bean counting the propellant, if you will -- and that is getting very important now as our monopropellant gas tank on the spacecraft is half full. (I'm an optimist.)"
What happens to Cassini when it runs out of its propellant?
"At the end of the mission, we will cross inside Saturn's rings, getting views and pictures we've never seen before, and then go out in a blaze of glory. On September 15, 2017, Cassini will be crushed and vaporized by Saturn's atmosphere."
Why not save the spacecraft?
"Actually, it's for astrobiological reasons. We would never want to accidently crash the spacecraft into Enceladus or Titan, two of Saturn's moons, and possibly contaminate them. Even though it's hard to imagine 'hearty spores' could have hitched a ride on the spacecraft from Earth that are just waiting for liquid water, we would never want that to happen before we can answer the most fundamental question, 'Did indigenous life start on its own?' It's called 'forward planetary protection.' The opposite is true as well, which is called 'backward planetary protection,' where if you bring things back to Earth from other planets, you would never want to bring back something that could wipe out humanity. We want to be as careful as we can."
Do you have to dodge asteroid belts, space junk, etc.?
"Yes. We have to worry about Saturn's ring plane, made up of dust and small particles. The rings are very thin, like a phonograph record, but huge across. There's a ton of dust and particles that make up the rings, and sometimes we have to turn the spacecraft around with the antenna facing forward, which acts as a giant dust shield. The dust can damage the engines, so we built a dust cover similar to a baby stroller sun shield that folds down. We've had to use it 70 times on the mission, and the engine is still working great! Our engine has a wonderful heritage, as it was the same reaction control thruster that carried Neil Armstrong and Buzz Aldrin on Apollo!"
Where do you think we should explore next?
"Well, I love the outer planets, I would love to work a Neptune orbiter and would love to go to Saturn's moons Titan and Enceladus, or Jupiter's moon Europa. There are very complex propulsion trajectories to get there, but the payoff could be huge!"
Were you an intern before you worked here at JPL?
"No, I was not. I actually interviewed here three times and got turned down twice. The third time was a charm. After getting turned down the first time after getting my undergrad in aerospace engineering, I went back and got my masters in aerospace engineering at MIT, and then I got my dream job. I remember the summer of my 8th grade year, I saw a National Geographic with the Voyager spacecraft flying by Jupiter and Saturn and was hooked. I said, 'I have to work there at JPL!'"
I know that you are very involved with NASA's educational outreach and are constantly inspiring and trying to get kids involved with NASA and JPL. What do you feel is the most vital thing we need to tell young people today to get them inspired?
"Well, I think the most vital thing is showing them that math and science are cool. Math and science are not generally thought of as cool, but when you see math and science in action at NASA, it's the coolest -- especially during our missions such as the Mars Science Laboratory. For the U.S. to stay competitive, I think we really need to focus on new innovation, for that's what made this country great!"
"I've had strange hobbies that have helped me apply math and science. One of my hobbies is 'confluence hunting,' basically geeks with GPS devices trying to find and visit integer (whole counting numbers) latitude and longitude intersections [across the globe]. There are 850 confluence points in the continental United States, and I visited 17 of the last 50. They gave me the nickname 'The Closer' on the website."
Do you think innovation is a learned trait, or something people are just naturally good at?
"I'm here because of great teachers. I'm the first to sing the praises of teachers who got me fired me up about math and science. I went to public schools and got really lucky that my teachers were world class and fired up on math and science, and I'm still in touch with them. They follow all my missions and tell the kids that I was once a former student of theirs and to shoot for the stars."
"I had two dreams as a kid, to work for NASA, and to compose music. I'm so happy that they both came true, and I feel like I have an explorer's spirit, and need to share that with others."
Speaking of music, I hear that you are in a Jazz band called "The Big Band Theory," and that you have a minor from MIT in music? Well, I play the classical violin, and I was wondering if we could jam sometime?
"Haha, absolutely! I'm in two bands, The Big Band Theory and The Jazz Propulsion Band, and I'm always playing music. Let's make that happen!"
TAGS: Todd Barber, Propulsion, Engineering, Cassini, Math