---
Fifty years ago this week, the Apollo 11 astronauts launched on their history-making mission. Saturday, July 20, is the anniversary of that first landing of humans on the Moon; a great milestone to reflect on, as well as an opportunity to look ahead. Read on for some of the ways you can celebrate and learn with NASA!
Go Places
It's not just science centers that are celebrating the 50th anniversary of humans landing on the Moon. There are events taking place worldwide at libraries, concert halls, baseball stadiums, National Parks, art museums, and on city streets. Find anniversary events near you with this searchable map and calendar.
Do Things
This collection of hands-on activities for all ages will have you throwing water balloons to learn about craters on the Moon, helping actual NASA scientists by mapping the Moon from your own computer, building a model of the Earth-Moon system and seeing what it takes to investigate strange new planets. You can even make your own lunar spacecraft.
The Forward to the Moon With Artemis activity book is a fun way to learn about the Apollo mission that first put people on the Moon and what's in store for the future. Also, check out these hands-on activities, building challenges and online games!
Focus On the Moon
Love observing the Moon and the rest of the night sky? The Night Sky Network will help you find local astronomy clubs and events. Save the date for International Observe the Moon Night, October 5. If you're clouded out, you can always make your own Moon to enjoy!
Watch These
NASA TV has a full lineup of Apollo programming. On July 19 at 3 p.m. (EDT), you can watch STEM Forward to the Moon. The half-hour show will feature students enacting simulations of a return to the Moon with NASA's Artemis program. The accompanying Educator's Guide has all you need to try the activities from the show at home or in the classroom.
Also fun to watch are vintage recordings from the Apollo program, as well as archived lectures and the kid-friendly "STEM in 30" video series from the National Air And Space Museum.
Get Social
Join NASA and educational centers nationwide to build a virtual mission to the Moon on July 18. Follow #VirtualMoonshot on Instagram, Facebook and Twitter to take part – or follow along with a host center near you.
Finally, if you've wondered what it would have been like to have social media 50 years ago, be sure to follow Relive Apollo 11 for tweets that tell the story of the mission in real time, starting with its July 16 launch!
Explore More
TAGS: Apollo 50th, Events, Activities, Education, STEM, Science, Museums,
---
In the News
This summer, a global dust storm encircled Mars, blocking much of the vital solar energy that NASA's Opportunity rover needs to survive. After months of listening for a signal, the agency has declared that the longest-lived rover to explore Mars has come to the end of its mission. Originally slated for a three-month mission, the Opportunity rover lived a whopping 14.5 years on Mars. Opportunity beat the odds many times while exploring the Red Planet, returning an abundance of scientific data that paved the way for future exploration.
Scientists and engineers are celebrating this unprecedented mission success, still analyzing data collected during the past decade and a half and applying lessons learned to the design of future spacecraft. For teachers, this historic mission provides lessons in engineering design, troubleshooting and scientific discovery.
How They Did It
Launched in 2003 and landed in early 2004, the twin Mars Exploration Rovers, Spirit and Opportunity, were the second spacecraft of their kind to land on our neighboring planet.
Preceded by the small Sojourner rover in 1997, Spirit and Opportunity were substantially larger, weighing about 400 pounds, or 185 kilograms, on Earth (150 pounds, or 70 kilograms, on Mars) and standing about 5 feet tall. The solar-powered rovers were designed for a mission lasting 90 sols, or Mars days, during which they would look for evidence of water on the seemingly barren planet.
Dust in the Wind
Scientists and engineers always hope a spacecraft will outlive its designed lifetime, and the Mars Exploration Rovers did not disappoint. Engineers at NASA's Jet Propulsion Laboratory in Pasadena, California, expected the lifetime of these sun-powered robots to be limited by dust accumulating on the rovers' solar panels. As expected, power input to the rovers slowly decreased as dust settled on the panels and blocked some of the incoming sunlight. However, the panels were "cleaned" accidentally when seasonal winds blew off the dust. Several times during the mission, power levels were restored to pre-dusty conditions. Because of these events, the rovers were able to continue their exploration much longer than expected with enough power to continue running all of their instruments.
Terrestrial Twin
To troubleshoot and overcome challenges during the rovers' long mission, engineers would perform tests on a duplicate model of the spacecraft, which remained on Earth for just this purpose. One such instance was in 2005, when Opportunity got stuck in the sand. Its right front wheel dug into loose sand, reaching to just below its axle. Engineers and scientists worked for five weeks to free Opportunity, first using images and spectroscopy obtained by the rover's instruments to recreate the sand trap on Earth and then placing the test rover in the exact same position as Opportunity. The team eventually found a way to get the test rover out of the sand trap. Engineers tested their commands repeatedly with consistent results, giving them confidence in their solution. The same commands were relayed to Opportunity through NASA's Deep Space Network, and the patient rover turned its stuck wheel just the right amount and backed out of the trap that had ensnared it for over a month, enabling the mission to continue.
A few years later, in 2009, Spirit wasn't as lucky. Having already sustained some wheel problems, Spirit got stuck on a slope in a position that would not be favorable for the Martian winter. Engineers were not able to free Spirit before winter took hold, denying the rover adequate sunlight for power. Its mission officially ended in 2011. Meanwhile, despite a troubled shoulder joint on its robotic arm that first started showing wear in 2006, Opportunity continued exploring the Red Planet. It wasn't until a dust storm completely enveloped Mars in the summer of 2018 that Opportunity finally succumbed to the elements.
The Final Act
Dust storm season on Mars can be treacherous for solar-powered rovers because if they are in the path of the dust storm, their access to sunlight can be obstructed for months on end, longer than their batteries can sustain them. Though several dust storms occurred on Mars during the reign of the Mars Exploration Rovers, 2018 brought a large, thick dust storm that covered the entire globe and shrouded Opportunity's access to sunlight for four months. Only the caldera of Olympus Mons, the largest known volcano in the solar system, peeked out above the dust.
The transparency or "thickness" of the dust in Mars' atmosphere is denoted by the Greek letter tau. The higher the tau, the less sunlight is available to charge a surface spacecraft's batteries. An average tau for Opportunity's location is 0.5. The tau at the peak of the 2018 dust storm was 10.8. This thick dust was imaged and measured by the Curiosity Mars rover on the opposite side of the planet. (Curiosity is powered by a radioisotope thermoelectric generator.)
Since the last communication with Opportunity on June 10, 2018, NASA has sent more than 1,000 commands to the rover that have gone unanswered. Each of these commands was an attempt to get Opportunity to send back a signal saying it was alive. A last-ditch effort to reset the rover's mission clock was met with silence.
Why It's Important
The Mars Exploration Rovers were designed to give a human-height perspective of Mars, using panoramic cameras approximately 5 feet off the surface, while their science instruments investigated Mars' surface geology for signs of water. Spirit and Opportunity returned more than 340,000 raw images conveying the beauty of Mars and leading to scientific discoveries. The rovers brought Mars into classrooms and living rooms around the world. From curious geologic formations to dune fields, dust devils and even their own tracks on the surface of the Red Planet, the rovers showed us Mars in a way we had never seen it before.
The rovers discovered that Mars was once a warmer, wetter world than it is today and was potentially able to support microbial life. Opportunity landed in a crater and almost immediately discovered deposits of hematite, which is a mineral known to typically form in the presence of water. During its travels across the Mars surface, Spirit found rocks rich in magnesium and iron carbonates that likely formed when Mars was warm and wet, and sustained a near-neutral pH environment hospitable to life. At one point, while dragging its malfunctioning wheel, Spirit excavated 90 percent pure silica lurking just below the sandy surface. On Earth, this sort of silica usually exists in hot springs or hot steam vents, where life as we know it often finds a happy home. Later in its mission, near the rim of Endeavor crater, Opportunity found bright-colored veins of gypsum in the rocks. These veins likely formed when water flowed through underground fractures in the rocks, leaving calcium behind. All of these discoveries lead scientists to believe that Mars was once more hospitable to life than it is today, and they laid the groundwork for future exploration.
Imagery from the Mars Reconnaissance Orbiter and Mars Odyssey, both orbiting the Red Planet, has been combined with surface views and data from the Mars Exploration Rovers for an unprecedented understanding of the planet's geology and environment.
Not only did Spirit and Opportunity add to our understanding of Mars, but also the rovers set the stage for future exploration. Following in their tracks, the Curiosity rover landed in 2012 and is still active, investigating the planet's surface chemistry and geology, and confirming the presence of past water. Launching in 2020 is the next Mars rover, currently named Mars 2020. Mars 2020 will be able to analyze soil samples for signs of past microbial life. It will carry a drill that can collect samples of interesting rocks and soils, and set them aside in a cache on the surface of Mars. In the future, those samples could be retrieved and returned to Earth by another mission. Mars 2020 will also do preliminary research for future human missions to the Red Planet, including testing a method of producing oxygen from Mars' atmosphere.
It's thanks to three generations of surface-exploring rovers coupled with the knowledge obtained by orbiters and stationary landers that we have a deeper understanding of the Red Planet's geologic history and can continue to explore Mars in new and exciting ways.
Teach It
Use these standards-aligned lessons and related activities to get students doing engineering, troubleshooting and scientific discovery just like NASA scientists and engineers!
Explore More
Try these related resources for students from NASA's Space Place
TAGS: K-12 Education, Teachers, Educators, Students, Opportunity, Mars rover, Rovers, Mars, Lessons, Activities, Missions
---
In the News
The Voyager 2 spacecraft, launched in 1977, has reached interstellar space, a region beyond the heliosphere – the protective bubble of particles and magnetic fields created by the Sun – where the only other human-made object is its twin, Voyager 1.
The achievement means new opportunities for scientists to study this mysterious region. And for educators, it's a chance to get students exploring the scale and anatomy of our solar system, plus the engineering and math required for such an epic journey.
How They Did It
Launched just 16 days apart, Voyager 1 and Voyager 2 were designed to take advantage of a rare alignment of the outer planets that only occurs once every 176 years. Their trajectory took them by the outer planets, where they captured never-before-seen images. They were also able to steal a little momentum from Jupiter and Saturn that helped send them on a path toward interstellar space. This "gravity assist" gave the spacecraft a velocity boost without expending any fuel. Though both spacecraft were destined for interstellar space, they followed slightly different trajectories.
Voyager 1 followed a path that enabled it to fly by Jupiter in 1979, discovering the gas giant's rings. It continued on for a 1980 close encounter with Saturn's moon Titan before a gravity assist from Saturn hurled it above the plane of the solar system and out toward interstellar space. After Voyager 2 visited Jupiter in 1979 and Saturn in 1981, it continued on to encounter Uranus in 1986, where it obtained another assist. Its last planetary visit before heading out of the solar system was Neptune in 1989, where the gas giant's gravity sent the probe in a southward direction toward interstellar space. Since the end of its prime mission at Neptune, Voyager 2 has been using its onboard instruments to continue sensing the environment around it, communicating data back to scientists on Earth. It was this data that scientists used to determine Voyager 2 had entered interstellar space.
How We Know
Interstellar space, the region between the stars, is beyond the influence of the solar wind, charged particles emanating from the Sun, and before the influence of the stellar wind of another star. One hint that Voyager 2 was nearing interstellar space came in late August when the Cosmic Ray Subsystem, an instrument that measures cosmic rays coming from the Sun and galactic cosmic rays coming from outside our solar system, measured an increase in galactic cosmic rays hitting the spacecraft. Then on November 5, the instrument detected a sharp decrease in high energy particles from the Sun. That downward trend continued over the following weeks.
The data from the cosmic ray instrument provided strong evidence that Voyager 2 had entered interstellar space because its twin had returned similar data when it crossed the boundary of the heliosheath. But the most compelling evidence came from its Plasma Science Experiment – an instrument that had stopped working on Voyager 1 in 1980. Until recently, the space surrounding Voyager 2 was filled mostly with plasma flowing out from our Sun. This outflow, called the solar wind, creates a bubble, the heliosphere, that envelopes all the planets in our solar system. Voyager 2's Plasma Science Experiment can detect the speed, density, temperature, pressure and flux of that solar wind. On the same day that the spacecraft's cosmic ray instrument detected a steep decline in the number of solar energetic particles, the plasma science instrument observed a decline in the speed of the solar wind. Since that date, the plasma instrument has observed no solar wind flow in the environment around Voyager 2, which makes mission scientists confident the probe has entered interstellar space.
Though the spacecraft have left the heliosphere, Voyager 1 and Voyager 2 have not yet left the solar system, and won't be leaving anytime soon. The boundary of the solar system is considered to be beyond the outer edge of the Oort Cloud, a collection of small objects that are still under the influence of the Sun's gravity. The width of the Oort Cloud is not known precisely, but it is estimated to begin at about 1,000 astronomical units from the Sun and extend to about 100,000 AU. (One astronomical unit, or AU, is the distance from the Sun to Earth.) It will take about 300 years for Voyager 2 to reach the inner edge of the Oort Cloud and possibly 30,000 years to fly beyond it. By that time, both Voyager spacecraft will be completely out of the hydrazine fuel used to point them toward Earth (to send and receive data) and their power sources will have decayed beyond their usable lifetime.
Why It's Important
Since the Voyager spacecraft launched more than 40 years ago, no other NASA missions have encountered as many planets (some of which had never been visited) and continued making science observations from such great distances. Other spacecraft, such as New Horizons and Pioneer 10 and 11, will eventually make it to interstellar space, but we will have no data from them to confirm their arrival or explore the region because their instruments already have or will have shut off by then.
Interstellar space is a region that's still mysterious because until 2012, when Voyager 1 arrived there, no spacecraft had visited it. Now, data from Voyager 2 will help add to scientists' growing understanding of the region. Scientists are hoping to continue using Voyager 2's plasma science instrument to study the properties of the ionized gases, or plasma, that exist in the interstellar medium by making direct measurements of the plasma density and temperature. This new data may shed more light on the evolution of our solar neighborhood and will most certainly provide a window into the exciting unexplored region of interstellar space, improving our understanding of space and our place in it.
As power wanes on Voyager 2, scientists will have to make tough choices about which instruments to keep turned on. Further complicating the situation is the freezing cold temperature at which the spacecraft is currently operating – perilously close to the freezing point of its hydrazine fuel. But for as long as both Voyager spacecraft are able to maintain power and communication, we will continue to learn about the uncharted territory of interstellar space.
Teach It
Use these standards-aligned lessons and related activities to get students doing math and science with a real-world (and space!) connection.
Explore More
TAGS: Teachers, Educators, Science, Engineering, Technology, Solar System, Voyager, Spacecraft, Educator Resources, Lessons, Activities
---
In the News
A spacecraft designed to study seismic activity on Mars, or "marsquakes," is scheduled to lift off on a nearly seven-month journey to the Red Planet on May 5, 2018.
NASA's InSight Mars lander is designed to get the first in-depth look at the "heart" of Mars: its crust, mantle and core. In other words, it will be the Red Planet's first thorough checkup since it formed 4.5 billion years ago. The launch, from Vandenberg Air Force Base in Central California, also marks a first: It will be the first time a spacecraft bound for another planet lifts off from the West Coast. It's a great opportunity to get students excited about the science and math used to launch rockets and explore other planets.
How It Works
NASA usually launches interplanetary spacecraft from the East Coast, at Cape Canaveral in Florida, to provide them with a momentum boost from Earth's easterly rotation. It's similar to how running in the direction you are throwing a ball can provide a momentum boost to the ball. If a spacecraft is launched without that extra earthly boost, the difference must be made up by the rocket engine. Since InSight is a small, lightweight spacecraft, its rocket can easily accommodate getting it into orbit without the help of Earth's momentum.
Scheduled to launch no earlier than 4:05 a.m. PDT on May 5, InSight will travel aboard an Atlas V 401 launch vehicle on a southerly trajectory over the Pacific Ocean. (Here's how to watch the launch in person or online.) If the weather is bad or there are any mechanical delays, InSight can launch the next day. In fact, InSight can launch any day between May 5 and June 8, a time span known as a launch period, which has multiple launch opportunities during a two-hour launch window each day.
Regardless of the date when InSight launches, its landing on Mars is planned for November 26, 2018, around noon PST. Mission controllers can account for the difference in planetary location between the beginning of the launch window and the end by varying the amount of time InSight spends in what's called a parking orbit. A parking orbit is a temporary orbit that a spacecraft can enter before moving to its final orbit or trajectory. For InSight, the Atlas V 401 will boost the spacecraft into a parking orbit where it will coast for a while to get into proper position for an engine burn that will send it toward Mars. The parking orbit will last 59 to 66 minutes, depending on the date and time of the launch.
Why It's Important
Previous missions to Mars have investigated the history of the Red Planet's surface by examining features like canyons, volcanoes, rocks and soil. However, many important details about the planet's formation can only be found by studying the planet's interior, far below the surface. And to do that, you need specialized instruments and sensors like those found on InSight.
The InSight mission, designed to operate for one Mars year (approximately two Earth years), will use its suite of instruments to investigate the interior of Mars and uncover how a rocky body forms and becomes a planet. Scientists hope to learn the size of Mars' core, what it's made of and whether it's liquid or solid. InSight will also study the thickness and structure of Mars' crust, the structure and composition of the mantle and the temperature of the planet's interior. And a seismometer will determine how often Mars experiences tectonic activity, known as "marsquakes," and meteorite impacts.
Together, the instruments will measure Mars' vital signs: its "pulse" (seismology), "temperature" (heat flow), and "reflexes" (wobble). Here's how they work: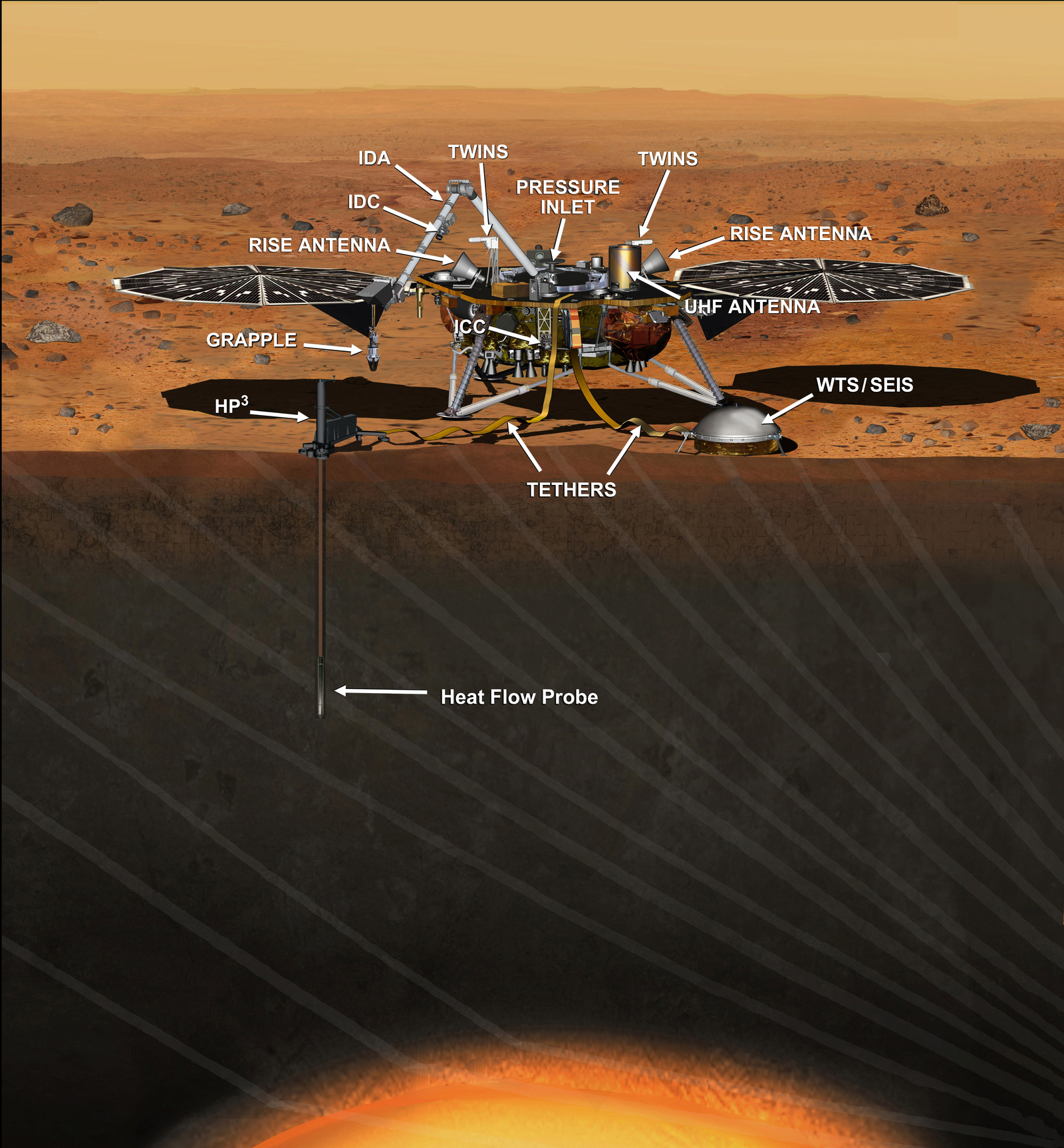 InSight's seismometer is called SEIS, or the Seismic Experiment for Interior Structure. By measuring seismic vibrations across Mars, it will provide a glimpse into the planet's internal activity. The volleyball-size instrument will sit on the Martian surface and wait patiently to sense the seismic waves from marsquakes and meteorite impacts. These measurements can tell scientists about the arrangement of different materials inside Mars and how the rocky planets of the solar system first formed. The seismometer may even be able to tell us if there's liquid water or rising columns of hot magma from active volcanoes underneath the Martian surface.
The Heat Flow and Physical Properties Probe, HP3 for short, burrows down almost 16 feet (five meters) into Mars' surface. That's deeper than any previous spacecraft arms, scoops, drills or probes have gone before. Like studying the heat leaving a car engine, HP3 will measure the heat coming from Mars' interior to reveal how much heat is flowing out and what the source of the heat is. This will help scientists determine whether Mars formed from the same material as Earth and the Moon, and will give them a sneak peek into how the planet evolved.
InSight's Rotation and Interior Structure Experiment, or RISE, instrument tracks tiny variations in the location of the lander. Even though InSight is stationary on the planet, its position in space will wobble slightly with Mars itself, as the planet spins on its axis. Scientists can use what they learn about the Red Planet's wobble to determine the size of Mars' iron-rich core, whether the core is liquid, and which other elements, besides iron, may be present.
When InSight lifts off, along for the ride in the rocket will be two briefcase-size satellites, or CubeSats, known as MarCO, or Mars Cube One. They will take their own path to Mars behind InSight, arriving in time for landing. If all goes as planned, as InSight enters the Martian atmosphere, MarCO will relay data to Earth about entry, descent and landing operations, potentially faster than ever before. InSight will also transmit data to Earth the way previous Mars spacecraft have, by using NASA's Mars Reconnaissance Orbiter as a relay. MarCO will be the first test of CubeSat technology at another planet, and if successful, it could provide a new way to communicate with spacecraft in the future, providing news of a safe landing – or any potential problems – sooner.
Thanks to the Mars rovers, landers and orbiters that have come before, scientists know that Mars has low levels of geological activity – but a lander like InSight can reveal what might be lurking below the surface. And InSight will give us a chance to discover more not just about the history of Mars, but also of our own planet's formation.
Teach It
When launching to another planet, we want to take the most efficient route, using the least amount of rocket fuel possible. To take this path, we must launch during a specific window of time, called a launch window. Use this lesson in advanced algebra to estimate the launch window for the InSight lander and future Mars missions.
SEIS will record the times that marsquake surface waves arrive at the lander. Try your hand, just like NASA scientists, using these times, a little bit of algebra and the mathematical constant π to determine the timing and location of a marsquake!
Take students on a journey to Mars with this set of 19 standards-aligned STEM lessons that can be modified to fit various learning environments, including out-of-school time.
Build, test and launch your very own air-powered rocket to celebrate the first West Coast interplanetary spacecraft launch!
Explore More
Try these related resources for students from NASA's Space Place:
TAGS: InSight, Lessons, K-12, Activities, Teaching, STEM, Mars
---
In the News
This month marks the 60th anniversary of the launch of America's first satellite, Explorer 1. The small, pencil-shaped satellite did more than launch the U.S. into the Space Age. With its collection of instruments, or scientific tools, it turned space into not just a new frontier, but also a place of boundless scientific exploration that could eventually unveil secrets of new worlds – as well as the mysteries of our own planet.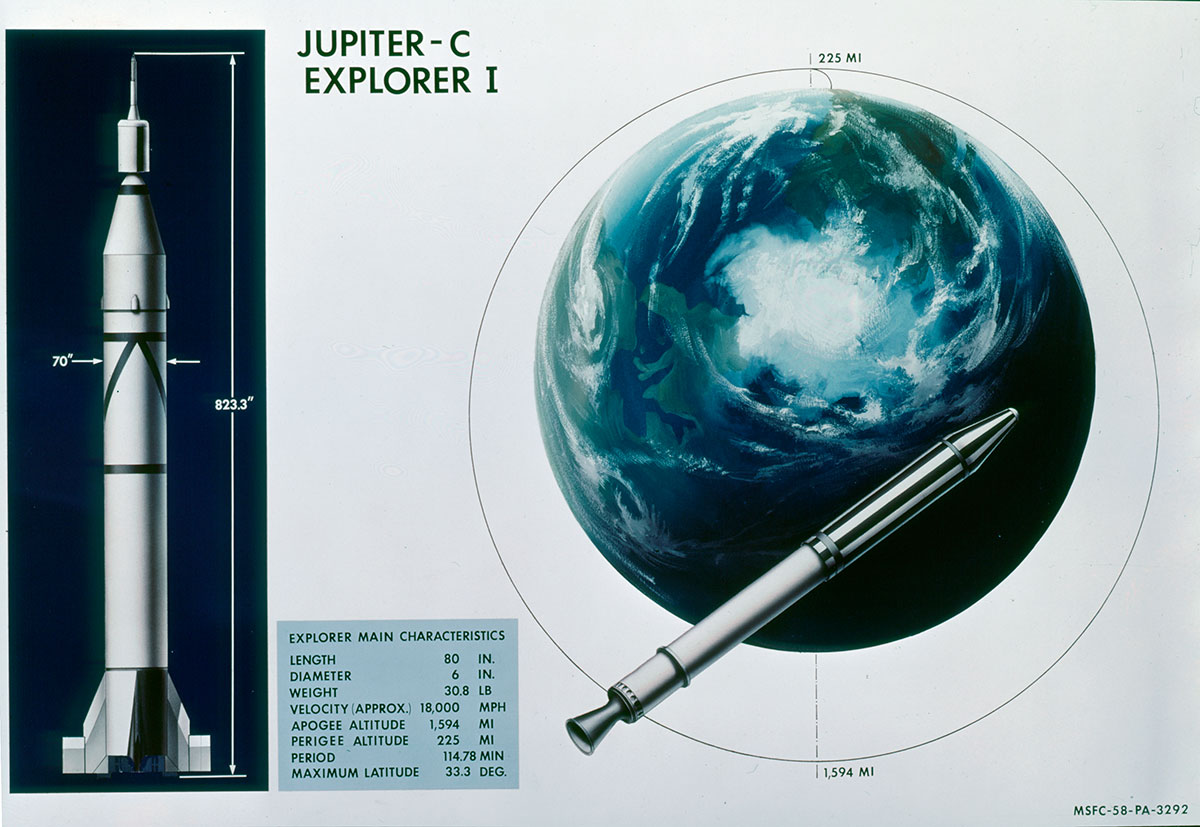 How They Did It
At the height of competition for access to space, the U.S. and the Soviet Union were both building satellites that would ride atop rockets in a quest to orbit Earth. The Soviets launched Sputnik 1 on October 4, 1957. Shortly thereafter, on January 31, 1958, the U.S. launched Explorer 1, the satellite that would begin a new age of scientific space exploration.
Using rockets to do science from orbit was a brand-new option in the late 1950s. Before this time, rockets had only been used for military operations and atmospheric research. Still, rockets of that era weren't very reliable and none had been powerful enough to place an object into Earth orbit.
Rocket Activities
Explore our collection of standards-aligned lessons for grades K-9.
In order to lift Explorer 1 to its destination in Earth orbit, an existing U.S. Army rocket, the Jupiter C, was fitted with a fourth stage, provided by the Jet Propulsion Laboratory in Pasadena, California. For this stage, a rocket motor was integrated into the satellite itself. The new, four-stage rocket was called "Juno 1."
Prior to these first orbiting observatories, everything we knew about space and Earth came from Earth-based observation platforms – sensors and telescopes – and a few atmospheric sounding rockets. With the success of Explorer 1 and the subsequent development of more powerful rockets, we have been able to send satellites beyond Earth orbit to explore planets, moons, asteroids and even our Sun. With a space-based view of Earth, we are able to gain a global perspective and acquire a wide variety and amount of data at a rapid pace.
Why It's Important
The primary science instrument on Explorer 1 was a cosmic ray detector designed to measure the radiation environment in Earth orbit – in part, to understand what hazards future spacecraft (or space-faring humans) might face. Once in space, this experiment, provided by James Van Allen of the University of Iowa, revealed a much lower cosmic ray count than expected. Van Allen theorized that the instrument might have been saturated by very strong radiation from a belt of charged particles trapped in space by Earth's magnetic field. The existence of the radiation belts was confirmed over the next few months by Explorer 3, Pioneer 3 and Explorer 4. The belts became known as the Van Allen radiation belts in honor of their discoverer.
Although we discovered and learned a bit about the Van Allen belts with the Explorer missions, they remain a source of scientific interest. The radiation belts are two (or more) donut-shaped regions encircling Earth, where high-energy particles, mostly electrons and ions, are trapped by Earth's magnetic field. The belts shrink and swell in size in response to incoming radiation from the Sun. They protect Earth from incoming high-energy particles, but this trapped radiation can affect the performance and reliability of our technologies, such as cellphone communication, and pose a threat to astronauts and spacecraft. It's not safe to spend a lot of time inside the Van Allen radiation belts.
Most spacecraft are not designed to withstand high levels of particle radiation and wouldn't last a day in the Van Allen belts. As a result, most spacecraft travel quickly through the belts toward their destinations, and non-essential instruments are turned off for protection during this brief time.
To conquer the challenge of extreme radiation in the belts while continuing the science begun by Explorer 1, NASA launched a pair of radiation-shielded satellites, the Van Allen Probes, in 2012. (The rocket that carried the Van Allen Probes into space was more than twice as tall as the rocket that carried Explorer 1 to orbit!)
The Van Allen Probes carry identical instruments and orbit Earth, following one another in highly elliptical, nearly identical orbits. These orbits bring the probes as close as about 300 miles (500 kilometers) above Earth's surface, and take them as far out as about 19,420 miles (31,250 kilometers), traveling through diverse areas of the belts. By comparing observations from both spacecraft, scientists can distinguish between events that occur simultaneously throughout the belts, those that happen at only a single point in space, and those that move from one point to another over time.
The Van Allen Probes carry on the work begun by Explorer 1 and, like all successful space missions, are providing answers as well as provoking more questions. NASA continues to explore Earth and space using spacecraft launched aboard a variety of rockets designed to place these observatories in just the right spots to return data that will answer and inspire questions for years to come.
Teach It
Explore More
TAGS: Explorer 1, STEM, NASA in the Classroom, Lessons, Activities, Teachable Moments
---
Featured Lesson: How to Read a Heat Map
Students learn to read, interpret and compare "heat maps" representing Earth science data.
LoriAnn Pawlik recently shared her NASA-inspired lesson during a professional development workshop hosted by the agency. LoriAnn teaches STEM to grades K-5 at Penn Elementary School in Prince William County, Virginia, which focuses on students learning English, as well as those with learning disorders and autism. When she recently came across a lesson on the NASA/JPL Edu website, she saw an opportunity to bring real-world NASA data to her students.
How do you use NASA in the classroom?
Using the lesson "How to Read a Heat Map" as a jumping-off point, LoriAnn had her students first dive into the practice of reading and interpreting graphs. From here, she extended the lesson with an exploration of NASA satellites and the data they collect, focusing on the Gravity Recovery And Climate Experiment, or GRACE mission, to tie in with a community science night on water science.
GRACE was launched in 2002 to track changes in the distribution of liquid water, ice and land masses on Earth by measuring changes in the planet's gravity field every 30 days. Circling Earth 16 times each day, GRACE spent more than 15 years collecting data – all of which is available online – before its science mission ended last October. The mission provided students the perfect context to study climate and water through authentic NASA data.
How did students react to the lesson?
LoriAnn set the stage for her students by explaining to them that they would be providing their data to NASA scientists.
"I told them that I was working on a project for a scientist from NASA-JPL and that we needed their help," she said via email. "By the time I gave them the background and showed a brief GRACE video, they were all in – excited, eager enthusiastic! It helped that each table, or 'engineering group,' was responsible for a different U.S. state."
As a result, students were able to plot the changes in gravitational fields for multiple locations over several years.
What are other ways you use NASA lessons or resources?
By extending the lesson, LoriAnn gave her students a sense of authentic ownership of the data and practice in real scientific analysis. But it wasn't her first time uniting NASA science with her school curriculum:
"I'd been working with our second-graders on field studies of habitats," LoriAnn explained. "We observed, journaled and tracked the migration of monarch butterflies, discussed what happened to habitats of living things since Hurricane Harvey and Hurricane Irma were just going through, and then I used the [NASA Mars Exploration website] to have students extend the findings to space habitats."
---
Have a great idea for implementing NASA research in your class or looking to bring NASA science into your classroom? The Educator Professional Development Collaborative, or EPDC, can help. The EPDC at JPL serves educators in the greater Los Angeles area. Contact JPL education specialist Brandon Rodriguez at brandon.rodriguez@jpl.nasa.gov. Note: Due to the popularity of EPDC programs, JPL may not be able to fulfill all requests.
Outside the Southern California area? The EPDC operates in all 50 states. Find an EPDC specialist near you.
The EPDC is managed by Texas State University as part of the NASA Office of Education. A free service for K-12 educators nationwide, the EPDC connects educators with the classroom tools and resources they need to foster students' passion for careers in STEM and produce the next generation of scientists and engineers.
---
In the News
Earth Day, the day set aside each year to celebrate our planet and bring attention to the natural world, is on April 22, 2017. More than one billion people are expected to participate in Earth Day events around the globe that will draw attention to what we know about Earth, how it is changing and how we can be kind to our home planet.
One of the ways that NASA participates – not just on Earth Day, but also year-round – is by collecting and analyzing science data from sensors on Earth and satellites. These data allow us to monitor the health of our planet and better understand how and why it is changing.
Earth Day Resources for Educators
Explore our collection of standards-aligned Earth science lessons – plus this new lesson about reading NASA data visualizations and heat maps.

This year, to highlight the importance of these data, NASA is inviting people to "adopt" a portion of Earth's surface and obtain a snapshot of some of the satellite data available for their adopted location. Even though you'll have no legal or ownership rights to this region, it will be fun to learn about the various types of data available for different locations on Earth. Find out how you can participate.
How It Works
NASA's fleet of Earth-observing satellites and airborne sensors provides us with data about such vital information as carbon dioxide, carbon monoxide, global land and sea temperature, ice, sea surface salinity, and chlorophyll – just to name a few. The satellites and sensors collect these data over time and from as many perspectives as possible, allowing us to discern trends in the data.
A snapshot of data is just one piece of a much larger puzzle because it only gives us an indication of what was happening at the exact moment that data was captured. Even data collected over a year has its limitations because local conditions may ebb and flow over longer time periods. Collecting data about multiple elements of the Earth system over decades or centuries enables us to develop correlation and causation models, powerful indicators of why trends are developing as they are. And using multiple platforms (satellite, aerial, Earth-based) to measure data enables us to validate our data sets.
Why It's Important
Humans are dependent on a healthy and functioning Earth to survive, which means we need to keep a close eye on all Earth systems and our impacts on those systems. This process of collecting data over time from multiple perspectives, discerning trends and validating the data is crucial to understanding our planet and helping policymakers formulate actions we can take to preserve Earth for future generations.
Earth is a complex, dynamic system we do not fully understand. To learn more about it, NASA, as the agency with access to space, was tasked with launching the first weather satellite back in 1960. Today, NASA uses satellites, aircraft and even an occasional boat to study our planet's air, land and water. It's called "Earth System Science" and we are trying to answer some big questions: How is the global Earth system changing? What causes these changes? How will Earth change in the future? And what we learn benefits society through applications such as weather forecasting, freshwater availability and disaster response.
› Watch NASA's Earth Minute series
Teach It
First, introduce students to the kinds of data scientists use to study Earth. Participate in NASA's Adopt the Planet campaign to receive a snapshot of Earth science data for one patch of Earth. Then encourage students to dig deeper with these standards-aligned lessons:
Explore More
TAGS: Earth Day, Climate Change, Earth Science, Lessons, Activities, K-12, Teaching
---
Update – Feb. 24, 2017: The deadline for the Cassini Scientist for a Day Essay Contest has passed. The winners will be announced in May 2017.
---
In the News
Next week, NASA's Cassini spacecraft will go where no spacecraft has gone before when it flies just past the edge of Saturn's main rings. The maneuver is a first for the spacecraft, which has spent more than 12 years orbiting the ringed giant planet. And it's part of a lead-up to a series of increasingly awesome feats that make up the mission's "Grand Finale" ending with Cassini's plunge into Saturn on Sept. 15, 2017.
How They'll Do It
To prepare for the so-called "ring-grazing orbits," which will bring the spacecraft within 56,000 miles (90,000 km) of Saturn, Cassini engineers have been slowly adjusting the spacecraft's orbit since January. They do this by flying Cassini near Saturn's large moon Titan. The moon's gravity pulls on the spacecraft, changing its direction and speed.
On November 29, Cassini will use a big gravitational pull from Titan to get into an orbit that is closer to perpendicular with respect to the rings of Saturn and its equator. This orbit will send the spacecraft slightly higher above and below Saturn's north and south poles, and allow it to get as close as the outer edge of the main rings – a region as of yet unexplored by Cassini.
Why It's Important
Cassini's ring-grazing orbits will allow scientists to see features in Saturn's rings, up close, that they've only been able to observe from afar. The spacecraft will get so close to the rings, in fact, that it will pass through the dusty edges of the F ring, Saturn's narrow, outermost ring. At that distance, Cassini will be able to study the rings like never before.
Among the firsts will be a "taste test" of Saturn's rings from the inside out, during which Cassini will sample the faint gases surrounding the rings as well as the particles that make up the F ring. Cassini will also capture some of the best high-resolution images of the rings, and our best views of the small moons Atlas, Pan, Daphnis and Pandora, which orbit near the rings' outer edges. Finally, the spacecraft will do reconnaissance work needed to safely carry out its next planned maneuver in April 2017, when Cassini is scheduled to fly through the 1,500-mile (2,350-kilometer) gap between Saturn and its rings.
› Read more about what we might learn from Cassini's ring-grazing orbits.
These orbits are a great example of scientific research in action. Much of what scientists will be seeing in detail during these ring-grazing orbits are features that, despite Cassini's 12 years at Saturn, have remained a mystery. These new perspectives could help answer questions scientists have long puzzled over, but they will also certainly lead to new questions to add to our ongoing exploration of the ringed giant.
Teach It
What better way to share in the excitement of Cassini's exploration than to get students thinking like NASA scientists and writing about their own questions and curiosities?
NASA's Cassini Scientist for a Day Essay Contest, open to students in grades 5-12, encourages students to do just that. Participants research three science and imaging targets and then write an essay on which target would provide the most interesting scientific results, explaining what they hope to learn from the selected target. Winners of the contest will be featured on NASA's Solar System Exploration website and get an opportunity to speak with Cassini scientists and engineers via video conference in the spring.
More information, contest rules and videos can be found here.
The deadline to enter is Feb. 24, 2017.
Explore More
TAGS: Cassini, Saturn's Rings, Saturn, Grand Finale, Spacecraft, Missions, K-12, Lessons, Activities, Language Arts, Science, Essay Contest
---
This summer, while many of us were sleeping in and avoiding heavy school work, lots of exciting things were happening in and around our solar system! Here's a guide to launching the 2016 school year right and turning those stellar events into educational connections from NASA.
Science on Fire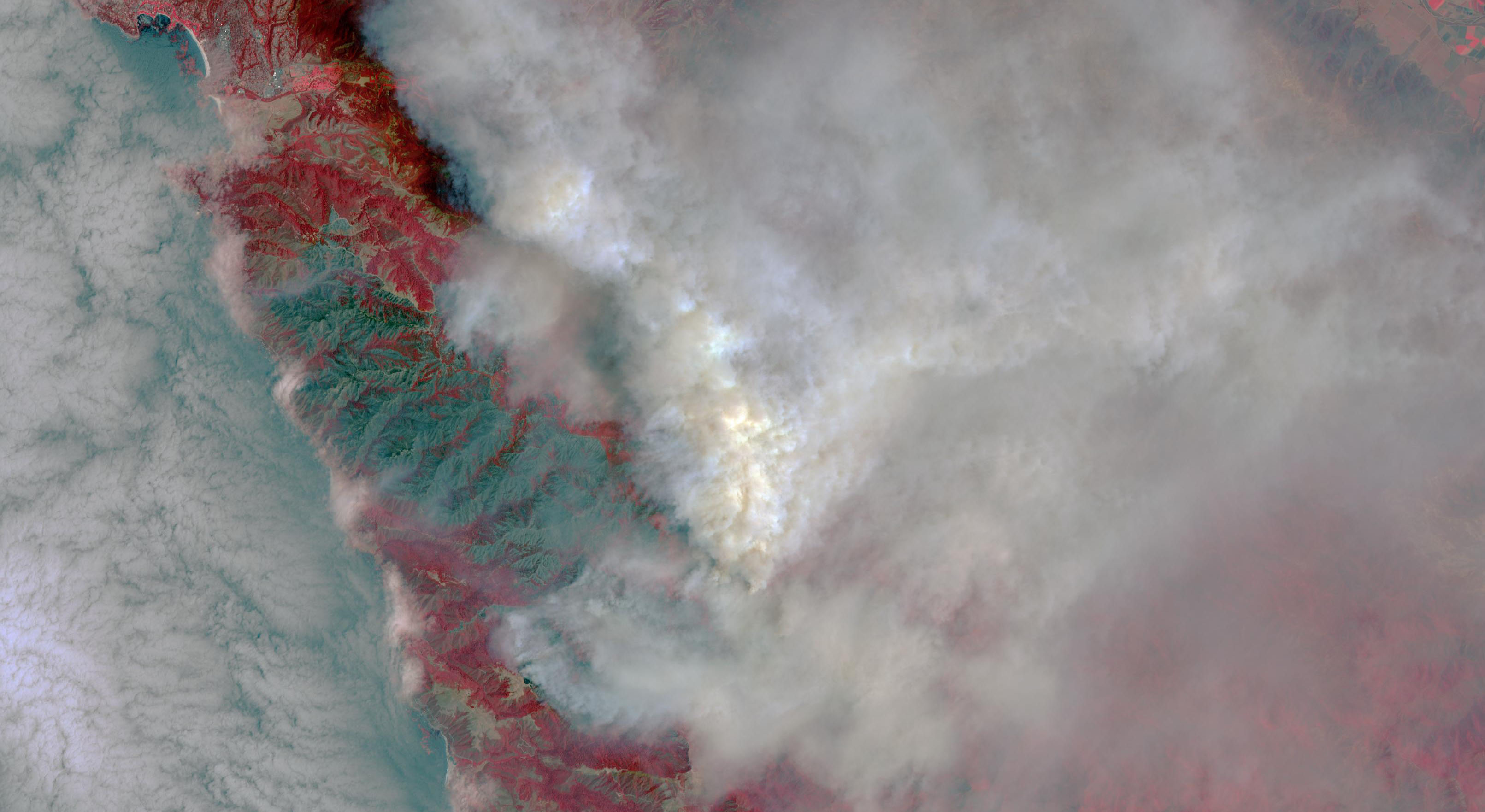 This false-color image of the Soberanes fire in Northern California, near Big Sur, was captured by the Advanced Spaceborne Thermal Emission and Reflection Radiometer (ASTER) instrument on NASA's Terra spacecraft on July 28, 2016.
Here at home, on Earth, it is fire season in many places in the Northern Hemisphere. Fire season comes about with warmer temperatures, dry air, and dry brush. Once a fire gets started in these conditions, it can rapidly spread and become out of control, especially when high winds are involved. This summer has already witnessed some dangerous fires including the Sand Fire in Southern California and the Soberanes Fire near Big Sur on the Central California coast. Beyond the immediate threat from flames, smoke degrades air quality and burn scars leave hillsides vulnerable to rain-induced mudslides.
NASA satellites and airborne instruments are helping scientists better understand wildfires and their impacts on our changing climate. And in the immediate term, they are helping firefighters track wildfires and respond to people and structures in risk areas.
Check out JPL's latest Teachable Moment to find out more about how scientists are studying wildfires, what they're learning and why it's important. And get links to two new lessons for students in grades 3-12 that have students use NASA data, algebra and geometry to approximate burn areas, fire-spread rate and fire intensity. (You can also go straight to the new lessons at: Fired Up Over Math: Studying Wildfires from Space and Pixels on Fire)
And speaking of Earth science, find out how you can get a free bulletin board featuring posters and lithographs about NASA Earth science and missions for your classroom!
Greetings from Jupiter
Watch a recap of the July 4 excitement as NASA's Juno spacecraft entered orbit around Jupiter.
On July 4, just in time for a fireworks spectacle, the Juno spacecraft went into orbit around Jupiter. Juno launched from Earth aboard a huge rocket and had been hurtling toward Jupiter for nearly five years. Getting into orbit around Jupiter was a real nail-biter here at NASA's Jet Propulsion Laboratory (which helps manage the mission) and we are all very happy everything went as planned. Juno's mission is to study the origin, core and magnetic fields of our solar system's largest planet. Juno will orbit Jupiter for only about 20 months before Jupiter's intense radiation environment takes a toll on the spacecraft.
Communicating with a spacecraft as far away as Juno is a challenge that involves a lot of planning and teamwork. Try out this new lesson for young learners that demonstrates this process and provides practice with number concepts, counting and geometry, and data collection in a concrete, active manner.
Wish you had your very own Juno spacecraft you could use to uncover secrets beneath Jupiter? Check out this easy-to-build Juno model that uses household objects and can be used in a game with friends and family!
Explore more about Juno with these related lessons and videos: