Meet real teachers and find out how they are using STEM education resources from JPL to get creative ideas for your classroom.
---
Four pre-service teachers at Cal Poly Pomona are developing their skills in lesson design and delivery as they study Earth science concepts and prepare for graduation.
---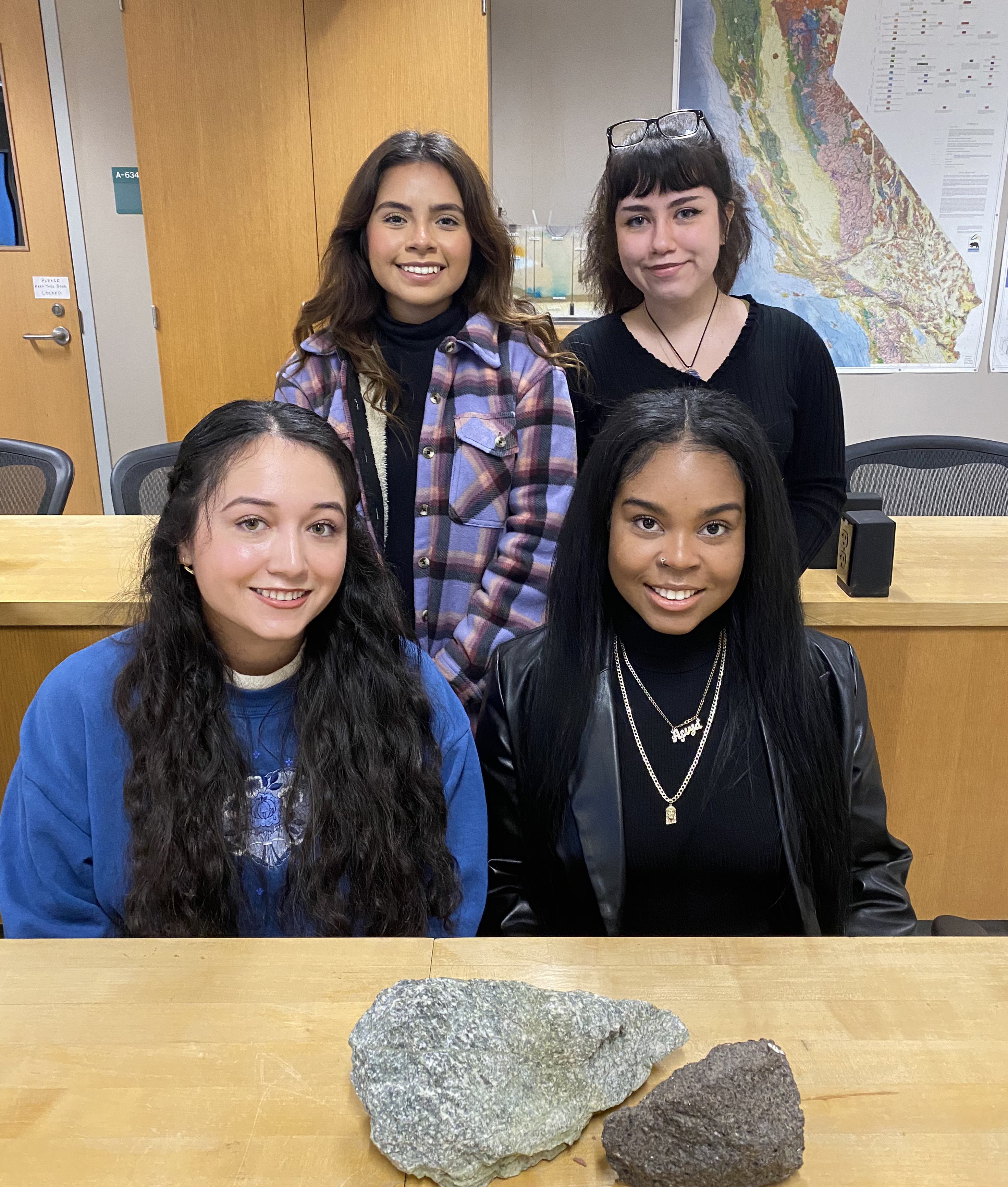 During the fall semester of 2022, I had the privilege of working with the Education Department at California Polytechnic University in Pomona, specifically with pre-service teachers taking coursework in Earth science. During our collaboration, the curriculum had the students split time in class between learning about geology and Earth's history and then designing and engaging in classroom activities related to the technical content that they could take to their own classes in the future. This combination had Cal Poly students learning science and education hand-in-hand each week and led to some amazing classroom lessons and lab activities.
One group of young women in the program stood out as exceptionally passionate about their future careers. This team consisted of four seniors: Jacquelin Galvez-Coyt, hoping to someday teach kindergarten; Amie Gallardo, who is planning to teach fourth grade; Afiya Kindle, who is interested in teaching elementary or middle school; and Sofia Vallejo, who is interested in kindergarten through sixth grade.
Despite their interest in working with young students and collaborating to design lessons for those students, each of these pre-service teachers allowed their individuality to shape how they navigated lesson design and implementation. I recently sat down with them to ask about their instructional style and aspirations for classrooms of their own.
Now that we're back to in-person classes, how is the transition going?
Sofia: Returning from remote instruction felt eerie at first, but it's so nice to return to communicate with people and build connections in a non-digital way. In-person classes prepare you to communicate with colleagues in real life, build social skills, and read body language. All of these skills are critical for a teacher in order to understand and better help students to succeed.
Amie: Returning from remote instruction has been amazing. While it had its perks, I believe, as students, we learn a lot more while working hands-on with our projects than is possible in distance learning. If we're trying to develop and assess activities we can do with kids, that really requires being face-to-face.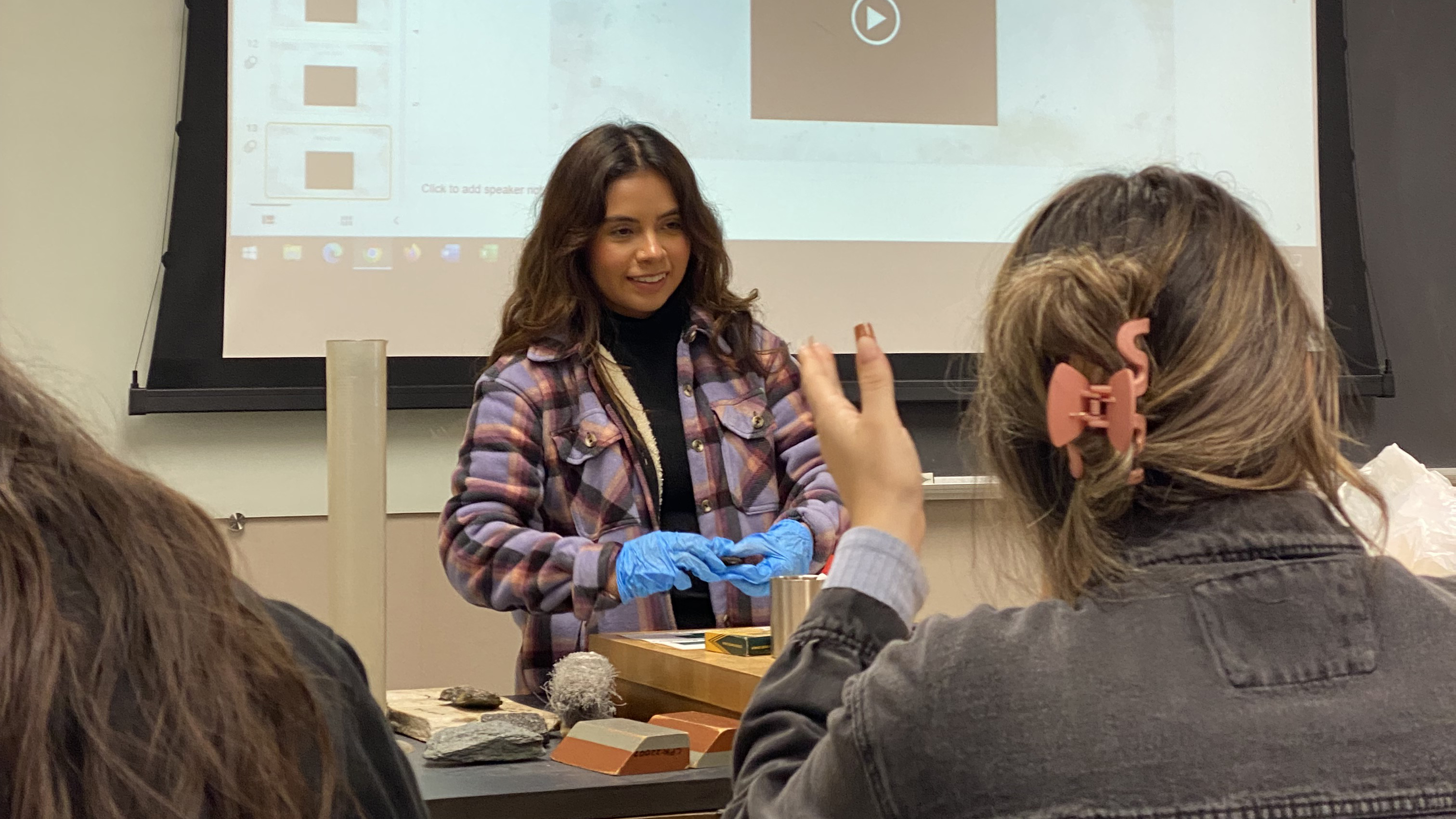 What are you most excited about when it comes to having your own classroom, and how will you get your kids excited about STEM?
Afiya: I am most confident about creating a genuine safe space for kids. I'll be able to communicate how much I care about them and about our shared future, and I think there could never be enough genuinely kind and caring teachers in this world.
Jacquelin: I think my kids will be excited about STEM because of how easy it's become to incorporate activities. There are many resources out there for teachers to use for teaching math and science that don't rely solely on a textbook. Activities that use inexpensive materials or that require a little DIY skills go a long way for students.
Afiya: Exactly! I know I developed my love for science from being hands-on and actually somewhat "in charge" of an experiment on my own. Winning a science fair competition in seventh grade for a greenhouse I built really boosted my confidence and helped reassure me of my scholastic abilities as a kid.
You led a really cool lesson with your classmates where you had them use Oreos to model tectonic boundaries. How do you feel that lesson went?
Jacqueline: I was really proud of our group. After giving a lecture to the students about tectonic plate boundaries, we dispersed Oreos to everyone. We were set up around the classroom demonstrating the activity and giving verbal instructions for everyone to follow. My favorite part was when I saw two students by me go, "Oohhhh," and smile once they got their Oreos to demonstrate the plate boundaries correctly.
Amie: I thought it went really well! All the students in our classroom enjoyed it. Although we, as adults, may know about plate tectonics, having our hands on the Oreos to understand it made it more enjoyable.
Afiya: Plus, who doesn't love Oreos? They're even vegan!
Which of the NASA-JPL lessons that you've implemented did you enjoy, and why?
Jacqueline: My favorite JPL activity we did was the Moon Phases activity. Having one team member to the side to give the instructions allows another student to view the different Moon phases. Then you switch so both students get to see that perspective. My second favorite activity was creating layers with different colored Play-Doh and demonstrating them as different plate boundaries and folds.
Amie: The NASA lesson that I enjoyed the most was the one we did on lunar eclipses. Much like myself, many students often have an early fascination with the Moon. Learning more about the Moon and lunar eclipses made me excited about the semester.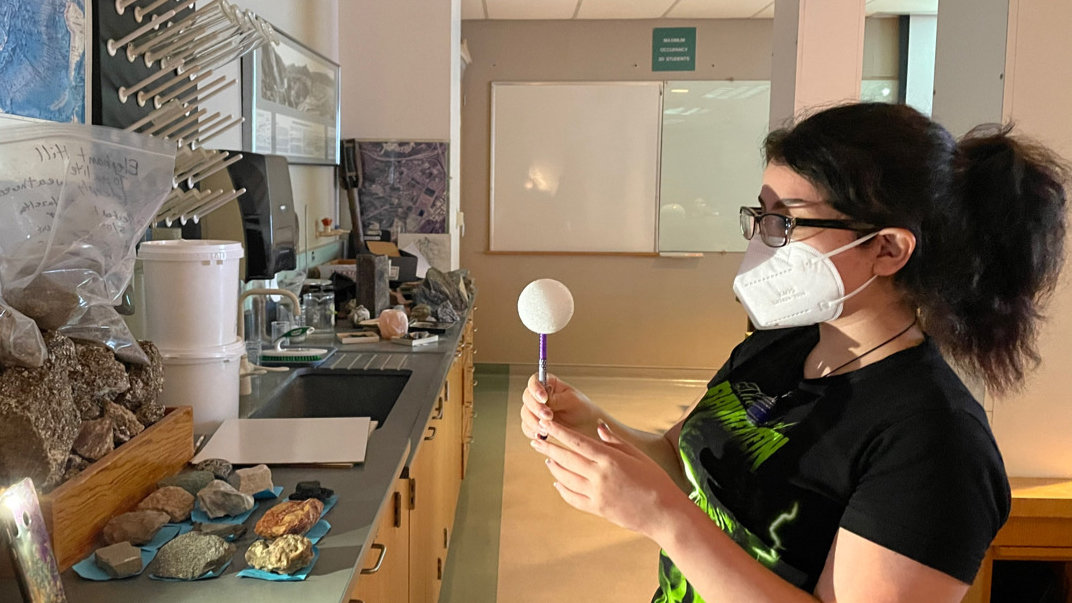 What's next for you after you finish at Cal Poly Pomona?
Jacqueline: After I graduate at Cal Poly, I plan to attend UC Riverside to complete my credential program. While I am there, I would love to get my student teaching experience. Once I complete my credential program, I plan to apply to work at schools in the Inland Empire [in Southern California]. I want to be able to give back to the communities that influenced who I am today.
Sofia: My plans after Cal Poly are to take some time off to gain experience in the field as a substitute teacher. I also am looking to gain more volunteer experience, skills, and exposure. In the future, I want to enroll in UC Riverside to earn my teaching credential and master's degree.
Looking for ways to bring NASA STEM into your classroom or already have a great idea? The Education Office at NASA's Jet Propulsion Laboratory serves educators in the greater Los Angeles area. Contact us at education@jpl.nasa.gov.
Explore More
TAGS: Teachers, School, Remote School, Classroom, Instruction, K-12, STEAM, Science, Math, resources, lessons
---
A Los Angeles math teacher gets students engaged with connections to science and exploring the human side of math, such as how leaders inspire change in their communities.
---
Katherine Risbrough has been teaching high school math for almost 10 years. She began her teaching career in the Hickory Hill community of Memphis, Tennessee, where she taught everything from Algebra 1 to Calculus and served as a math coach for the district. Five years ago, she came to Los Angeles to teach Integrated Math and Calculus at Synergy Quantum Academy High School.
Outside of math, Ms. Risbrough is also a superfan of college football and never misses a game at her alma mater, the University of Southern California. Her fandom for making the game is rivaled only by her love of Harry Potter, having been to every midnight book and movie release.
I caught up with Ms. Risbrough to find out how she gets students excited about math, and I learned about a new strategy she used this past year: bridging math and science by teaming up with the AP Physics teacher. Her cross-discipline curriculum focused on helping students make connections between subjects and got them engaged as they returned from more than a year of remote learning.
---
Math can be intimidating for students and it can be difficult to keep them engaged. How do you get your students excited about math?
Sometimes it's easier said than done, but math needs to be as hands-on and discussion-based as possible. We use a lot of the calc-medic curriculum, which is application and discovery first followed by a whole class discussion to share ideas and cement new learning. When students have to speak and defend a hypothesis or an argument, they are practicing mathematical reasoning, which is a skill they can take into all STEM coursework. I avoid lectures as much as possible. We also do a lot of flipped classroom learning (videos at home and practice in class), group work, use technology, and do activities that get students moving around the classroom.
I believe that learning mathematics should be a collaborative, exploratory process and that every student already has the skills necessary to become a successful mathematician. It's my job to give them opportunities to show off and strengthen those skills, so that they can be just as successful with or without me present to help them.
This year you've introduced some interesting projects to make your class more interdisciplinary. Tell me a bit more about that.
I've really focused on keeping the math contextualized by being sure the content is interdisciplinary. For example, over half of my AP Calculus students are also taking AP Physics. This year, in particular, I was sure to coordinate with the physics teacher to see how we could align our curriculum in kinematics with what we were doing with integrals and derivatives. This began with students doing JPL's additive velocity lesson in their physics class to set the stage for how calculus ties together acceleration, velocity, and displacement.
Both classes are so challenging for students, but when they see how strategies in one class can help lift them in another, it's almost as if they are getting to see two different strategies to solve the same problem. Designing challenges that could be solved with both physics and math gave the students an ability to approach problems from either side. At first, they were pretty intimidated to see their two most challenging classes teaming up, but the end result was some incredible student projects and dramatic improvement in their ability to graph out relationships.
I also kick off new units by making connections to students' own life or even their future careers. They need to know the "why" beyond just, "because you'll be tested on it." We try to talk about STEM historical figures and current leaders (specifically mathematicians and scientists of color) as often as possible. For example, I use clips from the movies "October Sky" and "Hidden Figures" to set the stage and then lead into projects about rocket trajectories and elliptical orbits.
This year, in calculus, we started the year with the idea of "Agents of Change" and looked at thought leaders such as veteran astronaut Ellen Ochoa and climate scientist Nicole Hernandez Hammer and how their work relates to "instant rates of change" and "average rates of change" in calculus. Then, I had students think about moments of change in their life, and how that instant can be carried forward to a make a long term change in their careers and communities.
Coming back from COVID-19 and more than a year of remote instruction, how are your students adjusting to being back in the classroom?
Our students missed out on so many social and academic opportunities because of COVID, but they aren't letting that stop them. The biggest struggle was starting off the school year and getting back into routines. Because of the demographics of our students, there have been more absences than usual, as many of our students help support their family at home. Many parents struggled to keep work through the pandemic, and a lot of my students work outside of school or take care of their siblings. The effects of caring for their families while still trying to focus on applying to college has really taken a toll on students.
I'm fortunate that so many kids are comfortable and open sharing feelings of increased anxiety, responsibility, or worry over the past two years. I believe it's important that my classroom and our group first and foremost be an escape from that space rather than an added stress. Their success in math – even a rigorous AP math class with a breakneck pace – comes from me being there for them as a person first and a teacher second. We focus so much on "catching them up" that we forget to take some time for them to process all they have had to manage.
As we move toward graduation, what is one story of success that you will take away from this year?
Honestly, it's the success of my students. They have jumped into AP Calculus after 1.5 years of distance learning and the social-emotional learning burdens of Covid, and have done amazing work. They are thoughtful, persistent, and often learning multiple grades worth of skills within one calculus lesson. I guess I'm a small piece of that, but all that I've really done is give them space to explore, discuss, and learn. It's what they've done with that space that has been the best thing to watch!
---
Looking for ways to bring NASA STEM into your classroom or already have a great idea? The Education Office at NASA's Jet Propulsion Laboratory serves educators in the greater Los Angeles area. Contact us at education@jpl.nasa.gov.
Explore More
TAGS: Teachers, School, Classroom, Instruction, K-12, High School, Math, Calculus, Physics, Algebra, Lessons, Resources
---
This fourth-grade teacher is finding creative ways to get her students back into the flow of classroom learning with the help of STEAM education resources from JPL.
---
Jackie Prosser is a fourth-grade teacher in Fairfield, California, finishing her second year as a classroom teacher. She is a recent graduate of the University of California, Riverside, where she simultaneously received her teaching credential and her master's in education. This was where I was fortunate enough to meet Miss Prosser, through a collaboration between the Education Office at NASA's Jet Propulsion Laboratory and UCR designed to help new teachers incorporate STEM into their future classrooms. She and her cohort immediately struck me as passionate future teachers already exploring unique ways to bring space science into their teaching.
But it's been a challenging transition for Miss Prosser and teachers like her who started their careers amid a pandemic. She began her student-teaching in person only to find that she would have to switch to teaching remotely just four months into the job. Now, she's back in the classroom but facing new challenges getting students up to speed academically while reacquainting them with the social aspects of in-person learning.
I caught up with her to find out how she's managing the transition and developing creative ways to support the individual needs of her students and, at the same time, incorporating science and art into her curriculum with the help of STEAM resources from the JPL Education Office.
---
What made you want to become an elementary school teacher?
Originally, I became a teacher because I love to see that moment of light when a concept finally clicks in a kid's mind. I am still a teacher (even after the craziest two years ever) because every kid deserves someone to fight for them, and I know I can be that person for at least 32 kids a year.
I love to teach young kids especially for two reasons. The first is their honesty; no one will tell you exactly like it is like a nine-year-old will. The second is that I love the excitement kids have for learning at this age.
It has been a bumpy couple years, especially this past school year when it was unclear if we would be remote again or back in the classroom. How has it been coming back from remote learning?
Coming back from remote learning has been an incredible challenge, but we've come a long way since the beginning of the year. Students really struggled being back in a highly structured environment. It was very hard to balance meeting the individual needs of each student and getting them used to the structure and expectations of the classroom.
My fourth graders were online for the last part of second grade and a vast majority of third grade. This is when students really start to solve conflicts and regulate their emotions with less support from adults. I have seen a lot more problems with emotion regulation and conflict among my students this year than in years past.
There is a lot of pressure on teachers right now to make up for all the learning loss and for students being behind on grade-level standards. But I don't think enough people talk about how much joy and social interaction they also lost during remote learning. Teachers are also feeling the pressure of that. I want to help my students be the very best versions of themselves and being happy and comfortable with themselves is a huge part of that.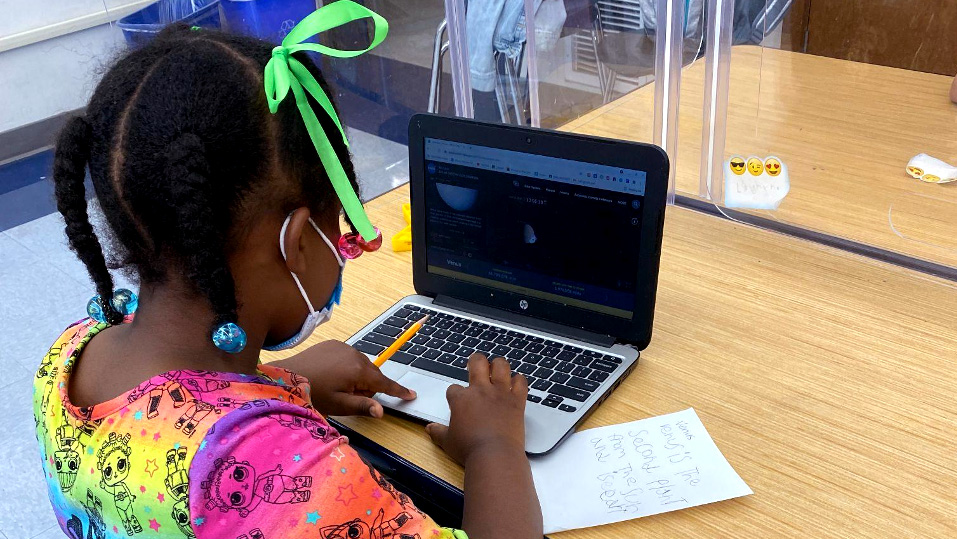 How do you structure your class to get students back in the flow of a school setting?
I use a lot of manipulatives in my math lessons and try to make their learning as hands-on as possible. I also teach math in small groups to be able to better meet the individual needs of my students. I have one group with me learning the lesson, one group doing their independent practice of the skill, and one group on their computers. Then, the students switch until each group has done each activity.
You're a big fan of science and came to several JPL Education workshops while you were still in school yourself. Are there JPL Education resources that you have found particularly impactful for your students?
I have always loved teaching science. It is so often left behind or pushed aside. I think a lot of time that happens because teachers feel like they do not have enough background knowledge to teach high-quality science lessons or they think that the lessons will add to the already enormous workload teachers have. My district does not have an adopted or prescribed curriculum for teachers to follow, so we have a lot of freedom for when and how to make the time for STEAM.
The education resources [from NASA's Jet Propulsion Laboratory] have made it so easy for me to teach and get kids excited about science, and my kids absolutely love them. Our favorites always seem to be Make a Paper Mars Helicopter and Art and the Cosmic Connection.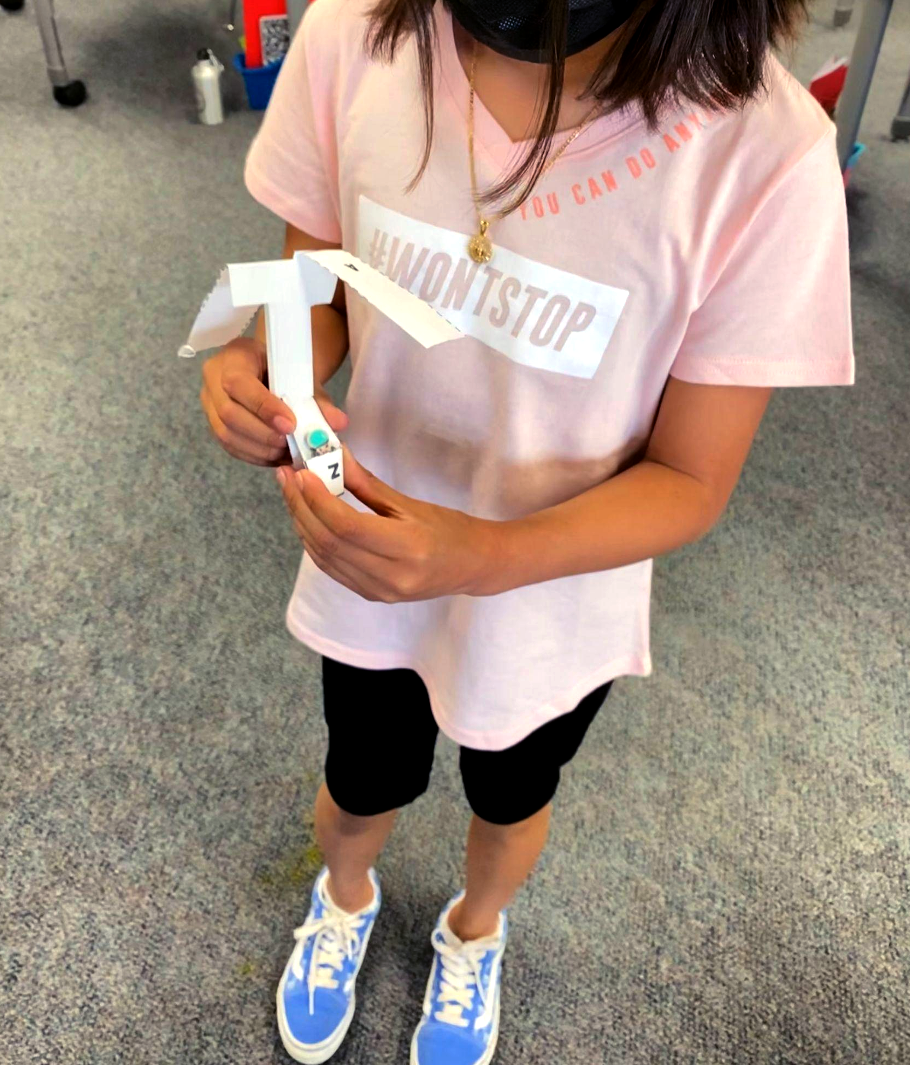 I also am part of my district's science pilot program. It has been so cool to be able to decide what curriculum to pilot and watch my students test it out and give feedback on their learning. Last year, I had the amazing opportunity to teach science for two elementary schools' summer programs. My partner teacher and I got to create the curriculum for them, and we pulled a ton of lessons from the JPL Education website. It was by far the most fun I have ever had at a job.
Despite being a new teacher, you've already seen so much. How have you navigated the changing landscape?
I have an amazing network of teachers supporting me at every turn. My grade-level team and my friends from my credential program are some of the most amazing people and educators I have ever met. There is no way I would be able to get through the more difficult aspects of teaching without them.
I am also coaching the boys soccer team, directing the school's "Lion King Jr." play, contributing to the science pilot program, and serving on the social committee for teachers and staff. I love using these different roles to make connections with not just my students, but also students from all grades.
---
Looking for ways to bring NASA STEM into your classroom or already have a great idea? The Education Office at NASA's Jet Propulsion Laboratory serves educators in the greater Los Angeles area. Contact us at education@jpl.nasa.gov.
Explore More
TAGS: Teachers, School, Remote School, Classroom, Instruction, K-12, Fourth Grade, STEAM, Science, Math, Art, UC Riverside, resources, lessons
---
Jayme Wisdom has been teaching for 15 years at the Vaughn Charter System in Pacoima, California. She has taught eighth-grade science for most of her career but switched to high school biology for the first time this year.
Ms. Wisdom has long utilized NASA and JPL educational resources, finding creative ways to adapt lessons to meet her students' needs and exposing them to STEM careers.
A self-described professional nerd, she doesn't shy away from her love of all things Star Trek and Star Wars (and stands firm in her refusal to pick which is superior). While presenting during a recent JPL Education workshop, she shared how she continues to get her students excited about science – both in the classroom and remotely – during the COVID era.
What unique challenges do you face engaging or addressing the needs of your students?
Many of the students I teach face challenges including poverty, homelessness, and learning English as a second language. This year, in particular, has been extremely difficult for all of us dealing with the pandemic and distance learning. As a teacher, I have had to find ways to make sure that my students are engaged in scientific inquiry and have access to resources and materials while learning remotely. This begins and ends with a conscious effort to acknowledge that kids are struggling with this online format and carving out time in every single class to provide the socio-emotional support they have come to expect from a classroom environment. Before we dive into content, this means making time for check-ins and updates. In any in-person classroom, we carve out time to get to know each other, and being online should not diminish that. Of course, as we all learned this year, easier said than done.
Social isolation is another factor that contributes to the challenges of distance learning. Even though students see their peers virtually, it is often difficult for them to open up and talk as freely as they would if they were in a physical classroom. So I have had to find ways to make sure that my students are comfortable with engaging in a virtual setting by allowing them opportunities to talk and collaborate with each other online.
Using breakout sessions was difficult at first, because the students were very self-conscious about speaking to each other on screen and were reluctant to share ideas. So every day, we spent the first few minutes in each class just talking to each other through text-based chat to get them socializing and feeling more comfortable with this new way of interacting. Now they are more comfortable engaging in scientific inquiry with each other and have meaningful discussions to expand their learning. It is not the same as having them physically perform labs together in class but things are definitely improving.
Another challenge has been providing all of my students with access to resources and materials that allow them to simulate a laboratory experience at home. I have been pleasantly surprised at the wealth of resources I have available to me as a teacher to provide virtual labs and activities to my students. Whether it is virtual demonstrations and simulations or scientific investigations that require simple materials that students can find around the house, we have been very resourceful so we can give students the best experience possible through distance learning. Promoting lab science with home supplies has been instrumental in student engagement, as they really get to explore in their own context, expressing themselves creatively with what they have at their disposal instead of being provided the materials.
How have you used lessons from NASA and JPL to keep students engaged while teaching in person and remotely?
I have always been fascinated by outer space and have loved sci-fi TV shows and movies since I was very young. So as a teacher, I was so excited to discover ways to use my love of astronomy to engage my students.
When I discovered NASA and JPL's resources and lessons, I went through them like a kid in a candy store. I found so many different activities that I could adapt to use in my own classroom. Over the past few years, I have used several JPL Education lessons and modified and extended them for my students.
For example, I took JPL's Touchdown lesson and allowed students to create their own planetary lander using materials they could find around their home. I challenged them to create a way to quantify how much impact the touchdown would have on the "astronauts" in their lander. Some students used balls of play dough as their astronauts, and quantified the impact by measuring the dents made in the play dough by paper clips that they had placed on the "seats" of their lander.
Another example was when I combined the Soda-Straw Rocket and Stomp Rockets lessons. I had my students create a straw-stomp rocket to investigate how changing the angle of the rocket launch could have an effect on the distance the rocket traveled.
My students also had the opportunity to participate in engineering activities with JPL and college students from Pasadena City College. The impact that this had on my students was profound and long-lasting. It was inspiring for my students to hear from NASA scientists and student role-models who encouraged them to pursue careers in science, engineering, and technology.
How have students reacted to these lessons?
The biggest payoff for me was seeing students envision themselves as NASA scientists. They learned to collaborate with each other, learn from each other, and challenge each other. They were able to experience every step of the engineering process firsthand. They were actively involved in designing, building, and testing their rockets and landers. They could also gather information from watching other students revise and improve their designs. Learning from each other was so much fun for them. As a teacher, watching my students strengthen their critical thinking, practical engineering, and problem-solving skills is one of the best parts of my job.
You switched from teaching middle school to teaching high school this year. How are you thinking about incorporating NASA resources into lessons for older students?
Growing up, I loved how the technology that I saw in the sci-fi shows I watched as a kid eventually made its way into our reality. I am always amazed at how NASA scientists push the boundaries of technology development and are only limited by the scope of their imagination.
As a high school biology teacher, I'm looking forward to having my students examine the ways that space technology is being used to help humans improve the health of the planet. Investigating climate change and the ecological impact humans have on the environment is so important. Looking at how NASA gathers data to better understand climate change is especially critical at this time because my students' generation is going to play a pivotal role in developing technologies for improving life on Earth. I'm looking forward to continuing to use JPL Education resources to help my students prepare for that challenge.
---
Looking for ways to bring NASA STEM into your classroom or already have a great idea? The Education Office at NASA's Jet Propulsion Laboratory serves educators in the greater Los Angeles area. Contact us at education@jpl.nasa.gov.
Explore More
TAGS: Teaching, Teachers, K-12, Middle School, High School, Remote Instruction, Classroom, Lessons, Educators, Workshops, Professional Development
---
Over the past four years in the Education Office at NASA's Jet Propulsion Laboratory, I have had the good fortune to work with amazing educators and their students across Southern California. While it's not always possible to visit schools in person, there are sometimes projects and curricula so unique that a visit is too hard to pass up. That was the case when the fifth-grade staff at Toluca Lake Elementary School in Los Angeles reached out to me. This team of teachers has long been implementing exciting science activities and programs not just for their students, but also for parents and the community at large. The team – made up of Dennis Hagensmith, Rick Lee and Hamilton Wyatt – shared some of their background with us, as well as tips for getting young students excited about science in and out of the classroom.
Tell us about your background. How long have you been teaching?
Hagensmith: I've been teaching for 32 years total, with 29 of them at Toluca Lake Elementary. I began my teaching career in a split fourth- and fifth-grade classroom and moved to sixth grade for several years. But I have spent most of my career working with fifth graders.
Lee: This is my seventh year teaching and my fourth year teaching fifth grade. I have also taught kindergarten and second grade. Although there are aspects of teaching primary grades that I miss, fifth grade is my favorite of the three because the standards students are working toward are so comprehensive. It keeps me interested and excited about learning along with my students.
Wyatt: I have taught for almost three years. Before that, I was a teacher's assistant and instructional aid for three years.
How do you use resources from NASA in the classroom?
Hagensmith: I have used NASA resources to create hands-on lessons measuring the relative size of our solar system, to prepare a salad demonstrating the Sun's mass, to make bracelets with colored beads matching the chemical composition of the cosmos and assemble handmade telescopes.
Lee: Dennis and I recently attended an oceanography workshop put on by JPL that involved learning from teachers and researchers who had just completed cruises aboard the Exploration Vessel Nautilus. We were inspired to include similar activities leading up to and during an already-planned after-school screening of [the Netflix documentary] "Chasing Coral." The lesson complements other JPL lessons related to sea-level rise and global climate change.
Wyatt: Many of the JPL resources aren't just about science – they are generally thought-provoking activities. I use many of the activities pertaining to art because my students this year are artistically talented and curious.
How do you address the specific needs of your students and get the community involved in their education?
Hagensmith: Teaching in a low-income area, it is imperative that we find ways to make our families feel welcome and encourage academic excellence. Our goal is to create a school culture in which all realize their potential and make the most of their education. To that goal, we host a variety of parent and community nights each year, including Night of the Arts, Family Science Night, Family Reading Night, family writing workshops and Family Pi Night. The most popular of all of these is our annual Family Astronomy Night and Star Party. The evening always kicks off with a presentation from a visiting scientist, then families participate in a number of hands-on workshops. The most popular activity is often the telescopes provided by the Burbank Sidewalk Astronomers taking aim at various celestial objects.
This idea for the family events came about back in 2010 when I took a class at JPL with scientist Bonnie Burrati. The class inspired me to take steps to enhance my science instruction. We became a NASA partner school and began utilizing lessons from the NASA-JPL Education website. As a result of these lessons, two of our students – Ali Freas and Caitline Molina – were awarded a trip to NASA's Johnson Space Center in 2012 to participate in the Student Science Symposium. That year, we also presented NASA's "Space School Musical" at our annual Night of the Arts. I began doing the star party sometime around that era. Originally, it was just parents from my class and one guest presenter. As the years went by, we were able to recruit more teachers to host workshops and get speakers from JPL and UCLA. Last year, we had nearly 200 guests at the star party.
Lee: I really try to maximize the impact of field trips. Students bring study guides and circulate through the tour, working as investigators searching for information and formulating their own conclusions about the topic we're exploring. This approach is useful for focusing student attention on key concepts at a wide range of locations. Recently, we visited the ecosystems and Space Shuttle Endeavour exhibits at the California Science Center, we've seen art at the Getty and Los Angeles County Museum of Art, and we've built cultural understanding at Los Angeles Plaza and the California African American Museum.
Wyatt: Many students that come to me struggle with social-emotional skills and really need a jump-start on how to express themselves without feeling overwhelmed or picked on by other students. It is very important to me to begin by engaging with my students in a way that communicates that they can feel safe, comforted and empowered when they are in my class. All students have the ability to express themselves and still be strong scholars. I strive to help my students find that sweet spot in my classroom.
One thing teachers struggle with, especially in primary grades, is making science cross-curricular. How have you brought science into the everyday lesson?
Hagensmith: Part of my success as a teacher has come from letting students direct their own assessments. I believe students need to see that learning isn't done in isolation. Subjects are connected with one another and with real-world applications. Each activity is preceded by lessons providing a context for students' learning. For example, after reading a book, students may create a diorama, write a review for the school newspaper, dress as one of the characters and get interviewed by peers, make a presentation and so forth. This provides a vehicle for students to build upon their unique skills and interests.
Lee: I've found success especially with topics related to the environment. I completed the National Geographic Educator Certification program last year, and that experience made a huge impact on me personally and professionally. I highly recommend it to all educators. National Geographic resources, combined with those offered by NASA-JPL, are guaranteed to create highly engaging, cooperative learning opportunities for students across all disciplines.
---
Looking for ways to bring NASA STEM into your classroom or already have a great idea? The Education Office at NASA's Jet Propulsion Laboratory serves educators in the greater Los Angeles area. Contact us at education@jpl.nasa.gov.
TAGS: K-12 Education, Teachers, Educators, Resources, Lessons, Classroom, STEM, Professional Development
---
This past school year, the Education Office at NASA's Jet Propulsion Laboratory supported a comprehensive, multischool physics project that served as a capstone project for high-school students. Seven schools in three school districts across the Los Angeles area participated, tasked by their teachers with building a habitat including working circuitry and renewable power sources that was capable of withstanding seismic events.
Hundreds of physics students from underserved communities participated in the project, constructing their habitats as part of a Next Generation Science Standards, or NGSS, curriculum. One of the key components of NGSS, which was adopted by California in 2013, is its inclusion of science content areas, such as Earth science and physics. The project, drawing upon the lessons found on the JPL Education website, was a chance for students to apply their knowledge of numerous high-school science courses into one summative project. It was also a rare opportunity for the students, who were coming from underserved communities, to see connections between classroom content and real-world science.
"It is difficult for [students] to connect what they do in school with their future," wrote Joshua Gagnier, a physics teacher at Santa Ana High School, who participated in the project. "The only advice they receive is to study, work hard and get help, which without clear goals, are abstract concepts. It is opportunities such as the JPL challenge, which had a tangible academic award, that my students need."
To help students apply their knowledge in a real-world context, teachers presented a challenge to build functional habitats, complete with power, wiring and the ability to withstand the elements. Each school focused on and contributed different components to the habitats, such as solar power or thermodynamics. Students were given broad freedom to construct rooms and devices that were of interest to them while still demonstrating their knowledge throughout the school year. Gagnier had his classes focus on the electromagnetic spectrum and use their understanding of waves – for example, the threat of seismic waves to physical stability and the availability of light waves for solar power – to select a habitat location. He also had students examine the use of solar energy to power their habitats.
"The students used JPL and NASA resources to understand the elevation of [electromagnetic] penetration in combination with Google Earth to find the altitude of the geography they were evaluating," he wrote. "When students were trying to find a way to heat water for their habitat using the limited available supplies, JPL's Think Green lesson was one of the main sources for their solution." This lesson, in particular, allowed students to measure flux and available solar energy at different regions in the country using NASA data available online.
Ultimately, it was up to the students to design and craft their habitats based on the lessons they learned. So the final prototype structures varied dramatically from class to class and even more from school to school. One school focused on habitats powered solely by renewable energy, while another school focused more on the structure's ability to withstand earthquakes via a shake table. Vaughn International Studies Academy worked across class periods to build "modular" homes – with each group building a single room instead of a whole habitat. These rooms, which included a living room, bedroom and even a sauna, were connected to a central power supply. In all cases, students had to quantify the amount of energy produced, determine how to disperse it throughout their home and present a sales pitch for their habitat, describing how it satisfied their criteria.
At the end of the challenge, a winning group from each school was invited to JPL with their teachers to meet students from participating schools and tour the laboratory. It was also a chance for students and teachers to compare their projects. Due to the success of the pilot program, the participating teachers are already making plans for next school year, discussing ways to improve the challenge and expand the program to several more schools in the Los Angeles area.
---
Looking for ways to bring NASA STEM into your classroom or already have a great idea? The Education Office at NASA's Jet Propulsion Laboratory serves educators in the greater Los Angeles area. Contact us at education@jpl.nasa.gov.
Special thanks to Kris Schmidt, Joshua Gagnier, Sandra Hightower and Jill Mayorga for their participation and dedication to bringing NASA science to their students.
TAGS: K-12 education, STEM, educators, teachers, science, engineering, physics, resources, lessons, students, Earth Science, Earth, Climate Change
---
This year, Montana took a leap toward bringing the Next Generation Science Standards to the state's K-12 teachers by kicking off its first state science teachers conference. This pilot meeting brought together more than 100 of the state's top educators, who shared best practices with the teaching community. One of these experts was Natalia Kolnik, a native of Bozeman, Montana, who leads education programs at the Children's Museum of Bozeman. Her program stood out among attendees (including us) not just because her programs involved designing missions to Mars, but also because of her commitment to making connections with scientists in the area. We caught up with Kolnik to learn more about how, with the help of local companies – including some that have produced components for JPL missions – she turned a JPL lesson into an exploration of careers in STEM.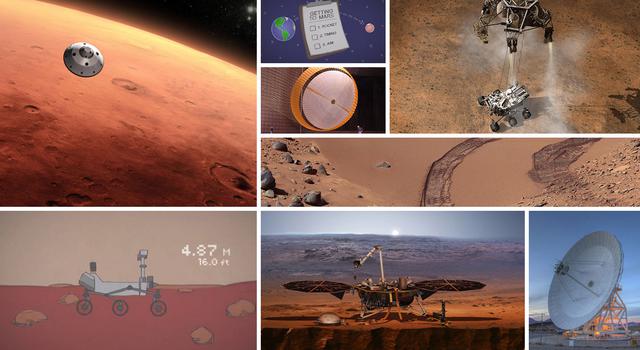 Mission to Mars Unit
In this 19-lesson, standards-aligned unit, students learn about Mars, design a mission to explore the planet, build and test model spacecraft and components, and engage in scientific exploration.
Tell us a bit about yourself and your teaching background.
I am the director of education at the Children's Museum of Bozeman and its STEAMlab in Bozeman, Montana. I've been the director there for six months, so I teach various lessons in a couple different programs for students ages 6 through 12.
I was born and raised in Bozeman and earned bachelor's degrees in journalism and fine arts from the University of Montana, Missoula. I also have a master's in education from the University of Oxford.
I've been teaching formal education classes to different grade levels for the last 13 years in various places around the world, including South Korea and Kosovo.
What unique challenges do you face engaging or addressing the needs of your students?
Teaching at the Children's Museum is wonderful and challenging for the same reason: the diversity of the students. It's like an educational casserole. Our STEAMlab programs are primarily filled with 6- to 12-year-old students who come to us from different school districts and different towns in Montana – or even from different states and countries. During the school year, they learn in public, private and home-school settings. Since the students come with such a variety of educational backgrounds and are a variety of ages, having them all together in a program, like a summer camp, can be challenging.
However, bringing various age groups together allows students of the same age to not feel left out if one of their age peers already knows the material, since it is likely that several others in the room have not encountered it either. Also, since our activities are hands-on, interactive and incorporate a high-tech element, even if students know the concepts and have done the project or activity before, they are still excited to do it again and help others.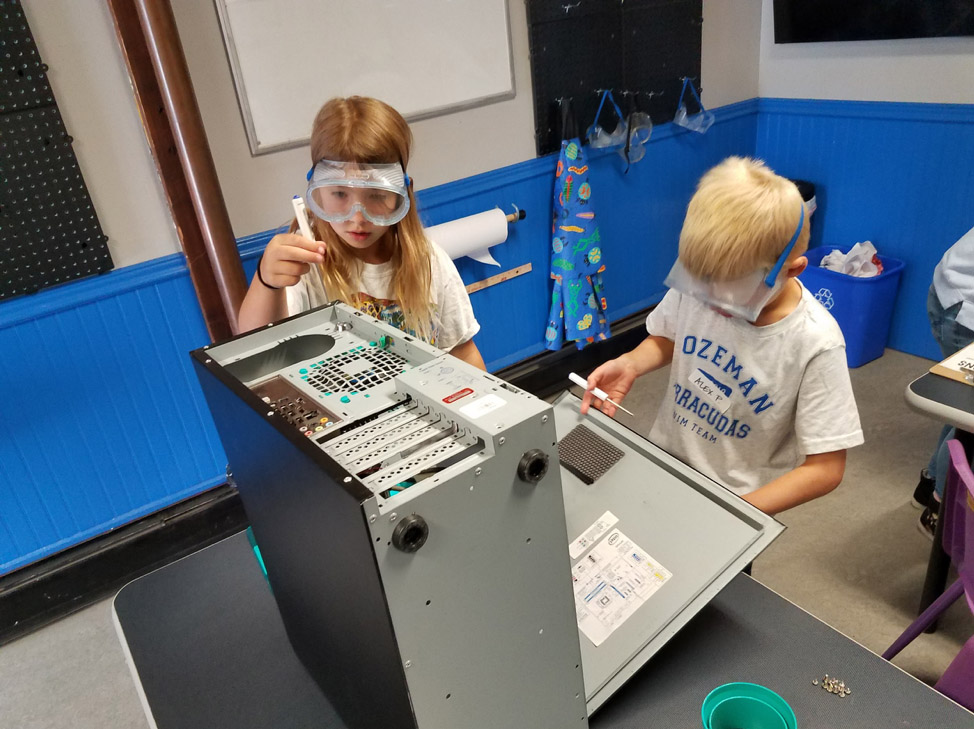 It can also be tough to work with so many new students, rather than to teach in a classroom setting, in which you've had months to develop relationships with the students and establish a classroom rhythm, so students know what is expected. On the other hand, because we run short programs – one day to one week – we have the luxury of flexibility and of letting the content breath. We allow students to take that extra time for exploration, reflection and redesign that might not be possible in a regular classroom setting or time frame.
What NASA/JPL Education lessons have you been using with your students?
JPL has such a wealth of resources. It is so easy to incorporate them into all kinds of STEAMlab programs. For instance, we were able to design and offer a summer camp about Mars in large part because of all of the amazing, up-to-date information available on JPL's website about Mars missions, the planet and all the new discoveries occurring on a daily basis. Activities such as Imagine Mars allowed students to plan a trip to Mars that would allow them to arrive safely and potentially build a habitat. As part of that lesson, we had the students extend their mission by creating a board game capturing the difficulties that could arise, despite even the best planning.
How did you modify the NASA/JPL Education lessons you used to best serve your specific students?
Being so far from a NASA site means we need to be creative to find connections between our community and careers in science. The support of our local business community is an incredible resource for us to build that bridge. We have one such partnership with the Montana Photonics Industry Alliance, or MPIA. Since the Curiosity Mars rover has laser diodes made by Quantel, a company right here in Bozeman that's part of MPIA, we were able to help students connect the local with the supra-global.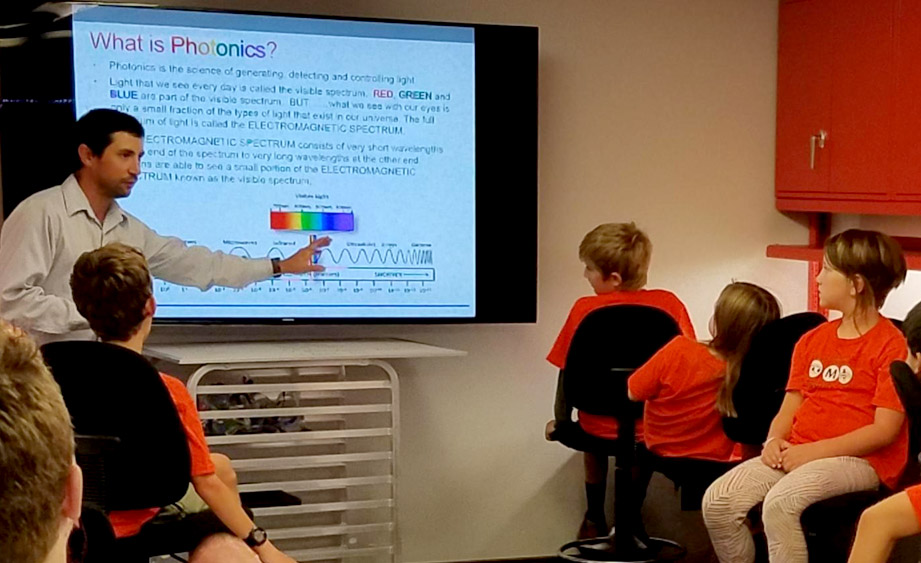 This past semester, volunteers from these photonic companies have been meeting at the museum, brainstorming, planning, designing, redesigning and creating a spectroscope activity to use as one of the museum's field-trip programs. We used the museum's Full STEM Ahead summer camp as a pilot test of the activity. The MPIA volunteers found light sources they work with in their jobs (that could be safely viewed by students) to demonstrate the variety of light spectra all around us. Meanwhile, I used the STEAMlab's 3D printers to print all the end caps for the students' spectroscopes, which are small devices capable of separating wavelengths of light into individual colors.
We divided students into two age groups to observe how they might interact differently with the activity. For example, while one of the MPIA volunteers talked with half of the students about the photonics industry, ways in which photonic technology is used, and related career pathways in Bozeman, other volunteers led the rest of the students in using and understanding their spectroscopes, observing different lights and colors with their new tools.
How did the activity help you meet your objectives? How did students react to the lesson?
The goal for the STEAMlab is to foster an engaging, fun high-tech space in the museum where students ages 7 and older can be a part of a community of other young tech explorers, inventors and tinkerers. It's a place to try out all kinds of ideas to fix a problem or build something new, all while reflecting and talking out the design and its challenges with friends and adult mentors nearby. And if something doesn't work the way they intended, which happens a lot, then they're encouraged to go ahead and try it again.
I gathered feedback about the spectroscopy activities by asking students a few questions and letting them write and/or draw their answers on sticky notes, with each color representing a different question. Their responses varied depending on age but were overwhelmingly positive. All of the students were able to respond with something they remembered learning that was new to them. And their suggestions were primarily about wanting more time to decorate and experiment with their spectroscopes and wanting to talk to more people who work with lasers.
I heard back from the parents of our student mentors about how their children – who had been a part of the activity as helpers – had come home talking all about lasers, how they now want to pursue a career in photonics and now they point out photonics companies that they drive past every day.
---
---
Looking for ways to bring NASA STEM into your classroom or already have a great idea? The Education Office at NASA's Jet Propulsion Laboratory serves educators in the greater Los Angeles area. Contact us at education@jpl.nasa.gov.
TAGS: K-12 Education, Informal Education
---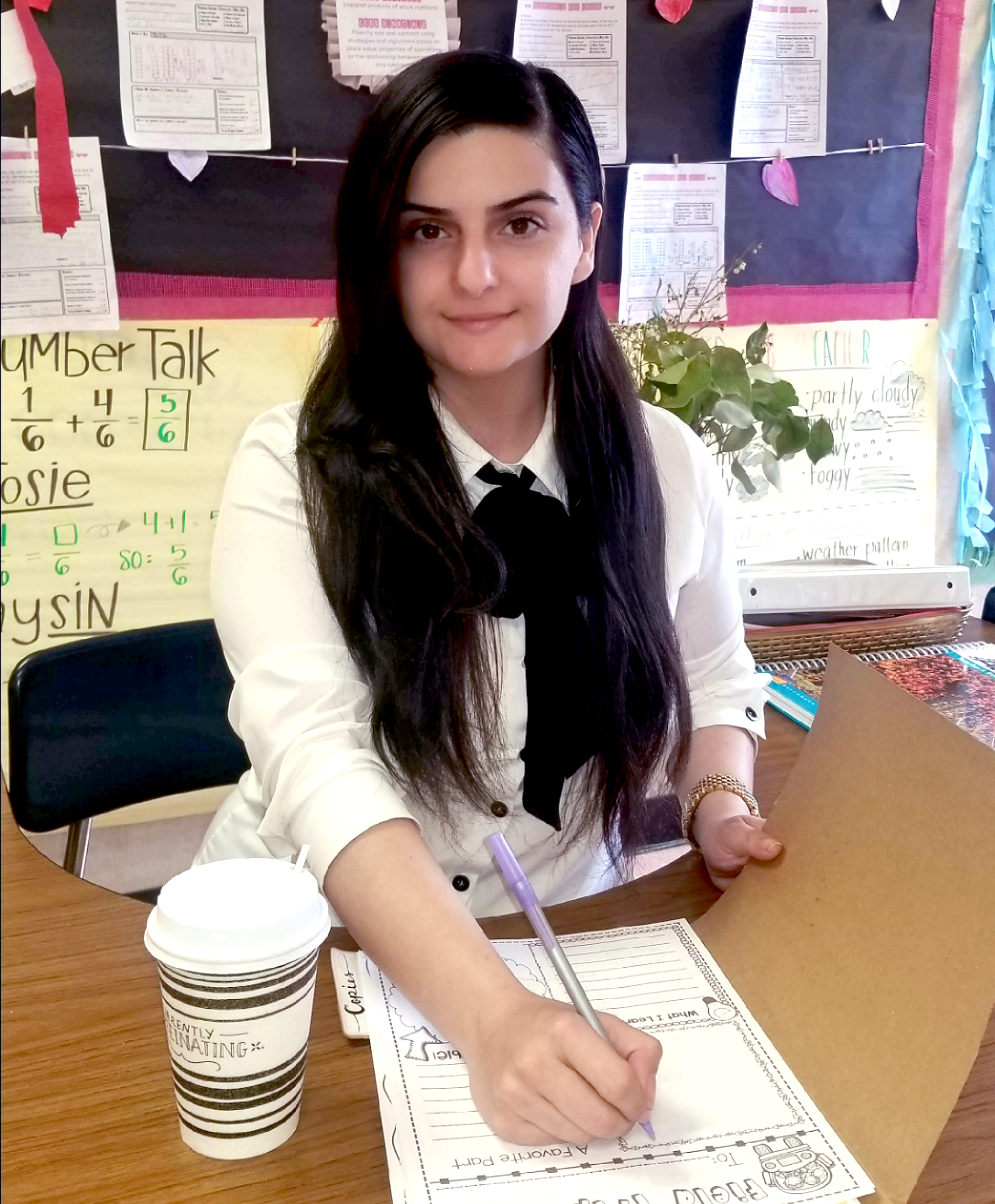 Lina Khosrovian is a first-year teacher at Stonehurst Magnet Elementary, a STEAM magnet school in Los Angeles County. She teaches third-grade students subjects including language arts, math, science and social studies. Ms. Khosrovian recently reached out about how she added her own creative spin to the JPL lesson Art and the Cosmic Connection to have it reflect her multidisciplinary classroom.
What inspires you to teach?
I am in my first year of teaching, and I could not be more driven and excited to teach my students about all the wonders of life. I am a learner myself, and I strive to discover new and moving ways to instill knowledge upon my students.
I consider myself extremely lucky to be teaching at Stonehurst, where we have a passion for teaching STEAM to our students. I especially appreciate the students' enthusiasm for learning science.
What challenges do you face engaging or addressing the needs of your students?
I have found that the key to effectively and successfully teaching students is to teach what they admire, are curious or fascinated about or have an appreciation for. I always ask my students about their interests and what they would like to learn. This inspires my lessons and tends to each students' individual interest in learning.

How did you incorporate a JPL Education lesson into your classroom?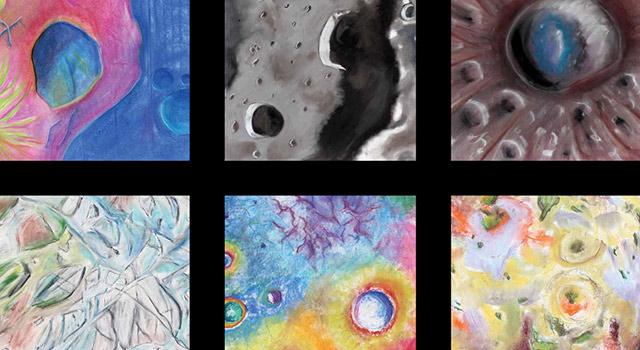 Art and the Cosmic Connection
In this lesson for grades K-12, students use art to describe and recognize the geology on planetary surfaces.
Brandon Rodriguez, an educator professional development specialist at NASA's Jet Propulsion Laboratory, visited our school and presented a lesson called Art and the Cosmic Connection.
After showing us images of planets, Mr. Rodriguez handed out paper, chalk, crayons and markers, and instructed us to draw our own imaginary planet. Listening to his awe-inspiring lecture, I began to think about the beautiful garden at our school and wondered how I could incorporate it into a similar activity with my students. I decided that I would have my students create their own planet inspired by the school garden.
First, my students and I began to learn about different planets together, discussing the possible history of each unique world. We conversed and wrote about our theories. Then each student drew and wrote about their own, imaginary planet. Some students drew icy planets and said that the ice had melted when the planet was close to the Sun. Other students explained that the uniqueness of their planet was due to the presence of life and water.
With our knowledge, ideas and imagination, we grabbed paper bags to collect soil, sticks, hay, leaves, rocks and other natural items from the garden. Back in the classroom, each student began to construct 3-D versions of their drawings with the materials they collected. Their work was beautifully presented, with soil representing land, leaves representing life, blue paint representing water, and mixtures representing unknown and unique creations – plus some silver paint to make it all more "cosmic."
How did it help you meet your objectives? How did students react to the lesson?
This lesson allowed my students to engage with the world around them and understand that planets have a uniqueness and a history that is quite remarkable. The lesson gave students a chance to discover more about their own planet and express their connection to it.
I sincerely value the JPL Education lessons, activities and resources, as they are quite beneficial to teachers. Each activity and lesson provides the opportunity for students to learn and wonder. And when you're inspired to wonder, the possibilities are endless – and so is the fun!
---
Looking for ways to bring NASA STEM into your classroom or already have a great idea? The Education Office at NASA's Jet Propulsion Laboratory serves educators in the greater Los Angeles area. Contact us at education@jpl.nasa.gov.
TAGS: Art, Language Arts, Earth Science, Classroom Activities, NASA in the Classroom
---
Featured Lesson: How to Read a Heat Map
Students learn to read, interpret and compare "heat maps" representing Earth science data.
LoriAnn Pawlik recently shared her NASA-inspired lesson during a professional development workshop hosted by the agency. LoriAnn teaches STEM to grades K-5 at Penn Elementary School in Prince William County, Virginia, which focuses on students learning English, as well as those with learning disorders and autism. When she recently came across a lesson on the NASA/JPL Edu website, she saw an opportunity to bring real-world NASA data to her students.
How do you use NASA in the classroom?
Using the lesson "How to Read a Heat Map" as a jumping-off point, LoriAnn had her students first dive into the practice of reading and interpreting graphs. From here, she extended the lesson with an exploration of NASA satellites and the data they collect, focusing on the Gravity Recovery And Climate Experiment, or GRACE mission, to tie in with a community science night on water science.
GRACE was launched in 2002 to track changes in the distribution of liquid water, ice and land masses on Earth by measuring changes in the planet's gravity field every 30 days. Circling Earth 16 times each day, GRACE spent more than 15 years collecting data – all of which is available online – before its science mission ended last October. The mission provided students the perfect context to study climate and water through authentic NASA data.
How did students react to the lesson?
LoriAnn set the stage for her students by explaining to them that they would be providing their data to NASA scientists.
"I told them that I was working on a project for a scientist from NASA-JPL and that we needed their help," she said via email. "By the time I gave them the background and showed a brief GRACE video, they were all in – excited, eager enthusiastic! It helped that each table, or 'engineering group,' was responsible for a different U.S. state."
As a result, students were able to plot the changes in gravitational fields for multiple locations over several years.
What are other ways you use NASA lessons or resources?
By extending the lesson, LoriAnn gave her students a sense of authentic ownership of the data and practice in real scientific analysis. But it wasn't her first time uniting NASA science with her school curriculum:
"I'd been working with our second-graders on field studies of habitats," LoriAnn explained. "We observed, journaled and tracked the migration of monarch butterflies, discussed what happened to habitats of living things since Hurricane Harvey and Hurricane Irma were just going through, and then I used the [NASA Mars Exploration website] to have students extend the findings to space habitats."
---
Looking for ways to bring NASA STEM into your classroom or already have a great idea? The Education Office at NASA's Jet Propulsion Laboratory serves educators in the greater Los Angeles area. Contact us at education@jpl.nasa.gov.