Working With the Next Wave of Science Teachers
Four pre-service teachers at Cal Poly Pomona are developing their skills in lesson design and delivery as they study Earth science concepts and prepare for graduation.
---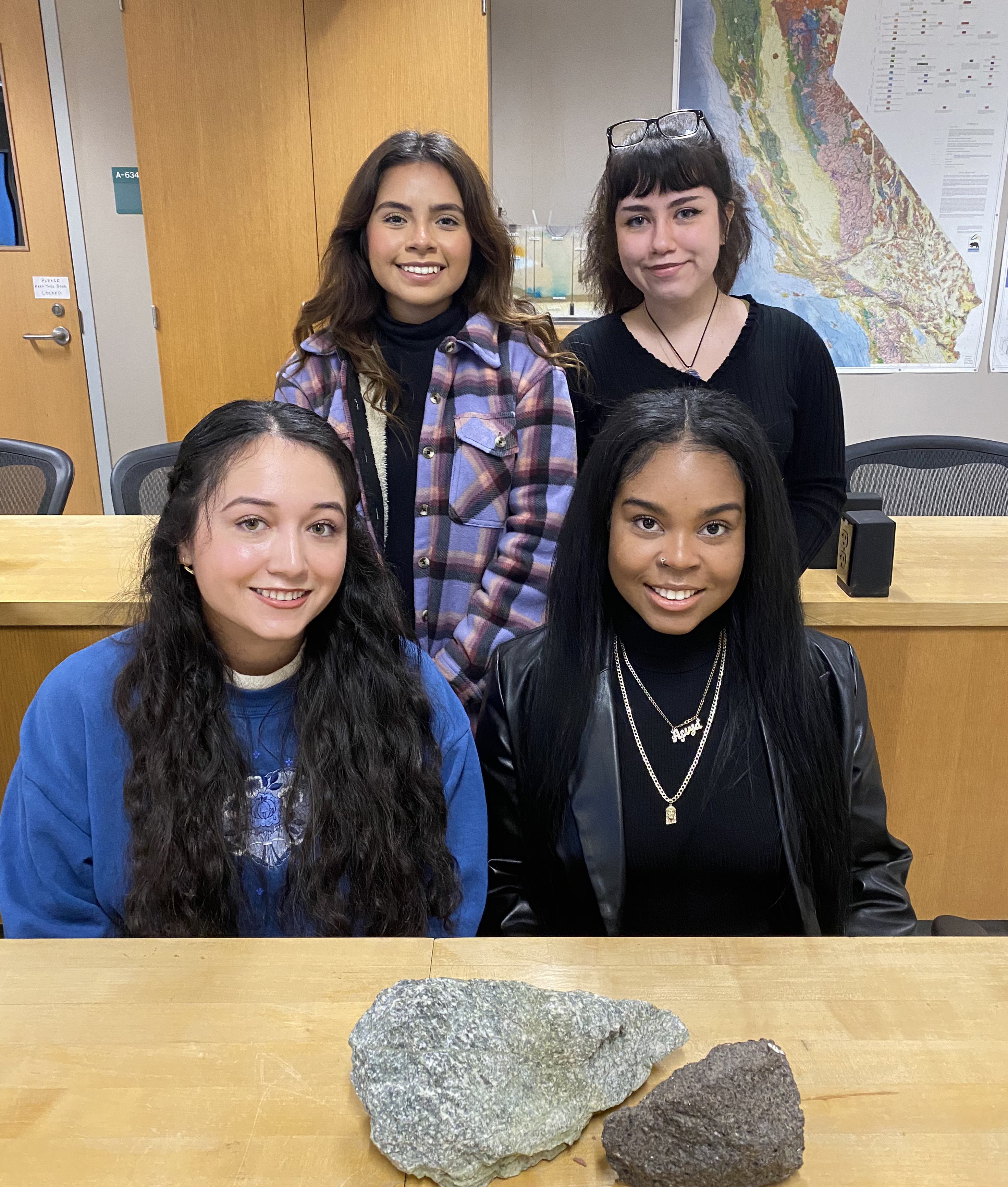 During the fall semester of 2022, I had the privilege of working with the Education Department at California Polytechnic University in Pomona, specifically with pre-service teachers taking coursework in Earth science. During our collaboration, the curriculum had the students split time in class between learning about geology and Earth's history and then designing and engaging in classroom activities related to the technical content that they could take to their own classes in the future. This combination had Cal Poly students learning science and education hand-in-hand each week and led to some amazing classroom lessons and lab activities.
One group of young women in the program stood out as exceptionally passionate about their future careers. This team consisted of four seniors: Jacquelin Galvez-Coyt, hoping to someday teach kindergarten; Amie Gallardo, who is planning to teach fourth grade; Afiya Kindle, who is interested in teaching elementary or middle school; and Sofia Vallejo, who is interested in kindergarten through sixth grade.
Despite their interest in working with young students and collaborating to design lessons for those students, each of these pre-service teachers allowed their individuality to shape how they navigated lesson design and implementation. I recently sat down with them to ask about their instructional style and aspirations for classrooms of their own.
Now that we're back to in-person classes, how is the transition going?
Sofia: Returning from remote instruction felt eerie at first, but it's so nice to return to communicate with people and build connections in a non-digital way. In-person classes prepare you to communicate with colleagues in real life, build social skills, and read body language. All of these skills are critical for a teacher in order to understand and better help students to succeed.
Amie: Returning from remote instruction has been amazing. While it had its perks, I believe, as students, we learn a lot more while working hands-on with our projects than is possible in distance learning. If we're trying to develop and assess activities we can do with kids, that really requires being face-to-face.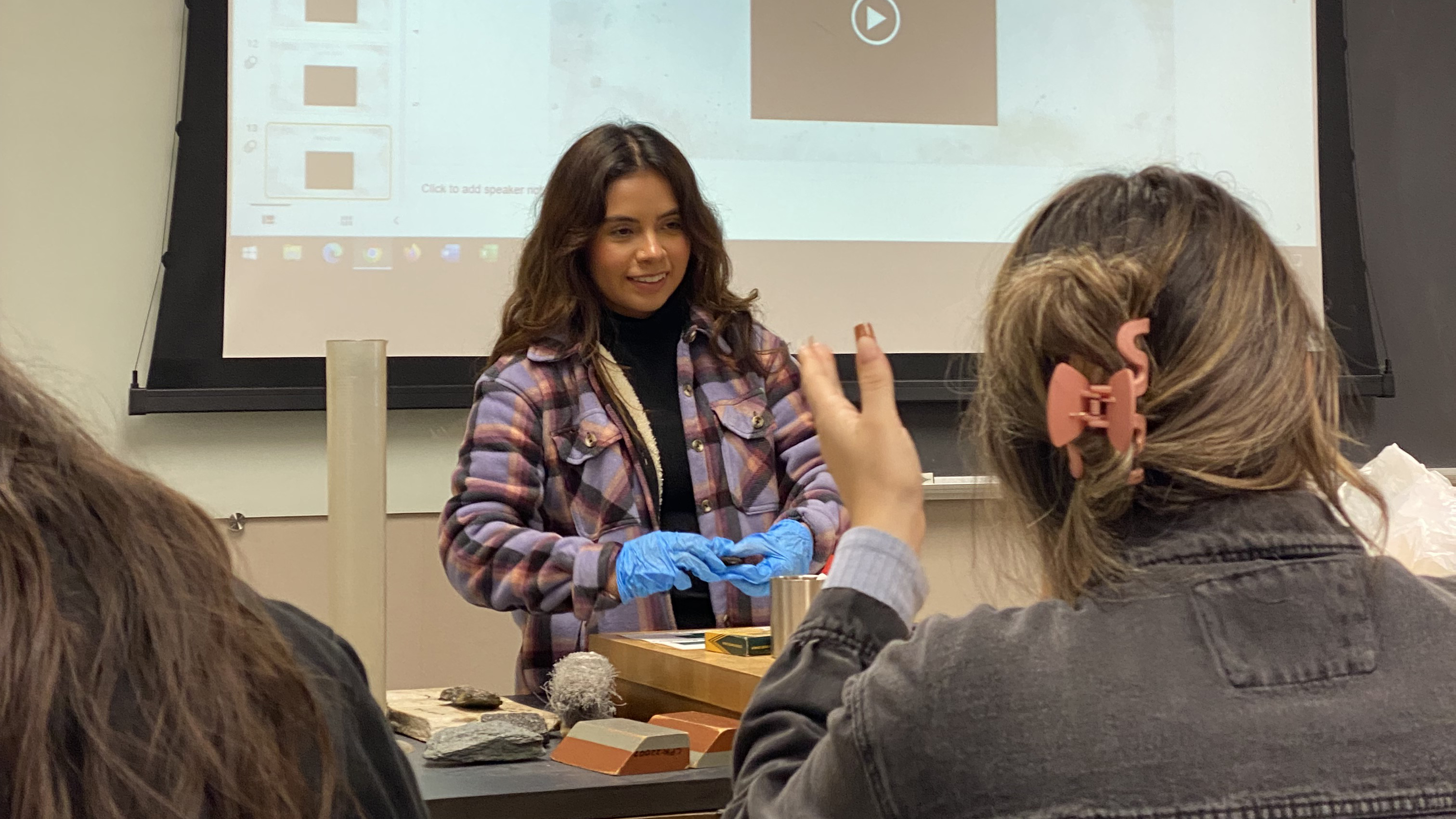 What are you most excited about when it comes to having your own classroom, and how will you get your kids excited about STEM?
Afiya: I am most confident about creating a genuine safe space for kids. I'll be able to communicate how much I care about them and about our shared future, and I think there could never be enough genuinely kind and caring teachers in this world.
Jacquelin: I think my kids will be excited about STEM because of how easy it's become to incorporate activities. There are many resources out there for teachers to use for teaching math and science that don't rely solely on a textbook. Activities that use inexpensive materials or that require a little DIY skills go a long way for students.
Afiya: Exactly! I know I developed my love for science from being hands-on and actually somewhat "in charge" of an experiment on my own. Winning a science fair competition in seventh grade for a greenhouse I built really boosted my confidence and helped reassure me of my scholastic abilities as a kid.
You led a really cool lesson with your classmates where you had them use Oreos to model tectonic boundaries. How do you feel that lesson went?
Jacqueline: I was really proud of our group. After giving a lecture to the students about tectonic plate boundaries, we dispersed Oreos to everyone. We were set up around the classroom demonstrating the activity and giving verbal instructions for everyone to follow. My favorite part was when I saw two students by me go, "Oohhhh," and smile once they got their Oreos to demonstrate the plate boundaries correctly.
Amie: I thought it went really well! All the students in our classroom enjoyed it. Although we, as adults, may know about plate tectonics, having our hands on the Oreos to understand it made it more enjoyable.
Afiya: Plus, who doesn't love Oreos? They're even vegan!
Which of the NASA-JPL lessons that you've implemented did you enjoy, and why?
Jacqueline: My favorite JPL activity we did was the Moon Phases activity. Having one team member to the side to give the instructions allows another student to view the different Moon phases. Then you switch so both students get to see that perspective. My second favorite activity was creating layers with different colored Play-Doh and demonstrating them as different plate boundaries and folds.
Amie: The NASA lesson that I enjoyed the most was the one we did on lunar eclipses. Much like myself, many students often have an early fascination with the Moon. Learning more about the Moon and lunar eclipses made me excited about the semester.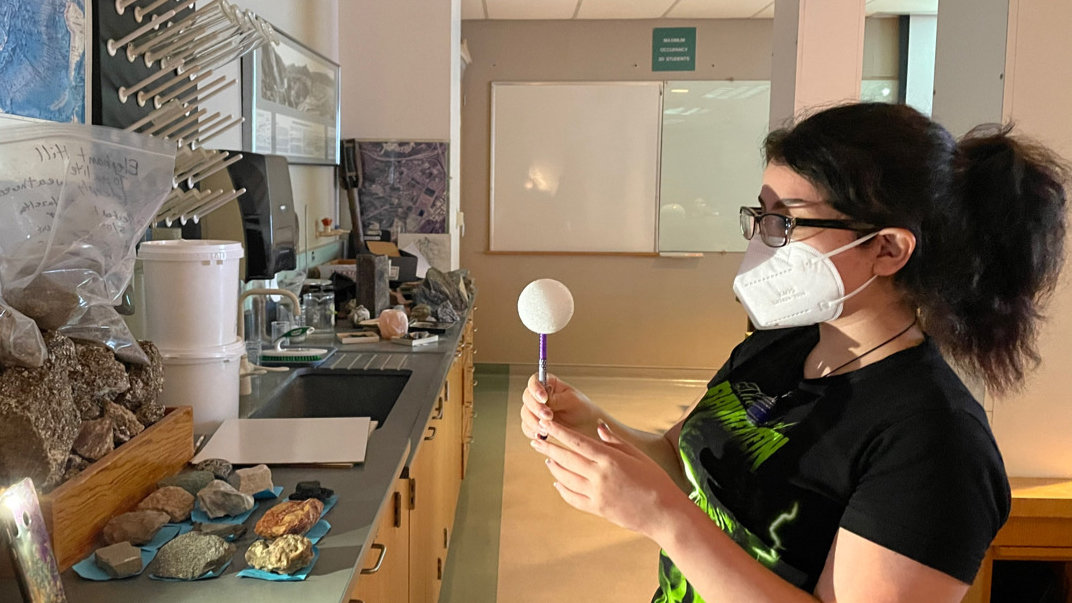 What's next for you after you finish at Cal Poly Pomona?
Jacqueline: After I graduate at Cal Poly, I plan to attend UC Riverside to complete my credential program. While I am there, I would love to get my student teaching experience. Once I complete my credential program, I plan to apply to work at schools in the Inland Empire [in Southern California]. I want to be able to give back to the communities that influenced who I am today.
Sofia: My plans after Cal Poly are to take some time off to gain experience in the field as a substitute teacher. I also am looking to gain more volunteer experience, skills, and exposure. In the future, I want to enroll in UC Riverside to earn my teaching credential and master's degree.
Looking for ways to bring NASA STEM into your classroom or already have a great idea? The Education Office at NASA's Jet Propulsion Laboratory serves educators in the greater Los Angeles area. Contact us at education@jpl.nasa.gov.
Explore More
TAGS: Teachers, School, Remote School, Classroom, Instruction, K-12, STEAM, Science, Math, resources, lessons