Imaging Planets Beyond Our Solar System
The Starshade project aims to do pretty much what the name suggests: suppress the light from distant stars so scientists can learn more about the planets that surround them – including whether they're likely to support life. In practice, it requires building a giant, precisely shaped structure that can unfurl from a relatively tiny package and fly in perfect sequence with a space telescope. Interns have been key to making the idea a reality. The team has brought in more than 40 interns in the past seven years. We already caught up with three-time Starshade intern Christopher Esquer-Rosas, who is using his origami skills to help a full-scale model of the giant sunflower-shaped structure unfurl. Meanwhile, intern Allison Ayad, a mechanical engineering student at Pasadena City College, is creating a working miniature model to narrow in on the design. Fellow intern Evan Kramer met up with Ayad to find out how she's contributing to the project and how she's bringing what she's learning back to school.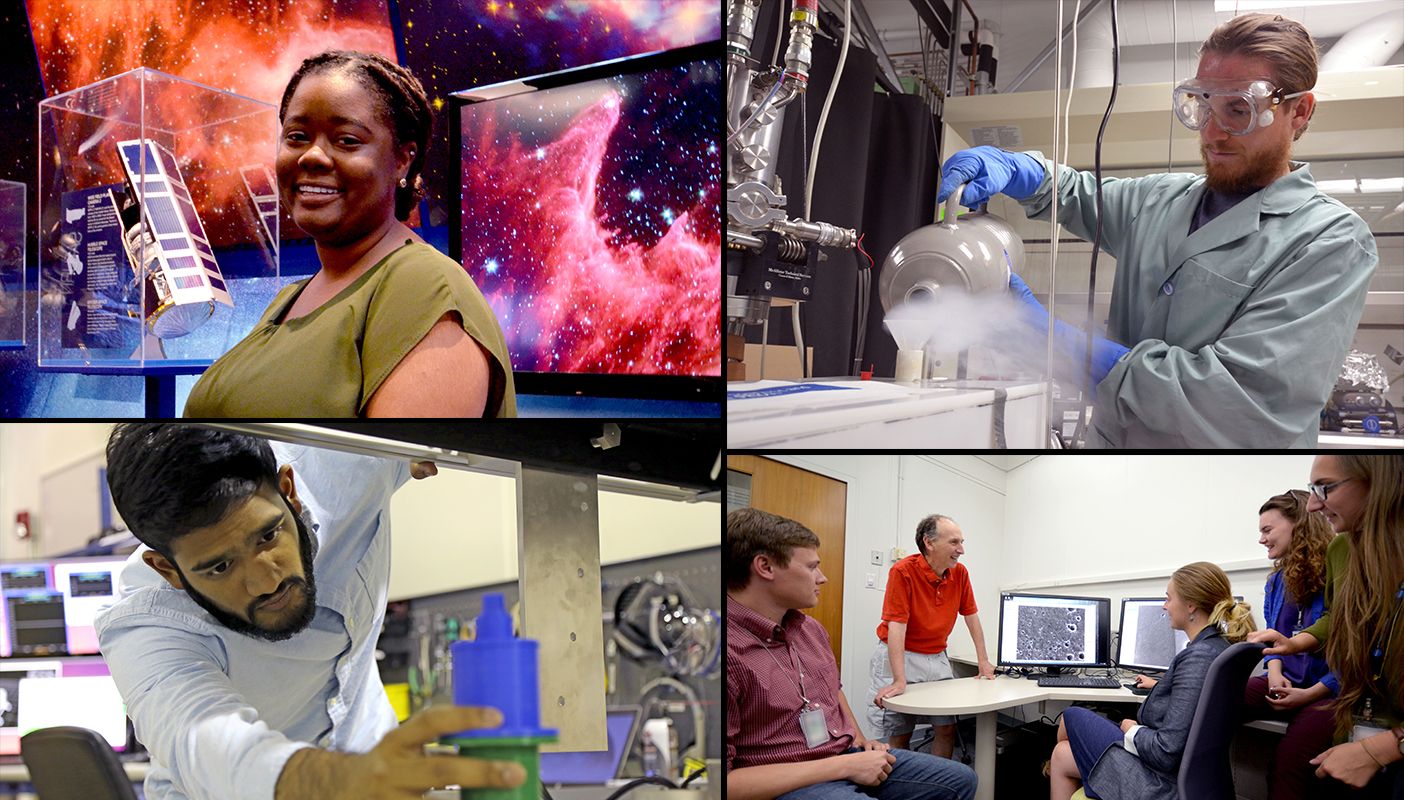 Meet JPL Interns
Read stories from interns pushing the boundaries of space exploration and science at the leading center for robotic exploration of the solar system.
What are you working on at JPL?
I'm working on a project called Starshade, which is a 26-meter diameter, flower-shaped structure we want to send to space to help us get images of exoplanets, [planets outside our solar system]. With these images, we could learn more about exoplanets and see if they could potentially harbor life.
So Starshade is a sort of spacecraft?
Yeah, it is! Starshade would fly out and position itself between a space telescope and a star. Its shape would suppress the light from the star so the spacecraft could get direct images of the exoplanets around it. It's similar to when you try to take a picture outside, and the Sun washes out the image. If you block the light from the Sun, then you can see everything in more detail. That's pretty much what Starshade would do.
What's a typical day like for you?
Every day is very different. What I am working on is making a mini, fully deployable Starshade for interactive purposes, so we can show all the different stages of deployment. It will sort of be the first of its kind.
When I come in, I usually do work on my computer with [software] like Solidworks. Then, I do a lot of rapid prototyping with the use of 3D printers and laser cutters to test out all the little, moving components that are going into the real model.
I spend some of my time helping with the big structure that's out here. [She points to the warehouse-like space where the team is assembling a full-scale version of Starshade, which is about the size of a baseball diamond fully unfurled.] But most of the time, I'm working on the mini one. At least once a day, I'll talk with my mentor, David Webb, about the ideas that I have on how to make things work. We'll bounce ideas off each other, then I'll have stuff to think about for the next day.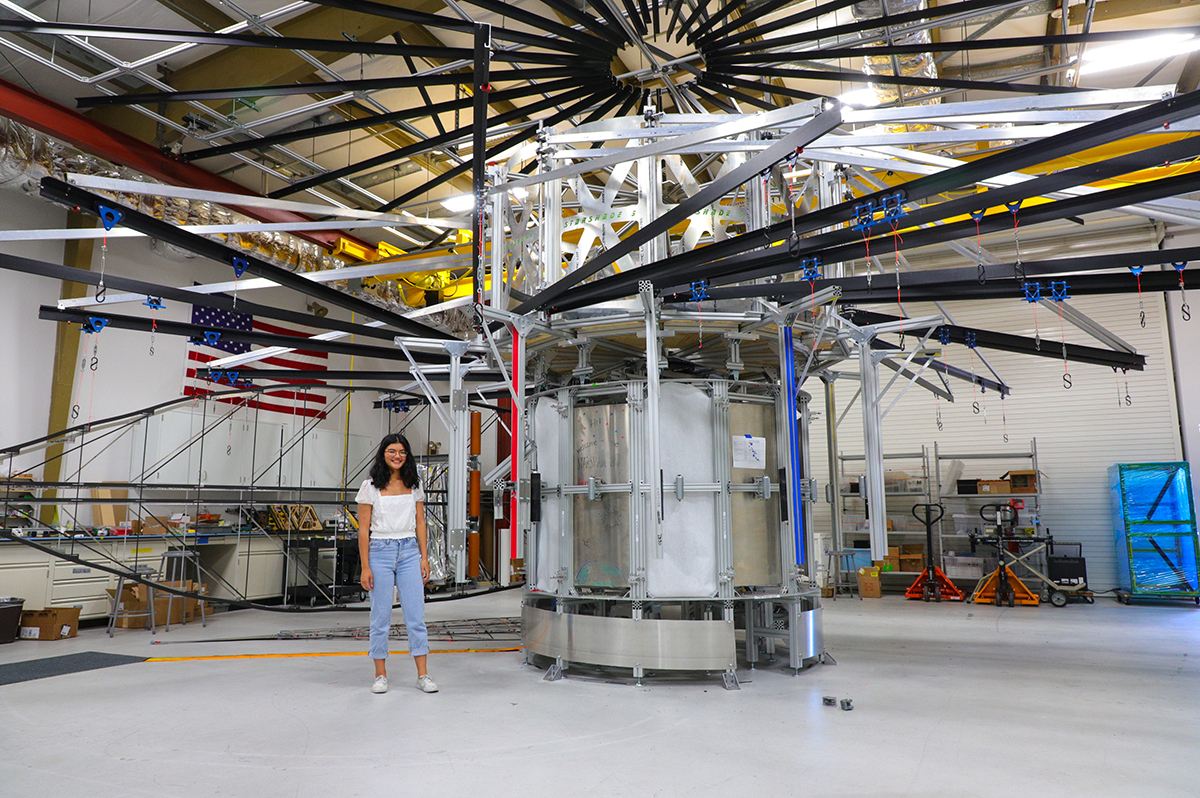 What's been the most JPL- or NASA-unique experience you've had so far?
I've been here for a year and a half now, and I think the Starshade lab is the coolest at JPL, but I'm a little bit biased. It's really cool because we have a bunch of prototypes everywhere, so you get to see what Starshade would look like in real life. And there are a bunch of interactive models that you can play with to see all the different deployment stages.
How do you think you're contributing to NASA/JPL missions and science?
The full Starshade isn't really finished being designed yet, so a lot of the problems that [the team that is building the full-scale model] is facing, I'm also facing with the mini one. The ideas that I'm thinking through could potentially help with the real flight-model design.
How has the work you've done here influenced you back at school?
When I first started interning here, I actually didn't have a lot of the core class requirements [for my major] done. So a lot of the terms and concepts that people were using at JPL were still new to me. Then when I took the classes, all [the lessons from my internship] came back, and I was like, whoa, I already kind of learned this stuff and got a hands-on approach to it. I'm a very hands-on learner, so having that previous experience and then learning more of the math behind it helped with that learning process.
If you could travel to any place in space, where would you go? And what would you do there?
I'd like to go to Mars just because we're so close to doing it. It'd be cool to see what's there. I personally think there's a really good chance there was once life on Mars. If I could go and see for myself, that would be pretty awesome.
---
Explore JPL's summer and year-round internship programs and apply at: https://www.jpl.nasa.gov/edu/intern
The laboratory's STEM internship and fellowship programs are managed by the JPL Education Office. Extending the NASA Office of Education's reach, JPL Education seeks to create the next generation of scientists, engineers, technologists and space explorers by supporting educators and bringing the excitement of NASA missions and science to learners of all ages.
TAGS: Women in STEM, Internships, Interns, Students, College, STEM, Opportunities, Starshade, Exoplanets, Engineering, Asian Pacific American Heritage Month, Universe