Connecting Satellites in Space
Using a test bed that looks like something out of a sci-fi movie, Becca Foust is exploring ways to bring spacecraft components together in space. Here's how the NASA Space Technology Research Fellow, who's earning her Ph.D. at the University of Illinois at Urbana-Champaign, is helping create spacecraft of the future.
What are you working on at JPL?
I like to call it space K'nex, like the toys. We're using a bunch of component satellites and trying to figure out how to bring all of the pieces together and make them fit together in orbit. Then, once they're together, can you pop them apart and make something new? Using many satellites allows for much more versatility than with a conventional single satellite, plus some structures you need are simply too big to fit into the rockets we have today. So this summer, I'm testing my algorithm for assembling satellites on some actual robots in our new test bed.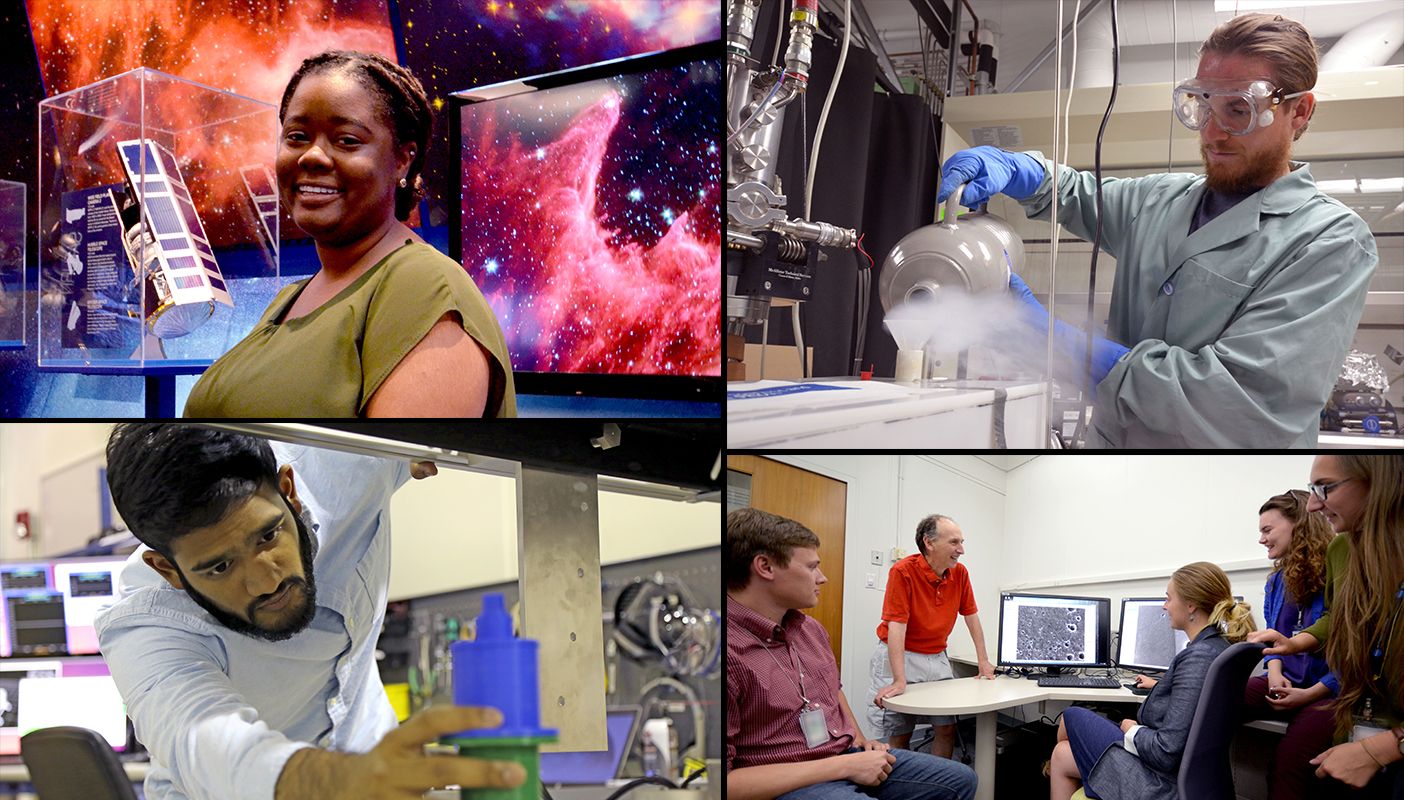 Meet JPL Interns
Read stories from interns pushing the boundaries of space exploration and science at the leading center for robotic exploration of the solar system.
Tell me about the test bed.
We have five spacecraft simulators that "fly" in a specially designed flat-floor facility. The spacecraft simulators use air bearings to lift the robots off the floor, kind of like a reverse air hockey table. The top part of the spacecraft simulators can move up and down and rotate all around in a similar way to real satellites. All these things combine to let the robots move around using the same components used on real satellites in space. The floor has to be very precisely flat and we have to clean frequently because, if a single hair is on the ground, it will affect the motion of the simulators. We also have two rails with highly articulated robot arms on the side and the back of the room to interact with the simulators as other satellites or as a comet to be mapped.
What happens during the simulations?
Most of what our group does is guidance and control, so telling spacecraft where to go and how to get there. When we're testing those algorithms, it's really important that we know where our spacecraft is because we can't tell it where to go if we don't know where it is. So, in the test bed, our robots are all tracked using a motion capture system. It's sort of like CGI. The system tracks these little reflective dots and tells us very precisely the position and orientation of the object.
So if we're testing a guidance and control algorithm, we will turn on the motion capture system, make sure everything is working, and then we just turn on the robots and press go. Our simulators are autonomous and everything runs on board, so we do a lot of legwork before running experiments to make sure things will run as expected.
What is it that you're looking for during these simulations in the test bed?
Before we had this test bed, we did a ton of simulations on the computer, but it's very different having it work on an actual robot. So we're trying to see that when we run things on the robots, it works the way it did in the simulations. Is it tracking the expected trajectory nicely? Is it computing properly? Is everything working?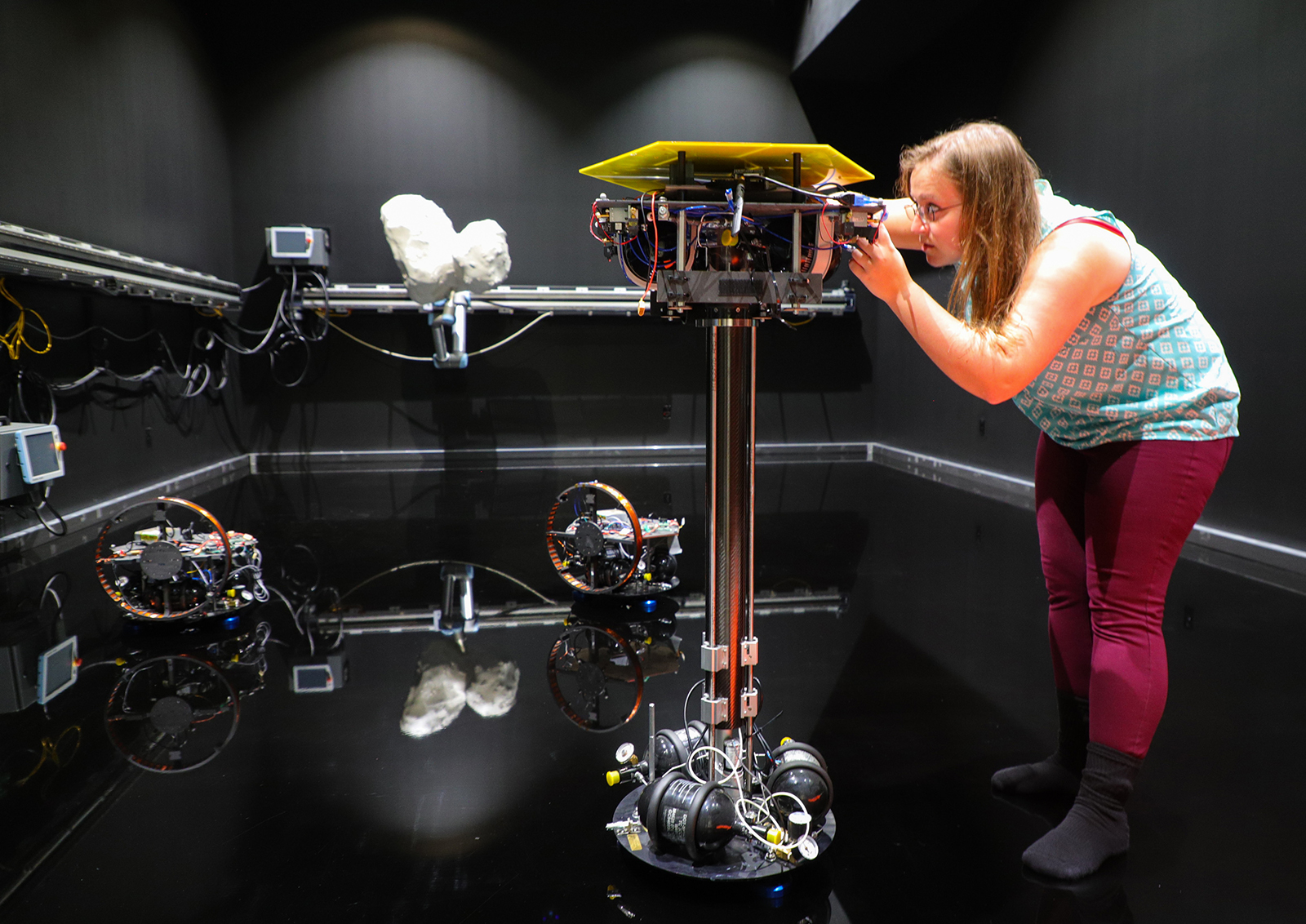 We'll probably end up adding some safeguards in case a command goes astray. We'll probably need to make our algorithms be able to handle issues and faults that come up. That's actually one of the problems we're working on with JPL, increasing satellite autonomy by looking at failures that happen within satellites, trying to figure out what they are and recover from them.
What's the goal of your research?
I hope my research leads to smarter, more efficient satellites for in-space construction and assembly. The algorithm that I'm using is very fuel-efficient and it finds trajectories that aren't really being considered and haven't been tried yet in space. By watching it in our version of space, we can show that these paths can actually be executed in real space. So maybe we can actually start using these more efficient trajectories and then all of our satellites can live longer, go farther and do more.
What's an average day like for you?
I try to work on some mathematical proofs in the morning when I'm still sharp-ish. So I work on that until I get frustrated. After that, I'll wander over to our lab and do some hands-on robotics-type things, like working on the spacecraft simulators and making them work more efficiently. Then, I'll spend a while teaching our undergraduate interns how to use the Robot Operating System, which runs on all of our robots.
What's the most JPL- or NASA-unique experience you've had so far?
I would say meeting people at JPL. There are so many experts in so many different fields. The first summer I was at JPL, there was a presentation on almost exactly my topic. So I got to meet with that speaker, and we set up a meeting time and talked more about it. He had a bunch of really good ideas for my topic and some other people to talk to. One connection sort of leads to another.
If you could go anywhere in space, where would you go and what would you do there?
We're talking imaginary, right? Because I would like to go to space eventually, if I can. I think I would go to – this is probably a really popular answer but – Jupiter's moon Europa. I'd just want to figure out what on Earth is going on there.
---
Explore JPL's summer and year-round internship programs and apply at: https://www.jpl.nasa.gov/edu/intern
The laboratory's STEM internship and fellowship programs are managed by the JPL Education Office. Extending the NASA Office of Education's reach, JPL Education seeks to create the next generation of scientists, engineers, technologists and space explorers by supporting educators and bringing the excitement of NASA missions and science to learners of all ages.
TAGS: Women in STEM, Intern, Internships, Students, STEM, Engineering, Spacecraft, Women at NASA